Loyverse POS is one of the most reputable restaurant POS Systems. In this, buyers guide, we will review the features, pricing, and provide honest user ratings.
Most small businesses know the value of stretching every cent they have. That's why it's important they find the right mix of affordability and value.
Finding the right POS system can be a challenging endeavor. You need a system that meets the needs of your business without compromising functionality.
One such sales software product is the Loyverse POS. Designed for small to medium-sized businesses, this point of sale solution has a lot to offer.
Similar to Silverware POS, one of its strongest selling points is its combination of flexibility and mobility.
To find out if the Loyverse POS is the right fit for your business, let's take a look at its features, capabilities, and pricing.
Loyverse POS Review – Company Overview
Loyverse stands for "Loyalty Universe," and it's composed of a suite of POS mobile apps. Loyverse is a company that operates firmly on the idea that loyalty is the primary factor for the success of a business.
Loyverse products can be found on iOS and Android in 25 languages and is used in more than 200+ countries.
Standout Features
Loyverse is a feature-rich POS system. Let's take a look at a few standout features that businesses will likely find highly useful.
Reports
If you're a stickler for analytics, you're in luck. With the Loyverse POS, you'll have access to a range of graphs and reports. From tax reports to sales trends, you'll have the data you need to make sound business decisions.
Automatic Sync to Cloud
Don't worry about having to manually save your data after every transaction. Your information will automatically be saved to the cloud. As long as you have an Internet connection you can save and access customer data from anywhere.
If you're afraid you're not tech-savvy enough to learn the ins and outs of the app by yourself, you're in luck. There's plenty of online documentation to help guide you along. You can also learn plenty from the Loyverse YouTube page.
24/7 Support
If you're more of the "hold my hand type," you will have access to online and in-person training. You can also visit the Loyverse website to chat with their 24/7 online reps if you have any questions.
Top Benefits
The app is free to use, but even its paid options are highly affordable.
Provides a fantastic customer loyalty program that engages customers and keeps business rolling without interruptions.
Connects to the cloud, allowing businesses to access their customer information as long as they have an internet connection.
Works with most mobile devices (Android, iPhone, and iPad).
Offers a robust training program. You can either receive training online or in person.
Provides powerful analytics that gives an overview of how your business is doing month to month.
Highly flexible. It can be used in restaurants, liquor stores, bars and many other types of business venues.
Offers a professional interface. Uploaded photos are arranged in a beautiful and attractive arrangement.
Comes with a variety of built-in reports that can be printed at your convenience. You can also export transactions for advanced data mining.
Possible Drawbacks
Loyverse POS offers so many features that it might be overwhelming for some users.
Lacks in-depth customization options.
Some customers have complained about experiencing problems with the inventory management options.
Complimentary Apps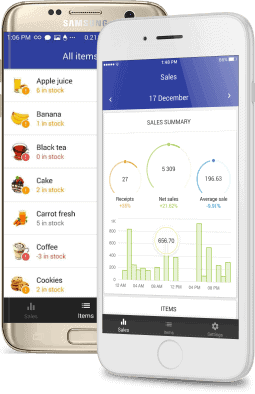 Though the Loyverse POS has plenty to offer, there are a number of apps you can download to improve usability. These include:
Loyverse Dashboard
The Loyverse Dashboard gives users instant access to sales analytics and inventory reports with just a few clicks.
This is a great app to have if you're trying to access sales information and charts without having to rifle through the gauntlet of features offered by the primary app.
Loyverse KDS
Loyverse KDS is an app dedicated to getting orders to your kitchen staff quickly and efficiently. Electronic orders from the front of the restaurant will automatically be sent back to a mobile device in the kitchen.
When the order arrives the kitchen staff can get started right away.
Loyverse CDS
Loyverse CDS allows you to display pricing information to your customers at the time of purchase. This is a handy app to have, as it shows every purchased item in a customer's history. It also shows the amount paid and the change they're owed.
You can modify the Loyverse CDS accordingly to display taxes, discounts, etc. You also have the option of sending e-receipts to your customers.
Loyverse Back Office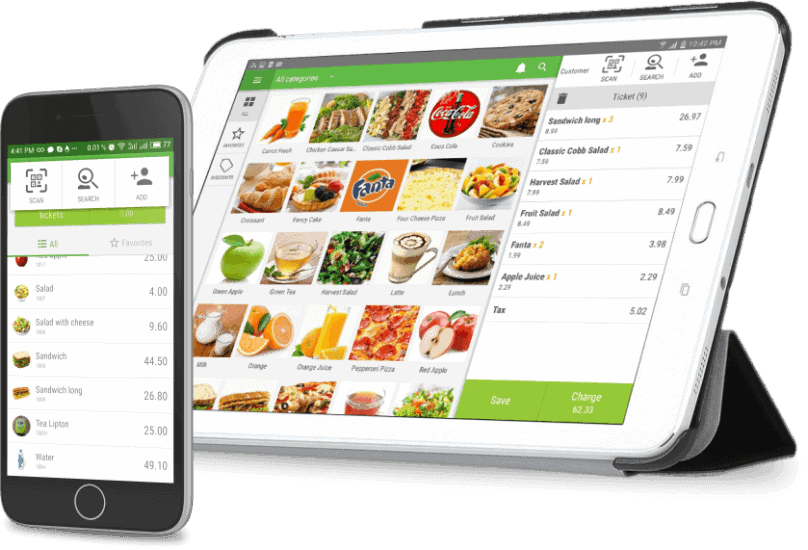 While technically not an app, Loyverse Back Office allows users to access their data from a computer browser.
Working in synch with the app, Loyverse Back Office is a great option to consider if you'd prefer to read your reports on a bigger screen.
As an additional bonus, you can use a mouse and keyboard to navigate the interface. No more tapping away on a tiny screen!
Loyverse POS Pricing
Unlike other POS systems that offer "free" services, Loyverse doesn't hide its most essential features behind a secondary pay wall. You'll have exactly what you need from the beginning. No credit card required. With that being said, you can purchase add-ons for additional features.
The free version offers the following features:
Loyalty program
Sales analytics
Management of multiple stores
Inventory management
The Employee Management plan is the first paid option. Under this plan, you will have to pay $5 per employee monthly and includes the following benefits:
Track employee timecards and sales
The ability to manage access rights
The final paid tier is the Advanced Inventory plan. This plan will run you $25 per store monthly and includes the following benefits:
Manage stock
View inventory valuation reports
Create purchase orders
As you can see, Loyverse POS is highly affordable. Customers will be pleased with the sheer number of features available to them for such a low price point. Keep in mind that both paid options come with a 14-day free trial.
Hardware Requirements

The Loyverse POS doesn't require much in terms of hardware. It works perfectly fine with Android and iOS devices. Simply install the Loyverse POS app, and you should be up and running in a matter of minutes.
When it comes to third-party hardware, there are a number of POS printers, label printers, barcode scanners, and cash drawers that have been tested to work well with the Loyverse POS system.
You can find suggested hardware choices on the Loyverse website.  There are plenty of options to choose from under various categories that range in pricing. Do your research to see which third-party hardware will work best with your needs and budget.
Top Features and Capabilities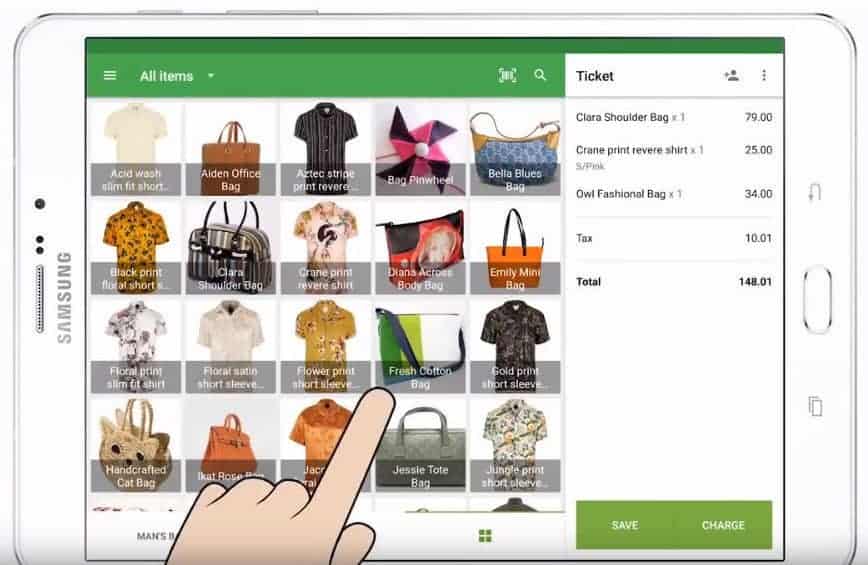 Let's take a more in-depth look into the features and capabilities offered by the Loyverse POS.
Sell from a smartphone or tablet – Stay flexible with the Loyverse POS app, which transforms your Android, iPhone, or iPad into a fully usable POS device.
Accept a range of payment methods – You'll have a choice of accepting cash or card. Even if the card isn't integrated, you'll be able to offer a range of pricing options to your customers.
Item modifiers – Loyverse POS makes it easier than ever to modify orders. With a few taps, you can arrange orders any way you see fit.
Work offline – You don't need to be connected to the internet for this system to work. In fact, once you connect back online, all of your data will sync to the cloud automatically.
Discounts – Offer your customers discounts with a few taps of your finger. Discounts will appear on the receipt and can be applied to specific items.
Even More Features from Loyverse
With this POS system, you can enjoy easy scanning. Put your mobile device to further use by scanning barcodes with your built-in camera.
Also, you can integrate third-party hardware. Add a receipt printer (Ethernet or Bluetooth), cash drawer and barcode scanner (USB or Bluetooth) to your POS set up.
Easily change the theme of your interface. Tired of staring at a brightly lit screen all day? Reduce eye strain by opting for a darker theme.
With Loyverse, you can manage multiple locations with ease. Sync multiple stores under a single account through the power of the cloud.
Cash management is easy. Keep track of your money with the cash management feature which should help to reduce mistakes and keep your employees from getting any funny ideas.
And, with the open tickets feature, you can create, save, and edit your orders.
Inventory Management Features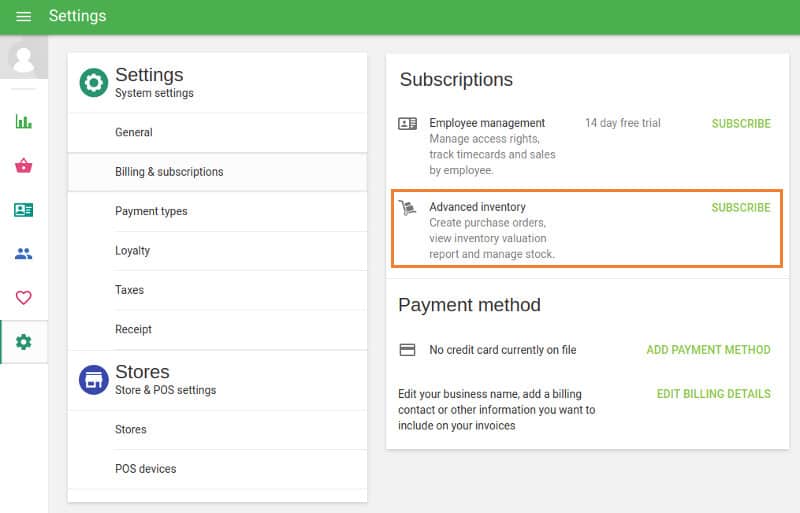 Items import – Use CSV spreadsheets to add thousands of items in a single instance.
Track inventory – Do you have a lot of inventory that's difficult to track? Loyverse POS makes inventory tracking a breeze.
Transfer orders – Transfer stock between your stores effortlessly with easy to create transfer orders.
Production – Track stock of items produced out of ingredients.
Inventory history – It's always useful to gain insights into trends by having access to an inventory history log.
Label printing – Quickly print labels to add items to purchase orders, inventory counts, or sales.
Stock adjustments – Keep track of your stock levels, increasing or decreasing as you see fit to account for received items, damaged or lost goods.
Inventory valuation report – Gain access to reports on the cost and potential profit of your inventory.
Employee Management Features
Time clock – Forget clunky third-party time clocks. With Loyverse POS, your employees can easily track their hours by clocking in and out of the system.
Sales by employees – Instantly know which employees are performing at a high level, and who is underperforming.
Smart management – Information on the workload per hour allows for efficient management of your staff.
Access rights – Manage your employees' rights to determine who's able to access sensitive information and functions.
Sales Analytics Features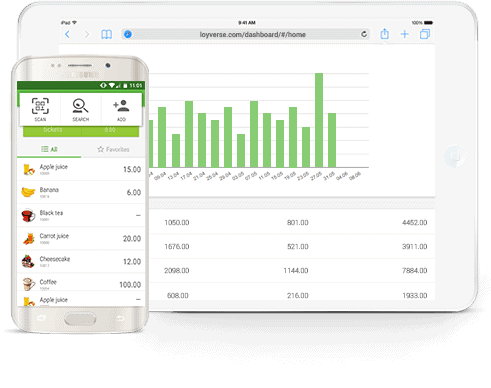 Tax report – Browse reports on the tax amount needed to be paid and save time for their calculation.
Sales trend – Track the ups and downs of your sales over the past days, weeks, and months. This will allow you to identify trends and act accordingly.
Popular items – Sales analytics will help you identify your top-performing items, so you can increase or decrease inventory spending as needed.
Reports export – Analyze your sales information in detail by exporting data to a spreadsheet.
Loyalty Program Features

Customers database – You can easily identify your most loyal customers by analyzing the number of times they've visited your storefront and the number of purchases they've made.
Points reward program – Customers can be rewarded for their loyal business by giving them bonus points with each purchase.
Notes about customers – Jot down notes about customers into the system, allowing you to note personal preferences and improve customer service.
Restaurant and Bar Features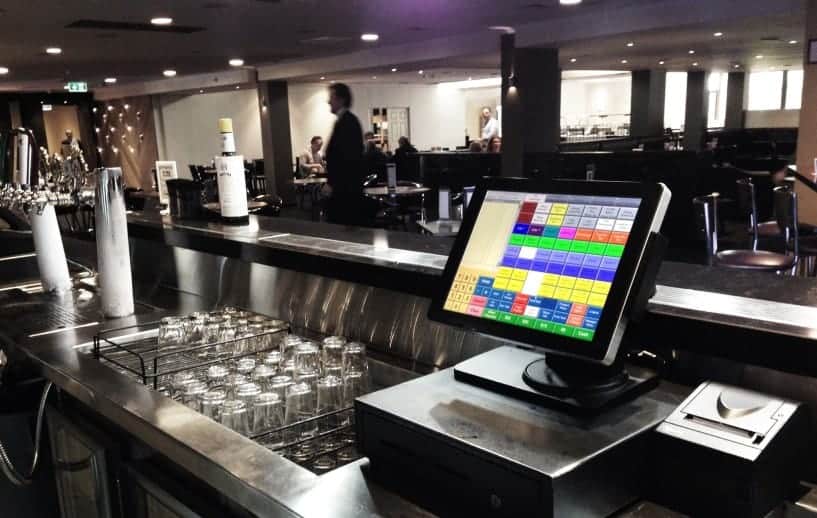 Kitchen printers – Quickly send orders from your POS system to your kitchen printer, keeping your kitchen staff up to date on current orders.
Predefined tickets – Easily assign names to open tickets with the predefined tickets feature. For example, you can assign ticket names as follows: Table 1, Table 2, Table 3, etc.
Dining options – Take note of the number of customers who opt to dine in, leave with their order, or request delivery.
Kitchen display system – If you're keen on going green, you're in luck. With the kitchen display system, your kitchen staff can easily see orders without the need to print/write orders down on paper.
Our Final Verdict
Loyverse POS is an easy to use app that transforms your handheld device into a fully functional sales and inventory management system.
With its highly affordable pricing structure and fantastic customer service, small to medium-sized businesses will be hard-pressed to find a superior product for the same value.
If you are looking for other restaurant POS systems, or want to check out Loyverse's main competitor — Rezku POS.
The following two tabs change content below.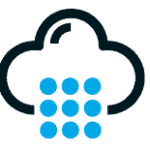 POS Quote Team
The staff at POSQuote.com is composed of industry professionals, experts, and current business owners. Through extensive research, we compile buyer's guides and review the best POS systems in the industry.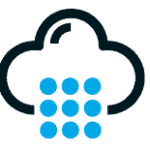 Latest posts by POS Quote Team (see all)
Reader Interactions