Running a gift shop poses many challenges, most notably competition from other physical stores and online retailers. To beat the competition, you must use tools that help you think outside of the box.
By using a POS system, you'll be able to do just that. By using software to track which items sell best, you'll be able to narrow down your most popular items and stock up on the winners. You'll also be able to avoid sitting on dead inventory. Set alerts for low inventory so you can restock through your vendors, right from the POS software.
To compete, you'll need to display eye-catching promotions in your physical store. But what about specials and promotions for your online store? By using a customer loyalty feature that most POS providers offer, you'll be able to text or email your clients and keep them coming back to buy (whether they prefer to purchase in-store or online).
After comparing several choices, we believe Korona POS is the best gift shop POS system. If you're looking for an all-in-one solution with real-time reporting, an integrated payment system, and inventory management, choose Korona. If you're a smaller gift shop just starting out, opt for GiftLogic.
Let's take a deep dive into each gift shop point of sale system so you can cut down on paperwork, over-ordering, and simple tasks that can be automated. Let the software handle retail tasks while you get back to serving your customers well.
Comparing the Best Gift Shop POS Systems
Call-in Quote

$49/month

Depends on preferred gateway

Quoted Prices
Only

$99/mo for
36 months

Dependent on Processing
Partners

Quoted Prices
Only

$99/mo for a
single terminal
and 5 employees

2.6% + $.10 per transaction.

Offers
Bundles that
work with PCs,
Macs and iPads,
starting at $360

$99/mo per store
location

Defaults to Authorize.
Net w/ fee of 2.9%
+ $.30 per transaction

Single
touchscreen
terminals start
at $1899

$75/mo for
unlimited
terminals
throughout your
store

2.7% per transaction
1. Best Overall – Korona

KORONA POS is designed specifically for gift shops with vast inventory management, product reporting, employee management, and more. Whether you have a stand-alone operation or are a gift shop in a museum, zoo, or theme park, the software offers a complete solution.
FEATURES

Inventory Management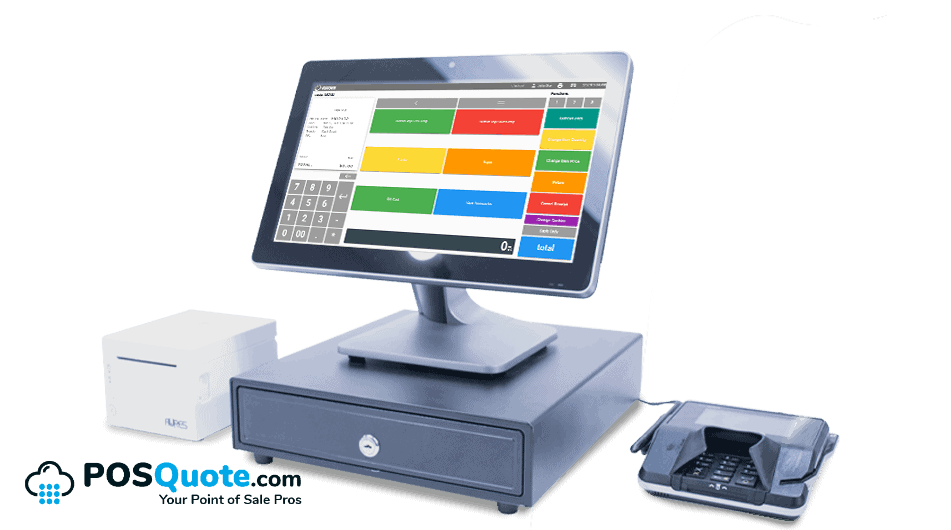 Gift shops typically come with a vast inventory, so great inventory management is critical. With KORONA gift stores get stock notifications, automated ordering, minimum and maximum order levels, vendor management, and more.
Keep your stock at optimal levels at all times. You can also use your inventory to determine pricing and promotions. It's easy to make changes that are immediately reflected in your point of sale.
Staff Management
Each POS user will have a unique account so gift show owners can print individual shift reports. Plus, the point of sale only allows certain permissions to each user that are fully customizable. Control drawer access, pricing edits, no sale tenders, voiding & comping, and more.
Cloud Software
KORONA gift shop POS is built in the cloud so all changes are made in real-time. Because nothing is stored on-site you never have to worry about data security or losses. And users can access the backend of the software from any internet connected device.
The cloud software is a subscription service. Like most POS software, KORONA charges a monthly fee for users and includes automated updates as they're released.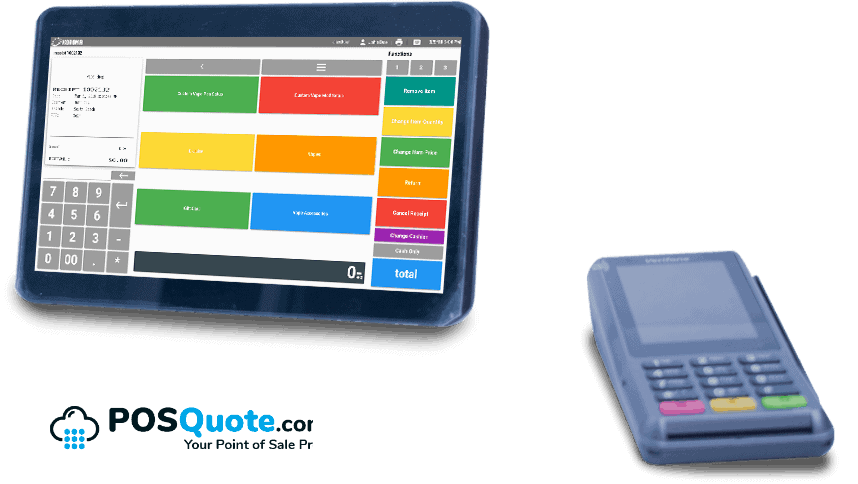 Multi-Locations
The software can be used for a single location or multiple locations around the country. All product data and analysis can be broken down by an individual store or looked at as a whole.
Gift shops can quickly upload their data from existing stores into new locations with CSV files.
Product Reporting
The inventory management system is paired with robust data analytics so users can get an in-depth look at individual product and overall performance. The reports can be produced and printed in seconds with hundreds of different KPIs to choose from.
In turn, the reports allow users to create promotions and discounts as well as optimize pricing. All changes can be made easily in the backend and are immediately reflected in the frontend.
Payments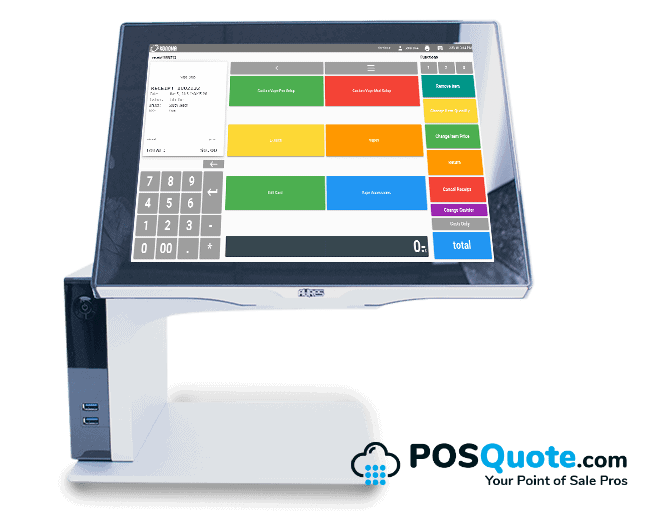 KORONA isn't a payment processor but integrates with all major processors. Users are able to find the solution that is the best fit for their business, and KORONA can integrate with existing solutions.
All modern payment machines are compatible with the gift shop point of sale, including contactless payments, like Apple and Android Pay, and EMV cards.
Customer Support
KORONA includes all customer support in the monthly subscription cost. Each user receives unlimited phone, chat, and email support to their in-house team. There is 24/7 emergency support by phone, too.
The POS is sent to users as an out of the box solution and no installation is required. And product specialists will assist with all trainings before the POS arrives.
Pricing
KORONA's gift shop POS starts at $49/month for each terminal. Additional modules are available for more niche features. All pricing is billed monthly with a discounted annual option. There are no contracts, fees, or cancellation penalties. Hardware pricing varies but the software integrates with various types of desktops, tablets, and peripherals.
2. The Best Out-of-the-Box Ready Gift Shop POS: GiftLogic

As the name suggests, GiftLogic is a great, ready POS system for gift shop operators. It boasts an easy-to-use interface geared towards gift shop owners, making it easy to locate and sell merchandise at the point of sale.
GiftLogic also includes several tools for customer relations initiatives, and several ways to integrate these tools with each other. This helps you and your staff supply a comprehensive experience across digital and in-store locations.
Because GiftLogic is meant for small gist shops, it works great with dedicated POS hardware as well as PCs and handheld devices. GiftLogic also offers extensive customer service to support shop owners with any technical issues.
Consider the following aspects of GiftLogic that might benefit your gift shop and your staff:
Inventory Management
GiftLogic is invested in making sure that you and your staff can manage inventory directly from the POS. That's why the GiftLogic system includes several tools to help with that. You can include product images that will display when accessed by staff.
This allows them to compare an item against an inventory image for tracking or location. GiftLogic also includes the PurchasePal reorder system, which uses inventory information to suggest a schedule for inventory purchasing.
The GiftLogic POS also gives you the option to schedule discounts on items in inventory based on date or volume. This system also makes it easy to program X for Y pricing, for special promotions or bulk pricing needs.
If inventory control is a critical aspect of your gift shop (and of course it is), then GiftLogic is a great POS to consider.
Payment Processing
GiftLogic includes several options for payment processing. Credit card processing is easy, as Gift Logic partners with several processing partners. These partners include WorldPay, ChargeItPro, and Bluefin (among others).  In-store payments come with options for paper, text, or email eReciepts to reduce waste and speed up checkouts, making customers experience more pleasant.
Because of their digital integration and processing partners, GiftLogic makes it easy to accept online payments as well. Partners like Magento, 3dcart, and PinnacleCart make it easy for you to run an online store and accept payments easily.
GiftLogic POS System Limitations
That all being said, GiftLogic does have a few limitations. It isn't as robust as some other options. For example, it doesn't support extensive eCommerce integration outside of customer management and emailing lists.
However, if you're looking for a purpose-built gift shop POS, the GiftLogic could fit your needs right out of the box.
3. The Best Gift Shop POS System for Reporting: Lightspeed Retail


Lightspeed Retail makes a point of targeting smaller retailers and Gift Shops with a POS system that gives gift shop owners a lot of control over their inventory and business operation. Lightspeed also provides several tools to help manage inventory and staff.
Lightspeed Retail also offers some out-of-the-box functionality for eCommerce. This includes integrated stock management and digital storefront software.
If you're considering Lightspeed Retail for your Gift Shop POS, consider the following:
Customer Management
Lightspeed Retail includes several customer management options to help you drive customer engagement. One of these is its built-in suite of CRM tools that help strengthen your ability to engage your gift shop customers across several channels.
On top of that, you get the run of much-needed customer service tools that drive business. Use the POS to sell custom gift cards. Track customer sales history, both in-store and on any digital platforms. Allow customer to create accounts where they get special, targeted offers. Identify VIP customers and target them with rewards and discounts.
Lightspeed Retail will allow you to create a real connection with customers. Just because you run a gift shop doesn't mean you don't want repeat business.
Inventory and Delivery
Lightspeed Retail is a platform meant to help you manage your inventory. With the Lightspeed POS system, tracking and managing inventory is simple whether you are in your store, at the POS terminal, or on the go on your mobile device. This aspect is crucial for gift shop owners who need to track inventory with a lot of items.
Lightspeed allows you to create catalogs that include items with multiple variants. So, if you have identical items with different colors or attributes, Lightspeed can track them. Lightspeed also makes it easy to order stock directly from your POS. There isn't a separation between inventory and the POS.
Lightspeed Retail POS System Downsides
Lightspeed can have a complexity issue. If you're running a gift shop, the last thing you might want is a complex system. And with tools like CRMs, customer accounts, and eCommerce tools, you might find it to be a bit too much compared to something like GiftLogic.
However, if you are willing to invest a bit of time and effort in learning the system, its customer and inventory controls will pay dividends in terms of helping you grow your gift shop business.
4. The Best Gift Shop POS for eCommerce: Vend HQ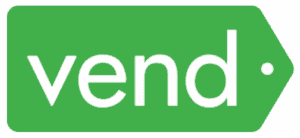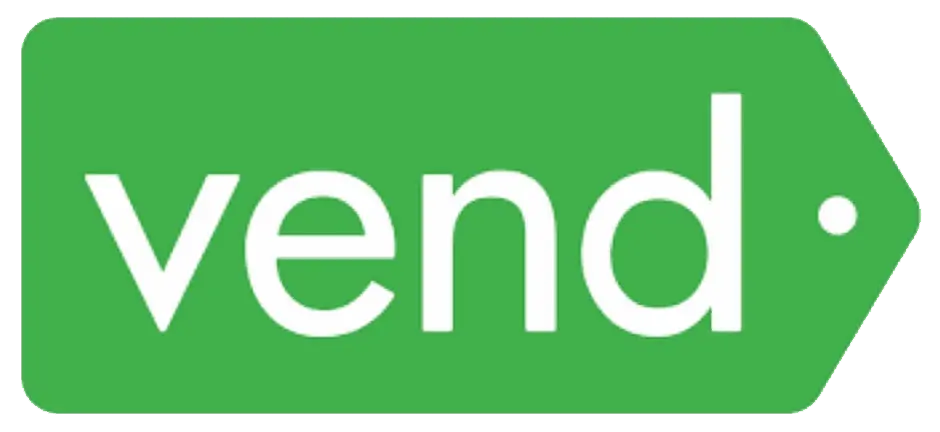 A gift shop POS should be able to cover multiple avenues, including online stores and sales. With the Vend HQ POS system, gift shops can extend their sales coverage to the digital realm with flexible eCommerce support and integrated tools that makes managing online stores easy.
Vend HQ also offers several options for staff management that gives gift shop owners more control over who they schedule when to maximize sales.
Here are some of the Vend HQ features that are specifically meant for gift shops:
eCommerce
Gift shops aren't just small storefronts tucked into airports anymore. Many gift shops are extending their reach outside of traditional retail into the digital market. With Vend HQ, you can integrate and manage a linked eCommerce platform that syncs with your operation for seamless inventory and sales tracking. You can also use Vend HQ to manage preferred customers no matter where they shop from.
Staff Management and Support
Staff management is always an issue, and Vend HQ simplified this through a basic POS interface that brings together timeclocks, hours management, and sales performances.
More importantly, Vend HQ provides gift shops with a platform that lets them track sales performances of employees based on time of day, sales season, and customer types. This means that you can trace who sells better when, who your top performers are, and how to maximize your staff. Take control of your team to increase profits and productivity.
Cloud-Based Software
Because Vend HQ is completely cloud-based, you can access data wherever you are. Track staff and sales remotely. Check in on your eCommerce efforts from home. Take control of your operation—customers, staff, and inventory—from any computer connected to the web. Vend HQ puts that power in your hand.
Limitations of the Vend HQ System
Vend HQ doesn't offer a lot in terms of service orders, which may or may not be important to your operation. The eCommerce platform has also been described as rather plain. However, it can easily integrate into other platforms, making it a flexible option.
5. The Best Gift Shop POS for Automation and Growth: CashierLive

CashierLive is great at what it does: provide a POS. This solid solution can make running your gift shop POS super easy, because CashierLive includes all the basic tools needed to do retail POS right.
This straightforward approach, however, leads us to say that CashierLive is great for new or growing businesses that need rock-solid support. CashierLive gives you great Multi-site options, and wonderful ways to automate reporting and sales so that you can work less on paperwork and more on building your business.
Multi-site Solution
CashierLive is priced to support multiple stores. Why is that? Well, many shop owners want to expand without having to consider the overhead of a POS. Some POS systems charge by-the-use, making licensing difficult for a single store—so forget about multiple stores.
CashierLive, however, does just this. Your licensing fee is per store, not per user, which makes calculating costs that much easier. What's more, CashierLive easily integrates your inventory and reporting across all stores.
Reporting and Automation
CashierLive covers all the necessary reporting you need to handle daily management tasks. Cover profits, sales, hours, inventory, and more across all your buildings. Manage customer preferences and sales easily from a single interface.
You can also customize sales and merchandise based on the purchaser. This makes it easier to offer discounts for staff purchasing items from the store.
Finally, use custom reporting to handle non-traditional sales that might need their own tracking. Fundraisers, services, coffee or pastry sales, or other supplementary items can be tracked as easily as gift sales with the CashierLive system. CashierLive also offers extensive labels and tags to customize inventory and automate reporting.
CashierLive POS System Downsides
CashierLive is great for growing gift shops, and it is great at being a POS system that does just that—manage sales. If you are looking for more—eCommerce, easy payment processing, and other modern functions aren't supported as well on CashierLive as other systems.
Things You Need to Know Before Choosing a Gift Shop POS System


Gift shops are unique retailers, in that they (on the surface) sell quick, one-off items to people who need a gift or a cute, local keepsake. Many gift shops located in airports or hospitals are specifically for this purpose.
However, modern gift shops are taking on the model of online sellers on platforms like Etsy to offer unique products. With that in mind, many modern gift shops will include an online store, more expensive or varied inventory, and a larger footprint of brick-and-mortar stores.
With that being said, the core of gift shop retail is selling a large volume of goods to a very specific market. Here are some of the things you should consider when buying a POS for your gift shop:
Lots of Inventory, Lots of Variety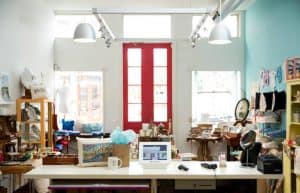 Gift shops live or die on the amount of merchandise they can move. Some gift shops will rely on high-volume sales of smaller items. Others might sell more expensive items with local or unique value (guidebooks, local crafts). This means that gift shops, even if they are small, will handle a lot of inventory.
With that in mind, a POS for a gift shop will typically make it easy to categorize and track inventory. Knowing how many items, and what kind of items, are on hand is critical to keeping shelves fully stocked and inviting. A good POS for a gift shop will also make it easy to order inventory. The best ones will automate this process.
Online Stores are Booming
Gift purchases aren't limited to physical locations. While airports and hospitals are strategic locations, online stores covering local gifts are booming. This is in part because many people want to get local goods even if they can't visit an area.
Likewise, gift shops selling more handcrafted goods can count on their being a dedicated market for those goods outside of their immediate location. And online store can leverage this interest by offering goods to digital audiences.
A good, modern POS will include at least some eCommerce capabilities.
Maximize Profits with Staff Management
Most staffing requirements for gift shops will be filled by who you can hire. But when it comes to high-traffic gift shops, you want to have someone on the floor who can sell. That's why more POS systems are including staff management tools that let you track profits and sales based on staff performance.
Consider getting a POS for your gift shop that allows you to schedule your best people during high-volume sales periods to maximize profits. You can't afford to miss out on sales.
Are Repeat Customers Important?
The older understanding of gift shops was that when people bought something, they did so as a one-off. If you run a gift shop in a high-travel area, this might still be the case for you and your business.
However, more gift shops are developing long customer relationships and repeat customers through special sales, mailers, eCommerce platforms, and rewards programs. If you sell unique items that sell beyond your physical location, then having a POS that cultivates return buying is critical to your success.
Easy Payment Processing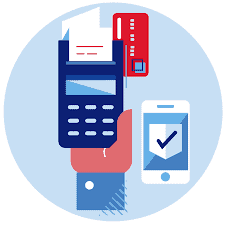 This may go without saying, but don't make purchasing hard. Whether it is online or in the store, customers should be able to buy and leave. Invest in a POS that has the software and the processing to handle any form of payment that a customer might want to use. Make it just as easy online.
Final Verdict
Gift shops are their own, unique kind of retail. Even as their business model changes over time, the simple fact is that gift shops want to develop multiple streams of sales and manage large inventories all from a central spot.
The four POS systems featured here grant may of the features needed to do just that. With straightforward online eCommerce solutions, sophisticated inventory management, staff management, and easy payment processing, you will certainly find what you are looking for from one of the above.
So, if you are running a simple lobby gift shop or a sprawling, multi-site boutique, the reviewed POS systems here will possibly have something for you. The great advantage of many of the is that they will fit your business size and model depending on your needs, and not the other way around.
Depending on how much time and effort you want to invest, there are options that are ready right out of the box, and those that can adapt to your bigger needs.
The following two tabs change content below.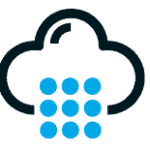 POS Quote Team
The staff at POSQuote.com is composed of industry professionals, experts, and current business owners. Through extensive research, we compile buyer's guides and review the best POS systems in the industry.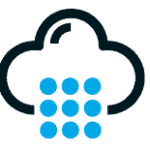 Latest posts by POS Quote Team (see all)