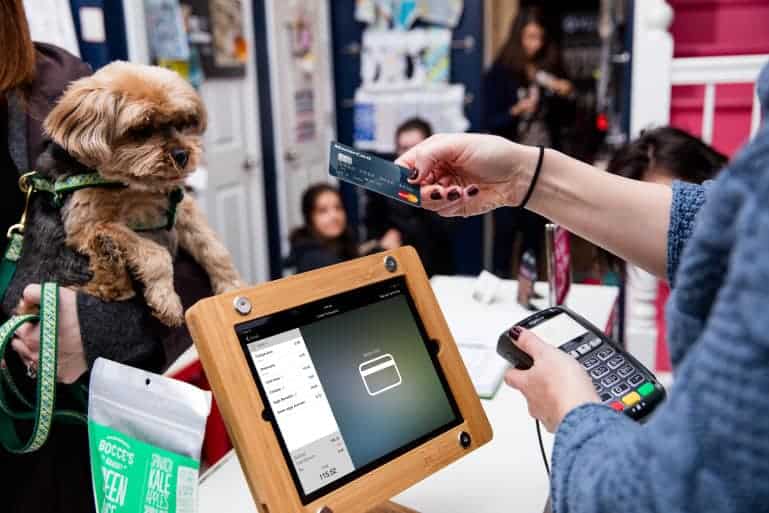 Quick service restaurants (QSRs) revolve around the need for speed. They require QSR POS features that streamline operations.
The best QSR systems deliver features such as menu customization, digital signatures, and reliable inventory management.
They should also provide robust reporting, multiple location management, and customer management features such as loyalty programs.
Additionally, quick service restaurants benefit from POS hardware that increases the speed of their service. Tools like self-ordering kiosks and tabletop ordering and payment tablets further expedite service.
Below we dig through the crowd of quick service restaurant POS systems and provide a list of our top six picks. We also guide you in your search with an extensive buyer's guide.
1. SpotOn Restaurant: Best Quick Service POS System Overall
2. Qu: Most Innovative QSR POS System
3. Simphony: Most Promising QSR POS System for the Future
4. Talech: Most Feature-Rich Quick Service POS System
5. Lightspeed for Restaurants: Best QSR System for Inventory Management
6. Revel Systems: Best QSR POS System for Reporting and Analytics
Side-by-Side System Comparisons
| System | Starting Software Costs | Hardware Costs | Key Features |
| --- | --- | --- | --- |
| Our pick! | $65/month | Pricing varies | Cloud-based reporting is among the best in the industry, offers features that improve QSRs' performance results |
| | Quote based | Quote based | Qu1 Menu-System: combines food delivery, menu management, bi-directional data flows caused by integrations and payment transactions into one powerful system feature |
| | Quote based | Quote based | Remarkably fast software, compact system built to free up space, user-friendly |
| | Starts at $69/month | Pricing varies | Offers kiosk mode and customer-facing display |
| Our pick! | Starts at $59/month | Additional terminals are $34/month | Great back-end reporting and forecasting, a la carte pricing options available |
| | $99/month per terminal | Onboarding and installation start at $649 | The first ever POS system for iPad |
Top 5 Quick Service POS System Reviews
Let's now dig into our in-depth reviews of our top 6 picks for the best quick service restaurant POS system. We start with the frontrunner, SpotOn Restaurant.
1. SpotOn Restaurant: Best Quick Service POS System Overall


SpotOn Restaurant was designed specifically for restaurants. It's a full-scale POS system that helps QSRs connect front of house staff with kitchen staff for a seamless experience. The system was designed to be intuitive, easy to use, and fast, so QSR owners can maximize their ROI. Its cloud-based reporting is among the best in the industry and it delivers additional features that improve QSRs' performance results.
Zero Downtime
Unlike many cloud-based POS systems that feature an offline mode, SpotOn Restaurant uses a Meraki router to maintain its connection. When the internet drops, the system instantly switches over to using mobile data until Wi-Fi returns.
Multiple Location Management
Manually managing multiple stores is time-consuming. With SpotOn Restaurant's multiple location management features, it's easy. Owners can make menu changes and apply them to all stores or a select few. They can also monitor metrics and data compiled from every location—or select locations—in a single report.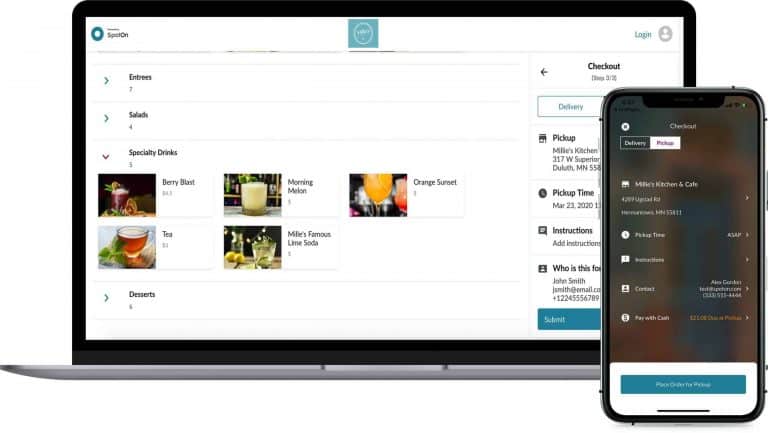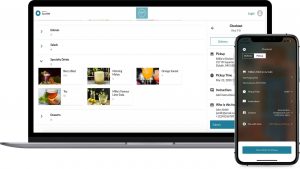 Mobile Manager App
SpotOn Restaurant's manager mobile app lets owners and managers access key functionality and reporting while offsite. Easy-to-read charts and graphs allow them to keep a finger on the pulse of business performance around the clock. Plus, they can also execute system tasks from the app as well, such as running approvals, voids, and discounts.
Ease of Use
SpotOn Restaurant was designed to be easy to use. Its intuitive front of house controls let users quickly take orders and process payments while keeping the line moving. Plus, it features an intuitive, split pay screen that lets employees simultaneously place orders and view accumulated order totals.
Robust Reporting
Restaurant managers can run a number of reports quickly and easily when using SpotOn Restaurant. With SpotOn Restaurant's robust reporting catalog, they maintain insight into sales by employee, hour, and individual POS station. They can also run reports on employee performance, customer activity, top-selling menu items, and more.
Get A Free Quote
2. Qu: Most Innovative QSR POS System


Qu, previously known as GUSTO, is driving innovation in the POS space. The system is rolling out constant updates in an effort to unite the various functions that require third-party integrations. Qu is setting the stage for the development of next-gen POS systems and forcing existing systems to evolve.
Most innovative, constantly updates functionalities, allows for integration with third party solutions
POS systems are the backbone of any restaurant. They collect data from various different channels and use it to make informed decisions on how best to optimize operations. The system helps to reduce costs, improve service and increase customer loyalty. It is a great way to keep tabs on everything that is going on in the restaurant, including inventory management, scheduling and employee performance. POS systems also offer more automation tools, which can be particularly helpful in dealing with labor shortages and other challenges.
The tech company that is evolving POS, responsibly
Qu is tackling the multi-unit technology crisis sweeping across quick service and fast casual segments with the industry's first unified food experience. Built on an open and modern API-first platform, Qu's data-centric POS connects all the ordering, loyalty, production, and brand management experiences for enterprise restaurants on one unified system. The resulting technology simplicity frees operators to confidently drive improved order accuracy and speed, better guest experiences, and healthier operating margins.
Qu1-Menu: Delivery, Menu Management, and Payment Processing Combined
Qu recognized the increasing number of channels through which customers could place orders, view menus, etc. They saw too many POS systems integrating with third-party apps to meet customers' preferences to order through these channels.
So, the company developed the Qu1-Menu system. It combines food delivery, menu management, bi-directional data flows caused by integrations and payment transactions into one powerful system feature.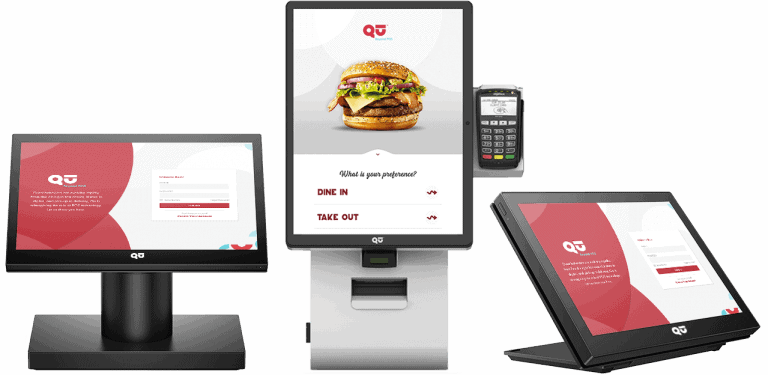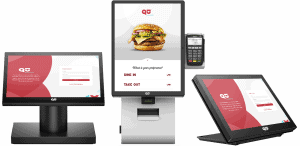 Faster Service, Saved Time, Saved Money
The introduction of Qu1-Menu eliminated the need to look for manual workarounds to accommodate integrations. The result has been a dramatic reduction in the time involved in these fragmented processes. They are now seamlessly integrated into Qu.
This not only saves significant amounts of time. It also saves customers the money involved in investing in third-party applications to integrate with for these processes.
A Single Source of Data Truth
By eliminating the need for so many integrations, Qu delivers an additional, valuable benefit to users. Previously POS data could have been stored in either the integrated app, the POS, or both.
This caused data integrity issues because one system might produce one data set and the other a conflicting data set. This is no longer the case.
Because these processes all take place within the Qu system, the resulting data is captured by Qu and never leaves the system. This gives owners and managers one source of data truth and eliminates data discrepancies.
Get A Free Quote
3. Simphony: Most Promising QSR POS System for the Future


Simphony is built to accelerate lines of waiting customers so QSRs can serve more patrons in less time. It's a compact system that frees up space for more stations, increasing sales and revenue. Plus, its software is remarkably fast and easy to use, empowering employees to better serve customers.
Intuitive and Easy to Learn
Simphony is very user-friendly. Built-in smart workflows allow register employees to shoot an order to the kitchen with a few simple touchscreen taps. Moreover, its streamlined checkout features let employees process payments in a fraction of the time it takes other POS systems.
Online Ordering, Delivery, and Curbside Pickup
Simphony facilitates easy online ordering so customers can order ahead and save time. The system also includes built-in delivery management features, including live order tracking with GPS units riding with delivery drivers.
Additionally, the system facilitates fast curbside pickup. Customers don't have to wait long and employees can quickly drop orders off and get right back to work.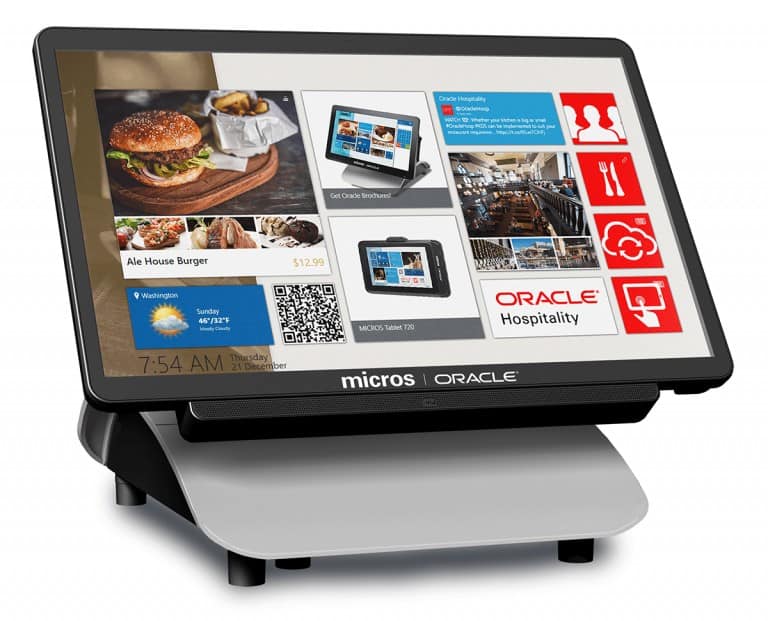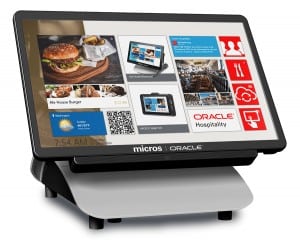 Electronic Signatures
Simphony offers electronic signature capabilities to patrons who pay with credit cards. Receipts can be emailed to customers.
This saves QSRs time because they no longer have to manually track and count paper receipts. Instead, it's all saved in their POS system. Plus, it helps them build their email lists for future marketing efforts.
Self-Ordering Kiosks
Oracle, in addition to producing software, manufactures POS hardware. One piece of hardware that's particularly helpful to QSRs is the self-ordering kiosk. Customers can place their own orders, pay, and wait for their number to be called.
Get A Free Quote
4. Talech: Most Feature-Rich Quick Service POS System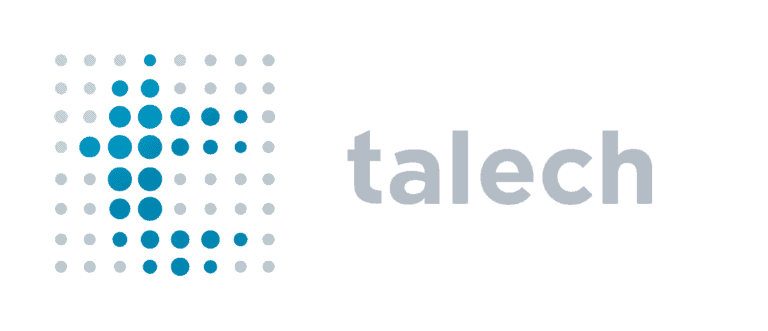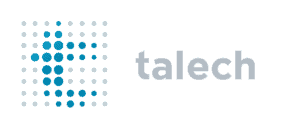 Talech is a cloud-based POS system that can elevate your quick service restaurant to the next level.
has been on the scene since 2012 and produces point of sale systems for multiple types of restaurants. It's a great choice for quick service restaurants due to the sheer number of features offered in its system. It's loaded with features that serve the needs of quick service restaurants. Below, we dig into a few of those.
Customer Loyalty Programs
Talech offers customer loyalty programs that entice customers to keep coming back to your quick service restaurant. Plus, it is all digitized meaning you don't have to provide physical loyalty cards and punch holes in them. It's all tracked in the system.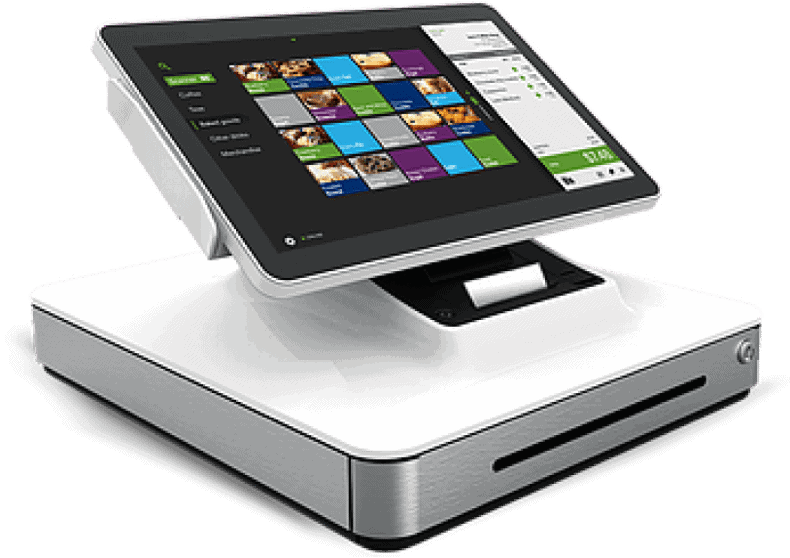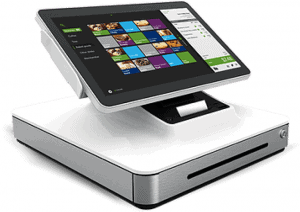 Kiosk Mode and Customer-Facing Display
Allowing customers to place their own orders substantially increases the speed of a restaurant's operations. Talech's kiosk mode and customer-facing display allow customers waiting in line to place their own orders.
They receive a ticket with their order number on it. Meanwhile, their order is already being prepared in the kitchen. By the time the customer reaches the cashier, their order is probably there waiting on them.
Easy Menu Management
Talech makes menus easy to navigate by adding images and using order modifiers. This makes it simple and easy for customers to place complex orders with little effort. The same is true for employees who need to navigate the menu screen and place orders.
Online Ordering
Talech offers seamlessly integrated online ordering. When an order is placed online, it arrives directly in the register, not on a printed order sheet. Plus, customers can order for immediate pickup or order in advance and set a time for pickup.
Get A Free Quote

Lightspeed for Restaurants delivers tools and features specifically designed to improve performance results of quick service restaurants. The system is built with speed in mind. For example, employees can view, enter, and fill orders as well as process payments from a single screen. Plus, its fully-integrated systems let customers order from anywhere driving up revenue and cutting down wait times.
Lightspeed for Restaurants is a top QSR POS solution that helps you manage inventory, improve performance, and enhance customer experiences. It offers an intuitive interface that's easy for both experienced and novice staff to navigate, reducing training time and improving overall productivity. The system also includes features such as Pay at Table, Tap to Pay, and Scan and Pay that help speed up the payment and ordering process and increase table turns. Other key features include a reliable offline mode and Tip Management that allows servers to maximize their earnings.
The system is ideal for a wide range of fast-service restaurants, including QSRs, dine-in establishments, and delivery services. Its inventory management tools let you track stock and sales data across all locations, while enabling you to quickly create and re-order menu items. Integrated accounting features help you streamline back-office operations, and you can customize the way your team sees their work.
Lightspeed for Restaurants has excellent public reviews, with many customers praising the system's ease of use and lack of a steep learning curve. They also appreciate the extensive reporting capabilities, which include revenue and receipt tracking by hour and day, tailored product and product category information, and specific cash register monitoring. It's also possible to give each employee customized access so they only see the sales numbers that pertain to them. Other useful features include a loyalty add-on and integration with popular accounting platforms. Customers can choose their preferred credit card processor from a list of compatible options, including Vantiv triPOS, Mercury Payment Services, Cayan, and Element Express.
Industry-Leading Inventory Management
Lightspeed for Restaurants features industry-leading inventory management capabilities. This is key in the QSR space because customers rely on consistency when they visit a quick service restaurant.
Lightspeed for Restaurants provides QSRs with ingredient-level inventory tracking and sends alerts when a certain ingredient is running low. This ensures you never run out of ingredients and can keep serving meals.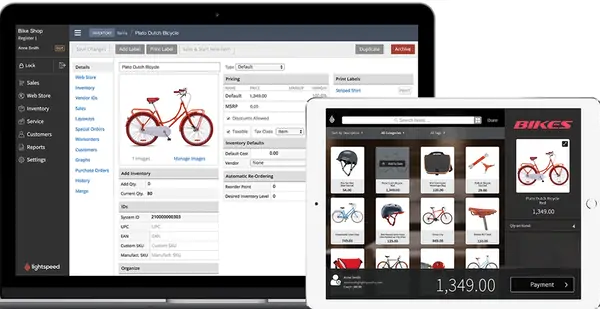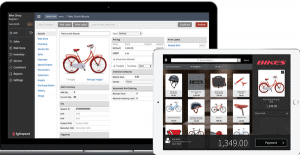 Multiple Location Management
Lightspeed for Restaurants allows quick service restaurants to grow and scale easily with multiple location management features. Users can report on performance from across all locations on a single screen.
They can also make menu edits quickly and easily, then apply them to all of their restaurants. Those changes are then updated in real-time at each location. You can also set employee permissions remotely, saving valuable time.
Get A Free Quote
6. Revel Systems: Best QSR POS System for Reporting and Analytics


Revel Systems built its quick service restaurant POS system with the intention of putting "the 'quick' back in quick service. It's a full-service platform that delivers customer display systems advanced menu management and building capabilities, internet outage protection, robust employee management, and best-in-class reporting and analytics.
Reporting and Analytics
Revel excels here by delivering powerful business insights that allow customers to make smart growth and management decisions. Its customizable dashboards let you see more metrics in one place that most other POS systems. Because it's customizable, you set it to display the metrics you need to see most.
End-users have a variety of reports to choose from. Of course, users can run standard sales reports. But Revel takes its reporting capabilities a step further. Users can generate reports around top-selling items, inventory levels, and the busiest hours and days of the week. Plus, it offers reports around month-over-month and year-over-year revenue growth, providing valuable insights to drive intelligent decision making.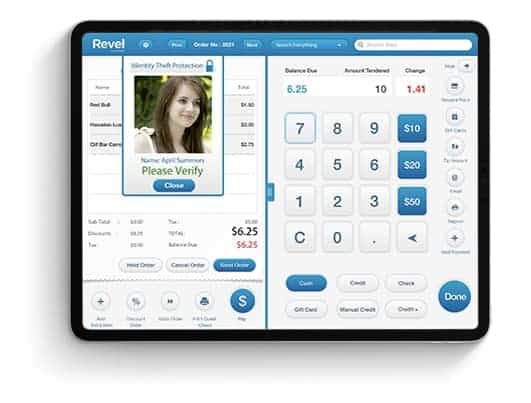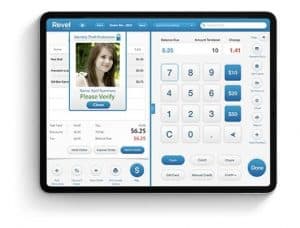 Always-On Mode
Revel Systems—like the other five systems on our list, is cloud-based and depends on the internet to function. Revel's Always-On Mode lets the system keep running during internet outages.
It doesn't work like SpotOn Restaurant, which uses a backup router that runs on mobile data. But it does keep processing orders and receiving payments while the internet is out. The only difference is that Revel must wait until the internet returns, as which point that data is uploaded retrospectively.
Customer-Facing Display
Revel Systems' customer-facing display doesn't let customers order their own meals. But it does expedite the checkout process by letting them pay for their meals via the touchscreen monitor. This is one more time-saver that boosts QSR revenue.
Self-Order Kiosks
In addition to customer-facing displays, Revel provides customers with the option of ordering their own meals with its standalone kiosks. These kiosks have to be easy for the customer to use, and they are.
Customers can also use these interactive kiosks to pay for their meals because the interface is built to be so easy to use. This helps shorten lines of hungry customers and frees up employees' time so they can focus on more important tasks. Plus, self-serve kiosks delight customers and help QSRs deliver a better customer experience, which encourages repeat business.
Get A Free Quote
Honorable Mentions: Those that Just Missed the Cut
A few systems were remarkably close to making our top six list. We feel they deserve an honorable mention for being such powerful systems.
Toast


Toast's POS for quick service restaurants deserves to be mentioned because the system delivers plenty of features that increase speed.
These include online ordering and delivery and takeout management, loyalty programs, and robust reporting and analytics. The system also delivers automated pickup notifications that are sent when customers' orders are ready.
On top of that, the system also allows QSR owners to manage operations of multiple locations from their mobile devices.
For example, Toast also includes powerful menu management features. That means owners and managers can manipulate the menus of various locations at the same time.
Cake


Cake is another favorite among QSR owners and for good reason. Its multitude of features streamline operations for owners in many ways.
The system offers an offline mode that functions much like Revel System's "Always-On Mode." Business owners never have to worry about operations coming to a screeching halt when the internet fails.
The system is one of the most user-friendly restaurant POS systems on the market. It minimizes the number of clicks necessary to complete specified tasks. It also offers a user training portal for new users so they can learn the system inside and out. All of this speeds up operations exponentially.
Upserve


Upserve is a market-leading POS system built specifically for the food and beverage industry. And it shows. Its delivers point of sale solutions tailor-made for various restaurant types, include quick service restaurants.
The system is easy to use, freeing up time that employees can spend on other tasks such as tending to the next customer in line.
It offers real0time menu management features that let users change menu items whenever they want. This feature comes in handy for small, local quick service restaurants that do run out of items at times. It's a solid option that QSR owners should consider.
Buyer's Guide: How to Evaluate a QSR POS System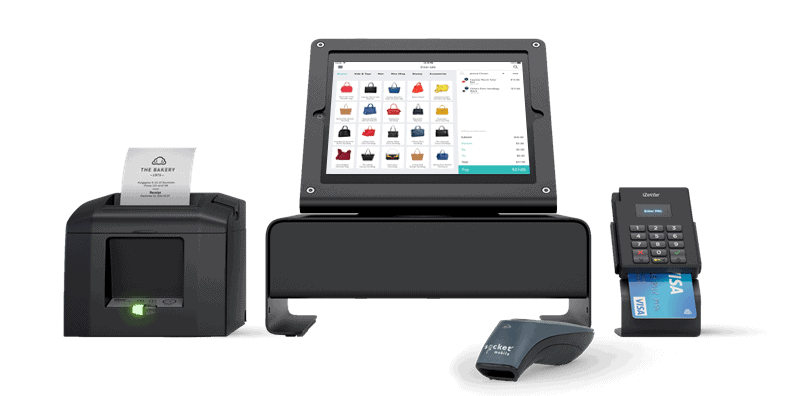 Many variables go into the decision to purchase a quick service restaurant pos system. Below we touch on things to look for when evaluating systems. We start by providing some context as to why QSRs need one and some nuances to consider during your evaluation.
Why You Need Modern Quick Service POS Software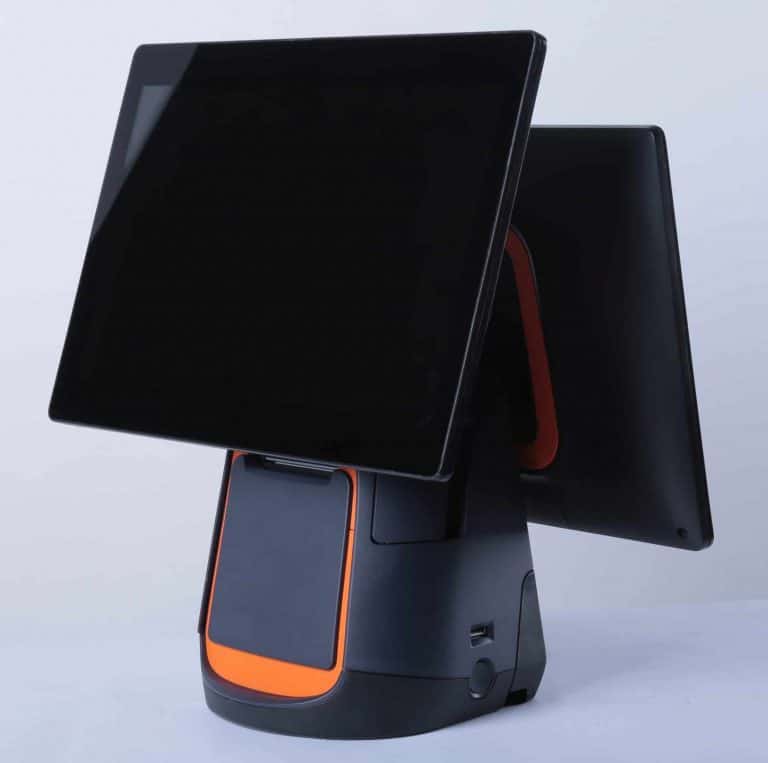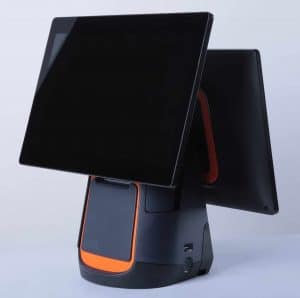 Quick service restaurant management software is the brain of your restaurant operations. An outdated system won't cut it.
Technology is evolving so fast that you need the latest technology to remain competitive in the QSR industry. Below are a few key benefits of investing in cutting edge software.
Customer Experience
An increasingly important factor in consumers' purchase decisions, the customer experience is increasingly vital to business success. However, 10 years ago this wasn't the case.
For example, if your system is slow and results in long lines and wait times, you're delivering a poor customer experience.
It's important to keep up with general market trends like this. That's why you should understand what your customers want and find a POS system that meets their desires.
Customer Loyalty
A great customer experience at a quick service restaurant will customers satisfied and hungry for more. This will encourage them to return, thus increasing customer loyalty rates. Loyal customers amount to free advertising because they tell their friends and family about how great your QSR is. That leads to more business and quicker revenue generation.
Employee Satisfaction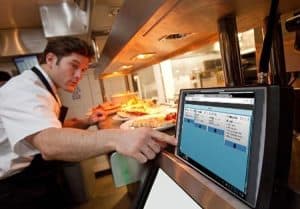 If employees are constantly frustrated when trying to use your QSR POS system, they won't perform well. Management will likely reprimand them for something that ultimately wasn't their fault.
This can easily drive an employee to leave, increasing employee turnover, which costs you time and money. An easy-to-use POS system that makes them more efficient will result in praise from management and increase employee satisfaction levels.
Software Capabilities to Look for in a QSR POS System
Because quick service restaurants aren't overly complex operations, you don't need loads of software features. But there are some essential capabilities and you need them to function reliably.
Speed of Service
Speed is everything in the quick service restaurant industry. You need to take orders, serve them, and process payments as quickly as possible.
Speed isn't a feature but rather a system trait. The best way to gauge a QSR POS system's speed is to take a free trial and test it yourself.
If the vendor in question doesn't offer a free trial, ask for a free demo, ask the company rep to run through these processes. During the demo, focus on how fast load times are and how many clicks it takes to complete each task.
Ease of Use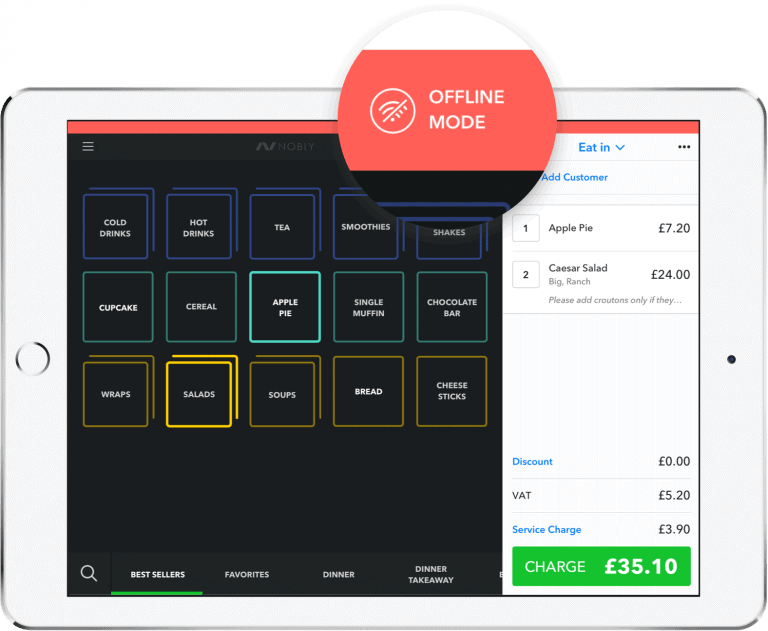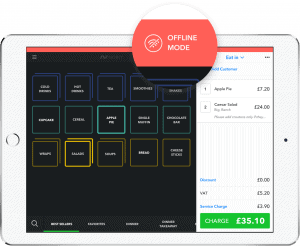 We mentioned above how a slow, clunky system can frustrate both employees and customers. That's exactly why you should look for a POS system that is intuitive, easy to use, and requires minimal training.
How many clicks does it take to complete a task? Are there system prompts that guide users from one screen to the next? Or does the user interface look like a Soviet space shuttle control panel from 1970?
Ease of use is important in POS systems for every industry—retail, hospitality, etc. However, many QSR staffers are young, entry-level employees. The easier the system is to use, the quicker they'll learn to use it and maximize the power it offers.
Customer Management Features
These features help your staff deliver a more personalized customer experience. They save customer data such as purchase history, food allergies, commonly-purchased items, etc. They also drive customer loyalty and rewards programs.
This is helpful information. Let's say you're running a special discount on vegetarian burgers and the screen tells you Customer X is a vegetarian. You can suggest that burger to them, as well as any new vegetarian items on the menu.
Menu Customization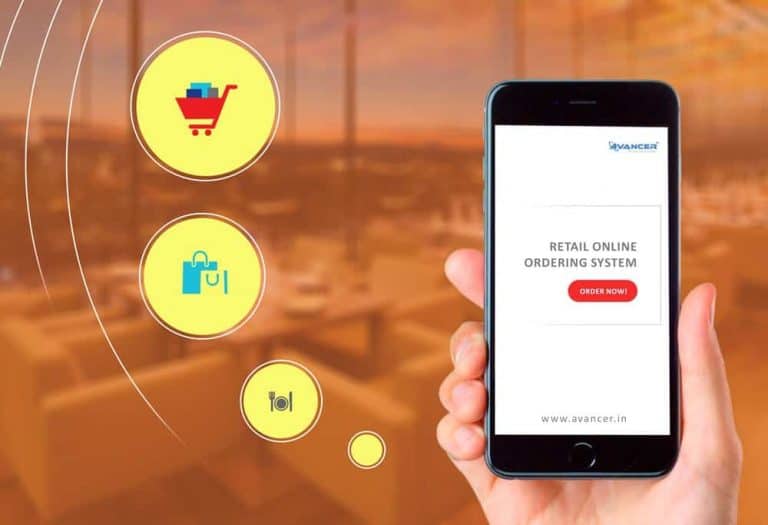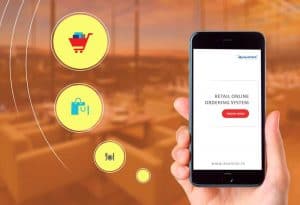 You might remember McDonald's infamous McRib sandwich. It was introduced in the early 1980s, then removed from the menu due to low sales. Then reintroduced a few years later, the removed in the 2000s.
Now it's available in some areas where demand is high and unavailable where it never sold well. You'll have menu items like this too, and you'll want to add and remove them as demand dictates.
Digital Signatures
We live in the digital era. Things are done digitally because they are faster than antiquated, analog methods. Signing and keeping track of individual, loose paper receipts is a hassle and runs many risks. Electronic signatures are stored in your system and backed up in the cloud.
Accurate Inventory Management
When was the last time you went to a fast food restaurant and they had run out of a popular menu item? Customers frequent quick service restaurants because they know they will receive a near carbon copy of what they ordered the last time.
Multiple Location Management
Many QSRs are franchise businesses and owners often own multiple stores. Look for a QSR POS system that offers multiple store management features.
Powerful Reporting and Analytics
Back to the McRib. McDonald's took it off the menu because sales reporting indicated it wasn't selling. Similarly, you need similar insight to make data-driven decisions. A POS System with robust reporting provides that.
Quick Service POS Hardware
Your POS software, being the brain of your operations, can't function without a body and limbs. Those limbs are hardware components that carry out tasks assigned to them by your software. Below we mention a few POS hardware components that are important to QSR businesses.
Self-Ordering Kiosks
These are exactly what the name indicated. They allow customers to place their own orders. They receive a ticket and when their number is called, they present the ticket and receive their food. Touchscreen kiosks expedite service considerably.
Drive-Thru Display Boards
Any quick service restaurant with a drive-thru has to give customers a way to know what they can order. Investing in a drive-thru display board with a built-in microphone and speaker are invaluable for drive-thru restaurants.
Tabletop Ordering Tablets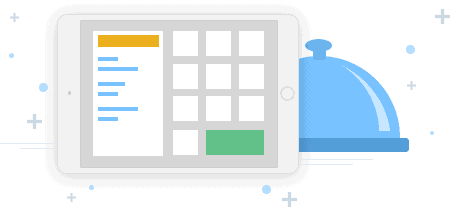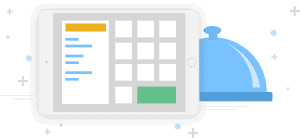 These are increasingly common in QSRs. They are tablets, fixed to tables, that allow patrons to sit down and place their own order from their table. In short order, their food arrives. They can also pay via credit card on the same tablet. This not only increases table turnover but also delivers an interactive experience to customers.
Additional Hardware
We merely scratched the surface. QSRs also need kitchen display systems, receipt printers, barcode scanners, credit card readers, and more. Check out our list of key POS hardware components for a more comprehensive view of what you'll need.
Which QSR System is Right for Your Restaurant?
Depending on your restaurant and how many locations you own, this could vary widely. If you own a diverse restaurant with many offerings and need various capabilities, Talech could be the best fit.
On the other hand, if your QSR is consistently busy and runs the risk of running out of inventory, Lightspeed for Restaurants might be a better fit.
For those who own multiple QSRs and need robust systems that can handle a heavy load, SpotOn Restaurant and Qu are worth considering. And if you're looking to grow and scale your QSR, Revel Systems with its powerful reporting will help you make better business decisions.
Ultimately you should consider your needs and requirements, as well as your budget. While evaluating systems, look for the one that meets most of your needs and fits your business model.
Regardless of which system you select, be sure that it's fast and executes tasks at a rapid pace so you don't lose customers.