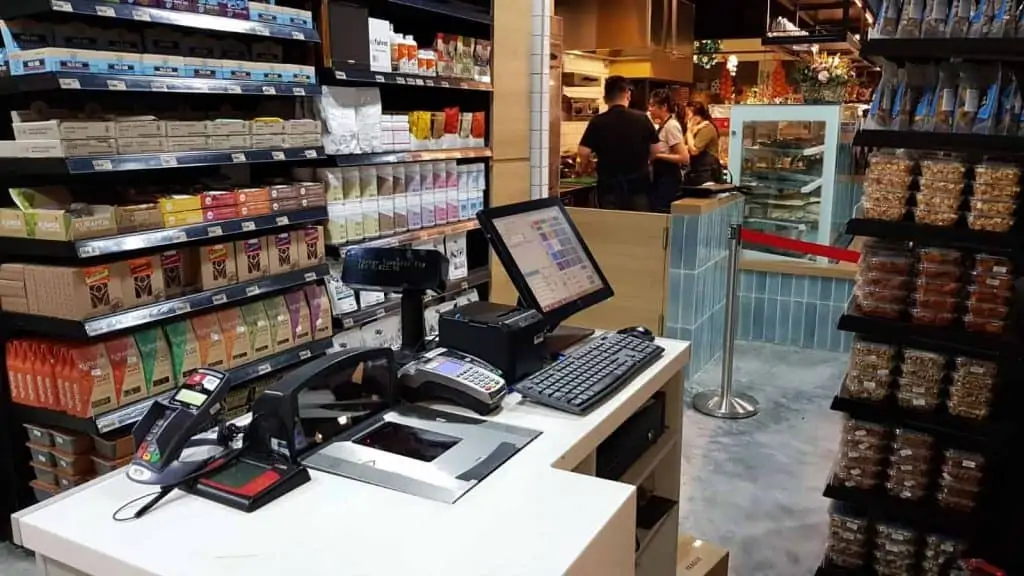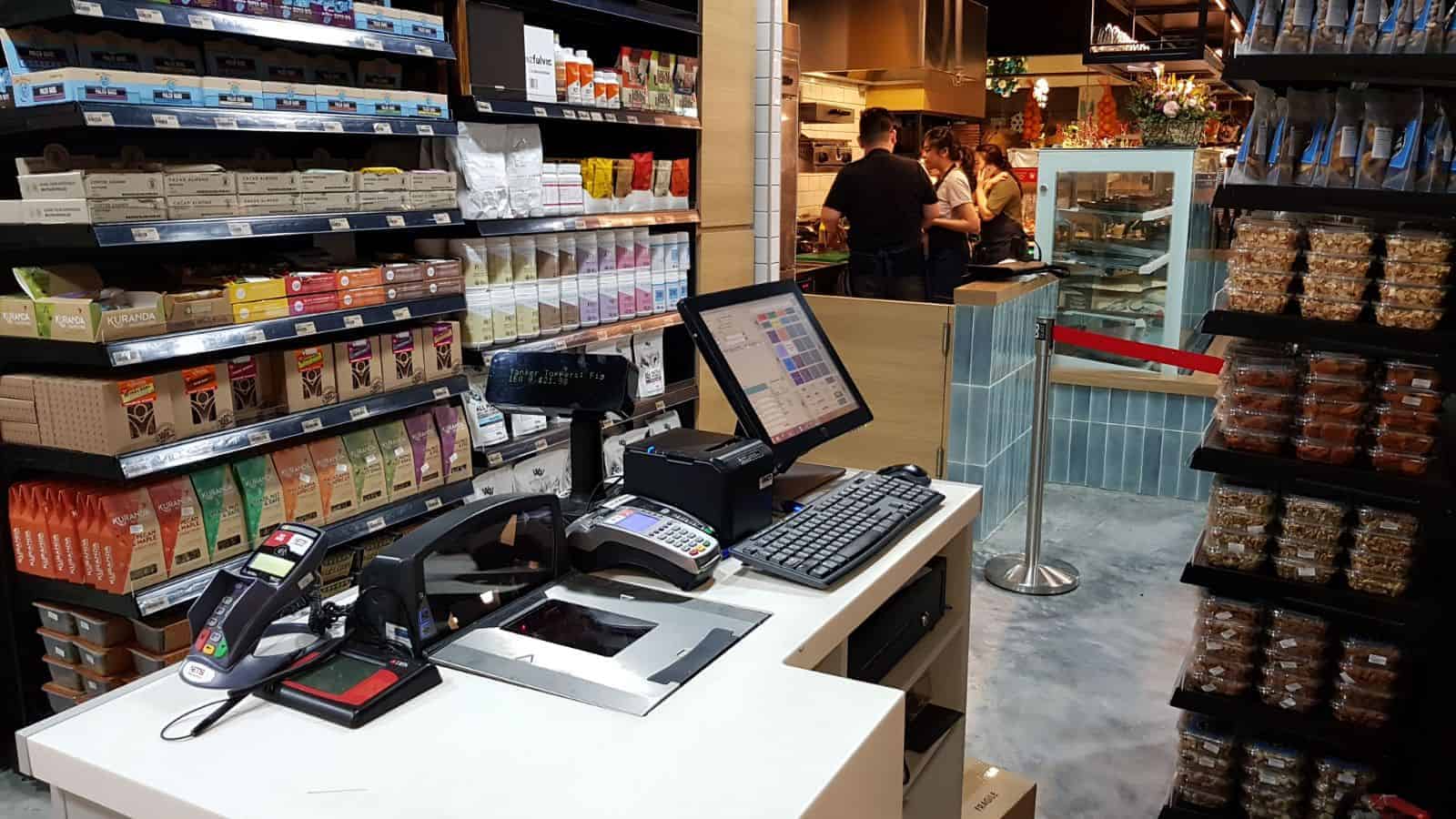 Although many companies have suffered from the ecommerce revolution, convenience stores have hit the ground running. The industry is thriving as the business model continues to adapt to modern consumer needs. This requires technology that will give you a competitive edge.
Convenience stores form the backbone of the retail industry. According to a recent report by Nielsen, there are over 150,000 in the United States. That's approximately one location for every 2,000 people. In fact, they make up a third of all retail outlets in the country. That's why a convenience store POS system is the key to continued success.
A convenience store faces challenges that other merchants do not. Operational costs are high while they tend to have low-profit margins. Companies must offer a variety of different products/services that should always be in stock. Customer retention is difficult with competition so fierce.
After extensive research, we found IT Retail to be the best POS system for convenience stores, simply because it offers the most industry-specific features like simplified lottery management and a built-in customer loyalty program. Additionally, it can detect automated age verification and track inventory in real-time.
Gas stations must also consider solutions with specialized features like pay-at-the-pump and integrated pump control. To make it convenient, we've searched the web for the top convenience store software systems and laid out the details below.
The Top Six POS Systems for Convenience Stores
How do you know which platform is right for business? Here are some of the best convenience store POS systems on the market today:
1. IT Retail – Best C-Store POS For for Intelligent Employee Management
2. C Store Pro – Best Convenience Store POS System for In-depth Analytics
3. POS Nation – Best Convenience Store POS System for Low Processing Fees
4. LS Retail – Best For for Powerful Stock Control
5. Clover – Best For for Complete Customization
6. Square – The Convenience Store POS System for Easy Installation
Comparing the Best POS System for Convenience Stores
| POS System | Software Costs | Additional Costs | Key Feature |
| --- | --- | --- | --- |
| | $79/month for Markets plan | Grocery and Enterprise plans are quote-based | In-depth staff controls that integrate performance with automated scheduling |
| | Quote-based pricing | Call to request a free demo | Detailed reporting that includes lottery analysis, fuel inventory, and sales data |
| | Flex Monthly is $99/month for subscription | Freedom package is $999 one-time fee to own the software and hardware | Cash discounting program to pass along processing fees |
| | Quote-based pricing | Call for hardware prices | Robust inventory controls with automatic replenishment of standard stock |
| | $9.95/month | Processing fee is 3.5% + 10 cents per keyed-in transaction | Customized hardware and software packages with tailored accessories |
| | Basic plan is free | Processing fee is 2.5% + $0.10 on all in-person | Free hardware with software downloaded and set up in minutes |
1. IT Retail – The Convenience Store POS System for Intelligent Employee Management


IT Retail was designed to give convenience stores a better understanding of their operations. The cloud-based technology supports all types of payments, including:
Cash
Credit/debit (magstripe)
Apple Pay and Google Pay
1-second EMV
EBT
Use any device (like a laptop, phone, or tablet) to check-in and monitor business from anywhere in the world. Even when the internet is down, the system will work for your business. Key features to consider are:
Inventory Controls
Keeping new products stocked is essential for success. An effective convenience store POS system like IT Retail provides an in-depth inventory management system that keeps track of different items. It makes ordering and managing diverse stock easy.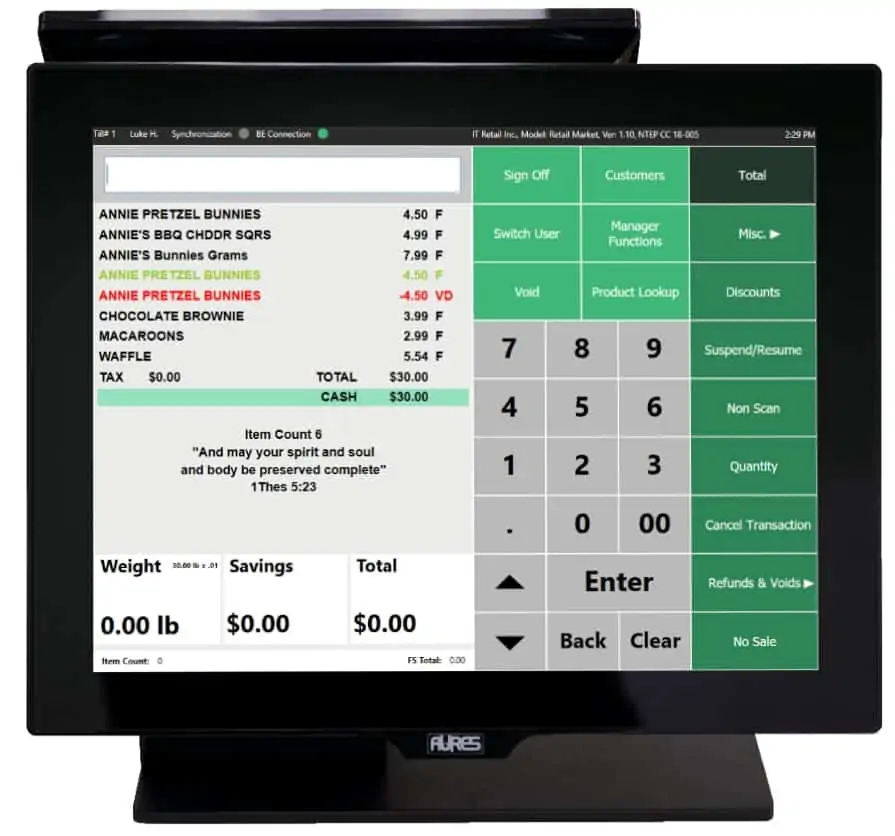 Intelligent Employee Management
Tracking employee performance while managing a full schedule can be challenging, especially when the store is open 24/7. Intelligent convenience store POS software enables a business to combine the store scanning system with scheduling and monitoring employee performance. This helps to provide greater insight into every transaction.
Speed and Reliability
IT Retail is specifically designed for speed and reliability at the checkout stand. They understand that one of the top needs of a convenience store is moving customers quickly through the line and out the door happy.
Consistent Compliance
Convenience stores sell a multitude of age-restricted items and thus need a system that considers compliance. IT Retail helps cashers abide by the law when selling things like alcohol and tobacco. The platform requires a date of birth is entered at purchase to age-verify every item.
Additional features include:
NFC, EMV, gift cards, and EBT payments.
Scanner and scale support
Grocery-optimized checkout experience
Instacart integration
Import price changes from vendors
2. C Store Pro – The Convenience Store POS System for In-depth Analytics



Owned by Petrosoft, C-Store Office (C Store point of sale) has been an industry leader for over 15 years and is deployed in over 20 countries. With 1200+ active accounts, C Store POS allows a business to stay in control of operations from anywhere, at any time. Some features to focus on include:
Price Book Optimization
The convenience store point of sale system allows a business to centralize the administration of a price book and manage items between departments and categories accordingly. With C Store software you can set up, add, or move products as needed. Manage pricing by custom group, price group, division, or store location.
Lottery Tracking
The C Store POS system allows you to easily track "shrink" by monitoring the serial numbers on the lottery tickets. Reporting enables a store to closely monitor cash, sales, inventory, and settlement reports. Track lottery from a full pack down to the last ticket sold.
Fuel Management
If you also manage gas pumps, C Store back office software keeps you from running dry. Stay in compliance while profits remain healthy. Oversee everything from invoices to orders and:
Sales
BOLs
Margins
Tank data for SIR
Workflows
Automate operational workflows so you can easily verify sales, balance cash, purchase data, and conduct inventory, all with a single click. C Store POS software helps to ensure employees are completing their daily tasks.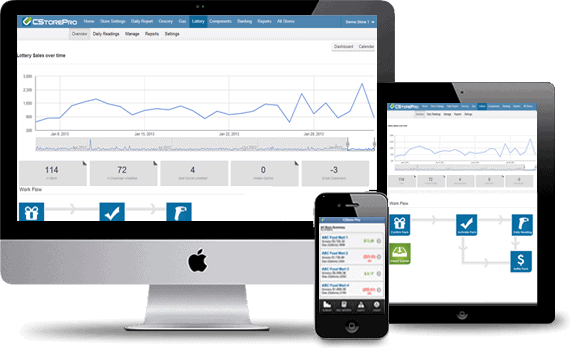 Promotions Program
C Store POS systems allow you to set up promotions in advance with specific time frames assigned. This will work with a variety of cash registers that might not support mix and match promotions. It gives you an edge when negotiating costs with vendors.
Additional features include:
ISO 27001-2013 certification
Online training with remote setup
Free C Store mobile app
Extensive integration with accounting systems
Consistent software updates and backups
3. POS Nation – The Convenience Store POS System for Low Processing Fees


POS Nation is among the point of sale systems for convenience stores that enables you to streamline sales and grow your business. The brand boasts powerful customer support with no long-term contracts and zero hidden fees.
The plug-and-play back office software for convenience stores supports companies with a turnkey solution to get started in minutes. Access the software, hardware, and payment processing all in one spot. Keep an eye out for these features:
Product Management
POS Nation enables a convenience store to manage a large variety of items at the touch of a button. The database can hold a seemingly endless number of products to make convenience store inventory management a breeze.
Custom Dashboard
The cashier needs to move fast and this type of business swaps out items daily. Save valuable time for employees with customizable hotkeys for your most popular products. Ring up items quickly at the touch of a button.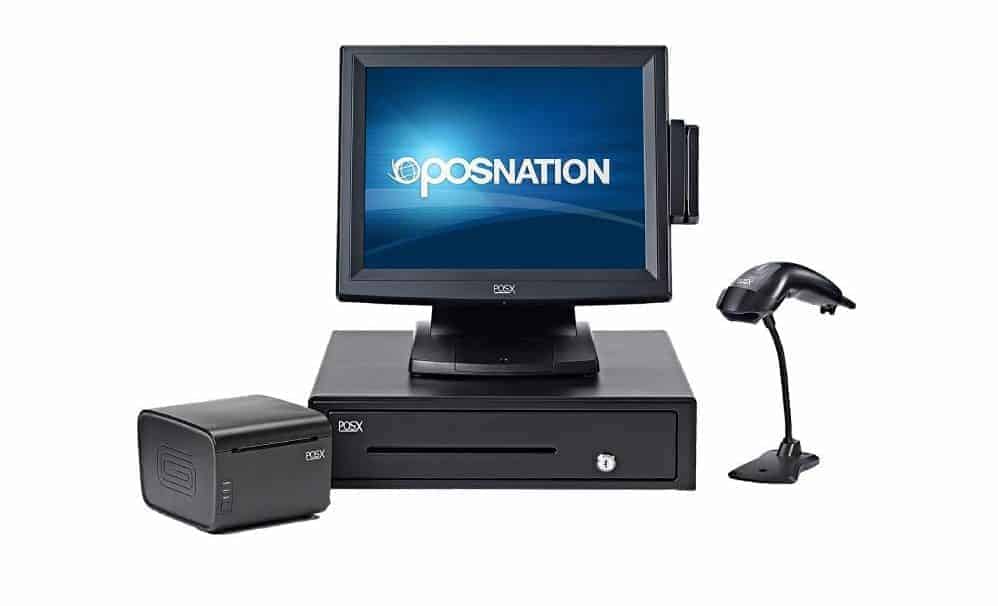 Pass Cash Discounting
POS Nation is a top convenience store point of sale solution that enables you to pay low (or zero) processing fees. The program is called Pass Cash Discounting and it's a way for merchants to pass along the cost of accepting credit cards to customers.
Security
Take the guesswork out of checking IDs with a powerful age verification feature. It protects employees, your store, and helps to avoid heavy fines and penalties. The system also detects instances of shoplifting and theft, as well as alerting you to low inventory.
Payment Types
Accept all types of payments, which include:
Cash
Credit/debit cards
Gift cards
Mobile payment
EBT
Additional features include:
Over 55 pre-built reports and additional customizations
Export data to Excel files for further analysis
Employee pay rates with smart time management
Handle all lottery on a single register
Ordering automation with returns tracking
4. LS Retail – The Convenience Store POS System for Powerful Stock Control



LS Retail is convenience store software that is deployed and localized worldwide by a global network of partner organizations. They share a commitment to establishing lasting customer relationships.
It's the best convenience store POS that delivers customer-specific functionality and brings prompt, reliable support straight to your door. Key features include:
Stock Control
Grab detailed information from customer sales to easily manage convenience store inventory and find the right product mix. This helps to meet sales goals and maximize revenue for a store of any size. Set up automatic replenishment of your most popular stock and never say "no" to customers again.
Staff stays mobile and productive with integrated wireless technology. This means you can remain confident that stock databases are always up to date.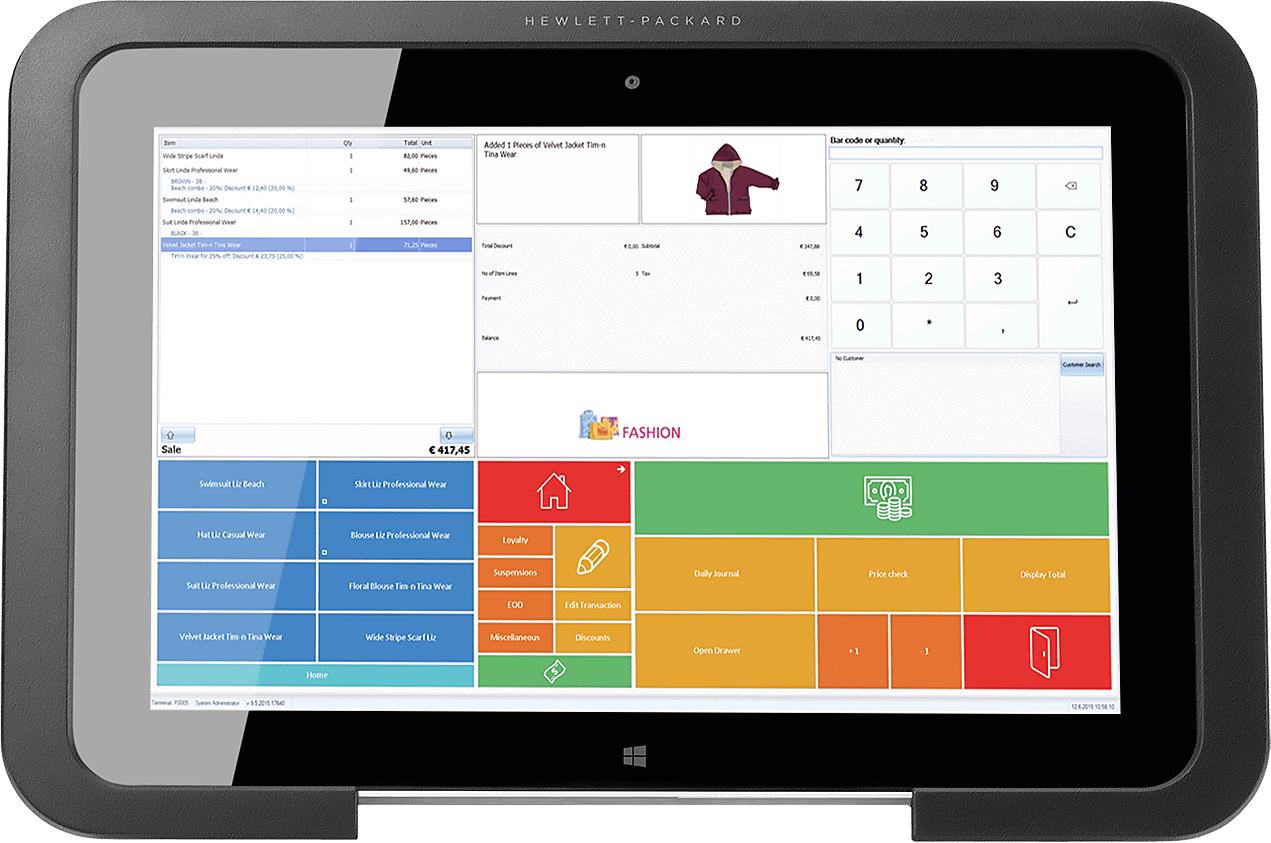 Quick Checkout
LS Retail helps to increase flexibility and speed at the checkout. Each POS contains the same database (no matter how many units you have in the store). The POS software for convenience store guarantees there is no loss of speed or accuracy. This always ensures fast-paced operations.
Self-checkouts are another possibility that not only empowers the customers, but speeds up the entire process. During peak hours, this setup provides maximum efficiency and resilience.
Mobility
Increase loyalty and invite return customers with the LS Retail mobile app. Customers can download the software and create shopping lists that are customized by store. You can transmit offers, promotions, and coupons through the app that will send directly to an individual's smartphone.
Registers will work all the time, whether online or offline. In case of network issues, data replication happens the second the store systems are back online.
Additional features include:
Up-selling and cross-selling tools to increase revenue
Cut staff training times and reduce shrinkage
Effectively diminish stock-outs and increase warehouse efficiency
Prepare, in advance, prices and offers for multi-store management
Reduce in-store labor by introducing automation
5. Clover – The Convenience Store POS System for Complete Customization



This cloud-based convenience store back office software was launched in April 2012 and is headquartered in Silicon Valley. It's a solution that is designed to take and accept orders, manage your team, and handle inventory.
Clover POS was developed to make things easy and grow your customer base at the touch of a button. Features to look forward to include:
Complete Customization
Select the stationary and portable terminals needed to run your business. Manage all moving parts with customizable features and functions throughout the software. Clover believes a POS should scale with your business. All devices, apps, and accessories come a la carte for complete customization.
Offline
Clover POS syncs with the cloud. That means you can access reports, sales, refunds, deposits, etc. at all times, from anywhere. This gives a business the luxury of mobility.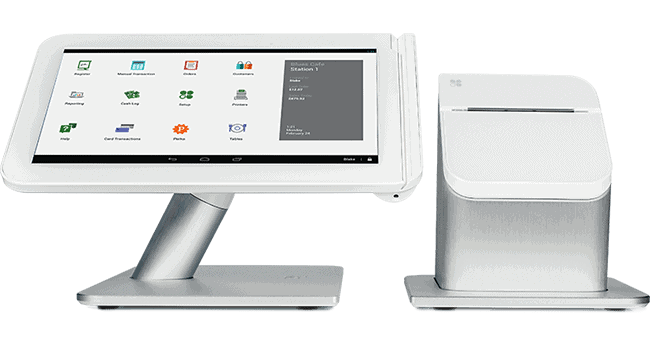 Payment Processing
Leave no register behind and make it simple for customers by accepting all forms of payment, including:
Credit/debit
Gift cards
NFC
Mobile payments
Automatically apply service or delivery charges and offer digital receipts. One-touch tipping is also a function. The Clover POS platform can process returns, refunds, and exchanges quickly and efficiently.
Payments are always safe through the convenience store accounting software. It features multi-layered security on a PCI-certified system. All of this makes cardholder data more secure.
Order Management
No order is too complicated. The program enables a convenience store to split bills, open tabs, and combine multiple orders. Drill down into the details. Track item levels sales, taxes, and discounts.
Additional features include:
Automatically generate customer profiles with order history
Manage the entire staff with scheduling and specific permissions
Send custom promotions and personalized email marketing campaigns
Keep customers coming back with loyalty programs
6. Square – The Convenience Store POS System for Easy Installation

Like all Square products, Square POS for Retail is built with ease-of-use in mind. It's convenience store software free of charge. If you're looking for a system with low-cost hardware and simple installation, this platform will work perfectly.
Getting started is as simple as downloading the Retail app to your iOS device, linking a bank account, and uploading data (like inventory and staff). Once everything is in place, merchants have access to features like:
Inventory Management
Square has robust inventory functions that allow a business to organize stock by category with unlimited product variants. Generate and print barcode labels and place purchase orders or transfer stock across locations. Set low-stock notifications to alert you in real-time when products need to be replenished.
Customer Relationships
Square has a built-in customer relationship management (CRM) tool that enables a convenience store to save customer information and track purchase history. You also have the ability to add on features like email marketing and a customer loyalty program.
Reporting Suite
The Square reporting function gives you access to a multitude of information. Run reports on things like:
Projected profit
Cost of goods
Labor vs. sales
Gross sales
Sales by category
Discount analysis

Staff Controls
Streamline employee management with a built-in time clock and job-based permissions. Create different access levels for more security and staff controls. Square makes convenience store management simple. It allows for easy commission reconciliation and payroll for a well-rounded tool.
Speedy Checkout
Streamline the checkout experience and bust lines with the Square for Retail platform. E-mail receipts and collect customer data at the same time. Cashiers can split tenders and create partial payment on-the-fly. The system will even generate suggested tips when appropriate.
Additional features include:
Sell in-store and online with an ecommerce add-on
Payment processing in-store and on-the-go
Manage finances, apply for a loan, and transfer funds fast
Multi-location management
Honorable Mentions
Now that we've reviewed the best convenience store POS platforms, consider these four honorable mentions to help cement your decision.
1. Korona POS – The Convenience Store POS System for Customer Retention

Korona POS is a cloud-based convenience store POS program that is accessible in a safe and remote server. The system offers everything you need to run a store of any size. It focuses on customer retention tools that include customizable promotions and discounts printed right on the receipt.
System features include:
Intuitive design that makes training staff a breeze
Time clock management with staff scheduling
Refunds/returns offered as cash or store credit
Specific employee controls with detailed shift reports
QuickBooks accounting integration
2. eHopper – The Convenience Store POS System for Cash Management



eHopper is a convenience store POS that's easy to use and available on iPad, Android, Windows, and the Poynt terminal. The cross-platform works offline and offers extensive cash management capabilities to handle assets appropriately and maintain profits. Have complete transparency and continuous tax compliance with your cash drawer.
System features include:
Customized discounts with loyalty check-ins and coupon redemption
Open/close register to improve cash flow and shift rotations
Optimized receipts for each individual order
Payins/Payouts to add/subtract cash in the register (with detailed reporting)
Increase checkout speed with tailored dashboard and modifiers
3. Catapult POS – The Convenience Store POS System for Bulk Ordering



Catapult POS was designed with versatility in mind. No matter where a transaction occurs, each touchpoint operates independently, immune to network failure. The system eliminates keystrokes to expedite the processing of weighted items. This makes it a great POS platform for bulk ordering that optimizes digital payments.
System features include:
Transaction auto-resume so data is never lost
Facilitates automatic updates on a user-defined schedule
Certifications that include PA-DSS, Weights & Measures, IIAS, NPLEx, and WIC
Industry-specific integrations like fuel pump management and pharmacy systems
Biometric scanning for customer-centric loyalty programs
4. Harbortouch POS – The Convenience Store POS System for Building Vendor Relationships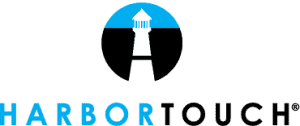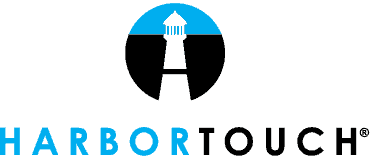 Harbortouch is a convenience store point of sale platform for any size or style. The system offers industry-specific features with an emphasis on developing and nurturing vendor relationships. From age-verification prompts to intelligent purchase order management, it's the perfect system to organize and optimize operations.
System features include:
Inventory tracking that monitors stock levels in real-time
Employee commissions awarded as a percentage or flat amount
Comprehensive customer database with purchasing history and contact info
Staff controls with permission levels and time clock management
Dynamically customized product pricing
Features to Look For in a Convenience Store POS System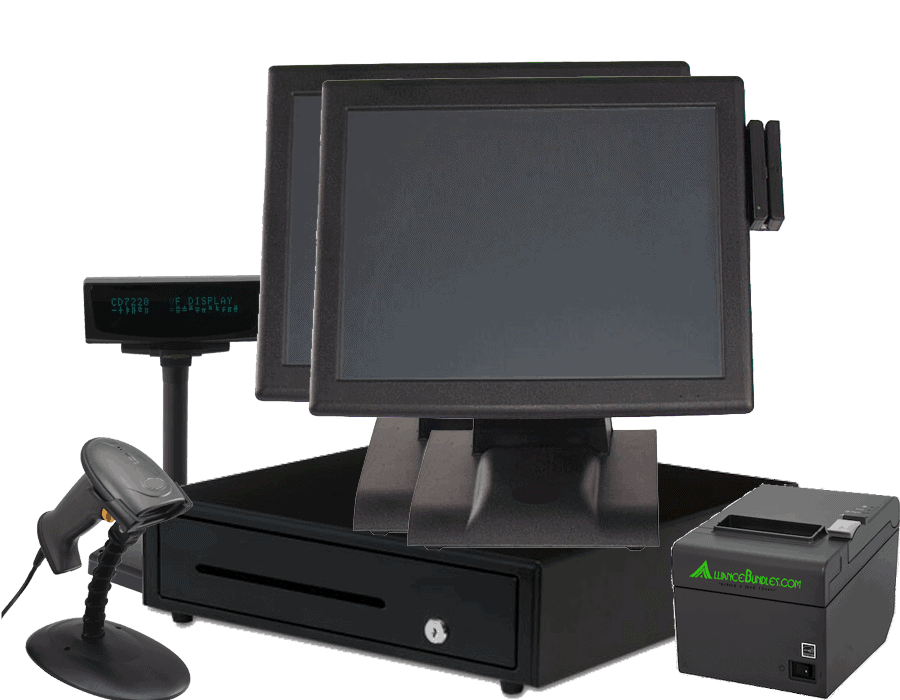 The simplest feature to be included in all convenience store POS systems is the ability to process payments using any method. This should include:
Cash
Credit/debit
EBT
Contactless
Gift cards
Digital wallets
Convenience stores merchant processing must have an EMV chip reader to reduce fraud and hold the bank responsible for bad transactions.
Always keep in mind the types of hardware requirements that vendors might have. If it's a third-party, make sure that the chip reader is EMV compliant to employ the most up-to-date POS platform in the store. To assist with collecting payments, also consider equipment like:
Cash drawers
Credit card terminal
Convenience store scanning system
Cash register for convenience store
Inventory Control

A convenience store deals with a large number of products that includes everything under the sun. Some stores sell electronics while others provide hot food and showers. Look for a software solution that automatically updates when inventory levels are low. The system should send notifications in real-time when stock is diminishing and reaches a certain threshold.
Customer Relationships
Convenience store point of sale systems will help to ensure a customer is the right age for all restricted purchases. It will automatically prompt you to scan an ID and enter the birthdate to prevent minors from purchasing items. The POS system stores need will automatically deny sales based on time or day and regulation requirements.
Your POS should also integrate with customer loyalty programs to incentivize return visits. These can be customized to offer things like:
Free items
Tailored promotions
Discounts (percentage or set number of purchases)
All data from the loyalty program is kept in a customer database that stores contact information, purchase history, demographics, and email addresses for targeted marketing strategies.
Employee Management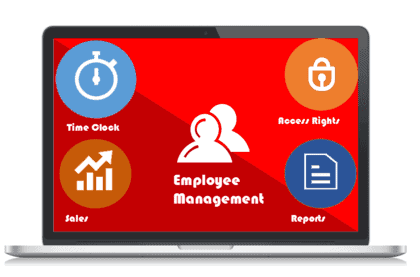 The ability to oversee staff is an integral part of any POS system but particularly relevant when it comes to convenience stores. There are a lot of employees working many shifts. The software should include a time-tracking functionality. People can clock-in/out and the store will track ongoing performance as well.
Prevent theft by comparing sales data with money in the register. Set user permissions so only certain employees can authorize discounts and/or void items.
In-depth Reporting
Perhaps one of the most critical features of a convenience store POS system is the ability to track and measure your store's performance. The software must provide real-time sales reports to help evaluate revenue and improve profit margins.
This enables you to see which items or services are doing the most for return on investment. It will help to plan the store layout and service customers more efficiently. Top-performing products can be shelved in eye-catching places to increase impulse buys and pad your bottom line.
Optimized Checkout

A successful POS system for convenience stores will have ways to optimize and speed up the checkout process. Split tenders and combine orders when needed. Create partial payments on the fly and generate suggested gratuity when relevant. Take orders fast and track item levels by sales, discounts, and taxes.
Gas Station POS Software
Convenience stores with a gas station need a POS solution that offers fuel management. This includes the capability to perform tasks like:
Control pump operations
Automatically adjust gas prices
Print receipt at the pump
The POS solution should enable you to control the fuel pump from the system. It must integrate with a receipt printer and barcode scanner for full functionality. When customers prepay, the pump will automatically shut off remotely through the POS platform. Prices can be adjusted instantly for multiple locations, at any time.
Ready to Enhance Your Convenience Store Business with Software?
If you're reading this, chances are there are problems at your store that must be addressed. That's the first step to knowing which convenience store POS features will benefit your business the most. Just because a platform has a multitude of offerings, it doesn't mean you will apply them all.
In this case, less is more. Hone in on the top three to five POS functions that are the most relevant. If your store doesn't pump gas, that can be canceled out. It may be that inventory control is the highest priority.
Once you have a universal understanding of what features work best, look at the pricing structure and customer service. The more time spent in the purchasing process, the fewer regrets you will have, and the easier it will be to achieve success.