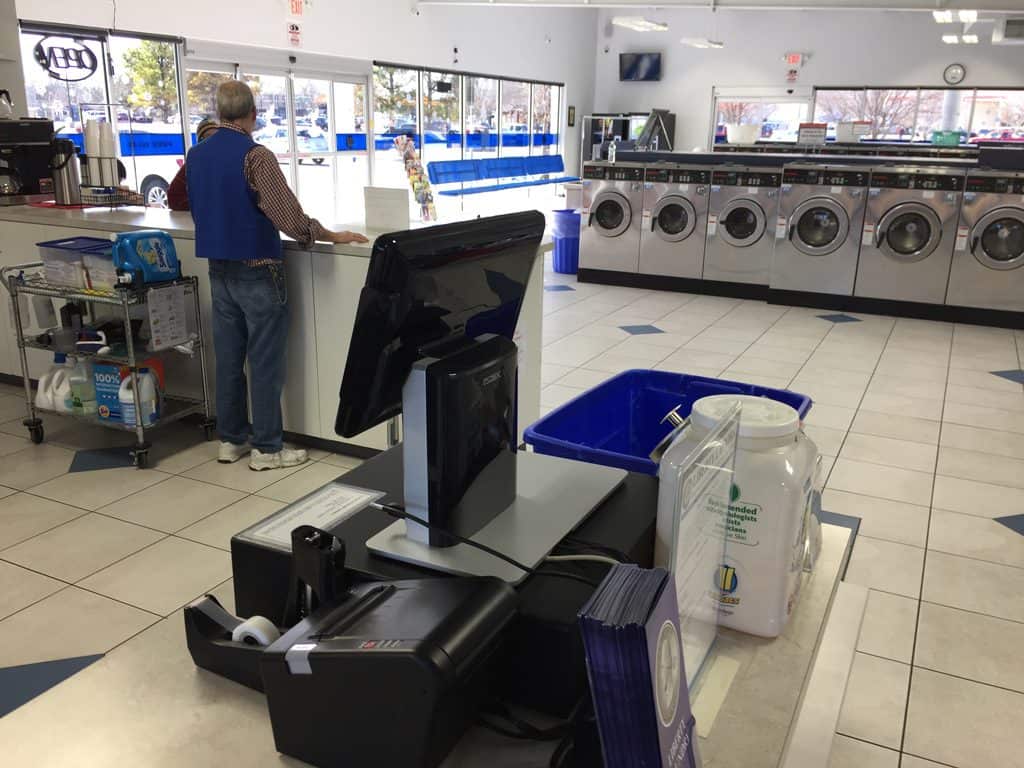 "Wash and fold" is making a huge comeback. As the demand for dry cleaning fizzles, more remote workers are ordering services to get their laundry done. If you're a laundromat running on coins and word of mouth, the time to change is now. 
That starts with a laundromat POS system that will leverage sales, enhance customer engagement, automate payments, and drive business growth.
As national revenues for the dry cleaning and laundry industry drop by the billions, (-.4 billion by 2022), laundromats are developing new strategies to keep the doors open and the machines spinning.
Key challenges include continuous machine maintenance, payment processing opportunities, and delivery/routing services. You have to constantly monitor machine activity to ensure your in-house and delivery services are effectively sharing resources. Deliveries must be smooth, accurate, and fast with consistent tracking and real-time updates.
The best laundromat POS system will have tools to monitor and assign machines according to workload. It should provide apps for delivery and routing, as well as customer service and analytics. Laundry cards attached to loyalty programs will facilitate payment processing and boost retention, while employee performance reporting will help you schedule.
Before all these details get lost in the wash, we've compiled a list of the top four laundromat POS systems that are a cut above the rest.
Here Are the Top Four Laundromat POS Systems:
Cents POS – The #1 Rated POS System and More for Laundromats
Curbside Laundries

– The Best Overall Laundromat POS System 

Wash Dry Fold POS

– The Laundromat POS System for Order Management

Armada POS

– The Best Laundromat POS System for Multiple Locations

CleanCloud

– The Top Laundromat POS Platform for Customer Engagement
The 5 Best Laundromat POS Systems
| System | Starting Software Costs | Hardware Costs | Key Features |
| --- | --- | --- | --- |
| Our pick! | Quote based | Quote based | Trusted by top laundry services including Super Suds, Smart Wash Laundry, EZ Wash, Laundromax, The Laundry Depot, Clean Rite, and Laundre |
| | Quote based | Quote based | Wash and fold process management with multiple access points and prepay options. |
| | Quote based | Quote based | Universal dashboard to manage staff, run reports, schedule orders, and text clients. |
| | Comes with entire system (including hardware) and price is quote-based. | Comes with entire system (including hardware) and price is quote-based. | Inventory and staff controls across multiple locations with shared customer database. |
| | Basic plan is $50/month, Standard Plan is $65/month and Professional Plan is $80/month | Hardware is bundled | Features that make inventory management highly organized such as rack locations and individual garment tracking |

Cents is the most sophisticated all-in-one solution for laundromats. Whether you own one or multiple stores, Cents has it all: POS, Business Management, Employee Management, Pickup & Delivery, Hardware and more! 
From first load to delivery confirmation, Cents creates more opportunities for laundromat owners and operators to grow their market, manage their operations, and understand their business.
All in One, Sophisticated, Ideal for Laundromats
Cent POS is an all-in-one, sophisticated point of sale system that can save you time, boost your employee productivity, increase your ROI, and provide in-depth store analysis. This POS is perfect for laundromats and is trusted by leading laundry service providers such as Super Suds, Smart Wash Laundry, EZ Wash, Laundromax, The Laundry Depot, Clean Rite and Laundre.
Integrated Inventory Management
Most modern POS software suites have inventory management functionality that makes managing inventory easy. This will ensure that you're always stocked with the right amount of product for your customers.
Whether you're running a small business or have a large fleet of machines, you need to know your supply levels at all times for efficient cashier service and smooth operations. Keeping track of your inventory is easier when you have an automated system in place to notify you when stock runs low.
Integrations with other software: If you're currently using accounting, payroll, or e-commerce software, you'll want to make sure that your point of sale system can integrate with these platforms.
Team Management Options: POS systems typically offer options to help you create schedules, approve time off, and sync data with your payroll software. Some systems also allow you to create and view custom reports and analytics for your business.
Choosing the right POS for your laundromat or drycleaning business is crucial for ensuring your business continues to grow and flourish. Having the right point of sale will help you manage all your back-end tasks and integrate them into a single, unified system.
Here are the top five features of the industry-leading POS:
1. Order Tracking & Process Management
The Cents POS system puts everything a laundromat owner needs to monitor orders and manage processes in one place. Track store operations, employee information and order data, including machine numbers and cycle stages.
2. Robust Customer Relationship Management
The customer relationship management (CRM) system integrates seamlessly with a laundromat's website and marketing efforts. Get comprehensive insights, track cart abandonment and access advertising reporting to tailor decision-making toward the ideal customer experience.
3. Delivery Management   
The system offers dynamic laundry delivery at affordable prices for customers and no cost to owners. Cents empowers owners of any size to expand their markets with one and two-way delivery for online and in-store orders. Whether you have your own drivers or not, Cents works to be your partner for all delivery needs.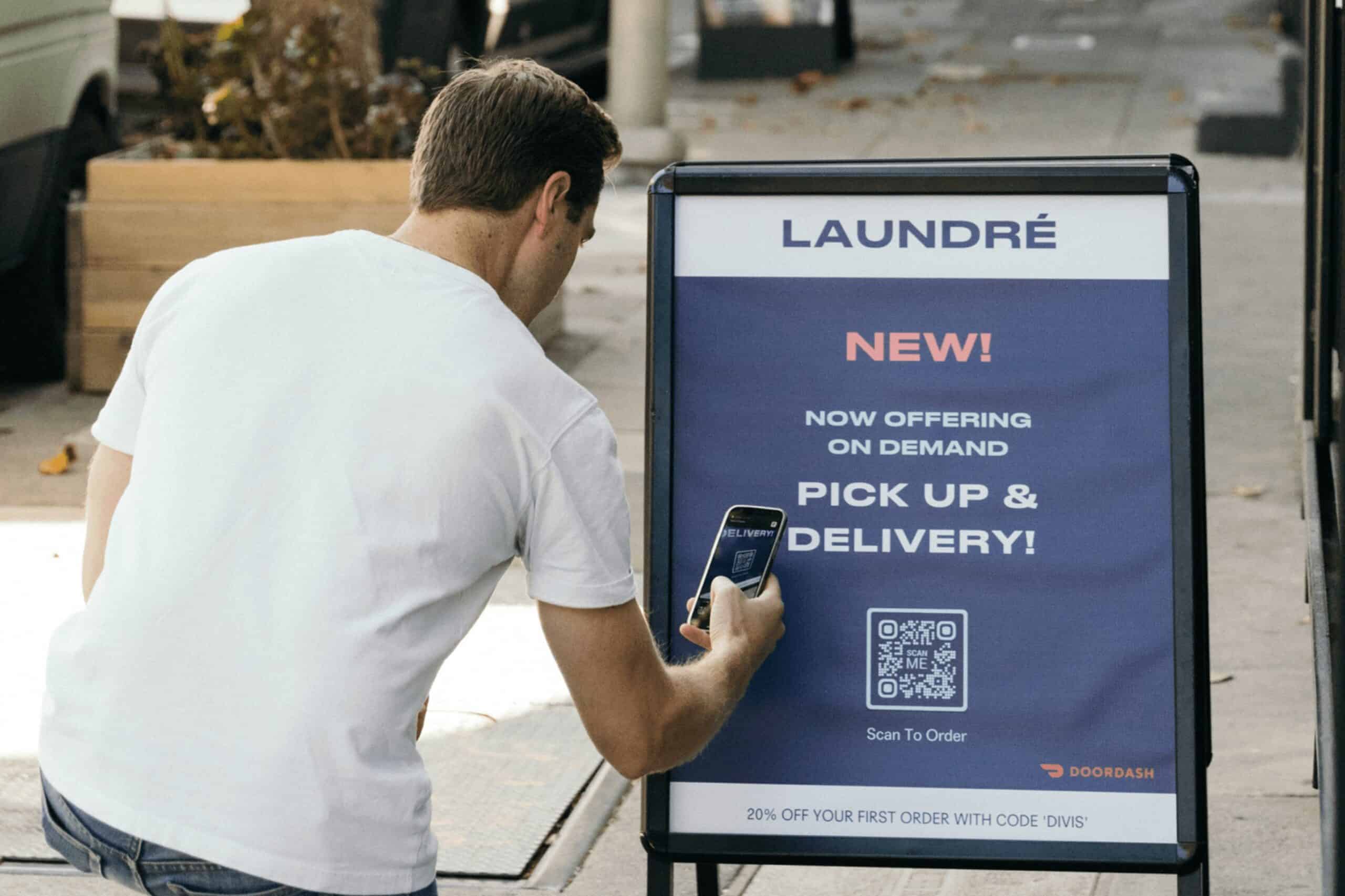 4. Dynamic Pricing Options  
The Cents POS system offers flexible pricing options to meet any type of transaction. Whether that's laundry delivery or per-pound services, Cents tailors pricing to the customer, boosting your bottom line.  
5. Store Management System Integration   
A POS system is just one piece of a laundromat operation solution. Cents is a POS system and more that addresses an owner or operator's every need: from robust operation management to sharp business insights. 
For each step of the management process, Cents transforms laundromat operations with enhanced business insights, customer relationship management and everything in between. Book a demo to get started.
2. Curbside Laundries –

The Best Overall Laundromat POS System

Curbside Laundries is a package deal that comes with everything you need to get started, including hardware and implementation. It has features that simplify your wash fold dry (WFD) operations and exceed customer expectations.
The system was designed from the ground up by laundromat owners and offers critical management tools like:
Wash and Fold Process Management for In-Store and Delivery
A major part of laundromat services is wash fold dry (WFD). This is an aspect of the business that must be kept alive to spur growth. Curbside Laundries offers WFD process management features to track every order from beginning to end. Eliminate confusion, monitor productivity, and notify people when their orders are ready.
Customers can schedule laundry pickups and deliveries online. The software will automatically compile a list of addresses for drivers and send customers a text to update their order status. The platform is designed to grow with the business. There's no charge for adding extra attendants, drivers, or access points.
Navigation and Integration
The Curbside Laundries platform will tell the attendant exactly where orders are in the system to ensure people gets their garments back quickly. Print custom branded tickets for each order to give your business a professional look. 
Dry cleaning integration is flexible. The system allows you to tag every order and print out washable labels for every garment. Customers can prepay when they drop off their laundry or leave their card on file for autopay.
Customer Relationship Management That Saves Time
Curbside Laundries boasts built-in customer relationship management (CRM) tools to make each customer feel special. Remember unique information like wash and fold preferences, delivery instructions, and order history. 
Using the customer portal, people can schedule their own wash and fold pickup or delivery. They can also log into the portal using their Facebook or Google credentials. The online system can be used to track orders from inception to delivery. 
Automatic notifications and reminders are sent to customers via text and email. This includes everything from order status to reminders for pickup.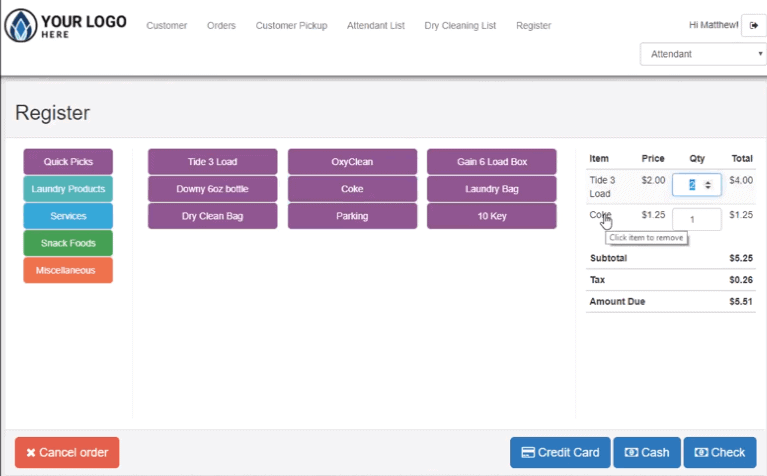 Role-based System Access for Stellar Team Management
A laundromat has a lot of moving parts. Each group of employees will only have access to areas of the system they need. If it's not a necessary button, the employee won't see it on the screen. It's a personalized experience for every staff member. 
Individual roles include:
Attendant

– Create and retrieve orders for customers

Launder

– View list of wash and fold orders and mark them complete

Driver

– View the list of delivery orders and select destination

Manager

– Specialized toolkit to manage the business and employees
The Owner role has complete system access with global settings and robust reporting functionality.
A Few More Value-Added Features to Consider:
Dedicated business reports to track revenue, average order size, total orders, etc.

Coupon management system to attract new customers and build loyalty

Smart calendar that automatically creates delivery times based on driver schedules

Multiple access points from computers, tablets, and smartphones 

Inventory management with automatic notifications and reconciliation
3. Wash Dry Fold POS –

The Laundromat POS System for Order Management
Wash Dry Fold has everything a laundromat needs to run a profitable and professional business. The cloud-based platform is easy to set up, simple to learn, and powerful to use. It integrates with top laundry partners like Fascard and LaundryCard and works offline.
Expect to find a suite of comprehensive features like:
Enhanced Customer Service with Instant Texts
Why make people wait when you can text them an order status? Automation makes laundromat operations a lot easier with SMS messaging that lets people know when their drop-off order is ready for pickup. Keep your machines open and get paid sooner while enhancing customer engagement.
Theft Prevention That Tracks Every Dollar
Accountability is vital for managing a laundromat team and when it's your store, every dollar counts. Wash Dry Fold POS comes with features that secure your business and help prevent theft. 
This includes till tracking, exception reports, an integrated weight scale, and voided item reports. This allows you to monitor everything that staff is doing and help reduce opportunities for theft.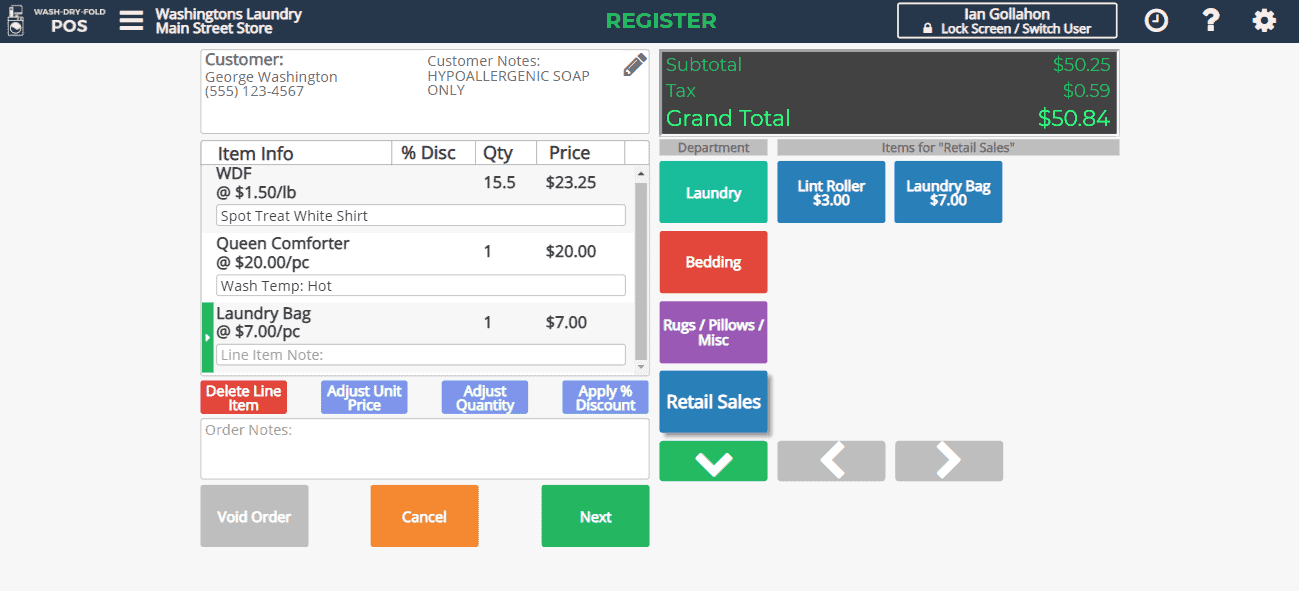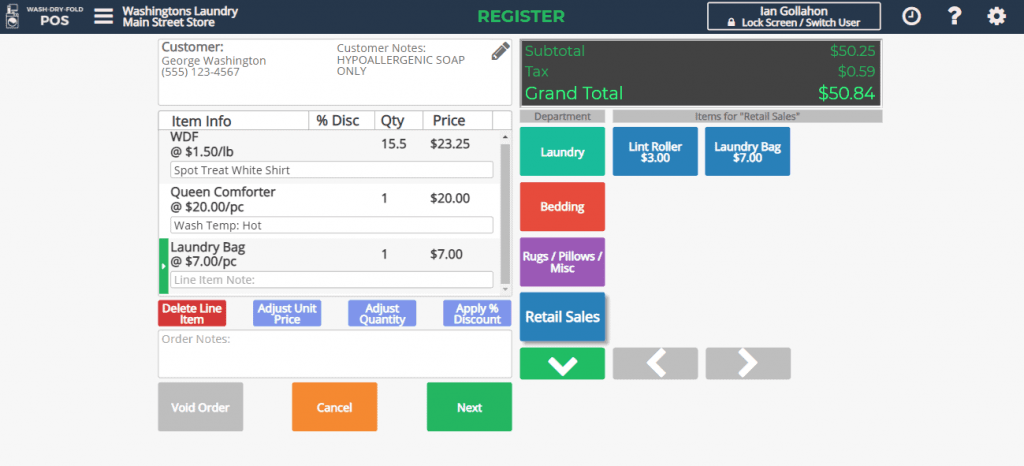 Custom Notes to Ensure Order Accuracy
Automatically print customer preferences on receipts and alert staff with internal notes on clients. Print one-time line item and order notes for special garment instructions. 
Attendants can leave specific notes regarding the condition of items brought in to facilitate communication and ensure quality service. If something is damaged or an order changes, this can be communicated during processing.
Universal Dashboard for Administrative Controls
Wash Dry Fold is a cloud-based system with a dashboard that allows you to see who clocked in and when, what they've accomplished, and what tasks still need to be done. The system has fast navigation where customers can be easily located by phone number, name, or company.
The Total Timeclock solution is a straightforward employee tool to track hours and maintain the schedule. The drag and drop order tracker keeps the dashboard organized, even when a shift changes. The system also allows you to print labels, text customers, and run reports on:
Revenue

Customer accounts

Employee performance
Additional Wash Dry Fold System Features Include:
Retail inventory with barcode scanning, stock levels, and discount pricing

Commercial billing to charge transactions "on account" and create custom invoices

15.6" Touchscreen terminal with a cash drawer

Built-in upgrades with an Intel Core i5 Processor

Swivel screen with a high-security mount underneath
4. Armada POS –
The Best Laundromat POS System for Multiple Locations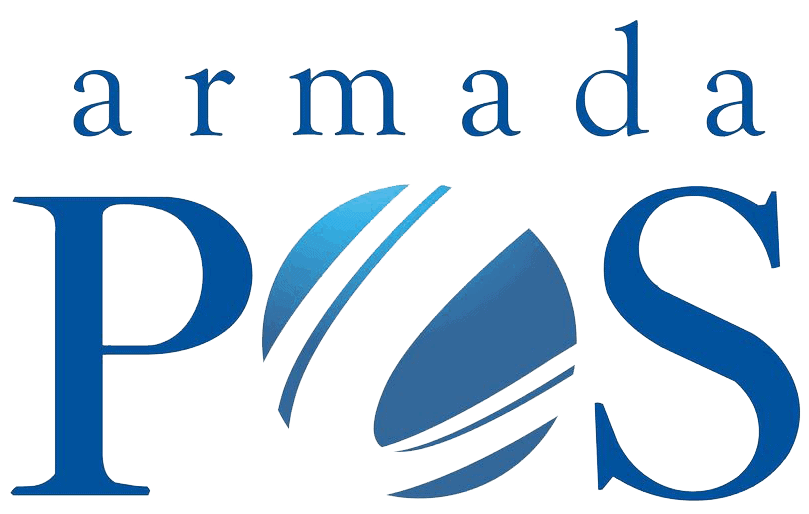 Armada POS is a laundromat POS system with a clean, clear, and concise design. It has everything you want and need to run a professional and profitable laundry business. The system will give you the clarity and control to expand and is easy to train a team on.
Keep an eye out for all-inclusive features like:
Inventory Management with Bulk Pricing and Stock Levels
List any product and track inventory across multiple locations. The system features smart inventory control for growing laundromats. Offer two-for-one specials, create bulk pricing, and set up automatic alerts. From importing and fulfillment to centralized order administration, Armada POS makes it easy to manage inventory. 
Staff Controls with Scheduling and Theft Prevention
Time is money and you need a POS system that will keep close tabs on all hours worked. It should also allow you to run reports on employee clock-ins/outs, sales, and overall performance. 
Built-in labor management tools are there to drive punctuality and help schedule your best people on the toughest shifts. Robust reporting also means total accountability. The system is always connected to the staff member using it.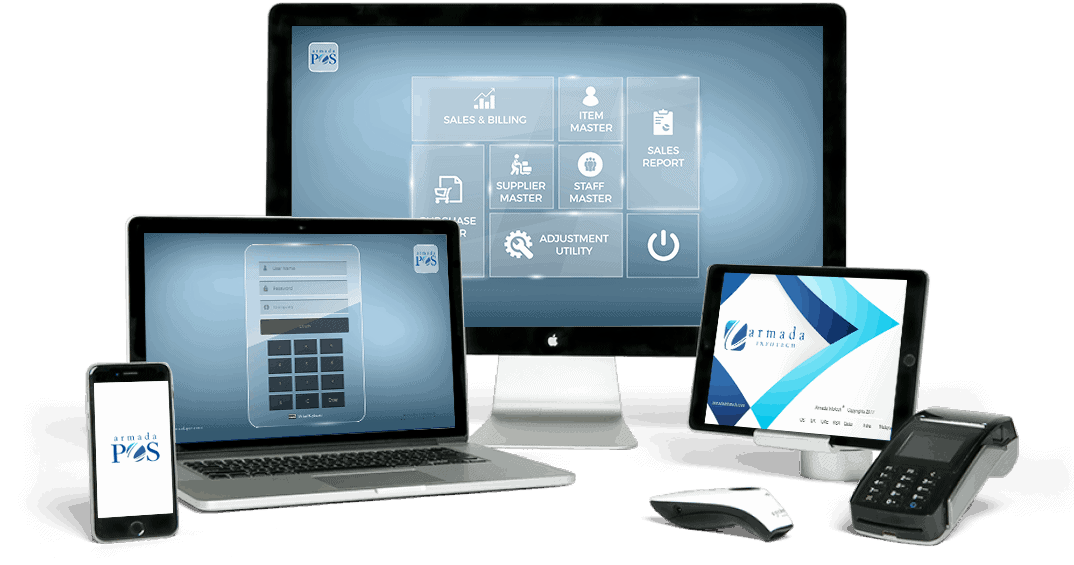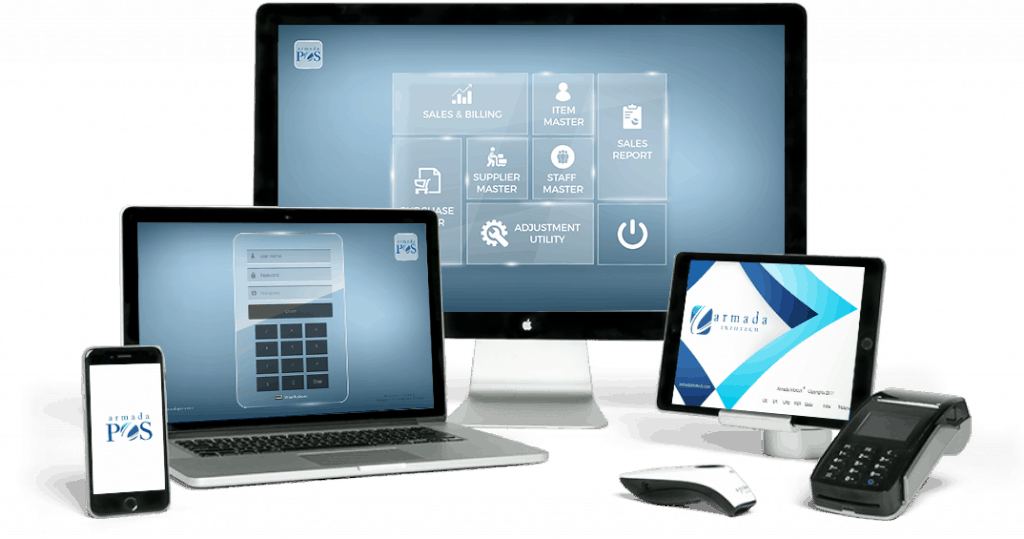 Customer Database with Top Preferences and Loyalty Plans
Build and maintain a robust list of customers with their personal preferences and identifying data. Easily see who your most valuable clients are and which services draw in the most sales. 
Digital punch cards allow you to attach a loyalty program to the customer database and reward your people accordingly. Give bonus points for purchases or reward people for special events like birthdays and anniversaries. The sky is the limit when you're finding new ways to engage.
Other Features to Consider:
Commercial billing to charge transactions "on account" and invoice later

Instant SMS and email notifications for order updates

Dry cleaning drop off and integration for a one-stop-shop 

Highly customizable dashboard to match your business needs

Professional end-to-end POS services that include design and implementation
5. CleanCloud –

The Top Laundromat POS Platform for Customer Engagement
CleanCloud helps a laundromat grow its business as the #1 pickup and delivery POS for the industry. The system is designed to align with laundromat operations like wash and fold services, machine assignments, laundry cards, and weight scales. 
Customer Engagement
The best POS for customer engagement is one that allows you to create rewards programs, offer gift cards and use a CRM to track your customer relationships. It should also connect to your accounting, marketing and e-commerce systems.
Ideal for pickup and delivery businesses
If you own a pickup and delivery business, you'll want to find a POS system that's easy to install and manage. It will save you time and money, while letting you manage orders and deliveries with ease.
Aligns with the operations of laundromats
If your business operates laundromats, you'll want to find a system that aligns with your operation and helps increase productivity. It should allow you to track employee clock-ins and outs, analyze performance, keep track of weekly hours and more.
Inventory tracking & stocking: The right POS system will help you track your inventory, keeping up with demand and preventing stock shortages. It will also make it easier to find out which products are selling well and when you need to order more stock.
Employee reporting & management: Many smart POS systems have features that let you add employees, assign them schedules, keep track of their weekly and overtime hours, and run reports on their performance. This information can be invaluable for setting goals and coaching staff.
In addition, cloud-based POS software is typically cheaper than locally hosted solutions. It's generally purchased in an "as a service" subscription model, with the software provider delivering updates automatically. This means there's a lower up-front cost and less maintenance.
Grow your business quickly with key features that include: 
Features to Take Charge of Your Wash and Fold Services
Use CleanCloud's wash and fold features to take control of your laundry services and ensure things are running smoothly. Assign specific orders to washers and dryers and view all activities on machines. 
This also helps to track machine maintenance and costs. You can spread the work out evenly and won't be overloading equipment. 
Payment System Designed for Laundromats
CleanCloud enables a laundromat to use their existing card terminal or easily integrate with a payment partner. For online payments, use secure add-ons to store customer credit card information and charge for orders with one click. 
Customers have access to pre-pay laundry cards to help your business run efficiently. Choose from a variety of laundry card brands like FasCard, Laundroworks, and LaundryCard to speed up customer interaction. Assign a card to each customer account and view their pre-pay card data at any time.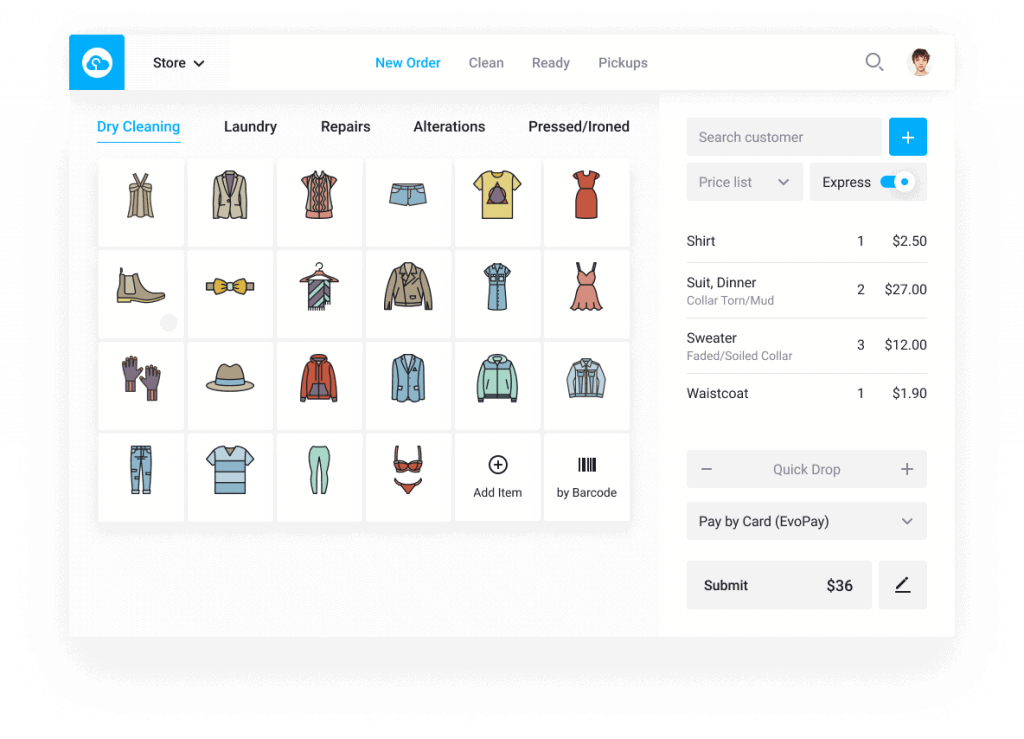 Pickup and Delivery with Driver Management and Route Planning
CleanCloud offers iOS and Android pickup and delivery apps to keep the laundry workflow moving. This includes a mobile app, website plugin, and locker integrations. A driver program with route planning and recurring pickups also help to facilitate communication during deliveries and pickups.
Additional CleanCloud System Features Include:
Multi-store management with metrics overview and a central database

Free website builder with automatic plugins and email forwarding

Weight scale integration for order speed and accuracy

Track outsourcing of orders you send to a dry cleaner or tailor

Partially or fully integrated lockers for customer self-service
How Can I Choose the Right Laundromat POS System?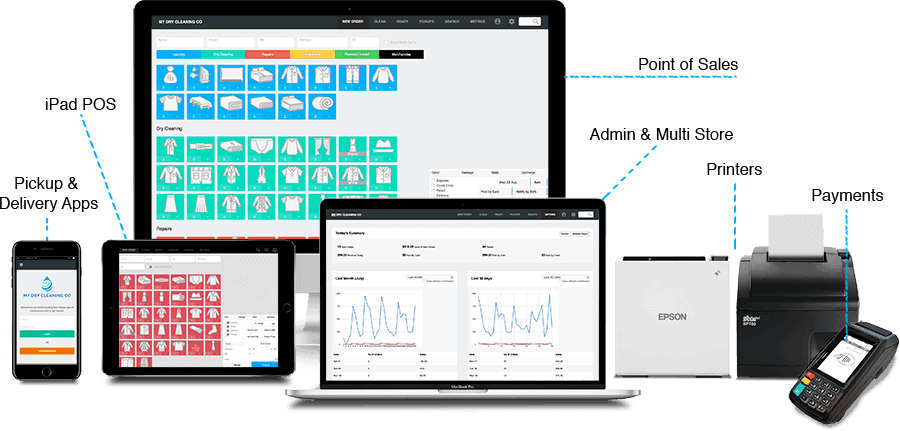 Running a laundromat is a fairly straightforward business and buying tools for it is no different. The problem is that there are hundreds of POS systems to choose from. Once you have a budget together, consider these top features in your search:
Process Management for Wash Dry Fold Services
One of the largest sources of revenue for a laundromat is the wash dry fold (WDF) service. You should purchase a POS with features that enhance the WDF aspects of your business. You must be able to track orders end-to-end, and instantly notify customers for pickup. 
There should be an online site where people can schedule services, track orders, and update information. Any POS you consider should also have features to integrate with dry cleaning. This includes tagging orders and printing washable labels.
Employee Controls with Role-based Permissions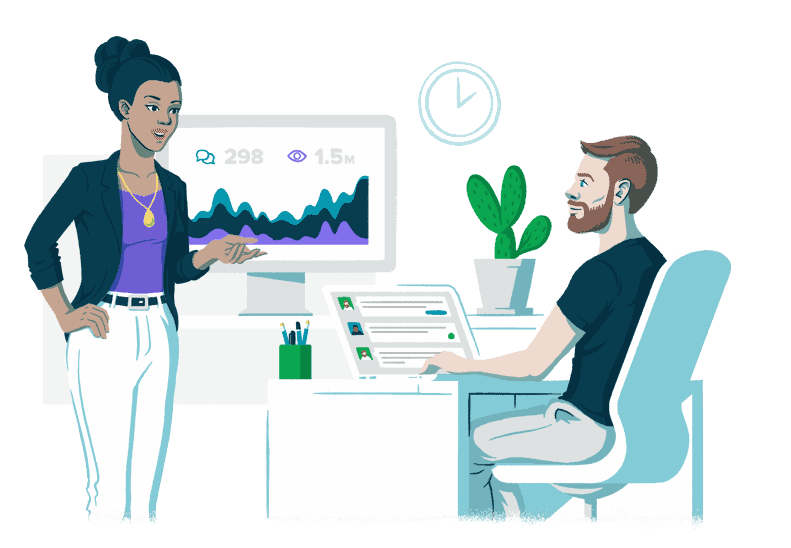 The best laundromat POS systems will have controls to manage staff. Laundromat employees are typically unsupervised and left to their own devices. Your POS should give them a place to clock-in/out, check their schedule, and communicate with managers. 
The platform should allow you to set role-based permissions so staff only have access to the system components they need. A driver will never see notes on WDF and an attendant doesn't need access to billing. At the end of the day, you should be able to run reports on employee performance that include things like productivity, sales trends, and punctuality. 
Payment Processing with Pre-paid Cards
Nobody carries a ton of change. You need a POS that will upgrade operations to a pre-paid card system. Most platforms will integrate with top laundry card brands like FasCard and Laundroworks. Not only does this drive revenue, it ensures customer retention and alleviates the wear and tear on machines.
You should also look for a platform that integrates with top payment providers like PayPal or Square. Not only does this save money, it makes for a smooth integration and provides top convenience for customers. 
Customer Relationship Management Tools for Engagement and Retention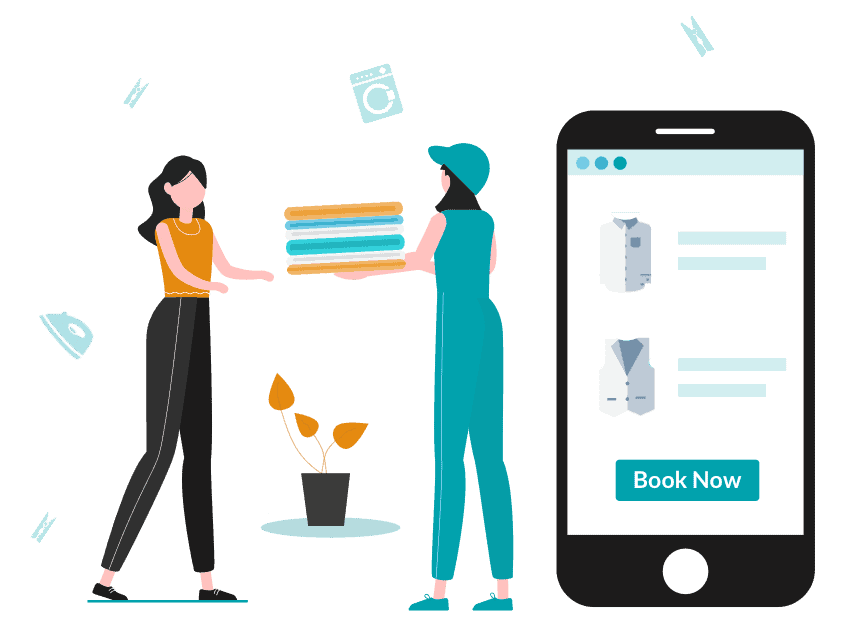 No matter the industry, every POS should have built-in CRM tools to keep customers satisfied and coming back for more. A laundromat POS can offer a variety of features that will make people smile, including:
Loyalty and rewards programs

Pre-paid laundry cards for convenience

Subscription-based programs for WDF

Delivery, routing, and pick-up services

Instant email and SMS notifications
It's all about equipping yourself with the best tools to consistently communicate with customers. When people are always "in the know" they are typically satisfied. 
Additional Features for a Laundromat POS System:
Automated machine monitoring for maintenance and repair

Robust reporting and analytics for better decision-making

Assigned machine activity for shared in-house and delivery resources

Cloud-based access with mobile responsiveness 

Inventory management with instant alerts and auto-replenishment
Making a Decision
The first step when implementing new technology is to understand everything it does and everything you need. Consider your top pain points. Do you want to grow the business? Manage deliveries better? Get a handle on staff? Streamline wash dry fold services?
The laundromat point of sale system you choose should give you controls over order tracking, machine maintenance, and employee management. You should have access to reporting that makes sense and instant messaging to enhance communication. It should organize operations and automate simple tasks so you can focus on growing the business.
When you find the right laundromat POS system, you can better focus on customer engagement, driving sales, and expanding your brand.
To help you decide on the best POS system for your laundromat, check out these top POS providers.