(Last Updated On: January 10, 2023)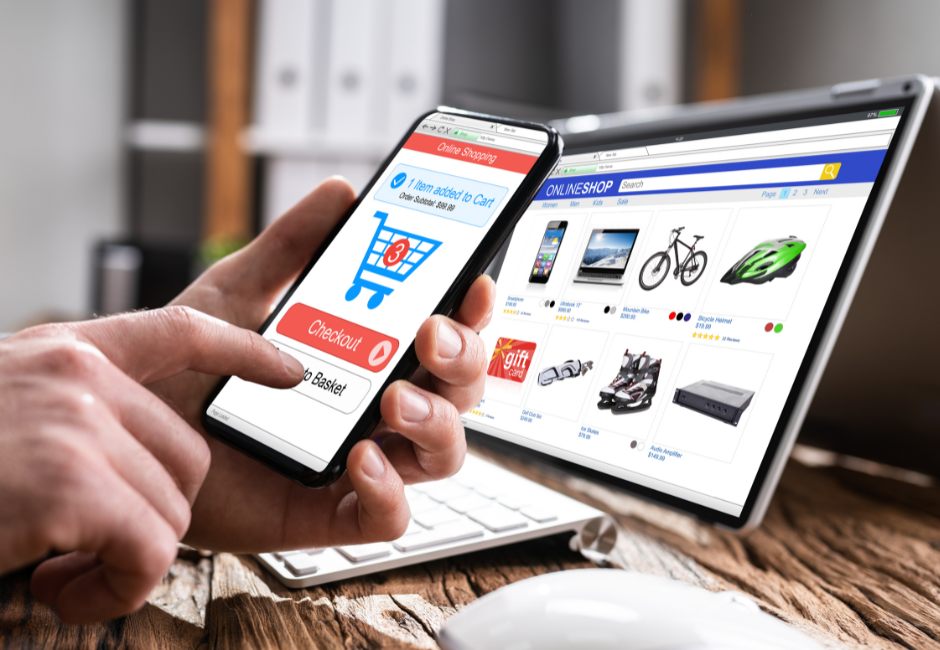 POS systems have come a long way in the past couple of decades. We're all used to seeing different versions of them during checkout, but these systems offer a lot more than we usually think. If you're a company owner or manage a business, then you'd be interested in knowing why a modern POS system can be the solid foundation of your success. This applies to both brick-and-mortar and online operations. You can choose a specific, feature-rich POS system for eCommerce that your business would benefit from immediately. Important functionalities found in state-of-the-art point-of-sale systems include third-party integrations, inventory tracking, employee management, and sales history reports.
Better yet, POS systems could sync management and data flow from multiple locations and combine online and offline operations with ease. Such cross-channel businesses have specific requirements, but nothing that the right point-of-sale system couldn't handle. 
Incorporating the advancement in POS technology with the eCommerce world is always a winning combination for business owners, employees, and clients. It provides a seamless experience and gathers a lot of valuable information intended to streamline your operation and increase your profits.
To help you understand the importance of finding the most suitable point-of-sale solution, we'll go through the benefits of POS for eCommerce platforms and suggest the advantages of accepting a cross-channel strategy. But first, we'll start with the basics.
In a hurry? Check out the top 3 POS vendors for eCommerce businesses.
| System | Starting Software Costs | Hardware Costs | Key Features |
| --- | --- | --- | --- |
| | Starts at $9/month | Quote based, hardware is included in some packages | Each plan can be tested for free for 14 days |
| | Free for basic software | Starts at $50 for readers | Highly intuitive, easy-to-use interface |
| | Plans start at $99/month for 1 register | Plans start at $99/month for 1 register | Open platform for easy multi-store management |
What Is a POS System?
POS systems are designed with one primary function: to accept payments and provide the means for payment processing (which can be assisted by a third-party payment processor when needed). 
The kind of POS eCommerce platforms would integrate with can help you not only with the usual sales process, but will also help you run your operation better. This is possible thanks to numerous features typical of modern POS systems, such as inventory management, sales tracking, and history reports, alongside employee management and multiple integrations with third-party software and hardware. 
How Do POS Systems Work?
POS systems today still have something in common with the classic cash register we all remember. The system takes care of accepting payment from the customer and calculating the final price before that, including taxes, discounts, promotions, etc. Once the system accepts the payment, it automatically stores data about the transaction, the sale, and the client. It also updates the inventory, which always helps to keep the most adequate stock quantities for your business needs.
Typically, POS systems need a plethora of hardware, including card readers, receipt printers, cash terminals, barcode and QR scanners, self-service kiosks, and more. This, of course, is not applicable for eCommerce projects and other types of web shops. 
The heart of every specific POS eCommerce project is its software. Many brick-and-mortar businesses use local-based software. This includes a server and requires a more complex installation. There are limitations when you use this type of system: it's accessible only via the POS terminal installed in the same retail space. If you need only a single checkout and your business is still small, then this might be all you will ever need.
If you want to expand your operation with an online retail project and keep growing as a multichannel business, then you will need the type of POS that eCommerce platforms are compatible with. In this case, you are better off investing in cloud-based point-of-sale software. Cloud-based POS systems support multiple online and offline terminals and help you with price consistency and cross-channel communication related to promotions and inventory. All these features are centralized, meaning that you could manage the system from anywhere using a single device. Such flexibility would easily become one of your greatest competitive advantages. Cloud-based POS systems usually integrate with most, if not all, eCommerce platforms and various third-party add-ons (accounting software, for example).
Some POS vendors offer in-house payment processing tools, but there are situations when you might need to opt for a third-party payment processor. This might be related to additional expenses.
Essential Features of POS Systems for eCommerce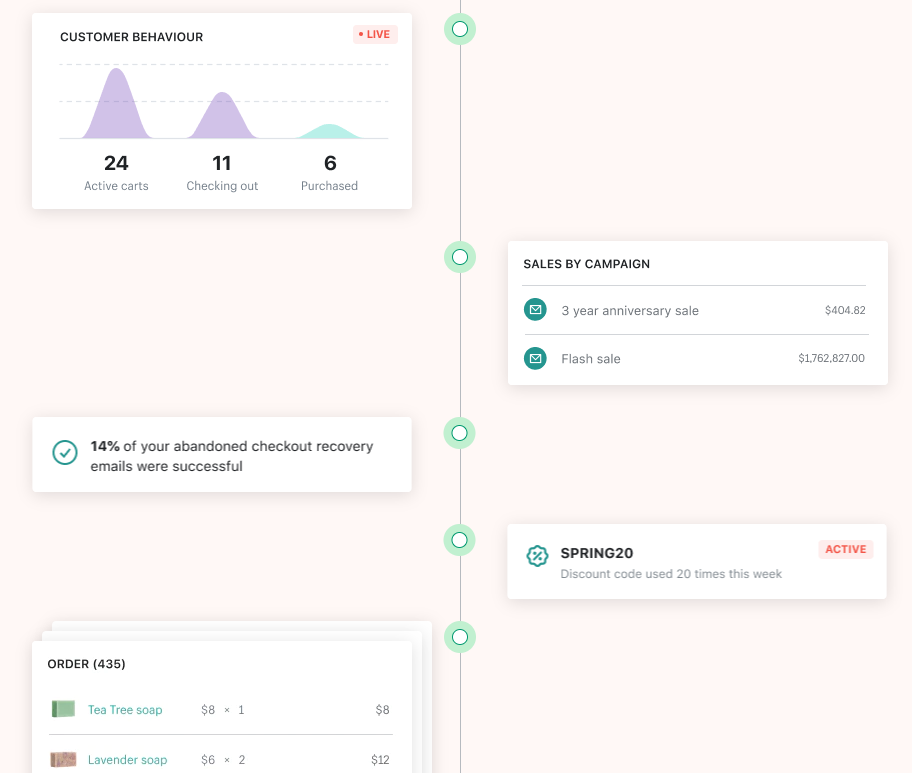 One of the most important features typical of specific POS for eCommerce is the system's ability to store and process sales data and customer information. This is a valuable asset to have, as it can help you track your sales performance and allow you to understand the habits and preferences of your clientele. Other vital features of specific POS eCommerce projects can benefit from include:
Real-time reporting

: The system will help you manage your entire operation by streamlining most of its internal processes (automated reorders, planning, loyalty programs, and more) through real-time reports (and sales history reports, for that matter). 

Inventory management

: Having a system that could track your inventory across all your offline and online locations and manage them as a whole or independently is a must. If you run an omnichannel operation, then you know how time-consuming this usually is. Plus, your POS for eCommerce could be set to reorder goods and alert you when you are about to overstock.

Payroll and staff management

: Your advanced POS system could handle most of the tasks related to payroll, scheduling, and HR. It will also allow you to track your employees' individual performance.
Why Are POS Systems Important?
The importance of POS systems for any eCommerce endeavor is unquestionable. Except for taking care of accepting payments as quickly as possible and, what's more important, with great accuracy. Manually processing sales is not an option, as such a method is prone to error and inefficiency. 
The way we all shop has changed dramatically in the past decade. We all expect to be provided with a seamless checkout experience. This is why a proper POS for eCommerce must guarantee fast and smooth purchase completion. 
Your POS for eCommerce will enable you to identify all the sales tendencies and trends you should care about. It will pinpoint the bestselling products. This is how you will know exactly the type of inventory you need to have if you want to maximize profits and reduce costs. Of course, this means that you'll know the products or services in your catalog that need to be discontinued or at least discounted. Adequate pricing is important and your POS for eCommerce will help you moderate prices.
A modern POS for Ecommerce will take a lot off your shoulders by integrating with various software and hardware, such as marketplaces and accounting tools. The system would also generate all the records you need to monitor taxation and various fees.
Specific Reasons Why Your eCommerce Operation Needs a POS System
There are many reasons why your online business (or a multichannel operation) would require a specific set of features. Such a toolset is part of the suit of modern POS built for eCommerce integrations. Here are some examples:
Screenshot of Vend POS Demo on Tablet and Smartphone

Employee performance monitoring: If you want to grow your company, you'd need the best team. On the other hand, dedicated employees would expect high remuneration, especially if they know they're doing a good job. A state-of-the-art POS for eCommerce will track not only employee hours but also their overall performance. This is how you will be able to pay adequate commissions. 

Client interactions

: Your POS system will store all the valuable data your marketing activities will ever need. When you have a clear analysis of your clients' interactions with your business, then you will be able to provide them with better services and a smoother customer experience. Plus, you will be able to target them with specific offers and deals based on their shopping history and create the ultimate loyalty programs. 

Consistency in pricing

: If you have a multichannel business or you run several locations at one, you need to make sure that the prices across all of them are consistent. When pricing is integrated with your POS system, there will be no room for error.

Inventory integration across multiple locations

: As mentioned above, your POS for eCommerce will allow you to track your inventory across every location you run. The option for an automated restock of your bestselling items is a valuable asset to have. This is especially important in the fast-paced world of eCommerce.

Complete omnichannel support

: Many eCommerce business owners also run a brick-and-mortar operation, meaning that they need all the managerial help they could get. The customer experience of their clients must be equally amazing regardless if they choose to shop online or offline. If you are in such a position, then you know that you must align everything between your sales channels to succeed, such as inventory and prices. The best POS for eCommerce has all the cross-channel functionalities you would need.

Multiple integrations

: Typically, a POS for eCommerce has a plethora of integrations, including ERP systems and CRM management modules. The best point-of-sale solution for your operation would also integrate with a large variety of plug-ins.

Higher efficiency

: Using the right POS for eCommerce, you will enjoy higher overall efficiency. Since you'll be able to track sales, orders, inventory, and other aspects of your business through a unified system across multiple locations, you will reduce the time and effort you put into managing all of them. This will allow you to focus on your strategy and reduce costs.

Faster growth

: You will be able to grow your entire operation faster. The reason for that is the better decision-making process you will enjoy. After streamlining all managerial aspects of your company using the best POS for eCommerce, you will be more accurate in your decisions related to the future of your business. This, in itself, is the best strategy to follow.

Centralized data storing and processing

: Your POS for eCommerce will help you organize data flow more efficiently than ever before. This means that your error rate will be reduced. Tracking the results from data analysis would also be enhanced. 

Cross-channel promotions

: Integrating your POS system with both your online and offline operations is the easiest way to create loyalty programs and gift cards. The system will allow you to reach all your clients, both online and offline. This is how you'll be able to create a strong connection between these channels and strengthen the integrity between them.
Thoughts on Switching to the Perfect POS for eCommerce
We've already discussed the majority of benefits of using the kind of top-notch POS eCommerce operations would easily integrate with. Still, choosing the most sophisticated POS solution the market offers is not enough.
Even if you choose a POS solution that has all the bells and whistles, it might not be the right fit for your needs. Some of the integrations that explain its steep price, for example, may not be of good use to your particular operation. You need to choose the POS system that has a specific set of features to up your performance and improve customer experience.
One of the biggest reasons why you need to integrate your POS system with the eCommerce platform you're using is the ease of management. Avoiding separate management of your brick-and-mortar operation and your online business will save you a lot of time, effort, and additional expenses. It will also synchronize valuable data streams between the two channels.
Studies have shown that most clients tend to make a second purchase online more often compared to physical stores. This means that you would need to retain them at all costs. With the best POS system, you will provide your new clients with a great first impression by ensuring a smooth checkout process. By analyzing their behavior and preferences, you will also be able to attract them with the right offer. 

If you are considering exploring the eCommerce world, then you're on the right path. Your physical business would give you the competitive advantage you need. Sure enough, you could add a new retail space to your company, but having a strong online presence is also an essential step to growth for many retail and service-based operations. With the appropriate POS system, you will be able to create a cross-channel management toolset that will result in less managerial effort and higher profits. All it takes is integrating your POS system with the eCommerce operation you chose to expand your business with.
How to Proceed with Integrating the Two Systems
To make sure you'll provide your clients with the best customer experience possible, you will need to integrate your POS system with the eCommerce platform you chose. Before this happens, you need to understand their roles.
The eCommerce platform of choice is always the thing that matters the most when it comes to customer experience. It is often responsible for account management, shipping, inventory tracking, and more. The POS for eCommerce you select would come in handy with its sales data harvesting feature. Integrating the two would give you complete control over multiple aspects of your operation in a new and improved way.
You need to make sure that the POS system you're currently using can integrate with eCommerce platforms, otherwise, you'll need to switch to a new point-of-sale solution. This is the only way to not miss out on some of the multiple features of having a cross-channel operation that's faster, more efficient, and, best of all, more profitable.
The key to accessing all the benefits of POS for eCommerce is to find a way for the POS software and the eCommerce platform to communicate on many levels. Connecting the two systems is usually based on their type.
Plug-ins

: Using a third-party plug-in may be the way to connect the two systems, but this depends if your POS software can integrate with third-party add-ons and plug-ins. This is not the best option to choose, as there are too many data flows that would need to be synced between the POS system, the eCommerce platform, and the plug-in. Making sure all this data is available and compatible with the plug-in is always hard.

Featured POS

: Your omnichannel operation may be enhanced by an eCommerce platform that has a POS system implemented in its structure. While this is great in terms of integration, it may be limiting when it comes to the numerous features typical for standalone, state-of-the-art POS systems.

Custom solutions

: This is the preferable choice of integration. Using such an approach will help you if there are no ready-to-run solutions for your particular case. Being able to create a custom system integration is only possible if you find a POS vendor willing to alter the software you need to integrate with the eCommerce system you use. If you manage to secure your custom integration, you will enjoy the most flexible solution of them all.
POS for eCommerce: The Vendors
More business owners are looking forward to expanding their companies through the power of eCommerce than ever before. If you're one of the company owners or managers that's willing to grow their operation online, you'll need to find the most suitable POS for eCommerce.  This requires a lot of consideration and careful research, as there are plenty of options to choose from. It's hardly a surprise that most POS vendors offer solutions that integrate with eCommerce platforms. We'll check out some of them below.


Shopify is not just designed around clients' virtual shopping carts. The POS system is a feature-rich solution that easily supports multichannel operations, allowing you to run both your online and brick-and-mortar operations with ease using a single app.
Shopify is compatible with iOS and Android. It has an in-house payment processing function with processing fees starting at 2.4% per transaction. The monthly plans are among the most affordable you could find and have an excellent price/value ratio.
You can start with a subscription plan of $79 per month and have the full set of functionalities in terms of POS features and eCommerce support. Click here to get a custom price quote.


Square is one of the leading POS vendors in today's world. This popular point-of-sale solution is a preferred choice for many small business owners for several reasons. For starters, it's free and requires no installation, apart from a quick setup that takes minutes to complete. The system has an easy-to-use interface and is known for its payment processing's flat rates starting at 2.6% plus $0.10 per transaction.
This POS for eCommerce is an excellent choice to make, as it allows you to make sales using nothing but a smartphone. The system is compatible with iOS and Android.
What's even more important is that Square integrates with eCommerce platforms. You can easily create your own online operation via the Square Online Store, which is also completely free. This, however, is a solution for smaller businesses. If you want a fully functional establishment, you need to opt for a paid monthly plan and run a store that fully integrates with the most popular eCommerce systems out there. Get a free price quote from Square here.


Vend is another popular vendor of POS for eCommerce solutions. Its intuitive interface makes it a great choice for covering the point-of-sale needs of both your online and offline operations. There are no limitations in terms of operating systems and web browsers when you want to run Vend. You can even use the iPad you already have as a checkout register.
The POS for eCommerce supplied by Vend has an offline mode, allowing you to work during power outages (when there's no internet connection). The system will allow you to choose a third-party payment processor and fully integrate with popular eCommerce platforms. To take full advantage of the system's integration capabilities and other functionalities, you would be better off choosing the Pro plan, priced at $129 per month. Having the ability to use various add-ons is always a good idea. Click here to get a free price quote from Vend for your eCommerce needs.
The Conclusion
POS systems have come a long way since the days they were mere checkouts. Processing customers' transactions is still their primary function, but today's point-of-sale solutions offer a plethora of other functionalities. Cloud-based systems, for example, offer easy access and various advantages in terms of integrations with third-party software and hardware.
You could integrate your POS for eCommerce with different platforms, accounting software, and other add-ons that would streamline your business more than ever before. Plus, it would cost you less than a local-based POS system. If you're running a cross-channel operation and need a POS system that synchronizes both your online and offline operations, you're in luck, as there are several solutions to choose from.
Any modern POS eCommerce platforms could integrate with has it all: it can sync your inventory across several locations and help you with keeping prices consistent. It would also help you manage your employees.
The biggest advantage of bridging together your brick-and-mortar business with your online store is guaranteeing your clients' satisfaction. They will enjoy a seamless checkout process and receive relevant offers and discounts based on their own preferences and previous purchases. The reporting features of your POS for eCommerce will help you identify their needs and requirements and thus retain them.
As clients' expectations toward online and offline businesses grow, you need to secure your competitive advantage by investing in the best POS for eCommerce that suits your specific needs. This is the only way you will provide your clients with the fastest and smoothest checkout process possible.
Expanding your operation online through an eCommerce platform is the kind of opportunity you should consider taking advantage of if you already haven't. In today's business world, being present online and thus covering a significantly wider client range can be crucial for the growth of your business. Creating a flawless organization by appointing the best POS for eCommerce is a must in this case. It's the only way to guarantee an all-inclusive omnichannel experience for your clients.
Your main priority should always be the satisfaction of your clients. When you provide the means for their excellent customer experience, you are likely to make them come back and purchase more goods or services. The right POS for eCommerce will certainly help you with this task.
Author: Martin Nikolaev. Martin has 5+ years of experience in reviewing various tech gadgets, FinTech solutions, crypto markets and products, and all IoT-related products.
FAQ
How do POS systems work?
POS systems accept payments from clients by calculating the final price first. To do that, they use a combination of software and hardware, such as card readers and barcode scanners.
Why do you need a POS for Ecommerce?
The need for a proper POS for Ecommerce emerges when you realize you would need synchronization of all data and information flows across your locations. This will help you run your business with greater efficiency and allow the best customer experience possible.
How can a POS for Ecommerce help you grow your business?
Using a system that allows for cross-channel management will allow you to sync your inventory and keep prices consistent, among other important aspects.
How to choose the best POS for Ecommerce?
Choosing the most suitable POS for Ecommerce for your business requires careful consideration of your priorities, payment processing, and integration needs. Sticking to your budget is also a must.