(Last Updated On: September 28, 2021)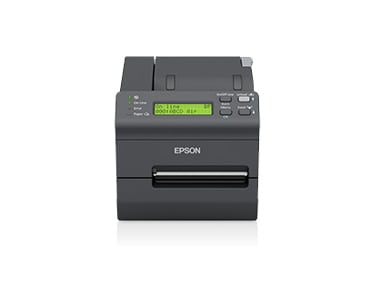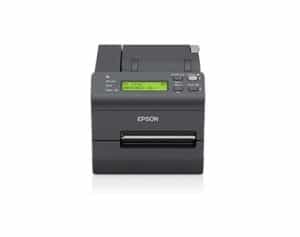 If you have ever worked in a restaurant, you know how hectic the job can be. A lot of synchronization is needed to have the kitchen and the front-of-house staff working like one productive organism.
The technology restaurant staffers use can make their jobs much easier and streamlined. This, in turn, makes the restaurant more efficient, allowing it to serve customers better.
A key ingredient to running an efficient restaurant is purchasing the right kitchen printers. If you haven't actually worked in a restaurant, you may wonder what kitchen printers are, how they work, and how they increase productivity.
Here, we unpack the topic and provide educational information that will help you understand kitchen printers in and out. Plus, we'll help guide you in evaluating options on the market if you have a need to buy them yourself.
What Is a Kitchen Printer?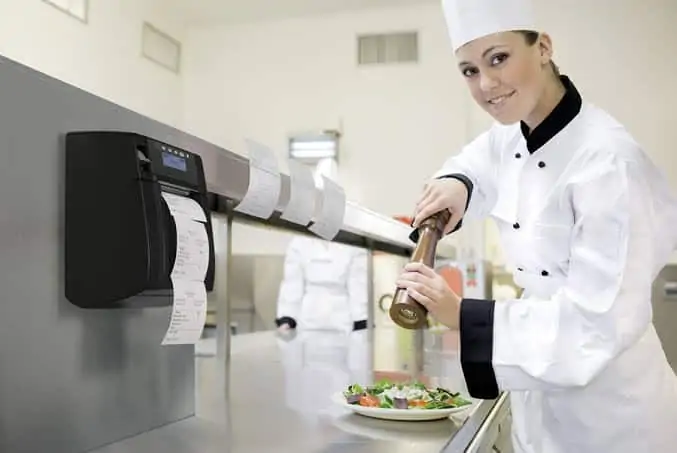 When you order your meal at a restaurant, you have probably seen your server shuffle over to a computer screen and enter the order on a large, touch-screen, point-of-sale (POS) computer.
Once entered into the system, your order is instantly sent to the kitchen printers in the back of the house.
A chef, grill cook, or another kitchen employee hears the ticket being printed, rips it off, and puts it in the queue. Your order just passed through an entire kitchen display system (KDS).
If you own or run a restaurant—unless it's a diner in the 1950s—you probably need to invest in kitchen printers. You can expect to see the technology evolve quickly as well.
The global smart kitchen market is set to surpass $32 billion by 2025 and kitchen printers will certainly be part of that growth and evolution (Source).
It's never been more important to pay attention to technological advances—even in a restaurant.
What Are Some Benefits of Kitchen Printers for Restaurants?
Nearly everyone working in the restaurant benefits from the use of kitchen printers. Staffers in different roles benefit in different ways. Here are a few benefits to consider:
Improved Collaboration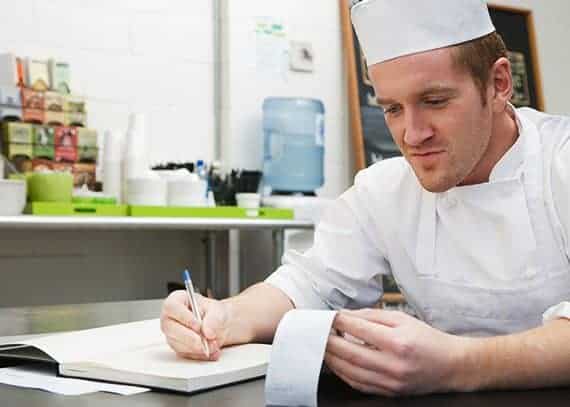 When everyone works with the same data in the same system, you eliminate the possibility of internal disputes.
The only errors usually happen when someone is manually entering an order into the KDS.
Other than that, everyone is working with the same information and can collaborate much better on getting orders out as quickly as possible.
Increased Order Accuracy
When a chef receives an order, she will hear it being printed at the kitchen printer located at her station.
Because the chef receives exactly what was entered into the KDS, she knows exactly what to prepare and how.
She reads an easily legible order ticket and doesn't have to shout for the server to dash back to the kitchen to translate their sloppy handwriting. This is often the case when a restaurant's servers pass hand-written orders to the cook.
Kitchen printers eliminate the potential that a cook or chef will misread a handwritten ticket and have to prepare a specific order twice. Accurate orders come out every time.
Expedited Order Delivery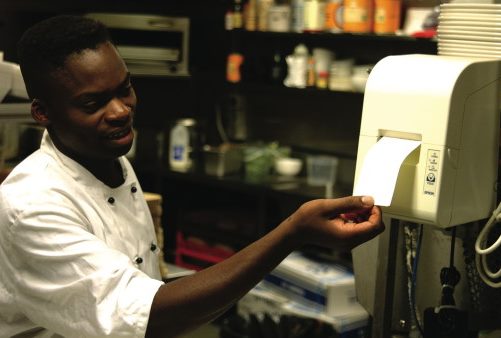 Kitchen printers are made to be loud when printing a new ticket. Plus, many of them trigger a notification sound when a new order is printing.
Restaurant kitchens can be hectic warzones when the evening rush comes on. Chefs, cooks, and their counterparts need to be able to hear the ticket as it prints.
Otherwise, an order might sit for 20 minutes waiting for the chef to realize it's there.
In addition, because order accuracy is increased, chefs rarely must prepare the same plate twice after having misread a server's sloppy handwriting. Having to re-prepare an order sets everyone back, and time is of the essence when that rush hits and everyone must be sharp and on their toes.
Finally, if you use handwritten tickets, what do you do when a ticket accidentally gets lost? With a printer wired into a larger KDS, you can simply reprint the ticket and move forward with minimal time loss.
Itemized Order Routing
Most restaurants place printers in various places throughout the kitchen. Each item in the KDS is coded so that appetizer orders only go to the app station, dessert orders go to the dessert station, and so on.
One ticket could have an appetizer, cocktail, main course, and dessert—all entered into the KDS at the same time. But the chef doesn't receive the entire ticket and then have to shout at the dessert guy to start prepping a slice of key lime pie.
The automation and customization included in many KDS, POS systems allow you to configure your settings so that only the appetizer gets printed at the app station. Only the main course is printed at the chef station. Only the dessert item is printed at the dessert station. And the bartender receives a ticket with only the cocktail order printed on it.
Full Bellies and Satisfied Customers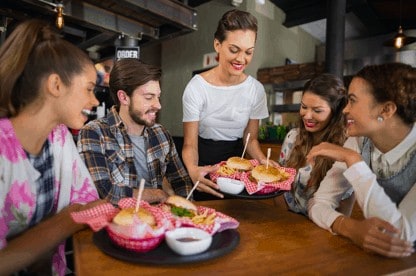 Satisfied customers will return to your restaurant. That's common sense.
And when you improve collaboration, increase order accuracy, and expedite order delivery, you are delivering a customer experience that will have your patrons walking away full and satisfied!
Plus, customer satisfaction produces additional, secondary benefits for your restaurant. Satisfied customers keep coming back for more. They tell their friends and family about your restaurant, which is essentially free advertising.
Nielsen reports that word of mouth advertising is more effective than any type of traditional product or brand promotion.
Customer satisfaction mostly boils down to delivering a stellar customer experience and catering to your customers' needs. Kitchen printers make that possible. Learn more about how to improve customer satisfaction.
What Should You Look for in a Kitchen Printer?
You can already gather, from the benefits above, a few important things to look for in kitchen printers. For example, a notification sound when the printer is printing is an important characteristic to look for. Here are a few other traits to look for when shopping:
Impact Printing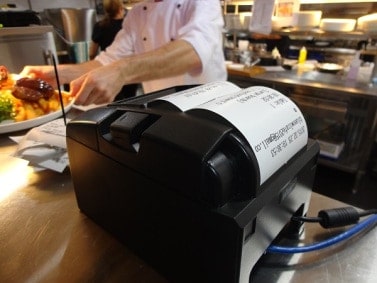 Impact printers are different than normal receipt printers. They closely resemble one another aesthetically, but there is one main difference that sets them apart.
Typical receipt printers print using thermal technology—laser-generated heat—to mark the paper with words, symbols, etc.
Restaurant kitchens can become very hot and that heat can start to leave unwanted marks on the printer's paper. As they say: If you can't stand the heat, stay out of the kitchen.
An impact printer, on the other hand, use impact printing technology to mark the paper with the impact of an ink belt. They are much more heat resistant. Plus, they are LOUD, which is why you want an impact printer—not a receipt printer—for your restaurant's kitchen.
Rugged Construction
When things get busy in a restaurant kitchen, they can, at times, resemble warzones. Pots and pans are chucked around, people run to get things out on time, and staffers are generally more careless with their safety and that of the tools they use.
You need a printer that can withstand crashing to the floor after someone accidentally knocks it down on their way out the door with a tray in hand.
Your printer should be able to withstand being struck by a heavy, hot pan. In short, kitchens not only get hot, but they also get rough, and they are no place for a delicate printer that will stop working if it falls to the floor.
Internal Power Supply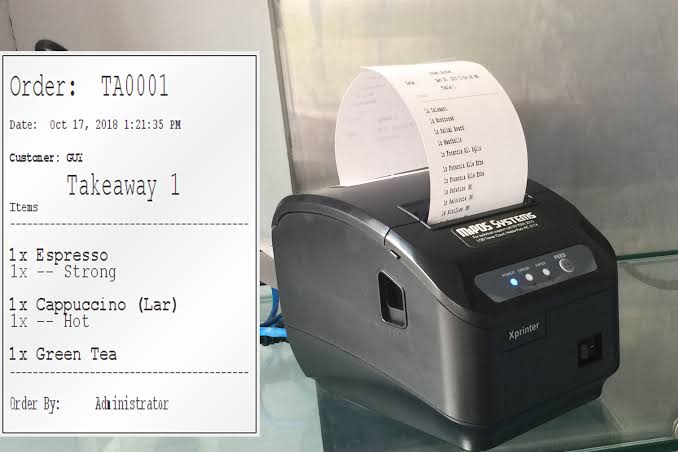 You can always keep your printer plugged in if you wish. There is nothing wrong with that at all.
However, there will come a time when it does get knocked to the floor or otherwise pulled out of its power socket.
That's when you need your printer to have an internal power supply so that the printer does not go offline. Once it is unplugged, its internal power supply kicks in and maintains its seamless, wireless connection to the overall KDS.
Without a battery inside, the printer goes offline, must be restarted, perhaps reconfigured, etc. That can cause major slowdowns in the kitchen when the heat is up (excuse the pun!). Therefore, you want kitchen printers that weather the storm and continue functioning through the harshest conditions.
Seamless paper loading and printing
Another important trait to look for when evaluating kitchen printers as part of an overall KDS is how it moves paper. Is the paper easy to load? Or do you have to spend five minutes getting the printer to "grab" the paper spool and pull it through its rollers?
Does your printer often experience paper jams that must be pulled out? If so, the order must be re-printed after the jam is fixed and the paper is reloaded. This all pulls your staffers away from their jobs and slows down your entire restaurant. So, ensure your printer processes paper smoothly and consistently with an easy-to-use loading mechanism.
A Few Printer Options to Consider
There are many brands of kitchen printers on the market and, of course, some are better than others. When shopping around, it's smart to purchase your kitchen printers as part of an overall point-of-sale, KDS system. Here are a few of the more popular options available:
Epson


Epson is a household name in the POS industry and offers various options for a full KDS.
Depending on your needs, they likely have a KDS and Epson kitchen printer that meets them. You simply must do some research to decide which option is the best for you.
Zebra


Zebra has been around for a while and offers solid KDS solutions for various types of restaurants, bars, cafes, etc.
Zebra is definitely a brand worth checking out if you're evaluating your need for a KDS.
Star Micronics


Star Micronics claim to offer "point-of-sale hardware solutions for every corner of the restaurant industry." Star is known for producing KDS solutions with rugged features designed to withstand the heat of the kitchen and the warzone that one can become.
MICROS


MICROS is one of the oldest and most reliable vendors in the market, and for good reason. Their products have withstood the evolution of POS technology and continue to operate at a high-level.
This is why the brand is one of the best-known out there. It's also why the company was acquired by a data-processing giant, Oracle.
Square and Fresh KDS


Square is an increasingly popular POS mobile application that many restaurants are using now. It allows staffers to use tablets and smartphones to take orders, process payments, and more.
Square has partnered with Fresh KDS to create an integration between Fresh hardware and Square software, making it an all-in-one system. This integration allows you to have a kitchen printer for Square.
Ready to Evaluate Kitchen Printers?
Now that you have an inside look at kitchen printers, what they do, and what to look for in one, it's time for you to start evaluating a KDS for your own restaurant or food and beverage business.
You can conduct your own research, which is not a bad idea. But you can and should also take advantage of review sites that can provide you with recommendations for the best KDS based on your business type and needs. Plus, many of these sites can generate a discount for you when you finally purchase.
For example, POS Quote helps consumers identify the best POS system—including KDS solutions—for their business and offers visitors a discount of up to 30% on entire POS packages.
Simply complete the form to receive a free quote and up to 30% off on your new KDS.
With the information provided above, you should be able to find the right kitchen printer and KDS for your business with ease. Happy shopping!