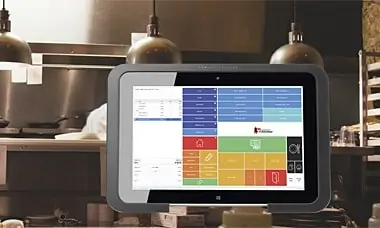 Written by Hamza Shahid
Affiliate Disclaimer: Our product review team dedicates hours of research, fact-checking, and testing to recommend the best solutions to business owners. We earn from qualifying purchases through our links, but this does not influence our evaluations. Why trust our reviews?
To help you run your retail business effectively, the best POS systems for retail need to be easy to use, manage your inventory effectively, and generate reports that give insight into the business's performance. It may include marketing tools, loyalty programs, and web and curbside pickup capabilities.
There are many reasons why retailers need inventory tracking systems, including accepting mobile payments and including hardware. The best retail POS systems for small businesses often rely on free or reasonably priced subscription packages for their designs. We also took a closer look at software integrations and low transaction fees; therefore, most of our top contenders have accessible and affordable paid plans.
Our Experts' Choice
Korona POS System

The best POS system for retail is Korona POS. Korona offers

24/7 In-House Customer Support 

Multistore & Ecommerce Tools 

Employee Management

Detailed Product Reports and Much More!
Don't have time to review all the products and features? Here's a quick overview of this article: 
The Most Trusted Top 10 Retail POS Systems – Top Software Ranked 
Korona – Best Retail POS System for Small Business
POS Nation – Simple Retail POS System
Vend – Feature-Packed Software for Retail Stores
Square POS System for Retail – Easy-to-Use System
Clover POS System Restaurant and Retail Point of Sale – Robust Software
Revel Systems – Retail POS with Inventory Management
Shopify POS – Retail POS for ecommerce & Physical Stores
Retail Pro – All-Encompassing Retail CRM
Epos Now – Free Retail POS System
Heartland Retail – iPad Retail POS System
The Top 10 Retail POS Systems Ranked
System
Starting Software Costs
Hardware Costs
Key Features

Our pick!

Starts at $49/month
Flat rate processing with zero fees or surcharges
24/7 in-house phone support

Our pick!

Flex Monthly is $99/month
Freedom POS is $999 one-time charge
Case break features for intelligent inventory tracking

Plans start at $99/month for 1 register
Plans start at $99/month for 1 register
Open platform
for easy multi-store management

Free for basic software
Starts at $50 for readers
Highly intuitive, easy-to-use interface

Starts at $9.95/month
Pricing varies based on equipment
Customized hardware and software packages with tailored accessories

$99/month per terminal
Onboarding and installation start at $649
The first ever POS system for iPad

Starts at $9/month
Quote based, hardware is included in some packages
Each plan can be tested for free for 14 days

Quote based
Quote based
Highly customizable

Starts at $39/month
Additional registers start at $24/month
Professional grade hardware

Ask local dealer for product demo and quotes
Hardware sold through network of qualified dealers
Rewards program with custom gift card and preauthorized discounts
Retail POS systems are technologies that include software that enables retail transactions, such as scanning barcodes, making purchase orders, and printing receipts. Retailers can use this software to make purchases, scan barcodes, and print receipts. As well as inventory management, sales reporting, and analytics, this software also provides retailers with tools that help them cultivate relationships with their customers through the use of Customer Relationship Management (CRM) tools.
To effectively manage a retail business, a store manager must manage constant inventory, manage employees, measure profit margins, and keep the lines moving. To do that successfully, a retail establishment needs POS software to manage, measure, and automate various tasks around the business.
A retail POS system helps manage in-store operations but can also be used as a sales tool by integrating with your ecommerce operation. This includes your third-party sales channels like eBay or Amazon and your online store.
A retail POS system is a retailer tool to track sales and inventory. They can be purchased or rented. For smaller businesses, renting can be a good idea. A POS system should have an easy-to-use interface, and the user should be able to understand and operate it quickly. There are many types of POS systems on the market, and your choice depends on your business needs and budget.
These systems also offer features to help businesses manage their financial data. For example, a POS system with robust reporting features can streamline incoming data and provide data that will help business owners make informed decisions. These reports can identify high-volume shopping times, budget lines, and trends. These tools can also improve marketing efforts and boost business performance.
Many POS systems can automate tasks, such as inventory management and employee scheduling. They can also alert owners when a particular product runs out of stock or employees are about to reach overtime. This can reduce costly issues like stockouts. Automated inventory management systems allow business owners to set low-stock alerts, generate automatic purchase orders, and create online ordering channels.
Some retail POS systems have limitations. Some may limit the number of staff accounts that can be created. Others may require customers to upgrade their system to get the most features. However, the most helpful retail POS systems will help business owners manage their staff efficiency by allowing store managers to set boundaries and assign access to specific features.
Whether you own a jewelry store, a gift shop, or even a clothing store, mobility is highly important in a retail business. More importantly, you need a cloud based POS system for retail that's fast and easy to train your employees on.
Easily accept credit cards (and be in full PCI compliance), track your sales, issue gift cards, provide a central time clock for your employees, and manage your customers' purchase histories.
Want to skip right to the best retail POS system? Take a look at Korona POS. This cloud based POS system for retail offers inventory management and real-time reporting features like no other software provider in the industry. Korona software also offers fast transaction speeds, which will help your retail business focus on customer service.
The retail POS industry has many options, but it can be difficult to decide which one will be the right fit for your company, whether you are looking to buy your first POS system or upgrade from the one you already have. During our review, we considered factors such as affordability, ease of use, and overall functionality. Additionally, we sought out cloud-based POS systems for retail that were easy to set up. Below you can find a list of our top picks for the best POS system for small businesses POS systems.
How We Evaluated 
As part of our selection process, we prioritized easy-to-use, affordable, and reliable point-of-sale systems. Our selection process also included inventory management tools, online stores, multichannel selling tools, employee management tools, payment processing tools, accounting and reporting tools, customer support hours, and third-party integrations.
In addition to several hardware options, iPad apps, and tools for selling online, each system on our list comes with multiple plans so you can grow your business as it grows. We rated Korona for Retail as one of the top retail point-of-sale systems in our review, and it was found to be the best.
Let's dive into the top retail POS systems that can help you minimize training time and increase profits.

The KORONA sales team is designed for retailers at higher risk of losing their products. With this solution, you can manage age-restricted products, such as ID scanning, loyalty programs, and tools to track and promote seasonal items, as well as tools to manage age-restricted products. As a bonus, it features anti-theft tools and quick-service functions, essential for convenience stores with high turnover and volume.
This ticketing system will also allow you to offer groups, memberships, and time-sensitive deals. This is an ideal system for amusement parks, museums, festivals, fairs, and even trade shows since it can be used in conjunction with retail tools.
The KORONA software is a great choice for specialty retail, but it is not for everyone. KORONA does not have the features to handle clubs or subscription services, so companies that offer these services should not use KORONA. Additionally, KORONA does not have scheduling features to go along with time tracking, so businesses that provide these services should not use it. A service industry such as repairmen, exterminators, and others will not be able to benefit from it.
Key Features 
Inventory Management
KORONA has standard inventory features built to handle a large product catalog. There is no maximum allowed inventory or POS users. Product data can be easily uploaded to the system and edited when a product needs to be changed/added/deleted.
The strongest aspect of the inventory system lies in its automation. Product notifications, ordering, vendor management, invoicing, and more can all be automated to improve accuracy and efficiency.
Transaction Time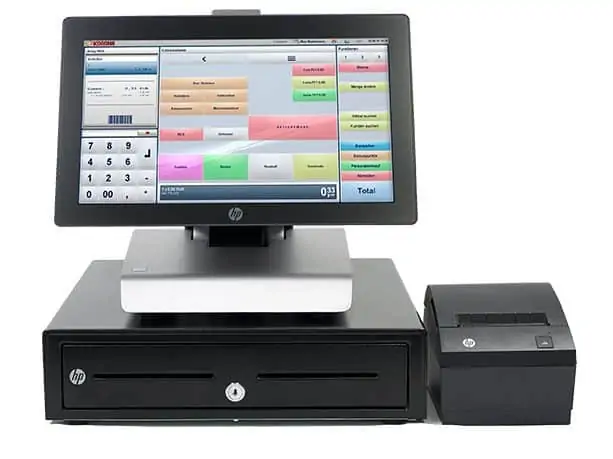 KORONA boasts the fastest transaction speed in the industry. Users rarely have issues with any transaction and can quickly get through long lines.
During the busy times of the day, retail stores need a system they can rely on. KORONA does that for both the cashiers and the customers, providing a seamless checkout experience. Their diverse hardware options also provide retailers with choices in this aspect of the business. In particular, this system is excellent for hardware stores or gift shops.
Cloud Based POS System for Retail
As one of the first POS systems to pioneer the cloud-based model instead of a traditional legacy system, KORONA offers secure and reliable software.
All data is stored in remote servers, keeping it off-site and allowing users to access the data from their backend system. This can be done with any internet-connected device from any location so owners and managers no longer have to be on location to see accurate, real-time data.
Multi-Store & Ecommerce
KORONA is designed for any type of shop. And when a smaller location is ready to scale up, KORONA is ready to grow together. Product data can be transferred with just a few clicks, making the process easy.
Its WooCommerce integration makes expanding the Omnichannel shopping experience simple. All product data between brick-and-mortar locations and online are consolidated into a single system. With powerful data and analytics, retailers can see individual store performance or a broader picture of the entire operation.
Employee Management
KORONA comes with features to help retail businesses manage their employees and improve individual performance. Shift reports, employee permission levels, anti-theft features, and overall ease of use help ensure that vape shops are getting the very best productivity from their employees.
Product Reports
Vast data analysis through KORONA's custom KPI reporting means that stores can better break down important data into digestible pieces. Users can customize their sales by employee, season, time of day or week, promotion, and much more. These allow you to plan discounts and pricing and adjust your product ordering accordingly.
Hardware
KORONA's software integrates with a variety of hardware options. Terminals can come in many forms, including touchscreen self-check kiosks, customer-facing desktops, and tablets. 
KORONA integrates with all modern payment systems, including contactless and EMV terminals. The payment system does not include processing so that users can use any major merchant service solution of their choice.
Subscription
The retail point of sale comes as a subscription service. Users pay a monthly fee for each terminal that is in use, though the number of individual users is unlimited.
Pricing starts at $49/month. This can be paid monthly or in an annual sum at a discounted rate. The subscription comes with no hidden fees, additional costs, or contractual agreements. And there are no cancellation penalties of any kind.
Customer Support
All customer support, training and set-up is included in this price. KORONA's team of product specialists is available by phone, chat, and email. In cases of emergency, they're also available by phone 24/7.
Better yet, KORONA's in-house support team will be there for you from day one. Free trial users can schedule a personalized demo with their own data to see exactly how the software will look and behave. This lets users know exactly what they're purchasing before spending anything.
Pros 
A robust inventory tool that allows for a case-by-case breakdown of inventory

There is a choice of any major payment processor that you can use

There is no contract for a long period of time

Age-restricted products can be managed using built-in settings

The ability to customize the user interface and reporting
Cons 
In terms of ecommerce platforms, it only integrates with WooCommerce

The reporting module has a learning curve that requires some practice

In terms of full-service restaurants, it is not the best fit

There are no native tools for managing subscriptions
Why Choose KORONA POS for Retail?
KORONA built specific software for retail management. The technology is designed to make business easier to run with automation tools, inventory management, and vast sales reports and product data.
Plus, the experience has been crafted to be straightforward and user-friendly. The vast array of tools and features is simple to learn how to use and implement into a new and existing business of any size or niche. Its scalable features allow for greater flexibility in all operations of the business.
Korona Pricing 
In addition to offering a free trial and fee-free setup, Korona offers a mid-priced POS solution for small businesses. In addition to earning points for its unlimited free trial and fee-free setup, it was also awarded points for all plans, including unlimited users, sales tracking, reporting, API access, gift card functionality, a product database, and a customizable dashboard. Due to the lack of a free point-of-sale option, KORONA was mostly penalized.
Software Cost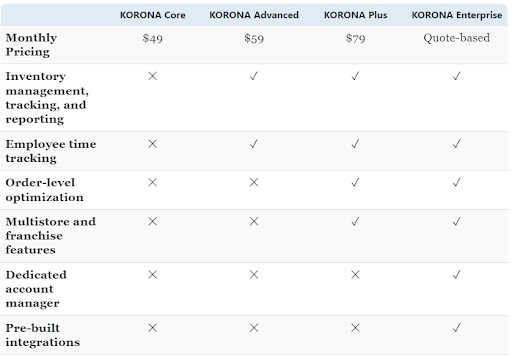 Hardware Cost
There is a wide range of hardware available from KORONA, including touch-screen registers, hardware from Aures, Partner Tech, and Hisense, as well as leasing options for hardware leasing. You can request a detailed price sheet from KORONA if you wish. There is also a hardware pricing plan offered by KORONA in order that you are not required to pay the full price up front.
Payment Processing 
KORONA payment platform provides a wide range of support for a variety of payment styles, including the appropriate software, hardware, and integrations. The system accepts electronic and in-store payments through credit and debit cards, Europay, Mastercard and Visa (EMV) chips, gift cards, and payment processors such as Apple Pay and Google Pay.
Customer Reviews
KORONA's software is highly rated among users. Their point of sale platform scores well across trusted review websites.
As a retailer, you will be able to easily manage your business with POS Nation. You can use it in tobacco shops, liquor stores, lawn and garden centers, hardware stores, convenience stores, and supermarkets. You will receive all of the features you need out of the box, tailored specifically for your industry–not as a separate add-on.


Among the features built into the software are the ability to accept and create coupons, age verification, coupons, coupons that can be accepted and created, and hotkeys, among other features, so businesses can complete checkouts faster and easier. The inventory management system is as easy and efficient as possible because it tracks case and carton-break inventory, sends automatic purchase orders with reorder thresholds, allows for unlimited SKUs, and much more.
With this powerful retail point of sale system, you will be able to manage your store, as well as grow your business, since it comes with features like customer loyalty, security, reporting, and analysis. The software add-ons that POS Nation offers will help you seamlessly integrate all your business needs into a single software system, not just one. As well as handling multiple businesses, POS Nation also provides software add-ons like cloud backup, mobile reporting, QuickBooks integration, and inventory import.
Key Features 
Inventory Management
CAP Retail by POS Nation streamlines inventory management for retailers of all sizes. The software's database can hold multiple products with no SKU limit, making inventory management a breeze. And for an advanced hands-off approach, stock reorder points, low inventory notifications, and automatic purchase orders can all be set up by the user.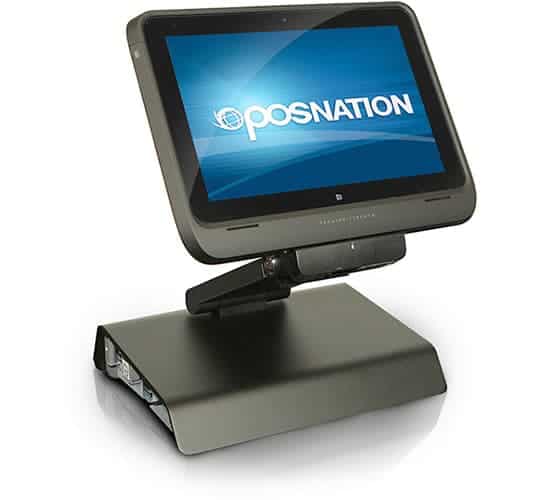 Customized Hotkeys
CAP Retail by POS Nation makes it easy to create colorful and easy-to-find hotkeys with product images. Cashiers can quickly navigate products rather than sorting through PLU numbers at checkout. Hotkeys help eliminate cashier errors and reduce checkout time.
Customer Loyalty and Sales History
Retailers can benefit from a customer loyalty program, and CAP Retail by POS Nation makes the setup and management of a program easier. Store customer contact information such as phone number, email, and mailing address in the system. You can also track each customer's buying patterns and purchase history in the same place. Then, when the time comes to send out coupons and run promotions, you can make these deals customized to what your customers like. CAP Retail by POS Nation can support retaining new customers and winning new business.
Customizable Tags and Barcodes
Local shops and boutiques often have non-barcoded items in stock. But when it comes to making the sale, having labels and a barcode scanner is a game-changer. CAP Retail by POS Nation allows retailers to create custom labels and tags in one click. The built-in label tool lets the user decide the quantity and size of the barcodes. From there, all that's left to do is print, attach, and scan!
Business Management
CAP Retail by POS Nation makes it easy to get a hold of the financial status of your operations. If you're new to in-depth business reporting, the software comes with over 55 prebuilt reports with additional customization options available. Analyze reports on every aspect of your business, and export them in any format you'd like.
Customizable Display
POS Nation allows you to promote your business through its customizable display. The system allows you to display anything that you want on the terminal's screen. This allows you to attract new customers and increase sales. The POS Nation software also allows you to manage your labor and inventory.
Additional Features:
Employee management with scheduling and role-based permissions

E-commerce integration and sales tracking

Gift card and coupons system

Security baked in to prevent hackers and other threats
Pros 
Customizable, printable bar-codes and labels

Ability to integrate tablets

Customer relationship features
Cons
Occasional glitches in the system
Why Choose POSNation for Retail? 
POS Nation is trusted by thousands of small businesses nationwide. The company provides retailers with an all-in-one point of sale solution that includes everything they need to run their store and grow their business.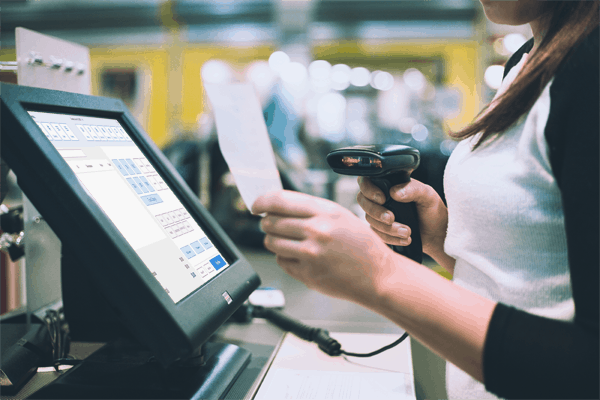 Whether you own a small business or a large enterprise, the POS Nation system can help you manage your retail operations more efficiently. This system can help you automate tasks like inventory management, payroll, and even employee time tracking. Its intuitive user interface makes the process of using the system both convenient and easy.
With POS Nation, retailers can streamline sales processes and boost customer loyalty. Its customizable software, hardware, and services allow you to create a POS solution tailored to your business' needs. POS Nation also comes with robust tools for managing inventory and purchasing orders, and you can even print barcodes for products in your store to ensure that they are correctly rung up.
POS Nation Pricing 
POS Nation offers two pricing plans:
Flex Monthly
In order to get started, users need to sign up for Flex Monthly, which offers POS software, a touch PC, scanners, chip card readers, cash drawers, receipt printers, and 24/7 customer support for $99 per month. Users can cancel at any time, and a lifetime warranty is included.
Freedom POS
With the second plan, you get the same hardware and software for a one-time fee of $999 along with free chip card readers, a two-year warranty on the hardware, and lifetime POS software licenses.
Aside from the tablets themselves, there is also a range of accessories you have the option to purchase, such as docking stations, barcode printers, label printers, and a number of charging docks. Prices are not listed on the website, so you will need to contact the sales department to find out.
They also offer a Custom Build plan that allows you to build your own customized solutions according to the needs of your business. Contact POS Nation today to get a free quote for your business today.
Customer Reviews
Overall reviews from trusted consumer review websites: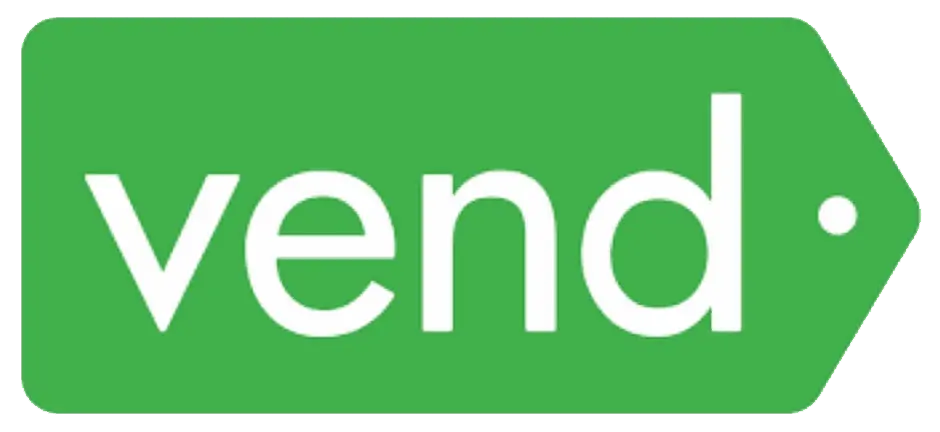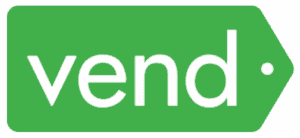 A robust iPad retail POS system, Vend by Lightspeed was designed specifically for retailers, as it offers integrated loyalty programs, mobile checkouts, free customer-facing displays, as well as mobile scanners for quick inventory counts, among other features. Furthermore, Vend also allows you to create custom payment methods based on your own merchant account, such as layaway, store credit, and on-account sales, in addition to its flexible payment options.
I particularly like the checkout screen on this product when it comes to ringing exchanges and returns. There are many POS systems out there that try to offer everything for every business, but Vend focuses on providing fantastic in-store retail functions and lets third-party apps handle everything else.
It is one of the most reliable point-of-sale systems for brick-and-mortar retailers due to its robust inventory management features, multi-store functionality, and comprehensive reporting capabilities, making Vend an excellent choice. The software comes with a variety of hardware options as well as 24/7 support, as well as unlimited products and users, as well as unlimited hardware options.
You may be interested in reading our full Vend POS review.
Key Features 
API
Vend plays nicely with other software services. If you like its list of features, but there's that one must-have for your business that you can't seem to find, Vend probably has an API integration for it.
Reporting Suite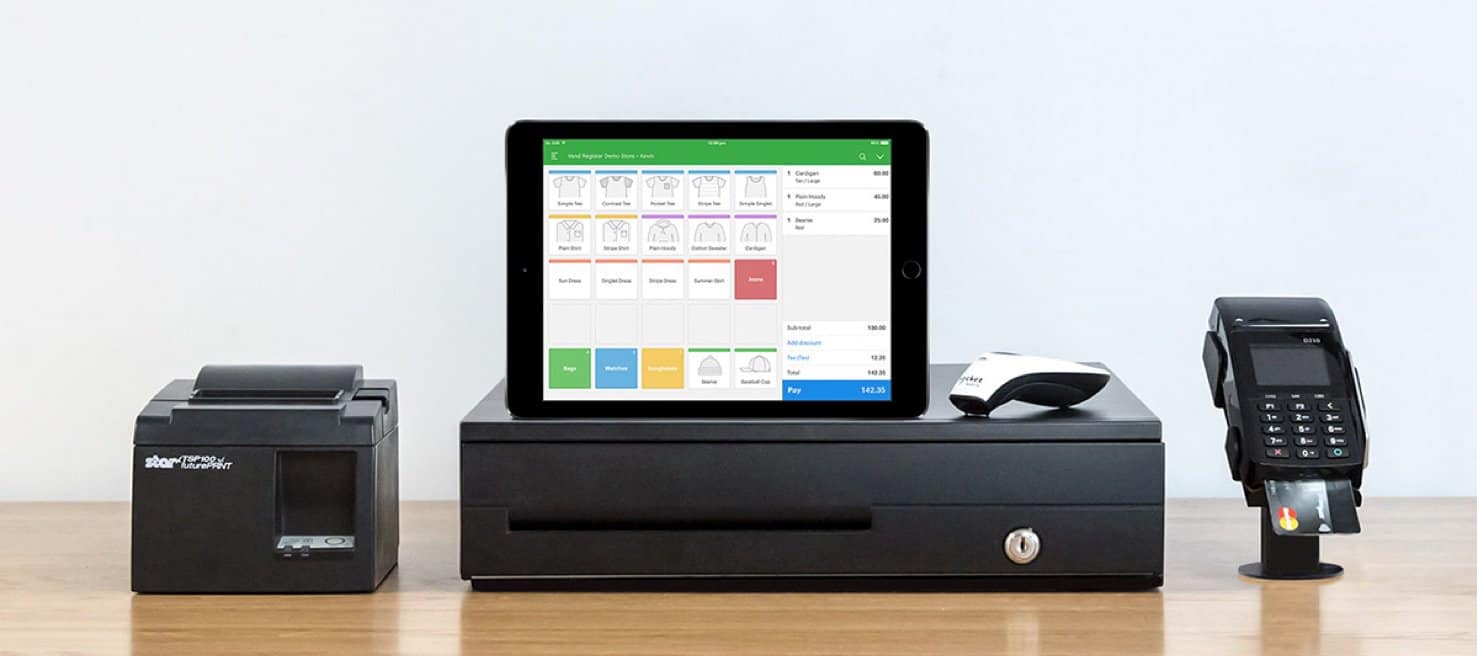 Businesses don't grow in the dark. With advanced reporting, you can drill down into any detail of your operation to get the insights you need.
Payments
ALL the payments. Vend provides support for discounts, line item notes, bundles, variants, returns, refunds, store credit, layaway, gift cards, NFC transactions, and split payments.
Automated Stock Orders
You can't sell what you don't have. And being short-stocked can discourage repeat business. But with automated stock orders, your best sellers will always be on the shelf.
Ecommerce integrations
Vend also shakes hands with completely separate systems, as well. If your business got its start online (for example) Vend can easily import and sync all of your inventory, sales, and customer records.
Connect with the most popular eCommerce shopping carts like Shopify and Woocommerce.
Custom Receipts
Yes, even your receipts can be a branding position. Add your logo or a custom message to your receipts to stand out at every opportunity.
Hardware
Vend works online, and syncs automatically after an internet outage. Vend has software clients for iPad, Mac, and PC, all of which tie in seamlessly with whatever hardware you need.
Choose from several hardware packages for your new store, or choose hardware a la carte for more specific needs.
Multistore and Multichannel Selling
As stated, Vend is aimed at retailers with multiple storefronts. But since business is increasingly done on mobile devices, Vend will also connect with your online storefronts. Vend POS does an amazing job with Multichannel selling, which is very important in the retail industry.
Customer Service
Vend provides the usual plethora of onboarding, FAQ, and self-help options, including email, live chat, a Knowledge Base, and Vend University, as well as a more personal touch from Professional Services experts (for an added fee).
Pros 
Multi-store inventory management and reporting tools.

Products and users are unlimited.

Transaction fees are not charged.

Suitable for PCs, Macs, and iPads.

Customer service is available 24/7.
Cons
Vend is a little shy on some of the advanced features offered by the industry leaders. In the unlikely event that you need "crisis management" customer service, priority support will cost you.
Why Choose Vend POS for Retail?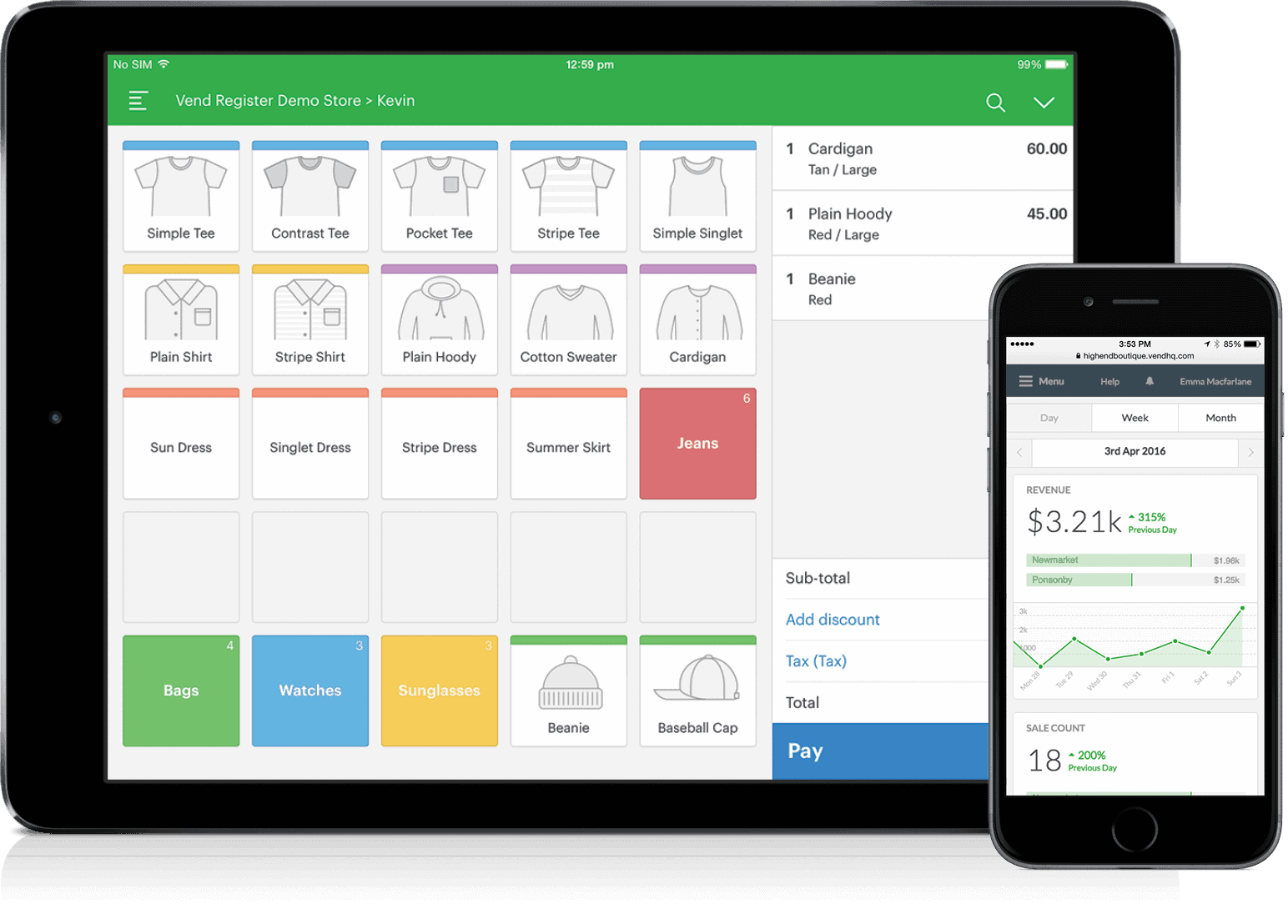 Vend POS is aimed at retailers who want to add new storefronts without adding new headaches. No one ever said "I want a successful business, but not too successful." When you're ready for your second, or third, or twelfth Grand Opening, Vend won't say no.
On every monthly plan, you can also add a time clock to your team, integrate your POS with a website, and integrate your POS with the store's mobile apps if you're specialized in in-person sales. It's a great POS system for midsized retailers who want to concentrate on in-person sales due to its easy user interface, inventory management capabilities, and loyalty program.
Vend POS Pricing
The Vend POS software has many great features, but the overall price point detracted from it. There is no free plan offered by Vend, and the starter plan ranges from $89 to $119, depending on the payment processor you use. For the best POS system for small businesses, this is a high starting point, but you can try it out for free.
In addition to the one register included with every subscription, Vend provides a flat rate of $59 per month for additional registers across all plans.
Even Vend's Lean plan offers all the features you need for running a retail business, including real-time inventory management, supply chain management, and premium API access.
There is no native payment processing system in Vend, so users won't be charged any extra fees for handling transactions through third-party processors, as there is with most other popular POS software. Vend's partner processors offer exclusive discounted transaction rates to its users as well.
Vend Lite ($199/month)
There is a monthly subscription fee of $99/month if the software is purchased annually, and a monthly fee of $119/month if it is purchased monthly. The annual subscription covers all terminals within a single location and up to $20,000 in monthly sales. The monthly subscription package includes the following features:
Real-time inventory

Full customer support

Basic reporting

Cloud backups

Integrated payments

Unlimited products and users
Vend Pro ($129/month)
In order to use Vend POS, you must pay $129/month for the Pro version, or $159/month for the monthly version. This is a better solution for multi-store businesses as it covers multiple terminals at multiple locations for an unlimited amount of sales volume. Additionally, Pro offers a number of unique tools that are not found in the Lite version:
API access

Multi-outlets retail management

Apps and ecommerce channel

Promotions and gift cards

Unlimited products and users

Award winning support
Vend Enterprise (Quote Based)
Vend also offers Enterprise solutions to larger and niche retailers that require a dedicated account manager and custom onboarding, and thus, prospective customers must request a quote from Vend to find out what their options are.
Vend Pro is Vend's best deal for multi-store operations. However, its lack of in-depth reporting and inventory at the moment makes it an unlikely solution for chains of stores or franchises. It is still a solid solution though at a reasonable price for small businesses.
Customer Reviews
Vend POS has glowing reviews across consumer review websites:


As one of the best retail point-of-sale systems for small to medium-sized businesses, Square POS is the best one. As a free POS system that is easy to use, easy to start, and packed with features, Square POS is a great choice for small businesses of all types. Square for Retail is no exception to this. There are plenty of features that make it easy to use, easy to set up, and full of great features for small businesses of all kinds.
There are three plans available for this cloud-based platform, a free starter plan, a Plus plan that offers more advanced features, as well as a Premium plan that provides access to almost all Square products. It operates on iPads and Square Register and is very easy to use. In addition to built-in payment features, curbside pickup, free online stores, digital receipts, customer feedback collection, a barcode-based user interface, and marketing insight into customer profiles, each plan includes built-in payments, curbside pickup, and e-commerce.
A great advantage of Square is that the card reader hardware can be plugged directly into your phone or tablet, making it an ideal option for mobile retailers. Additionally, you can use the offline mode to process transactions even without a connection to a network, making it perfect for convention vendors. Customers can also split the bill with gift cards or cash if they would like to be able to use their money more easily.
Key Features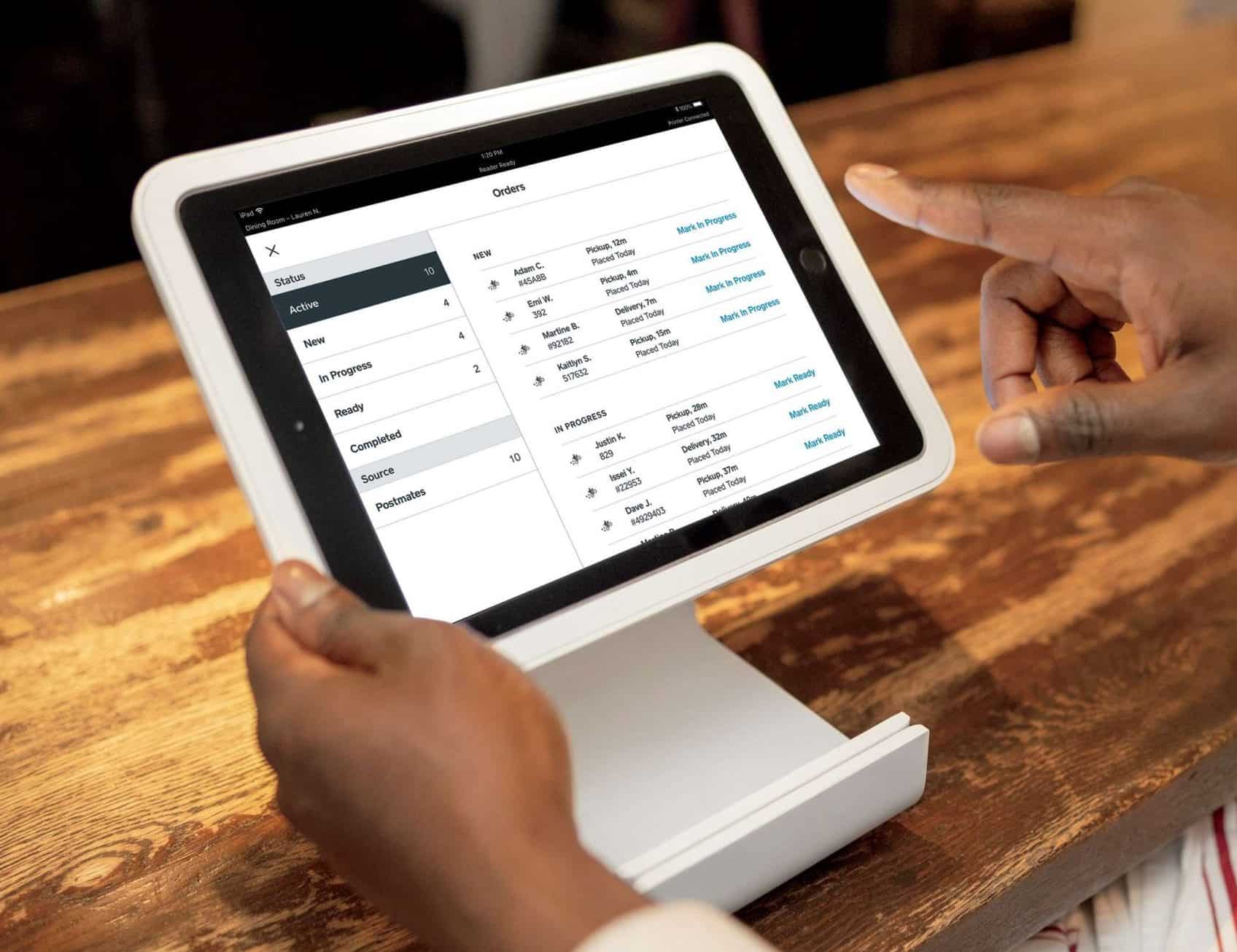 Hardware 
Square has offered some of the most reliable and most stylish hardware since nearly its beginning. In fact, "Square" is nearly synonymous with said hardware in the mind of many early adopters.
Choose from starter bundles for a variety of business types, or hand-select just the pieces you need.
Inventory Control
While it's not the equal of most Warehouse Management Systems, the inventory control offered by Square will allow you to do just about every common task, right from the dashboard.
CRM Features
Square makes it easy to track purchase histories, see buying trends, and send digital receipts through its integrated Customer Directory.
Custom Invoicing
Send professional invoices from your browser dashboard, or even your phone, with just a few clicks.
Marketing
For an additional fee, you can craft email marketing campaigns or social media campaigns, right from within Square.
Appointments
Are you in the service industry? Most POS systems are geared toward retail, but Square doesn't sell you short. As of the date of this article, many of the services you need are free for individuals and are scalable as your business grows.
Customer Service
Square offers common self-help options, including a forum, Knowledge Base, videos, and articles.
If you need more intensive support, the email ticket method is best for less-urgent issues, and reps are generally reported to be friendly and exceedingly knowledgeable.
There is also personal support by phone, during normal business hours.
Pros 
Forever free plan

Plus plan offers incredible value

Advanced reporting tools and inventory features

Scalable; grows with your business

Works on iOS devices—iPads and iPhones
Cons 
Reports on Square's customer service vary widely, which is to be expected with such a well-established user base. 

The most common complaint is over merchant funds commonly being held, which is a deal-breaker for some small businesses.

Limited inventory functions in free plan

Supports only MacOS

Lack customer support
Why Choose Square POS System for Retail?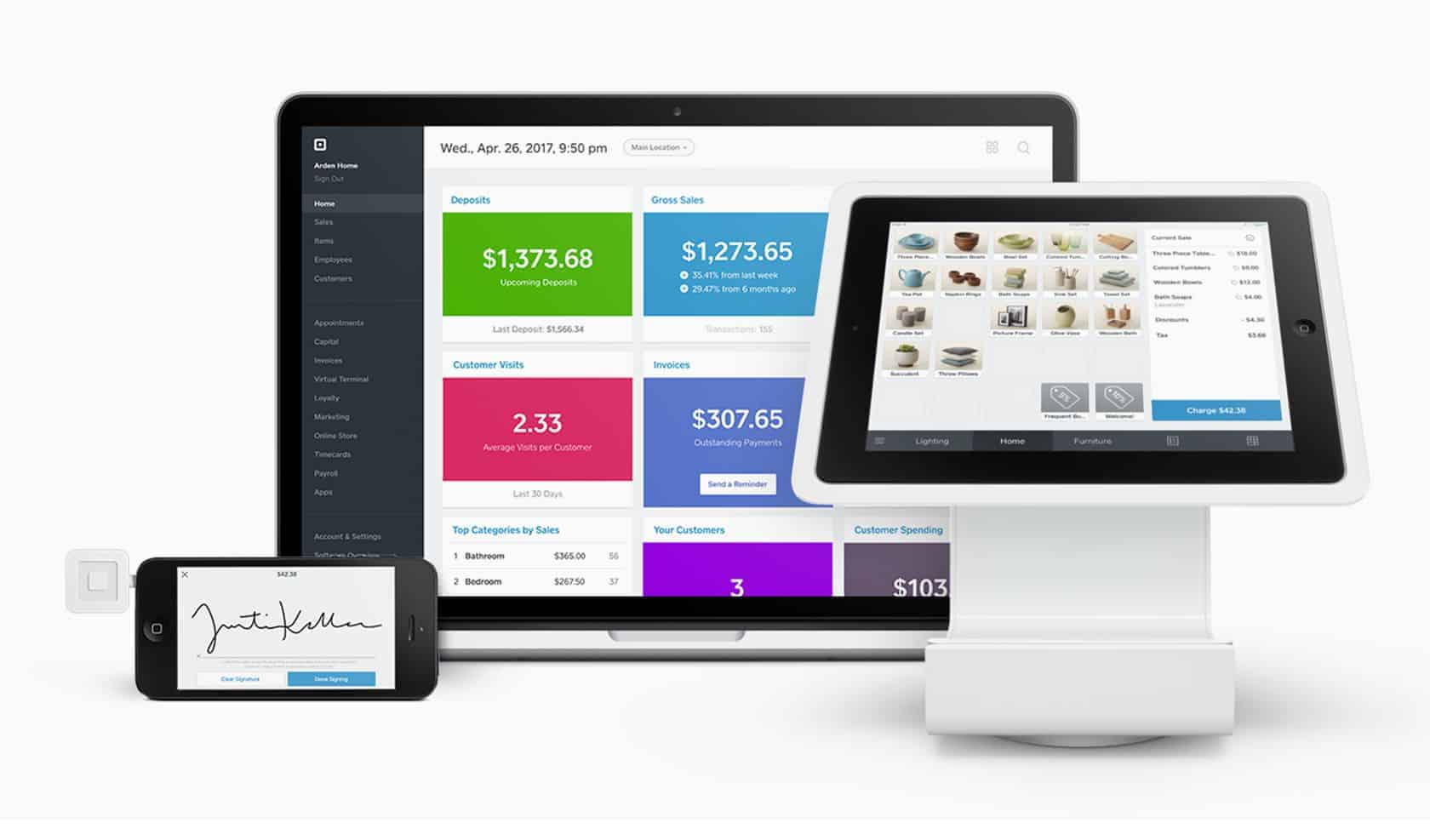 The Square platform has been designed for retail startups that have big dreams about selling their products offline and online and almost no capital to get started. Aside from free point-of-sale software, online checkout links, store builders, social media selling suites, and magstripe readers that you will probably have to upgrade from, you also have access to almost all the financial hurdles associated with new businesses related to point-of-sale.
Also, small businesses will find the Square Marketing add-on appealing for its simple setup process, inventory management features, and marketing tools that make it ideal for small businesses.
Square POS Pricing
Software Pricing 
For retail stores, Square for Retail can be used forever free, while the Plus plan costs just $60 per month (as opposed to most advanced retail point of sale systems that cost around $100 per month). Due to its integrated payment processing and competitive pricing, Square for Retail has a perfect pricing score that includes unlimited users, transactions, and products along with unlimited transactions, transactions, and products.
In addition to offering a 30-day free trial of its Plus plan, Square subscriptions are month-to-month, so you are not required to sign any long-term contracts. You are able to add, pause, and delete features from the Square dashboard at any time within the platform. In my opinion, this is a particularly useful tool since it eliminates all the back and forth that usually occurs when canceling a subscription over the phone or email.
| | | |
| --- | --- | --- |
| | Free  | Plus |
| Monthly Fee | $0 | $60 per Location |
| Inventory tools | Basic | Advanced |
| Reporting | Basic | Advanced |
| Team Management  | Standard | Plus  |
Hardware Pricing
Using Square software on your phone or tablet, you will be able to accept credit cards, debit cards, and NFC payments such as Google Pay and Apple Pay. You will receive a free Magstripe card reader, but the Square Contactless + Chip Reader costs $49 to enable you to accept chip cards and NFC payments. Square registers are priced at $1,329.
Square does not require that you purchase other hardware, such as receipt printers, in order to use the Square software. It is just a matter of making sure that the hardware you purchase is compatible with Square.
Payment Processing 
As an in-house payment processor, Square can only accept payments via Square's in-house payment processor, which means you are limited to processing payments through Square's own payment processor. This is why Square is incredibly affordable.
If you use the free plan of Square, you are charged a fee of 2.6% plus $0.10 per card-present transaction. If you use the Plus plan, you will be charged a fee of 2.5% plus $0.10 per transaction. If you use the free plan, you are charged a fee of 3.5% plus $0.15 per card-not-present transaction.
Invoices and online transactions are subject to a fee of 2.9% plus $0.30 per transaction.
Customer Reviews
It's no surprise with the popularity of Square that it has an abundant amount of good reviews from users of the software. It's actually pretty impressive that with thousands and thousands of customer reviews available online, Square maintains such good ratings. For example, on Capterra, Square has over 2,000 user review submissions and a 4.7/5 star rating.
Read more about Square in our Square POS Review.
Clover has a bit of a different perspective on the POS industry. While some vendors keep adding more and more functionality, Clover's software is largely outsourced to an App Marketplace. In stark contrast, its hardware is entirely proprietary.


Conceptually, we understand the logic; open-source software is some of the best, because it's easily iterative by the most dedicated software engineers around the world, while hardware needs to be static, reliable, and more tightly controlled.
It is not surprising that many types of retail stores have chosen Clover POS as the integrated point-of-sale (POS) system they are currently using with custom hardware. This POS system is web-based and server-based, as well as offers countertop hardware options, mobile POS options, contactless payments, and much more. With Clover Dining, a point-of-sale app made specifically for restaurants, restaurants are able to streamline payment processing, sales, inventory management, and many more processes.
When you choose Clover for your retail store as your point of sale store, you will eliminate outdated processes that include cash registers, paper receipt printers, label printers, barcode scanners, and much more. Besides accepting PIN and chip card payments, Clover also accepts contactless payments as well as credit card swipes, Apple Pay, and Apple Pay. Also, Clover POS can be integrated with QuickBooks, is able to track clock-ins and clock-outs, and manages vendor maintenance and purchase orders for vendors.
As part of the hardware offering, Clover Stations, Clover Go card readers, Clover Mini POS stations, Clover Flex mobile payment processors, and others are available. There are also a number of applications available on the Clover App Market, including gift card branding, marketing promotions, detailed analytics, and the integration of an online store with Clover. Businesses are able to visualize key data metrics in real-time with Clover POS dashboards in addition to order tracking, menu editing, and reporting.
Key Features 
App Marketplace
Clover connects with a ton of well-established third-party apps. Top names include Mailchimp, Yelp, Xero, DocuSign, and QuickBooks.
Staff Management Tools
Each user can access their own time clock, and managers can customize permissions associated with each employee's login. Sales stats for their entire team can also be viewed at a glance.
Cash Management
Customers can discreetly set their own tip percentage, and tips can be pooled for equal distribution, or allocated to the specific employee serving the customer. For salespeople, custom commissions rules can also be set.
Advanced Reporting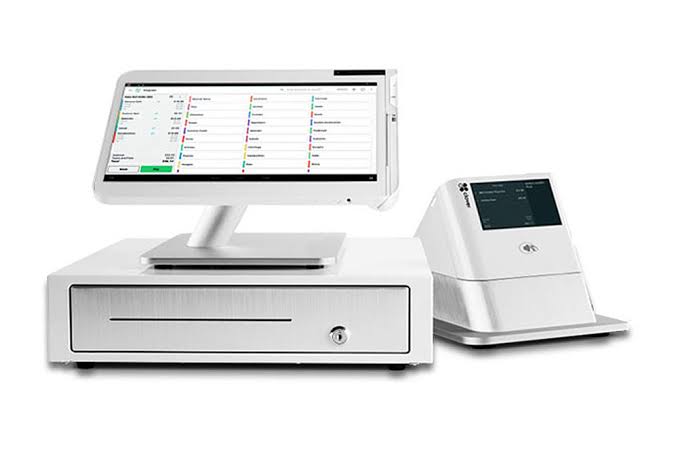 Clover's reporting tools can track your best-selling products, your employee's performance metrics, refund and discount volume, and even a breakdown of the busiest (and most profitable) time of day for your store.
CRM Features
With built-in CRM tools, you can engage prospective customers or entice existing ones to come back for a visit. You can also gather invaluable customer feedback, and possibly move to correct any issues before you get negative reviews.
All in One Solution
It is no secret that Clover POS is popular because it's a complete inventory tracking and order management system. In addition to printing receipts and processing payments, users are able to make contactless payments. Employees are able to do a lot more with this system, in addition to printing receipts and scanning barcodes.
Customer Service
As far as Clover's customer service is concerned, customers have overwhelmingly positive reviews; all customers who subscribe to one of the company's monthly plans are entitled to phone support.
Your options are recommended in this order:
Self-help:

FAQ

User guides

Articles

Videos

Call your own Merchant Services provider

Call First Data
Pros 
Quick and easy setup

Sleek, purpose-built hardware

Customizable feature set
Cons 
Starting up is not a small matter. With proprietary hardware, your budget will take a hit before you can even take the system for a trial run.

Coupled with the many extra steps to secure the best price from your local merchant account providers, starting out with Clover for the first time is a full-time job. After that, though, onboarding gets much easier.

Expensive startup costs

High online payment processing fees
Why Choose Clover POS System for Retail?
There is no doubt that Clover systems aren't cheap, but many retailers find the ease of use, the simplified hardware, the software, and the payment processor setup to be well worth the investment. This is especially true if you have to train a lot of new employees in your system. Clover POS systems offer many POS features for free, like loyalty programs and bulk item imports.
As a point of sale system, Clover is unique because it has an easy-to-add-on process. If you are interested in incorporating third-party software, employee payroll, or customer feedback monitoring, you can simply download an app for the Clover POS system. It can be updated with Clover-tested apps just like you can add a new app to your smartphone.
Clover POS Pricing 
Software Cost 
When you decide to purchase Clover directly, you can purchase Clover retail software plans for as little as $14.95/month when you purchase your Clover hardware upfront, up to $54.90/month when you purchase your Clover hardware from Clover directly.
In order to be able to pay for your hardware over time, you will be able to enroll in Clover's "pay monthly" plan, and you will only have to pay one monthly fee per computer for both the hardware and the software. You will be able to choose from $60/month to $175/month, depending on the hardware package you choose.
You will have to pay the full Register subscription cost for each Clover Mini that you have in two separate stores. For example, if you have two Clover Minis in two different stores, you will have to pay the full Register subscription cost for both Minis if you have them in different locations.
Hardware Cost 
In order to purchase the Clover system, you can either buy it directly from Clover, or you can buy it from one of the Clover resellers. Depending on your choice, you will be charged anything from $49.50 (Clover Go contactless card reader) to $1,799.50 (Clover Station Duo).
Only Clover hardware is compatible with Clover POS software.
Payment Processing 
You will need to use Fiserv as your payment processor if you intend to purchase your devices from Clover. Fiserv charges the following fees in order to process your payment:
The following percentages apply to card-present transactions: 2.3% + $0.10 (Clover Register plan) and 2.6% + $0.10 (Clover Essentials plan)

For transactions with a card that is not present, the fee is 3.5% + $0.10 (for all plans).
As a result of the card-not-present transaction definition, online sales, phone orders, orders from third parties, card payments manually typed into the transaction form, and any other transaction that does not involve a chip/tap/swipe card payment, cash, or check is classified as card-not-present transactions.
Consider switching to a different Clover reseller or changing your POS provider altogether if you have a large percentage of your sales occurring online. This will allow you to avoid having to pay the relatively steep fees associated with card-not-present payment processing.
Purchasing a Clover device from a Clover reseller will result in different fees and fee payment structures compared to purchasing a Clover device directly from the manufacturer. Large retailers can also save money by partnering with a Clover reseller because they will avoid payment processor fees.
Customer Reviews 
Clover POS is not nearly as popular as some of the other software options on our list. However, users of their software are fairly satisfied across the board based on review submissions. On Software Advice, Clover scores a 3.95/5 star rating.
Read more about Clover in our detailed Clover POS Review.


Revel is an ultra-savvy POS and requires a commensurately savvy business owner to tackle it. If that's you, then get ready for one of the top POS alternatives to Shopify.
Point-of-sale (POS) software such as the Revel Systems POS is a high-performance, dynamic, and mobile-ready point-of-sale system designed specifically to help restaurant owners and managers simplify their back-end and front-end operations.
The software is designed to not only allow restaurant and bar employees to manage orders and sales via their mobile devices, but it also enables them to move between the venues easily and conveniently in order to take orders from guests, customers, or participants while handling sales transactions.
In order to integrate operations, customer channels, and point of sales functionality into a single cloud-based business solution, small and medium-sized businesses and restaurants can use Revel Systems as a cloud-based business solution. With the integration of POS modules with inventory, social media, and customer management, users have access to real-time information on inventory, customer insights, and sales data in addition to analytics and reporting.
The Revel Systems POS system provides customers with a hassle-free and great dining and bar experience by allowing them to check out on their own, eliminating the need for them to wait in long lines at restaurants and bars, making their dining experience a breeze. Aside from the ability to integrate, Revel Systems POS can also be used in conjunction with existing front-end and back-end tools, allowing restaurants and bars to create an ecosystem that is completely integrated.
Read more: Revel POS Review.
Key Features 
Second Screen Pairing
The Revel POS iPad app can pair with a second, customer-facing screen. This rare feature can be used to ensure order accuracy, for easy input of customer data, or to enter discreet tip amounts.
Reporting and Analytics
More than just a data aggregator, the reporting features allow you to track your inventory, reordering, sales, top selling products, and most profitable times of day, all from one dashboard.
API
Revel Systems integrates with a slew of top-notch third-party providers. Get plugins to bolster your accounting, ecommerce, payment gateways, employee management, and a whole lot more.
CRM & Loyalty Programs
Create custom rewards programs that are perfectly suited to your business, your customers, and your products.
Staff Management
Revel allows you to track time clocks (including overtime), assign tasks, manage schedules, and set individual permissions – right from the dashboard.
Inventory Management
Revel knows that each type of business requires its own inventory tracking. Restaurants need ingredient trackers, and clothiers need matrix inventories.
While Revel may be a better fit for mid-sized businesses, any type of business can appreciate its array of features.
Extra Industry-Specific Features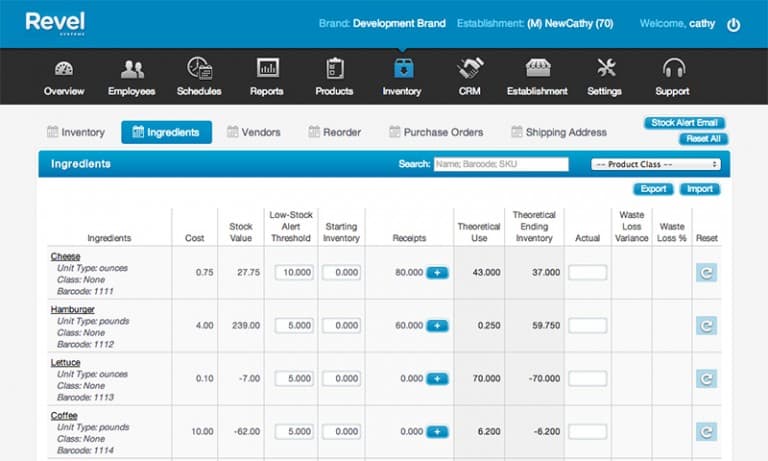 Revel does not leave anyone out; less-common features come standard, like table management for restaurants and delivery management for door-to-door service.
Hotkey Functionality
By tapping on a menu category, you will be able to get a drop-down list of items with the ability to use hotkey functions. As well as adding quantities, entering special requests, adding to-go orders, delivery orders, removing or repeating items, and entering discounts, the item editing screen makes it very easy for cashiers to edit their items. The cashier also has the option of voiding the payment, splitting the billing, printing, reprinting, emailing receipts, and generating reward cards for customers.
Real Time Inventory
Revel has an easy inventory management system that makes keeping track of your inventory easy. In addition to having SKU and cost capabilities, Revel allows you to mass enter inventory items. As a result, a style matrix is used to manage similar items with different sizes, colors, or styles by creating a style matrix that can be used for similar items.
It is important to know that the inventory page displays low-stock items in red for your advantage. It is versatile enough to allow users to enter barcodes for scanners and manually enter discounts, surcharges, and service fees or automatically add them to the order. If you only receive partial orders, you will need to manage incoming stock items and partial order notations, and then you will need to finalize your order once you receive all the order items.
QuickBooks Integration
A key feature of Revel's QuickBooks integration is the automatic synchronization of sales, purchase orders, and inventory data between the POS and QuickBooks. This helps streamline the process of updating books and syncing sales data.
The QuickBooks integration allows users to access sales information, total sales, refunds, and discounts at any time by transferring daily information into QuickBooks. Inventory adjustments, purchase orders, payroll, and employee schedules can all be transferred. You can find cash management applications in the manager's settings tab, where you can find time management tools, items sold, cash receipts, and printable reports.
Customer Service
The customer support options offered by Revel are fairly impressive, with a few unheard-of perks.
There are onboarding and troubleshooting videos, articles, and FAQ, but the level of personal attention offered by Revel puts them a cut above most other vendors. Choose from email, phone, web ticket, remote assistance, and even on-site assistance. Some of these methods will incur an additional fee.
Pros 
Extensive reporting functions

Powerful enough for multi-location retailers

Custom-built packages tailored to your business

Open API access
Cons 
Long-term subscription requirements

Pricey for smaller businesses

Must use a minimum of two registers
Why Choose Revel POS System for Retail?
With Revel, you can customize it to suit virtually any retail point of sale need, including kiosk shopping, delivery management, and integration with online commerce. Despite having such advanced and flexible features, we often recommend Revel for very niche markets, such as golf course point-of-sale systems and garden center point-of-sale systems.
A custom-made Revel solution will meet all the needs of midsize and larger retailers with a broad range of locations, and can also integrate with virtually any other software you use. Revel's open API allows it to integrate with virtually any other business automation system.
A retailer with multiple stores or a complex inventory will greatly benefit from Revel's reporting suite because it puts critical data about your sales, employees, customers, and inventory at their fingertips, which will enable them to easily grow their customer base by making better decisions.
A custom-made Revel solution will meet all the needs of midsize and larger retailers with a broad range of locations, and can also integrate with virtually any other software you use. Revel's open API allows it to integrate with virtually any other business automation system.
A retailer with multiple stores or a complex inventory will greatly benefit from Revel's reporting suite because it puts critical data about your sales, employees, customers, and inventory at their fingertips, which will enable them to easily grow their customer base by making better decisions.
Revel POS System Pricing 
If you decide to go with Revel's three-year, two-terminal minimum requirement, you will be billed $99/month/terminal, billed annually, and you will also be contractually bound to use Revel for the next three years for your payment processing needs.
You will need to contact Revel's customer service department for a quote since the website does not list monthly fees.
Revel POS Pricing has 3 components: 
Software:

$1,188/year, per terminal — Includes POS, unlimited users, CRM, inventory and employee management, and reporting and analytics.

Payment processing:

Quote-based — Includes an in-house dedicated support team, online statements and reporting, and support for all card types, and is EMV chip and Apple Pay ready.

Onboarding:

Starts at $649 — Services include system onboarding, management console training, menu consultation, hardware installation, and payments set up.
Hardware Cost 
As part of the Revel system, software packages are available that are aimed at specific industries. They are available for monthly subscriptions based on the software license, which is included for free.
A Revel subscription plan offers flexible pricing, broken down by terminal, based on the industry they serve. The RaaS pricing plan, or Revel as a Service, includes the little upfront cost. Customers who use RaaS pay a monthly fee that includes hosting and defective hardware replacement at no extra charge for customers. All Revel subscription plans include live 24/7 support, unlimited security and storage, all software updates, and QuickBooks as well.
Payment Processing 
If you choose to use Revel Advantage as your payment processing solution, then you will pay a fee of 2.49% plus $0.15 per transaction, while if you choose to use a third-party payment processor (which is not possible on the three-year plan), then you will likely pay a more expensive subscription fee each month.
Customer Reviews
Revel POS has an average score of 4/5 stars across major trusted consumer review websites.


Shopify got its start in the eCommerce space and earned a solid reputation there for its Shopping Cart software. It was a small leap to bring this expertise over to the brick-and-mortar side of sales. Its borrowed reputation does not disappoint.
POS Shopify software allows Shopify users to sell in stores. It is only available to Shopify ecommerce sellers, so if you are looking to expand your online sales, this is the perfect solution for you. With its powerful, comprehensive Omni-channel selling features, Shopify stands out as one of the leading web-based POS platforms. It is one of the best choices for retailers looking to increase online sales or emphasize curbside pickup, two areas that retailers should not overlook.
With over 1 million businesses using their e-commerce platform, Amazon marketplace, and point-of-sale services worldwide, Shopify has established itself as one of the most respected providers of web-based point-of-sale services in the retail industry.
Due to the company's deep integration with ecommerce, Shopify POS is a simple retail POS system, a highly customizable point-of-sale solution that fits small business models, but scales up as your business grows. For retailers who are doing retail business on Facebook, Shopify has a scaled-down version of its "Lite" plan, and a scaled-up version of its "Plus" plan is available for retailers who have higher volumes. There are varying rates, payment processing fees, and features that are available in Shopify's plans.
Key Features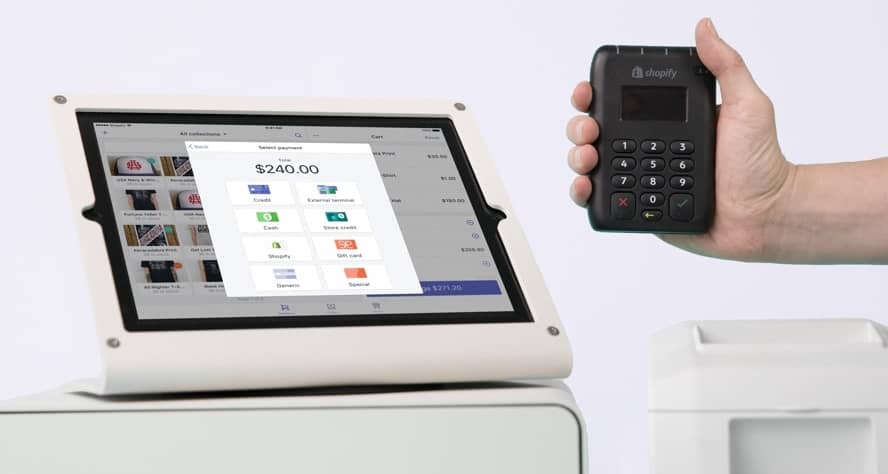 Payments
Since Shopify is no stranger to the commerce game, their usual array of payment options carries over to their POS. Split payments, split tenders, custom payment types, gift cards, and store credit are all enabled.
Custom Everything
Custom payments, line items, hardware, receipts, order notes, discount rules, reports, shopping options (online with discounted shipping, in-person pickup, returns, and exchanges… you get the picture.
Hardware
Shopify can utilize a wide range of hardware and includes some rarer options that you won't find with most other POS systems. Among those options are an integrated WiFi camera for store security, and free shipping and 30-day returns on all hardware.
Reporting
While not the most advanced reporting capabilities in comparison with the competition, Shopify's reporting and analytic tools are enough for most small businesses (and some mid-sized ones).
CRM
Like most new POS releases, Shopify can maintain a database of your clients, their shopping history, promotion responsiveness, and contact information, all of which can streamline your sales if properly monitored.
Inventory Management
A strangely disproportionate number of e-tailors are selling clothing – particularly t-shirts. As a result, Shopify has thoroughly answered the feature requests from clothing retailers. Its matrix inventory systems, custom collections, and organization filters are top-notch.
Pros 
Strong retail-centric features

Integrated Ecommerce

Huge app store for add-ons

Scalable POS option
Cons 
No offline payment processing

Potential for transaction fees

Some features cost extra
Why Choose Shopify  POS System for Retail? 
As a cloud-based and hosted platform, Shopify gives retailers the flexibility to access their business from anywhere with an internet connection, and we do all the hosting and software upgrades for them. In addition to selling online, Shopify allows retailers to sell offline through brick-and-mortar locations, pop-up shops, social media, and online marketplaces, and across multiple platforms.
Shopify POS Pricing 
Software Pricing 
There are four Shopify plans to choose from, including Shopify Starter, Basic Shopify, Shopify, and Advanced Shopify. It can be difficult to figure out which one is right for you, since you don't want to waste money on features you don't need. The following is a breakdown of Shopify's pricing:
Shopify Starter Plan

– costs $5 per month

Basic Shopify Plan

– costs $29 per month + 2.9% and 30¢ per transaction

Shopify Plan

– costs $79 per month + 2.6% and 30¢ per transaction

Advanced Shopify Plan

– costs $299 per month + 2.4% and 30¢ per transaction
There are a number of Starter Plans available, starting at $5 per month and allowing you to sell directly from your own website or social media pages.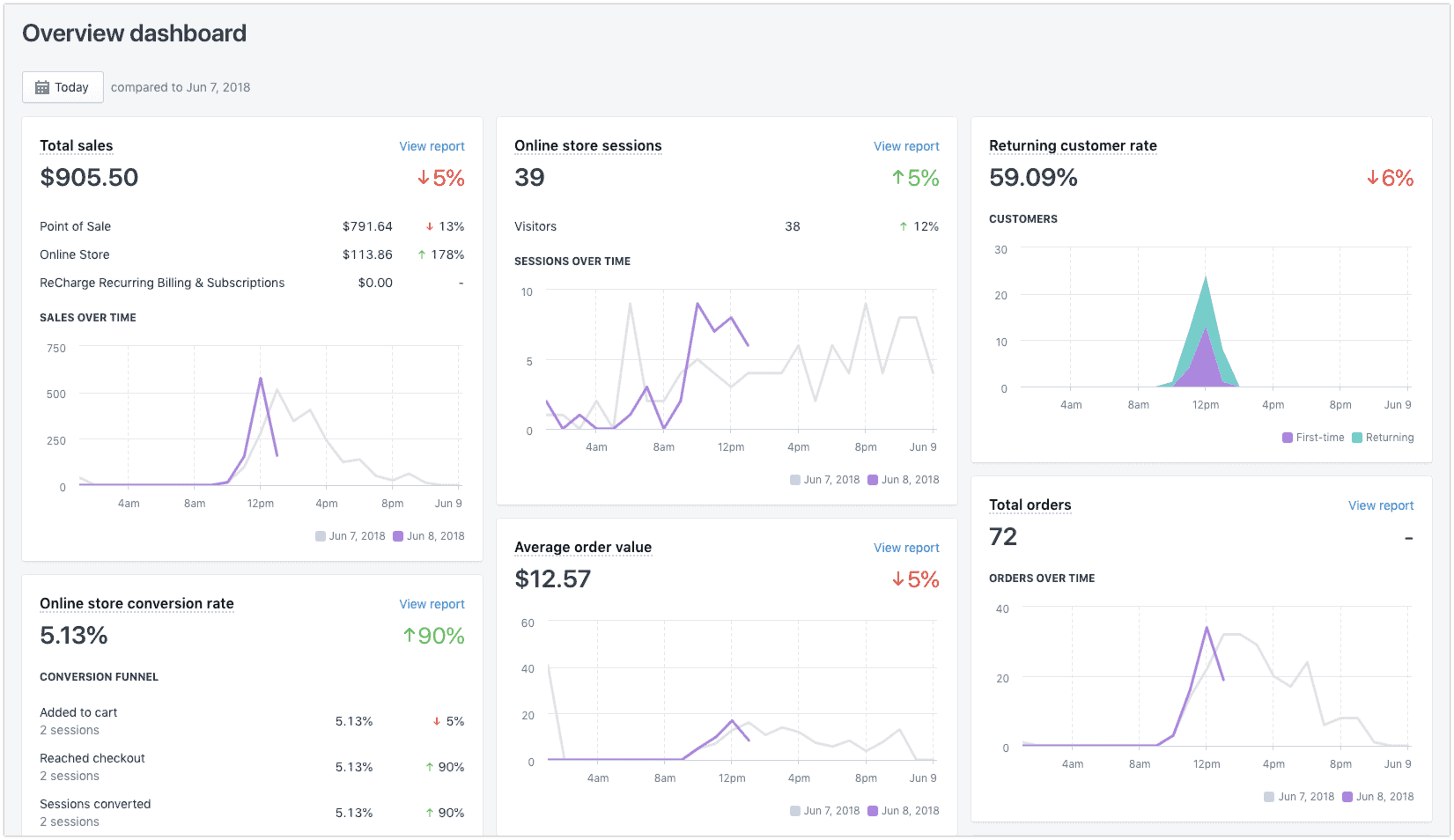 Additionally, there is a Shopify plus enterprise plan that starts at around $1500 per month + 2.15% per transaction, and starts at around $2000 per month.
The Shopify Plus plan provides all the tools you will need to run a large operation. For a customized rate and additional features, you'll need to contact Shopify in order to establish a custom rate and plan. Needless to say, this is a highly customized plan so there's no need to pay for it. Unless your store demands this kind of support, you will simply need to get in touch with Shopify.
Customer Reviews
I'm sure you aren't surprised to see outstanding user reviews of Shopify's software. Shopify has boomed in popularity over the last few years. In fact, you probably know someone who is using Shopify right now for their business ventures. Shopify has hundreds of user reviews available online, and users are overall pleased with the system. On Software Advice, Shopify scores a 4.64/5 stars.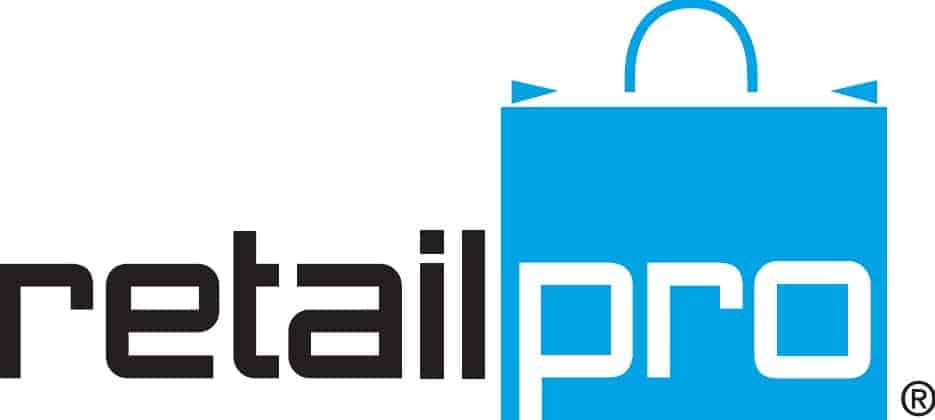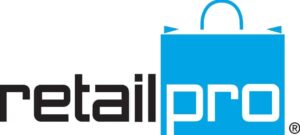 It is worth mentioning that this locally-installed software is both highly efficient and customizable, and it has recently been updated to come with a few web-based options, but this retail POS system is not going away anytime soon.
The North Face, Adidas, Oakley, and ACE Hardware have been choosing Retail Pro, which is a Windows-based Point of Sale system, as it has proven to be the preferred choice for many of the world's biggest retailers. Retail Pro software almost seems too good to be true when it comes to all the great features that make up other modern point-of-sale systems — inventory, customer service, employee management, and international business capabilities.
This software is a locally installed POS system, in contrast to all the popular cloud-based POS systems that you can find today. Despite the fact that it has cloud-based features through its Retail Pro Prism platform, this POS also suffers from many of the pitfalls that are typical of POS systems that are locally installed.
Key Features 
Point of Sale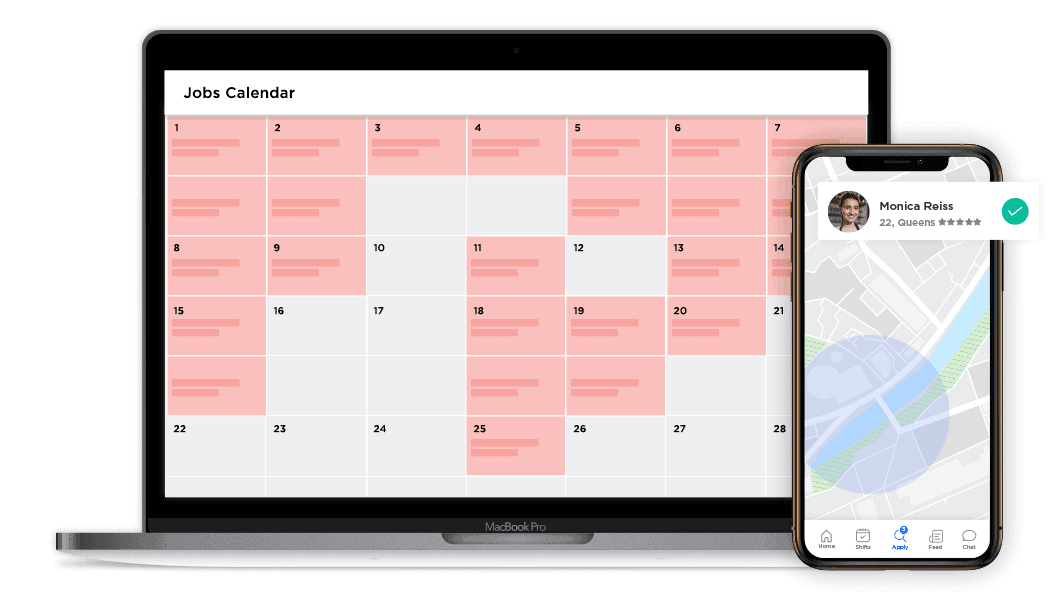 It is important to note that the POS screen can be customized to be used for performing special tasks at different cash wraps (for example, special orders, layaways, returns/exchanges, etc.). In this manner, long-term return/exchange transactions can be separated to a designated point of sale, which can be beneficial for customer queue speed. Otherwise, the terminal is capable of automatically calculating and adding sales tax, accepting payments in multiple tenders, tracking customer information, tracking employee sales, completing discounts and promotions, and is also capable of accepting voids and returns.
Inventory Management
It provides a real-time view of all levels of inventory, as the system updates inventory instantly with every purchase or return. The style matrix in the system allows users to easily input and track items that can differ in size, color, or style. Furthermore, the system allows you to transfer inventory from store to store. Furthermore, the system is capable of transferring inventory between stores as well. Additionally, the auto-transfer recommendation function will alert you when stock levels are skewed among stores.
Purchase Order / Receiving Management
Using this system, you can set the minimum and maximum stock levels so that you get automatic notifications to reorder inventory or set up auto POS for a simple retail POS system inventory management system. ASNs (automated shipment notices) are also supported. For in-transit monitoring, ASNs are electronic files that usually contain shipment dates, times, ID numbers, packing slip data, freight information, item details (including quantities), and PO numbers.
Employee Management
Among the basic features include secure login and monitoring, position-based security levels, the ability to track commissions, the ability to track cashiers, the ability to track absenteeism and tardiness, and the ability to manage employee performance.
International Features
Both a multilingual interface (up to 18 languages) and a multicurrency interface are supported by the system. It is possible to set one currency as your base currency and then set exchange rates as needed for foreign currencies, along with the dates on which those rates will become effective. By assigning different currencies to certain vendors and items, you can make purchases from foreign countries. You can track the costs in different regions or subsidiaries as well. Aside from that, advanced tax features allow you to comply with international tax laws more easily than ever before.
Customization 
Praise for Retail Pro is almost always headlined by its deep customization options, from the POS screen to the inventory labels and custom fields.
Real-time Reporting
With every sale or return, the inventory levels reported for your store will be updated on the fly. You won't have to wait until the end of the day to see exact stock levels or sales volume.
Staff Management
Retail Pro has a suite of features to serve both levels of employees. Cashiers and salespeople can utilize the time clock (and managers can track absences and tardies), and employee performance and commission goals can be monitored.
Go Global
One of the notable differences between this POS and most others is its focus on globalization. Retail Pro comes preloaded with 18 languages and supports almost any currency. Exchange rates and international tax rates are also automatically calculated.
Multichannel Selling
Retail Pro can fully integrate with online marketplaces like Amazon and eBay. Your inventory levels and sales data all remain synced, too.
Purchasing Options
Easily manage gift cards, store credit, and gift certificates – support for each individual location or every location throughout a chain. 
Customer Service
Customer service for Retail Pro is generally positive, starting with over 800 high-quality training videos.
Pros 
Highly customizable

Numerous features

Multistore capability
Cons 
Expensive

Difficult update process

Not suitable for very small businesses
Why Choose Retail Pro for Retail? 
Some people just need to have it their own way. Retail Pro gets it. That's why their value proposition is on customization.
A retail solution designed specifically for apparel, beauty, electronics, luxury and jewelry, sporting goods, franchises, and venues, Retail Pro provides a variety of features. This API acts as a platform for localizing taxation and reporting capabilities, as well as translation of the system to local languages. It serves as a "base platform" with an API that helps support regional requirements. A software product like this is ideal for individuals who aren't restricted to using English as a language, and who want to be able to support regional requirements without having to spend a lot of time working around it.
Retail Pro Pricing 
A lot of information about Retail Pro's pricing plans is not available on the company's website. According to the information available on Retail Pro's website, the solution costs $119/month for the first user at each location and $99/month for every additional user per location. There is no installation, training, or other service fee included in the price of the initial subscription term, which is 24 months.
In addition, Retail Pro does not provide any further information on what features users will be able to access. This indicates that the sales team creates custom pricing packages based on the requirements of each individual user.
Customer Reviews 
Retail Pro does not have a ton of user reviews available online, but from the few dozen that we have scoured, users appear to be pleased with the software. Retail Pro scores an average of 4/5 stars on trusted consumer review websites.

Former bar owner Jacyn Heavens, who had turned into an entrepreneur in 2011, founded Epos Now in 2011 because he couldn't find a point-of-sale (POS) solution that was affordable and met the needs of his bar, so he decided to create Epos Now, a simple, yet comprehensive solution.
With Epos Now, there's no need to worry about how to use a point of sale system. This versatile, cloud-based POS system is compatible with iPad, Android, PC, and Mac computers. It's based in the UK and offers exceptional ease of use. With Epos Now, you can set up customer promotions, manage inventory, integrate it with your ecommerce site, accept reservations, and manage your customer loyalty program with ease. It is important to keep in mind, however, that the system does have some drawbacks, which include long-term service agreements, multi-year hardware leases, and an extra service fee.
You will find that with its easy to use interface and guided walkthrough, it is very easy to learn and use. In addition, table-side ordering, which allows users to enter orders directly into the kitchen, eliminates the need for a central ordering kiosk, as it is easy to use on a tablet or smartphone. Furthermore, users are able to bundle and add products together to create new offerings, and it keeps track of the inventory levels, ensuring that popular items will never run out.
Key Features 
Complete System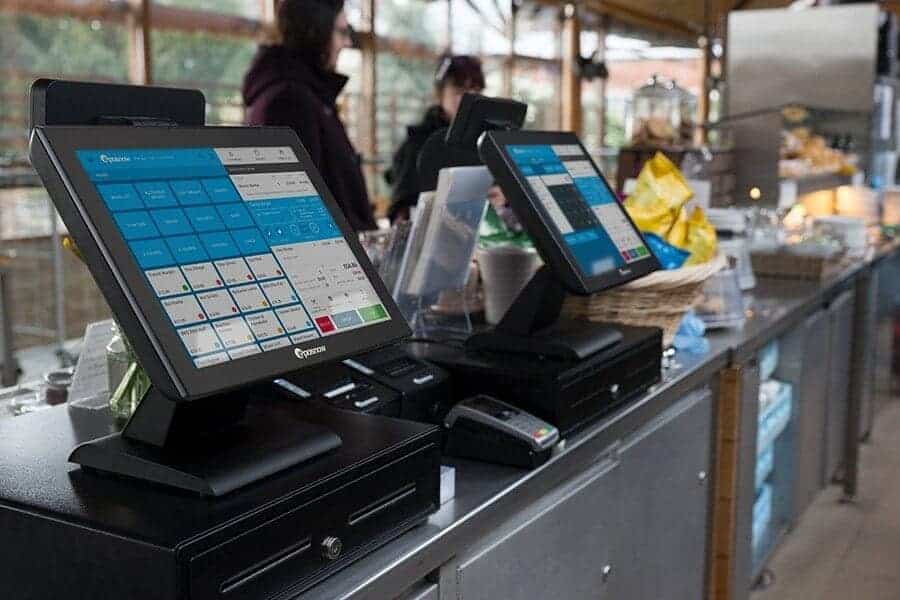 Epos Now is a one-stop shop for entrepreneurs and small business owners to get their hardware systems in place with a minimal amount of fuss.
Hardware
The Epos hardware setup is one of the biggest draws for the company. The hardware is professional grade, including solid state drives, hydrophobic touch screen, and modern CPU – all with countertop retail in mind.
The POS display has a card reader and customer display built in and can sit atop an all-metal cash drawer.
API integrations
Though they may position themselves as a complete solution, that doesn't mean they do everything. A lot of essential software services are not strictly POS-specific, but they do need to be linked.
The Epos team allows an open API, so you can connect virtually any extras that your business needs.
Support
The Epos team claims they will help you migrate from any system over to the Epos Now Platform, including all of the data for your products, inventory, and even customer profiles.
Back Office
The dashboard can be accessed from a desktop PC, or from any mobile device. Store owners won't be in the dark when out of the office. More than a mobile reporting screen, almost all office functions can be performed on the go.
Customer Relationship Management
Easily import customer information to create custom-tailored marketing emails, track purchases, manage store credit, and much more.
Customer Service
Self-help support includes web tickets, a built-in "getting started" guide, FAQ, and general tech support by phone or email.
Personalized support costs extra, at a minimum of $39/month.
Users can upgrade to Premium support for $54/month, which includes 24/7 phone support.
Pros 
Prices start at $39 per month for Epos Now, which offers a free trial.

Mobile devices running iOS and Android can use the software.

Third-party hardware is also available through Epos Now.
Cons
The only customers who receive 24/7 customer service are those who pay for premium support.

There isn't much transparency in the vendor's pricing, so it's hard to estimate how much you'll spend.

The US side of Epos Now is struggling to catch up to the quality of customer service provided by its UK-based headquarters.
Why Choose Epos Now for Retail? 
The EPOS Now solution is not just dedicated to catering to businesses in the hospitality and retail industries, but is also a versatile solution that works for a wide range of businesses, including restaurants. Its ease of use is one of the characteristics that separates it from its competitors in the industry.
You have the option of integrating the EPOS Now Payments with third-party hardware as well as using third-party payment processing in order to minimize the investment that you have to make upfront.
This system also offers many additional features that make it even more flexible, including advanced reporting capabilities and customer management tools that allow the user to manage their business more efficiently.
Epos Now Pricing 
There is a 30-day free trial period for you to test out software capabilities. However, you will not be required to enter a credit card number during the free trial. For different budgets and business requirements, the provider offers three main price plans. In addition to unlimited users, paid EPOS software subscription plans include free software and security updates. Here's what you need to know about these three pricing plans:
Standard ($39/Mo) 
The plan offers a basic point of sale and business management feature set, including email support, cloud reporting, installation help, and unlimited product support. There is a subscription fee of $39/month for the first register and $24/month for additional registers.
Premium ($69/Mo) 
It includes 24/7 telephone support, cloud reporting, and account management. It is priced at $69/month for the first register, and $45/month for additional registers.
Enterprise (Quote-Based) 
On-site support, enterprise reporting, enterprise account management, and unlimited products are some of the features included in the Epos Enterprise plan.
You can choose between EPOS Now's Complete, Handheld, and Tablet systems for your retail and hospitality businesses. The systems are inexpensive, and you can cancel at any time since there is no contract.
System
Annual Cost
Monthly Cost
What you will get
Complete

 

$468

$39

EPOS software

Cash till

Cash printer

Handheld

NIL

$33 (plus $0 upfront)

OR

$18 (plus $170 upfront)

Support

Mobile device

Card processing

Tablet

$599

$39

EPOS software

iPad POS stand

Receipt printer

Cash drawer

Installation & Training
Customer Reviews
Being honest – Epos does not have great user reviews online. Although it has an average 3-3.5/5 star rating on consumer review websites, one of the most common complaints that I discovered was that their customer support is lacking. So, if you feel that you aren't super tech savvy or may need additional customer support, this could be a red flag that this isn't the software for you.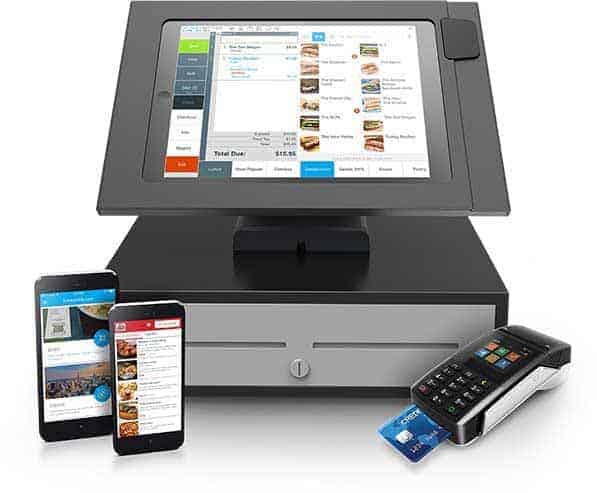 Last, but not least, on our list is Heartland Retail. Heartland positions itself toward medium-sized businesses that are poised for growth and are therefore feature-rich and commensurately pricey.
Heartland Retail, formerly Heartland Retail, provides multi-channel, multi-store retailers with a web-based retail solution. Heartland's iPad retail POS system is fully accessible through any modern web browser on any device. It is designed to work on both touchscreen devices and traditional devices, including the iPad. In the solution's customer dashboard, users can collect information at the point of sale in order to better understand their customers. 
Using this data, the software generates high-level statistics about customer preferences and purchase history. The inventory management functionality of Heartland facilitates inventory visibility across the entire enterprise. Unlimited custom fields allow tracking and reporting to be tailored to meet the diverse needs of a business. Users can also develop browser-based apps that integrate seamlessly with existing user interfaces using Heartland's JavaScript API. The company also provides real-time reporting, inventory management, and purchasing and receiving services.
Key Features 
Multi-store Management
Heartland allows you to manage several retail locations easily, including reports on sales, inventory, and staff. Or, you can easily drill down to view the details of any individual location.
Promotions Management
Easily set up your system to handle gift cards, sales, coupons, and segmented marketing through its CRM functions.
Hardware
Heartland Retail partners with POS Portal for its hardware bundles, for those who want a comprehensive upgrade. For everyone else, Heartland prides itself on being "hardware agnostic," meaning that it will work seamlessly on any web-enabled device, from Macs to PCs to tablets.
Inventory Control
As a POS serving larger businesses, the inventory features offered by Heartland are a bit more robust than most of the competition. Each product can be set with a custom reorder point, for example, and this threshold can be unique for every store location.
Warehouse Management
While not a full-fledged WMS, Heartland does offer a few nice features for managing your warehouse operations. Inventory transfers, bin locations, and inventory tracking are all included.
Customer Service
The levels of customer service differ by the pricing tier you subscribe to.
Every subscription level has access to a reasonable volume of articles, for most troubleshooting and training issues. There is also a live chat option found on the homepage of their website, which may be sufficient for quick answers.
Pros 
Built-in flexibility

Grow confidently

Easily export to CSV, PDF or share a URL

A significant aspect of Heartland Retail's intuitive Mobile POS is how it leverages the Internet in a way that helps retailers sell more.

With the cloud-based software, retailers have real-time insight into customers' location and shopping behaviors.
Cons 
Heartland has a few notable feature gaps, including the lack of any real loyalty program. It is also geared 

very

 specifically toward retail, rather than food service or other service-centric businesses.

Its price is also prohibitive, especially for smaller businesses. Finally, the API options are far more limited for the integration of additional software.
Why Choose Heartland Retail for Retail?
With Heartland Retail's intuitive POS, retailers are able to sell more through the internet, allowing them to leverage the internet to increase sales. Through the cloud-based software, retailers are able to deploy action plans aimed at maximizing sales based on real-time data on customers' locations and shopping behaviors. The program is easy to use, so associates don't have to waste much time figuring out the functionality, but instead get all systems running so they can achieve their sales goals.
With Heartland Retail, retailers are able to keep track of how much inventory they have in their stores, across all the available sales channels, by utilizing extensive Inventory Management capabilities. As the software is hosted in the cloud, users can access inventory anywhere and anytime.
Heartland Retail Pricing 
There are three pricing/feature tiers for Heartland Retail. With each upgrade, you get better support, an increase in customization options, and upgraded features (like automation).
Prices start from $99/mo for the "Plus" plan and $139/mo for the "Professional" plan, and Heartland offers custom pricing for Enterprise-sized operations.
Customer Reviews
Heartland Retail is a smaller POS provider, but their user reviews are stellar. On Software Advice, the software scores a 4.36/5 stars.
Retail POS Buyer's Guide
An in-line breakdown of all the best POS players is incredibly useful. But if you're in the market for an upgrade or a switch, it's easy to get overwhelmed. To help you find the POS that best suits your business, here's an overview of the features available in a POS. Just like with restaurant POS systems, not every retail system will have every feature.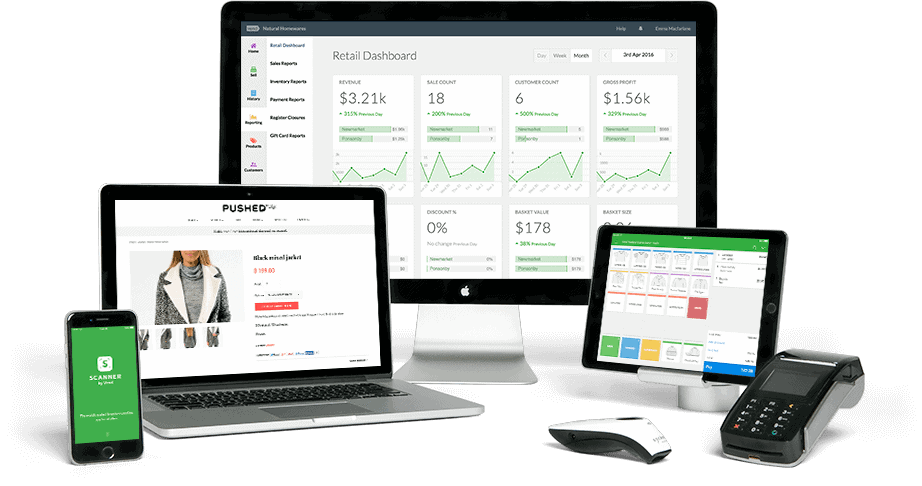 What Features Should Retail POS Systems Have?
Accept Payments
The primary function of a POS is to enable you to accept payment for your goods and services. This includes managing cash, checks, credit cards (magnetic strip and chips), NFC methods like Apple Pay, and gift cards.
Loyalty Programs
As a way of ensuring a loyal customer base, you must reward your best customers. A POS system will enable you to do that with its built-in loyalty software. Using the best POS systems, you are able to track the preferences of your customers, and then create loyalty and rewards programs based on those findings. You can customize rewards based on the frequency with which your customers shop at your store and the products or services they purchase.
Employee Management
It is usually possible for you to add your employees to the POS system so that they have the ability to access different features and information. There are some systems that come with role-based access controls, while others let you customize the controls for each employee. Some systems have built-in time clocks, so your employees can use the POS system to clock in and out, while others allow you to track your employees' sales or tips.
Track Sales
View the sales you made in a given day, week, or any specified time frame. See which items are selling most or least well. A POS will also enable you to track returns and exchanges.
Track Customers
A POS with Customer Relationship Management (CRM) features will enable you to easily see your customers' purchase histories, which will make returns and exchanges much easier. These features will also enable you to craft more fine-tuned promotional campaigns.
Hardware
In addition to a way to scan credit cards, POS systems often include cash drawers, barcode scanners, receipt printers, label makers, and of course the screen interface itself.
Promotions Management
While most marketing is not done from the POS terminal, POS software also has a "back office" dashboard mode where managers and marketing professionals can use the sales and customer data collected by the system to craft strategic sales and marketing campaigns. This is also where the rules and rewards for loyalty programs can be set up.
API Integrations
There are a lot of software vendors out there that provided software services that are related to POS systems, but rarely integrated natively. Your POS system can be connected to these additional features through an API connection.
Staff Management
Right at your terminal, where your sales floor staff will generally stay, there are many features for making your employees' workflows more streamlined. They will be able to clock in, and access only those POS functions which are enabled for their unique login.
Inventory Management
When you make sales, a critical function of a retail POS system is to automatically adjust your computerized inventory levels. You will always be able to see exactly what has been sold, and how many you have left in stock.
Some systems will also automatically reorder new stock when your inventory drops to a set lower threshold.
Reporting & Analytics
Retail stores do not thrive in the dark. The more light you can shed on your operations, the better they will run. With advanced reporting and analytic capabilities, you will be able to get detailed information on virtually any aspect of your in-store operations.
Accounting
Software providers like QuickBooks are household names. A POS system will not entirely replace those mainstays but will keep your books on track day to day.
Many systems integrate into your full-fledged accounting software, while others will simply enable you to make informed decisions based on routine accounting operations.
Customized Receipts & Label Printing
Part of operating a retail store is making it as easy as possible for your customers to make purchases. To that end, POS systems often come with the hardware and software required to create labels that reflect your brand, and scanners to ring up bar codes on your products.
Support
Nearly every software vendor out there serves two functions: providing you the product (the software itself) and providing you the service (the technical support to train your staff and troubleshoot problems as they arise).
If your customers are ready to purchase but your system goes down, you'll likely lose not only that sale but any repeat business that customers may have represented. It is important that you're able to get in touch with the technical support you need, when you need it, to resolve any issues as quickly as possible.
Our Final Take
As mentioned above, the retail POS system you choose will have to be customized for your operation. As a retail manager or business owner, you'll want a system that's packed with features such as inventory management, gift cards, customer loyalty, purchase history, and more.
Now that you're fully equipped to do some serious system shopping, check out our #1 recommended retail POS pick, KORONA. 
Frequently Asked Questions
What type of business uses a POS system?
The majority of businesses use point-of-sale systems to accept payments from customers. Retailers and restaurants are the most common users of POS systems.
What POS system do most retailers use?
Some of the most well-known and most commonly used retail POS systems include KORONA, POS Nation, Square, Shopify, and Clover.
What is a cloud based POS system for retail?
With a cloud-based POS system, all data and functionality are available from any internet-connected device. This allows for mobile sales and easy store management from anywhere.
Do retail POS systems take a long time to install?
In installing the POS software, the database is configured on the POS server. The process may take up to one hour, depending on the system and the software. It should not take you long to install the hardware architecture. If unsure of your technical skills, do not hesitate to ask for help.
How do I choose a POS system for my retail business?
Read our Buyer's Guide above to find out the most important retail POS features. 
What is POS system in Retail?
The point-of-sale system (POS) combines hardware and software that allows you to sell products, collect payments, and verify customer orders.