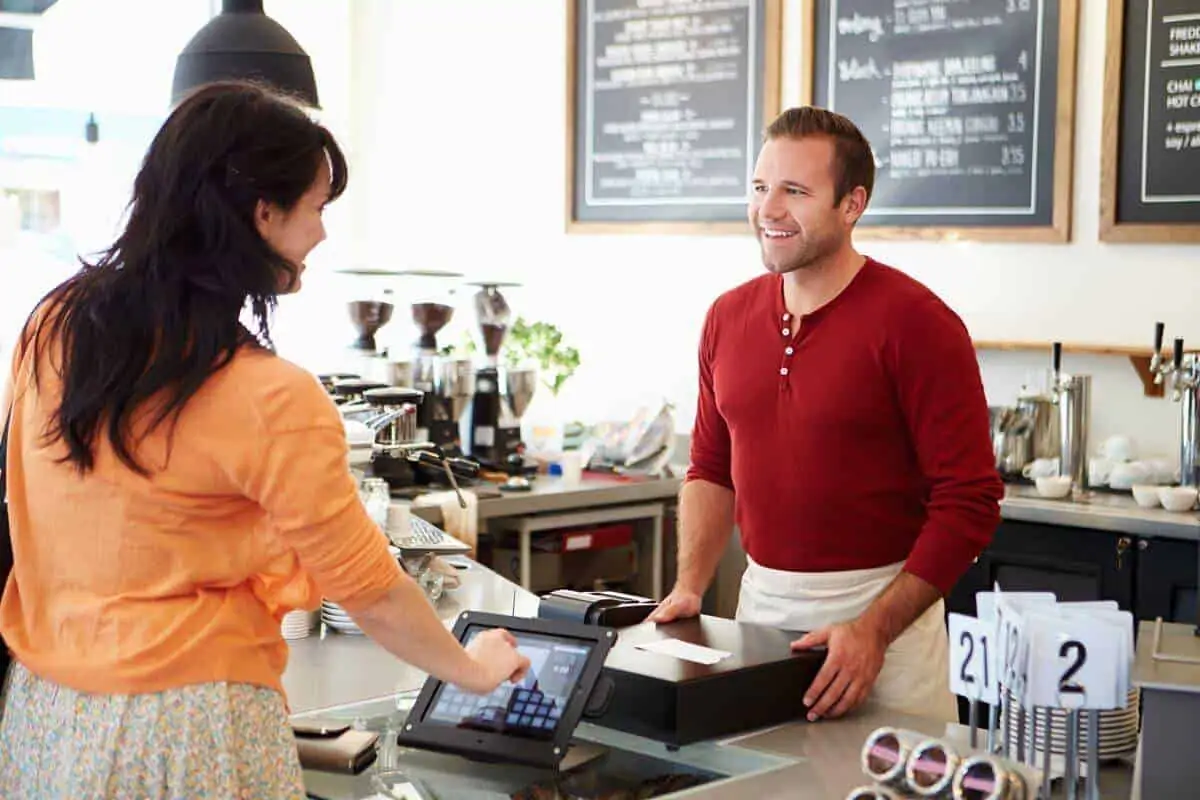 Low price points and small margins mean running a coffee shop is only big business when service is fast, and the lines keep moving. Whether you're opening a café or looking to grow, you need a coffee shop POS system to streamline operations and boost customer retention.
Independent coffee shops equate to over 12 billion in sales in the United States alone. At present, there are over 24,000 cafes across the nation with over 50,000 to follow in the coming years.
A coffee shop faces unique challenges in the food industry. Hours are quite early, so staff training is essential for a motivated team. Increasing the average check spend is also an uphill battle. Inventory must be updated on a timely basis as the shelf life of your average item is short.
The best coffee shop POS systems will offer online ordering to maximize customer convenience and increase operational speed. It should train team members in minutes and streamline communication with customer-facing equipment. The system must enable a business to capture guest data and effectively use it with loyalty and marketing programs.
Features like this will help a coffee shop improve its margins and gain a strong, competitive edge. To get the pot brewing, let's examine five of the best coffee shop POS systems.
Get A Free Quote
Here Are the Top Five Coffee Shop POS Systems
Toast – Best POS Software for Faster Checkouts
Upserve – Best POS System for Customer Loyalty
Square – Best POS System for Small Coffee Shops
Revel Systems – Best iPad-Based Coffee Shop POS System
Korona POS – Easiest to Use POS Software
Comparing the Best Coffee Shop POS Systems
System
Starting Software Costs
Hardware Costs
Key Features

Our pick!

$69/month
$799
Add Guest-Facing Display +$200
Order management system that alerts staff when food is ready

Starter package $59,
Pro is $199, and the Enterprise is $359
Average installation is $1,700
In-depth analytics and reporting on sales trends and inventory

Free for basic software
Starts at $50 for readers
Highly intuitive, easy-to-use interface

$99/month per terminal
Onboarding and installation start at $649
The first ever POS system for iPad

Our pick!

Starts at $49/month
Flat rate processing with zero fees or surcharges
24/7 in-house phone support
1. Toast – Best POS Software for Faster Checkouts

Toast is a POS system designed to keep up with your coffee shop orders. The intuitive system helps to reduce the time you spend training staff. It makes taking orders easy with a touchscreen terminal and customer-facing display.
An ideal solution for coffee shops, Toast POS provides the necessary tools to process orders and streamline operations. The system comes with a variety of hardware options that help with inventory, table service and online ordering. It also offers a variety of back-office functions including useful visuals, reports and comparison tools.
In terms of cost, the starter plan is free of charge and includes software and a handful of hardware bundles. The system's built-in payment processor has a starting rate of 2.49% plus 15 cents for standard in-person transactions and 3.5% + 15 cents for card-not-present sales, based on a two-year term. Higher-volume restaurants are able to request a custom quote.
Other than its POS, Toast also offers a number of additional services including an employee time-tracking system that allows staff members to clock in and out using the company's branded tablets. Additionally, it offers a restaurant website builder that links directly with the Toast POS to enable customers to order online and have meals delivered or picked up.
One thing that makes Toast stand out is its high level of support, which it considers to be a cornerstone of the business. This is reflected in everything from personal customization of the system to 24/7 customer service and a large knowledge base called Toast University. The company also upholds PCI-standards for encrypting payment data and preventing fraud, making it an ideal choice for restaurants and other businesses that accept credit cards.
Toast is a system designed to gain insight and move lines fast with key features like:
Toast Go 2 to Take Your Terminal Mobile
Built to handle the details, Toast Go 2 is a handheld POS with restaurant-grade durability. When lines are getting long, there's no rule that says clerks need to be stuck behind the register.
Bust up the queue and speed up service with a small piece of hardware designed to accept all NFC and digital wallet payments. Be ready to pivot on the fly and streamline takeout with curbside payments as well. When an order is ready, staff will receive an automatic alert through Toast Go 2. That means coffee never gets cold and orders make it out of the kitchen fast.
Toast Go 2 has a 24-hour battery life which is twice as long as an iPad. It is spill-proof, drop-proof, and dustproof. It has a sleek design that fits in your back pocket with a 6.4-inch touchscreen.
Online Ordering to Enhance the Digital Guest Experience
Every restaurant type is now working to accommodate a delivery and curbside-pickup model. Toast offers businesses an easy and reliable solution for ordering food online.
Setting up your website is simple and quick. Easily customize the page with your brand by uploading a logo and menu items. Guests will enjoy the same experience whether they are ordering on a tablet, computer, or mobile device.
People even have the option to order now and schedule the items for a later time. This keeps your service lines moving and revenue coming from all avenues.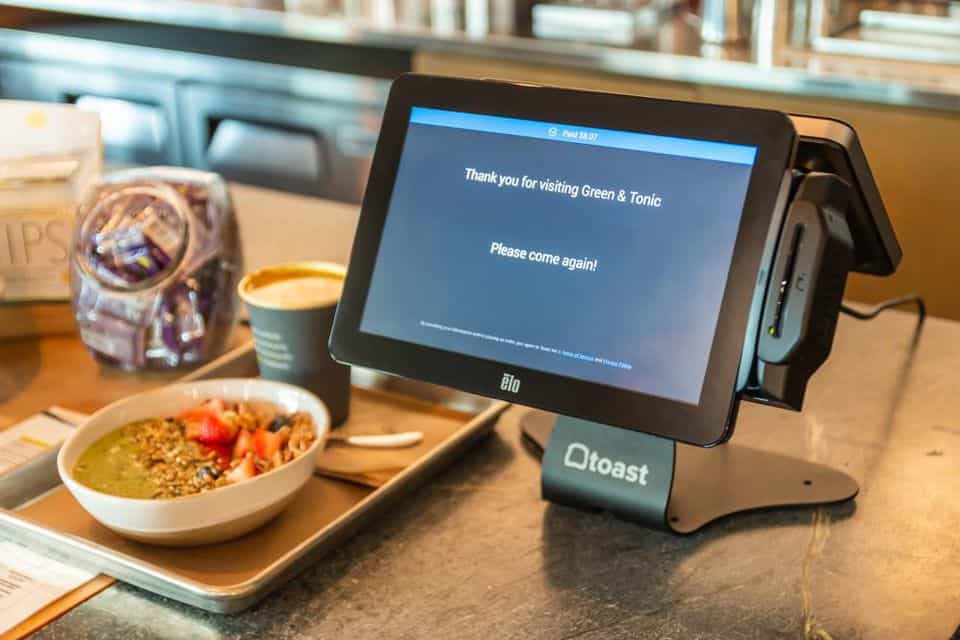 Communicating with the Kitchen
Toast offers an online ordering system that eliminates errors and double entry. When an order is placed online, it is sent directly to the kitchen. There is no middle touchpoint required. A coffee shop can instantly update specials, prices, and 86'd items from any device to facilitate menu management.
Every time an order comes in, the line will hear it. Set sound notifications for incoming orders so bakers never lose focus. When you need to, you can also throttle orders. This helps to control flow during peak times to ensure your kitchen can manage everything. If 20 orders are placed online at once, your shop will never be in the weeds. The system will automatically regulate the work.
Payroll and Labor Management to Control Costs
A coffee shop has a lot of moving parts, which includes staff. Many employees are part-time and different shifts require different volumes of people. This makes scheduling a challenge for this business type. Toast helps reduce time spent on labor management by automating payroll and tracking hours.
Toast Payroll and Team Management is always up-to-date and compliant with the ever-changing foodservice labor laws. The platform offers a centralized place for everything from timesheets to tips and taxes. It's a centralized hub for all HR tasks.
Employee hours and punch data is logged and synced. Automatic wage and tip recording ensures paychecks are always accurate. Onboard all new employees electronically and set up a profile to use for both payroll and the POS.
Discover These Other Features:
Cloud-based reporting and analytics with smart data capture
Restaurant-grade hardware with IP54 spill-proof rating
Tableside ordering and payments with digital receipts
Link card purchases to loyalty programs automatically
Robust partner ecosystem for third-party integrations
Get A Free Quote
2. Upserve – Best POS System for Customer Loyalty

The Upserve café point of sale system was designed to save time and increase profit with customer intel and complete transaction control. The brand supports a coffee shop of any size and volume, from the morning rush to the afternoon slump. It's a modern cloud-based POS system that helps drive revenue and engage customers.
Key features include:
Automated Customer Loyalty Program for Easy Management
Upserve is one of the only coffee shop POS systems to completely automate its customer loyalty and rewards program. This is important as customers get frustrated if a rewards program is too complex. Many things can go wrong and a loyalty program will backfire if staff are untrained.
Upserve Loyalty is an uncomplicated program that is hassle-free for a business and easy for customers to sign up. Rather than offering discounts with confusing exclusions or a punch card system where things get lost, the Upserve Loyalty program is driven by credit cards and cashback credits.
Not only is it easy to manage, but the program also collects insightful data on customers. This can be used later for smarter marketing campaigns and personalized promotions.
How Does the Customer Loyalty Program Work?
One common scenario happens at the register. When a cashier greets a customer, they introduce the loyalty program. Registration happens with a credit card as customers are prompted to join by texting a certain number. They can also sign up via email or your website when placing an online order.
Once the guest's credit card is connected, they're all set to receive cash back. People can't believe the simplicity. There is no app required for either party. Customers will rave to friends, driving even more business and bolstering the loyalty program further.
The loyalty program enables guests to accumulate points for every dollar spent. You can then customize specific goals to correspond to various rewards. Once the customer reaches said goal, the money is automatically credited back to their card.

Flexible Payment Processing that Delivers Guest Insights
Upserve turns payment processing into an investment by delivering valuable guest data for smarter decision making. Upserve Payments offers merchant services and card processing with a fair, flat rate. The EMV-ready solution has no hidden fees or markups and boasts certified PCI Level 1 processing.
Payments can be processed in a variety of ways, including NFC and contactless technology. Upserve always provides a legitimate, first-party merchant account and never a third-party aggregator. Everything is well monitored and processed in-house. Track where every penny goes to better understand what makes your coffee shop tick.
Boost Profits and Control Costs with Smart Inventory Management
Upserve offers a simple solution to help a coffee shop streamline back of the house operations. A business can reduce waste, cut food costs, and be the ultimate boss of the bottom line. Upserve saves hours of labor a week by automating manual and exhaustive inventory management with real-time deductions.
Stock is tracked down to the last drop with instant replenishments and one-click purchasing. When any levels run low, you can set up the system to send automatic alerts for manual reordering. This ensures you never "86" a popular item or have to tell a customer "no."
Keep an Eye Out for These Other Features:
Merge, transfer, and split checks, even between payment types
Offline mode to continue processing payments and printing receipts
Hands-on training mode with dummy data to facilitate staff instruction
In-depth analytics and reporting for sales trends and performance data
Menu intelligence with custom modifiers and upselling prompts
Get A Free Quote
3. Square – Best POS System for Small Coffee Shops


Square is a simple and intuitive coffee shop point of sale with no subscription fee. The software is easy to use and install with drag and drop items and categories. It offers a world of powerful services designed to help your business grow, from team management to simplified payment processing and online orders.
Check out these top features:
Automated Marketing Program to Expand Your Customer Reach
Square Marketing helps a coffee shop design custom emails and set up automated campaigns in minutes. A business gains deeper insight into how marketing efforts affect the bottom line. All marketing campaign data is viewed right within the Square Dashboard where you can also run detailed reports.
Say goodbye to a clipboard signup sheet. A customer's email address is automatically added at checkout when cashiers send digital receipts. Email collection is built right into the system, where you can also upload any preexisting customer lists.
Automatically create target groups to facilitate segmented marketing. These can be any type of category that includes:
Regular customers
New guests
Lapsed customers
And more…
Everything is built into the Square Marketing system so you can always tailor campaigns to any audience.
Make Your Campaigns Effortless
You don't need to be a marketing expert to send out beautifully crafted campaigns. Square POS offers a suite of email marketing tools that include a variety of simple templates with sample text. Customize the features to create on-brand email and social campaigns you can use at any time.
Square also allows a coffee shop to set up recurring email campaigns. Recognize people on their birthday or send a welcome email to new customers. This is just another way the system allows a business to brand their messaging and personalize the customer experience.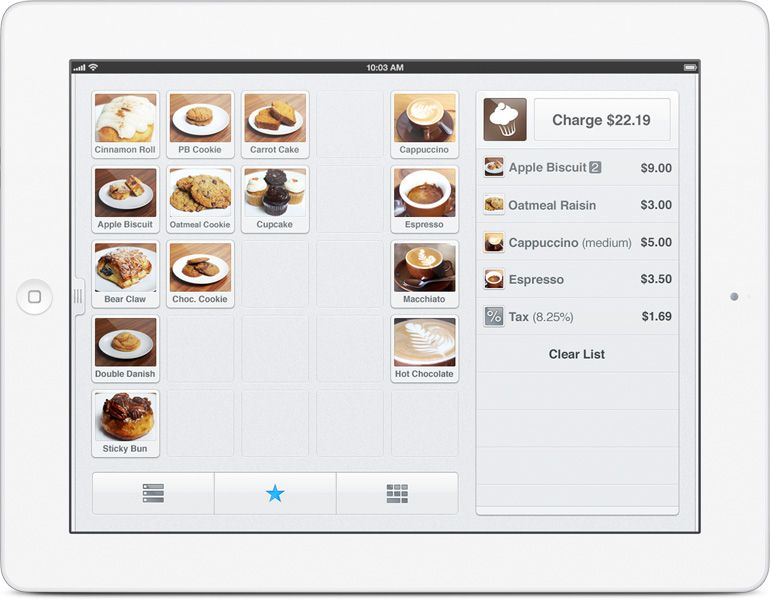 Square Debit Card to Access Funds Immediately
No more waiting on bank transfers. A coffee shop can access their money right away with Square Card. It's a business debit card that gives you real-time access to money you make every day.
The Square Card is linked to your point of sale system. You can see your money coming in and going out all in one spot. Download a Square Card Transaction report to view expenses, balance your books, and simplify taxes.
Square Card has Discounts with Zero Fees
You can use the card anywhere that Mastercard is accepted with no monthly or annual fees.
It's free to order and takes minutes to sign up. There is no credit check required or long-term commitments. Additionally, there are no overdraft or recurring fees. You use it just like you would any other business card. Square never charges you to use the ATM (although the ATM may have third-party fees).
When a sale is made, the money goes straight to your Square Card. Send money between your bank account and Square Balance at any time using Square Transfers. If you spend at other Square businesses in your community, you get 2.75% off all purchases made. It's a win-win for everyone.
Open Customization for Greater Flexibility
Square is a POS system that connects to third-party apps you already use. From accounting programs to ecommerce, the Square App Marketplace helps a business work with any program they need. Look for popular add-ons like:
Wix – Build, manage, and promote your online store
MailChimp – Directly sell to customers from a landing page
Paypa Plane – Recurring and scheduled payment management
MarketMan – Capture Square sales with inventory controls
TSheets – Time tracking and scheduling for employees
If you have a developer on hand, Square also offers an open API. A coffee shop can build commerce apps to sync with the system using existing hardware.
Other Features to Consider:
Custom rates for shops with annual revenue over $250k or $15+ average check size
Enroll, engage, and reward customers with a built-in loyalty program
Accept tap cards, Apple Pay, and Google Pay in person or get paid online
Integrate with delivery apps like DoorDash and Postmates
Drive business with an in-depth customer loyalty and gift card program
Get A Free Quote
4. Revel Systems – Best iPad-Based Coffee Shop POS System

Revel Systems is one of the best coffee shop POS platforms for a business that needs a little guidance. The team support offered is one of the brand's biggest differentiators. As a pioneer in the cloud-based iPad POS space, the system is designed to increase hourly sales, quickly onboard new employees, encourage repeat customers, and much more.
These features are what make Revel Systems stand out:
Tools to Improve the Customer Experience
Revel Systems offers intuitive customer tools that are built to speed up service and improve your bottom line. Self-service kiosks mean customers don't have to wait to order a coffee and a donut. They can do everything from a kiosk, including paying for their order and signing up for your loyalty program.
The Customer Display System empowers guests with increased transparency. People can ensure the accuracy of their order as it's rung in and sent through. Customer information is captured at the point of sale and integrates with any customer relationship management (CRM) system you have in place.
Online Ordering to Diversify Your Revenue Stream
Give customers the flexibility to order online at their convenience. Open up operations to accept more orders, increase sales, and retain loyal customers. Customize your online shop to be an extension of your business with a branded ordering platform.
Quickly and easily push menu changes to your online menu displays. Offering limited options for takeout? That's not a problem with Revel. You can ensure all customers are seeing current menu changes to manage expectations and improve the ordering experience. Additionally, users will enjoy easy navigation of your menu items with built-in search capabilities.
The online ordering platform seamlessly integrates with the POS to connect the entire system. This greatly reduces errors and mitigates risk when all of your data is aggregated in one spot. It's also easier to recognize sales trends and loyal customers from every online channel.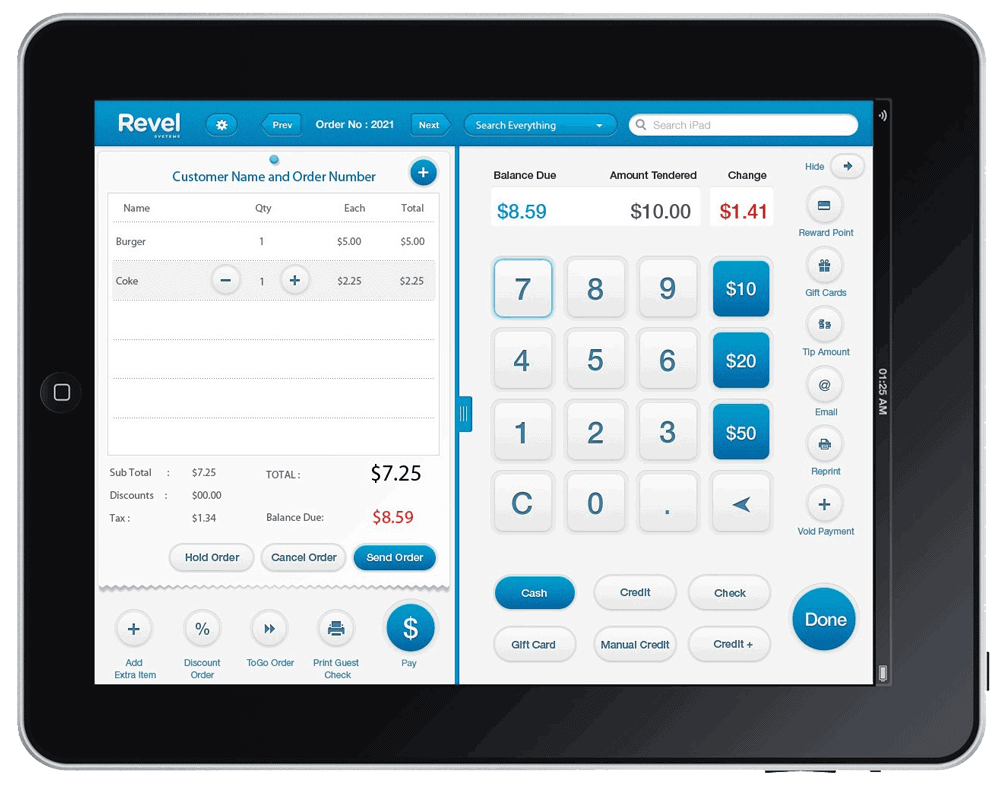 White-Glove Customer Support and Assistance
Revel Systems is one of the top coffee shop POS systems for one-on-one focused support. They have gone above and beyond to ensure customers squeeze every drop from the POS. From setup and implementation, to quick service calls and detailed optimization, Revel has a team member to address every question and concern you have.
Setting up Your POS
Revel Concierge Services is a means to outsource your POS administration and hand the reins over to a Revel professional. They will help you get the system up and running. With end-to-end services and support, you can also work with a Project Manager to train and set up your POS backend. Learn the best practices for reporting, employee management, and inventory controls.
Revel University is a curated video playlist that will walk you through system implementation and advanced topics. A dedicated account manager can also assist with one-on-one training and detailed technical questions.
Consider These Other System Features:
EMV compliant payment processing with secure controls
Facilitate BOH and FOH communication with kitchen management tools
Open API to customize and tailor specific features
Visual table layouts to replicate your shop floorplan
Mobile Order Takers to cut long lines and improve order accuracy
Get A Free Quote

Korona POS comes with many advanced features designed specifically for coffee shops and cafes. They've processed over a trillion transactions with no hidden fees or contracts and offer 24/7 system support. There is never an additional cost for installation, training, or ongoing support.
KORONA POS is one of the most user-friendly POS solutions for retail, ticketing and fast-service operations. It has an easy to use interface that is based on touchscreens. It is also very customizable and integrates well with other POS hardware and cannabis traceability systems. It is a cloud-based solution that can be used anywhere and comes with a variety of features like inventory management, advanced reporting and ABC analysis, native stock optimisation, customer history analytics, and franchise and multi-store functionality. KORONA POS also supports multiple payment processors, giving businesses the freedom to choose which one they want to work with.
Moreover, KORONA POS is known for its robust back-office system that helps store owners with various tasks including time tracking, inventory management and financial analysis. It is an all-in-one POS software that makes it easy for cashiers to manage the entire inventory and checkout process. The company offers a free trial period that allows users to import data and do a personalized demo with their product specialist before going live. KORONA POS also provides extensive support via email, phone and chat and has an extensive online manual.
Unlike some other point of sale (POS) providers, KORONA POS does not charge for its service or require a contract. The price of the POS system starts at $49/month for the base package, but there are no hidden fees or contracts. Customers can cancel their plan any time without penalty. KORONA POS also offers flexible pricing options for its hardware and includes a 60-day money back guarantee on hardware and software.
Get through long lines and increase sales with features that include:
Sophisticated Inventory Management for Optimized Ordering and Tracking
Korona POS makes your life easier by enabling a business to import all inventory and vendor details through any format. Korona Product Specialists are there to assist you through every step. If you have a large menu database, this is the best POS out there.
For mugs, trinkets, and other retail items, a coffee shop can print labels and tags directly through the software. Price labels are generated from stock receipts so label printing can be done directly with receiving.
Optimize Order Levels
Korona POS will help analyze and recalculate ideal reorder levels based on trends, purchase history, seasons, and other data points. Optimize order levels within seconds for thousands of items in the system.
When it's time to reorder, Korona will alert you instantly. Or, let the platform take control. Set it to re-up automatically at certain par levels, without any further input required. Vendor shipment notifications can also be imported into the POS to better identify any missing products.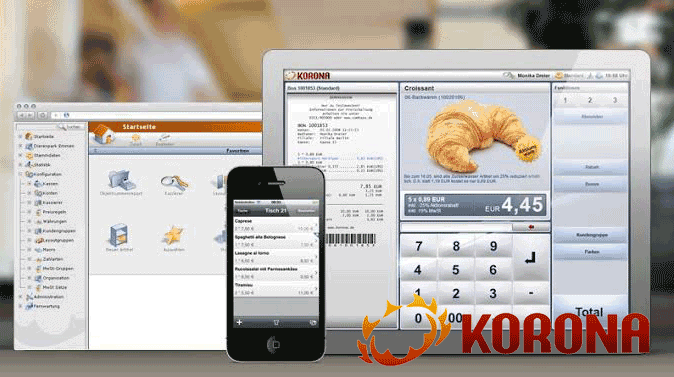 Nurture Customer Relationships with Powerful Loyalty Integrations
Korona enables a coffee shop to build a loyalty and customer relationship management program right from the POS system. The software comes with a robust, point-based loyalty program to easily reward guests and start building your database. The more information the system has, the more targeted your marketing will be.
Korona also integrates with powerful, third-party loyalty programs for shops that need membership services, ticketing systems, and other operational requirements. The loyalty features will also align with your CRM to contact lapsed customers and get people into the store. Reach out via email, SMS texts, branded apps, and more.
Don't Forget About These Other System Features:
Periodic system updates and improvements at no additional cost
Consolidated customer sales data from every channel
Advanced barista permissions and analysis for loss prevention
Employee time and tip management
Café franchising and scalability
Get A Free Quote
The Smart Buyer's Guide for a Coffee Shop POS System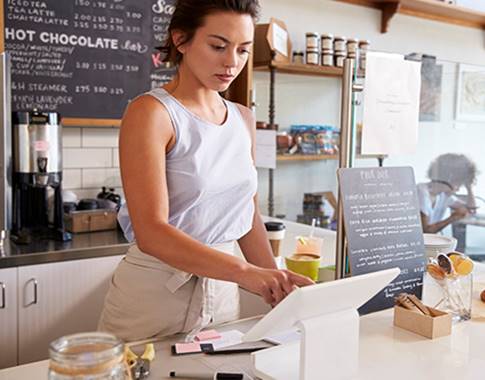 There are many benefits to using a POS system in your coffee shop. Before you go deep-diving into specific brands, it's good to have a general understanding of the types of features that best apply to your business model. When looking to buy a coffee shop POS solution, consider these core elements:
Payment Flexibility with Fair Processing Rates
The POS platform that suits a coffee shop will offer a variety of ways to process payments. In this atmosphere, many people are tapping payment with their phones and a mobile wallet. The more ways you give people to transact, the more they will buy.
A solution should also offer fair processing rates. A flat rate, like what Square has, can be a double-edged sword. Although it can save you money on certain features, you are also locked in. That's disappointing if you find lower rates elsewhere. If you already have a payment processing company, you may want a POS that has open integration.
Online Ordering and Mobile Capabilities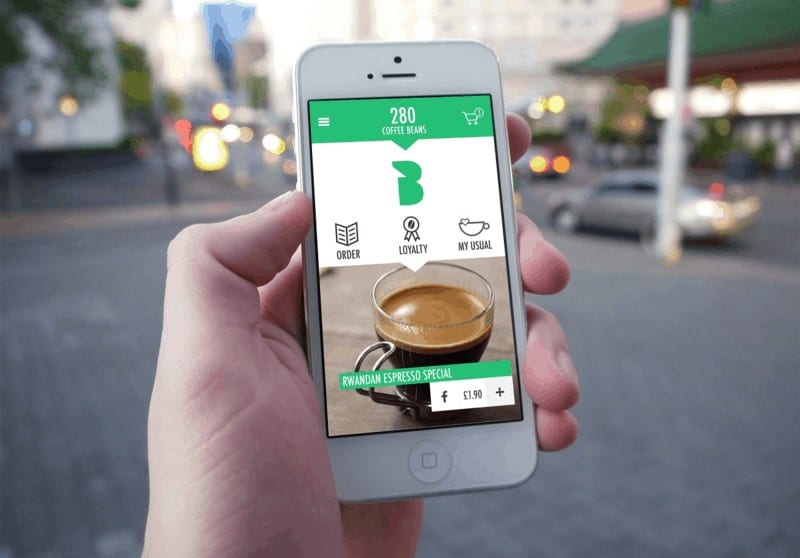 Now is the time to consider all streams of revenue. This includes online ordering and ecommerce. A coffee shop POS system should give a business the ability to move operations online. People want to order ahead, even if they are on the way to your shop. Give customers the ability to connect digitally and it will drive revenue and increase customer engagement.
A POS that offers a mobile app and mobile order processing capabilities will also facilitate service and increase efficiency. Don't tie cashiers down to a terminal or station. Let them move about with durable equipment designed to withstand a fast-paced, coffee shop environment.
Smart Inventory Controls with Real-time Notifications
The menu items in a coffee shop, especially baked goods, have a very short shelf life. Thus, you need a point of sale system with powerful inventory controls, real-time notifications, and automatic reordering.
Ideally, you want a system that will monitor food usage trends and adjust the ordering process accordingly. The more your POS monitors stock levels, the fewer chances you have to disappoint customers.
Built-in Team Management with Digital Onboarding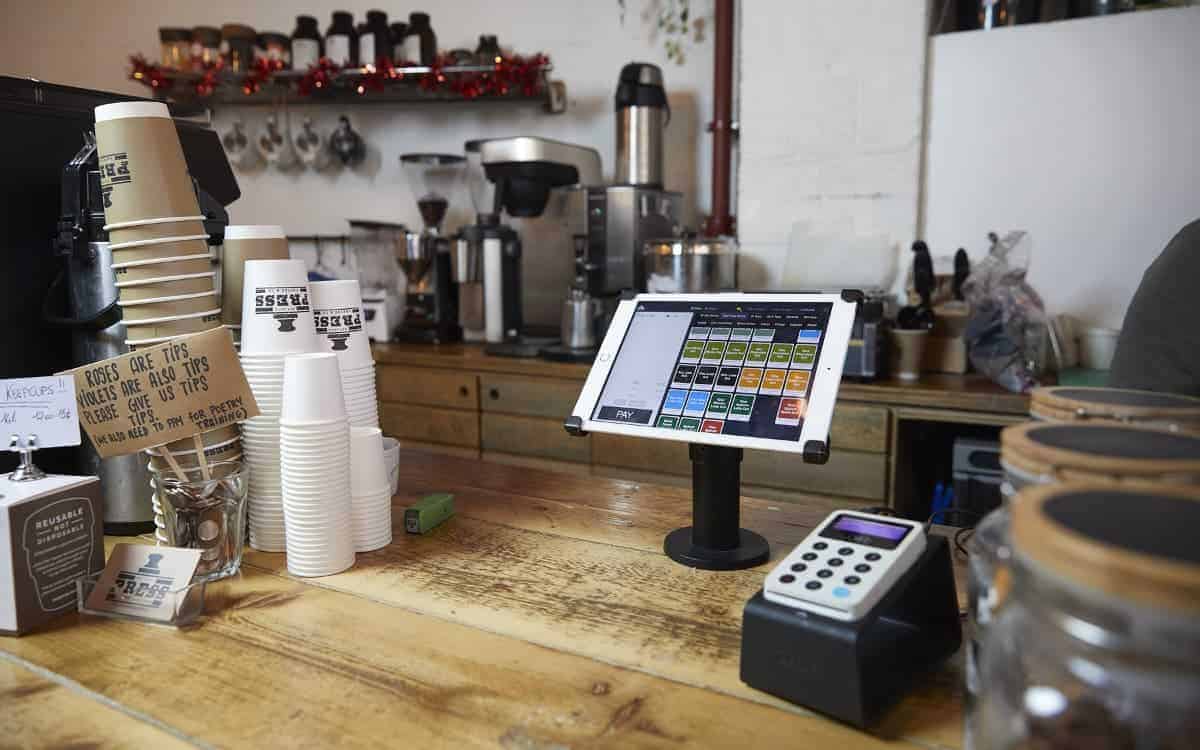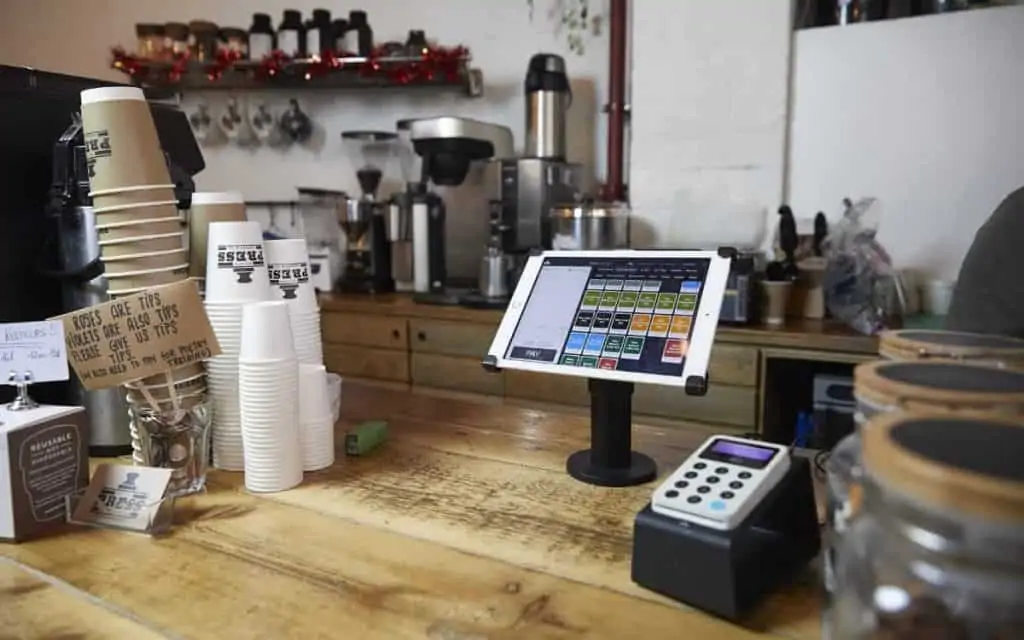 A coffee shop labor pool is large, with lots of part-timers. The point of sale system you choose should have robust employee management tools that include:
Time clock for employee check-in/out
Scheduling and shift management
Shared instant messaging system
Payroll and paycheck
Employee portal with profile and user permissions
Top coffee shop POS systems will enable a business to onboard the employee digitally from the very beginning. They will be prompted to create a profile in which all documents, pay rates, notes, etc. can be kept in a single place.
Look for Other Features Like:
Free software upgrades, on a consistent basis, that can be done remotely
Broad hardware integration capabilities to save on upfront costs
Customization with an open API to build features and tools you need
Built-in taxes and accounting features to avoid CPA fees
Automated data capture for segmented marketing and deeper insight
Get A Free Quote
Which Coffee Shop POS System Should You Pick?
The number one goal of a coffee shop is to maximize efficiency and stay ahead of the competition. The market is diluted, with a store on every corner. The best way to stand out is to equip your business with tools to work smarter, not harder.
You need a coffee shop POS system that addresses key issues like the speed of service and order efficiency. It should help you manage customers, schedule staff, and automate tasks in a unified system that reports everything. If you need flexibility, look for a solution with a variety of integrations and an open API.
Implementing the right POS now, will give you the space for successful future development.
To learn more about a coffee shop POS system that will do your business justice, check out the best POS systems from top providers in the industry.