(Last Updated On: June 27, 2023)
One of the recent technological innovations which the world has embraced is cloud-based technology and, by extension, cloud-based POS systems.
According to the Global "POS System Market" Report 2021, the global cloud POS market size was valued at $2.24 billion in 2020 and is projected to register a CAGR of 24.5% by 2028 with a market value of $13.24 billion, up from the $2.24 billion recorded in 2020.
This shows that the cloud-based POS market is expected to continue to grow exponentially in the coming years.
So, what is a cloud-based technology and a cloud-based point of sale system?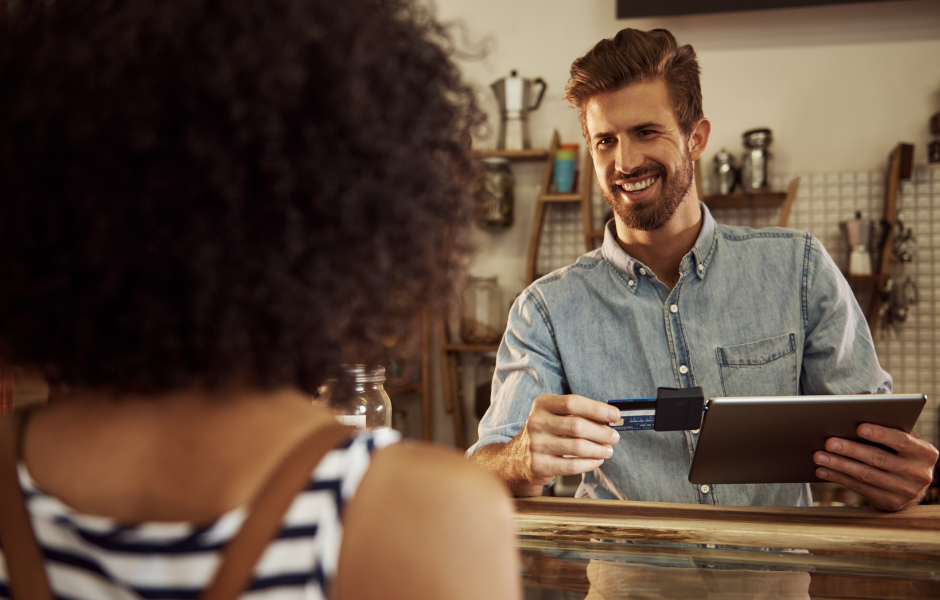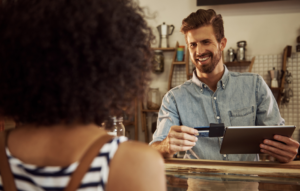 Cloud-based technology, also known as "Software as a Service," or SaaS, is a technology that allows for cloud storage. So, in turn, cloud-based point of sale services are point of sale systems that process data stored in the cloud.
The cloud has enables software providers to provide cheaper services that are easily accessible across different devices, a huge benefit to small businesses. The flexibility of these services means that they are also easy to upgrade, scale and add features as required. This saves a lot of time and money for IT teams that would otherwise have had to spend time on manual organisation-wide updates.
Another key advantage of using cloud based technology is that it makes solutions available anywhere, a massive boost to productivity. With solutions such as Google Docs and Microsoft 365, staff can access work presentations or spreadsheets anytime on any device with internet connectivity. This is also true for popular communication apps such as email, calendars and Skype. This increases productivity and improves collaboration, with staff able to work together on the same documents at the same time.
Cloud based technology also allows companies to avoid purchasing hardware and software that might become obsolete. Instead, cloud providers supply and maintain the infrastructure and software for a monthly fee. This helps to keep costs down and frees up budget for more innovative technologies that can help to drive business growth.
Moving to the cloud also reduces company infrastructure costs, including servers, cables, network switches, backup generators and redundant routers. Depending on the type of cloud solution chosen, a business may prefer a private cloud where data is hosted exclusively for them or a community cloud that is shared with other organizations with similar needs.
With the advent of cloud-based POS systems, POS systems have evolved from being just transaction-oriented terminals/devices to a much more elaborate system with more capabilities as they can be integrated with a business's CRM and other financial solutions.
There are now essentially two types of POS software on the market: on-premise POS and cloud POS.
On-premise point of sale systems, also known as Legacy POS, store all of their data in a local database located in hardware systems (computers) on-site, whereas cloud-based POS systems are web- or app-based point of sale systems that accept payments over the internet. Its data is stored in the cloud, provisioned by the manufacturer who maintains the cloud infrastructure.
While the world is gradually moving away from on-site systems to cloud-based PoS systems, some businesses still prefer the former. Let's examine the pros and cons of on-site systems. 
The Pros and Cons of an On-Premise Point of Sale System
Pros
Internet independent
A major distinguishing factor of the on-site point of sale system is that it is internet-independent, meaning it does not need connectivity to operate. All that is needed is the hardware infrastructure where data is stored.
Cons
Mobility
The fact that the system makes use of hardware most times means it is bulky, and this often means mobility is very limited as it cannot be moved about.
It is usually expensive to set up
In most cases, on-site POS systems are expensive to implement, given that all that is needed to run smoothly has to be installed on site.
Not easy to update
On-site POS systems may not be easy to update.
The Benefits and Drawbacks of Cloud-Based POS
Pros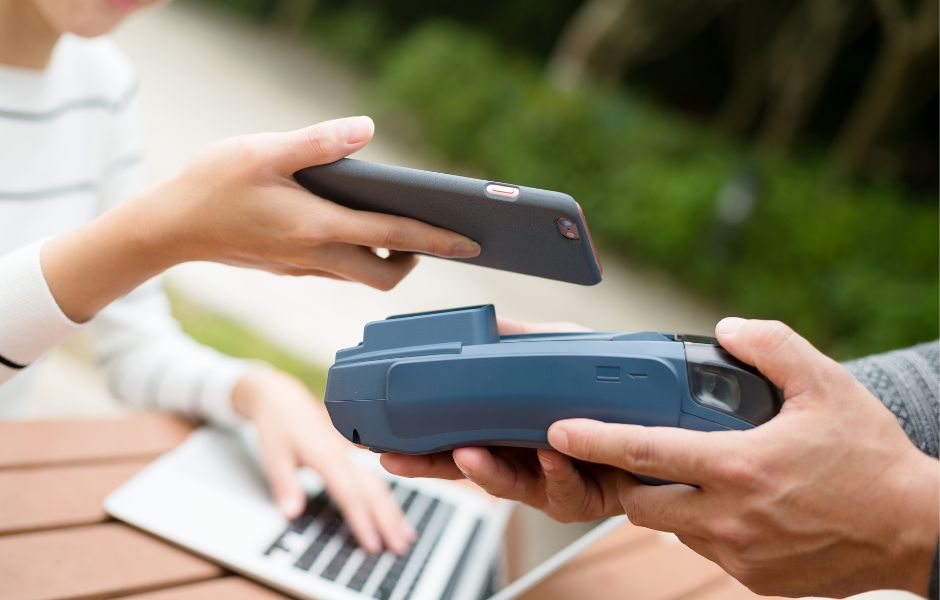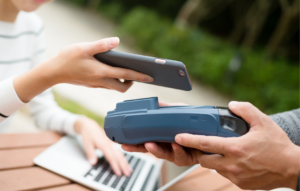 Cost Efficiency
Cloud-based POS systems are cost-effective since there is no need for expensive hardware.
Remote Access
With cloud-based point of sale systems, accessibility is seamless and can be done via any internet connected device from anywhere in the world.
Data Security
An important feature of cloud-based point of sale systems is that the security of data is secured. 
Real Time Sync
Since systems are connected to the internet, real-time syncing is continuously done of information inputted on the system from any of the connected and plugged-in accounts/devices.
Scalability
A cloud-based point of sale offers scalability. Businesses can thus scale up as they grow.
Cons
Internet dependent
This major strength of the system can also be a huge drawback. In the case where its connectivity is low or unstable, this may hamper productivity.
It may not be customizable.
Since systems are sold based on manufacturers' specifications, it may not be possible to customize them exclusively for a specific business.
Cloud-based POS Vs. On-Site (Legacy) POS
| | | |
| --- | --- | --- |
|   | Cloud Based POS | On-site |
| Payment structure | Monthly payments | There is an initial license fee as well as a monthly maintenance fee for software that is hosted. |
| Software | Hosted online | Software is installed on-site. |
| Hardware | Mobile and stationary devices | Large stationary devices |
| Data Storage | Stored in the cloud with remote access | Stored on the computer in the back office or restaurant. Not remotely accessible. |
| Maintenance Support | It can be done via call. | Most issues need on-site presence. |
| Limitations | Some systems are Internet dependent. | Data access, systems integration, stationary hardware, high cost, low flexibility. |
So what are the best cloud-based point-of-sale systems you should consider when making a buying decision?
We present to you the top 4 cloud-based POS systems you should consider this year. This list follows an in-house detailed analysis of options presently available in the market. So let's jump in and take an in-depth look at our top recommended cloud based point of sale systems on the market. This decision was made after considering a variety of factors such as market popularity, user feedback, features, and use case.
Our top 4 cloud-based point of sale systems for 2022 are:
Toast POS

Square

Lightspeed cloud POS

Cova
| System | Starting Software Costs | Hardware Costs | Key Features |
| --- | --- | --- | --- |
| | $69/month | $799 Add Guest-Facing Display +$200 | Order management system that alerts staff when food is ready |
| | Free for basic software | Starts at $50 for readers | Highly intuitive, easy-to-use interface |
| | Starts at $59/month | Additional terminals are $34/month | Great back-end reporting and forecasting, a la carte pricing options available |
| | $200-$1,000/month | Between $1,000-$3,000 | Years of experience helping dispensaries grow their bottom lines and increase profits |
Toast POS
Toast POS is a targeted point of sale system for the hospitality and retail industries. It is one of the best for online restaurant ordering and is especially ideal for restaurant owners looking to increase operational efficiency.
Designed for the restaurant industry, Toast POS is easy to use. This is critical as turnover in the restaurant industry is high, and new employees must be able to pick up an unfamiliar software system quickly. It also has robust inventory management, so you can track your stock levels and make data-driven decisions about your menu and pricing. In addition, Toast POS can process sales offline, meaning that if your Internet connection goes down you won't miss any orders.
In terms of cost, the price of Toast POS is reasonable, with a base plan starting at $75 per register. The service also offers a variety of hardware bundles, which typically include magstripe card readers, cash drawers, and receipt printers. A customized quote is available for those who require a more complex setup.
Toast POS is used by many major restaurants and chains. However, it also works well for smaller restaurants that want to improve their efficiency and profitability. Its feature rich back office offers useful visuals, reports, comparison tools, and automated alerts. It also allows you to manage multiple locations.
Another big selling point for Toast is its excellent customer support. Customers love the fact that they can get personalized technical assistance from the service's knowledgeable team. They can also access a large knowledgebase and interactive online video and audio training sessions. This level of support is unmatched by other POS providers. It's no surprise that this is one of the reasons that Toast is a top choice for many restaurants.
Toast POS was awarded the 2021 Best Restaurant Management Software by FinancesOnline. 
It supports quick service delivery businesses such as cafes and bakeries, food trucks and pizzerias, and full-service outfits such as bars, nightclubs, and casual and fine dining.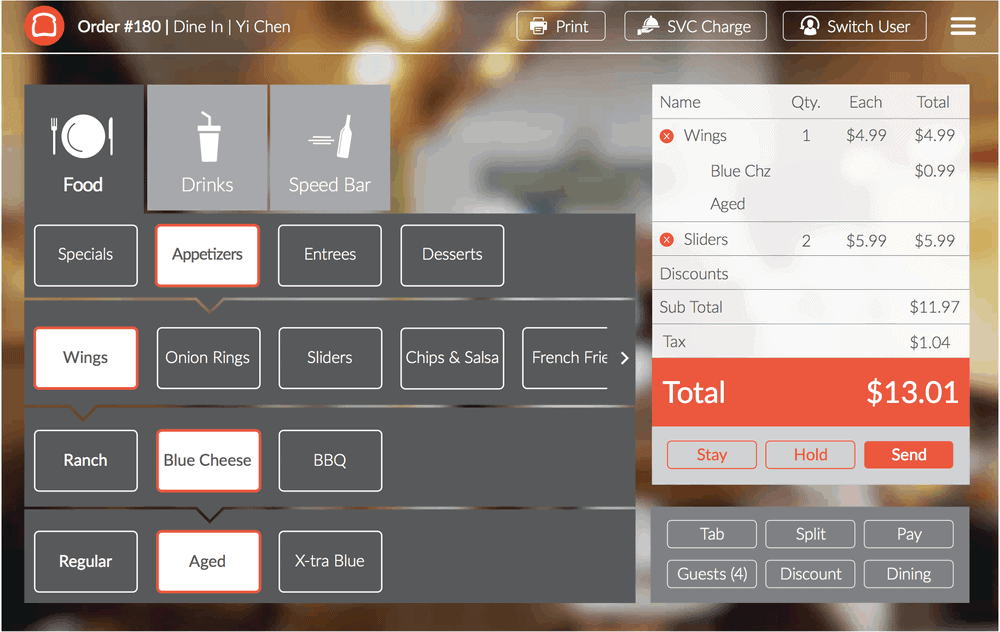 Toast POS features a robust set of functionalities such as online ordering, CRM, credit card processing, gift card loyalty, and inventory management. It makes payment easy both for customers and restaurant owners with its easy payment system from hand-held tablets that enables easy ordering as well as printing and emailing of receipts and issuing of tips. 
It allows for extensive customization via the user interface. Entire menus can be customised, role-based permissions set, and discounts and loyalty programs set up.
Payroll and team management are easily done on the Toast POS system. This saves time and ensures that processes such as payroll, timesheet approval, and new hire management are all seamlessly completed. 
Toast POS offers a 30-day free trial that allows you to test the product. It allows third-party integrations with more than a hundred other applications, supports third-party payment processor adoption, and offers phone, email, and live chat support services.
Other features include: 
Accounting Integration

Activity Dashboard

Alerts and notifications

Barcode/Ticket Scanning

Billing and Invoicing

Cash Management

Customizable Branding

Customizable Reports

Data Import/Export

Delivery Estimate

Delivery Management

Discount Management

Electronic Signature

Email Marketing
Pros and Cons of Toast POS
PROs
Easy to use.

User-friendly

Easy integration with third-party apps

It has multiple-location support and strong reporting features.
CONs
Only available to restaurants in the US: This is a major drawback, especially for restaurant owners looking to buy but based outside the US.

Report of multiple credit card charges weekly

Online ordering features a drop down that could be complicated for guests.

Its quote-based pricing makes comparison with other options a bit difficult.

It requires long-term contracts.
How much does Toast POS cost?
Although Toast POS has quote-based pricing and three standard plans (Starter, Essentials, and Custom), with optional add-ons and individual needs, working with set prices can be difficult.
Starter Package: Ideal for small restaurants that need one or two terminals to get up and running. It starts at $0 and includes features such as cloud-based point of sale, hardware configuration including one terminal while charges apply for additional devices, online ordering, Toast TakeOut, and Toast delivery services. Also, guest engagement tools include email marketing, gift cards, and loyalty.
Essentials: This starts at $165/month. It includes all the features of the Starter package and adds digital ordering, delivery services, and access to Toast's Takeout app. It does not, however, include staff management tools. Hardware, installation, and payment processing costs are also custom.
Custom: This is a customized plan based on the needs of each customer and requires a call in and a request for a quote.
There is a processing fee per transaction, which is also quote-based and depends on the type of restaurant in question.
You can reach out and request for a demo today.
Square POS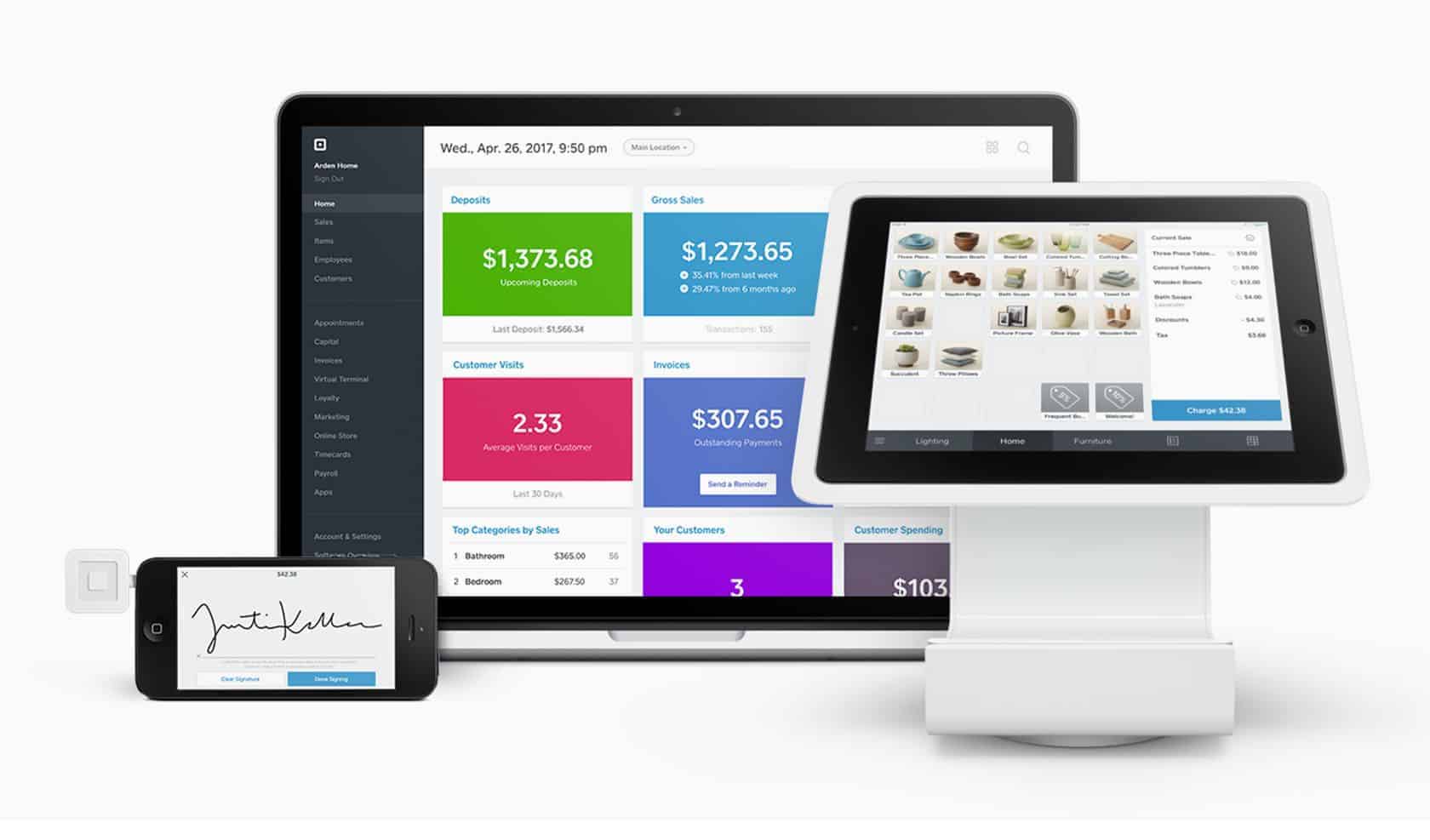 Square POS is a popular app-based point of sale system designed for retail stores to help manage in-store and online purchases. It has advanced tools for managing store inventory, sales, and human resources. The app is available on the iOS and Android stores as well as on Square's proprietary hardware.
Square Point of Sale software makes running your business easy as it ticks the majority of boxes in terms of needs and functions. Payment processing, email marketing, online ordering, inventory management, and more are all covered by the Square Point of Sale software.
The Square POS, introduced into the market in 2009, is a product of Square, which was co-founded by Jack Dorsey, Twitter's former CEO and founder. Known for its ease of use and efficiency, it enables merchants of all sizes to easily accept payments via their mobile devices via its Square Reader.
Square offers various options for receiving payment via debit or credit cards, such as magstripe, chip, and contactless card readers. It also accepts Google Pay and Apple Pay. Meanwhile, the Square Virtual Terminal makes payment collection through a computer possible.
The Pros and Cons of Square POS
PROs
It can be used by a wide range of businesses of all sizes.

It supports Android and iOS.

It has a wide range of hardware.

Can operate offline.

Pricing 
CONs
Larger businesses incur higher fees.
How Well Do Customers Rate Square POS?
Square POS scores high among users with a 4.5/5 rating for ease of use, functionality, value for money, and customer support.
How Much Does Square POS Cost?
Square pretty much has the most straight-forward pricing for all businesses. It is free to use, with no long-term binding contracts. You only pay 2.6% + 10¢ per swipe or 3.5% + 15¢ per manually entered transaction. Great, isn't it? We think so too!
Checkout Square's website to sign up today.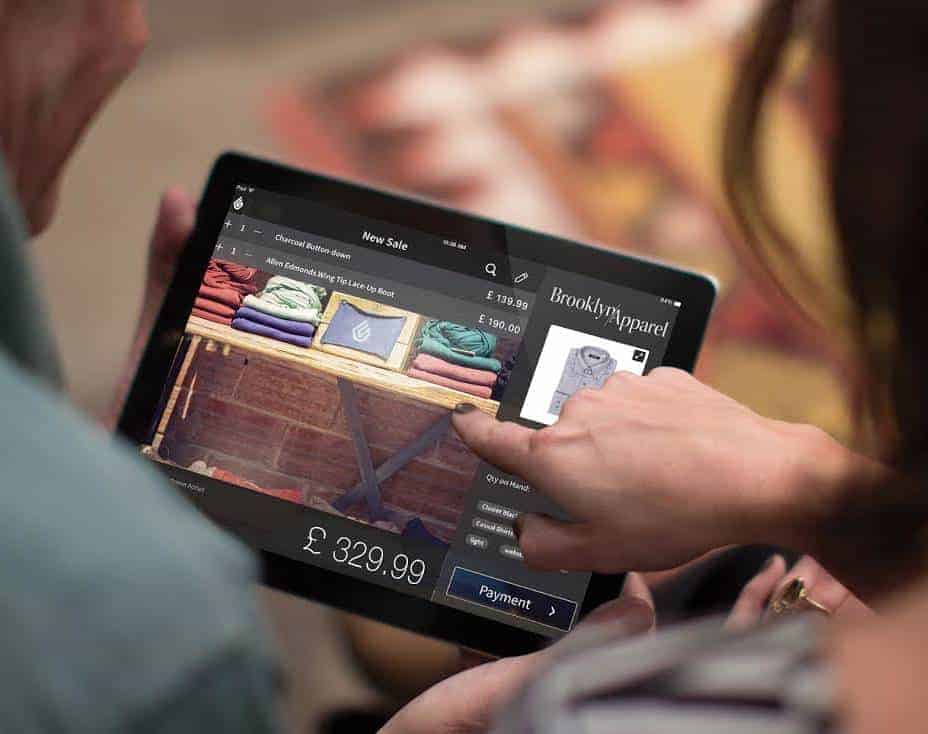 Lightspeed cloud POS is a cloud and browser-based point of service system that offers seamless service delivery for businesses in the retail and hospitality industries, such as footwear, bikes, jewelry, pets, sporting goods, home decor, and restaurants.
Lightspeed is a notable industry leader with over a decade of experience in the offering of point-of-sale systems in the retail industry. Its clients include popular brands such as Five Guys, Pasta Pantry, Goodwill and KemperSports.
It helps with payments processing, inventory management, reporting, eCommerce, accounting, retail store management, purchase order management and more. It offers insights into customer details with a single view of customers' profiles and sales history logs and seamlessly integrates with various POS hardware such as receipt printers and barcode scanners.
Lightspeed cloud POS offers more in the area of payments as it allows for cash, cards, and eWallets. It helps you organise and understand your inventory with a breakdown of all stocks and know when a product needs reordering. Easily access reports with a simple click and understand sales patterns and trends to help make informed business decisions.
As a retail cloud-based POS system, it offers multi-store capabilities like inventory sync across all store locations. Its mobile provision ensures that store owners can check and keep track of inventory across all locations and that sales can be conducted from anywhere in the store via iPad.
Lightspeed cloud POS also easily integrates with other tools such as Tyro, Tanda, Mailchimp, and more.
Features Overview
iPad and iPhone support
Retail customer management
Data Analytics
Retail sales and inventory management.
Barcode scanning
Pros and Cons of The Lightspeed POS
PROs
It has great inventory management.

Top-notch customer service.

Extendable service with integration.

You can easily achieve more with third-party integrations on the Lightspeed POS as it allows for easy integration with other services. 
CONs
It is expensive when compared to other POS systems.

The pricing is fair when one considers all the features that it comes with, but if the need is just for a small business just starting out without the need for many of the features, then an alternative that costs less, like Square, should be considered.

It involves lengthy contracts.

Quite a number of reviews complain about the multi-year contracts and transparency issues with the system's pricing.
How Do Customers Rate the Lightspeed Cloud POS?
The Lightspeed Cloud POS scores very high amongst users, with a 4.5 out of 5 point rating for ease of use and a 4 out of 5 for customer support, value for money, and functionality. It also scores a 3.0 rating out of 5 on Forbes Advisor.
How much does the Lightspeed Cloud POS cost?
Lightspeed offers a starter bundle that goes for $0 with everything needed to get started with POS and payment, but then, chances are that you will need much more than the features on offer and so you will need to consider the other plans: Plus, Growth, and Pro depending on your needs.
The Plus plan starts at as little as $79/month and adds $29 for an additional device if needed. If you decide to settle for a third party payment processor, you will incur more cost for the Lightspeed software.
A recurring fee of 2.6% +10 ¢ for tapped, swiped, or inserted cards per transaction applies.
While it may appear to be more expensive, the features it offers may justify the cost, as you may not find them in these other alternatives.
You can request for a free trial or custom quote for your specific needs.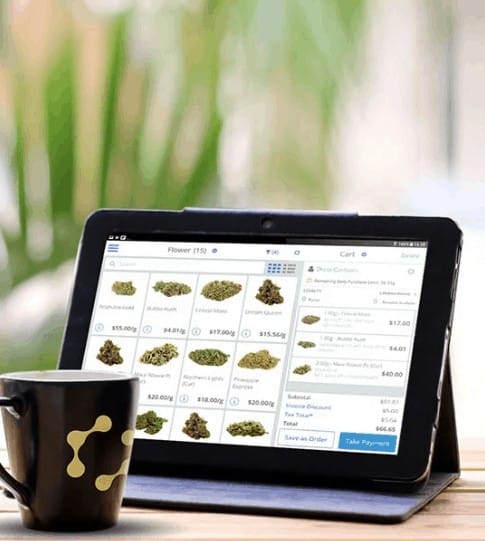 Cova is a cannabis dispensary point of sale system targeted at cannabis retailers, startups, individual dispensaries, and large corporations. It is a full-featured, tablet-based application that offers a touchscreen interface that enables users to promptly deliver services.
It offers inventory management, reporting, product descriptions, pricing, available stock, and promotional information, all accessible through the POS interface.
Its built-in scanner scans customer ID and verifies age, as well as adds them to the queue. Users can create optional opt-in customer profiles tied to their loyalty points, thereby making check-in fast. 
You can also keep track of customers and their orders without having them queue up.You also get your customers engaged by helping them discover more while empowering your customers with insights like purchase history and their preferences, thus increasing the entire shopping experience.
Its inventory management tools enable users to manage stock from multiple channels, track sales of products and identify popular items. With its open APIs, integration with third-party applications is made possible. This allows you to maximise usage and increase functionality while saving money.
You also enjoy up to 99.99% of uptime. Its offline mode also allows you to continue doing business even without an internet connection.
Quick Overview of Features of Cova POS
Barcode/Ticket Scanning

Discount Management

Inventory Management

Loyalty Program

Retail POS

3-step on-boarding procedure

Advanced inventory reporting

Age verification scanner

Automated discounting

Internal fraud and theft prevention

Security roles and permissions

Statewide traceability integration

Zero data concerns

Cannabis touch screen menus

Centralised intelligence hub

Customers queue

Hours of operation compliance

Insights on the go
Pros And Cons Of Cova POS
PROs
It is easy to use

It offers complete compliance for dispensaries

Mobile based so easy to use anywhere in store

It easily pulls up product when a query is typed in

Works in offline mode

Data backup

Unlimited users and transactions
CONs
Only available in the US and Canada at the moment
How Much Does Cova POS Cost?
Cova prices begin at $349 for basic operation retailers with a single-location. It also has two other plans: the Powerhouse, which starts at $549 and has up to four workstations, and the Custom Quote plan. Buying an additional workstation under the Powerhouse plan costs less, as you'll be paying $40 compared to $60 under the basic plan. 
Reach out to request a quote from Cova or demo.
Conclusion
Cloud based point of sales system is certainly the way to go. If you happen to be looking to make an upgrade from a Legacy POS system or get a POS system for a new business, then the four options reviewed here are a good option to start with.
FAQs
Q: What are 5 types of POS systems?
A: There are various types of POS devices, and these include smartphones, tablets, mobile POS, card and chip readers, computers, terminals, and self-service kiosks. There are also other related devices, some of which are cash drawers, barcode scanners, and receipt printers.
Q: Are all POS systems the same?
A: All POS systems certainly are not the same and they vary from each other. Cash registers, point of sale (POS) systems, and cashiers have various differences as per their usage.
Q: What is the difference between POS and terminals?
A: Basically, a POS is an advanced product when compared to a terminal. A POS system has more advanced features that set it clearly apart from a terminal. Again, while a credit card terminal is designed with one basic objective in mind—to process credit card payments—a POS system does way more than that.
Q: How many types of POS machines do we have?
A: There are 3 main types of POS machines, which are all-in-one POS systems, cloud-based POS systems, and EMV Chip Readers.
Q: Does Google have a POS?
A: Google has Plaso, an offshoot from its previous attempt at providing a point of sale system, Square Wallet.
According to Business Insider, "Plaso uses an app on Google-issued Android phones that alerts retailers when there's someone in the store that can pay with it.
Q: Does Apple have a POS?
A: Apple's EasyPay touch system is quite different in style from the regular point-of-sale systems around. It is used in Apple stores. With it, customers can scan the barcode of the desired items they want to purchase with their iPhone camera and go ahead to checkout using the Apple app.