(Last Updated On: January 10, 2023)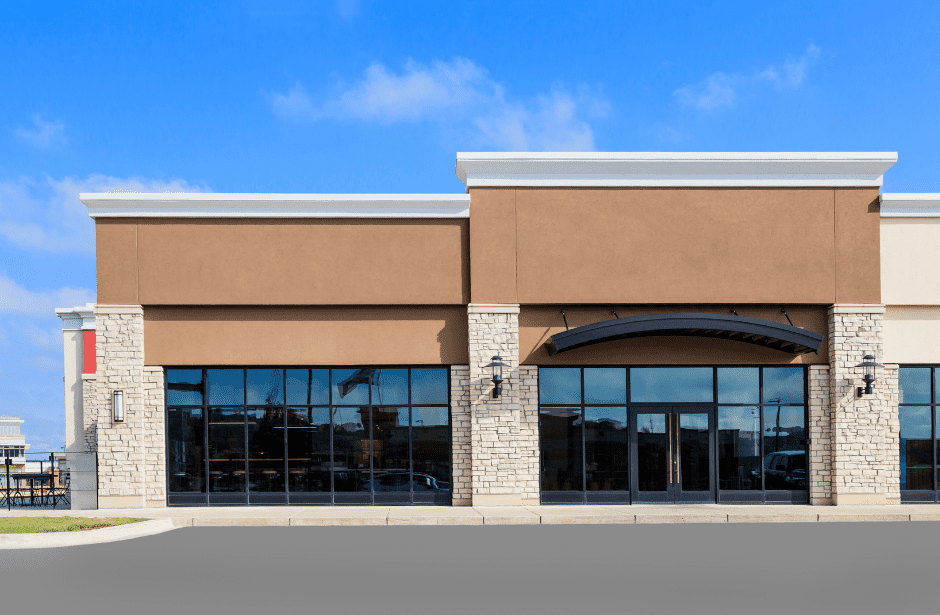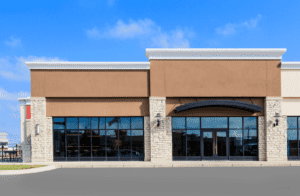 Running a business and growing it always feels great. It's the reward for all your hard work and effort. If you're managing retail or a service-based operation, then you know the importance of expanding it the right way. Choosing any retail space to move into is not enough. This is a step that needs to be preceded by a lot of consideration, especially when it comes to choosing a location. 
Some business owners often rush it when they need to expand. They either get overwhelmed by the affordable price or they find it to be attractive for a reason that's not a good fit for their actual needs. This is why we'll share the steps to follow if you want to choose the perfect retail space. We'll also show you how to source the best retail POS system to match your expansion.
What Is the Definition of Retail Space?
Most business owners and managers will easily answer this question. The term "retail space" refers to the location where you sell goods or services. This means that large shopping malls and tiny shops match the definition. Of course, there are differences to keep in mind. For instance, most businesses would only thrive when they're located in areas with high traffic, but others don't need that because of the specific or exclusive products they're selling.
To stay competitive, you must be very careful when you expand to a new location. Other businesses in your region and niche would also be looking for ways to step up their game, meaning that you will probably struggle to find the right spot. Knowing how to choose the perfect retail space is essential if you want to secure the best possible space that also fits in your budget. Playing all your cards right will be the foundation of your success.
A well-thought retail space has one main purpose: to provide customer flow. This means that such locations are different from commercial facilities of any sort. It needs to make shoppers feel good, meaning that it must give them lots of space to walk around and enjoy their visit. 
The best retail space should also be easily accessible, either by foot or via transportation means. This is an absolute must for most businesses. A strategy to use when picking your new location would be to place it next to a popular location that people come to visit. It might be a popular store or a restaurant, for example. Whatever it is, it needs to complement your business in a way.
What to Consider When Choosing the Perfect Retail Space
You need to know how to choose the perfect retail space for a variety of reasons. They are all directly related to your potential profit. Growing your business is mostly an investment, and that needs to pay off. Here is how to do it:
Foot traffic

: We've already mentioned that the ease of access your potential customers have to your new location is most often the foundation of its success. With a few marketing tricks, you will attract the majority of the people who walk by your new retail space.

Large displays

: The bigger the window display is, the better for your presentation. This is not an essential requirement, but it helps to have it in most cases. An attractive arrangement is always likely to bring in more shoppers.

Engagement

: If you're in the kind of neighborhood that has a strong local community and a huge part of your potential clients would be locals, then you need to engage with them. This is only possible if you choose the perfect retail space. Localizing your efforts would be essential in such cases. Engaging with locals and creating a makeshift hub for them to hang out would set you apart from bigger brands that stick to their marketing campaigns. Don't forget that you must add the best retail POS system to the equation, as it provides the smooth customer experience your clients are seeking.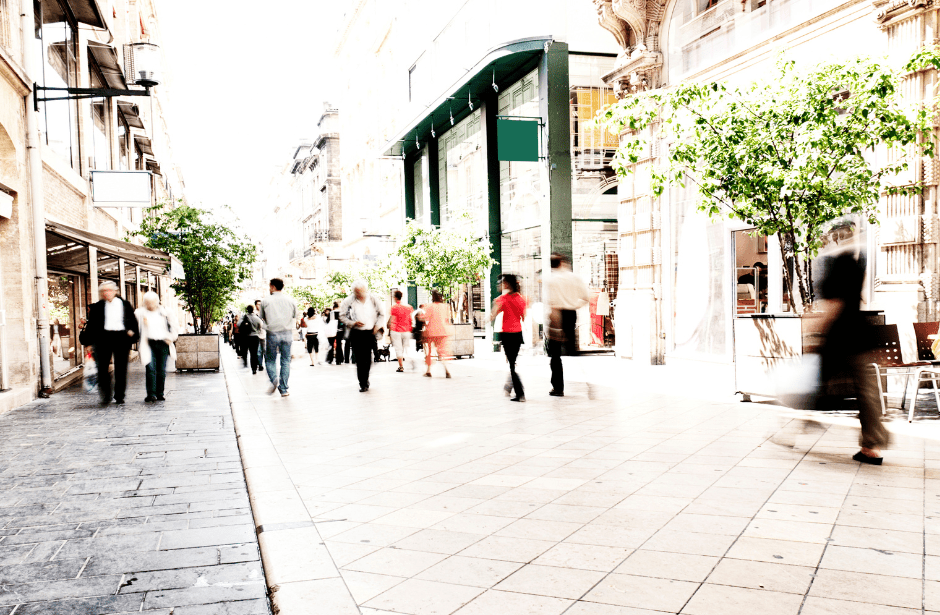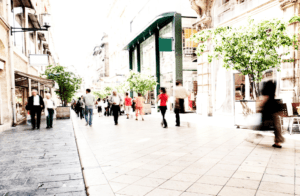 You need to have all your priorities set before you start searching for your next retail location. There are plenty of specifics you should consider, such as square footage, ceiling height, additional facilities, area, and more. When you choose the perfect retail space, you must make sure it is in compliance with your trade and you can run your operation without any institutional hiccups. 
The basic factors you must consider when you're on the hunt for a new location include:
Location

: It's true that most businesses need to focus on specific areas based on target groups and a sufficient number of visitors. Some operations require more foot traffic, while others are all about the exclusivity of the place.

Easy access

: Even if you set up an amazing store complete with large displays, rich inventory, and the best retail POS system possible, you would still be less competitive in case the location is not easily accessible by walking, driving and to disabled customers.

Budget

: Here's another important factor to consider: If you find an awesome location that has it all, but it's way above your budget, you need to let it go. It would be a struggle to reach the point when you would exploit the location's full potential.
How to Identify the Perfect Retail Space Location
Identifying potential retail spaces starts with choosing the right neighborhoods. If the area is not nice to begin with, the location you've set your eyes on would not be better, either. Here's what else to consider when browsing locations:
Targeted audience

: Choosing your new retail location needs to comply with your business plan and desired clientele. If you're close to where your prospects live or work, then you'll be closer to success, too.

Maintenance costs and permits

: Before you sign a contract, make sure you can afford to rent or buy it. You also need to be aware of all the maintenance and utility costs related to running your specific business at the location of choice.

Competition

: Having competitors nearby is not necessarily a bad thing. If they're doing well, this means that you're likely to do better, in case you have the competitive advantages you need to be ahead of them.

Business community

: Some niches are also tight communities and competition is secondary within them. This is a specific scenario, but if you're part of such a niche, make sure your new retail space is part of such a community.
What's the Best Way to Inspect a Potential Retail Space?
If you've already found a potential retail space that matches all the above criteria, you need to find a couple more. The reason for that is simple: by comparing several offers, you will be more confident you've chosen the right retail space. These are the aspects you should compare:
Transportation access and parking spaces

: If a significant part of your clients would use different means of transportation, you need to pick a retail location that's accessible by all of them. Having parking spaces nearby is essential for most retail and service-based businesses.

Condition of the premises

: Even if you find an exclusive location with an enviably large window display, its condition still matters. If the building is not in great shape, this might be a problem for the success of your endeavor. If it takes a complete renovation to make it work, then it's probably not worth it.

Regulation compliance

: Before you agree on any deal, make sure that the space you are about to rent or buy is legally compatible with your operation. Otherwise, it might be worthless to you.

Amenities

: Most retail businesses need a plethora of conveniences to function properly: storage rooms, dressing rooms, additional offices, and more. You need to make sure you have enough space for them all.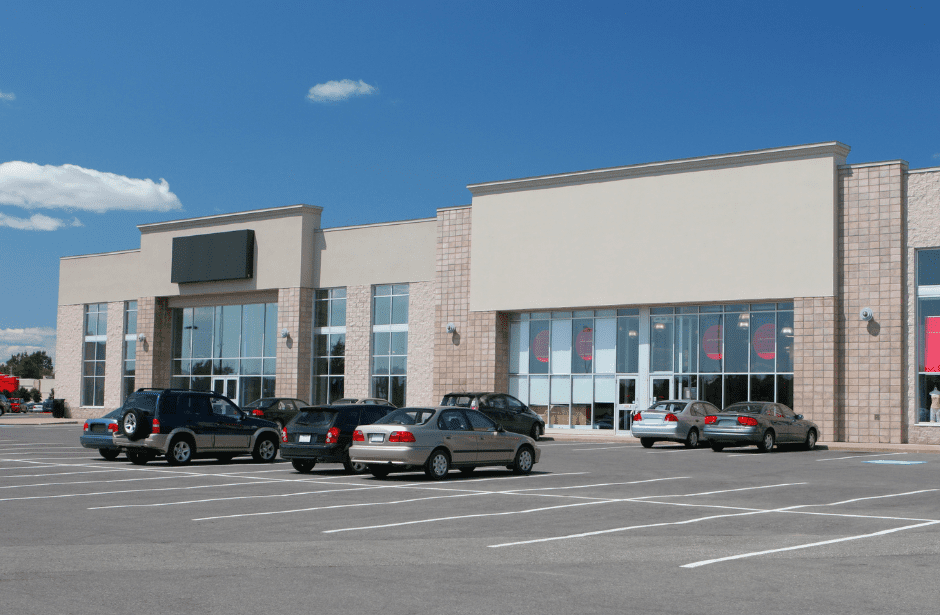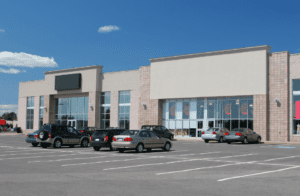 Before you start looking for the best retail space for your needs, you can do yourself a favor and visualize everything about it, including the surroundings and the whole area. Doing this will help you recognize the actual location when you see it. 
Next, study the area of the location you find and note all the other stores nearby. If you see red flags, consider them before you sign a contract. There might be too many stores to be considered healthy competition or there might not be enough people walking near your future shop's window. 
If you walk around the area of the retail space you intend to rent or buy, you might see a brand you recognize that's in your or a similar industry. Check how the surroundings are affecting the brand's development. This is an easy way to determine if it's the right place for you.
If the retail space you intend to use has been active before you move in, you should check out the story of the previous tenant or owner. Being able to learn more about the store location's previous performance will give you a clue about what to expect, as long as it's relevant to your industry.
What to Do After You Choose the Perfect Retail Location?
Opening a new store is just as exciting as it is challenging. It's a process that's preceded by more than a few steps. Once you know how to choose the perfect retail space, you'll also need to make it work. Let's check out some things to consider if you want your new endeavor to thrive.
Create your own opportunities

: Being able to compete with the big players in your league starts with choosing wisely. If you have the location you need and the means to set it up, you need to create opportunities that will attract and retain clients. There are several ways to do this. From utilizing the best retail POS system to creating a highly personal and customizable type of service, you have the means to do it, depending on the niche you're in and the specific location you chose.

Create a unique brand

: Your new location may be more than just an extension of your existing operation. By creating a genuine brand, you can localize your business by creating the form of business that will comply with locals' expectation to the fullest extent. It may sound risky, but it is one way you can directly send a message to potential shoppers and invite them. If everything is on point, clients will come to your new retail space even if it's not part of their usual commute or walking route.

Create the means for the ultimate customer experience

: Unlike online stores, a physical location can retain clients by providing the atmosphere and service they expect to experience. You can manage that using all the tricks up in your sleeve. Except for localization activities, you can distinguish your brand from the competition using the best retail POS system you could find. It will help you create reports on clients' preferences and behavior. As a result, you could create successful loyalty management programs and campaigns. Add the professionalism of your employees and their ability to interact with shoppers, and you've got it made. Every client will return to a retail business where their presence feels valued.
What's a Retail POS System?
POS systems utilize specific hardware and software to accept payments and process transactions. Every retail, hospitality, or service-based operation in need of a checkout uses a point-of-sale solution. This is why finding the right POS system is just as important as choosing the perfect retail space.
The best retail POS system for you can either be local-based or cloud-based, with the latter growing more popular by the minute thanks to its mobility, flexibility, and easy installation. 
To find the best retail POS system, you need to consider all the specifics of your operation and compare them to the functionalities and features offered by the POS vendor.
Why Do You Need a POS System for Multiple Locations?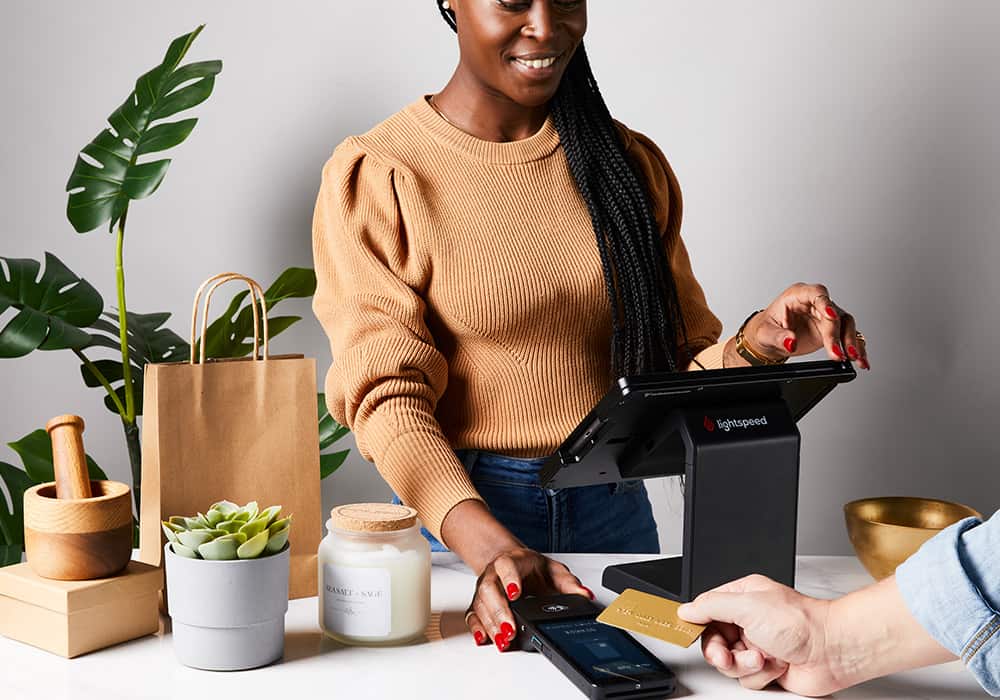 Having more than one retail space means that you need the means to control all your locations as easily as possible. The good news is that you can manage multiple locations using the best retail POS system for your needs. There are several POS vendors who can offer a point-of-sale solution that's a great fit to your specific operation. Here's what you can expect from investing in such a system:
Inventory management

: A POS system capable of managing multiple locations' inventory will save you a lot of hustle and bustle by combining their inventory monitoring functions into one single feature. This makes it a lot easier to monitor. It will also reduce your average error rate to the bare minimum and help you never miss a sale. This is possible through the system's updates after each sale. Using this feature to always keep track of your stock quantities is a must. 

Client data collecting and analysis

: The best retail POS system for you will feature data management and processing tools that will help you learn more about your clients' preferences, expectations, and shopping habits. By analyzing personal information about customers and processing their purchase history, the system will point out changes you need to introduce if you want to provide your clients with the ultimate shopping experience. Plus, it will allow you to carry out marketing campaigns and loyalty programs with a better success rate.

Sales and staff management

: Most modern POS systems come equipped with a rich toolset that will help you manage your sales processes and monitor your employees' performance. You will be able to easily update your product suite and introduce changes to your pricing and discount policy. Such a system will also enable you to manage all locations' cash flow using the same app.
Comparing Retail POS Vendors: What Features to Look for
| System | Starting Software Costs | Hardware Costs | Key Features |
| --- | --- | --- | --- |
| | Starts at $49/month | Flat rate processing with zero fees or surcharges | 24/7 in-house phone support |
| | Starts at $59/month | Additional terminals are $34/month | Great back-end reporting and forecasting, a la carte pricing options available |
| | $99/month per terminal | Onboarding and installation start at $649 | The first ever POS system for iPad |
When the time comes for you to find the best retail POS system for your growing business, you will need to consider several factors and compare all compatible solutions you could find. This makes the process a bit complicated, but it's doable. All you need to do is know your specific needs and set your priorities. Of course, you will need to consider your budget as well. Let's look at some of the retail POS vendors you should lookup.
KORONA POS is a multi-store POS system that will help you scale your operation by providing you with a lot of competitive advantages and allowing you to monitor multiple aspects of your business using a single system.
Some of KORONA POS' features and highlights include:
Fast transaction times: Chances are that your location would be quite busy, meaning that having people stand in long queues is a huge no-no. To avoid this, KORONA POS will help you accept payments and process transactions fast, resulting in more sales, more satisfied clients, and higher profits.
Smooth data transfer: KORONA POS is capable of transferring data between your physical retail spaces fast. This means that you will never have to manually enter product data or other information again. The process can be easily automated, taking it off your hands completely.
Multi-store promotions: No matter the differences between the physical retail locations you own, KORONA POS will help you organize promotions between them. You can either combine all your retail spaces, or you can choose to present the promotion or discount to a selected few of them. The POS software will allow you to do it with just a few clicks. 
Extended inventory management: The neat inventory tracking feature will help you manage the stock quantities of all your retail stores but still allow you to track their individual performance and separate them for other purposes. The system will alert you when you're going low on certain products or when you're about to overstock. 
Automatic upgrades and 24/7 customer support: Except for the reliable customer support, KORONA POS will also upgrade itself automatically, so you won't have to worry about not having the latest software version.
Read more: Korona POS Review
Lightspeed is a popular choice and definitely one to check out when you're on the hunt for the best retail POS system. This point-of-sale solution will help you share customer data across numerous locations using a single platform, allowing for the centralized control you're likely going to need when you add new retail spaces.
The POS system offered by Lightspeed will enable you to control your inventory using a simple interface that's accessible from anywhere. The system can handle multi-location ordering and automated reordering. It can easily sync all your locations' inventories but manage them individually. 
Using Lightspeed, you will take pride in the customer service you will offer across all your locations, including your online stores, in case you're running such branches. The system will allow you to share client information between locations and make the most of it when it comes to promotions and loyalty programs.
The system is capable of handling all aspects of employee management, including payrolls, schedules, and individual performance. 
Lightspeed POS will help you increase your overall performance thanks to extended reporting and analytics. You will be able to track sales, determine trends, and monitor margins. Of course, you will be able to study your clients' behavior and preferences by studying their purchase history.
Read more: Lightspeed Retail POS Review
Revel is a cloud-based POS system that has gained a lot of popularity in recent years. The system is mostly used by hospitality businesses such as coffee shops, but its functionalities are suitable for most retailers' needs.
This POS system boasts a strong set of features designed to streamline managerial tasks, such as inventory management. The software will help you transfer inventory between multiple locations and it will guarantee that your stock quantities will be up to date at any given moment. 
Revel has all the features you need built in, such as inventory management across locations, loyalty management programs, reporting tools, data processing and analysis, and even social media integrations.
The POS system can track sales in real-time and create order history logs. It can also track payments and organize the information in convenient reports. The e-Commerce integrations and CRM module are neat features to have as well. Revel also offers integrations with third-party software and hardware.
Read more: Revel Systems POS Review
The Conclusion
Setting up a new retail location is usually the decision that results in the growth of your business. To make the most of it, you need to learn how to choose the perfect retail space. The success of this new endeavor depends on the choice you make. If you don't exceed your budget and you are aware of any additional costs.
When you have your priorities straight and you are determined to allow no compromises whatsoever, you would learn more about the area you want to open a new retail space in. After studying the competition in the neighborhood, you should also search for similar offers to the one you found relevant initially. If your plan works as expected, you will end up in an area that has both the foot traffic you wish for and the clientele you seek.  
Once you've calculated all expenses related to renovations and additional marketing activities, you need to introduce the best retail POS system that can handle multiple locations, and you should be good to go.
Author: Written by Martin Nikolaev. Martin has 5+ years of experience in reviewing various tech gadgets, FinTech solutions, crypto markets and products, and all IoT-related products. 
FAQ
What's a multi-store retail POS system?
Multi-store POS systems boast software that can combine, import, and manage information and features across multiple locations and still let you be in control using a single app. It's the perfect solution when you need to add new retail spaces.
What's the most important aspect of choosing the perfect retail space?
Choosing the perfect retail space requires careful planning, studying the surroundings and the nearby competitors, as well as a strictly met budget.
How can you manage your inventory using the best retail POS system?
A fitting POS system will allow you to organize your inventory individually or considering the entirety of all retail spaces you manage.
How can competition determine the location of your new retail space?
Too much competition may be bad for the business, but having some competitors may attract potential customers to your retail space. If you have a competitive advantage, you will be successful.