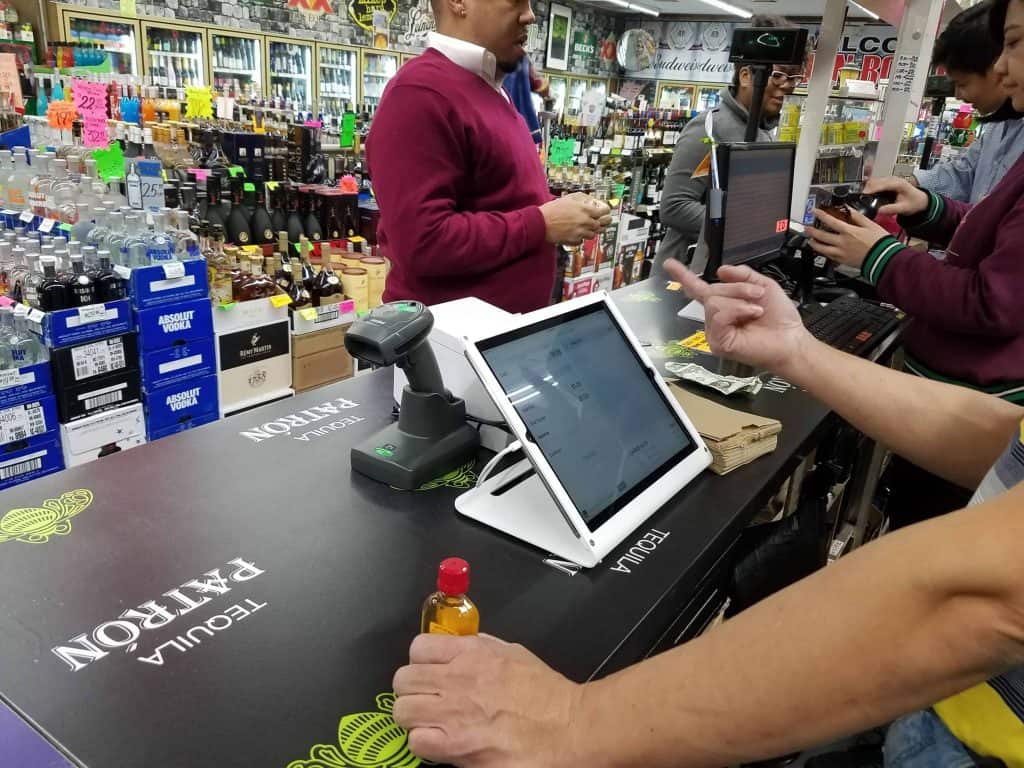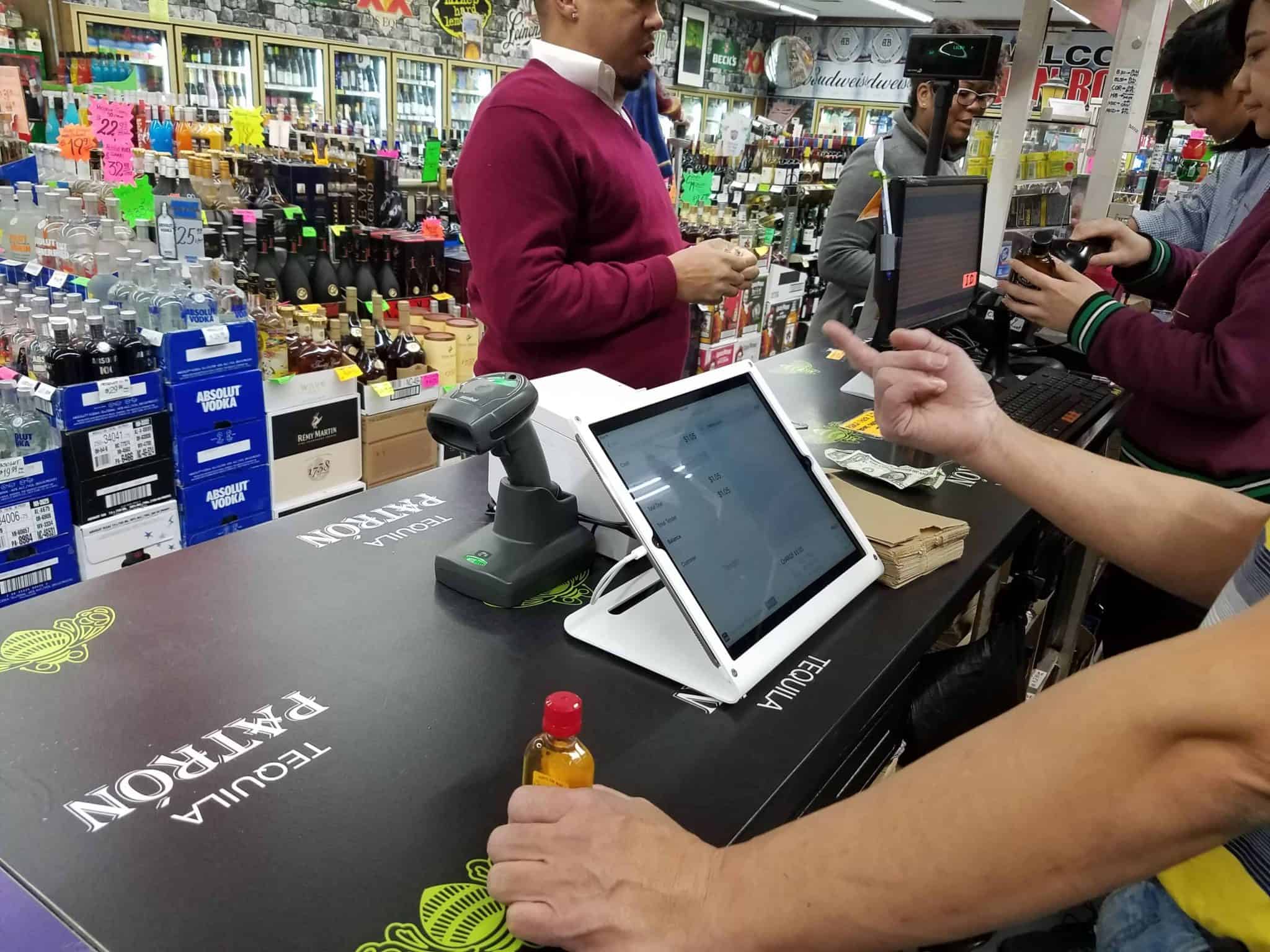 Managing a liquor store is unlike any other business in the retail space. It can be dead all day and then swamped in a second. To be prepared for those peak times, it's absolutely a must to utilize a speedy liquor store POS system.
Whether you're opening or running a large chain or a small liquor store, speed, efficiency, and customer service are key. The right liquor store software will help you manage inventory, create automatic purchase orders so you're never out of stock, and send promotions to your current clients to keep them coming back.
Keep in mind regulations in the liquor business. Age verification is a must for anyone making a purchase. If a cashier fails to check an ID, the store can be fined or closed. The right point of sale system can help you avoid this.
The best liquor store POS system will include case break inventory tracking and automatic ordering. The software must adhere to age verification and employee permissions for security and compliance. The point of sale system should also cater to customer rewards program to establish customer loyalty and keep patrons coming back.
Let's dive into our review of the top liquor store POS systems, helping you improve your bottom line and overall customer experience – factors you simply can't afford to ignore.
The Top Seven Liquor Store POS Systems
We've done the dirty work for you and listed the best platforms on the market to manage your liquor store. They are:
1. Korona POS – Best Liquor Store POS for Loyalty Programs
2. POS Nation – Best for Multi-Location Liquor Stores
3. IT Retail – Best POS for Actionable Business Insights
4. Heartland LiquorPOS – Best for Inventory Control Automation
5. mPower Beverage – Best POS for Real-time Reporting
6. Catapult – Best Software for Compliance and Security
7. Square – Best POS for Quick Setup
Comparing the Most Popular POS Systems for Liquor Stores
| POS System | Software Costs | Other Costs | Key Feature |
| --- | --- | --- | --- |
| | Starts at $49/month | Flat rate processing with zero fees or surcharges | 24/7 in-house phone support |
| | Flex Monthly is $99/month | Freedom POS is $999 one-time charge | Case break features for intelligent inventory tracking |
| | Starts at $99/month | Hardware cost is through third-party | Cloud-based management (no servers) and no license fees |
| | Ask local dealer for product demo and quotes | Hardware sold through network of qualified dealers | Rewards program with custom gift card and preauthorized discounts |
| | $1000 upfront and then $120/month per register and store | Additional register is $250 upfront and $120/month | On-demand reporting for day supply on hand and case deals |
| | Request a demo | Complete and submit a form to a retail specialist for a quote | Supports regulation localization and compliance reporting |
| | The Basic plan is free, and the Retail plan is $60/month | Processing fee is 2.5% + $0.10. An extra Square Reader is $49 | The service takes five minutes to set up and install |
1. Korona POS – Best Liquor Store POS for Loyalty Programs

KORONA's liquor store POS is a cloud-based solution currently being used by thousands of liquor stores across the United States. The solution works just the same for single-store operations up to multi-state chains or franchises.
The software is particularly well-suited to handle large inventory selections, helping liquor stores automate their operations and optimizing efficiency.
FEATURES
Inventory Management – Vast inventory management features include vendor relations, automated ordering, custom par levels, stock optimization, and product ABC analytics. Together, KORONA offers liquor stores incredible ease of operations with their product inventory.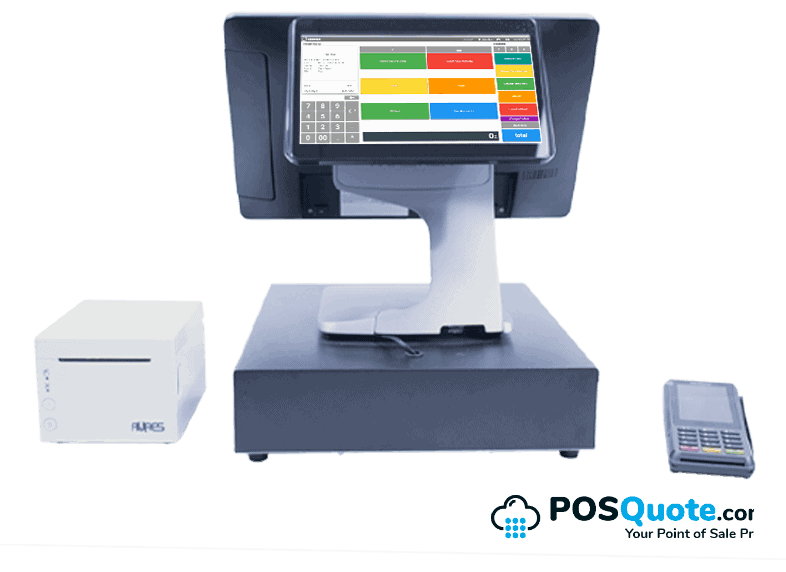 Sales Reporting and Metrics
On top of inventory management, the reporting and analytics features give business owners more insight into their products, promotions, and pricing. All reports are simple to generate and are updated in real-time so you always have accurate data.
Loyalty Progra
The software comes with a built-in points-based loyalty program to reward users with benchmark or time-based discounts. KORONA also integrates with Bottlecapps for a more robust liquor store CRM solution.
Multi-Location
The software serves single location, single terminal operations and large, multi-location business alike. Ordering and reporting can be broken down by one location or the entire operation. And for franchises, KORONA offers royalty management.
eCommerce
With a WooCommerce integration, KORONA allows liquor stores and wine shops to sell online as well as at their brick and mortar locations. For interstate shipping assistance, look into their bLoyal integration.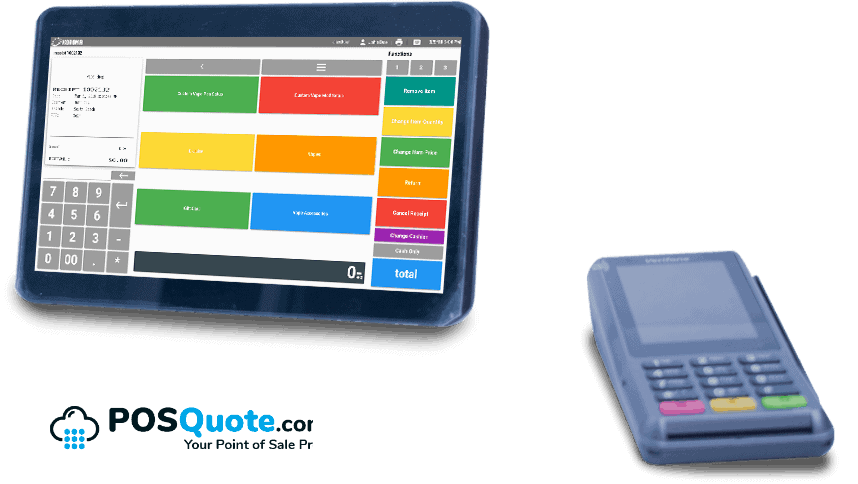 Cloud System
All operations are conducted in the cloud, meaning that no data is stored on site. This improves security and also allows owners and managers to conduct business from any location. Remote backend access needs only a login ID and password.
Employee Management
Age verification prompts, custom drawer access and permission levels, and individual shift reports help liquor stores track cashier behavior and success.
Payment Processing – KORONA integrates with all major payment processors, allowing liquor store to find the best fit for their individual needs. There are no long-term contracts or costly fees.
Customer Support
All training and support are included with each subscription. Support is available by phone, chat, and email. 24/7 emergency support is available by phone.
Pricing
All subscriptions start at $49/month per terminal. There are never any fees or surcharges, and all subscriptions are month-to-month. Some premium features do require an additional subscription package for an additional $10/month for each terminal.
2. POS Nation – Best for Multi-Location Liquor Stores


POS Nation is trusted by thousands of liquor stores, beer distributors, and wine shops. Designed to help your business grow, the program boasts a faster checkout, easier inventory management, and reporting needed to make better decisions.
Case Break Inventory Tracking
Let the POS system automatically account for case breaks. Whether it's liquor, wine, or beer, this feature will link cases of product to single bottles. When something is broken, the liquor store software will repeatedly convert one case to individual bottles. This enables a company to easily track inventory by the case, bottle, or six-pack without manual intervention.
Mix and Match Pricing
Move inventory quicker and increase sales with mix and match bottle pricing. Bundle beer, wine, and liquor into enticing deals. This is also a great feature for holidays and events.
Compliance and Reporting
POS Nation allows you to accurately track sales and purchases of malt beverages by quantity and size. The program provides pre-built monthly purchase and sales ledgers at the click of a button.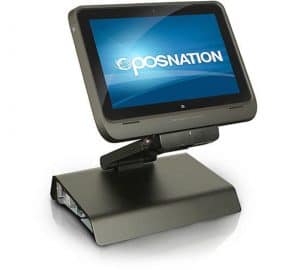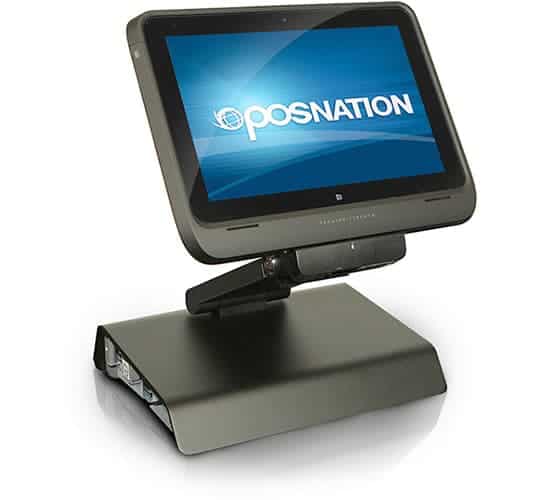 Single Database
Manage vendors and create purchase orders all in the same system. Stop wasting time toggling between programs to keep up with sales, inventory, and P.O.'s. Track all vendors, set reorder thresholds, and directly email distributors all from a universal dashboard.
Cash Discounts
POS Nation has a pre-built cash discount program for customers. If they choose to pay with cash over a credit card, they are eligible to receive a percentage off of their purchase. This helps keep costs down for merchants and incentivizes the consumer to come back.
Additional Features:
Electronic signature capture and barcode scanning
Customer loyalty program with gift card system
Employee management with scheduling and role-based permissions
eCommerce integration and sale tracking
Open API for complete custom build
3. IT Retail – Best POS for Actionable Business Insights


IT Retail is both a cloud-based and on-premise solution for a liquor store of any size. It's designed to manage processes related to liquor stores through pricing control, detailed inventory tracking, countless integrations. The program allows stores to define employee roles based on individual requirements and track hours accordingly. Key features to consider include:
Customer Relationship Management
IT Retail is a liquor POS program that was designed to make the customer happy. Using built-in customer relationship management (CRM) tools, a store can gain insight into valuable data like purchase history and demographics. This enables a business to then send customized promotions and coupons that will entice repeat sales.
Affordability
IT Retail is the best POS for liquor stores to save money because it's housed in the cloud. This means, not only is your data always secure (whether online or offline), but there is no need to store expensive and bulky servers. The cost of maintaining a server in-store can average $1,000 a year. IT Retail eliminates the cash drain because all channels sync directly to the cloud.
There are no expensive license fees to worry about either. All office functions sit in the cloud. This means, there is no need for back-office or front-end licenses. Everything is one, straightforward, monthly payment.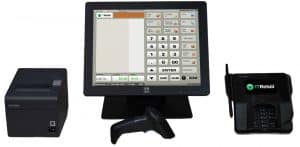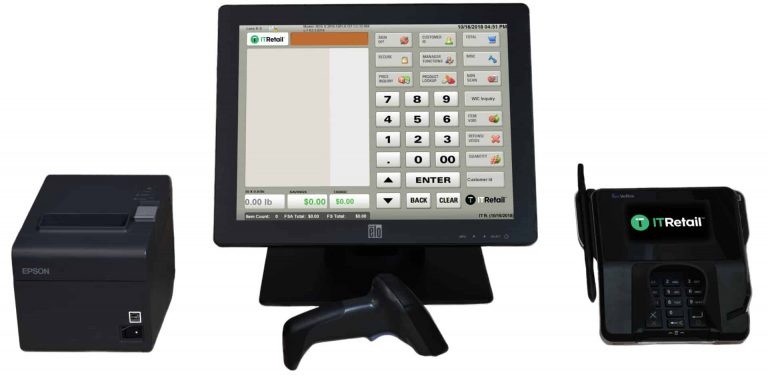 Machine Learning
The reporting for IT Retail is generated via machine learning. The liquor store POS software helps users make better decisions to improve business performance. This enables a business to maintain pricing consistency across multiple stores by comparing data based on pre-defined benchmarks.
Additional Features:
World-class support team trained in real liquor stores
Accepts cash, credit, EMV, NFC, gift cards, and EBT payments
Full scanner and scale support for faster transactions
Third-party integrations for ecommerce, accounting, CRMs, etc.
Multi-store management with separate pricing modules
4. Heartland LiquorPOS – Best For Inventory Control Automation


Heartland LiquorPOS has been successfully serving independent retail liquor operators for over three decades. They deliver liquor POS software that is reliable, flexible, and secure. More than 5,000 stores rely on the product to automate routine tasks and operate more efficiently, productively, and profitably. Here are the top features:
Customer Management
Heartland has a detailed customer loyalty program that takes it a level above the rest. Track sales based on individual customers or by demographic groups (like region or zip code). This empowers a liquor store to increase customer loyalty by offering more focused rewards and promotions.
Create house accounts with specific preferences and billing statements. Implement bar-coded customer cards that can be loaded with pre-authorized discounts. All of this allows for deeper and more targeted marketing campaigns that drive better sales.
Employee Accountability
Heartland LiquorPOS minimizes retail shrinkage by allowing a store to customize staff functions. This leads to a higher degree of employee accountability. Set specific security levels and run reports on team members by sales, voids, and deletions. This helps to keep a solid view of performance and manage theft at the same time.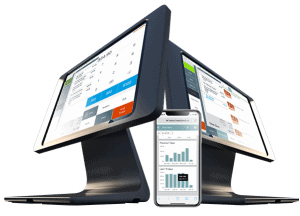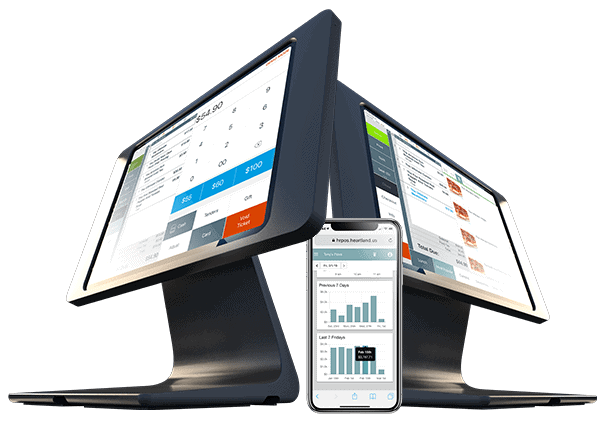 Pre-loaded Database
The Heartland liquor POS system is easy to set up and get started. They offer a pre-loaded, 35,000-item database. This helps to configure your system quickly and easily. A store also has the option to upload a list of products in bulk using an Excel file.
All of this eliminates manual entry and helps to save on labor costs. Price, inventory, and product information are always just a few clicks away.
Additional Features:
Customize receipts with a 400×100 pixel logo and personal message
Age verification using a Honeywell Xenon 1900 barcode scanner
Multipack items and sell by the case, six-pack, or single
Integrated credit card processing
S.-based technicians available via phone or email
5. mPower Beverage – Best POS for Real-Time Reporting

The liquor store industry is a highly competitive marketplace. mPower Beverage is a liquor store point of sale system that gives you real-time actionable data to make intelligent business decisions. The software is licensed based on the number of registers in the store. There is no charge for the back-office application or additional computers. Key features include:
On-demand Reporting
A unique feature of mPower POS is the ability to produce on-demand reporting to take the guesswork out of ordering. Customers can be finicky and change their liquor preferences quickly. Run reports on ordering based on day supply on hand. What are people buying and drinking right now?
Reporting that is this detailed includes ordering based on case deals and par counts. It will show a store exactly what to ask for based on history and selling velocity.
Multi-location Scalability
mPower Beverage software offers centralized pricing, promotions, and multi-store data synchronization. They make it easy to grow your brand and manage different channels simultaneously. By using a centralized liquor point of sale program, you can run tasks across many locations, like:
Create a purchase order
Run daily reports
Change pricing
Transfer products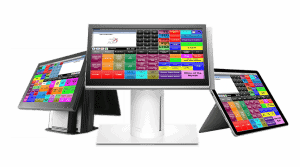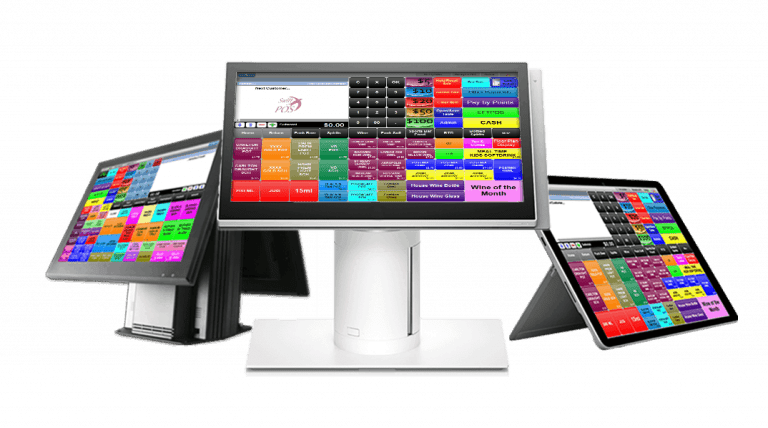 Popular Integrations
A good POS company knows that what they can't offer in the software, should be available as an integration. mPower Beverage has strategic integration partners in place to ensure you never drop the ball on anything in operations. Popular apps are available for things like:
Electronic shelf tags
Delivery apps
Webstore
Accounting
Employee management
Customer Programs
Track customers with a built-in loyalty program and reward them accordingly. Run daily and weekly reports to see who your best customers are and what they are buying. The liquor store POS software will allow you to export email reports which can then be used in targeted marketing campaigns. All of these functions are in place to bring more people in and keep them coming back.
Additional Features:
Mix and match, case break, wholesale, and promotional pricing tiers
Warehouse management with picking and shipping lists
Age verification and barcode scanning
Credit card integration, EMV, and contactless payments
Customizable shelf labels and printing
6. Catapult – Best Liquor Store Software for Compliance and Security



ECRS owns the liquor management system called Catapult. It gives a business the tools to know a liquor store inside and out. It solves problems for both single-store and chain beverage retailers and streamlines operations. Optimize your bottom line and increase efficiency with POS features like:
Quick Transactions
Liquor stores are a business that experiences great spikes in retail activity, with the majority of sales occurring in the evening, on weekends, and holidays. You need liquor store POS software that can keep up with the rush.
Catapult is equipped to process thousands of transactions in the most demanding environments. The system will simultaneously feed all collected data into the POS platform in real-time. This can then be used for precise inventory management and business analytics.
Age Verification
Liquor laws vary greatly by state. Compliance can be particularly difficult for chain stores. Catapult enables a business to scan local IDs for buyers and verify if the format of the identification is correct. The POS liquor store software will easily confirm the age of customers, so you can avoid any fees or penalties.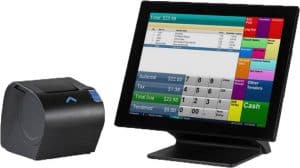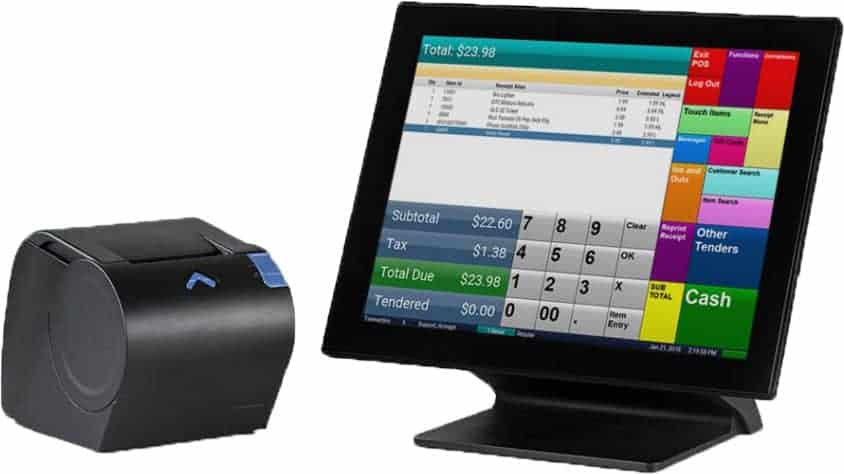 Mobile Management
Catapult enables inventory control right in the palm of your hand. Much of the powerful, back-office inventory functionality comes in the mobile handheld terminal (HHT). Create purchase orders instantly or on-the-fly price changes. Inventory adjustments can be made quickly. Other functions of the mobile unit include:
Inventory transfers for multi-store channels
High-contrast shelf labels with a portable printer
Price spot checks
Physical inventory counts
Inventory Replenishment
The Order Assist feature of Catapult helps keep track of everything automatically. The module will display suggested item order quantities based on forecasted auto-replenishment calculations. It will then generate a purchase order for each associated supplier.
For example, if you sell 6 bottles of a new vodka, Catapult will know that you need to order at least 8 more to get your shelves back in order. This is done automatically through the Gateway supply chain integration solution.
7. Square – Best POS for Quick Setup


Square gives a liquor store all the tools needed from open to close, in-store, and online. Setup is simply downloading an app, signing up, and plugging the hardware in. Intuitive inventory helps to simplify workflow with multilocation stock management. It's liquor software that's built for a store of any size. The primary functions include:
Team Management
Square helps to empower liquor store employees with efficient team management tools. Implement personal passcodes to ensure everyone logs into the system securely. Staff clocks in and out directly through the POS to easily track time. A business can then generate reports on timecards and employee activity. This helps to recognize good performance and strengthen weak spots.
Payments
Square payments have no hidden fees. All sales, whether paid with a gift card or through a digital wallet, are integrated into the system. Access your money the same day or instantly with a 1.5% transfer fee. The company complies with all required PCI standards and all customer data is encrypted.
Square also comes with invoicing. Send professional estimates, automatic customer reminders, and invoices, then track those payments in real-time.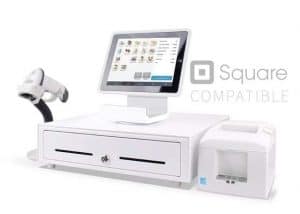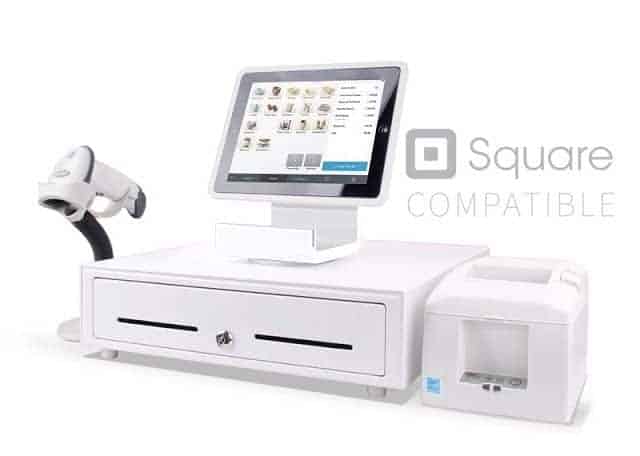 Detailed Reporting
Square is a stellar POS for liquor stores because they help you make better decisions backed by good data. Run detailed sales reports to know how much inventory you are moving and what the business is making down to the minute. View all reports right in the POS dashboard, at any time.
A liquor store can also run reports on vendor sales. Know which merchants are supplying your top-selling products and at what rate. This enables smarter ordering and better cost-saving opportunities.
Additional Features:
Create and print barcode labels from the dashboard
Build customer profiles automatically from payment cards
Open tickets/saved carts
Offline mode
Liquor Store Point of Sale Buyer's Guide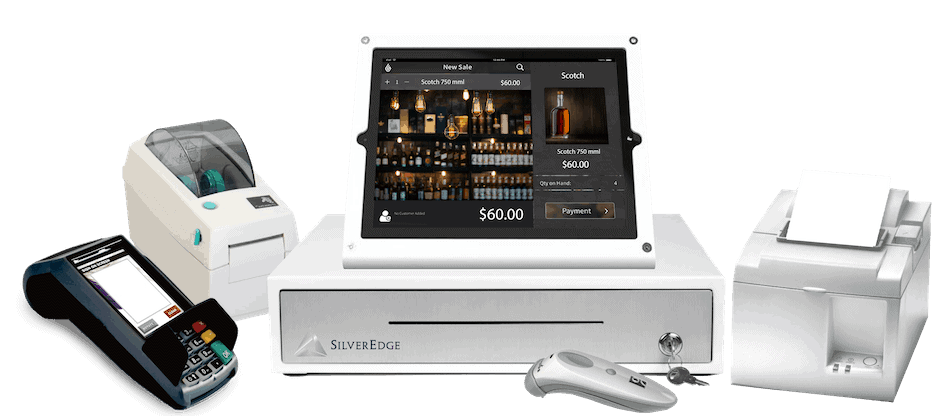 During the buyer's journey, it's important to look at the general features this type of technology can offer and what it will do for your store. There are many different systems on the market, and you want to choose the platform that best fits your needs.
When comparing the best POS systems for liquor stores, look for one that delivers features like:
Customer Loyalty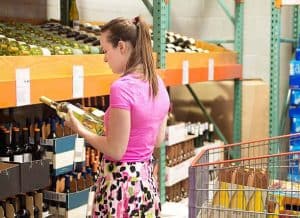 Loyalty programs always keep satisfied customers coming back for more. Reports have shown that consumers spend up to 99% more with brands where they have an account. This is much more than stamping or punching holes in a card.
A smart customer rewards program will track consumer behavior and purchasing history. When people buy, the system stores their data. The entire experience becomes automated. Personalized promotions and discounts can be sent via email marketing and direct mail campaigns. This, in turn, keeps people coming back for more.
Liquor Store Inventory Management
Liquor stores thrive on tiered pricing. After all, the same product comes in many different ways (bottle, can, case, six-pack, keg). The liquor inventory system you choose should have mix and match pricing capabilities. In the event of case breaks, it will automatically calculate the different quantity and label.
Liquor store point of sale systems must be equipped with a database that lists all of the items you carry in the store. Auto-replenishment can be set to trigger based on sales trends and reporting. It should track inventory in real-time and send instant alerts when stock levels are low.
Effective inventory tracking helps to introduce new products and evaluate the performance. If something is not doing well, replace it, and start the process again.
Age Verification
It is critical that liquor store POS software has the means to verify the age of every customer prior to purchase. The more digital this process is, the more secure it becomes. The best systems will deny purchase if a scanned ID does not meet the requirements.
It should also be smart enough to know which items do not require age verification. You don't want to lose any sales. The POS system should allow you to denote which product categories require an ID. When one of these items is scanned, the screen pops up with a reminder to the cashier to ask. Although it's a simple feature, this function can save a store from a lot of liability.
Sales Tracking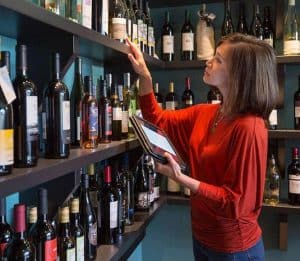 An efficient liquor store POS will always have a way to measure and gauge performance. This requires an in-depth reporting feature that takes a closer look at sales. Tracking sales will take the temperature of how your store is currently performing and places that may need work.
A program that runs detailed reports helps to better identify important trends. For example, if sales are dipping during a certain shift, you may want to cut back on labor. If a particular item is flying off the shelf, it's time to change your order amount. The closer a store monitors these patterns, the better decisions they will make.
Third-party Integrations
No matter how great a point of sale platform is, there's always one or two needs it cannot meet. To bridge this gap, smart brands offer a multitude of third-party integrations, so a store never has to ditch their legacy systems. They should have strategic partnerships in place to make it easy for you. This can include (but is not limited to):
Accounting and payroll
Employee management
Customer engagement
Online shopping
Delivery app
Multi-layered Security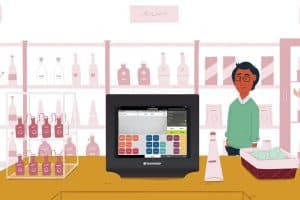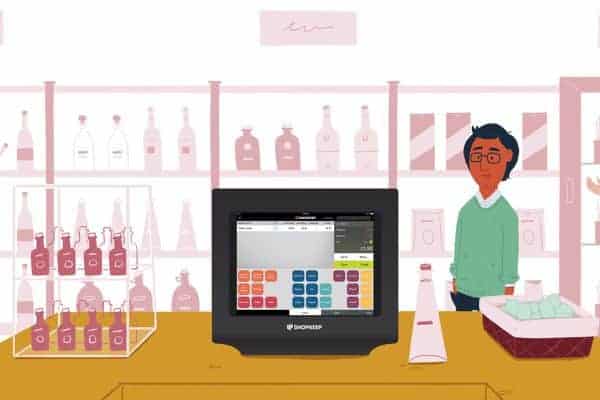 The liquor industry has many regulations. A POS should provide owners with peace of mind by protecting the business 24 hours a day. In addition to PCI compliance for transactions, the program must allow for role-based permissions. Different employees can only have access to specific information they need for the job.
You should be able to monitor and track activity by station and clerk. This will determine how many times something was voided, deleted, or discounted. It helps to identify theft, as well as reward good performance.
Cloud Capability
You should have remote access to the store's data at all times. A cloud-based liquor store POS will ensure that you are always up and running, even if the internet is not. The platform has no need for an in-house server, so a business saves space and cash as well.
This also allows you access via a mobile device. Mobility makes multi-store management much easier and if you are a single location, it facilitates growth.
Cost Comparison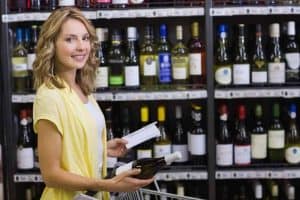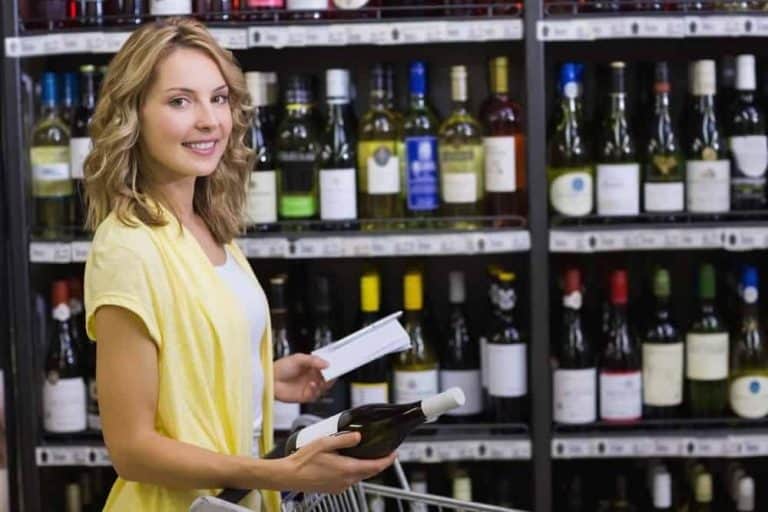 Different companies price out their systems in different ways. Sometimes it depends on the size and age of the liquor store POS brand. Older platforms tend to build and sell their own equipment. This can get costly if you have to buy branded hardware to get started.
Other organizations will lease equipment to you or ask you to purchase from a third-party merchant. All of this adds to cost. Consider upfront capital versus a subscription-based payment structure. Small retailers may be better off paying a low monthly fee until they expand. In these cases, you typically don't own the equipment and it can be confiscated if you stop paying.
Buying the system outright, as a bundle, is a smart option for liquor stores that want to hit the ground running. If you want an out-of-box experience, it's going to be more costly upfront.
Manage Your Business Better with a Liquor Store POS System
Understanding the features to look for in a liquor store POS is only part of the puzzle. It's important to always consider the unique needs of your business. This will help to identify the most valuable platform.
A helpful way to work it out is to ask exploratory questions like:
Do I need remote access or want it?
How many locations do I run?
What is my budget? What am I willing to pay?
How do my customers pay? What are their top needs?
What type of hardware do I need?
As you begin to answer these questions, it will paint a clearer picture of the features that suit your business best.
Remember, there is such a thing as too many features. If you don't need it, look for a simpler program. Integrations and tiered packages are there to help your brand grow. The more time you spend researching and understanding your business, the easier it will be to find a platform that fits!