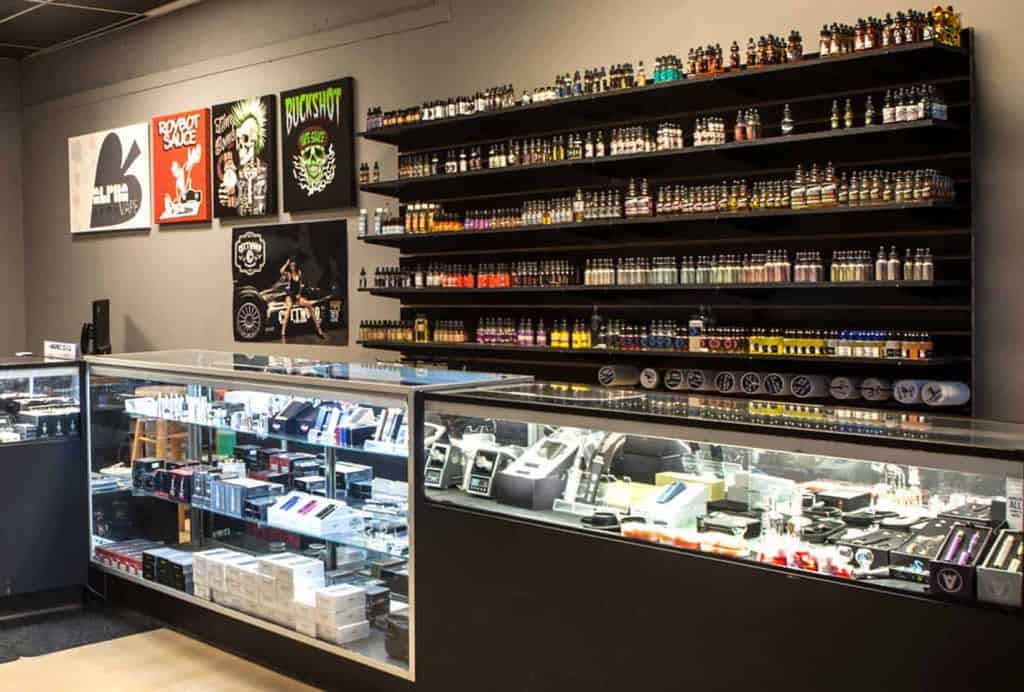 The best vape shop POS system should allow for flexible inventory, employee and customer management. The right system should also simplify vendor relationship management as well as enable you to make informed business decisions.
You also need to get a solution that features an intuitive interface for improved customer service. Such a system will make it more convenient for you to attract and retain customers as well as process work orders seamlessly.
To get such software, you need to consider such features as inventory, multi-location, and integration support as well as reporting and analytic capabilities. Reviewed below are the top four vape shop POS systems you should consider.
The Best Vape Shop POS Systems
Depends on the
hardware
components
you need

$99/month

Starting from 2.6% + $0.30 per transaction for e-commerce
purchases

Depends on the
hardware
components
you need

$69/month

1.75% and $0.10 per transaction, or 2.5% and $0.30 per
keyed-in transaction

Depends on the
hardware
components
you need

$99/month

Depends on the payments
gateway you choose

Depends on the
hardware
components
you need

$49/month

Depends on your preferred
credit card processor
1. The Best Vape Shop POS System Overall: Lightspeed Retail

The Lightspeed Retail POS system for vape shops is equipped with some of the most powerful inventory management capabilities in the industry. The all-in-one vape shop POS system will let you manage unlimited stock variants as well as keep customers coming back and grow the business.
As you will come to realize, the software features an intuitive interface and is packed with flexible vape shop management capabilities. The system will allow you to manage the inventory, customers, and employees in your vape shop from a Smartphone or an iPad.
Other capabilities the software is renowned for include:
Scalable Inventory
In order to give you the competitive advantage you need to succeed in this industry, the provider offers a scalable POS system. To begin with, the software allows you to enter unlimited stock keeping units (SKUs), hence offer your customers a wider choice.
This has been helping vape shop owners keep an accurate track of numerous e-juice flavors as well as vaping equipment and accessories. The system will also allow you to sell bundled, unique or even serialized items that may be requiring multiple variant fields.
With this system, you will also be able to process and follow-up with work orders right from the POS system.  You will also be in a better position to track inventory SKUs across all your locations and generate special orders that are specific to the customers' requirements.
Short Learning Curve
Do not waste valuable business time training new employees on how to use the system. As opposed to some of the leading POS systems, Lightspeed Retail has a comparatively short learning curve.
According to thousands of vape shop owners who are already using Lightspeed, new employees can learn and use the solution within a day.
Again, you will like the intuitive user interface on this system. This allows new as well as experienced users to take orders, manage tabs and process payments fast and efficiently. This being the case, your new employees should be ready to ring up sales by the end of their first day.
Lightspeed POS System Downsides
The software is not capable of adjusting its sync time to your local time zone. Again, the time management app by this provider is not capable of syncing employee time to the POS system automatically.
2. The Best Tablet-Based POS System: ShopKeep

The ShopKeep is known to automate most of the demanding daily tasks in vape shops. Additionally, the software is packed with a range of industry-specific tools to help optimize profitability in your vape shop.
According to the provider, this software lets you run the retail processes of your vape shop on your preferred terms.
The all-in-one POS system includes feature-rich software, customizable hardware bundles, and integrated payment processing. As such, the provider presents you with everything you need to grow your vape shop.
Some of the capabilities you will come to admire about this POS software for vape shops include:
Painless Payments
This POS system features a modern and smart register that is specifically designed for enhanced checkout speed and efficiency. Ranging from ringing up items to inventory and customer tracking, the software has all you need for enhanced productivity.
With this software installed in your business, you will have an easy time processing returns and refunds. The solution makes it possible for you to issue customer refunds from previous or current shifts whether the customer has a receipt or not.
Other register ShopKeep register capabilities that will make your life simpler include easier transaction processing, down payments and deposits and discounting tools.
Easy Inventory Control
Just as is the case with most of the leading vape shop POS systems, ShopKeep features a superior inventory matrix. As such, you will have an easy time creating, selling as well as tracking the various sizes, color, and flavor options in your store.
It does not matter how vast your inventory is, this solution features automated capabilities for enhanced ease of use.  In addition to saving you hours, this solution will help you negate human errors, optimize the inventory and grow margins in the shop.
Again, the ShopKeep POS system for vape shops allows you to add and manage your inventory items in bulk. In this regard, it features a simplified spreadsheet that allows you to upload all items together as soon as they are ready.
ShopKeep POS System Downsides
Like many other vape shop owners, you may not like the Discarded feature on this system. This feature may open a loophole for theft in your business.
3. The Best Multi-Location Vape Shop POS System: Vend HQ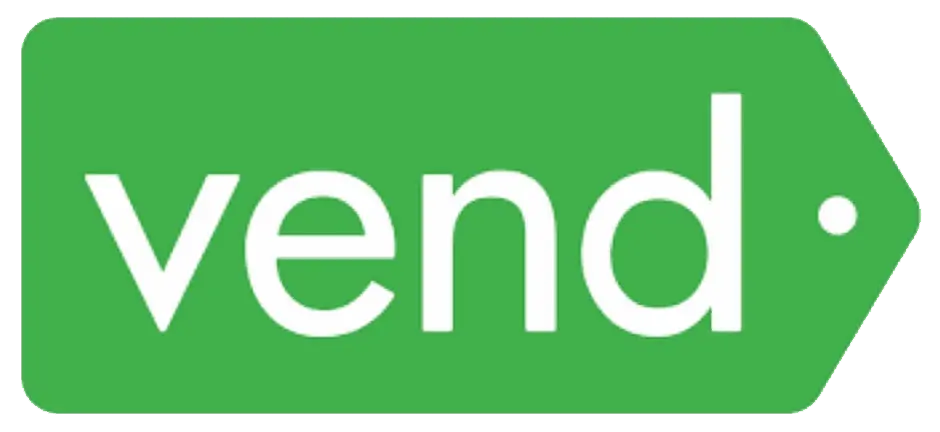 While most retail tasks are demanding, Bend HQ makes it easier to automate and manage them more effectively. In addition to multi-store management tools, the system allows you to monitor and account for sales on the various sales channels.
To boost revenue generation in the business, this software allows for integration with the leading e-commerce platforms. Additionally, the extensive reporting and analytic tools offered by this provider will ensure that you are well informed to make smarter decisions.
Other features that make the Vend POS system stand out from its competitors to include:
Sales Management Capabilities
With Vend POS, you will find it relatively easy to add new business locations as they open up. Additionally, the system supports multiple sales channels to boost revenue generation. It also features an intuitive management dashboard.
This capability offers you a complete overview of all your locations and sales channels. The solution also allows you to connect to business management and sales apps. You will also love the fact that the software features open APIs.
This gives you the opportunity to build your own custom apps and integrate them into the software. Vend will also make it easy for you to manage the entire business remotely through the cloud.
Diverse Hardware Choices
As opposed to some of the best vape shop POS systems, Vend is platform agnostic. As such, you will be able to run the POS software from almost any device, including PC, Mac, and iPad devices.
As a matter of fact, all you will need to access a range of POS tools is a browser and an Internet-enabled device. The system may even work with your current POS hardware. This has been proven to save money on POS hardware.
Vend HQ POS System Downsides
With this provider, you may have to incur additional costs for priority customer support. Again, the provider requires you to purchase add-ons for advanced POS functionality.
4. The Scalable Vape Shop POS System: Korona POS

Smoke away your competition with cutting-edge POS technology. In this regard, the Korona software is designed to make your business management less time-consuming and stressful. In its functioning, the software centralizes your vape shop database.
This, in turn, reduces the confusion associated with moving inventory items from one business location to another. Again, the software is packed with a multitude of tools to enhance business growth.
Here are some of the capabilities that make Korona one of the best software for vape shops:
Fast Transactions
To begin with, the software features a relatively short learning curve. As such, you will be able to train the staff on how to use the POS system in minutes. Again, the provider offers a swift and reliable integrated payment solution.
This solution is designed to boost transaction speeds, hence keep lines in your vape shop moving. With this system, you will also be able to process special orders as well as keep track of your customers.
Cloud-Based Convenience
Most of the leading POS providers in the vaping industry offer cloud capabilities. The cloud capabilities, coupled with the advanced back office tools, offered by Korona will make business management easy.
The software has been proven to be ideal for single business locations as well as for multi-location chains. Korona POS for Vape shops allows you to access real-time data on your business on the cloud using almost any mobile device. With such a capability, you can enjoy the convenience of managing your business remotely.
Korona POS System POS System Downsides
The software does not support many integrations with third-party services. Again, the cheaper packages by this provide lack of some of the important capabilities.
Before Choosing a Vape Shop POS System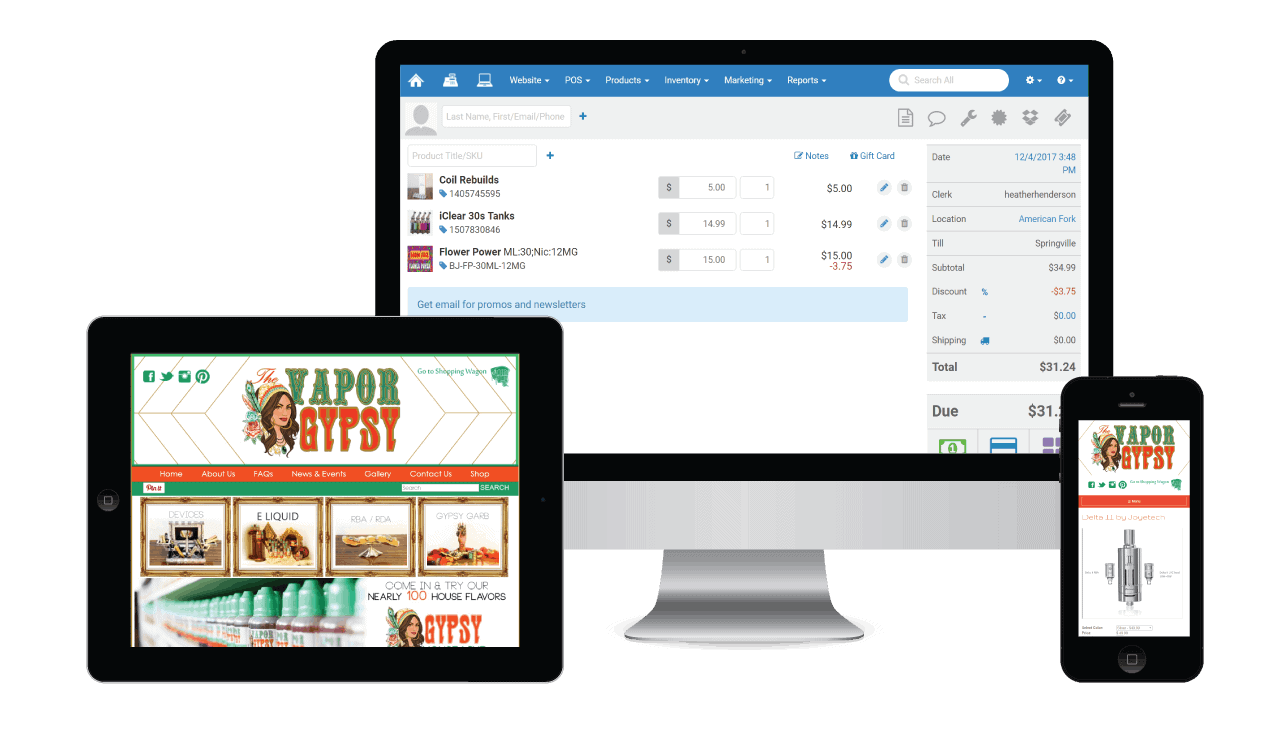 The right point of sale system for a vape store should offer a unique blend of industry-specific capabilities. As such, it is highly advisable for you to go for a solution that offers capabilities beyond sales reporting and credit card processing.
Your preferred system should essentially integrate all your business operations and allow for centralized management of the entire business. Not only do you need intuitive software, but you should also choose a solution that is packed with the right features for your business.
In this regard, here are some of the key considerations you need to make while shopping for the best vape shop POS system:
Vape-Specific Inventory Manager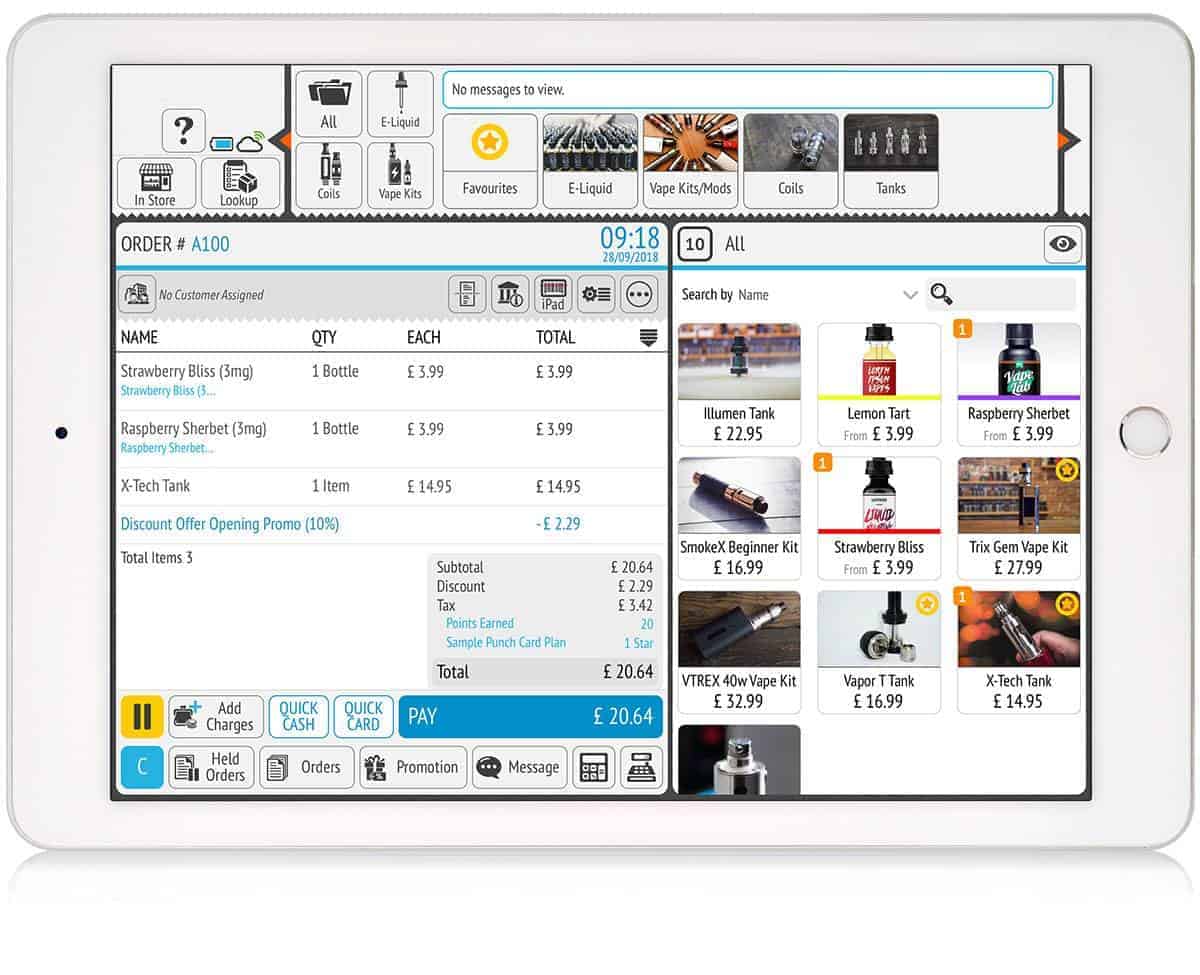 Vape shops are known to deal in a vast array of vape variants and flavors as well as equipment and accessories. This being the case, you will need inventory management capabilities that are specifically designed to handle such a diverse stock.
For instance, it should allow you to add multiple size, style and color options for a single inventory item. The solution should also be capable of categorizing vape store items using appropriate custom labels.
To save you time while compiling the inventory database, your preferred POS should allow you to import data from other platforms using Excel or CSV files. A system that features a pre-loaded vapor database with common products and accessories will also save you time.
Some of the leading vape store POS systems come loaded with vendor catalogs as well, making it relatively easy for you to find and order stock from the largest vendors. The solution you choose should also allow you to create purchase orders, work orders, layaways, and special orders right from the POS system.
Multi-Store Scalability
Even you own a single location business, the right POS system will help you grow the business and even open more locations. When that happens, you will need a solution that may be easily scaled up to accommodate a multi-location business.
For example, the solution should be capable of tracking inventory levels as well as preferences across all your locations from a central point.
You should also get a system that allows for centralized ordering of inventory whenever it runs out. Thereafter, the solution should also make it relatively easy for you to redistribute the stock among the various locations based on demand.
Gift cards have been proven to be an effective means of improving customer loyalty in the retail business. In addition to generating customized gift cards, the system should allow your customers to redeem their cards at any of your locations.
Your chosen POS should also generate detailed reports for the various operations in all your locations. The software should give you a complete overview of the entire chain, as well as an in-depth understanding of each one of your business locations.
Reporting & Analytics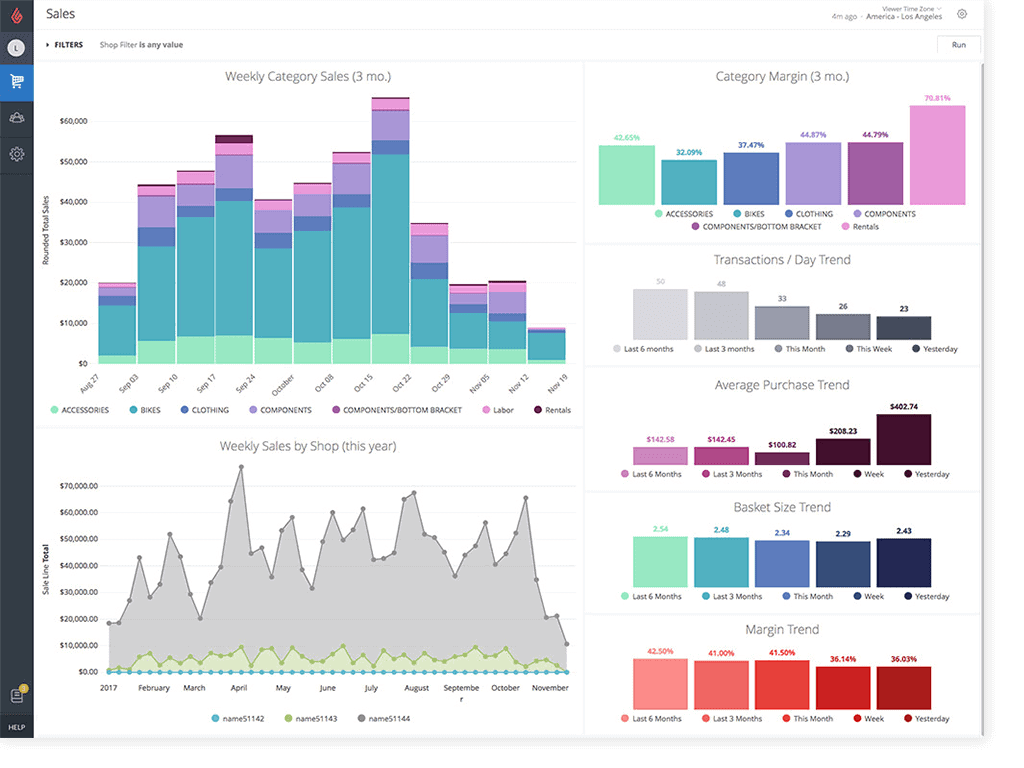 Just as is the case with other retail businesses, you will be required to make data-based business decisions in your vape shop. This being the case, you will need a solution that furnishes you with real-time and accurate data on the business.
This is why you should consider getting a POS solution for Vape shops that features exceptional reporting and analytic tools. For instance, the system should be capable of generating real-time reports on sales, employees' performance and inventory item performance.
For advanced capabilities, it is advisable to get a system that supports integration with the leading third-party services, such as accounting integrations. Again, the system should allow you to export reports in either Excel or PDF file formats.
Integrated Marketing Capabilities
In addition to retaining current customers, you also need to attract new ones in your business in order to optimize profitability. If your preferred Vape shop POS system does not feature inbuilt marketing capabilities, it should support integrations with the leading marketing tools.
In this regard, you will need a solution that can send out automated emails periodically regarding top sellers, upcoming classes or even new arrivals in the shop.
The solution should also feature automated reminders to your customers reminding them of services or classes. In addition to collecting important customer information through the CRM feature, the best vape shop POS software should also allow for targeted marketing.
Our Final Verdict
Get a POS solution that makes it easy for you to manage the vast array of e-juice sizes and flavors as well as vaping equipment and accessories.
Like the four systems reviewed above, the right solution also needs to feature marketing, reporting, and analytic functionality.
Whether you own a startup or a multi-location business chain, this guide will help you choose the best vape shop POS system. Many of these systems can also be used as Smoke Shop POS.
The following two tabs change content below.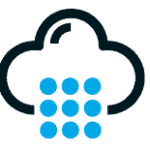 POS Quote Team
The staff at POSQuote.com is composed of industry professionals, experts, and current business owners. Through extensive research, we compile buyer's guides and review the best POS systems in the industry.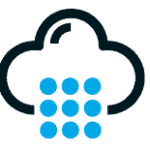 Latest posts by POS Quote Team (see all)