(Last Updated On: April 4, 2022)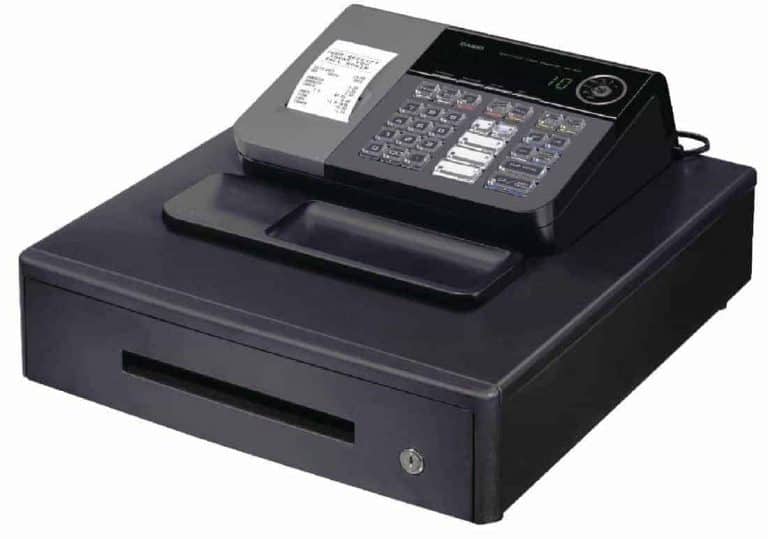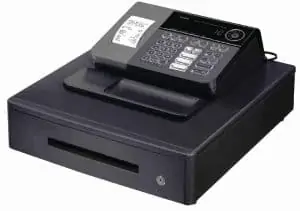 You've created a small business and need to process a transaction. Now what? It's time to implement the right tools that drive sales and stimulate growth.
Most companies cannot compete—let alone operate, without a cash register on hand. Not everyone needs a high-tech point of sales system. It's a costly expense.
However, you still need equipment that can accept all forms of payment. Perhaps even track valuable data. That's why you need a cash register.
The best cash register for restaurants is the Sam4s ER 940. If you own a retail establishment, choose the Casio TE-4500. For bars and small cafes, the best register is Sharp XE-A207. If own a small business, the best register is Sam4s ER 380, which is also affordable. 
To learn more, read our guide below or get quotes for cash registers.

What is a Cash Register for Small Business?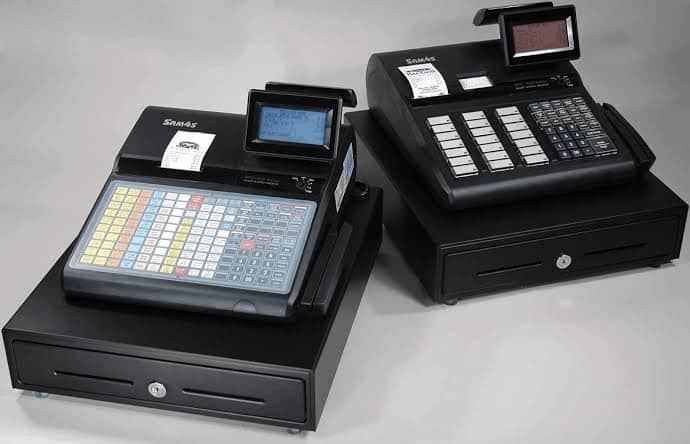 Cash registers are a traditional, electronic payment processing system at a countertop point of sale. The register typically includes a drawer for storing cash and hardware to process credit card payments.
They ensure the checkout phase of your business is fast while keeping accurate records of your daily transactions. They're vital for creating a positive customer experience.
A cash register can facilitate operations without complicating the process. They work well for a business that needs a simple machine to tally sales, complete customer payments, collect cash, and print receipts.
Every brand and model is different, so the hardware you select will be influenced by the workflow.
Here are a few features offered by today's electronic cash registers:
Credit card processing options
Sales and checkout processes
Printing and emailing receipts (paper or e-mail)
Barcode scanners and external printers
Recording customer data
You should be able to calculate tax, tips, and discounts, process exchanges/returns, and integrate a barcode scanner. Although popular with most point of sale (POS) systems, some cash registers also have the ability to perform more in-depth functions, like:
Employee management
Products, pricing, and inventory counts
Reporting on analytics
Customer marketing and loyalty programs
Website and online integrations
A cash register should be easy to set up and user-friendly. Some registers can also handle multi-store connectivity for enterprise-level management. If you already have systems in place (like QuickBooks) look for a solution with easy integrations.
Why Do You Need a Cash Register?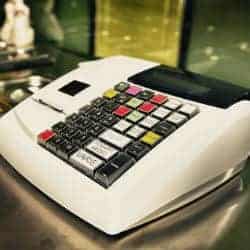 A cash register for small business speeds up the checkout process and ensures a positive customer interaction. A slow checkout process and a long line can have a negative impact on business. People don't like to wait and if your equipment is outdated, they probably will.
Customer Service
A glitchy experience can undermine the hard work you have put into the customer up to that point. It can also frustrate the employee and lead to disengagement. It makes the cashier's job harder and takes longer to make a sale.
A cash register gives the clerk more time to focus on the customer. This enhances their experience and drives further sales. It creates a relaxed situation where interaction can be encouraged.
Detailed Reporting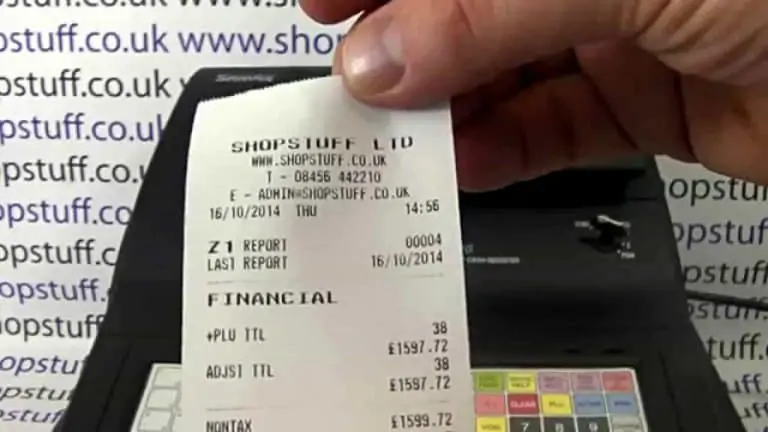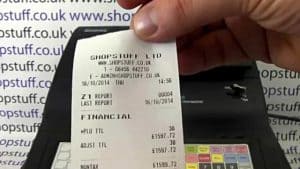 A cash register also provides a detailed sales receipt to the customer. It gives them information on the transaction, as well as future promotions and contact data. The receipt can include information like:
Date and time
Salesclerk ID
Refund/return policy
Sales promotions
Coupons
It's a great tool to keep an accurate record of your daily operations. Even if it's just transactions you are recording.
Security
Improved security is also a benefit of cash registers. Registers are securely locked until a successful transaction is put through. Only the cashier can trigger the drawer to open.
Registers also prevent the need to have money sitting out in public, like a tip jar. This reduces the chance of theft or embezzlement on the shop floor. Every transaction is fully recorded with the time, date, and salesclerk who opened the till.
Senior staff can be provided with an override code or passkey in case they need to issue a refund. Other than that, the drawer remains closed and locked.
Multiple Payment Options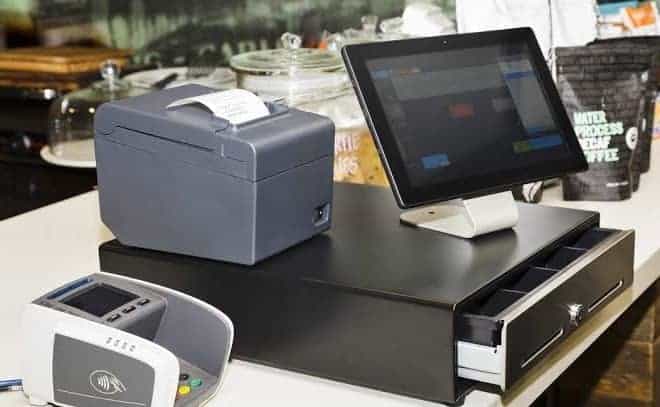 Cash registers for small business work with integrated card readers. This allows a merchant to accept instant credit card payments which are processed securely through PIN readers. With a cash register, a business can accept:
Cash
Credit and debit cards
Checks
Vouchers
Loyalty or gift cards
Other methods (like Apple Pay)
Providing a wide range of payment options for customers invites more people into your store and enhances the consumer experience.
Audits and Reporting
Unlike a normal drawer, cash registers will record detailed information about every sales transaction. All over-the-counter receipts are entered into cash registers. That means, if your business is ever audited, you have a record of each transaction with the date, time, and employee.
Registers also provide you with a way to corroborate stock levels, match inventory, and map out a clear audit trail. A business can use it to ensure that incoming and outgoing costs are balanced correctly.
The Benefits of a Cash Register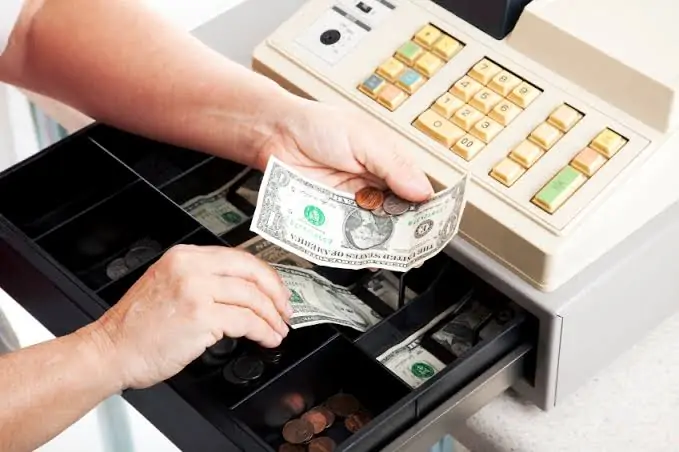 There are clear benefits to equipping your shop with a cash register.
The number one focus should always be engaging the customer but, depending on the system, other advantages include:
Tracking customer transactions
Speedy checkout
Price lookups
Printing receipts
Customer data management
Higher-end models offer more advanced functions like detailed reporting and inventory control. Easy-to-use programs just include a keyboard display and printer.
Possible Drawbacks
Although relatively simple, cash registers still require some training to operate. All models vary, so training on the register is usually needed for new employees. They can also differ in mechanical features, like the number of keys and type of printer. Therefore, it may be harder to train new people who are used to other machines.
Another possible drawback is there is typically no cloud storage. That means if the machine malfunctions, you could lose data. Power outages can lead to a lack of productivity. Your only other option would be a register with POS software, but that can get costly. Some cash registers use battery-backup to override this system flaw.
Industries for a Cash Register
Many cash register companies cater to specific industries that the hardware is built for. Here are some of the functions that are common for each type:
Cash registers for Bars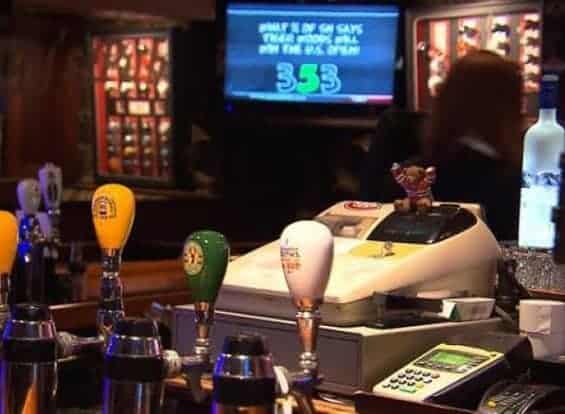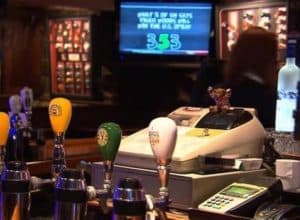 Bar cash registers should always include both unit and dollar sales. Units are what you sell, and the dollar amount is what you take in.
Other key features bars may be looking for include:
Basic transactions
Bar tabs and split checks
Employee supervision (scheduling and clock in/out)
Menu management (happy hour)
Inventory control
Cost and inventory are important for a busy bar. A cash register that has both features works best for this environment.
Cash Registers for Retail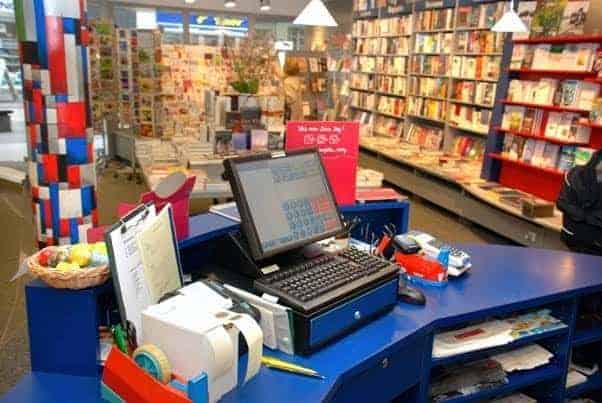 This type of industry largely benefits from KYC (know your customer) strategies. A cash register for retail should highly focus on tracking consumer data and using it for loyalty programs.
A retail store might look for a cash register with:
Accepts all payments types
Key-in drawer security
Detailed customer reporting
Loyalty and gift card programs
Automated marketing
Some of these features won't come with just the hardware. You may need to also purchase POS software to work with it. However, tracking your repeat and new customers is vital for a retail business to thrive.
Cash Registers for Restaurants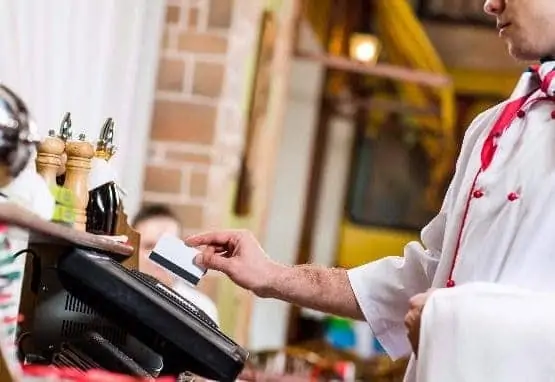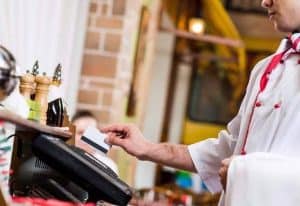 A cash register for a restaurant differs slightly than a bar in the sense that you're dealing with much more inventory and kitchen management.
Hardware that fits this industry should include factors like:
Ability to take all types of payments
Menu management
Kitchen communication
Loyalty programs
Detailed reporting
Of course, the size of your business will also dictate exactly what you need. If it's not necessary, find a simpler register that works best.
Cash Registers for Fast Food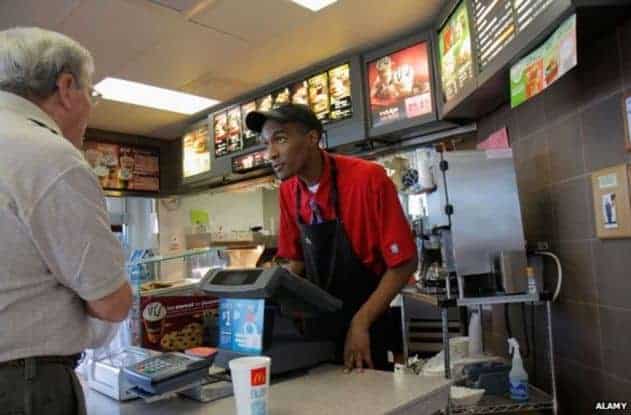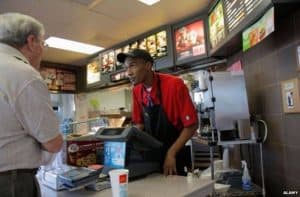 The fast-food industry requires a particularly robust system for quick and efficient management. Also known as a QSR (quick-service restaurant) some key features to this system entail:
Accept all types of payments
Customer-facing displays
Drawer security with manager key-in
Employee management
Inventory and stock levels
The larger the franchise, the greater the need for efficient and smart hardware.
Cash Registers for Gas Stations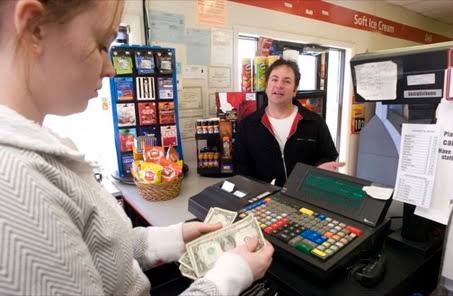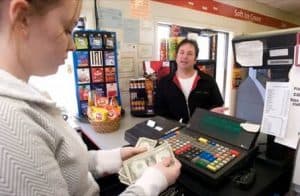 Like fast food, business at a gas station moves quickly. This is what customers expect. A cash register for gas stations has to be simple yet efficient.
Some programs are integrated with a fuel system for easier management.
Look for features like:
All-in-one touchscreen
Customer-facing displays
Emailed receipts
Inventory control
Loyalty and gift card programs
The right register can reduce transaction times while increasing pricing accuracy and producing higher profits.
Top Brands for Cash Registers
There are many companies that have produced this type of hardware over the years. Here's a quick rundown of the top four players in the game:
Casio


Casio has been building electronics since the '40s. In addition to cash registers, they produce a variety of items, like calculators and watches.
The Shibuya, Tokyo-based company was founded in 1946 and is still going strong. Today, they continue to develop top-level cash registers for a variety of industries at high-quality levels.
Sharp


Sharp is a subsidiary of Taiwan-based Foxconn Group. The company employs more than 50,000 people worldwide and was founded in Tokyo in 1912.
The name comes from the owner's first invention. The ever-sharp mechanical pencil. Today, the company holds patents on everything from cash registers to belt buckles.
Royal

The Royal company began in 1904 with the production of a typewriter. Headquartered in Bridgewater, New Jersey the brand has a long tradition of producing innovative and quality products.
In addition to cash registers, the organization produces an assortment of stuff like postal scales, iPhones, and time clocks.
Samsung


In 1938, Samsung was founded as a grocery trading store in Taegu, Korea. It all started with noodles. The company then moved into textiles after the Korean War before finally settling on electronics.
The billion-dollar organization is not only known for its cash registers, but they also develop products like televisions, smartphones, and tablets.
Other brands to mention:
Best Casio Cash Registers
Casio TE4500 – $500-600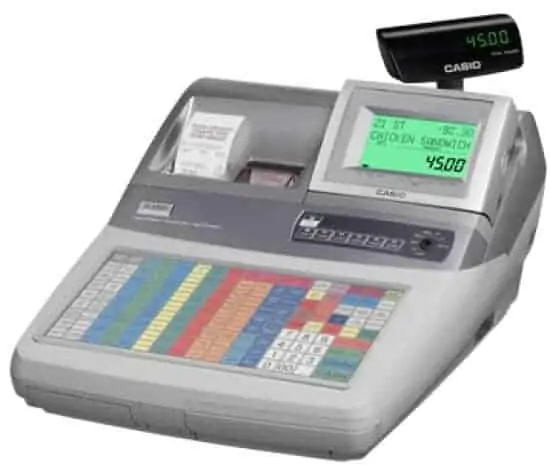 This cash register is made for retail stores, with a multi-line color LCD display that can be tilted for an optimal reading angle. Other features include:
Full keyboard
200 clerk IDs
Receipt printer (watermark and logo printing)
Built-in auto cutter
Scanner
It should be noted that the cash drawer itself is available for an additional cost.
Casio SE-G1SC-RD –  $85-$100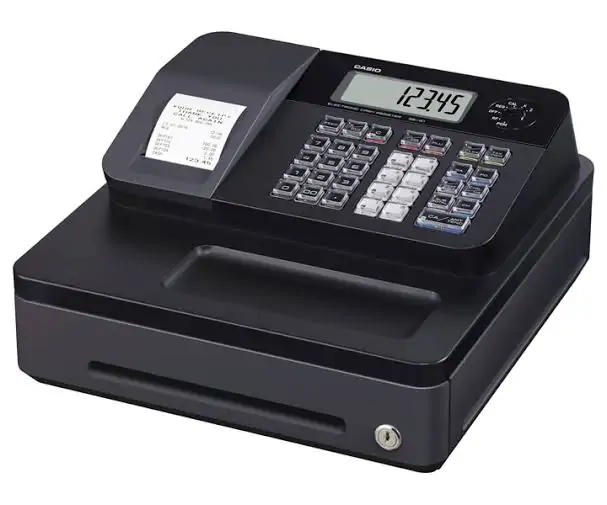 This is a basic register that comes in a variety of colors and performs all the functions necessary to run a small retail business. This model features:
Cash drawer with key lock
Rear LCD display
8 clerks numbers
7 position mode key lock, Interactive setup
8 departments/24 departments
The Casio SE stands out for the flashy colors. If you have a store with bright décor, this could make a great addition to the counter.
Casio PCR-T500 – $200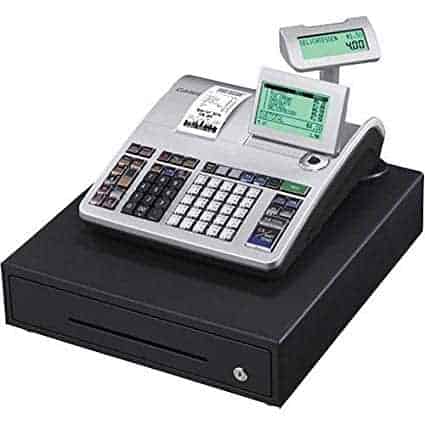 The Casio PCR-T500 register includes everything you need to run a small retail business. It has a 10-line LCD display with easy viewing tilt that combines style with functionality. Other key features are:
Cash drawer
Rear customer display
40 clerk IDs
25 different departments
Up to 3,000 PLUs
This register may be best for a business that sells a lot of products. Retailers can enter prices manually to categorize entry inputs or choose from a list of preset ones.
The cash register comes with the PCR-T500 single station thermal printer, which can be used as a customer receipt printer or a journal printer.
Casio PCR-T280 – $100-$130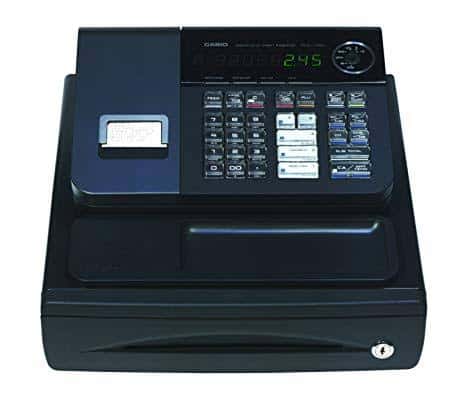 This "entry-level" cash register is popular for its simplicity. It's an all-in-one solution, so you don't need to purchase a separate cash drawer and receipt printer. Everything comes in a bundle. Features for this register include:
1200 price lookups
5 department keys
High-speed thermal printer
Built-in customer display
8 clerk totals
All receipts can be customized with your business name and logo at the top. The register can be programmed to include state tax. The system also comes with a multi-purpose tray and an anti-bacterial keyboard.
The register is lightweight (11 pounds) so it's a portable option for merchants that travel. If your business holds pop-up shops or sells at street fairs, this may be the perfect fit.
It should be noted that to process credit cards, you will have to add a standalone terminal from your merchant account. This model has no connection for an integrated credit card terminal.
Casio PCR-T2300 – $300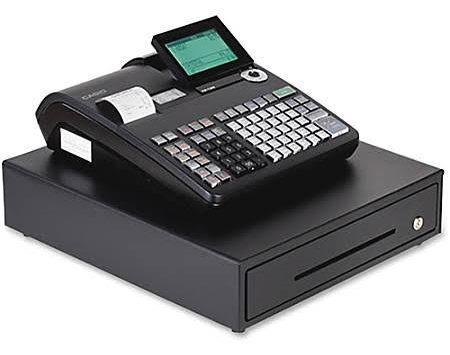 The PCR-T2300 provides the operator a reference for each transaction to eliminate errors. It also boasts a 2×20 pop-up customer confirmation display with transactional data.
Up to five items, the transaction subtotal, and the last item entered are all displayed for your review.
Features for this register include:
10-line operator LCD display with easy tilt
Customer-facing pop-up display
Raised keyboard with 30 department key locations
Heavy-duty metal cash drawer (4 bills, 8 coins)
SD card slot for program backup or reload
The setup for the Casio PCR-T2300 is interactive and comes with a locking drawer. An optional PC programming tool, with four tax rates, can be added on for quicker efficiency.
Casio SR-C4500 – $500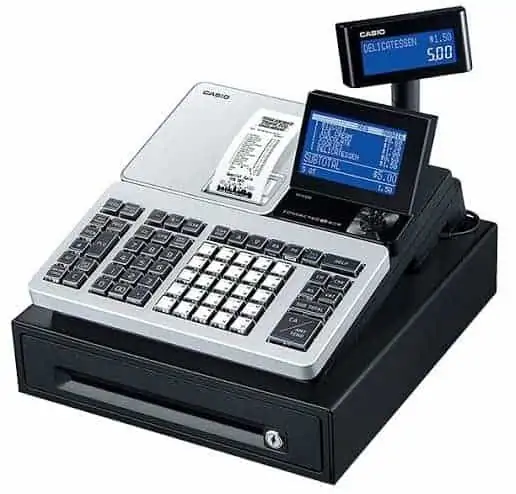 This Bluetooth enabled register comes with smart inventory control and is designed to fit any type of venue. The 72-key position flat keyboard enables merchants to easily sell and track the most frequently sold items.
There are over 7,000 PLUs available to measure sales activity and specific inventory. A guest file is available for stores operating small hospitality venues. Other key features of this cash register include:
Scanner and PAX S300 payment terminal
25 department keys
Small metal cash drawer (4 bills, 5 coins)
SD card slot for program backup and reload
Drop and paper load 2-station thermal printer
The Casio SE-C4500 offers a big step up in functionality from the bare bones PCR-T280. Ringing in at just under $500, it's a jump in price but worth the cost.
This register is ideal for shops with a large product list that needs to track inventory. The automation features alone can increase sales. Just remember, this register might be slightly harder to program than others due to the POS functionalities.
Best Sharp Cash Registers
Sharp XE-A107 – $125+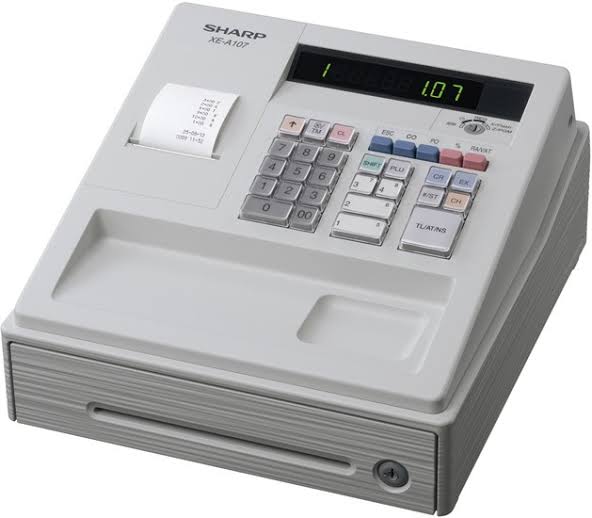 This entry-level cash register is perfect for a small business. Although it's small in size (weighs 8.9 pounds), it's big on performance and offers many features that a simple cash register does not.
This is one of Sharp's most affordable options but is still highly functional. The register includes 8 pre-programmed departments, price lookups, a large display, and 4 clerk IDs.
Other key features involve:
Customized receipts with a built-in printer
Inventory reporting
Locking cash drawer
Large-character displays for easy viewing
Software integrations
The Sharp XE-A107 is one of the only retail cash registers to integrate additional software (much like a POS system). The program comes with a link to your QuickBooks Pro platform. Through this channel, you can directly import sales data to streamline accounting and bookkeeping.
The integration of QuickBooks lets you also manage tasks like:
Inventory tracking
Purchase orders
Business reports
Financial ledgers
Customer information
This cash register uses 2 AA batteries in case you are ever booted offline. The battery-power enables the register to save and store any important data. Unlike many other registers, it's a perfect shortcut to using cloud-based POS platforms (and much more affordable).
Sharp XEA207 – $225+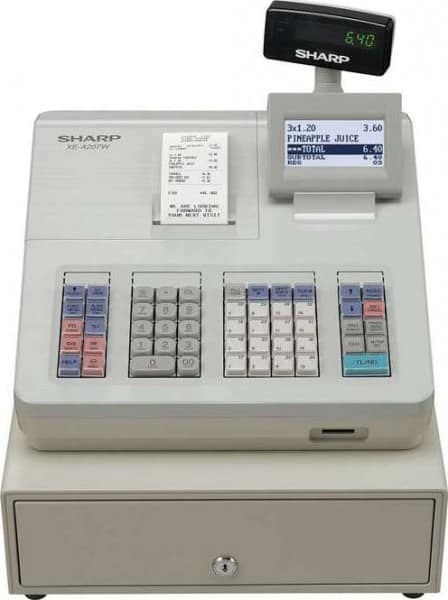 One of Sharp's most popular cash registers, the XEA207 comes with a menu-based control system and quiet thermal receipt printing. The register features a best-in-class 3.7 inch LCD operator display with a one-line customer-facing display as well.
It includes a PC-link software utility for easy programming of your PLUs, departments, and clerks via SD card. Other key benefits are:
2,500 price lookups
Four programmable tax rates
Credit card reader
99 departments with 25 clerk IDs
Setup process that focuses on ease of use
The Sharp XEA207 also comes with an exclusive graphics generator. This enables a business to easily customize receipts and add images and logos. The register also comes with a free offer from merchant services.
Sharp XE-A407 – $300+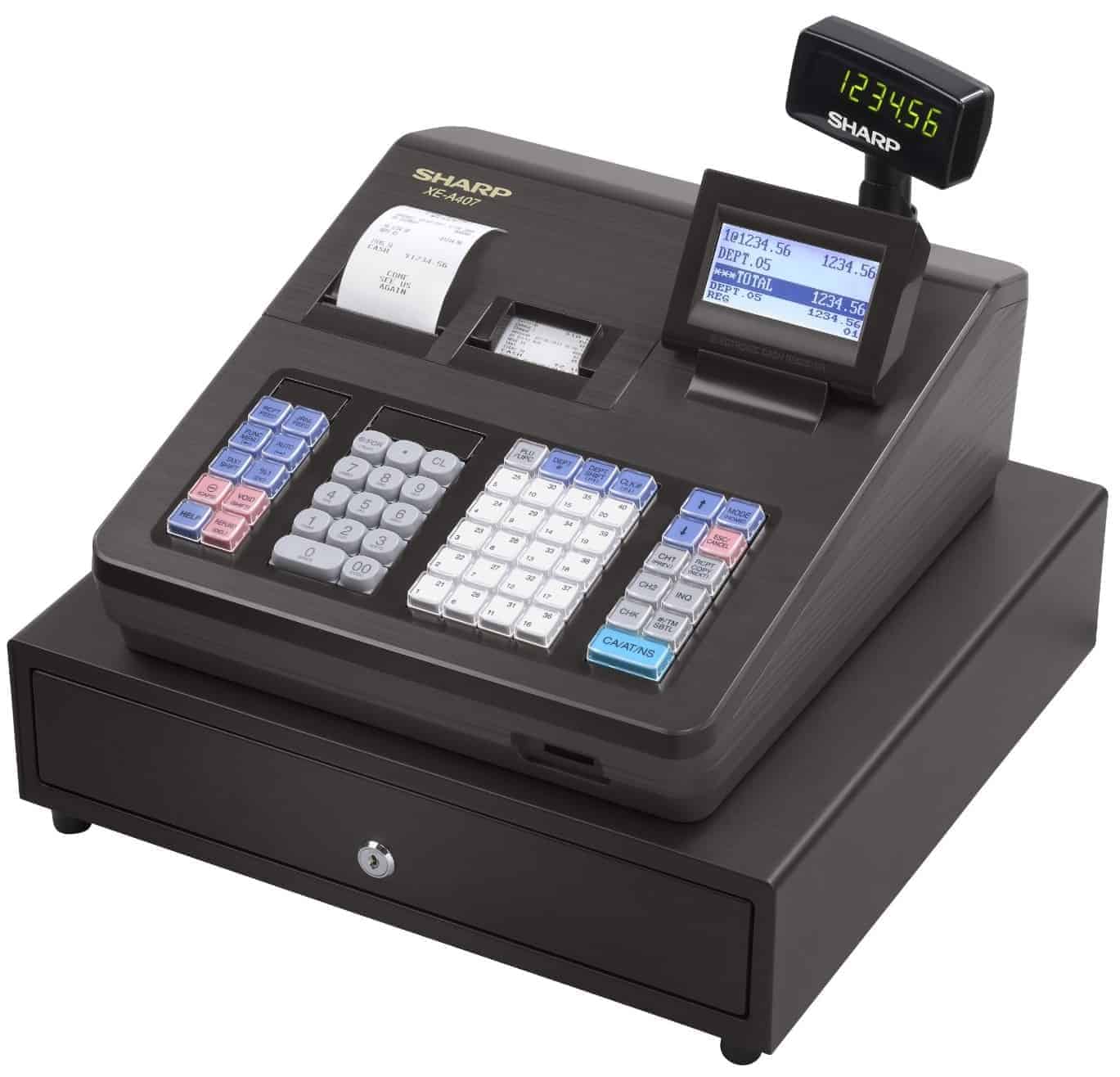 This is one of the more advanced cash registers for Sharp, but the pricing can vary depending on the vendor. Better than the version 207, the A407 is the best solution for a business requiring advanced functionality.
This module includes card connectivity, 40 clerk IDs, and the ability to connect to QuickBooks Pro. Other key benefits include:
32GB SD card
Credit card terminal
Sales management
Personalized receipts
Metal cash drawer (5 bill, 6 coin)
The weight of the hardware is 28 pounds, so it's not easily mobile. This cash register is one of the more savvy on the market due to the POS capabilities (QuickBooks integration). However, this is still equipment that lacks POS connectivity. It's not a connected register.
Top Rated Cash Registers from Royal
Royal 100CX – $100+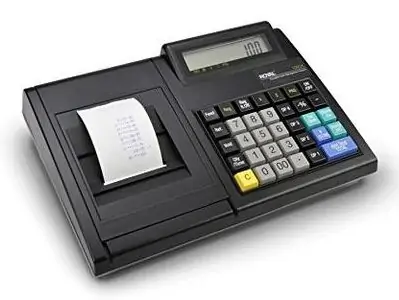 This is one of the most simplistic and portable cash registers on the market. This hardware includes a head unit only and is battery powered. It can hold and track transactions, as well as adapt to standard electrical connections.
This is the best register to use if you have a business that is mobile. The flexibility of the unit enables a brand to conduct the following businesses.
Farm stands
Vendor carts
Food trucks
Pop-up shops
Flea markets
The idea is that this is one of the best registers to service a mobile business. It also has the capability to hook-up with customer kiosks.
This portable, battery-powered register offers features like:
Pre-set pricing for quick, one-key sales entry
4 tax rates, including VAT, Canadian, and add-on
7-digit operator display for easy viewing
Automatic tax computation
4 departments for different categories and merchandise
The cash drawer that goes with this system is sold separately. The register operates on "C" size batteries for up to 8-hours of continuous use. Vendors can also incorporate the AC adapter if they have an option to plug in.
Royal TS1200MW – $630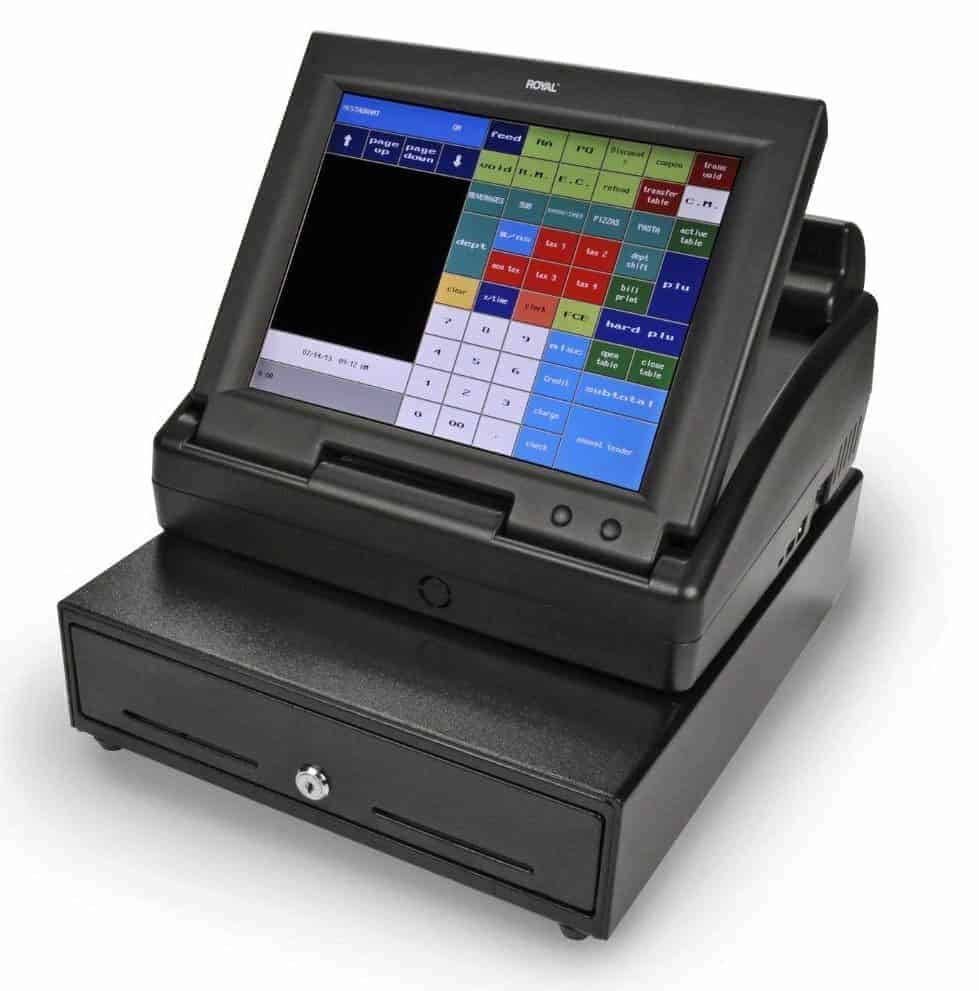 The Royal TS1200MW is a touchscreen cash register that includes user prompts and a 12" color LCD panel for easy operation. The "ID system" allows a business to add up to 40 different employee IDs. This also keeps track of hours, staff data, and tax information.
The price of this register is competitive. It enables a small business to easily program over 200 departments. It can be set with features like "gallonage per sale" and "sales of measured items."
The cash registers include over 5,000 price lookups. You can program these as a 12-character name or description to identify them. Each PLU has multiple price levels. This allows for discounted prices at different times such as Happy Hour or a lunch menu vs a dinner menu item.
Further Reviewing the TS1200MW Cash Register
The Royal TS1200MW has two serial ports that connect your barcode reader to the register and your PC (optional). A journal record can be printed with line-item details for daily transactions (without resetting the data).
This register is ideal for bars and restaurants. It has an age verification feature that alerts clerks to check for IDs using on-screen prompts. Up to 2 different ages can be programmed depending on venue needs.
If you sell tobacco, the age can be set to 18 in the United States. If it is alcohol-related, you can prompt the register to only accept IDs from ages 21+.
There is also a "restaurant mode" for this register. This allows for benefits like:
Multiple price levels for each PLU
Discounted or differing prices during Happy Hour (or other eventful times)
Table tracking which allows guest check and simple table transfer
Remote printer with an optional kitchen or bar printer that's supported
Royal Alpha 7000ml – $300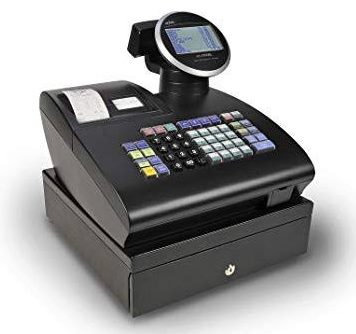 This cash register is geared towards retail. It includes over 200 departments of sales analysis with a 12-character name and/or description.
The price lookup on this machine is extensive. Over 10,000 PLUs for quick and accurate entry. The PLU reports print frequent sales activity.
The register comes with heavy-duty dual-station thermal printer/s that allow both alpha and numeric characters to be programmed for customer receipts and journal entries.
The system can scroll for at least 5 different text messages with up to 42 characters each. This shows across the customer screen in a continuous manner.
The display has a 10-character line operator for optimal viewing and sales experience. The alpha keyboard cuts programming time in half. The department keys are labeled with letters to program the descriptions for PLU's, departments, clerks, and other messages.
Other key features to this register include:
Heavy-duty locking cash drawer
Automatic tax computation (on state and federal level)
Memory protection through battery backup (2 AA are not included)
Optional handheld barcode laser scanner
If you have a new business, the scanner should be an obvious "add-on." Not only does it ensure fast registration of items, it's easy-to-use and convenient throughout the entire sales process.
Best Samsung Cash Registers
SAM4s ER-180U – $180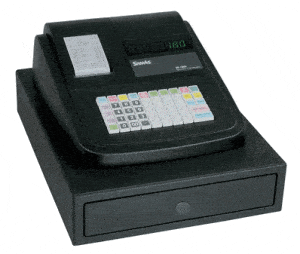 One of the simplest cash registers developed by Samsung, the ER-180U comes with complete customer tracking and history. It's an affordable register designed for small business that also has aspects of accounting.
The accounts receivable feature allows a company to run reports on accounts and easily print statements. The register also has built-in employee management and security.
Other key features include:
Simple integration with QuickBooks, Peachtree, BusinessWorks, and other accounting packages.
Purchase orders and receiving
Extensive options for detailed reporting and insights
Inventory and stock control
This Samsung cash register can help a business get started and measure the initial metrics. If you outgrow the system, Samsung is a brand that is happy to help you upgrade. The key feature of this brand is that they give you access to important metrics to help you gauge success.
Sam4s ER-300 – $350+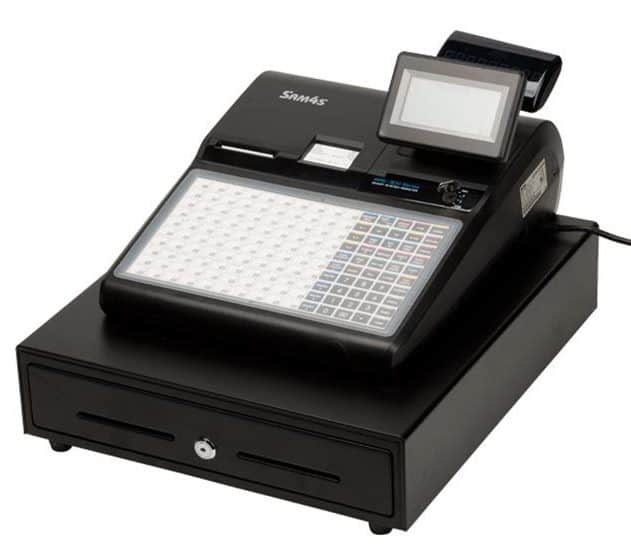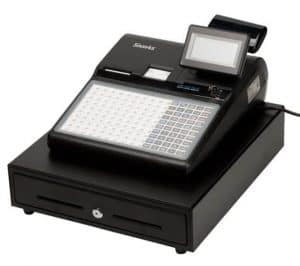 The Samsung 300 series is a fairly budget-friendly option. It gives you the ability to establish 12 different departments and 500 PLUs. It also has a thermal receipt printer, built-in cash drawer, and custom clerk IDs. The hardware is reliable with powerful software.
Features for this system include:
High-speed and real-time network functions
Management reporting with two types of thermal printers
A wide range of peripherals
Large and bright LCD display
The keyboard is built for retail in the foodservice industry. It has a flat and spill-resistant dashboard for easy management.
Sam4s ER-940 – $650+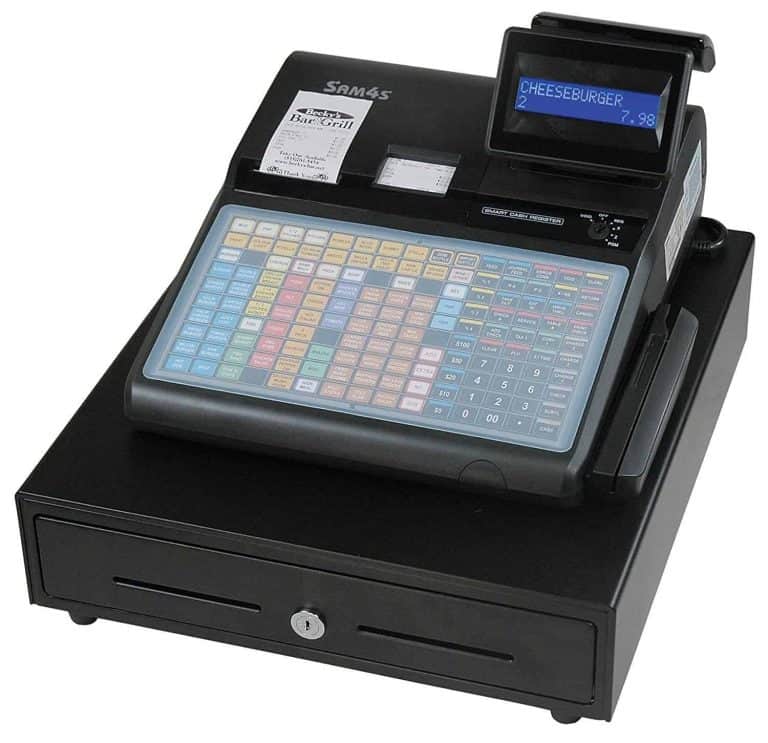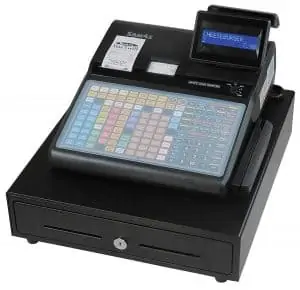 This register was developed for restaurants because it includes a means for kitchen collaboration. One of the largest needs for a restaurant transaction system is the ability to communicate effectively with the kitchen.
The ER-940 has a two-line alphanumeric display that shows each item as it is entered. The system connects to popular POS peripherals and can process up to 2,000 PLUs. These can be directly accessed through individual keyboard PLU keys or indirectly through the PLU lookup key system.
There are two additional ports available for direct or modern PC communications with optional polling software. The program comes with a full-size cash drawer complete with media slots and a removable 5-bill, 5-coin drawer insert.
Sam4s SPS-520 RT – $1,150+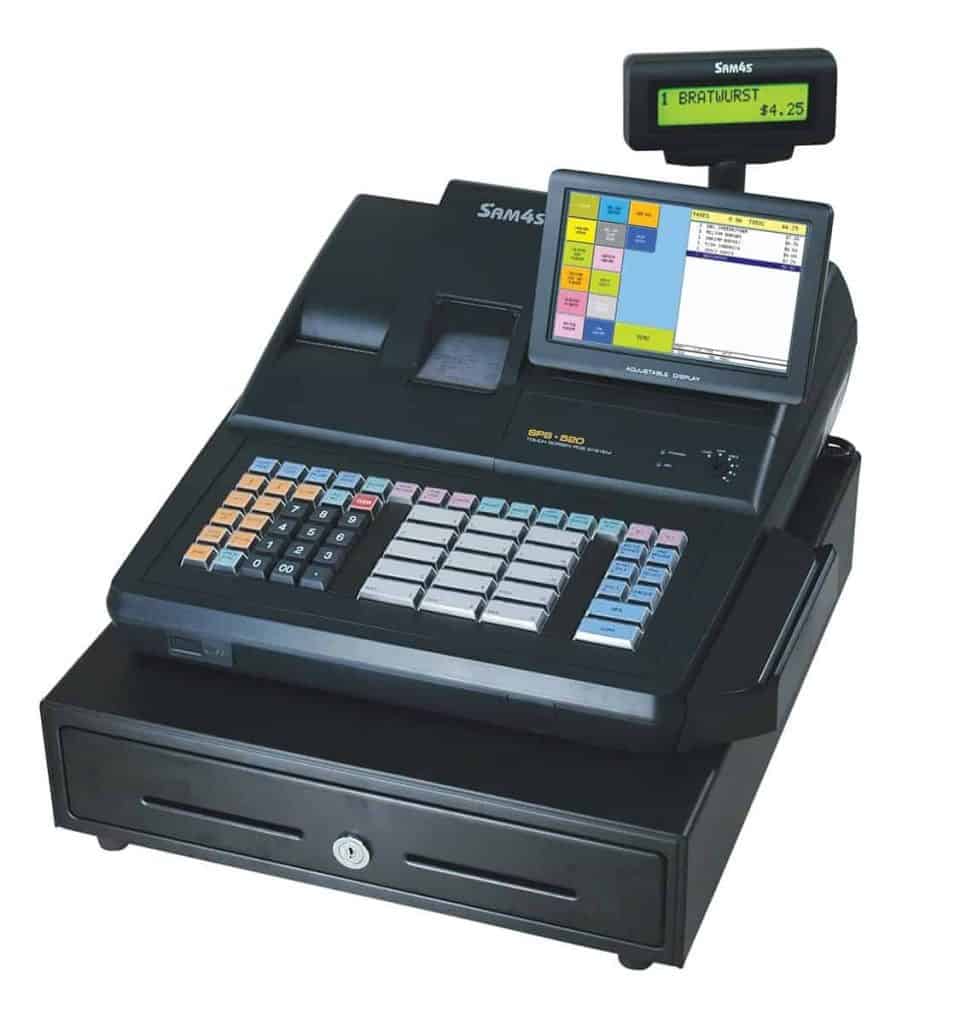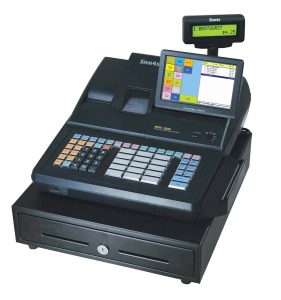 This advanced model includes a bar code scanner, card reader, touch screen display, and the ability to set up 999 clerks and 60,000+ PLU units. The option is slightly pricier because the scanner and printer are included (in addition to data storage).
This is the type of system a store with a large amount of inventory would want to consider.
Other features include:
99 PLU groups with extended memory
Collect or store reports with SD memory card or USB port
Metrologic MS 9540 barcode scanner
Card reader
7" touchscreen
This type of cash register is an ideal solution for convenience, liquor, gift, or retail stores. The reason for the price is the amount of stock and inventory it can manage. If you run a business with considerably less inventory, this system may not be a good fit.
What Did We Learn?
There are different types of technology around every corner. As a small or medium business, the first step is to measure your true organizational needs. This helps define the types of technological infrastructure you must implement for success.
You cannot integrate new technology into the business unless you understand exactly what pain points it will address. Once there is a clear definition, finding the right tool for success is much easier than a needle in a haystack.