Korona POS has a product full of advanced, cloud-based points of sale (POS) solutions for retailers. The software features integrated payments, real-time reporting, and inventory management.
The solution is specifically designed for small-scale to medium-sized retail businesses, ranging from hardware stores and bookstores to bike shops.
The provider also offers POS software versions that are tailored for liquor stores, convenience stores, theme parks, wineries, and museums.
Based on findings by the U.S. Census Department, retails sales in the US increased by about 0.7% in July 2019 (Source).
With this trend expected to continue, especially for online sales, Korona retail POS system will help you get the most out of the opportunity.
Throughout this Korona POS review, you will learn why a growing number of retailers are opting for this provider.
Korona POS System Review – Company Overview
Korona POS software and hardware, as well as the integrated payment solutions, are produced by COMBASE USA. The COMBASE USA POS developer is a subsidiary of COMBASE AG, which is headquartered in Dresden GERMANY.
With offices in the USA, the company was established in 1994, it has had been producing attractive and feature-packed inventory management and POS software solutions for an array of business types.
The company produces several Korona POS software variants to suit businesses within the hospitality, and retail businesses. Their solutions have been helping hundreds of local and franchise businesses uncover new ways of improving their operations.
Korona POS System Benefits
Customizable to meet your requirements
Offers flexible pricing
Strong and reliable customer support
Offered an unlimited free trial
Backed by a 60-day money-back guarantee
Free demonstrations by expert specialists
Does not require contracts or processor agreements
Offers an all-in-one POS and payment processing platform
Excellent reporting and analytic tools
Possible Drawbacks
The more affordable pricing plans of the software only offer a limited number of capabilities. Again, the software does not support that many integrations and users have occasionally had problems with QuickBooks integration.
Korona POS Pricing
Unlike most of the leading retail POS system providers, Korona offers a free, unlimited trial plan. This free plan allows you to have first-hand experience with both the POS software and back-office capabilities of the platform.
The provider also offers a 60-day money-back guarantee on its products, in the event that you are not satisfied with them. Even so, the provider offers a simple, and flexible pricing plan for the POS software, as described below:
This is the most affordable Korona price plan you can get, priced at $49/month. This plan offers basic POS capabilities, including inventory management, reporting, products, and ordering, advanced pricing options, data management, metrics as well as marketing tools.
For this price, you will also get the peripherals you need for a single station setup. The plan Al's features employee options and is highly scalable to accommodate your needs as the business grows. The provider will also offer automatic updates and 24/7 support.
Additional Terminals and Modules
Rather than offering several POS software plans, Korona allows you to build on your standard plan. This is done by adding more modules to expand its capabilities as well as adding more POS stations. Each additional module and terminal by this provider comes at an additional cost.
Each additional terminal will cost you $49/month while modules are priced anywhere between $10 and $50/month per terminal. Some of the modules you will be able to incorporate into your Korona POS system include a restaurant, retails, and ticketing modules.
Korona Hardware and Operating System Requirements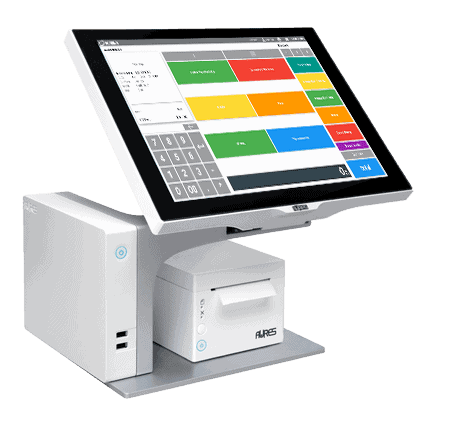 Korona POS software runs on both PC and Mac devices and is compatible with almost any computer operating system. The software may also be installed on Linux computers or even Windows tablets.
The back-office capabilities, on the other hand, can be accessed from almost any Smartphone. The provider also offers its own operating system that may be used on any of its proprietary POS Hardware devices.
Basically, the POS software requires a system with a minimal of 4 GB RAM, 1.7 GHz processor, and Windows 7 or greater/Mac OS 10+/Linux OS.
KORONA POS System Key Features
Almost all the features on the Korona POS software are customizable, including promotions, gift cards, menus, staff permissions, and reports. The cloud-based retail POS system may also be scaled to accommodate the needs of multi-location and franchise operations.
Some of the key standard features offered by the Korona retail POS system include:
Comprehensive Inventory Manager
This is arguably one of the most powerful and advanced inventory management platforms in the retail industry.
Using multiple product codes, the system scans the items in your inventory while assigning each the right information, such as special pricing and container quantity details.
Following its installation, the POS system allows you to import your product database and vendor data from a previous system. This will come in handy for retailers with larger product databases that are time-consuming to compile from scratch.
Other Inventory Management capabilities you will come to like about the Korona retail POS system include:
Tag and Label Printer
You will be able to print price tags and shelf labels for the various products in your inventory directly through the POS system. Price labels can be generated from stock receipts, allowing you to carry out label printing simultaneously to your receiving.
Consolidated Database
It allows you to easily manage a single, but elaborate product catalog, even if you own hundreds of stores and warehouses. This makes it easier for you to transfer items, scale to new locations, and change prices in a simple and organized manner. The system comes with low inventory level notifications as well.
Retail Loss Prevention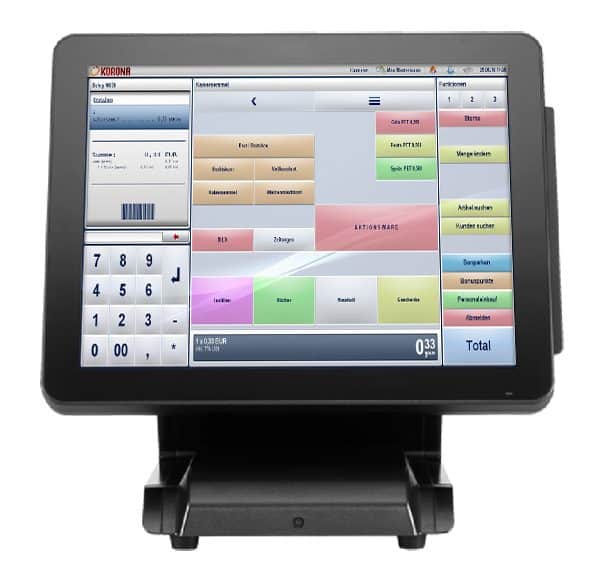 Korona retail POS has a number of tools in place to help curb losses, mainly through employee theft. For instance, some cashiers are known to void receipts or items after the customer has paid in order to pocket the money.
To prevent this, the system allows you to customize the level of authentication required before a void is carried out. Even if the void is valid, the system will record all the actions and include then in each staff member's shift report.
In addition to voids, the system has several other ways of curb employee theft in all channels.
Integrated Payments Processor
For enhanced convenience, Korona features an integrated payments processor. It makes it easy and convenient for your customers to pay using almost any payment method they prefer. In line with the new industry requirements, this processor supports EMV Chip payments as well.
Additionally, it will also allow your customers to use their preferred contactless NFC payment method. Some of the payment options supported by the system, in this regard include Apple and Android Pay.
Reporting and Analytics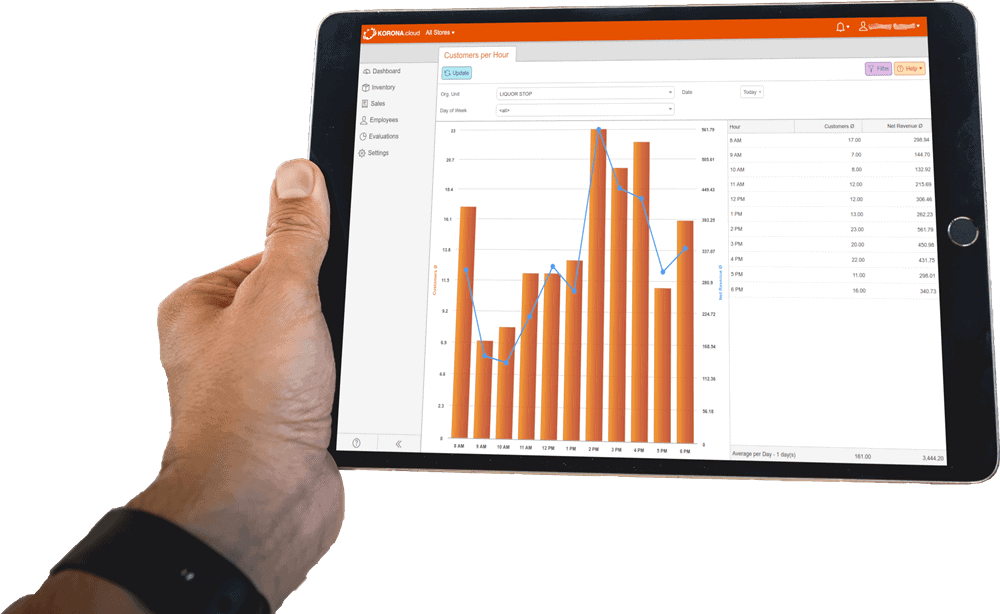 The Korona retail POS software offers real-time, and in-depth reports and Analytics on the various processes in your business. It is designed to continually collect vital business data and update its records in real-time.
You may then access this data remotely through the Korona cloud management system. The system features the renowned ABC product analysis technology.
This makes it possible for you to get in-depth reports and analysis as per product grade. The software is also capable of generating a range of key performance indicators reports.
These will give you an overall overview of how the business is faring at any given time. At the same time, it will highlight the areas that need to be improved for enhanced business health. This pool of information will also come in handy whenever you are making important business decisions.
Final Verdict
KORONA cloud-based retail POS system is a great point-of-sale and back-office platform for small to medium retailers. As you have learned throughout this review, the software has a horde of perks to speak of.
It comes with exceptional reporting and analytic capabilities and decent in-built capabilities. Most importantly, the Korona customer support team is readily available, responding to your concerns in a quick and helpful manner.
All in all, Korona has a solid foundation, offering a high level of customization and strong customer service.
The following two tabs change content below.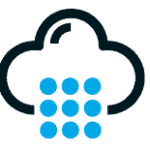 POS Quote Team
The staff at POSQuote.com is composed of industry professionals, experts, and current business owners. Through extensive research, we compile buyer's guides and review the best POS systems in the industry.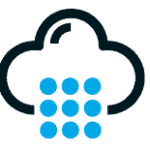 Latest posts by POS Quote Team (see all)
Reader Interactions