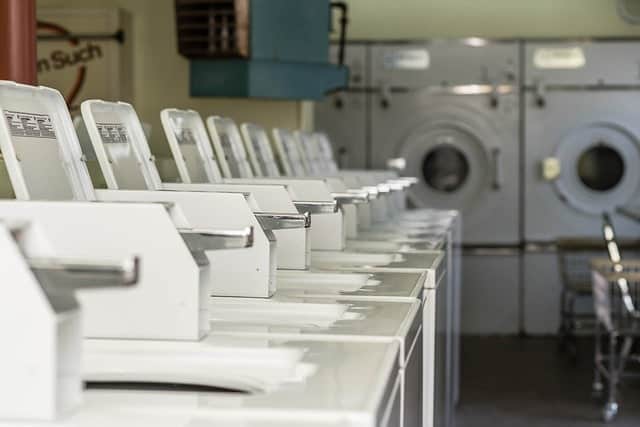 Are you a drycleaner or laundromat owner who's striving to grow your business? You might have come across stumbling blocks along the way, including the expense of software. You need all sorts of different software solutions to run a business these days, including customer relationship management or CRM software, revenue reconciliation, and point-of-sale or POS software.
Not anymore! Cents is a business-in-a-box solution that rolls all those software solutions into one simple, appealing package. You'll find delivery and pickup tracking, CRM, employee management, and POS features in one convenient place within Cents' handy platform.
If this is the first time you're hearing of Cents, then you're certainly going to want to keep reading. This review will tell you everything you need to know about this service so you can determine where Cents fits in your role as a business manager!

Want the best pricing on your POS system?
Compare & save, it takes less than 60 seconds!
What Is Cents?
Managing a dry cleaners or laundromat is a tough job, and no one knows that better than you. If you're having a hard time, it doesn't have to be that way.
Meet Cents. Their single-operating software for laundromat and drycleaner owners includes hardware integrations and software components that companies require to get growing.


Many of the most trusted laundromats and laundry services use Cents, including Super Suds, Smart Wash Laundry, EZ Wash, Laundromax, The Laundry Depot, Clean Rite, and Laundre. Cents has processed so much laundry that it's in the millions of pounds.
According to Cents, you can boost your revenue by up to 25 percent with their service, sometimes higher! Any company–from small laundromats to well-known drycleaners–wants to increase its revenue, and Cents could make it happen.
What Are the Features of Cents?
Now that you've been introduced to Cents, let's delve deeper into its multitude of features, as there are plenty of them.
Store Management System Integration
If you're struggling to oversee your operations, especially if you own more than one laundromat or drycleaner's, let Cents step in. Their store management feature allows you to track all your locations as well as the employees at each so you can ensure that everyone is staying on track even if you can't physically be there to manage them.
Data Analysis
How is your laundromat performing this month? Is your ROI on the upswing or do you need to fill in a gap between this month and the last? Within Cents, you can track all your most important metrics using their data analysis feature.
Having current data lets you change your store management strategy to reflect current conditions. For example, maybe you decide to start upselling more to increase revenue, or perhaps you spend more on your marketing strategy because your income allows for it.
ROI Calculator
Do you often have to sit and comb through receipts and invoices to track how much your company ROI will be for the month? This is incredibly time-consuming, not to mention the rate of human error might cause you to miscalculate and skew the numbers.
Cents' ROI calculator will accurately predict company revenue for you. Having calculations of what your revenue should look like can allow you to make sound business decisions that further fortify your laundromat or drycleaner's.
CRM
As you open more locations, your customer base grows. Keeping track of all your customers can be difficult, which is why many business owners turn to CRM, which we mentioned before is short for customer relationship management software.
Within a CRM, you can input all the contact information on your leads and customers. You can also create communications logs, such as when the customer came in, if they called and what about, and any email chains between you and the customer. This paints a 360-degree view of your customers.
That's not all a CRM can do. You can rely on a CRM to score your leads so you can pursue the most qualified ones. You can also employ automation through CRM, taking care of routine tasks like appointment scheduling or email sending.
Most CRM software solutions cost hundreds of dollars per month. Cents allows you to use CRM, ROI calculating, store management, and more in one convenient tool.
Location Management
With the location management feature in Cents, you can track which employees are working at which laundromat or drycleaners. You can also change the online ordering options and set your service prices without having to visit any of your locations.
Whether you own one laundromat or several, Cents' location management services will surely come in handy in your day-to-day operations.
Inventory Tracking
The inventory tracking feature is another useful one for business owners who are juggling several locations. You'll always be able to track how much inventory volume you have available as well as the contents through Cents.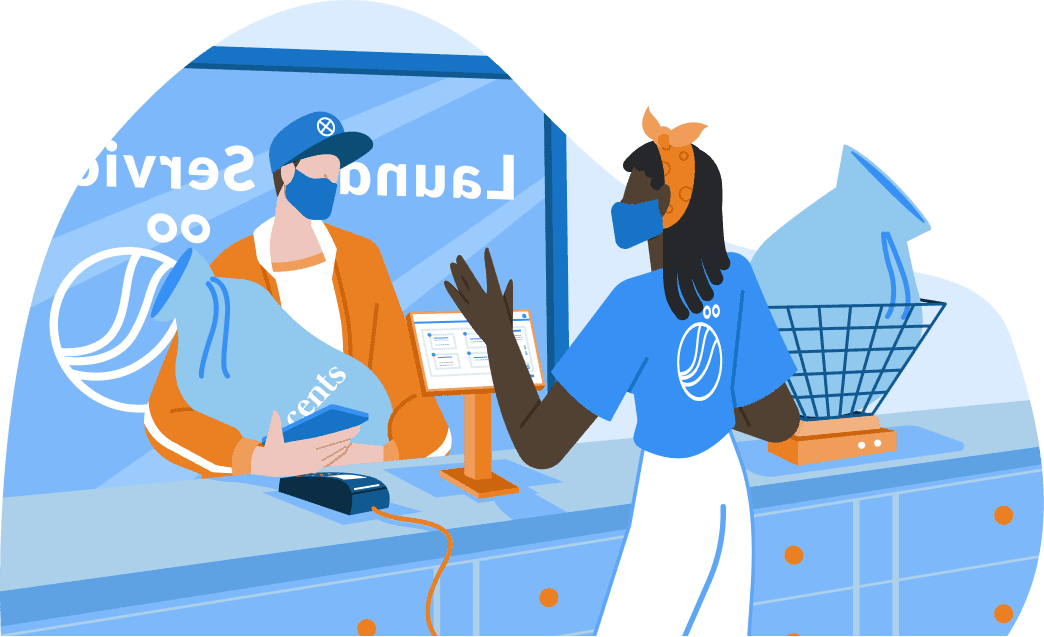 Should your laundromat across town begin running out of laundry detergent, Cents will send you a notification before that happens so you can continue serving your customers seamlessly. You can even order more stock through Cents' system.
Dynamic Pricing
With Cents POS driving your business, you can set dynamic pricing for the multitude of services a laundromat offers. Whether you customize prices by service or even by customer type, Cents will make it happen!
Customer Alerts and Notifications
You don't only receive Cents alerts when your laundromat is running low on stock. You can also turn on notifications for order tracking from beginning to end. If you need to communicate with a customer midway through the ordering process, you can do that easily within Cents. You can even edit orders so customers get exactly what they want.
Self-Serve Tracking
As we mentioned, Cents is more than software, but hardware as well. With their self-serve hardware, your customers will feel more independent. All along, you'll track how your customers use the hardware so you can better understand your customer base.
Order and Delivery Management
The POS system within Cents is one of its starring features, so we saved the best for last! As orders come in, you can review them and their current progress anytime within Cents. The data you can track is very detailed, from cycle stages and machine numbers to order data, employee info, and operations per store.
Who Is Cents For?
Are you wondering if a service like Cents is for you? It more than likely is! Here are the audiences that Cents' services are catered towards.
Franchise Owners
Should your laundromat or drycleaner grow to franchise levels, Cents will be there right along with you. You'll be able to determine which stores are driving the most revenue, how your operating process goes from start to finish, and how your employees could be more productive.
Single-Store Owners
You have but one laundromat now, but you're sure that will change as your business grows. The earlier you have a great business management process in place, the easier it becomes to foster that growth. Cents can help you get there.
Multi-Store Owners
As you add more and more stores as part of your dry-cleaning operation, keeping them all excelling can be difficult. Cents will point out how and where your business can grow and oversee your various locations so you don't physically have to.
Top Features & Benefits of Using Cents
Want the best pricing on your POS system?
Compare & save, it takes less than 60 seconds!
If you're still not sure if Cents is the right option for your laundromat, here are some benefits of this all-in-one service.
Time-Savings
We all only have 24 hours in a day, but when you're a busy business owner, it never feels like enough time. Cents will help you win back more of your time that you can dedicate to your other business operations.
Cents' ROI calculations will save you from having to sit down and manually crunch numbers. You'll also not have to worry about human error influencing the numbers, so you don't have to go back and correct your work.
Automation through Cents' CRM is also hugely beneficial if you need more time. You can automate all the routine tasks that suck up hours of your workweek, creating workflows that you can customize and adjust at any time.
Employee Productivity
It's easy enough to manage one team of employees, but two, three, or four? Cents' store management feature will allow you to review which employees are the most productive versus those who aren't. You can then amend your operations to increase efficiency and productivity. This, in turn, positively impacts your company's bottom line.
Cent says that some of their clients have seen an uptick in employee productivity by as much as 75 percent!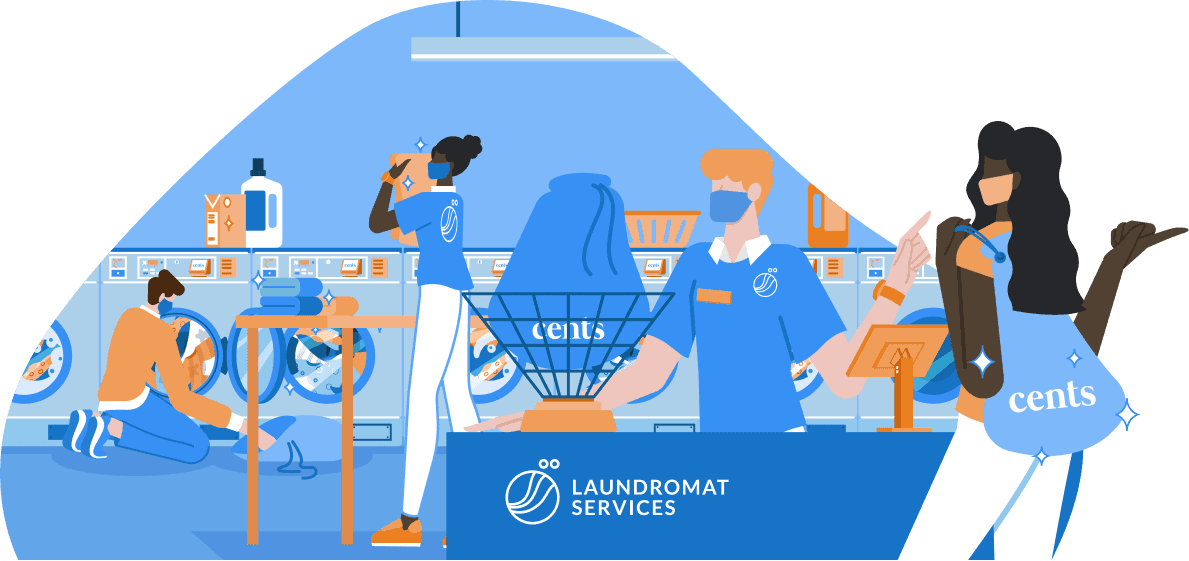 Supply Management
It only takes one instance of running out of inventory for you to never want it to happen again. Prevent repeat mistakes with supply management through Cents. The notifications you get when supply runs low will keep you stocked up before you're down to zero. It's also quite convenient how you can place orders for more supply within Cents!
Increased ROI
The above measures all lead to more revenue. As we discussed before, Cents customers regularly experience at least a 25-percent boost in income. With this uptick in ROI, you can afford to grow your laundromat or drycleaners even further!
Customer Satisfaction
The happiest customers are those whose needs are accounted for and who can rely on you for consistent service time after time. Through Cents, you can become the kind of laundromat or drycleaners that customers tell all their friends, family, and colleagues about!
How Do You Get Started with Cents?
Cents is a laundry operating platform for laundromat and drycleaner owners who want to streamline their operations (especially across multiple locations), save more time, better serve their customers, make more money, and grow.
Through CentsOS and the variety of other features in Cents, you have all the services a growing business needs rolled into one.
Although it's for a niche audience, Cents is certainly a software to consider if you're a part of the laundering industry!
If you want to try Cents for your laundromat, visit their website and schedule a demo.