As POS products evolve, the opportunity to find a niche solution continues to present itself. Through this Toast POS review, you'll see how this provider powers successful restaurants of all sizes.
They combine point of sale, front of house, back of house, and guest-facing technology to create an all-in-one, award-winning platform.
The Toast experience involves a business intelligence solution with restaurant-specific capabilities. In the following review, we'll look at pricing, top features, requirements, benefits, and much more.
Who's Toast POS?
The Toast program started in 2011 as a consumer payments app. Running into outdated systems and roadblocks, the three restaurant professionals, Aman, Steve, and Jon, realized they had to develop a stronger product. Restaurants needed more than running payments.
In July 2013, Toast Point of Sale was launched. The cloud-based restaurant POS software, built on Android, was quickly adopted by the restaurant community. Headquartered in Boston, their business thrives on word of mouth. 1 in 5 of their new customers are referrals.
Toast has a local presence in over 230 U.S. regions. They are partnered with 70+ technology brands and employ over 1,400 people across the country. In June 2018, Toast became the leading cloud-based restaurant management platform with a value of $1.4 billion.
Socially Conscious
The Toast Community is restaurant-first. Their primary goal is to create an experience that best serves their customers. They've established a group of like-minded restaurateurs to network and share in their knowledge.
Toast is based in philanthropy. They run Toast.org, a non-profit foundation committed to solving critical food issues that impact families across the nation. The donor-advised fund is uniquely positioned to galvanize people to support community service. Not only do they back restaurants making a difference, Toast.org develops products that actively improve the food landscape for all.
Their company culture is employee-centric. Toast strives to hire top talent whom they deem the "secret ingredient in the recipe for success." Their teams work cross-functionally to make the environment an inclusive and creative vehicle for innovation.
Toast POS Benefits
Toast offers a variety of benefits geared toward the food-service industry. This includes:
Cloud-based reporting in real-time
Flat rate payment processing
Online ordering system with no third-party fees
Bundled POS packages for easy startup
Hardware designed to withstand tough environments
Toast can be used offline and installed remotely or in-person. Servers and bartenders can use the system for tableside ordering and payments. They offer customizable options for branding with easy to use software.
Possible Drawbacks
Although Toast is Android-based, they do not recommend using any existing hardware with the system. They test all hardware to meet specific standards and demands of the industry; and ensure the quality and performance of the equipment is on par. If you decide to use Toast, you will have to purchase new equipment.
It should also be noted that routers and kitchen printers are not sold in any packages. They must be bought separately. Consider this extra cost when planning a budget.
Toast POS Pricing
The Toast pricing is flexible. They realize the one-size-fits-all plans don't help a restaurant meet daily goals. That's why they offer a variety of ways to equip your business with the right hardware, software, and installation to get started. The standard Toast pricing bundle includes:
Software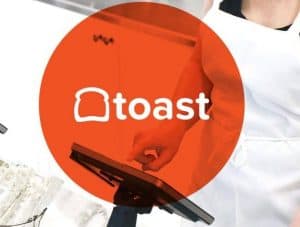 The exclusive online monthly rate for the program starts at $75/month/terminal. This is marked down from a normal rate of $119/month/terminal. You can also purchase at an annual rate of $780. This works out to $65/month/terminal (marked down from $99).
This is the basic package and doesn't include the cost of hardware or installation. The plan has:
Core software: menu management, cloud-based reporting, and kitchen operations
Add-on features: online ordering, gift cards, inventory, payroll and labor
Integrations: access to over 70 of the most popular restaurant partners
Volume and annual discounts
Recommended software add-ons (optional) are billed on top of your selected payment plan. The most popular include restaurant-centric features like:
Online Ordering – $25/month (marked down from $49/month)
Gift Cards – $25/month (marked down from $49/month)
Loyalty – $10/month (marked down from $25/month)
There are other software programs you can use with the Toast Point of Sale. These all have additional and differing costs depending on your setup. You can always call and request a quote or demo on any product Toast offers.
Hardware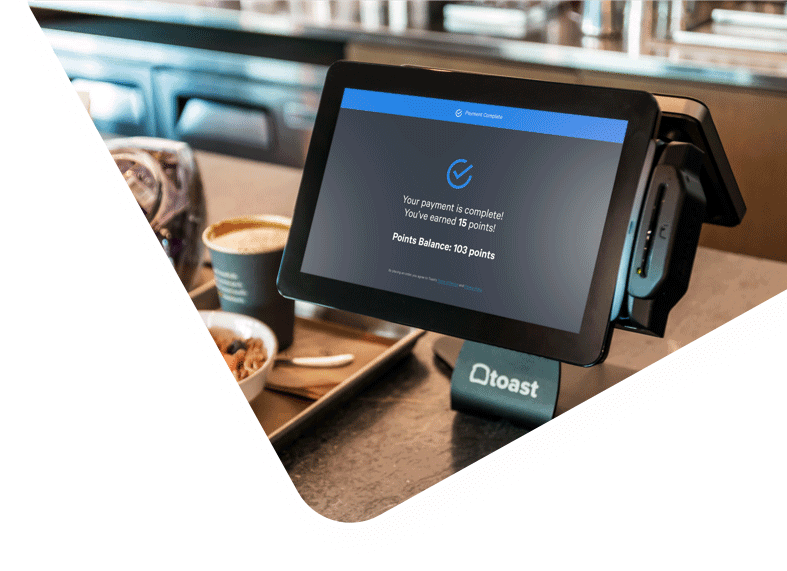 Toast has a durable and extensive line of restaurant POS equipment. Products are built for an environment that is fast-paced and filled with commotion. The back of house is exposed to heat, pressure, and moisture. All of which can affect technical hardware. That's why a normal tablet is less practical.
Select markets offer 0% financing on equipment. It's always best to call and speak with a Toast expert while budgeting out the cost.
The starter package is called the Select 10" EMV Single Terminal Bundle. It comes in black or white hardware with an exclusive online price of $699 (marked down from $1,599).
The bundle includes the following:
Durable hardware: purpose-built to withstand extreme environments
All-inclusive: hardware for the entire restaurant – handhelds, KDS, terminals, etc.
Android-based: platform has more frequent updates and options
There is no set price on the hardware because it depends on what your restaurant needs. However, the most popular solution starts at $899 and includes:
10" terminal
Flip stand
Magnetic card reader
Anything else your restaurant requires beyond those three above must be purchased separately. Add-ons include these items with exclusive online prices:
Additional 10" EMV Terminal with Stand – $499 (marked down from $1,149)
Kitchen Printer – $179 (marked down from $399)
Receipt Printer – $129 (marked down from $299)
Cash Drawer – $69 (marked down from $149)
Installation
Toast will perform installation in-person or remotely. If you are confident enough, it can be done remotely with dedicated phone support from Toast experts. All installation is supported by 24/7/365 phone, email, and live chat. The exclusive online cost is divided into two packages:
Self Install Plus – $250 (marked down from $399)
Premium – $499 (marked down from $849)
The Premium package is suited for a restaurant that is new to a cloud-based POS system and may need more in-person guidance. The Self Install Plus is better for people with prior experience.
Payment Processing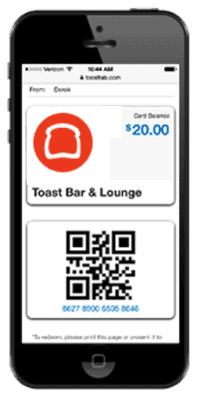 All payment processing fees are integrated. Nothing is hidden. Flat rates are custom built into the needs of each customer. Terminals and handhelds are also equipped with pre-authorization to ensure you never have walk-outs or unpaid checks. Credit cards can always be accepted when the system is offline.
Toast gives customers an a la carte menu of hardware and software. The flexibility allows you to build your own starter kit and the price transparency means there are never any surprises. Whether you are looking to streamline operations or increase revenue, custom configurations allow for upfront and reasonable costs.
Toast POS System Requirements and Capabilities
Toast has one of the broadest offerings for restaurant POS technology in the industry. Both hardware and software systems are robust and built entirely with foodservice in mind.
Hardware
The Toast commercial-grade hardware was developed for the restaurant environment. Not only can it withstand extreme conditions, it is also thoughtfully designed to match your brand's aesthetics. Some benefits of the hardware include:
Withstands spills, drops, heat, and pressure
Hardwired connection with offline mode
State-of-the-art processor and memory
Multiple screens, form factors, and color options
All hardware has consistent firmware updates. The equipment is PCI compliant and PA-DSS certified for extra security. All systems are EMV-capable with a card reader and cardholder verification. Toast offers the following products to equip your store:
Toast Go™
Toast Go is a fully integrated handheld POS system that has a 40% longer battery life than an iPad. It weighs less than a pound and fits neatly in an apron pocket. It also has an integrated EMV reader and magnetic strip for tableside payment processing. Using the mobile device helps improve business with benefits like:
Real-time menu updates
KDS order notifications
Seamless BOH communication
Digital signature and receipts
Real-time feedback
Toast Go allows staff to spend more time with guests and take payments on the go. The extensive menu item detail means fewer voids and comps. It streamlines operations with elevated mobile opportunities.
Toast decided to run their equipment in a real environment. Servers using Toast Go were tested on speed and efficiency. They saved over 2,000 steps in one shift. They spent less time running back and forth and more time making customers happy.
Toast Terminals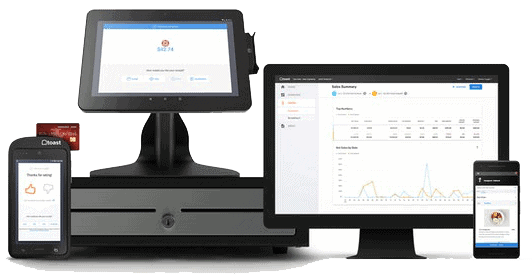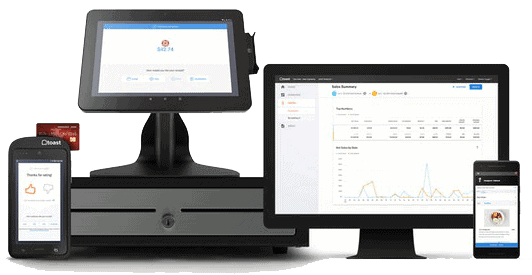 Performing at restaurant speed, Toast Terminals are built to handle the rush of service. The Elo Touch i-Series 2.0 AiO boasts best-in-class security and system reliability, with an easy to use interface. Withstanding the rigors of the environment, some additional advantages include:
Hardwired connection with offline mode
Top of the line processor and memory
Heat and water-resistant
Slim profile with a small footprint
Multiple screen sizes – 10", 14", and 22"
Using Toast Terminals ensures your POS will never slow you down. The durable touchscreens efficiently expedite orders, data, and food. The most popular option is the 10" Toast Terminal with Flip Stand and EMV Reader. It has a width of 11.4", height 7", and depth 1". It fits perfectly at any server or bartending station.
Toast Kiosk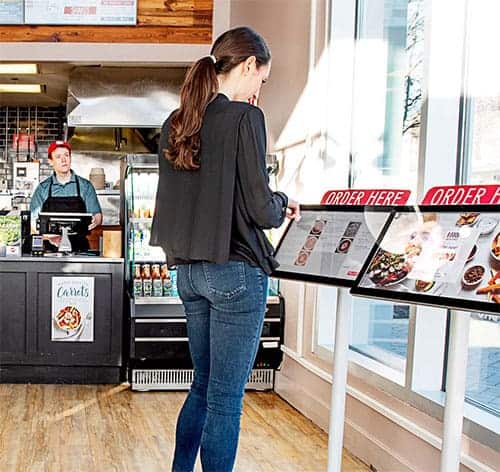 The kiosk is the same model as the terminal, Elo Touch i-Series 2.0 AiO. It's a modern solution for self-service restaurant ordering. Grow your revenue faster, with less lines. Toast Kiosk helps to save money on labor costs and improve the customer experience. The easy-to-use interface gives guests flexibility and offers benefits like:
Optimize staff productivity
SMS order notifications – text customers when ready
Custom image support (show off new menu items)
Scanner integration
Kitchen Display System integration
The upsell prompts help to increase check size and drive customer satisfaction. The concept of the kiosk is a double win. Not only do guests feel empowered while waiting, the self-service aspect means fewer voids and more orders.
Guest-Facing Display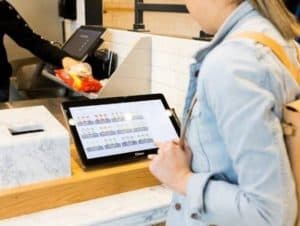 Much like the self-service kiosk, the Toast Guest-Facing Display simplifies the ordering process. It has an integrated reader so people can swipe/dip their cards and a 10" screen. The interface is intuitive. The system can be mounted directly on the counter with other terminals. Guests can tip, sign, and check out all from the same screen.
Toast Kitchen Display System
The Toast network would not operate without the Kitchen Display System (KDS). It seamlessly connects your front and back of house to ensure efficient communication and collaboration. All your practical needs are in one touchscreen with benefits like:
Digital ordering aggregation – from kiosk, online, and third-party channels
Items fired directly to KDS as soon as guest places an order
Production item counts – less time counting, more time to prep
SMS and in-app alerts directly to guests
Color-coded modifiers (dishes rarely sent back)
The restaurant-grade, durable equipment comes in multiple screen sizes. It can be mounted anywhere in the restaurant without losing visibility. The KDS integrates with Toast Go devices for seamless FOH and BOH communication. You can also customize different options in multiple languages.
The KDS has advanced prep station routing with detailed kitchen productivity reporting. Plates are automatically fired by prep time. Tickets are never lost because everything is digital.
This type of technology allows a greater amount of visibility for customers throughout the ordering process. It leaves them more engaged, patient, and excited about tasting your food.
Select 10" EMV Single Terminal Bundle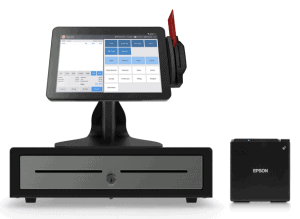 The Toast terminal bundle has everything you need to run your restaurant better. Pricing is listed above. Each bundle includes the following items:
Internet router
Receipt printer
EMV & MSR CC Reader
Cash Drawer
Terminal Flip Stand
Screen sizes are 10", 15", or 22" (prices vary). Options for color are between black and white. Every bundle comes with the power adapter and cables needed for proper installation.
System Accessories
Additional Toast hardware may be necessary to get your system fully functioning. A Toast professional can assist during the installation process to make sure you have everything needed. Other system accessories include:
Epson M30 Receipt Printer: width/height/depth is 5"
Cash Drawer: length/width is 16", height is 4.25"
Epson T20 Kitchen Receipt Printer: width is 5.5", depth is 7.8", height is 5.7"
Barcode Scanner
Scale
Ensure you're always ready for the rush with networking devices and peripherals that promise enterprise-class wireless access points.
Software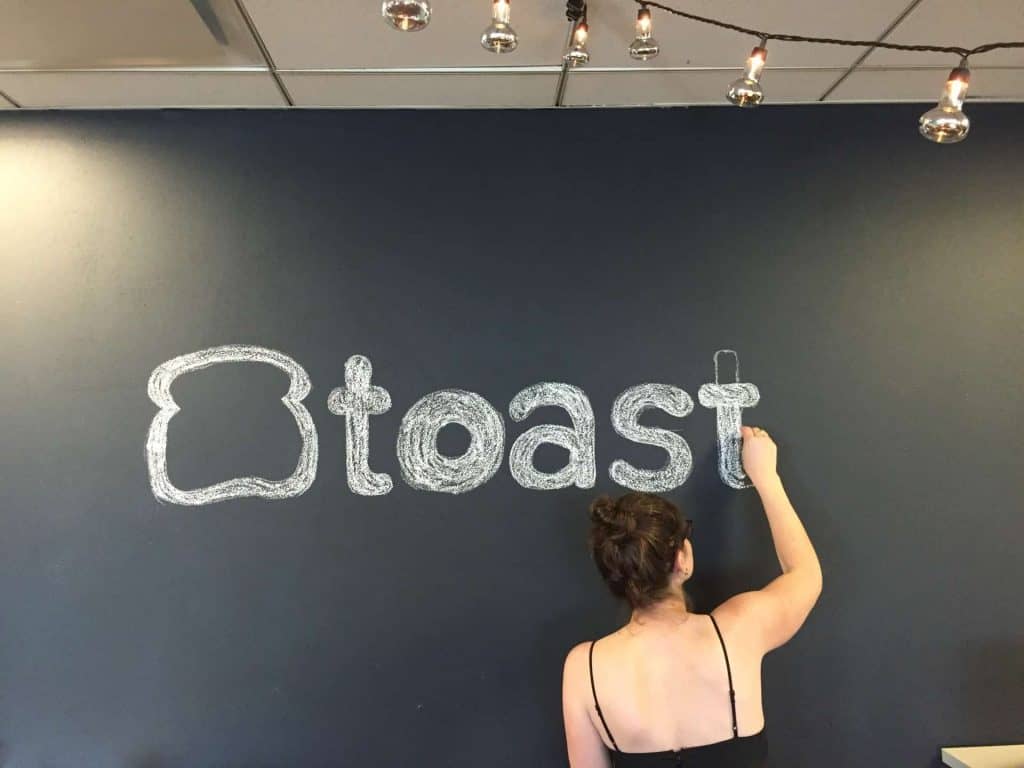 The Toast brand has a variety of software programs that are all intuitively designed to suit the foodservice industry. The Toast Point of Sale is their main product and drives the rest of the brand channels. Their pricing also encompasses the POS software platform.
The system combines POS, hardware, software, payment processing, and a suite of integrations to create a tool that helps a business improve operations, grow revenue, and engage guests. Some benefits to the Toast suite of software are:
Intuitive software with easy installation (guided if needed)
Detailed analytics to measure performance and profitability
Cloud-based access (86 items from anywhere)
Digital gift cards and loyalty program
Incorporate apps from leading partners
All the Android-based Toast software is certified and tested in real-time environments. It integrates seamlessly with the online ordering program. By eliminating useless features and paper trails, staff has more time to focus on what matters.
Toast Point of Sale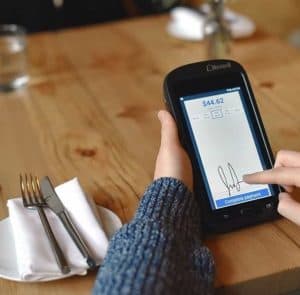 The Toast Point of Sale software is the heart of the brand. It uses cloud-based functions, payment processing, and custom hardware to enable efficient menu control, analytics, and tableside management. The system provides:
Tableside Service
Handheld technology allows staff to run faster service while spending more time with guests. Checkout is more efficient and tableside ordering goes directly to the kitchen. You can also expect:
Order ready notifications to servers
Tableside payments – EMV or credit card
Guest feedback
Analytics and Reporting
Detailed analytics means you can keep tabs on your restaurant no matter the location. Track performance on any device using cloud-based access to key reports. This includes features like:
Location overviews – net sales and labor costs across one location
Sales summary – over any time period
Product mix – identify areas of improvement
Menu Management
A large benefit to digital restaurant operations is the ability to manage the menu. No more chalkboards or whiteout. It also increases communication. Servers know instantly—at the table, if a dish has been sold out (86'd). Benefits to menu management entail:
Make menu updates from a mobile device or terminal
Real-time item countdowns (no surprise 86)
Updates immediately reflected both in-house and online
Syncs servers and kitchen through cloud-based management
The Toast POS software and hardware provide everything you need to begin. However, there are additional items you may want to consider to ensure your restaurant is performing at the fullest potential.
Additional Toast Software Programs:
Toast Online Ordering and Delivery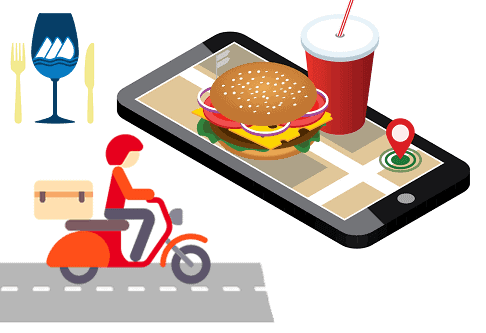 This platform allows you to serve guests no matter where they are located. It provides digital ordering channels that drive ROI and engage consumers. Toast Online Ordering and Delivery helps to reduce third-party costs and eliminate extra hardware. Here are some benefits to the add-on:
Create convenience for customers
Drive revenue with more ordering opportunities
Increase customer retention and return customers ("regulars")
A customizable page for branding
User profiles with saved data (like credit cards)
Delivery zones can be established through the mobile-responsive site with custom ordering hours. The online system integrates seamlessly with the Toast POS software and Kitchen Display Systems. The menu is synced in real-time with modifiers and special requests. Most people always have a smartphone with them, so this is a great addition to the POS platform.
Toast Loyalty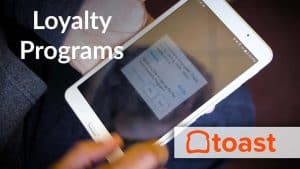 A simple and integrated rewards program, Toast Loyalty can be used to increase guest frequency and improve satisfaction. Automation helps people feel more appreciated. The program is intuitive, flexible, and compatible with any type of payment method. The platform includes:
Opt-in on the checkout screen with email address
Custom sign-up bonuses, accrual, and redemption rates
One flat fee per month
Credit card linked program (no need to print or carry rewards card)
Detailed reporting on loyalty program
Return customers are a huge part of the foodservice industry. Automating the process ensures loyal consumers get noticed with a points-based reward system.
Toast Gift Cards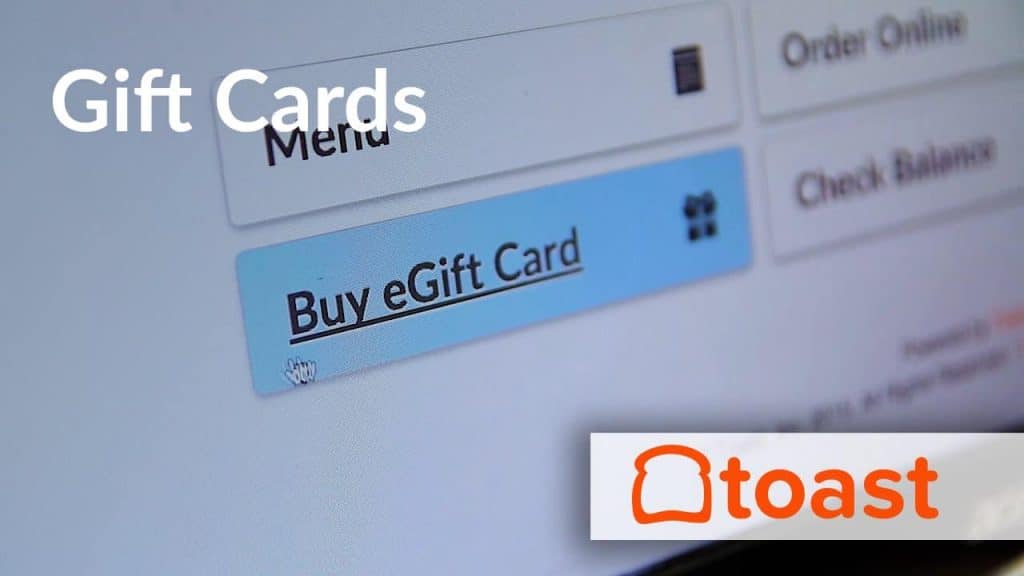 The Toast Gift Card program makes it easier for a restaurant to sell, manage, and track their gift cards. Guests can choose from traditional or digital cards and can access the balances online. Digital cards can be sent via email or text and physical cards can be branded.
Whether you sell in-store or online, track all gift card sales through Toast. Gift cards are also easy to redeem. They can be scanned or keyed-in for fast and efficient payment.
Toast Payroll & Team Management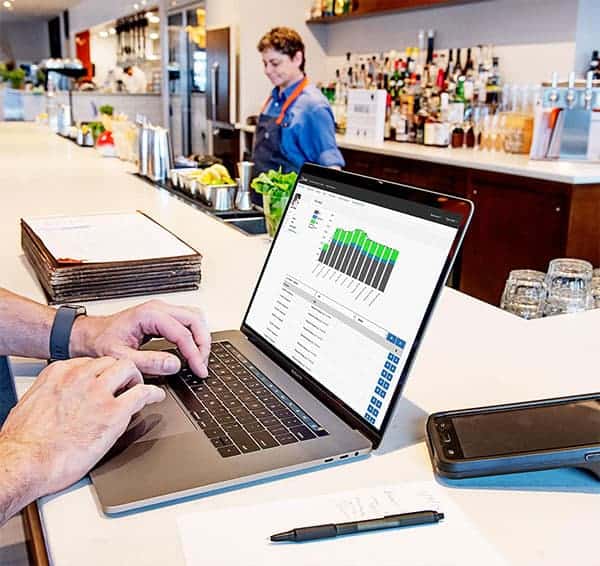 A new edition to the brand, the Toast Payroll and Management Team easily integrates with your POS, providing key payroll and HR tools to streamline business. Reduce time spent on labor and protect your restaurant amid changing regulations. It provides faster timesheet approval with automated tip distribution.
Benefits of this channel also include:
Eliminates manual edits
One employee profile across all systems
Key workforce insights with integrated dashboard
Seamless time tracking
Benefits administration with open enrollment
Toast Payroll and Management Team makes the new-hire process easier with tools to prioritize HR compliance. Accurate payments (multiple pay rates, OT, etc), that are automatically synced with hours, helps to manage multiple employees and schedules. It does the same for the entire payroll and tax process.
Not having to pay for multiple platforms means a restaurant can save on considerable costs. Combining payroll makes sense since you are already tracking employees through a POS.
Toast Inventory
Toast Inventory helps to reduce waste and streamline kitchen operations. Drive down food costs and make smarter decisions with increased inventory visibility.
Some advantages to the program are:
Detailed reporting – Inventory value, Variance, COGS
Waste tracking tools (reduce over-portioning and over-buying)
Inventory sync without the need to export data
Shelf layout (map inventory count against setup)
Menu engineering
Closely tracking inventory means less waste and more cost savings. Toast Inventory makes it effortless to consistently follow stock and make appropriate changes on the fly.
Toast Multi-Location Management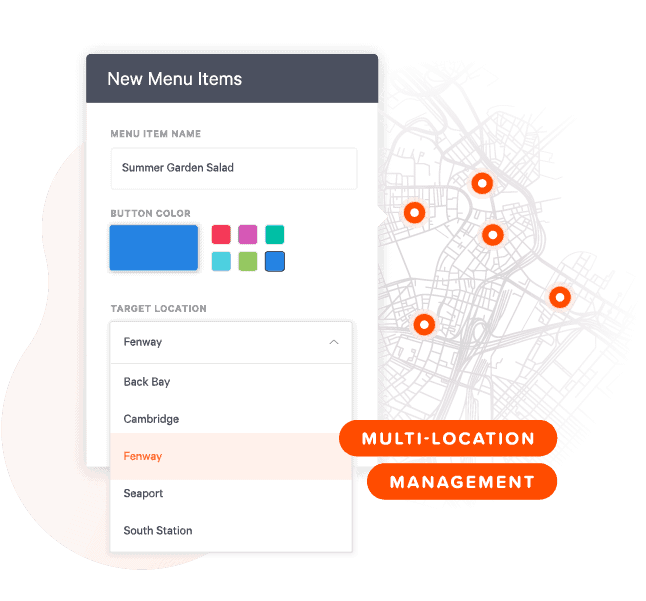 If you operate more than one location, it's important to sync data across all channels before making broad decisions. Standardize operations and configure menus from a central dashboard. Easy menu publishing with location-specific pricing will facilitate management.
Other features entail:
Group location filtering (sales and product mix reports)
Sales categories (compare menu item performance across locations)
Item-level tax rates
Void reasons and discount rules
Prep station configuration
Toast allows you to track menu items and pricing consistently across several locations.
Reporting and Analytics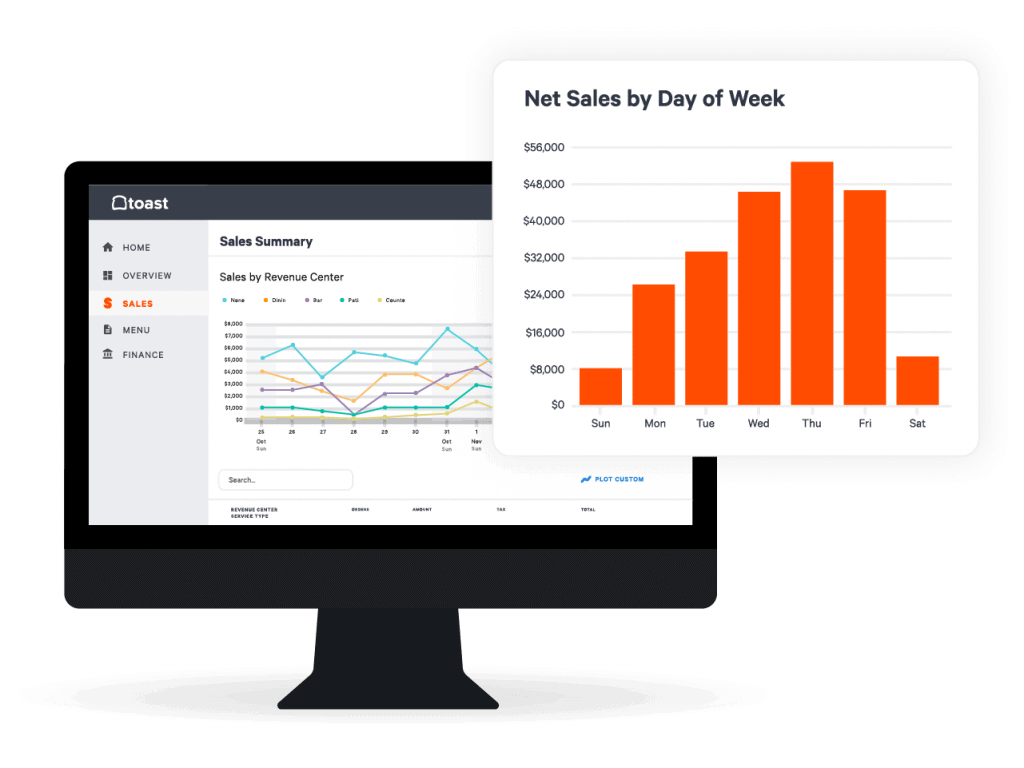 If you need to dig deep into performance metrics, the Reporting and Analytics program drives business insight that powers success. Keep pace with performance in real-time from any location. An automatic nightly email with daily reports helps to analyze real-time data on sales, menu, and labor.
Other benefits to the platform involve:
Data storage in one repository
Comparative reporting (sales across location and time periods)
Best-in-class user interface
Day of the week filter (performance on certain days)
Product mix report (track sales of a menu item)
The Reporting and Analytics channel produces cloud-enabled reporting that helps a restaurant get ahead. Issues can be immediately addressed, bottlenecks can be analyzed, and effective decisions can be made instantly.
Payment Processing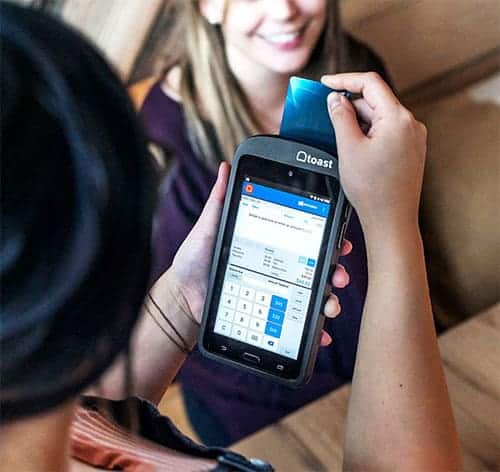 The Toast Payment Processing platform is seamless and secure. There are no hidden fees and one competitive rate for all transactions. They offer a single partner for payment processing with clear and transparent rates.
Benefits of the payments program include:
Custom-built rate based on unique card mix
PCI-compliant platform
Integrated POS and payments data
Real-time guest purchasing reports
The Toast Payment Processing program assigns a single point of contact for any issue in your restaurant, from POS software to credit card processing. Payments can be preauthorized and processed offline with EMV card readers. Guests are never left waiting, and neither is your business.
Guest Feedback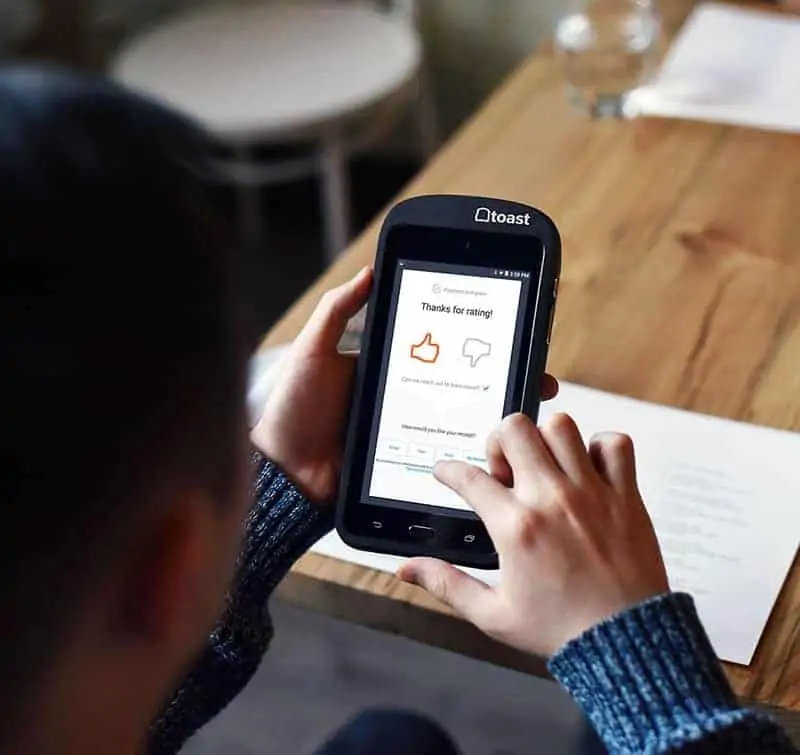 Important data that drives restaurant business is guest feedback. Especially in a digital environment. You want to catch any issue before it becomes a bad review. Feedback also guides staff and improves operations. It helps to build solid customer relationships.
The Toast Guest Feedback program includes features like:
Seamless integration with Toast Go, Online Ordering, and Toast Kiosk
Immediate feedback (thumbs up/down rating)
Analyze performance trends (use it to create staff incentive program)
Detailed feedback report (identify trends)
Guest promotions (happy guests added to loyalty programs)
Toast is one of the only POS programs to integrate immediate guest feedback with analytics for actionable results. There is no need to wait to address complaints. This means an increased opportunity to solve problems and advance the customer relationship.
Installation
Toast designs hardware that is commercial grade and built for the foodservice industry. That means a restaurateur will need some type of guidance with installation. Toast offers two tiers to assist (prices above). Both come with a package of benefits.
Self Install Plus
This installation lasts 4 hours and is done through the phone. It is the best plan for a restaurant that already uses a cloud-based POS. The plan includes the following features:
Dedicated phone support – menu building and team training 24/7/365
Toast University – Access to Toast eLearning platform with virtual courses
Additional training – as needed
Premium
The Premium Toast package lasts 8 hours and is in person. This solution works best for a restaurant that is new to a cloud-based service. It includes all the features in the Self Install Plus plan, as well as:
Complete menu build – Toast rep will build out your menu template and review with you
Site survey – A Toast rep will determine whether your restaurant is physically ready for install
Go-Live support – dedicated support with a Toast rep on your "Go Live" day to ensure a successful launch
2 hours of training – for employees and managers
There is no option to skip the installation process because you cannot use outside equipment with the Toast brand. It is always best to call with questions before attempting something unadvised.
Restaurant Types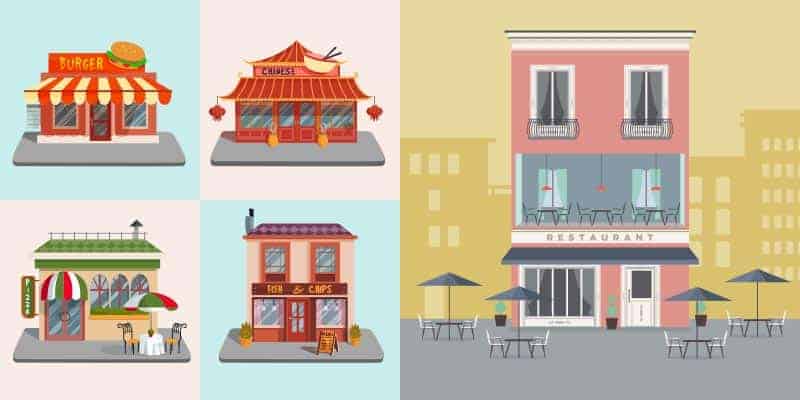 Toast has positioned their products to be bundled by restaurant type. It makes it easier to navigate their solutions and apply one that works best. A fine dining restaurant will not have the same needs as a fast-food establishment. Thus, although the pricing is the same, the offers vary by specific industry segments.
The variety and amount of features Toast provides can cause an online user to get a little lost. Thus, grouping their products by business type is a great way to streamline research and quickly demonstrate the best-fitting solution.
Toast Customer Service & Support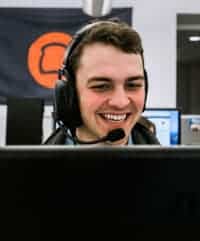 The Toast brand offers extensive customer support through all channels. They consider themselves partners over vendors. The brand is proud to be transparent, proactive, and committed to every customer.
Always willing to share deep knowledge of the platform, 80% of the Toast implementation team has restaurant experience. Customer support is more community than assistance. This includes tailored installation and network configuration with full system setup. They offer services like:
Automatic software updates (new features and upgrades)
In-person training and Go-Live assistance
Access to Toast University with interactive content
Extensive knowledge base and help center
Feedback through the VIP table
Toast Central is a great place to start with support. An innovative training resource, it's a dashboard that houses everything from the help center to the university portal.
Alternatives to Toast POS
The Last Dish
The restaurant industry can be particularly resistant to change. Shaking legacy systems is difficult. However, to keep up with the changing landscape of modern business, it's essential for a restaurant to get connected.
Toast Point of Sale (and the additional products they offer) cover every need, want, and requirement a restaurant should have to digitize their operations.
The more in tune your restaurant is with tech, the more time your team has for guests. An enjoyable dining environment has more marketing power than any advertising dollars you spend.
It also increases employee morale and enables your staff to focus more on what you hired them for. Creating a positive experience that surrounds your brand.
The following two tabs change content below.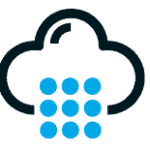 POS Quote Team
The staff at POSQuote.com is composed of industry professionals, experts, and current business owners. Through extensive research, we compile buyer's guides and review the best POS systems in the industry.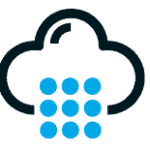 Latest posts by POS Quote Team (see all)
Reader Interactions