Last Updated on December 3, 2021 by POS Quote Team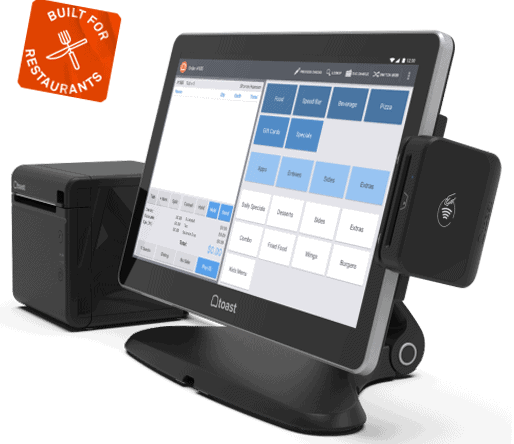 Do you need a system that will grow with your restaurant? 
Take a look at Toast. This POS system streamlines your delivery process with no upfront costs or extra hardware. Dispatch local drivers with real-time monitoring that offers a safe and seamless delivery experience. Capture customer data that feeds directly into your marketing strategies, with zero commission fees.
Need to increase sales and tighten up operations? Toast has a grip on every single management and sales feature.
In this Toast POS review, we show you how the platform streamlines communication with a kitchen display system that separates orders by station. The Toast software prepares you for contactless interactions with curbside pickup and online ordering. The system has fast payment processing and robust mobile capabilities to improve margins during slow times and increase customer retention.
Toast Go 2 is a handheld mobile device that allows staff to easily take tableside orders and payments. Increase check averages with automatic item modifiers and improve quality with instant notifications when food ready. Reduce the time it takes for orders to get to the kitchen and keep guests happy.
Toast Payroll and Team management helps schedule the right people to drive sales and boost profits. Address mobility challenges with tableside ordering and delivery integrations. Toast offers reporting that oversees staff performance, net sales, and labor costs.Guest expectations are at an all-time high. Toast Loyalty is a program that beats the competition. Capture customer data and reward people with custom deals that keep them coming back. 
Some of the most successful restaurants use Toast and for good reason. In this review, we look at top integrations, cost expectations, hardware, services, and other features to help you determine if this is the right fit for your business.
How Much Does Toast POS Cost?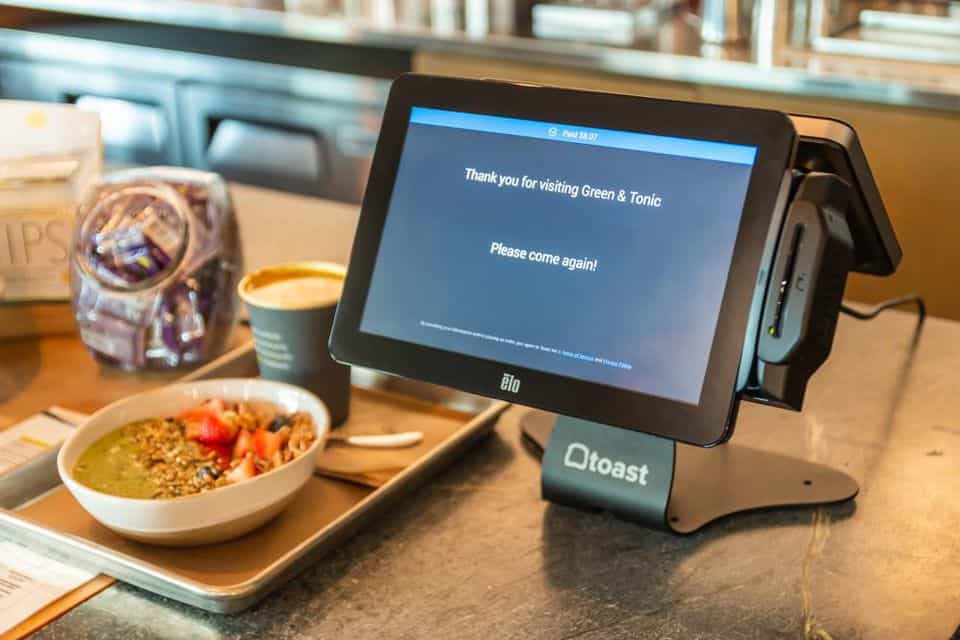 The cost for the Toast POS system starts at $0/month for the software and $799 upfront with a $69/month subscription for hardware. The point of sale Essentials package is $99/month and the Growth package is $189/month. Taxes and shipping fees are separate.
Digital ordering solutions start at $50/month for Toast Now. The Toast Now Plus package is $75/month and the Toast Now Premium package is $150/month. 
The Toast solution has no upfront costs or commissions from third-party platforms. Standard payment processing rates apply when you make a sale. 
Online ordering solutions can be integrated with any internet-connected device with no purchase of hardware or POS software necessary.
Upfront Costs
The upfront costs for Toast include hardware and implementation, which varies depending on your installation and hardware packages. 0% financing is available by application and is subject to approval. 
The Starter package also offers a "Pay-as-You-Go" plan that reduces upfront hardware and installation costs through an all-in-one uniform rate. 
Pros/Cons 
Here is a brief list of pros and cons you can expect when implementing the Toast system:
PROs
Tableside service with handheld devices to spend more time with guests

Detailed analytics and reporting in real-time with cloud-based access 

Menu engineering with item countdowns and automatic updates

Employee scheduling with payroll, timeclock, messaging, and interactive training

Toast TakeOut App, third-party delivery integrations, and contactless payment

Online ordering to drive revenue and consolidate sales channels
CONs
Toast customer service can get very busy with delayed responses and limited staff

Payment processing is inflexible, with a standard Toast rate

The software is subscription-based which makes it costly for seasonal restaurants

The number of system features can overwhelm staff and create a sharp learning curve

You cannot process gift cards offline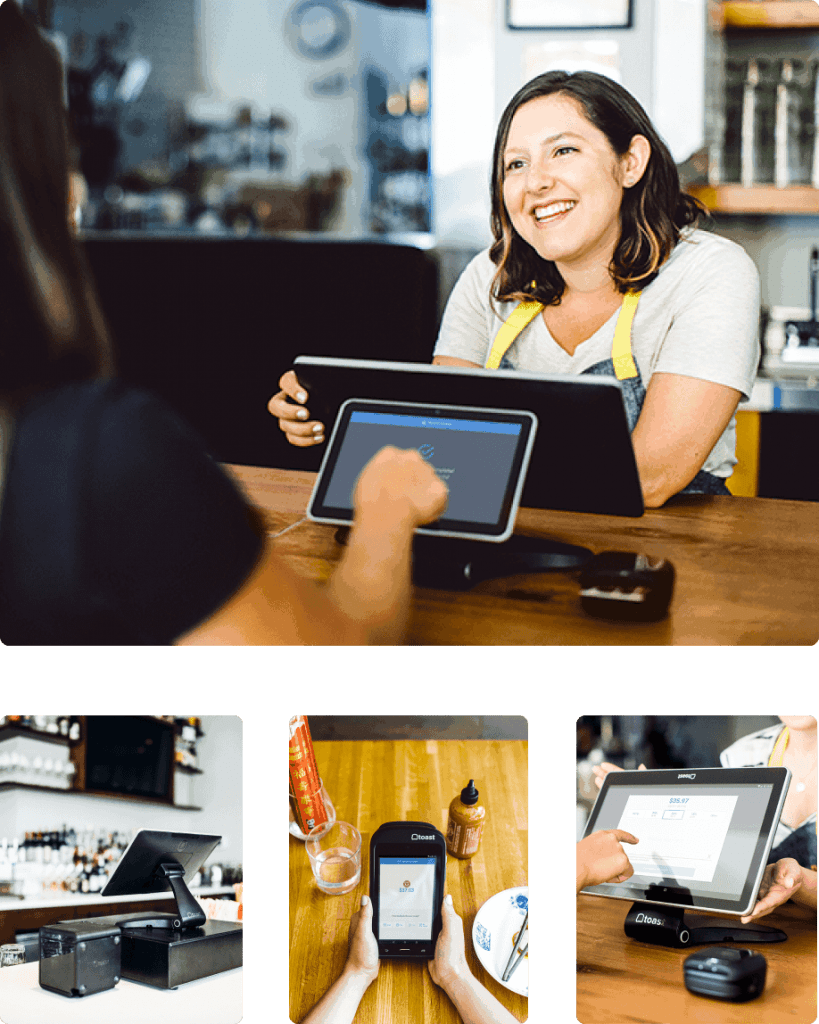 Don't have time to read our full review?
Skip all the nitty-gritty details about this POS system. Easily customize a point-of-sale solution for your restaurant in just 60 seconds by
clicking here
. If you're not in a rush, read our comprehensive 5000+ word guide on the
top 20 restaurant POS systems
in the industry.
Toast Pricing  
The total cost of ownership for Toast is based on point of sale, digital solutions, hardware, installation, and payment processing. The majority of prices are customized for the individual needs of a restaurant. Fixed prices include the following:
Software Costs
All-In-One Point of Sale
Starter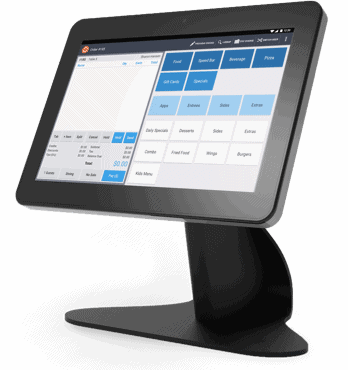 The Starter package is $0/month plus taxes and shipping charges. The plan is ideal for small restaurants, food trucks, cafes, and bakeries to get up and running. 
Key system features include:
Payment Processing

Customer Care

Real-time Fraud Monitoring
There are options for add-ons like Marketing, Toast TakeOut, Online Ordering and Delivery, Gift Cards, and Loyalty.
Essentials
The Essentials package is $99/month (plus taxes and shipping). It's ideal for restaurants that are looking to expand into off-site channels. 
Key system features include:
Everything in the Starter plan

Online Ordering and Delivery

Toast TakeOut app
Growth
The Growth package is $189/month (plus taxes and shipping). It's ideal for larger businesses that want to use data to attract new guests and drive repeat business.
Key system features include:
Everything in the Essentials plan

Gift Cards

Loyalty 

Marketing
Digital Ordering Solutions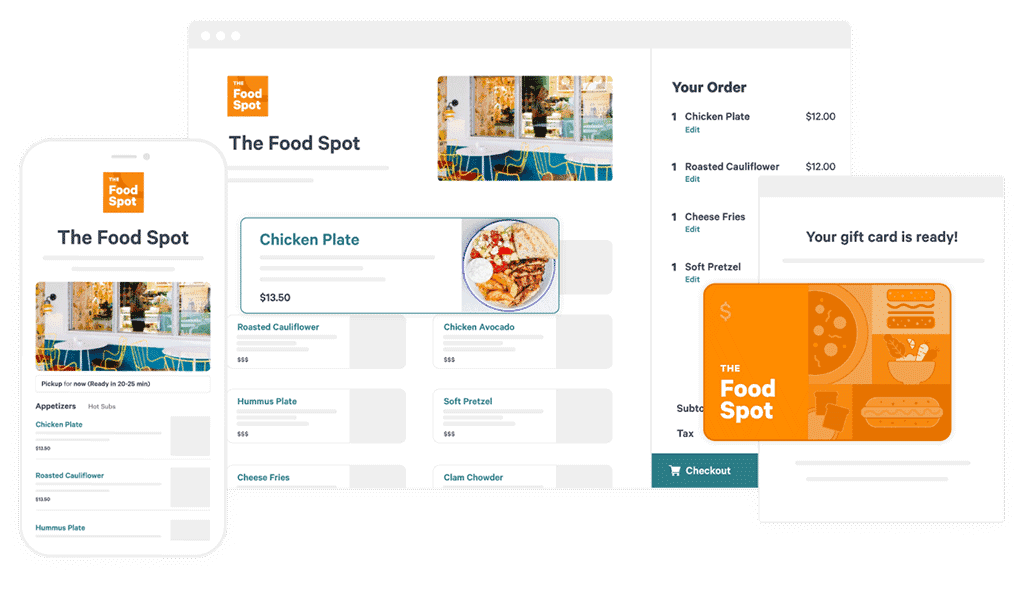 Toast Now
All Toast Now plans are subscription-based and charged monthly. The packages come with the first three months free and start at these rates:
Toast Now – $50/month  
Online Ordering 

Toast TakeOut app

Contactless Delivery

Delivery Services (add on)
 Toast Now Plus – $75/month  
Everything in Toast Now plan

eGift Card program 
Toast Now Premium – $150/month  
Everything in Toast Now Plus plan

Email Marketing
Hardware Costs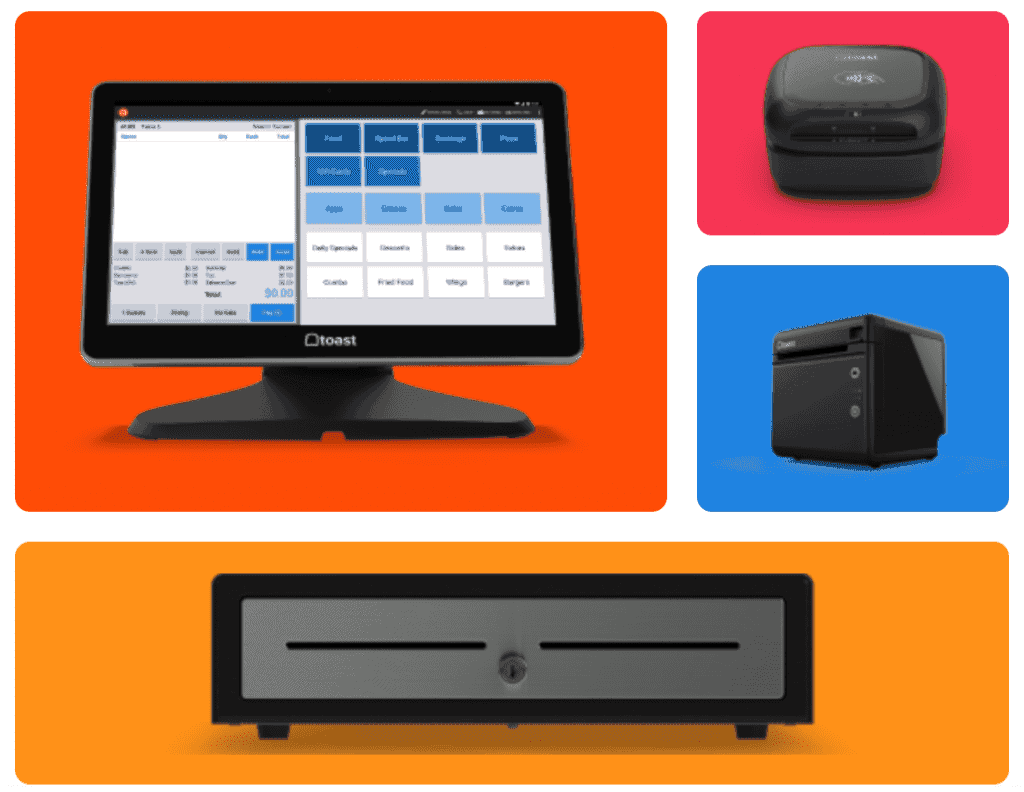 The majority of hardware costs are not listed on the Toast website. Systems are typically quote-based and the prices of accessories will vary depending on the size and complexity of equipment. 
However, Toast does list the cost for one hardware package deal. The Toast Starter Kit.
Toast Starter Kit 
The Toast Starter Kit costs $799 upfront with a $69/month subscription. You can add a customer-facing display for an extra $200. 
The setup comes with POS software, payment processing, and the following equipment:
Toast Flex

Toast Tap

Router
Demo Video
Key Features
Toast software was developed from the ground up for the restaurant industry. The POS system includes the following capabilities:
Comprehensive Point of Sale Features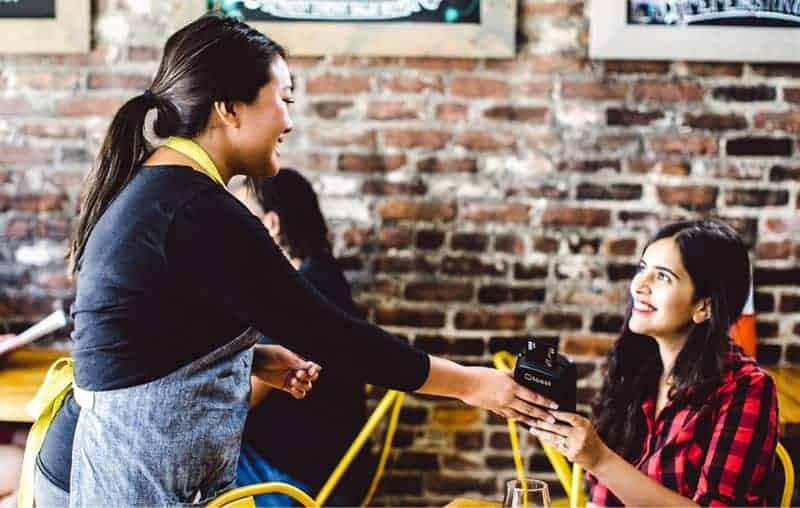 Toast gives you all the point of sale features you need to run a restaurant. Designed by people in the industry, it has everything you need and nothing you don't. This includes:
Tableside Service to Spend More Time with Guests
Toast has handheld technology that was developed for tableside and mobile management. Accelerate service, spend more time with guests, and speed up the checkout process. 
Order-ready notifications are sent as soon as the plate is hot. Staff can take tableside payments (EMV or card) from guests, collect feedback, and respond immediately to questions or complaints.
Detailed Analytics and Reporting with Cloud-based Access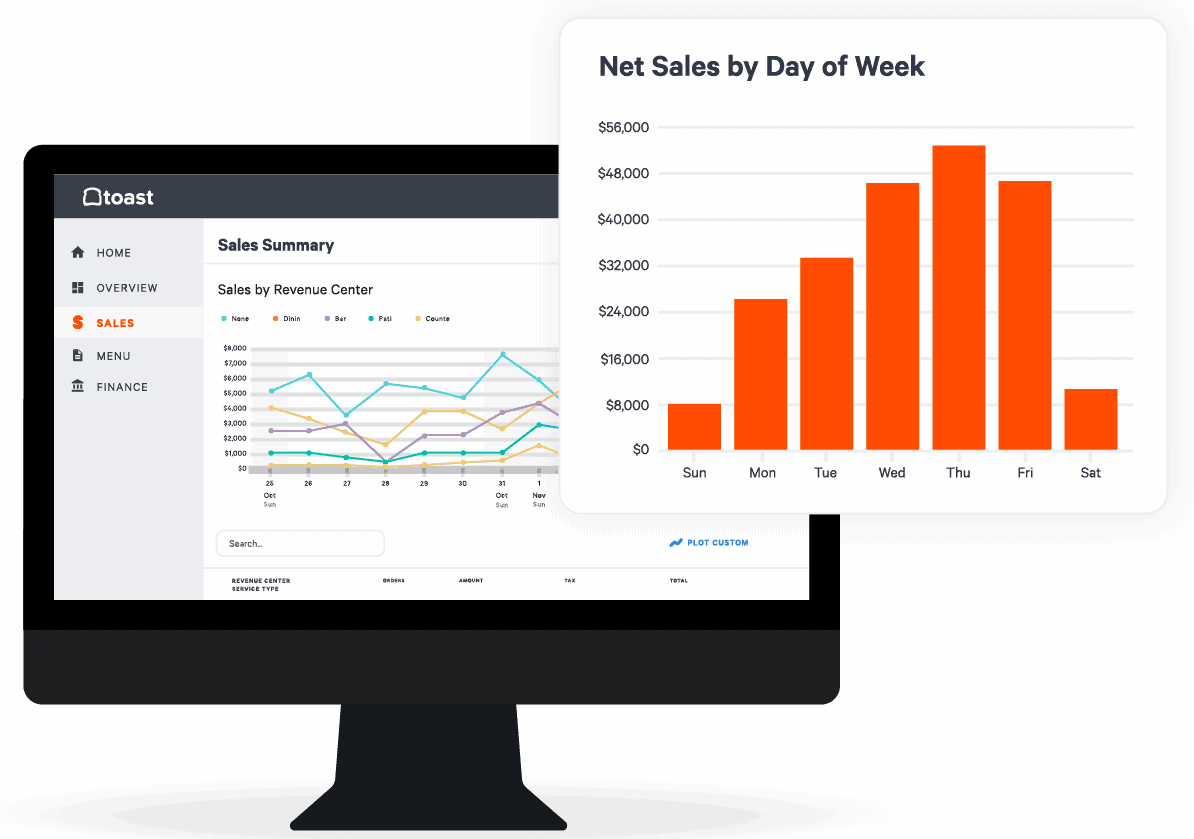 Manage critical metrics and reports for your restaurant from anywhere, at any time. Take control of performance with analytics that offer a unified view of net sales and labor costs—whether it's one location or hundreds. Consistently monitor product mix and identify areas of improvement.
Menu Management with Instant Updates  
Streamline staff communication with menu management that updates from any terminal or mobile device. This is especially useful if you're running a limited special and need real-time item countdowns. Not only does this help to destress the kitchen, it keeps staff from having to tell guests "no" because something has been prematurely "86'd".
Manage the menu from anywhere, at any time with cloud-based access that ensures all data is continuously updated. Item availability can be easily controlled with item countdowns and updates that are automatically reflected both in-house and online.
Toast Now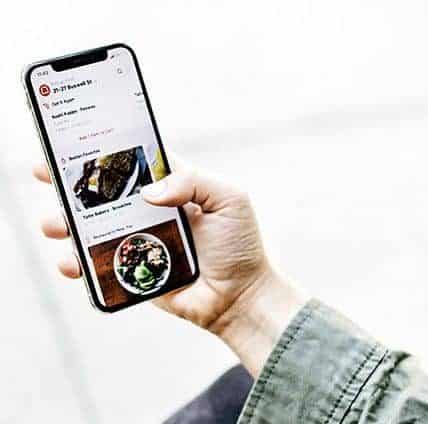 Toast Now is a feature that enables a restaurant to set up on-demand, commission-free digital solutions, with no hardware required. It connects with critical restaurant tools like:
Online Ordering

– Guests order directly from you

Toast TakeOut

– Attract new guests with a mobile app

Contactless Delivery

– Use your own drivers or third-party

Email Marketing

– Let guests know where and when they can order
Toast TakeOut
Statistics show that 6 out of 10 digital orders happen through a mobile app. Toast TakeOut is a mobile ordering solution that's commission-free. Help guests find your restaurant and re-order their favorite items in just seconds. 
Offer customers safer, curbside pickup for a stress-free experience. People have the added convenience of never leaving the car. 
Access thousands of guests with no upfront costs or fees. When you make a sale, standard "card not present" processing fees will apply.
Online Ordering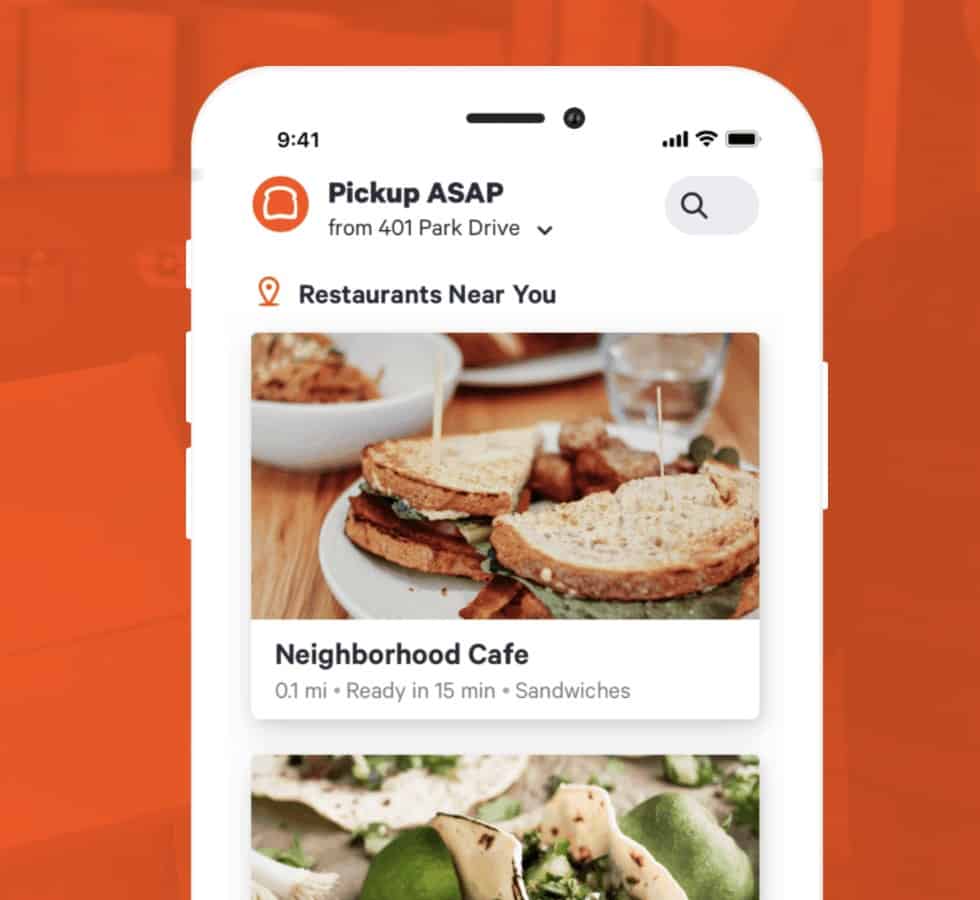 Did you know that 82% of guests order food online directly from a restaurant app or website? 
The Toast Online Ordering feature allows customers and staff to enjoy the same reliable and easy experience with unmatched convenience. Orders are sent directly from your website to the kitchen with zero interruption.
You can customize your page with a logo and menu pics for brand continuity and consistent messaging. The app is available across all devices with options for contactless or curbside pickup. Guests can schedule orders ahead of time and pick up at their convenience. 
Additional Online Ordering Features 
Leverage rich customer data to better inform your menu updates, inventory purchasing strategy, and custom promotions. Other online ordering features include:
Throttle orders and control the flow from online during peak times

Set windows to accept orders and facilitate kitchen management

Sound notifications for incoming orders 

Update specials, prices, and 86'd items instantly, from anywhere

Eliminate errors and double entry with orders sent straight to the BOH
Generate repeat business and stay in touch by pairing Toast Online with loyalty and marketing programs.
Toast Delivery Services
No drivers? No problem.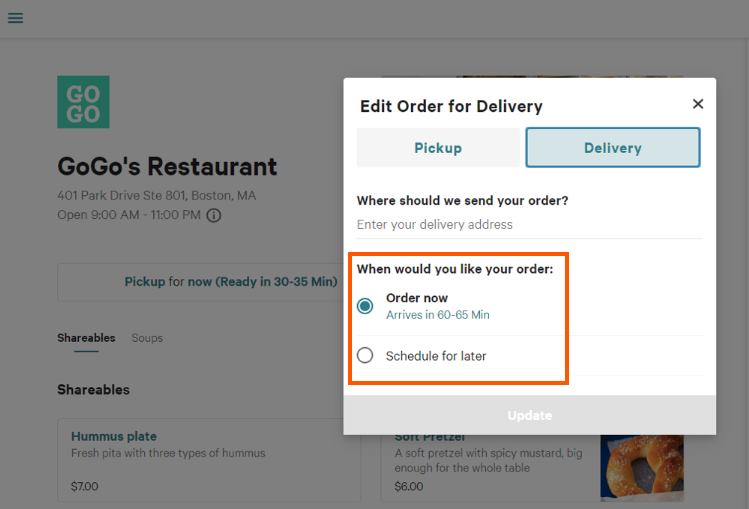 Dispatch local drivers through an on-demand network that connects your sales channels and keeps revenue coming in. Streamline delivery fees and accept orders both online and by phone. Provide safer, contactless options that integrate with your digital apps in one spot.
Allow customers to schedule orders and track the status in real-time no matter where it was placed. Reporting and analytics tools help to summarize delivery trends and allow a restaurant to pivot quickly. The experience was also built to seamlessly integrate with the Toast Online Ordering and TakeOut features.
Managing Costs
Get started for free and pay a flat rate, not a percentage of sales. 
Manage delivery costs and adjust minimum ticket sizes to accommodate the extra expenses. If you need to, you can also pass some of the charges onto guests. There's complete flexibility in how you manage the costs.
Fees are assessed on a per-use basis and require an active Toast subscription plan. 
Payroll and Team Management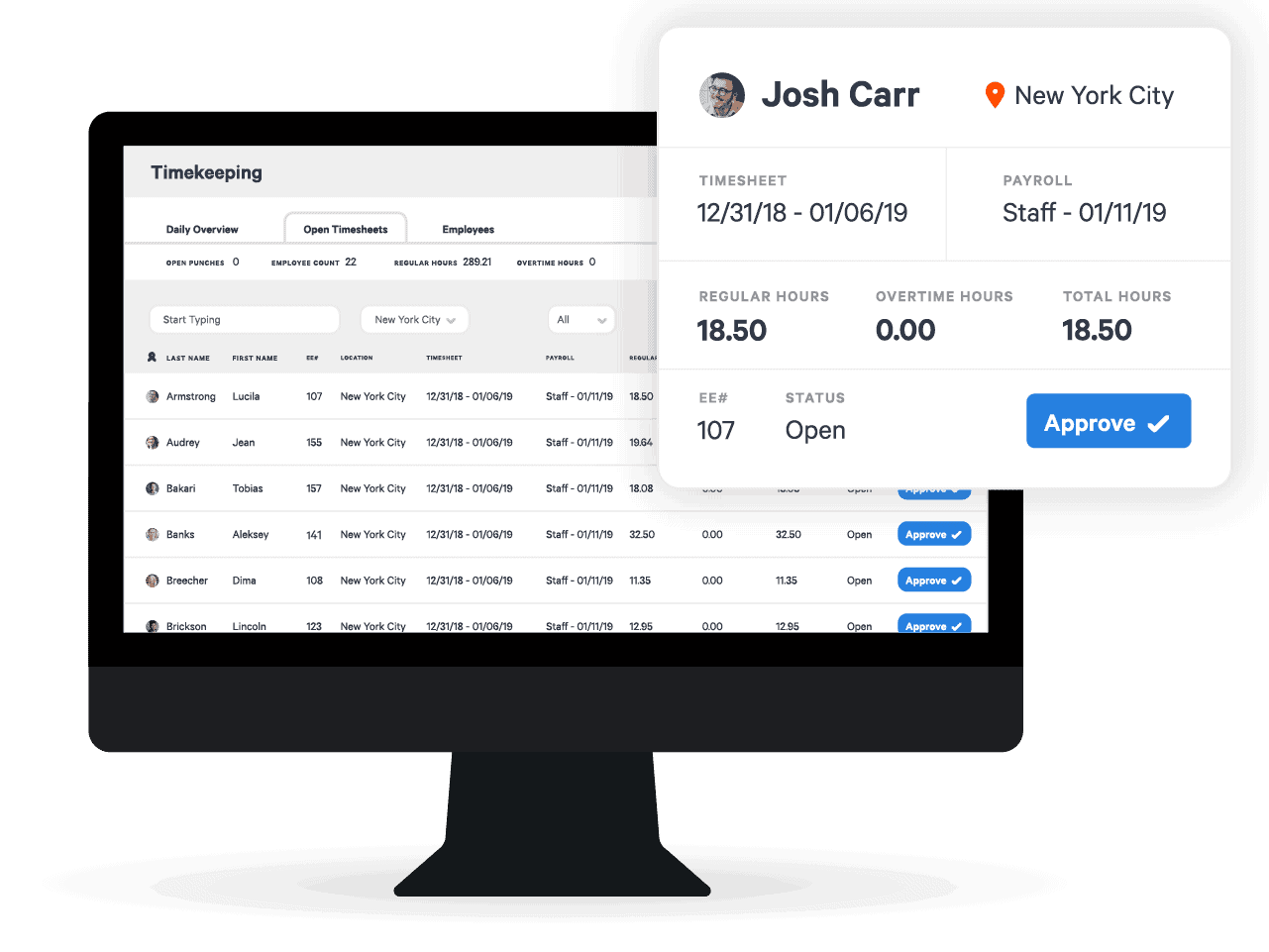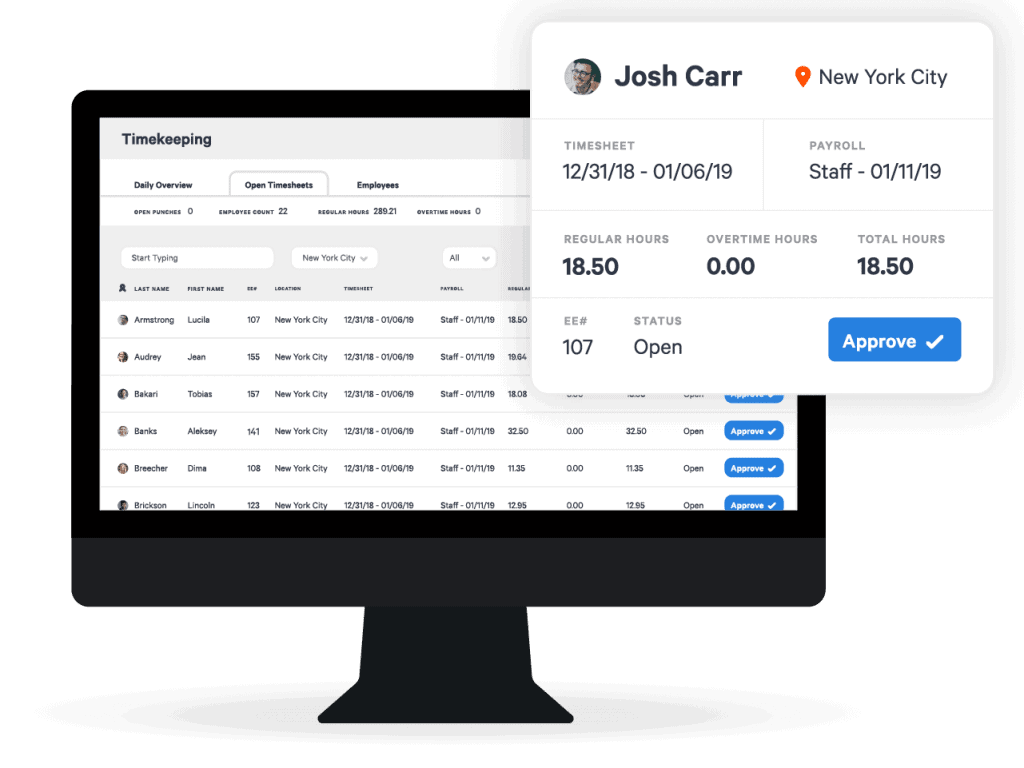 Reduce the time spent on labor management with payroll that directly syncs to your point of sale system. No more manually entering and checking employee timesheets. Hours and punch data are automatically logged and synced. Wage and tip recording happen instantly, so paychecks are always accurate.
Onboard new employees electronically where they can complete all necessary HR paperwork digitally. Employees can also set up a personal profile to use for both the POS and payroll.
Toast has a cost calculating tool to determine how much your restaurant can save, per year, by switching to Toast Payroll and Team Management. They have HR experts on staff to ensure maintaining compliance is an easy process.
Additional Staff Controls
Toast offers a centralized hub for restaurant payroll and operations with additional features that include:
Scheduling based on availability and performance

Labor reporting for deeper insights and reduced costs

Comprehensive benefits platform with plans tailored to staff needs

Maintain compliance with wage and hour laws

Handle payroll and end-of-year taxes with ease
Email Marketing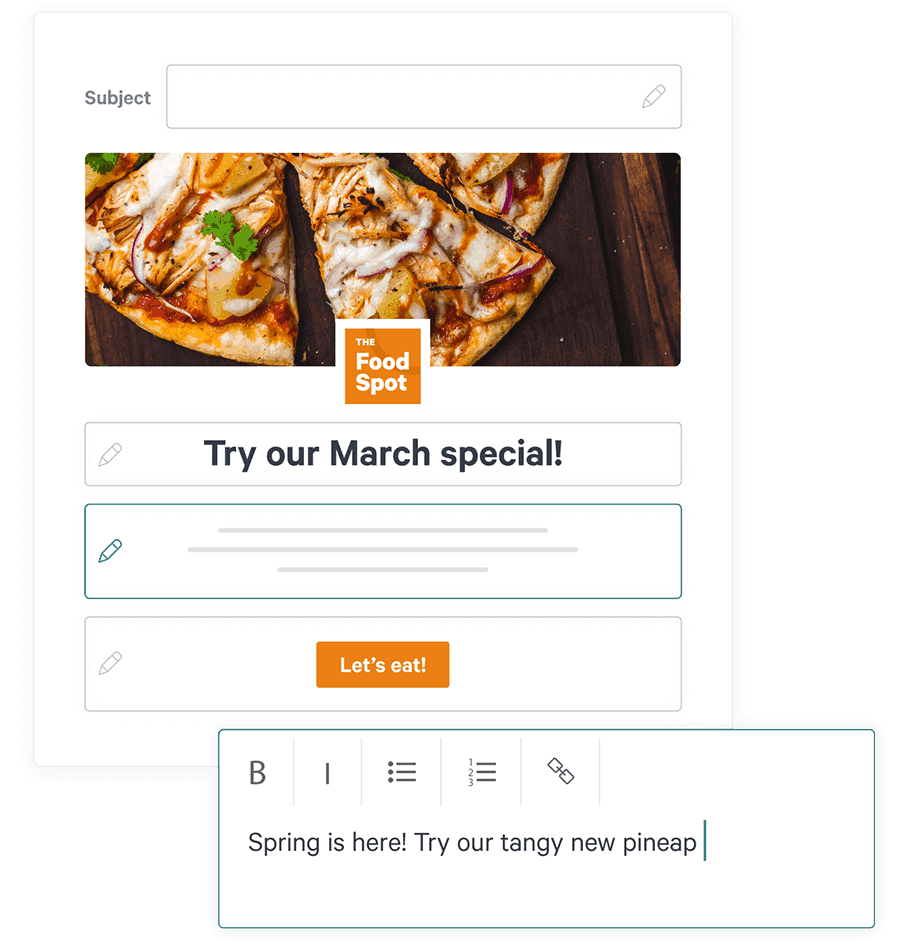 Did you know that 68% of guests like to hear from restaurants via email at least once a month?
Stay connected with customers and let them know where and when they can order. Increase sales with integrated marketing that includes custom email campaigns. 
The effective marketing platform drives incremental revenue for your restaurant with automation that saves time and effort. 
Toast Marketing boasts features like:
Welcome emails to engage guests and drive retention

"Miss You" emails for lapsed visitors

Personalized rewards for regulars and big spenders

Measure email campaign performance for greater insight

Run A/B testing to refine campaigns and send effective messaging
Order and Pay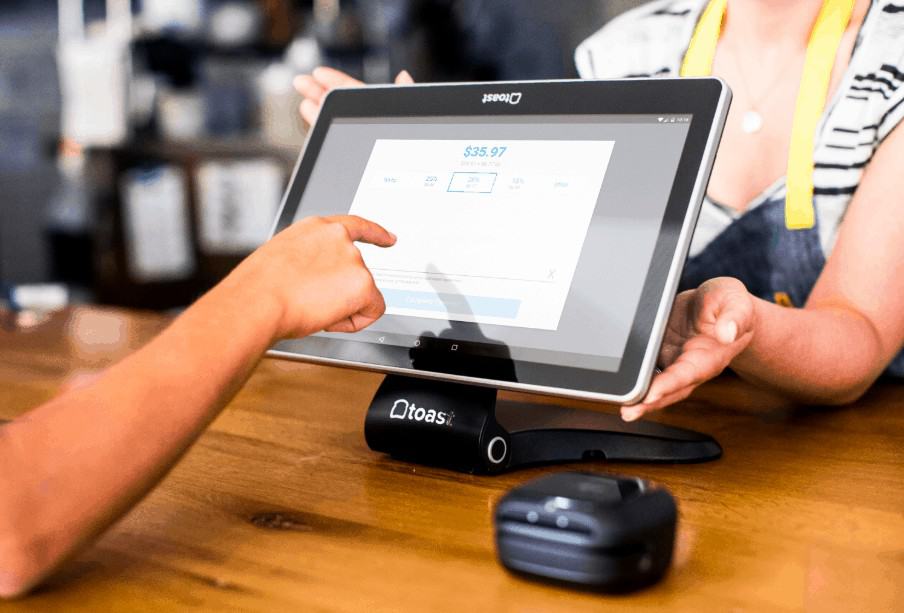 Give guests the ability to order and pay for a meal from the convenience of their own device. This new Toast feature increases safety and helps to improve table turn times. Say goodbye to menus, receipts, and pens with a contactless experience that makes everyone comfortable.
Guests can browse the menu, place an order, and pay for the meal using a smartphone. Order immediately with no extra waiting required. This minimizes back and forth and decreases check times.
Additional Toast Order and Pay features to expect:
Reduce labor costs and free up staff

Prompted gratuity that drives higher tip averages

Data capture with every transaction including guest name and email

Rich insight into who is ordering what, and when

Works in conjunction with Toast Marketing and Digital Ordering features
System Solutions
Toast also divides its offerings into different solutions based on what your restaurant needs. Each type still utilizes all of the features above but categorizes them into packages that address specific issues. 
Here's how Toast organizes the platform features:
Back of House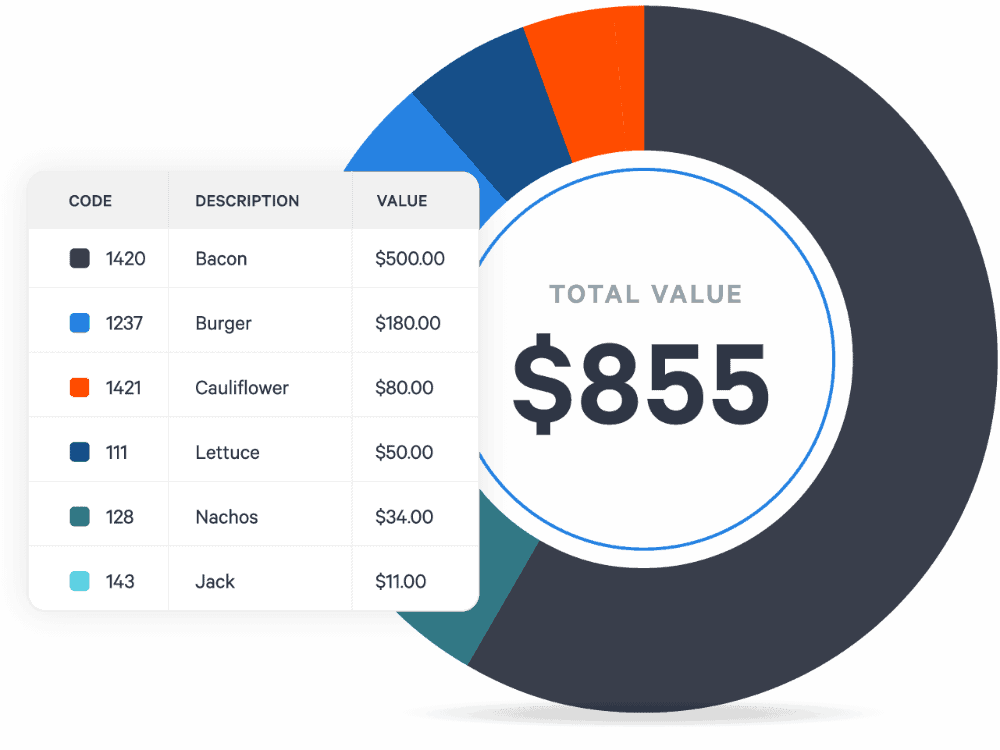 Keep your kitchen running full speed ahead and reduce stress. 
The Back of House features include:
Kitchen Display System

Inventory Controls

Menu Management
Guest Engagement
Engage customers both in-store and online using new channels.
The Guest Engagement features include:
Loyalty Program

Gift Cards

Email Marketing
Digital Ordering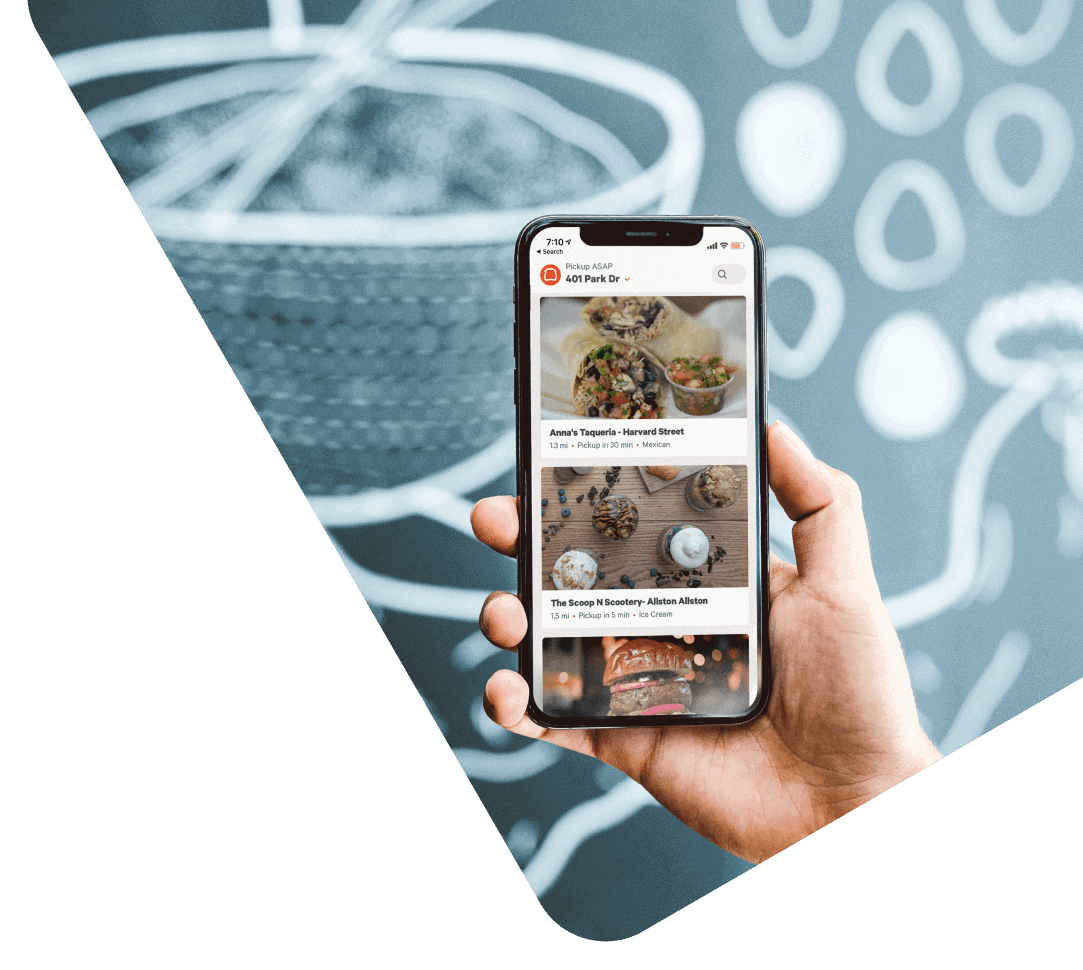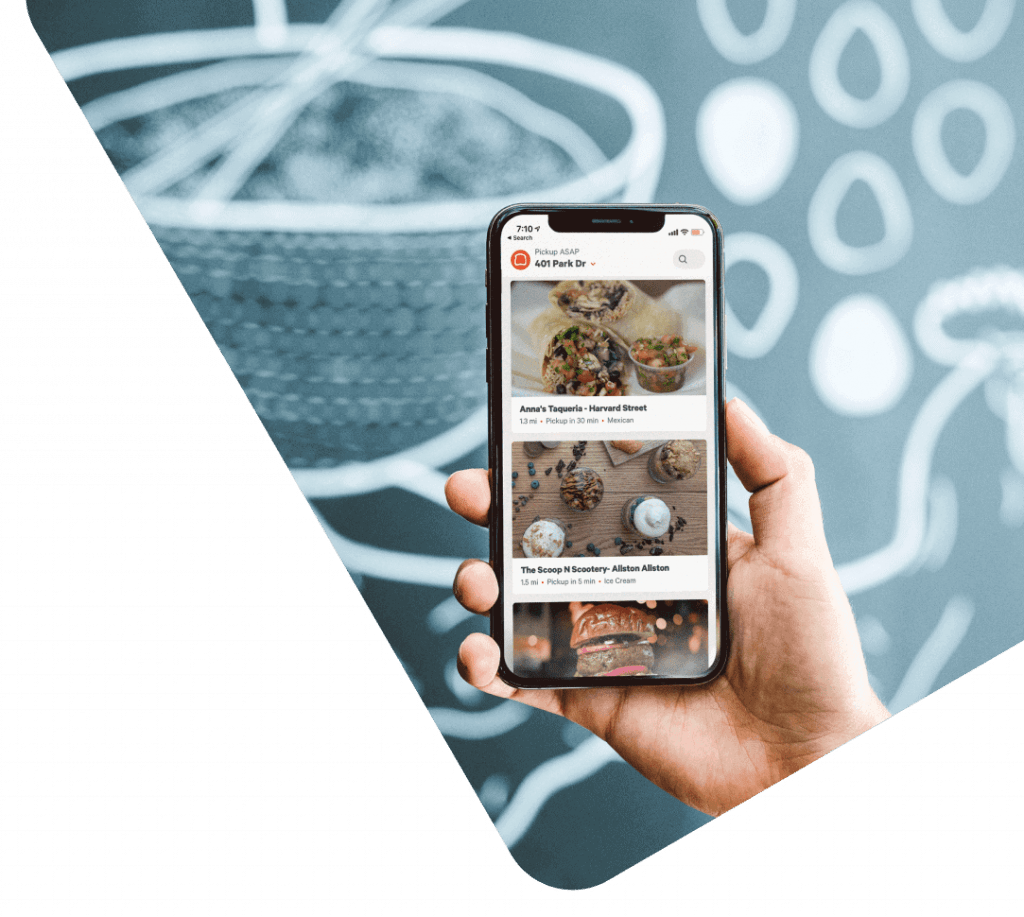 Keep your communities fed and sales flowing with commission-free digital ordering.
The Digital Ordering features include:
Online Ordering

Toast TakeOut app

Contactless Delivery
Back Office
Simplify back office operations with features that streamline workflows.
The Back Office features include:
Payroll and Team Management

Analytics and Reporting

Payment Processing
Partner Ecosystem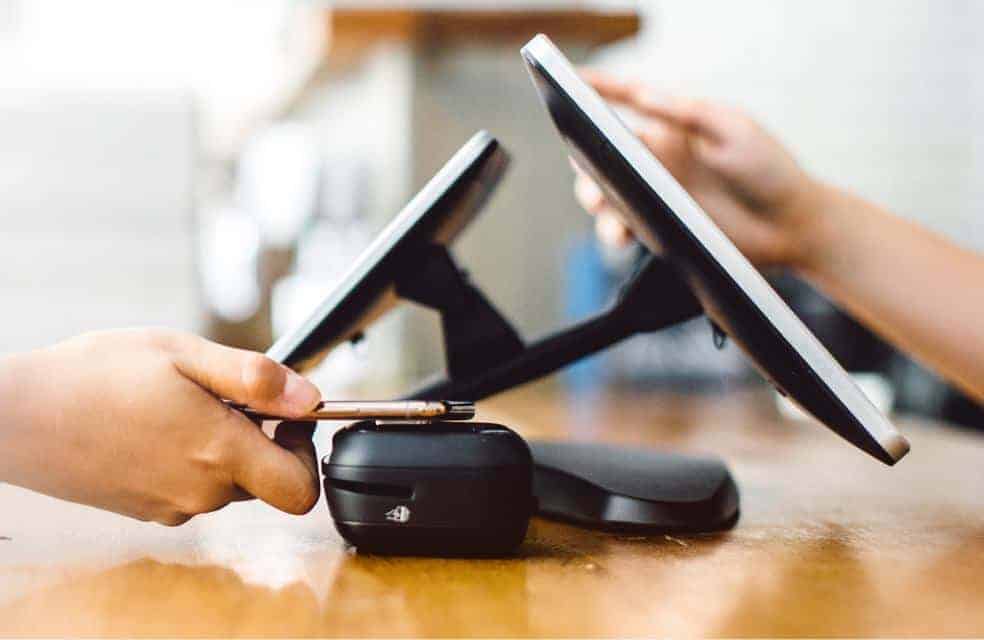 Access all the applications you need from accounting to management with a curated portfolio of best-in-class partners. This delivers specialized services and solutions to help your business succeed.
No-Contact Guest Experience
Use no-contact technology to create a safer guest experience.
The No-Contact Technology features includes:
Online Ordering

Toast TakeOut app

Contactless Delivery
Industries Served
Toast POS was explicitly designed for the foodservice industry and tailors features to a variety of restaurant styles. You can customize the system to fit the needs of your restaurant type, which can include: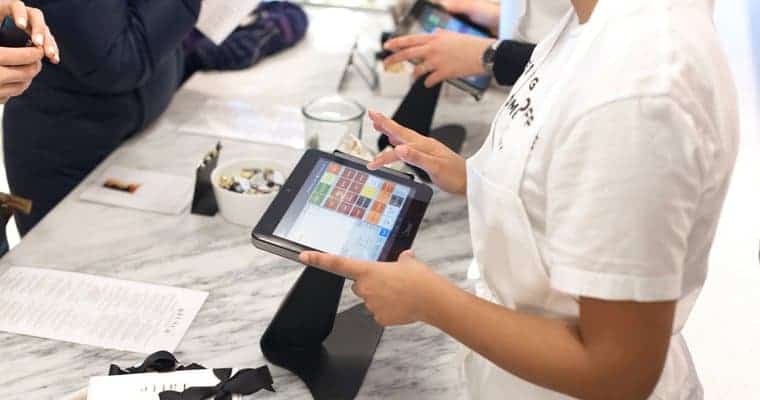 Bar and Nightclub
Serve patrons quickly and reduce risk with an intuitive POS that has features built for bars. Pre-authorize customer credit cards to increase speed and reduce unpaid tabs. 
The Toast Quick Edit mode allows you to update the menu in real-time for things like Happy Hour and drink specials. Easily split check for a simplified checkout in a few clicks.
Casual Dining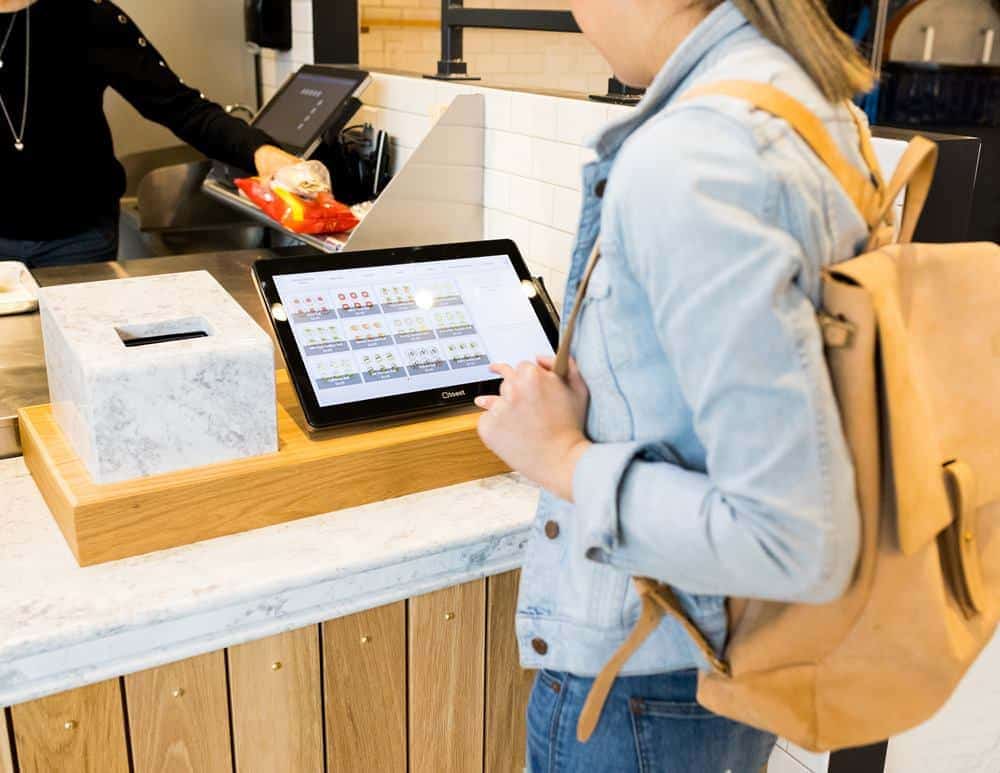 Turn more tables faster and increase revenue with a single platform designed for the casual (but not quite fast food) environment. Eliminate wait times at the terminal with Toast Go handheld devices. 
The system gives you digital and physical options for gift cards and customer loyalty programs. Toast analytics also provides clear data on customers, sales, and inventory. 
Fast Casual 
This specific Toast offering is designed to increase throughput in high-traffic areas. It offers guest-facing displays for faster counter service checkout and integrated online ordering. 
Everything is synced at the terminal. Toast GO handhelds also help move the line during rush hour.
Café and Bakery
Create engaging customer experiences that turn every guest into a regular. The user-friendly system is easy to learn and train people on. It comes with a flip terminal screen with suggested tip amounts and digital receipts. Reduce wait times with a kitchen display system and terminal that's always synced.
Enterprise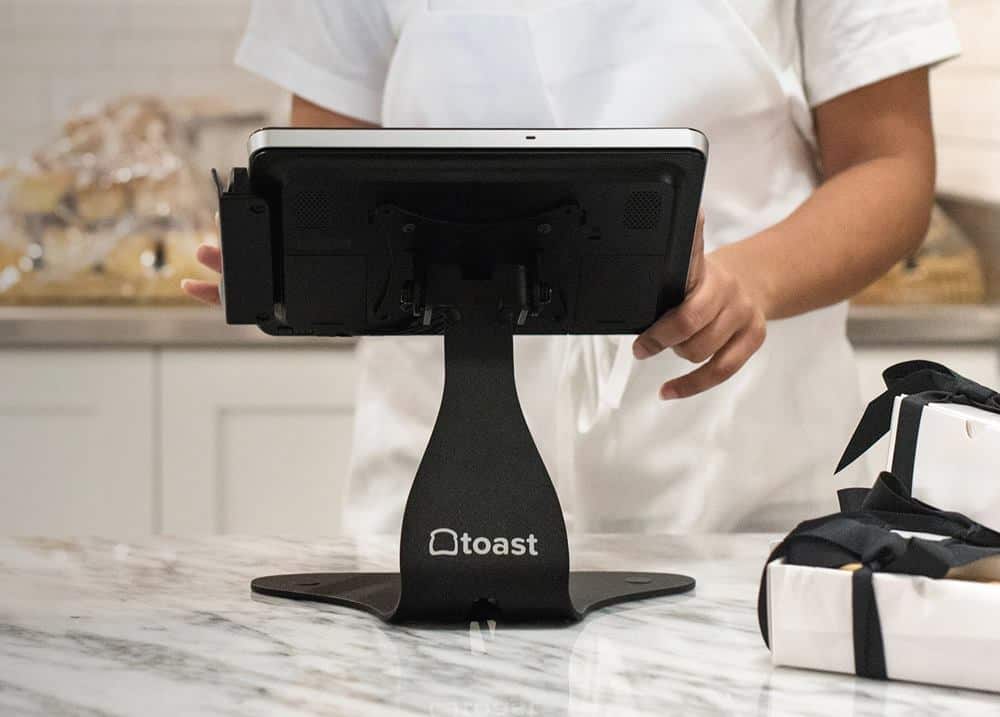 Toast offers its solution on a large scale with enterprise system management that includes secure technology for multiple locations. They have an extensive partner ecosystem with robust APIs. 
The Enterprise solution helps to integrate the customer experience across every channel and features powerful, real-time reporting for insights across your brand.
Fine Dining
Deliver an amazing guest experience with a full suite of technology that's designed for a refined environment. Toast caters to this restaurant style with course firing options built into the kitchen display system. 
The offline mode helps to take continuous orders and payments without interruption. Efficient check management means you can split and combine tabs with a simple swipe. 
Deployment Type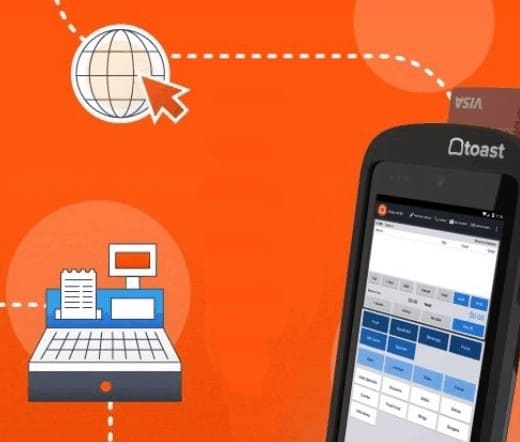 The Toast POS system is a cloud-based mobile point of sale solution. The hardware and peripherals ensure your restaurant is running at top speed. The brand deploys expert-certified networking gear that keeps a business connected.
Implementation involves a local LAN network with a dedicated router for PCI compliance. All POS data is securely downloaded and stored on every connected device.
The system functions offline. That means all equipment will work with zero connectivity and payments can still be run. However, you cannot process gift cards offline.
Online ordering solutions can be integrated with any internet-connected device with no purchase of hardware or POS software necessary. 
Ease of Use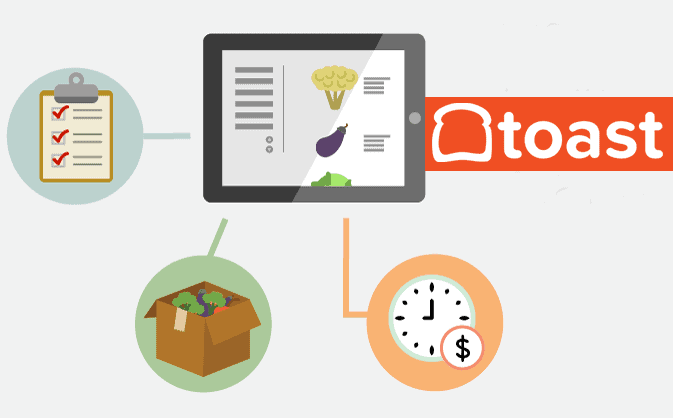 The Toast POS platform is generally easy to use but the sheer number of features and services can trip people up. The brand goes out of its way to offer training and resources that ensure staff grasps system navigation and controls.
A Toast representative will be there to walk you through setup and answer any questions you may have. The dashboard is sleek and clean, making it faster and easier to manage than more traditional restaurant POS systems. 
The integrations for online tools and third-party apps streamline operations and consolidate costs. Payment processing is a flat rate with simple transactional processes that save your business a lot of time and money.
Hardware 
Toast hardware was built for the rigors of the foodservice industry. All Toast hardware is certified and includes:
Toast Starter Kit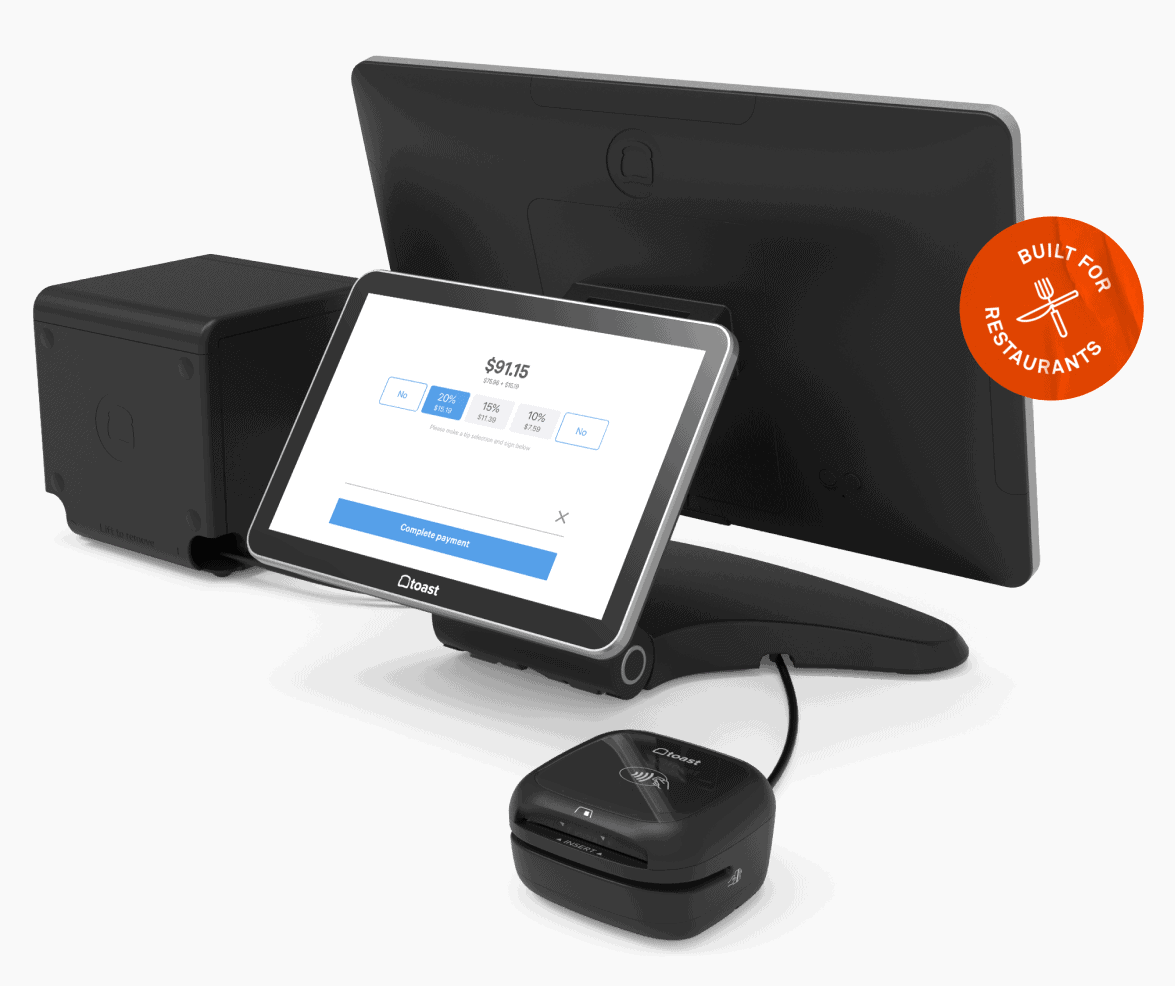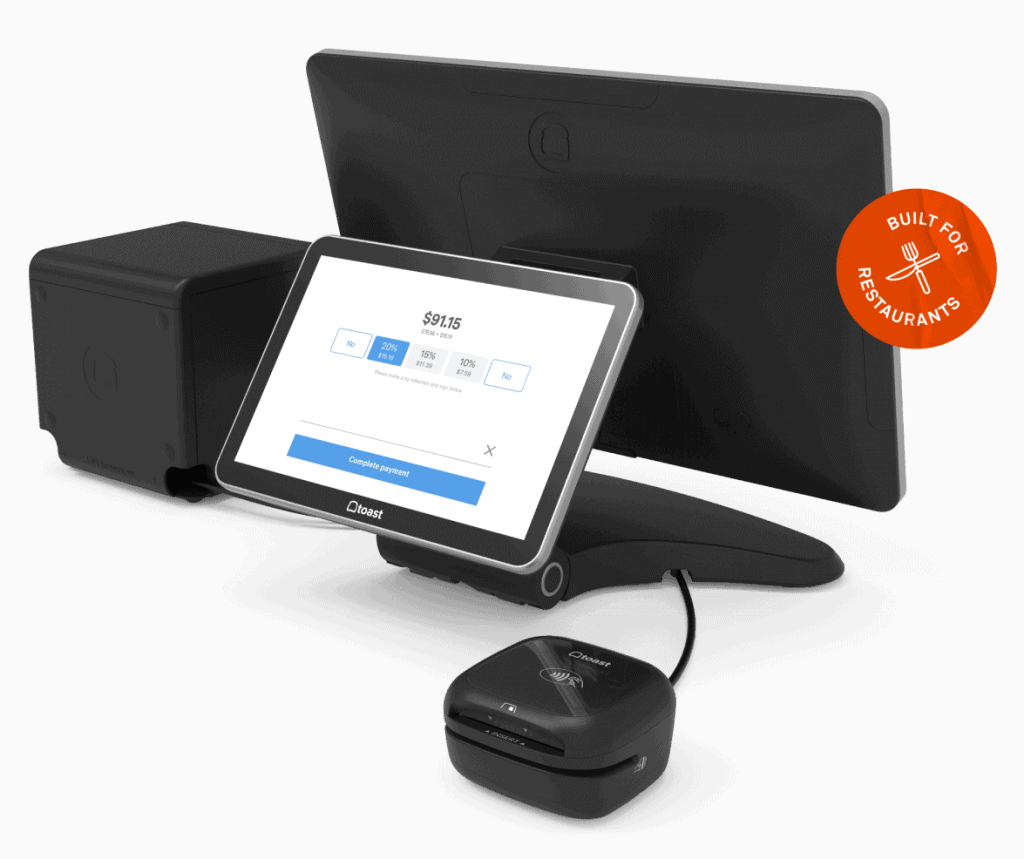 The Toast Starter Kit is designed for single location restaurants that want to hit the ground running. The customizable hardware includes just what you need and nothing more. It's an uncomplicated way to get started with a point of sale system. 
Take payments, track sales, and manage inventory with system components that include:
Toast Flex

Toast Tap

Router
The Starter Kit also comes with Toast POS software and payment processing.
Toast Flex
Toast Flex is POS hardware that's adaptable to any concept. Optimized for speed and ease of use, the equipment adjusts in many ways from a flip screen, to height, and wall mounting. It features optimized payment and ordering workflows so staff can spend more time with guests.
Look for practical features like:
14-inch screen for easy data entry

IP54-rated, water-resistant, and spill-proof

2x RAM of consumer tablets

Support all payment types with Toast Tap

Operating system support is Android 7.1 or higher
Toast Flex for Guest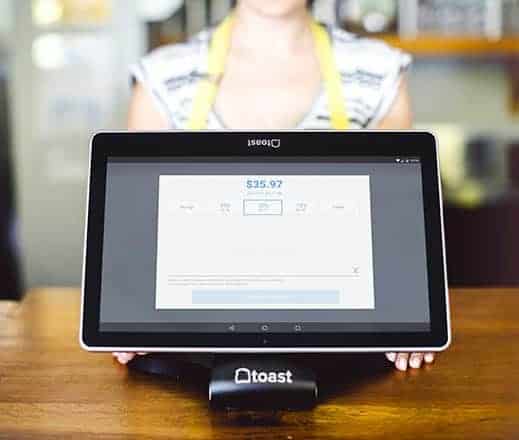 Simplify the checkout experience in your fast casual and quick service restaurant models with a customer-facing display. Give guests the transparency they want with a screen that shows people orders by price and item. Flexible payment options mean customers can pay the way they want.
Key system benefits include:
8-inch guest-facing screen

Attach to the counter or directly to Toast Flex

Allow guests to easily pay with dip, tap, or card swipe

16 GB flash memory with Bluetooth 4.0 BLE

5-megapixel fixed-focus camera for added security
Toast Go 2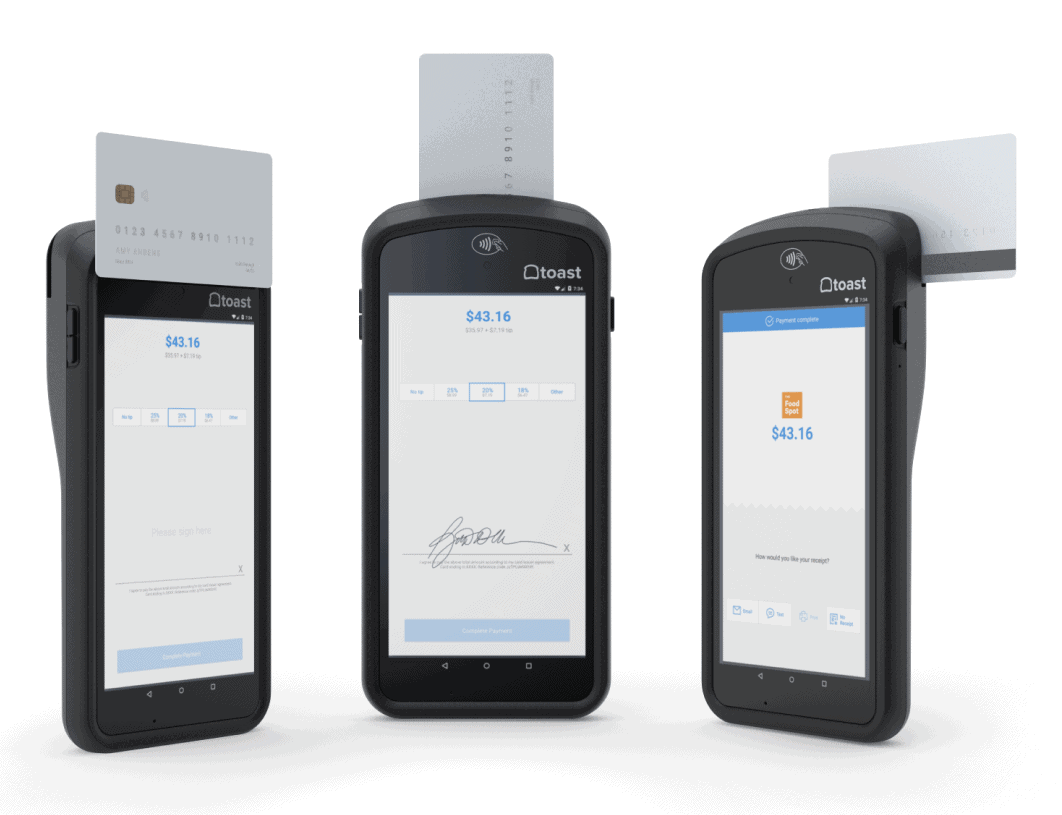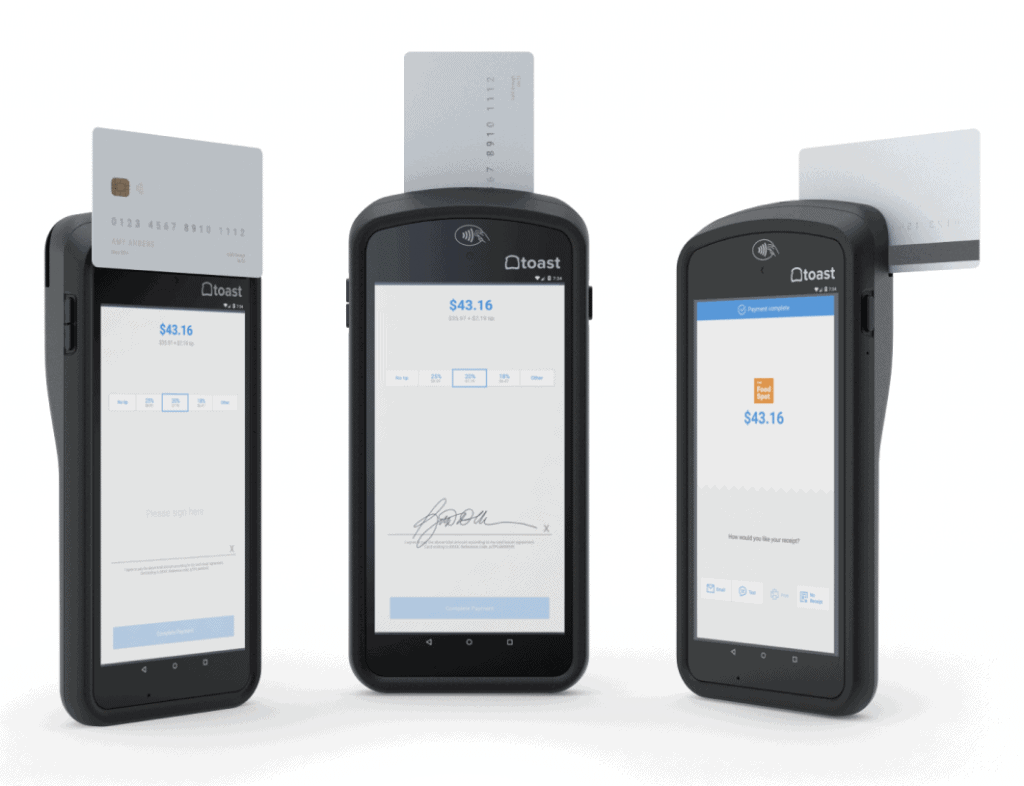 Improve operations with Toast's next generation of fully-integrated handheld devices. Toast Go 2 streamlines ordering, takes contactless payments, and keeps service moving. It can be used inside, outside, curbside, or at the drive-through.
Accept contactless, swipe, and dip card payments with equipment features that include:
Drop-proof for up to four feet

2x longer battery life than iPad systems

IP54-rated hardware for dust and spill resistance

Weighs a little over a pound and fits in your pocket

6.4-inch touch screen for easy view indoors or outside
Toast Flex for Kitchen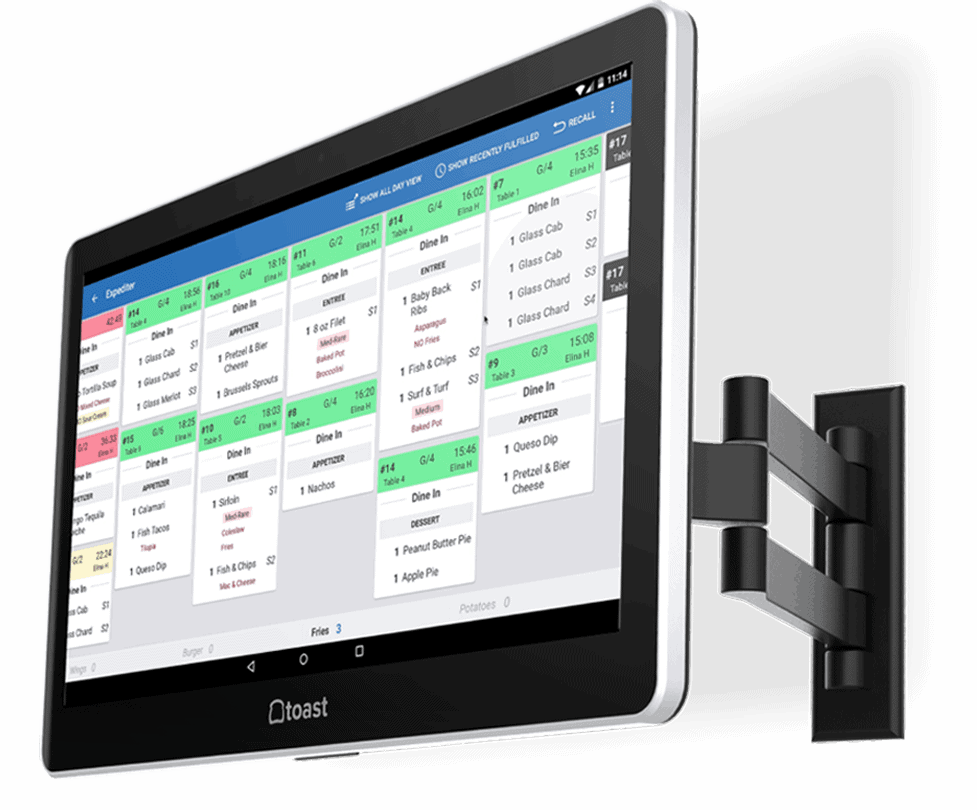 Seamlessly connect your front and back of house operations with high-performance kitchen display systems. Designed to handle the heat, the KDS receives and responds to orders in real-time and assigns them to prep stations. Digital tickets speed up the kitchen and lower costs.
Expect KDS features like:
Wall or counter mount options

Screens rated for a higher temperature than iPad

14-inch full HD LCD and touch screen monitor

16 GB flash memory

IP54 durability rating
Self-Service Kiosk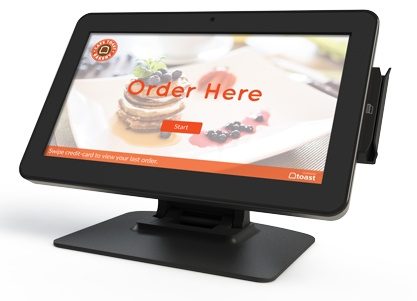 Give customers the flexibility to order how they want with an intuitive self-service kiosk. Proven to reduce wait times and put guests in control of the dining experience, the kiosk comes integrated with automatic SMS order-ready notifications.
Consider these kiosk features:
Increase order volume to drive more sales and revenue

Keep lines moving with self-service ordering screens

Item modifiers with automated upselling

Accelerate speed of service with orders sent directly to the kitchen

Drive customer loyalty program sign-ups
Additional Hardware and Accessories
Toast Tap

– Direct Attach or On Counter for tap, dip, swipe card payments

Toast Printers

– Regular and Impact for receipts in multiple languages

Cash Drawers

– Supports best practices for cash management

Barcode Scanner

– Scan grab-and-go food items quickly

Scale

– Connected to the POS to weigh any food items
Integrations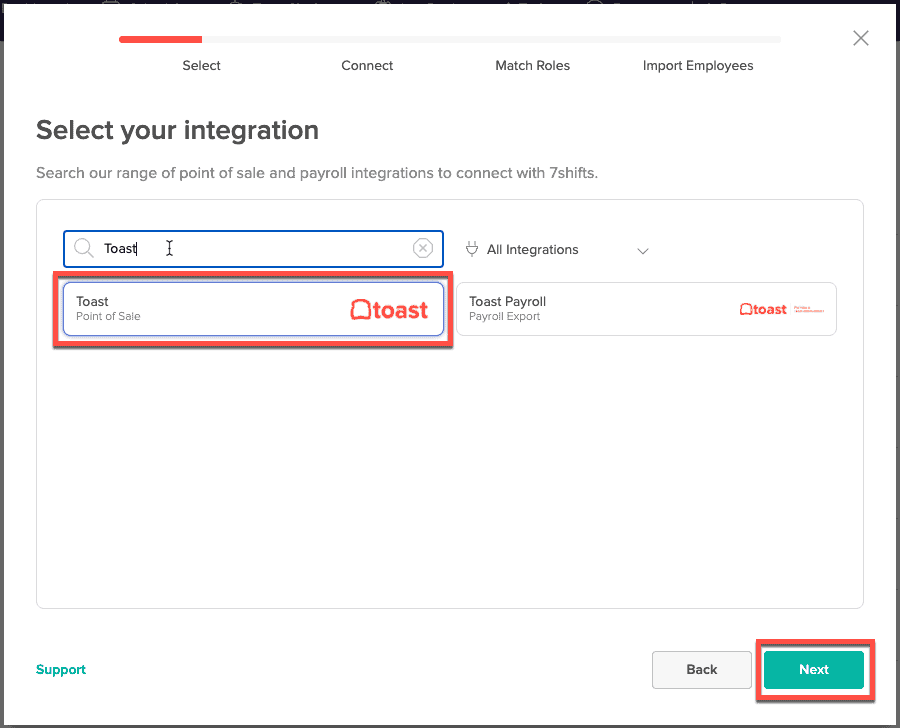 Toast POS integrates with over 70 of the most popular restaurant technology providers in the business. Check out some of these top integrations and brands:
Labor
The top partner that Toast offers for labor management is 7shifts. The systems work together to provide restaurant employee scheduling and staff controls that save time, streamline communication, and reduce labor costs.
Gratuity and Tip Tracking
GraTrack is the Toast plug-in for tip tracking and gratuity management. This allows a restaurant to pay tips on staff payroll. 
Accounting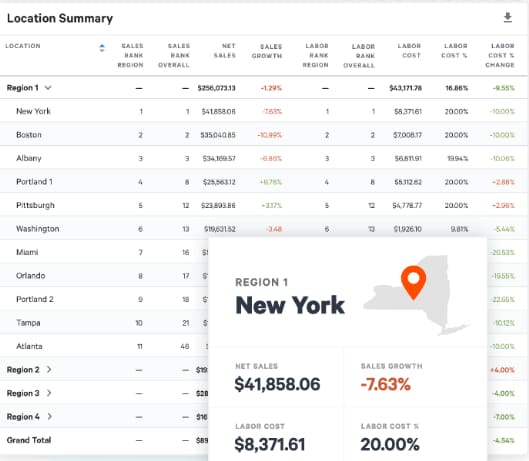 Davo is the number one partner recommended by Toast for accounting purposes. The add-on sets aside sales tax daily, pays, and files it—on time and in full.  
Inventory
Toast recommends xtraCHEF for QuickBooks Online. The no-cost integration allows Toast customers to create daily sales journal entries with no manual data entry or intervention. It streamlines your inventory and automates as many tasks as possible.
Delivery
Chowly integrates third-party online delivery apps with Toast. This includes brands like:
GrubHub

UberEATS

DoorDash

Caviar
These integrations lower staffing costs, reduce errors, and increase revenue. 
Online Ordering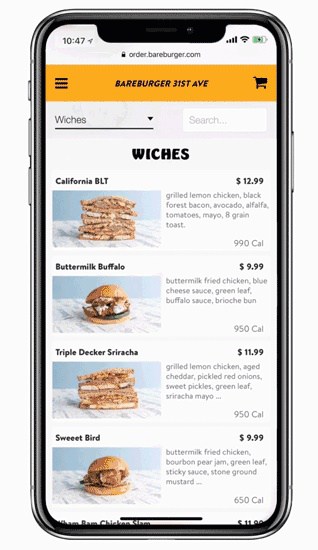 GoParrot integrates seamlessly with the Toast platform to provide a customized and seamless online experience. This includes A.I. powered marketing and loyalty features that maximize sales.
Marketing
Incentivio is a cloud-based mobile-first marketing platform that enables a restaurant to create highly personalized relationships with customers.
Customer Loyalty
Toast has partnered with LevelUp to offer one-touch mobile payments and loyalty that guests love. This includes feature-rich analytics to process savings and ROI-driven campaigns to help your restaurant thrive.
Reporting and Analytics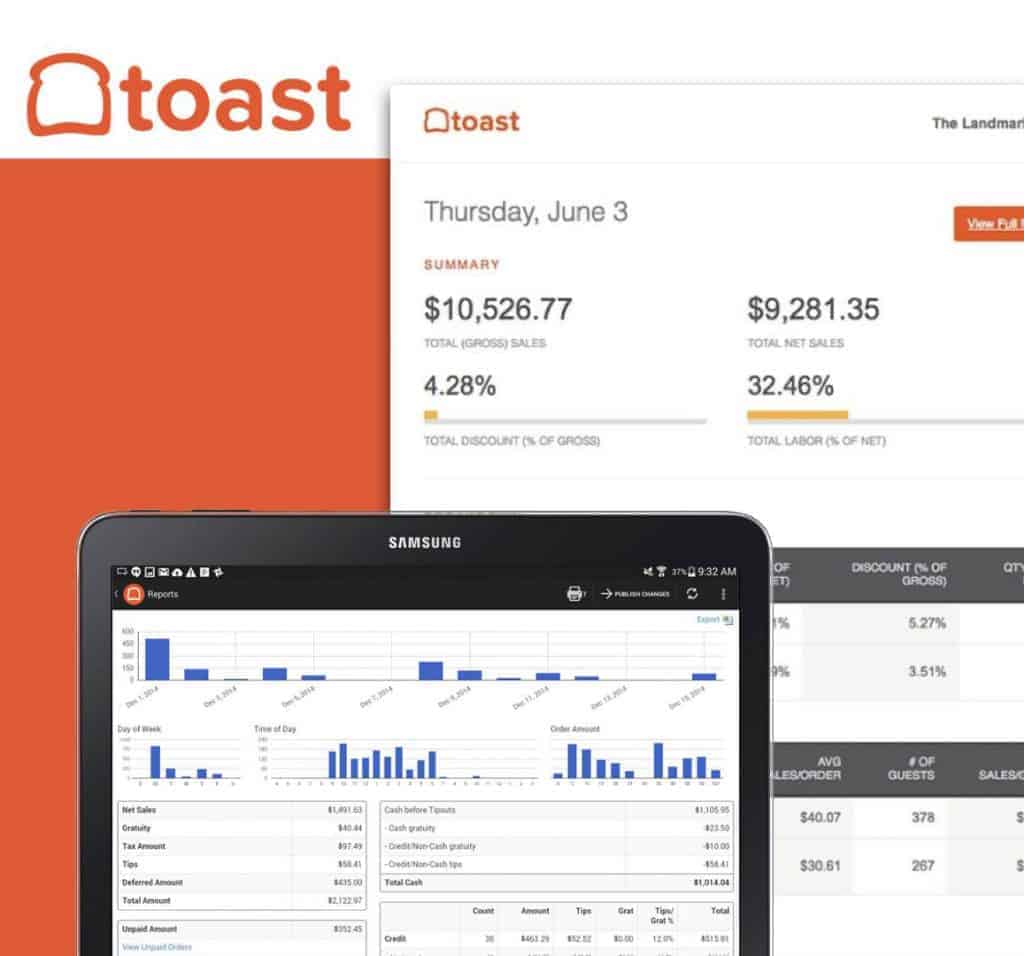 OpenTable integrates easily with Toast to provide deeper spend insights. Not only does this enable better hospitality and service, it improves operational efficiencies.
Mobility
Punchh helps restaurant chains gather 360-degree views of guests by developing custom apps for gift cards, loyalty, ordering, and more. Punchh's SaaS dashboard can leverage real-time insights to personalize marketing and drive sales.
Toast also partners with your local businesses to find trusted advisors in the area that will improve restaurant operations. They also have a Partner Marketplace where a business can explore special offers from partners to help your brand thrive.
Credit Card and Payment Processing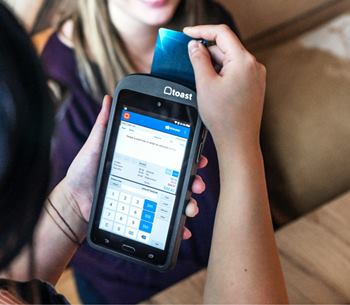 Toast has a standard rate for all credit card payment processing depending on the card type, physical presence, and services rendered. American Express has higher rates across the board, as does "card-not-present" transactions. 
Mandatory secure processing is included in the standard package. To use the Toast system, you have to go with their rates—and their rates only. There is no room for payment processing flexibility. This can be a major downside if a restaurant wants to keep its current provider.
Toast Tap accepts all payments that include tap, dip, and swipe (EMV, NFC, and MSR). It takes digital wallets like Google Pay and Apple Pay. The system will also accept cash, checks, and gift cards.
Toast Standard Payment Processing Rate
The standard rate for in-person payment processing is:
2.49% + 15 cents per transaction
This applies to Visa, Mastercard, and Discover. It's also a rate for new customers with a single location. If you have any questions on the standard payment processing rate that Toast will charge your business, it's always best to call and speak with an informed company rep.
Toast Now and Toast TakeOut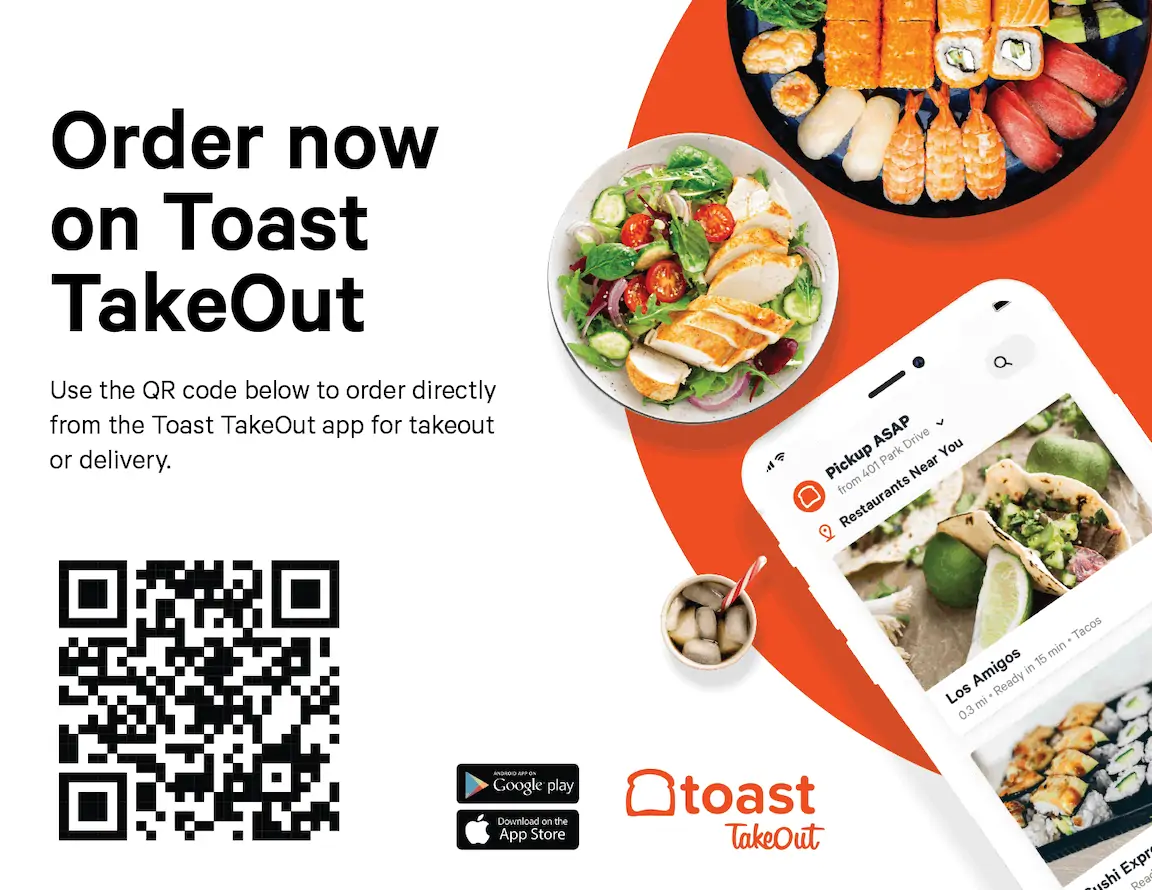 The following processing rates apply:
Card is not present

Visa, Mastercard, and Discover – 3.5% + 15 cents

American Express – 3.89% + 15 cents
Third-party processor – 2.9% + 30 cents
Dedicated Customer Service and Support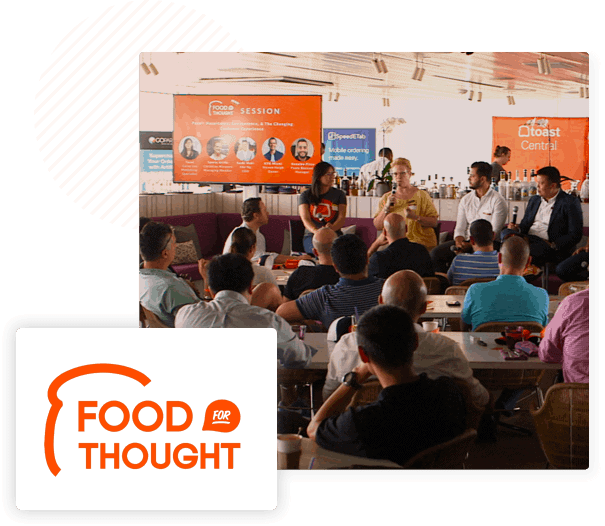 Toast provides award-winning customer support in a variety of aspects. Team members have deep knowledge of the platform and are committed to your success. The solution comes with free, 24/7/365 support via Toast Central. 80% of the implementation team has restaurant experience.
Whether on-site or remote, the Toast team will configure your system for success. They offer staff training and go-live support with tech experts that are tailored to your restaurant type. 
The brand also has innovative training programs in Toast Central, the one-stop-shop for all Toast resources. The help page offers key features like:
Interactive webinars

Training at Toast University

Searchable resources in the Toast Knowledgebase

Early access to new products

Provide feedback through the VIP Table
Toast POS Best Alternatives

 
In addition to Toast, there are other restaurant POS systems that your business might find useful. Consider these two alternatives:
NCR Aloha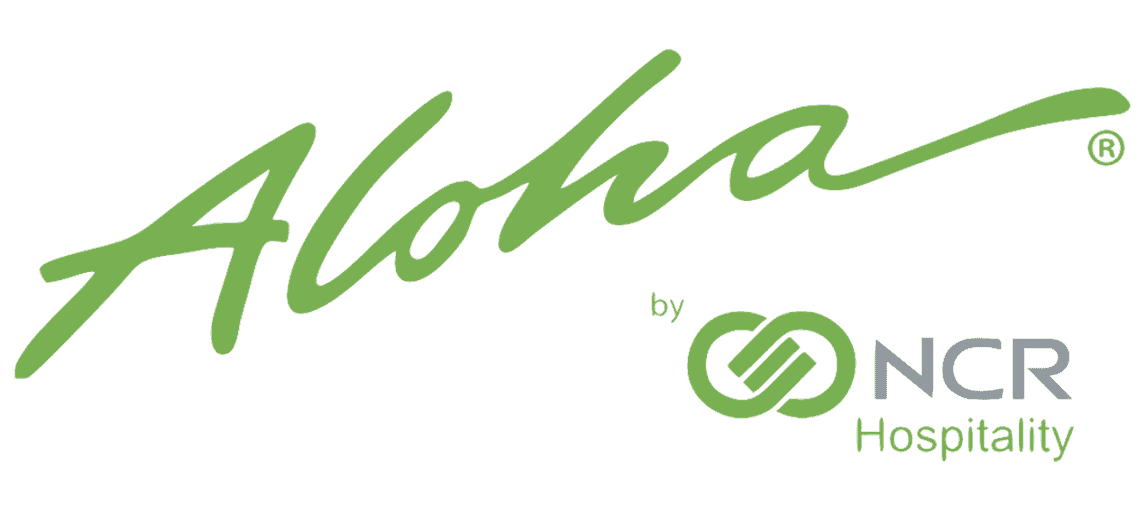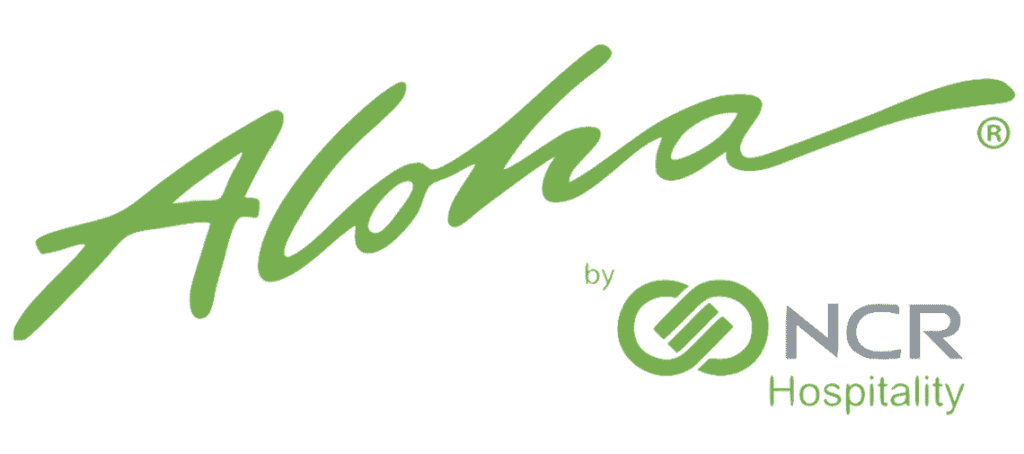 NCR Aloha is a restaurant POS system that's designed to help a business run operations, drive revenue, and enhance customer engagement. Meet high expectations with features that include:
Online ordering with a branded site and self-service guest portal

Advanced reporting with sales KPIs and staff scorecards

Integrated gift card and loyalty programs with reward milestones

Fixed and mobile terminals designed for every restaurant style
The cost of Aloha POS is a monthly subscription that is based on factors like your restaurant size, number of employees, and services used. The all-inclusive payment has no contract period or unexpected costs. A restaurant can easily add or subtract products at any time. 
MICROS POS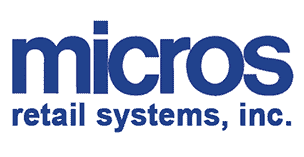 MICROS POS is a system owned by Oracle and was designed to simplify your restaurant operations. 
Customer rewards and loyalty programs for engagement and retention

Employee scheduling, training, performance reporting, and role-based permissions

Kitchen display system to consolidate on-line and in-store channels 
Real-time reporting and analytics to control costs and boost profitability 

Contactless payment with secure EMV card processing
The cost of MICROS is mostly quote-based. They take into consideration a variety of factors like your restaurant size, number of employees, and the services you need. The company charges a monthly subscription fee and an upfront licensing fee, which starts at around $5,000.
Summing Up The TOAST POS System
Toast is one of the most inclusive and intuitive restaurant POS systems on the market. You never have to leave their side. This can pose both a plus and a minus depending on your operations.
There is not much place for traditional or legacy systems to align with the POS solution. Toast sells its own hardware and requires you use their standard payment processing rates. This saves a ton of time and money when it comes to installation and setup.
Toast has some of the most robust training and educational resources out there. The brand wants businesses to fully grasp the controls of the hardware and software.
When used effectively, it's a system that will align your front and back of house operations, drive growth with in-depth reporting, and elevate staff management. It will facilitate customer relationship management and create convenient ordering options for guests. 
Toast is a tool that can truly elevate your business to the next level and expand operations into new horizons.