(Last Updated On: June 29, 2023)

Clover is the point of sale system (POS) that offers you the flexibility and scalability you need to manage and grow your business.
For instance, it offers you a choice of two software plans, along with four different hardware bundles.
Despite being one of the most affordable POS solutions, Clover features an assortment of beneficial features and capabilities to suit your needs.
The Dashboard feature will give you an enhanced overview of the entire business with visual data into important business processes.
Offers flexibility and is scalable
Clover provides an all-in-one, POS system that is customizable and tailored to your business. The hardware is intuitive and easy to set up right out of the box, while its payment processing rates are competitive. Clover also has an extensive app market that lets you add features like bookkeeping, sales reporting and more.
The platform gives you a good view of your operations, whether it is from your desktop computer or smartphone with the Clover web dashboard. This allows you to track your sales performance, identify popular items and manage employees. You can even send invoices and receipts to your customers, and store their card information to speed up checkout at the register.
Aside from the POS terminal and the mobile app, Clover offers a variety of other hardware, including barcode scanners, cash drawers and a weight scale for restaurants. The POS terminal itself has a touchscreen that supports EMV chip cards and NFC payments. It also comes with a camera for taking photos and videos.
The company offers three different types of Clover devices – one that is billed as ideal for all merchants, and the other two are designed specifically for restaurants. The first is a tablet-based Clover Go, which works with Android and iOS smartphones or tablets. It includes a Clover Dining app, which allows staff to send orders directly to the kitchen, apply appropriate taxes and split checks. The other is a stationary Clover Mini that has Clover Dining and additional restaurant-themed functionality, such as the ability to dispense tips and create bar tabs.
You will also like the order tracking, accounting, data reporting and menu editing capabilities offered by the POS system. Clover is often used by small retail operations like convenience stores.
Discussed below are other aspects different types of retailers have come to like about Clover.
Who's Clover POS?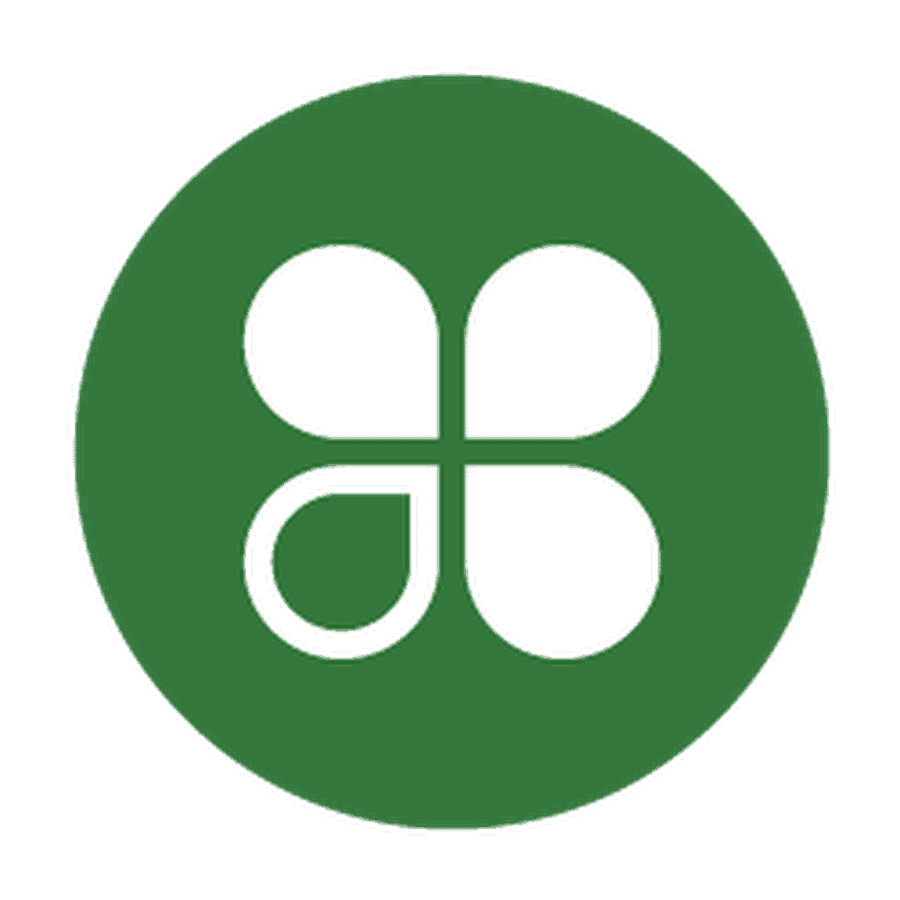 Since its acquisition in 2012 by Fast Data Corporations, Clover has been developing innovative POS and payment solutions for retail and restaurant business owners.
Currently, the provider offers some of the best restaurant and retail point-of-sale tools at an affordable price point.
Again, Clover also offers robust hardware components to complement its software compatibilities.
The provider also allows you to choose your preferred mix of POS software and software capabilities to suit your business needs.
Affordability Meets Superior Software Capabilities
With this solution, you will be in a position to speed up transactions, access a range of customizable reports and access the merchant Dashboard remotely. Additionally, the solution allows for vendor and order management.
You will also like the fact that it supports all major payment methods, including PIN and Chip card, Apple Pay, and Swipe credit card payments and many other mobile payment options.  For. Enhanced functionality, the system allows for integration with other Apps by the providers as well as third-party services like QuickBooks.
Throughout this review, you will learn why Clover stands out from other restaurant and retail PIS systems in the market.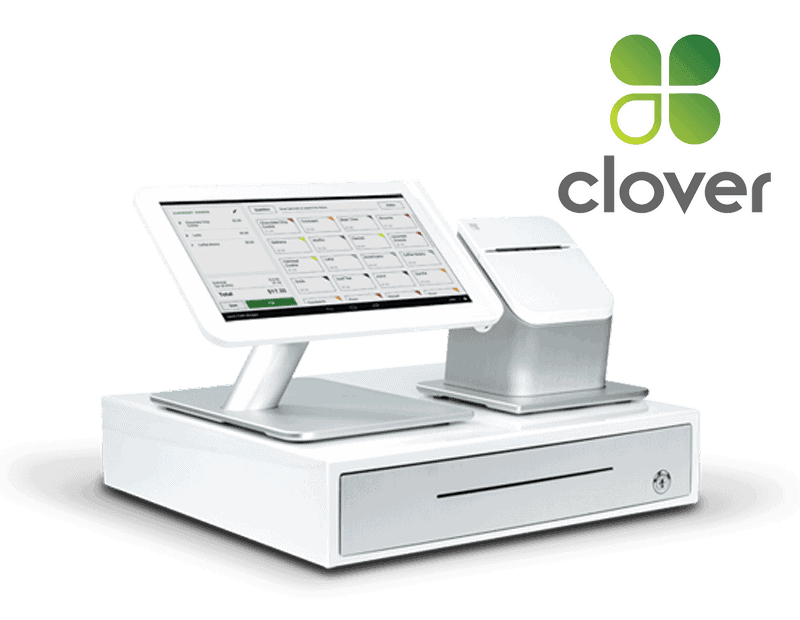 Clover POS Benefits
Relatively easy to set up and use
Access to a feature-rich app store
Supports third-party integrations
Aesthetically appealing and functional solutions
Several pricing plans to suit your needs
Reliable customer support
Compliant with PCI requirements
Possible Drawbacks
The software only runs on proprietary hardware components by the provider. Again, the POS system is tied to the Clover payment processing solution.
Clover POS Pricing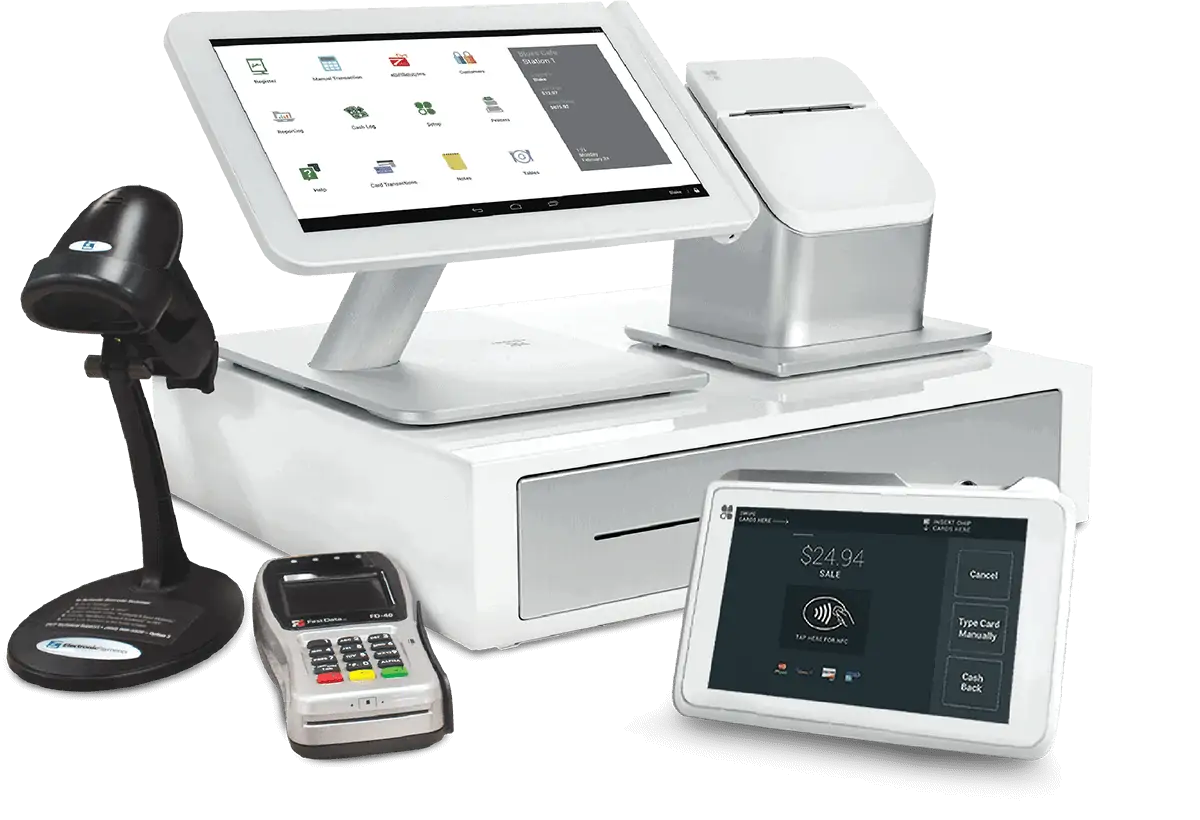 Since different businesses have varying POS needs, the provider offers different pricing plans. Unlike some of the leading POS solutions, Clover is sold with a merchant account. As such, you may get different merchant rates and hardware costs from different vendors of the POS system.
Although the provider dies not to display pricing details on its official website, here is a breakdown of the Clover pricing structure, based on credible third-party sources. According to the current users of the system, the restaurant version of the software required an upfront payment of about $999.
For the retail POS Station by Clover, you should expect to pay about $1,199 upfront. For this much, you will get the POS system, along with a receipt printer, and a cash drawer. As for the monthly subscription fees, the provider offers two main plans, including:
This plan is suited for smaller businesses that less than $50,000-worth of card payments per year. Priced at $14/month, this solution is also ideal for business owners who are looking for an affordable POS option. With this plan, payment processing with be charged at 3.5% + $0.10 for keyed-in transactions and 2.7% + $0.10 per transaction for in-person transactions.
With this plan, you will be able to accept all payment methods, set up shifts and employee permissions. The plan also allows you to track sales, reports as well as payments offline. It will also give you access o the Clover App Market.
If you process more than $50,000 per year in card transactions, you should go for the Register pricing plan by Clover. With this plan, you will be required to pay $29/month in subscription fees. For in-person transactions, the provider will charge you 2.3% + $0.10 per transaction while keyed-in transactions are charged 3.5% + $0.10 per transaction.
As opposed to the above-mentioned plan, the Register subscription plan offers advanced POS capabilities. In addition to Register Lite capabilities, this plan will also offer you access to customer feedback, inventory management, and gratuity check capabilities.
Although the provider allows you to integrate the POS system with third-party payment processors, you may find rates by other providers to be comparatively high. For swiped credit card payments, third-party payment processors will charge you between 0.30% + 5¢ and 2.5% + 15¢.

Clover Hardware Bundle Pricing
In addition to these software plans, Clover will also allow you to choose your preferred hardware components. In this regard, these are the main hardware bundles and pricing offered by this provider: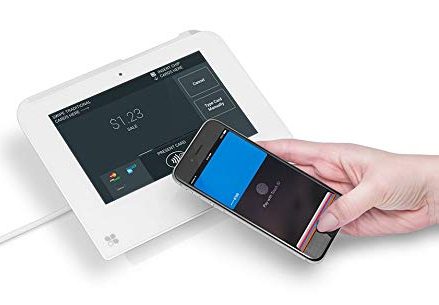 If you do not have enough space for Clover Station in your business, Clover Mini will come in handy. Through smaller than Clover Station in design, Clover Mini is a great choice for a stationary POS terminal with equally appealing features and capabilities.
This solution will give you most of the features and capabilities you will find in a POS system, including the ability to scan barcodes and QR codes. You may also connect the Mini to Clover Station and use it as a credit card swiper or just a customer-facing display.
To get this POS system, you will be required to make an upfront payment of $349. For this amount, you will get Clove POS Mini, Wi-Fi + Ethernet with 3G capabilities, a built-in barcode scanner, and a Gorilla Glass Display Screen.
Depending on your service level, you will be required to pay a monthly subscription cost of between $10 and $20.
Clover Go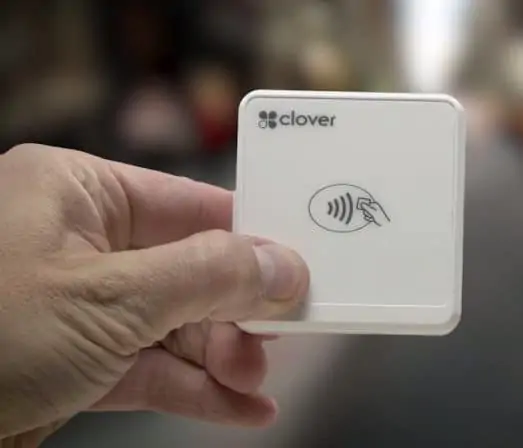 Are you looking for a POS solution that can process card payments on-the-go? Well, you should consider getting the Clover Go solution. The Clover Go is essentially a card reader that does not have its own display. As such, you need to pair it with a compatible tablet or Smartphone.
The hardware components for this plan come at a one-time payment of $89. For this much, you will get the Clover Go App and a Bluetooth-enabled Reader. This App has been proven to be compatible with an array of Android and iOS mobile devices.
Once installed, Clover Go may be used to process any payment type, including EMV, Android Pay, Apple Pay as well as Swipe and Contactless payments. With this option, the provider will charge you 2.75% +10¢ for Swipe, Tap and Dip transactions.
Clover Flex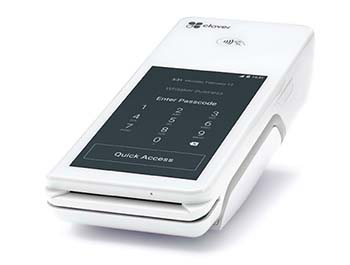 The size and functionality of this solution may be compared to that of a conventional countertop credit card machine. Clover Flex features a 5-inch display and is only a pound heavy. The device is portable and easy to carry around, but only supports a few Apps.
Once you have paid the required upfront cost of $399, you will be given the required hardware components. You will essentially get a starter kit that includes power cords, a charging cradle, and a thermal receipt paper. You will also get the handheld Clover Flex Wireless device, capable of processing all types of payments.
With regards to connectivity, the provider offers Wi-Fi and optional 3G connectivity. To get 3G connectivity, you have to pay an additional $15 per month. With Clover flex, you will also be required to pay a monthly subscription cost of 10 per month.
Clover Station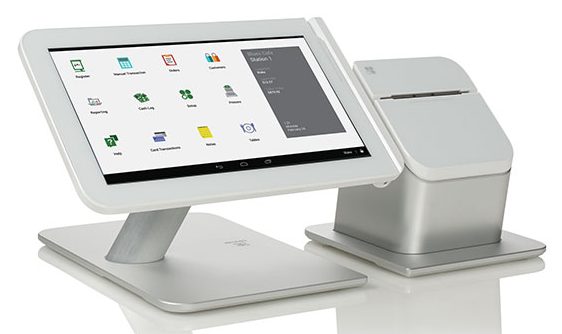 This is the larger version of the Clover Mini stationery POS station discussed above. To get this system, you will be required to pay an upfront cost of $1,149. As you may be aware, Clover Station is one of the most powerful countertop POS systems you can get in both the restaurant and retail industries.
The solution is capable of processing magstripe cards, contactless as well as Chip card payments. It also allows you to print receipt and scan barcodes, provided you have attached two right hardware accessories. This system also comes with a large countertop display.
Clover POS Hardware and System Requirements
Although the provider lists the hardware components you will get for each plan, you will find it to be highly scalable. As such, Clover allows you to add an array of hardware components to your POS system as time goes by.
Being a proprietary POS system, Clover is only compatible with the hardware by the provider. If you are looking forward to expanding your Clover POS hardware, here are some of the hardware components you should consider:
Handheld POS Barcode Scanner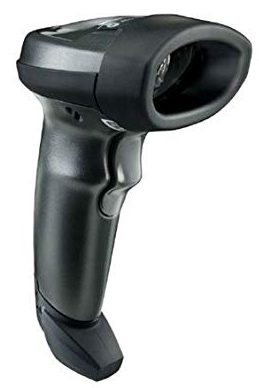 For the best performance, you should get the customized clover version of the Motorola LI2208 Scanner. Priced at $129.99 apiece, this scanner can only capture 1D barcodes. The provider also offers an optional stand for use when you want to switch to a hands-free mode.
POS Weight Scale
POS scales are a necessity for merchants who sell their products by weight. In such a case, you should invest in the CAS SW-RS (20lbs) (US). With this scale, you can easily switch between ounces and grams. Once integrated, the scale will be transferring weight data to the POS for fast and accurate checkouts.
This scale is currently priced at $359.99.
POS PIN Debit Pad
In order to process contactless and PIN-based debit transactions with your POS, you should get the FD40 PIN Pad. This unit is priced at $199.99 and is capable of processing such payment types as MasterCard PayPass, Apple Pay, Visa payWave and Google Wallet.
Similarly, this solution can process EMV payments, including support for Google Wallet as well as chip-and-PIN transactions.
Kitchen POS Printer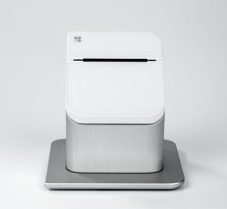 Would you like to have orders printed rather than displayed on a kitchen display system (KDS)? Then you should invest in the Star Micronics SP742ML for your Clover POS system. This printer is specifically designed to withstand the high humidity and temperature in a restaurant kitchen.
This piece of equipment is priced at $289.99 and allows you to print orders in different languages. You can also get a longer, 50-feet long, LAN cable for the printer if need be.
Label Printer
The Brother QL-710W is currently being offered as the label printing option for this POS. Priced at $139.99, the printer is capable of printing about 93 labels per minute. The printer may be used to print custom address labels, price labels, barcodes or labels for postage.
PIN Shield for Clover Mini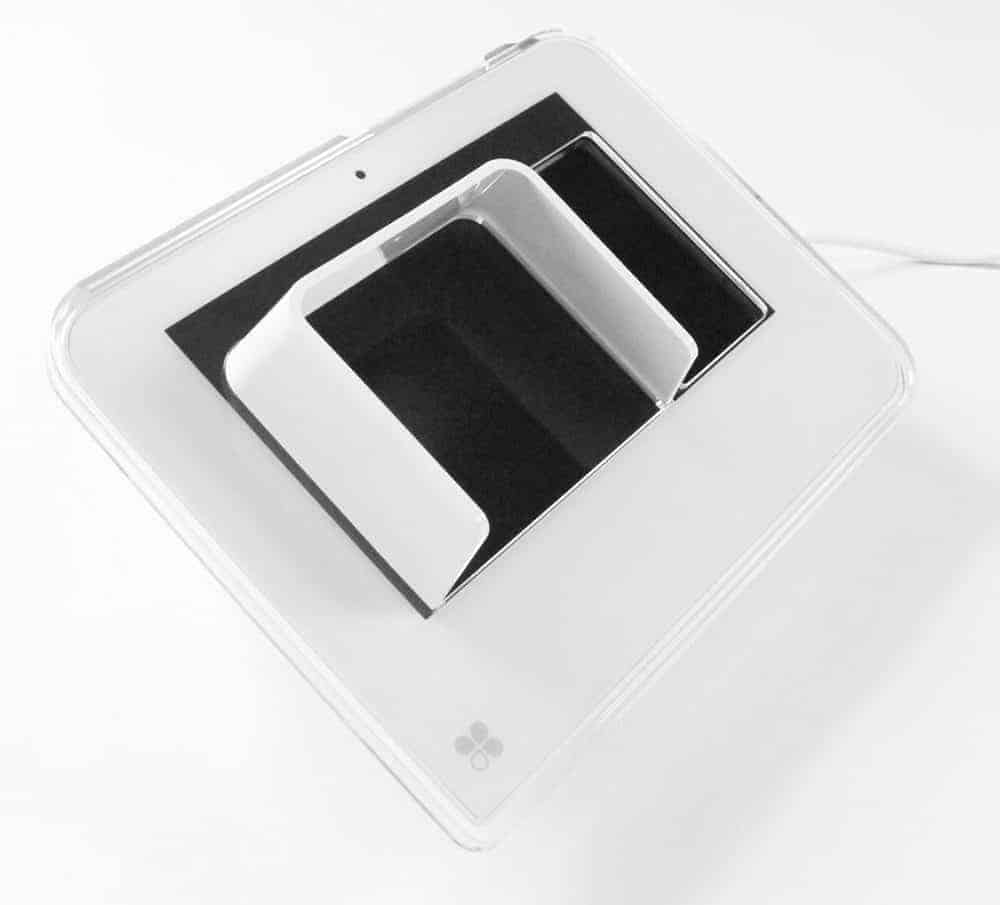 This may not be absolutely necessary but comes in handy for those who would like to cover the PIN entry on their Clover Mini. This piece of hardware will set you $25 back.
Merchant Keypad
This hardware component is specifically meant for use on Clover Mini. With this keypad, you will be able to control the payment process whilst engaging the customers as they make their payments. The keypad allows you to switch between authorizing cards, issuing refunds and taking payments fast and easily.
With this keypad connected to the system, you may as well use the Clover Mini as a modern and friendly payment display for the POS system. The Merchant keyboard is currently priced at $65.00.
Clover Mobile Printer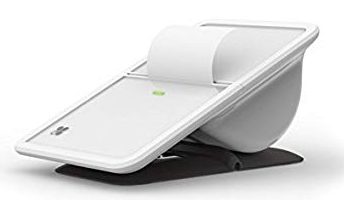 If you are using Clover Mobile as a stand-alone POS system in your business, the above-discussed printers will be of no use. In such a case, you need to invest in a Clover Mobile printer. With this printer, you will be able to print receipts on the go from your Clover Mobile.
The printer costs about $169.99 and is made of liquid silicone rubber for enhanced drop protection. This hardware component comes with a base clip.
Clover POS Features and Capabilities
Clover POS software started as a basic all-in-one Mobile Payments and POS Platform. As one of the fastest-growing POS systems in the market, Clover has made numerous improvements to this platform over the years.
The various Clover POS options are renowned for their security and adaptability. In this regard, the provider offers a myriad of apps that you may use to customize the system to your requirements. Discussed below are some of the popular features and capabilities of the Clover POS system:
Clover App Market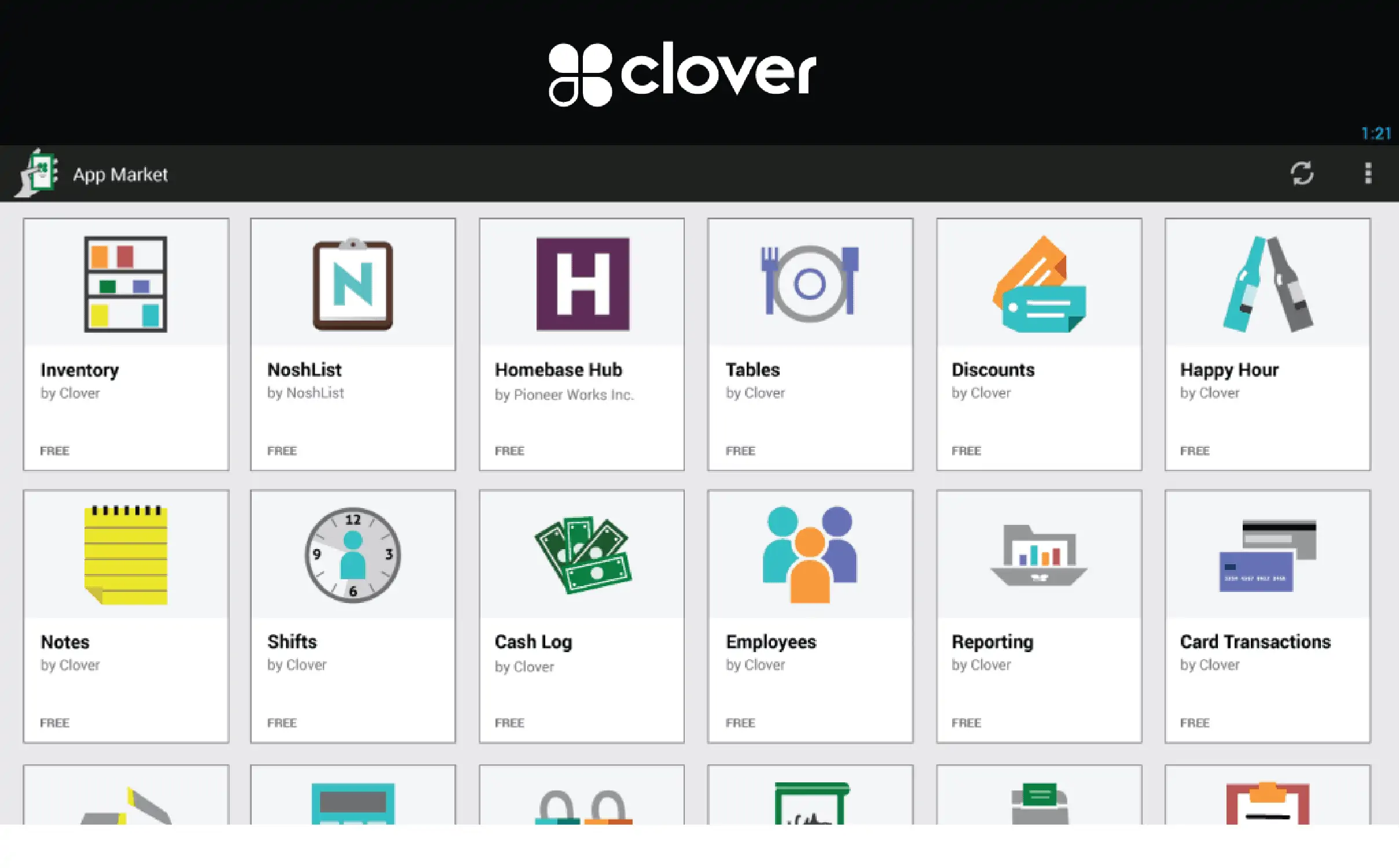 With the Clover POS system, you do not have to just settle for what the POS software is offering.
Instead, the provider offers you a chance to upgrade the features and capabilities of your system at any time you wish to. In this regard, you will have access to the Clover App Market—a platform with more than 100 POS apps for your system.
This platform essentially equips retail and restaurant business owners with unlimited functionality and outstanding scalability. Regardless of your POS needs, the app market has the Apps you need to upgrade your system. Some of the useful apps you can get on this platform include:
With a single click on the App market, you can now install this time clock for additional clocking capabilities. This app features export capability for Payroll-ready timesheets and integrated credit card tips. Additionally, it will help you keep track of employees; Clock-ins, breaks, and clock-outs.
The app will also make it easier for you to utilize server banking and declare cash tips. Many business owners love the fact that the Time Clock App offers scheduling tools as well. Some of the scheduling tools you will get include the ability to: manage time-off requests, handle shift trades, send schedules through email or text messages and send employee reminders an hour before shift.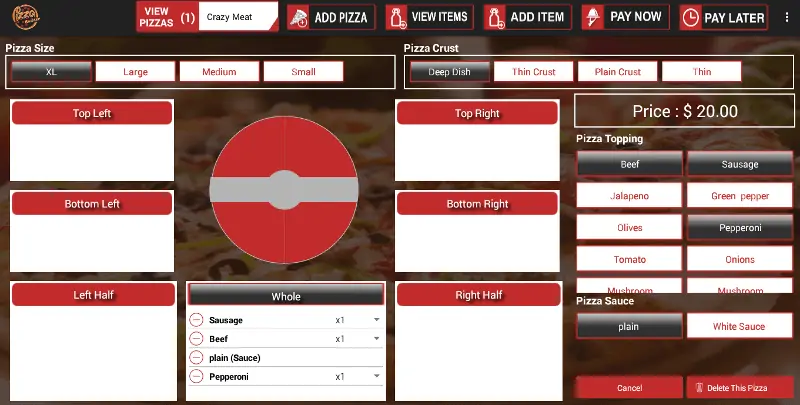 This app serves as a pizza ordering screen for your pizzeria. The app is mainly meant to simplify the ordering process for your customers. As such, the customers will be able to place orders with a reduced number of touches on the app.
Additionally, this app will minimize the errors one can make while creating pizzas with respect to sizes, toppings, and crusts. Some of the features and capabilities you will get from this app include proportional topping pricing, ability to select topping options, create and edit pizzas as well as price toppings based on pizza sizes.
The system will also allow you to view all the order history as well as the prices of the various pizzas being prepared in your restaurant. Pizza Builder POS app may also be used to add customers to any order and add notes to specific items or the entire order.
Clover software offers basic Gift Cards and Loyalty program tools. However, you can complement their functionality with the Perka Rewards App. With this app installed in your Clover POS software, you will be able to create more effective loyalty programs within a few minutes.
The basic, Lite version of this app offers you such capabilities as In-store signature, customizable listings within the app, a powerful dashboard that can track usage and the ability to integrate with Facebook and Twitter.
Such features are meant to enhance customer loyalty in your brand. Upgrading your Perka Rewards App will offer you even more capabilities. For instance, the other version of the app offers such tools as detailed customer data, Real-time notifications, and specials as well as auto check-ins through a Bluetooth beacon.
TrueBeacon Multi-Location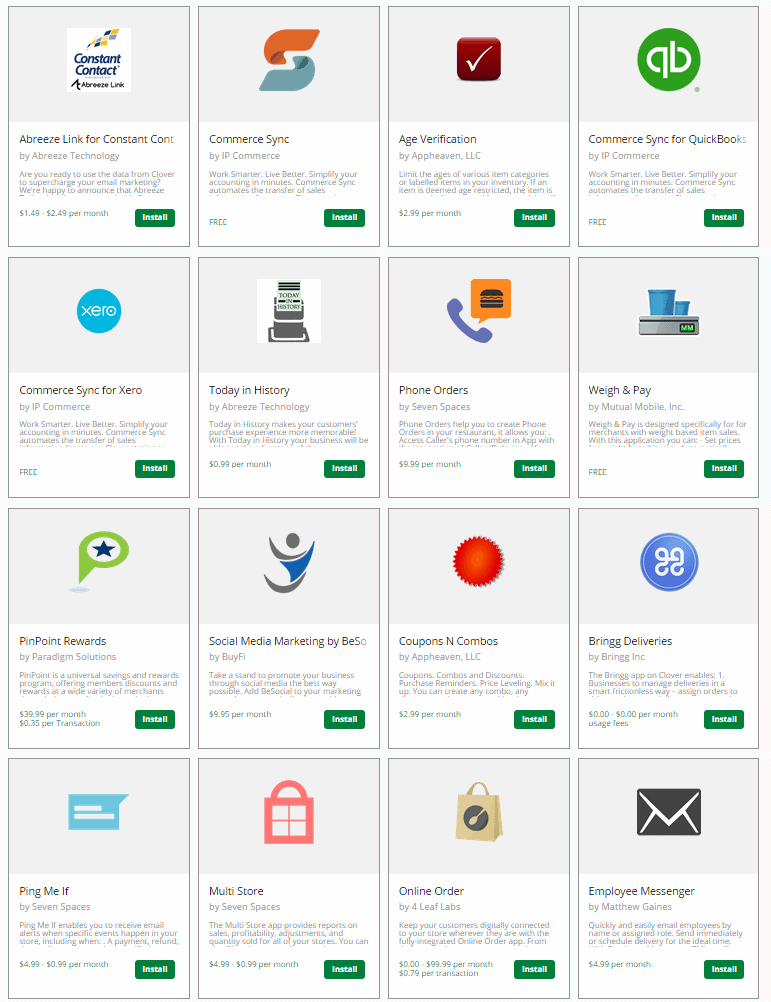 The Multi-Location application by TrueBeacon is the ultimate menu management tool for multi-location chain businesses. In its functioning, the application allows you to make real-time inventory, menu and pricing changes in an individual store, a defined group of outlets or even throughout the entire chain.
The application will also make it easier for you to manage employees at the store level or across the entire chain. In addition to the ability to update the inventory, the application offers a hierarchical structure, featuring a vast array of tools and capabilities desired by retailers and franchise organizations alike.
The reports you get from your Clover POS system may not be enough to tell you how your business is faring. You will need an application that can synthesize this raw data and give you detailed and straightforward insights.
With this app, you can easily compare your business to similar businesses in your neighborhood. Such a capability will give you actionable data on where you currently stand and how you can better the business.
The App also allows you to unlock real-time business data updates and insights, such as insights into product trends, customer spending, and payment transactions. This application is specifically designed to give you insights you can act on, regarding what products are popular to different customer segments, how to respond to traffic, holidays or weather changes and how the various products are selling.
Inventory Management Capabilities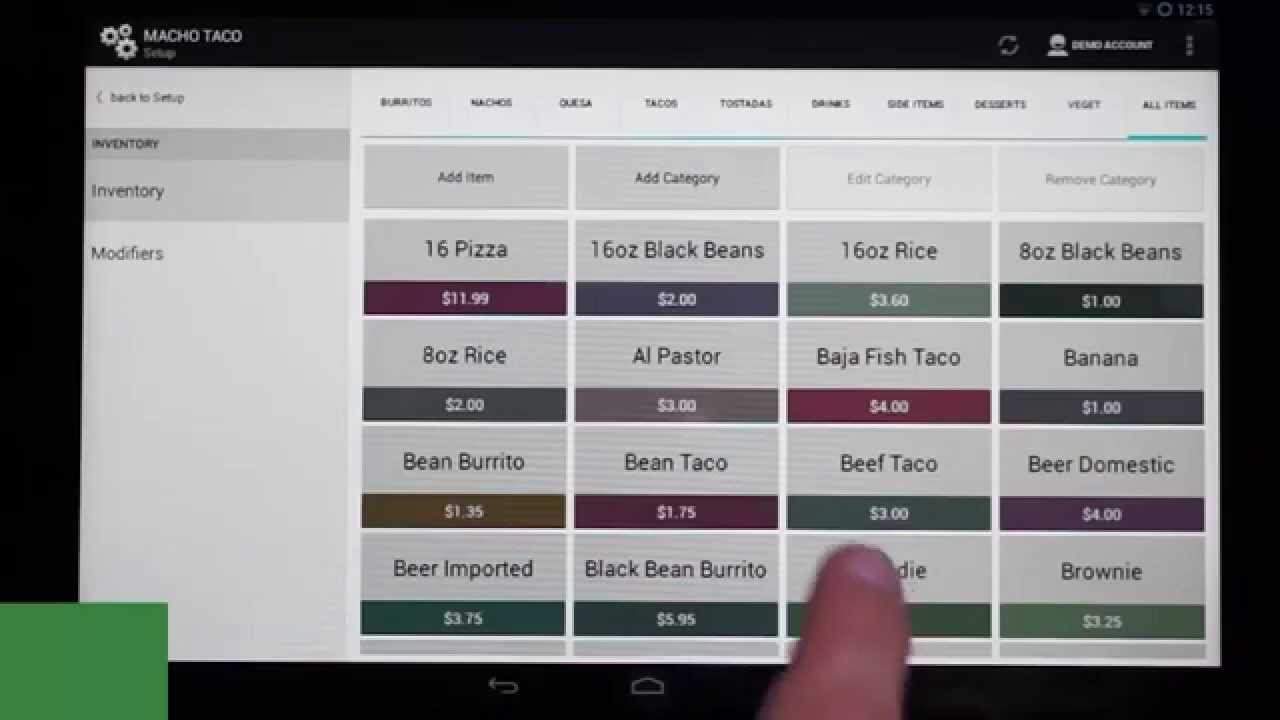 Managing the inventory is a vital part of management in any business. Without the right tools, managing the inventory effectively can be a daunting and time-consuming process. As you will come to learn, Clover Inventory has a horde of in-depth management capabilities to offer.
In order to use this feature, you are first required to download an inventory spreadsheet. You should then open the spreadsheet in .xlsx format, with an application like MS Excel. You should then fill in the various fields you would like to track, such as item name, type, price type, tax rate, price unit, product code, business cost, and modifier group.
Clover Inventory makes it possible for you to describe the various inventory items using variants like options and color. You may as well organize the items into labeled categories for easier access. With this functionality, you may create new items with variants or without any variants.
Reporting and Analytics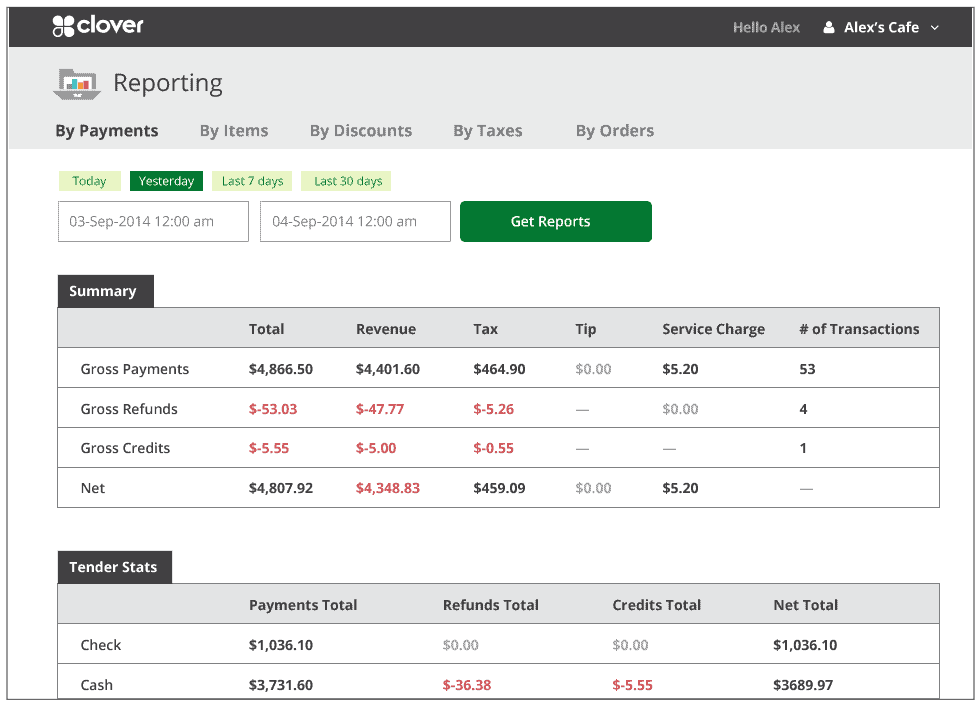 As you may be aware, almost all retail points of sale systems have a reporting capability. As such, the difference is what the reporting feature can actually do. With the Clover Station POS system, you will have access to decent reporting capabilities and tools.
To begin with, the application will present with you with By Payments reports. This report shows you a summary of the transactions completed within a particular time frame in the business. In addition to this report, the system will automatically compile business data and continually present you with an array of detailed reports.
For instance, Clover Station can give you detailed reports on employee statistics, cash transactions, net payment statistics, payments according to card types, discounts, and taxes and employee activity among other reports. The feature allows you to sort such reports according to date and time or filter them according to certain requirements.
Customer Management
Collecting and storing customer information is not only important for creating targeted marketing campaigns; it helps you understand your customers. This will, in turn, help you serve them even better; hence improve their satisfaction in your business.
Some of the Customer Management tools offered by this system include:
Gift Cards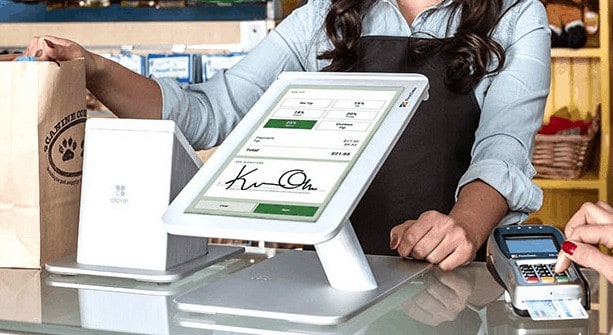 When it comes to creating customized gift cards and processing them, Clover is one of the best retail POS systems in the market today. This feature allows your customers to conveniently access their custom gift cards on their mobile devices.
Again, you will not need paper receipts to keep track of the cards. Instead, the POS system allows you to track them digitally. This feature also offers a reporting capability that will help you analyze gift card sales in your business.
Clover Online
This is an online eCommerce platform by Clover that is designed to integrate seamlessly with Clover POS system. This option gives an opportunity to manage your online store from anywhere. In addition to supporting different payment options, this platform is mobile device friendly.
You will also find the platform comparatively easy to set up. As a matter of fact, it is packed with tools to help you design and customize the platform to your preferred specifications.
Loyalty
The default version of this feature is included in the Clover Station POS system. You may decide to use this feature as is or customize it to your preferences. In this regard, you may create a custom loyalty program that allows your customers to accumulate loyalty points in different ways.
From the data collected by this feature, you will be able to look up different customers in your system and have a look at their spending habits. Using this feature, you can as well send out promotions through email or ext in real-time.
Employee Management and Permissions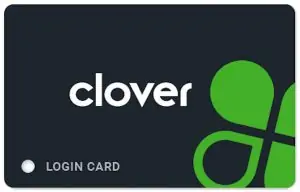 The Clover point of sale system helps you regulate employees' access to the POS system. Based on their roles and responsibilities in the business, you will be able to allow and restrict access to various POS features by your employees.
To begin with, the system makes it easier for you to add employees to your Clover account. While adding employees to the system, you will able to add such descriptions as to their names, roles, nicknames—what will appear on customer receipts, contact information and login PINs.
Helps you decide who can access different sections
Employee management includes the process of discovering, recruiting, and onboarding new employees to work at your establishment. It also includes training, providing tools and resources for employees to learn about their roles and responsibilities, and ensuring that their goals are aligned with company values. The goal is to ensure that each employee is a happy, productive member of the team.
Hiring and training new employees is expensive. It can cost 6 to 9 months' salary in wages and overhead, depending on your industry. Investing in employee management tools and processes that support your team can save time, money, and effort. This way, you can spend more time and energy finding the right people for your business.
Employee engagement also results in higher profit margins. According to a recent Gallup study, companies with high levels of employee engagement see 21% greater profitability. Incentives also play a significant role in employee morale and retention. Whether it is a simple lunch voucher or a bigger bonus, employees feel encouraged to work harder and stay longer.
Managing employees requires a lot of time and patience. It is important to set clear expectations and monitor performance on a regular basis. This will help you identify problem areas that can be addressed through coaching or training. Keeping an open communication channel with your employees is also crucial. It will ensure that they know what's expected of them and help you avoid misunderstandings.
In order to manage permissions, it is advisable to assign the various employees in your business a role. This way, it will be easier for you to allow access to sensitive POS features to only the right employees. The other employees will be restricted to basic POS registry functions.
Use Clover POS to Manage Your Business
Whether you are looking for a stationary POS terminal or a mobile POS solution, Clover has the right solution for your business.
With the Clover Station, Clover Flex, Clover Mini or Clover Mobile, you will still get distinct and beneficial features for your business.
However, you do not have to stick to the basic functionality offered by this POS software.
The Clover POS App Market has a horde of applications you can use to enhance the functionality and suitability of your system. Such are the aspects that make Clover one of the best retail POS system providers today.