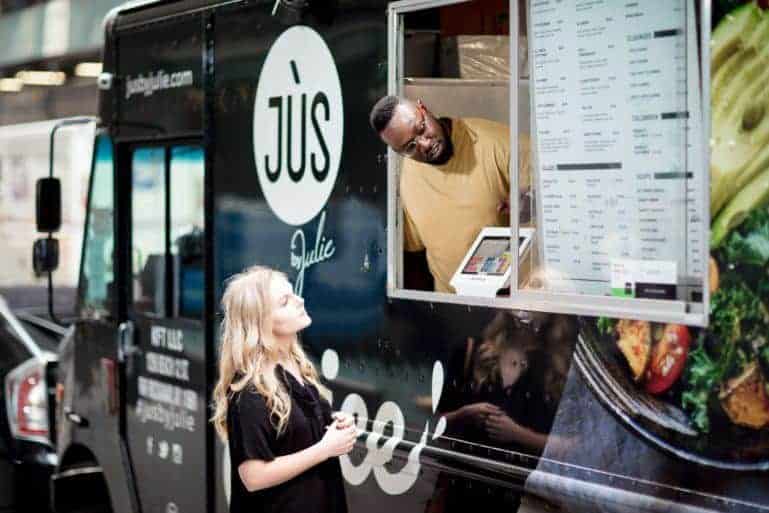 Food trucks are unique businesses with specific needs and distinct operating practices. They need point of sale (POS) systems, but not all restaurant POS systems serve food trucks' needs. They require specialized food truck POS systems to be successful.
The growth in food truck competition in recent years intensifies the need for a POS system. If food trucks don't deliver quick service, they will lose to the competition.
Competition is so fierce that the US food truck market size more than doubled in 10 years. The market size grew from $487 million in 2010 to $1.05 billion in 2020 (Source). It's clear that to succeed in the food truck business, you need a powerful food truck POS software with the right features.
Most importantly, food truck owners and employees rely on mobile access to process transactions, so solid Wi-Fi connectivity is a must. Other features to consider are reporting, analytics, and inventory management. By tracking ingredient stock levels and which items sell the most, you'll be more prepared and boost your profitability.
The best food truck POS system will combine ease of use, solid uptime, fast payment processing, and selling features, all in one solution. And, with the right third-party software integrations, you should be able to execute on tasks that the POS system may not be able to handle out of the box, like accounting or employee scheduling. 
How Does a POS System Work In a Food Truck?
Food trucks rely on mobile internet connections to operate. The require a cloud-based POS system that can connect to the internet through both mobile data and Wi-Fi signals.
These systems can't operate for long without mobile access. Most use iPads or Android tablets to accomplish this. All of the data is stored and backed up in the cloud meaning food trucks don't need to maintain a local server as many restaurants use.
Top 6 Food Truck POS System Reviews
TouchBistro: Best Overall Food Truck POS Solution
Square: Best Food Struck POS for Rapid Service
Toast: Most Scalable Food Truck POS System
Talech: Most Customer-Centric Food Truck POS
Revel Systems: Best Customer Support
Lavu: Best Food Truck POS for Uninterrupted Operation
Side-by-Side Food Truck POS Software Comparison
System
Starting Software Costs
Hardware Costs
Key Features
Our Score

Our pick!

Free for basic software
Starts at $50 for readers
Highly intuitive, easy-to-use interface

4.8/5

$69/month for the software license
All hardware add-ons are quote-based
Customer accounts that track previous orders and promote best sellers

4.7/5

$69/month
$799
Add Guest-Facing Display +$200
Order management system that alerts staff when food is ready

4.5/5

Starts at $69/month
Pricing varies
Offers kiosk mode and customer-facing display

4.3/5

$99/month per terminal
Onboarding and installation start at $649
The first ever POS system for iPad

4.3/5

Starts at $69/month
Starts at $899
Tab preauthorization to streamline workflow

4.1/5
(All systems come with mobile access!)

TouchBistro is a favorite among food truck owners. Its food truck POS system minimizes the time involved in taking orders, serving food, and processing payments.
Expedited Order Processing
Accelerate order delivery by taking your mobile device out of the truck to take orders from those waiting in line. By the time they arrive at the window to pay, their food will nearly be ready, if not already boxed up.
Payment Processing
The system accepts all types of payments. Cash orders are a breeze. TouchBistro can predict the amount of change cash-paying customers will need based on the size of their order. This is a big time-saver for food trucks.
On top of that, TouchBistro can process swipe or chip cards. It even accepts mobile payments like Apple Pay, Google Pay, and Chase Pay, ensuring every food truck customer is served.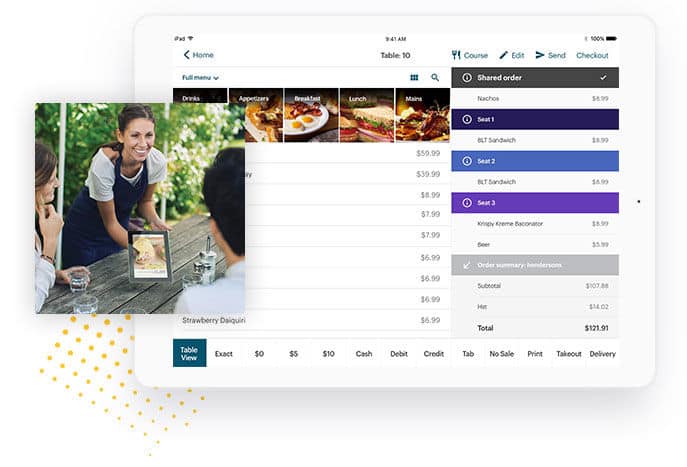 Increasing Order Sizes
Another cool feature offered by TouchBistro is built-in upsell functionality. When a customer orders a specific item, suggested add-ons pop up on the screen. This allows food truck employees to ask patrons if they'd like X, Y, or Z with their order. Food trucks report this to be a surprisingly effective tool for increasing check sizes and revenue generated per customer.
Extensive Insights
TouchBistro excels at food truck reporting and analysis. Inventory reporting lets you keep an eye on stock levels, so you don't disappoint customers craving their favorite menu item.
Order tracking provides insight into top- and low-selling dishes. This allows you to adjust your menu and remove stock that's occupying valuable space inside your truck.
Bottom Line
If you run a successful food truck that's constantly busy, Touch Bistro's speed and reporting facilitate growth like no other. Read our full system review to learn more about TouchBistro.
2. Square: Best POS For Rapid Service


Square POS is the most-used point of sale system in the world, with over two million customers using the system. Its basic software is free to use and the company even offers free resources and guides around how to successfully run a food truck.
Maximum Food Truck Mobility
Square was the first cloud-based, mobile POS system to dominate the POS market. When it launched, it introduced the concept of a USB-attached card swiper that could be used with an iPhone or iPad.
Today, its iPad POS system allows food trucks to stay connected while on the move. Plus, it's ideal for food trucks due to its compact size.
Ease of Use
Square POS was built with simplicity in mind and that's obvious when you use the system. It lives up to its reputation with a highly intuitive, easy-to-use interface that lets food trucks complete functions very quickly.
Speed is essential to food trucks. When feeding a long line of hungry workers during their lunch hour, or bar-goers after closing hours, speed is everything.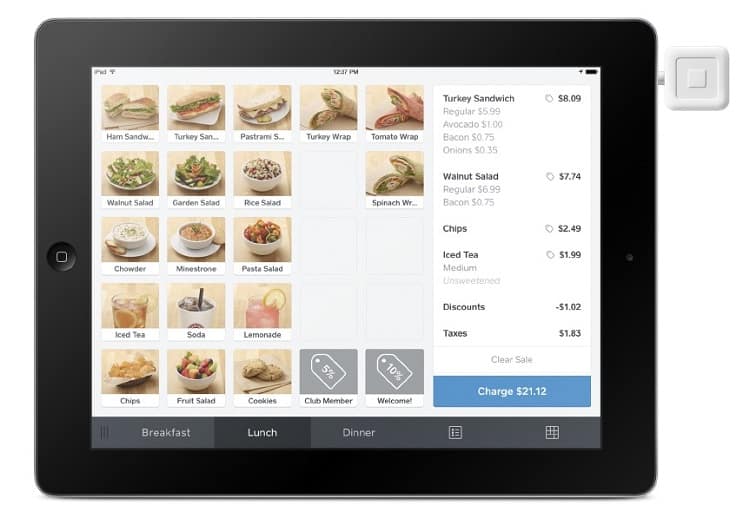 Payment Processing
Square started out as a payment processing company and today incorporates that same technology into its POS systems. Food trucks can securely and quickly process credit and debit card payments, further increasing the system's speed.
And, of course, it can process cash payments as well. Finally, end-to-end encryption ensures payments are processed in compliance with the latest payment card industry (PCI) security standards.
Pricing
Square's free software is a major "selling" point for its POS system. This is especially attractive to food truck owners with limited startup capital. Using Square lets them spend their existing capital on other costs involved in opening a food truck.
One Downside: Limited Customer Support
One disadvantage of using Square's food truck iPad POS system is that live customer support isn't available around the clock. If the system crashes at 1:00 AM on a Saturday morning, your food truck's business comes to a screeching halt.
Fortunately, we've read very few reviews reporting system crashes or glitches so this counterbalances the lack of live support. Plus, Square's self-help knowledge base is extensive and lets food trucks resolve problems on their own.
Bottom Line
While Square isn't the most feature-rich POS system, it serves the needs of food trucks. Due to its pricing, Square is best suited for food truck startups with limited capital. Read our full system review to learn more about Square.
Get A Free Quote
3. Toast: Most Scalable Food Truck POS System


Toast is built specifically for the restaurant industry and offers a food truck specific POS. The Android-based mobile system is a top choice for ambitious food truck owners looking to grow.
Food Truck Scalability
Toast accommodates the growth of your food truck business. With Toast, you can start out with its affordable, basic package when you first open. As you grow your food truck business, you can add additional features as needed. In short, the system grows alongside your business, making it one of the most scalable food truck POS systems on the market.
Ample Integrations
Taking food truck scalability one step further, Toast offers over 70 integrations with third-party software vendors. As your food truck business grows, you'll likely need to add functionality not offered directly by Toast.
When you reach this point, you can add that functionality through integrations with applications of all types. Toast offers food trucks integrations with the following types of apps:
Labor Management
Reservations
Inventory Management
Accounting
Gift Card Apps
Marketing Automation
Reporting and Analytics
Loyalty Programs
Payroll Apps
Data Security
Customer Relationship Management
Mobile Pay Apps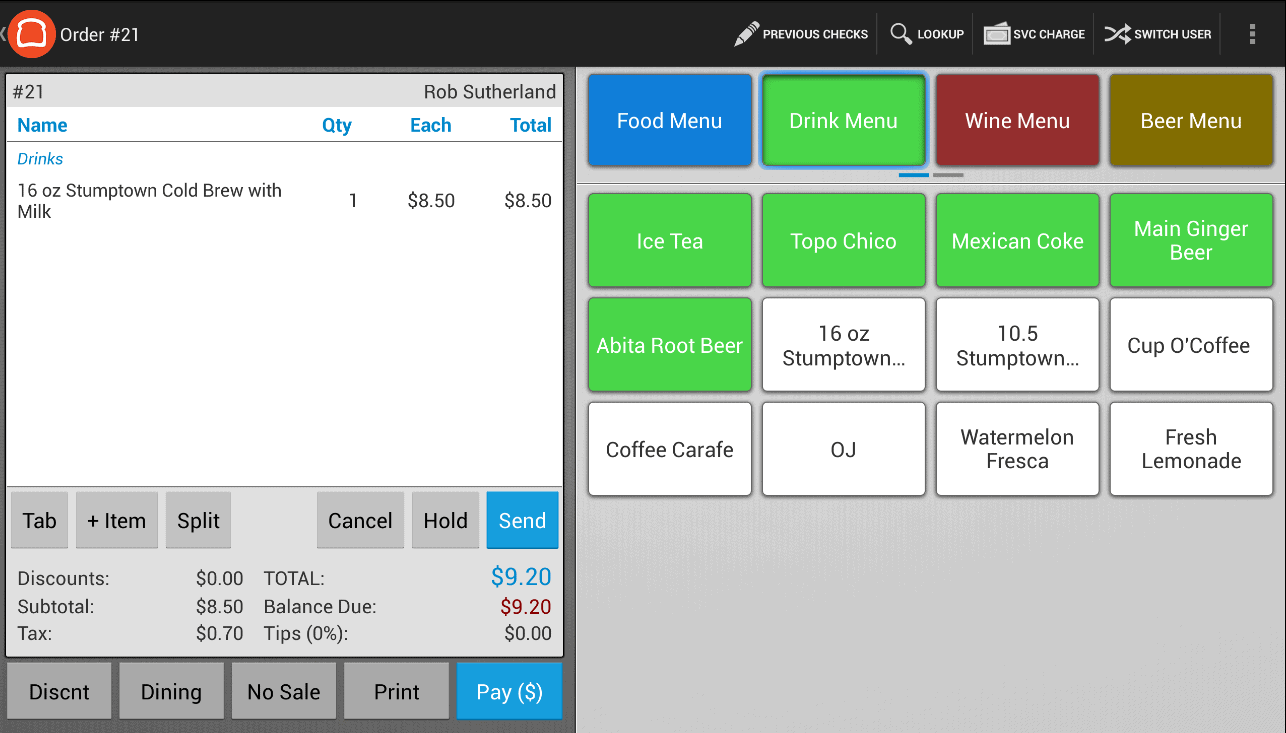 Highly Customizable POS System
One of the strongest selling points for Toast is the level of customization food trucks can achieve. Since food trucks are so unique in their operating practices, system customization can be incredibly helpful.
The user-friendly interface makes it easy to customize the system without the help of a software developer or coding expert. No two food trucks are alike. Being able to customize your food truck POS system to align with how you operate can be priceless.
Bottom Line
If you're ambitious and want to grow your food truck into an empire, you need a highly scalable food truck POS system. Toast is among the best options available for growth-oriented food businesses. Read our full system review to learn more about Toast POS.
Get A Free Quote
4. Talech: Most Customer-Centric Food Truck POS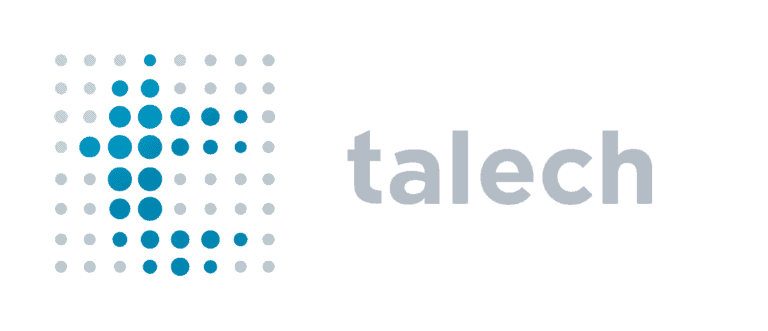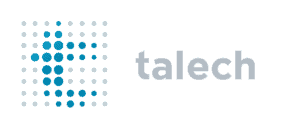 Customer experience is gaining steam and overtaking price and product quality as the leading driver of consumer purchase decisions. As customers gain more power in the customer-vendor relationship, companies are realizing how important it is to treat customers well. Talech is one of those companies and it shows in their food truck POS software.
Ideal System for Food Trucks
With talech POS, you can manage your food truck operations and sales with a cloud-based system that works online. Inventory changes and menu adjustments are automatically updated for all stations in real time. The POS system also makes it easy to create special happy hour or BOGO discounts that can be activated at specific times. Other features include print item labels for streamlined ordering and automated dispatch of order tickets upon payment. The system is EMV-ready and supports a choice of payment terminals as well as talech's in-house payment processing. Employees can easily track their hours with the POS's clock-in and out feature, while managers can get insights into staff performance via manager reports.
The POS comes with three pricing plans: Starter is a perfect fit for small retail and cafes; the Standard plan is kitted out for quick service and fast casual restaurants as well as medium-size retailers; and the Premium plan provides full support for both multilocation restaurant businesses and salons and spas. All plans offer a range of POS hardware options, including industry-leading tablets from MOBY and Poynt, along with the Talech POS software.
Customers get great customer service as talech POS includes two 24/7 phone support options and a large library of tutorial videos for the software. The software is easy to use and able to scale up as your business grows. While the software doesn't come with solutions for more advanced features like reservations or kitchen display systems, it does have a good set of add-ons that can address many of your needs, including loyalty and online ordering.
Self-Serve Ordering Mode
Talech includes nice-to-have features like a customer-facing display that lets food truck patrons place and customize their own orders. This saves time for food truck employees while delivering an engaging customer experience.
Customer Management Features
In keeping with the company's commitment to customer satisfaction, Talech includes various features that enrich the food truck customer experience. Built-in customer relationship management (CSR) capabilities track customer purchase histories and enable food trucks to deliver a more personalized experience.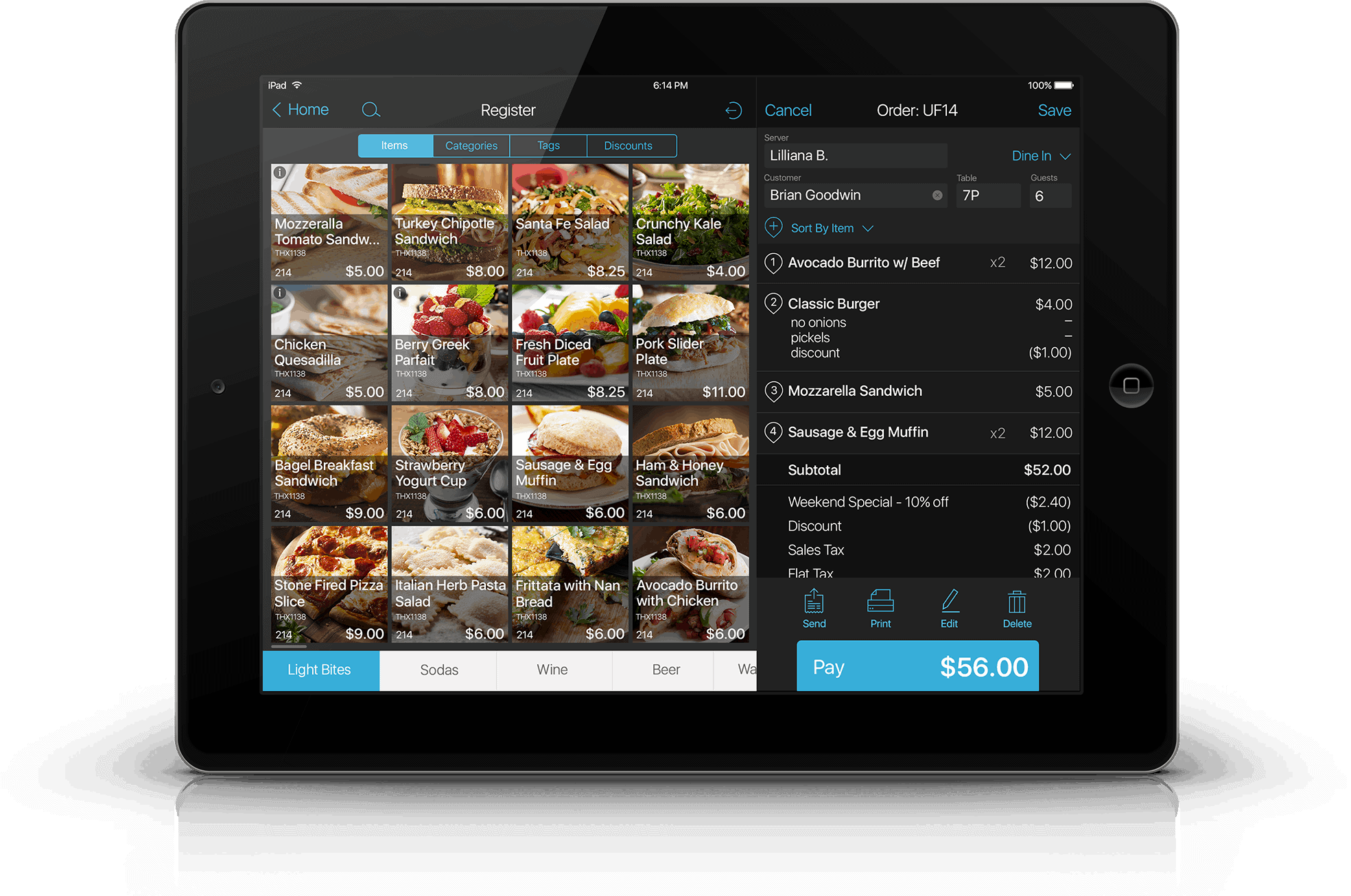 Driving Customer Satisfaction
The system lets food trucks create house accounts for repeat customers. It also includes customer loyalty programs to drive repeat business. Once customers become loyal to a food truck, they frequent it often due to the sheer convenience.
Mobility
Food trucks can operate Talech through an iOS native mobile app. It can also be accessed through the browser of any mobile device as a software-as-a-service (SaaS) application. In short, food trucks can access the system remotely on any mobile device with a web browser.
Customer Support
Talech offers live phone support 24/7/365. Users rave about how accessible Talech's support team is and how effectively they resolve common issues faced by food trucks.
Bottom Line
If you've caught on to the growing importance of the customer experience, Talech is an excellent choice. The system facilitates the delivery of a world-class food truck customer experience. Read our full system review to learn more about Talech POS.
Get A Free Quote
5. Revel Systems: Best Customer Support


Revel Systems offers a variety of point of sale solutions, including a retail POS system. However, the rest of its offerings revolve around foodservice establishments, including its food truck POS.
Stellar Customer Support
The inability to reach customer support during a rush can result in substantial revenue loss for food trucks. We read mixed reviews about Revel's customer support presence, with some users raving about it and others lamenting its poor quality.
Because reliable support is critical to food truck success, we looked into this. We reached out to Revel's customer support team at midnight on a Saturday to get to the bottom of the issue. Including selecting options from their automated menu, we had a live customer support rep on the phone in less than 60 seconds. Mission accomplished and five stars for Revel Systems.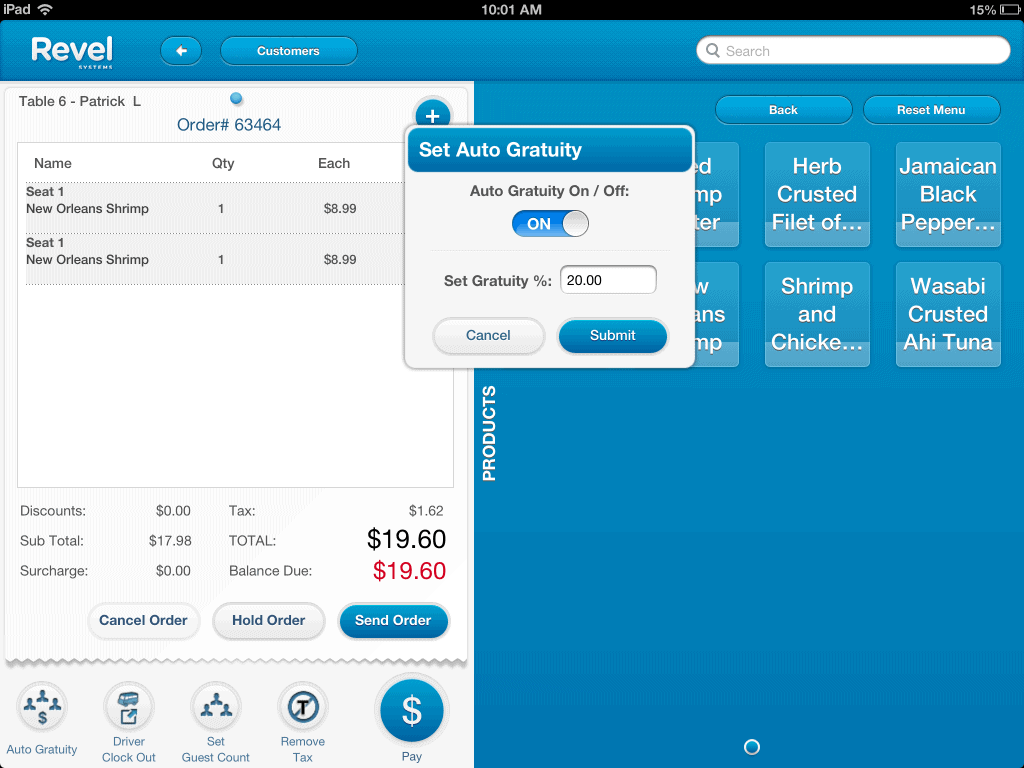 Always-On Mode
Because food trucks rely on an internet connection to function, a POS system that stops working when it loses its signal poses a constant risk. If food trucks can't process card payments due to non-connectivity, they can't sell to anyone without cash.
Revel's always-on mode allows food trucks to process payments even if the system isn't connected to the internet. This can be a life-saver for food truck owners.
Open API for Maximum System Control
An application programming interface (API) is a gateway of sorts that allows users to integrate one software system with another. Most POS systems determine which application their customers can integrate with. That's a controlled API and it limits the end user's ability to build out their system the way they want.
Revel Systems offers an open API, meaning that food trucks can integrate any system they want with their POS solution. This isn't very common, but it speaks volumes about Revel Systems' focus on customers' needs.
Bottom Line
Revel Systems delivers excellence in two very important areas: customer support availability and payment processing without an internet signal. Those two factors alone make the system an attractive option for any food truck owner. Read our full system review to learn more about Revel Systems.
Get A Free Quote
6. Lavu: Best Food Truck POS for Uninterrupted Operation


Losing an internet signal can have detrimental impacts on a food truck. Without that signal, they can't serve their delicacies. Lavu safeguards against that as well as delivering other features that drive food truck success.
Provides Uninterrupted Operations
There are no second chances when it comes to first impressions in the restaurant business. From the decor to the food, customers make quick decisions based on first glances that determine whether they will stay or go. With this in mind, it's critical that a restaurant has the right tools to keep lines moving and tables turning. That's where Lavu POS shines.
Designed with fast-casual restaurants in mind, the iPad POS system is built for ease of use. It has a customizable fast-casual user interface that is easily navigated and color coded to help employees understand what each section does. Adding accessories like an integrated weight scale for ice cream and frozen yogurt, kitchen display monitor for dine-in locations or a printer for takeout orders helps create a custom POS that fits the specific needs of your restaurant type.
The software also offers front-of-house (FOH) features to reduce service time and make it easier for your team to manage the flow of diners in and out. These include tab preauthorization to prevent lost cards, automatic loyalty redemption and the ability to apply forced or optional modifiers on menu items at the POS.
The Lavu POS is available as a cloud-based solution, or through its local server, which lets you run the system without internet access. The local server is a great feature for restaurants that are worried about potential internet outages or slow connections that could interrupt transactions. The system is also compatible with a variety of third-party services that restaurant owners will need to run their business, including business management tools, online ordering platforms, beer control systems and kitchen display systems.
Offline Mode for Uninterrupted Operation
Lavu features an offline mode that allows food truck staff to process credit and debit card payments without an internet signal. We can't stress how important this is for food trucks, because they depend so heavily on constant internet access.
Quick-Serve Mode
Turn on Quick-Serve Mode to expedite order taking when the line outside the truck starts to grow. Once you enter an order and it's sent to the kitchen, the order screen pops right back up. You take the next order immediately instead of having to navigate back to the order screen. Fewer clicks lead to more meals served.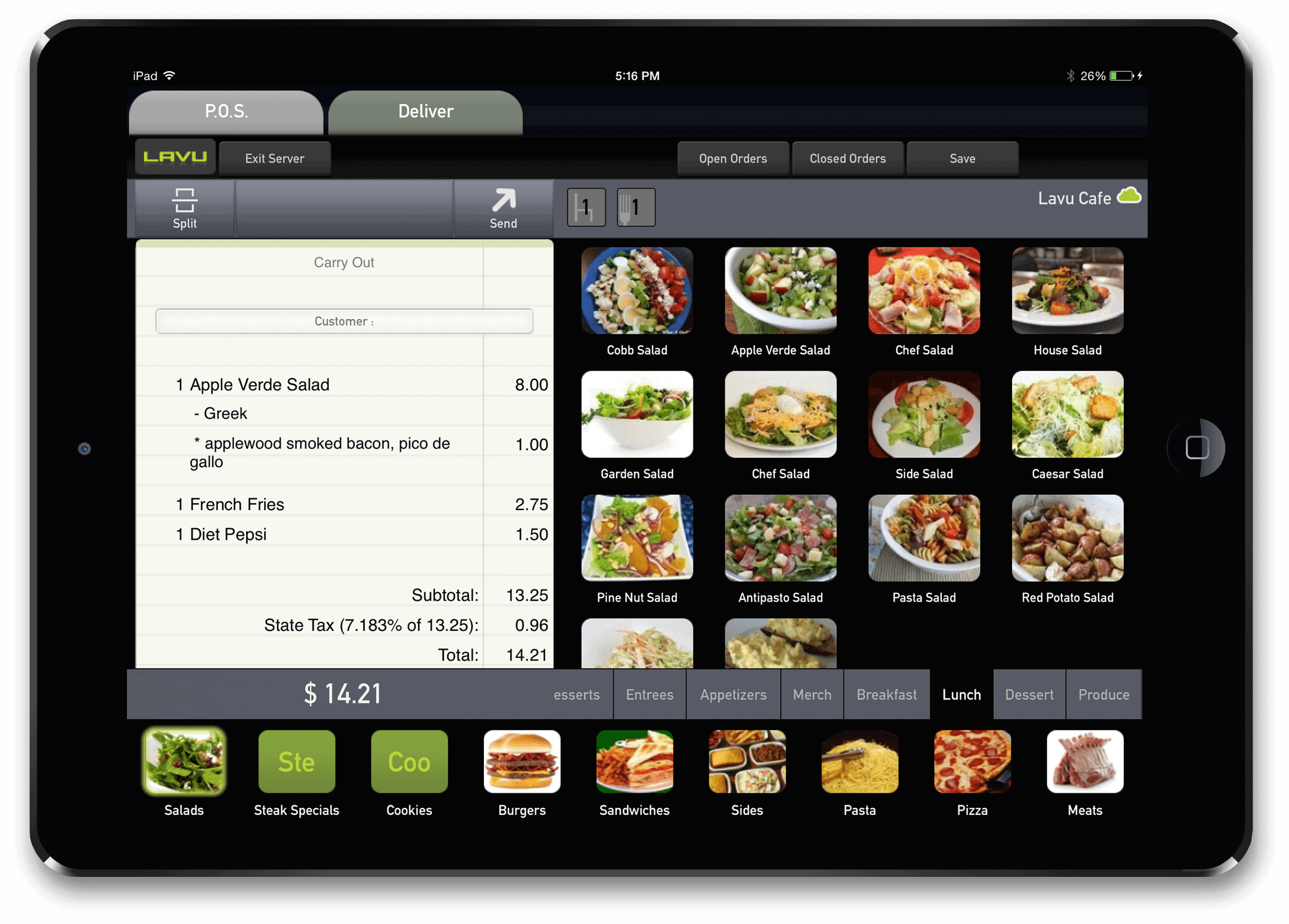 Payment Processing
Lavu's payment processing capabilities are easy to use yet powerful and rapid. This frees up time for food truck employees to focus on speedy order delivery. The system accepts and processes every type of payment imaginable. These include all types of credit and debit cards, mobile payments, and even contactless card payments. This ensures every hungry customer walks away from your truck full and satisfied.
Bottom Line
Lavu is a good fit for food trucks that struggle to maintain a solid internet connection. Read our full system review learn more about Lavu POS.
Get A Free Quote
Buyer's Guide: What to Look for in a Food Truck POS Solution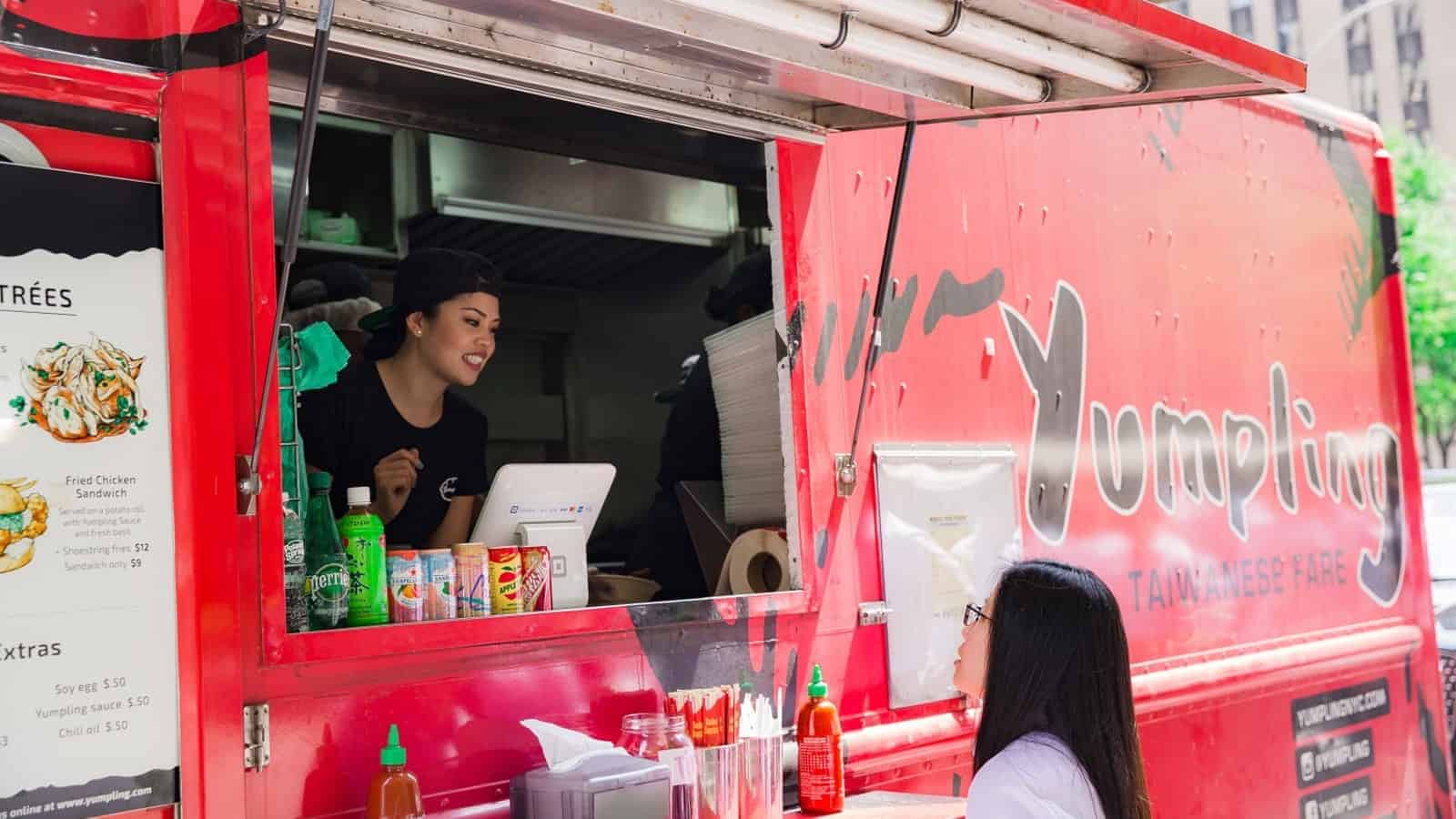 Because food trucks are such unique businesses, it's essential that you select a food truck POS system with the right features. Being mobile businesses, food trucks have POS system requirements that no other businesses have.
We compiled a comprehensive buyer's guide to provide insights around what you'll need in a food truck POS system. This will make your food truck POS software evaluation much easier. With this insight, you'll start serving customers faster and more effectively.
Mobile Access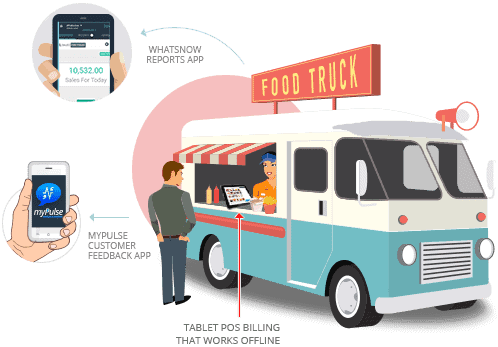 Although there are exceptions, food trucks are, by nature, mobile. It's the primary trait that differentiates them from every other kind of foodservice business. It naturally follows that their software must accommodate that mobility.
Mobile food truck POS systems facilitate constant movement by connecting to the web via mobile data when they're not connected to a stationary Wi-Fi signal. It's essential that you use a cloud-based POS system for your food truck.
Ease of Use
Because food trucks target parts of town with the highest demand, they tend to be busy most of the time. In a fast-paced environment, it's essential that food truck POS software is intuitive and easy to use.
With a line of hungry patrons outside your food truck, you must prepare and serve orders at a rapid pace. If your system is unintuitive and requires too many steps to complete a given function, you'll lose customers. It's important to invest in a food truck POS solution that minimizes customer wait time and maximizes customers served.
Credit and Debit Card Processing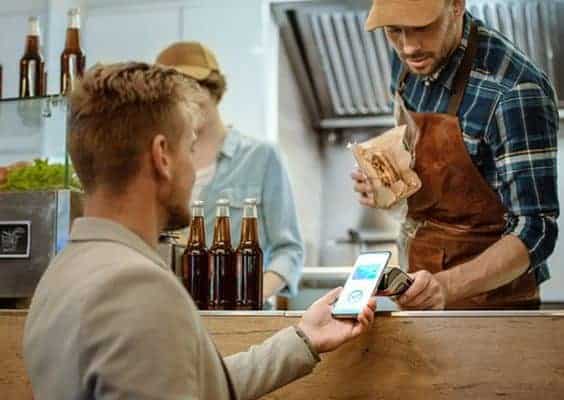 Don't assume all patrons will carry cash—especially not late at night when they start pouring out the bars. Many will only carry cards and you don't want to lose their business because your food truck only accepts cash. It's crucial to use a food truck POS with built-in payment processing features that accept all types of cards.
Offline Functionality
It's also important that your system can operate and process card transactions quickly and uninterrupted. You don't want to hold the line up. Systems with offline functionality and card processing capabilities are sought after by food trucks. You never know when your connection to the web might drop.
Touchscreen Monitor with Digital Signatures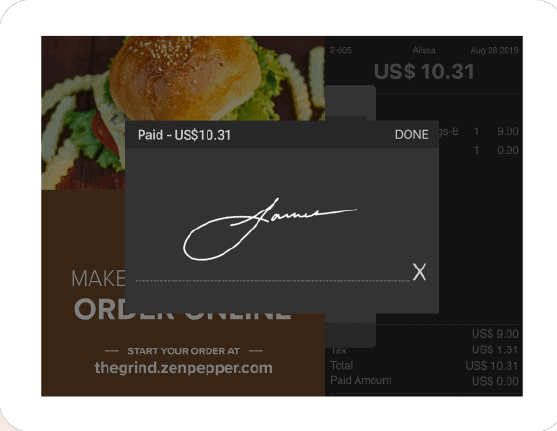 With the rapid pace of service food trucks maintain, using paper receipts and collecting hand-written signatures can become a burden. A touchscreen monitor that allows patrons sign card receipts electronically is a huge time saver for food trucks. You'll still need to give customers a paper receipt if they want one. But you'll avoid having to keep track of hundreds of hand-written signatures in your truck.
Bluetooth Printer Capabilities
Because you'll be using a mobile device to process orders, you'll want a food truck POS with Bluetooth printer capabilities. You'll be handing the mobile device through the window to collect signatures. It can't be connected to a printer via a cable.
Reporting and Analysis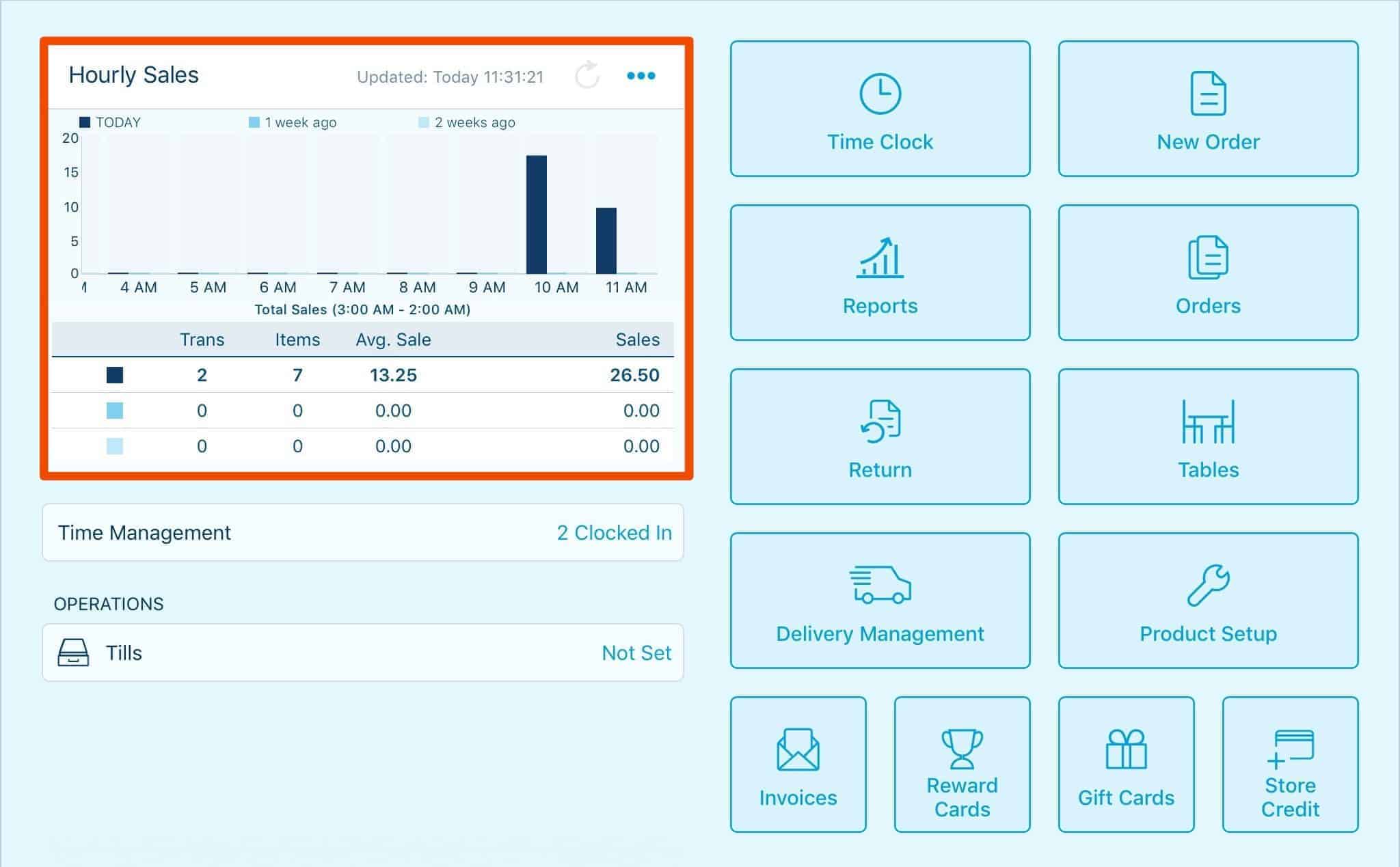 As you grow your food truck business, you need access to data and reporting around multiple metrics. Which locations are the busiest in the afternoon? Which locations see the most traffic late at night? Which items are selling the most and which are simply taking up limited inventory space? Which days of the week are busiest for each location?
You need answers to these questions to determine where you park your truck, and when, so you can maximize revenue. Look for a food truck POS solution that can track metrics like these and produce reports that provide this insight. Ideally, your system should include the ability to run custom reports. These give you the data you need to make informed business and revenue growth decisions.
Inventory Management Features
Manually counting inventory and entering data saps valuable time food truck employees could spend on other tasks. Look for a system that accommodates a handheld inventory scanner.
You also want your system to automatically subtract inventory items from your stock count after each order served. Moreover, it's even better if your system sends you alerts when the stock of individual items is running low. This ensures your food truck never runs out of a key ingredient during a busy part of the day.
Around-the-Clock Live Customer Support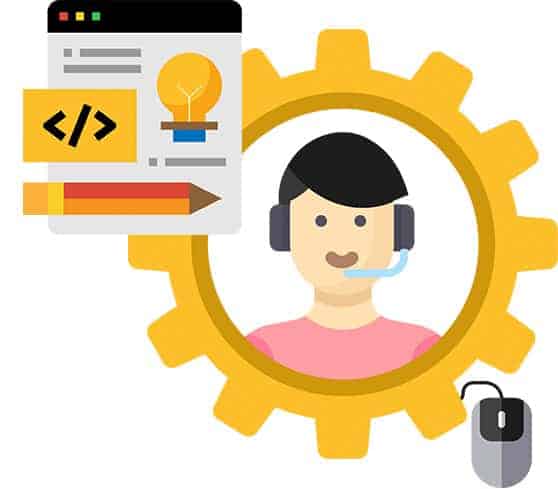 The last thing you need when there's a long line of hungry customers is for your system to unexpectedly crash. Nor do you want any system functionality to malfunction while you're busy feeding patrons.
Unfortunately, that's likely to happen at some point. When it does, you'll need to resolve the issue as quickly as possible.
Pricing
A food truck is a type of do-it-yourself business. When you first open, odds are you won't have heaps of disposable capital. When every penny matters, you need the best return on your investment possible. You also need to use the capital you do have to pay for marketing, advertising, and general business operations.
When you start, it's prudent to opt for a lower cost food truck POS. Once you begin turning a profit, you can invest more heavily in POS software and hardware.
Software Integrations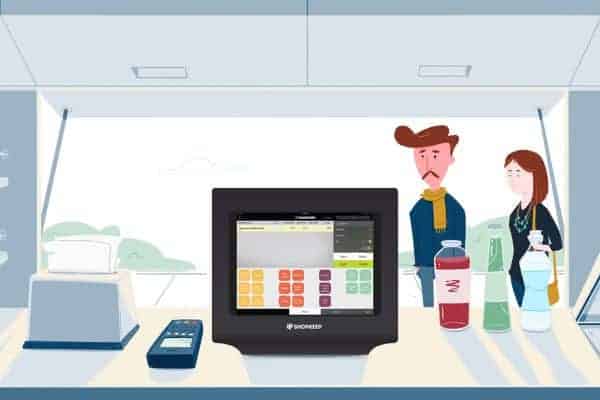 Your food truck POS software won't come with every last feature you need. You may need to integrate third-party software to complete necessary business functions.
A great example is accounting—many systems don't include accounting features, but they are critically important. You need a clear view into your bottom line and how you're moving the needle. Being able to integrate your system with accounting software like QuickBooks is key.
Look for a system that offers an open API or plenty of integration options. This will let you connect all your data and report on it from one platform. Integrations make it easier to scale your business as you grow and need new functionality only offered by external software.
Which Food Truck POS System Best Fits Your Needs?
That ultimately depends on your needs and which growth stage you're in. New, bootstrapped food trucks would do well with Square given its low price point. More established food trucks that need more features and have the capital to afford them might consider Revel Systems, TouchBistro, or Lavu. If you have ambitions of growing your food truck into a multi-vehicle business, Toast is a good option.
Finally, if you realize a great customer experience will result in the highest revenue growth possible, look closely at Lavu. Ultimately, the best food truck POS system for you depends on your business goals and how you run your business.
Depending on which of the above categories you're in, we recommend reading the full reviews we linked to above. Dong so will give you a better idea of which system would be best for your food truck.