(Last Updated On: September 28, 2021)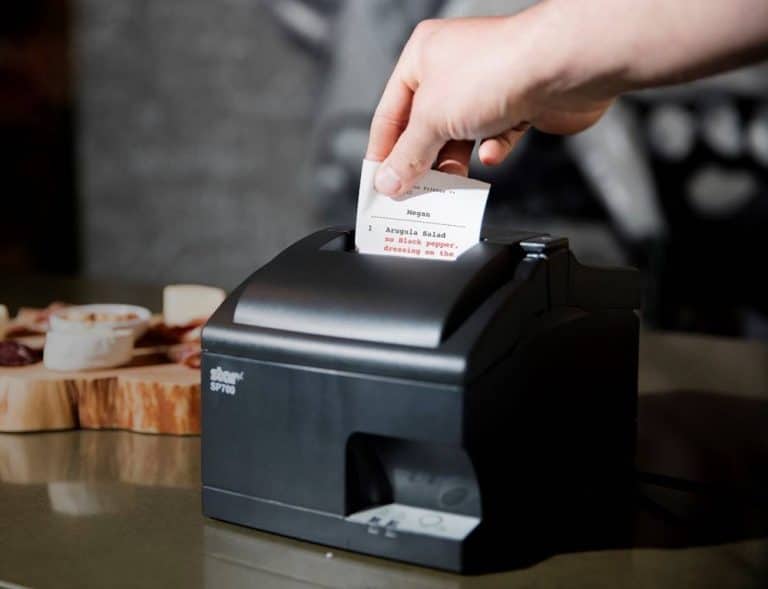 In 2018, the global market for point of sale hardware reached $62.34 billion. It's expanding at a CAGR of 7.8%. That means it's critical you get onboard.
Competition is fierce and in order to keep up, you need a modern solution that fits.
When it comes to running efficient transactions, every business should have a POS system. It speeds up operations, strengthens consumer relationships, and creates deeper insight through analytics.
To run smoothly, you must acquire all the components of a POS system.
That includes:
A terminal or mobile device
Scanner
Receipt printer
Cables, etc.
There are many different types of receipt printers on the market. The most common is a thermal receipt printer.

What Is A Thermal Receipt Printer?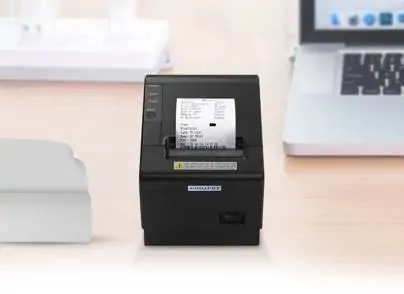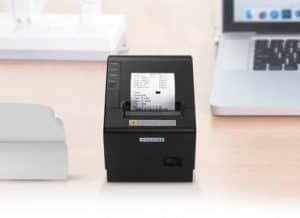 A thermal receipt printer is quiet and uses a printhead to transfer characters and images to receipt paper. They have a higher resolution than an impact printer which means they can produce clearer images.
Thermal receipt printers play a critical part in building the customer experience. Every transaction made produces a receipt as proof of purchase.
In addition to a record for consumers, a good thermal printer can also create other useful marketing items.
A receipt can contain coupons for the next visit. You can run a survey at the bottom of your receipts to increase customer engagement and feedback. As technology continues to improve, expect thermal printers to increase in quality, functionality, and speed.
It should be noted, thermal receipt printers are generally costlier than other printers and don't always work well in high-temperature environments. It's important to do your research first.
How Does a Thermal Receipt Printer Work?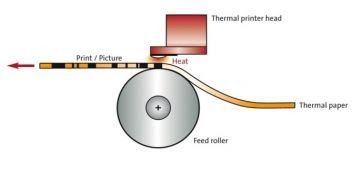 A thermal receipt printer works through direct contact between the thermal head and thermal paper.
Thermal paper is simply receipt paper coated in chemicals sensitive to heat. The friction between the two parts increases the temperature. This creates an image that is cool to the touch.
A thermal printer is comprised of several parts. These include:
Thermal head: Generates heat and prints on paper
Platen: A rubber roller that feeds the paper
Spring: Applies pressure to the head and forces contact with the thermosensitive paper
To print, the thermo-sensitive paper is inserted between the thermal head and the platen. The printer then sends an electric current to the heating elements in the thermal head. This generates the heat that is transferred to the paper.
Recent developments in thermal printers have enabled multi-colored printing and double-sided receipts. Two-color direct thermal printers can print both black and an additional color (most often red). The future holds a lot of promise for this type of printing.
How Much Do Thermal Receipt Printers Cost?
The price for a thermal printer ranges from $300-$500. Thermal printers do not use an ink ribbon, so there is a low cost in maintenance. This helps to make up for the initial price of the hardware.
In comparison, thermal printers are one of the costlier options for POS systems. However, they are more lightweight, faster, and quieter than an impact printer.
Paper for a thermal receipt printer runs at about 40-50 cents for a 150-foot-roll. This typically means that at the 2-million item-related lifespan of a printer (about 10-15 years) you will go through approximately 10,000 rolls of paper. A business can also purchase eco-friendly paper that's BPA-free and phenol-free. This runs at a much higher cost.
The Best Thermal Receipt Printers Money can Buy
As the POS market continues to expand, you'll find many options for hardware of every size and shape. When it comes to thermal receipt printers, here's the best we could find:
Star Micronics
TSP100III – $265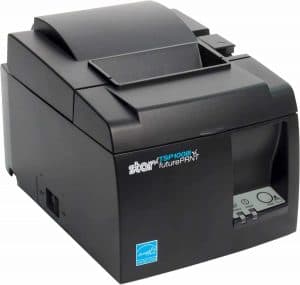 This thermal receipt printer replaces Star Micronics' previous model the TSP100GT. It's 2 times faster and is the next step in mobile-friendly POS hardware for receipt printing.
The printer is ideal for kiosks or food trucks and has a few features that set it apart from other thermal printers.
When it comes to a wireless connection, the TSP100III is easier than most printers. The "Push n' Connect" WPS button makes connecting to your network as simple as pushing a button.
Star has also added a USB type A connector to power tablets and other mobile devices. The printer ships with everything you need to quickly get up and running.
This includes mounting brackets and cables. It boasts a print speed of 43 receipts per second with a guillotine-style auto-cutter. Other key features include:
Available in white or grey
WLAN, LAN, Bluetooth interfaces available
futurePRNT Windows Software
AllReceipts Digital Receipt Application
WPS Easy Connection on WLAN
TSP650II – $239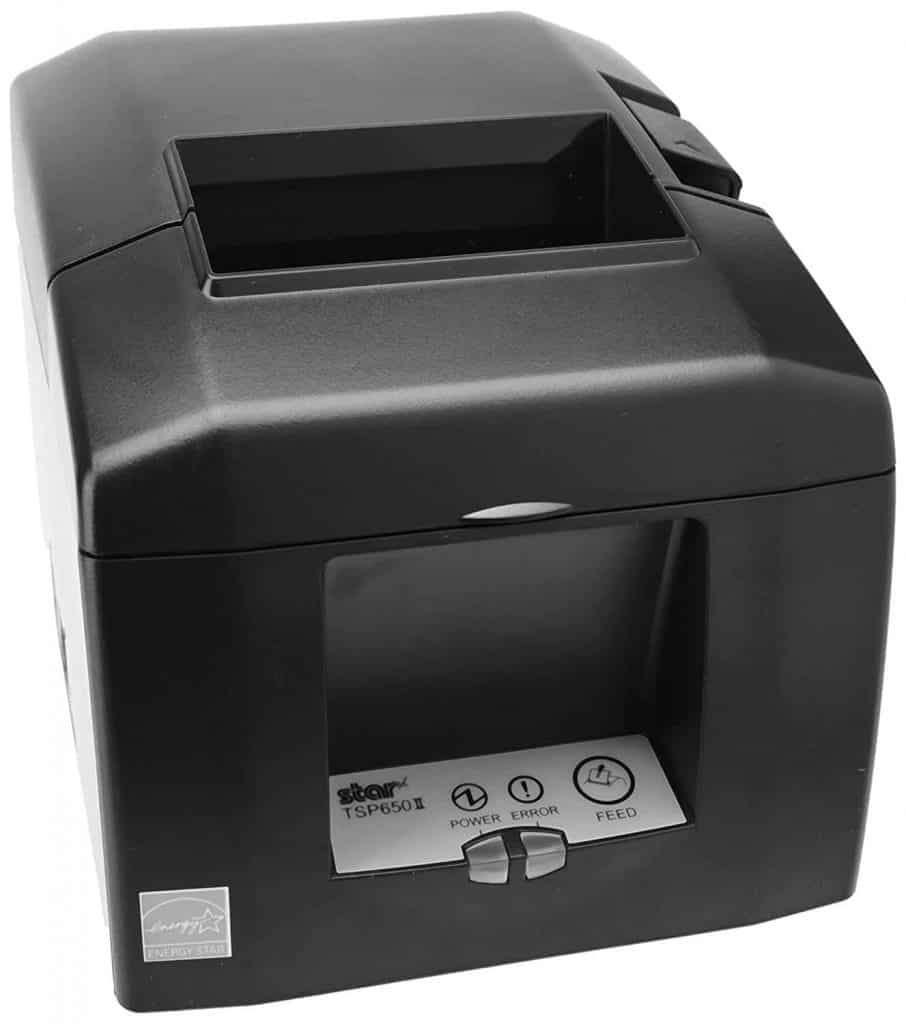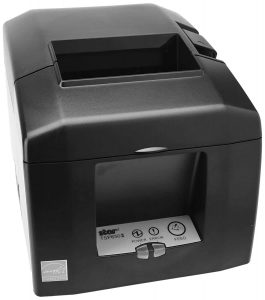 The TSP650II replaces the older Star Micronics TSP600II Series. This hardware offers swappable interfaces, as well as cloud printing capabilities.
The TSP650II is Apple MFi certified and approved for use with Apple products. This system is best for retail and restaurant environments, with state-of-the-art speed and connectivity.
The thermal printer works on operating systems for iOS, Android, and Windows. This enables payment providers to offer a simple solution with receipts at any mobile POS. Additional features include:
High-speed printing at 11.8" per second
Drop-in paper loading
Available interfaces: Serial, Parallel, USB, LAN, WLAN, Bluetooth (Swappable)
External power supply
cloudPRNT and WebPRNT
TSP700II – $326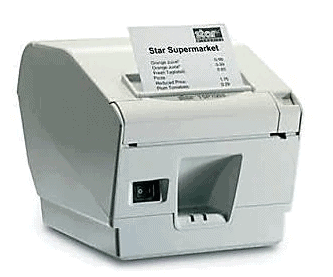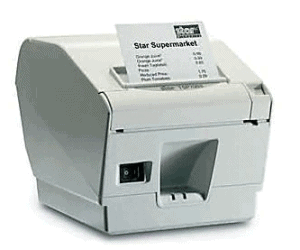 This ultra-high-speed thermal receipt printer is ideal for a business with large volume and time-critical printing. Applications include:
Hospitality
Warehouse
Restaurant
Kiosk
The printer works at a speed of 53 receipts per minute (250 mm/sec). It comes with a jam-proof auto-cutter (partial or full cut) and three adjustable paper widths.
There are dual cash drawer drivers and an optional splash-proof cover. This makes it extra durable. There is also drop-in paper loading and a three-year warranty to ensure you are functional. Other features involve:
Prints reports, receipts, and labels
Automatic duplicate printing
Bluetooth models available
10 Base-T Ethernet or wifi communications interfaces
Epson
TM-T20II – $149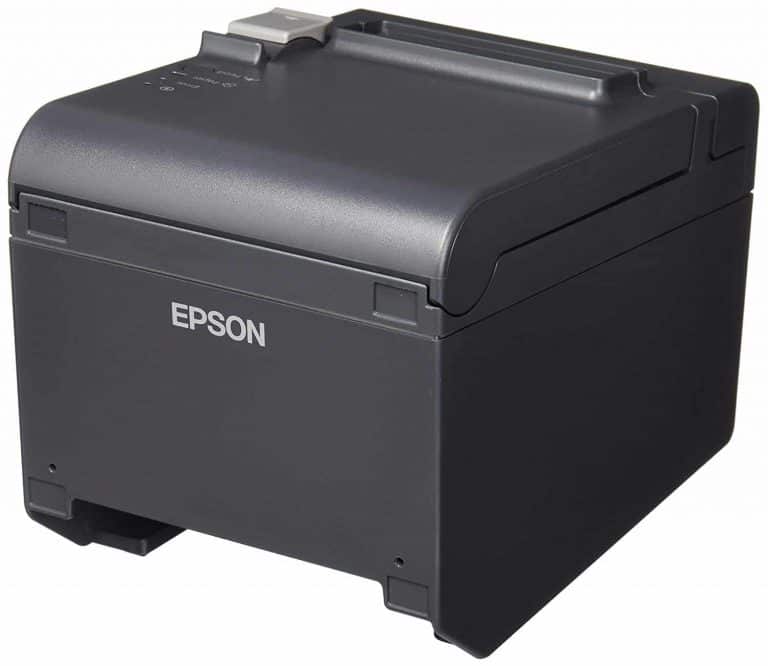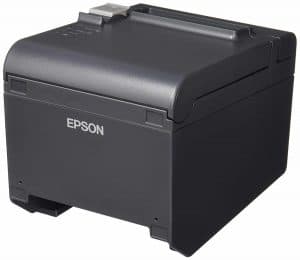 The Epson TM-T20II thermal receipt printer builds on the ReadyPrint line, which means high performance and affordability. This system is an ideal fit for low to medium volume restaurants, retail, and foodservice.
The TM-T2II prints at 8" per second with paper-saving functionality in the print drivers. This allows you to reduce white space and text size. It also makes the equipment Energy Star compliant with a higher ecological impact.
Everything needed for setup is included in your purchase. This includes a power supply, starter paper, and a CD with drivers. Rated at 1.5 million cuts, the auto-cutter will last for years.
The thermal print head is rated at 99 miles of receipts with mean cycles of over 40 years of service. Other features include:
2-year warranty (additional service plans available)
USB Interface standard, additional Serial or Ethernet interfaces available
Driver support for Microsoft Windows 2000, XP, Vista, 7, Mac OS X, and Linux
Please note a USB cable must be purchased separately.
TM-U220 – $210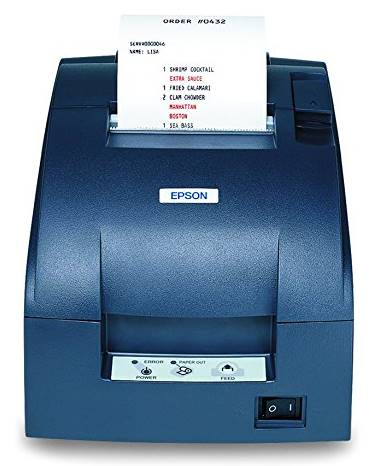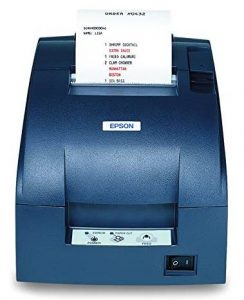 The Epson TM-U220 Receipt Printer series prints 4.7 lines per second with quality two-color impact printing. This hardware is optimized for high-volume retail and restaurant POS systems.
The TM-U220 is 30% faster than the predecessor. It has a 4k buffer and comes with a universal power supply. Also included is the exclusive Epson Connect-It interface and adjustable paper widths. There are a few different models to choose from:
U220A – Series A – journal take up and auto-cutter
U220B – Series B – auto-cutter only
U220D – Series D – no additional options
Other important features are:
Drop-in paper loading
"near-end" and "paper-out" sensors
2-year warranty
It should be noted that the cables are not included with this package. Also, the Epson TM-U220 uses TM-U200 printer drivers. See our full list of Epson receipt printers.
TM-T88V – $286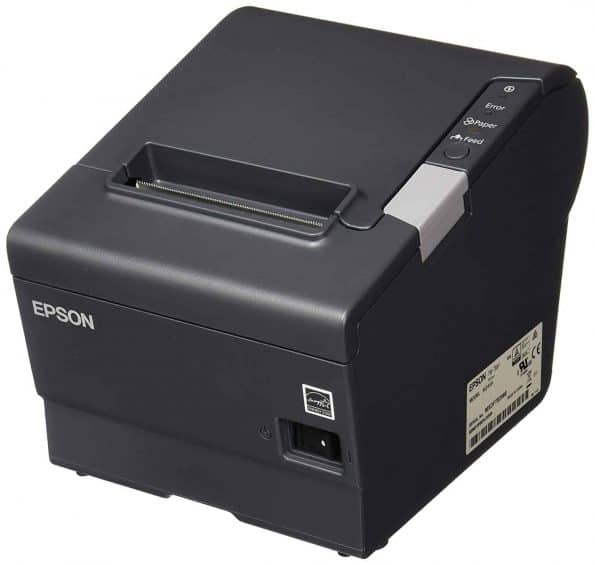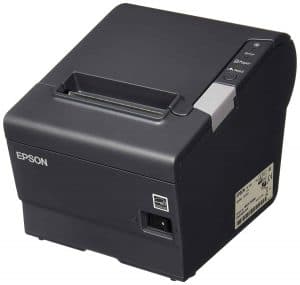 The TM-T88V offers an industry-leading print speed of nearly 1 foot per second for both text and graphics. This can dramatically cut print time—even on long receipts. There are print options available to reduce paper usage by removing white space and shrinking fonts.
USB comes standard on all models with an RS-232 Serial, Ethernet, or even 802.11b/g Wireless as additional optional interfaces. The auto-cutter is rated at 2 million cuts and a mean time of failure equal to 41 years.
This thermal printer offers an improved cover design built for protection against foreign objects. Other key features include:
Driver support for Windows XP, 2000, Vista, 7, Mac OS X, and Linux
4-year warranty
Up to 16 levels of grayscale
It should be noted that the wifi printer options require a USB cable for wifi. It does not come with the printer.
POS-X
EVO HiSpeed – $275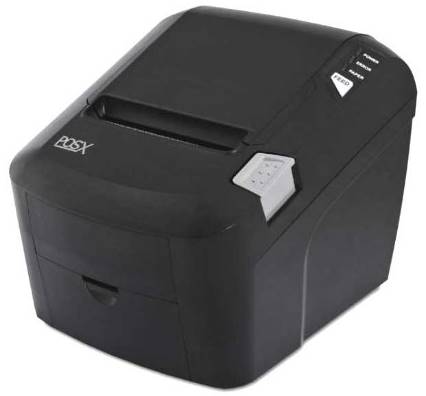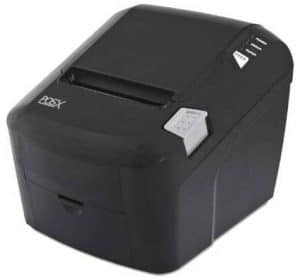 This receipt printer is improved from the older model POS-X Xr500. The equipment works best in a high-volume environment that can include:
Restaurants
High-stakes retail
Hospitality
The EVO HiSpeed supports ESC/POS, OPOS, Windows XP, 2000, Vista, or 7. This makes it compatible with a wide range of setups.
The thermal printer has a maximum print speed of almost 1 foot per second which cuts down on time wasted waiting for longer receipts (or those with graphics). The paper is drop-in loaded and the thermal print head is rated 99.42 miles, which makes for years of quality printing. The auto-cutter also has a lifespan of 1.5 million cuts. Other features involve:
5-year warranty with 2-day turnaround
Interface cable included
Ion Thermal 2 – $159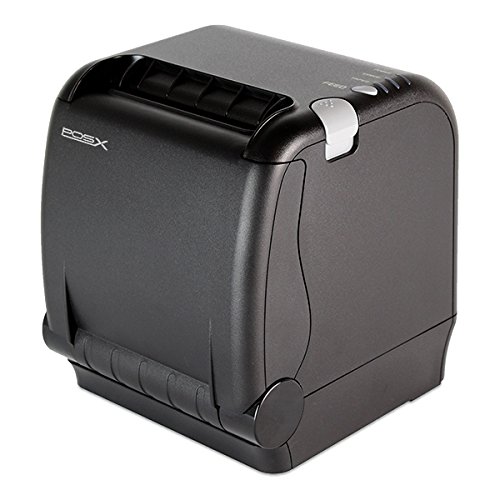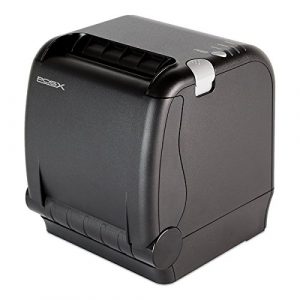 The Ion Thermal is an affordable option that gets the job done. It has a faster print speed than nearly all other printers in its category and is ideal for high-volume printing.
The printer is available in the Ethernet (up to 50 feet long) or USB model which makes it easily configurable to meet your business needs. It also makes it a great system for mobility since it connects directly to your network.
The printer is unique because it can be mounted with a top load or front load to save space. This makes for a tidier work environment if you're cramped.
The Ion Thermal comes with an industry-leading 3-year warranty and a 2-day advanced exchange (additional warranties available). Other features include:
Jam-free auto-cutter rated over 1.5 million cuts (partial or complete cuts)
7" per second print speed
3" thermal printer
ESC/POS Command Compatible, OPOS Emulations
Citizen
CT-S651II – $259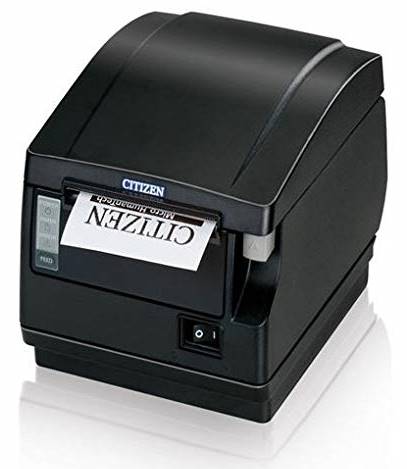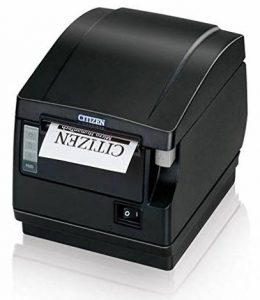 The CT-S651II Receipt Printer replaces the older Citizen CT-S651. It has a front paper exit with a print speed of up to 220 mm/sec.
The thermal printhead has a long life with high-resolution output and a self-retracting cutter. The thermal printer has a full range of interface options with drivers for all popular operating systems.
It is mobile-POS ready with a cash drawer connection and a built-in buzzer. The case color comes available in black or white to easily match your workspace.
Other benefits to the system include:
Integrated power supply
Spill shield design
2-year warranty
Variable paper width 58, 60, 80, and 82.5 mm
Feed button with 3 LEDs
If you're looking for a top paper exit option, consider the CT-S601II model.
CT-S851II – $315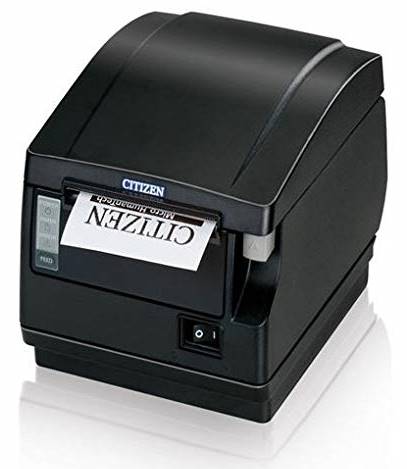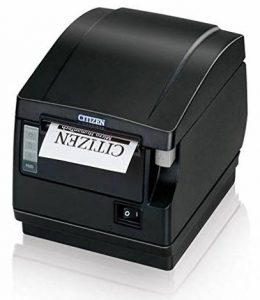 This thermal printer is far advanced from the Citizen CT-S851. It is designed to integrate with a wide range of POS terminals and equipment.
The top-speed printer fits into any business environment and features an LCD display for easy configuration. The auto-cutter is a quick snap-in, so you can go from manual tearing to slicing in 30 seconds.
The roll is 8.3 cm with print capability of up to 300 mm/sec. Designed for hospitality applications, the system comes with total control of print functions and full error checking. Other features include:
Compact footprint for convenient counter usage
Comes in black, white, or dark gray
Driver support for Windows XP thru 10, OPOS, JavaPOS, CUPS, iOS, and Android
2-color display for easy status updates
Built-in buzzer
Final Thoughts
A thermal receipt printer is one of the most affordable and efficient pieces of equipment for your POS system. Due to the way it functions, maintenance is low and there is never a need to change an ink ribbon.
There are a lot of options out there. It's important to understand your most critical needs before making a decision. This list should be a good start!
And, if you are using Square, check out our review of receipt printers for Square.