(Last Updated On: September 28, 2021)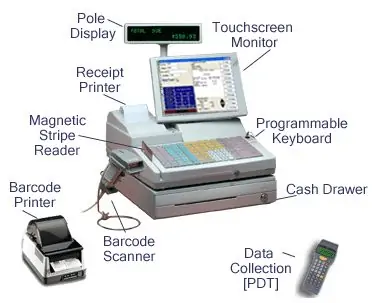 Point of sale (POS) hardware has come a long way since its inception. Today, there is a dizzying array of POS hardware components to choose from.
Most establishments that use POS hardware purchase a comprehensive POS system with all of the necessary components included.
Using a consolidated system from one single vendor is often preferable because doing so allows you to have one central point of contact when you need support.
It also ensures that every hardware component in your system integrates and plays nicely with the rest.
These days it is increasingly difficult to compete in your respective industry without POS hardware—assuming you run a type of business that needs POS hardware.
POS hardware is the largest segment of POS tools on the market today. The POS hardware market has emerged as the largest segment and is projected to reach $66.30 billion by 2025 (Source).
Below we present a useful guide to help you select the right POS hardware.
What Is POS Hardware?
Do you own or operate a retail store, restaurant, or another type of business where you conduct numerous in-person transactions with customers on a daily basis?
If so, you almost certainly have a need for a POS system. An entire POS system consists of various peripheral hardware components, combined with software to connect them all and automate processes that would otherwise be done manually.
The POS system is the entire package of hardware components and the software that dictates what they do.
There are many different types of POS hardware that you can leverage to streamline business operations. Not all of them are relevant to every business.
Restaurants and other food and beverage service businesses need certain hardware components that retail stores—such as supermarkets—do not need.
The POS hardware and system you use depend on the type of business you operate and what your overall needs are.
Below we outline the most commonly used POS hardware components available today. We also break them down based on whether they are used by retail businesses and/or restaurants.
What Are the Necessary Hardware Components of a POS System?
This depends on your business type and business needs, as mentioned above. However, we strive to provide you with the most up-to-date information so you can maintain the best POS system possible for your specific needs.
POS Hardware for Retail, Hospitality, Entertainment, and More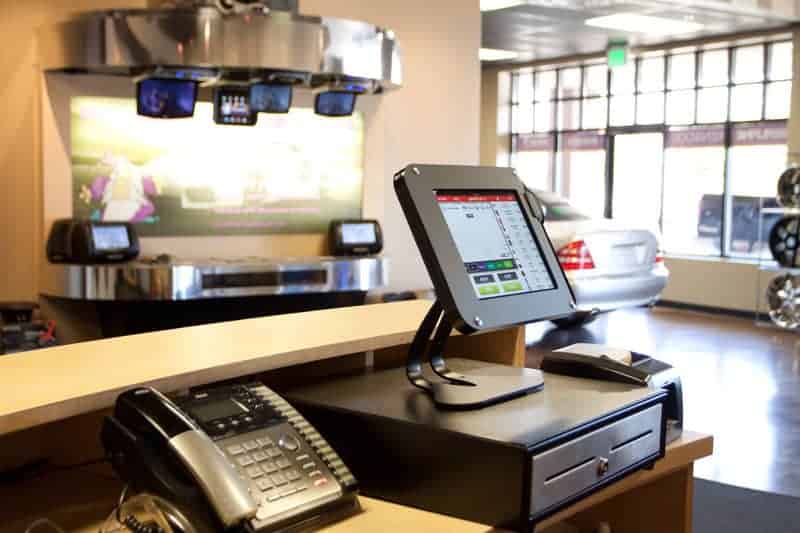 Here, we outline the various hardware components most retail stores need and use. These components are also used by businesses in the hospitality industry, such as hotels;
entertainment businesses, such as museums and cinemas; and service-based businesses like car washes and computer repair shops.
Some of the hardware components below are also used by restaurants, and we'll specify which ones those are as we move forward.
Cash Registers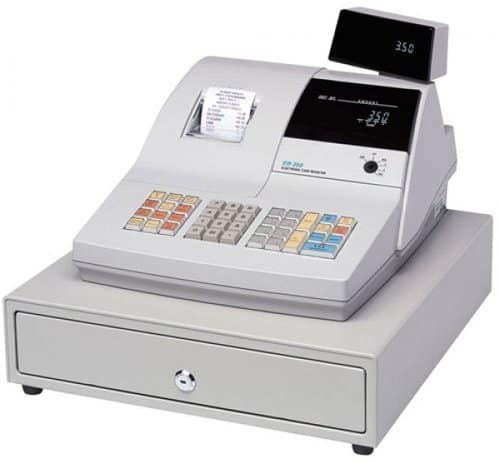 A POS cash register is a digital cash register that links into your overall POS system. They can be used to keep track of inventory, complete purchase transactions, process payments, track sales, and automatically store all of that data in a central POS system database.
They can normally be customized to meet your specific needs. For example, you should be able to program your cash register to process the items you sell, each item's price, etc.
They add up all the items someone is buying and calculate the total so payment can be received. If someone pays with cash, they can calculate the change owed to the customer. Basically, any business that processes cash transactions needs a cash register to do so.
* Used by restaurants.
POS Cash Drawers
When someone pays you with cash and you use your trusty POS cash register to ring them up and process payment, you need somewhere to store that cash. That's where POS cash drawers come in.
POS cash drawers come in a few different types:
Manual Cash Drawer: This is the most basic type of POS cash drawer available. You simply push the drawer inwards and it opens, allowing you to deposit the cash you just received.
Printer-Driven Drawers: These POS cash drawers do connect to the overall POS system and open when a purchase receipt is being printed. The drawer recognizes that printer action as a sale and knows it needs to open so you can deposit cash from the sale.
Direct Connect USB Drawers: These drawers connect directly into your POS computer system and can be configured to open based on a variety of criteria. For example, you could format it so that only managers can open the drawer. You have more control over why it opens and who can open it.
* Used by restaurants.
Receipt Printers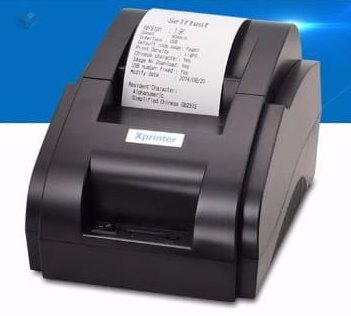 Every transaction you complete in your POS system—with a customer—requires a receipt of purchase. Customers need that little piece of paper to keep their finances up-to-date and maintain personal financial records.
That's why every store, retail or otherwise, needs to hand out receipts when someone makes a purchase.
Receipt printers are fairly straightforward and easy to wrap your head around. They connect to your larger POS system and know when to print a receipt. The system tells the printer when a transaction has been made and the printer automatically starts printing.
Here are your two basic types of receipt printers (not to be confused with kitchen printers, which we'll cover below in the restaurant-specific POS hardware section):
Thermal Printers: They use thermal technology—laser-generated heat—to mark the paper with words, symbols, etc. They are very commonplace, and odds are you've seen one within the last week.
Portable Printers: They are very self-explanatory. You can carry them with you around the store and print receipts based on data sent to them from your POS system via a Bluetooth connection.
* Used by restaurants—particularly portable printers.
Handheld Inventory Scanners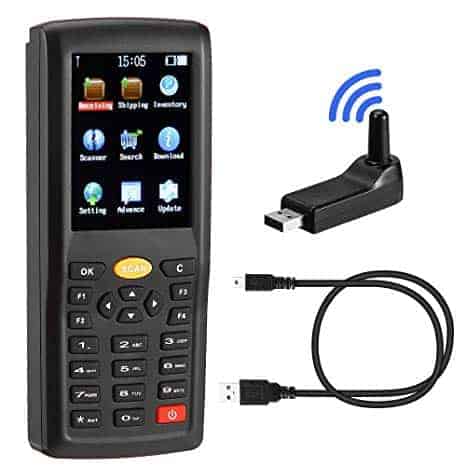 Every retail store, restaurant, and any other establishment that keeps inventory in-house has a need for handheld inventory scanners. They are a key POS hardware component for many types of businesses.
The idea is simple. You carry the inventory scanner back to your storeroom and scan the barcodes on the items in your inventory stock. That data is automatically sent back to your overall POS system and updates your inventory for the day.
Keeping accurate inventory records is essential to running a successful business. A solid handheld inventory scanner reduces the risk of human error that occurs when someone is manually counting items.
It also pulls all your inventory data back to your POS system so it's accessible by managers, owners, etc., making it a must-have for all businesses that keep inventory on-site.
* Used by restaurants.
Barcode Printers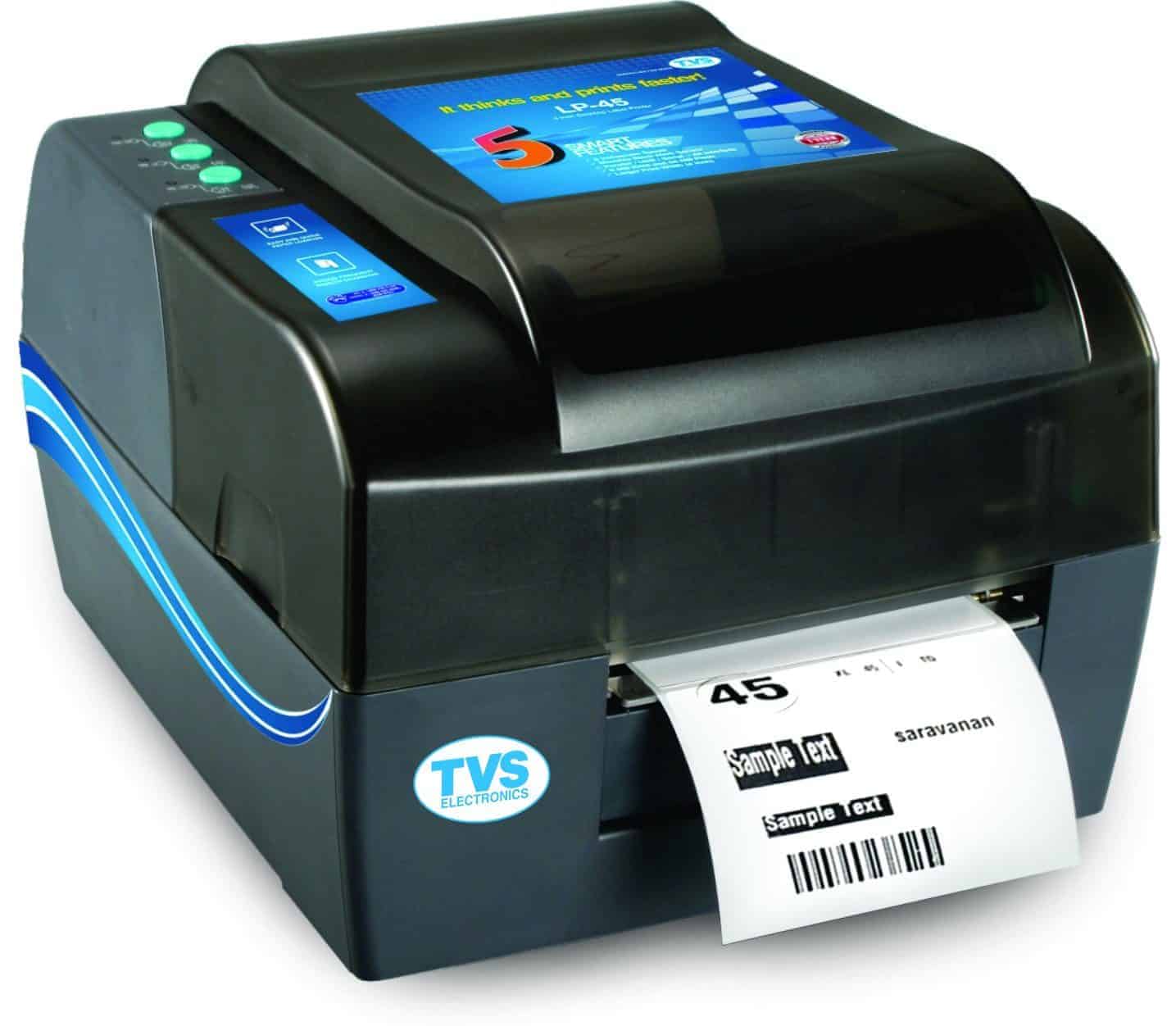 If you run a supermarket, many of the prepackaged goods you put on your shelves are unloaded from the truck in packages that already have a barcode on them.
These products are ready to be scanned as soon as you unload them from the delivery truck and don't require you to manually place a barcode on them.
In other circumstances, your store may sell items—such as prepackaged meals—for which you must create a unique barcode. This is where barcode printers come in handy.
If you run a supermarket and in the deli section you sell prepackaged meals, you can use your handheld barcode printer to print a label and barcode for each of those meals.
Barcode printers are one POS hardware component that restaurants typically do not have a need for.
* NOT typically used by restaurants.
Barcode Scanners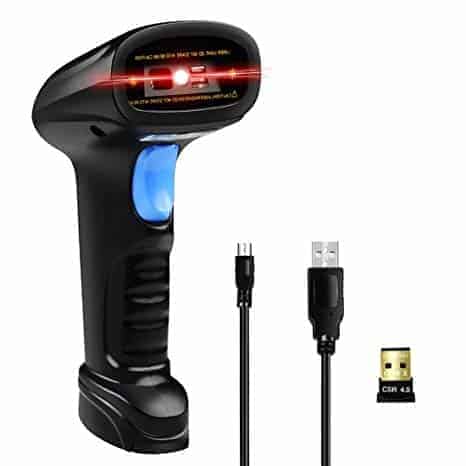 Once you have printed a barcode for all items that need one and have a stock of prepackaged goods with barcodes already on them, you must scan them in order to sell them.
Most scanners must be plugged into a power source to function. However, now there are Bluetooth scanners that allow for wireless scanning.
Some scanners support the recognition of QR codes, while others do not.
Essentially, any business that must scan physical items—including for internal use such as package receipt—can automate and streamline processes with a scanner to do most of the heavy data lifting.
The variety of options on the market is broad. Be sure to define your needs and shop around for a scanner that meets those needs and will scale with your business as you grow.
Barcode scanners come in a variety of shapes and sizes. The one you select to help streamline the checkout process of your business depends greatly on your business needs.
Brick-and-mortar businesses increasingly find it difficult to remain productive without the use of a barcode scanner. And for good reason; the barcode scanner market is predicted to grow by over 5% over the next five years (Source).
* NOT typically used by restaurants.
Touchscreen POS Systems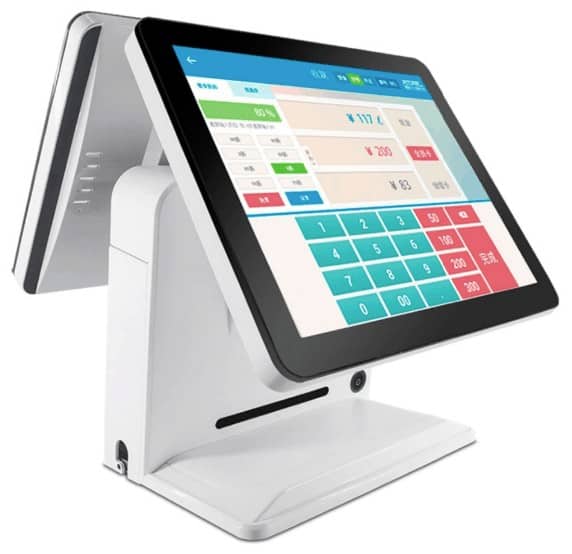 Most adults today have used a touchscreen device. Smartphones and tablets are touchscreen devices, and so are many laptops and desktop computers now.
Touchscreen technology is used for everything these days and point of sale (POS) processing is no exception. Touchscreen POS systems are abundant.
But what exactly does a touchscreen POS system do and why are more vendors opting for them?
A touchscreen POS system is, pretty much, exactly what it sounds like. It's a point of sale system that incorporates touchscreen technology into the monitors it leverages.
They allow staffers in various types of industries and businesses to enter orders, process payments, and more by simply touching the screen.
* Used by restaurants.
POS Tablets
Tablets have worked their way into overall POS systems slowly but steadily. You may have noticed that, increasingly, you'll see someone using a tablet to check you out and swipe your card or otherwise receive payment.
That's because tablets—being mobile devices—allow staff from restaurants and other businesses to walk around the store with access to their POS system in the palm of their hand.
They can be used for many purposes, from checking someone out at a retail store or taking an order in a restaurant to bringing the bill directly to the table at your favorite coffee shop.
They can easily integrate with most POS systems and are a must-have for any business that wants to stay on the cutting edge of technology. You can expect to see more and more businesses using tablets as part of their POS system.
* Used by restaurants.
POS Scales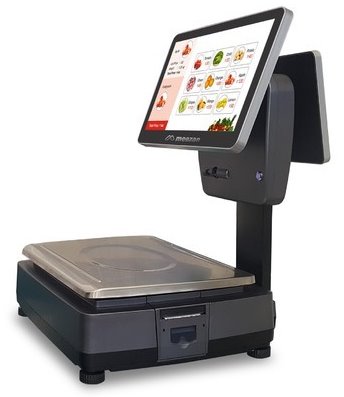 If you own or run a business that sells products by weight, it is very likely that you need to use a digital point of sale (POS) scale. POS scales connect to your overall POS system and automate the pricing and check out of items sold by weight.
Some stores—and POS scales are used by many different types of stores—use a normal scale and then do the pricing calculation on a calculator.
That can work if you run a small business and don't sell many items by weight. But if that's the case, you would be in the minority. These days, nearly any store that sells produce, meat, or any other item sold by weight will use a POS scale.
If you do need to use a POS scale, it should be integrated into an overall POS system.
Some POS scales only weigh items and transmit that data back to your POS system to be added to the customer's bill.
Others can calculate prices and print a label with that price included on the sticker. These are commonly used in delis and other establishments that sell items by weight.
The Cadillac of POS scales can also scan items. Those are mostly used at the checkout counters of supermarkets or other stores that need to both scan barcodes and also weigh items before adding them to the customer's bill.
* NOT typically used by restaurants.
Programmable Keyboards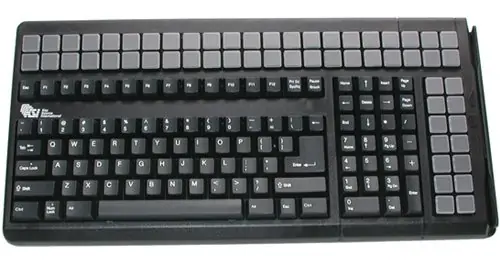 A normal keyboard comes with a standard key layout. Most of us are familiar with these keyboards. But programmable POS keyboards differ in that, well, they are programmable.
A programmable POS keyboard comes with many of the standard keys you see on a normal keyboard. But they also include blank keys that can be configured to store data that is important to your business and use the terminology you use to run your business.
These configurable buttons are programmed to send a code or other specified data back to the overall POS system. That data is then stored in the system for future reference.
Within reason, you can configure the blank keys on your programmable keyboard to track and record any type of data that you need to keep track of.
Ultimately, a programmable POS keyboard is nothing more than a mechanism to enter data into your POS system.
The added value comes in the form of customizability, which allows you to configure the keyboard to speak your business's language, process data in the way you need it to, and store data where you want it stored.
* Used by restaurants.
Payment Terminals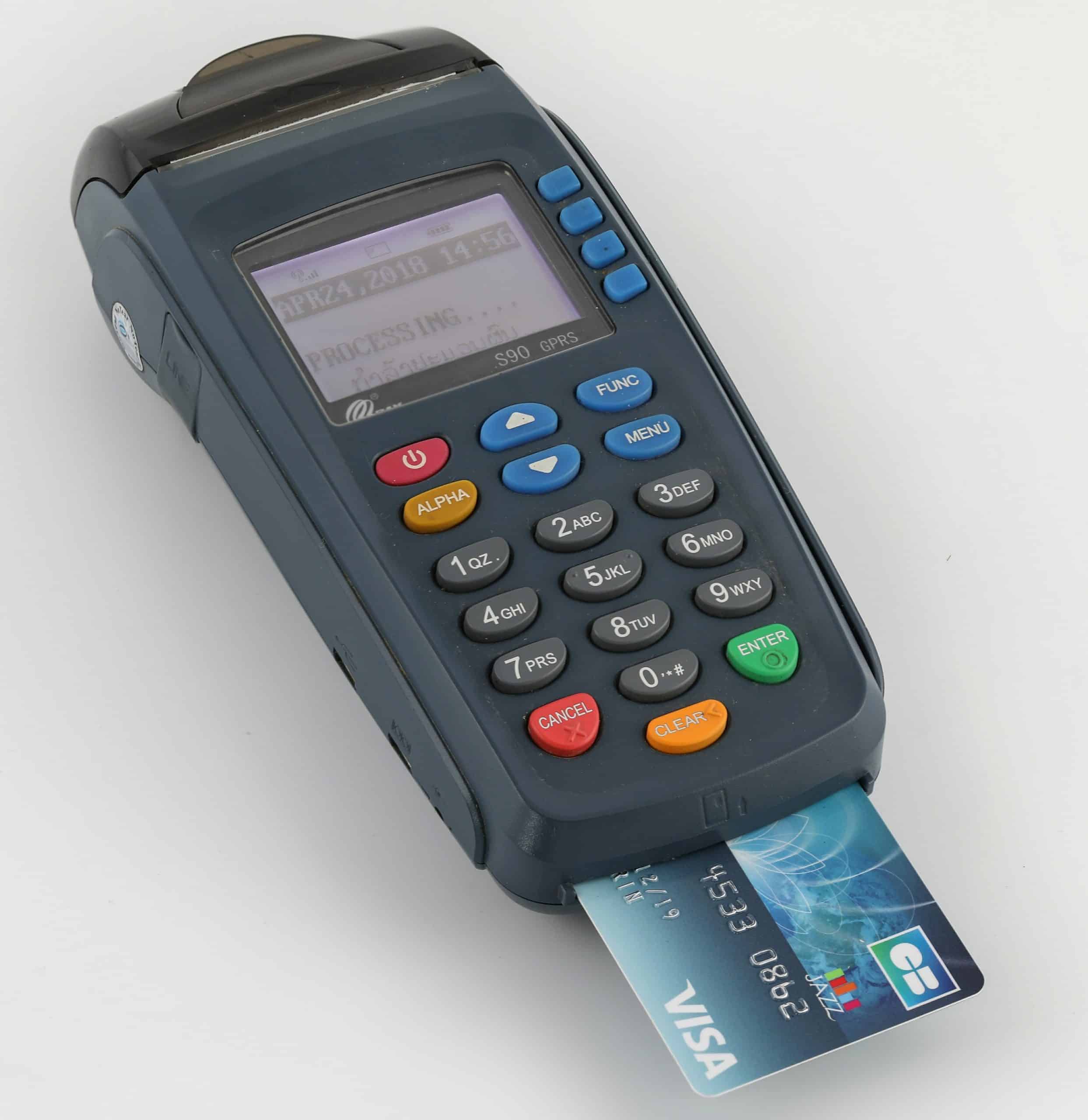 A payment terminal is exactly what it sounds like. It's a small terminal that allows you to receive, process, and close payments with customers.
Some are stationary and some are mobile. If you run a smaller establishment, you may be able to get by with a mobile terminal.
If you run a massive supermarket, you probably need a number of stationary payment terminals in various parts of your store, including at every checkout line.
Mobile payment terminals are particularly helpful for restaurants because they allow the server to bring the payment process to the guest's table, run their card in front of them, print a receipt, and be done with it.
Payment terminals are one POS hardware component that nearly every business should have—from retail to hospitality to restaurants and beyond.
* Used by restaurants.
Signature Pads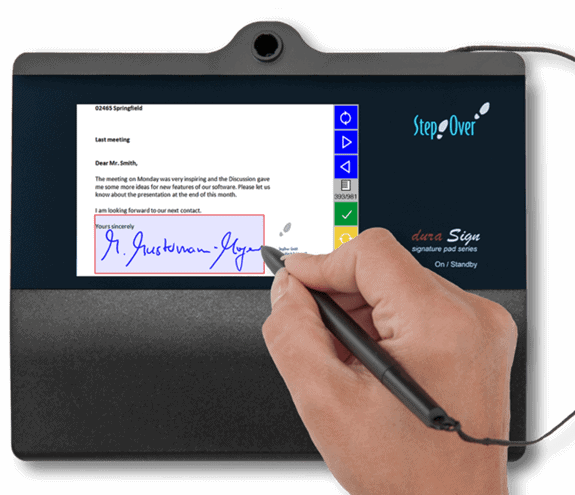 Signature pads are necessary if you want to collect electronic signatures from your customers when they make a purchase.
If you use paper receipts and request signatures on those, you'll lose time manually storing them all and sifting through them at the end of a shift.
Worst of all, if you don't use a digital signature pad, you run the risk of losing a receipt with a customer's signature, which can cause problems with accounting and inventory, just to start.
Electronic signature pads integrate with your overarching POS system and sync the signature data back into the system so there is a permeant record of the purchase as well as a saved image of the signature.
* Used by restaurants.
Chip Readers
Today, most credit cards use encrypted chips rather than magnetic strips to process a payment. You just pop the card into the chip reader, your information is gathered, and your purchase is processed.
Chip readers are sometimes connected to a cash register or payment terminal. Since most credit and debit cards have already moved to chip technology, it's increasingly important to include a chip reader as part of your overall POS system.
* Used by restaurants.
PIN Pads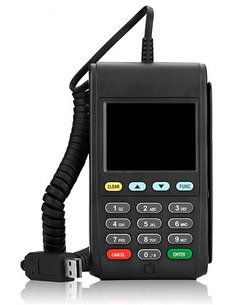 POS PIN pads can also act as chip readers in many circumstances. They are used when someone checks out and makes their purchase.
Many customers will want to pay with a debit card. This will require them to enter their debit card PIN in order to verify their identity. Because debit card transactions often don't require a signature, entering the customer's PIN is the only way to confirm their identity.
If you want your patrons to be able to pay with debit cards, PIN pads are an essential POS hardware component you should look for.
* Used by restaurants.
Pole Displays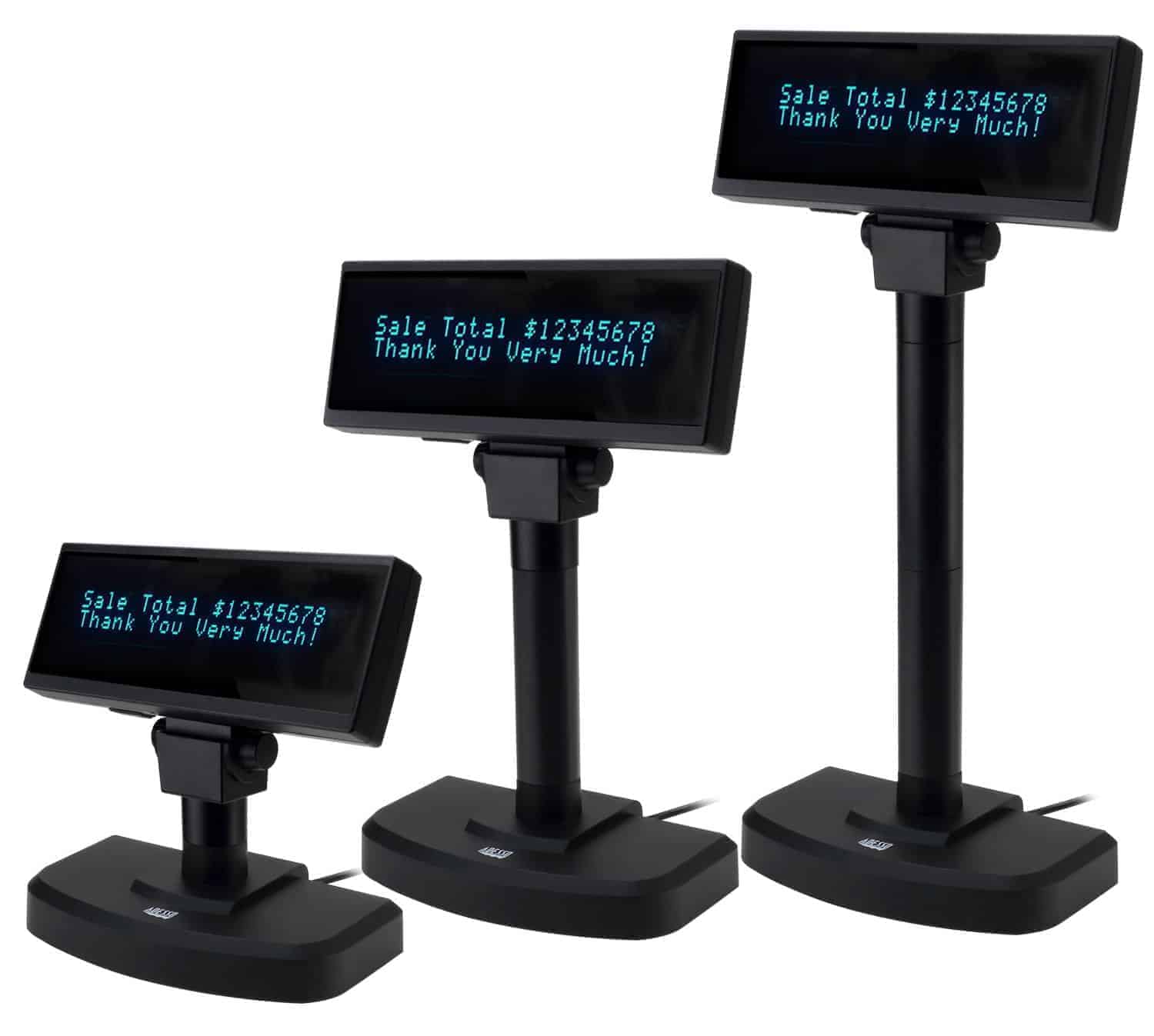 A pole display is a small, horizontal screen that displays the price due when a customer makes a purchase.
We have all seen them. We go into a gas station or convenience store to purchase a bag of potato chips. The cashier rings up our item and tells us the balance due.
To confirm, you can see the balance due on that small display monitor that sits on a "pole" much like a selfie stick "pole" supports a smartphone.
Pole displays are used by many types of businesses, including restaurants that require you to pay at a cash register rather than at the table.
* Used by restaurants.
POS Hardware Strictly for Restaurants
You've noticed that each POS hardware component we listed above includes a note that specifies whether or not that component is used by restaurants. Most are, but a few are not.
Below is a list of components that are only used by restaurants, bars, and other food and beverage service establishments.
They are part of what is called a kitchen display system (KDS) and include the following:
Kitchen Printers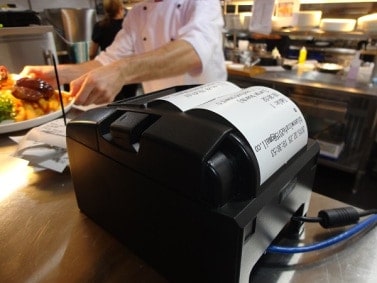 When you order your meal at a restaurant, you have probably seen your server shuffle over to a computer screen and enter the order on a large, touchscreen, point-of-sale (POS) computer.
Once entered into the system, your order is instantly sent to the kitchen printers in the back of the house. A chef, grill cook, or another kitchen employee hears the ticket being printed, rips it off, and puts it in the queue. Your order just passed through an entire kitchen display system.
If you own or run a restaurant—unless it's a diner in the 1950s—you probably need to invest in kitchen printers. You can expect to see the technology evolve quickly as well.
Most restaurants place printers in various places throughout the kitchen. Each item in the KDS is coded so that appetizer orders only go to the app station, dessert orders go to the dessert station, and so on.
One ticket could have an appetizer, cocktail, main course, and dessert—all entered into the KDS at the same time. But the chef doesn't receive the entire ticket and then have to shout at the dessert guy to start prepping a slice of key lime pie.
Kitchen printers improve staff collaboration, reduce ticket wait times for guests, keep better track of what has been served and the amount of money that should be in the cash register at the end of the shift, and more.
Kitchen Buzzers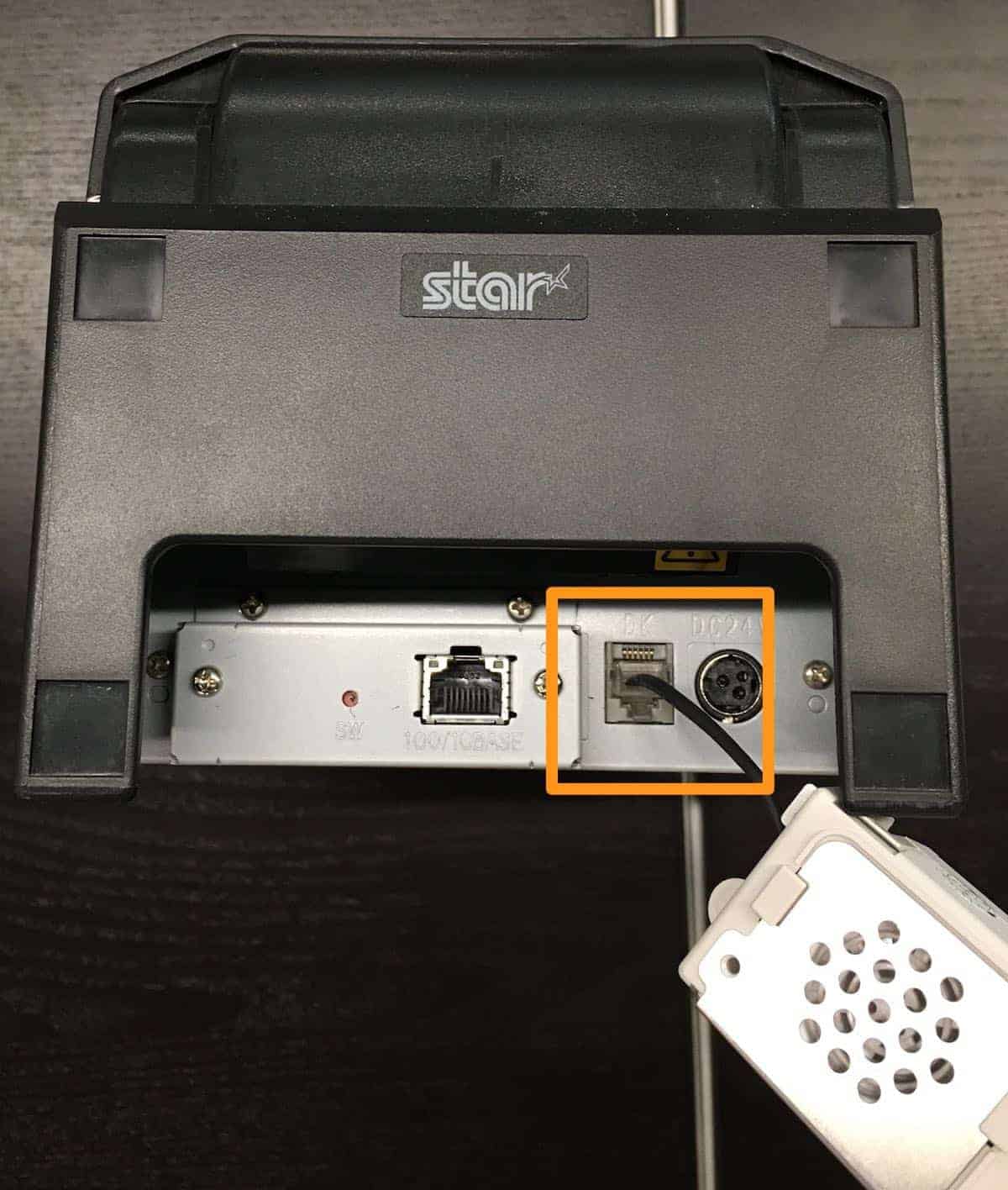 A kitchen buzzer connects into your KDS and produces a loud notification sound when a new order is received, and a new ticket is printed.
They are critically important to running a well-oiled machine of a kitchen. Restaurant kitchens can be hectic warzones when the evening rush comes on.
Chefs, cooks, and their counterparts need to be able to hear the ticket as it prints. Otherwise, an order might sit for 20 minutes waiting for the chef to realize it's there.
Kitchen buzzers help ensure no ticket goes unnoticed and that all orders come out as quickly as possible.
Kitchen Bump Bars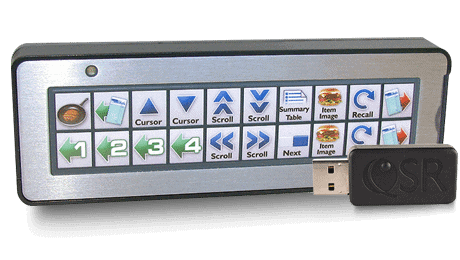 A bump bar is a small strip-like keyboard that allows kitchen workers to see orders in the queue and shift their order in the queue if necessary.
When an order is shifted in the queue, it is "bumped" up in the waiting line, hence the name.
Bump bars benefit kitchen staff because they allow staffers to quickly navigate pending orders, and allow for better collaboration and streamlined kitchen operation.
This all leads to more satisfied customers and more guests served during a given shift.
Ready to Evaluate Your Own POS Hardware?
We've given you a rundown on everything you need to know about POS hardware in order to make intelligent purchase decisions when shopping for your own.
You should conduct some research on your own—that is always advisable.
But you can and should also take advantage of review sites that provide you with recommendations for the best POS hardware and POS systems available. And those recommendations are always based on your business type and unique needs. Plus, many of these sites can generate a discount for you when you finally purchase.
For example, POS Quote helps consumers identify the best POS system—including individual hardware components—for their business and offers visitors a discount of up to 30% on entire POS packages.
Simply visit fill out our form to receive a free quote and up to 30% off on your new POS hardware and system.