Technology specifically designed for your business offers the best solution. Optimizing growth and expanding scope is possible with a point of sale system like TouchBistro. The software is focused on foodservice in every aspect.
It was precisely developed for restaurant people, by professionals with years of experience in the industry. Here is an in-depth review of the features, pricing, and how it can benefit your business today.
TouchBistro POS Review  – Company Overview
Founded in 2010, TouchBistro's prime goal is to support restaurateurs with cutting-edge POS technology. In under a decade, the brand has evolved into an international presence and a leader in the restaurant point of sale software.
In addition to processing over $8.5 billion payments, TouchBistro is:
Powering 16,000+ restaurants
30,000+ terminals deployed
#1 app in 40 countries in the Apple store
Used in over 100+ countries
6 international offices
As restaurant experts, TouchBistro is passionate about improving and reinventing the restaurant experience. From owners to staff and customers, the brand develops easy to use technology that inspires success.
TouchBistro POS Benefits
Works with one iPad or a multi-tablet configuration
Cloud-based capabilities with offline management
Automated marketing campaigns with push notifications
Tableside ordering with custom floorplans
Staff supervision with detailed performance reporting
Possible Drawbacks
Due to the popularity of the platform, customer service can sometimes get overwhelmed. Online reviews state that response could be timelier during urgent moments. However, they offer access to an online community with thousands of like-minded professionals.
TouchBistro Pricing
TouchBistro offers a pricing plan to suit every type of venue, layout, and size. It's an affordable solution with low monthly licensing fees and flexible payment plans.
Every pricing plan comes with a standard set of features that includes:
Full Tableside & Quick Service POS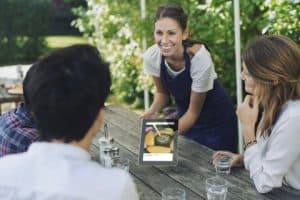 TouchBistro boasts smart tableside service that takes the customer experience to another level. Staff can split bills, join seats with a swipe, and add custom modifiers to the dashboard. It makes ordering quicker and communication with the kitchen more efficient.
Cloud Reporting & Analytics
Get detailed reporting and insight from anywhere, at any time. TouchBistro allows you to take a deep dive on data from any device. You can watch the restaurant while on the road. Get minute-to-minute performance using cloud-based reporting.
Staff Management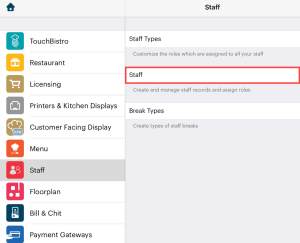 TouchBistro's iPad POS allows for unlimited logins with as many users as you need. You are not charged for adding new staff or management into the system.
Product Updates
Updates for the POS technology are always free. Simply visit the app store and download the latest. The software is continuously evolving.
Hybrid Networking Support
TouchBistro takes a hybrid approach to the cloud. The system functions offline. Take orders, edit the menu, clock staff in/out, process cash payments, and view reports all while disconnected. The software will automatically update when you are online again.
TouchBistro VIP Community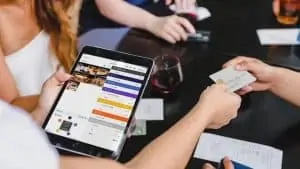 Gain exclusive access to the TouchBistro online VIP community. Network with other restaurateurs, submit feature suggestions and requests, learn tips/tricks, and much more.
Subscriptions
The pricing for TouchBistro is packaged in 4 subscription-based bundles. These all include both hardware and software combined and are billed on an annual basis.
Some hardware payment plans are available with interest rates starting as low as 0% over a three-year term. This is based on a credit rating approval and a $200 set up fee.
Eligibility for financing can vary by state and change at the discretion of TouchBistro. Everything is subject to their terms and conditions.
The four TouchBistro subscription plans are:
Solo
This plan works best for a quick-service venue that doesn't require a lot of terminals. Use the power of the iPad POS right at the counter. All point of sale functions can be performed on one tablet. The package is:
1 license
$69/mo software only
$105/mo bundle
Dual
This package works best for either a quick-service venue or a small restaurant. Gain flexibility with two terminals. This plan allows a restaurant to have one iPad stationary and one mobile. This helps to alleviate lines and allows staff to take orders tableside.
The Dual package is:
2 licenses
$129/mo software only
$209/mo bundle
Team
This package was designed for medium-sized restaurants and bars. It gives staff the convenience of having a POS system at arm's length. Keep an iPad stationary in each service area that servers can carry to the tableside.
This plan is:
3-5 licenses
$249/mo software only
$359/mo bundle
Unlimited
The Unlimited plan is for high-volume restaurants or bars that need the freedom to continuously scale. It's a package that evolves with business. The all-in-one plan allows a venue to add iPads as they grow and enhance the customer experience while scaling.
The plan is:
6+ licenses
$399/mo software only
$539/mo bundle
Hardware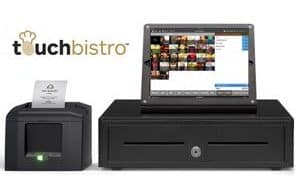 There can be additional costs associated with running TouchBistro depending on your setup. The system can be used with an iPad or iTouch. These can be purchased anywhere and the average cost ranges from $199 to $1199 depending on size.
Additional hardware fees include:
Cash drawer: Requires R12 connection and printer-model. Prices range $100-$300
Kitchen (Impact) printer: TouchBistro supports a variety of models from Star Micronics to Epson. Cost can range from $250-$350.
Thermal printer: Cost can range from $200-$300.
Router: The AmpliFi HD Mesh Router starts at $149.99 and can be used with multiple units.
TouchBistro POS System Requirements
The Solo plan is designed for a smaller quick-service restaurant that only requires a single terminal. Process payments, take orders, and manage the entire restaurant from a single iPad.
This setup includes the following hardware:
iPad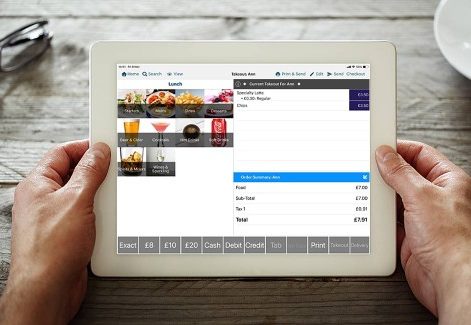 The Apple tablet operates as the POS terminal. TouchBistro is compatible with all iPad models.
AmpliFi HD Mesh Router
This creates a separate wi-fi network just for the point of sale system.
Kitchen Impact Printer
TouchBistro is not compatible with USB or parallel printers. This is designed to withstand the heat in the kitchen and requires impact paper.
Cash Drawer
A traditional printer-driven cash drawer that uses an RJ12 connection. It can be used with one iPad or a multi-tablet configuration.
Receipt Thermal Printer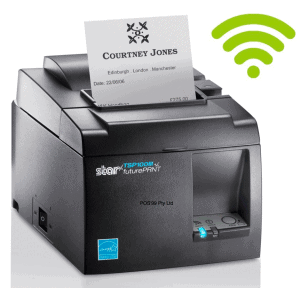 It prints receipts from the iPad wirelessly to leave checks for guests. It's wired to the router via an ethernet cable.
TouchBistro also offers a multi-tablet setup for larger venues. Take orders and process payments from anywhere in the restaurant. The offline-resilient server allows staff to keep the workflow moving and never miss a beat.
This setup includes all the hardware listed above, plus requires:
Local Mac Mini Server: The Apple Mac Mini Computer acts as the brain of the system and stores all the restaurant's data.
Mobile iPads
Monitor, Keyboard, and Mouse
Additional Hardware
TouchBistro customizes each solution so it makes sense they offer additional hardware to fit every establishment. These products are:
Apple TV
A digital media player that can receive and stream your menu data. This means customers can read what you are serving right when they enter the building.
AmpliFi MeshPoint HD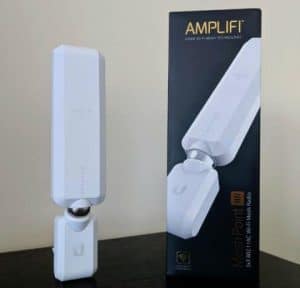 If you have dead spots in your restaurant, this MeshPoint pairs with the router for a stronger signal. Add as many as you'd like to ensure consistent connectivity.
Wireless and USB Thermal Printers
For simple setups like a food truck POS, a wireless USB printer may be the key solution. It works best for iPads using cellular connectivity.
Multiple Connectivity Thermal Printers
The next generation of printers that allow a venue to connect via Ethernet or Apple Lightning Cable.
Ethernet Thermal Printers
These silent printers are ideal for printer checks and receipts in the front of house. Compact Ethernet printers work best for foodservice on-the-go.
Cash Drawer Cable
Connects the cash drawer to the receipt printer.
Ethernet Switch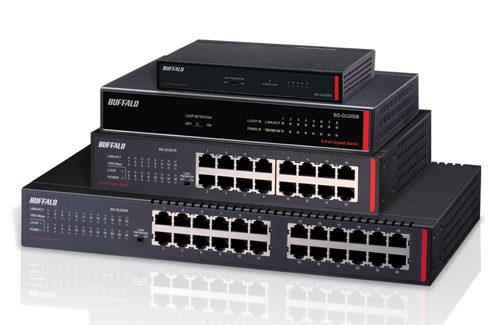 Allows you to connect more Ethernet devices (like EMV pin pads and printers) to the router.
Ethernet Cable (CAT5)
A network cable that is used to connect devices within a local area network (LAN).
Digital Monitor
A screen that allows a venue to perform updates and display digital signage. It's also a great way to sell specials to customers when they walk-in.
Barcode Scanner
A wireless Bluetooth UPC barcode scanner that can be used at the register, table, or from an order screen.
iPad Stands
A case, stand, or enclosure to protect the iPad from harsh conditions in the restaurant. The stand can be landscape or portrait.
iPad Hand Straps
Hand-held cases allow servers to securely manage the iPad tablet at the table.
Payment Device: Ingenico RP457C (Bluetooth enabled)
Specifically designed for Touchbistro Payments, this hardware is powered by Chase and accepts EMV, magstripe, and contactless transactions like Apple Pay and Google Pay. This is not supported by third-party software.
Payment Device: Ingenico Moby 8500
A compact and mobile payment solution, the Moby 8500 accepts all types of payments and connects to an iPad via Bluetooth. This allows a restaurant to use it as a stationary terminal or take payments tableside.
TouchBistro POS Features and Capabilities
TouchBistro comes with over 200 features you can use to run a business. It addresses specific restaurants and customizes offerings accordingly.
The POS solutions are segmented as:
Full-Service Restaurant
Quick Service
Bar & Nightclubs
Food Truck
Brewery
Features differ based on the size, style, and needs of a restaurant. Here are the main aspects that every venue can benefit from:
Tableside Ordering
Designed to help staff fulfill orders faster and more accurately, the tableside ordering system increases sales and improves services.
Staff can communicate with the kitchen while speaking with guests at the table. Items, seats, and bills can be instantly split for easier management.
Gratuity and taxes can be automatically applied at checkout. Individual items, orders, or bills are discounted on the spot. All orders can easily be edited with a tap or a swipe.
TouchBistro's table ordering system includes:
Detailed performance reports
Pop-up modifiers to suggest sell
Quick order fulfillment
Upsell high-margin items
Food and wine pairing
Using a tablet at the table allows for flexibility and efficiency. The detailed reports help a venue to make more informed decisions.
Restaurant Table Management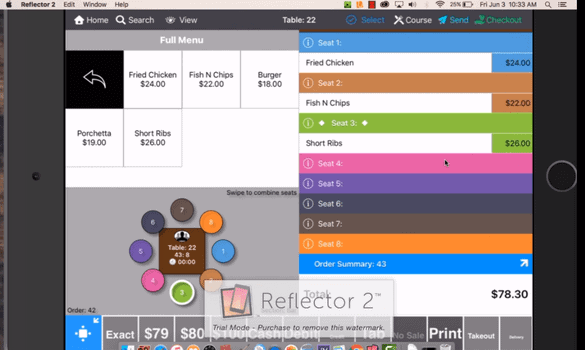 The TouchBistro software allows a restaurant to design their own floorplan. Run the entire front of the house with just a tablet.
Adding tables or changing floorplans for events is a simple process. The system allows you to streamline operations, reduce errors, and improve service.
Reduce confusion mid-service with table transfer approval and section assignment. Staff can take iPads anywhere they go and add to the tableside experience. Sections can be monitored to identify slow-turning or high-value tables at a glance.
The built-in table management platform allows you to perform tasks like:
Take orders tableside
Design a floor plan
Manage multiple restaurant sections
Move parts around freely
Integrate 3rd party online floorplans
This system enables management to tackle seating challenges as they happen. Layout the restaurant with detailed floorplans that can include tables (round/square), chairs, terminals, bar stools, and walls.
Use stock background images or custom branded ones. The floorplan can be viewed in both landscape and portrait mode.
Payment Processing Solutions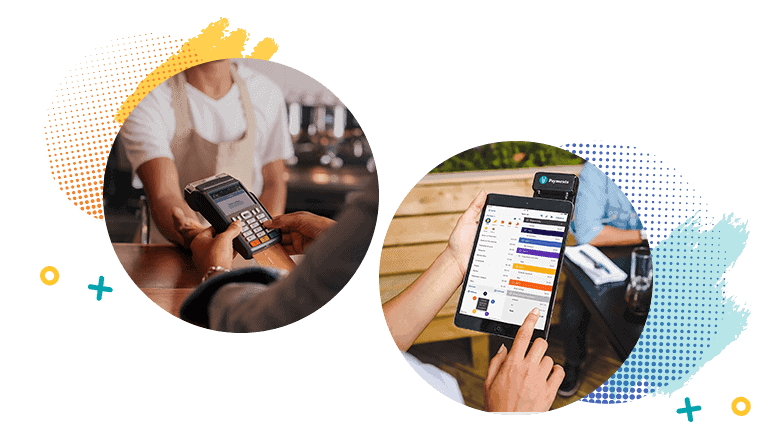 TouchBistro offers a range of payment options with a variety of processing solutions.
Whether you are looking for something integrated or a standalone system, the platform gives a venue the freedom to choose.
Some key features include:
Digital receipts you can email
Accept gift cards and multiple forms of payment
Take payments offline
Adjust taxes and gratuity to apply automatically
Personalize receipts with branding and tip guides
TouchBistro works with a diversity of top-tier payment partners to offer you a wide array of integrations. This includes the ability to accept all payment types and process transactions tableside.
Reduce errors and eliminate double entry while customers securely swipe, tap, or dip their payments. The system also accepts digital wallets like Apple, Samsung, and Google Pay.
Menu Management System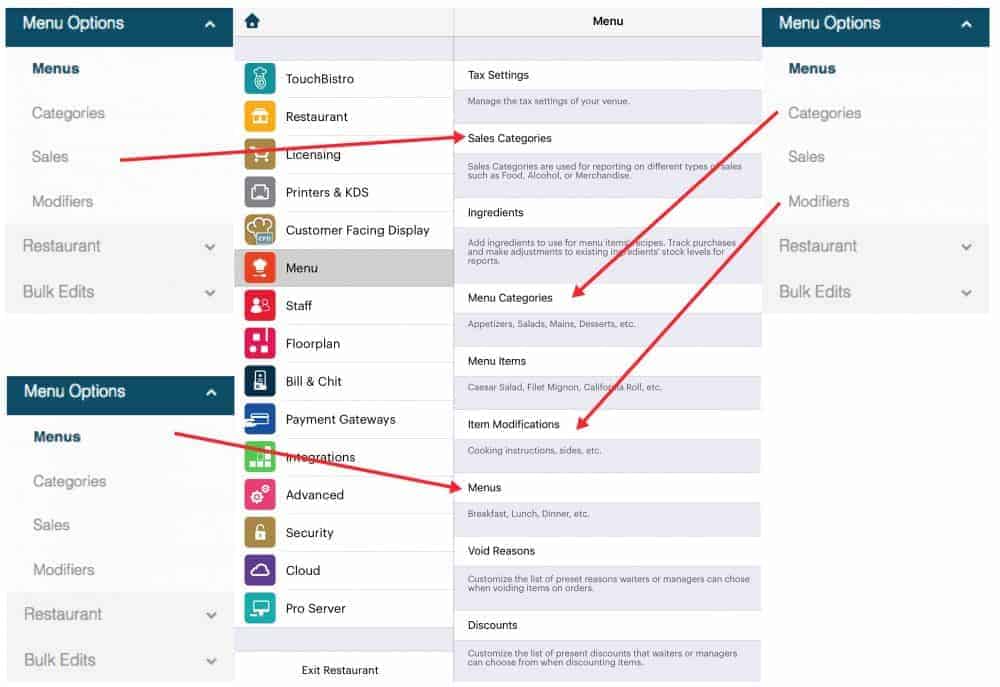 The ability to instantly update an "86'd" item or change specials greatly facilitates business.
TouchBistro's menu management system allows a restaurant to take control of the prep, ordering, and reporting process.
Help staff sell tableside with full-color menu pictures. Automatically set scheduled products and promotions (like Happy Hour). Menu items can be remotely managed from any iPad with notifications like low inventory and sold out dishes.
Other important features include:
Manage non-food products like merchandise
Hide menu categories for specific seasons or events (or out-of-stock items)
Specify cooking instructions and descriptions for dishes
Create and manage multiple menus and categories
Easily search through orders by name, table, amount, date, and more
You can add and clone menu items easily with a simple touch of the dashboard. Route certain orders to kitchen printers and displays based on item and prep.
Allow custom modifiers so servers can take accurate orders. The entire system is designed to streamline service and run an efficient kitchen.
Staff Management & Scheduling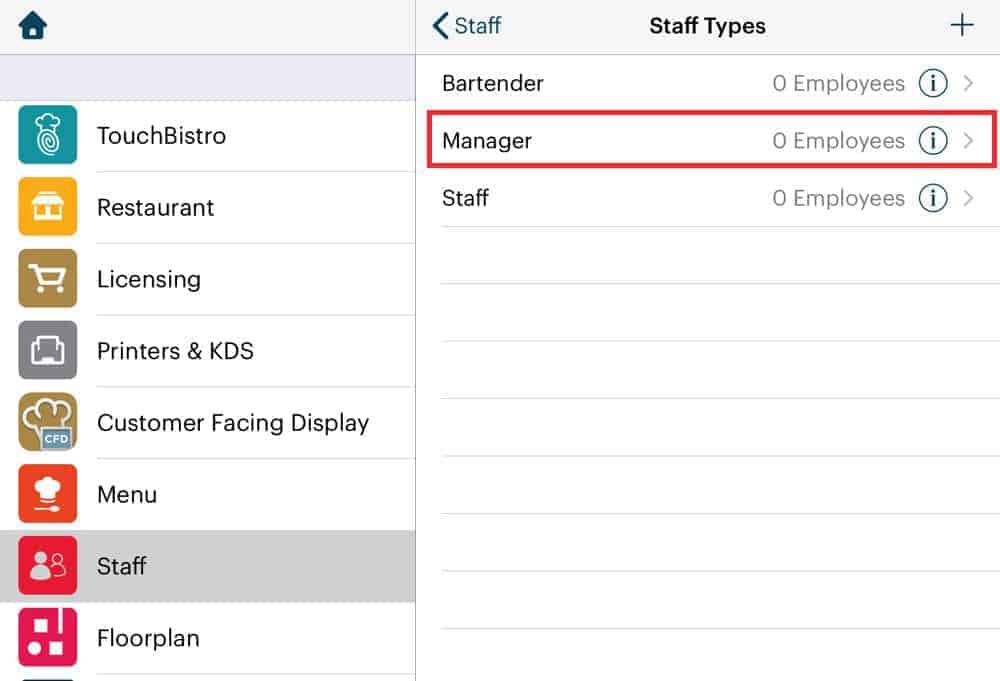 The staff sets the stage for the customer experience. Tracking labor costs and managing schedules is not an easy task.
Whether it is the front or back of house, TouchBistro POS gives management a method to easily oversee everyone.
Empower collaboration with simple, integrated, in-app messaging. You can reach anyone in the system instantly; miles away from the restaurant.
Maintain payroll and personalize accounts with employee-specific settings. Track activity and clock-ins/outs with the TouchBistro Punchclock.
Other benefits include:
Log in with a pin or QR code
Lock staff to certain sections and tables
Add staff discounts
Assign multiple roles for a staff member
Customize screen by employee (right/left hand, light/dark mode)
The staff management platform allows you to easily calculate staff wages and the cost of labor. Comprehensive security controls reduce theft and loss. Overtime hours can be tracked, and staff performance calculated through the TouchBistro Cloud.
Restaurant Customer Relationship Management (CRM)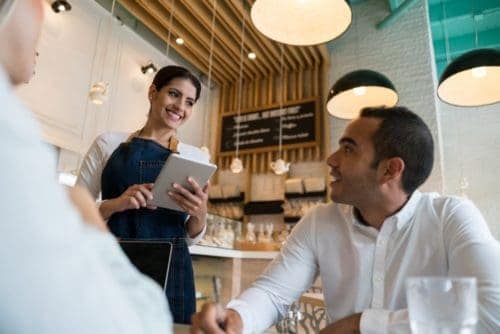 Serve regulars before they even order with the TouchBistro Customer Relationship Management (CRM) system.
Drive repeat business by tracking orders, account balances, and return customers. You can use the purchase history of diners to better inform promotion decisions and menu engineering.
The TouchBistro Loyalty program helps to incentivize customers with a point system. Guests can collect and redeem points for discounts. The software will communicate with them through targeted marketing campaigns via push notifications, SMS, or email.
Create and store customer information with fields to track key preferences like favorite items and dishes (even allergies).
Accept advance payments for VIP customers, specific individuals, or groups. Pay for orders directly using data from the customer's existing account. This can come in handy if someone has forgotten their card.
Restaurant Inventory Management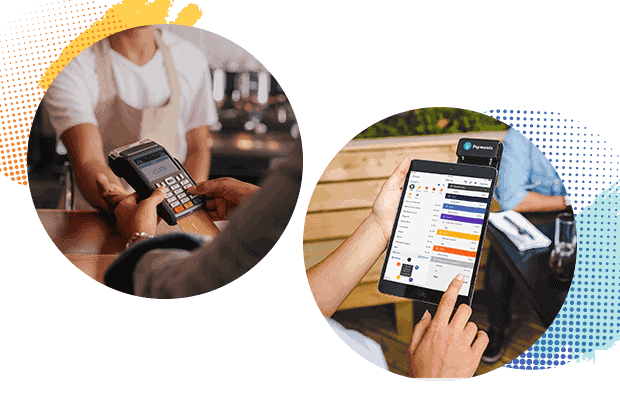 Running out of supply mid-service can be a financial nightmare. The TouchBistro Restaurant Inventory Management system helps to efficiently manage inventory and stock levels.
Simple and easy to use features track recipes against menu items. This determines ingredient-level food costs.
Menu item profit margins can be calculated to decide which dishes stay and go. Always improve service by keeping staff consistently aware of inventory levels. Servers will never take orders for dishes the kitchen has sold out of.
Other key features include:
Instantly disable out of stock items in the system
Improve purchase ordering with real-time data
List inventory by ingredients with unit measure, wholesale cost, and retail price
Personalized and detailed inventory reports
Custom inventory countdown to 86'd items
The "tap-to-create" recipe feature enables a restaurant to associate common ingredients with certain menu items. They can be tracked by cost and unit measure to facilitate management.
This type of detailed monitoring and reporting eliminates any extra work servers must do when an item has sold out. It also increases customer satisfaction. You rarely have to tell them "no."
Reporting & Analytics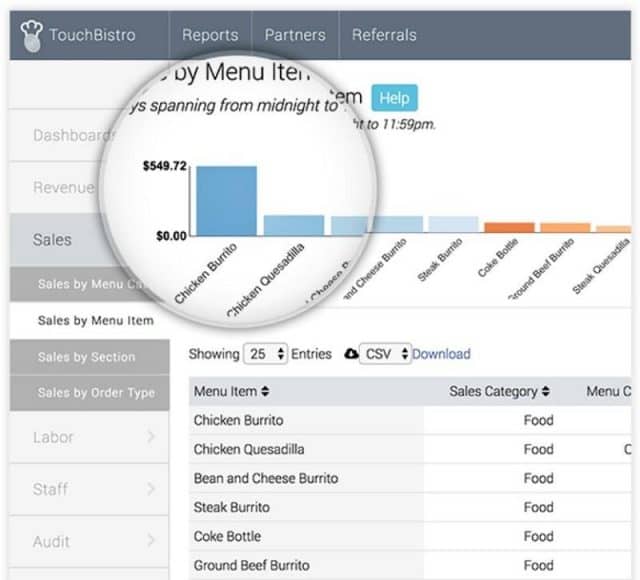 Data can deliver powerful insights when collected and reported correctly. TouchBistro's reporting and analytics tool helps to manage a restaurant intelligently.
The system provides over 50 detailed reports that include information like shift snapshots and end-of-day summaries.
Other types of reports include:
Taxes and general accounting
Menu item, category, and promotion sales
Statistical summary (average spend and number of customers)
Payments and payment types
Discounts, voids, and deletes
All reports can be exported to a CSV file and emailed for easier access and sharing. Data and trends are viewed across multiple locations through TouchBistro's partnership with Avero™.
Other Products
In addition to a point of sale system, TouchBistro offers other products to help a restaurant evolve. An online ordering system can be integrated with the POS for cross-channel sales optimization.
Additional products include:
Self-ordering kiosk for quick-service restaurants
Kitchen Display System
Customer Facing Display
Digital Menu Board
Customer Service and Support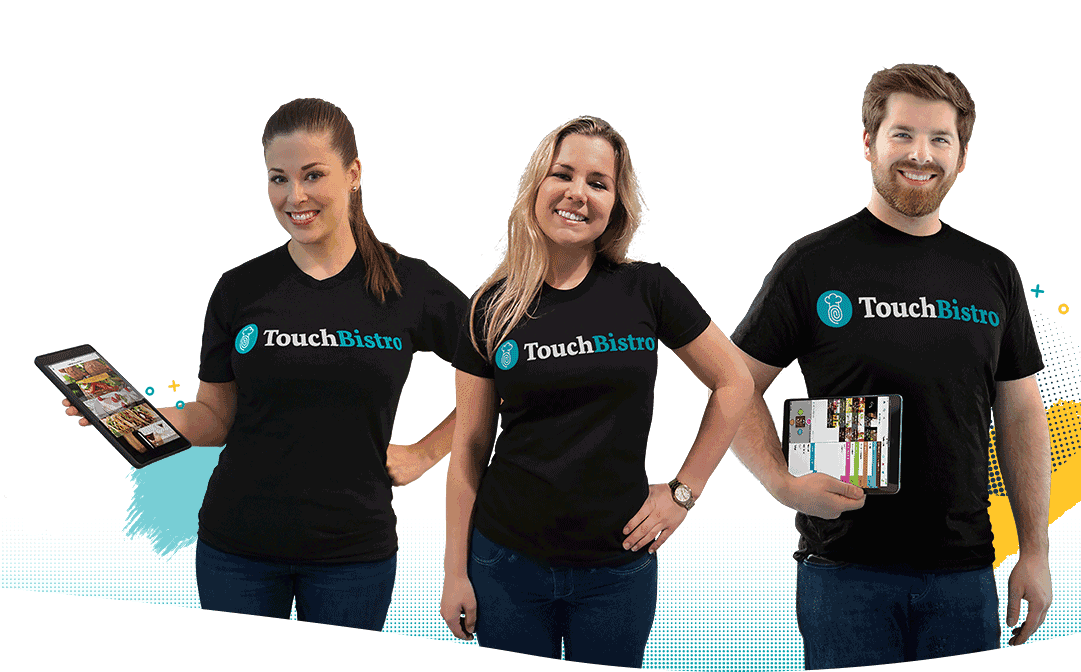 Customer service is based in North America and runs 24/7/365. That includes nights, weekends, and holidays.
The team is staffed with former and current restaurant employees with deep knowledge in the industry. The type of professionals available include:
High-tech troubleshooters: Remote support is free with a team that can diagnose issues on your iPad immediately from anywhere in the world.
Hardware gurus: World-class hardware support to evaluate and solve equipment challenges.
Bulletproof backups: Prevent the loss of data with secure and automatic backups that occur daily.
Self-diagnose with a help center full of comprehensive videos and tutorials. A venue can also send screenshots to customer support directly from the app. A specialist can be reached at any time to give you a custom demo.
TouchBistro also runs a thought leadership blog on the foodservice industry and the latest technology. It's a place for restauranteurs to learn every aspect of running a modern restaurant including reports, finances, marketing, and staff management.
The point of sale platform also hosts a community of thousands of restaurant owners, managers, and staff across the globe. Every year, TouchBistro holds local mixers and industry events where people can connect, network, learn, and share in their experiences.
TouchBistro POS Alternatives
Ready to Use TouchBistro At Your Restaurant?
TouchBistro covers all the bases. It's specifically designed to address challenges and optimize operations in a restaurant environment. Choosing this solution means you don't spend a lot of money upfront on hardware.
This POS system allows access to a suite of features that help to manage a venue even while away. It's an evident leader in the niche market of food service and has all the tools you need to drive sales and achieve success.
The following two tabs change content below.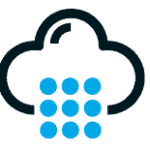 POS Quote Team
The staff at POSQuote.com is composed of industry professionals, experts, and current business owners. Through extensive research, we compile buyer's guides and review the best POS systems in the industry.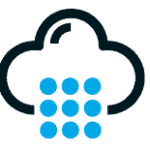 Latest posts by POS Quote Team (see all)
Reader Interactions