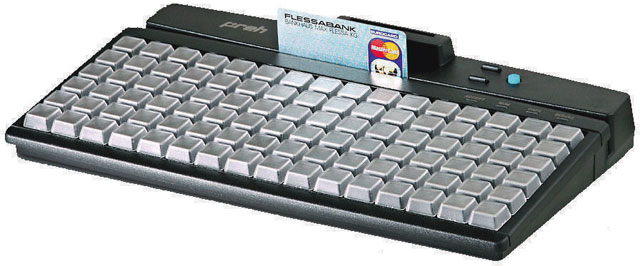 What is a programmable POS keyboard? Let's start with the basics and move forward from there. First, let's establish a common understanding of what POS means. POS refers to "point of sale" technology and the systems that house that technology.
The individual parts of a POS system are called peripheral components. These include POS printers, touchscreen monitors, keyboards, card swipers, etc.
These components are used to enter and store data around individual sales that a company makes. All that data is stored in a central system and is later available for reference when measuring and analyzing business metrics.
With all these components working in unison, it's important to understand what each individual piece does and why it's important to the overall POS system.
Below, we will dig into POS keyboards, outline their importance, and offer some suggestions for top models to kickstart your efforts.
What Is a Programmable POS Keyboard?
A normal keyboard comes with a standard key layout. Most of us are familiar with these keyboards. But what is a POS keyboard?
A POS keyboard differs from a traditional keyboard in many ways.
For example:
A POS keyboard comes with many of the standard keys you see on a normal keyboard. But they also include blank keys that can be configured to store data that is important to your business and use the terminology you use to run your business.
As an example, you can denote a specific blank key to represent the "total" of an order that you enter into the system. This saves time because you no longer need to press the plus sign key to arrive at the order total. Rather, you simply press the "total" button that you have configured per your needs.
These configurable buttons are programmed to send a code or other specified data back to the overall POS system. That data is then stored in the system for future reference.
Within reason, you can configure the blank keys on your POS keyboard to track and record any type of data that you need to keep track of.
Some of the better performing POS keyboards allow you to integrate a credit card reader, smart card reader, and/or fingerprint (biometric) reader for added security. Having the ability to leverage a credit card swipe keyboard is particularly helpful to many businesses.
POS keyboards come in a variety of shapes and sizes, making it easy to select the keyboard that best fits your business needs.
They are not as complicated as they may seem from an initial explanation. Many come with a built-in "learning mode" that helps users slowly grasp which function each individual key performs. This eliminates confusion, human error, and greatly shortens the learning curve.
Ultimately, a POS keyboard is nothing more than a mechanism to enter data into your POS system.
The added value comes in the form of customizability, which allows you to configure the keyboard to speak your business's language, process data in the way you need it to, and store data where you want it stored.
OK, we've covered the basics. Now, let's dig into some of the key benefits offered by programmable POS keyboards.
Benefits of Programmable POS Keyboards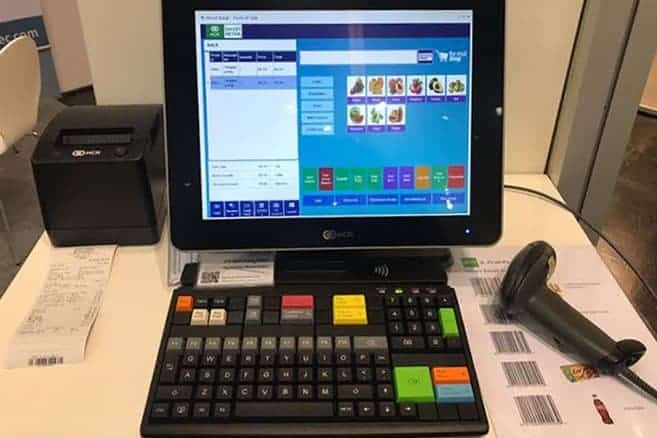 There are many benefits associated with using a programmable POS keyboard. Here, we cover some of the most useful benefits that businesses enjoy by leveraging POS keyboard technology.
Customizable Blank Templates
You can think of your POS keyboard as a blank slate. To be sure, your keyboard should come with most or all of the standard keys any regular computer keyboard includes.
In addition, a POS keyboard worth its weight in gold comes with several blank, customizable keys that you can configure to align with the products you sell and the inventory you must keep track of.
Automating this part of a sale transaction streamlines the entire process and helps to quickly increase interest in and profit from selling your offerings.
Progressive, Intuitive Design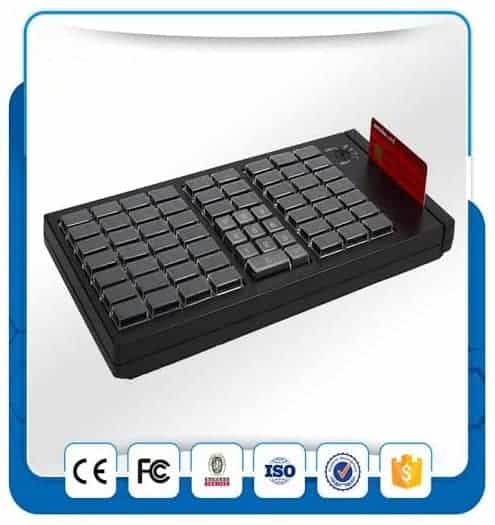 POS keyboards continue to surf the cutting-edge wave of POS technology.
Their compact design allows you to store your POS keyboard in tight spaces and move it around if you decide to re-organize the layout of your store.
The POS system space is currently in a state of rapid evolution and improvement.
Businesses of various types now realize the importance of maintaining a best-in-class POS system, complete with all the peripheral components needed to keep the lights on and keep revenue flowing in.
A 2019 industry survey revealed that the top priority of businesses using POS systems this year is to continue adding additional and new capabilities (peripheral components) to their current POS system.
Payment Security Compliance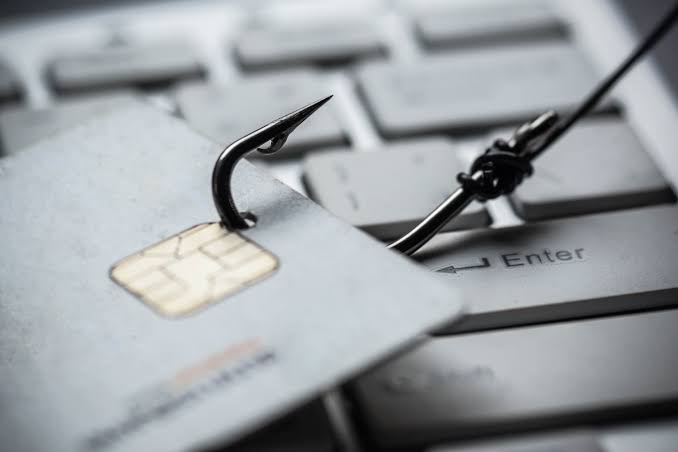 Today's POS keyboards, as mentioned above, are integrated into a comprehensive POS system that stores and processes loads of data in no time at all. We're working with the best POS keyboards to ever hit the market.
One important feature that the best programmable POS keyboards include is built-in data protection capabilities.
With the GDPR and other data protection regulations—such as California's new data privacy law (CCPA)—it's more important than ever to maintain compliance with data protection guidelines.
That is a benefit for your business. But it also provides a benefit to your customers. When their data is protected—especially sensitive data such as payment information—they feel at ease doing business with your company.
Adhering to these regulations not only builds trust among your customer base and prospects. It also ensures that you are operating within the legal parameters laid out for your business and how it processes payment data. It's a win-win for everyone involved.
To be sure, the survey cited above reports that 45% of respondents say that incorporating robust payment security compliance measures into heir POS system is their top priority for 2019.
Consistent Hardware and Software Upgrades/Updates
Because POS systems are evolving so quickly, it's critical that you stay one step ahead of emerging trends and maintain a POS system that features the latest and greatest features available.
That same survey referenced above shows us that 40% of respondents say their top priority in 2019—regarding their POS system—is leveraging a system that consistently releases new software updates to fix bugs and other issues. This ensures their system continues to operate at optimum capacity.
Furthermore, 36% reported that their top priority in 2019 is to use a system that continually upgrades the hardware they offer. Static hardware goes stagnant quickly.
It's vital to partner with a company that regularly upgrades the hardware tools used to operate the POS system you purchase.
Some Statistics to Consider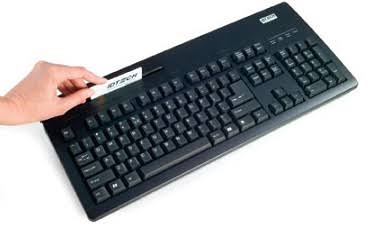 As mentioned above, the POS industry continues to grow and shows no signs of stopping. It's increasingly difficult to remain competitive in your respective industry without a POS system in place and a solid, reliable keyboard to connect to the system.
Here are a few statistics that will drive home this point:
73% of consumers today use less cash when making purchases than in the past (Source: Mastercard). This means that incorporating a keyboard with a card reader will play well to your advantage.
In 2019 there are over 1,133 million businesses using a mobile POS system. Yes, you read that correctly; that's over 1,133,000,000 users—a 16% increase from last year (Source: Statista).
62% of merchants today say that their main engagement priority is knowing who their customers are. And a strong POS system provides that much-needed insight (Source: PCMS).
Experts predict that the worldwide POS system market size is set to triple by 2023. A market that was valued at US$1.34 billion in 2018 is expected to reach US$3.73 billion in five years (Source: Research and Markets).
Which POS Keyboard is Right for Me?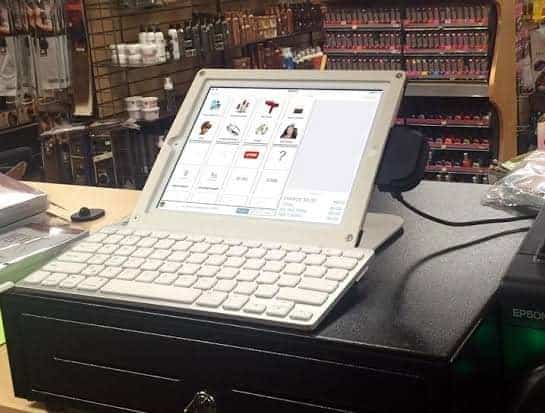 Just like buying blue jeans, there is no one-size-fits-all option. Every business is unique, with its own specific business model, customer base, and overall business needs.
What does this mean? To start with, you should sit down and evaluate your specific, unique business needs as they relate to a programmable POS printer.
How much keyboard customization do you need? Is payment security compliance a major need for your business? Will a more basic keyboard serve you well, or do you need a more advanced model with supercharged features?
Once you have outlined your needs, it's time to start evaluating your options. There are many vendors selling POS keyboards and, of course, some are amazing, and others leave much to be desired.
Vendors and Models to Consider
Once you outline your needs and have a firm grasp on what you're looking for in a POS keyboard, you can start checking out your options and evaluating vendors and the models they sell.
With a little research, you'll find the model that fits your needs.
Here are a few options to kick off your evaluation:
HP FK221AA#ABA POS Vista Keyboard ۞ [TOP PICK]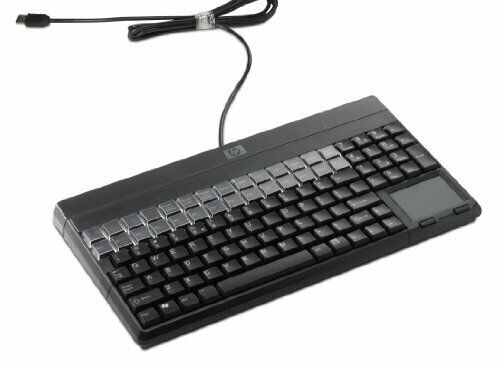 Hewlett Packard's Vista POS keyboard offers incredible value for its price.
It's significantly more economical than most competitors and comes equipped with quite powerful capabilities. This is why we're comfortable calling it our top pick.
With a price point of around US$50, it's hard to expect much. But this keyboard surprises at every turn.
With 28 customizable keys and a spill and dust resistant keyboard shell, this HP POS keyboard can withstand harsh conditions and process complex data in one fell swoop.
Cherry G86-62401EUADAA POS Keyboard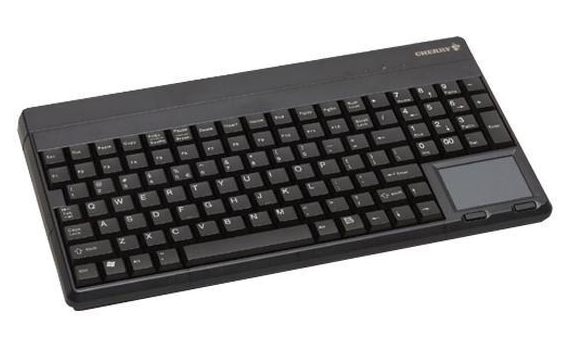 One of the most popular POS keyboards available, this Cherry POS keyboard is used by various types of businesses worldwide and remains one of the top choices for businesses of all sizes. With a price point around US$120, it offers a great return on your investment.
Key selling points include:
Full QWERTY keyboard layout
Its compact layout offers maximized space efficiency and unparalleled alphanumeric data entry
A robust and rugged design featuring a spill and dust resistant keyboard withstands the harshest physical conditions
PrehKeyTec 90328-303/1805 MCI84 Programmable Data Input Keyboard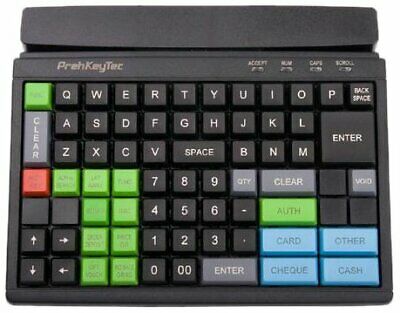 PrehKeyTec claims to stand for "professional, customizable,… and programmable keyboards as well as scanners, input devices, and solutions."
The company has been around the block and produces reliable POS keyboards, to be sure.
This particular model is among its most popular offerings.
With a built-in card reader, customizable keys, and a price tag around US$190, it's hard to ignore this model during your POS keyboard evaluation.
Unitech K2726U-B POS Keyboard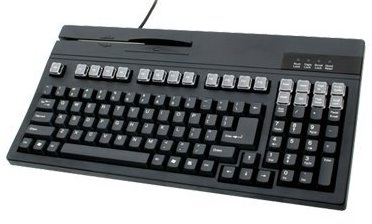 This Unitech POS keyboard is a great choice for retail stores that process many items with a barcode scanner. Why? Because it comes complete with a built-in barcode scanner port. It's as simple as plug and play with this model.
It also includes a triple magnetic strip reader, making it the top choice for many retail stores moving a high volume of goods in a short time.
Coming in around US$150, this Unitech POS keyboard is certainly one you should include in your research if you feel it fits your needs.
ADESSO INC. AKB-630RB Mag Stripe Rdr SCR Keyboard
Rounding out our list is this model from ADESSO. It may not be the best-known brand out there. But the sheer number of features it offers for its price landed it on our list.
Quite surprisingly, for around US$100, this model includes:
A 104-key keyboard with more customizable keys than most businesses would ever need
A built-in credit card slider to read magnetic strips on the backs of cards
A smart card reader which reads card chips and can use them for banking transactions
High levels of data security and protective measures to safeguard customers' sensitive data
Secure log in mechanisms to ensure only authorized staff use the keyboard
Acquire Your Own Programmable Keyboard and POS System
Now you have the inside scoop about POS keyboards and POS systems in general. It's time to start shopping around.
It's always prudent to do some research of your own, without any biased opinion in the background influencing your thought process.
At the same time, you can and should also take advantage of review sites that offer free recommendations for POS systems and peripheral components. Best of all, these sites can provide you with special discounts when you decide to purchase.
POS Quote, for example, can help you identify the best POS system for your business—based on your unique business case and needs. It also offers visitors a discount of up to 30% on entire POS systems.
To take advantage of this service, just fill out the form above. You'll receive a free quote and up to 30% off on your new POS system.
The following two tabs change content below.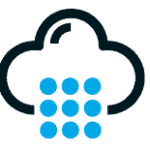 POS Quote Team
The staff at POSQuote.com is composed of industry professionals, experts, and current business owners. Through extensive research, we compile buyer's guides and review the best POS systems in the industry.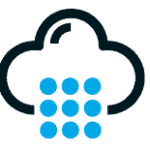 Latest posts by POS Quote Team (see all)