(Last Updated On: September 28, 2021)
70% of small businesses still accept cash. Although more payment options are available each year, cash is still king.
If you're one of the 70%, you're going to need a POS cash drawer to operate efficiently. It's a means of staying secure, productive, and organized.
What is a POS Cash Drawer?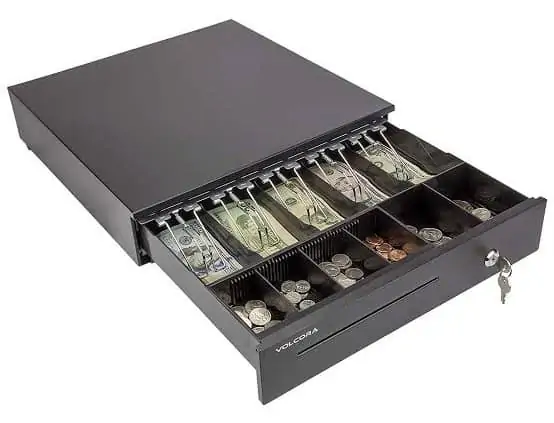 Cash registers include a drawer underneath called the cash drawer. They are most useful when combined with a point of sale system.
Also called a till, the drawer can only be opened with instruction from the cash register.
Some drawers can also open with a special key or passcode depending on the system.
One component that has remained constant is that a POS cash drawer is still a metal box that holds cash. The design is universal, but the dimensions can change.
A cash drawer has distinct compartments for bills and coins. This is for easy counting. It also has a secret space underneath for things like larger bills and checks.
The till is made to be removed from the cash register so it can be taken somewhere for safe counting. It also helps in creating bank deposits and changing out shifts.
How Do POS Cash Drawers Work?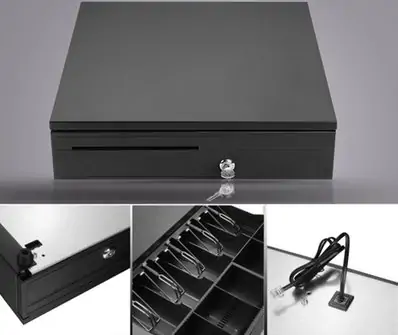 A POS cash drawer is secured by a spring-loaded catch. When a transaction is completed, the register sends an electrical impulse to a solenoid to release the catch and open the drawer.
Some cash drawers are opened by an "NS" button on the register. This stands for "no sale" and can also be used to print a receipt when no transaction has taken place.
A cash drawer is of strong construction (typically reinforced metal). It can be an integral part of the register hardware, or function entirely separately.
POS cash drawers of this nature often have a manual release catch underneath. This is in the event of a power failure; a business can still access their cash.
More advanced POS cash drawers typically have a cylinder lock over a manual release. This requires a key to open the till, which is usually held by an owner or manager. The cylinder lock can have several positions, including:
Locked
Unlocked
Online
Release
When the drawer is set to "online" it will only open when an impulse is given. The "release" position is intermittent with the spring to push the cylinder back to "locked." In this position, the cash drawer will remain latched even when the register sends an electric impulse.
The receipt printer is what prompts the cash drawer to open. The cable between the two resembles a phone line and is specific to the brand of the printer. When a cash drawer won't open, many times the issue is that it's not connected to the receipt printer.
The Different Types of POS Cash Drawers
Depending on your needs, you may need something small or heavy-duty. This equipment comes in three main types and can function on several different interfaces. The distinct groupings include:
Medium Duty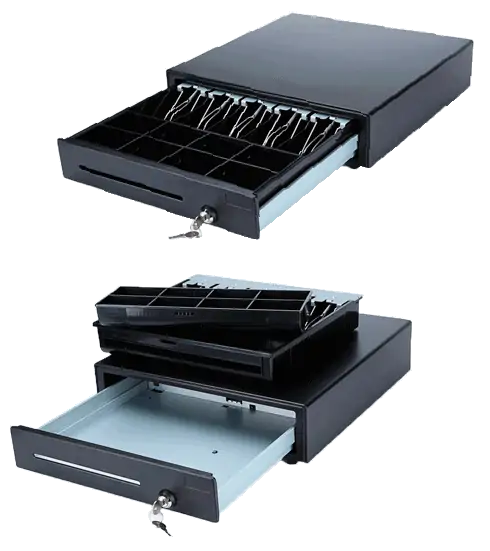 These types of POS cash drawers are ideal for a smaller business looking for an affordable option.
Although they may not have as much durability as a heavy drawer, you may not need it.
They are a solid option for places with low to medium foot traffic or who do light business.
Heavy Duty
These types of POS cash drawers are designed for a high-volume business with heavy foot traffic. This is good for industries like restaurants, bars, and gas stations.
They are built with reinforced steel frames and durable roller systems. This is so the drawer doesn't wear out when opened/closed constantly.
The latching system is also reinforced for maximum uptime. These drawers generally last a long time.
Manual Drawer
If you don't have a receipt printer or computer to open the cash drawer, you may want to look into a manual one. These can be opened by pressing a button on the front or pushing in the face of the drawer.
This option eliminates the need for additional hardware or software. It's a perfect solution for mobile POS applications like pop-up shops, farmer's markets, and food trucks.
Tablet/iPad
These POS cash drawers contain everything in one package.
The drawers are typically compact with a built-in thermal printer.
How Much do POS Cash Drawers Cost?
POS cash drawers are relatively inexpensive and one of the more affordable components to a point of sale system.
Price varies by brand but the set up is typically the same. The price can also vary depending on the style of cash drawer you're looking at. Ranges average:
Medium Duty – $90-$200
Heavy Duty – $150-$300
Manual – $90-$150
Tablet – $400+
Benefits of a Cash Drawer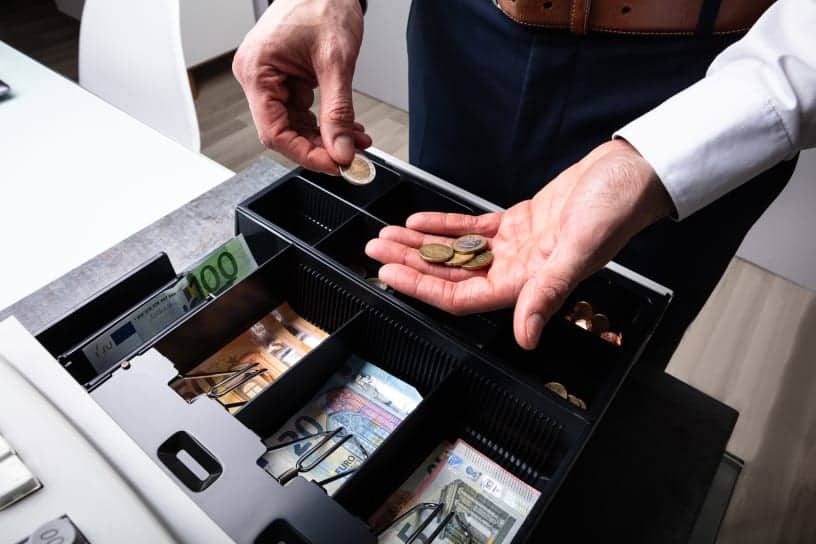 A POS cash drawer allows you to manage and accept cash transactions.
It's a way to keep yourself organized and increase productivity. The quicker a clerk can count cash, the more sales you can make.
Additionally, a cash drawer means more security. It decreases the amount of contact employees have with money (and anything else valuable in the drawer).
It also reduces the risk of staff removing cash from the till without a record or consent. For example, when a customer doesn't want a receipt but still needs change. Cash is easier checked against recorded sales than inventory.
Top POS Drawer Brands
Star Micronics

Founded in 1947, Star Micronics is a Japanese multinational electronic components and printer manufacturing company.
With revenue of over JPY 35 billion, they employ 2,500 people worldwide. Star Micronics is one of the leading brands for cash drawers, thermal printers, and other POS equipment.
POS-X

Established in 2005, POS-X is a subsidiary of Custom America, Inc.
They are a leading manufacturer for POS stations in the retail, hospitality, and restaurant space.
They offer quality POS hardware that includes POS terminals, cash drawers, scanners, monitors, and more.
APG Cash Drawer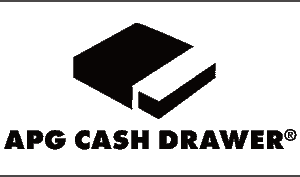 As the name implies, APG specializes in cash drawer hardware and the POS ecosystem.
Providing high-quality cash management in over 90 countries worldwide, the company is headquartered in Minneapolis, Minnesota.
The brand embraces problem-solving with an average employee tenure of over a decade.
MMF POS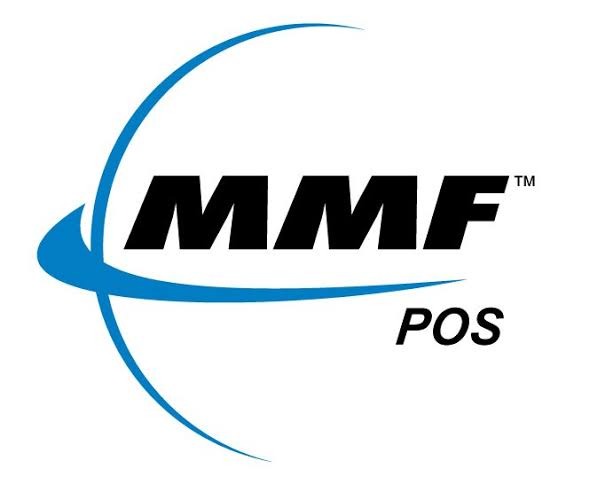 For 40+ years, MMF POS has been a leading provider of cash drawers and POS mounting solutions.
Recognized for outstanding customer service and high-quality products, the company is headquartered in Wheeling, Illinois.
They have over 125,000 square feet of manufacturing space with multiple distribution facilities across the United States.
The Best POS Cash Drawers
Cash drawers are all designed with a specific use in mind but can vary greatly by brand and type. Consider your volume of business, location, and needs.
Here are some of the best POS cash drawers you can find today:
Medium Duty
Star Micronics CD3 – $105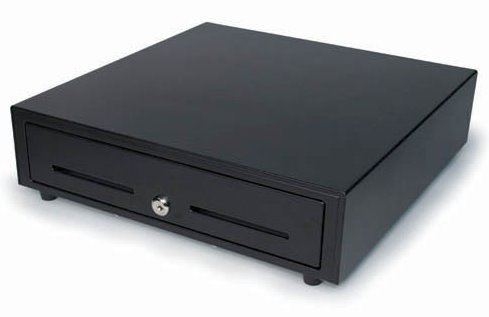 The Star Micronics CD3 Tradition Cash Drawer Series is a cost-effective solution that integrates seamlessly with any retail or hospitality environment.
It comes in black or white with a stainless steel drawer cover, dual media slots, and a three-function lock system.
The media slots provide extra storage for large bills or checks, and all wires match your POS peripherals.
The POS cash drawer has a standard printer communication interface and bottom exit cable (hidden from view).
For additional security, the drawer comes with a key lock at the front center that allows for easy manual release.
These drawers can accommodate Canadian, Latin American, and US currency types of 3 Bill-5 Coin, or 4 Bill-5 Coin setups. Additional features include:
Printer-driven
Available in 13″x13″ or 16″x16″ sizes
Durable construction with robust storage
Optional under-the-counter mounting bracket
The larger cash drawer is better for a business that's high-volume. Otherwise, the smaller size should suit your brand just fine.
POS-X ION – $135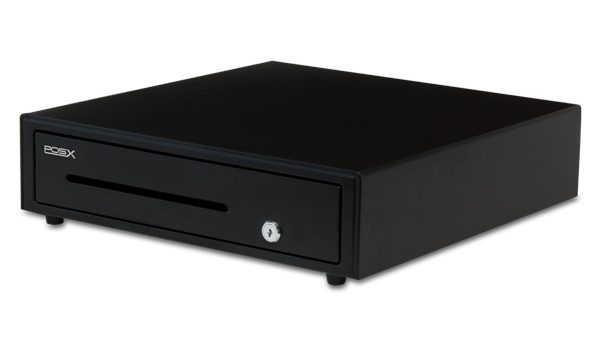 This medium-duty POS cash drawer series is the fourth generation from POS-X.
It offers increased durability with options for a 16.1" wide ION-C16 or an 18.1" wide ION-C18.
It's an affordable price and fits the most common installations. Under-counter mounting brackets are also optional.
The ION tills have media containers built into the drawer, which allows for large bills, checks, and other important documents.
All covers are made with heavy grade steel which increases rigidity and improves resistance to tampering. They lock securely to the till and cover the media slots.
You can adjust the 5-bill and 5-coin slots to meet your needs and provide versatility. Instead of rollers, the cash drawer is set on rails.
This increases the life of the product and allows for smoother operation. All of the ION Series comes with a 3-year warranty (with optional extensions) and an overnight exchange service. Additional features include:
Painted or stainless steel front
Shatter-resistant till
Compatible with most receipt printers
Till inserts can be adjusted as needed
Solenoid rated at 1,000,000+ operations
The ION cash drawer is available as printer-driven or manual. It's the perfect balance of price and performance.
APG Vasario Series – $125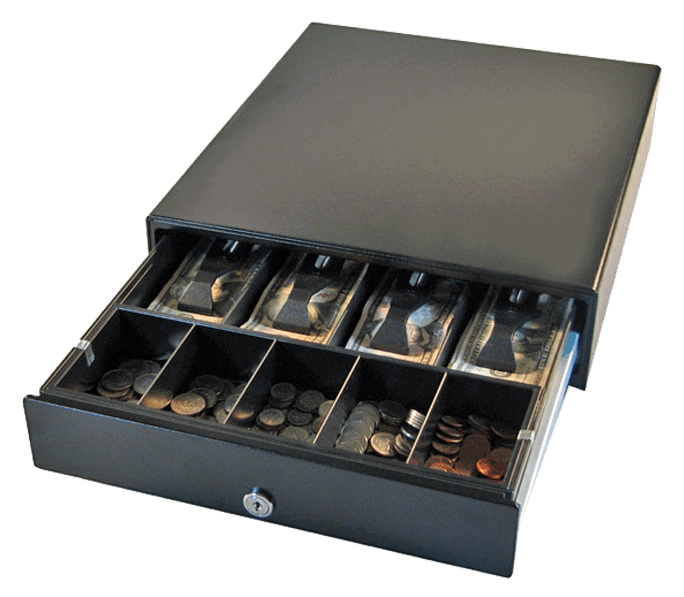 This is one of the most cost-effective solutions for a low volume environment. The APG Vasario cash drawer holds steady under normal conditions.
It has a roller bearing suspension system that allows for continuously smooth operation.
There are multiple till styles available to meet a variety of currency requirements, including international bill storage.
The Vasario comes with a four-function lock system for multiple levels of security. It has a drawer status switch and a till cover to protect your media slots.
Other key features are:
Latch mechanism tested beyond 1 million cycles
USB, serial, printer-driven, and interface options
Available in a variety of colors and sizes
Painted or stainless steel front
APG also offers a manual version of the Vasario if you have light traffic or a mobile POS system. It should be noted that an interface cable must also be purchased for the APG Vasario electronic cash drawer to function.
Heavy Duty
POS-X EVO Pro – $160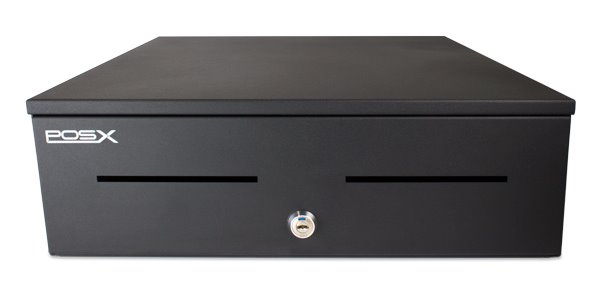 This is a robust, enterprise-grade cash drawer designed for high volume retail and restaurant environments.
The POS cash drawer comes with a precise ball bearing slides and a shatter-resistant ASB polymer till.
It's designed to meet the high demands of any point of sale market. The POS-X EVO pro is engineered to last.
The heavy grade steel provides the stability to hold up to the highest pressure environments. Two large, under drawer storage compartments provide additional space for large bills, checks, and coin rolls. The drawer till has space for 5 bills, and 5 coin slots.
Additional features include:
3 position, 4 key function
Printer-driven
3″ x 16.7″ x 5.1″ dimensions
Compatible with major receipt printer manufacturers
2,000,0000+ Solenoid cycles
The POS-X EVO also comes with a lock position indicator and heavy-duty bill weights.
APG Series 100 – $150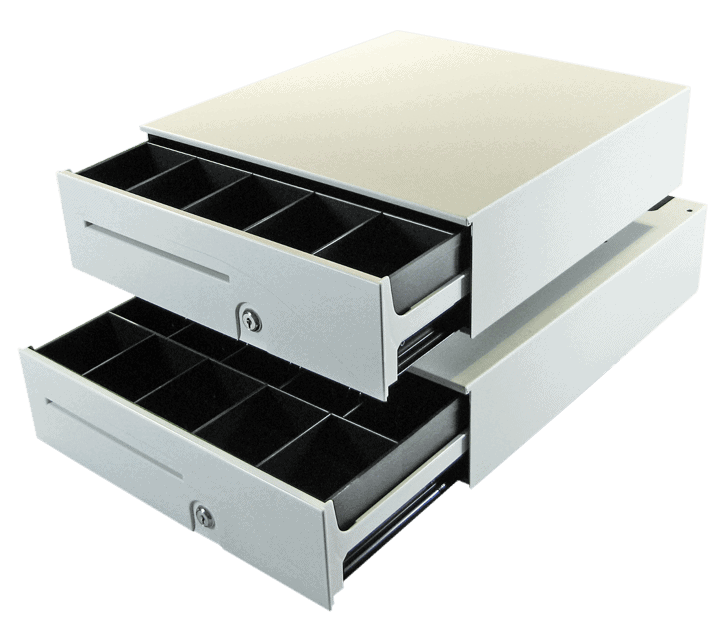 The APG Series 100 has a compact, 16" footprint with a deep, configurable till. It fits a countertop nicely without compromising storage.
The media slots are adjustable with a rugged latch mechanism and steel ball-bearing slides.
This is the perfect solution for durability. The Series 100 comes with a lifetime of use at 4 million cycles.
The MultiPro interface system also allows integration with almost any POS set up. You only need to purchase the right cable.
Other features include:
Lightweight at 19 lbs.
Four-position lock
5 bills, 5 coin slots
Available in multiple colors
5-year warranty
Manual
MMF Cash Drawer Advantage Manual – $169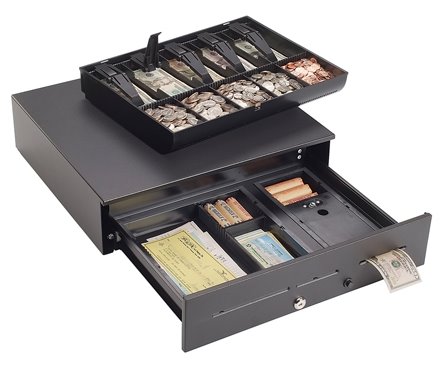 Not every business needs a complicated setup. If you are looking for an easy solution, the MMF Advantage Manual cash drawers are incredibly sturdy with added security.
There is no need for a PC or receipt printer to activate the drawer. Since it works manually, it can be installed anywhere. This makes it an ideal choice for mobile management and money handling.
The cash drawer is available in black or putty and has additional features like:
Lockit cash drop compartment
3 media slots
Push-button opening
Adaptable cash till options
Two sizes to choose from: 18″ x 16.7″ x 4.6″ or 18.8″ x 20″ x 4.6″
Other honorable mentions for manual cash drawers include:
APG Vasario Manual – $110
POS-X ION Manual – $90
MMF Cash Drawer Val-u Line Manual – $95
Tablet
Star Micronics mPOP – $450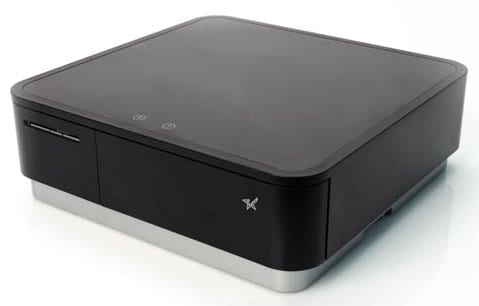 Although pricey, this is the most ideal POS cash drawer for mobile management.
Everything comes in one petite package that's lightweight, fast, and Bluetooth capable.
The all-inclusive solution is perfect for low-profile countertops and iPad stations. It comes in two color options, snow white or piano black.
Some key features include:
Two-inch thermal printer with "drop-in" paper loading
Compact cash drawer with 4 bill compartments and 4-6 coin slots
Locking base bracket counter clip for easier mounting
The system is ideal for a business that wants to get up and running right away. It comes with everything you need, built into one, including a tablet stand a 1D Scanner. The cash drawer is USB compatible and works with Windows, Android, iOS, and Mac OSX.
Ready to Utilize POS Cash Drawers In Your Business?
The type of POS cash drawer you choose will depend on a variety of factors. In addition to the style of the equipment, there is also the interface to consider.
There are a few ways to open your non-manual cash drawer, so you should take that into consideration. The traffic and volume of your business may also help you decide on the best solution.
You may not need to spend a lot of money if you're only opening the drawer a few times a day. Ultimately, cost, effectiveness, and convenience will all help you decide on the POS cash drawer that fits your business best.