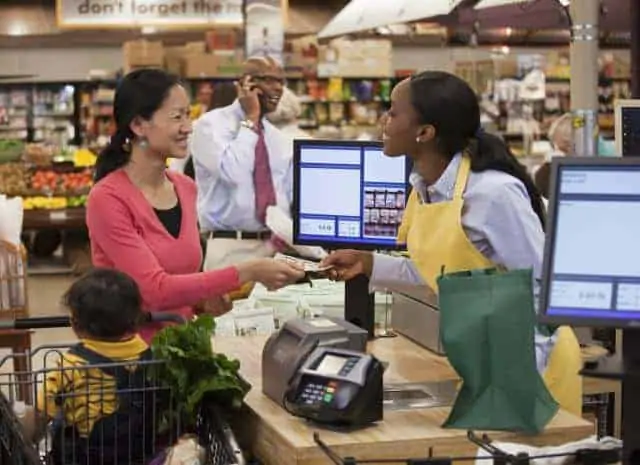 Inventory management, forecasting, demand planning, and security are just a few of the things that keep supermarket managers up at night. If you're looking for tools and systems to alleviate some of these concerns, you're not alone.
The global supermarket industry totals $656 billion. But your share of that market depends entirely on how effectively and efficiently you can handle orders and inventory. That's where a supermarket point of sale (POS) system can help.
The best supermarket point of sale system will streamline payment processing, store management and operations, cash flow, inventory, employee management, and help you improve relationships with your customers.
Specifically, you should look for a system that enables scanner and scale integration, enhanced customer service, and remote reporting. On top of that, the best POS system will include marketing tools to help you turn single-trip customers into loyal advocates for your brand.
It's also important to consider which payment platforms you prefer. Your POS system should seamlessly integrate with these and accept a variety of payment methods.
Out of all your options, POS Nation is the best supermarket POS system. This is because of its rich features including transactions, down payments and deposits, returns & refunds, discounts, user permissions, and much more.
But even though we put POS Nation at the top, you should do your due diligence to make sure you're getting the right platform for your business needs. That's why we've put together this guide to walk you through the top five supermarket POS systems and help you get the best return on investment.
The Best Supermarket POS Systems
System
Starting Software Costs
Hardware Costs
Key Features

Our pick!

Flex Monthly is $99/month
Freedom POS is $999 one-time charge
Case break features for intelligent inventory tracking

$75/month for unlimited terminals
Single touchscreen terminals
start at $1899
Simplified automated reporting options to make your paperwork less

Starts at $99/month
Hardware cost is through third-party
Cloud-based management (no servers) and no license fees

Quote based
Quote based
Equipped to process thousands of transactions in the most demanding environments

Our pick!

Starts at $9.95/month
Pricing varies based on equipment
Customized hardware and software packages with tailored accessories
1. Best Overall Supermarket POS: POS Nation


POS Nation leads the way in grocery store and specialty market point of sale systems. The brand promises integrated hardware, software, training, support, and payment processing catered to your small business.
POS Nation is an affordable supermarket POS that delivers robust customer loyalty tools, detailed inventory management and the ability to scan IDs for bottle deposits. Users give the system high marks for its ease of use and intuitive design. In addition, users say the reporting module is comprehensive, flexible and easy to understand.
The company's integrated hardware and software solution comes in a number of different packages, including one that is paid monthly and another that is paid upfront and includes both the software and hardware. The basic hardware setup includes a Windows touchscreen PC, barcode scanner, receipt printer and contactless payment device. The POS solution is also available in a mobile version that allows workers to access data and complete transactions on the go.
Additional features include inventory tracking, support for businesses that rent products and the ability to customize a tiered loyalty program. The POS solution is also designed with employee security in mind, as it includes the ability to track employee time and attendance and hide the amount of cash in a register's drawer through blind counts.
POS Nation was recently named a Great Place to Work, an accolade that is determined by actual employee feedback. The company's team members are described by their coworkers as intelligent, helpful and professional. In addition, the company is committed to providing a healthy and safe workplace that promotes diversity, inclusivity and innovation. To learn more about POS Nation, visit their website.
The plug-and-play system is designed to help supermarkets track inventory, speed up checkout, and manage grocery vendors with the following top-notch features:
Inventory Management
POS Nation enables a convenience store to manage a large variety of items at the touch of a button. The database can hold an endless number of products with no SKU limit to make convenience store inventory management a breeze. Stock reorder points, low inventory notifications, and automatic purchase orders can all be set up to make product management a hands-off task.
Efficient Checkout Features
Rather than leaving your cashiers to memorize SKUs or perform manual produce searches, set up customizable hotkeys for your most popular products. Quickly look through large and easy-to-identify images and ring up products with the touch of a button.
Integrated Hardware
CAP Retail by POS Nation also integrates with scanners and scales, making checkout even easier and faster. With a hardware upgrade, you can quickly scan items directly on your conveyor belt and ring up products by their weight.
Customized Deals
Groceries and markets can create their own custom promotions and deals with POS Nation, plus accept manufacturer coupons to keep customers happy and coming back for more. You can also create and print something custom at the bottom of each customer receipt, such as a QR code or a special offer for the next time they're in your store.
Payment Types
Accept all types of payments, which includes:
Cash
Credit/debit cards
Gift cards
Mobile payment
EBT
Additional features include:
Over 55 prebuilt reports and additional customizations
Data exports in different formats for further analysis
Employee management and payroll
Unlimited database of product SKUs
2. The Best Supermarket POS System for Swift Transactions: CashierLive

Are you looking forward to ringing sales faster and accurately or just want to reduce wait times in your supermarket?
Cashier Live POS system is specifically designed as a Grocery Store POS. This supermarket Point of Sale will make it more convenient for you to track sales, inventory, and employees in the store.
Other CashierLive POS features you will come to like include:
Reporting and Customer Management
Cashier Live makes it easier and more convenient for store owners and managers to get real-time reports on various business aspects. With this system, you can get all the reports you need on a single dashboard, regardless of where you are.
You may use the information on such reports to gauge the overall performance of the business. This software also features an integrated CRM capability. As such, it collects relevant customer information automatically.
The system will then use the data to generate relevant customer reports. Such reports will help you ascertain such things as the most prolific customers, stock items that are in high demand and what different customers are buying on every visit.
Supports Various Devices
While some of the best POS systems for supermarkets only work on iOS devices, CashierLive is compatible with almost any device. For instance, the various POS features may be accessed through the Cashier live iPad application.
Alternatively, you can access the CashierLive Dashboard online using virtually any internet-enabled device.
CashierLive POS System Downsides
The system does not have an offline mode. This means that you simply cannot process payments through the POS systems when the internet is down.
3. The Best Quote-Based POS System: ITRetail

Affordability, enhanced ease of use and reliable customer support are some of the desirable aspects of this POS system.
Despite being an affordable option, this solution has all the supermarket functionality you need. For instance, it features electronic coupons, support for eWIC payments, raw SQL data access, multi-store management, ROS exits, BR data integration, and powerful inventory tools.
POS systems aren't one-size-fits-all. IT Retail understands that and has created a POS system that is customizable to meet the unique needs of stores of all sizes. This POS offers a number of features that are especially well-suited for convenience and grocery stores. It also offers a feature that helps streamline loyalty management. When a customer is about to checkout, the system checks for any rewards and automatically prompts the cashier to apply them before the sale is finalized. This saves the employee time and the customer effort.
This POS also offers several payment processing options, including First Data, TSYS, Worldpay, and Chase Paymentech. It is a good choice for stores that want to accept EBT cards, which are commonly used for purchasing age-restricted items such as alcohol or lottery tickets. It also has a feature that lets stores track inventory in each location and provides an option for customers to pay with their mobile phones.
ITRetail POS has a free POS software and hardware plan, but it doesn't offer all of the features available in other POS systems. For example, it doesn't have the matrix product inventory and back-office tools that are needed for restaurants or nonfood retailers. It also doesn't have the service department management tools that many repair and handyperson businesses need. However, it does have the ability to offer fulfillment options like in-store pickup and ship-to-customer. This is important for grocery and convenience stores that are competing with online retailers that can offer these services.
Here are other features and capabilities that make ITRetail desirable among supermarket owners:
Regular Updates
Your customers will be more comfortable knowing that their card information is safe and secure with you. To help retain the best security levels in the industry, the provider offers regular software updates to combat emerging threats.
Again, the provider is continually improving the features and capabilities of this system. These updates will ensure that you get such improvements. Thanks to these automatic software updates, you can rest assured that you have the latest improvements to the software by the provider.
Diverse Inventory Manager
The inventory manager on this system is one of its best selling points. To begin with, the inventory manager is diverse enough to handle the myriad of items you have in stock.
Again, the system features a multitude of tools to make inventory management easy and accurate at all times. In addition to these, the system is capable of organizing the items with low inventory thresholds on a printable report.
These items may be sorted by the vendor so as to make ordering easier. Such are the capabilities that will ensure that you never run out of stock unknowingly.
Online Store Integration
Allowing your customers to order for items online can create a new income stream for the business. In line with its commitment to offer retailers a powerful, innovative and simple POS solution, the provider allows you to integrate with some of the best online platforms.
Curbs Employee Theft
Unlike many other supermarket POS systems available, IT Retail exposes and helps you prevent employee theft. In this regard, the system will automatically analyze every transaction carried out in the establishment.
By so doing, it will single out suspicious transactions that need to be looked into.
Downsides of the IT Retail POS System
The features and capabilities of this POS solution are somewhat limited.
4. The Most Agile Supermarket POS System: ECRS


Get yourself an innovative, full-featured POS system that is designed to offer you peace of mind and grow your business. If such are the things you are looking for in your supermarket point of sale system, you should consider getting ECRS.
In addition to agility, this system is designed to offer enhanced reliability, ease of use, and speedy transactions. This solution has many features to offer, ranging from accounting, and analytics to inventory management, and loyalty programs. However, these are not the only reasons you should invest in this system.
Here are other aspects that will make you want to invest in the ECRS POS system:
CATAPULT Commerce
This is one of the industry-specific features many supermarket owners have come to love. You may think of CATAPULT as a more powerful version of unified commerce with much more to offer than a conventional Omni-channel platform.
This platform will unify all the important section of the supermarket in real time. By so doing, the feature will present you with all the POS features you need at a glance as well as seamless, and fast transactions.
The provider avails this capability at all retail touch points in your businesses. For enhanced ease of use, the platform features a simplified cashier interface and has several hotkeys.
Self-Checkout
Incorporating several self-checkout points in your business will not only reduce long lines, it will also allow you to cut on labor costs. ECRS is one of the few retail POS systems offering this capability for supermarkets.
The system features engaging and friendly, automated self-checkout interface for a simplified checkout process. This system has been proven to offer supermarket customers a consumer-centric experience as they check out.
ECRS POS System Downsides
Configuring the system is comparatively hard and time-consuming. Additionally, you will also find the POS to be a bit hard to understand and use.
5. The Most Intuitive POS System for Supermarkets: Clover


Having been designed for retail businesses like a supermarket, clover POS has a horde of industry-specific features to speak of.
For instance, it will automatically keep you on track, regarding stock levels, and make it easy for you to process payments. Additionally, the solution has the right tools for easier processing of returns and exchanges in a supermarket.
Here are other desirable aspects of the Clover supermarket POS System:
Easy Inventory Management
Stocktaking has never been easier than it is with Clover. In addition to sending you timely low-stock alerts, it continually monitors the stock to give you accurate real-time updates. With the Inventory manager on Clover, you will be able to create SKUs with multiple variants like size and color.
With this system in your supermarket, the inventory will be automatically updated after every sale.
Seamless Payments
Processing payments with Clover is easy and fast. To begin with, the system supports all payment types, including gift cards, NFC, mobile payments, debit, and credit cards. The system also allows you to configure automatic tax rates and process payments offline as well.
Downsides of the Clover POS System
Only proprietary hardware is available for this POS system. Again, it is impossible to separate the payment processor from the POS system.
Things You Need to Know Before Choosing a Supermarket POS System

A supermarket needs a retail POS system that addresses its unique needs. For such an establishment, an industry-specific solution has much more to offer than a conventional cash register. For instance, it will streamline operations, track the inventory and control cash flow in the business.
Such are the things you need to enhance profitability and even grow the business. However, a considerable number of supermarket owners are confused about which POS solution to invest in. In order to get the best ROI, you need to choose the right system carefully.
Here are some of the aspects should consider while shopping for the best supermarket POS system:
Scanner and Scale Integration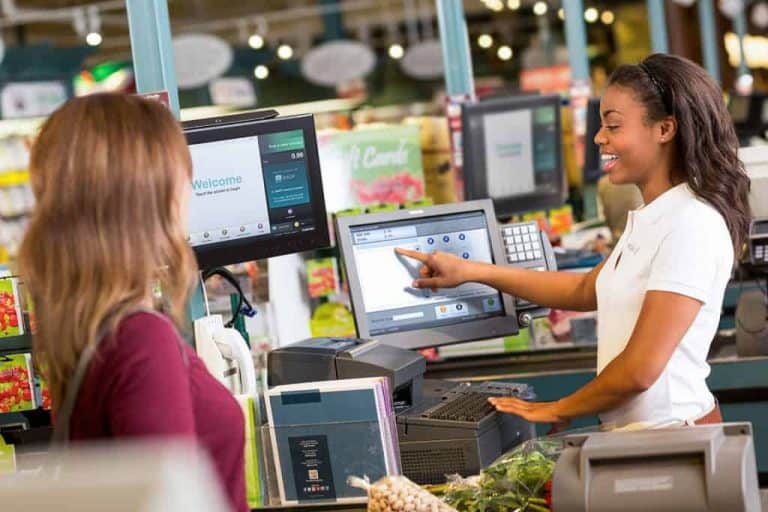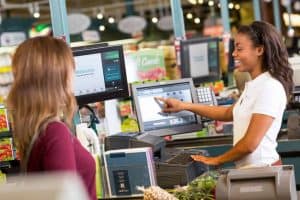 It is almost impossible to keep the lines moving faster in a busy supermarket without a barcode scanner. Again, a considerable number of items you offer in the business need to be weighed during checkout.
As such, a POS scale will also come in handy for a supermarket.  Therefore, the best solution for your business is the one that allows you to integrate scanners and scales to the POS system.
This integration has a number of benefits to offer, including:
Improved Customer Satisfaction and Loyalty
A POS scale will make it easier for your employees to price items by volume or weight. A scanner, on the other hand, will speed up the checkout process. As you can imagine, combining these two components with the right POS system will reduce wait times for your customers considerably.
This will, in turn, enhance customer satisfaction in your business, a factor that has been proven to boost customer loyalty in supermarkets.
Improved Accuracy and Profitability
Implementing the wrong system in your business will not only affect the efficiency of the store; it can actually lead to losses. For instance, failing to update the prices in accordance with price fluctuations will result in inaccurate pricing.
This, coupled with inaccurate weight, can lead to significant losses in your business.  If not checked, this can cost your business thousands in lost revenue. In order to avoid such losses, you need to get a system that integrates seamlessly with scales.
In this regard, you need to choose a system that is capable of integrating with NTEP certified scales. This will allow for precise weighing of various items. This will, in turn, lead to accurate pricing and avoid such losses in the long run.
Simplified Operations
Again, integrating scanners and scales to your POS system will simplify operations for your cashiers. With such a system in your business, the barcode will scan and identify the products while the scale feeds the register and customer-facing display with the accurate weight.
Using such data and the preset prices in the register, the POS system will automatically work out the exact price. Such a system will help you charge your customers the right amount and mitigate inventory shrinkage in the long run.
Inventory Control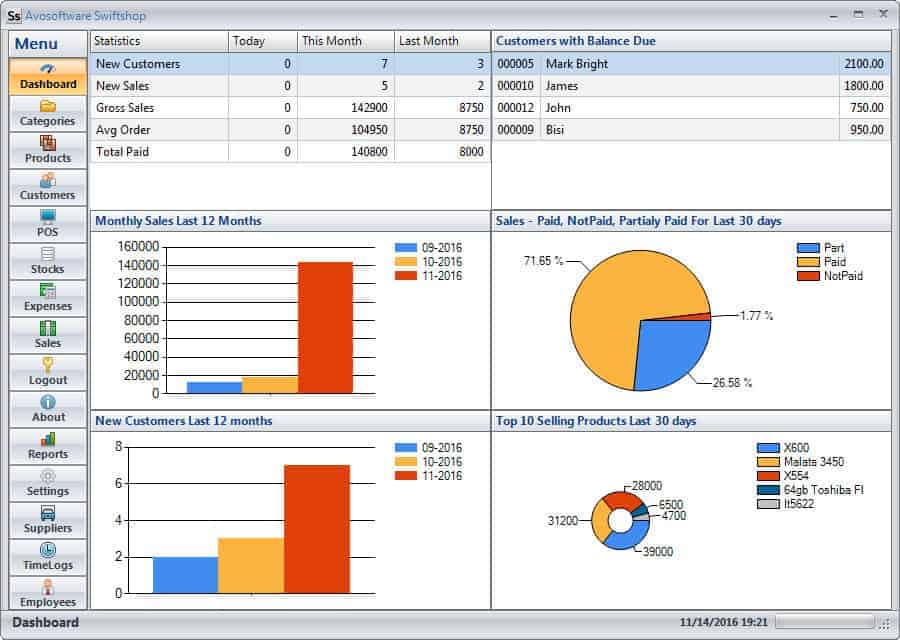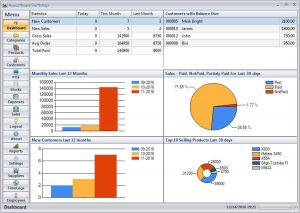 It can be very embarrassing for your store and inconveniencing for the customers for you to run out of products when the customers need them.
To avoid such a scenario in your supermarket, it is advisable to invest in a system that gives you a complete overview and control over the inventory.
In this case, the right POS inventory manager will offer you the following benefits:
Prevents Overstocking/Understocking
As opposed to other types of retail businesses, supermarkets often deal with perishable products. Overstocking such items can result in huge losses if they happen to go bad while on the shelves. Similarly, understocking can have negative effects on your business.
For instance, understocking may lead to a decline in sales on a busy day. This could also lead to a loss of customers when they realize that you do not have the products they need. The right solution should let you know when the stock is running low. Similarly, it should inform you of the right amount of products to restock.
Helps You Track Inventory Items More Accurately
In order to manage the supermarket more effectively, you should be able to accurately account for each item in the inventory. The best supermarket POS systems are designed to automatically deducted each item from the inventory database as soon as it is sold.
Supermarket-specific POS system should as well be capable of tracking bulk items, especially the ones that are sold by weight. For such merchandise, the system should be capable of deducting the weight you sold from the bulk weight in the inventory.
This will allow for enhanced accuracy whenever you are taking tallies of the current inventory in your supermarket.
Back Office Reporting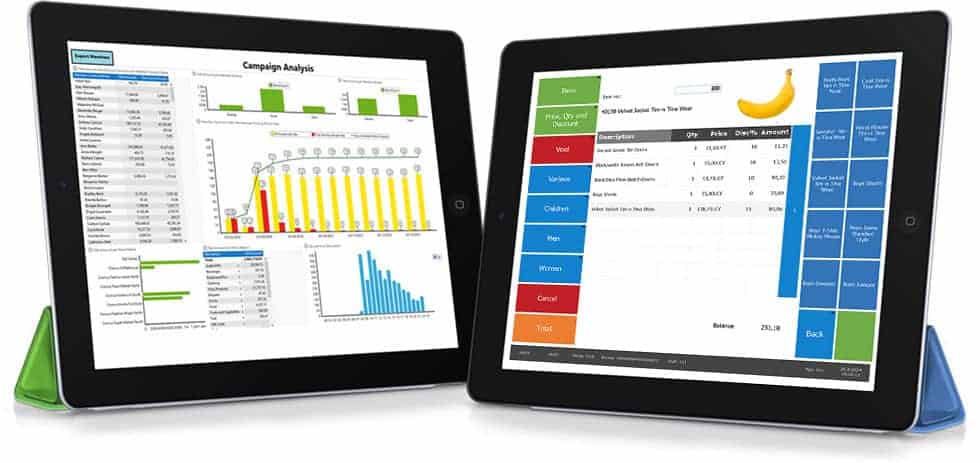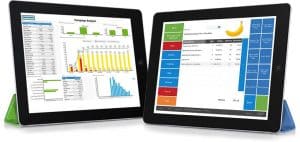 A considerable number of supermarket POS systems today are cloud-based. This capability means that you can oversee operations in your business without actually being there.
However, cloud computing will be of little or no help to your business if the system does not have Superior reporting tools. Your preferred POS system should have all the tools you need to get a clear overview of the business in real time.
In this regard, the right solution should make it easier for you to pull such reports as inventory, sales, and labor reports wherever you are. When obtained in real time, such reports will give you a complete overview of how the business is faring at any given time.
Some of the best systems are also known to offer insights based on the business data they collect from your supermarket. Such a capability will make it easier and more convenient for you to manage the store.
Payment Processing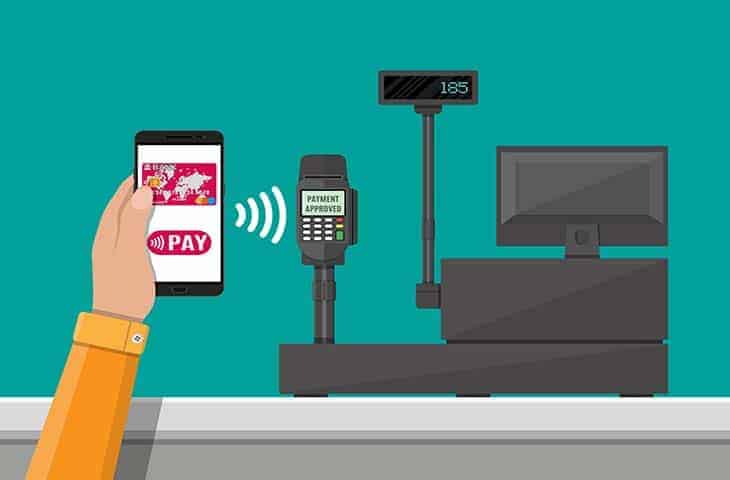 One of the main uses of a point of sale system is to process payments. Normally, card payments are processed through a gateway. As you may be aware, the various payment processors differ from each other in several ways.
While some POS systems allow you to choose your preferred processor, others require you to use the gateway provided by the provider. Regardless of the case, you should opt for a processor that you can afford and is best suited for the business.
For instance, a payment processor that is integrated into the POS system will streamline payments for you. This is because the cards are swiped directly from the POS system.
Again, an integrated payment processor can help you save a few bucks on POS hardware. This is because it does not you to invest in stand-alone terminals for processing card payments.
Our Final Verdict
Supermarket POS systems have different specifications and come in various price ranges. In addition to being affordable, there are several other things you should consider when looking for the best one. The POS systems reviewed here are ideal for any retail operation but are specifically good for supermarkets. 
However, you will still need to choose the one that is best suited for your specific business. Whether its reporting or inventory management, each one of these systems carries their own weight. With the various considerations discussed above, choosing the right supermarket POS system should be a no-brainer.