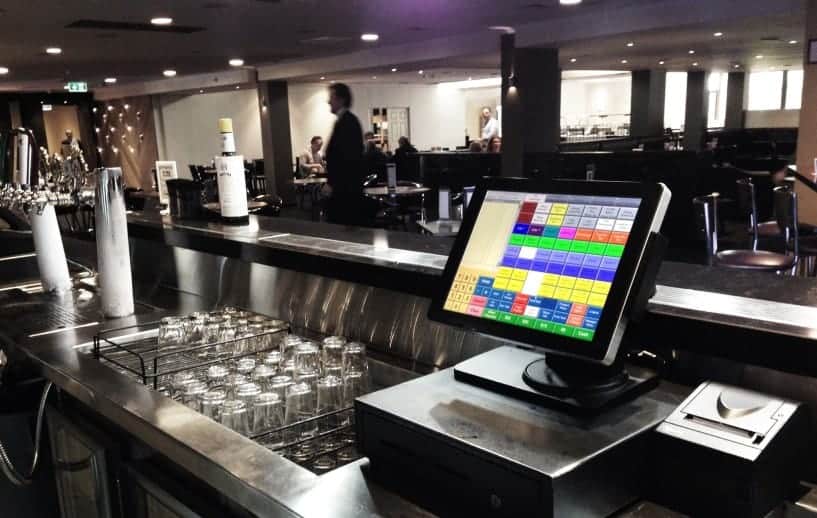 If you own or manage a bar, you're familiar with the many challenges of the business, including inventory management, perfecting your food menu, marketing your business, employee scheduling avoiding employee theft, and more.
In the highly competitive bar business, technology is a must to enhance operations, increase efficiency, improve customer service, and drive revenue. This typically starts with an effective bar point of sale system that streamlines your workflow.
Without a bar POS system, your business will lack the edge you need to outmaneuver your competition. By integrating a scannable food and drink menu with your POS software, patrons can view the menu on their phones or even order through your website. This way, bartenders and servers can save time on taking orders and focus on getting orders out.
Want to skip the whole debate? After extensive research, we believe Upserve is the best bar POS system in the industry. With inventory automation, menu controls, tableside ordering, staff management, and complete compliance, few systems can rival its features. Additionally, the software can assist with overpouring, store mobility, customized reports, and processing payments.
If you're on the road to purchase a bar POS system, there's a lot to consider. Fear not! We've compiled a list of the top best bar POS platforms you can find online today. Each platform serves the industry in a particular fashion that meets the needs of a bar, big or small.
Upserve – The POS System to Boost Revenue

Revel Systems – The Best POS for Your iPad

Toast – The POS for Real-time Order Management

TouchBistro – The POS That Drives Customer Retention

Talech – The POS with Intuitive Design

Kounta POS – The POS System for Detailed Staff Management

Harbortouch – The Best POS for Tableside Ordering

Square for Restaurants – The POS for Smart Menu Management

Lavu – The POS System to Streamline Operations
How Much Do Bar POS Systems Cost?
A bar POS system cost will vary by the needs of a store. Most fixed stations consist of software, hardware, payment processing equipment, a receipt printer, and cash drawer. Keyboards are much less common as touchscreen monitors are quickly becoming the norm.
In addition to fixed stations, you can also opt for mobile equipment which enables more effective tableside management, increased turnover, and order accuracy.
Pricing will change based on your subscription or outright purchase of the bar pos software. The cost per month typically ranges from $29-$99 and depends on the number of registers and stores you have.
If you purchase a POS bar setup off the shelf, you're looking to spend a minimum of $1,000 with little to no installation assistance. In most cases, $2,000-$8,000 is what complete bar POS systems will cost. This generally includes monitors, keyboards, cash drawers, credit card processors, receipt printers, barcode scanners, software, installation, and more.
A bar POS solution that is wireless starts at around $4,000. They come with all the features listed above, plus a wireless tablet and built in card reader. Some systems will even pair up with your own iPad, which can result in significant cost savings.
Comparing the Best Bar POS Systems
System
Starting Software Costs
Hardware Costs
Key Features

Our pick!

Starter package $59,
Pro is $199, and the Enterprise is $359
Average installation is $1,700
In-depth analytics and reporting on sales trends and inventory

$99/month per terminal
Onboarding and installation start at $649
The first ever POS system for iPad

Our pick!

$69/month
$799
Add Guest-Facing Display +$200
Order management system that alerts staff when food is ready

$69/month for the software license
All hardware add-ons are quote-based
Customer accounts that track previous orders and promote best sellers

Starts at $69/month
Pricing varies
Offers kiosk mode and customer-facing display

Starts at $60/monthly
$40/month per additional device
A variety of staff permissions with multiple levels of control

$99 per month
$35 per additional station
Offers the AccuLINK Accounting Integration service to connect to numerous bookkeeping software platforms like QuickBooks or Sage.

$29/month
Hardware is available at various costs
SkyTab feature – Servers or guests can input directly on a tablet to increase order efficiency and accuracy

Free for basic software
Starts at $50 for readers
Highly intuitive, easy-to-use interface
1. Upserve – The POS System to Boost Revenue

Upserve is a bar and restaurant POS that is designed to boost margins while saving you time. The all-in-one solution is easy to implement, reliable, and backed by a 24/7 U.S.-based team of experts. The POS bar software helps to raise productivity, increase profits, and streamline operations.
The POS for bar workflows has features like:
Split Check and Items
Staff can transfer, merge, and split checks with a simple click of a button. Even when separating cash and card payments. If you have a four-top sharing a bottle of wine, no problem. Upserve will automatically calculate the cost four ways so you can focus on the guests.
Offline Mode
The Upserve restaurant and bar POS can be used whether you are connected or offline. Even without wi-fi, the system will function and continue to serve customers, take payments, and send orders to the bar/kitchen. This means that, if the store ever loses connectivity, the Upserve system will still function.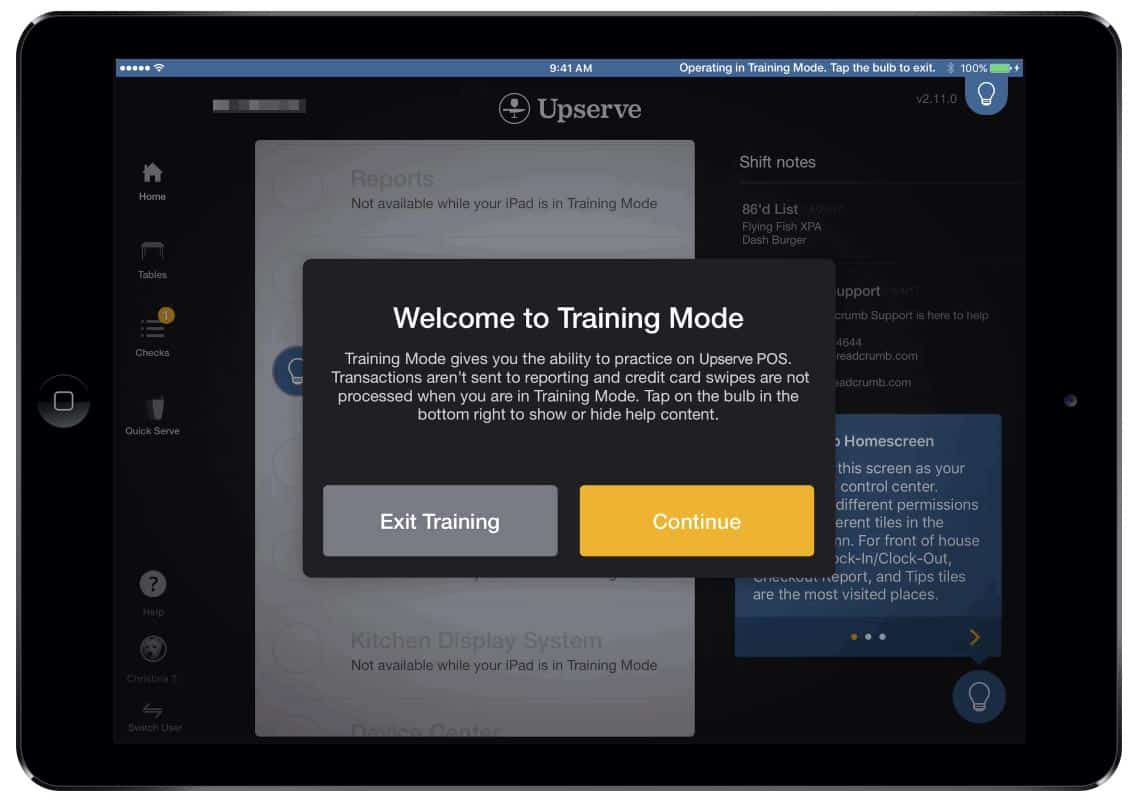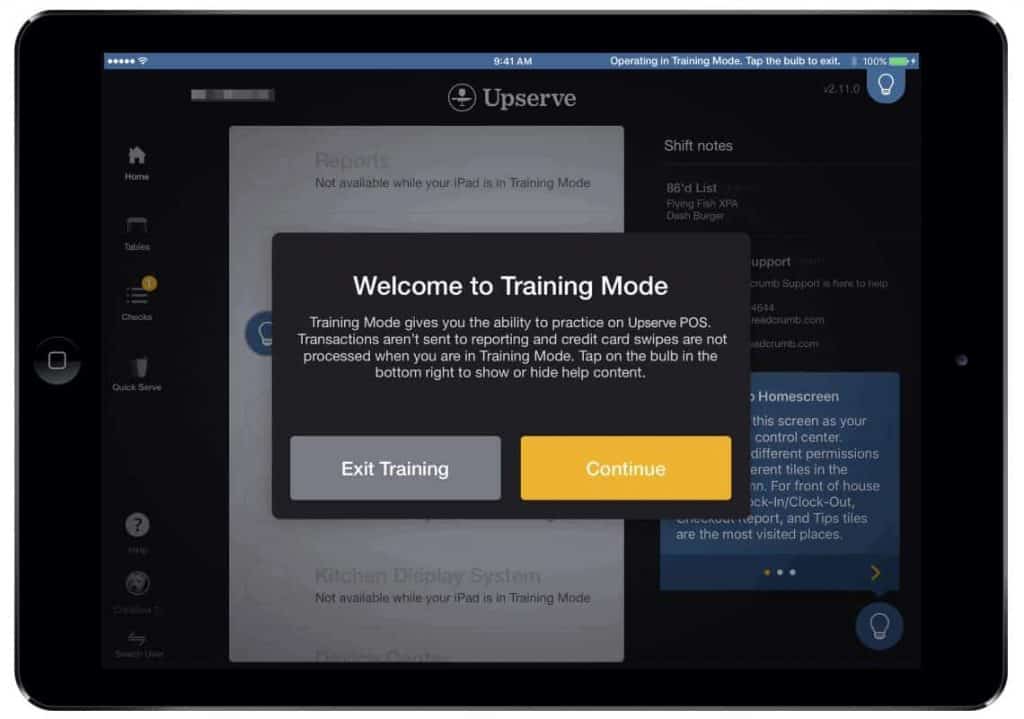 Robust Analytics
Do you know where the bar needs work? Should you focus on bringing more people in or driving check averages?
Running end-of-shift and other timely reports make it easier to manage costs, schedule employees, and restock inventory. These analytics help to gain a quick view of sales trends and performance.
Training Mode
The bar POS system software enables a business to offer hands-on training to staff using the best features. All of this without disrupting service or messing with reporting.
Menu Intelligence
Staff can easily search categories and menu items for quick reference. This gets every order fired off as fast as possible.
The system provides suggestions and menu modifiers to facilitate upselling and drive sales. It will automatically show which items to push and what is 86'd for the day.
Get A Free Quote
2. Revel Systems – The Best POS System for Your iPad

Revel Systems is a leading cloud-based iPad POS bar solution that delivers a better customer experience. It offers diversified revenue streams that enable you to scale a bar with ease. Revel is the first iPad POS for bars on the planet and it shows. Here are some top features to expect from the platform:
Quick Service
Reduce errors and increase the speed of service with self-serve kiosks and customer display systems.
Tableside Service
Connect the front and back of house with a bar iPad POS that improves service, manages employees, and monitors inventory.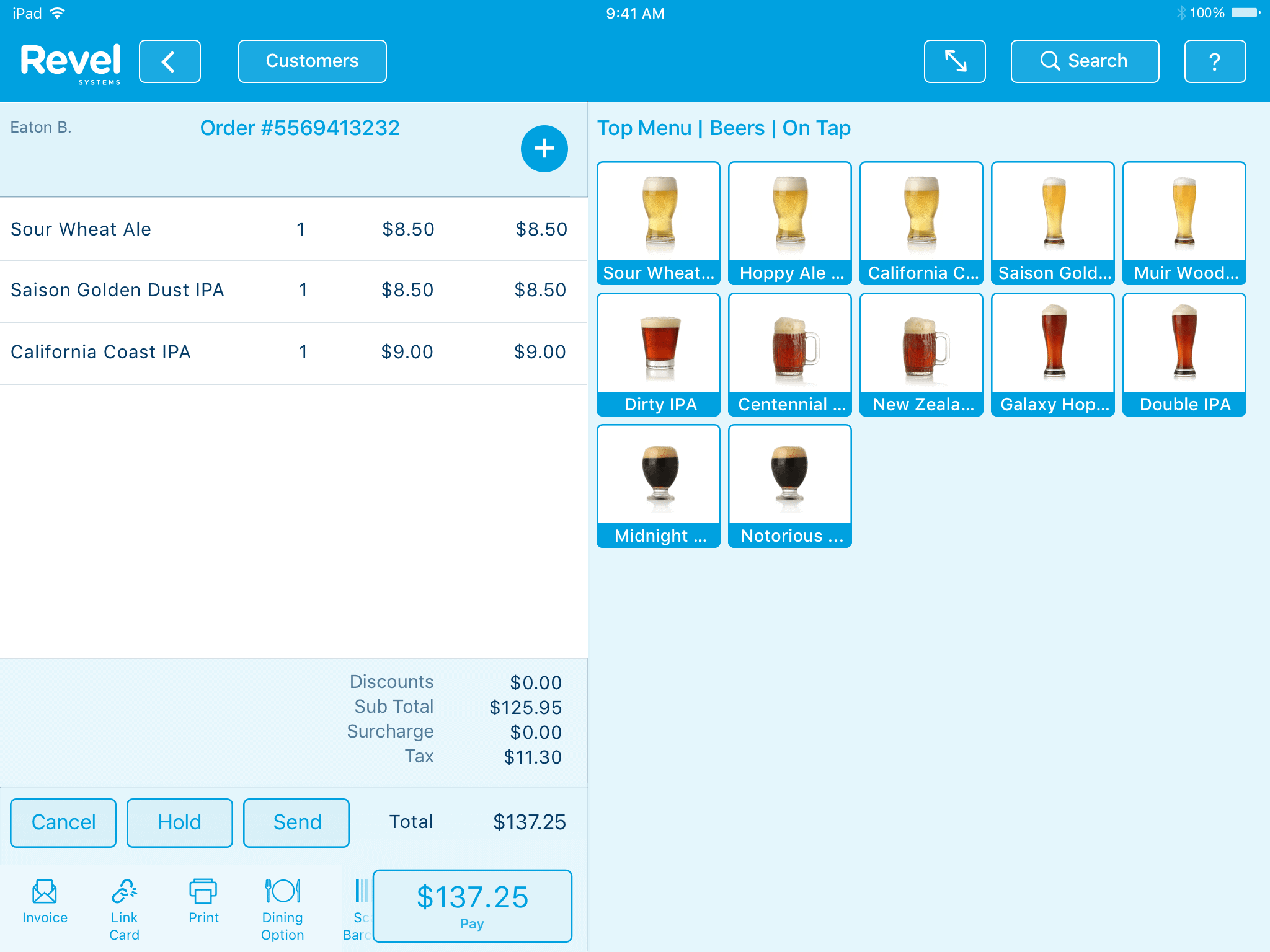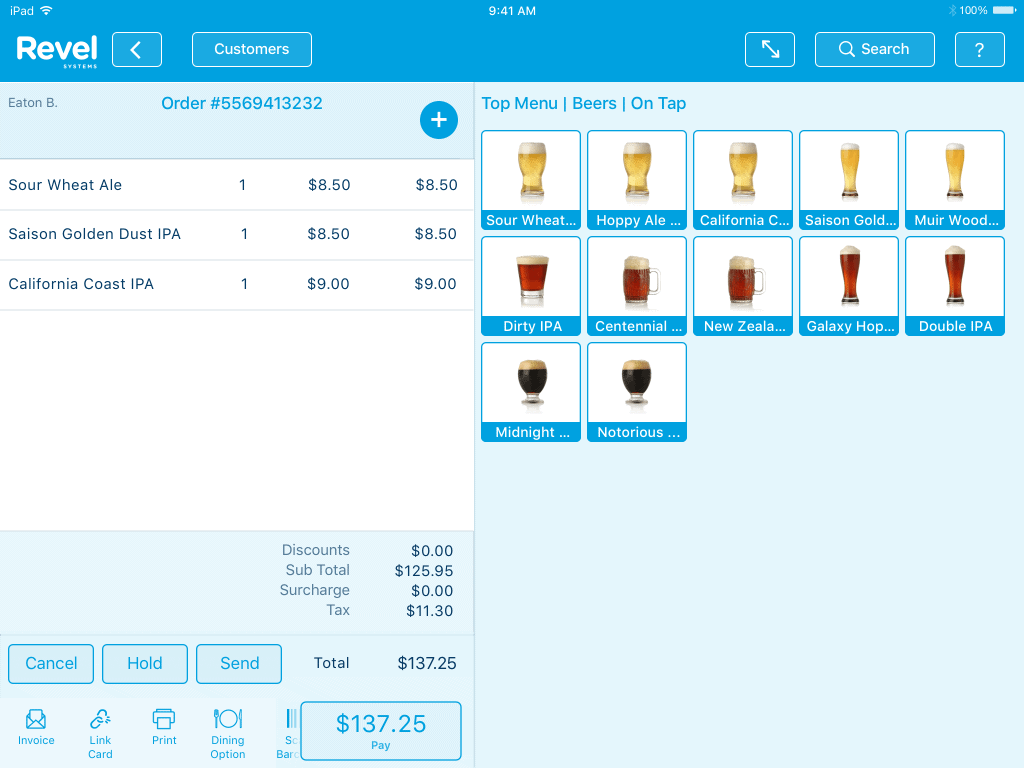 Inventory Management
The Revel POS system for a bar helps you operate an efficient and successful business with real-time inventory updates. This includes low levels of stock and means you never run out of important ingredients— or worse, have to tell a customer "no."
Customer Relationship Management
Finding new customers is hard work and can be an expensive pursuit. Lessen the burden by enticing your old customers to come back for more. Revel Systems is the best iPad POS for bars because it includes a robust customer relationship management (CRM) and loyalty program.
Input and store customer data with ease. This allows a bar to reward people for repeat business and stay up to date on their preferences. You can also use this information for marketing and promotional purposes.
Online Ordering
Extend your business reach by giving people the opportunity to order online; all of which are directly integrated into the POS software for a bar. Customers can choose exactly how they want to engage with your brand when you integrate convenient mobile ordering options.
Flexible Payment Options
Payment flexibility is a huge factor in customer satisfaction and the speed of service. The quaint structure of the iPad POS system can easily accept multiple payment types, which include:
Cash
Credit
Contactless chip readers
Mobile wallets (Apple Pay and Google Pay)
Revel is a bar POS system iPad has partnered with to leverage convenience for customers.
Get A Free Quote
3. Toast – The POS for Real-time Order Management

Toast is a brand that's built to make bars better. In today's fast-paced environment, they give you the tech needed to succeed.
From real-time analytics to ease-of-use features, Toast will enhance sales, boost guest service, and cement customer loyalty. Some beneficial features include:
Tableside Hospitality
Toast is a bar POS that delivers. Bartenders can process payments at any table while sending orders directly to the printer. This allows staff more time to interact with the customers and create a better experience.
Pre-authorization
This is an essential feature for the bar industry. The system allows you to verify and securely save card data on an open tab.
That way, guests get their drinks faster and you eliminate the opportunity for theft. This also ensures the card has the right amount of funds prior to purchase.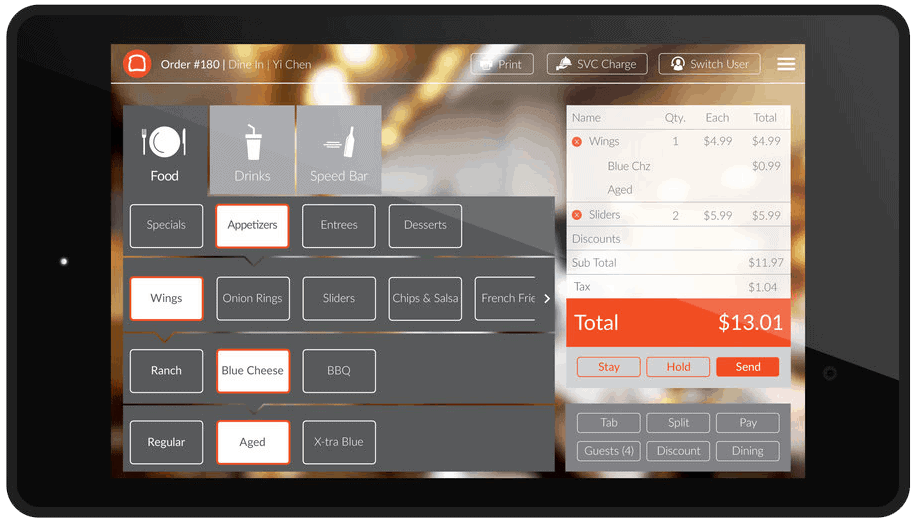 Order Management
The highlight of the Toast POS bar system is the detailed order management feature. Staff is immediately notified once food is up and ready to serve. The system can accept orders from everyone in the building, which includes servers, kitchen staff, and the guests themselves.
Mobility
There's no more asking a customer to "close out with me first" before they order in another section of the restaurant. Guests can move from room to room with ease. You can take and place orders from anywhere in the establishment. Customer feedback is also easier to collect when the terminal is sitting at the table.
Analytics and Reporting
Take control of your store's performance with detailed analytics. Keep tabs anywhere, from any device. The cloud-based access gives you critical reports like:
Sales summary (performance over time)
Location overview (net sales and labor costs)
Product mix (identify areas of improvement)
Menu Management
Quickly update the menu on the fly to reflect last-minute inventory changes. When demand is high, sometimes you have to make split-decisions. Especially with alcohol. Add new drinks or 86 others with the quick tap of a button.
Get A Free Quote
4. TouchBistro – The POS That Drives Customer Retention

TouchBistro is a restaurant and bar POS system that was designed by people who have worked in the industry. It's specifically built to meet the needs of a bar and keep up with the pace of business. When scouring the internet for top features, consider what TouchBistro has to offer:
Take Orders Quicker
TouchBistro is one of those POS systems for bars that enables a business to quickly take orders and fire them off. The "Fast Bar" register mode allows staff to take and close orders with just two taps. You can also create and toggle between active tabs from any iPad.
Smart Promotions
TouchBistro is the best POS system for small bars because it drives repeat business through smart marketing. Use customer accounts to track previous orders and reward loyal customers with discounts. Effortlessly manage Happy Hour, send limited offers, and invite people to special event deals.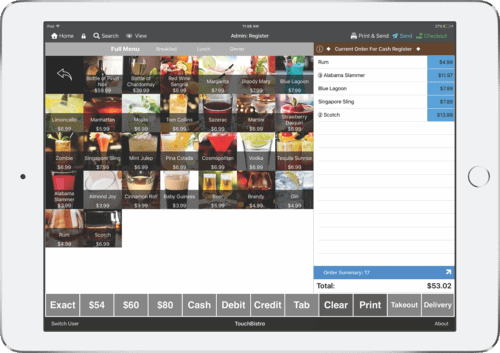 Secure Solution
The TouchBistro solution is one of the more secure POS systems for bars. They offer robust permission and security settings to protect your business. Track inventory closely to avoid costly theft and waste. It helps to reduce errors and limit fraud liability.
Automated Reporting
Your team will automatically receive custom reports on a schedule. TouchBistro is one of the top pos systems for bars when it comes to data integration. Easily load consumer data into your accounting system without any heavy lifting.
Customer Experience
Customers also benefit. Track previous orders in customer accounts and use the information to offer personalized promotions. Determine which items are bringing in the most revenue, and then offer those as specials to repeat guests. This, in turn, drives repeat business.
TouchBistro's "Smart Promotions" allows a bar to effortlessly manage limited time offers, Happy Hour, and special event deals.
5. Talech – The POS with Intuitive Design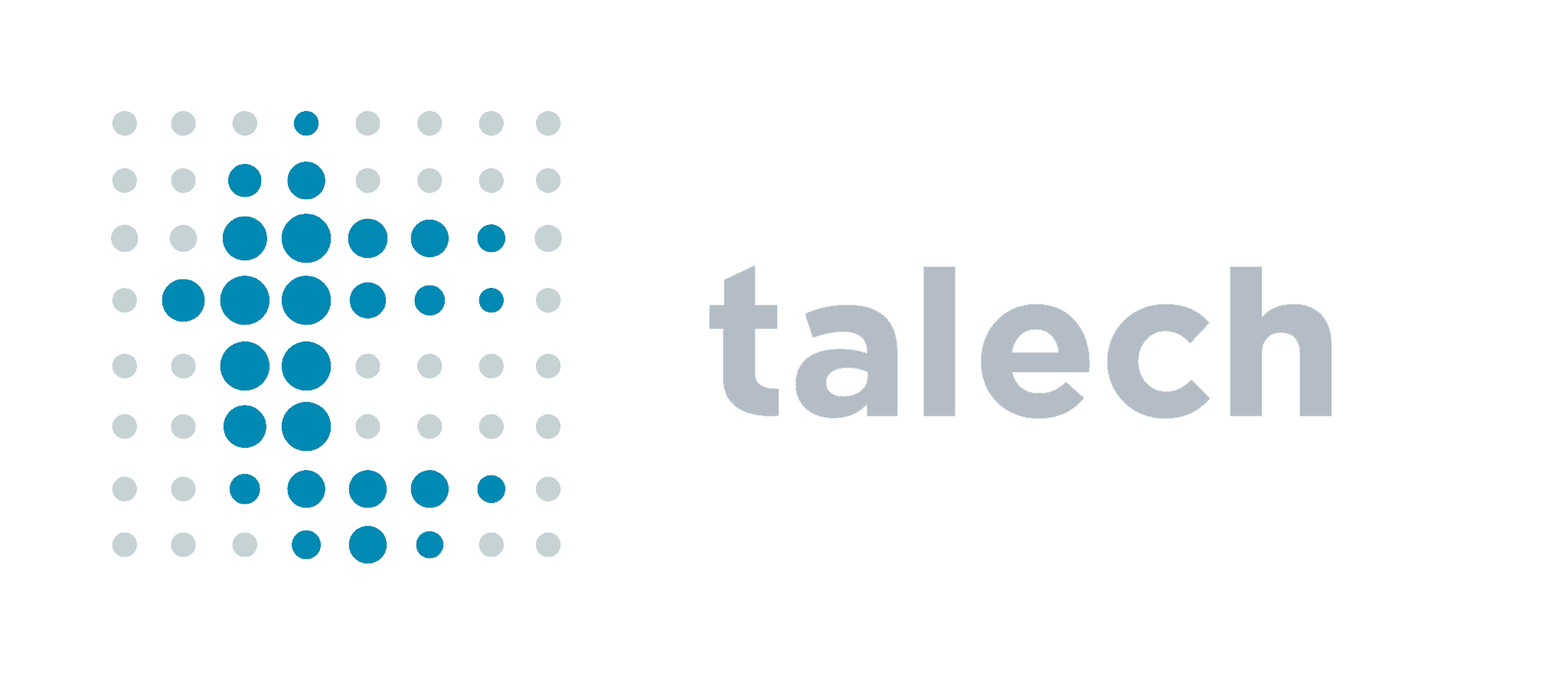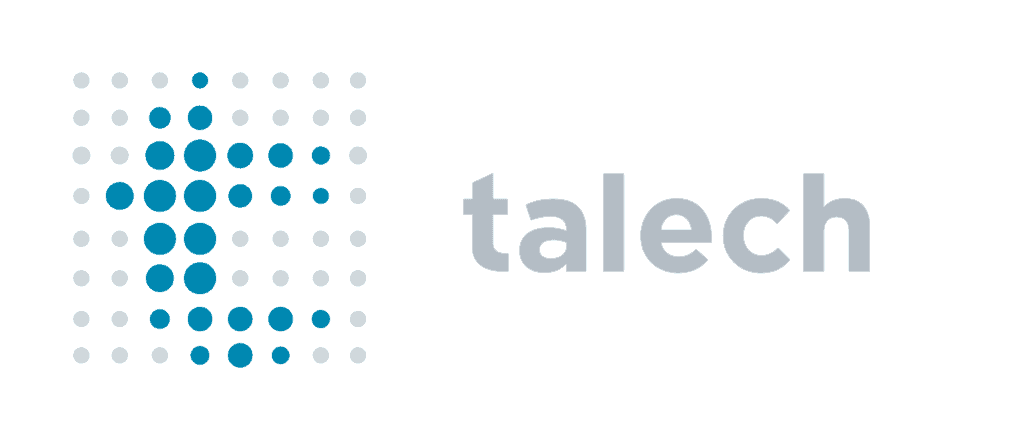 Talech is a simple and powerful POS system for bar and restaurants that sports a highly intuitive design. From creating orders to managing inventory and applying discounts, it's one of the best bar POS systems to handle complex tasks.
Boasting over 100 features, Talech works closely with merchants across multiple verticals to understand the needs that will help a bar flourish. Features to look out for include:
Table Management
Set up a multi-room floor plan with a bird's eye view of open and seated tables. Simply tap on a table to start an order. Staff can also set table and seating positions to streamline the ordering process.
Ordering
Assign courses and send tickets to multiple printers with just a simple tap. Split shared items across positions to make it easy for guests when it comes time to pay.
You can also approve and track voids when any changes occur. Apply gratuities, taxes, and additional service charges based on the present rules.
Promos and Discounts
Create a variety of discounts to automatically trigger at specific days and times. Create advanced BOGO discounts to offer custom deals to customers.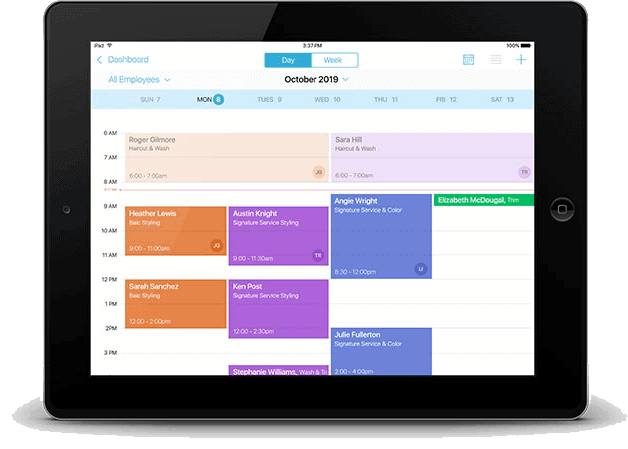 EMV Ready
Accept chip, contactless, and swiped payments with a choice of multiple processors and payment terminals.
Tips and Signature
Skip signatures for small amounts and speed up checkout time. You can also set custom suggested tip amounts which makes it much easier to settle and close a check.
Customer Loyalty Programs
Gain new customers and grow sales with integrated gift card solutions. Easily brand physical cards with a logo or email for further marketing strategies.
Seamless Sync
Manage orders across multiple devices in real-time, even when wi-fi is down. This also means a bar can accept cash payments while working offline.
Get A Free Quote
6. Kounta POS – The System for Detailed Staff Management

Founded in 2012, the Australian POS bar software is a cloud-based mobile app. Kounta offers free bar pos software downloads to test out the online cash register system.
There is never a credit card required, which makes this brand one of the more affordable options on the list. Additional features to anticipate include:
Smart Ordering
Easily take orders at the table or online using the quick and efficient Kounta ordering apps. Handle variations and add contact data to tables and orders with the click of a button.
Staff can instantly print production dockets in the bar, kitchen, or any other terminal. This helps to facilitate order delivery and reduces errors.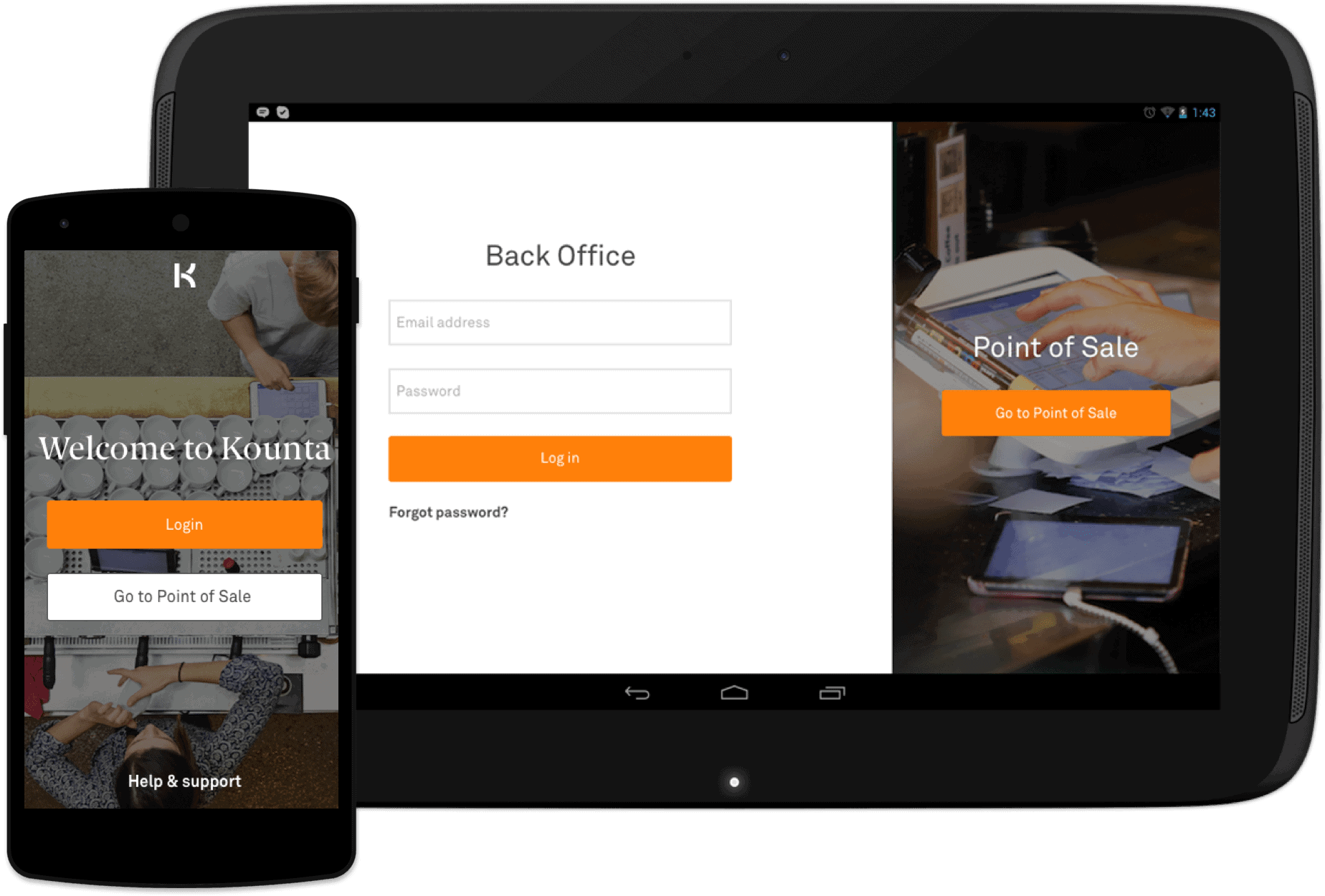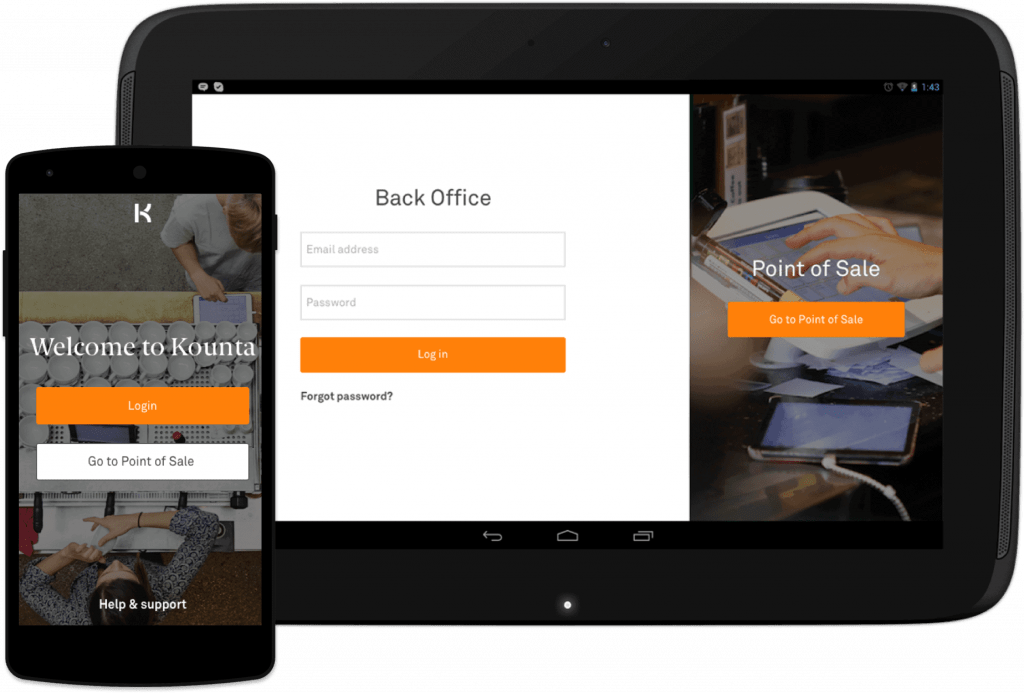 Detailed Reporting
Run end-of-shift reports to gain greater insight into bar operations. The free bar POS software allows you to check on sales—even outside the venue. Dive deeper to answer questions like:
Which items are selling and what can be replaced?
What times of day are busiest?
Which staff members are top performing?
Seamless Integration
Kounta is one of the top bar and restaurant POS systems for integration. Increase efficiency by integrating with other tech platforms to help with tasks like:
Accounting
Customer relationship management
Sales
Employee scheduling
Loyalty programs
Reliability
When it comes to reliability, Kounta is a great POS system for small bars. They offer 24/7 support via phone and use the same infrastructure as top brands like Netflix and TripAdvisor. You can rest assured the system will be available when you need it.
Staff Management
Schedule staff and assign detailed permissions to employees based on responsibility. Allow some to just take orders while others can offer discounts and run voids.
Get A Free Quote
7. Harbortouch – The Best POS for Tableside Ordering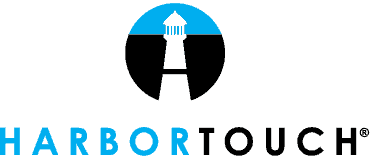 Harbortouch is a POS system Bar Rescue recommends. The best-in-class solution puts valuable data at your fingertips while you track and monitor inventory, manage sales and labor, and work to increase operational efficiency.
The Bar Rescue POS system will improve a brand's bottom line while controlling labor costs and reducing shrinkage. Some key features to expect are:
Tableside Ordering
Harbortouch takes it a step further. They offer POS software bars will use to empower the customer. SkyTab is a powerful tool that sits at each table. Servers or guests can input directly on a tablet to increase order efficiency and accuracy.
This type of technology delivers an unmatched experience to customers. People can be prompted to leave feedback and alert management when a patron isn't satisfied. It also saves a ton of time as servers don't have to walk back and forth to a POS terminal.
Reservations and Tracking
Harbortouch is part of the Bar Rescue POS systems that are recommended to track and turn tables fast. Know which ones are occupied, the number of guests, and tables that are ready to be cleaned and sat. Reservations can be done online and managed through the Harbortouch dashboard.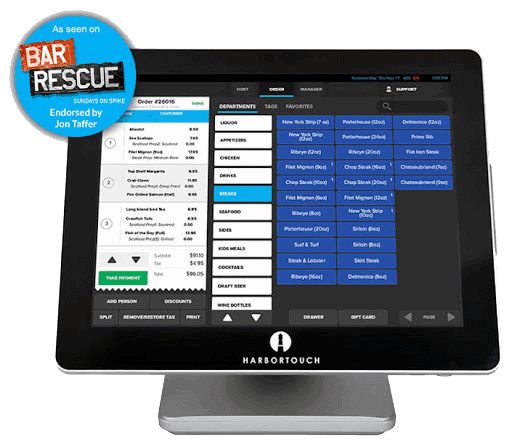 Customer Management
Build a marketing database by collecting customer emails and addresses right at the table. This helps to increase business and boost customer retention through focused campaigns.
Staff Performance
Managing bar employees effectively is not just about running reports. Evaluate sales performance, track hours, calculate overtime, edit timesheets, and add job-based permissions, all within the bar restaurant POS system.
Additional features include:
Inventory management with purchase order matching
Menu customization with real-time edits
Online ordering for a new sales channel
Customer loyalty and gift card program
Get A Free Quote
8. Square for Restaurants – The POS for Smart Menu Management


Square for Restaurants is the best POS for small bars and smart menu management. It's the first fully functional point of sale system that matches the pace and complexity of a bar.
This is not a free bar POS like other Square products, but it's well worth the cost. The platform helps to streamline operations, manage orders, take payments, and keep guests happy.
Ideal for small restaurants, Square For Restaurants is a free POS system offering great functionality to meet the needs of fast paced restaurants. It helps restaurants streamline operations, take payments and manage back of house products. Square also deposits earnings into the restaurant owner's bank account relatively quickly. Additionally, it offers the ability to integrate with accounting systems like QuickBooks and Xero to save on manual entry and tax reporting.
In addition to the standard payment processing features of Square, which includes 2.9% + $0.30 for each transaction, the platform provides additional tools that help restaurants run their business and engage with customers. For example, it has comprehensive CRM capabilities that enable restaurants to track customer profiles and order history, as well as offer loyalty programs. Additionally, the platform enables restaurants to promote their brand and menu items through automated email campaigns.
Lastly, Square offers many different solutions to help restaurants manage their business, including online ordering and payment processing, a website builder, a mobile app and a marketplace of integrations that make it compatible with existing systems. Using these integrations, restaurant owners can easily connect their Square POS with third-party services for online and in-person orders, such as Caviar and DoorDash, and with payroll management and marketing apps to improve business efficiency.
To start using Square for Restaurants, sign up or upgrade to the Plus Plan from your online Square Dashboard. Then, create a Restaurant device code from your Register screen or by tapping Utilities > Register Settings > Device Code. You can also customize Dining Options from your Items tab on the online Dashboard.
Key features include:
Intelligent Menu
Square is one of the POS systems bars use for customizable layouts. You can add items to a display group and top sellers to the main menu for quicker checkout. Changes can be made from anywhere and can be applied to any bar location.
Square Online
Square offers a website to go with your bar POS free online. Orders placed on the internet will automatically sync with the Square dashboard. Offer your own delivery service, curbside pickup, and other options through third-party platforms.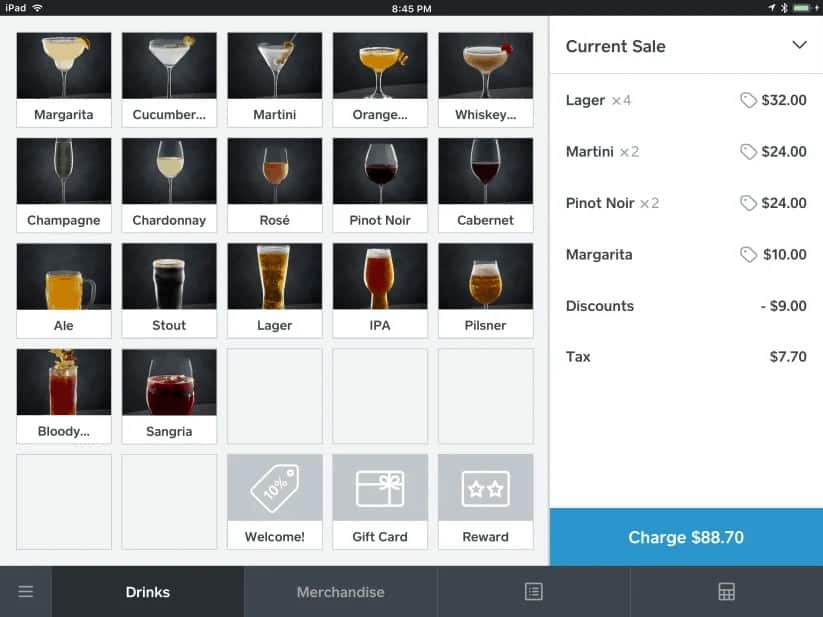 Bulk Additions
Use bulk additions to update your bar menu fast. This works wonders when you need to do seasonal swaps or special events. No more adding items one at a time when you can make multiple changes fast. A store can even apply taxes and modifiers in bulk to streamline the entire process.
Table Management
Customize a floor plan with all the sections you need to organize the bar. The dashboard includes intuitive click-and-drag layouts that allow you to monitor every seat in the house. This helps when looking to turn tables quickly.
Detailed Analytics
Keep tabs on all the numbers that matter. Identify sales by category, payment type, bartender, or item. The Square bar POS allows you to monitor overall trends for the month and identify how many drinks were comped. Does this align with your policy?
Additional features include:
Reopen closed checks
Straight fire categories to the kitchen
Seat management
Auto gratuity
Table timers
Get A Free Quote
9. Lavu – The POS System to Streamline Operations

Lavu is a POS system bar and restaurant brands love. The platform helps earn high profits with minimal stress.
Minimal Stress, Increase Sales
Whether you run a cafe, restaurant, bar, pub, or other eatery, the right point of sale system can have a huge impact on your operations and customer experience. Choosing the best system requires careful consideration of your specific business needs, including size and type, features, integrations, pricing, and customer support.
The Lavu POS system uses iPads for its terminals, which makes it easy to implement and provides an intuitive interface that reduces training time and costs. It offers hardware packages that include iPads, credit card readers, and receipt printers; and you can also purchase third-party devices for additional functionality.
As a cloud-based system, Lavu POS synchronizes data in real-time and allows for remote access from anywhere with an internet connection. This flexibility can be helpful if you operate in an area with spotty internet service, or you frequently experience connectivity problems at your restaurant.
In addition to its restaurant management and menu development tools, the POS system includes complete inventory tracking, which can be useful for small- to medium-sized restaurants that do not use warehouses. This feature can help you avoid over ordering, track stock levels, and create low-inventory alerts. The POS can also manage inventory by ingredient or entire dishes, and it is compatible with several accounting programs for seamless integration.
Another great feature of Lavu POS is its offline mode, which lets you accept credit cards when your internet connection is down. This can be especially helpful for restaurants that rely on takeout or delivery sales.
Simplify the ordering process and improve accuracy with the iPad-based bar POS system Make customers happier and a bartender's job easier with popular features like:
Promotions
Happy Hour is a big thing in the bar and nightclub industry and forms a core part of a company's success. Use data insights to know which items to promote, when, and to whom. Set automatic Happy Hour discounts to apply during certain times and make it easier for staff.
Preauthorization
This is a critical feature to running a modern bar. Use the preauthorization function to run tabs and take payments at the beginning of the night. Customers forgetting to close out is no longer an issue.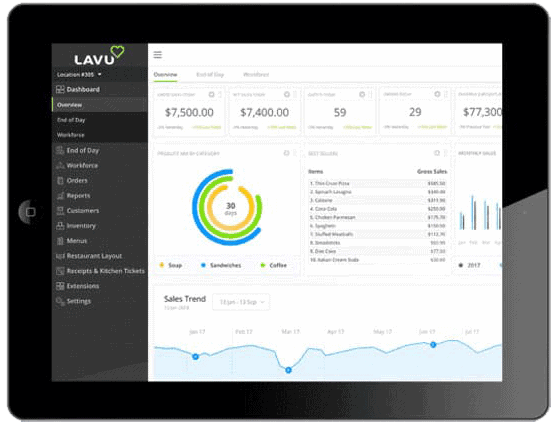 Menu Management
Lavu is a POS system bars can use for stellar menu management. Customize the menu to fit the bar's needs and update it in real-time from anywhere in the world. Use the quick-selector tools so staff has instant access to fast-selling items.
Inventory Control
Always know which liquors you have in stock and get automatic alerts when levels run low. Manage vendor relationships, track merchandise, and generate purchase orders, all within the Lavu dashboard.
Payroll
Boil it down to the exact labor costs per hour to determine what needs to be adjusted for payroll. Track sales by the server to see exactly when each staff member is clocking in/out.
Smart Reporting
View sales and labor data across a multitude of verticals with the press of a button. Rest easy knowing everything is under control and the numbers are where they should be. This also helps you track important trends to make more informed business decisions.
Lavu's additional POS bar restaurant features include:
Mobile POS to process orders anywhere on the floor
Best-in-class security with PCI-compliant hardware
Cloud-based system with 24/7 customer support
Get A Free Quote
Things You Need to Know Before Choosing a Bar POS System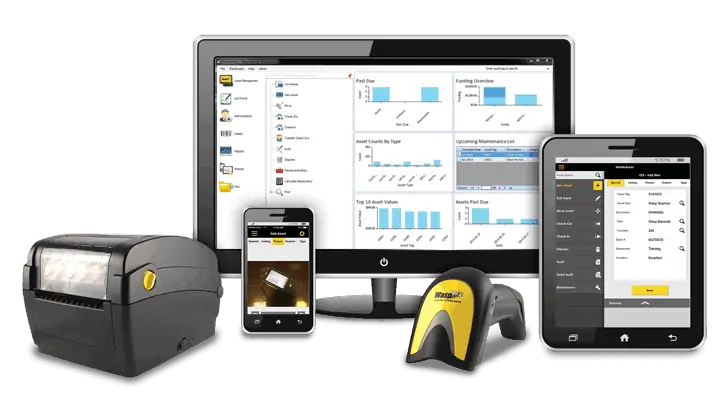 Anyone that runs a bar knows it has a unique business model that requires more than just taking payments. Bar POS system reviews are all over the place and it can be hard to know exactly where to start.
A specialized product with bar-specific functions will serve your business much more than a general point of sale platform. The following are some top features to look for when equipping your business today:
Customer Tabs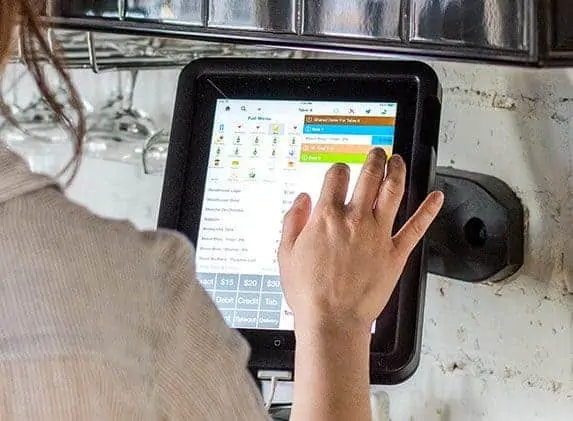 In the past, one of the hardest things to track for bar nightclub POS systems is a customer's tab. It's no longer acceptable to just hold someone's debit or credit card. This is an outdated method that proves a liability.
The system you choose should enable preauthorization that allows the customer to hold onto their card, and the bartender to close the tab whenever necessary.
A larger bar also needs the capability to merge and transfer tickets between seats, tables, and servers. This is especially important for bars that serve wine by the bottle.
Inventory Control
When it comes to a POS system for bar and grill establishments, inventory control is critical. After labor, food and beverage is your biggest cost center so it is important to know when it's time to reorder. The system should be customized to track a certain number of ounces, pours, and/or kegs.
This will tell you how many drinks have actually been served vs. what's left in the bottle/keg. When it comes to compliance, inventory control is essential.
You need a way to track shipping information and purchase orders to abide by all laws and regulations. The program should also be able to store drink recipes, report on the best-selling ingredients, and alert you of low-level stock in real-time.
Order Efficiency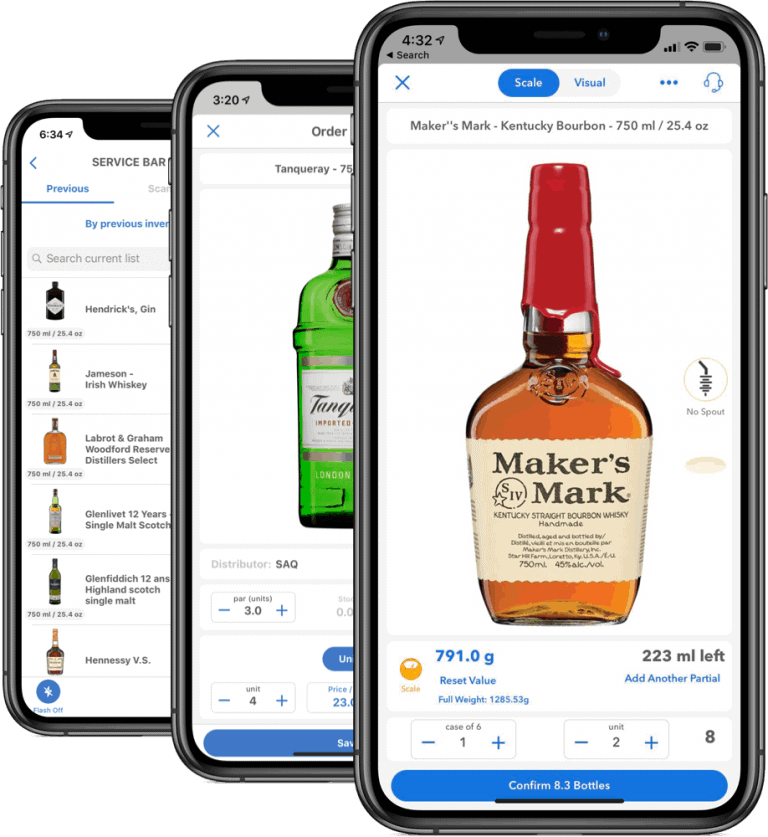 The bar restaurant POS you choose should give you the ability to control exactly where and when order tickets are printed. When a bar serves food, you need to ensure the orders are going to the right place.
Some systems will allow flexibility where you can update or cancel a digital ticket at a moment's notice.
Optimize Tips
The best POS system for a bar will always help their staff optimize gratuity. Afterall, this is their lifeblood. Setting a suggested tip amount ensures staff is always rewarded for their hard work.
One-touch tipping offered on tablet transactions is more convenient for customers and leads to a higher tip out in general.
Menu Engineering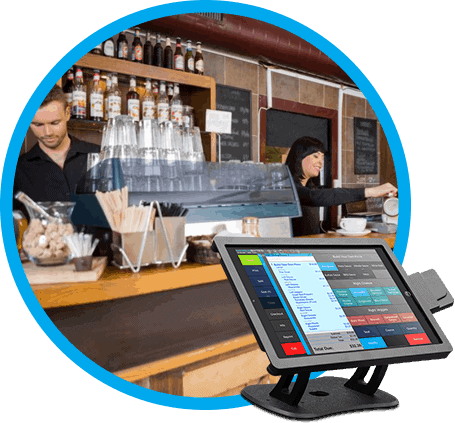 A good restaurant bar POS system will always allow you to customize the menu. Most offerings and prices change depending on the event and season.
A bar POS that can automatically change menu items means servers will never lose sales when they can't remember specials. It also helps with real-time menu pricing control.
Employee Management
Modern bar POS systems can double as employee management tools. You can perform functions like:
Employee scheduling
Shift swaps
Payroll
Setting permission
Clock in/out
You can also run reports on top performers and see which bartenders are making the most sales (or who is wasting the most inventory).
In-Depth Reporting
Every bar point of sale system should have stellar reporting features to measure business success. Reports can show you the best customers, most popular drinks, top-selling food, cash leakage, return on investment, busiest hours, etc. These can be viewed at any time from a terminal or mobile device.
Ready to Increase Your Sales with The Right Bar Software?
It's possible to find a bar POS that is so bloated with options it can complicate your operations and balloon your invoice. If you don't have a full kitchen or run customer loyalty programs, you don't need a POS that offers one. Keep it simple. Look for the basics like inventory control, managing staff, processing payments, and taking orders.
Always know what is included in the plan before you purchase. Is the configuration built into the initial costs? What will be an extra charge? Truly determine the bottom line before you take the plunge.
Lastly, look for a program where customer support is available around the clock. Bars run late and you don't want to be caught with a busy signal at 1 a.m.
The more time you take to research a bar POS and apply it to your specific business model, the easier it will be to integrate all systems and drive revenue.