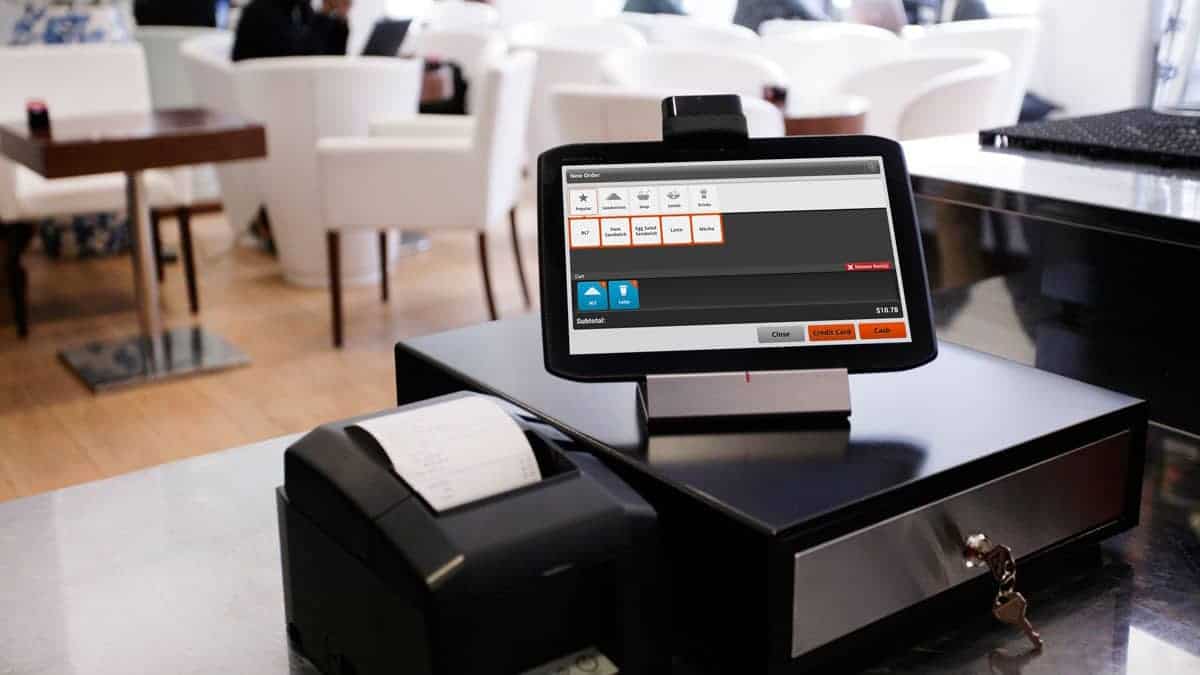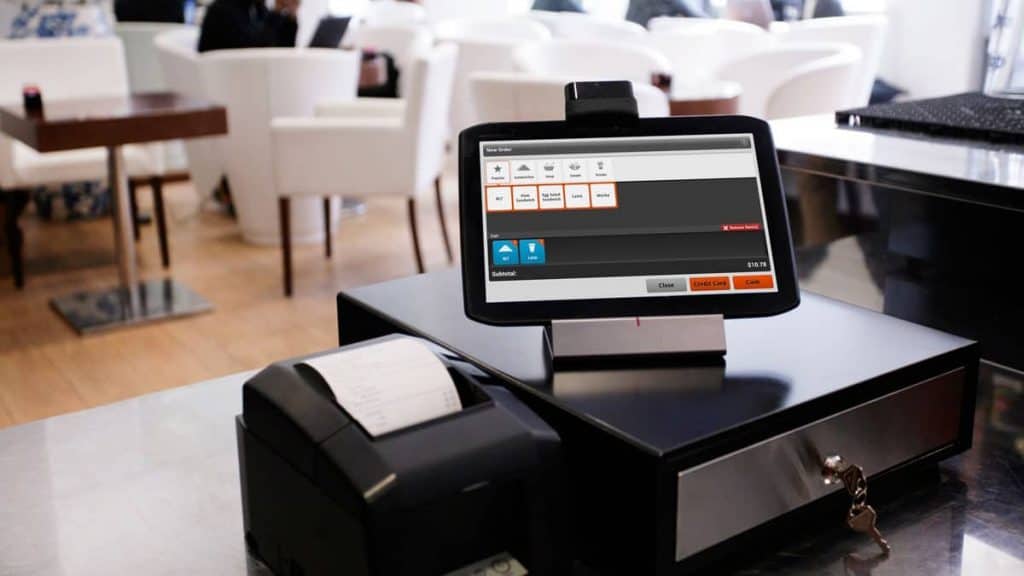 The competition between brick and mortar furniture stores is ferocious. Currently, there are over 37,000 furniture stores nationwide (Source). If that was not enough, competition from online retailers pushes profit margins further down. The only way to survive is by providing super-fast deliveries and low prices.
In order to thrive, a furniture store must manage inventory, schedule orders, and track deliveries in the most efficient way possible. In addition, it must reduce payroll costs and utilize detailed sales analytics. If all that wasn't enough,  furniture stores must offer mobile app and website integration. 
Based on our research, the best furniture store POS system is Lightspeed Retail. This furniture store management system offers robust inventory management, integrated and flexible payment processing options, online website integration and detailed sales reports. For smaller furniture store operations, we recommend Storis. 
Let's take a deep dive into each POS system for furniture stores, so you can get rid of the traditional order forms, avoid errors on orders, and reduce delivery times (by sending your orders to the vendors via API).
The Best Furniture Store POS Systems
System
Starting Software Costs
Hardware Costs
Key Features

Our pick!

Starts at $59/month
Additional terminals are $34/month
Great back-end reporting and forecasting, a la carte pricing options available

Plans start at $99/month for 1 register
Plans start at $99/month for 1 register
Open platform
for easy multi-store management

$25/per additional register – transaction costs are quote based
$49/month, must be paid annually
Integrates with a variety of popular tools including Shopify, WooCommerce, and BigCommerce

Call for quote
Smallest package starts at $7,188/year
Ecommerce integration with synced shopping cart experience

This POS system is highly suitable for home décor. In fact, they have specifically designed a POS program just for furniture stores. From cloud-based data storage to accessing sales records on-the-go, Lightspeed Retail streamlines your furniture store operations. Here are a few reasons why:
Mobile Management
Lightspeed makes it easy for a furniture store owner or employee to manage the business from any location. They don't have to be present in-store to carry out a transaction and retain customer data. Everything is cloud-based. That means you can process and follow work orders directly in the system.  It also implies you can continue working while offline. All of your data will sync in the cloud once you are connected again.
In addition to inventory management, you also have the ability to order new stock straight from the POS system. Lightspeed Retail has over 3,000 preloaded catalogs. This allows a business owner to easily reorder best-sellers, fulfill special furniture orders, and consolidate all purchases into a single file.
Single Customer View
As multi-channel marketing continues to trend, it becomes increasingly difficult to form a single view of your customer. They can be communicating all over the place. That's why it's important to have the proper tools to best understand your audience. A furniture store POS like Lightspeed Retail is designed with the customer in mind.
Lightspeed POS is supported by a CRM (customer relationship management) system. This empowers a business to fully understand their customer's wants and needs. It drives brand loyalty and increases customer retention. The POS system includes CRM features like:
Consumer profiles
Sales history
Quote tracking
Customer metrics and reporting
Calculating lifetime value of shoppers
Segmenting into consumer categories
Search results tailored to customer requests
Aggregating behavioral data and habits
Lightspeed gives you greater insight through real-time reporting and data management.
Flexible Payments
The best way to lock down a sale is to give the customer as many payment options as possible. Lightspeed Retail processes and consolidates all your sales in one spot. The pricing for each sale is simple, with no hidden fees. The POS system has built-in PCI compliance to guarantee consumer data is safe. The intent is also to prevent fraud.
There are no third-party accounts required. The setup is quick, and the support is simple. The POS terminals are EMV-compatible which means customers can pay however they choose. The platform also comes with start-to-finish dispute management and chargeback assistance.
Get A Free Quote
2. Vend – Most User-Friendly Furniture Store POS System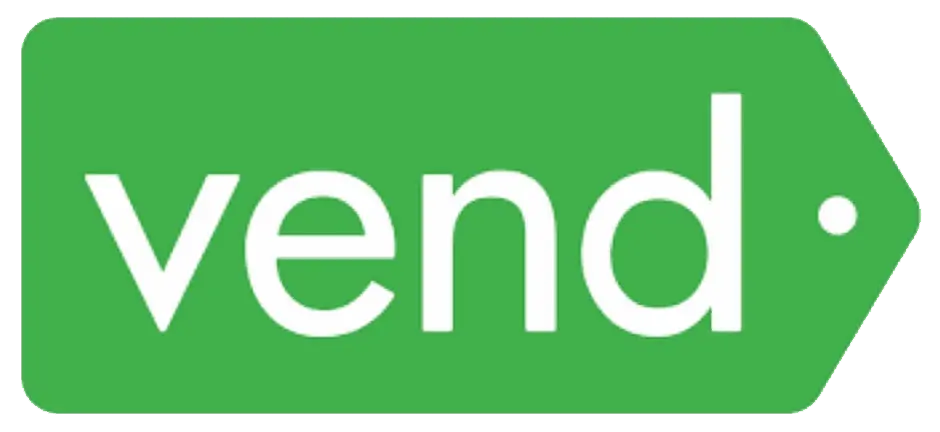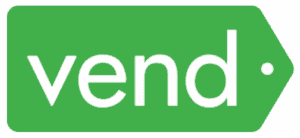 Over 20,000 businesses use Vend for their transactions. Although the tool performs advanced tasks, it's user-friendly and simple enough for anyone to manage. There's no need to calculate sales receipts through your separate CRM. Vend offers a central source. You have all of the data you need to compete with the top players in the industry. Some other key features include:
Customer Experience
Vend understands that consumer retention is based on a multitude of factors. This includes brand awareness, engagement, and loyalty. These ideas begin with paying attention to the customer and collecting important data.
New people can be added directly at the point of sale. This allows you to rapidly build your customer database. It captures details and gives an option to continue the relationship via outreach (like email or SMS).
Details are automatically stored in a personal profile where you can also view things like purchase history, account balance, and loyalty programs. If you have your own customer list, you can easily import them into the software using a CSV file.
Streamline Sales
Vend makes checkout simple by integrating consumer payments from a variety of sources. Whether your people are online, in-store, or visiting you at a convention, the checkout experience is seamless. Vend can process transactions with:
Cash
Credit card
Debit card
Check
On account
Layaway
Loyalty points
Store credit
Split payment
Contactless swipe
You can also sync any card reader with the POS system. This means no more double-entry or human error. There is no need to manually reconcile anything at the end of the day. The platform calculates it all.
Multi-store Management
If you operate more than one furniture store location, this POS may be the optimal choice. Vend has a multi-store retail option that enables a brand to grow its retail returns, margins, and overall business. They mesh everything from your sales channel to operations and integrations.
Vend's mobile checkout allows a business to offer customers integrated payments and digital receipts no matter the location. Everything is always synced using the cloud. This enables a business owner to have one eye on every location, at all times. It fosters more educated business decisions and product development.
Get A Free Quote
3. Hike POS – Best for Multi-Channel Integrations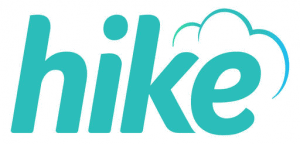 This feature-rich furniture store POS system showcases everything from extensive inventory management to retail and e-commerce reporting. The all-in-one point of sale platform has a specific system designed for furniture stores. They make sure your inventory is optimized and your brand is putting out creative product. Some prime features include:
Digital Marketing
Hike POS gives you a digital home base in the form of a free website. The built-in site is mainly used to direct traffic to in-store purchases. This allows people to always remain with your brand throughout the entire customer journey. From the time they begin research until the time they buy, they are consistently viewing content and taking action with your business in mind.
If you are already successfully selling with another platform, way to go! Hike seamlessly integrates with a variety of popular tools. This includes Shopify, WooCommerce, and BigCommerce. You don't have to leave anywhere you have success.
Innovative Solutions
A productive furniture store POS system will provide innovative retail solutions for any challenge that comes up. All web store data can easily be integrated with your POS system for deeper insight. This also ensures your warehouse can perform more effectively. That's because they can process both offline and online orders at the same time. This can include a variety of sources like:
Retail outlets
Mobile sales
eCommerce
Pop-up shops
Marketplaces
The main goal is to integrate all the channels you collect data from and keep the information in one spot. This gives you a 360-degree view of the consumer and a direction for marketing.
Business Intelligence
Any useful tool for business needs to have a way to gauge success. A good furniture store POS will have the means of reporting on performance across a variety of verticals.
From tracking staff engagement to sales data, Hike POS gives you comprehensive breakdowns of how the business is running. This allows a furniture store owner/manager to exact quick change before it heavily affects sales. If there is an issue, consistent reporting will uncover it. It can then be taken care of in a timely fashion.
Get A Free Quote
4. Storis – Best Cloud-Based Furniture POS Software


Successful furniture stores know that robust technology is what drives sales. People like to window shop online. They also like when you know what they want before asking. Storis is not only fast and accurate, it's a reliable platform that allows a brand to gain a competitive edge.
System Capabilities
Storis is designed with a furniture store in mind. The Storis' Retail Point of Sale platform lets a business perform a variety of tasks for several departments.
Before you consider buying a home in The Villages, it is important to know your expectations and the type of lifestyle you are looking for. The house you select must match your overall needs and desires. If you are not yet certain of your preferences, it may be worth renting first and see how you like it. This will give you a better idea of what living in The Villages is like.
This includes:
Entering and completing sales orders
Quotes
Exchanges and returns
Layaways
Service orders
Barcode scanning for product details
Scheduling a delivery
And much more…
Storis is certified for mobile use on Microsoft Surface Pro tablets. The user-friendly design streamlines the checkout process and retains important consumer data.
As the primary method of order fulfillment for a furniture store, Storis will allow a business to schedule deliveries. The furniture store POS system compares product availability with delivery dates. This means you can set realistic expectations that are easily achievable.
Unified Shopping Experience
Many people like to browse and shop on their mobile device. This doesn't necessarily mean they make a purchase right away. This is specifically the case when it comes to large items like furniture. They are likely to fill a cart and then enter the store to inspect the product further. Plus, they also may need to set up a delivery.
Storis integrates online data with a brick-and-mortar location. The ecommerce journey allows a retailer to view, edit, and complete an order that a consumer started from home. Conversely, you can also make in-store edits that will sync with the customer's shopping cart online. This makes purchasing a snap.
Personalized Service
Storis focuses on retaining as much consumer data as possible. This enables the in-store sales staff to have a great deal of knowledge on-hand about what the consumer wants and needs—all before they enter the store. The system will save important data that can be used to make more informed business decisions. The platform maintains:
Customer history
Contact data
Purchase history
Sales orders
Open shopping carts
Your sales team can proactively use this information to complete more sales orders. This is how a brand experiences authentic growth.
Get A Free Quote
The Key Benefits of Furniture Store POS Systems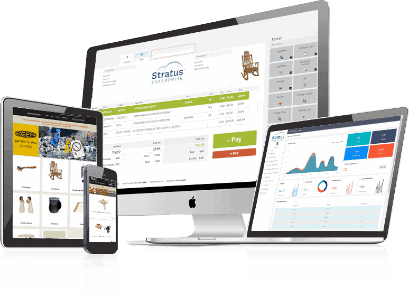 Although the brands may differ, the concept remains the same. A furniture store requires specific features to manage their precious inventory. Furniture is heavy, bulky, and not easily purchased. Therefore, you need a strong POS system that can perform a variety of functions related to the industry. This can include:
Scheduled Deliveries
The ability to schedule a delivery through your POS system enables a brand to easily manage inventory. It also ensures deliveries are on time and that consumers are satisfied. It connects the beginning of the process (setting up an appointment) to the end (the purchase).
Cloud-Based Management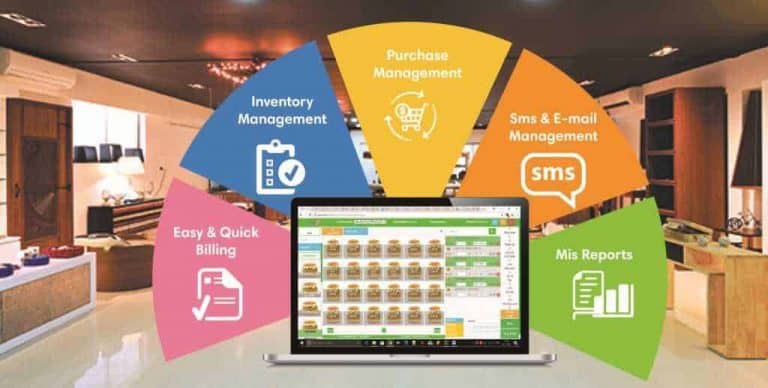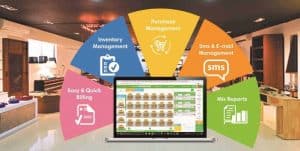 A furniture store can be as big as a warehouse. This means reception might not always be great in all areas. You want a furniture store POS system that enables a transaction no matter the wifi connection.
If you are offline, whether it is on-site or at a pop-up, you can always rest assured you will make the sale and save the customer data. The system will sync when it's online again.
Integrated Experience
The best retail POS system for a furniture store allows an integrated shopping experience for the consumer. Most people shop online but fail to make an immediate purchase. Especially when it comes to furniture.
Customers want to see it in person and test it out. A successful platform will carry the data from the shopping cart online and enable the sales staff to continue the process in-store.
The Bottom Line
Buying furniture is a tougher purchasing process than other products. It can also be more personal. Having a sales and reporting tool like an intelligent POS system means you value customer satisfaction. The ultimate goal is the integration of important consumer data with future decision making.
Before you consider buying a home in The Villages, it is important to know your expectations and the type of lifestyle you are looking for. The house you select must match your overall needs and desires. If you are not yet certain of your preferences, it may be worth renting first and see how you like it. This will give you a better idea of what living in The Villages is like.
The more valued your customers feel, the more data they will give. You can then use this to further the relationship through loyalty programs and incentive programs. Ultimately, it's the strength of your consumer interactions that drives sales. Optimize it with the right POS system that sees you to success. Certain furniture stores,