(Last Updated On: January 10, 2023)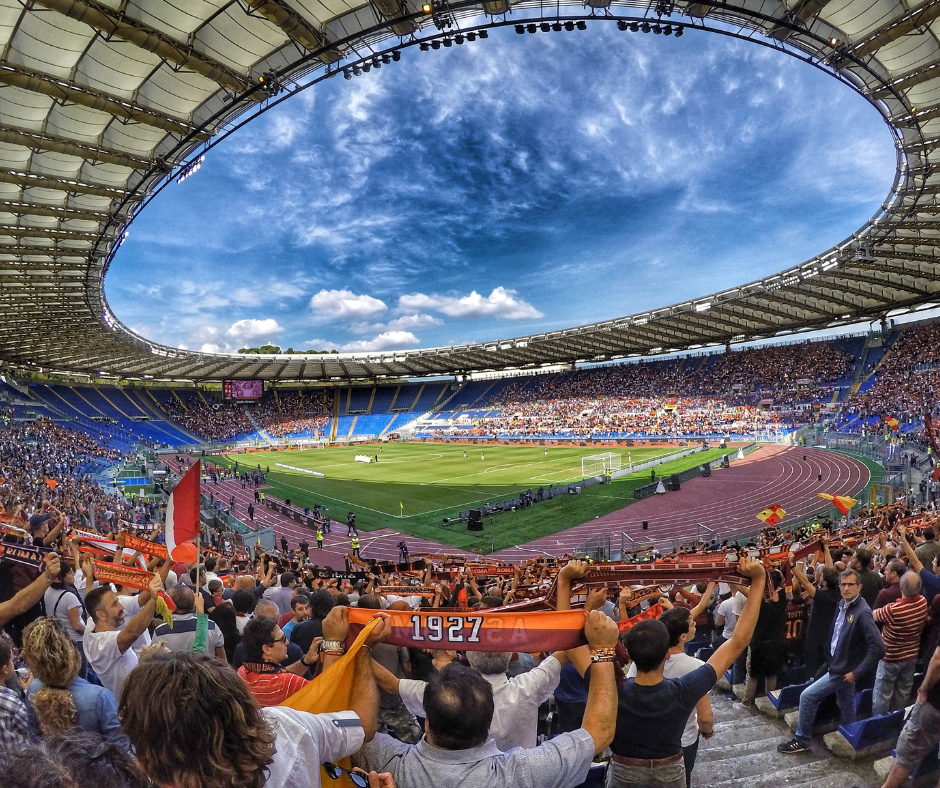 Whether it's a Champions League match or a World Cup football game, the energy around stadiums is usually an electric and contagious one.
These large sports grounds usually boom with excitement and large crowds of enthusiasts cheering their preferred team on. 
They are also a good location for massive sales for retailers. For this, and given the large crowds such spots draw, retailers need a robust stadium POS solution to handle the sales. Such POS solutions need to be capable of handling and processing payments within seconds.
In this article, we highlight the best POS solution brands for stadium retailers.
What Are The Top Point of Sale Features To Look Out For In A POS For Stadium Retailers?
A retail point of sale system to be used at retail spots at stadiums must boast some features given the peculiarity of use. Given the large-scale nature of such locations, one of these is ruggedness. 
You want to ensure that your point of sale solution can withstand the pressures such an environment places on your devices.
You also want to look out for self-service solutions that do not require constant attention from staff members in most instances but can be placed in strategic locations where customers can simply swipe and pay.
Another is the ability to work in offline mode. Since you will not always get a perfect scenario, you must be prepared for those times when there will be downtime in internet connectivity. You want to ensure that the point of sale you adopt will be able to work in offline mode so that there is no disruption in service time.
Other required features you want to look out for in a stadium POS are concessions, parking management, online and in-person ticket sales, and retail merchandise sales.
The listed POS solutions below have been reviewed and confirmed to have a good number of the above mentioned features, and as such, are all ideal options to select from for use as a stadium POS.
| System | Starting Software Costs | Hardware Costs | Key Features |
| --- | --- | --- | --- |
| | Free for basic software | Starts at $50 for readers | Highly intuitive, easy-to-use interface |
| Our pick! | Quote based | Quote based | Many self-service options to reduce congestion |
| | Quote based | Quote based | Flexible for fast paced business environments |
| Our pick! | $65/month | Pricing varies | Cloud-based reporting is among the best in the industry, offers features that improve QSRs' performance results |
Square POS
Square is a leading payment processing company that was established in 2009. Its Square Reader makes it possible for merchants to accept card payments using a smartphone or tablet.
Square POS is a cloud-based POS solution that runs both on iOS and Android devices, as well as Square's own point of sale hardware devices. It offers a full suite of hardware and software tools for managing transactions and payments, such as Square Register, Square Market, Square Wallet, and Square Stand.
Square also has a paid niche POS system which is specific to retail and restaurant businesses, along with monthly add-on features which are paid.
Square POS enables businesses to reach buyers both online and in-person and is a great tool to manage businesses.
Its capabilities include:
Processing of online payments

Inventory tracking

Insights and analytics

Digital receipts

Email and SMS marketing campaigns

eCommerce

And many more
It offers magstripe, chip, and contactless card readers for the processing of contactless payments via debit and credit cards, Google Pay, and Apple Pay.
Its virtual terminal enables merchants to key in card details and enable payment collection through a computer without the need to use a card reader.
With its headquarters in San Francisco, it has offices in several countries, including the United States, Canada, Japan, Australia, Ireland, Spain, and the UK.
Partnership With SoFi Stadium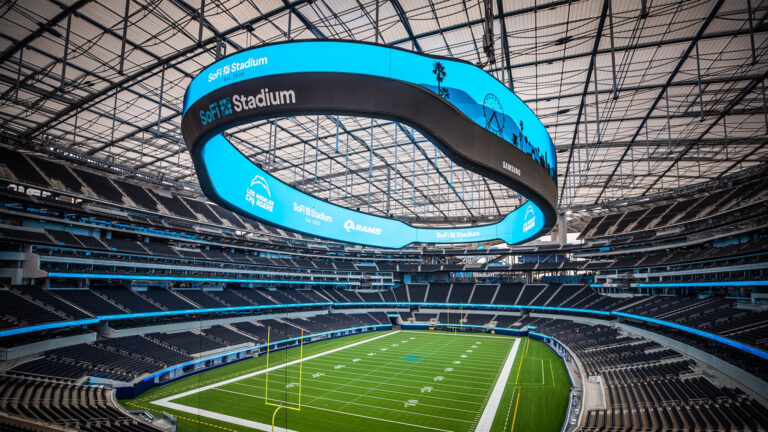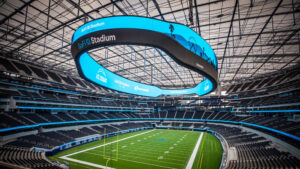 The payment service company in 2021 signed an exclusive deal with SoFi Stadium, which is home to the NFL's Los Angeles Rams and Los Angeles Chargers.
This was a first-of-its-kind partnership that saw Square partner to provide point-of-sale systems, software, and merchant services exclusively to the stadium for the next ten years. The partnership also includes the Hollywood Park, a 300-acre park development with a mixed-use built by Rams chairman and owner, Stand Kroenike.
For context, the SoFi stadium is a 70,000-seat stadium, and it was opened the year before and has a number of wide-ranging Hollywood Park sites.
The stadium is reported to be using more than 1,000 Square Registers and Square Terminals to power sales transactions throughout the NFL's largest venue. Square also provides separate seller and buyer-facing displays, which enables a smoother and faster experience for both employees and fans.
Square POS Features
Sell Event Tickets Online
The Square Online store provides merchants with the opportunity to also sell event tickets. It does this by supporting integration to online ticket vending solutions.
Customer Directory
Square POS features a customer directory that is automatically populated as customer details are entered during checkout. This comes with an automatic customer profile, which helps you with customer interaction and helps you know and profile your regular customers for loyalty points.
Mobile Friendly
The Square POS solution works on most mobile devices. As such you have nothing to worry about in terms of accessibility and what devices to run it on.
Offline Mode
Square POS continues to work even when internet connectivity is lost. As such, you can be rest assured that loss of connectivity does not stop sales transactions.
Integrations
Square POS supports integration to a host of third party solutions for marketing, team management, loyalty, payroll, online ticket sales, Square KDS, and many more.
Other Square POS Features At A Glance
Access Controls/Permissions

Offers Accounting Integration

Activity Dashboard

Activity Tracking

Alerts/Notifications

Barcode / Ticket Scanning

Billing & Invoicing

CRM

Cash Management

Cataloging/Categorization

Clock In / Out

Commission Management

Contact Database

Credit Card Processing
How Much Does Square POS Cost?
One major benefit you enjoy by adopting Square POS is that there is no binding contract or long term mandatory use, so you can discontinue at any time without implications.
Another highlight of its pricing is that its standard POS costs $0/month. Yes, you heard right.
Hardware Cost
Square accounts all come with one free card swiper usable along with your Android or iOS devices.
Payment Processing
Since it offers its own payment processing platform, Square Payments, payments are handled in house. 
Square charges 2.6% + $0.10  for in-person transactions, while online transactions are processed at a rate of 2.9% + $0.30. High-volume businesses that process over $250,000/month may qualify for a lower rate.
Oracle Stadium POS Solution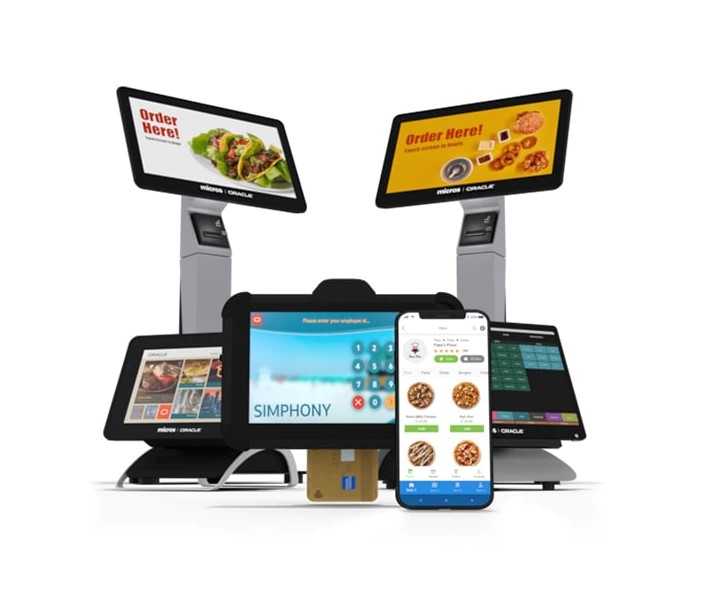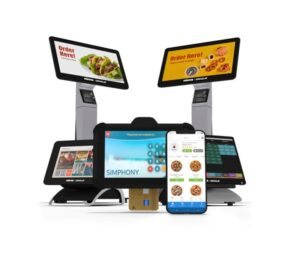 Oracle Stadium POS solution is a point-of-sale solution by technology giant Oracle, with a specialty in POS hardware, software, open integrations, and innovation.
Oracle brings the full strength of its brand reputation into its POS offering, and you can be sure you are getting the best value. You can manage orders, have access to data and inventory, and offer the best service to your customers.
Oracle's Simphony Point of Sale is the brand's venue management system focused on sports and entertainment venues.
The company also provides POS solutions to serve other use cases such as drive-thrus, restaurants, hotels, casinos, cruise ships, quick service, and so on.
It is an ideal solution for use at stadiums, arenas, convention centers, and theme parks.
The Oracle Stadium POS solution features a full suite of options for different sections of a stadium or large event center. It offers In-Suite Ordering Tablets, Online Mobile Orders, Integrated POS and KDS for Full-Service Restaurants, Workstations for Retail Stores and Stands, Self-service Kiosks, and Mobile Concession Stands.
Oracle POS solutions help to reduce congestion by providing contactless and cashless ordering options. Its self-service kiosks, mobile payment readers, and other POS hardware solutions and accessories assist your staff in crowd management. Its solutions are also purpose-built for stadiums and other outdoor locations as they are built to withstand heat, spills, and more. They are built for speed and convenience.
Features of Oracle's POS Solutions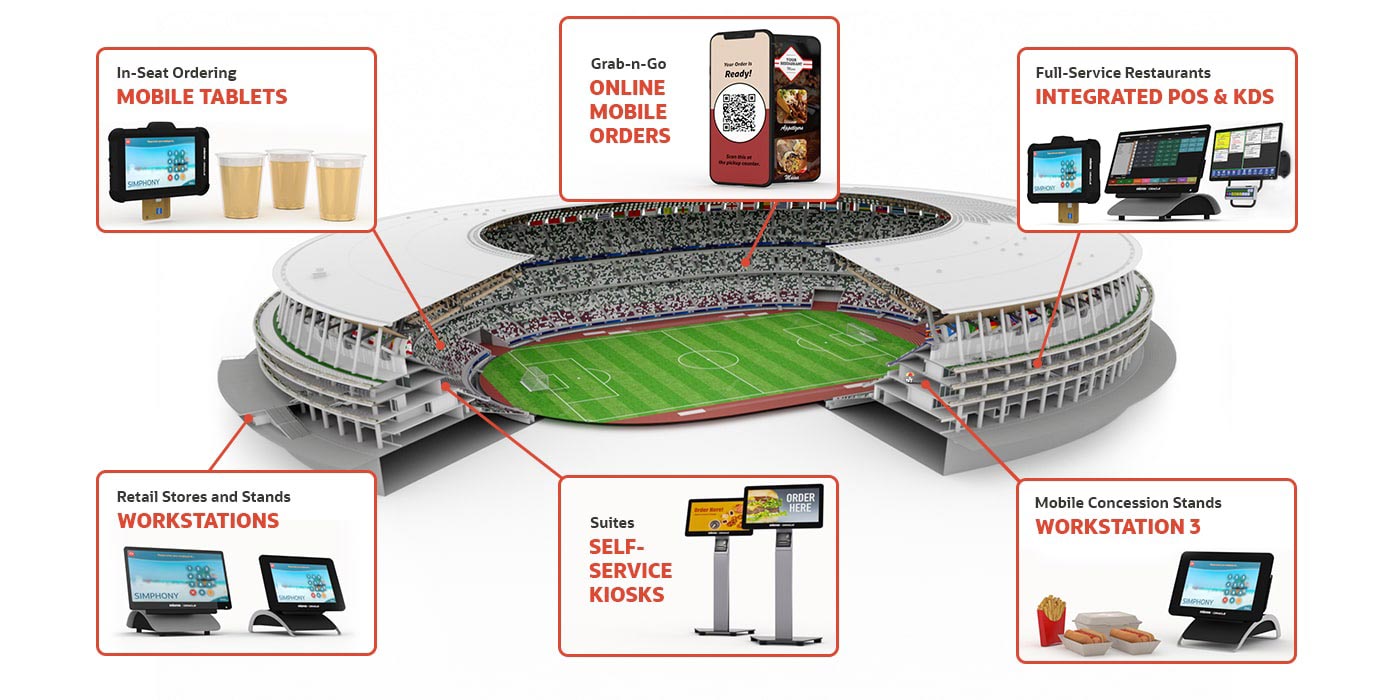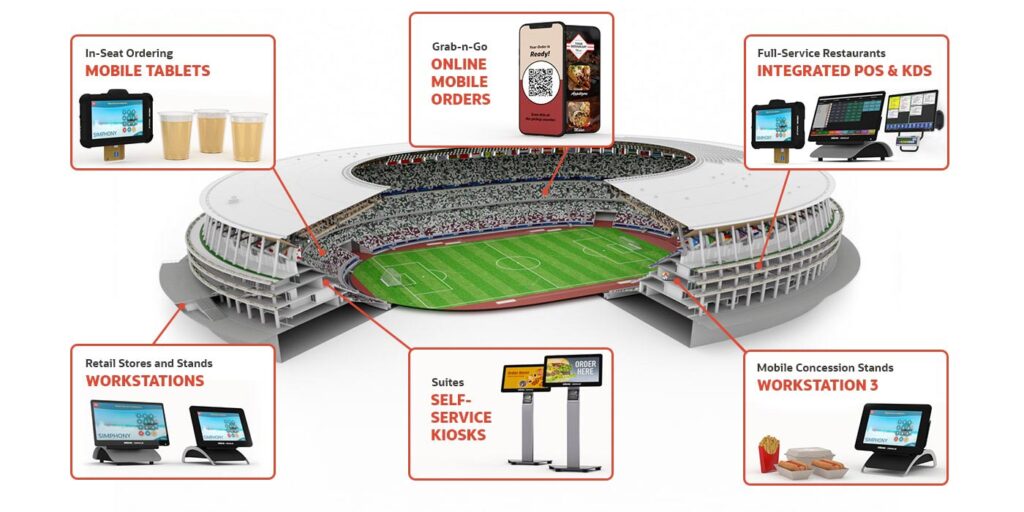 Real-time Alerts
Oracle's Simphony allows you to stay updated with real-time alerts when your inventory levels are getting low, helps you automatically manage vendor areas, and set up auto-restock functions to quickly process and restock all locations.
You can also use the real-time data to help with managing staff allocations to balance out demands across locations, from less busy areas to areas where more hands are needed per time.
Online Retail Marketplace
You can offer an online option to your sales points where customers can visit to order goods. By connecting your customers' accounts, you can offer personalised service to each customer, offer loyalty points for purchases, and in the long run, reduce operational costs.
Online Retail Marketplaces
Extend your operations by activating your online retail marketplace. Connect customer accounts and loyalty points for purchases made through your online store.
Full Service Restaurant Management
The Oracle stadium POS system helps you bring the power of a full-service restaurant management software to the arena. It enables you to manage all operations both front and back of the house from a single point.
Contactless and Mobile Payments
Oracle's stadium POS solutions makes contactless payment possible as it allows customers to make purchases with Apple Pay, chip readers, loyalty points, and other options.
Personalized Promotion
With Oracle's Stadium solutions, you can create and offer personalized promotions with loyalty points to customers when they purchase your merchandise. This helps increase fan loyalty and an increase brand loyalty.
Event-Based Pricing
With Oracle's POS solutions, you can offer specific pricing tailored to each event in a bid to ensure that potential of every event is maximized.
Integrations
Oracle's Simphony POS solution for stadiums and sporting events integrates with Oracle solutions such as Oracle Netsuite (which assists restaurants in automating stock level calculations), Oracle Cloud Infrastructure (which provides on-premises, cloud computing power for a company's IT workloads), Oracle Eloqua (a marketing solution with integrated sales tools), and other third-party solutions such as Elavon (which assists restaurants in accepting contactless, secure, and mobile payments). 
How Much Does Oracle's POS Solution For Stadium Cost?
Oracle does not offer a public breakdown of its pricing plan. You can get in touch for details and request for a demo.
Volante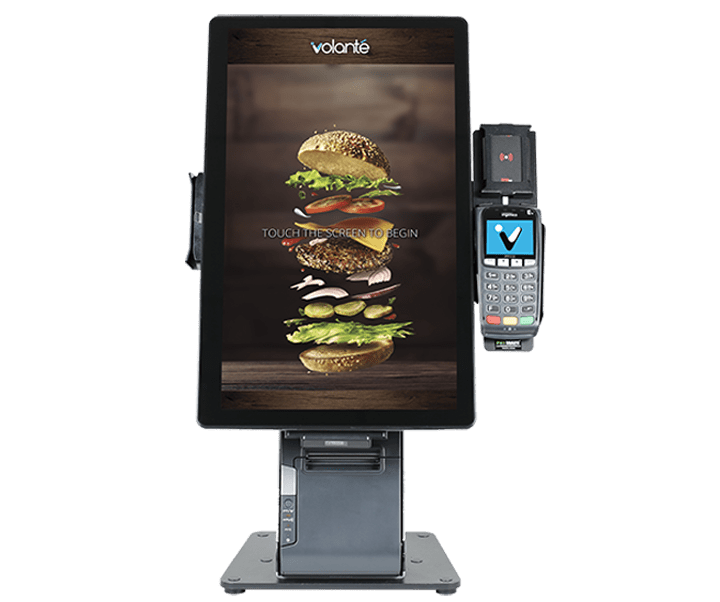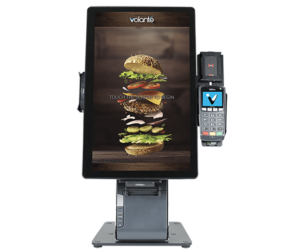 Volante POS solution offers a simplified POS solution for stadiums and assembles a number of point-of-sale technologies to offer a great POS solution. 
The Volante POS solution offers features that particularly speak to the needs of stadiums, event complexes, amusement parks, and other event locations. Features like reporting and analytics, connectivity, and self-ordering solutions are all available on the Volante's Enterprise stadium module.
The Volante POS solution is a Linux and Java-based application that boasts an uptime of over 99.99%. It is an excellent choice for merchants and small businesses on a tight budget who want to excel in terms of features and value creation.
Get automatic daily data backups, multiple concurrent users, and analytics and reports with over 200+ report templates, which offer you countless ways to customize your daily sales reports. With it, you can keep track of all residents, meal plans, as well as food restrictions for large communities.
The Volante POS solution scores high among users for its ease of use, customer service relations, as well as its range of features.
With the Volante POS solution, you can track inventory between concessions, accept easy payments across locations with the handheld tablets, and encourage sports enthusiasts and participants to order right from where they are seated. You can manage multiple locations right from your web browser, and deploy menus and discounts across your sales points right from the central management module.
Volante also provides for role-based access across your sales points to ensure secure and authorized tiered access to systems.
The Volante POS solution is used by companies like Woodbine Entertainment Group and many other sites.
Top Features Of Volante POS Solution
Flexibility
Volante's wireless terminals offer you flexibility in operation and ease in movement of terminals between venues and repopulating of menus in a bit to adjust to on-site demands and changes. It also helps you manage your staff strength, menus, and events.
Take The Service To The Stands
Volante's compact and versatile Enterprise tablet POS helps you take service to customers at the stands. The mobile application enables you to serve customers wherever they are.
Volante POS Features At A Glance
Barcode / Ticket Scanning

Electronic Signature

Gift Card Management

Inventory Management

Loyalty Program

Customer Accounts

Multi-Location

Online Ordering

Order Management

Reporting/Analytics

Restaurant POS

Delivery Management

Discount Management

eCommerce Management

Mobile Access
How Much Does Volante POS Solution Cost?
Volante offers a bespoke pricing package and as such you will need to reach out for a quote or request for a free demo.
Spot On Stadium Point of Sale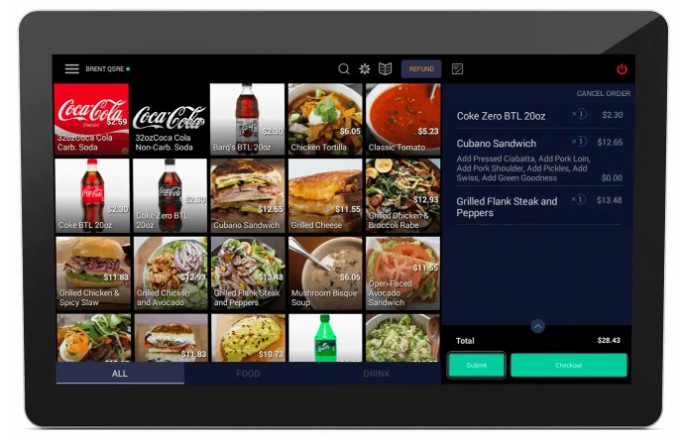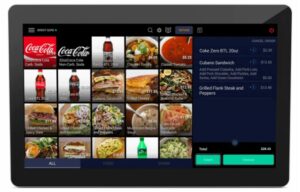 Spot On stadium point of sale is an intuitive, easy-to-use solution that makes the processing of payments at stadiums a seamless one. It is a secure, cloud-based POS software that helps you speed up service processing and also scales with your business.
Spot On's mobile cloud ordering solution is a perfect fit for today's sports arenas as it offers a suite of possibilities. Sport fans can seamlessly order from the stands and seats while it can also serve in stadiums' onsite restaurants and relaxation points. 
The Spot On Stadium POS offers reliable, enterprise-level support with competitive processing fees for sporting arenas. It is both ideal for small retail enterprises as well as large enterprises like entire stadium retail management. Some stadiums that have adopted the Spot On stadium POS solution include Fenway Park, Globe Life Field, Lincoln Financial Field, Dodger Stadium, Yankee Stadium, and a host of others.
Spot On Stadium POS solution allows for the processing of payments by accepting all major payment types, including cash, credit, EMV, RFID, NFC, and others. Loyalty points and member benefits can also be incorporated into the payment system.
Features Offered By Spot On Stadium POS
Rugged Hardware
The Spot On Stadium POS Solution boasts a solid hardware build. Its range of hardware, which includes kiosks, handhelds, and kitchen displays, is all built to withstand the ruggedness of the environment in order for it to withstand the test of time.
Its customer-facing displays also enable on-screen signatures and tipping, as well as open up opportunities for an additional revenue stream through sponsorship opportunities. This is available in three screen sizes: 10′′, 15′′, and 22′′.
An Easy-to-use Software
Spot On's Stadium POS system features excellent software capable of handling a stadium's payment process and that is also user-friendly. Built with an iOS and Android look and feel means that your staff members don't have to spend all day trying to learn the ins and outs. This basically means that anyone familiar with the use of iPhones, iPads, and Android mobile devices won't find it hard to understand the software's process. With its intuitive and easy-to-understand system, Spot On helps you cut down on staff training time and cost. It also cuts down on the likelihood of errors happening.
Strong Back Of The House Reporting Feature
Spot On Stadium POS boasts a strong and feature-rich back of the house reporting system. From inventory management to real-time analytics, covering all aspects of your retail business. 
The Spot On Stadium POS delivers good tracking of events and provides you with real-time analytics, so you never miss a beat. As a venue operator, you are able to know just when items are running out of stock and need to be restocked, keeping tabs on your most popular products as well as those not doing so well among buyers.
Excellent Client Support
Along with its products, Spot On offers an up-to-the-minute client support setup that provides you, the merchant, with excellent support whenever help is needed. Upon purchase, you are assigned client support managers or support specialists who ensure any issue that may arise is promptly dealt with.
Integrations
The Spot On Stadium POS system supports integration with a host of third-party apps to boost its functionality. Some of these include Givex, Skidata, Lava, Cisco, Ping, YinzCam, Venuetize, and many more.
Offline Capability
The offline capability of the Spot On Stadium POS is another ideal feature of the system it boasts of and which will enhance the operations of merchants as they need not worry about going offline. The system keeps working, ensuring that there is no break in sales processing.
Spot On Stadium POS Features At A Glance
VIP and loyalty tool

In-seat ordering

Robust inventory management

Offers solutions to manage cash room and hawking operations

Kitchen display systems

Handheld ordering devices

Self-order kiosks

Offline capability

Accepts all types of payment

Easily view and add items to cart
Who Is Spot On Stadium POS Ideal For?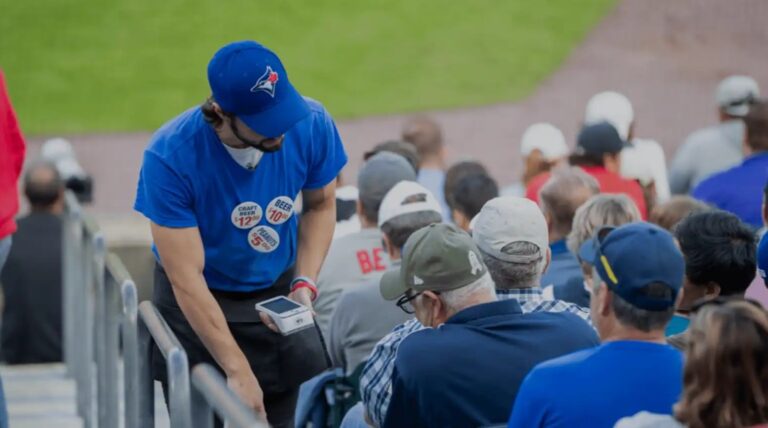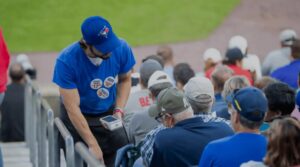 The Spot On Stadium POS is one that is ideal for both small stadium retailers and merchants as well as entire stadium restaurant management. It is a flexible and progressive solution that can be adapted to any and every use case.
Whether it's for retail merchandise for gift shops and other businesses or fast paced, high-volume enterprises, every use case will find an ideal starting point with Spot On.
How Much Is Spot On Stadium POS?
Spot On offers a bespoke pricing plan per customer, as such, you will need to get in touch for a quote. Per hardware, Spot On's range of hardware solutions also do not come with their pricing and as such, you will have to reach out to get a quote.
Payment Processing 
In-Person
Spot On payment processing for in-person transactions is 1.99% + $0.20 per transaction. For corporate, international, AMEX, or keyed cards, this rate increases to 2.99% + $0.20. 
Custom rates however apply for high-volume businesses especially for entire stadiums. The company also offers to match price-quotes gotten elsewhere.
Possibility Of Long Term Contract For Enterprise Users
While it is not explicitly stated, long term may apply for enterprise users of SpotOn's stadium POS solution. So, this is something you may want to clarify with them depending on your scale before you jump ship and commit.
Conclusion
Point of sale solutions for stadiums and large event spaces require some depth of ruggedness and a collection of various offerings to help manage the various demands of different sections, from the stands to retail points scattered around the stadium venue.
Keeping lines short, providing accurate reports on inventory management, and a clear overview of all points of sales to stay on top of development across the board is critical to the success of venue retail management. And any retailer or stadium manager knows this.
The options reviewed in this article provide a good starting point for anyone looking to adopt a POS solution for a stadium or large event.
Author: Wale Ameen. Wale is a business journalist and editor with over six years of experience in business and technology reporting. He is the author of the book, Future Focus: Tapping into the Wealth in Digital, available on Amazon.
FAQs
Q: How much does a POS terminal cost?
A: This largely depends on the POS system provider but pricing can start from as low as $0 and go on as much as $230 and higher for small businesses. For enterprises, this can range from $1,000 and more.
Q: Can I buy my own POS machine?
A: Yes, you can. You only need to ensure that it has the right features that is cut out specifically for your kind of business.
Q: What are examples of POS?
A: Examples of some good POS solutions include: Toast POS which is a cloud-based POS software specifically targeted at restaurants in the United States. Other good options are Square POS, TouchBistro, Poster POS, Vend, Nobly POS, and many others.
Q: Can I use PayPal at a vending machine?
A: Yes. You can buy anything at a vending machine point by paying with PayPal. This works by using PayPal, your phone, and Twitter. Such vending machines uses QR codes, PayPal, a smartphone camera and Twitter.
Q: Why is POS important to a business?
A: POS is important to a business as it helps you handle the payment side of your business. It reduces waiting time, ensuring faster processing of orders from customers, and as such you are able to offer better services and this in turn ensures a great customer service experience.
Q: What are the different types of POS systems?
A: There are quite a number of POS devices, these include smartphones, tablets, mobile POS, card and chip readers, touch screens, computers, self-service kiosks, and terminals.