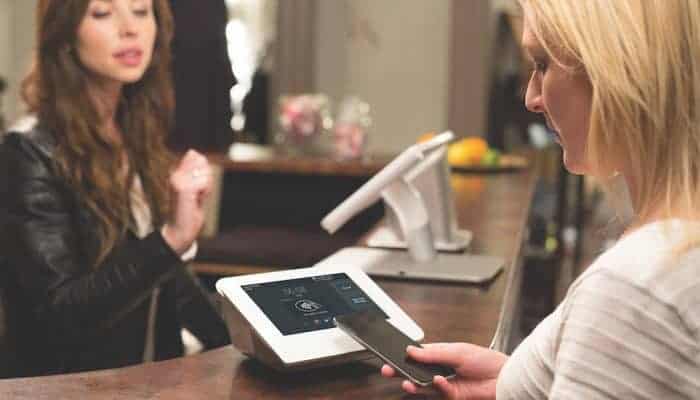 If you're a salon owner or manager, your main goals are to increase profits, cut costs, and keep your schedule full. To improve various aspects of your business, you'll need to use reliable salon software.
The right salon POS system should offer flexible staff scheduling and the ability to book repeat clients fast. And, while rebooking is one of the most important factors to focus on, the system you choose should integrate with your website for a seamless online booking experience.
Client management is equally important. Choose a POS that allows you to build a solid client database that sends them email and SMS reminders about their upcoming appointments.
Let's keep payments and credit card processing in mind. In the salon environment, you need a streamlined checkout process. That means ringing up customers, selling gift cards, split tips, and other actions shouldn't take more than a few minutes per customer. Also, don't forget contactless payments for a safe experience.
After an extensive review, we believe Mindybody is the best salon POS system due its many extensive features that other POS systems don't offer. With more integrations than any other software and the ability to customize the system to your operation, Mindbody offers a much better product than its competition. Additionally, Mindbody has the most intuitive and easy to use business management app.
But, to truly manage your business, you must look at all aspects of a retail establishment. This includes employee management, inventory management, memberships, packages, and reporting. If you have multiple locations, you'll also want to consider cross-location reporting to see which salon is performing better.
Finally, don't forget to bundle a number of services together into a package and increase customer retention. With that said, let's take a look at the top salon POS systems and these deserve a mention.
Comparing The Top 5 Salon POS Systems 
System
Starting Software Costs
Hardware Costs
Key Features

$149 to $389/month
$0
Enhanced ease of use, scalability, exceptional customer support and intuitive design

$25 to $85/month
$0
Extremely affordable, robust and diverse salon-specific feature suite

Plans start at $99/month for 1 register
Plans start at $99/month for 1 register
Open platform
for easy multi-store management

$129 to $349/month
Starts at $85/month
Focuses on 5 main salon needs: Book, attracting customers, selling products/services, retain customers, manage customers and employees

Free for basic software
Starts at $50 for readers
Highly intuitive, easy-to-use interface
1. The Best Choice Overall for Salon POS System: MindBody


In order to boost the efficiency and profitability of your salon business, you need a POS software that is as powerful and agile as the MindBody POS system. This product is essentially designed to offer you all the salon-specific features you need, ranging from client management to scheduling.
This system is renowned for enhanced ease of use, scalability, exceptional customer support and intuitive design.
MINDBODY is a strong and agile POS system that offers a variety of features, including payment processing options, employee management with payroll capabilities, detailed reporting systems and business marketing tools. It's an ideal choice for salon, spa and fitness businesses that are looking to optimize their operations and bring in more clients.
It allows you to take payments directly through a single synchronized point of sale system, including integrated hardware. Customers can pay using their credit card and you'll have the option to store their card details on file, which makes it easier to set up recurring payments for clients.
As well as a client management portal, which provides a convenient way for clients to sign up for classes and events, Mindbody also gives you the ability to create your own branded mobile app to offer members a seamless experience. You can also use the app to send appointment reminders, payment expiration notifications and birthday messages that are automatically personalized for your clients.
Mindbody also helps you make the most of your inventory by helping you track your products and services, with a built in inventory manager. It can even help you minimize stock loss by alerting you when you are low on a product, and can automatically order more from your supplier. This feature is particularly useful for hair, lash or beauty salons, and helps to keep you informed about your business's health at all times. It can be a real time saver when you're busy, and it can prevent you from running out of essential stock.
There are several other MindBody salon point of sale system you will come to like as well, including:
Client Tools
Offer your customers customized and timely professional services to their satisfaction and they will keep coming back for more. This is what you want for your business, right? Well, the MindBody software has the right tools to help you achieve this. To begin with, this feature makes it easier for you to store relevant customer information.
In this regard, the system stores customer information in a simple profile format that is easily accessible whenever you need it. On every client's profile, you can capture such data as schedules, payment information and visits remaining.
The ability to group profiles of family members is one of the most innovative capabilities of this software. In it's functioning, this tool enables you to group profiles of related clients together. This will make it easier and more convenient for such clients to schedule or pay together.
Reports
This Mind-body feature will furnish you with the right information, especially the business data that matters when you need it. In addition to the daily close-out balance report, the various tools offered by this feature will give you valuable insight into your business.
The feature is essentially meant to help salon owners track their progress based on their business goals. The various reports you will get will help you budget more effectively, allocate your resources and measure success in real time.
Despite being a powerful, in-depth feature, MindBody POS Reports will present everything you need to know at a glance. From your mobile phone screen, the POS will give you summaries of such reports as client transaction records, revenue and sales at a glance.
MindBody POS Downsides
This may be one of the most powerful salon points of sale systems out there, and although a bit expensive, it has many features. Additionally, the various features and capabilities make the software a bit confusing to get started with.
2. The Best Calendar Management Salon POS System: Vagaro POS


A robust and diverse salon-specific feature suite and affordability are some of the best-selling points of the Vagaro POS. The product is mainly designed to offer you a number of capabilities that are relevant to your business, including:
Salon Calendar
To begin with, the system will allow you to configure your calendar at the beginning of every business day. While at it, this POS system will allow you to choose your preferred order of display for the various services. Additionally, the calendar on this POS system has several other tools to offer, such as:
Double/ Triple Book
This innovative multi-booking feature by Vagaro will ensure that you exploit your full potential. So long as you can handle it, this POS system will definitely book it. All you need to do is specify the start time and duration. The system will then use its intelligent online algorithms to fill in your schedule.
Adjustable Working Hours
Although the system is designed to handle much of your scheduling work, it offers you all the flexibility you need. For instance, you may decide to work on a day that you are normally off. In such a case, you only need to open your hours for that day on your app. The system will automatically activate online booking only for that particular day
Enhanced Customization
The Vagaro salon POS system allows you to customize several calendar aspects. For instance, it allows you to personalize colors on the various service categories. Should you make any changes to your schedule, you do not need to call every customer to notify them of the same.
Instead, the system will automatically send out notifications to the affected customers.
Flexible and Affordable Payments
Vagaro offers a payments processing system that integrates seamlessly with the salon POS system. This system will allow you to accept multi-tender payments from the desktop or any mobile device. Affordability is another thing you will love about the payment processing.
In this regard, smaller merchants will be charged 2.75 percent for every swipe transaction and 3.5% + 15¢ for every keyed-in transaction. Larger merchants, on the other hand, will be charged 2.2% + 19¢ for swipe payments and 3.0% + 19¢ for every transaction they key in.
Vagaro Downsides
The system does not allow you to customize multiple processing times per section, especially for clients assigned to the same stylist.
3. The Best All-in-One Salon POS System: Vend POS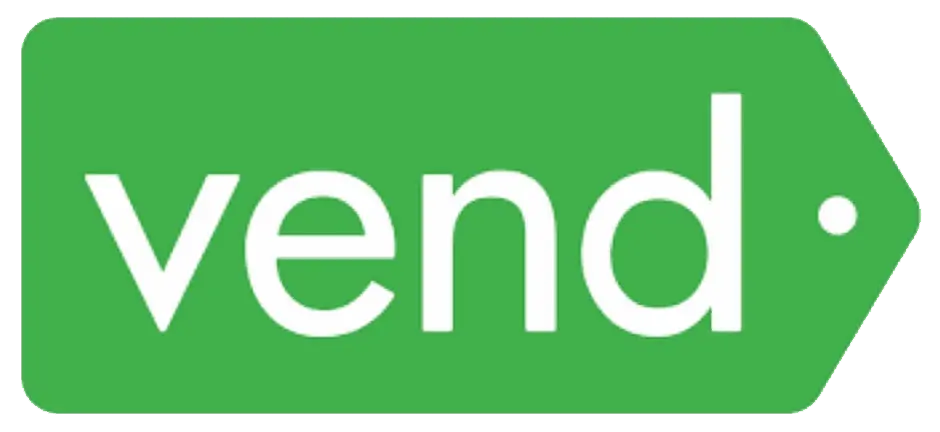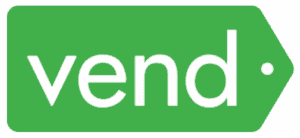 Not only is the Vend POS system easy to set up and use, it allows for easy and timely online bookings, keeps your customers coming back, allows you to work offline and accepts multi-tender payments.
Many salon owners and stylists also love the 30-day free trial offered by the provider. So, what exactly makes this system a great choice for demanding salons?
Retail POS Payments
The provider offers an integrated payments solution to help streamline sales in your business. This system allows you to accept any mode of payment your customers wish to use. In this regard, Vend POS system accepts all major credit cards in the country, including American Express, MasterCard and Visa cards.
In addition to chip, swipe and tap card payments, the system also supports contactless payment technologies. Some of the contactless payment options you can accept through the Vendor salon POS software include Apple Pay and NFC.
Such capabilities with make it easier and more convenient for you to accept payments. Again, such a system will eliminate errors and double handling in your salon. Syncing a card reader to your POS system will curb human error, double entries as well as the need for manual end-of-day reconciliation.
Inventory Management
Vend is renowned globally for it's intuitive, powerful and industry-specific inventory management. As a matter of fact, the feature is packed with the right tools to optimize profitability in your business. Some of the capabilities you will like about the Vend inventory management include:
Automated Promotions
In addition to improving customer service, you also need to market your business to your potential customers. To make this easier and more effective, the Vend salon POS will automate promotions in the business.
In this regard, you may use Vend Price Books, specify maximum/ minimum purchase amounts, mark up or discount products and even set automatic end dates for such promotions.
Customizable Prices and Taxes
This feature allows you to set custom prices for different groups of customers in your salon. For instance, you may have a special price plan for your staff and VIP customers. Similarly, the POS allows you to customize taxes on different inventory items.
This makes it easier for you to set the right taxes for salons in different states, countries or cities that may have varying tax requirements.
In addition to these, you will also like such Vend POS inventory management capabilities as wholesale operations, stock transfer, stock orders, auto-filled orders and supplier returns.
Downsides of the Vend POS System
When compared to some of the best salon POS systems in the market, Vend POS system is less robust. Additionally, many consumers are not happy with the fact that the system requires them to pay for priority support services.
4. The Best High-end Salon POS System: Booker POS

If you are not working on a limited budget, you should embrace the seamless, easy-to-use and salon-specific capabilities of the Booker POS system. The cloud-based salon POS system has all the features you need to manage every aspect of your salon business.
In this regard, the system is specifically designed to address five main salon needs, including Book, attracting customers, sell products, and services, regain customers as well as manage customers, employees and the inventory.
The system is meant to offer you the best return on investment as well as exceptional performance. In this regard, you will love the various in-depth features and capabilities it has to offer, including:
Book
As simple as this sounds, it has everything you need to allow for convenient and easy scheduling by your customers. Just like some of the best salon POS systems in the market today, Booker POs allows for online booking.
In this regard, the provider offers an online booking page. In addition to integrating seamlessly with your current business website, this page allows you to personalize the booking flow. From this booking page, your customers can Schedule multiple services, view Book number, know the available time slots, add additional guests as well as get a detailed description of your products and services.
Other capabilities of the Book feature that will come handy include mobile and tablet booking, scheduling, Notifications and Facebook booking.
Attract
Marketing your business is an important task as far as increased profitability and business growth are concerned. This is why the Booker POS system is packed with a range of tools to help you attract more customers to your salon.
To the Booker Marketing. Network tool, for example, will help you market the open appointments in your salon more effectively. In this regard, the system makes it possible for you to display unfilled time slots across a network of partner sites, including Bing, Yahoo, SuperPages and Yellow Pages.
Other Attract feature capabilities that make this product stand out include a customized booking page, social promotion and a business intelligence dashboard.
Downsides of Booker POS
Although the provider offers different pricing plans to suit your business needs, the product is relatively expensive.
5. The Best Salon POS System for Zero Monthly Fees: Square POS


Unlike many other salon POS systems, Square point of sale system does not require any monthly subscription fees. However, this is not the only reason the POS system is so popular among salon owners and hairstylist today.
The best point of sale (POS) systems are easy to use and offer salons a full range of tools that allow them to take appointments, track inventory and customer data more effectively. They also let business owners sell products, services and merchandise in a digitized store, accept payments and collect dues or event passes.
Many of the best POS systems offer integrated payment processing with Xero, QuickBooks and other accounting applications, as well as Wix, WooCommerce and BigCommerce for eCommerce integration. They also offer a wide variety of add-ons to improve functionality, from payment add-ons and inventory management tools to employee and sales reporting and customer service apps.
Square offers an incredibly convenient POS system for small businesses. It requires no setup fees and provides users with a free magstripe card reader when they register an account. It's a great option for retail, restaurant, coffee shop and boutique stores as well as health & fitness, beauty professionals and home & repair businesses.
Customers have noted that Square is very easy to set up and use, especially with its streamlined application process for merchant services that requires only name, address, birthday, phone number and last four digits of Social Security number. However, a few users have experienced issues with the software being slow or glitchy.
Customers also like that Square is free for basic use and does not require a long-term contract. Its costs for merchant services are based on transaction volume, so businesses pay less during low sales periods and more when revenue is higher. The company also has a great community forum to help users with day-to-day problems they may experience using the POS.
Based on statistical findings, more than a million haircuts have been sold using the Square POS system. The system is essentially meant to keep the business at your fingertips and the stylists snipping for enhanced efficiency and profitability.
The popularity of this salon point of sale system may be attributed to its affordability as well as a unique blend of features and capabilities, including:
Free Square Magstripe Reader
This may be one of the most affordable salon POS systems available today. Even so, it comes with free goodies to streamline operations and improve customer service in your salon. For instance, the provider is currently offering a free Square Card Reader for every POS purchase.
Though compact in design, this reader will open up a tone of possibilities for your business. To behind with, the product t is very secure and is compatible with both iOS and Android platforms.
You will also love the fact that the reader may be used in Offline mode. Even during outages, you can continue using the reader to ring up sales at the usual 2.75 percent rate.
Square Appointments
With this versatile, flexible and powerful feature, scheduling and booking in your salon will be a breeze. In this regard, the appointments feature gives you such capabilities bas online booking, customer management, cloud-based calendar and Best-in-class payments integration.
Square POS Downsides
As appealing as this salon POS system may appear to be, it is not suited for high-risk industries. Again, you may experience occasional account stability issues.
Things You Need to Know Before Choosing a Salon POS System
Salon businesses thrive in delivering exceptional results as well as delivering superior customer experience. In order to stand out from your competition, you will have to match the right styles with the best services to your services. Well, the same case applies when choosing the right technology for your business.
For instance, the right point of sale system for a salon should have industry-specific features and capabilities. A salon-specific POS features tools that are specifically designed to help your business grow and outshine the competition.
However, you must have noticed that there are hundreds of POS software options to choose from. If you are shopping for the best salon POS system, here are some of the considerations you need to make:
1. Customer Relationship Management
Customer relations is an important part of almost any business today. This is particularly the case for service providers like salons. As such, it is advisable to get a POS system that personalizes services and give you an opportunity to engage your customers.
Your preferred, POS should allow you to tailor your services to certain requirements, such as color, cut, style, design and length. The best point of sale systems today are capable of storing customer data. Such a capability enables you to personalize services for each customer.
2. Appointment Management in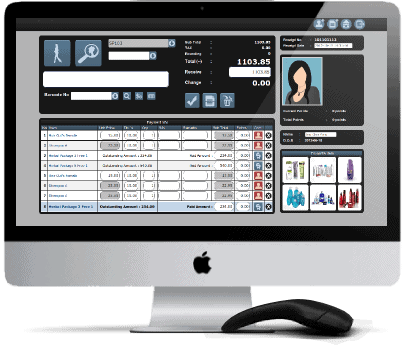 Are you still using appointment books and paper to manage appointments? If so, you need to upgrade to a faster, easier and more efficient appointments management solution—the best Salon POS software.
While this feature is common in Salon POS systems, its tools and capabilities may vary from one provider to another. Your preferred system should allow for online access by your stylists. Additionally, the feature should be capable of notifying the staff of last-minute additions.
In this regard, the best salon POS systems allow for email and text reminders. With search capabilities, the staff do not have to waste time on their phones to confirm customer bookings. Again, it will also ensure that you are always ready for the customers when they arrive.
The best systems will also allow you to evenly distribute walk-ins in your salon across all stylists. This will cut down customer wait times and boost customer service in your business
3. Real-time Reports
A salon business can benefit from real-time reporting, just as any other type of business would. The best cloud-based salon POS ensures that you are well informed on how the business is faring. These accurate, real-time reports will, in turn, help you make informed business decisions.
Most systems allow you to log in to an online portal and manage such aspects as costs, schedules, inventory and profitability in real time. Additionally, such systems allow you to pull various reports, hence keep a close track of performance indicators.
In addition to reports, the leading providers offer you the right tools to keep a close eye on important salon performance indicators. The ability to integrate with third-party services, such as accounting software, will also come in handy. Such capabilities help business owners know how they are progressing towards certain goals.
4. Online Booking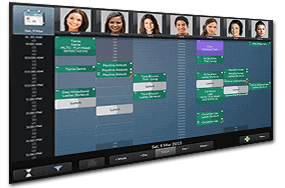 According to research findings, about 40% of consumers prefer scheduling appointments online. This is why an increasing number of businesses today are allowing their customers to book online.
This being the case, it is advisable to invest in a POS system that allows for online booking. With such a feature on your POS system, your customers will have an opportunity to book for appointments at any time they find convenient.
Integrating an appointment management solution with online booking offers you even more benefits.
For instance, a salon POS system with both appointment management and online booking features gives you a view of your potential revenues and calendar in real time. Additionally, you will be able to access such information whenever you want from anywhere.
5. Employee Management
Managing your employees is unimportant task in any type of business today. A salon POS system with this capability will come in handy. Since different providers offer different employee management tools, you should choose the ones you find suitable.
In this regard, some of the leading system are capable of generating real-time labor report. In addition to improving employee efficiency, the best salon POS systems unknown to create a conducive working environment. This will, in turn, help you retain top talent in the business.
6. Other Considerations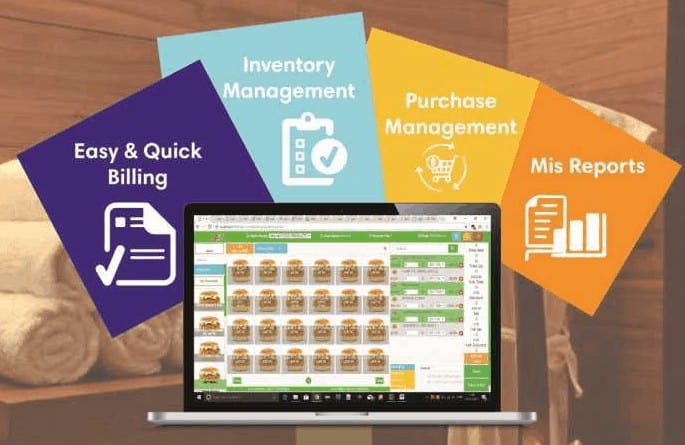 As important as these may be, they are not the only consideration you should make while shopping for the best salon POS. Other key considerations you need to bear in mind include:
Ease of Use
Your preferred system she will be relatively easy to use with minimal or no training at all.
Scalability
Most POS systems are designed to help you grow your business. However, not all of them can support your business needs as it grows. In this regard, you should consider getting one that is highly scalable in accordance to your changing business needs.
Costs
These should include upfront payment, monthly subscription fees, customer support fees—if any and card processing fees.
Our Final Verdict
The right salon POS system choice will provide ROI in terms of streamlined operations, loyal customers, employee retention, and an improved bottom line.
As you have learned throughout this guide, your preferred system should be able to tackle various challenges in your business such as canceled bookings, missed appointments, online booking, and scheduling.
With versatile, feature-rich integrated salon software solutions like MindBody, Vend, Booker, Square, and Vagaro, you'll be able to run your salon more efficiently. As a business owner, you'll want to consider the software and hardware costs. Before choosing a POS system, consider which features you need and the initial cost of hardware.
With a monthly cost ranging from $50-$500 or more for the software, smaller salons can opt for a system like Square. Busier salons that need more advanced features will want to take a look at systems like Mindbody or Vagaro.