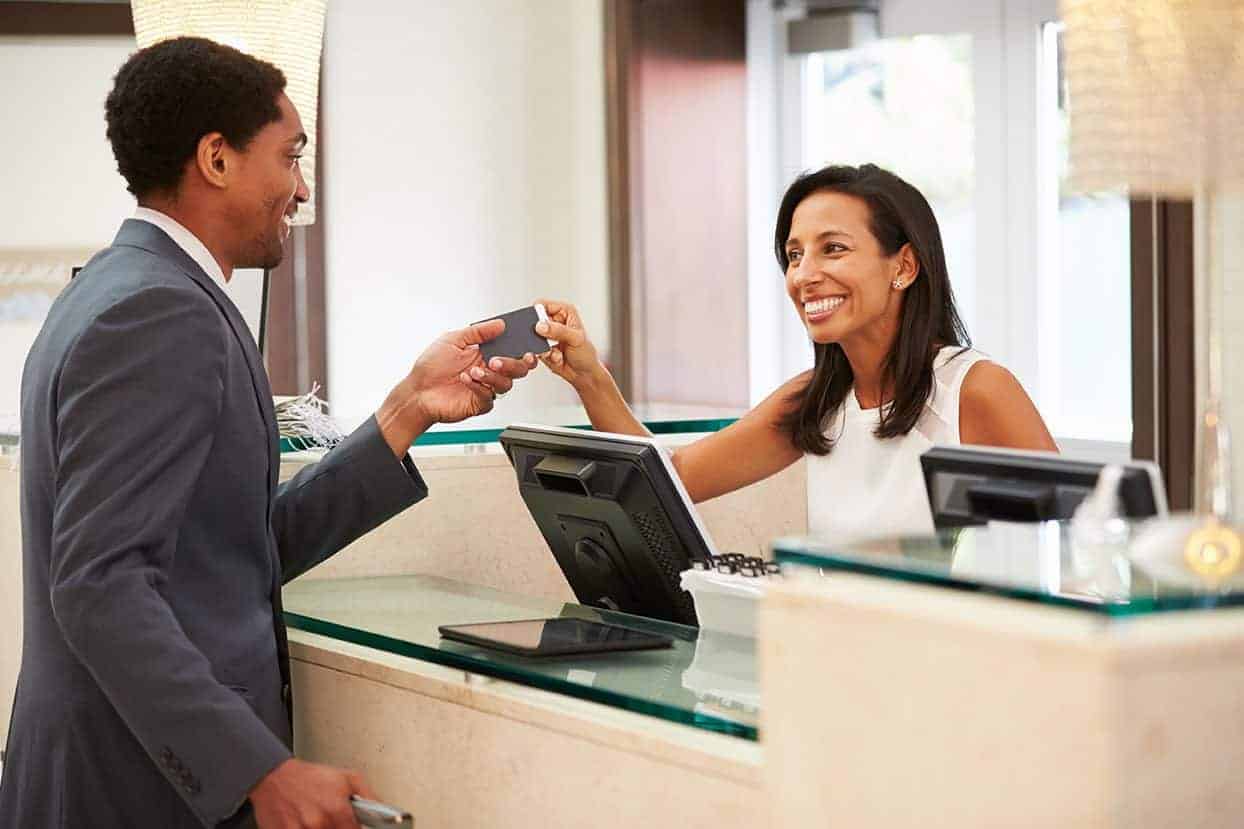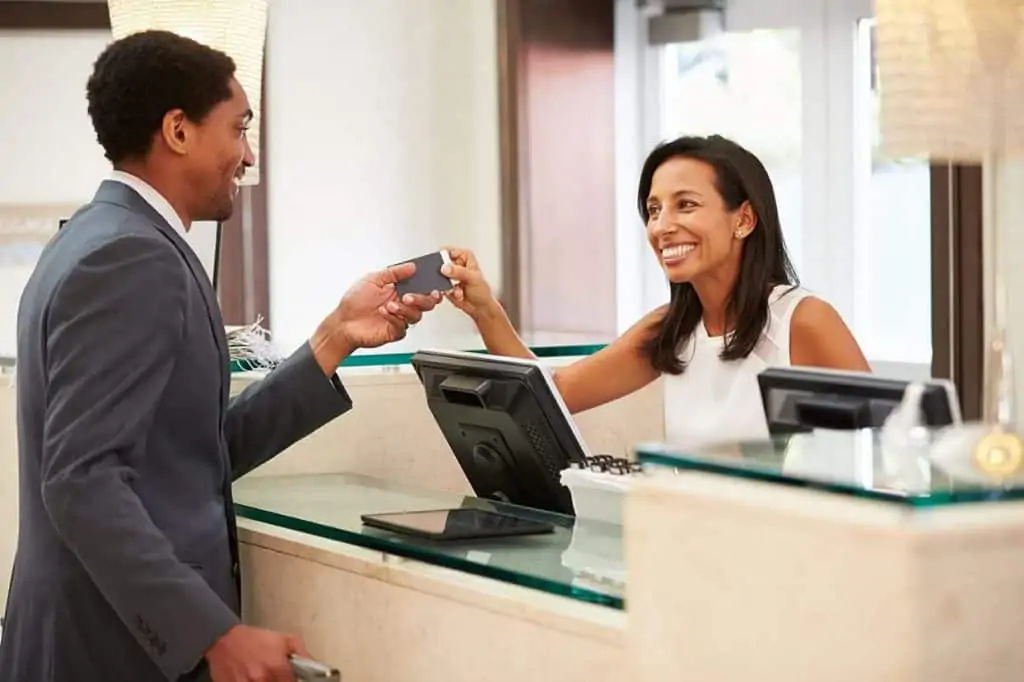 Across the globe, hotel chains face significant challenges to the bottom line. The global hotel industry is over $600 billion and growing. But your hotel operation's share of that market depends entirely on the efficiency of your sales process and customer experience.
Guests increasingly require quicker service, exceptional quality, and a seamless experience from the front desk to room service to their trip to the bar. Additionally, many corporate clients require custom packaging and pricing to fit their event's specific needs.
This requires an effective technological infrastructure, and that starts with your hotel POS system.
To stay ahead of the competition, the best hotel POS system should integrate a wide range of features, including automated workflows, channel manager integration, custom pricing, integration among all points of sale, secure transaction posting, reports and analytics, and more.
There are so many POS options out there that it can be overwhelming — so let us take some of that stress away. Here's our breakdown of the top hotel POS systems to help you figure out which one best fits your needs.
Our Top 5 Picks
1. Agilysys: Best Overall Hotel POS System
2. eZee Absolute: Best POS System for Large Hotel Operations
3. Hotelogix: Best POS System for Resorts
4. RMS Software: Best POS System for Growing Operations
5. HotelKey PMS Software: Best POS System for Small Hotels
Best Hotel Point of Sale Systems: Quick Comparison
| System | Starting Software Costs | Hardware Costs | Key Features |
| --- | --- | --- | --- |
| | Quote based | Custom pricing | InfoGenesis, an all-inclusive point of sale system that allows you to manage multiple locations and points of sale (front desk, mini bar, restaurant, etc.) from a single screen. |
| | Starts at $45/month | Quote based | Highly flexible with a wide range of capabilities |
| | Starts at $3.99 per room per month | Quote based | Cloud-based, hassle free billing options |
| | Quote based | Quote based | Fully customizable cloud-based system |
| | Quote Based | Quote based | Self-service kiosks include airport-grade ID document scanning; secure payments from credit cards, Apple Pay, Google Pay, and more; and automated key dispensing |
1. Agilysys: Best Overall POS & Hotel Management Software


Agilysys is the best overall hotel POS because its full suite of platforms and powerful features integrate to provide both a seamless guest experience, and the ability to manage an entire hotel operation from a single screen.
A powerful hotel management POS software
Agilysys is one of the leading providers of enterprise software and services to the hospitality industry. It offers point-of-sale, property management, inventory and procurement, workforce management, analytics and document management solutions that enable the company's customers to streamline operations, improve efficiency, increase guest recruitment and wallet share and enhance the guest experience.
OPERA Hospitality Cloud: empowers the modern hotelier
Agilysys delivers a comprehensive, next-generation hotel property management system that is designed to help hotels operate more efficiently and maximize revenue by focusing on guest needs. The system is built on a flexible, scalable cloud architecture that allows hoteliers to extend their business with multiple platforms, without the need to invest in new hardware.
rGuest Express: mobile check-in/out with digital keys and ID verification
In addition to its robust suite of integrated enterprise applications, Agilysys provides modern, cloud-native mobile guest self-service check-in solution rGuest Express. The solution is designed to provide a contactless, secure mobile guest journey with all of the benefits of digital keys and key encoding while maintaining social distancing and eliminating lines at the front desk.
rGuest Pay Gateway: online payment processing that safeguards guests' payments
With rGuest Pay, you can securely accept all types of POS transactions through your hotel website or app. This includes room deposits, third-party guarantees and folio charges. You can also specify type and charge limits, secure payment authorization, and allow guests to complete their payments on their own devices.
Point-of-Sale Software (Agilysys InfoGenesis)
The core offering of Agilysys is InfoGenesis, an all-inclusive point of sale system that allows you to manage multiple locations and points of sale (front desk, mini bar, restaurant, etc.) from a single screen, captures valuable customer data, and features a tablet integration so you can speed up your sales if there's a long line or even if there's internet downtime.
Self-Serve Kiosks (IG Buy)
Self-service is the future of retail sales, and the same is true for hotels and resorts. IG Buy, Agilysys' self-serve kiosk product, helps to reduce your labor costs and enhance customer convenience.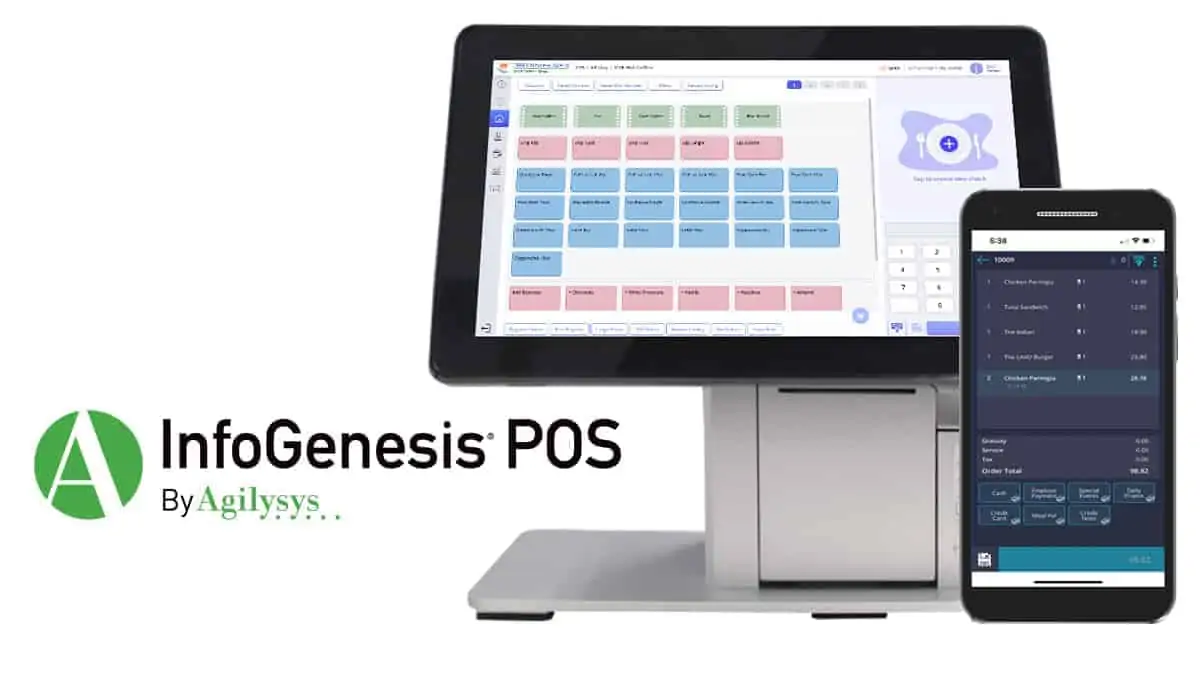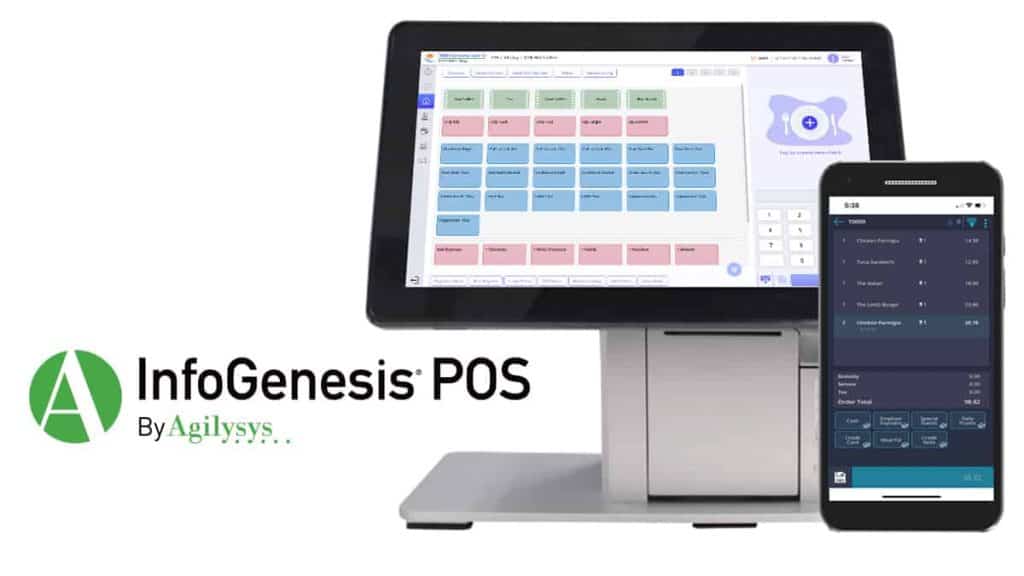 Online Payments (Agilysys Pay)
Through Agilysys Pay, you can accept POS payments online, including room deposits, third-party guarantees, and folio charges. You can also specify type & charge limits, secure payment authorization, and allow guests to complete payments on their own devices.
Business Intelligence (Agilysys Analyze)
An efficient, profitable hotel operation requires you to have the best insights into trends and trajectories. Use Agilysys Analyze to find hidden patterns of loss, unnecessary waste, team member performance and more — cutting inefficiencies and increasing revenue.
Restaurant Point of Sale (Agilysys Seat)
For your restaurants and bars, manage reservations and tables efficiently, allowing for more customers to experience your dining offerings. Key features include waitlist optimization, front-of-house automation, and online seat reservation options for your guests to request their favorite table, server, or section.
2. eZee Absolute: Top Hotel POS System for Large Hotel Operations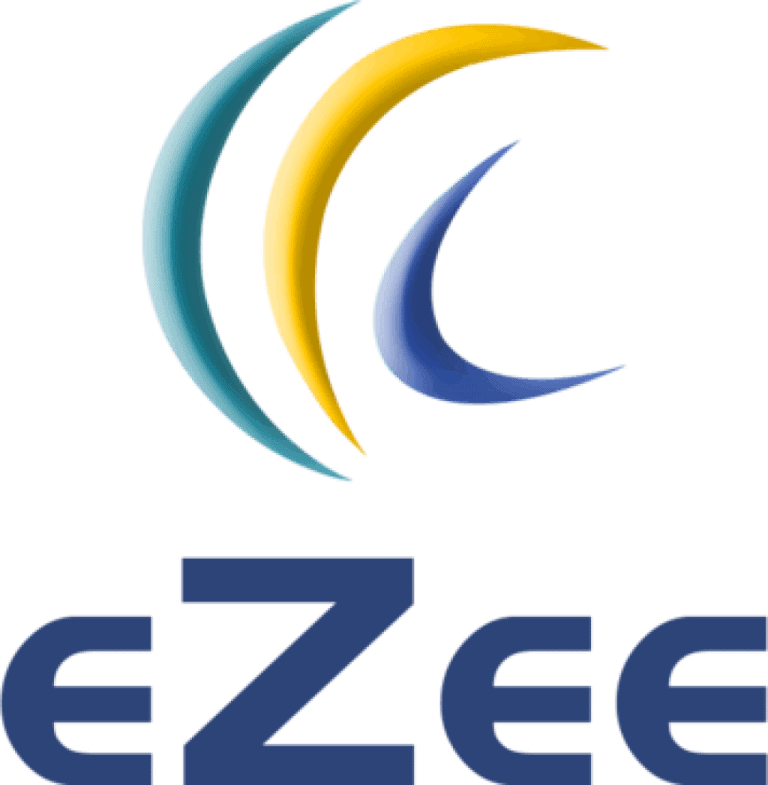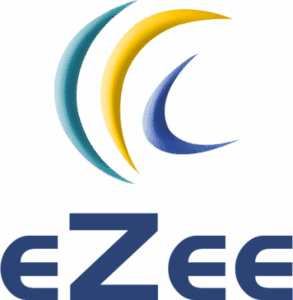 eZee Absolute is a highly flexible and feature-rich hotel PMS software that simplifies hotel operations and helps to boost revenue. Most importantly, its wide range of capabilities and group management features make it the ideal choice for larger hotel operations.
Hotel Reservation Software & Front Office Operations
Manage bookings and reservations via a single window. With eZee Absolute, you can easily manage the entire reservation system and front office operation to offer the ultimate guest experience the minute they walk through your door.
Profile Management
Manage multiple profiles through eZee Absolutes' cloud-based PMS system. These profiles could include corporate guests, room owners, travel agents, business sources, and more.
Hotel Group Management
For larger operations, you can manage the entire hotel group, saving time and increasing your overall efficiency. The more efficient your process, the more revenue you'll bring in.
Manage User Privilege & Security Control
You can create different user accounts and manage user privileges to restrict the access of important data to other staff members.
Charges, Deposits & Invoicing
eZee Absolute can help you charge the room with taxes and fees, keep track of deposits, and accept multiple payments. Manage multiple revenue approaches: automatic, seasonal, contract, negotiated, flexible rates, allocated, multiple rates, and more.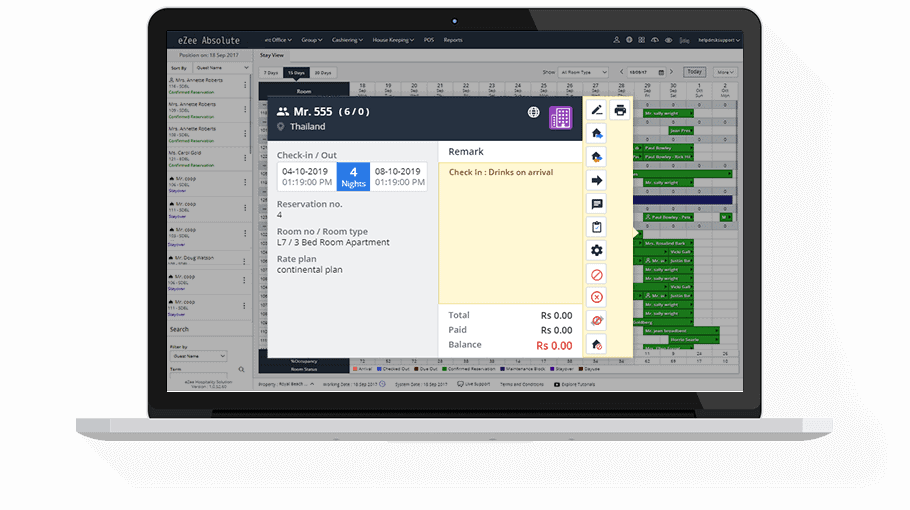 Email Marketing & Scheduling
Engage your guests along their whole journey by sending pre-arrival, post-departure, promotion, and in-house emails.
Mobile App
Manage your hotel whether or not you're at your desk: room allocation, folio settlement, push notifications, housekeeping, printing notifications, distribution, room sharer management, reputation management, identity scanning, and more.
Analytics and Reporting
eZee Absolute covers a wide range of reports that offer insights into all aspects of hotel operations, giving you both a high-level view of the operation, and the ability to drill down into specific areas of interest.
3. Hotelogix: Best Hotel POS Software for Resorts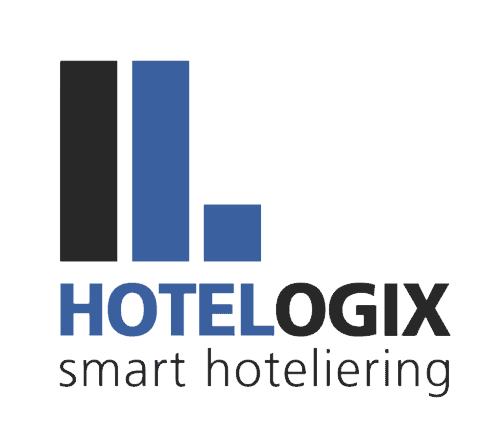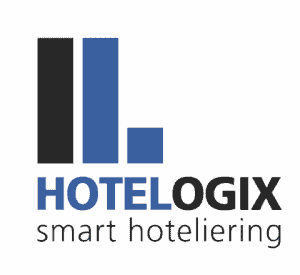 Hotelogix offers a cloud-based hotel POS software that is perfectly suited for resorts or operations with multiple and diverse point of sale outlets — restaurants, mini bar, spa, shops, travel desk and many more.
With Hotelogix, you can set up unlimited points of sales that can charge guests directly, transfer charges to the room, or bill directly to the company. It's simple to operate and saves time across the board.
Cloud-Based POS System
With a cloud-based point of sale system, all products and services can be integrated and organized into unlimited categories and subcategories. Organize your fast-moving and featured items as well, allowing for easy selling to guests.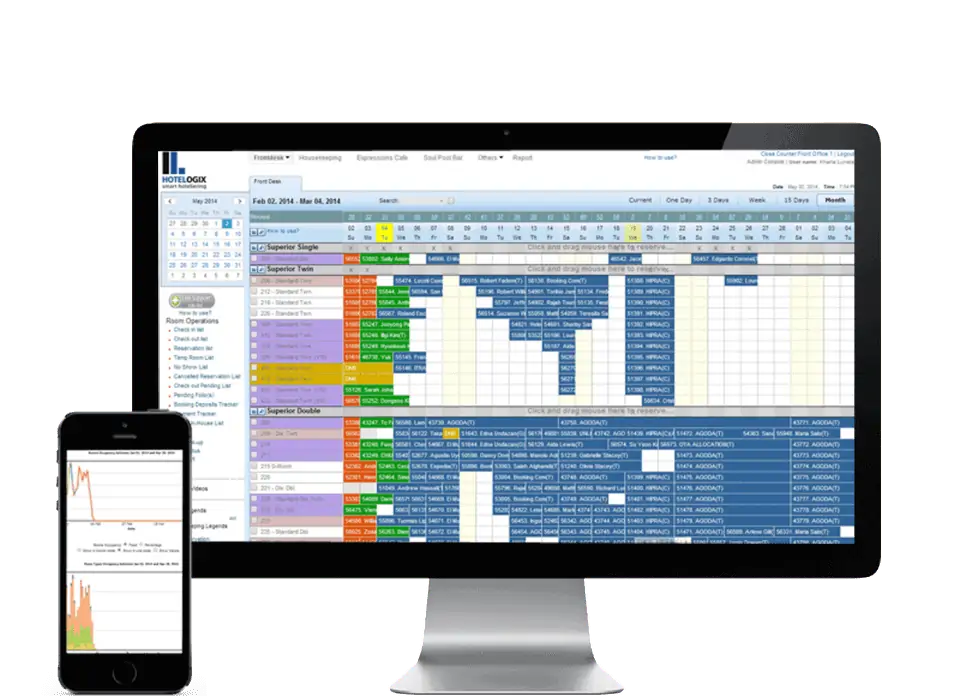 Customized Packaging & Deals
Create customized packages based on seasons and holidays by clubbing rooms with POS items. Hotelogix also gives you the power to offer POS items as inclusions for upselling, modify deals on-demand, and personalize each guest's stay with customized add-on services. Additionally, you can offer attractive discounts on extra services to incentivize business from travel agents and corporate clients.
Restaurant POS Automation
Hotelogix's restaurant POS system runs in complete sync with the front desk — no manual tracking needed. Room inclusions get sent to the correct POS points. Your staff at the restaurant, travel desk or any other POS outlet is always updated with the right information in real-time.
Ensure Efficient Restaurant Management
Leverage the power of Hotelogix's restaurant POS software to manage multiple menus (like breakfast, lunch, and dinner), customize guests' orders, and easily manage server shifts.
Hassle-Free Billing
Hotelogix also allows you to split guest bills by food type and quantity, route charges to a specific invoice or to a new invoice, or use the "resettlement" option to make changes in the bill even after a folio is generated and settled.
4. RMS Cloud: Best Hotel POS Software for Growing Enterprises


RMS is a cloud-based hospitality property management software that is both user-friendly and fully customizable. Hotels, resorts, serviced apartments, and other hospitality companies use this software because of its intuitive layout, powerful automation, and revenue-boosting tools.
All-in-One POS Solution
Incorporate reservations, reporting, costing and more with an all-in-one POS solution. RMS cloud helps you manage inventory, generate real-time reports — all to improve customer service.
Flexible Dashboard
Easily manage your front- and back-of-house operations and customize the flexible dashboard to suit your property. Dashboard tools include a 3D report engine to enhance business intelligence, a responsive report writer for creating custom reports or extracting specific information. Most importantly, it's an enterprise solution that grows with you (and your business).
Customer Management
Keep your guests happy and eager to return with guest-centric modules, including a native guest portal, a tool to create your custom loyalty program, automated email and text messaging, and a CRM to monitor a guest's experiences over time.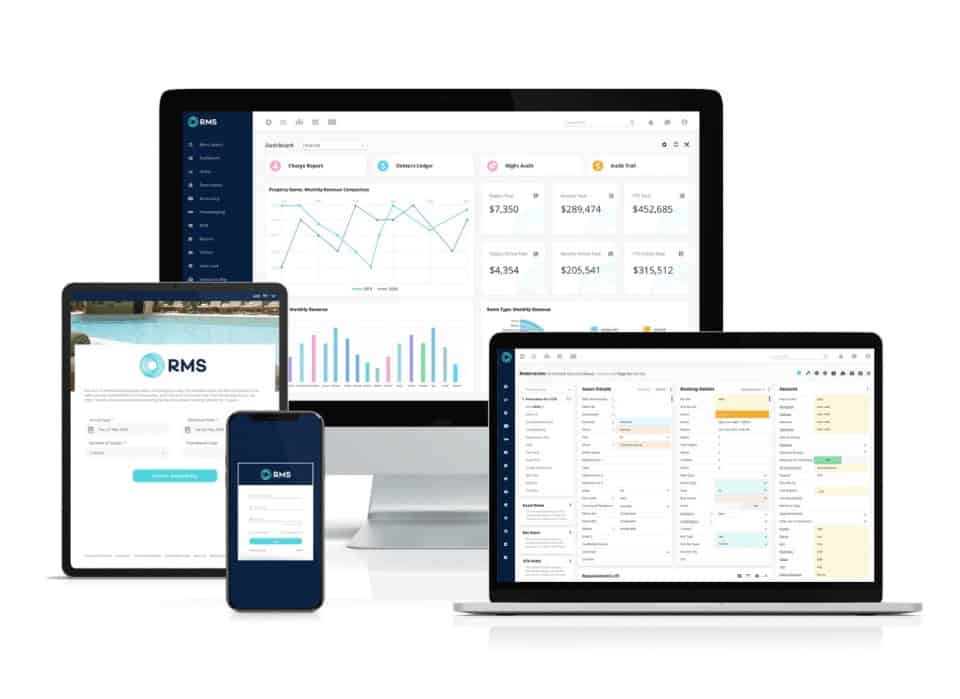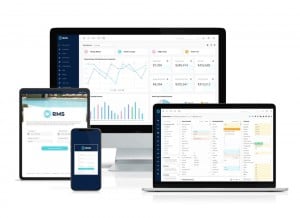 Seamless Guest Payments
Set up automated price adjustments for holidays and happy hours, charge back to the guest's room at the touch of a button, and split the bill any number of ways. RMS includes a native channel management system with direct connections to OTAs, commission-free bookings with an internet booking engine with real-time updates, dynamic pricing that reacts to supply and demand, and a robust rate manager which adjusts and applies restrictions to rates and inventory.
Integrations
Connect to third parties via RMS Cloud's open API or choose from an extensive range of integrations that include payment gateways, POS, revenue management and more. All your integrations are accessible via RMS.
Real-Time Reports
Get an instant snapshot of profitability from sales, saving the report in your favorites for quick and easy access.
5. HotelKey PMS Software: Best POS System for Small Hotel Chains


For smaller hotels, HotelKey PMS Software keeps operations simple and efficient. Use guided workflows for common actions like adding guests and booking rooms, digital check-in to reduce costs and environmental impact, all while keeping the front desk clean and neat.
HotelKey PMS Software is one of the best POS system options for small hotel chains. The PMS offers a centralized platform to manage reservations, guest profiles, payment processing, housekeeping, maintenance and inventory tasks.
It also helps in automating front-desk operations like ID/passport scanning, customer registration and processing payments. Moreover, it allows professionals to keep track of room availability, generate purchase orders and manage vendor accounts.
Choosing the right hotel PMS for your property is an important step to help you stay competitive. Using a PMS can help you increase revenue, improve staff efficiency and reduce costs by automating processes that would otherwise take up valuable time.
Smart Pricing for Hotels
A good PMS will automatically set negotiated rates, charge no-show arrivals and reclaim cancellation fees. It will also automate folio and invoice receipts and allow users to create a standardized rate plan for advance purchases.
The best PMS also provides an automated chargeback tool, which attaches evidence and a fillable response letter to any disputed charges. It also features a reporting and analytics module that lets you create dynamic reports across all areas of your operations.
HotelKey Reports & Analytics
HotelKey PMS offers a range of reports including bookings, arrivals and departures, clerk activity, RevPAR, ADR, sales by product, nightly audits, revenue management and much more. The reports can be easily filtered, grouped, highlighted and CSV and PDF Excel exports are possible.
Digital Check-In
When check-in goes digital, the result is a streamlined process. HotelKey allows you to offer room type upgrades and sell add-ons like parking and Wi-Fi in just a click. Scan photo IDs and accept payments without physically handling IDs and credit cards. View floorplans, route payments, configure incidentals, and much more — all from a single screen.
Self-Service Kiosk
Cut down on labor costs and allow your guests further autonomy via self-service walk-in, reservation check-in, and replacement room keys. HotelKey's self-service kiosks include airport-grade ID document scanning; secure payments from credit cards, Apple Pay, Google Pay, and more; and automated key dispensing.
Corporate Rates & Billing
Set up negotiated rates and automate billing and invoicing for Direct Bill customers. Use HotelKey to define rate periods, automate invoice receipts and payments, and set billing days, credit limits, required fields, and more.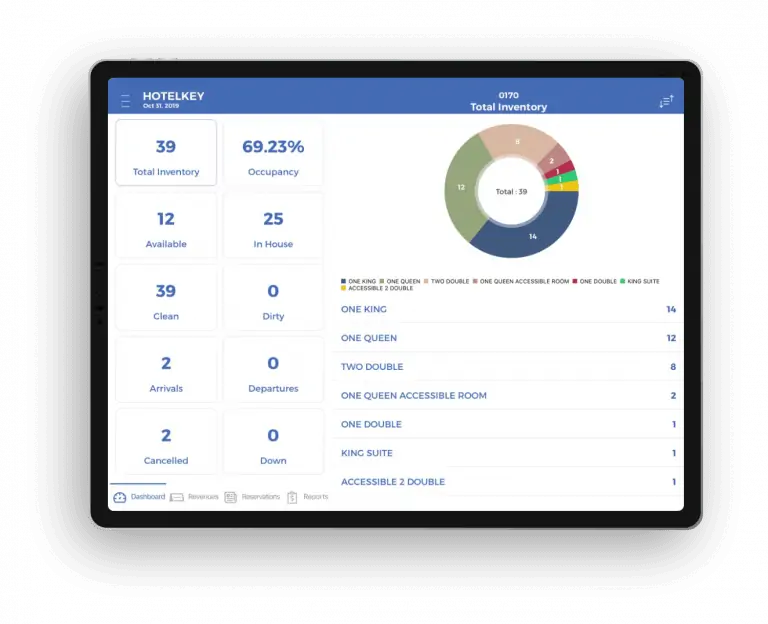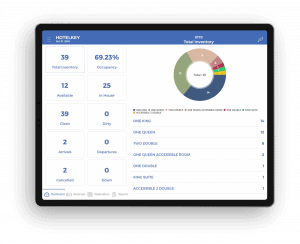 Payment Automations
Automate your card-not-present payments to eliminate human errors. Configure your advance purchase rate plans, set up cancellation fee policies and automate fee collection, charge no-show arrivals as part of the night audit, auto-reconcile batch payments, and integrate CC payments through EMV, Google Pay, Apple Pay, and more.
Hardware Integration
HotelKey POS setup integrates with the technology you have with minimal external needs. Use your own iPad through a native application. Integrate with thermal printers, scanners and label printers wirelessly.
Reporting Features
HotelKey's reporting features allow you to review analytics on all aspects of the operation, including bookings, arrivals, departures, housekeeping, maintenance, nightly audit, clerk activity, RevPAR, ADR, room revenue, revenue by market segment, booking pace, sales reports by product, and much more.
Honorable Mentions
Business Plus Accounting (BPA) POS


As a hotel owner, you know that you can be more successful if you can provide a better experience for your customers and gain greater control over your costs and profits.
BPA POS is built using a straightforward, intuitive user interface, because you shouldn't have to be a computer expert to use hotel management software:
Quickly and efficiently track guest reservations and folios to stay on top of the property.
All payment processes — receivables, payables, general ledger reporting, time clock, payroll, and more — are fully integrated and secure.
Retail and restaurant POS modules allow you to run every aspect of your operation with the same software.
Lightspeed Retail

Lightspeed Retail provides a number of important restaurant-centric features to help you serve more customers, and serve them more efficiently:
Sell food, drinks, and merchandise through an online eCommerce platform
Ensure a table for all guests with an intuitive reservation system
Expand your points-of-sale as you add new amenities to your hotel
Equip your operation with self-order kiosks, including custom combos and menu modifiers
Enable staff to fire full orders, courses, or drinks to the kitchen or bar in just a single tap
Generate multi-location reports and analytics to monitor performance and increase profits
What to Look for in a Hotel and Restaurant POS System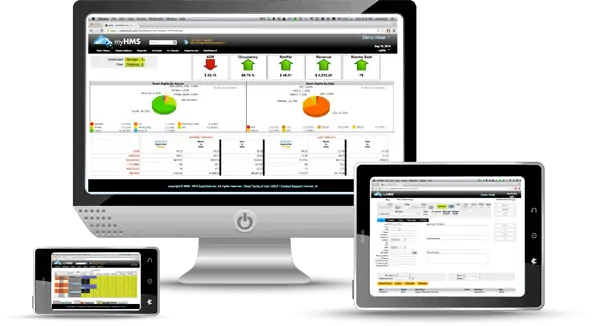 With the unique needs of hotel operation, you need more than just a standard POS system. With the combination of the right features, having a hotel-specific POS and PMS (property management system) can help you achieve the following goals:
Streamline processes and cut back on inefficiencies, resulting in reduced labor costs and a better customer experience
Allow for more self-service options for customers, from the front desk to automated key retrieval to mobile app engagement
Provide upsell opportunities to grow your wallet share
Customize reservation and payment options to allow for larger corporate contracts that require unique packaging
Integrate deals and offers across all your points of sale — room reservations, restaurants, bars, shops, kiosks, amenities, channel partners, and more
All of these goals tie into one fundamental truth: saving you time and money so you can reinvest in other areas of improvement and growth.
Here are some specific hotel POS features that can help you achieve these important goals.
All-in-one solutions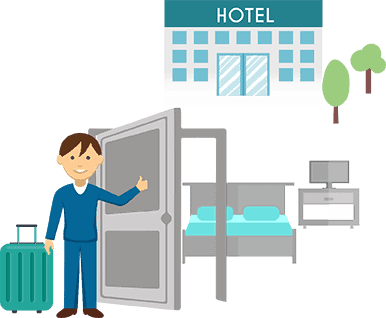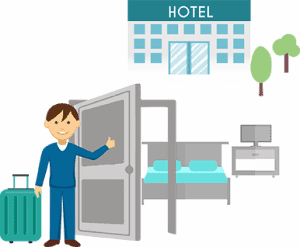 The more systems you have integrating with each other, the more effort it takes to make it work, the more time you have to spend training and teaching your team, and the more potential there is for downtime. An all-in-one solution can help you avoid lags and improve the guest experience.
Increased direct bookings
The modern customer wants to conduct as much business as possible online and in advance. Your POS system should mirror that desire, allowing a seamless integration between online direct bookings — whether it's through your website or an external channel — and their interactions with you on site. For visitors who book or extend their stay on site, self-service kiosks will also fill this need.
Channel manager connectivity
Let's face it: the majority of buyers are going to book through a third-party site online. So your POS and PMS softwares should allow you to effectively manage the various paths guests take before they interact with your hotel.
Smart front desk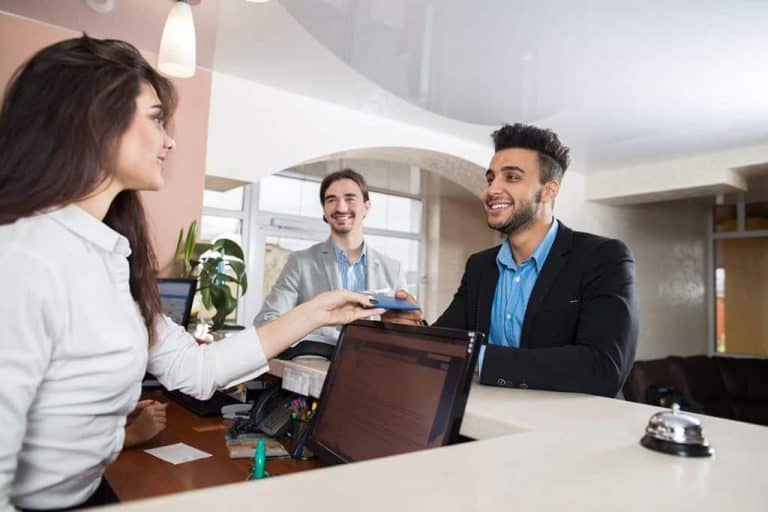 Even if your guests have already booked online, the front desk is still the place where you present a first impression. So your POS system should be designed to present the best experience possible — from automating purchase types to providing smart upsell solutions, to allowing for contact free check-in and information gathering, to customized rates and packaging for particular seasons and groups, and more.
Upselling to increase wallet share
Often a guest isn't aware of all the benefits available to them that could make their stay much better. What's more, when guests are prompted to purchase additional items, roughly 20 percent do. Your POS should easily allow for upsell opportunities — whether manned or automated — so that you can improve your wallet share and enhance your guests' experience at the same time.
Mobile device capabilities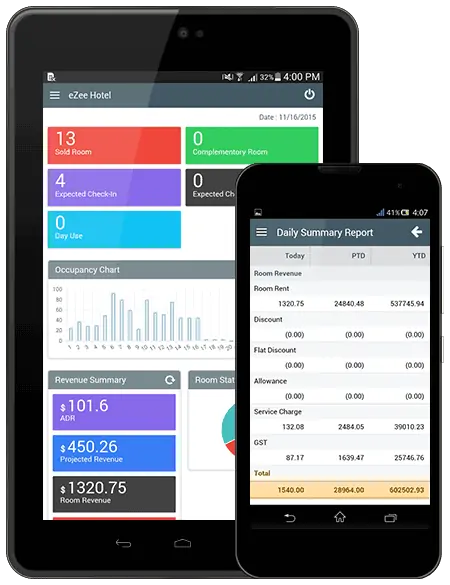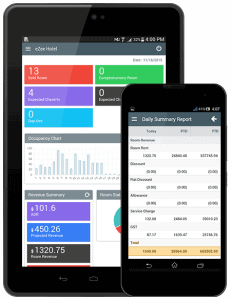 The quicker and easier the guest's experience, the better. Many hotel functions can be conducted through a mobile app — ordering room service, requesting the car from valet parking, extending a stay, mini-bar purchases, and much more. A front desk POS is now only the first step in a more robust sales and service infrastructure for your operation.
Customized packaging & rates
Whether it's for a conference or event or a corporate social gathering, your high-end clients are going to have very specific, customized requirements. Your POS should be able to customize packages and rates, while also allowing for different purchasing channels — direct to credit card, to the room, or even billing directly to the company.
Cloud-based integration across points of sale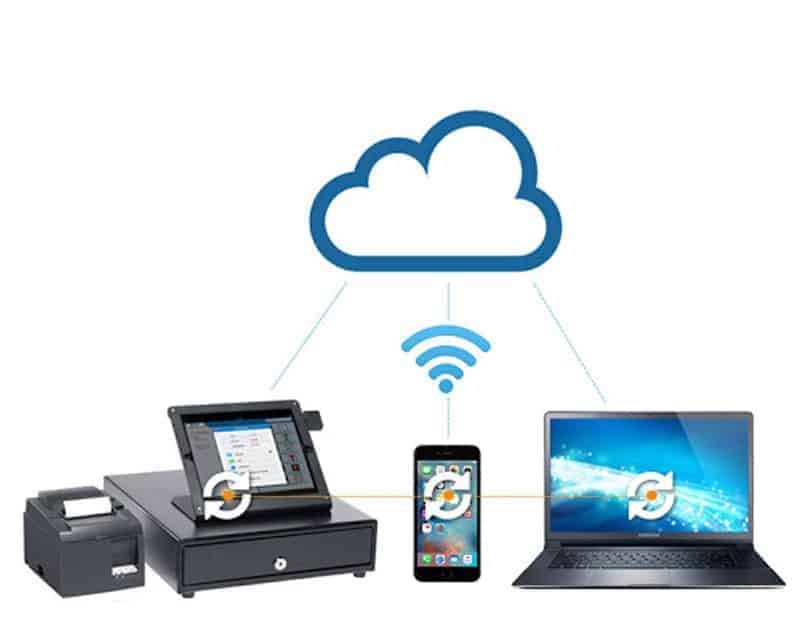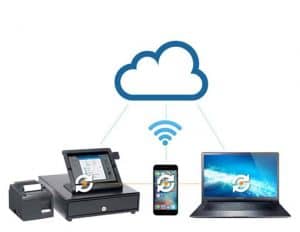 A guest is a single customer, but they will likely do business at many points of sale across the entire hotel. A cloud-based integrated software will allow for you to bring data on all of these purchases together to identify key indicators like room revenue, rep and clerk performance, upsell rates per customer, remarketing opportunities for high-value customers, and more.
Data security and breach risk reduction
With an increased focus on the convenience and security of contactless payments, your POS should make it easy to accept and track third party contactless transactions by eliminating paper credit card authorization forms. In this environment, you need secure solutions so that when your customers interact with you, they never have to worry about their sensitive information falling into the wrong hands.
Analytics & reporting
Tracking performance and analytics should extend beyond the night audit. With a powerful POS and PMS tracking system, you can review your high (and low) performing revenue sources, market segments, salespeople, desk managers, upsell rates, room revenue rates, products — as well as which points of sale across the operation are bringing in the most revenue.
Selecting The Right Hotel Point of Sale System
The right hotel POS system for your operation likely won't be the same as the one across the street.
Depending on whether you're a large or small operation, you may want to choose between a full-stack option like eZee Absolute, or something a little more pared down like HotelKey.
Alternatively, if your hotel doesn't have in-house dining options, then something like Hotelogix or Lightspeed Retail may not be the best option.
The power of your POS goes beyond just the one-time purchase. It collects customers' information (phone, email, etc.), you have the ability to re-market to them again and again, giving you the opportunity for a long-term relationship.
That's why your hotel POS system is more than just a place for a guest to make a purchase. It's the foundation for your hotel operation's long-term revenue growth.
Get A Free Quote