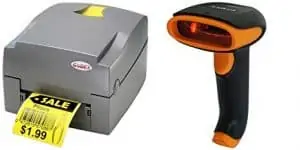 You've seen them hundreds if not thousands of times. On each trip you make to the grocery or another retail store, an employee swipes your item in front of a small ray of light.
That ray of light comes from a barcode scanner. It scans the product's barcode and adds it to your total purchase.
You'll see a barcode on nearly every product you purchase. It's a black and white square with vertical lines, which is a unique identifier for the item you are purchasing.
Think of it as a visual representation of a serial code. If you run a brick-and-mortar retail store, odds are you need a barcode scanner.
But exactly what are barcode scanners? How do they work? And how can you choose and leverage the right one to fit your business needs? Below we'll dig in and shed some light on the subject.
What Are Barcode Scanners?
Barcode scanners come in a variety of shapes and sizes. The one you select to help streamline the checkout process of your business depends greatly on your business needs.
Brick-and-mortar businesses increasingly find it difficult to remain productive without the use of a barcode scanner. The barcode scanner market is predicted to grow by over 5% over the next five years.
Some scanners come equipped with integration abilities that let you sync data from your scanner back to a central customer database.
This allows users to continually store new data around customers, their individual purchases, etc. Doing so makes it much easier to target customers and prospects in future upsell or marketing campaigns. Most scanners must be plugged into a power source to function.
However, now there are Bluetooth scanners that allow for hands-free scanning—just be sure not to misplace your scanner! Some scanners support the recognition of QR codes, while others do not. We mentioned retail stores above, but the need for barcode scanners is not at all limited to the retail sector.
Essentially, any business that must scan physical items—including for internal use such as package receipt—can automate and streamline processes with a scanner to do most of the heavy data lifting.
The variety of options on the market is broad. Be sure to define your needs and shop around for a scanner that meets those needs and will scale with your business as you grow.
Which Types of Scanners Are Available to Me?
There are various types of scanners available. Again, the one you choose will depend on your unique needs. Here are a few of your options to get your brain moving in that direction:
One-Dimensional Scanners
This is the most basic type of scanner. 1D scanners can read traditional, black and white barcodes (see Image 1) and process the information therein. These are a good choice for a simplified business that does not process lots of information and only needs to keep track of basic data.
Two-Dimensional Scanners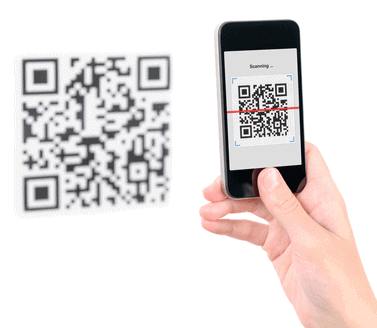 Increasingly, businesses are utilizing two-dimensional barcodes such as QR codes (learn more about QR codes). These codes (see image 2) allow businesses to more accurately identify products, customers, or any other data associated with the code in question.
Have you ever seen a store clerk scan a barcode multiple times before it registers in the system? If so, odds are they are using a 1D code scanner.
2D scanners allow store employees to more quickly and easily capture the information in a 2D code. They are more reliable in the long run as they can identify bent or damaged 1D barcodes, as well as QR codes for a more comprehensive scanning experience.
They are more expensive than 1D scanners. However, as the adage goes: You get what you pay for. Therefore, businesses are increasingly opting for 2D scanners.
Presentation-Style Scanners
These are often wireless (using Bluetooth technology). They rely on you placing (presenting) the code in front of the scanner rather than swiping the scanner past the code. That's why they are referred to as "presentational-style scanners."
Presentation-style scanners are typically bi-optic; they can read barcodes better in general. Not surprisingly, these models are more expensive than the traditional scanner. They process 1D and 2D codes with ease.
In the digital era, accurate data is more important than ever before. We suggest you opt for a scanner that allows you to capture, store, and later utilize the data gathered from your scanner for future proposes like marketing segmentation.
And that's why we recommend investing in a top-of-the-line scanner. The extra cost will quickly be offset by time and resource savings.
Evaluating Your Options
At this point, you're likely already weighing your options in your head. Let us help a little with this. The right scanner for you depends on the factors laid out above. Below, we break this down for you into easily digestible suggestions.
Regardless of whether you need a full-on, robust presentation-style scanner or a slimmed-down scanner, there are myriad options for you.
1D Scanner Recommendation: Honeywell Fusion Scanners
Honeywell offers a spectrum of 1D scanners for those who don't need super-robust scanner features. Honeywell is our top recommendation for those needing a 1D scanner. There are various models but their Metrologic MS3780 Fusion seems to pack the most punch for its price point.
Metrologic MS3780 Fusion: This simplified scanner isn't as simple as you might imagine. It comes fully equipped with:
•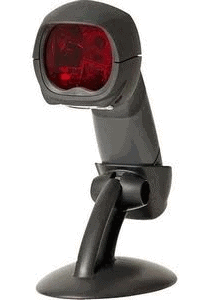 Ergonomic handheld or hands-free scanning
• 50Degree tilt stand, counter & wall-mountable
• Omnidirectional & single-line scanning
• Multiple sleep modes reduce operating expense
• Ability to withstand multiple 1.5 m drops
• Recognition of standard 1D & RSS barcode symbologies
• A variety of swappable connectivity options
• Programmable depth-of-scan field
2D Scanner Recommendation: Zebra Scanners
Zebra has become a household name in the barcode scanner space. With a variety of different options available, you're sure to find the model that fits your needs.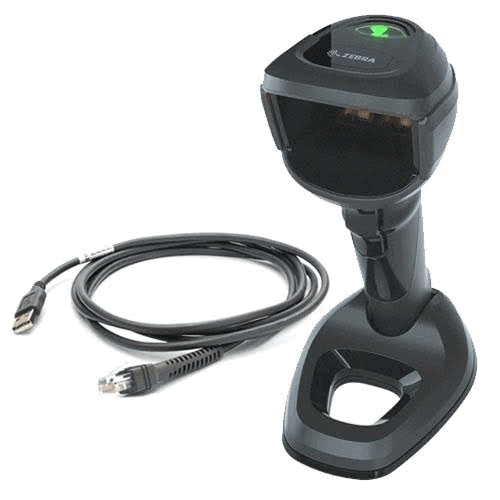 Zebra excels at providing diversity. The company delivers stability and versatility to retail store locations by combining the best of its current scanning technologies and preparing you for the next generation of scanner technology. Most of Zebra's 2D scanners are also presentation-style scanners, allowing you to kill two birds with one stone.
Zebra DS9908: This is Zebra's flagship product, for lack of a better phrase. It's super reliable and has met the needs of tens of thousands of satisfied customers to date.
In addition to basic features included in a 1D model, Zebra's DS9908 model provides:
• The ability to scan 1D, 2D, and Digimarc codes
• USB/ RS-232 Serial, and Keyboard Wedge interfaces available
• Driver's License Parsing available, reads damaged and poorly printed barcodes
• Fast configuration of multiple scanners with 123Scan
• ScanSpeed Analytics help keep an eye on how your scanner is performing
Meet the Rest of Crowd
The solutions highlighted above barely touch the tip of the iceberg. To properly take a deeper dive into barcode scanner vendors you must and weigh your options. It's important to first consider your own needs. Then, start your evaluation to find the offering that is right for you.
Start your evaluation of all your point-of-sale (POS) hardware and software needs.
Questions to Ask When Evaluating Your Options
With so many types of barcode scanners on the market, it can feel dizzying trying to select the right scanner for your business. This is particularly true given that every business is unique, with its own unique growth strategy and business model.
Below, we provide answers to some of the most commonly asked questions, asked by real-life consumers of these devices. This information will help guide you as you conduct your evaluation process and select the scanner that's the perfect fit.
How Does a Scanner Really Work?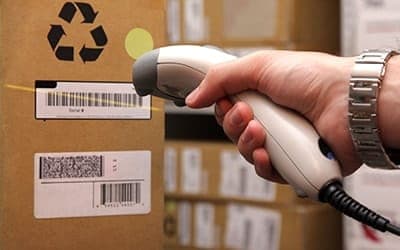 As covered above, scanners can read a product's unique barcode and transfer all the related information about that product into your POS system. That data then gets pushed through to your customer relationship management (CRM) solution.
If you don't use a CRM, that data can be sent to another database that you use to track your customers' behavior, buying patterns, interests, etc.
In the background, the scanner is doing tons of work automatically. This frees you and your employees from having to manually complete this work—such as data entry, for example.
On the visible surface, the scanner simply scans a barcode or QR code and then pulls all related product information onto a checkout screen. That data is then processed by an employee who receives payment for the items scanned.
But, remember, there is a great load of work the scanner is doing in the background that we don't readily see on the surface. For example, it can simultaneously append new purchase information to that specific consumer's profile in your prospect and customer database.
The purpose of a scanner is to improve data accuracy and automate manual processes so that you can focus your time on more important, revenue-driving tasks.
How Much Will My Scanner Choice Really Matter?
Quite a bit, as a matter of fact. Businesses with a large volume of customers need to process many purchases as quickly as possible.
If you have a high volume of customers in your physical store, the best bet for you may be a presentation-style scanner.
Why? Because they are the most adept at reading codes from various angles and distances and will expedite the checkout process for all your customers.
High-volume demand necessitates the need for rapid, high-volume payment processing. Presentation-style scanners will provide that better than any other option mentioned above.
Which Scanner is Right for Me? Defining Your Needs.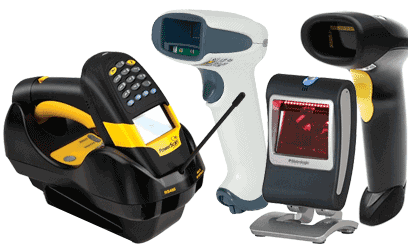 Again, the answer to this question entirely depends on your business model and the products you sell.
As mentioned above, if you are processing a large volume of products in a short time, the presentation-style scanner is likely your best option because it reads codes (bent, broken, or otherwise) with more ease than other models.
This means your staff can process more transactions in less time. This equates to a better customer experience and higher customer satisfaction rates.
If your business is fairly basic and sells only a few items, a simple 1D scanner could work for you. If you sell more products but still maintain a simple operation, a basic 2D scanner could be all you need.
But, if you're growing and want to pave the path forward for future selling, a presentation-style scanner is probably your best choice.
What About Price?
Again, we'll hark back to the information presented above.
If you run a simple business with little need for an advanced scanner, a basic, 1D scanner could be all you require. One can be purchased for a few hundred dollars or less.
When taking a step up to the top, you will find yourself shelling out $200 to $300 or more for a 2D scanner. Best-in-class presentation-style scanners can run as high as $1,000 or more but are well worth the investment.
Please keep in mind, if you do have the need for a more advanced scanner, you'd be doing yourself a disservice by purchasing a cheap scanner with limited capabilities.
Businesses with the need for more advanced technology will easily pay for the investment in top-notch technology. This makes the decision-making process a no-brainer—simply purchase the scanner that aligns with your business needs.
And always consider your future growth objectives and scaling plan when selecting any type of technology, including barcode scanners.
Bonus: Improve Customer Satisfaction with Data from Barcode Scanning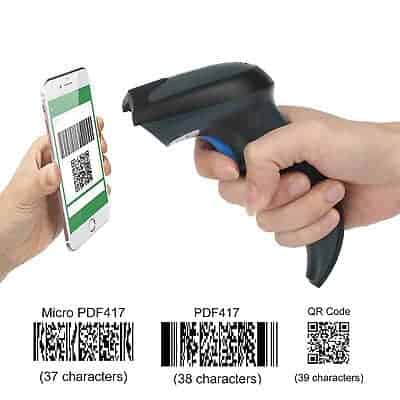 You want satisfied customers, waltzing through the best customer experience possible. You want to minimize the amount of effort they must commit to each interaction with your business.
That's measured with a metric called Customer Effort Score. If you're not familiar with it, read about it here. It can and should be used, along with other customer satisfaction measurements like CSAT and NPS. These measurements provide cold, hard data with which to make informed decisions about how you move forward and grow as a company.
But first and foremost, select the barcode scanner that meets your needs and those of your customers, and take it from there. With that approach, you're much more likely to meet your goals, maintain satisfied customers, and grow revenue sustainably over the long term.
Ready to Buy Barcode Scanners for Your Business?
The scanner that will serve you and your business the best will be the one that most closely aligns with your business model, business needs, client base's tendencies and preferences, and more.
This article provides some critically important information to get you started on your journey to selecting the right barcode scanner for your business.
Additional variables will also come into play. Do you need mobile access to your scanner? I.e., do you plan to use a tablet or mobile phone to complement your scanner?
Features like that are readily available if you need them. But first things first: define your needs and those of your customers, evaluate your options.
Select the technology that will make the checkout process easier for your customers and your staff.
The following two tabs change content below.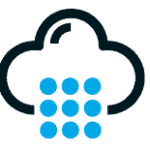 The staff at POSQuote.com is composed of industry professionals, experts, and current business owners. Through extensive research, we compile buyer's guides and review the best POS systems in the industry.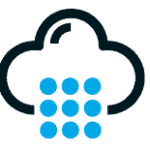 Latest posts by POS Quote Team (see all)