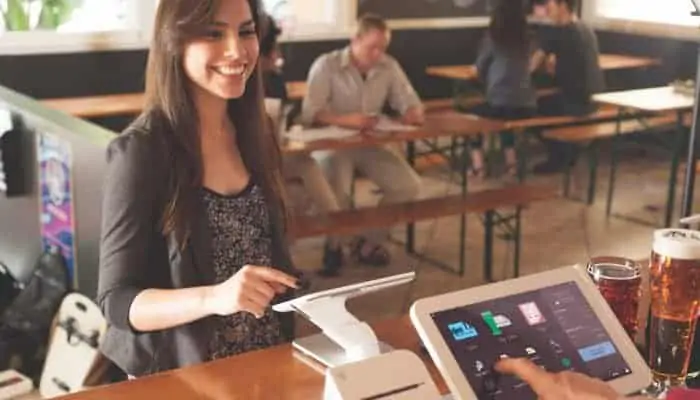 Running a deli business, just like any other quick-service business, can be very challenging. Most commonly, you'll have to deal with low stock of popular products, a surplus of items that don't sell, outdated product pricing, and long lines.
By using a deli POS system, you can greatly improve the shopping experience and maintain a loyal base of returning customers. Deli software can be integrated with customer-facing displays, electronic scales for weighing food items, and an electronic ticketing system.
With the deli industry reaching $206b in 2020, this sector is expected to double by 2024 (Source). With such large demand, any serious deli business owner must use a deli management system to ensure the most profitable operation.  
After comparing and testing various POS systems, we found that Revel is the best deli POS system for large businesses, while Loyverse is a better choice for smaller operations.
In this guide, we'll review top-rated deli POS systems that help you manage inventory, payroll, and sales tax reporting. These cloud-based systems will save you time and money, allowing you to focus on improving your business.
The Best Deli POS Systems
| System | Starting Software Costs | Hardware Costs | Key Features |
| --- | --- | --- | --- |
| | $99/month per terminal | Onboarding and installation start at $649 | The first ever POS system for iPad |
| | Free for basic plan, add-ons start at $5/month | $0 | Feature-rich back office that is accessible from any internet-enabled device |
| | Starts at $29/month | $0 | Can run on Android, iOS and even Windows devices |
| | $79 for single license | Additional hardware available at various costs | Beer-centric integrations with brewery management strategies |
1. The Best Deli POS System Overall: Revel Systems


Revel Systems offers you the POS system you need to speed through the busy lunch hours in your deli. The solutions are essentially designed to help your staff ring up sales, including the weight-based ones, faster and handle high-volume orders. For enhanced customization, this solution features menu modifiers and sandwich customization tools.
The advanced inventory management tools of the software will make it possible for you to track each sandwich topping. It also integrates employee management capabilities for easier payroll and schedule management. In addition to these, Revel Systems deli POS system has many other industry-specific features to offer your business, including:
Check out Tools
Speed up the checkout process in your deli with the innovative register capabilities offered by Revel Systems. To help you mitigate long lines, the register on this system is loaded with convenience and ease-of-use features. For instance, be relatively easy for the staff to search for items in the inventory and hold transactions.
The provider allows you to integrate self-service Kiosks and mobile ordering options to the POS system. These are not only more convenient for the customers to place their orders, but also simplify payment processing. Again, the system supports POS scale integrations to simplify the sale of weight-based items.
Inventory Management
Streamlined deli inventory operations are known to simplify business management for deli owners. In this regard, Revel offers you an assortment of deli-specific inventory management tools. With this software in your business, you will be automatically updated on inventory levels, up to the ingredient level, in real-time.
The software also features capabilities that help deli owners monitor and prevent inventory wastage or theft. In addition to its low stock level alerts, you will also like the fact that the system can automate the generation of purchase orders.
Revel Systems POS Downsides
The provider does not have clearly set out prices for the POS solution on its official website. Again, you will be required to invite additional costs to get important capabilities like open API.
Get A Free Quote
2. The Best Free Deli POS and Inventory Manager: Loyverse


Loyverse deli POS system offers you smart and precise management capabilities right from your Smartphone or tablet. The POS software, on the other hand, delivers faster payment processing speed for enhanced profitability. The solution will also help you visualize sales and get valuable insights through its analytic tools.
The system has also been proven to be effective at managing employees and the Inventory. According to its current users, the software helps keep customers engaged while encouraging them to spend even more.
Best DELI POS
With Loyverse, you can manage your deli business with smart management capabilities. You can make sales and track inventory, as well as see sales analytics and customer loyalty reports. The software also lets you organize your employees and control their timecards, shifts, and rights. It integrates with multiple food delivery services, making it easy to accept orders from customers. It is compatible with iOS and Android devices. Loyverse is a free solution for smaller establishments like coffee shops and delis, but you can also pay for advanced features, such as purchase orders, valuation reports, and stock management.
Whether you have a small bakery, coffee shop, or diner, the Loyverse software is designed to help you build and maintain relationships with your customers. The software can be operated right on your mobile phone, and it comes with an integrated loyalty program that tracks the purchases of your customers and gives rewards based on their preference. You can also use Loyverse to create and send coupons or vouchers for discounts on your products and services.
Unlike most point of sale systems, Loyverse isn't attached to a single credit card processing company. Instead, it supports a variety of global payment processing apps, such as SumUp and Worldpay in the US and Zettle in many other countries. This feature allows you to avoid third-party fees, saving you money on transaction costs. It also allows you to process $5,000 or more per month without paying a fee, which is perfect for businesses that are growing quickly.
Other features you will come to like about this system include:
Feature-rich Back Office
The provider offers a browser-based back office that has all the features a manager or deli owner may need. This management platform is always in sync with the deli POS system installed in your business. This being the case, you will be able to access the back office from almost any internet-enabled device.
From the Loyverse Back Office, you will get an overview of the best-selling items and transaction history. Again, the solution makes it relatively easy for you to analyze sales in your deli. The platform is also equipped with employee management tools to boost its overall performance. Finally, the solution allows you to manage multiple business locations with a single account.
Loyverse Dashboard
As opposed to the Loyverse Back Office, Dashboard is a complementary app by the provider. With this app installed in your mobile device, you will have instant access to real-time inventory and sales analytic data any time you need it.
The dashboard makes it even more convenient for deli owners to view such things as average sales, revenue, best selling items, stock levels, and profits remotely. The dashboard will also alert you whenever any of the items or ingredients in stock is running out.
Loyverse POS System Downsides
The provider offers limited card processing capabilities and the software does not support integrations.
Get A Free Quote
3. The Best Platform Agnostic POS System: Poster POS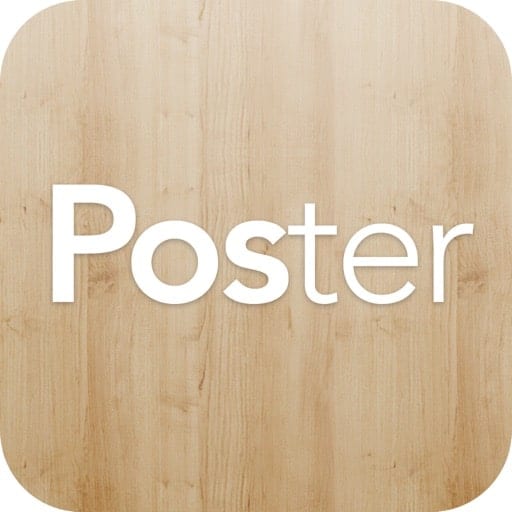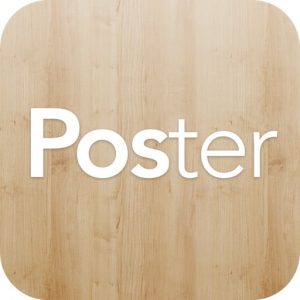 Unlike most of the leading delicatessen POS systems, Poster POS can run on Android, iOS and even Windows devices. While it is one o the most affordable solutions in the hospitality industry, it offers a unique blend of useful and highly beneficial features. For instance, the system features stock and financial control tools in an intuitive POS package.
You will also like the customizable bonuses, discounts and promotion capabilities offered by the system. Like many other deli owners, there are other capabilities you will come to like about the Poster deli POS system:
Marketing Tools
Poster POS is renowned for its powerful set of restaurant and café marketing Tools. In addition to promoting your deli, this solution will also help you reward customers for their loyalty through its 3 loyalty program choices. In this regard, you will be allowed to use the manual discount, points-based or discount-based loyalty programs.
Additionally, the solution makes it rather easy for you to export or import your deli list if customers. By so doing. Poster POS allows you to connect with your preferred third-party service for both SMS and email marketing.
Menu Management
With Poster POS system, managing your deli menu or catalog will be easier and straightforward. Following the installation of this POS system, you will find it relatively easy to add items to the menu. For easier management of the menu, the system features several categories, including Ingredients, Products, Preparations, and Dishes.
With Poster POS, you will also find it easy to sell weight-based items. As soon as your staff enters a weighted product at the register, the system will prompt for its weight. At this point, the staff member may either add the weight manually or scan the barcode on the product.
With this system, you will be able to set different prices for the same product in different business locations.
Poster POS System Downsides
Despite having Open API capabilities, this software is capable of integrating with only a few third-party applications.
Get A Free Quote
4. The Best Cloud-Based Delicatessen POS System: Rezku POS


As some of the best deli POS systems in the market, Rezku offers you the convenience of monitoring and managing the business remotely. Wherever you are, whatever time it is, Rezku will give you a complete overview of the business. Additionally, it will equip you with the tools you need to manage the important aspects of the business from almost any device.
Choosing your POS is a major business decision. One of our experts will contact you promptly to make sure rezku is the right fit for your restaurant.
Cloud Based – Your Business Can Be Managed Remotely
All the data and functionality of your restaurant's POS system is stored on the cloud so it can be easily accessed from any internet connected device. This allows managers and owners to view sales, labor reports, and other important data from any place in the world where there is an internet connection.
In addition, it also gives you the power to update your menus, promotions, pricing and other settings from any location where you can connect to the internet. All the information from your POS is stored securely in the cloud so it's easy to make changes anywhere on your mobile device.
Important Tools That Will Aid Managing Your Business
Using Back Office, you can add and delete users, set their role (permission level) and secret PIN, and view a log of employee time cards. The cash drawer can also be managed here – adding or removing money, setting an order as tax exempt and more. You can even assign high-trust employees additional permissions without giving them manager rights. In addition, Rezku offers both online "egift cards" and physical full-color gift cards that can be redeemed in your restaurant using the same process as paying with credit or debit. Rezku uses Ingenico PDQ card readers for fast and reliable EMV and PCI compliant payments.
You will also like the convenience of getting real-time reports and analytics over the cloud by this device. Here are several things that make this system stand out from the rest.
Easy Management
Whether you are on-site or away from the deli, Rezku offers to the important management capabilities to keep the business running efficiently. For instance, the labor and sales dashboards on the POS system make it easier for you to manage as well as monitor and improve profit margins.
The system also allows you to undertake essential labor management tasks, such as editing time cards, on the go.
Remote Access
Most deli owner can attest that managing their businesses over the cloud is both convenient and fun. As a matter of fact, you do not need to be physically present at each of your business locations for things to run smoothly. To help you achieve this, POS offers you a feature-rich back office suite. All you need to access real-time reports and manage the business is an internet-enabled device.
Rezku POS System Downsides
The software only supports a few integrations. Again, its reporting capabilities are rather limited.
Get A Free Quote
Things You Need to Know Before Choosing a Deli POS System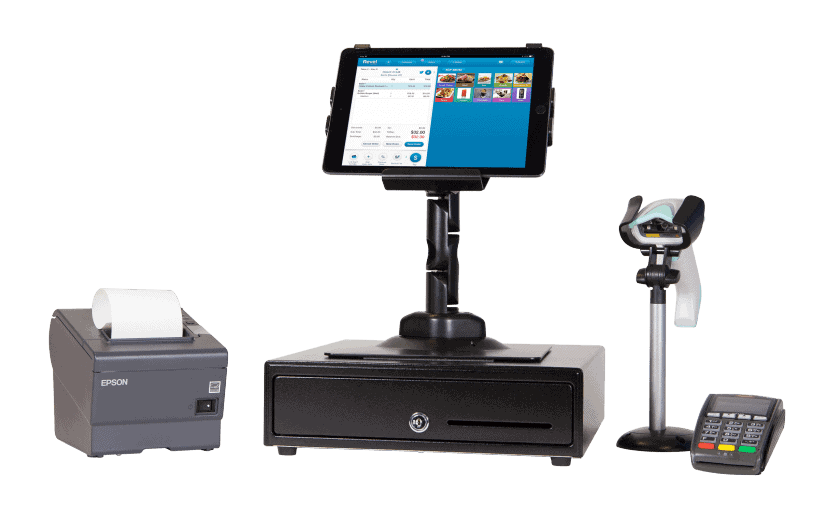 You may be offering tender rotisserie chicken, big sandwiches, and scrumptious potato, but your deli sales are still low. A Deli POS system may be the only thing you need to visit productivity and profit margins as well as grow the business.
Based on statistical findings, increasing Americans are currently spending on eat outs than they are spending on the grocery.
Unlike other types of restaurants, delis are known to have unique POS needs. Therefore, it is advisable to go for an industry-specific deli POS system as opposed to a standard retail solution. Again, you should not opt for a POS system just because it is feature-rich.
Instead, you should look for functionality that addresses concerns that are specific to sandwich shops and delis.
If you are shopping for the best deli POS system, consider these factors.
Food / Inventory Control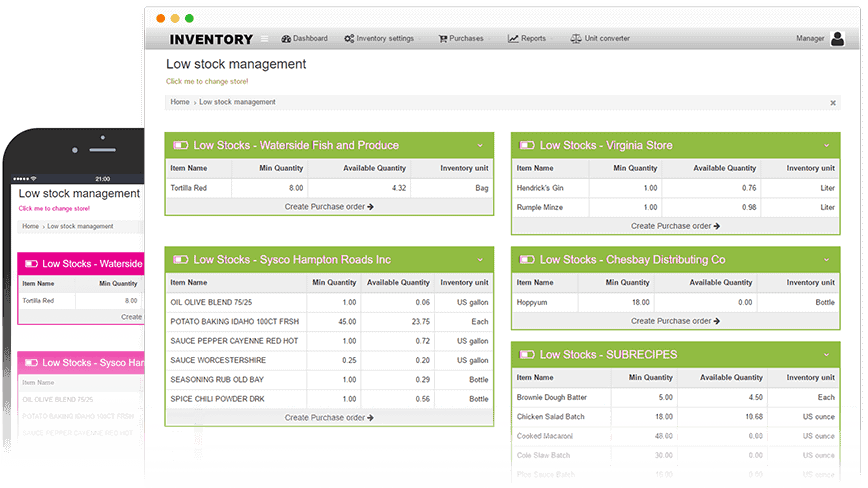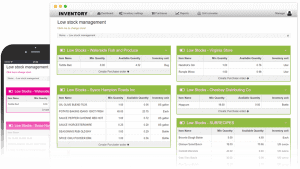 The solution you get should make it easy for you to monitor the inventory, which mostly comprises of food items and ingredients. As such, the system should be capable of tracking inventory down to the ingredient level. Again, the right solution should have the right tools for tracking profitability and costs.
In order to optimize your deli inventory, you need to know what sells and what does not in each of your business locations. This will, in turn, help you stick the right amount of each inventory item for optimal profitability.
Other Inventory management capabilities you should consider having in your deli include:
Recipe Costing – Controlling the cost of food in your deli is very important, as far as improved profit margins are concerned. The system you choose should allow you to tailor the menu in such a way that the perceived menu item value is more than the cost of ingredients. Recipe Costing lets you know the exact raw material cost that goes into the preparation of each dish.
Portioning – Your preferred POS stem should allow you to track ingredients in the lunch counter. This will enable you to carry out ingredient auditing and regulate portioning to boost profitability.
Waste Control – The best delicatessen POS system should be capable of scanning the inventory to identify any wastes/ theft you may be incurring.
Combos and Bundled Items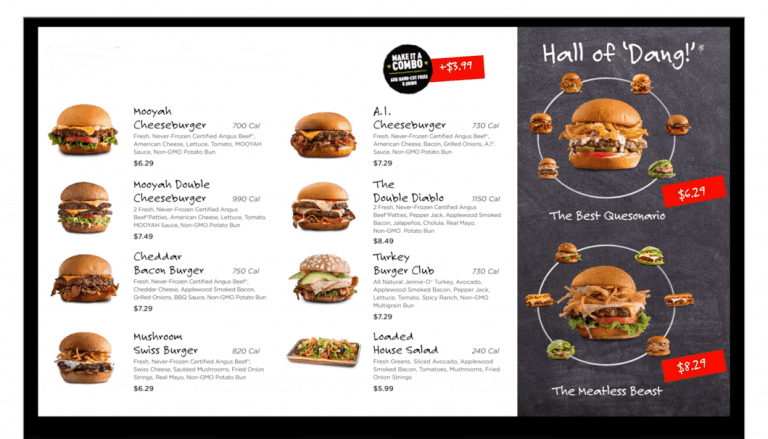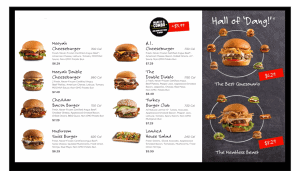 Most of the leading delis are already offering their customers food combos. If you offer the same, you need to get a POS solution that supports this functionality. In this regard, the deli menu should offer you the flexibility of creating bundled items as you see fit. Grouping items that are often bought together is known to boost customer loyalty.
Again, bundled products have been proven to speed up ordering and checkout processes in delis. With bundled items, the customer only needs to select once to place an order, hence saving a considerable amount of time.
Swift Payments
For enhanced profitability, you will need to turn tables faster in your deli. In addition to mobile POS and self-service Kiosk functionality, the system should be able to process payments faster.
Restaurant customers do not like waiting in lines to place their orders or make payments. As such, a POS system that can take orders and process orders fast will definitely improve customer satisfaction.
The payment processing system should also accept all the major forms of payment, including check, cash, credit and debit card, as well as EMV payments. Again, the system you choose should support mobile payments as well.
Offline Capability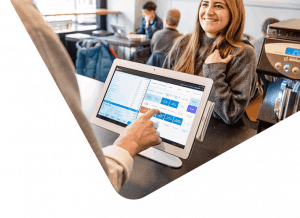 Deli POS systems that do not have an offline mode will not be able to process payments whenever there is an internet outage. In some systems, even slow internet may crumble operations in your business.
Such a scenario is an embarrassment for the business, especially on busy days. This is precisely why you need to get a POS that will continue to work during internet outages.
Flexible Tax Configuration
As you may be aware, tax laws are rather complicated and vary from one state and business to another. As such, your preferred POS system should be flexible enough for you to add and alter tax rates in accordance with the laws. The system should also be capable of implementing the present tax rates automatically at the checkout.
Final Verdict
Most of the businesses in the hospitality industry, including delis, have distinct POS requirements. Basically, you will need to turn tables faster, curb long lines, boost employee performance and profit margins as well as monitor inventory levels—up to the ingredient level.
Just as is the case with the four POS solutions reviewed above, you need a system that is specifically designed for a Deli. Whether you just own a startup business or an established deli, this guide will help you choose the best deli POS system.