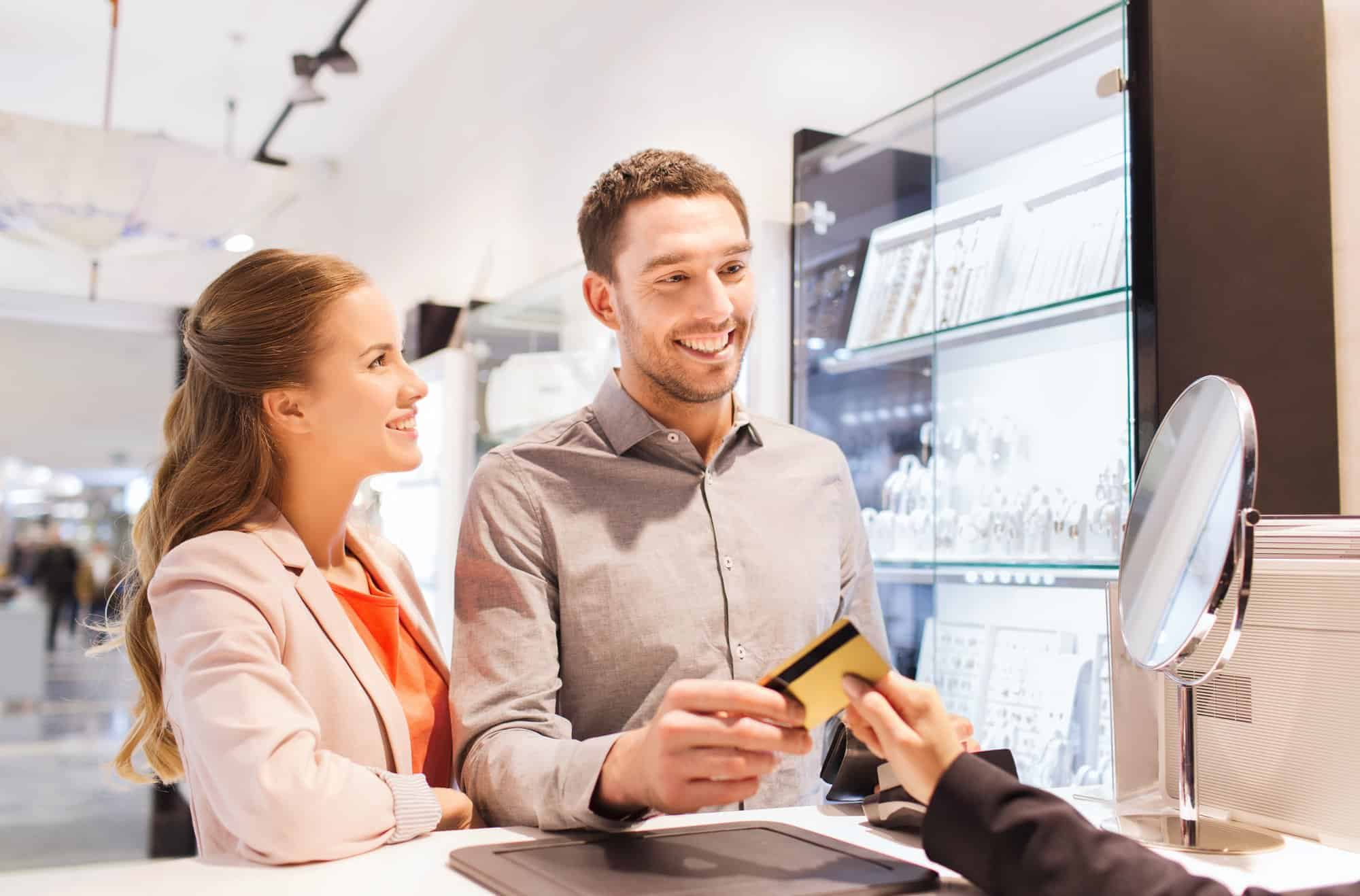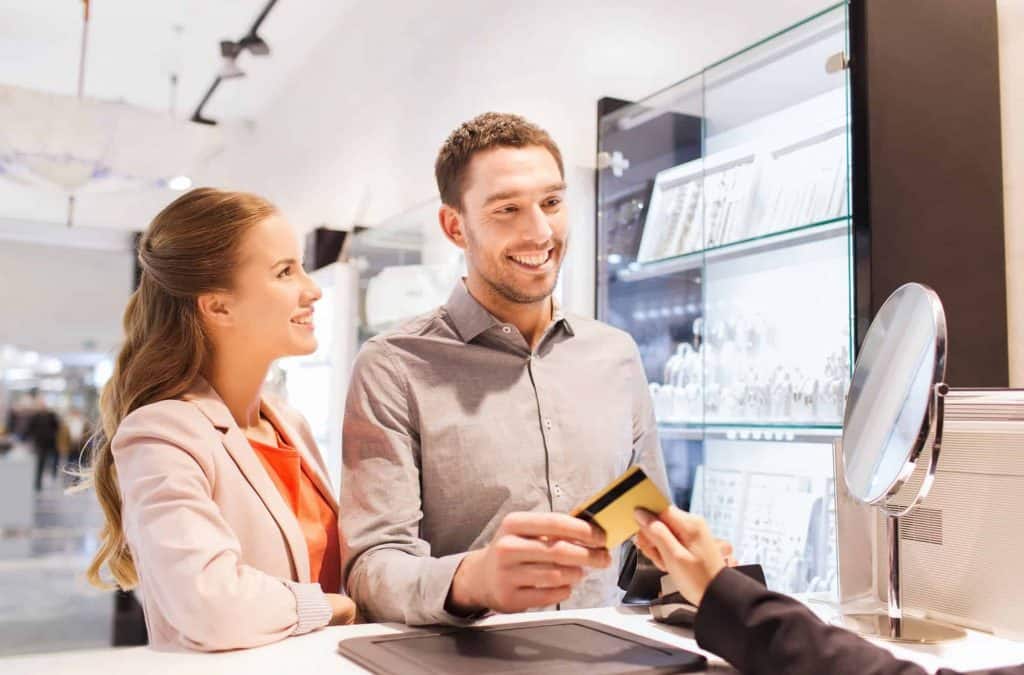 Jewelry stores are among the most unique retail businesses. The value of their merchandise is exponentially higher than that of other retailers. Their needs, operating practices, and challenges are all unique.
Most jewelers need an industry-specific point of sale system. Jewelers need more than standard retail POS features. More importantly, they need features from jewelry software like ERP integration and the ability to create custom orders.
However, Many jewelers still use manual processes that expose them to expensive risks. From employee theft to inaccurate orders, not using the right POS software leaves you exposed. But exactly which POS system you get can also affect your bottom line.
After extensive research, we've determined that PIRO is the best POS system for jewelry stores. Unlike its competitors, PIRO is the only software that can automate every part of your jewelry business. This includes tracking customers, entering orders, generating barcodes, and other workflows. What's more, PIRO's software offers the most in-depth inventory management solution in the industry.
Before settling on a system, consider which features are important to you. This includes the manufacturing process, system mobility, and repairs management features. Let's explore the various jewelry software options and which point of sale system is right for your business.
The Best Jewelry Store POS Systems
PIRO: Best Jewelry Store POS System
ChainDrive Jewelry: Best for Tracking Custom Jewelry
The Edge: Best POS System for Independent Jewelers
Lightspeed Retail: Best for Multi-Location Jewelry Stores
Vend: Best POS for Small Jewelry Stores
Comparing Our Top Software Picks
System
Starting Software Costs
Hardware Costs
Key Features

Starts at $99/month/store
Pricing varies per component piece
Comprehensive order tracking, production and workflow optimization, seamless ERP integrations

Quote based
Quote based
Excels at custom jewelry production and management

Starting at $4,600 for 1 store and 1 workstation (one-time payment)
Tag Printer: $500
Barcode SCanner: $200
Imaging System: $215
Excels at inventory management

Starts at $59/month
Additional terminals are $34/month
Great back-end reporting and forecasting, a la carte pricing options available

Plans start at $99/month for 1 register
Plans start at $99/month for 1 register
Open platform
for easy multi-store management
1. PIRO: Best Overall Jewelry POS System

PIRO is unique in that it serves every type of jewelry shop and related jewelry business there is. From manufacturers and casting companies to wholesalers, repair shops, and retailers, PIRO's jewelry point of sale delivers it all.
Plus, from taking orders to production tracking, and order delivery, PIRO provides end-to-end jewelry store automation. That is in addition to standard retail POS features that are essential to jewelry stores such as inventory management.
PIRO is the best overall POS system for jewellry shops
Whether you're running an independent jewellery store or part of a larger manufacturer-owned retail location, PIRO provides a comprehensive point of sale solution that integrates sales and manufacturing processes. This is rare among POS systems, and enables users to manage all customer and product information in one place for impressive efficiency and transparency.
Standard retail POS features for jewelry stores
PIRO's point of sale software offers standard retail POS functionality, including product catalogs and inventory management. It also features a powerful CRM function that helps you track and manage customer relationships.
Orders & shipping
Taking and managing orders is easy with PIRO's order management feature. It automatically generates a bill of sale, and lets you keep track of which items have been invoiced. This way, you can make changes as needed.
Order tracking and fulfillment
The system keeps track of all the items that need to be produced for each job order, including materials and metals used. It also tells you when the piece needs to be ready for shipping, and can create packing lists. This is an invaluable tool for custom work and avoids disputes over who owns a piece once it's delivered to the customer.
Color management and quality control
PIRO's color management and quality control functions are useful for businesses that manufacture both apparel and non-apparel products. The system eliminates human errors in color production by storing all the relevant data online and automating color management processes for better efficiency.
Intuitive Front End, Powerful Back End
PIRO keeps most of the settings and other configuration capabilities in the backend for administrator use. This declutters the front-end making it extremely user-friendly. Most setting adjustments aren't made on the front end, so this is an intelligent feature that adds significant value.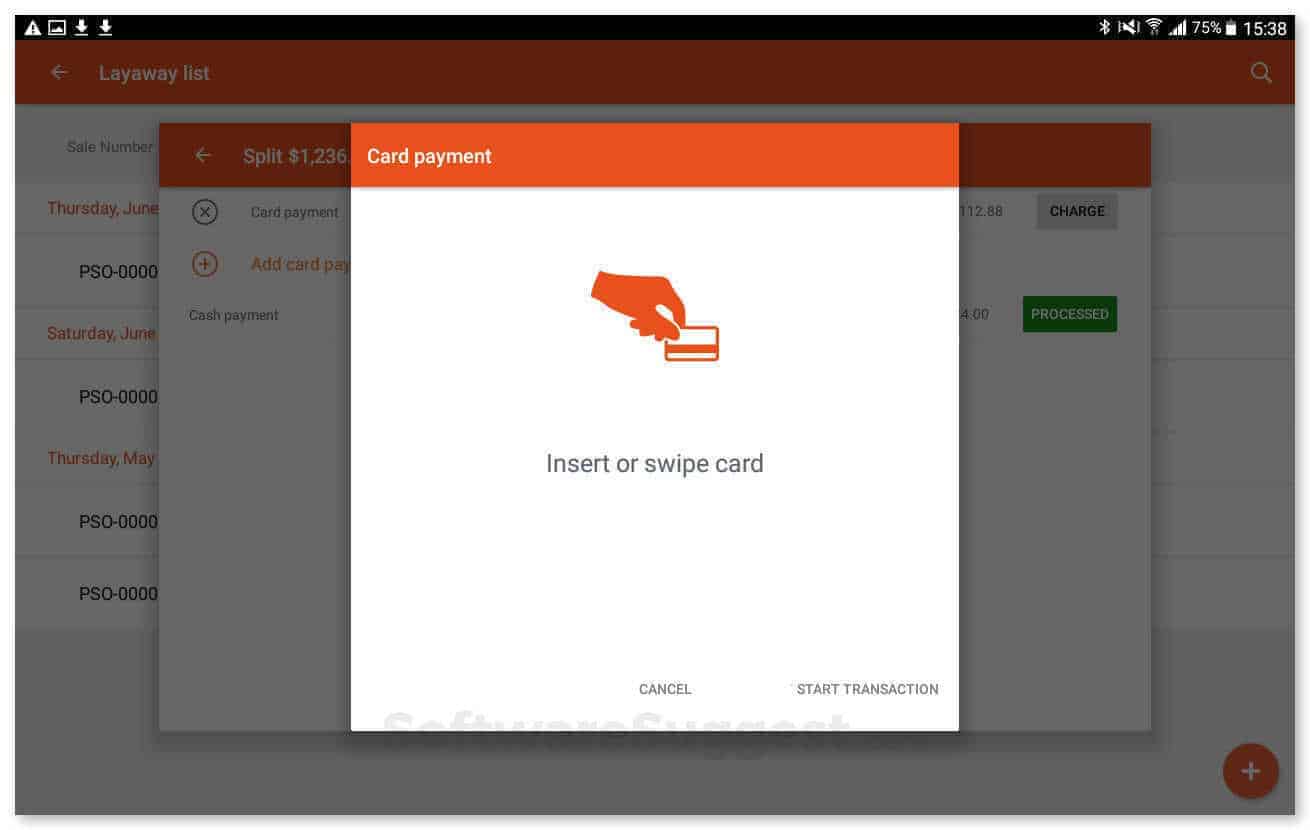 Comprehensive Order Tracking
PIRO provides end-to-end tracking capabilities, supporting the entire process from order taking to invoicing and order delivery. Users can track the progress of regular or special orders at every step of manufacturing and production. Automated notifications alert customers once their order is ready for pickup.
Production and Workflow Optimization
Built-in, efficiency-optimized workflows streamline and facilitate the management of new item production. The system is even built to automate casting management and shipping.
Mobility and Flexibility
PIRO's tablet-based, mobile POS system allows users to take the system with them to make home deliveries to high-value customers. Jewelry store owners can take the system to trade shows and other events where there is a demand for their products.
Seamless ERP Integration
ERPs track the raw materials that go into creating new jewelry. From gold of varying carats to precious stones, jewelers have a lot to monitor and ERPs do this for them.
PIRO produces its own ERP solution, which seamlessly integrates with PIRO's jewelry management POS system. Order information is automatically transferred between the two.
Integrated Sales and Manufacturing
Users manage the entire sales, manufacturing, and customer management process from a single platform. This makes PIRO one of the only POS systems that integrate sales and manufacturing for maximum transparency and efficiency.
Get A Free Quote
2. ChainDrive Jewelry: Best for Tracking Custom Jewelry

While PIRO is built specifically for jewelry stores, ChainDrive caters to a variety of retail businesses. However, it delivers a jewelry store-specific POS system that holds its own against the competition. It particularly excels at custom jewelry production and management.
Custom Order Management and Manufacturing
Many customers request custom work and ChainDrive streamlines the entire process while tracking progress along the way. The system also provides preset jewelry templates that you populate with the design attributes and materials to be used.
The system tells you whether or not you have the materials needed in stock. Any materials you use are subtracted from existing inventory levels. This automation saves time and leads to faster, higher-quality custom work as well as higher customer satisfaction levels.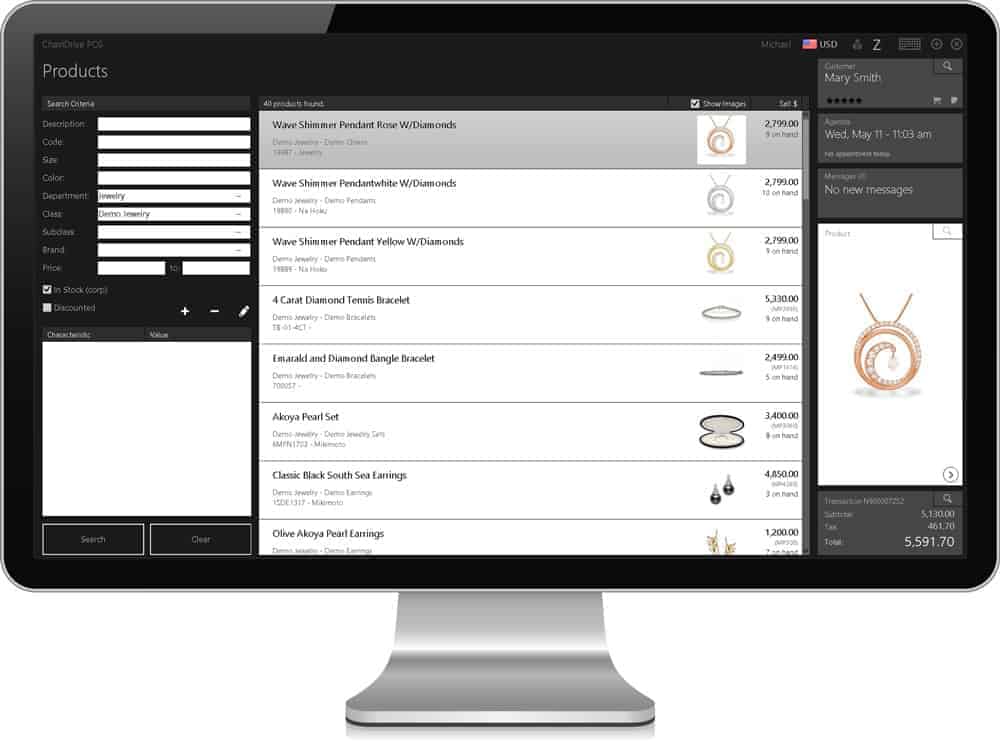 Advanced Appraisal Capabilities
When someone drops a piece off with you for appraisal, the system creates a record of it. You can add a photo and other attributes, then print the record and hand it to the customer upon dropoff.
This avoids disputes around what is whose, or the condition of the piece when its owner comes to collect it.
Integrated Accounting Features
Accounting is extremely important for a jewelry store. ChainDrive delivers accurate, reliable accounting features. Streamlined accounting workflows save time while accounting accuracy ensures your books are always up to date and no inventory goes missing.
Mobile POS
Users can take ChainDrive with them wherever they want with mobile POS capabilities. Selling your offerings at trade shows and other off-site events is a breeze with ChainDrive's tablet-based mobile POS system.
Fully Integrated ERP
ChainDrive delivers a built-in, fully integrated EPR in its jewelry store management system. Above, we mentioned that jewelry stores need ERPs integrated with their POS systems.
Below, in our buyer's guide, we elaborate more on the importance of having an ERP to support your POS system, and vice versa.
Get A Free Quote
3. The Edge: Best POS System for Independent Jewelers

The Edge has been around since 2004 and boasts its holistic approach to jewelry store management. It's a favorite of independent jewelers but is used by various types of jewelry stores. It delivers a broad feature set, but its primary differentiators are its robust reporting and management capabilities.
Inventory Management
Small jewelry retailers don't have time to manually count and track inventory against each sale. Luckily, this jewelry software excels at inventory management, allowing you to manage inventory levels by vendor or jewelry style.
Plus, its rapid reordering system lets you maintain insight into inventory levels and quickly order new stock when high-demand items are running low.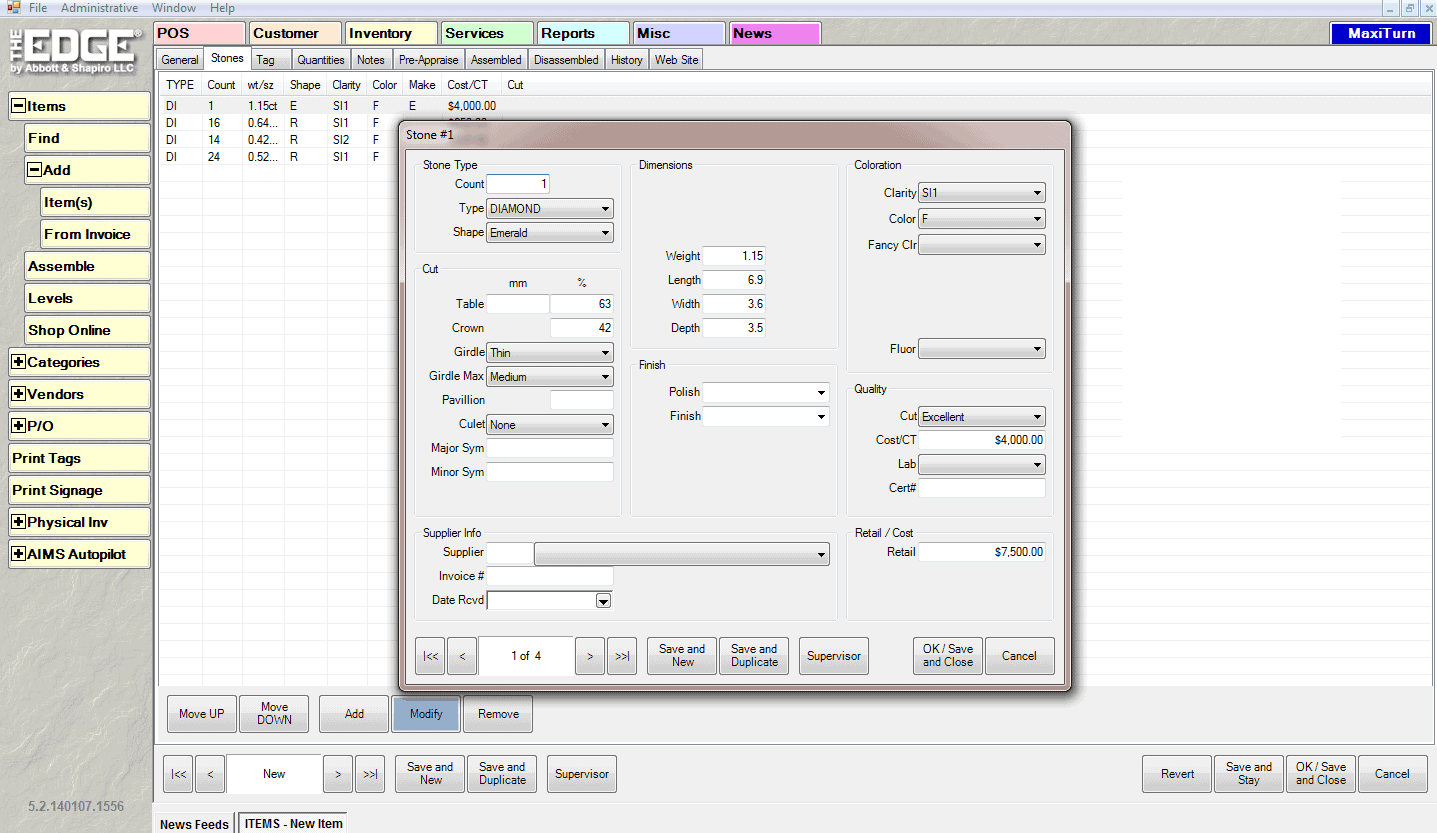 Robust Reporting
Run automated reports around virtually any metric you want to measure. Report on your busiest hours, sales growth, returns, inventory performance, daily activity, employee commission, staff attendance, and more. Plus, you can set up custom reports that align with your store's internal processes and save them. Then, run them again and again as needed.
Customer Management and Marketing
Develop detailed customer profiles with data around customer buying trends, preferences, and more. Use these insights to run targeted marketing campaigns. Personalize those campaigns with built-in marketing segmentation and outreach capabilities.
Custom Jobs and Repairs
Take custom jobs with features that specify necessary parts, track labor, and raft tailored pieces aligned with your desired specifications. Scannable repair barcodes let you track repairs from receipt to completion. System functionality lets you get as detailed as you want and tracks every step of the process.
One Drawback
The Edge is a locally installed solution that requires you to keep a server on-site to store your business performance data. Because it's not a mobile POS system, you can't take it with you to events, access it from home, etc.
Get A Free Quote

Lightspeed Retail is first and foremost a retail point of sale system, which means they focus on customer retention and gift cards. While it is not developed specifically for jewelry stores, smaller operations can benefit from the system. If you're selling high-end items that require production tracking, this system may not be for you.
Lightspeed Retail is ideal for jewelry shops with multi locations and offers a range of features to help you manage your inventory, sales and POS. It is easy to use and provides comprehensive reporting dashboards that will help you get the most out of your system.
The e-commerce module of Lightspeed Retail is a great option for retailers looking to boost online sales. It allows you to set up a site and manage orders, inventory, customer data, and reports across your physical and digital locations.
Unlike many other ecommerce platforms, Lightspeed includes a full suite of social media marketing tools. It includes an Instagram feature that helps you tag products, build brand loyalty and increase your visibility among consumers.
Gift cards and omnichannel retail are also included in the platform, allowing customers to purchase their favorite items on any device, from any location. In addition, it offers a loyalty program that can be customized to suit your business.
A variety of reports can be used to track customer spending and send targeted offers based on what the customer has bought. This can help you turn one-time shoppers into repeat customers.
Age Verification is another tool in the Lightspeed platform that helps you ensure your sales are safe for customers. When a customer enters their ID, a verification process is performed and any items that are not a good fit for them will be removed from the sale.
It is however not ideal for shops selling highend products. It can be confusing for customers and may cause a loss of revenue. Nevertheless, it will work well for general small jewelry shops.
It does excel at all things retail and has solid multiple location features, making it a good choice for jewelry chain stores that simply receive boxes of stock and put items on the shelf. For that type of business, Lightspeed is an affordable, reliable option.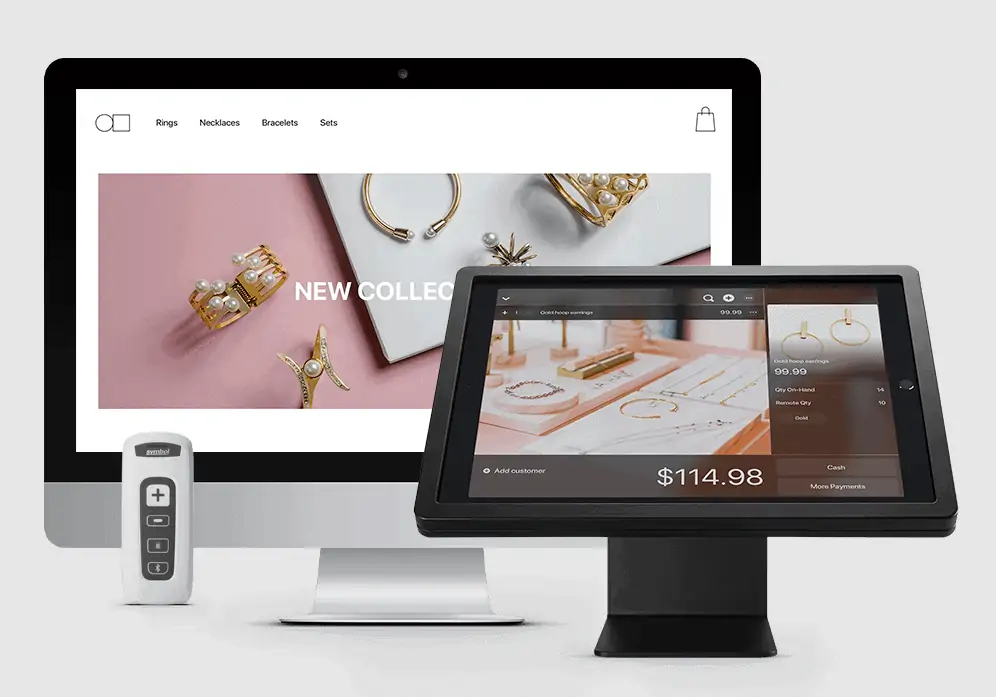 Multi-Location Management
The ability to manage various locations from a single system is a boon for business owners who run various storefronts. Lightspeed makes this a simple process with its multi-location management features.
Special Order Capabilities
When a customer visits your store requesting an item you don't carry, Lightspeed solves the problem. Its special order feature allows you to order items you don't normally order with a few clicks of the mouse.  This keeps customers satisfied and returning for more.
Repairs Management
Although Lightspeed doesn't include a wealth of jewelry store-specific features, one important one it does include is repairs management. You can schedule repairs, track progress, automatically update customers when their item is ready for pickup, and more.
Add-Ons
Although the following features are fee-based add-ons, they are quite handy for jewelry stores.
Lightspeed eCom
The broader your reach, the more potential costumes you touch. Lightspeed's eCom add-on allows jewelry retail stores to put their offerings in front of an exponentially larger audience.
Lightspeed Analytics
Increase your visibility into important metrics with Lightspeed Analytics. This add-on empowers jewelry stores to maintain better insight into sales trends and make smarter, data-driven decisions.
Lightspeed Payments
This add-on lets users integrate payment processing hardware with their POS system. It's a bit disappointing that this is a fee-based add-on because it should be considered table stakes at this point for any POS system. Nevertheless, we wanted to include it to ensure we covered all available add-ons.
Get A Free Quote
5. Vend: Best for Small Jewelry Stores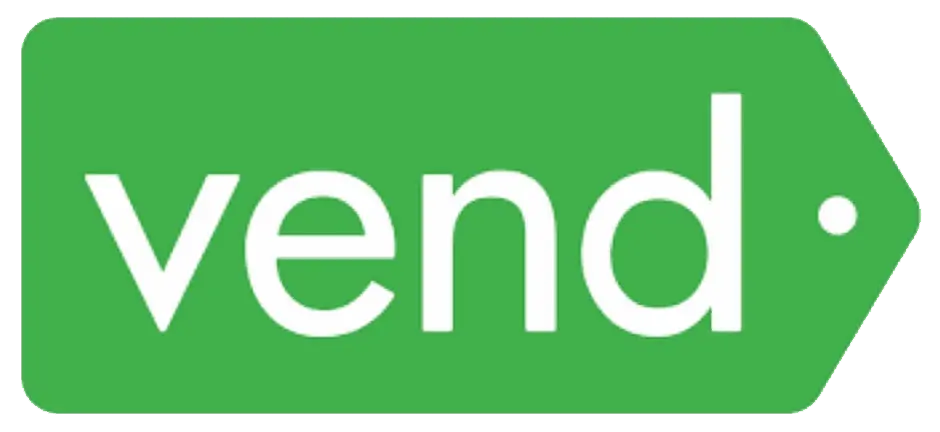 Vend is a household name in the POS space. This jewelry point of sale company offers a host of retail-oriented point of sale systems tailored to various industries, including jewelry stores. Vend is best suited to small, fast-paced, simple retailers that sell pre-fabricated or handmade, craft jewelry.
It lacks key features that more diverse jewelers require such as repairs tracking, custom order management, casting management, and appraisals. In short, it won't support jewelers who deal in diamonds and precious gems. But it will support high-volume jewelry stores selling handmade, craft jewelry.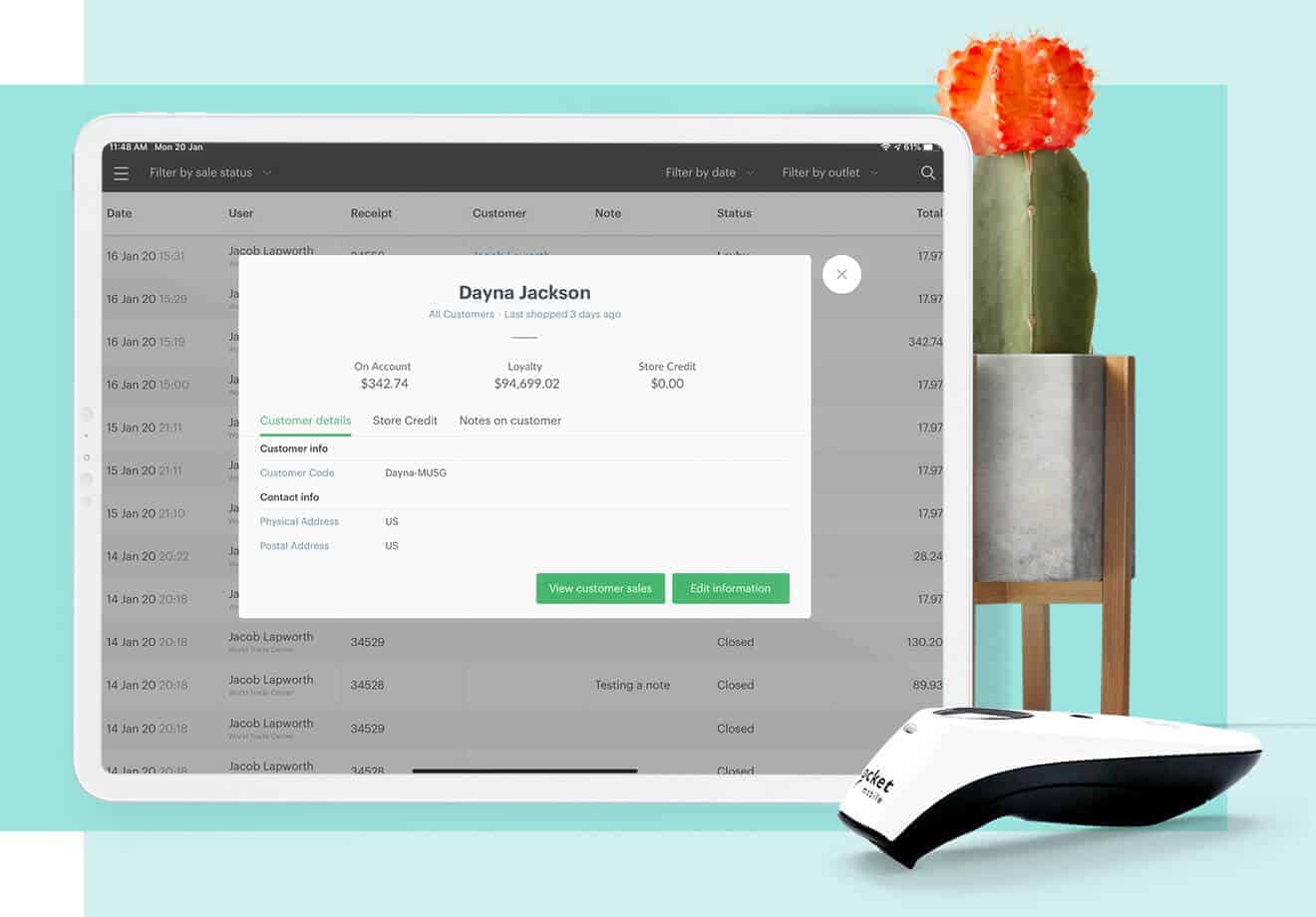 Where it does excel is in inventory management, system speed, ease of use, and integrations. Also, multi-store functionality, employee management, and other important retail features we'll cover below.
Inventory Management
As with any retail store, jewelry stores must keep a close eye on inventory. Even handmade, craft jewelry can be quite expensive, and you don't want it wandering off. Vend's inventory management capabilities are robust and a strong selling point for all its point of sale systems.
Vend even offers users extra amenities like downloadable templates for jewelry inventory management, indicating that it is indeed a system best suited for smaller craft jewelry stores, not those that deal in diamonds and pearls.
Mobile Access
For those jewelers who carry their wares to craft shows, trade shows, fairs, and other events, Vend is perfect. The handmade craft jeweler falls directly into this category. The tablet-based POS system is compact enough to stick in a backpack and head to an event.
Integrations
Vend excels at integrations. Although these integrations don't provide jewelry-specific functionality, Vend's API integrates with various external applications. These include eCommerce apps, accounting software, employee scheduling systems, payment processing apps, customer engagement apps, and even ERPs.
Ease of Use
The system is very easy to use, which is essential when running a high-volume retail store. Plus it's fast. New users can be trained in short order and system navigation is highly intuitive.
Get A Free Quote
Buyer's Guide: What to Look For in a Jewelry Management System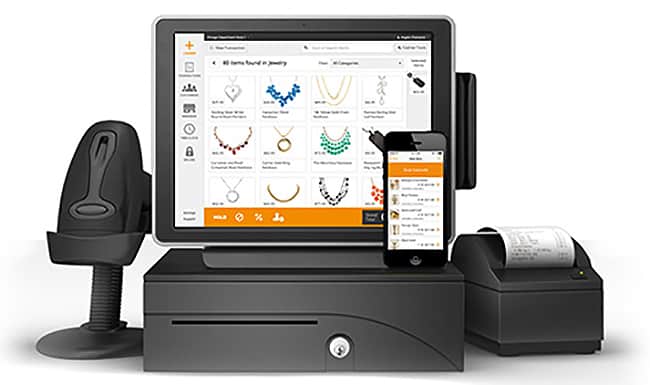 Because jewelry stores have such unique needs, there aren't many POS systems that meet them all. When shopping for a jewelry store POS system, look for the features below to maximize the return on your investment.
Powerful Sales and Inventory Tracking
Accurate sales and inventory tracking features are vital to jewelry stores given the value of the merchandise they carry. One system glitch that miscounts inventory or misses a valuable item can cost a jewelry store thousands of dollars.
Reliable sales tracking provides peace of mind in knowing every sale is accounted for and no emerald sale goes unrecorded. The right jewelry management software aligns sales and inventory so each item sold is subtracted from inventory counts.
Mobility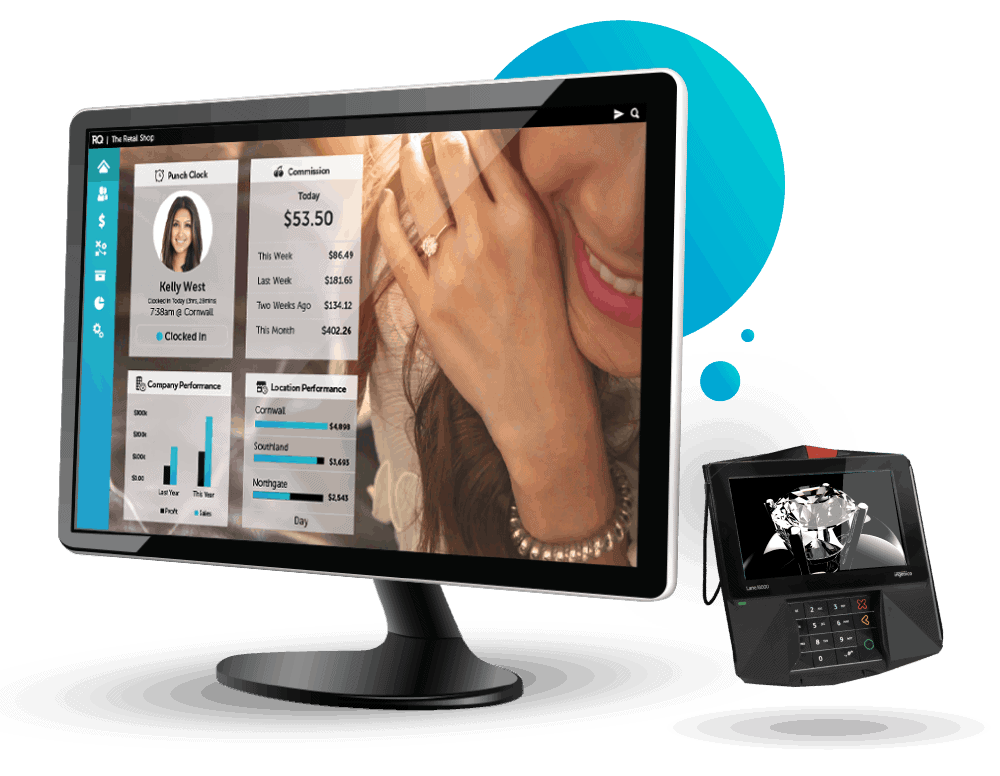 Cloud-based POS systems can be accessed from anywhere you have mobile data. Trade shows provide a great example. Rare gemstone and jewelry collectors fill these events. You want to be where the demand is. Being able to bring your POS system to events expands your exposure to potential buyers.
Customer Tracking and Management
Those who purchase fine jewelry are often repeat customers. Customer relationship management features track and store data on customer purchase histories, interests, most-purchased items, and more. This data enables you to reach out to the right buyers when a new item that fits their interests comes into stock.
Marketing Features
You can leverage your CRM data for marketing purposes as well. For example, target customer segments with outreach around special offers, promotions, and discounts on items they've shown interest in.
If your system includes integrated marketing features, you can automate most of this targeted outreach. If not, you can integrate external systems such as MailChimp.
ERP Integrations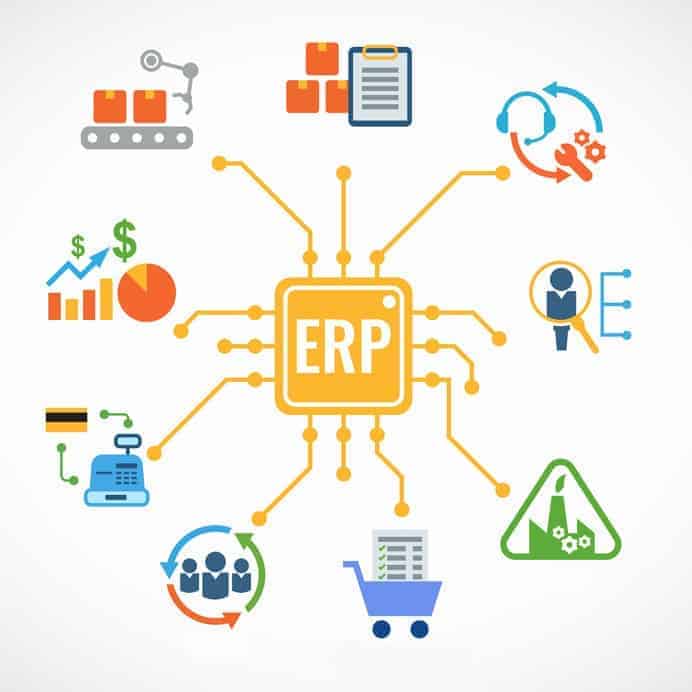 We covered this above, but ERP integrations are very important to jewelry stores. ERPs manage automatic order transfers from retailers to manufacturers and track their progress. That data is synced back to your POS, giving you a clear view of progress on each active order.
Additional Integration Options
Additional systems provide capabilities that save loads of time while improving data accuracy and increasing revenue. Here are two of the most important integrations to consider:
eCommerce Integrations
To maximize revenue, you'll want to put your product in front of as many people as possible. Setting up an eCommerce site is a great way to expand brand exposure. As more consumers shop online, jewelry retailers with an online store are selling more merchandise.
Accounting Platforms
Integrations with accounting platforms like QuickBooks are incredibly helpful. First, solid accounting capabilities eliminate loads of manual work, freeing up your time. Second, they reduce inaccuracies by removing the risk of human error. One mistake in your books could cost you a lot of money.
Centralized Material Tracking
Jewelers buy and move the various raw materials that go into producing fine jewelry. They need to be able to track purchases of raw materials like gemstones, gold, and other metals and materials.
The best POS systems for jewelry stores provide centralized material tracking. This allows you to track prices, purchases, usage, and stock levels of the materials that go into jewelry manufacturing.
Intuitive Interface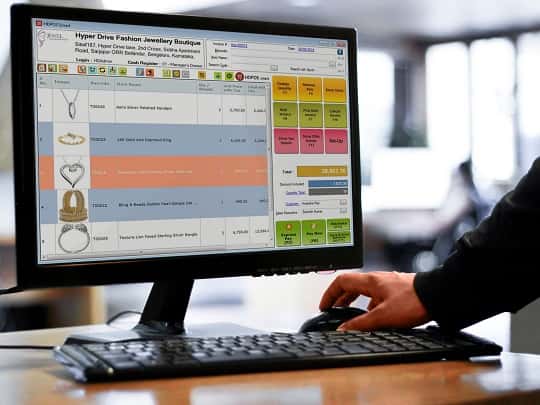 PIRO is a great example of a jewelry store management software solution with a very user-friendly interface. As mentioned above, it keeps the frontend clean and easy-to-navigate while storing most settings and controls in the system's backend.
When a customer enters a jewelry store, they have money to spend. You must deliver an attentive, personalized customer experience. That is hard to do if you're bumbling around in your system trying to check prices or item availability.
Repairs
For those who repair jewelry in their store, a system that automatically tracks materials used in repairs is valuable. If your main focus is repairing, find the best POS software for jewelry repair stores available, and run with it.
Casting Management
Casting management lets you track casting trees at a granular level and monitor the metals you mix, the amount of each one used, and material loss during the casting process. This aids in regulating spend on raw materials as well as maintaining appropriate inventory levels of those materials.
Which Is The Best POS System for Your Jewelry Store?
If you're involved in a highly valuable jewelry business, you'll want a more robust system like PIRO or ChainDrive. On the other hand, if you run a small jewelry store, a system like Lightspeed or Vend can save you significant money while still getting the job done.
The Edge is a powerful system in the same league as the first two on our list but isn't a mobile POS system. If you have no need or capacity to attend trade shows but still need a powerful system, The Edge could be your answer.
The right system for your store won't be the right system for the store next door. The most important thing you can do while evaluating is to be honest and realistic with yourself about your business needs. If you run a smaller store or operation, you may opt for a system without all the bells and whistles.
Take your time, research well, and the right system will present itself. If you're interested in learning more, check out our full Lightspeed Retail review and our comprehensive review of Vend.