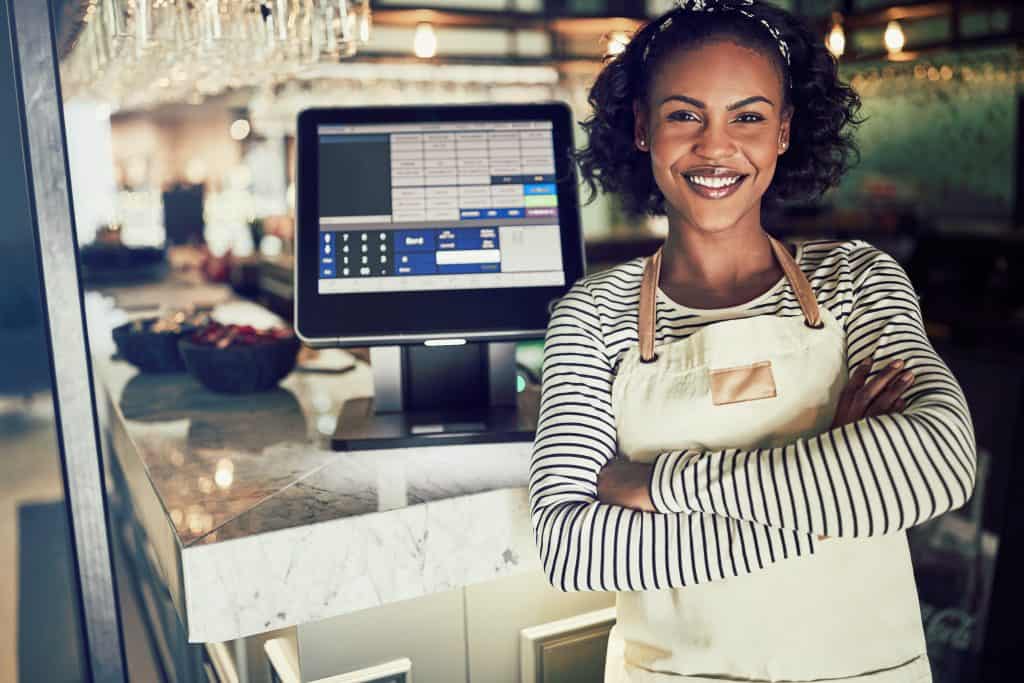 Now more than ever, touchless payment systems are a must, due to the coronavirus outbreak. The right restaurant POS system will help automate or streamline every operation in your establishment — from taking orders, to monitoring your inventory, and tracking to-go or online orders.
Want to skip the whole debate? We believe the best restaurant POS system is TouchBistro, as it caters to tasks like quick service, food delivery, and online ordering. Their platform facilitates communication between the front and back of house like no other POS system on this list. Additionally, it helps spur growth, drive revenue, and cut costs.
According to Toast, 95% of restaurant owners observed an increase in their business efficiency by embedding technology in their process (Source). As a restaurant manager, choosing the right software will give you a competitive edge and keep your patrons happy.
Whether you run a full-service restaurant or a quick-service operation, restaurant challenges like secure payments, employee scheduling and inventory management are always top of mind. A point of sale system can also help with customer loyalty, tableside ordering, and more.
Most importantly, a restaurant needs to maintain solid communication between the front and back of house. By using mobile devices like tablets, servers can take orders at the table and reduce errors. These orders are sent to the kitchen in real-time and displayed on kitchen display systems (KDS) for the staff in the back.
In this review guide, we compared a list of the top restaurant POS systems. We took factors like the type of foodservice, features, price, hardware, and more into consideration. Ultimately, your software choice will depend on your restaurant type and needs.
Comparing The Best Restaurant POS Systems for 2023
System
Starting Software Costs
Hardware Costs
Key Features

$69/month for the software license
All hardware add-ons are quote-based
Customer accounts that track previous orders and promote best sellers

Starter package $59,
Pro is $199, and the Enterprise is $359
Average installation is $1,700
In-depth analytics and reporting on sales trends and inventory

Our pick!

$69/month
$799
Add Guest-Facing Display +$200
Order management system that alerts staff when food is ready

$138/month
$69/month
Cost effective with transparent pricing options

Quote based
Starts at $999 for a bundle
Security services, customer loyalty, digital signage

Starts at $69/month
Pricing varies
Offers kiosk mode and customer-facing display

Starts at $69/month
Starts at $899
Tab preauthorization to streamline workflow

Our pick!

Starts at $59/month
Additional terminals are $34/month
Great back-end reporting and forecasting, a la carte pricing options available

Free for basic software
Starts at $50 for readers
Highly intuitive, easy-to-use interface

$99/month per terminal
Onboarding and installation start at $649
The first ever POS system for iPad

$79 for single license
Additional hardware available at various costs
Beer-centric integrations with brewery management strategies

$65/month
Pricing varies
Cloud-based reporting is among the best in the industry, offers features that improve QSRs' performance results

$99-$150/month
Pricing varies by reseller
Servers are mobilized with RM Handheld and the RM Tablet which can greatly cut costs

Starts at $50/month per workstation
Varies by reseller
Offers advanced kitchen management and in-depth analytics

Developed by people in the restaurant industry, TouchBistro is designed to efficiently run a full-service restaurant from mobile POS hardware. The brand gives you the freedom to choose your own payment processor from top-tier partners. This includes integrated payment solutions, pay-at-the-table options, and the ability to accept all types of methods.
The TouchBistro platform offers a host of features that includes robust menu management. A business can merchandise items with full-color pictures. The menu can always be updated from an iPad when inventory changes. No more sending 86'd orders back to the kitchen. Communication is streamlined between the front and back of house.
Best Overall
TouchBistro consistently ranks as one of the highest-grossing POS apps in iTunes, which means it has a lot of people using it and making it work for them. It's also been around a while, which speaks to the durability of its code and functionality. The app does undergo frequent updates, which is a little unnerving for some users, but most don't mind as long as the changes aren't too drastic.
The iPad interface is clean, attractive and simple to navigate. This is important as it's a tool that your staff interact with regularly and must look professional. It can be used as a full POS system or integrated with Ordermark and Deliverect to connect to platforms like Uber Eats and DoorDash for takeaway orders. It's also designed with your customers in mind and features a Self Service Kiosk app for ordering by phone or tablet and a Customer Facing Display app so that your servers can see customer details and add modifications on the spot.
Other standout features include the ability to track inventory down to the ingredient level so that popular menu items don't run out and recipe cost analysis that gives you the data you need to set accurate prices and maintain healthy profit margins. Customer account management can help you earn repeat business and reward loyalty with features like favorite orders, purchase history and balances.
The POS is ideal for fullservice restaurants but can also be used by cafes, bars, nightclubs and even food trucks, depending on your setup. However, there's no free or pay-as-you-go option and hardware and payment processing are quoted rather than included in the subscription price – which can be an obstacle for some. Despite this, TouchBistro has a proven track record and offers support from former restaurant owners and managers who understand what's involved in running a hospitality venue.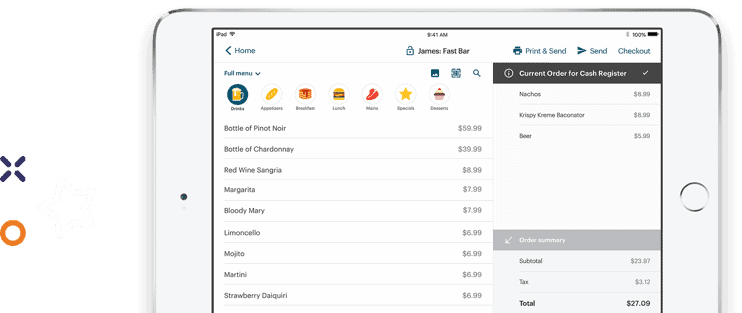 Quick Service Restaurant
In addition to a full-service offering, TouchBistro also caters to quick-service restaurants. The system is designed to speed up service and increase sales. Pull more revenue in less time with predictive, quick-cash buttons. Reduce ordering errors with voids sent to the kitchen automatically. You can also drive sales with the TouchBistro customer loyalty program.
Food Truck
A fast-paced solution for a restaurant always on-the-go, TouchBistro offers a lean solution for food trucks. It's the power of a traditional restaurant POS system all in the touch of an iPad. Drive repeat business with order accuracy and make menu edits as you go. Clock employees in and out, take cash payments, and view reports—even when offline.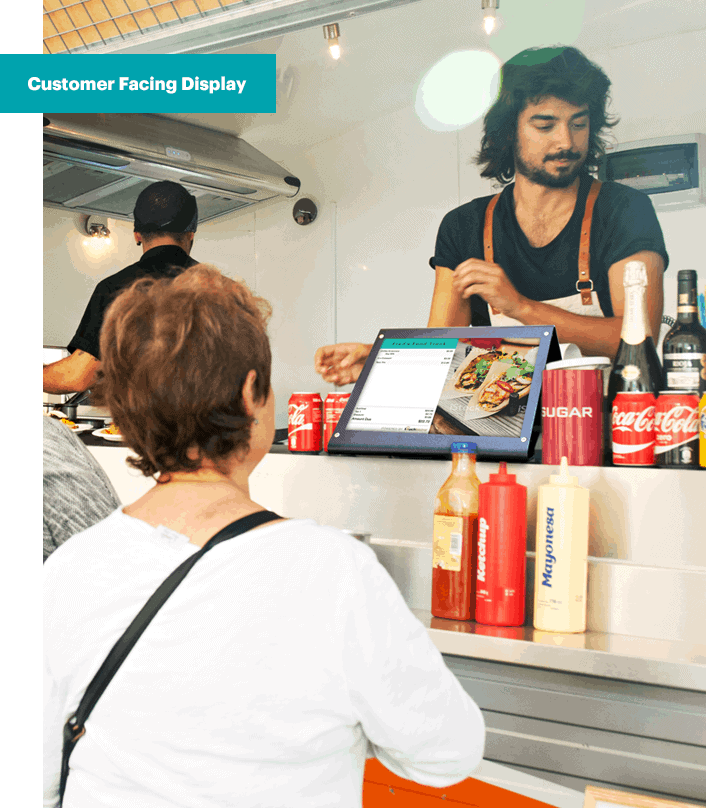 Other types of restaurants include:
Key features include:
Restaurant inventory tracking & management – ingredient-level food costs, real-time alerts, and profit margins by menu item.
Floor plan and table management – manage multiple sections, identify slow-turners, and move parties around freely.
Staff management and scheduling – track labor costs, measure performance, and schedule staff.
Customer relationship management (CRM) – tools that remember and reward customers, personalized service, and promotions strategy.
Undoubtedly, TouchBistro is the best restaurant POS system on the market. To learn more about their POS system, read our TouchBistro POS review.
2. Upserve POS: Best Cloud-Based Restaurant POS


Upserve is a restaurant point of sale system designed for small to medium businesses. This industry-leading mobile restaurant POS system streamlines operations and increases productivity. The software is available on sleek, restaurant-grade terminals with all payments built-in.
This restaurant computer system offers brilliant menu intelligence. Servers can search items and categories on the spot and fire off orders quickly. It combines restaurant POS software data with payment processing. This allows you to see which items are selling well and what's creating repeat customers.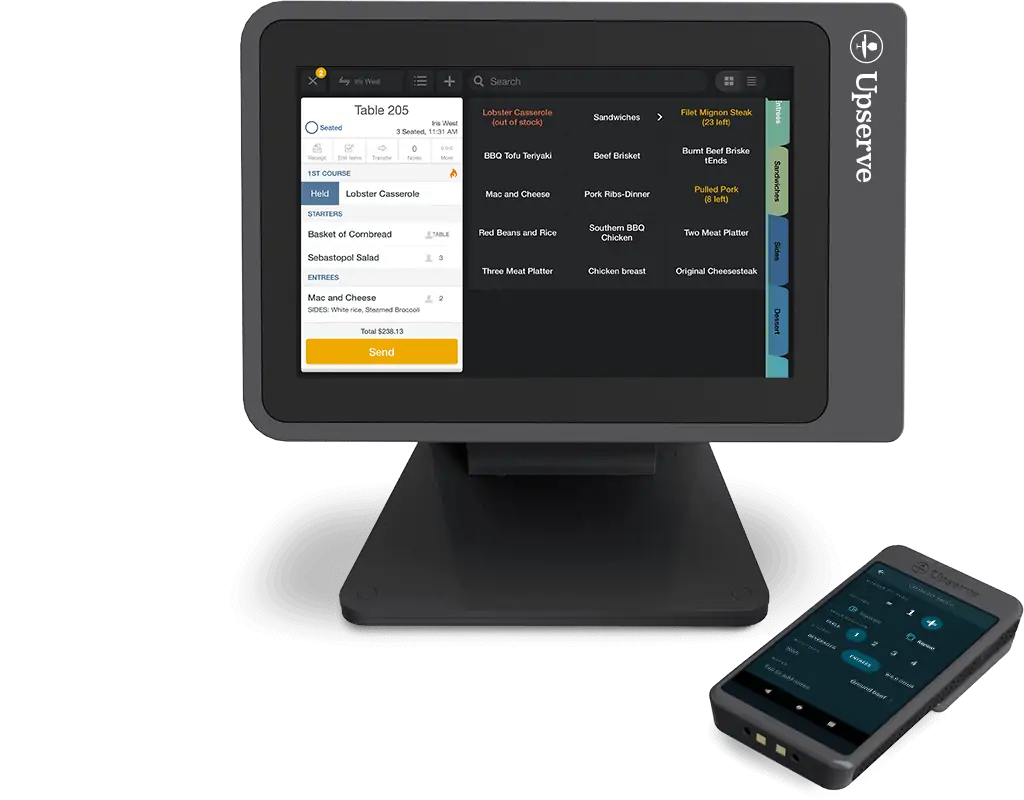 Upserve deployment is simple. They assign every customer a dedicated success manager and provide 24/7/365 U.S.-based support. Intuitive workflows and a dedicated "how to" site means a business always has support in every aspect.
Upserve Live
Use Upserve Live for a real-time view into your restaurant from anywhere on the planet. It's an always-on link to your business, organizing sales, and more. All in one spot.
Upserve Inventory
Upserve Inventory gives you hours back to focus on what is important. Automated inventory tracking and management and one-click purchasing means you control food costs and know the profitability of each menu item.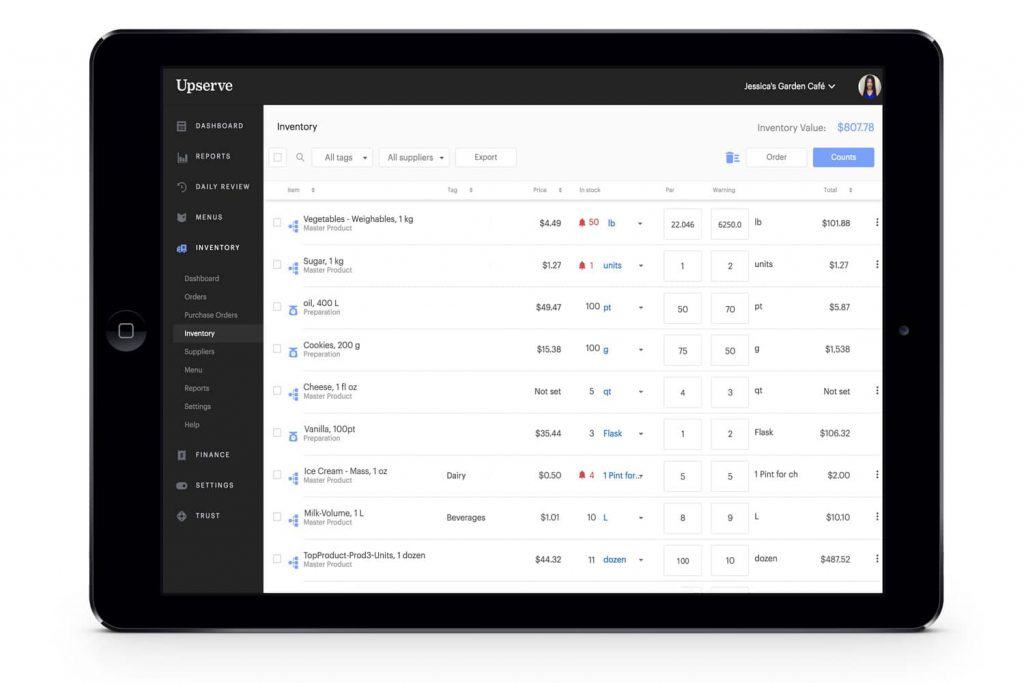 Upserve Payments
Payment processing that comes with EMV, transparent pricing, and restaurant insights on guest behavior and loyalty.
Key features include:
Restaurant analytics– insights that make it easier to understand and manage labor costs, scheduling, and productivity.
Menu intelligence – instantly search menu items or categories, fire off orders quickly, and know which items are 86'd in real-time.
Offline mode – no internet, no problem. Upserve works offline to send orders to the kitchen and transact with customers.
Split checks and items – servers can transfer, merge, and split checks fast between cash and card payments.
Training mode – provide hands-on practice for new employees. It's easier to train staff with your own menu and data without disrupting service.
Upserve competes strongly with TouchBistro for the top spot as the best restaurant POS.
3. Toast: The Best All-in-One Restaurant Management Solution

Toast is a POS software for restaurants that is built to make your business better. It combines powerful cloud-based software with durable hardware and high-rated payment processing. The brand offers handheld technology designed for the restaurant environment that enables a team to accelerate service and see more guests.
80% of the Toast implementation team has restaurant experience. They offer free 24/7/365 support via Toast Central and received a 2018 award for "Customer Service of the Year." They pride themselves on always being there for customers.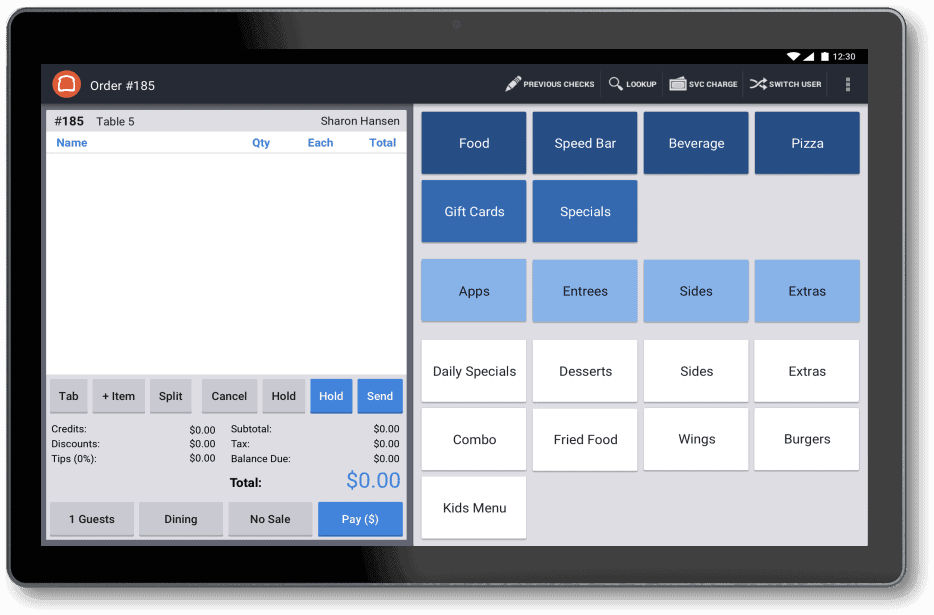 Innovative training in the Toast Central channel means staff is always one step ahead of the game. It features interactive webinars and training through Toast University. The knowledgebase is a searchable resource that's always on. Customers also get access to new products and the ability to provide quality feedback through the VIP Table.
Toast is one of the best POS systems for restaurants because it has set up on-demand digital channels for delivery, takeout, online ordering, and e-gift cards. They offer free three months with no hardware or POS purchase necessary.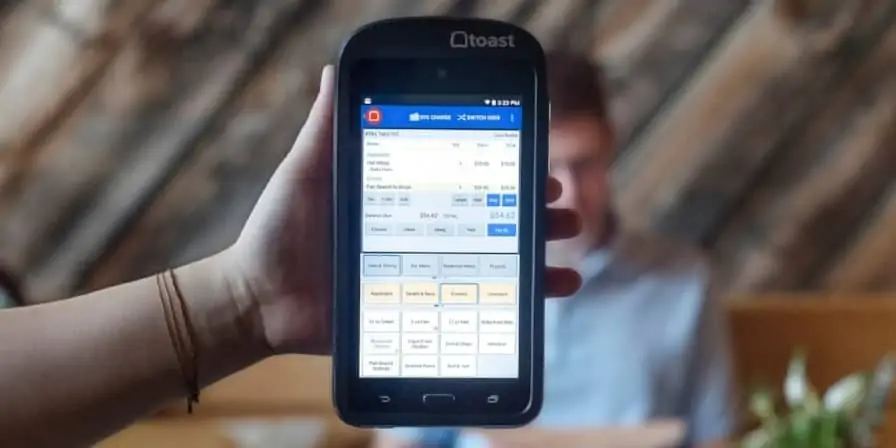 Toast Go is a fully integrated handheld POS system that is pocket-friendly and drop resistant. Fire directly to the kitchen straight from the table. Servers can access upsell prompts while the menu is automatically updated in real-time.
Key features include:
Payroll and team management– a feature built exclusively for restaurants, the payroll and team management help your business thrive and grow.
Online ordering – a digital platform developed to save time and money with orders fired directly to the kitchen.
Analytics and reporting – detailed analytics to keep tabs on performance on any device. A unified view of net sales and labor costs across all locations.
Tableside ordering – take orders and payments at the table. Send digital receipts and gather data to grow your customer list.
Toast Kiosk – an easy-to-use interface that enables custom branding and instant order notification. It features kitchen technology integration, recommended add-ons, and the ability to tip on screen.
If you're not sure if this restaurant POS system is right for your operation, read our Toast POS review.
4. CAKE: The Best Quick-Service Restaurant POS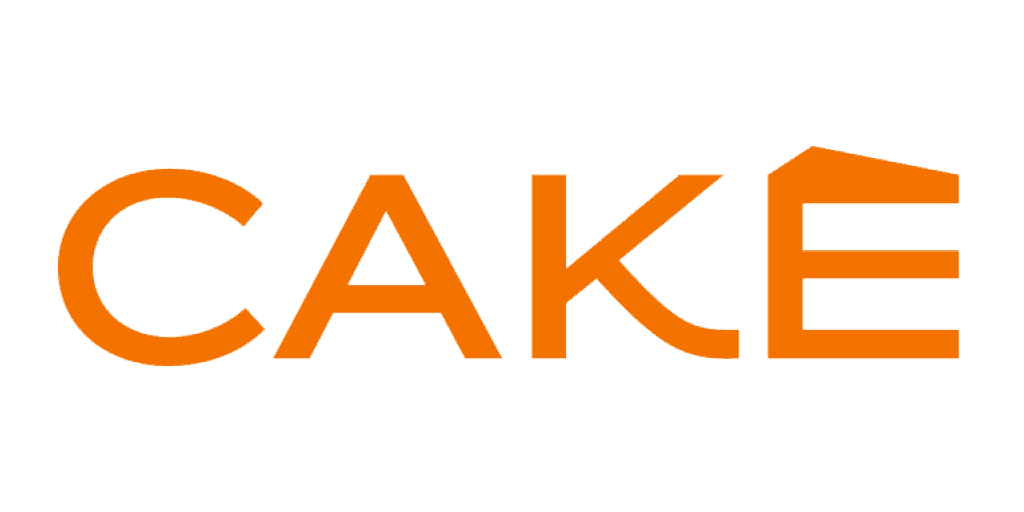 CAKE is a popular POS system for restaurants developed by Sysco. It's intuitive, simple, and cost-effective. It features affordable and robust hardware (in black or white), transparent pricing, and 24/7 customer support.
CAKE Guest Manager integrates with the system to increase table turns by up to 7%. This instantly connects the dining room with the back of house for faster and more efficient service opportunities.
Manual table status updates are a thing of the past. That's because teams can communicate while remaining at their stations. Some users voted CAKE as the best restaurant POS out there.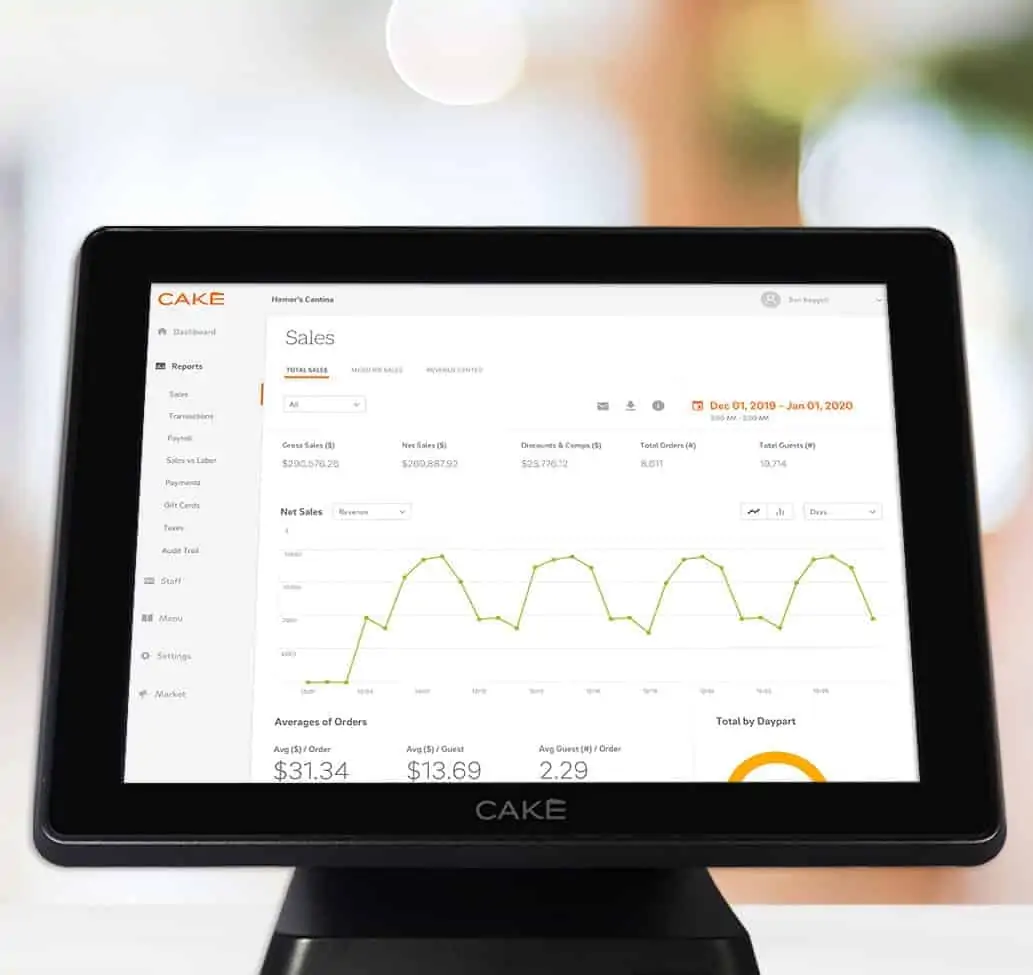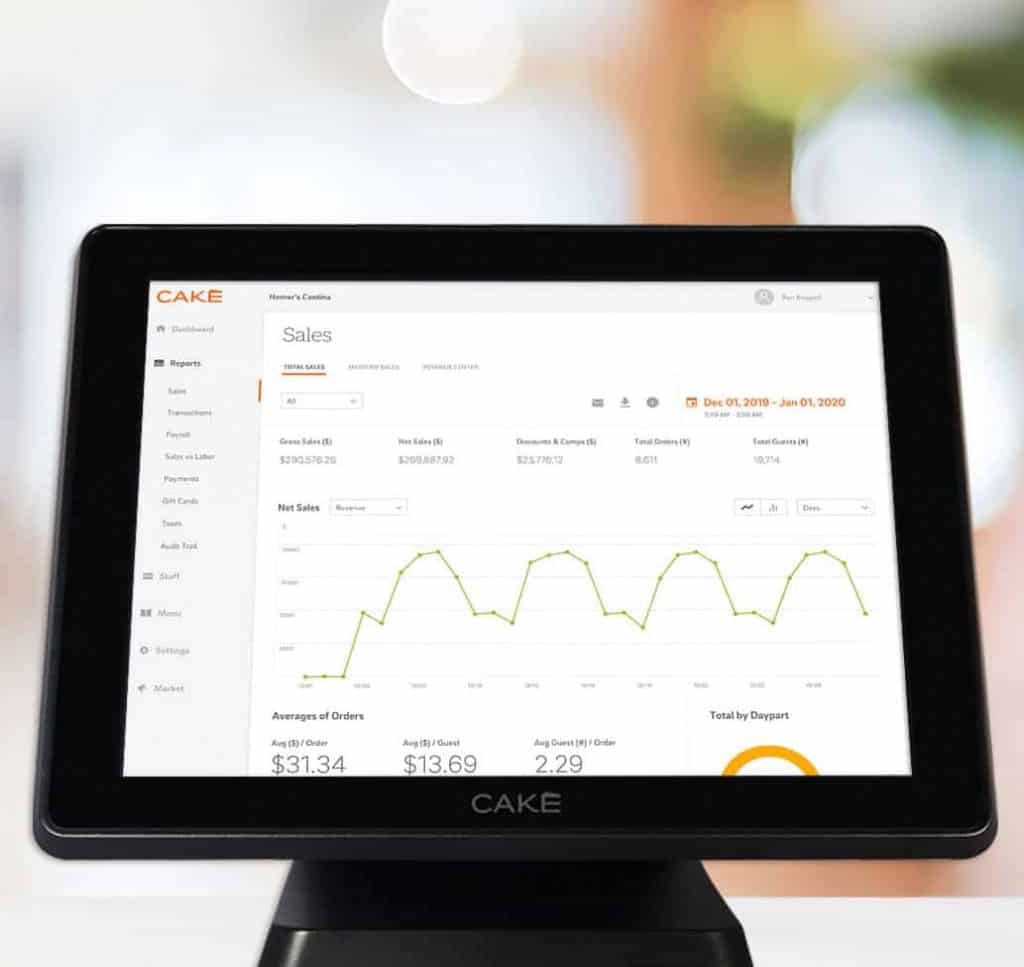 Dynamic Reporting
Be everywhere at once with CAKE's in-depth reporting feature. This puts you in better control of your restaurant and gives your establishment the ability to track metrics in real-time. This includes running reports for things like:
Weekly category sales
Wages
Employee hours
Productivity
Inventory levels
And more…
Simplified Payments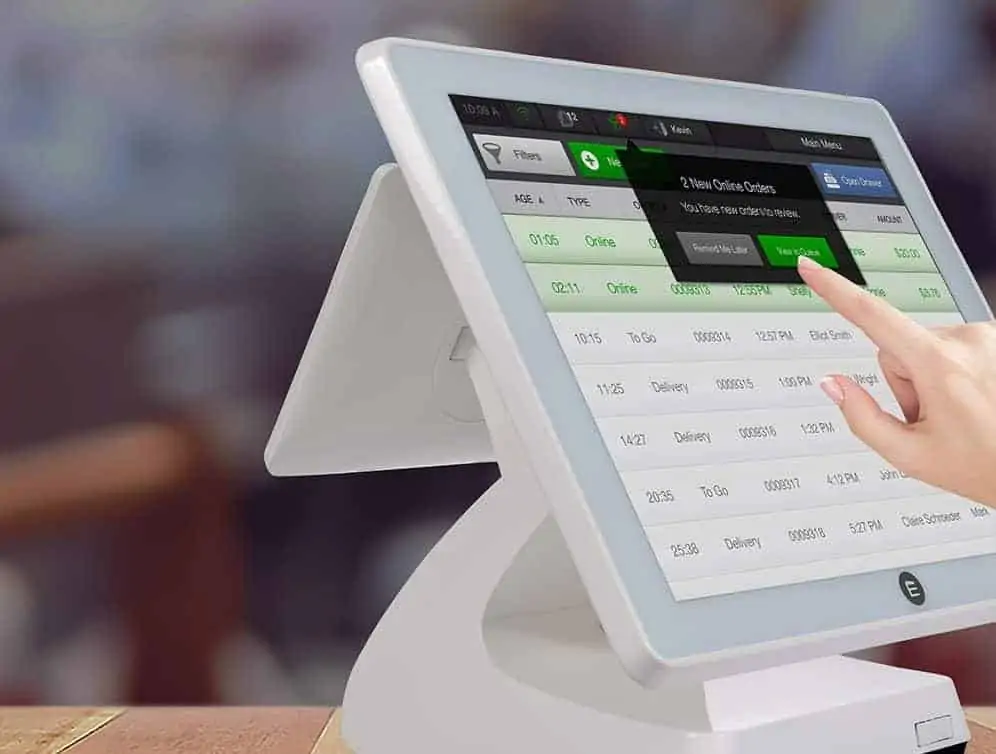 CAKE offers industry-low rates per swipe which makes it easier to focus on more important things in your business. There is never any complicated paperwork and you can start accepting payments in just minutes.
There is never any fixed cost or monthly fee. You only pay when you use the service which makes this platform unique on the list. The Smart Chargeback Assistance helps every business fight back against fraud.
The CAKE system works offline and has a white, 15" touch display. They also offer powerful, third-party integrations through CAKE Market with leading brands. The tablet-based OrderPad also enables a business to bring the POS system tableside to facilitate ordering and FOH to BOH communication.
Key features include:
Online ordering– connect with consumers who are online and broaden sales horizons.
Cloud-based – all data is stored in the cloud. This means the system can be used offline and upload data when connected again.
Menu admin – this allows a business to adjust their menu and prices from anywhere on the planet.
Take a look at our CAKE POS review to learn more.
5. Aloha: Best POS System For Restaurants & Bars


Established in 1997, Aloha is built by NCR. It's one of the best restaurant pos software systems on the market and is an industry-leading technology provider. They offer end-to-end solutions that address all your operational needs.
HCS employees are former restaurant and hospitality professionals that understand what it takes to run a successful operation. The Aloha cloud applications do everything from labor management to reporting and analytics.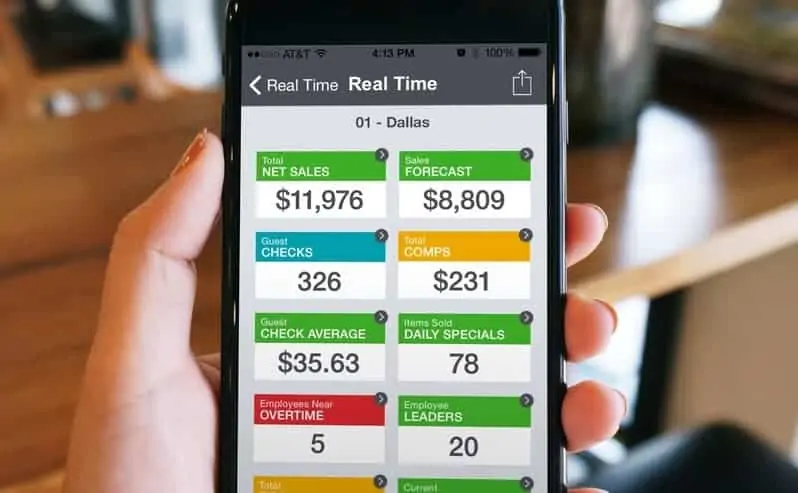 Other key benefits include:
Security services
Guest interaction
Online ordering
Back office remote tools
The system also has the ability to add more features via the open API. The robust speed, functionality, and accuracy help to not only improve customer service but drive growth and increase profitability.
Labor and Inventory Management
Aloha helps to remove the barriers to managing the major costs to your business. Sites can optimize staffing, streamline communications with suppliers, and control food costs. This is all with central visibility and management.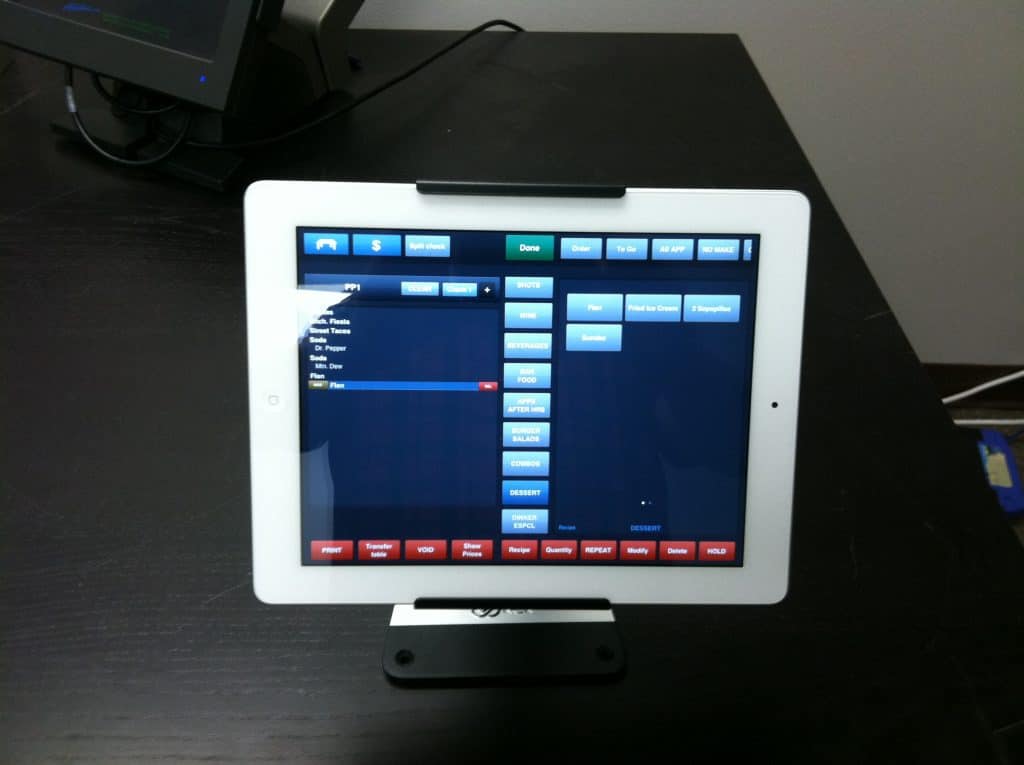 Data Reporting
Valuable labor and sales data is collected from all locations and made available via the cloud. This results in unmatched visibility and enables fast and accurate decision making.
Site Configuration
One central database controls the configuration settings for all locations. A business owner can securely access data from anywhere with an internet connection. This allows management to push changes like pricing and menu items in real-time.
Key features include:
Security services– protect customer credit card data from cyber-attacks. This helps to maintain a strong network and create a multi-layered defense solution.
Customer loyalty – stay connected with stored customer data. Utilize reward and bonus programs that are flexible and best identify guests.
Digital signage – engage customers and leverage your brand with intelligent digital signage. Promote new items and control menu prices from anywhere on the globe.
Before deciding, read our full Aloha POS review.
6. Talech: Best iPad-Based Restaurant POS System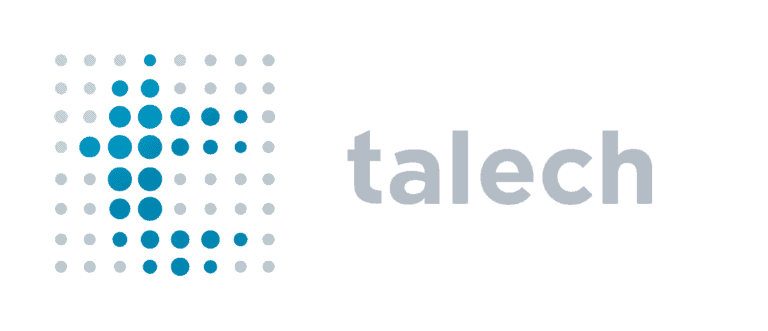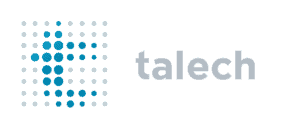 Talech is a feature-rich platform that is a top-rated cloud-based point of sale system for restaurants. It's a simple solution that is equipped with more than 100 restaurant-specific features. The intuitive design comes with a free demo and allows a business to apply discounts, create orders, view sales, and manage inventory with just a few taps and clicks.
The platform is based in the cloud which means you can access the system anywhere at any time. Talech works closely with merchants across all verticals to understand the needs of a modern POS system.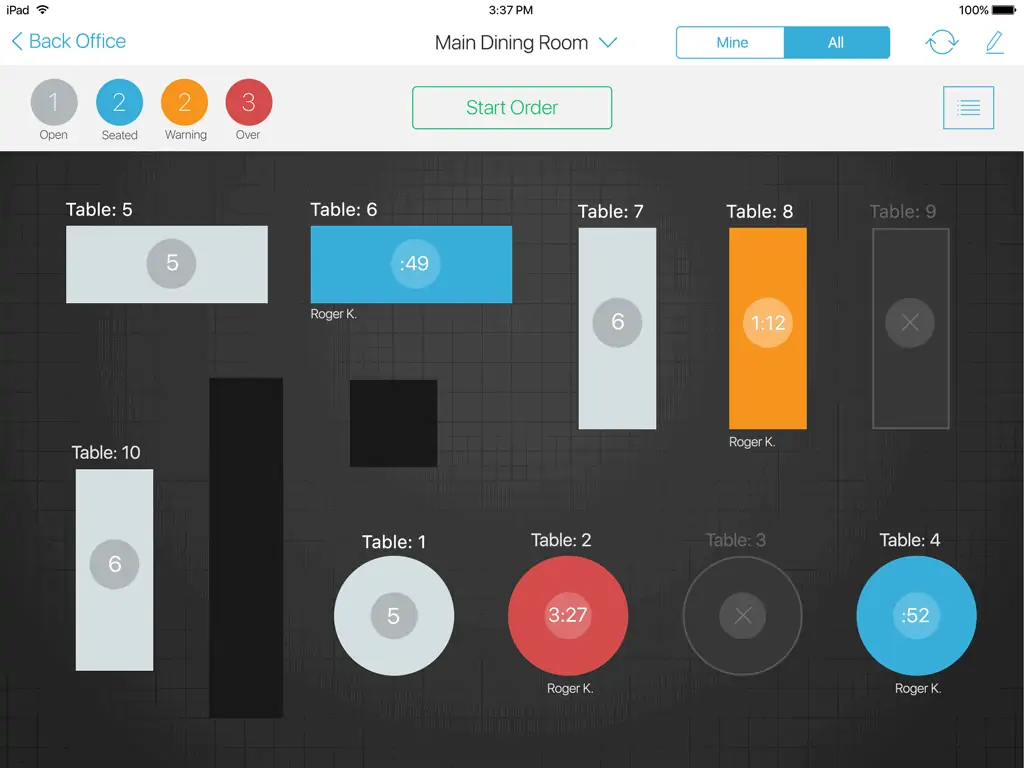 Table and Position Management
Get an eagle-eye view of your open and seated tables. Set up a floor plan with multiple rooms and tap on a table to start. Streamline the ordering process by setting table and seating positions. Split shared items across multiple positions to make it easier for guests to pay.
Order Management
Assign plates and dispatch tickets to multiple printers. Approve and track voids when changes occur during the order process. Automatically apply taxes, service charges, and gratuities based on present rules.
Discounts and Offers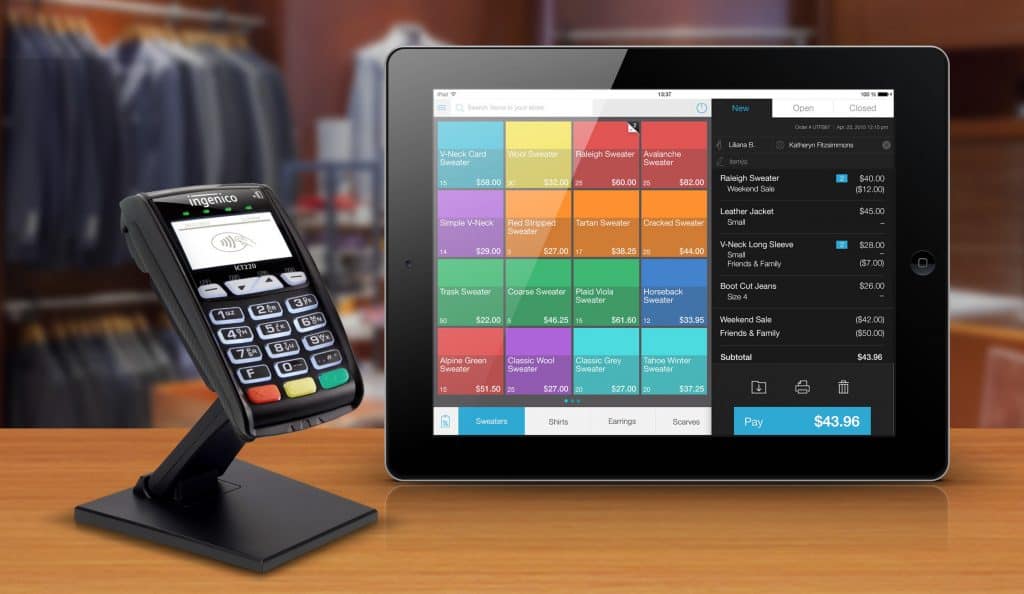 Create happy hour discounts to trigger at specific days and times. Set up advanced "Buy One Get One Free" (BOGO) discounts to offer deals and encourage more spending.
Key features include:
Seamless sync – manage orders across multiple devices in real-time. Even when the internet goes down a restaurant can still sign in, take orders, and accept cash payments.
Customer-facing display – provide greater visibility into the purchase flow and customize the display. Engage at the point of purchase with promotions and custom messaging.
Integrated gift cards – gain new customers and grow sales. Use high-resolution plastic gift cards or brand email and digital cards.
Tips and signature – speed up checkout by skipping signatures for small amounts. Set suggested tip amounts to make closing a check a breeze.
Before choosing a system, read our full Talech POS review.
7. Lavu: Best POS System for Small Restaurants


iPad POS system in the App Store and today, has processed over 400 million transactions. Additionally, they boast 1.3 billion menu items sold in over 93 different countries.
The brand offers 300+ restaurant-oriented features that are designed to meet the needs of any size business. These include aspects like:
Menu
Reports
Checks
Payment
Scheduling
Lavu integrates seamlessly with a variety of restaurant apps for every department. Run comprehensive and detailed reports in Lavu's business management suite. Optimize the training and onboarding process with a full selection of features.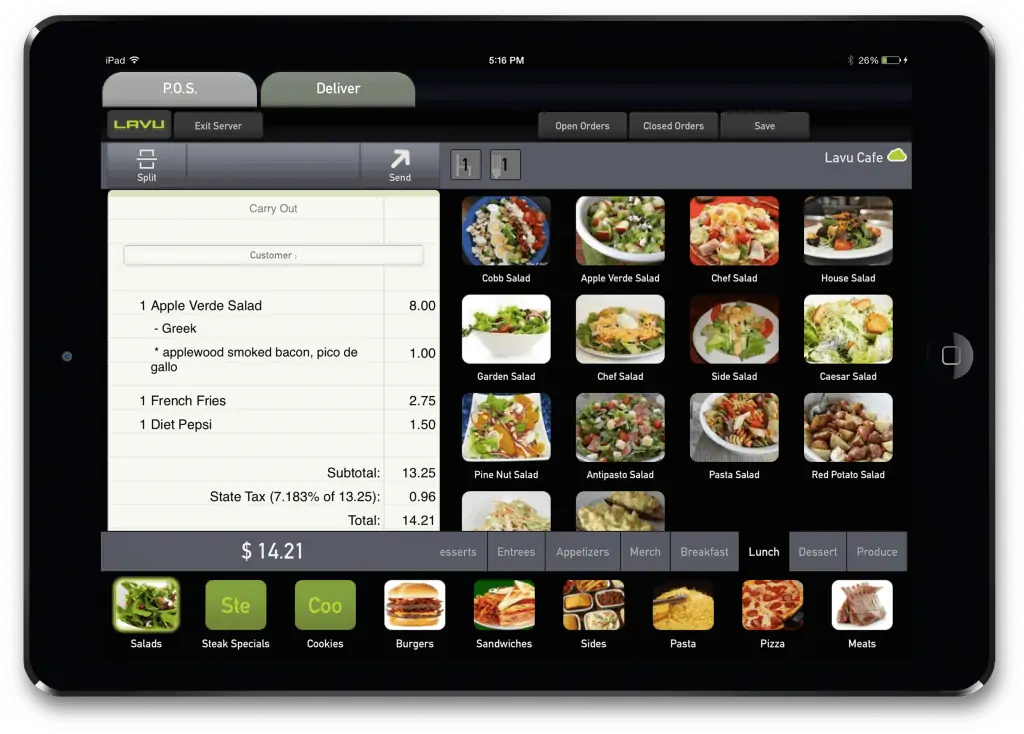 Sell Faster
The iPad POS system offers speed and flexibility. Enhance the customer experience while reducing wait times. Order quicker with the tools you need to ensure the highest level of customer satisfaction. Customize menu and restaurant layouts for easier access and faster ordering.
Detailed Tracking and Reporting
The Lavu platform allows a business to run detailed reports for valuable insight. Some of the various types of reports you can analyze include:
Labor reports
Real-time sales
Individual menu items
Inventory levels
Real-time payments
Modifiers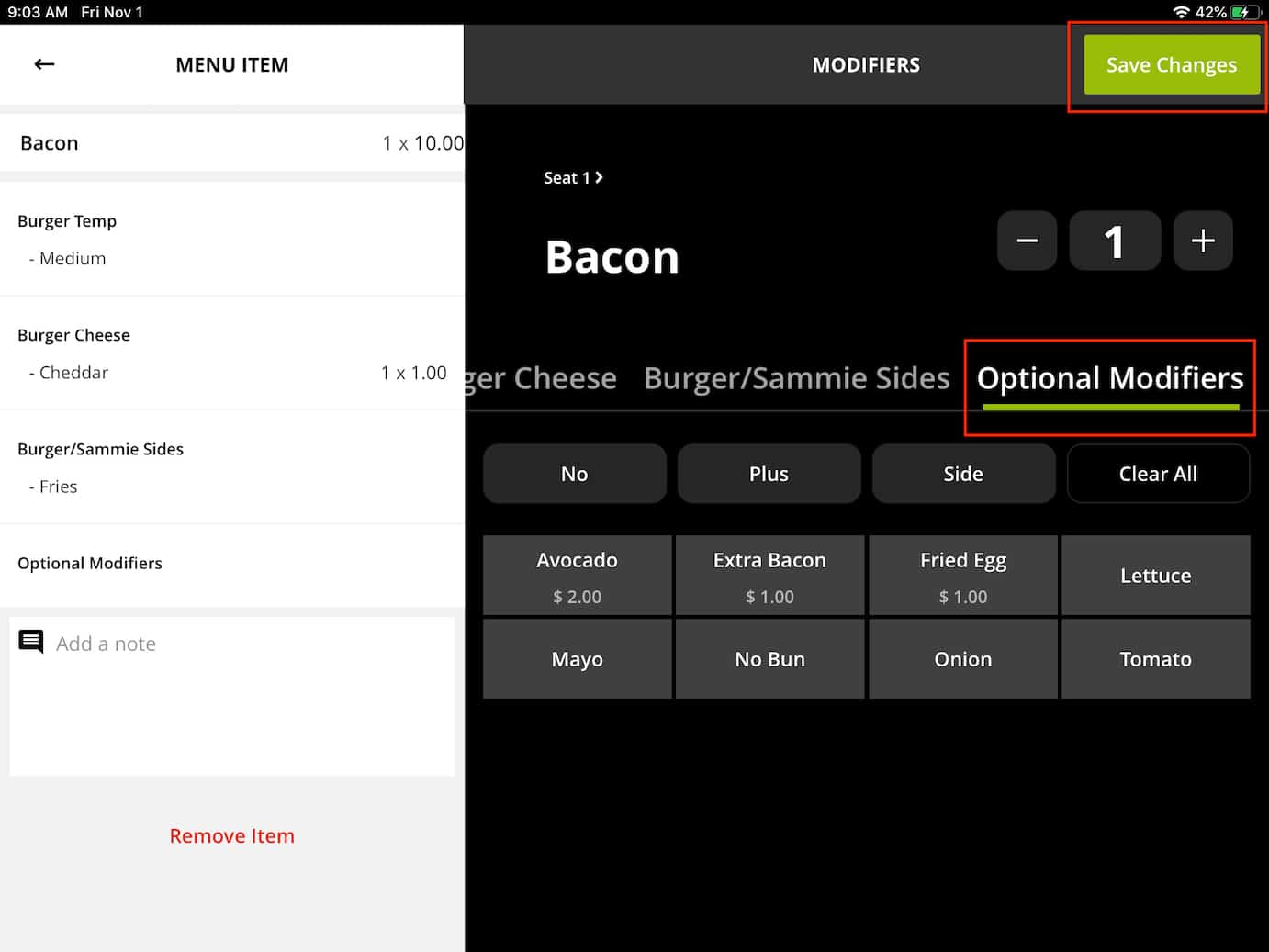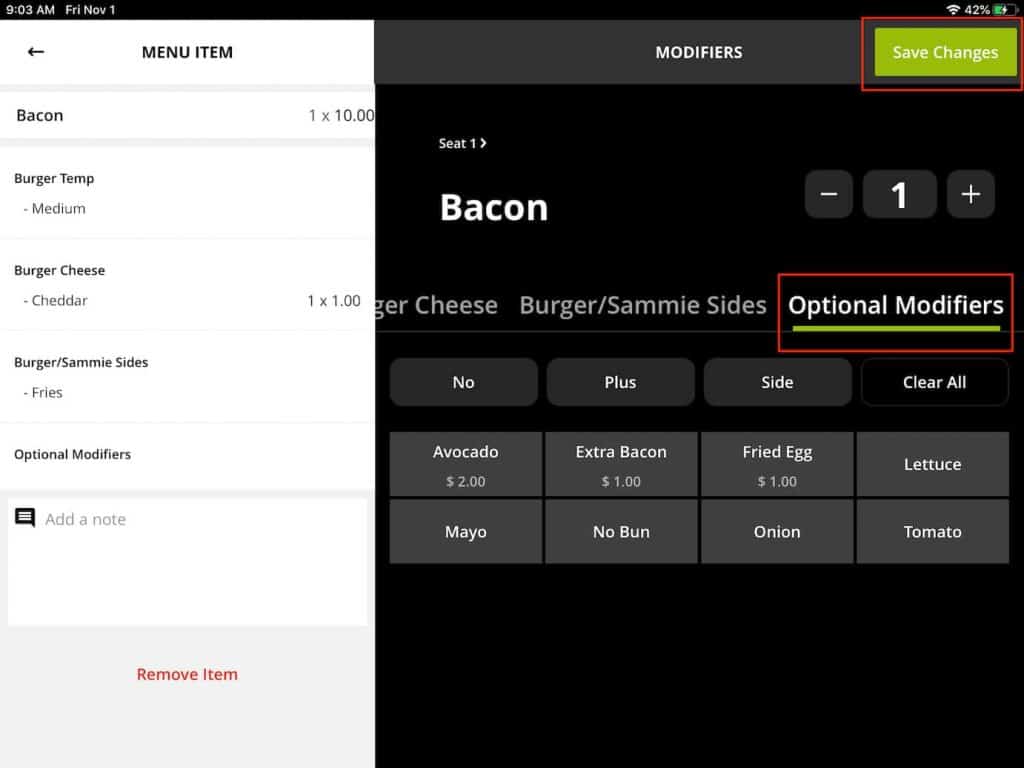 A customized menu allows a business to add the right modifiers that increase sales and lead to a higher rate of customer satisfaction. Built-in modifiers ensure servers are upselling whenever possible and sending all necessary information to the kitchen about guest preferences.
Key features include:
Inventory tracking– cut back on food waste while keeping key ingredients in stock.
Scheduling shifts – staff can switch shifts, clock in and out, and manage their schedules straight from the dashboard.
Total efficiency – cut down on FOH and BOH communication times, reduce waste from human error, and keep track of high-profit menu items.
Not sure if this POS system is for you? Read our complete Lavu POS review first.

Lightspeed Restaurant POS is built to scale with your business. That means it functions across multiple platforms in a variety of channels that you can manage all at once. A brand can generate multi-location reports to monitor overall performance.
Edit menus from all locations in a central space with no delay. It's a fully-featured solution you'll never outgrow. Whether delivering on the road or serving in a dining room, the staff relies on the POS system to keep things running smoothly. With just a tap and slide you can make adjustments to the floorplan in real-time.
Use the Lightspeed reporting tools to see what's working and spot new opportunities. Accommodate last-minute reservations and special requests on the spot.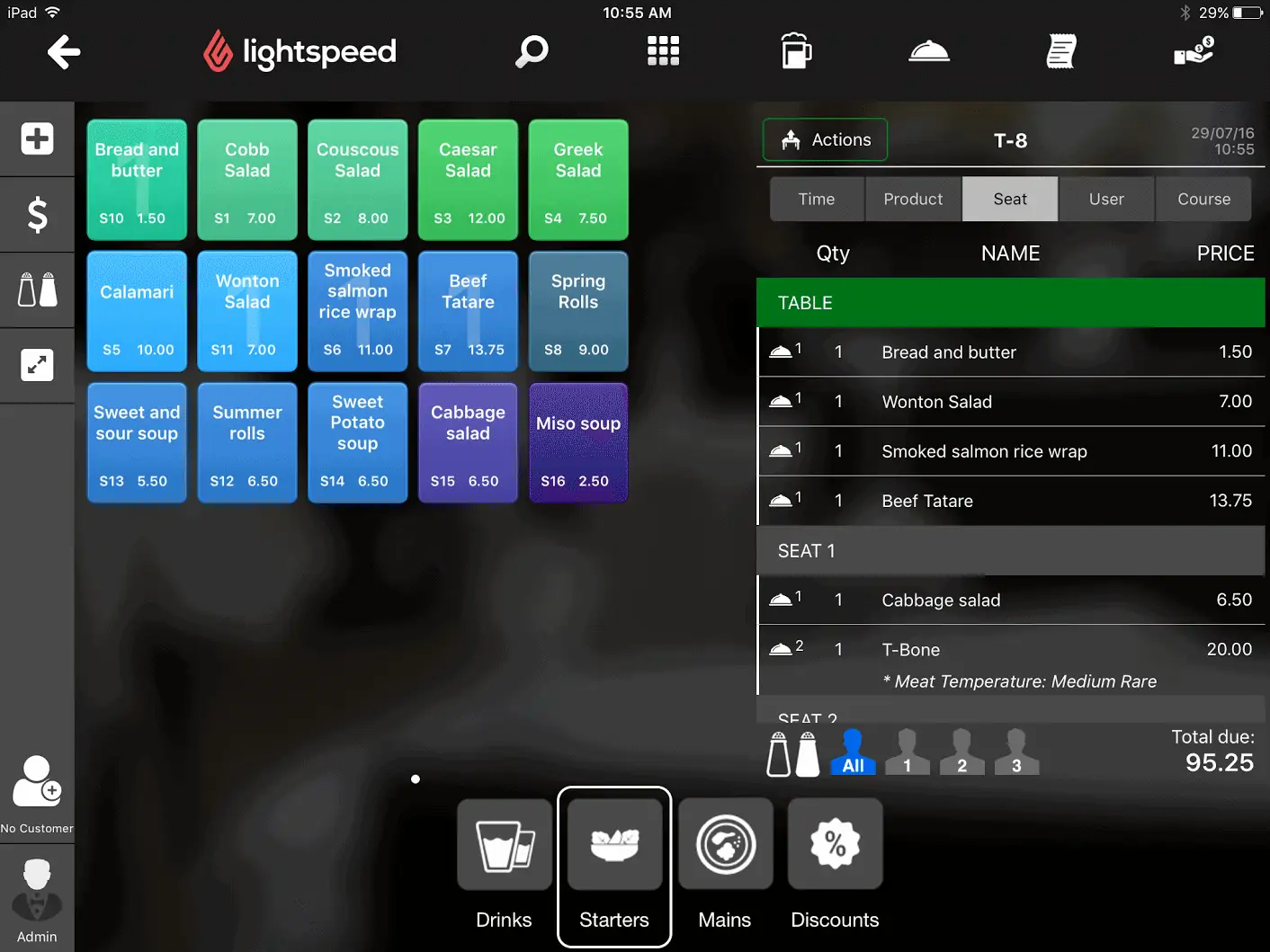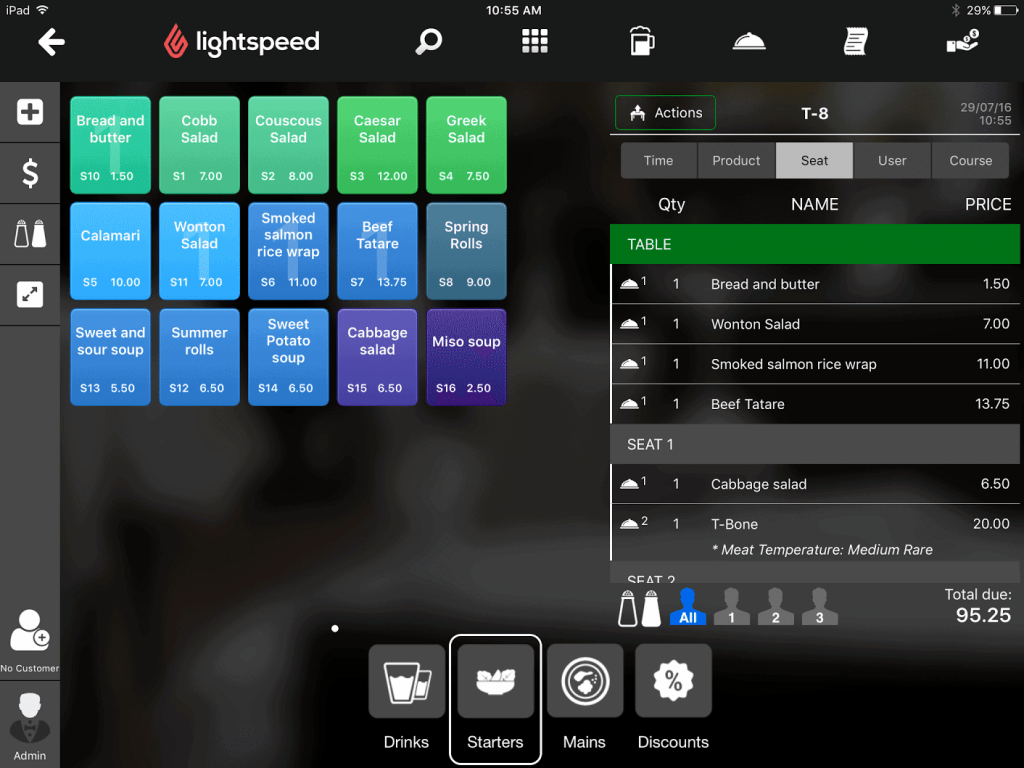 Online and Delivery
Maximize your delivery zone to reach more customers quickly. Lightspeed allows a business to consolidate all online orders into a single dashboard for easier management. Get orders from top apps like DoorDash and UberEats sent directly to your POS.
Built to Scale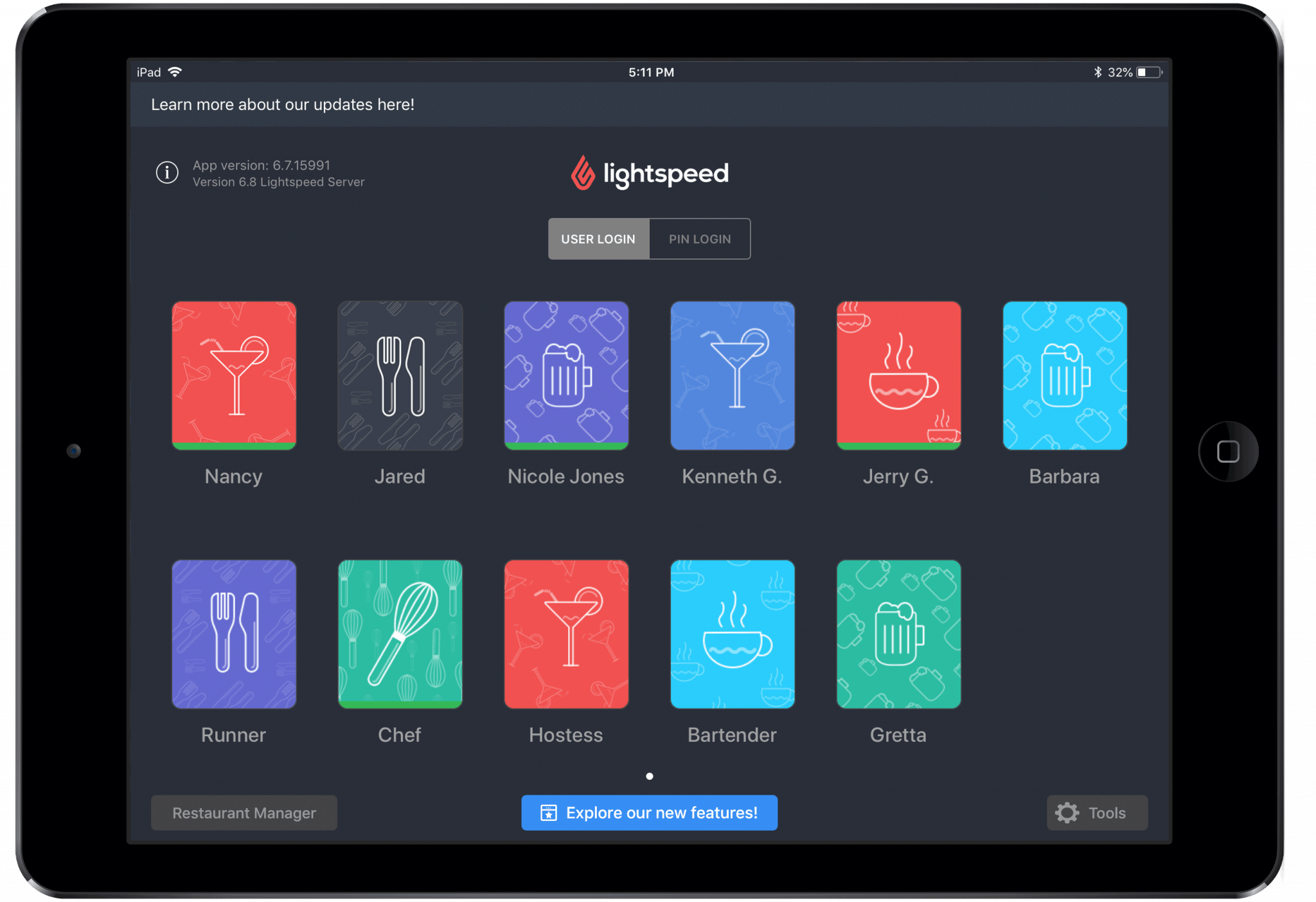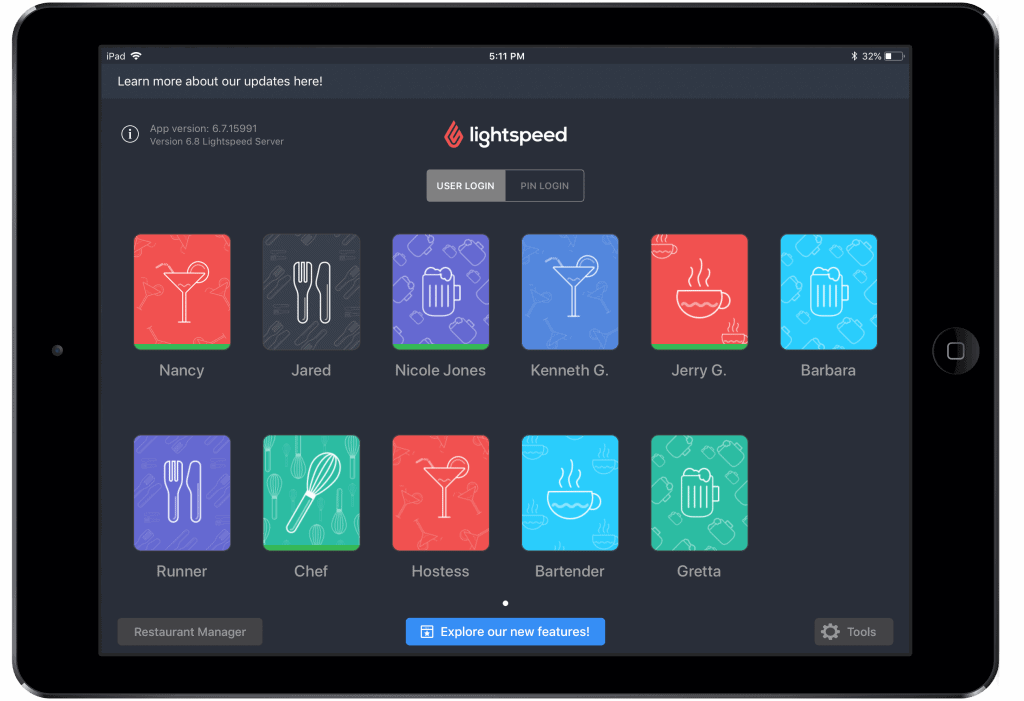 Lightspeed Restaurant is a fully-featured solution you'll never outgrow. A business has the ability to edit menus for all locations no matter where you are. This enables you to generate multiple reports and monitor the overall performance of the store.
The POS terminal is EMV-compliant and built to handle:
Taps
Tips
Swipes
Splits
Mobile payments
Add tips on the spot or later when servers have the time. You can even open tabs and place orders under specific customer accounts.
Key features include:
Self-order kiosks– allow customers to take control and place the order themselves.
In-depth reporting – assess hourly, daily, weekly, and monthly revenue with reports built right into the POS system.
Employee management – staff can clock in/out and swap shifts. Track employee performance with shift and labor reports.
To see if this POS system can do wonders in your restaurant, read our review of Lightspeed Restaurant.
9. Square for Restaurants: Best for Small Restaurants


Square is one of the most popular POS systems for restaurants on the market. It's built to save time, connect with customers, and run your business. The platform only charges for payment processing and your first piece of hardware (a portable card reader) is free.
Payment Processing
You can accept all types of payments quickly and securely, whether at the counter or tableside. The same rate is charged across all cards and transfers are next day. There are never any chargeback or refund fees. All payments are PCI compliant with end-to-end encryption.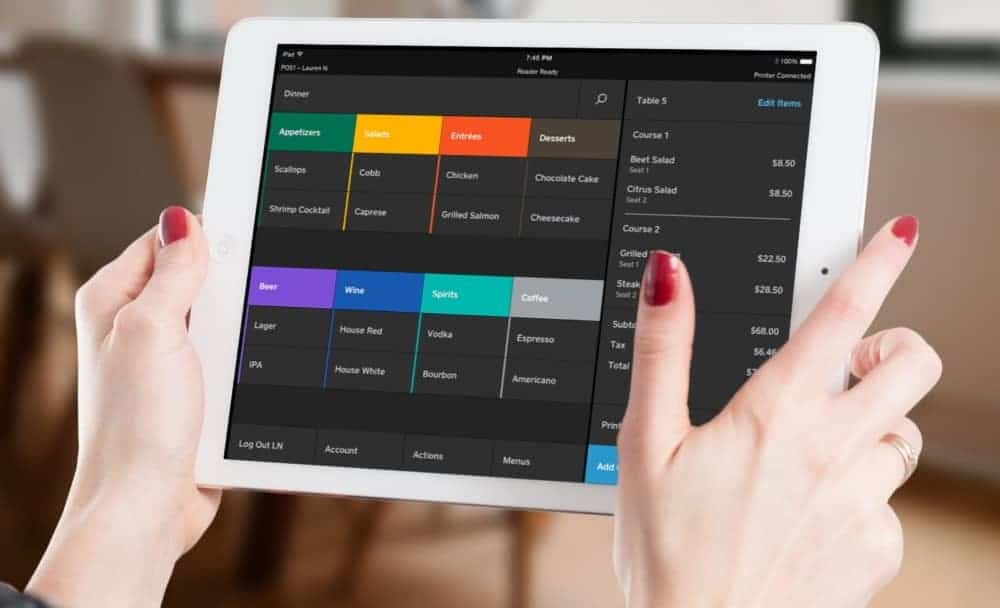 Menu Management
Every tool in Square is built to assist with coursing. Optimize floor plans to turn more tables and use conversational modifiers to speed up ordering. You can even repeat rounds of drinks with just a few simple taps. Every tool is designed to help your team move faster. Other key features in menu management include:
Customizable layouts
Make changes from anywhere
Top sellers on the main menu for quick selling
Square Online
Orders that are placed online will automatically sync for easier integration. Serve consumers in their homes with Square Online Store. Offer your own delivery service, curbside pickup, or a third-party app.
Table Management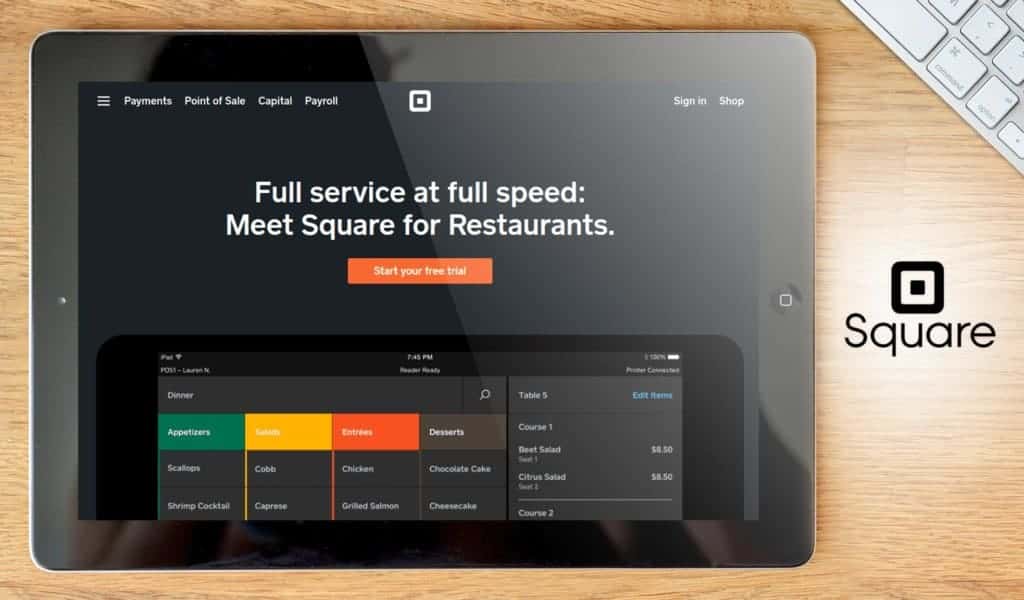 Customize the floor plan every shift for the sections and tables you need. Organize the bar, dining room, and other areas for large parties using the intuitive click-and-drop tool. A restaurant can individually monitor every seat in the establishment and have a better understanding of when a table is about to turn.
Key features include:
Bulk additions – update for seasonal swaps or the entire menu at once. No need to make multiple changes.
Integrations – Square integrates with platforms you already have in place from employee scheduling to reservation software.
Reports – from granular daily stats to top-line summaries, keep tabs on all the numbers that matter.
Finally, read our review of Square for Restaurants.
10. Revel Systems: Best POS System for Full-Service Restaurants


Revel Systems is a restaurant POS and platform that is designed to achieve all your business goals. They strive to fuel growth for merchants and improve day-to-day operations with an intuitive point of sale system.
Expect benefits that include:
Employee management
Sales reporting
Inventory control
Powerful management tools
Full-Service POS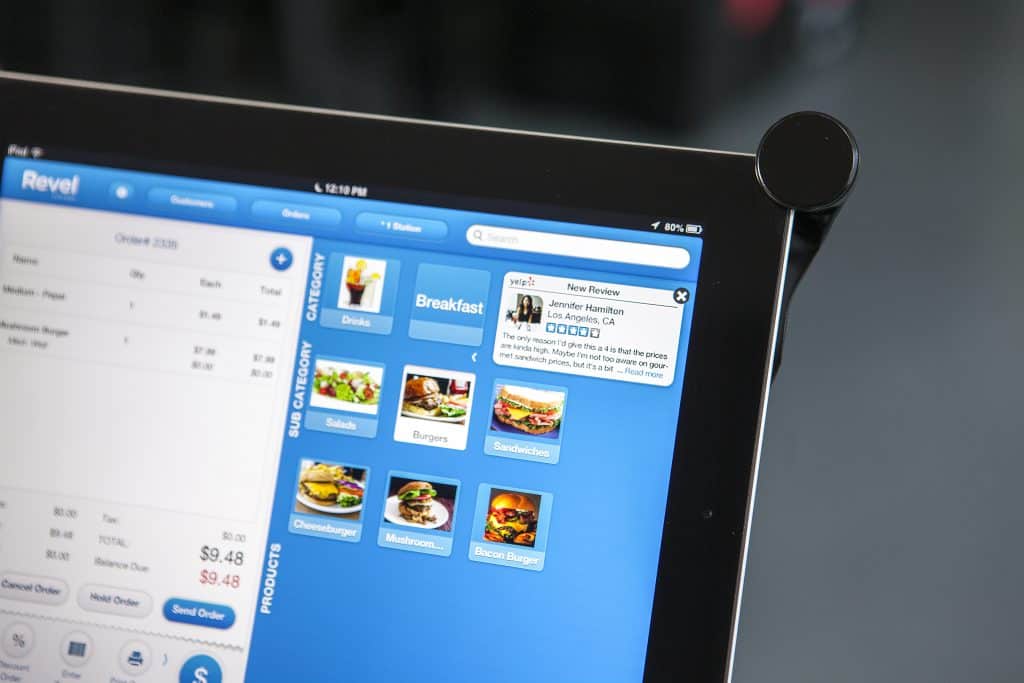 Easily manage menus for single or multiple locations. Understand all the moving parts of your business and analyze the bottom line with intelligent reporting. Achieve perfect order accuracy with seamless communication from kitchen display systems to mobile order takers.
Quick-Service POS
Build a menu from easy order modifications to add-ons with the touch of a button. Track your best customers and drive repeat business using the customer relationship management (CRM) tools. Enhance productivity by configuring your front and back of house.
Top-Level Integrations
The Revel feature-rich platform integrates seamlessly into a host of additional services and third-party partners to fit the needs of your business. Some of the popular platforms involve:
Accounting
CRM
Analytics
eCommerce
Workforce management
Intelligent Inventory Management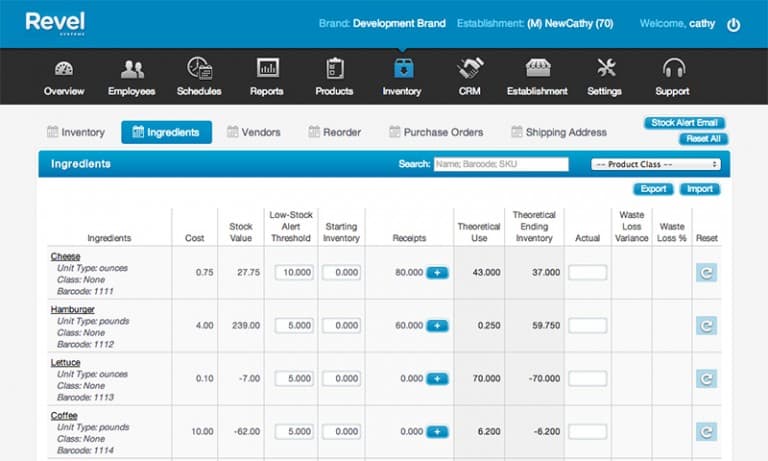 A business has the ability to control every item in the inventory which includes:
Names
Prices
Ingredients
Images
Quantities
All of this can be tracked and updated in real-time for the most effective stock management.
Key features include:
Cater to customers – easily split bills, accept more payment types, and hold bar tabs. Customers will be delighted with increased payment flexibility.
Manage the team – push out schedules directly to the Management Console. Employees can easily track time with built-in timecards.
Thorough reporting – grab the analytics that matter and draw insights from your daily processes.
Read our full review of Revel POS to learn more.
11. Rezku POS: Most Simple POS System for Restaurants


Rezku POS is committed to being the best tech partner for restaurants in the business. Their motto is "where others compromise, Rezku excels." They provide the largest scope of features of any restaurant POS on the market without extra fees.
Full-Service Restaurants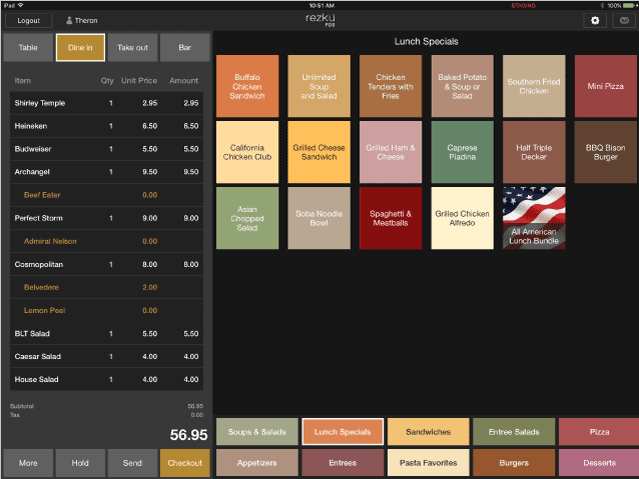 The system is 100% EMV secure for mobile payments and POS tablets. Put the focus on the guests with a streamlined table-service workflow. Customize floor plans with simple table management and split checks fast by amount. Provide detailed product descriptions with full-color images to optimize ordering.
Quick Service Restaurants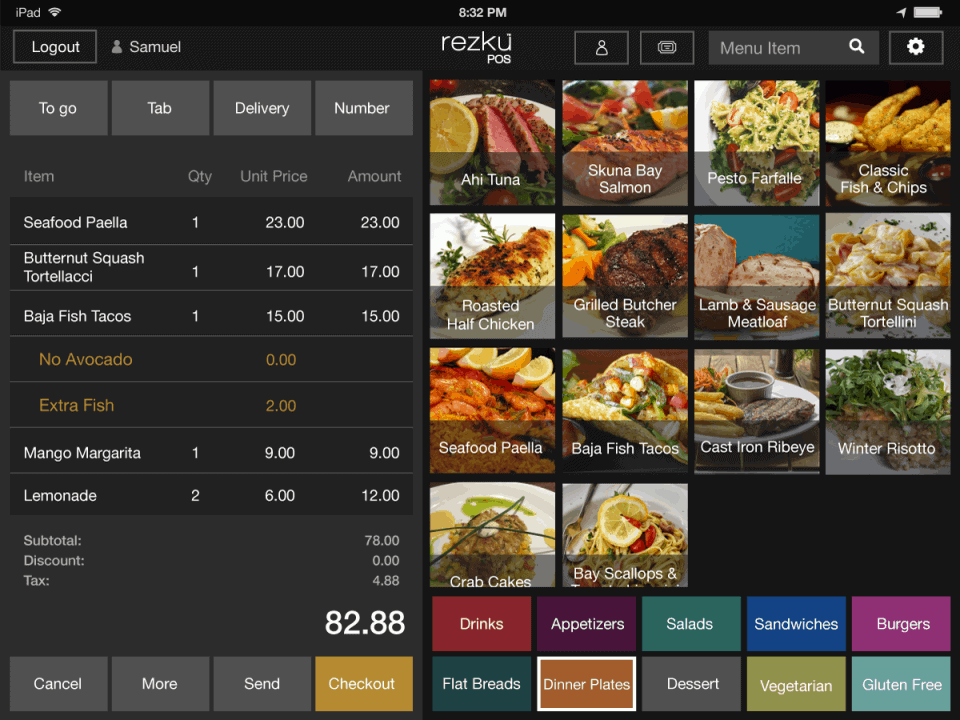 This includes conversational ordering with unlimited modifiers. The platform comes with customer-facing displays and kitchen display systems (KDS). A built-in loyalty rewards program means you'll always have customers coming back for more.
Other features include restaurant enterprise services with cross-data sharing capabilities, online order and delivery with timed ticket pacing, and in-depth, customizable reports.
Other benefits include:
Drag and drop menu building
Employee management with labor compliance
Permission-based manager controls
VIP service and support
Automated inventory with par values and alerts
Rezku also offers fee-free integrations with an open API. The system comes with unlimited remote menu building, employee training, and set up.
12. SpotOn Restaurant POS: Best for Fine Dining Restaurants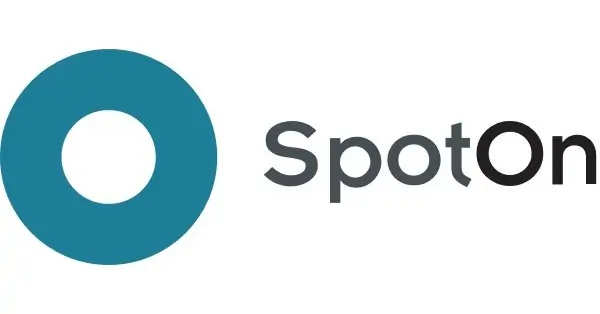 One of the smartest payment processing solutions on the market, SpotOn empowers merchants by combining easy-to-use customer engagement tools with intelligent payment processing. Their focus is on helping restaurants create meaningful relationships with customers, saving time and money (while exceeding the normal user experience).
SpotOn Restaurant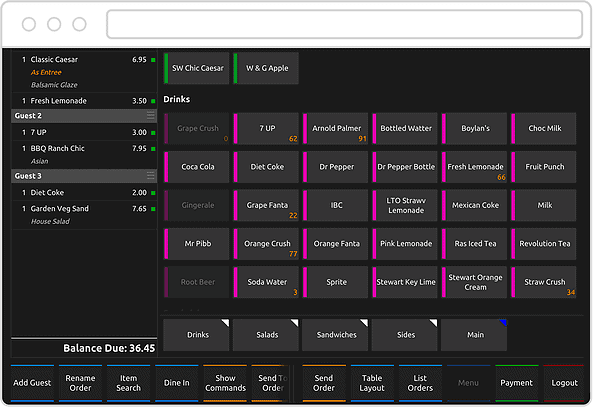 Unlock the potential of your business with a lightning-fast point of sale system designed by people who've worked in the industry. Key features include:
Unparalleled data and reporting
Robust back-of-house tools
Enterprise and multi-location ready
Accept cash, cards, or gift cards
Handheld POS for tableside ordering and payments
SpotOn Register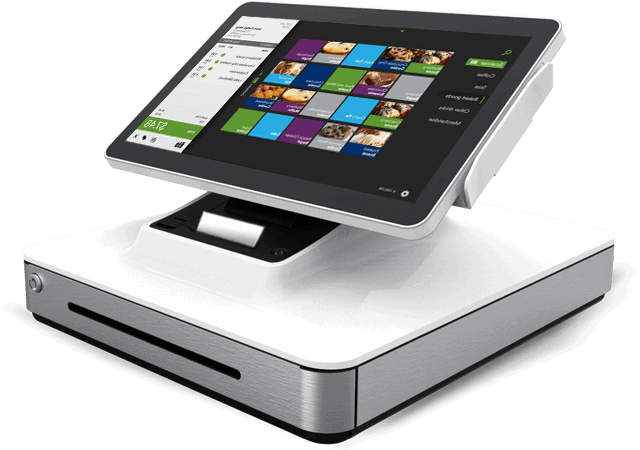 A business can accept nearly all forms of payment while also collecting customer data. Easily stay in touch and improve customer retention by accepting credit/debit cards, mobile pay, gift cards, and cash. The channel also offers features like:
Back office controls
In-depth sales reports for greater insight
Inventory and stock management
Customizable receipt options
Oversee multiple locations
SpotOn Poynt
Collect customer data and accept payments your way, whether it is at the counter or through a hybrid POS terminal. The product comes with two screens, one for you and one for the customer. Wi-fi and mobile connectivity are also optional.
13. Restaurant Manager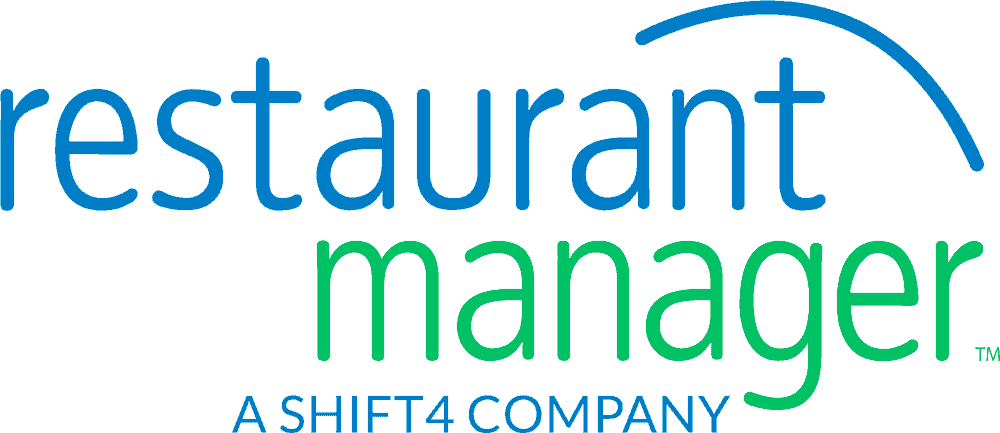 The Restaurant Manager POS system offers a touchscreen restaurant and mobile solution for a business of any size. The platform is designed to help a restaurant cut costs, increase revenue, and improve efficiencies.
Restaurant Manager is a mobile based, touchscreen restaurant management solution ideal for a wide range of businesses, any size. It provides comprehensive back-office capabilities and allows you to easily automate your end of day process. Its reporting suite provides information on voids, staff productivity, sales trends and more.
Managing restaurant operations requires a unique set of skills. Unlike a corporate manager who oversees a business's functions in an office, the general manager of a hospitality establishment or multi-unit operation is often on the floor at all hours, interacting directly with customers, employees and vendors to ensure everything runs smoothly. Generally, these managers have experience in the food service industry and possess strong leadership and organizational abilities.
Some of the most important responsibilities are related to hiring and training. Restaurant managers are responsible for creating job postings, interviewing and picking new team members as well as ensuring that they have the training and education needed to perform their jobs well. This may include role-specific training and shadowing, customer service training and tech education.
Other restaurant management duties include addressing customer issues and complaints and helping to develop marketing initiatives. This could include a new promotion or introducing yoga, ballroom dance, or magic instructors to the dining room to bring in more guests and increase revenue. Cutting costs is also an important task for managers. It could be as simple as changing out those old energy guzzling bulbs with LEDs or replacing them with CFLs.
Pay-at-the-Table
A simple and intuitive system that comes with state-of-the-art hardware, Restaurant Manager's SkyTab solution is a guest-facing "pay-at-the-table" (PATT) experience for your establishment. From PATT to tableside ordering and customer engagement, SkyTab provides the tools needed to bolster your bottom line.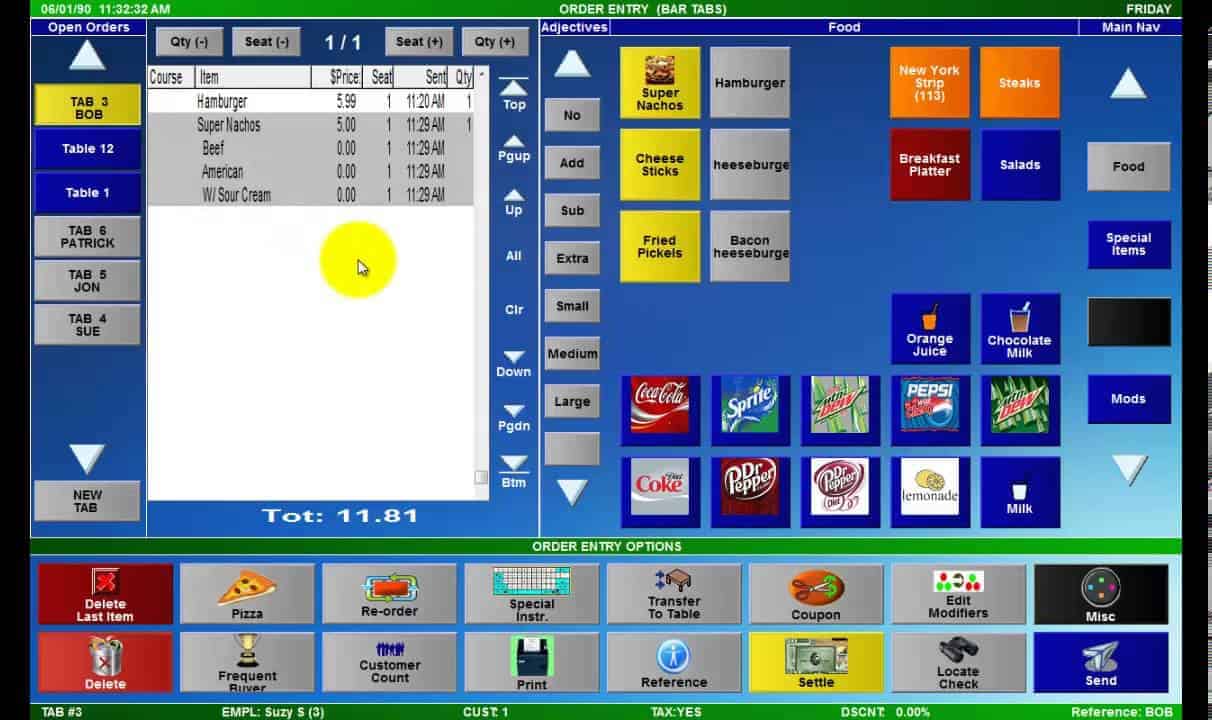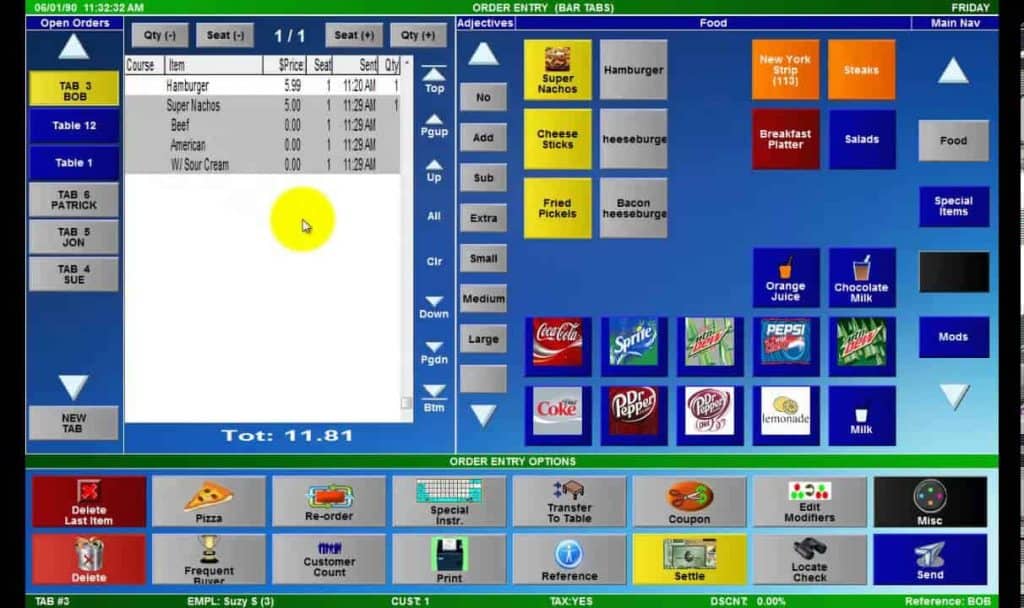 Mobilized Waitstaff
A mobile POS solution allows servers to spend their time on the restaurant floor instead of waiting in line. This not only saves time, it improves communications and increases revenue by turning tables faster. Servers are mobilized with RM Handheld and the RM Tablet which can greatly cut costs.
RM Handheld – iPod Touch makes it easier to take orders tableside.
RM Tablet – Take advantage of a larger screen display with detailed item descriptions.
In addition to exceptional restaurant-grade hardware, Restaurant Manager also offers key features like:
Table Management – Optimize projected wait times and organize seating management with RM Wait List.
Tableside Order Placement – Servers can place orders more quickly and turn tables faster with access to operational data.
Inventory Control – Eliminate waste and theft with a robust and powerful inventory control module.
14. Maitre'D: Best POS For Fast Casual Restaurant


Maitre'D is a POS solution that empowers over 20,000 merchant operations across the globe. It's distributed by third-party resellers and streamlines operations with tools like:
Cross-platform sales reporting
Mobile management applications
Optimized performance
Profits generation
Analytics & Restaurant-Specific Hardware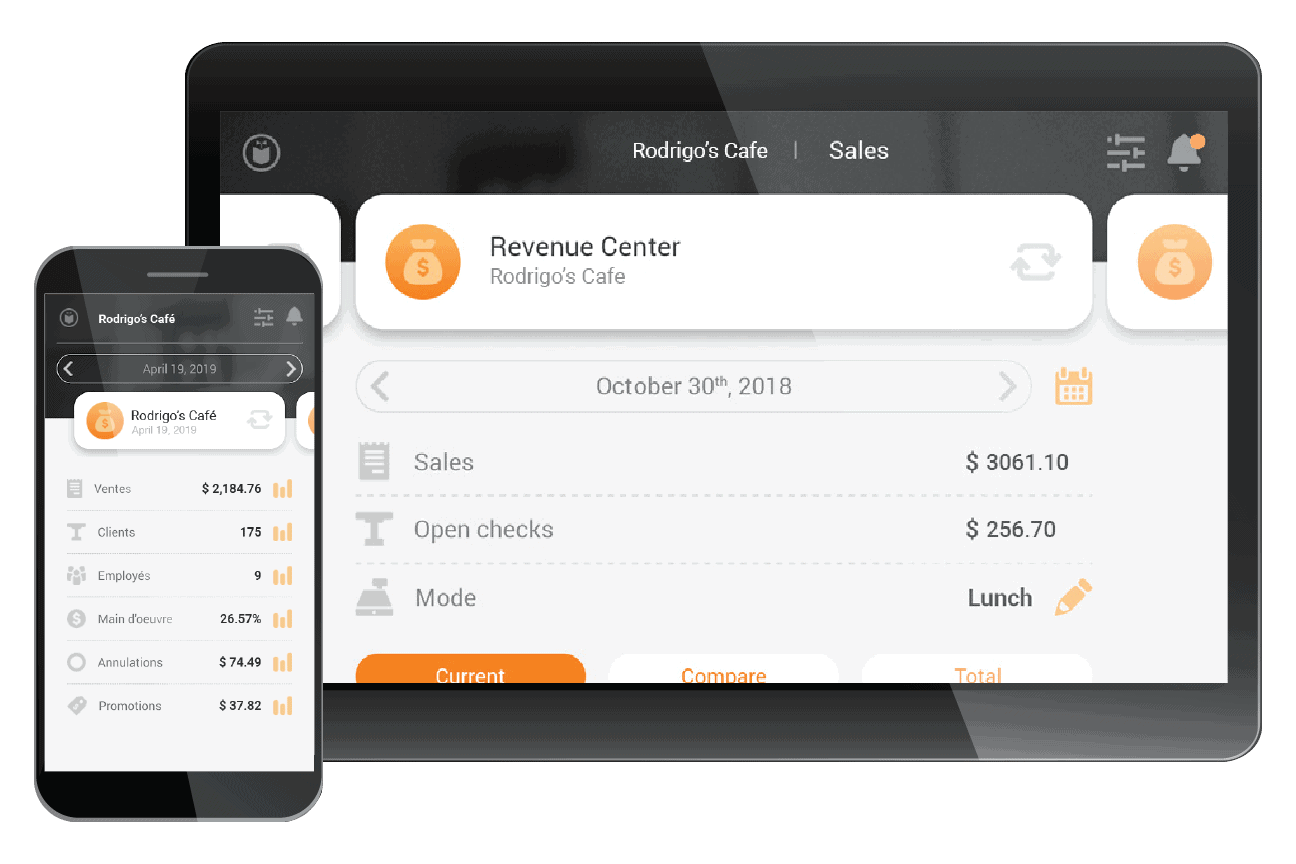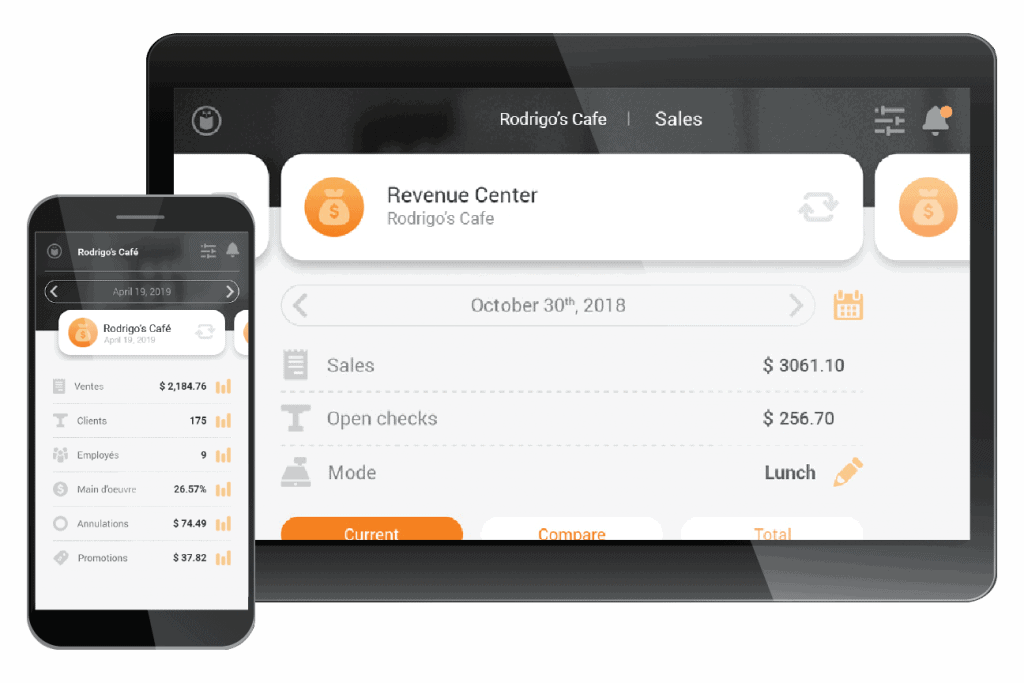 Maitre'D POS offers advanced kitchen management and in-depth analytics which is available as a fixed workstation or on handheld tablets for payment and tableside ordering. The built-in inventory management tools help to keep track of stock, barcode scanning, costs, and instant notifications.
The program facilitates front and back-office communications across multiple locations. The hardware-agnostic solution is configurable in multiple languages and currencies. With 24/7 support and a system that runs on either Windows or MAC OS, other features include:
Powerful reporting and forecasting
Advanced inventory management
Integrated transaction processing and gift cards
Labor management and employee scheduling
Cash management with customer loyalty programs
More Features & Integrations
The brand also offers a variety of mobile applications for all your business needs. Your key performance indicators are presented on the face of the dashboard with real-time data on labor costs, sales, voids, and promotions.
Maitre'D point of sale also has enterprise solutions with multi-concept management and global reporting. They offer a variety of integrations and interfaces to meet the needs of every business big and small. While it is not the best restaurant POS system, it has restaurant-specific features you'll appreciate.
Honorable Mentions
Loyverse – A free POS platform where users can manage inventory, visualize sales analytics, and improve customer relationships.
Revention POS – A online and delivery POS that's fully customizable. From remote management to mobile reporting, it's a popular POS system for restaurants.
POSsible POS Restaurant – An all-in-one hardware/software bundle with a broad variety of restaurant concepts. From increased efficiency to waste elimination, it's a platform for any type of foodservice establishment.
Ambur POS – Manage front and back of the house with powerful reporting and customizable table layouts. Feel secure with Amber's backed-up data and offline capabilities.
Epos Now –  A leading restaurant point of sale system to grow your business, they offer features that include online ordering, payment systems, CRM, and accounting software.
How Much Do Restaurant POS Systems Cost?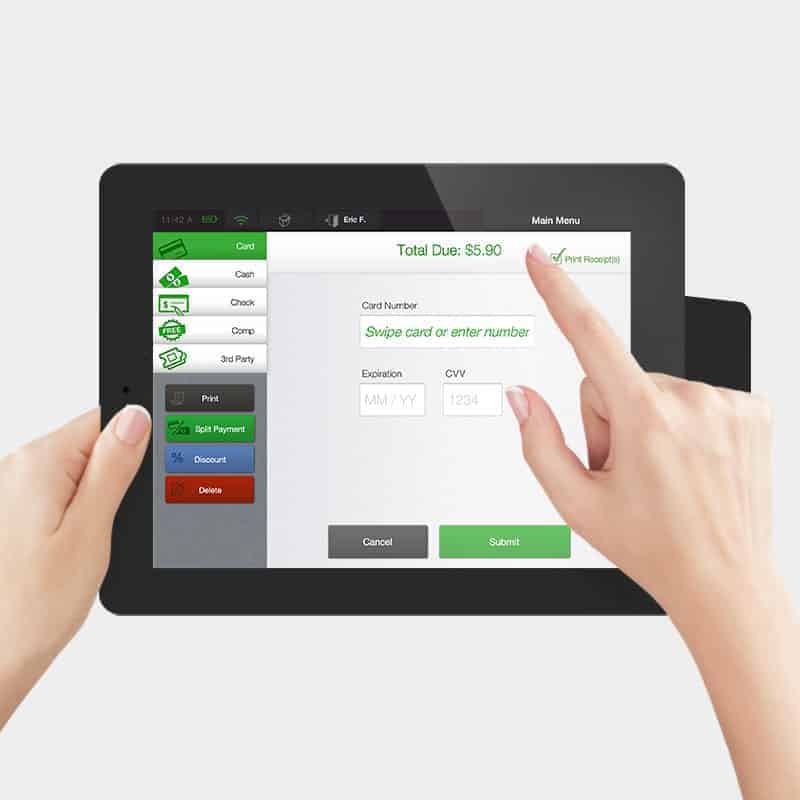 Restaurant POS systems normally cost between $70-$150 per month for software, and $700-$1,600 for hardware, depending on the size of your business and the bundle you need. 
Hardware Costs
While some brands allow you to use your own tablet, most will charge a fee to install hardware that is compatible with the software. The market average for restaurant POS systems is at least $600 for a handheld and up to $2,600 for in-house installation.
Subscription
Providers that don't charge upfront typically require a subscription fee (monthly, quarterly, yearly). When purchasing this product as SaaS, fees can range from $20 to $150 per month depending on the number of users and business needs.
Payment Processing
Always calculate the integrated processing rates in your budget. Expect a tiered, interchange plus, a flat rate, or a blended model. When it's not a flat-rate model, the provider may be charging different rates depending on the method (swiped, dipped, tapped). Whatever the case, expect to pay anywhere from 2.2% to 4.5% per transaction.
Features to Consider Before Buying Restaurant POS Software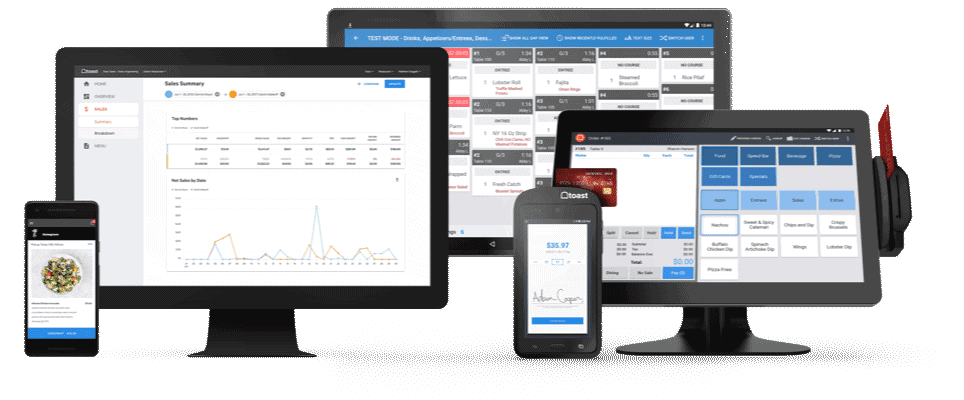 Tableside Management
Handheld technology designed for the restaurant environment that can enable your team to spend more time with guests and speed up checkout through tableside ordering and payments.
Features include:
Tableside payments – Run EMV or card transactions tableside
Guest feedback – Collect and respond to guest feedback instantly
Order ready notifications – Take orders tableside and get notified when the order is ready.
Menu Integration
Menu integration is a critical part of a restaurant's POS system. Instantly search menu categories and items to get every order fired as quickly as possible.
Combine POS data with payment processing to understand which items on the menu are and are not selling. This helps to discover which plates keep people coming back for more.
Inventory Management
An effective inventory management system helps to balance the books. Know, at a glance, which menu item costs in terms of raw ingredients. Get a clearer idea of the revenue made on each dish so you can drop the underperforming dishes and focus more on profitable items.
Key features include:
Track ingredient and food costs
Keep staff aware of inventory levels
Improve service
Track recipes against menu items to determine food costs
Customer Loyalty
Keep customers coming back for more with a robust loyalty program that includes gift cards and a point system. This allows a restaurant to stay connected with customers with a customizable rewards program that engages them.
Identify your best guests and reward them accordingly. An effective rewards program also means you can track important customer data that can be used later on in digital marketing campaigns.
Employee Management
An effective foodservice POS platform should offer a means to manage staff scheduling and track performance. It's everything you need to supervise employee activity and simplify day-to-day management.
You should be able to track things like employee sales, attendance, and register permissions. All of this adds more control over your business and leads to a higher rate of sales.
In-Depth Reporting
Take control of overall performance with a detailed analytics program in your restaurant POS system. It enables a business to keep tabs on specific data anywhere, at any time. With cloud-based access to sales performance and key reports, you can look into key data sets like:
Sales summary – Monitor performance over a period of time.
Location overview – A unified view of labor costs and net sales across one or multiple locations.
Product mix – Monitor product mix and identify areas of improvement.
Manage Your Restaurant Efficiently With POS Software
When choosing a point of sale system that will work effectively with your restaurant, it's essential to get as detailed as possible. The more a solution can meet your niche business, the more sales you'll make, and the happier customers will be.
That means, do your research. This guide is a great start to understanding the features dedicated to the best restaurant POS system, but you need to dig deep before spending any money.
Consider some key questions to help you decide, like:
What is my budget?
What type of foodservice business do I run?
What type of hardware do I need?
What are the top five features that would benefit me the most?
Can I integrate legacy systems?
Consider whether you want to purchase something outright or sign up for a subscription. The number of users can also affect this decision.
Once you know your total costs for the software and hardware, look at the processing costs. This will give a 360-degree view of the product you are purchasing and ensure it fits your business best.