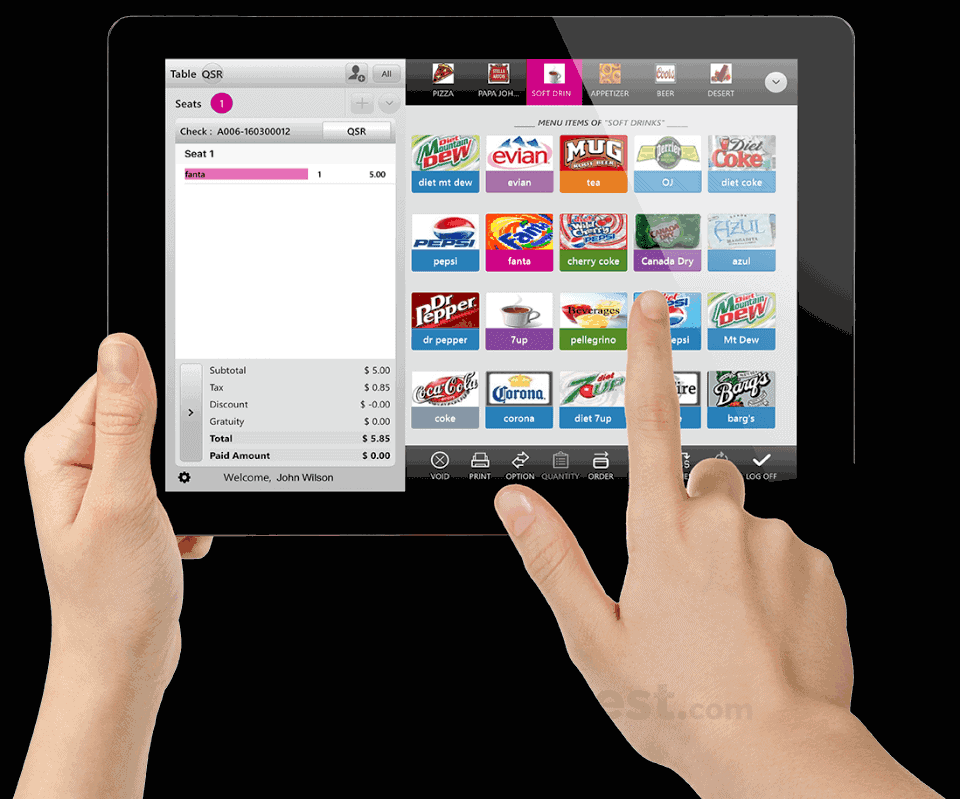 Restaurants have a lot of moving parts. Front-of-house and back-of-house management, menus, online orders, curbside pickup, reservations, coupons, and a whole lot more make running a restaurant a monumental task. Linga POS was designed to handle it all.
In competition with the likes of TouchBistro and Cake, every Linga POS subscription comes equipped with all features and integrations to run a complete restaurant, pizza shop, or quick-service operation.
Among its array of native tools and features, Linga offers robust delivery features like Linga Drive. Ensure faster delivery, better service, real-time communication, and optimal delivery times to make the process more seamless.
The most impressive feature that we found in our Linga POS review is its call center technology. It's built into the restaurant POS system so businesses can leverage phone orders, route callers to appropriate destinations, and analyze patterns and trends.
The software also offers a popular loyalty program that makes it easy to build customer retention. Linga Loyalty brings a clear and flexible rewards system with customer engagement and vast intent data.
Linga comes with various pricing options for restaurants. They have basic POS packages with options for a la carte add-ons for more niche features and services. To make it more convenient, they also offer bundled deals that package popular apps together.
Overall, Linga brings restaurants one of the most complete operational tools we've seen. While the full package becomes expensive, their plug-and-play customization makes it a great fit for any type of dining establishment.
Who's Linga POS?
The inspiration for LINGA POS began with its parent company, Benseron Hospitality. Founded in 2004, Benseron is a world-class technology solutions provider in the restaurant industry.
Serving over 10,000 restaurants and retailers globally, the company continues to push the envelope in the development of POS software solutions.
LINGA POS was designed to be the first-ever cloud-based POS exclusively using only Apple iPads. Building on 15 years of experience, LINGA represents the leading edge of technology in the industry.
Based in Fort Myers, FL, LINGA POS is rapidly becoming the go-to POS software solution for hospitality businesses around the world. LINGA is designed for businesses of all sizes and types. LINGA POS is flexible and powerful enough to be used as,quick-serve POS, Chinese restaurant POS, as well as Pizza POS.
LINGA POS offers a wide range of features leveraging the latest in technology and connectivity. Built on a solid foundation of functionality needed by every owner/operator, LINGA will give you all the superpowers you need for long-term success.
Linga is a Complete POS Solution

The POS-specific features of LINGA can do it all starting with a table management feature. This allows you to customize your table layout. This facilitates the calculation of guest counts, dining lengths and average check amounts.
Do you have a robust to-go business? If so, LINGA has all the tools necessary to take and process to-go and carry out orders. Increase your revenues during your slow traffic days and hours by growing this part of your business. Serve busy customers who need to grab and go versus dining in.
When it is time for patrons to pay the bill, LINGA allows complete flexibility to split or combine checks, or transfer items to different checks. This capability improves staff efficiency and meets the varied payment needs of all your customers.
More and more customers are opting to have their food delivered from their favorite eateries. Linga has all the tools you need to group your deliveries based on location as well as order time.
Quick serve concepts are all the rage in the industry these days. LINGA was designed specifically with QSR's in mind. With intuitive workflows for your employees, LINGA makes it easy for your employees to deliver a world-class experience even during your busiest hours.
Bar tabs are easily handled by LINGA as well. Accessible from any POS station, employees have multiple ways to look-up tabs to place orders, transfer, or process payments.
Linga Can Be Customized
The ability to modify menu items to meet your customers' requests is an important feature. LINGA allows you to customize food options with a wide range of optional and mandatory modifiers. Prices are automatically recalculated to make sure you maintain profits.
Managers need to keep tabs on all sales activities. Custom alerts can be set-up to notify you about discounts, copies, and other revenue-related activities. LINGA POS allows you to follow the money.
Check-out processes are a breeze with LINGA. Customize receipts for your customers as well as your kitchen staff. You get to decide what patrons see when they pay the bill. Capture digital receipts and store every transaction in detail on the cloud indefinitely. Signature on iPad functionality saves paper and allows customers to opt for a digital receipt.
LINGA POS allows the implementation of a Kitchen Display System (KDS). Eliminating printed tickets offers a faster, more efficient manner to communicate orders to your kitchen staff.
Powerful Back Office Functions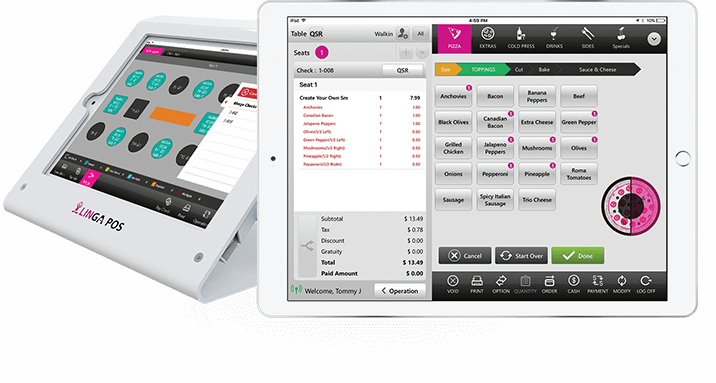 Back-office and Management features are another strong suit for LINGA POS. Every operation is a bit different. LINGA allows customizations for your specific needs to maximize your operation.
Payroll is another significant expense for all operations. LINGA POS allows you to track employee's hours down to the minute. Reports allow you to analyze if you are sufficiently staffed to deliver exceptional service to your customers.
Customize your roles and permissions with LINGA POS to keep employees focused on only what they need to see. No matter how complex or simple your hierarchy, LINGA is flexible enough for teams large and small.
LINGA's inventory comparison features help operators reduce spoilage. Compare inventory costs and usage from your historical usage data. LINGA also has a powerful food cost analysis tool. This calculates the cost of each ingredient of your menu items so you can appropriately set prices. Adjust your food costs and watch your profits soar.
This System Provides Robust Reporting
In any business, information is power. LINGA POS includes detailed reporting and analytics features to keep all your data at your fingertips. Enhanced decision-making capabilities will help you maximize sales and increase your profits.
The hub for this information is the LINGA POS key performance indicator (KPI) dashboard. This displays vital views of net sales, transactions and refunds so you can get a quick view of activities.
Linga POS is a Marketing Machine

LINGA POS includes powerful marketing tools. Loyalty programs are simple to create and manage. Encourage frequent visits and increased ticket totals. Gift card creation capabilities allow your best customers to introduce your establishment to new customers.
Enterprise operations love LINGA.  Customized consolidated reporting allows you to group stores by location or sales activities for unique insights into your business. Manage your loyalty programs and online ordering functionality and menus from one simple location.
Control Connected Devices
Connected devices such as Nest thermostat controls can also be accessed and adjusted from anywhere. Control your energy costs and make sure your customers and staff are comfortable.
Other Internet of Things (IoT) devices such as CCTV security cameras as also integrated into the LINGA cloud-based POS system. Working from home or on vacation? This feature allows you to keep an eye on all activities from your smartphone.
Linga POS also allows you to offer your patrons access to a free Wi-Fi hotspot. Convenient for your customers, this is also a valuable marketing tool for you to collect visitor data and make offers to entice return visits.
Linga POS Benefits
Individual iPads work independently in the event of internet and power interruptions
Multi-language compatibility into 30+ languages
Compatible with every recognized currency ink the world
Sophisticated online ordering capabilities
24/7 product support and extensive resource library
Intuitive interface for easy training of users/employees
Cloud-based and accessible from anywhere
Extensive integrations with payment processors and accounting systems
Additional feature can be chosen ala carte
Linga POS Drawbacks
The basic plan is fairly limited in capabilities
Add-on features can get expensive depending on your operational needs
Linga POS Pricing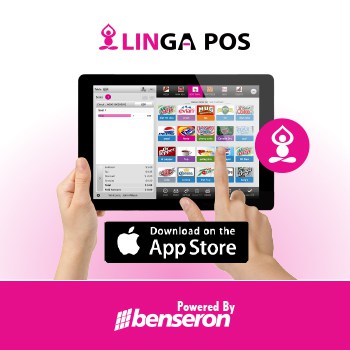 The LINGA POS system is designed to be used exclusively with the Apple iPad. These devices can be bought directly from Apple or other resellers or as a bundle from LINGA with scanners, printers and other necessary peripherals included.
Bundles range in price from $507 for simple, table side order taking up to $1447 for a countertop setup with all options. Custom configurations are available by quote.
In addition to hardware costs, there are also monthly/annual plan fees for access to the LINGA POS cloud-based software. There are 3 levels to choose from:
Basic:  $19.99/mo billed annually
Single Store location
Unlimited Users
Unlimited Products
Sales and Employee Dashboards
Gift Cards
Email Marketing
Happy Hours
Pro: $49.99/mo billed annually
All features in Basic
Inventory Management
Table Layouts
Payroll Reporting/Time Clock
Enterprise: $89.99/mo billed annually
All features in Pro
Consolidated Reporting
Country level Management
Enterprise Loyalty
Multi-store Inventory
Possible Alternatives
Linga is a solid choice for a POS system solution. However, here are some possible alternatives to Linga POS:
TouchBistro:  TouchBistro in an iPad POS and integrated payments solution that helps restauranteurs put more money in their pockets and time back in their day. Powering over 16,000 restaurants in more than 100 countries worldwide.
Upserve:  Upserve's restaurant management platform is an all-in-one solution to successfully run your restaurant. Providing payment processing, point of sale and valuable reporting insights to boost margins while saving you time. The platform is easy to implement and use, reliable, and backed by 24/7 U.S.-based support experts.
CAKE POS: CAKE offers a robust and easy-to-use POS system with integrated functionality to cover all areas of operating a restaurant or bar. Having a centralized system that keeps everyone on the same page in real-time is the key to keeping your establishment growing its bottom line.
Our Final Verdict
LINGA is a cutting-edge POS system that includes advanced features and capabilities in a simple and familiar interface based on the widely used Apple iPad. Employees and customers alike will find it simple to use while delivering powerful tools on the backend to owners and operators.
Easy to deploy for new businesses or upgrades for existing restaurants, LINGA POS has a solution level available for restaurants and cafes of all sizes and types.
Reader Interactions