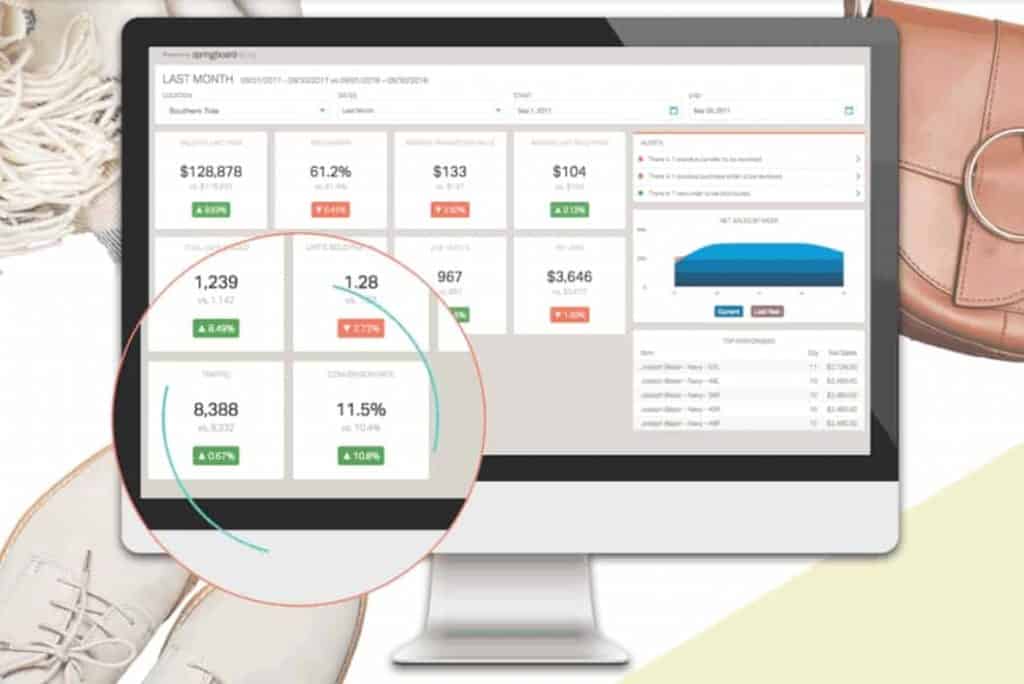 Whether you manage a small or multi-location retail business, chances are you heard about Springboard Retail. This cloud-based POS system is one of the most powerful retail management systems, helping you automate certain tasks and improve profitability.
With Springboard, you can manage orders across all your channels, whether online or in-store. Optimize your inventory with ease; transfer items to another location and track your inventory levels in real-time.
Whether you own a shoe store, a gift shop, or a clothing store, Springboard was designed to meet your pain points. With a user-friendly interface, you can collect data and identify your best and low-selling items, track your profit margin, and more.
Need to assign special permissions for managers or cashiers? No problem. Also, build custom purchase orders, generate reports on the fly, and customize the point-of-sale system to fit your branding.
After an extensive review of Springboard Retail, we found the powerful reporting to be best feature about the software. Given that Springboard was recently acquired by Heartland Retail, you can now use the most data-driven reports and dashboards to stay ahead of the competition. Also, this POS system is designed for growing businesses who want to expand.
With a system that doesn't require upgrades, your retail software is always up to date. Let's examine how Springboard can help your business thrive.
Who's Springboard POS?
According to Springboard's website, they started their POS development out of an immediate need. Founder Gordon Russel ran a franchise of specialty retail stores in the Boston area and needed a POS solution to fit his unique store. He wanted a POS that would support his operation while also supporting operational growth.
Gordon got together with co-founder Jay Stotz. They decided to build a cloud-based POS that would support retail while promoting growth. That meant an interface that was easy to use and that fit modern retail outfits while providing complex reporting.
Since its founding in 2013, Springboard has been responsible for processing $2 billion in sales at over 1,000 sites. They attribute their success to understanding retail and promoting continual development and innovation in their POS. This innovation is evident in the sheer number of benefits and integrations they bring to the table for their customers.
Key Features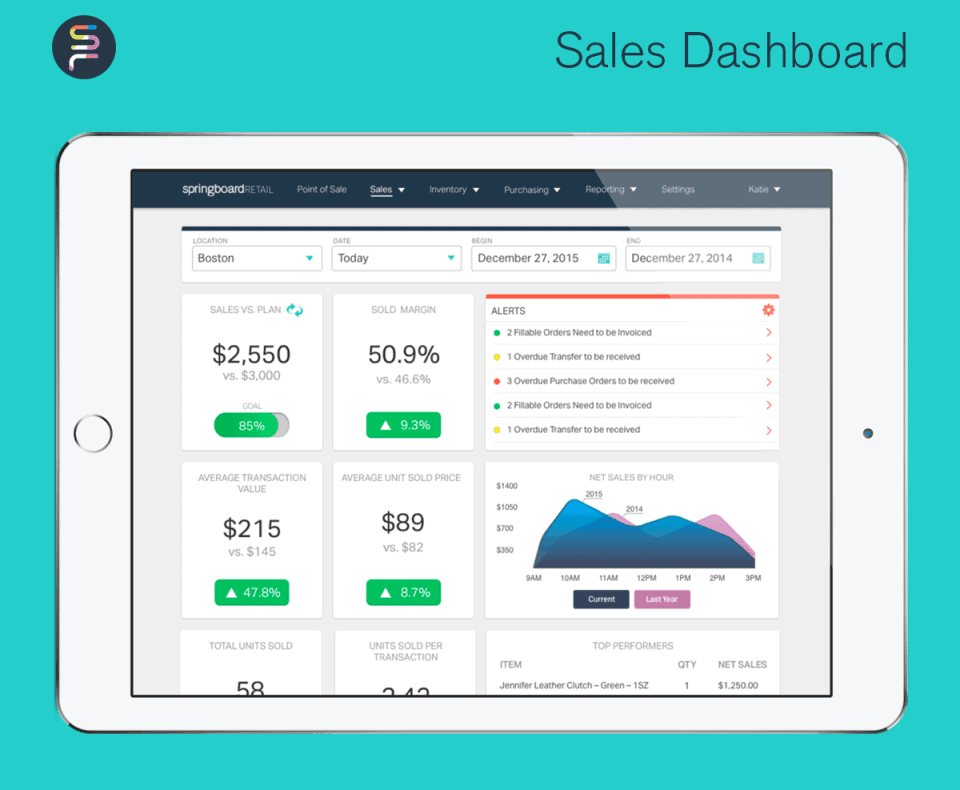 The primary benefit you are going to get from Springboard is that it is purpose-built for retailers. That means plenty of options for tracking unique inventory, reporting, and customer management.
For example, Springboard is 100% cloud-based, meaning that you can get reporting on customer sales, representative performance, and more anywhere you have an Internet connection.
Custom support is also a plus here, with several options for managing VIP programs and gift cards. Use built-in CRM tools to track customer behavior and implement marketing through tools like MailChimp or other marketing partner apps.
Some other features include:
User-Friendly Interface.
Multi-Store Inventory Management.
Works on Mac, PC, and iOS Platforms.
Split Orders Between Multiple Channels.
Custom Codes for Returns and Price Adjustments.
Potential Drawbacks
Springboard is completely cloud-based, which means that it is hardware agnostic. But you may find that it doesn't work 100% identically across all web browsers. Most users report that this isn't much of an issue, but some have reported bugs on specific browsers and operating systems. Furthermore, this POS is purpose-built for retail. If you are a retail business, then this is great for you. But their business types are better suited to other POS systems.
Springboard POS Plans & Pricing
Springboard offers three tiers of pricing with different capabilities available based on the tier.
Springboard Plus – $99/mo per terminal

The Plus plan is the introductory-level plan for businesses. With the Plus plan, you get multi-location support or sales and inventory. You also get "powerful" reporting, integrated eCommerce, inventory purchasing and receiving, and customer management.
Springboard Professional – $139/mo per terminal
With the Professional package, you get everything included in the Plus package and more. Additional features include customizable reporting, advanced promotions and VIP program management, advanced inventory management, and extensive email, phone, and chat support. You can also take advantage of the advanced coupon builder to make custom coupons for any product or event.
Springboard Enterprise – Quote
The Enterprise package includes everything that comes with Plus and Professional, plus the ability to customize your branding, manage multiple brands from the same POS, and immediate-response support in case anything goes wrong. This package also provides API access to that you can build custom tools for your business using Springboard as a central platform.
Springboard doesn't provide centralized payment processing but offers global payment support through partner integrations like Clover, eConduit, and Worldpay.
Hardware and System Requirements
One of the biggest selling points for Springboard POS is that it is completely cloud-based. This means that you can access the POS through a web browser on several devices (including mobile devices like iPads).
The company does sell dedicated POS terminals, however, that include several options for building a complete terminal system.
The Springboard Retail Complete Bundle
This bundle includes everything you need for basic retail service. These tools include an iPad Air, an iPad stand, register, scanner, label printer, and connector cable. You can rent this terminal for $63/mo or buy it outright for $1,446.
The Springboard Retail Mac/PC Bundle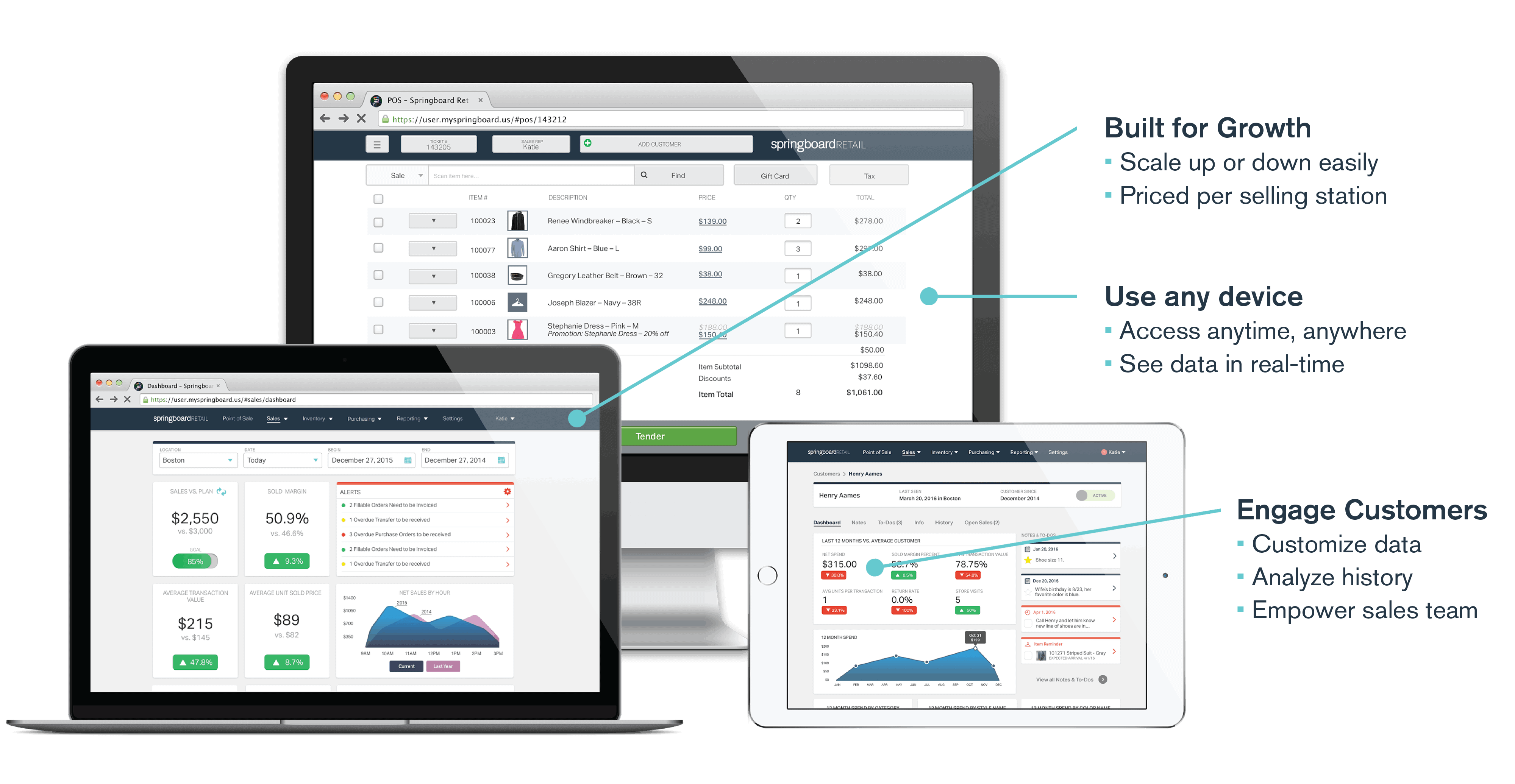 This package is a cost-effective way to leverage your existing Mac or PC. Using the cloud-based functions of Springboard, you can connect your computer to a register, scanner, and printer for only $513.
Tablets
Springboard also sells several models of iPad to use as part of your sales. Current models available include
Apple iPad Mini 5 – $399
Apple iPad 9.7" – $329
Apple iPad Pro v2 – $999
This doesn't mean that you have to use their iPad units, of course. If you have your computers or iPads, they will typically work. 
Registers, Scanners, Printers, Credit Card Readers
While Springboard doesn't require a specific set of hardware to operate, they also provide several simple items to help you get everything you need in one space. These include
Lightning Port Credit Card Readers (for Macs and iPads)
USB Credit Card Readers (Mac and PC)
Several small printers (starting at $239 per printer)
Several barcode scanners (starting at $34.50)
A register (comes in gray or black) (for $129).
Hardware Support
Springboard software does have hardware requirements, however. You will need a computer or device with at least the following specifications:
A 1 GHz or faster x64 processor.
At least 2 GB of RAM.
At least 16 GB of hard disk space.
Windows 7 (64-bit) or newer (for PCs).
Mac OS X 10.10 or newer (for Macs).
iOS 9 or newer (for iPads).
Google Chrome, Mozilla Firefox, or Safari web browsers.
SpringboardTRAC

Looking to record foot traffic in the store? Want to compare shoppers to actual buyers? Just need some data to compare against marketing efforts? With SpringboardTRAC, you can do just this. This hardware includes discrete sensors that record with up to 95% accuracy. You can follow how many people enter and leave the store and have that data reported directly to the POS.
With this kind of data, you can more accurately calculate conversion rates and refine your marketing and sales efforts. SpringboardTRAC is easy to self-install. It doesn't stick out in your store or present an unattractive eyesore to customers.
With Springboard, the hardware is no problem. You have the freedom to use several different devices (any that you are comfortable with) out of the box. And, if you don't like Springboard terminal hardware, buy from someone else.
Hardware flexibility is important, so if you need that kind of support, Springboard is a great choice.
Features and Capabilities
Springboard is well-known as a retail-specific POS. It supports many of the modern features that a retail-focused POS should. Some of these features include integration with some of the top marketing and sales apps around, while others come straight from the Springboard team. 
Integrations
Springboard has dozens of commerce, retail, and payment processing partners that provide integrations to the POS platform. This means that you can extend your Springboard experience without a lot of complicated workarounds while getting access to some of the best-supported services for businesses.
eCommerce: This POS will bring you extended support for integrations with some of the biggest eCommerce and CRM providers around. Partners like Magento, Shopify, SalesForce, and BigCommerce give you plenty of options for tracking customers, performing outreach, and directing omnichannel sales.
Marketing: Speaking of marketing, you can also integrate with partners who provide support for CRM-connected marketing activities like email campaigns and loyalty and membership programs. Partners like MailChimp, Annex Cloud, Marketing Logic, Thirdshelf, Smart Transaction System, and the aforementioned SalesForce empower your sales right from your POS.
Payment Partners: Make credit card payments easy from anywhere with Worldpay, eConduit, Bank of America, and Clover.
Retail Management: Handle complex retail inventory management and purchasing with partners like Joor, ManagementOne, NuOrder, and Quickbooks.
Retail Collaboration: Network with specialty sellers, boutique retailers, and big-box markets with networking and collaboration tools like The Boutique Hub and the Museum Store Association.
Cloud-Based POS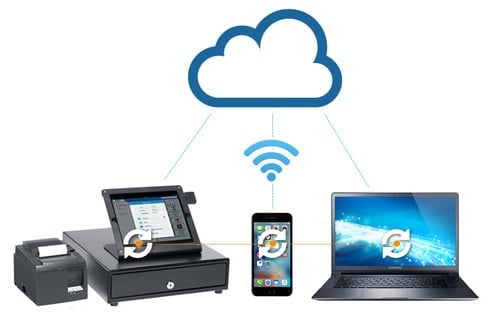 Springboard is 100% cloud-based, which means that it is also hardware agnostic. Access your POS from any web browser on desktop and mobile devices like the iPad. Only buy the hardware you need to fit your business. Whether that is a register, credit card scanners, or a fully-functional POS system, you can get what you need from Springboard and connect to the cloud.
More importantly, cloud access allows you to get your reporting from anywhere, in real-time. Real-time data can give you the edge in predicting sales, adjusting prices, and developing comprehensive sales strategies.
Cloud POS reporting includes the following benefits:
Sales representative performance tracking.
Inventory lookup across multiple stores.
Manage gift cards and loyalty programs from anywhere.
Get real-time data with an online dashboard.
Order Management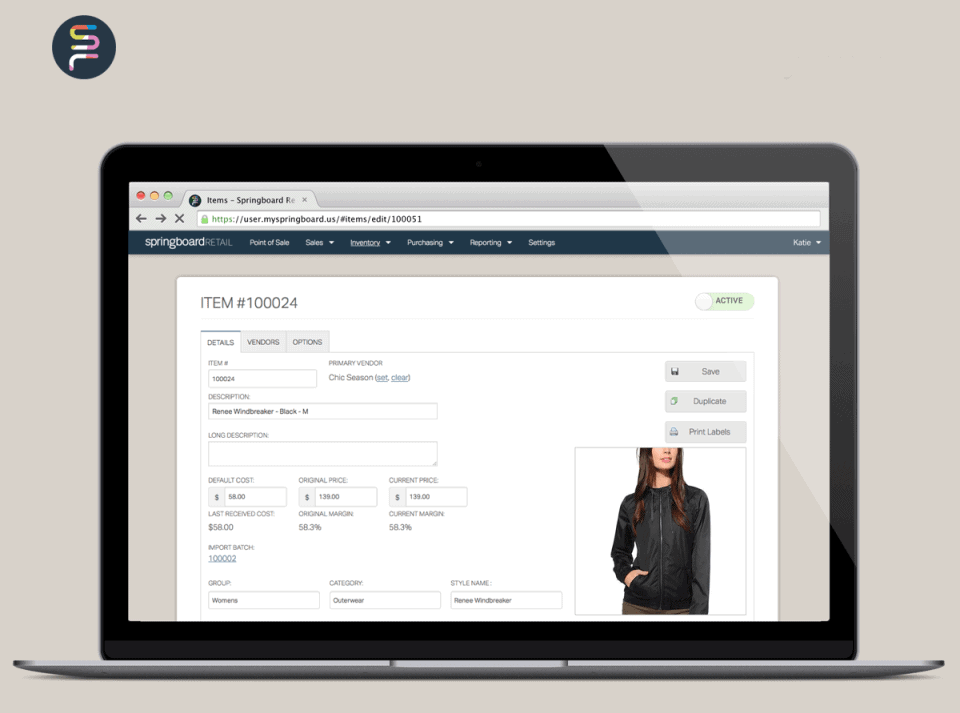 Order management is where Springboard shines. With this POS, you can keep tabs on inventory across all your locations. Provide customers with a seamless shopping experience knowing that you can order stock from other locations with the press of a button.
Streamline ordering so that you can set alerts for low stock. Make customer shipping easy between store locations.
Get real-time inventory updates.
Set alerts for low stock emergencies.
Ship seamlessly from one location to the next (or a central warehouse).
Split orders for multiple fulfillment points.
Custom Inventory
Speaking of inventory, retail is a market space where inventory variety is king. Shoppers want options in color, size, and style. Managing such a complex inventory can be a hassle. Springboard, however, gives you plenty of customizable options for managing a custom inventory, including making custom fields for your own inventory needs. This includes custom barcode creation for your unique items. 
Customer Management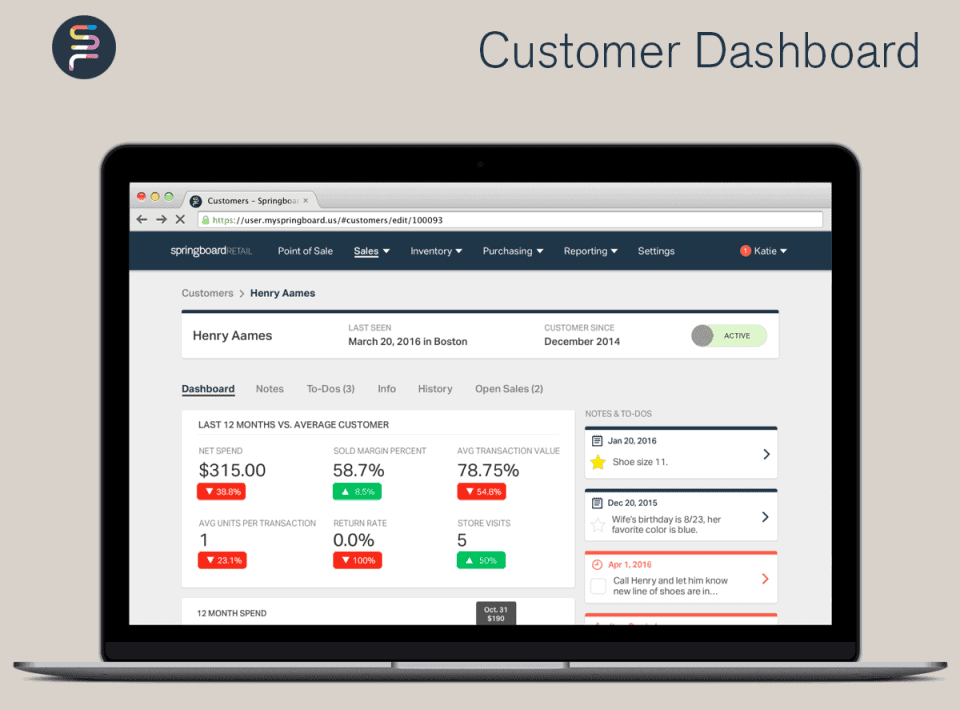 Customer relationships are critical for success in the retail space. For starters, you need to reach out to customers through properly-organized membership and rewards programs, discounts, holiday offers, and gift card sales. Springboard gives you a ton of tools, including software integrations, to manage customer programs.
On top of that, the built-in CRM gives you the platform you need to reach out to your customers. Send email blasts, reach out with special offers, and make direct contact with your audience and track those connections every step of the way. Springboard makes it easy with customizable CRM fields to track for nearly any category you'd want.
Finally, we talked about eCommerce a little bit before. But with integrated eCommerce tools, you can make sure that your VIP members are treated right. And using tools like MailChimp can give you the additional boost you need to market to your best customers.
Use the QuickView customer dashboard to track your customers and their favorite items, styles, and trends.
Create custom reports based on customer data and segment your audience. Develop more refined sales efforts and target marketing.
Integrate marketing and customer management platforms to make CRM functions easy and robust.
Let Springboard Revolutionize Your Retail Business
We've covered a few of the amazing features in Springboard. But the most important aspect of this POS is that it is for retailers, by retailers. Anything that you can think of to increase your foot traffic, manage marketing, and increase sales is here.
From a software standpoint, the cloud-based features present you with an easy way to use extensive hardware layouts and access reports from anywhere. The hardware itself can be any computer you want, including iPads, with little setup.
App integration is also a plus, with several additional tools available. Whether you need expanded CRM capabilities, reward program management, or eCommerce functions, you'll find a partner that can help.
If you are a retailer who needs a way to reach customers, track conversions and sales, and fine-tune representative performances, then Springboard could be the POS you are looking for.
Reader Interactions