Intuit's QuickBooks accounting software has long had a lock on accounting software for small businesses.
Although the figures vary widely, their desktop and cloud-based versions in recent years have had a small-to-medium business market share ranging from 60-85%.
It was only natural that Intuit would eventually develop a POS solution that integrates seamlessly (well, almost seamlessly) with its accounting offering.
Any business already using QuickBooks accounting software that also needs a POS solution is probably going to give it a try, or at least seriously consider it.
This detailed review will cover everything you would want to know in order to decide whether or not you should take a close look at the QuickBooks POS.
Who's Quickbooks POS?
Intuit is the company that developed QuickBooks. It was founded all the way back in 1983.
Scott Cook had the initial idea for the company based on his intuition that the personal computer (a novel development at that point) could be used for personal financial management. He partnered with computer programmer Scott Proulx and they produced the first version of Quicken.
The program was hugely successful. The company then went on to develop other software programs for various financial tasks, including TurboTax for tax preparation with versions available for both individuals and businesses, QuickBooks for small business accounting and financial management, and a suite of professional tax solutions.
Quicken was sold off in 2016 to HIG Capital and Intuit now offers Mint instead, which is a web-based personal finance service.
QuickBooks POS lists the following distinct industries best served by its solution: Small Retail Business, Apparel & Accessories, Sporting Goods & Bicycles, Furniture & Furnishings, and Home Improvement. Restaurants are curiously lacking from this list, given what a huge segment it is.
QuickBooks POS Summary of Core Features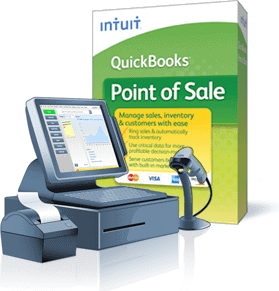 QuickBooks POS is a desktop solution. There is no cloud-based version. The core features and functionalities may be briefly summarized as follows:
Ringing up sales can happen using an optional barcode scanner, a Microsoft Surface Pro 4, or by manually entering item names or numbers.
Inventory tracking without lifting a finger because your inventory will be automatically updated with each and every sale, order, or return. Inventory reports will quickly show you which items are your hot sellers and what's not moving. You'll also know what and when you need to order more of something.
QuickBooks sync is a major feature of the POS, as might be expected. It allows for reconciliation of sales, payments, cost of goods sold and other accounting features. By eliminating the need for double data entry, errors are reduced and time is saved.
Credit card payments can be accepted, along with debit cards and cash.
Customer information available includes history on things like balance due and available credit, along with special offers for every transaction.
Rewarding customers can happen through a loyalty program tracked through the POS.
Tablet compatibility for greater mobility throughout the store is made possible by installing the POS on Microsoft Surface Pro 4 tablets.
QuickBooks POS Benefits from the User Perspective
A major strength of the QuickBooks POS as described by many customers is its robust inventory tracking functionality. User routinely talk about building up inventories of more than 15,000 unique items.
All the customer history is there so you can see who bought any particular item as far back as when you first started using the POS, which for many has been more than a decade. This also allows businesses to quickly determine if a disgruntled customer who shows up at their store really purchased the item from that location or not.
Some businesses like that the core POS is not dependent on an Internet connection, but of course payment processing does require an Internet connection. They also note that as long as you're backing up the POS database frequently, a major computer crash is easy to recover from with a reinstallation and then pointing it to the backed up database file.
Many users have praised QuickBooks POS for being easy to use, and easy to train others how to use it. Then again, it may also be that some of these users are not aware of the full range of features and functionalities the system offers.
In general, the more user reviews you read, the more you get the sense that these really are primarily small business owners who are excited to have a computerized POS system that integrates with QuickBooks. It's by far not the most cutting-edge or robust solutions out there, but that seems to be just fine for many users.
QuickBooks POS Drawbacks from the User Perspective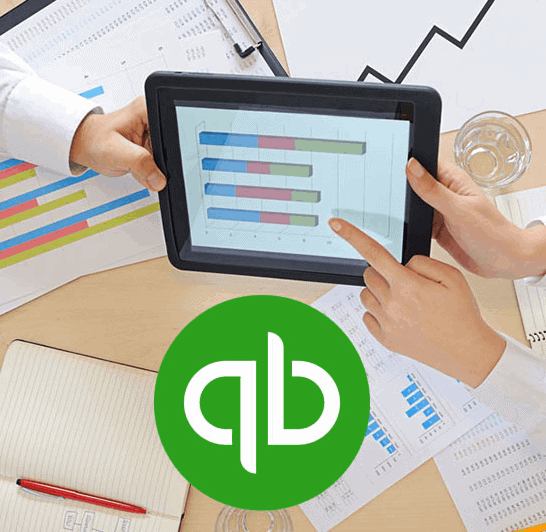 The customer service and support is, by all accounts, truly horrendous, and you also have to pay for it after your initial free support period of only 60 days. In fact, a number of users say they were able to get better support and help from third-party companies.
Users are also forced to upgrade because each year the company stops supporting any version older than a couple of iterations old. This means users are forced to upgrade every couple years, which comes at the price of buying the whole system outright every time you have to upgrade. This feels like starting over rather than upgrading.
One problem noted by a number of users is that the POS is clearly meant for smaller businesses. Its capacity and utility is easily outstripped if your business grows out of the small range.
Another issue for many users is that there is no online store integration to the POS. For businesses that also sell their products online, inventory has to be updated manually in the POS, which feels very clunky and obsolete in the digital world of the 21st century.
For users who discover there are more advanced options and functionalities in many areas of the POS beyond the basics, learning how to set up and quickly use them takes a good deal of time with a lack of training available beyond some tutorials and video guides. For users who eventually realize they're only using a small portion of the system's capabilities, this is very frustrating.
The POS software can be very glitchy for some users as if it has a mind of its own. Some experience the random deletion of a couple of transactions on a daily basis or random changes to inventory quantities that don't match reality.
Or, it randomly won't automatically charge the sales tax on an item.
Quite a few have experienced larger "data dumps" of inventory, which results in a major headache because the only way to correct it is by re-entering all of it. The users who have had these kinds of experiences are the ones that give QuickBooks POS the lowest possible rating.
Some users complain that the QuickBooks POS takes far too long to deliver payments to the business, with some noting payment delivery delays as long as four days, whereas competing systems consistently deliver payments overnight nearly all the time.
Many users are unhappy that they have to sign up for QuickBooks Payments to process card payments, and that the fees charged are higher than many other payment processors.
The users who give up on QuickBooks POS are those who are supremely frustrated by the poor customer support, have suffered from software glitches, and who are looking for a system that's more up-to-date in terms of being more mobile-friendly, cloud-based, and able to integrate with online selling.
QuickBooks POS Pricing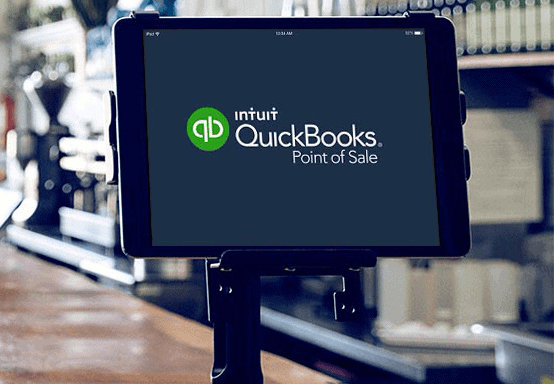 There are three versions of QuickBooks POS with base prices as follows:
Basic = $1,200
Basic is for very small businesses and includes the following:
Ring sales
Take payments
Track inventory
Track customer data
Basic reporting
Integrates with QuickBooks Desktop financial software
Pro = $1,700
The Pro version is a little beefier, including all the Basic features plus the following:
Manage employees and payroll
Offer layaway and gift cards
Rewards and loyalty program
Advanced reporting
Multi-Store = $1,900
The Multi-Store version adds in yet more features:
Manage multiple stores
Manage and transfer inventory
Advanced sales and inventory reporting between stores7
Those prices might not seem so expensive in and of themselves, but remember that every couple or few years you will be forced to upgrade and pay these prices all over again for the new versions. There are no updates along the way, only full upgrading at full cost.
Another important point is that those prices are just for one license, meaning one user. You can install the software on two different devices, but they cannot then be used at the same time.
What this means is that you cannot have a person running the register in the front while you work on inventory and reporting and other management tasks on a computer in the back. The two devices cannot run the system at the same time. You would need to pay full price for each additional user, which obviously adds up quickly.
Also, keep in mind that those prices are just the base price for the software. Hardware is charged separately, so is card payment processing, and customer support after the first 60 days will be charged on a per-minute basis, or with a monthly ($89.95/month) or annual ($299.95/year) contract.
Given the extensive complaints about customer support, it must feel very painful to pay so much for it. After you start adding all this together, many small businesses find QuickBooks POS to be rather expensive for what they're getting.
The QuickBooks POS Payments service comes in two different versions. The Pay-as-you-go option doesn't have a monthly fee or transaction fee, but the swipe fees go like this: Swipe/Dip: 2.7%, Keyed: 3.5%, Swipe/Dip with PIN: 1%. Or you can go with a monthly plan with pricing as follows: Swipe/Dip: 2.3% + 25c, Keyed: 3.2% + 25c, Swipe/Dip with PIN: 1% + 25c, $19.95/month.
A more recent development is the addition of QuickBooks POS Gift Cards branded for the user's business. The cards themselves will cost .95 cents each with a required minimum order of 150 cards. Participation in the gift card program is by a monthly fee starting at $14.95/month that covers the first 100 transactions. Note that a transaction is defined as any action taken with the gift card, including but not limited to issuance, redemption, addition, and activation.
There is no information about what transactions past 100 in a month might cost. The gift card program is managed by Givex. You must also have a QuickBooks POS Payments account to participate in the Gift Card program.
Hardware Options for QuickBooks POS
Any POS needs some hardware, and here's what you can get through QuickBooks POS:
EMV Ready PIN Pad (for card payments): $349.95
Receipt Printer: $219.95
Barcode Scanner: $199.95
Cash Drawer: $109.95
Pole Display (customer-facing): $209.95
Tag Printer: $329.95
Wireless Barcode Scanner: $409.95
The user/business has to supply whatever computers or other devices that are going to run the software, and QuickBooks POS does not sell any of that. Here are the system requirements of any computers that will house the system:
Operating Systems
Windows 10, all editions including 64-bit, natively installed
Windows 8.1 (Update 1) all editions including 64-bit, natively installed
Windows 7 SP1 all editions including 64-bit, natively installed
Windows Server 2016
Windows Server 2012 R2
Windows Server 2011 SP1
Windows Server 2008 R2 SP1 and SP2
It's worth noting here that when Windows is updated, things tend to go a bit whacky with the POS system – at least that's an experience many users have noted in their reviews.
System Requirements
At least 4GB of RAM (6-8 GB recommended) for a single workstation installation.
1 GB of disk space (additional space required for data files).
Single user: 2.0 GHz processor (2.8 GHz recommended).
Multiple users: 2.8 GHz processor (3.5 GHz recommended).
Display: Optimized for 1280×768 screen resolution or higher.
4X DVD ROM drive required for DVD installations (unless you download the POS from an Intuit Server).
Data import/export and Microsoft Office integration
Microsoft Office 2010, 2013, 2016, or Office 365.
Multi-core processor and 8 GB of RAM.
QuickBooks Desktop Compatibility:
Intuit QuickBooks Pro or Premier 2016, 2017, and 2018.
Enterprise Solutions Versions 16.0, 17.0 and 18.0.
QuickBooks Payment Account
Requires a QuickBooks Payments account through Intuit Payment Solutions.
PIN pad required for credit card and debit card transactions (Internet connection required).
Security Software (products have been tested with the following software)
McAfee Internet Security Suite.
Symantec Norton® Internet Security Suite.
Note: You might have to adjust settings in firewall and anti-virus products to get POS to work.
QuickBooks POS Features and Capabilities
Ringing Up Sales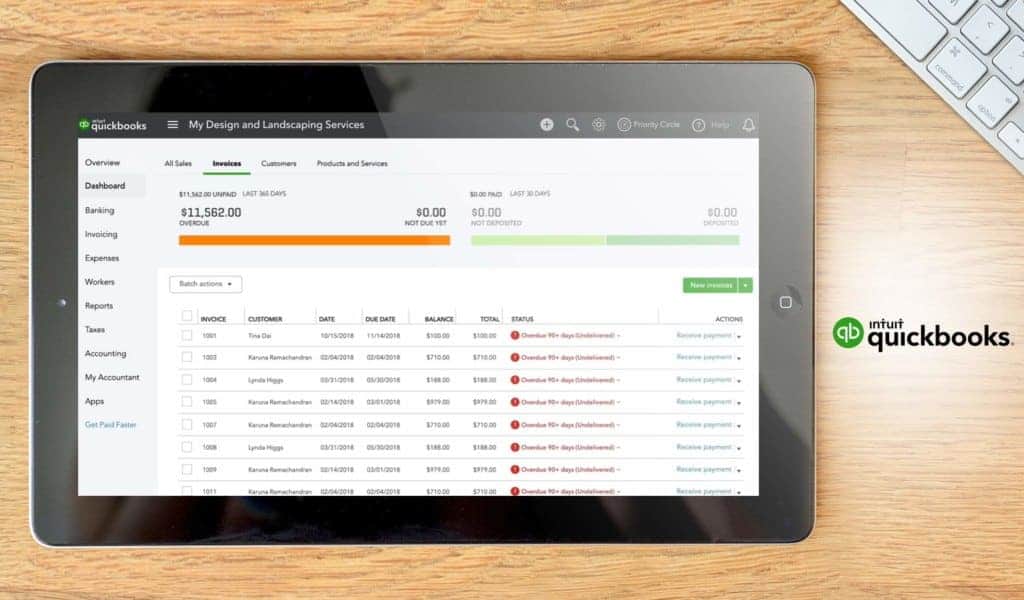 There are two ways to ring sales with QuickBooks POS. You can use a barcode scanner (purchased separately), or manually enter item names or item numbers. The customer relations management (CRM) feature can be opened for capturing customer data and information, as well as offering special discounts to them.
Inventory Tracking
Real-time inventory management is essential for any business that wants to grow. After all, what could be worse than running out of the stuff your customers want to buy from you?
Store inventory is automatically updated with each sale so you always know exactly how much you've got and can decide when you should order more.
Almost as bad as running out of something is ordering more of a product than you need. Streamline inventory tracking for more efficient and cost-effective inventory management.
QuickBooks Sync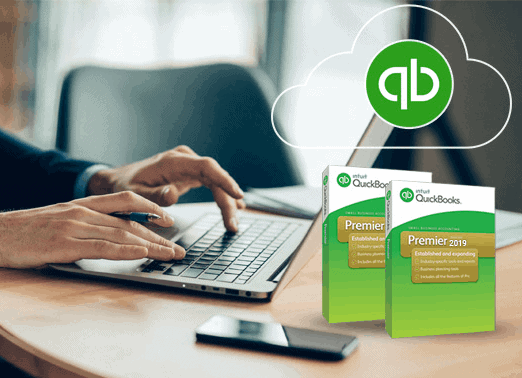 Because so many smaller businesses already use QuickBooks to meet their accounting needs, the sync between it and the POS is a big draw for many users. However, it's important to note that the sync feature is not automatic, nor is it instant.
You do have to specifically go through the process of syncing, and it can take longer than you might expect. A few users have also noted issues of compatibility, although relatively rare, between an updated QuickBooks system and a not-as-up-to-date POS. It does, however, eliminate the need for entering data twice, which can be a big time-saver.
Card Payments
As previously noted, the processing of card payments can only be accomplished by signing up for the QuickBooks POS payments service, which is an additional cost over and above the software costs and the hardware costs.
Customer Information (CRM)
The customer information that can be quickly viewed within the POS includes whether or not the customer has a balance due, the amount of available credit, and any special deals that can be offered to them.
The QuickBooks POS website talks about loyalty programs to reward your best customers, but provides no information about it. Coupons can be printed onto customer receipts, which can be customized for limited time specials, free trials, and so on. These promotions can be tracked using a cloud-based dashboard.
Loyalty Programs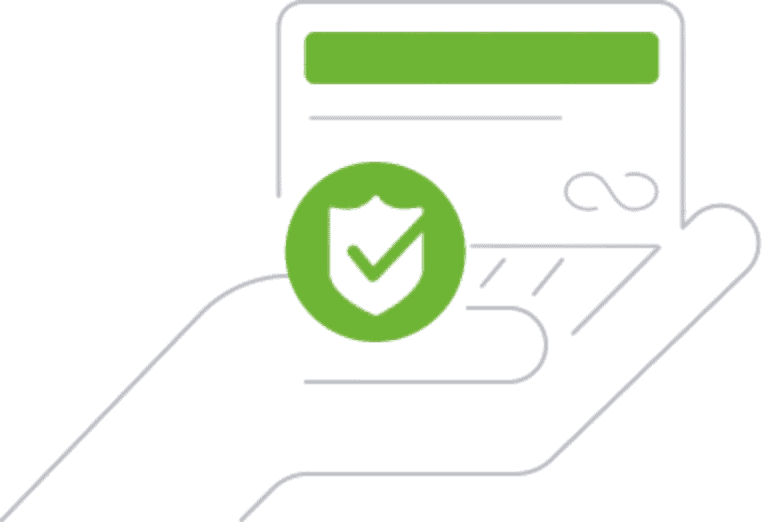 The company website does mention loyalty programs in a couple different places, but then there is no other information to be found throughout the website about it.
Tablet Compatibility
The QuickBooks POS can be installed on the Microsoft Surface Pro 4 tablet, which is as far as it goes when it comes to using mobile devices with the system.
Reporting
Precious little is said about the reporting functions of the POS. The website does mention end-of-day, X-out, and Z-out reports. Lack of robust reporting is a fairly common user complaint among those who are dissatisfied with the product.
Industry-Specific Features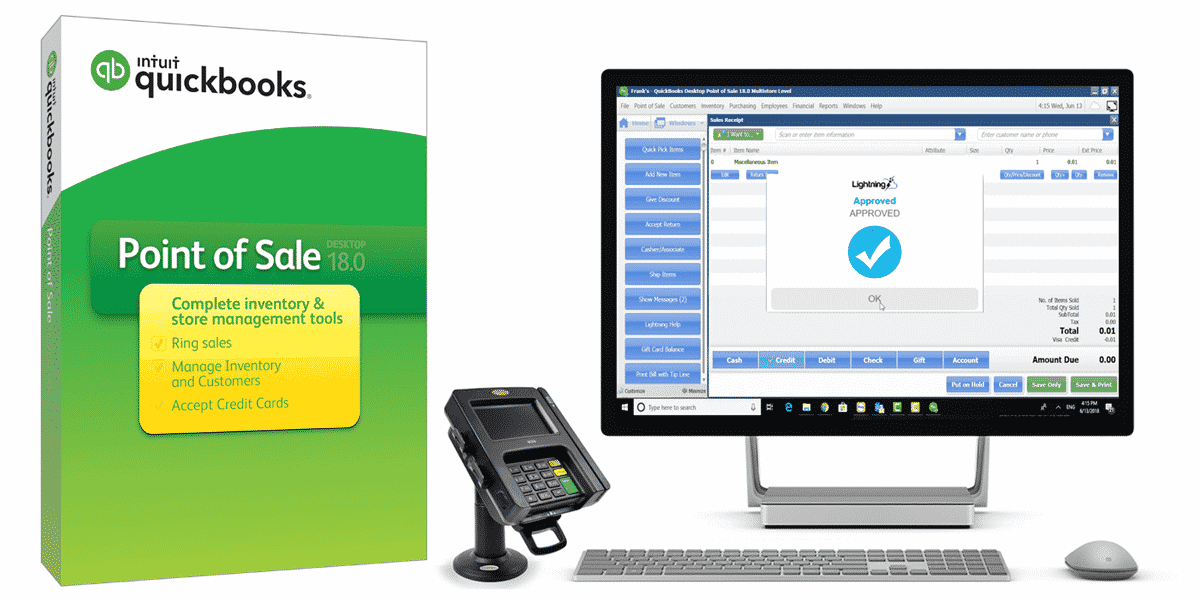 There are some features specific to various industries that are worth noting as follows:
Home Improvement types businesses (hardware stores, garden centers, nurseries, etc.) can manage layaway options such as a down payment up-front and additional payments over time. For those that offer repairs or services such as landscaping, the work orders feature comes in handy, including assigning the work to a particular employee.
Users can also set up contractors in the system to receive pre-set discounts. Items such as carpeting, although purchased by the roll, can be set up to be sold by a particular unit of measurement, such as by the foot.
Furniture and Furnishings businesses can set up and track employee commissions, manage layaways, and set up special order items that can later move into regular inventory if the demand is there to justify it.
Sporting Goods and Bicycle shops can easily create bundles of items that are frequently purchased together to speed the ringing up process. They can also manage work orders for repair services. For assembly work, such as building a bike, users can set up an item such as "bicycle" that is then made up all the various inventory items that go into assembling it.
Free-Trial Offer from Quickbooks POS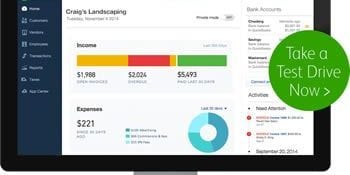 Prospective users can sign up for a free 30-day trial of the system to see how it works. The company also runs various specials from time-to-time.
For example, as of this writing, there was the offer of a free hardware bundle with the purchase of the POS software and a Payments account (which does involve an approval process). The hardware bundle would include a cash drawer, EMV PIN Pad, barcode scanner, and receipt printer. Also as of this writing, they were offering the EMV PIN Pad for just $99 (normally $349.95).
Our Final Verdict
The QuickBooks POS is not on the cutting-edge of the digital age, plain and simple. It's not a cloud-based, software-as-a-service solution.
It doesn't have all the bells and whistles of other systems like eHopper or Mynt POS. It's not very mobile-friendly. In addition, it usually integrated with Clover POS.
It is limited to computers running Windows. It can't integrate with online stores. While these "criticisms" might be deal-breakers for more advanced businesses, they don't matter as much to many small businesses.
You have to keep in mind that there are literally millions of small businesses in the US. Many of them use QuickBooks for their accounting. A lot of them have been limping along with outdated ways of ringing sales such as traditional cash registers.
They might still be managing inventory with manual counts and spreadsheets. For businesses like this, any full POS with basic capabilities such as QuickBooks POS is going to be a true god-send.
It's all a matter of perspective and your starting point of reference.
Reader Interactions