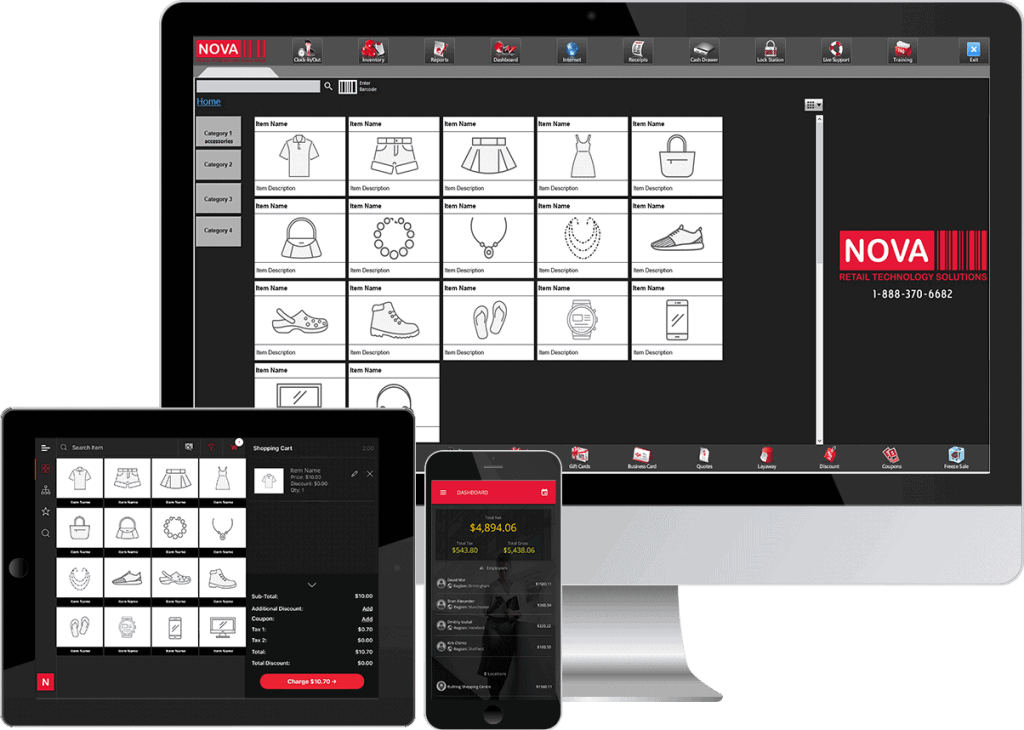 Whether you're running a kiosk business or a clothing store, take a good hard look at Nova Point of Sale. Made specifically for retailers, it was built to solve unique challenges that help you increase revenue and automate tasks.
By using the Employee Scorecards feature, you can keep tabs on which employees are performing and which aren't. With a real-time dashboard, you can view your transaction with a by-the-minute view, so you're always up to date on your sales and efficiency.
What's more, the Controlled Negotiation feature can help your team upsell by using the software. Motivate your employees to perform better with the built-in competition module. Whoever sells the most gets rewarded weekly.
After a thorough Nova POS review, we found the standout feature to be the loyalty program. Reward shoppers who come back to your store with points, to later be redeemed for gift cards. And, with Nova you can send customized email campaigns, brand your receipts, and collect vital customer data.
With the accounting integration, you can manage and analyze your income. Generate P&L reports, customized reports, price lists, and track all your expenses. And, Nova's POS helps you with loss prevention against chargebacks and custom access levels for employees.
Finally, the Live Webcam Monitoring feature records your staff's activity, shipments, and deliveries, ensuring there are fewer errors and no employee theft occurring.
Let's take a look at Nova's key software features, pricing plans, and how it can help your business succeed.
Nova POS Review – Company Overview
Nova POS understands the market. Comprised of former servers, managers, and restaurant owners, Nova is run by Granbury Solutions out of Irving, Texas.
They also have an office in Miami, Florida. The company prides itself on creating technology that doesn't get in the way of your business.
The Nova POS core values include words like ally, sincere, committed, and fun. Granbury Solutions specializes in the restaurant industry and has developed another POS system named Thr!ve for pizza establishments.
They believe in transparency and accountability, holding products to the highest standards to serve you better.
Nova POS Benefits
Omni-channel and mobile capabilities
Real-time dashboard
Employee scorecards and performance management
Use your own hardware
Inventory management and stock alerts
Large assortment of hardware products available
Location analytics for multiple stores
Pricing transparency
Purchase order management
Possible Drawbacks
The Nova pricing structure is not fixed. That means the rates can change on a variety of factors. All prices are in USD but vary by location. They are listed as one-year promotional rates that are subject to change. Keep this in mind when planning a budget.
The site also notes in fine print that additional charges may apply, so it's best to contact a sales rep before making a final decision.
Nova POS Pricing
The pricing structure of Nova is straightforward. It is two-tiered: Nova Flexible and Nova Pro. Both plans include full access to Nova features and support.
Nova Flexible
The standard plan is $89.99/month. The plan features integrated solutions to safeguard your business. The Nova Flexible plan allows a company to choose from one of their preferred merchants. It also provides you gateway through either GS Paytech or Auth.net.
Nova Pro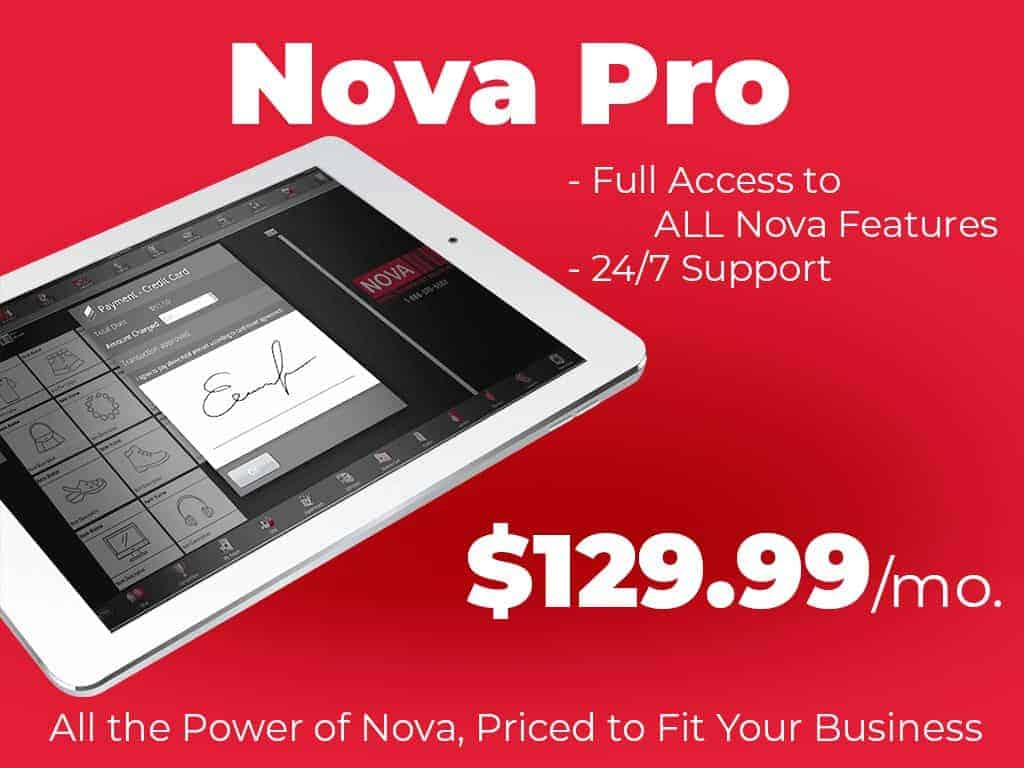 The pro plan is $129.99/month. It works well for an established business. The Nova Pro plan enables a retailer to choose their own merchant and gateway providers.
There is more freedom with this plan. It's intended for companies who already have a legacy system in place. It lets a brand to update technology without costly upgrades.
Try Nova for free for ten days. You can also request a demo at any time to assist in the decision-making process.
Nova POS System Requirements
Nova POS gives you the freedom to use your existing hardware with the software platform. They also offer a diversity of hardware products in case your budget allows for an upgrade.
The basic requirements to run Nova POS in your store include:
Operating system of Windows 8 or higher
3G internet connection or faster
100 MB of disk space
Intel i3 processor
At least 2 GB of RAM
Minimum of 4 USB ports
A Nova account
If you do choose to purchase some equipment, here are a few items to consider:
Printers – monochrome, thermal, and portable receipt

Star Micronics
DYMO
Epson

Cash Drawer

Point of sale
Heavy-duty POS
Cash drawer cables

Swiper – magnetic
Barcode scanner – wireless, wired, and Bluetooth
Signature pads

Topaz signature capture pad

Tablets
Nov POS ensures every business, no matter the size, has the hardware and software needed to see success. Most retail POS systems require iOS to function. Nova makes PC and Windows users the target audience.
Nova POS Features and Capabilities
Although some POS platforms boast hundreds of features, the Nova brand prefers to keep it simple. One of the most unique claims to fame is that you can process accounting through the platform.
The vast majority of retail POS systems require 3rd party integration (like Quickbooks) to run financials. Not Nova POS. The system saves time, money, and helps keep your data all in one spot. Consider the following benefits to using it today.
Operations Management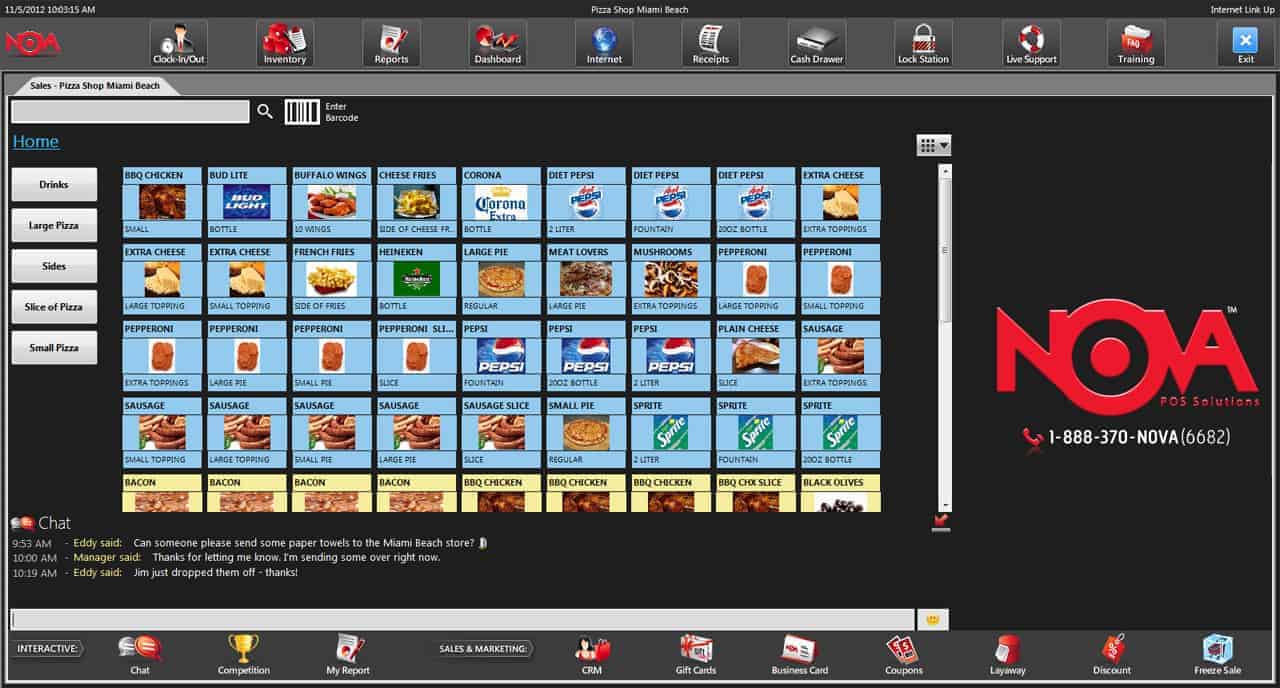 Nova POS helps a retailer streamline daily operations efficiently and effectively. This leaves more room for innovation and to maximize growth. The benefits of this feature include:
Inventory management – Automatic stock level notifications and inventory reports ensure you are always up to date about inventory.
Layaways – They are easier now than ever.
Location analytics – Keep operations organized across multiple stores.
Purchase orders – Submit wholesale P.O.s with the click of a button.
Nova POS helps a business restructure their operations in a way that makes sense. The more you can automate daily tasks, the more time there is to nurture business development.
Sales Administration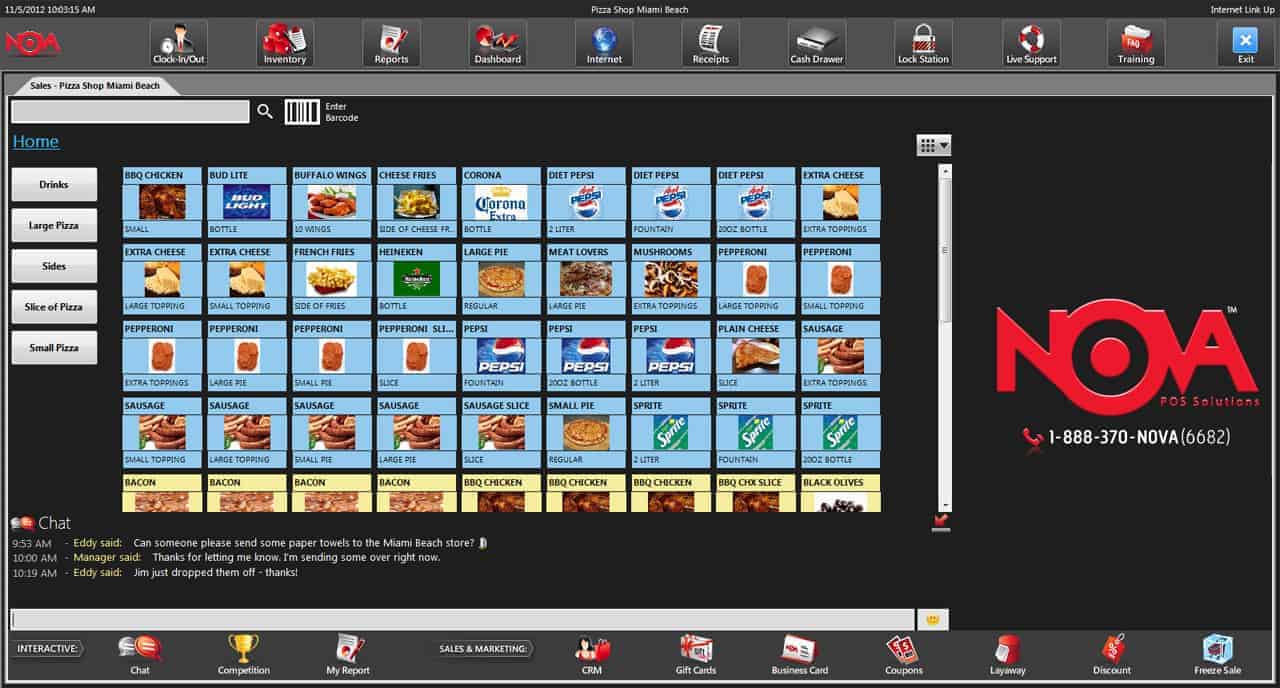 A platform that focuses heavily on financials should offer an in-depth means of managing sales. Keeping staff motivated and paying attention to performance drives productivity and increases revenue.
The Nova POS system helps with sales administration in the following ways:
Controlled negotiation – Train your sales team to upsell using the "spare."
Employee scorecards – This can help determine how to set key performance indicators (KPIs) to motivate staff.
Real-time dashboard – Every transaction is visible the second it occurs. The dash allows you to view up-to-the-minute stats on financials.
Motivation tools – Built-in competition means a productive team that drives sales.
Nova POS focuses more on helping your sales staff than it does on closing deals. Modern consumers don't need to be sold on a product, but rather, an experience. These types of tools drive sales internally through motivation, incentive, and increased morale.
Financials and Accounting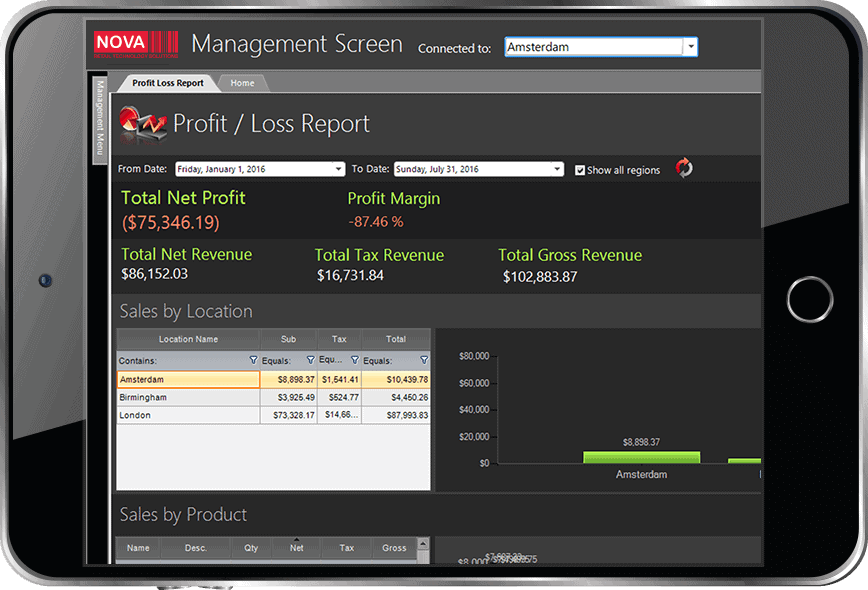 Perhaps the greatest sell for the Nova POS system is the ability to perform a variety of accounting tasks.
Retailers can manage, analyze, and understand every aspect of revenue and expenses tied to the business. The platform was built to create deeper insight that saves money.
There is no need to integrate additional software to keep a ledger. The Nova POS system includes accounting features like:
Profit and Loss report – P&L reports help a retailer maintain control. Always know exactly where the business stands with real-time reporting.
Price lists – Change the pricing across different locations for the same items. Compare and contrast the results.
Custom reporting – Set and run custom reports to examine the data you find most useful.
Expense management – Track and analyze all business expenses across every channel.
With an accounting system in your POS, there is more opportunity to generate sales. Automating remedial tasks makes room for the fun and creative stuff.
Ongoing Security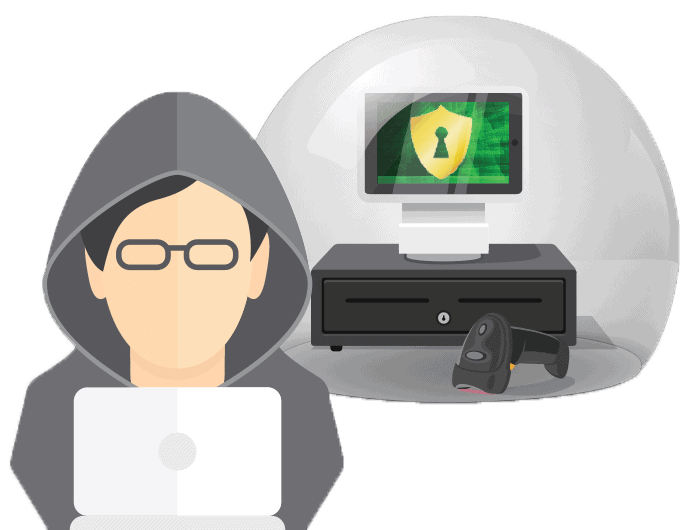 Always keep a pulse on staff and inventory with Nova's loss prevention features. The system helps win chargebacks every time, so you don't lose profit.
Benefits to an in-depth security POS feature include:
Live webcam monitoring – Monitor equipment, inventory, staff, and deliveries in real-time from one screen.
Chargeback and signature – Customer signatures are digitized and kept in their file. This makes handling chargebacks a lot simpler.
Minimum price restrictions – Set restrictions on each item to have better control over your profit margin.
Custom access levels – Govern the access of each employee by specifying their role in the system. Designate which features are available to whom.
The Nova POS platform is like a second set of eyes and ears. It is one of the only  Kiosk POS systems on the market that includes live webcam monitoring and a constant visual on all operations.
Customer Relationship Management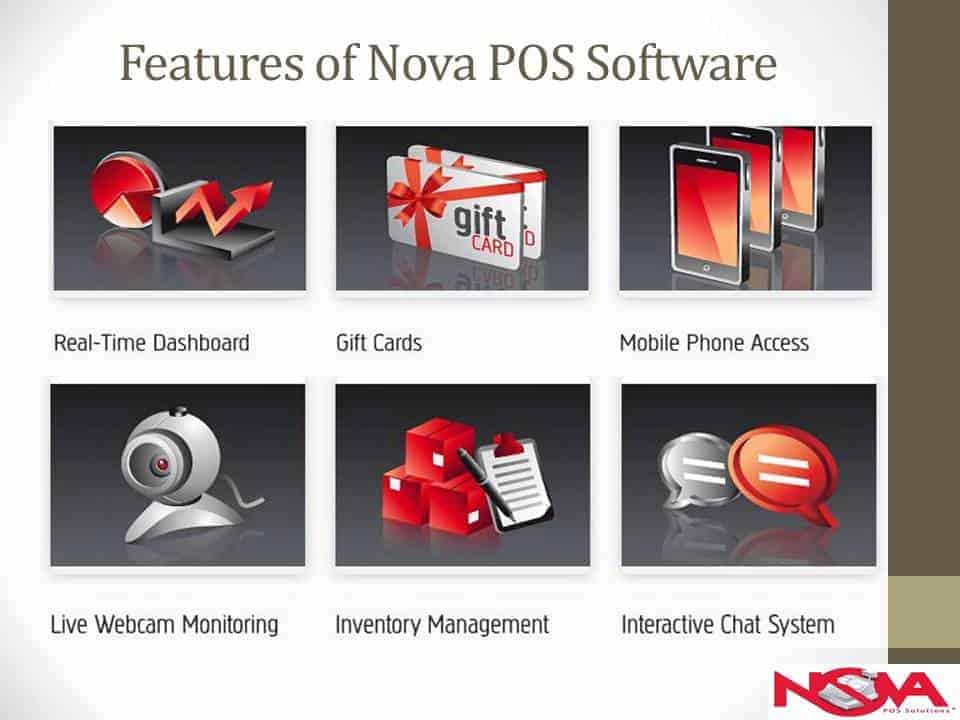 One of the most important aspects of any smart POS platform is the ability to serve the customer. Repeat business leads to authentic sales and brand trust.
Nova's easy-to-use marketing tools include:
Branding – The Nova system allows you to brand various items with a company logo. Gift cards, receipts, and business cards can all be personalized.
Email campaign – Send any type of marketing message directly to customers via email.
Loyalty program – Create incentives and drive return visits by rewarding frequent shoppers with gift cards.
Customer database – Know your customers through structured and organized consumer data. The more detailed the information, the easier it is to market and sell to people.
Most smart POS systems contain some form of CRM software. However, it can be vastly underutilized by retailers. The entire digital network is connected.
The more data you collect and store on customers, the easier it is to create marketing content for them. Once that occurs, you'll see an increase in conversions, leads, and eventual sales.
Mobility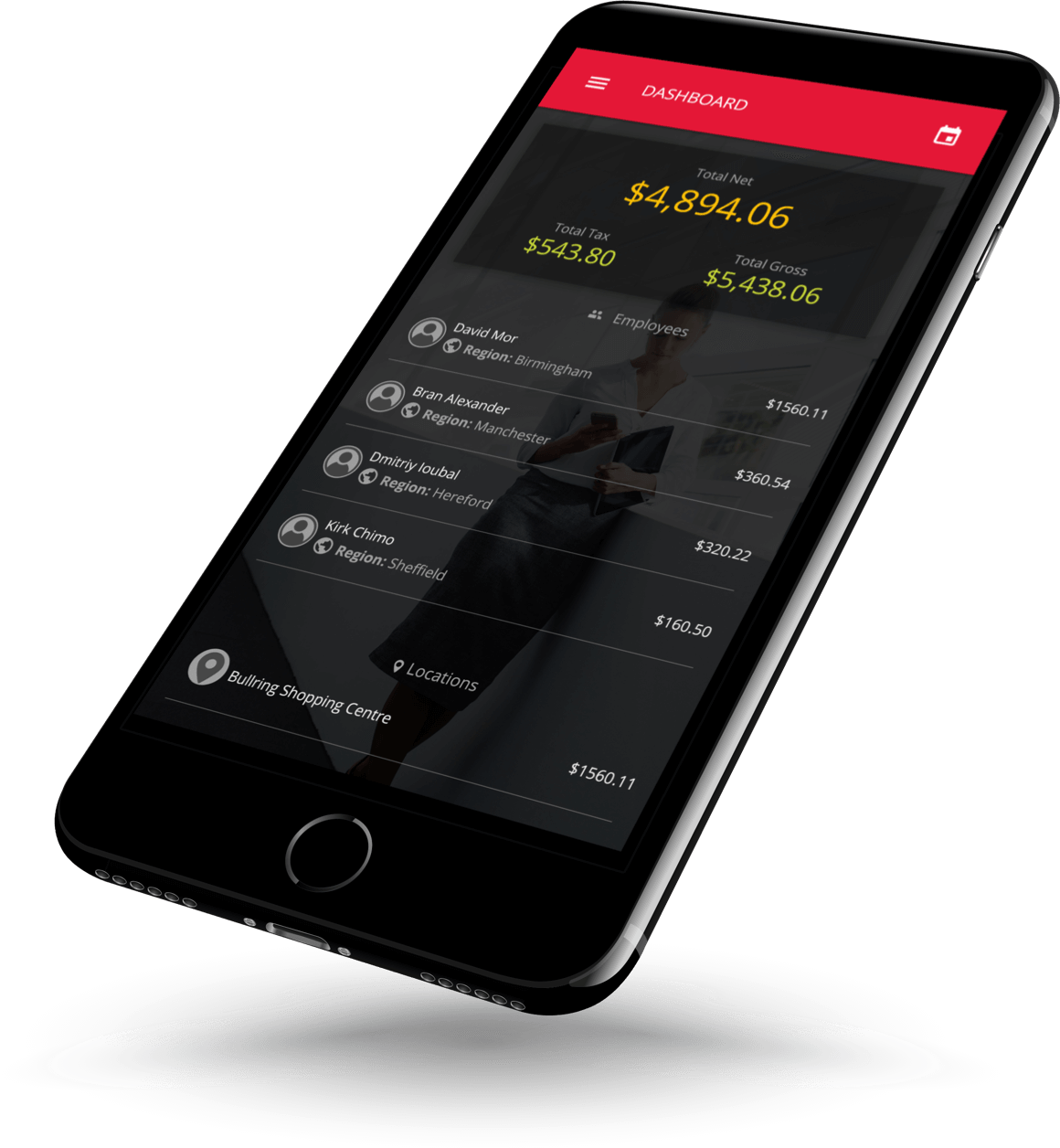 Nova On-The-Go is the platform's mobile app that works in conjunction with the POS system. It allows an owner to keep an eye on their business no matter where they're located.
As long as they have a mobile device, there is insight. This makes it a non-essential to be present in-store.
Key features for Nova On-The-Go include:
Employee scheduling – Accurate employee scheduling can be done right through the mobile app.
Inventory management – A user can generate automatic reports on inventory. You can also set the system to send notifications when stock is low, so you never fully run out of anything.
Salary access – Curious staff can check their funds anytime, from anywhere on their smartphone.
Nova alerts – In your absence, Nova alerts ensure the business is functioning and operations are running on an optimum level.
It is almost pointless to create a point-of-sale system that lacks mobility. It's necessary for a variety of industries where employees are consistently moving around. Most competitors will offer a similar feature, with limited capabilities.
Customer Service & Technical Support
Nova support and training are some of the best in the industry for POS technology. They employ Account Managers, Customer Care Engineers, and Technical Support Specialist to ensure every customer is well informed on the system and trained in the right areas.
Their internal standards include:
A support team available 24/7
30 seconds to answer your call
8 minutes to resolves any issue
Total access to Customer Care Team
Free POS education and training
Live online chat
Webinars
Training videos
Informative articles
User guide
New product features and training
Online help center via Nova Admin Panel
There is a Nova Education department ready to assist with any questions a customer might have. Tech support is ready to troubleshoot and problems in English, Hebrew, or Spanish. A Nova FAQ and Support Center is also available on hand to tackle tough questions.
Alternative Systems
Not every POS system is suitable for every industry. Point of sale software typically serves a specific niche. When it comes to retail, besides Nova, there are a few other names you may want to research.
LightspeedHQ
Just like Nova, Lightspeed HQ has features specifically designed for the retail space. It helps a brand work more efficiently and increases their bottom line.
Features include:
Use your own hardware
Extensive inventory management
CRM capabilities
Special orders and requests
Payment flexibility
Manage growth
Detailed reporting
Centralized purchasing
And more…
Prices for the platform start at $99/month with processing rates at 2.6% +10 cents. The POS plan comes with 1 register and allows for up to five users.
Vend
Vend POS is a cloud-based retail POS system that makes it simple to sell to customers. They emphasize growth and expansion through customer loyalty.
Using a Mac or PC, features include:
Vend Register mobile app
Customer-facing display and loyalty programs
Custom receipts and store credit
On-account sales and layaways
Daily cash management
User access and restrictions
Large variety of payment options
Hardware from cash drawers to barcode scanners
And more…
The best thing about Vend is how effortless the setup seems. In just 5 minutes, using a regular iPad, a retailer can be taking transactions and running cards.
This makes it a great solution for brands interested in pop-up shops and flea markets. As long as you have a tablet, your register goes with you.
Plans for Vend start at $99/month for smaller retailers with a single store. The next plan is Pro, and the rate is $129/month. Billed annually, it's a complete program to manage operations and drive sales.
Our Final Verdict
If you are looking for a tech solution that hits a lot of targets, Nova may be the right choice. Nova is also a popular option for mall kiosks due to its simplistic inventory management and checkout process.
In addition to processing simple transactions, it has effective accounting features that put it on a level above the rest. This system can be used as wholesale POS and in some cases as clothing store POS. Its dashboard helps a retailer to market, sell, analyze, and most importantly, increase revenue.
Reader Interactions