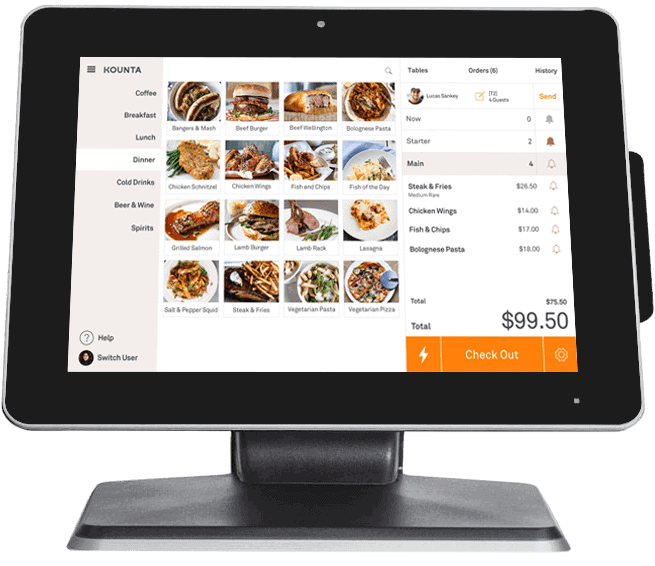 Kounta by Lightspeed is a reliable point of sale solution for the restaurant and hospitality industry. Kounta is quick to setup and easy to use, compared to other, more intricate restaurant POS systems.
With Kounta, you can customize the software to your business' needs. Whether you need multiple registers setup, adding various different products, or linking up your hardware, the support team can help you get up and running in no time.
After an extensive review of Kounta POS, we found that its reports module is one the most advanced among its competitors. View your daily sales or top-selling products from any location, even if you're not at the restaurant. See what days are busiest and your best-performing servers in order to make smarter business decisions.  
What's more, Kounta allows you to take payments at the counter or at the table, thanks to its state-of-the-art hardware components. Also, split bills, add tips, and add discounts on the fly with integrated mobile payment terminals.
Best of all, Kounta works with or without an Internet connection. Take orders regardless of your connection so your business never goes down. Orders are saved on the tablet device and synced to the cloud for when you're back online.
Want to take payments online and offer a nearly automated delivery service? Consider signing up for Kounta Ordering, a newer service offered by the provider that lets you publish your menu online and process payments effortlessly. Reduce contact, the cost for labor hours, and optimize the efficiency of your busy restaurant.
Let's dive into Konuta's key features, pricing plans, and why this POS system deserves a closer look.
Who's Kounta POS?

Kounta's scalable and cloud-based POS system is used by thousands of stores all around the world. The Australian software company was founded in 2012 with the flagship product being a point of sale mobile app.
The system was specifically designed to be easy to use and painless to set up. If you're a small business owner that does all the back office work, this may be the best product out there. It's powerful, connectable, and highly scalable.
Key Features
A cloud-based solution with mobile capabilities.
Deep reporting that empowers teams.
Manage production all in one spot.
Sell online for pickup or delivery.
Staff management with scheduling and payroll.
Kounta POS Pricing
Software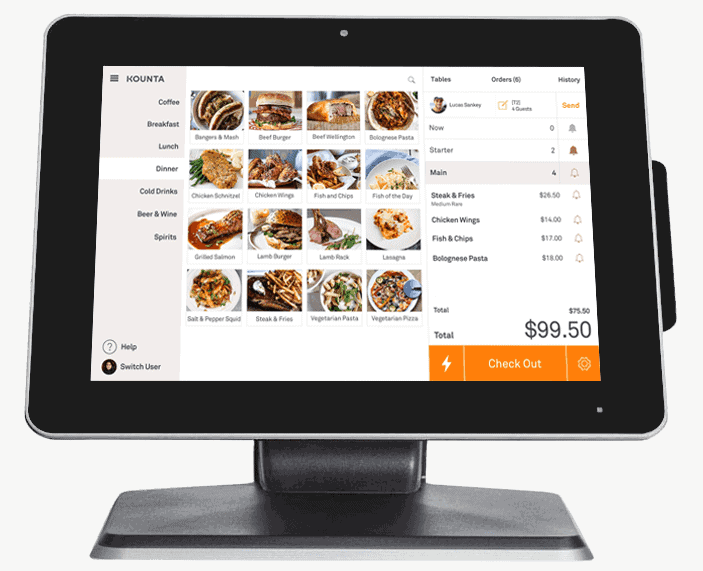 Kounta pricing plans are uniquely divided into the type of establishment and corresponding needs. As is with most POS systems, every pricing plan comes with a base set of features that everyone gets (no matter what you pay). For the Kounta product, this includes account sales, inventory control, and wastage.
Every package also has things like:
Refunds
Bar tabs
Payment integrations
Third-party integrations (like accounting)
Tipping recommendations
All packages include 24/7 phone, email, and chat support. They are broken down like this:
Sell – $60 per site/month
This comes with 1+ register per site with each additional register costing $40. In addition to the features listed above, you can also use this in offline mode, exercise option sets, add a bump screen, and edit the receipt folder.
Kounta recommends this package to foodservice companies like pop-ups, food trucks, and espresso bars. It is not great for larger organizations.
Manage – $120 per site/month
This package comes with 1+ register per site with each additional at a cost of $40. It includes everything in the base packages, plus:
Staff level order control (with time and attendance)
Permissions override
Multiple price lists
Customer facing display
Gift cards
You also have the ability to put this version in "dark mode" and override permissions. The Manage package works best for bars, cafés, and quick-service restaurants.
Extend – $180 per site/month
This includes 1+ register per site with additional registers costing $40. Extend comes with everything included in Sell and Manage, plus these features for advanced dining capabilities:
Automatic promotions
Sophisticated production printing
Guest tracking
Coupons
Refund reasons
The Extend package best applies to full-service restaurants, wineries, pubs, and breweries.
Hardware
Kounta POS is compatible with many systems you may already have but they also sell a variety of bundles and robust equipment built specifically for the foodservice space. Here are some of the types they offer:
Bundles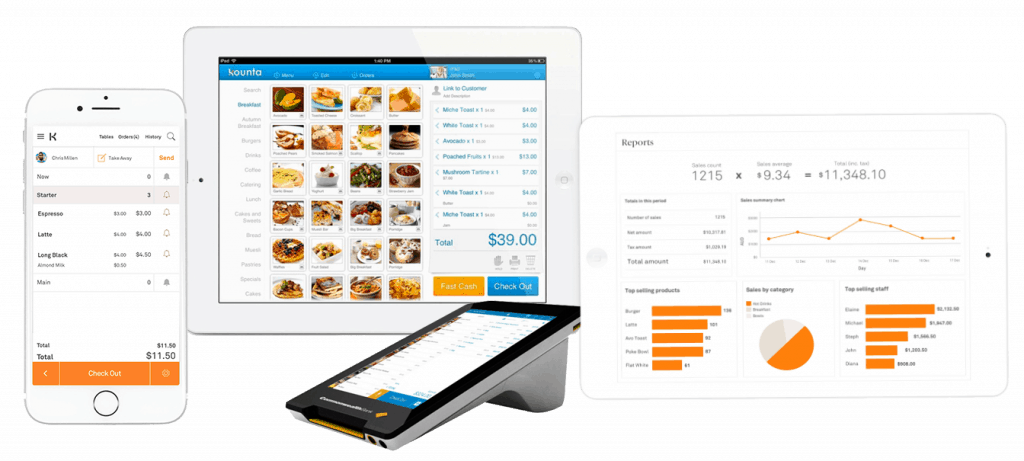 Kounta Connect Bundle – $1,184
If you are just starting out, chances are you must acquire a few pieces of equipment to get up and running. This is where the convenience of a bundle package comes in. Instead of buying everything piecemeal, it's all in one fell swoop.
The bundle comes with a 7th Gen 10.2" iPad, Space Grey and 32 GB. This hardware alone is worth more than $500, so the bundle is a real deal. It also comes with the following:
Bosstab Freedom stand with freestanding base ($150)
Epson TM-M30 Bluetooth & Ethernet Printer PSU w/USB Charger ($419)
Standard Cash Drawer ($99)
Box of Thermal Receipt Paper ($52)
5-Meter Ethernet Cable ($10)
In total, if you purchase the bundle, your savings would be around $75.
*It should be noted that Kounta offers many more bundles that are currently out of stock. Check back later for inventory, but here is the pricing:
Kounta VPOS Connect Bundle – $1,18700
Kounta VPOS Connect Bundle for Table Service Venues – $2,270.00
Kounta Connect Bundle for Table Service Venues – $2,204.00
Duplicate copy paper for the bundle can also be purchased. The thermal receipt paper is $152 and the kitchen printer paper is $115. Each comes with a bundle of three boxes of paper.
Printers
– Thermal Direct Receipt Printer – $290
This printer comes with an auto-cutter and works off of Ethernet and USB. The equipment has a quick setup guide as well as:
AC cable and AC Power adapter
Rubber foot
Wall hanging bracket
Roll paper guide
Power switch cover
The printer can manage both text and graphics on receipts at a speed of up to 250 mm/sec. The paper-saving options can reduce usage by 30%.
Epson TM-U220B Ethernet Kitchen Printer – $449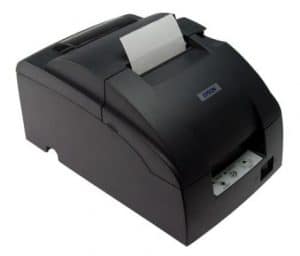 This Dot Matrix Printer is an ideal solution for cafes, bars, and restaurants. It is best suited for heavy production environments and high-pressure workplaces. It requires a ribbon and paper to operate but is compatible with both iOS and Android.
It weighs less than six pounds and prints on non-heat sensitive paper. It is the best choice for a hot location in the store, like coffee machines or ovens.
Tablets
Kounta are Apple lovers. They sell the following iPads that the system is compatible with and all come in the color "Space Grey":
Pad Pro 12.9″ 4th Gen – WiFi – 128GB – $1,649.00
Pad 7th Gen 10.2″ – WiFi + Cellular – 32GB – $729.00
iPad 7th Gen 10.2″ – WiFi – 32GB – $529.00
iPad Pro 12.9″ – WiFi – 64GB – $1,529.00
iPad Mini 7.9″ – WiFi – 64GB – $599.00
Additional Hardware:
Standard cash drawer – $99
Zebra CS3070 Barcode Scanner (Bluetooth) – $209
Printer cable CAT6 – 10 meters – black – $13
Features
When it comes to POS features, Kounta is rich with them. A business can customize their point of sale to work exactly how you need it to. Some key features include:
Consumer Variations
A server can easily handle any variations a customer has on a dish in just a few taps. The order will be printed clearly on the production docket, so people get exactly what they ask for.
Offline Mode
Kounta is cloud-based which equates to easy disaster recovery. A business can work offline if your wireless suddenly goes out (or you have none to being with). Orders are always saved within the program and will sync later when a store gets internet access again.
Table Assignment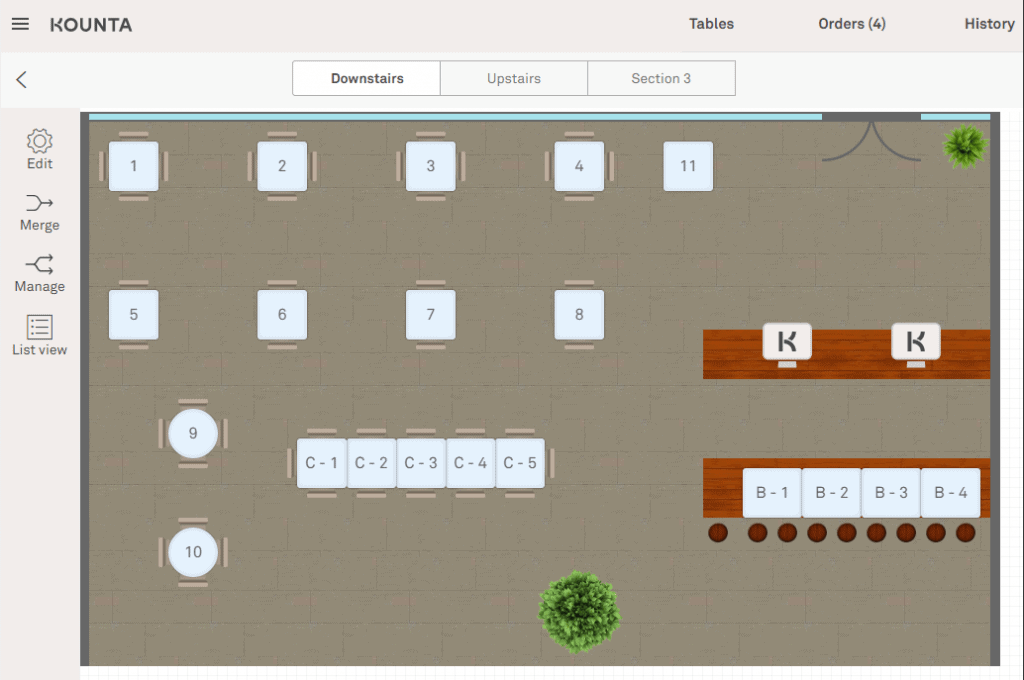 Staff can assign specific orders to certain tables on the floor. They can be kept open and added to as the dining experience continues. The system has easy drag-and-drop features to create a layout that directly duplicates your daily floorplan. This enables you to change up table numbers at any time without servers getting lost.
The Table Assignment feature even allows staff to have a 360-degree view of which tables have not ordered yet and who is waiting for food.
Refund Orders
Whenever necessary, this is an easy task. The system will require staff to input a reason for the refund for better tracking purposes. You can then run reports on "refund reasons" to see if there are any patterns you should be aware of. It helps to identify issues and address them in real-time, rather than later on.
Centralized Orders
Customers can place orders however they want with the Kounta program. The system will accept orders from any location and place them in a central repository. This makes it much easier for a restaurant, bar, etc.… to do things like print receipts, take payments, and run reports.
Kounta POS Customer Service and Support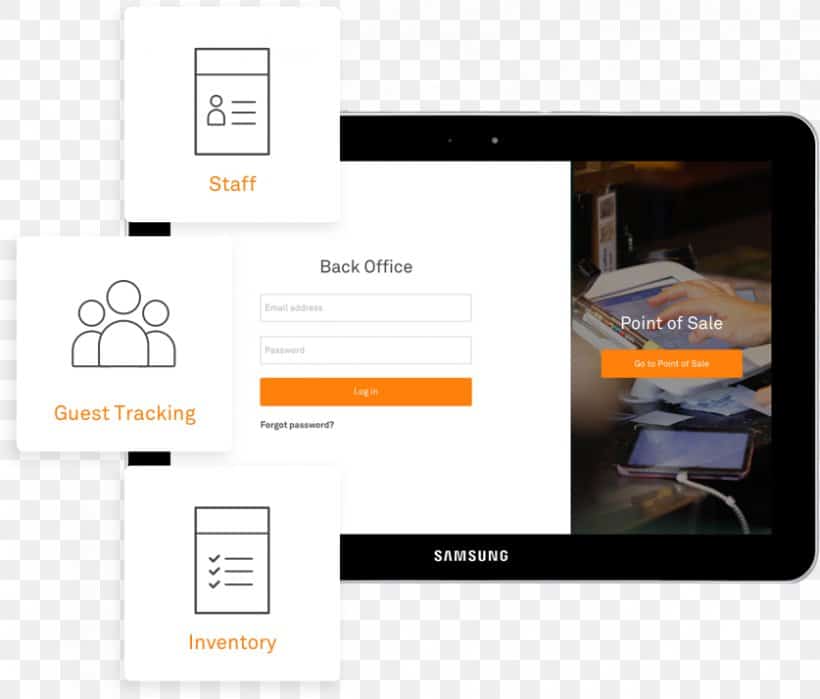 Kounta offers strong support from creating content that involves:
Beginner guides
Video training courses
Community forum
They work to quickly learn how to configure your processes and run a world-class system.
The support team promises to answer questions in minutes (not days). They boast the fastest support around whether it is through chat, email, or a call.
Kounta also has Specialists for a business that requires a little more help. They can assist with selecting hardware, guide you through installation, and provide valuable resources.
Our Final Verdict
Kounta offers a unique pricing plan that other foodservice POS brands have not considered. It when selecting the option that works best for your business. The worst a company can do is guide you to something costlier to make a sale.
Luckily, Kounta seems to value their customers and goes the extra mile to ensure you use the product correctly. Those are people you want to do business with.
Reader Interactions