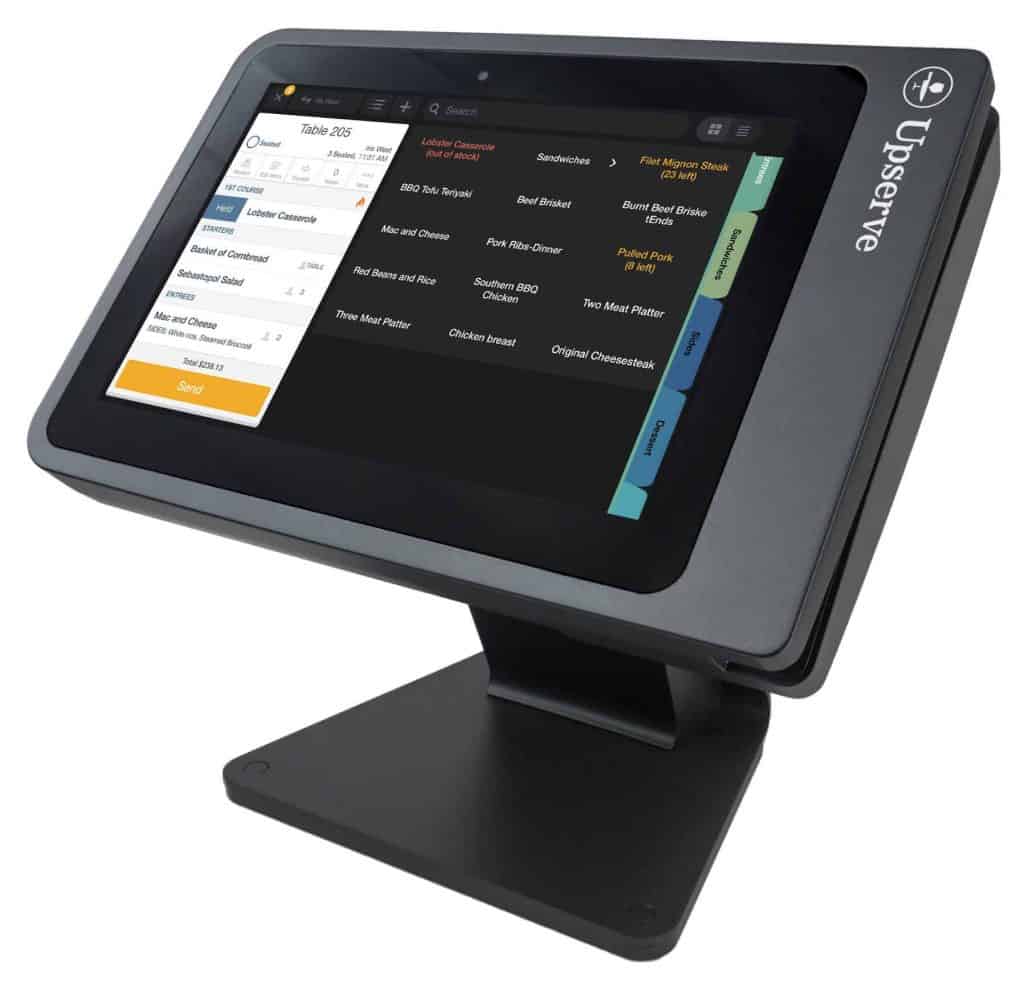 Everyone has that nightmare of drowning in the weeds. People are pounding on tables but your feet won't move. You know the one. 
It doesn't matter if you're a dishwasher or an owner, the foodservice business is stressful. Upserve is a restaurant point of sale system designed to alleviate stress and reduce manual labor. The platform addresses key issues like guest expectations, high food costs, custom promotions, kitchen communication, and team management.
The brand is comprised of former managers, servers, hosts, and dishwashers that have experienced the rigors of the industry and know what features are critical for success. That's why data is stored in the cloud with real-time accessibility from anywhere on the planet. No guesswork here!
Upserve POS rises above the competition with features for menu intelligence, employee performance, tableside ordering, automated inventory, and shift prep. It has all the tools needed to run a restaurant, bar, café, nightclub, or any foodservice establishment. Key integrations include GrubHub for delivery and Restaurant365 for accounting.
Upserve rivals other foodservice POS systems like Square and Toast because of the attentive customer support, drilled-down analytics, and enterprise management capabilities. 
In this review, we'll run through the platform with a fine-tooth comb. We explore cost expectations, system limitations, hardware integrations, top features, and the collection of services that will give your restaurant a competitive edge.
PROs
Menu intelligence that combines POS data and payment processing for upselling opportunities
Automated inventory replenishment with instant low-level alerts and 1-click purchasing
Tableside ordering with item modifiers, payment processing, and loyalty setup
Suite of restaurant management services with CRM, shift prep, marketing features, and reporting
Server Scorecards and Employee Leaderboard to manage performance and engage staff
CONs
When a ticket is changed, it reenters the KDS queue
Difficult to split a check or add menu features
Cannot change menu items across multiple locations
Staff permissions should be role-based
No way to archive multiple items at once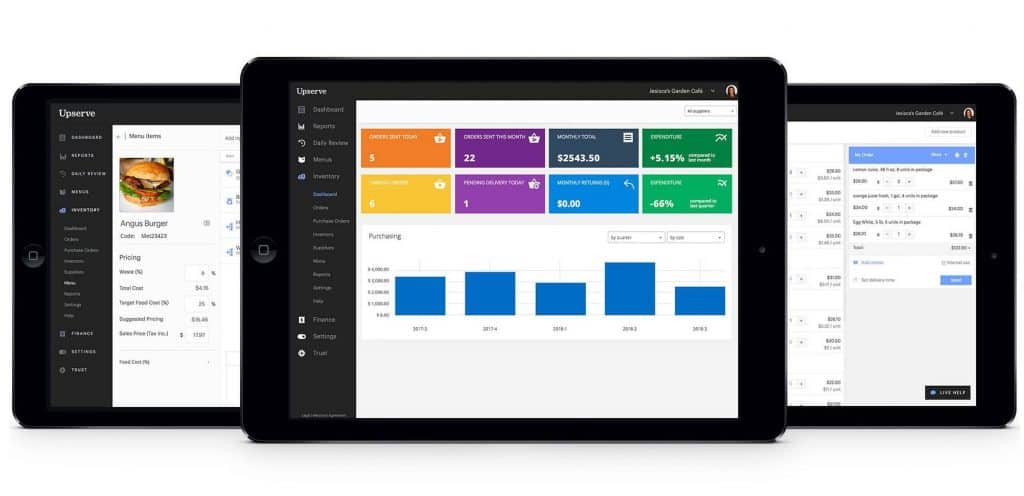 Don't have time to read our full review?
Skip all the nitty-gritty details about this POS system. Easily customize a point-of-sale solution for your restaurant in just 60 seconds by
clicking here
. If you're not in a rush, read our comprehensive 5000+ word guide on the
top 20 restaurant POS systems
in the industry.
Pricing Plans  
Upserve includes everything you need to run a successful restaurant with 0% financing on hardware, software, and implementation for all who qualify. The solution offers three separate pricing plans that are charged on a subscription basis with a separate fee for each terminal. 
Every Upserve pricing plan comes with your typical POS features like reporting, marketing, payment processing, employee management, and a mobile app. Additional features include: 
Logbook with Guest Trends

Training and Offline Mode

Transparent Batch/Deposit Info

3

rd

-party platform integrations

24/7 US-based support
Core Plan – $59/month
$60/terminal
This is the beginner plan for businesses and startups. It's ideal for a single location with a smaller staff. It comes with all of the features listed above.
Pro Plan – $199/month
$50/terminal
This is Upserve's most popular plan. It pairs well with multi-location restaurants, multiple terminals, and restaurants with a check average above $30. It comes with all of the features in the Core Plan, plus:
Menu Optimizations

Server Performance

Upserve Online (free for a limited time)
Pro Plus Plan – $359/month
$40/terminal
This is the Enterprise Plan for larger operations. It works well for multiple groups with 50 to 100 locations. It comes with all of the features in the Pro Plan, plus custom reporting, a rewards program, Upserve Loyalty, and these features:
Data API

Enterprise Account Management

Upserve Online (free for a limited time)

Customizable Rewards Program

Guest Lifetime Value
When calculating the total Upserve POS cost, keep in mind there are features that have an additional fee. 
Add-ons
Upserve Online Ordering

– Free for 12 months, then $99/month

Payment Processing

– Transaction fee of $2.49 plus $0.15

Gift Cards –

By quote

Custom Reporting –

By quote
Demo Video
Key Features 
Upserve is a dynamic brand that has incorporated hundreds of features into a single POS platform. Any needs a restaurant can dream up are addressed. Extra add-ons and integrations make for a 360-degree offering that sets Upserve apart from other restaurant point of sale systems. 
Look for these useful components:
Restaurant POS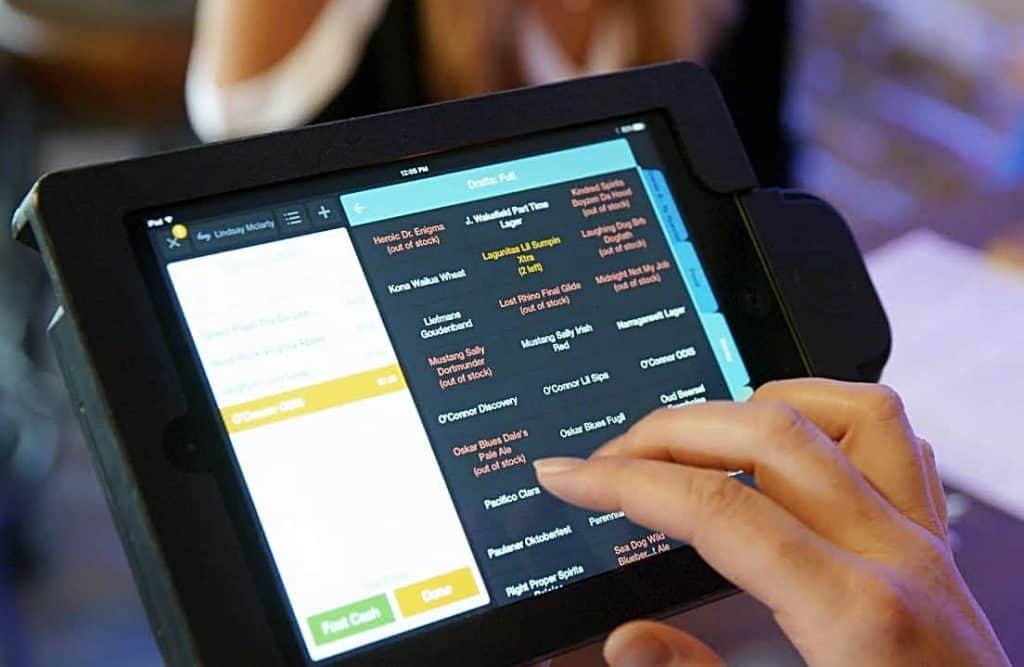 Split Checks and Items
Staff can merge, transfer, and split checks fast between cash and card payments.
Offline Mode
No internet? No problem. Upserve works offline so you can continue serving customers, send orders to the kitchen, and take credit card payments. 
Training Mode
Provide a hands-on practice zone for new staff with the Training Mode feature. Use your own menu and data without messing up reporting or disrupting service.
Analytics
Manage labor costs, employee scheduling, inventory, etc. with in-depth reporting on sales trends and performance. Insights on the dashboard means no complicated report-running.
Menu Intelligence
Instantly search menu items or categories and get every order fired off quickly. Combine POS data and payment processing to see items on your menu that are top-selling. Know which dishes to push and what is 86'd.
Upserve Workforce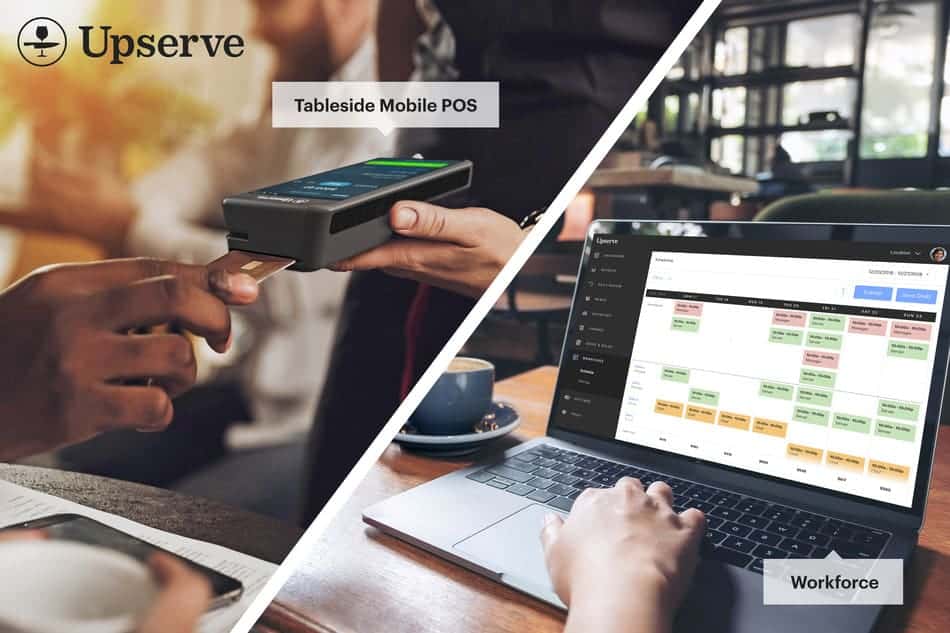 View labor costs, create schedules, enforce clock-ins, and communicate with employees, all within the Upserve POS platform. Assign shifts from scratch or work from an existing template. The Workforce feature allows you to ditch spreadsheets and manage employee performance directly in the dashboard.
Inventory
A simple and hassle-free inventory management solution to reduce waste, streamline the back-of-house, and cut food costs. Automate the time-exhaustive tasks of manual inventory management with deduction in real-time, down to the last ounce. The replenishment system can be automated with instant low-level alerts and 1-click purchasing. 
Tableside Ordering
The Upserve mobile POS comes with a fully integrated card reader that provides easy, built-in payment processing right at the table. Servers can take orders, suggest upgrades, and enter guests into the loyalty program, all while standing at the table. The restaurant-grade handheld equipment helps to optimize workflows, bust lines, and keep customers happy.
Online Ordering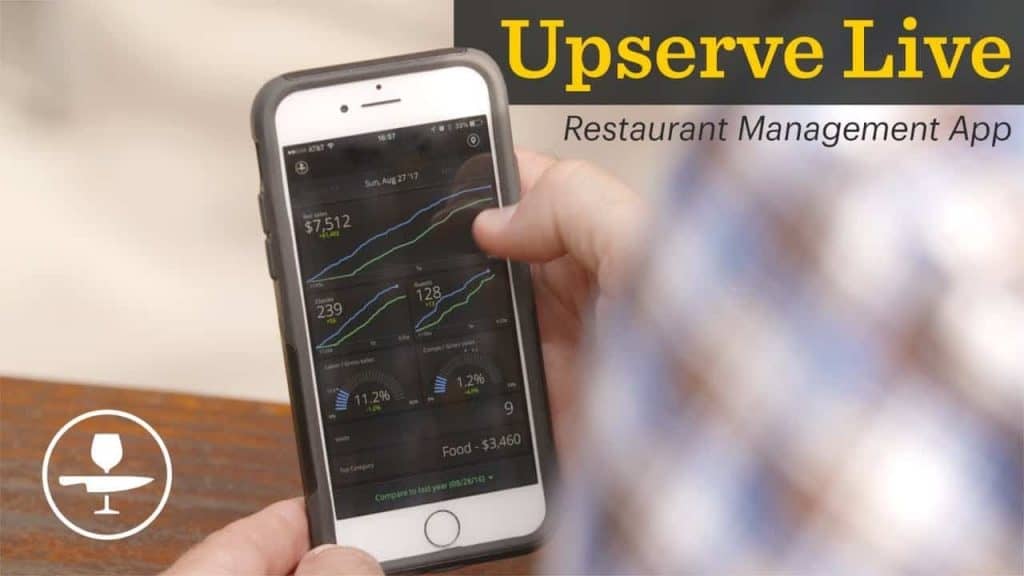 Upserve offers fully integrated, online ordering to increase revenue without disruptive workarounds or ballooning commissions. It integrates directly with the POS to add an extra revenue source without interfering with in-house operations. Build a menu and launch a personal webpage in 48 hours or less.
Loyalty Program
Turn more guests into regulars with no punch cards or apps needed. Upserve's Loyalty program means less expense on your end with a structure that runs entirely through a customer's credit card. Guests receive rewards in the form of chargebacks rather than a complicated points system. It's easy for people to sign up and hassle-free for all parties.
Mobile App
Get visibility into the POS from anywhere on the go. View checks, online orders, and manually close out payments, right from your phone. The mobile app can be downloaded to an Android, iPad, or iPhone to view all dine-in activities.
Restaurant Management

Sales and Reporting
Hover, click, and instantly view a variety of sales, inventory, and staff reports across time and locations. Get the full picture of daily activities and quickly spot historical trends to adjust for the future.
Marketing and CRM
Upserve HQ helps a restaurant get the right message in front of the right people. Whether it's VIP treatment to loyal customers or creating a profitable marketing campaign, Upserve maximizes your marketing plans. Track how many new customers you obtain from each campaign, as well as online reviews and engagement.
Guest Book
Build unique customer profiles of your best guests and preferences. Track the average check spend, preferred locations, favorite dishes, and more. This allows staff to deliver targeted upsells and add a personal touch to the customer experience. Every customer visit is another opportunity to collect fresh data.
Daily Digest
No need to dig into the data. Get sent the most important tidbits in a daily email to stay on top of your restaurant's health. The Daily Digest contains vital information on things like:
Sales 

Labor costs

Menu performance

Server performance (average turn times, ticket amounts, etc.)

Note from managers
Logbook

Use the Logbook to learn who your VIP guests are and boost sales. Get the straight answers you need to run the smoothest shifts with a restaurant logbook tool that facilitates communication between staff.
Menu Management
Make data-driven decisions with Upserve Menu Intelligence. Combine payments and POS data to determine which menu items are moving fast. What plates can you push? What is driving sales? Understand how each menu item is performing at a glance.
Server Performance
Get insightful and personalized reports on each employee to better identify your rock stars and who may need a little training. Help boost earnings and uncover coaching opportunities with key features like Server Score Cards and a Performance Leaderboard. Schedule intelligently and reward those who perform the best. 
Shift Prep
Get a leg up on service with Upserve Shift Prep. See who's coming in, what specials are hot, and get ready for events. This feature empowers staff with information before guests arrive so they can create a better experience and upsell at every chance.
Reputation Management
Don't let online reviews put your restaurant in the weeds. Upserve helps you get a handle on what people say about you online. The system reads every mention and review, then aggregates it in a single spot for your perusal. No more searching a hundred channels to find what people are saying. Spend less time online and more time busting lines.
Industries Served  
Upserve was designed exclusively for businesses operating in the foodservice industry that need a point of sale solution for counter, table, and mobile management. The system was created to handle every style and size operation, with the software serving restaurant types like:
Coffee shop

Brewery

Bar

Café

Pizza

Nightclub

Winery

Quick service

Deli

Bakery

Fine Dining

Hospitality

Enterprise
The brand has developed specific features that cater to each of these categories, with customized offerings. That's what makes it such a powerful competitor in the restaurant POS space.
The platform was built to fit into your restaurant and routine. Cater to guests day in and out with a solution that can handle one restaurant with a few employees or a 50-location operation with thousands of staff.
Unlike other foodservice POS platforms, Upserve offers tiered pricing with corresponding features that cater to small, medium, and enterprise business types. This model leaves plenty of room for growth, as a restaurant can sign up for the Core Plan and move up to the Pro Plan once the size of the business changes.
Deployment Type  
Upserve was built with the restaurant environment in mind, and so the system is deployable in a variety of ways. All data is stored in the cloud, which means the platform can operate whether you have wi-fi connectivity or not. Transactions can still be run offline and all information syncs once the network is back up.
Upserve apps work on all Android, iPad, and iPhone devices. The terminals will also function on Android or iOS infrastructures. All hardware is built to work with the POS software and the system also partners with major brands like Epson and Meraki.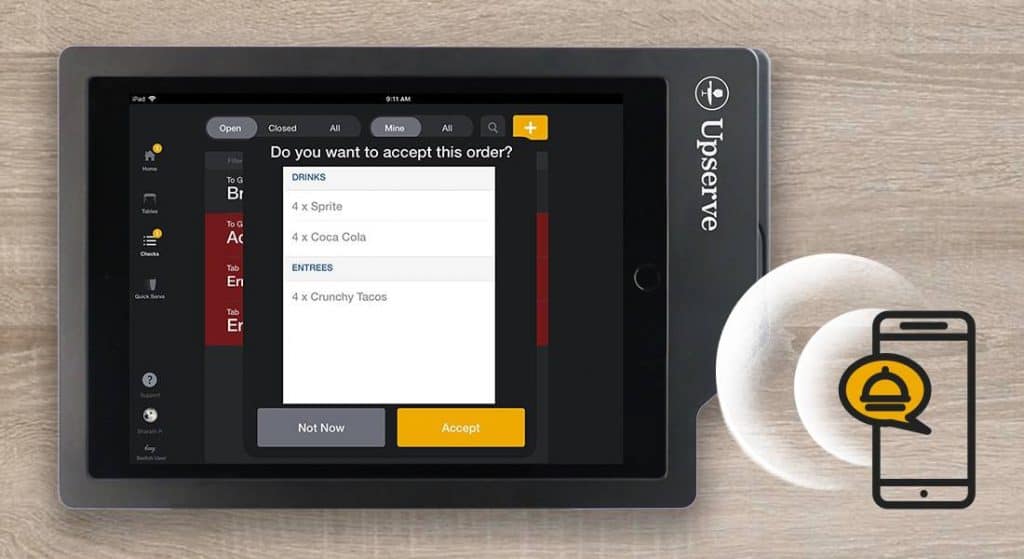 Ease of Use  
Upserve is a one-stop-shop for handling inventory, analyzing trends, and running payroll. The interface is intuitive and easy-to-use with solutions that are designed to work out-of-the-box. 
The ease of use helps to improve service. A restaurant doesn't have to spend a fortune on coaching. Upserve offers features like "Training Mode" where new employees can play with the system all day without compromising any data.
The menu management features also mean servers are upselling with guest preferences in mind. Mobile equipment enables team members to serve guests right at the table. Tickets are immediately fired straight to the kitchen and when the plates are cleared, a customer can run their card without ever getting up. 
Automated tasks also help to save on labor costs. There's no need to take trips through the walk-in with a clipboard. Inventory management is automated, with reordering done through artificial intelligence. When stock runs low, you're immediately alerted. You can then set up the platform to reorder, without lifting a finger. That's ease of use!
Hardware  
Upserve has a full suite of hardware to meet the needs of a growing restaurant. The company will work with you every step of the way to implement a custom equipment package that streamlines operations. The flexible and reliable technology saves time and money with key hardware features like: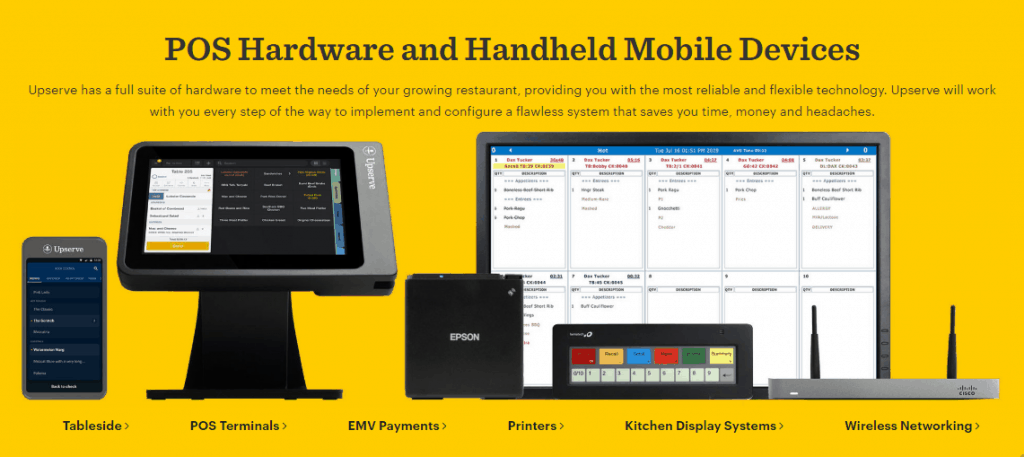 Upserve Tableside Mobile POS – $499.99
Fire tickets without leaving the table. The 5" screen fits comfortably in the palm of your hand and clips to a belt or apron. Turn tables faster and spend more time with key features like:
Menu details and modifiers

Built-in EMV chip reader

Non-slip side grips

86'd items

All open orders
Accessories
Holster –

$24.99

3-Bay Charging Dock –

$174.99
Apple iPad Mini 5 – $399.00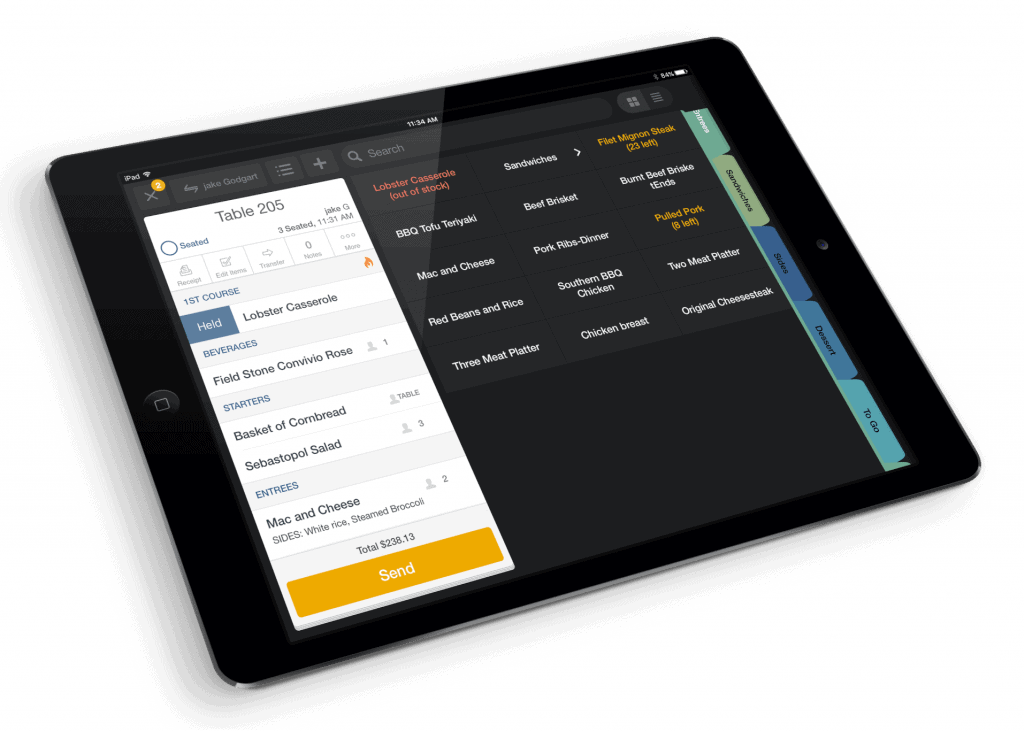 The Apple iPad Mini 5 is a handheld that is compatible with the Upserve POS software platform. Upserve also sells a version that is pre-configured with the POS software. Key features include:
64 GB

Space Grey

Model MUQW2LL/A
Accessories
Hand Strap –

$19.99

Case for iPad Mini 5 –

$119.99
Terminal – $1,350.00
The Upserve Terminals are designed to withstand the hustle of a busy restaurant. Available on both Android and iOS, the system comes equipped with a built-in EMV card reader. Look for features like:
Offline Mode with the option to hardwire

Customizable dashboard

Manage staff, BOH, and FOH from anywhere

Fully-certified EMV payments for enhanced security
Accessories
Power Adaptor –

$79.99

UP10 iPad Stand for 10.2" iOS Terminal

– $219.99

Apple iPad 6

th

Gen 9.7" –

$459.99

Apple USB Power Adaptor

– $19.00

Rotation Base

– $44.99

Credit Card Swiper (USB- C Port)

– $104.99

Micro USB Cable

– $14.99

Manager Pin Cards (x10)

– $14.99

USB-C Charging Cable for Credit Card Swiper –

$14.99
EMV 2.0 Card Reader – $250.97
If you need a standalone reader that is compatible with the iOS Terminal, Upserve sells this reader in its online store.
Accessories
2-Port USB Power Adaptor for EMV 2.0 –

$14.99
Printers – Multiple Prices
Upserve POS partners with the Epson brand to offer both impact and receipt printer options for an affordable price. Everything comes with a durable, integrated backup printer and is installed by a certified team to ensure all systems are properly connected.
Wired Thermal Receipt Printer –

$279.99

Wireless Thermal Receipt Printer –

$299.99

Wired Impact Kitchen Printer (prints red and black) –

$299.99

KDS Kitchen Printer

– $630.00
Accessories
Thermal Receipt Printer Paper – 50pk –

$79.99

Kitchen Printer Paper – 50pk

– $39.99

Ethernet Interface Card for Printers

– $109.99

Power Adaptor for Wired Impact Kitchen Printer

– $34.99

Black/Red Ink Ribbon for Wired Impact Kitchen Printer

– $3.99

Ethernet Network Cable – 7ft

– $4.99
Kitchen Display System – Multiple Prices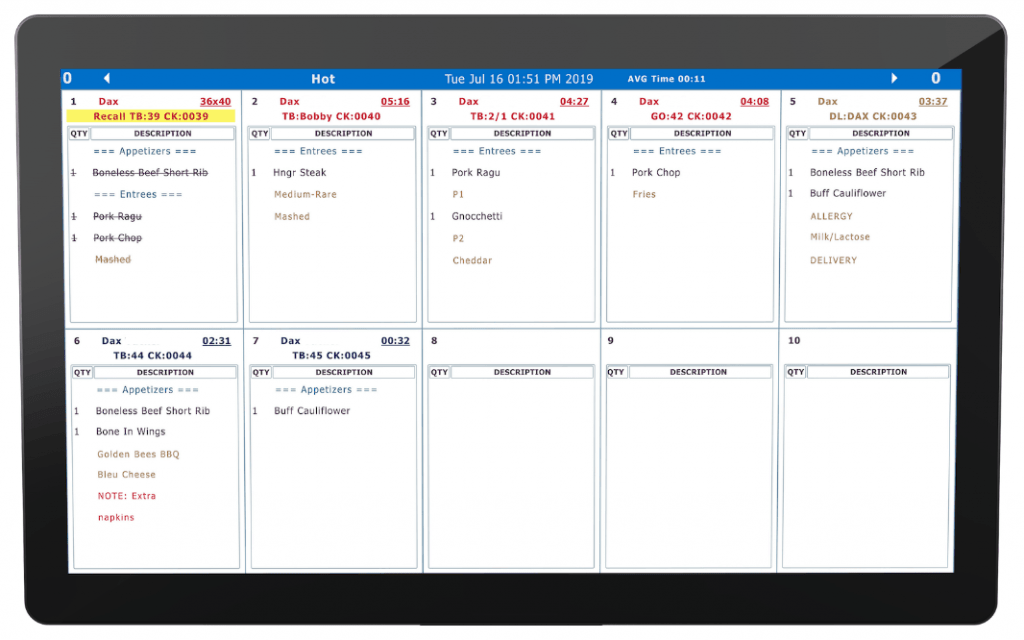 Upserve POS and Epson KDS provide seamless communication between the front and back of house. Epson offers both a Touchscreen KDS as well as a Bump Bar KDS in Single and Multi-Station Kits.
The Multi-Station Expansion Pack allows a restaurant to add up to three additional monitors with multiple screens displaying different POS orders.
Pricing for kitchen equipment is as follows:
Epson KDS Single Station Kit –

$919.96

Epson KDS Dual Station Kit –

$1,829.93

KDS Expansion Module for Multi-Screen –

$414.99
Monitors
22" KDS Monitor –

$109.99

10" KDS Touchscreen Monitor –

$324.99

22" KDS Touchscreen Monitor –

$449.99
Accessories
KDS Monitor Wall Mount – $

37.99
Wireless Networking – Multiple Prices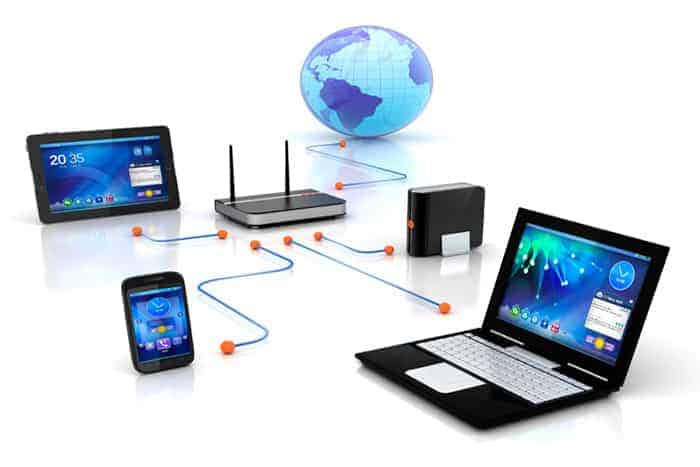 Don't let a poor wi-fi network sabotage your operations. Upserve integrates with best-in-class Meraki Networking routers and extenders. Broadcast a wireless network across your entire location with maximum reliability. Key features include:
Reliable Guest Network

Shape Traffic

Remote or On-Site Surveys

Wi-fi Hotspots
Pricing for networking equipment is as follows:
Routers
Wired Router – MX64 –

$309.99
Wireless Router – MX64W –

$479.99

Wired Router with Cellular – MX67C –

$935.99
Access Point
Indoor Wi-fi Access Point – MR33 –

$364.99

Outdoor Wi-Fi Access Point – MR74 –

$749.99

Antennas for Outdoor Wi-Fi Access Point – MR74 –

$99.99
Network Switch
Managed Network Switch – 24 Port –

$1,649.99

Network Switch – 5 Port –

$29.99

Network Switch – 8 Port –

$39.99

Network Switch – 16 Port –

$79.99

Network Switch – 24 Port –

$109.99
Cash Drawer – $179.99
The Upserve Cash Drawer is compatible with all POS hardware and software. Features include:
Insert

Printer Cables

Black 

16.7" L x 16" W x 4.4" H
Accessories
Replacement Cable for Cash Drawer –

$19.99

Extra Insert for Cash Drawer

– $39.99
Integrations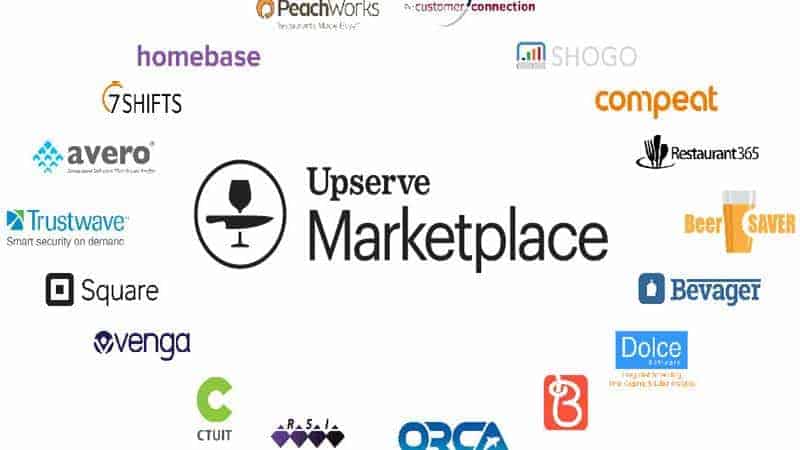 When Upserve doesn't have the feature you need, rest assured there is an integration to handle it. The platform aligns with a variety of third-party apps to make sure you get the job done. The front and back of house solutions include:
Accounting
Davo Automated Sales Tax

Plate IQ

Restaurant365
Capital
Contactless Payments
Data Security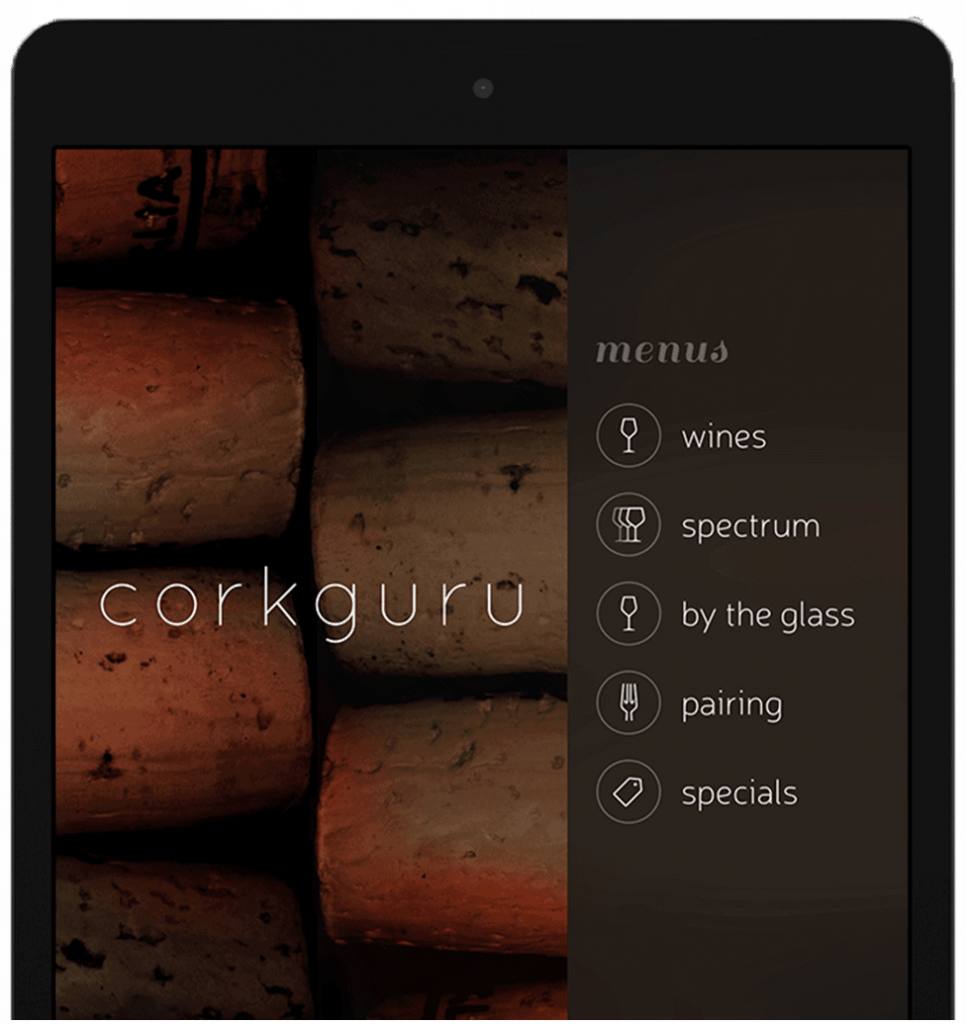 Digital Menus
Food Costing
Craftable

Compeat

SynergySuit
Gift Cards
Swipeit.com

The Customer Connection

Opticard
Inventory
Online Ordering and Delivery
Additional Apps for:
Payroll

PCI compliance

Purchasing

Waitlist

Reporting
Featured Apps
Like any brand, Upserve also promotes their preferred partnerships. Here are some of Upserve's favorite apps:
Gusto

– An integrated platform that streamlines payroll, benefits, and HR

RSI

– Experts in restaurant accounting, inventory, and cash management

OpenTable

– GuestCenter by OpenTable revolutionizes reservations and shift prep 
Upserve also integrates with third-party loyalty, marketing, and reporting programs in case you already have something in place or the free features don't cut it.
Credit Card & Payment Processing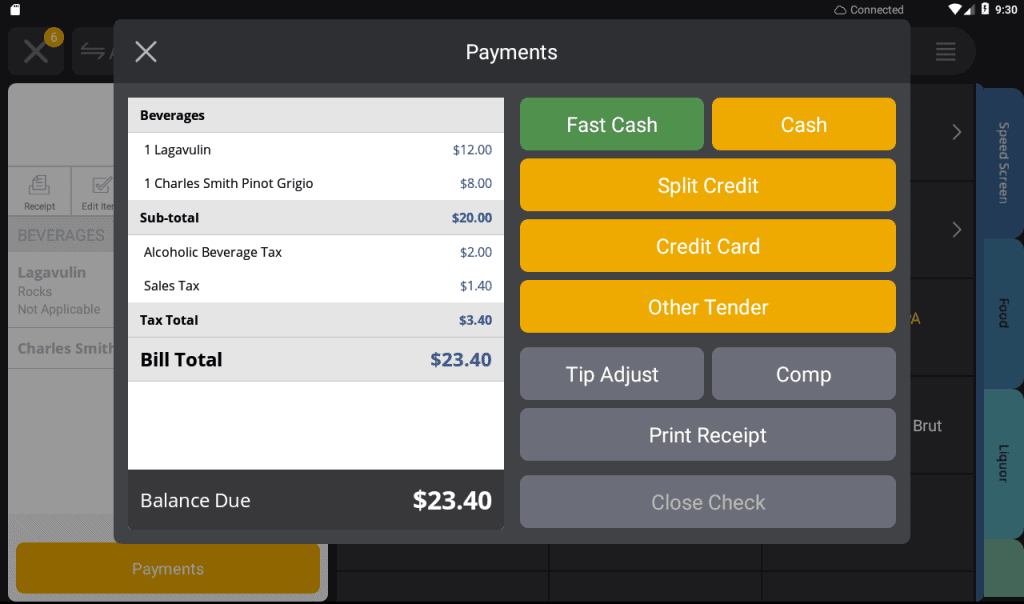 Upserve gives customers a fair and transparent processing price while gaining insight through POS data. Upserve Payments is an EMV-ready platform that transforms your line item expense into future investment. There are no hidden fees or markup with a flat rate per transaction across the board. 
Although not listed on the Upserve website, review sites report a transaction fee of $2.49 plus $0.15. 
Upserve merchant services are designed to simplify the way a restaurant takes payment. Payments integrate seamlessly with the POS so you can process credit cards (including EMV chips) straight through the terminal.
Customer Service & Support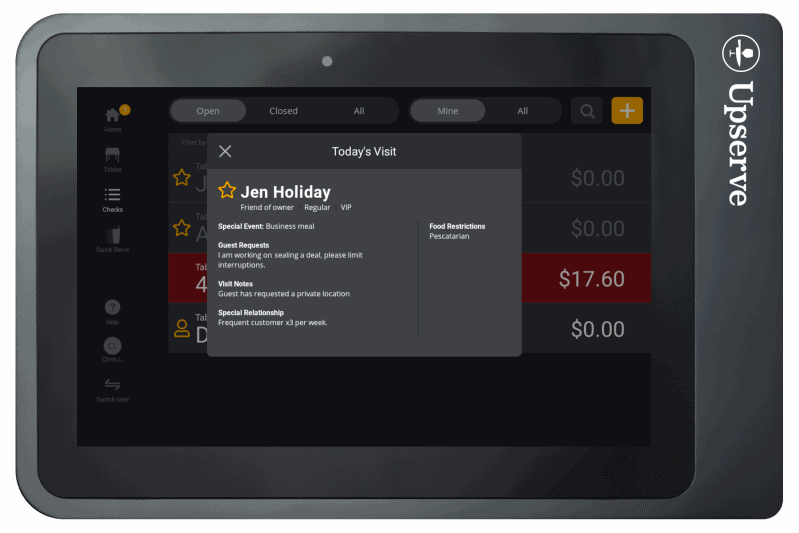 Upserve consistently receives 5-star reviews online for their 24/7 customer service and support. They offer some of the best guidance for any POS out there—hands down. Restaurants state that the live chat and email are quick to respond and adept at solving issues. 
The Upserve Knowledge Center has hundreds of helpful articles that are divided into categories for easier searchability, which include:
Releases and Updates

Online Ordering

Tableside

Networking and Hardware

Users and Roles
The platform also has a video library and links to the latest live webinar in the help center.
Status Details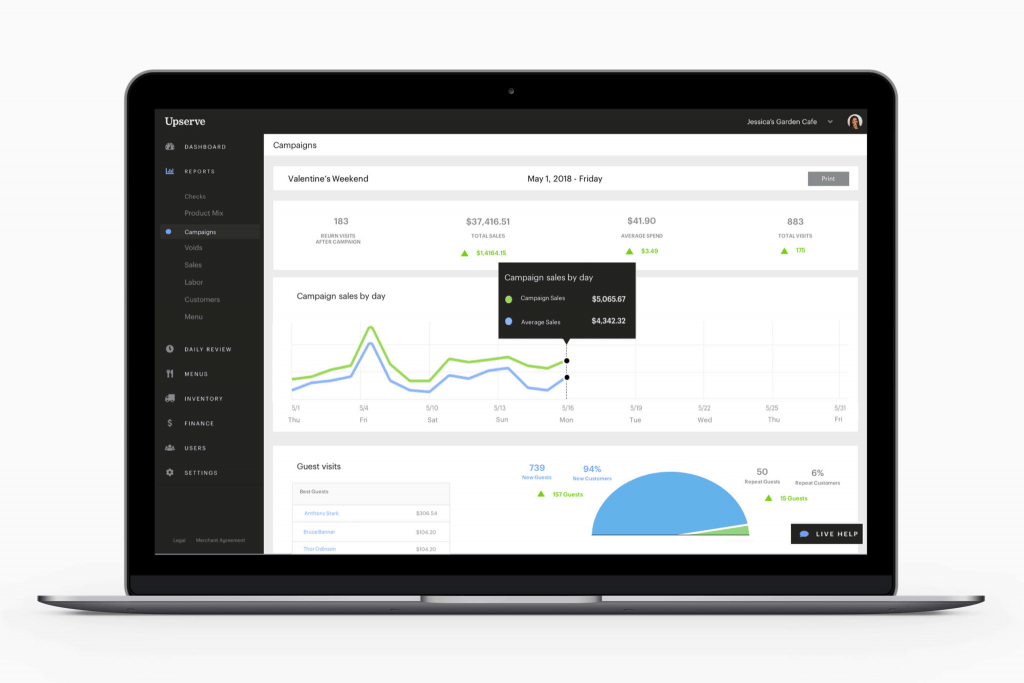 What makes Upserve unique when it comes to customer support is that the company realizes how fast business has to move in a restaurant. They provide a complete Service Status Page that shows the health of the entire network and platform in real-time. 
If there are signs of degraded performance, you can visit this page. Much like a power outage from the electric company, it will tell you if there are systemwide issues immediately. The page will also indicate when Upserve is experiencing maintenance or updates.
Upserve will show when all systems are operational, including:
Upserve POS App and HQ

Upserve Inventory and Payments

Upserve Support

3

rd

Party Payment Partners

3

rd

Party Gift Card Partners
The page also displays important data like system metrics. This includes the Median App Response Time and Median Auth Response Time. If there were any past incidents with the platform or 3rd party interruptions, this is listed in a log at the bottom of the page.
Free Tools
Upserve was developed by restauranteurs and so, they have built the website with a multitude of resources for fellow peers. This includes tools to benefit a restaurant that are completely free. 
You can find these resources on their page:
Online Ordering and Food Cost Calculator

Marketing Grader

Buyer's Guide

QR Code Generator

Menu Builder
If you have any questions about how to use the Upserve POS platform, they offer a free 15-minute demo to anyone interested.
Our Final Verdict
You can search high and low online but you won't run into many complaints about the Upserve system. The biggest issue seems to be working out kinks in the KDS for BOH communication. Every major aspect of the platform, however, seems to satisfy customers big and small. The general consensus is that Upserve is an affordable system with a robust set of smart tools.
Compared to other POS platforms, Upserve has a variety of hardware options. Although they don't openly advertise it (as they formally did under the name Breadcrumb) the system aligns beautifully with the iPad Mini 5. And a little secret between you and me—you don't need to purchase it from them. You can get a used model and download the software.
Upserve is also an amazing platform for enterprise ventures. If you have multiple locations to manage, this is a system that can handle the aggregation and simplify the reporting. Loads of big data is compounded into universal trending that will help you make data-driven decisions, much faster.
If you are in the market for a restaurant point of sale system with fair pricing, competitive features, and a strong level of support, Upserve is a solution that will never disappoint.
Reader Interactions