(Last Updated On: June 30, 2023)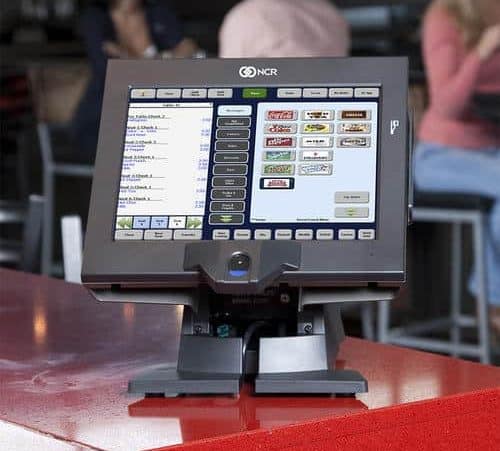 Running a restaurant today requires technology that will streamline payments, engage customers, manage inventory, and monitor staff. It's a constant struggle to stay ahead of the competition.  
If you need to simplify operations, Aloha's software may just be the solution you need.  
Whether your restaurant is small or large, Aloha POS offers a good option to adopt. The system has been used by over 80,000 restaurants and aims to speed up order entry, streamlined food preparation along with delivery, and quick payment processing to make the customer experience much more positive. The back office of the restaurant also gets a boost as it helps managers identify top performers with smart scheduling features.
The system also comes with tools to deal with theft detection and manage employee hours. The software is customizable, allowing businesses to tailor it to their specific needs and requirements. However, the high level of functionality offered by the system can be overwhelming and take a long time to learn, particularly for independent restaurants. Moreover, the system requires an internet connection and is vulnerable to slowdowns or even outages.
You are able to stay ahead of your competition:
Aloha POS lets restaurants keep up with the latest customer trends and demands. This is made possible through the ability to connect with online ordering platforms and integrate with customer loyalty programs. It can also track inventory levels automatically and generate purchase orders accordingly. This improves the overall efficiency of the restaurant and reduces waste.
After an extensive Aloha POS review, we found that the platform will link all of your restaurant channels, including in-store, online, delivery, and back of house. It reduces margins with user-friendly software that boasts extensive employee controls and detailed inventory management. It automates key processes for customer engagement, menu engineering, and tableside ordering.
The foodservice industry faces many challenges that Aloha can address. A restaurant needs to manage the pace of technology. Aloha makes online ordering and delivery a breeze with third-party integrations. The system was designed to increase the average check size and expand your brand.
The Aloha Back Office gives you in-depth reporting on top performers with smart scheduling. Say goodbye to payroll headaches. Employees have access to self-service features that reduce labor costs and keep your best talent engaged.
Building your customer base requires personalized and robust marketing strategies. The Aloha Loyalty program helps a restaurant create customer interactions that matter with stored value programs, guest feedback, and social media engagement.
In this Aloha POS system review, we'll look over everything the solution has to offer, from key system features to pricing, hardware, integrations, and everything you need to run a successful operation.

How Much Does Aloha POS Cost?
The costs for the Aloha POS system are quote-based. Prices will vary depending on your restaurant size, number of employees, equipment, services, and other factors. You will need to call and have an in-depth conversation with an Aloha rep to even get a sense of cost. However, this could just give you an idea of what's up front.
Most POS software solutions have a monthly subscription fee. This is essentially renting the license for use. 
The total cost of ownership for an Aloha POS system should include:
Monthly subscription fee

Payment processing rates

Installation

Customization with data migration

Maintenance and upgrades
Pros/Cons 
 Here is a brief list of pros and cons you can expect when implementing this system:

PROs
User-friendly dashboard that facilitates the onboarding and training processes

Course timing and ordering to streamline communication and menu management

Employee controls for scheduling, performance reporting, payroll, and training

Inventory management with instant alerts and auto replenishment

Reporting and analytics with key sales and labor trends for better decision making
CONs
Complex, end-of-day functions auto-close open items, even if the shift is still running

The Aloha server has had connectivity complaints in the past

Aloha Kitchen does not have a backup if the KDS controller goes down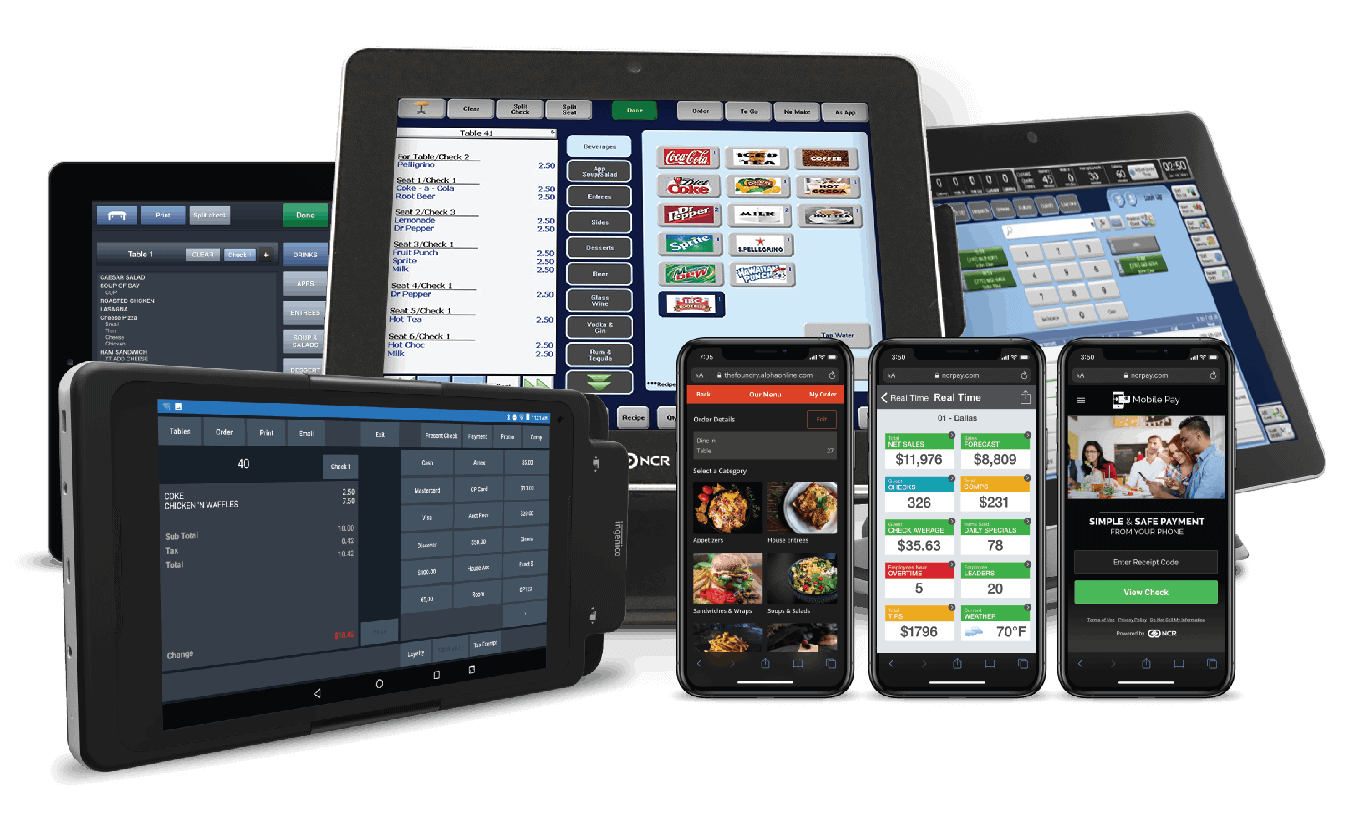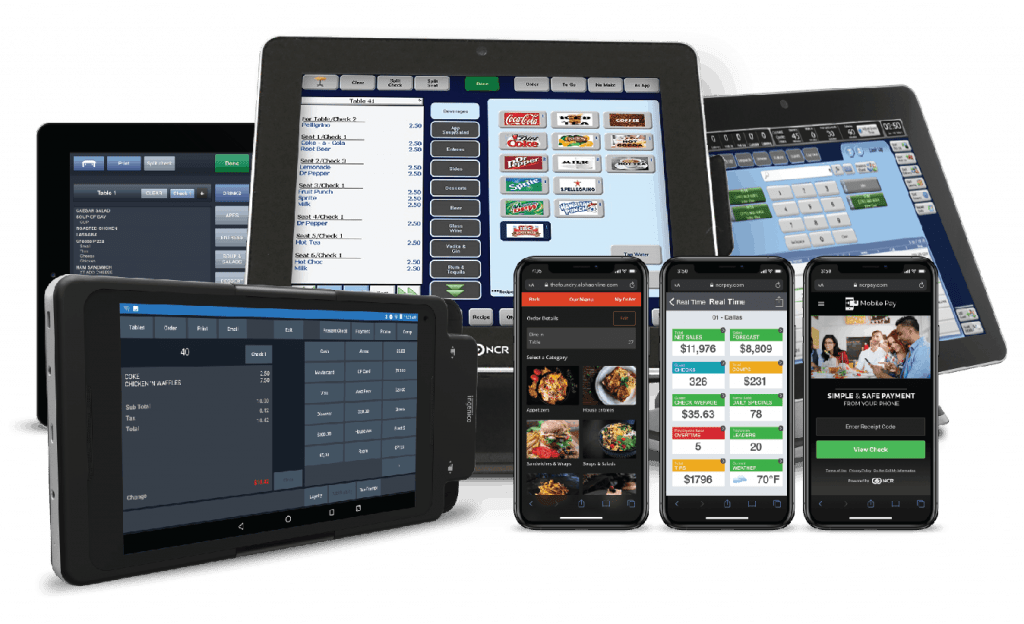 Don't have time to read our full review?
Skip all the nitty-gritty details about this POS system. Easily customize a point-of-sale solution for your restaurant in just 60 seconds by
clicking here
. If you're not in a rush, read our comprehensive 5000+ word guide on the
top 20 restaurant POS systems
in the industry.
Aloha Pricing  
Aloha pricing is far from transparent. There isn't much to say on the subject and a simple Google search will get you no closer. The truth is NCR keeps all its pricing really guarded and consumers have to do some serious digging to get some answers. This does not bode well for brand trust and accountability.
When looking to purchase an Aloha system for your restaurant, take into consideration factors like:
System maintenance

Speed of service

Power consumption

Deployment costs
All of this will give you a better understanding of the total system cost. It will also help when asking questions during a demo. If the brand is going to be elusive about pricing, make sure you ask the right questions when you get someone on the phone.
Key Features
The Aloha POS system ensures speed and accuracy with a universal dashboard developed by people who know restaurant operations. Key features include:
Aloha POS
Hardware That's Built for Your Business Operations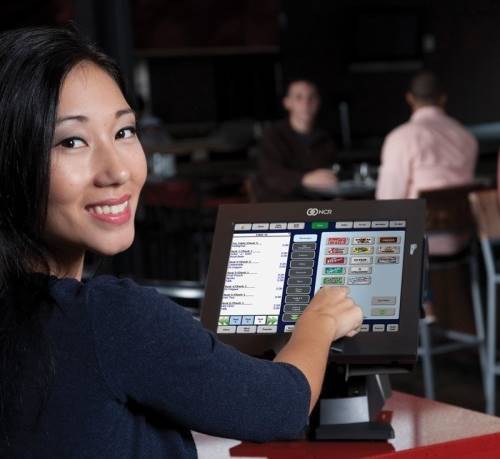 Use a combination of both mobile and fixed POS stations that depend on your business operations. From accurate sales tax calculations to gratuity suggestions, a mobile version of the software is available on iOS and Android devices. Key features include:
Nested and forced modifiers with suggestive selling prompts

Tips share

Creation of multiple revenue centers

Supports complex combo, wing, and pizza functionality
Contactless Dine-In to Meet Regulations and Improve Safety
Give guests a safe and frictionless ordering and payment experience. Print QR codes that can be affixed to a table, door, or curbside. Customers can easily scan the codes with their smartphone, place an order, and pay. All without touching anything. 
After payment, a receipt is emailed which gives you the ability to collect contact information. Gratuity percentages or a line to add a custom tip are also options on the device. 
Online Ordering to Boost Sales Channels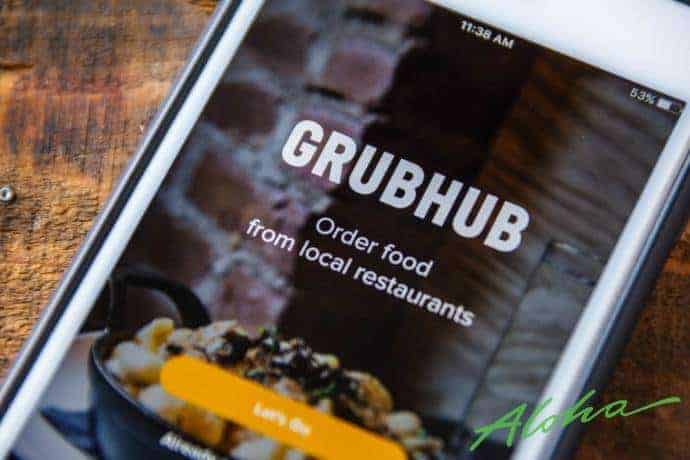 Increase your average check size and expand your branding. The NCR Aloha online ordering features enables a restaurant to accelerate its digital ordering strategy and get food to people in more places. 
Access a web portal that shows you detailed views of consumer orders. The system makes it easy to customize and preview images and fonts for a fully branded experience. Leverage the feature for a single site or multiple locations.
Takeout and Curbside Pickup Managed in One System
Execute all call-in, takeout, and repeat orders easily with the ability to quickly import data and personalize the experience. Manage all digital orders in one system with integration to kitchen and capacity management. Associate loyalty accounts with checks so guests can earn rewards.
Customers can schedule and hold orders for future firing. The system includes recognition capabilities like caller ID lookup and the association of phone numbers with each customer. It has direct integration with third-party delivery marketplaces.
Gift Cards and Basic Loyalty Programs to Bolster Customer Engagement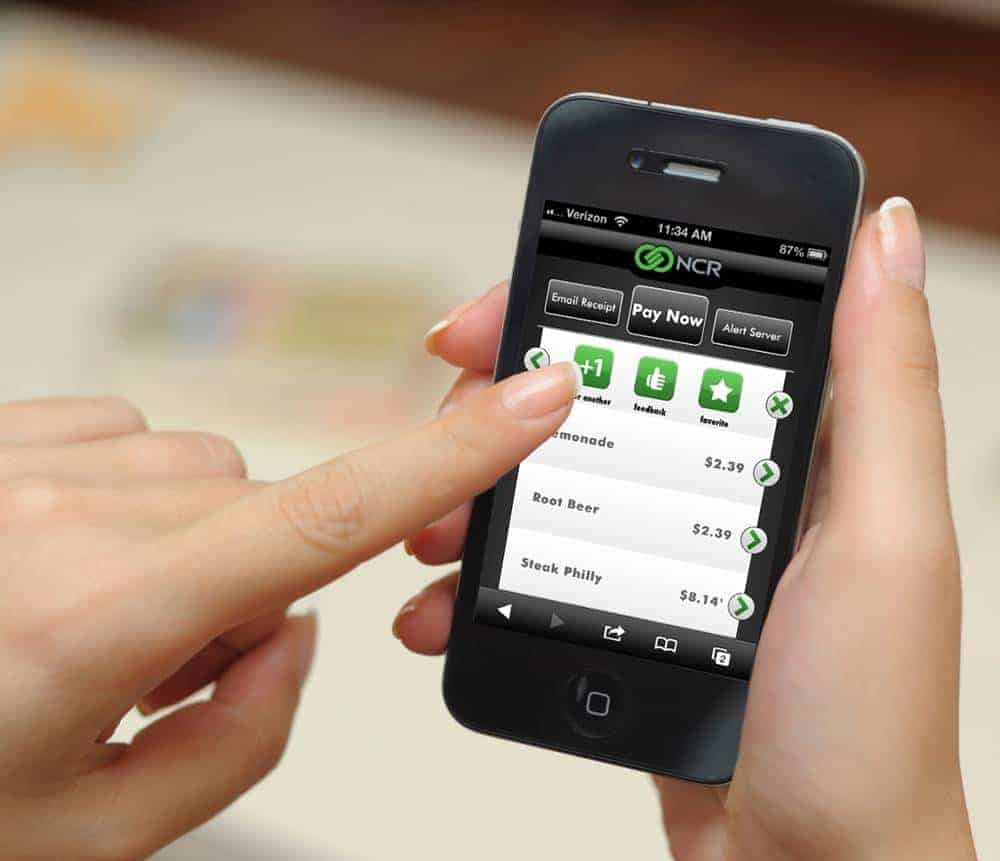 Create basic loyalty programs to easily manage distribution and redemption of physical and digital gift cards. Apply real-time promotions and automatically reward customers when points have been earned.
Configure physical and virtual cards from one location for all locations or at a store level. The system also allows you to track reward milestones like enrollment or birthdays to further personalize the customer experience and make it memorable. 
View reporting at any time that tracks key metrics like enrollment, program details, and return on investment. 
Secure Payments to Maintain Cash Flow and Accept all Types
Accept and process any type of payment a customer hands you from cash and credit cards to:
EMV

EBT cards

RFID

Mobile wallets
Use point-to-point encryption (P2PE) and tokenization to enable secure routing of payment data. Contactless payments can easily be added via QR codes and you can centrally track all devices, pin pads, and more.
Reporting and Analytics for a Detailed Understanding of Your Business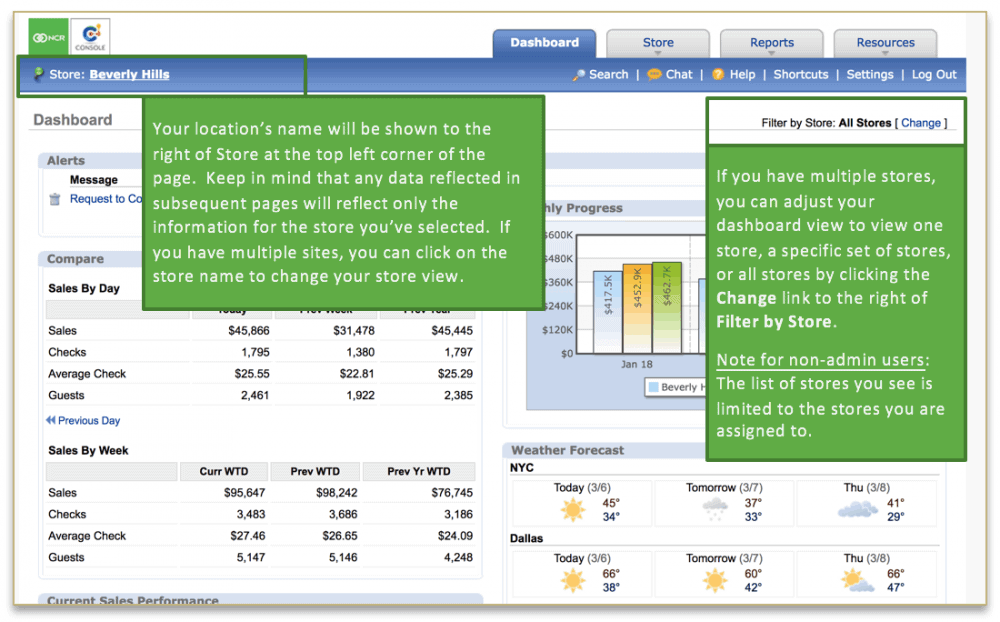 The Aloha POS system includes 380 standard reports and an export builder for customization. Reports can be scheduled and emailed on a regular basis for deeper insight. The platform integrates with a variety of payroll and accounting apps to ensure you have the top tools in the industry.
Transaction data syncs up-to-the-second in real-time between the POS and any mobile management device. You can breakdown net sales by hour, day, revenue center, category, and order mode. Scorecard ranking of employees helps to determine who is selling the most and the best times to schedule them.
Cloud-Based System for Remote Management and Monitoring
Remotely access and monitor your system from anywhere, at any time. Centralize the management of your menu, items, promotions, and price changes across all operations. Update your database on-demand, in real-time to make immediate changes that reflect across the board. 
The platform provides easy and secure, one-click access to site systems, configurations, and the status of resources. The Aloha system has enterprise-wide management and insight of all POS, back office, and kiosk devices.
Back Office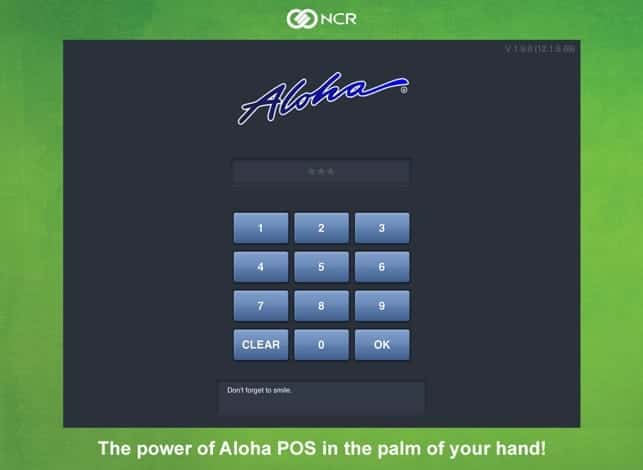 When it comes to managing the back of house, Aloha has you covered. From detailed inventory replenishment to automated payroll functions, the system was designed to organize the administrative tasks of a restaurant. Expect features that include:
Employee scheduling with controlled clock-ins, message board, and swap requests

Inventory management and performance reports

Smarter purchasing strategies that measure theoretical vs. actuals

Centralized warehouse "dark kitchen" for ordering, receiving, and reporting
Kitchen Production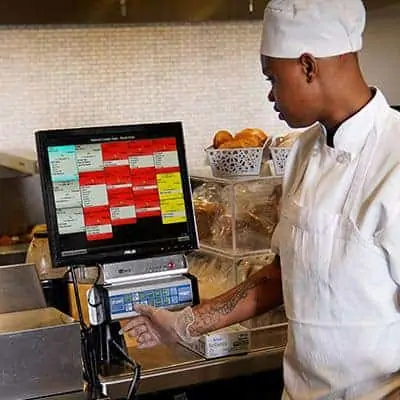 Send out high-quality food quickly with kitchen production solutions that reduce wait times and increase throughput. Make better staffing decisions using order volume and production status. Automatically route orders to kitchen stations being underutilized and group them by video, terminal, or mode.
Additional kitchen production features include:
Order and source destination (in-house, online, etc.)

Bin management to improve the performance and speed of repeatable tasks

Accurate quote times for order timing and mobile apps

Order ready display in the FOH for drivers and guests
Industries Served 
Although Aloha POS was specifically designed for the restaurant industry, it is better suited for full-service restaurants. This is, in part, due to the sheer number of features and tools that are offered. It's a robust package designed to specifically serve mid-scale to large-sized companies. 
It's also on the pricey side, which makes Aloha less affordable for smaller restaurants that may not need all the bells and whistles. It comes equipped with full-functionality that a smaller operation could find overcomplicated.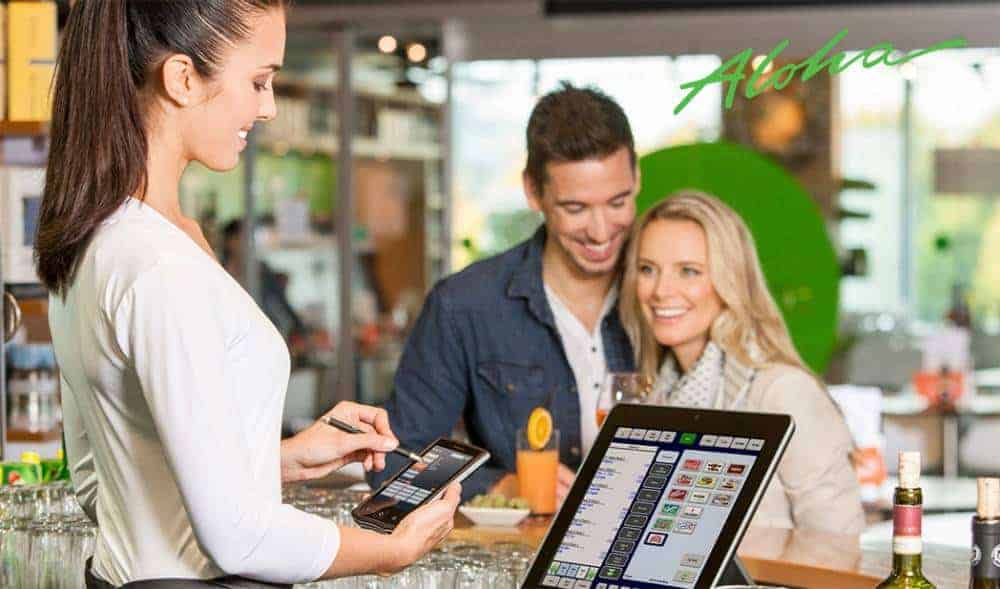 Deployment Type 
The NCR Aloha POS software was designed to only work with the branded hardware. All external hardware must be purchased to have a functioning solution. 
The platform is not made to be used on Android or Apple devices. It has its own operating system developed by NCR and integrated with the software sold by the manufacturer. You will not find a setup where you can just download software and start using it right away. Aloha is more complex than that.
Aloha POS is a hybrid system that offers both locally-installed equipment and cloud-based apps. You can also set up Aloha Restore (extra fee) which will back up all data and store it in a third-party source.
Ease of Use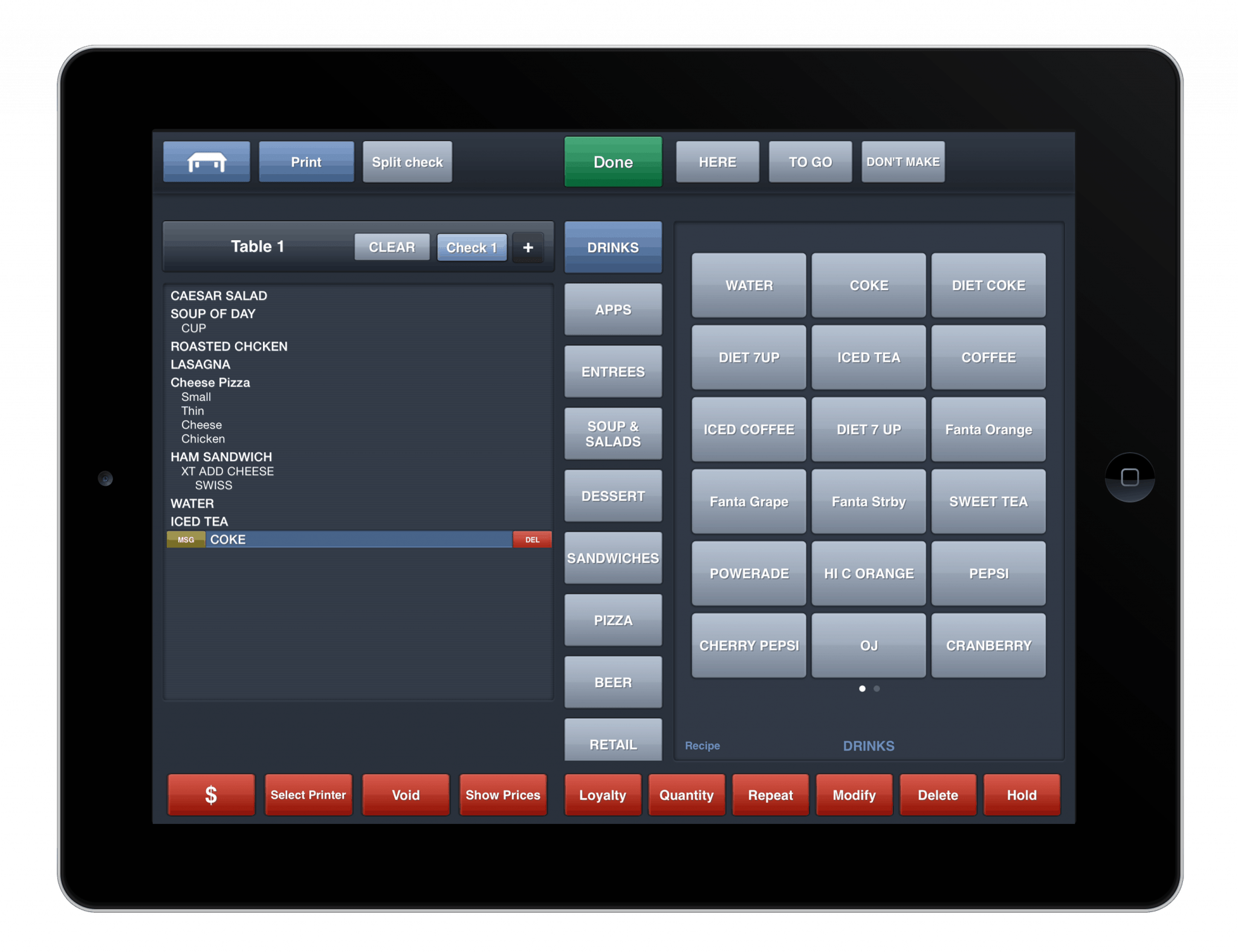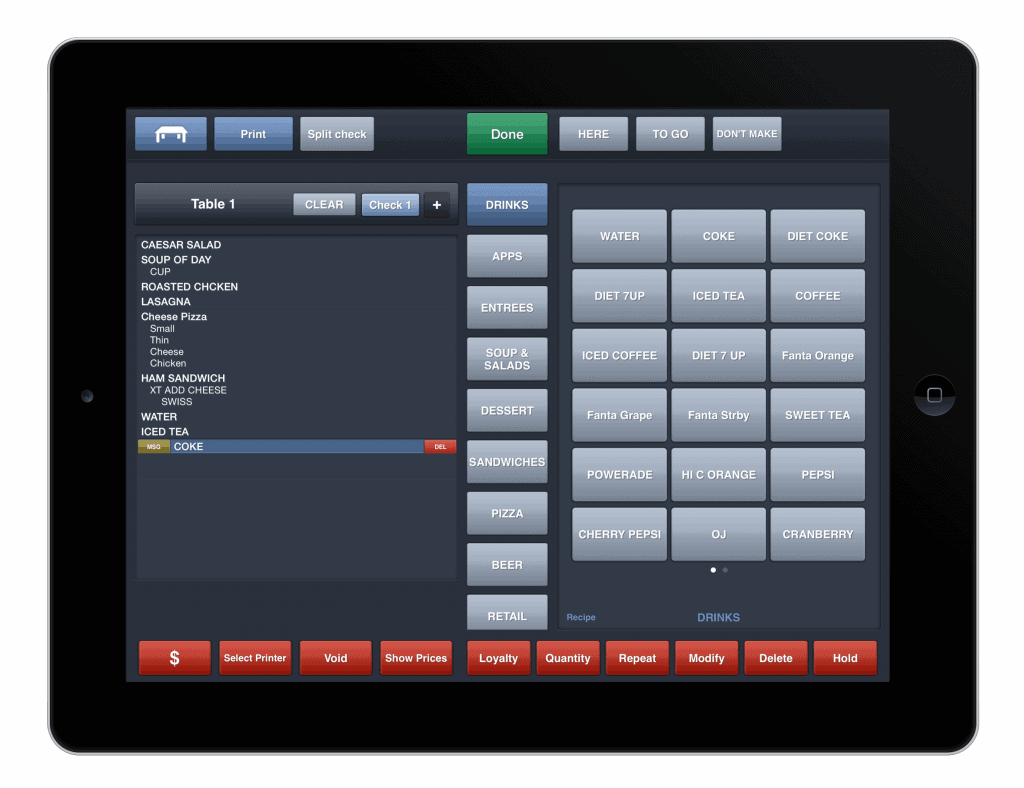 Although Aloha POS is certainly not a plug-and-play system, there are more complex solutions out there. It's the middle of the road for restaurant POS solutions and ease-of-use. 
Installation can take a little bit more time than Aloha competitors, but once you're up and running, the sleek dashboard is well designed and easy to navigate. If you're familiar with Microsoft Windows, then the Aloha interface should be a breeze. It's not super flashy or modern but the layouts are simple to read and easy to customize.
Table-mapping enables a restaurant to lay out a basic floor design with easy-to-read color coding. Buttons and system modifiers make placing an order smooth and quick. Closing out tabs is also an intuitive function. The Aloha system accepts all forms of payment and facilitates back office management.
Hardware 
NCR Aloha offers purpose-built equipment that's built for the restaurant environment. From mobile capabilities to contactless payment and kitchen devices, expect hardware options like:
NCR Terminals
10" POS Terminal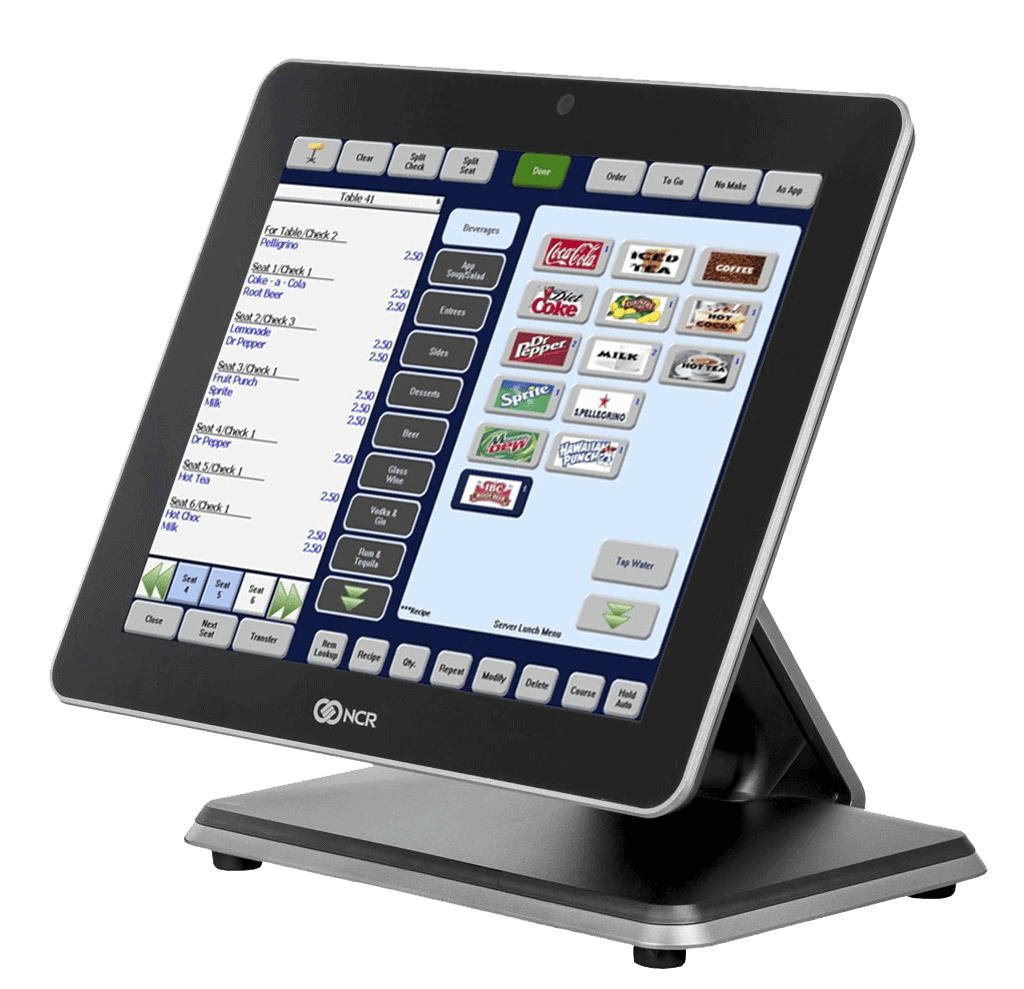 The PX10 has a sleek design with an LED-backlit LCD glass screen. It's built to deliver full HD and projected capacitive touch technology. The terminal runs on either Windows 10 or Android with solid stats components that enable a fan-less design. That means there are no moving parts to break.
You can also mount the 7" display on the back. This customer-facing screen allows people to visually track orders as they are entered.
12" POS Terminal
The P1235 POS Terminal is the latest generation of open hospitality platforms from NCR. The terminal is fast, energy efficient, and provides a multitude of connectivity options. Key equipment components include:
12" LED, color 1024×768 main display

Flat front projected capacity touchscreen

10-point multi-touch and fast touch interface
15" POS Terminal
NCR has three varieties of 15" POS terminals:
They are purpose-built for value-based, mainstream, and high-performing restaurant operations. Each machine delivers non-stop reliability, maximum uptime, and the ability to withstand harsh environments.
NCR Mobile POS Hardware
Orderman Handheld Devices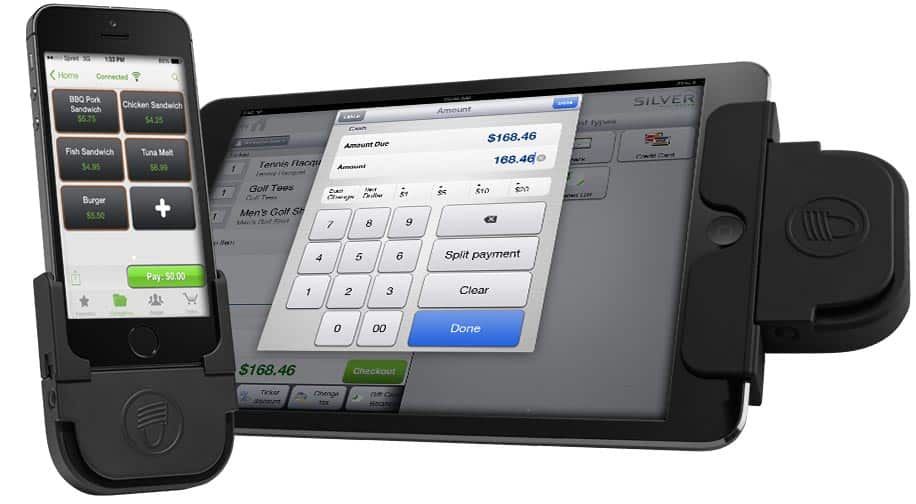 The NCR Orderman mobile POS device is built for purpose and designed to bust lines and take orders tableside. Using radio frequency, the Orderman will operate non-stop, is less prone to interference from outside, and reduces the risk of dead space and lost data.
NCR 7779 Tablet
The NCR7779 Tablet product line includes both 8" and 10" Windows tablet PCs and accessories. This is offered through the NCR partner Aava Mobile. 
The tablets provide incredible mobility and flexibility to suit any restaurant size or style. Available with 1920 x 1200 resolution, the screen can be viewed clearly, at any time of day. The tablet also comes with a built-in NFC for contactless tags and non-payment cards.
NCR Kitchen Hardware
NCR KC4 Kitchen Controller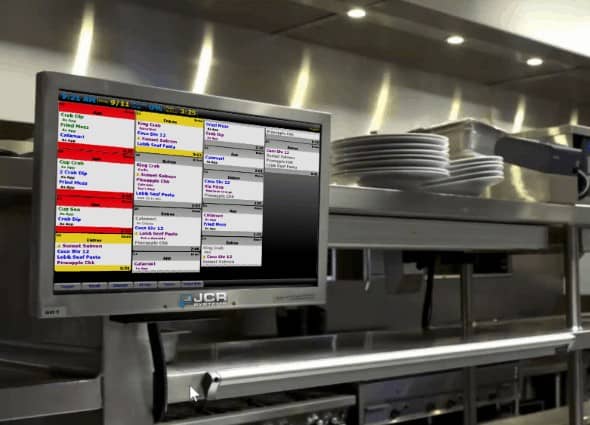 The Kitchen Controller is built to withstand the harsh environments of restaurant kitchens. It's the core component to enabling the exact order routing and operational flows of the NCR kitchen production solution. 
The KC4 offers high performance and best-in-class power efficiency with optimized connectivity and simple serviceability. The rugged, solid-state design has flexible mounting options to provide staff with the utmost reliability and versatility that transforms kitchen operations. 
NCR KT2200 Kitchen Touch Display
The highly-visible NCR KT2200 Kitchen Touch Display is a large, backlit LCD touch screen that was designed for the restaurant kitchen environment. The display features a full-HD glass screen with PCAP touch technology and is completely enclosed in stainless steel that is resistant to kitchen contaminants. 
Measuring 12.5 x 21.5 inches (but only 1.85 inches at its widest) it has flexible mounting options for any kitchen. The equipment enables staff to see multiple orders easily and act on them, which increases both accuracy and efficiency. 
NCR Bump Bar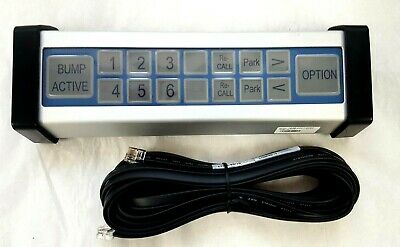 This is used to interact with the Kitchen Controller and enables staff to easily "bump" or delete orders from the production queue. It has robust, programmable keys and a volume-adjustable speaker that allows for key presses and alerts to be heard in a noisy kitchen. 
The NCR Bump Bar is built to withstand continuous use. It features a rugged, aluminum enclosure and rubber end caps that protect the equipment from the harshest of environments. 
NCR Restaurant POS Servers and Peripherals
NCR N4000
NCR S500
NCR 7199 Thermal Receipt Printer
NCR Self-Ordering Kiosks
NCR SelfServ 90 Kiosk
NCR XK32 Kiosk
Integrations  
Aloha POS has a full offering of comprehensive features so integrations are limited. However, the solution still covers the basics. Here are some of their top partners and areas of integration:
Deliverect 
Connects third-party delivery platforms like UberEATS and Deliveroo.
Flipdish API 
Easily integrate online and offline orders.
Zip Schedules
Leading employee scheduling and shift planning.  
Accounting
Payroll
Restaurant Management
Reservations
Employee Scheduling
eCommerce/Online Ordering
There is no open API for developers. What you see is what you get.
Credit Card and Payment Processing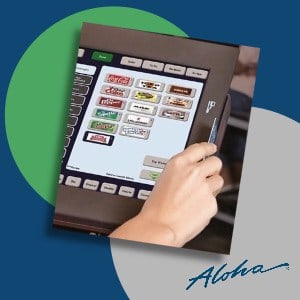 NCR provides payment-accepting equipment and processing services with the POS offering. The dedicated payments platform integrates seamlessly with your existing POS system giving you all the services you need from one provider. 
The PCI DSS-certified payment platform ensures safe processing of all major credit and debit cards from swipe-through to e-commerce authorization. 
MyMobileMoney is a mobile solution for merchants where you can take payments anywhere that customers are. Save their data on file and easily handle installments and scheduled payments.
The system also integrates with Poynt and Tablesafe as EMV payment devices. All payment processing fees are custom-quoted.
Customer Service and Support
Aloha POS has a call center with 24/7/365 support. They have multiple phone numbers depending on the support you require from IT to payment processing. They are also available via email or chat. 
MyNCR is a secure customer portal that gives you access to account information from anywhere on the planet. This is a great place to add new employees and a center for helpful resources like:
Video demos

Training course

Live webinars

Help manual

Support desk
The Best Alternatives to Aloha POS 
In addition to NCR Aloha, there are other restaurant POS systems that you might find useful. Consider these two alternatives:
Toast POS 

Toast POS is a cloud-based point of sale solution for restaurants. It combines durable hardware with fast payment processing and customer engagement features. The system includes everything you need to run a restaurant of any style.
Toast is one of the most popular Cloudbased point of sale systems that are being used by tens of thousands of restaurants and other food service businesses around the world today. The platform has a durable hardware along with fast payment processing, which helps it to be one of the best choices for a wide range of restaurant types. It also has a detailed backend with plenty of information about food business operations, which is accessible to anyone who uses the system.
The system comes with several different pricing options, starting at $0 for the quick start bundle, which includes a software license and Toast hardware terminal. For a more comprehensive system, you can choose the core or growth plan that starts at $69 per month. Toast also offers a pay-as-you-go option on their hardware, which is a good way to save money in the short term. However, you will be charged a transaction fee for each swipe or tap.
In addition to providing a number of different restaurant-specific features, Toast also has a robust retail POS system that allows you to run an entire store from a single platform. The system supports both online and in-store sales, and records all inventory and transactions in a single database. It can also track customer behavior and profiles to provide a personalized experience.
As far as customer support is concerned, Toast makes a strong effort to offer a high level of assistance, which includes personal customization and 24/7 technical assistance. The company also provides a range of training materials and guides to help new users get up to speed quickly.
Look for Toast system features like:
Analytics and reporting with sales summary and product mix

Tableside service with order ready notifications and instant payments   

Online ordering and delivery with third-party integrations

Menu management with item countdown and real-time updates

Inventory controls with auto-replenishment and instant messaging
Toast POS is free. The Starter kit is $0/month (plus taxes), it's $99/month for the Essentials package, and $189 for the Growth plan. 
Toast Now digital ordering starts at $50/month. The hardware starts at $450 for a mobile device and $1,350 for an entire POS setup.
MICROS POS


MICROS POS is a powerful, cloud-based restaurant POS system owned by Oracle. It was designed to simplify operations with an all-in-one offering that includes:
Employee scheduling, performance reporting, and training

Customer loyalty programs for engagement and retention

Real-time reporting to control costs and boost profitability 

Kitchen display system with staggered order prompts
Contactless payment with secure EMV credit card processing
You won't find exact pricing on MICROS. It's quote-based on your individual needs and services. However, it's good to know that they charge a monthly subscription fee and an upfront licensing fee, which typically starts at around $5,000.

Summing Up The Aloha POS System
The Aloha feature set is very impressive. The system will work best for medium to larger restaurant operations that require a comprehensive set of management tools. If you're running a small business, this may be too much horsepower with a high price tag.
Aloha addresses current industry challenges like contactless payment, delivery integration, customer expectations, and inventory automation. It ensures the kitchen has all order channels flowing into the back of house in a controlled and practical fashion. 
The system sets you up for online ordering and provides tools to manage the entire employee experience, from training to scheduling and payroll. Apply automated tasks to common processes like menu updates and tableside ordering to boost revenue and drive up check averages.
Overall, most online reviewers have few complaints about the system and have seen a good deal of success. There is an underlying issue with the lack of transparency on cost, but this can be resolved with a quick phone and asking pointed questions. 
If you need a new POS system that will elevate your business and drive growth, Aloha POS is a great place to start!