(Last Updated On: June 30, 2023)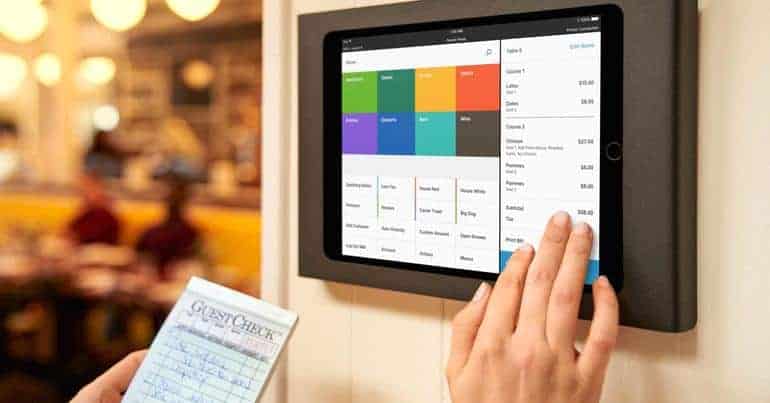 The restaurant industry is fiercely competitive with projected sales reaching $900 billion in the United States alone. Tight margins mean success or failure hinges on the right tools to turn tables, manage staff, speed up transactions, and keep customers engaged.
Square for Restaurants makes it simple for a business of any size to aggregate orders from every channel while managing staff and inventory accordingly. The platform helps to break up long lines, engage customers, and ensure you never "86" a best-selling plate again.
The system plays a strong role in streamlining workflow and facilitating communication through the front and back of house. The kitchen display system is durable equipment that fully integrates with the POS software and services.
Square for Restaurants rivals other foodservice POS systems like Toast and TouchBistro. That's because of strong third-party integrations, a universal dashboard, and a flat payment processing rate. Affordable hardware and an open API also means the software will adapt to virtually any legacy environment.
After an extensive review, what we love about Square for Restaurants is the payment flexibility, staff management, strong inventory controls, and intuitive reporting that makes the platform such a useful system for a restaurant of any size. Square facilitates sales by improving the customer experience and giving businesses better tools to manage operations from anywhere in the world.

Let's dive into Square for Restaurants review, detailing the key benefits to each system, pricing plans, potential drawbacks, and much more.

The Key Benefits of Square for Restaurants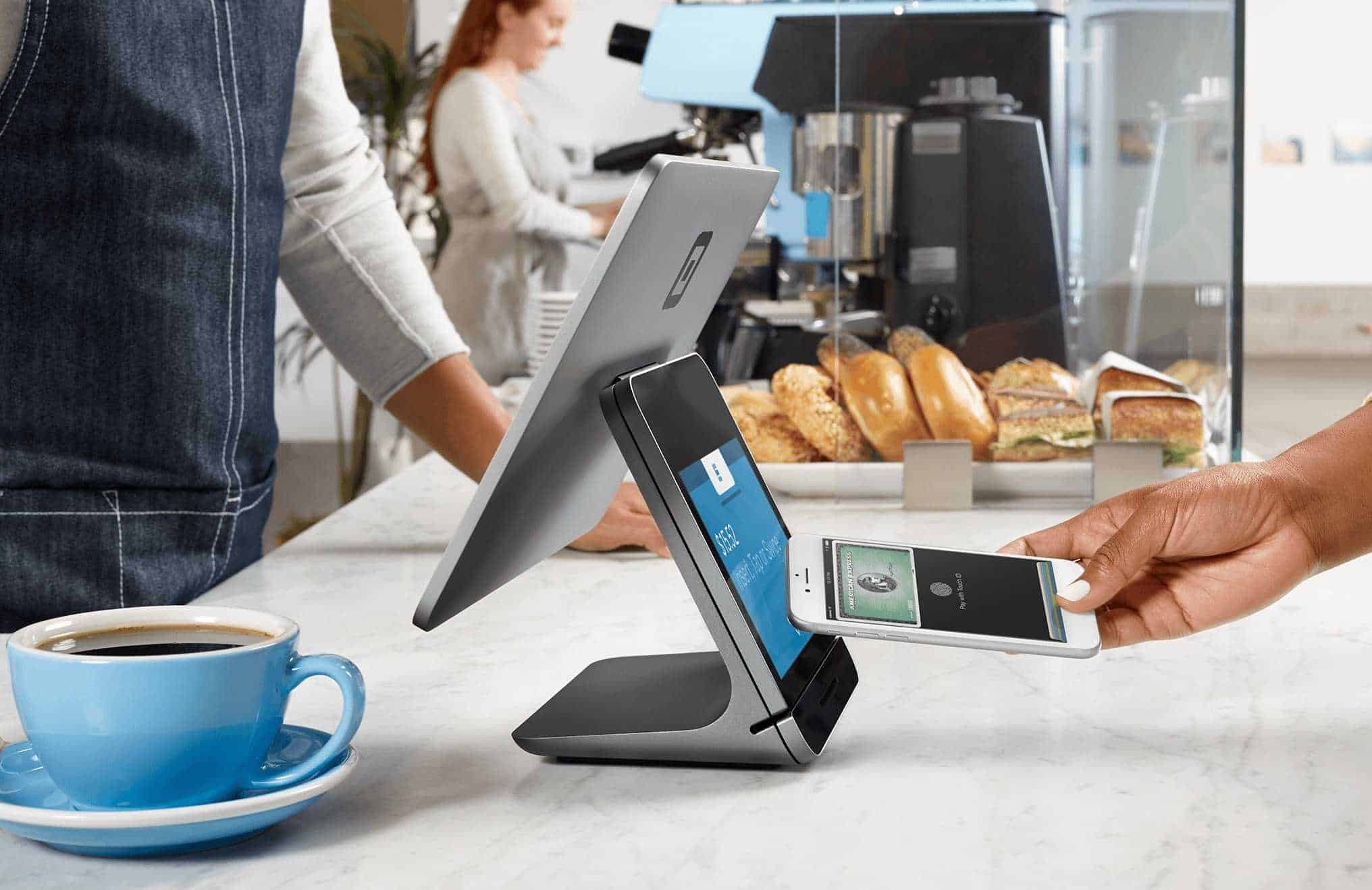 Square POS has an extensive suite of features to suit a restaurant of any size and style. The brand focuses on out-of-the-box solutions that you can implement in minutes.
The best Square POS features include:
Flexible payment system with a flat processing rate across the board
Customized checkout experience with quick-access buttons and modifiers
A kitchen display system that facilitates BOH and FOH communication
Built-in customer database for in-depth reporting and segmented marketing
eCommerce website with online ordering and delivery options
Inventory controls with real-time, low-stock level alerts
Employee management with scheduling, payroll, and performance reporting
Possible Drawbacks
One of the main setbacks to the Square system is that you never have the option of using a third-party payment processor. They make it so that every feature uses the built-in payment processing infrastructure with corresponding rates.
If a business has a legacy payment processing system, they will have to cancel the contract. It also means you are locked into the rather high market rate of 2.75% + 30 cents across the board. There may be some instances where other companies offer better rates that you won't be able to use.
Additionally, Square does not integrate with outside customer loyalty programs. That means, any promotions you run outside of Square Loyalty will not get recorded in the back office website. This can make record-keeping challenging for a small business.
How Much Does Square for Restaurants Cost?
One of the most attractive features of the Square platform is that the tool is free to use. Square for Restaurants has three flexible pricing plans that correspond to the needs of your business.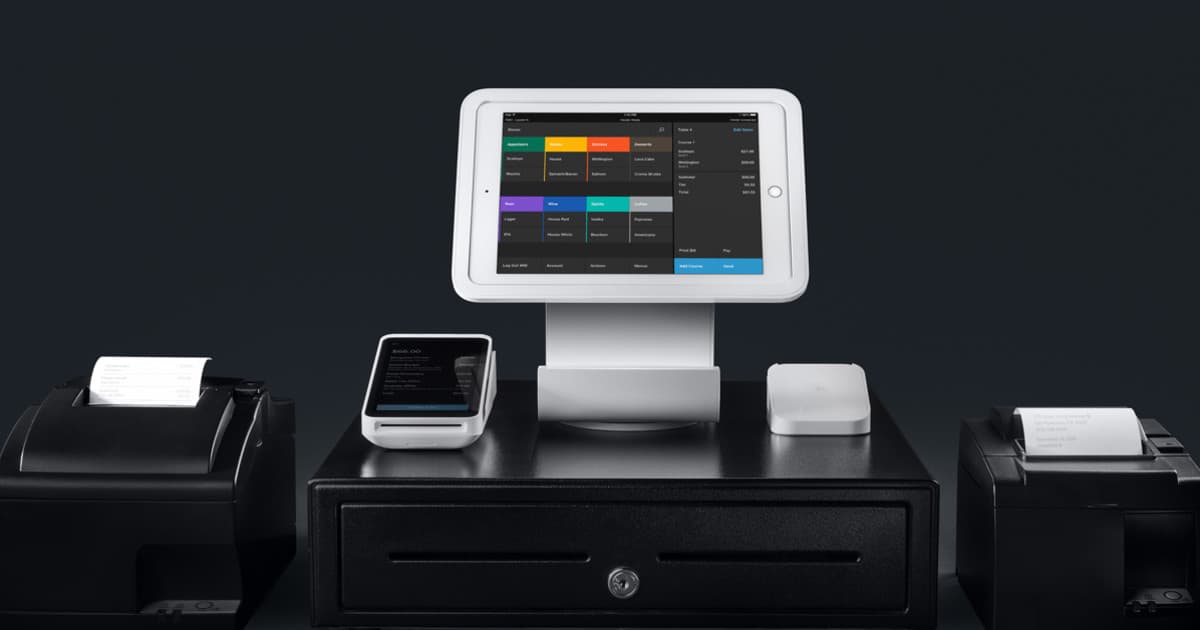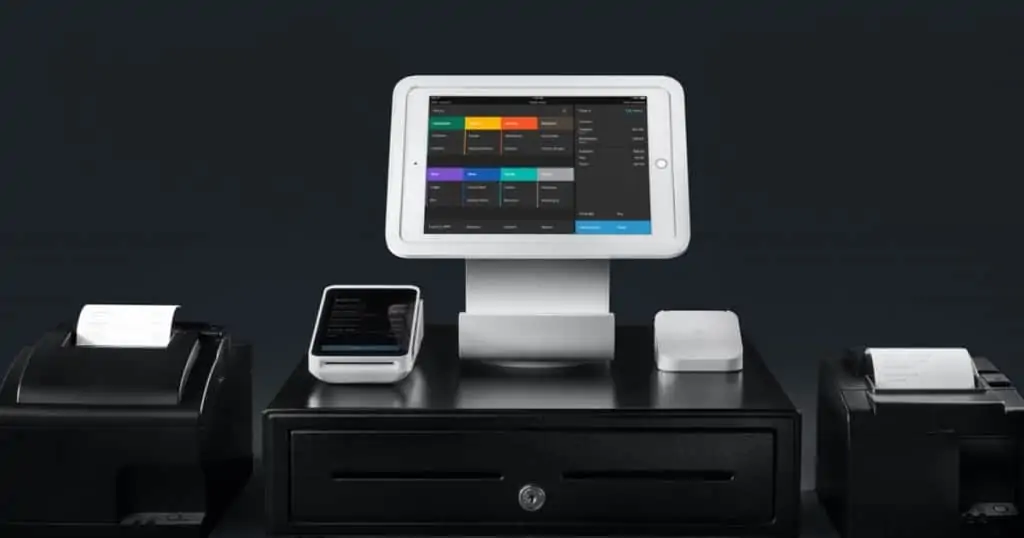 Free Plan
This includes everything to handle day-to-day service with unlimited devices and locations. It does not come with a kitchen display system or advanced reporting capabilities. The main features include:
Point of Sale

Open checks
Conversational modifiers and auto progression
Auto gratuity
Menu, table, and cash management

Operations

Device code login
Remote configuration and management
Dark mode
Service charge reporting
General data and analytics
Plus Plan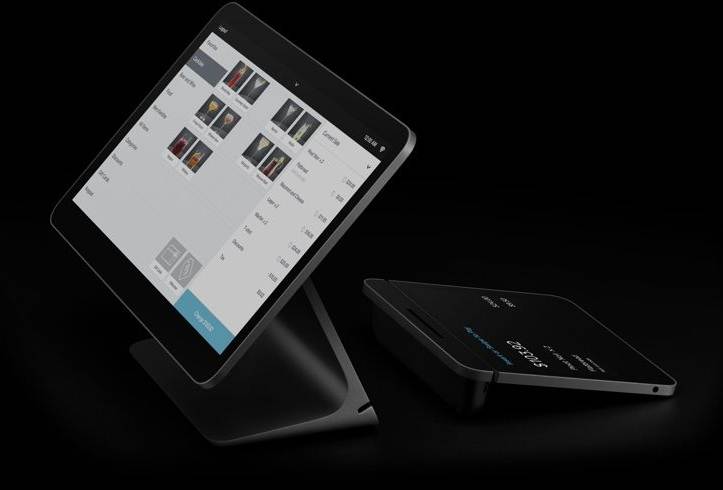 Streamline operations and boost revenue as your business needs grow more complex. The Plus plan costs $60 per month per location. If you have to add an extra POS device, the fee is $40 per month. If you aren't sure about committing to the Plus plan, there is a free, 30-day trial.
Unlike the Free plan, the Plus plan includes a kitchen display system with all the bells and whistles. It also comes with the Square Team Management app and 24/7 customer support.
All processing rates are the same for all plans. In addition to the features included in the free plan, the Plus plan also offers:
Auto 86ing and item counts
Reopen closed checks
Seat and course management
Floor plan customization
Another attractive feature of the Plus plan is that it comes with a free kitchen display system (KDS). This includes key benefits, like:
Ticket routing and customizable layouts
Real-time order updates
Ticket timers
Multi-device sync
Kitchen performance reports
Premium Plan
Get a custom plan that scales as you expand your brand and footprint. The Premium plan is through quote-based pricing and includes major Square services like Square Payroll, Loyalty, and Marketing. When you choose this plan, you can also negotiate custom processing rates through sales.
This package is best supported through the Square Register and comes with everything featured in the Free and Plus plans. The biggest difference between the Premium plan and everything else is that this is built for growth and tailored for enterprise. That means most of the pricing associated with this plan is quoted by sales on an individual basis.
Transaction Fee
The Square processing fee for in-person and invoice payments is 2.6% + 10 cents. All other payments, including online, are at a rate of 2.9% + 30 cents.
Square Hardware
Square Register – $799 or $39/month

Register
Display
Power cable and adapter
Mounting plate

Square Stand – $169 or $16/month

Stand with three-port USB hub
Square Reader for contactless and chip
Dock
Adhesive and drill mount

Square Terminal – $299 or $27/month

Terminal
Power adapter
Receipt roll paper
Hub sold separately
Square Online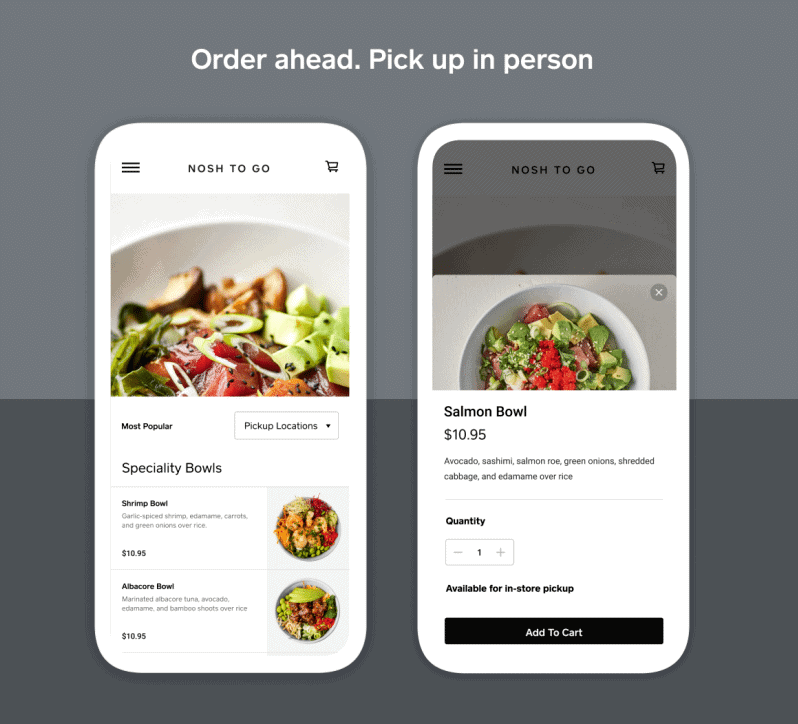 The free plan offers everything you need to start selling online with an ecommerce processing fee of 2.9% + 30 cents.
The system comes with:
Automatic inventory
Item sync with Square POS
Pickup, delivery, or takeout
Instagram integration
Order Fulfillment
Pickup $0 per order
In-house delivery is 50 cents per order
On-demand delivery is $1.50 per order
Square Loyalty
The cost of the loyalty program is based on visits.
0-500 visits is $5/month per location
501-1,500 visits is $75/month per location
1,501-10,000 visits is $105/month per location
Square Marketing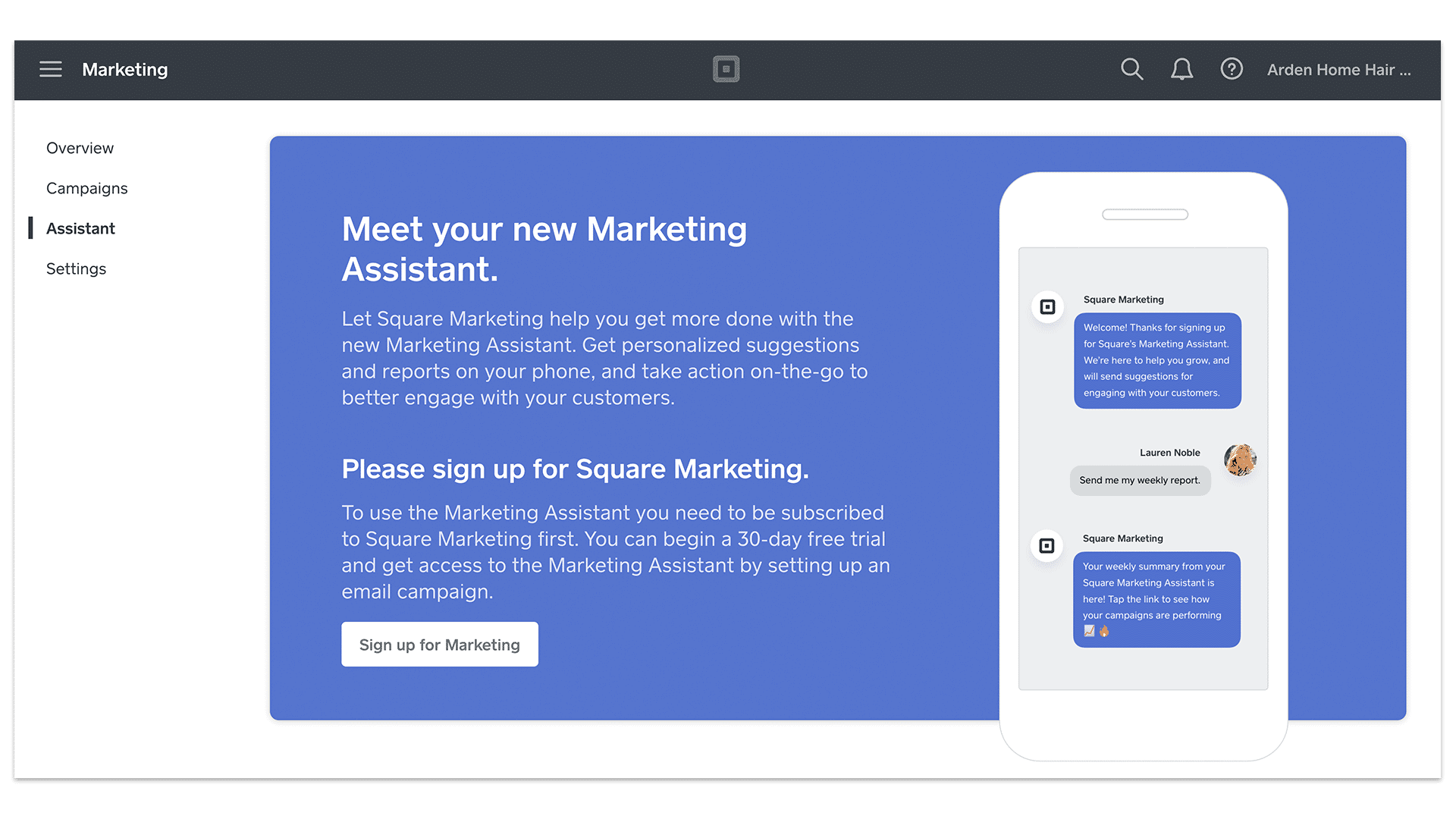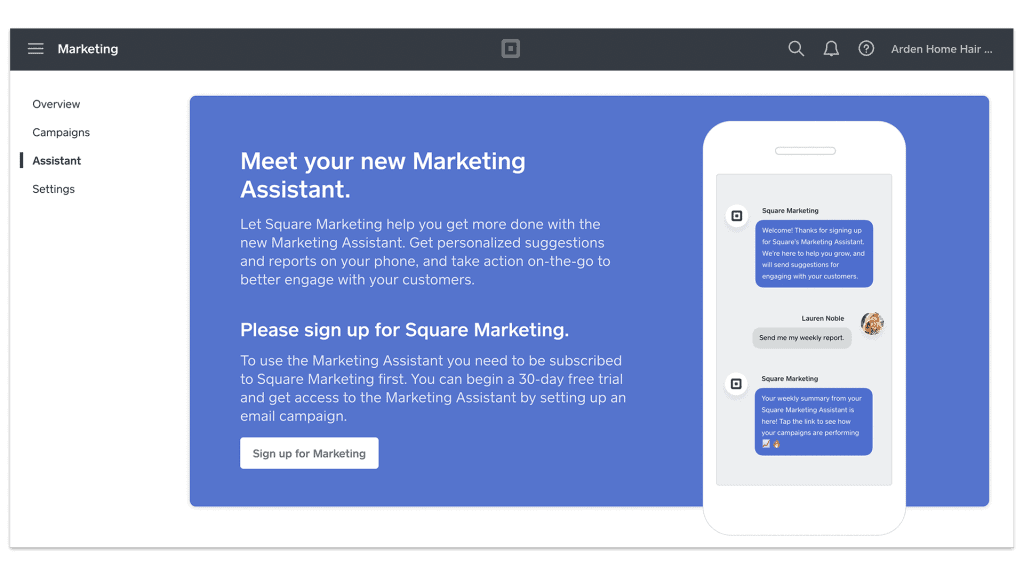 The cost of the marketing program is based on customer contacts.
0-500 customer contacts is $5/month
501-1,000 customer contacts is $25/month
1,001-2,000 customer contacts is $35/month
Additional fees:
$12 to purchase a custom domain from Square
$30/month per location for Team Plus management
POS Square Hardware and System Requirements
Square for Restaurants is free software that is compatible with an iPad, Square Stand, Terminal, and Register. The paid Plus and Premium plans also come with the Kitchen Display System (KDS) to facilitate FOH and BOH communication. Here's what you need to know about the POS equipment: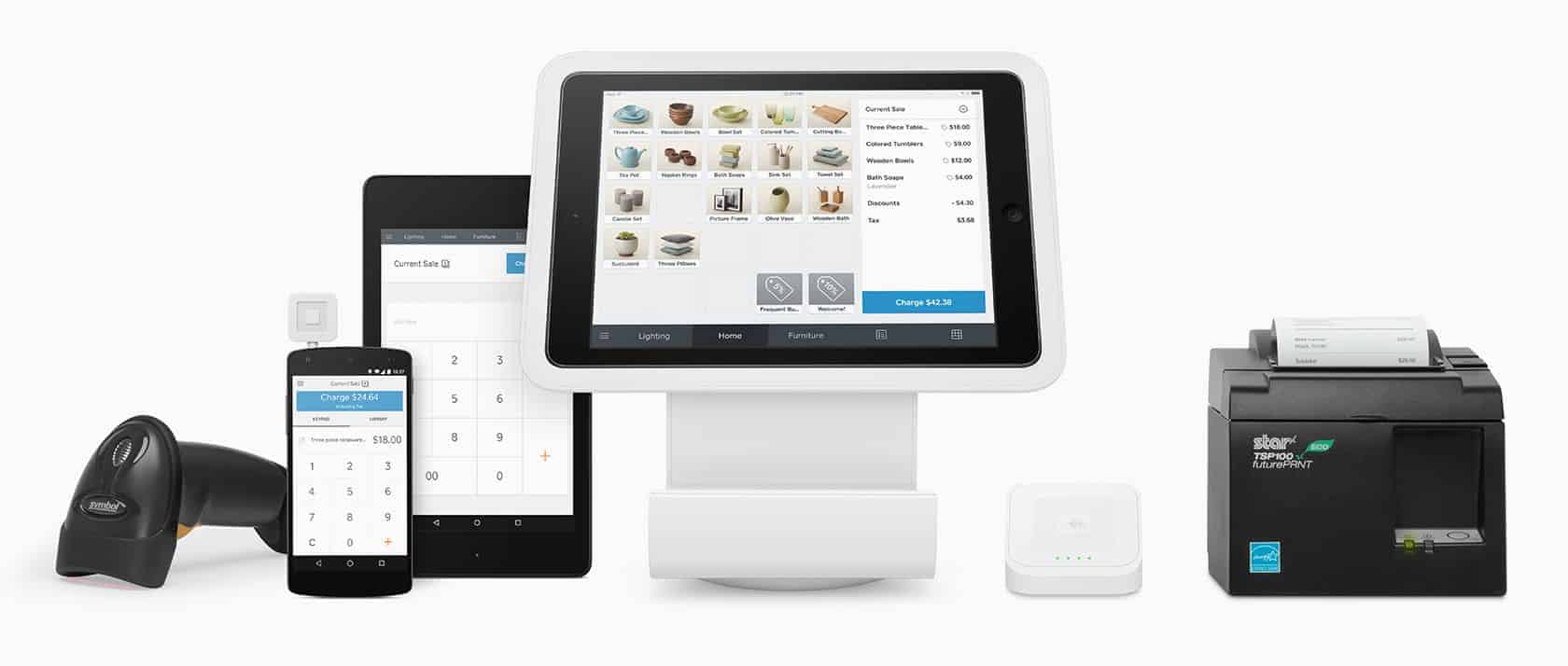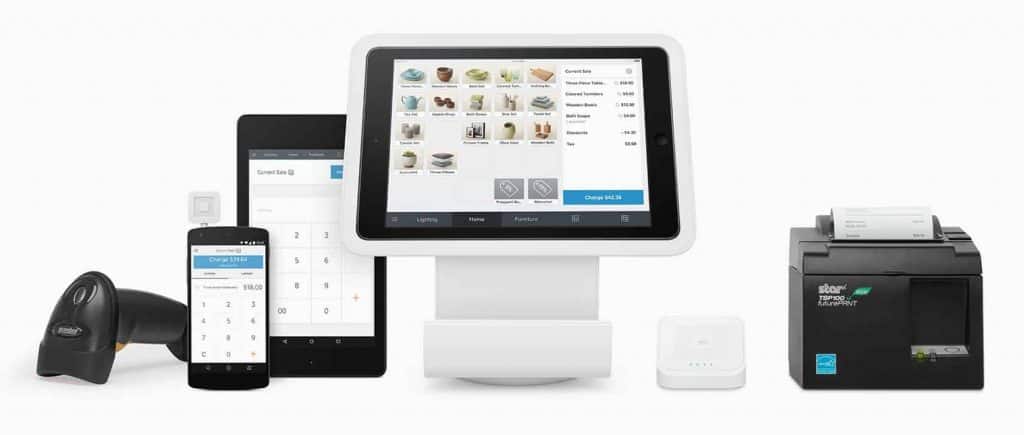 Square Register
The Square Register is a fully integrated POS and payments terminals with a dedicated customer display. Manage touch-free payments, online sales, and delivery, all with one system. It's built to be fast and reliable with no extra tablets or apps required.
Square Stand
It's the easiest way to turn your iPad into a point of sale system. This is what Square offers for a mobile solution. It's great for food trucks and special events. The equipment will accept all payments and integrates with your plug-in accessories.
Square Terminal
This is a compact device that enables a restaurant to accept all payments and print receipts. The coolest aspect is that it fits in the palm of your hand.
Business Types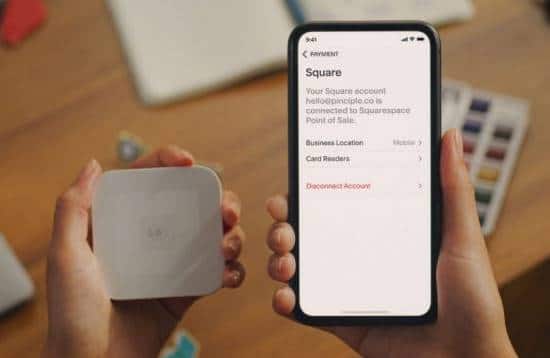 The Square POS solution was designed to service a variety of restaurant business models. It's universally understood that a quick service restaurant will not have the same needs as fine dining. That's why it's important to differentiate between the business types and offerings that apply.
Quick Service
Move through kitchen orders and get food out fast. Manage stations, keep lines flowing, and always stay one step ahead of the rush. The Square solution includes everything a QSR needs from software to hardware, orders, and payments.
Full Service
Square gives a full service restaurant the tools to stay in sync. There are a lot of moving parts and it's important to give customers the perfect meal. The POS will help you focus on the entire experience with orders, communications, and payments streamlined between the front and back of house.
Fast Casual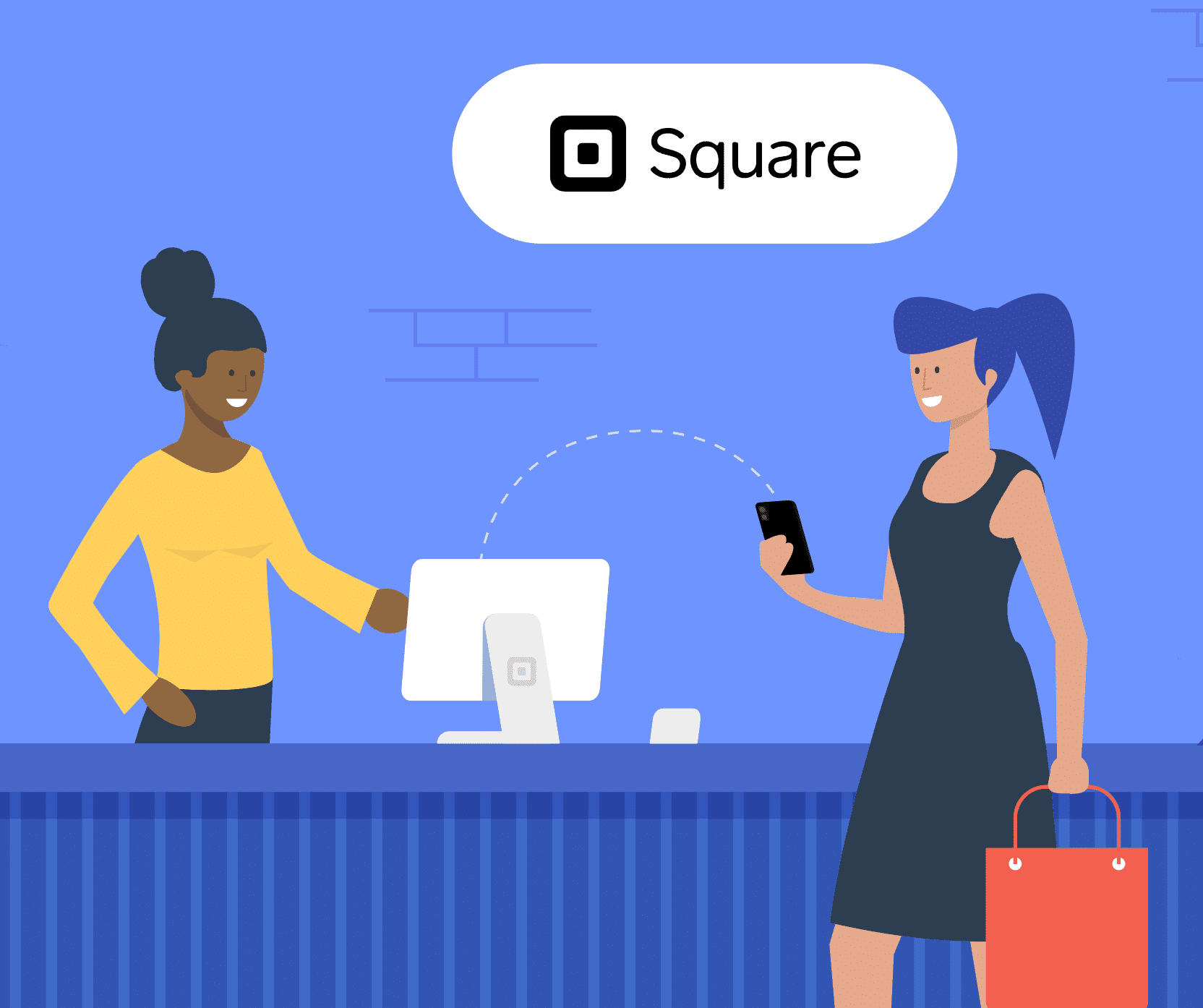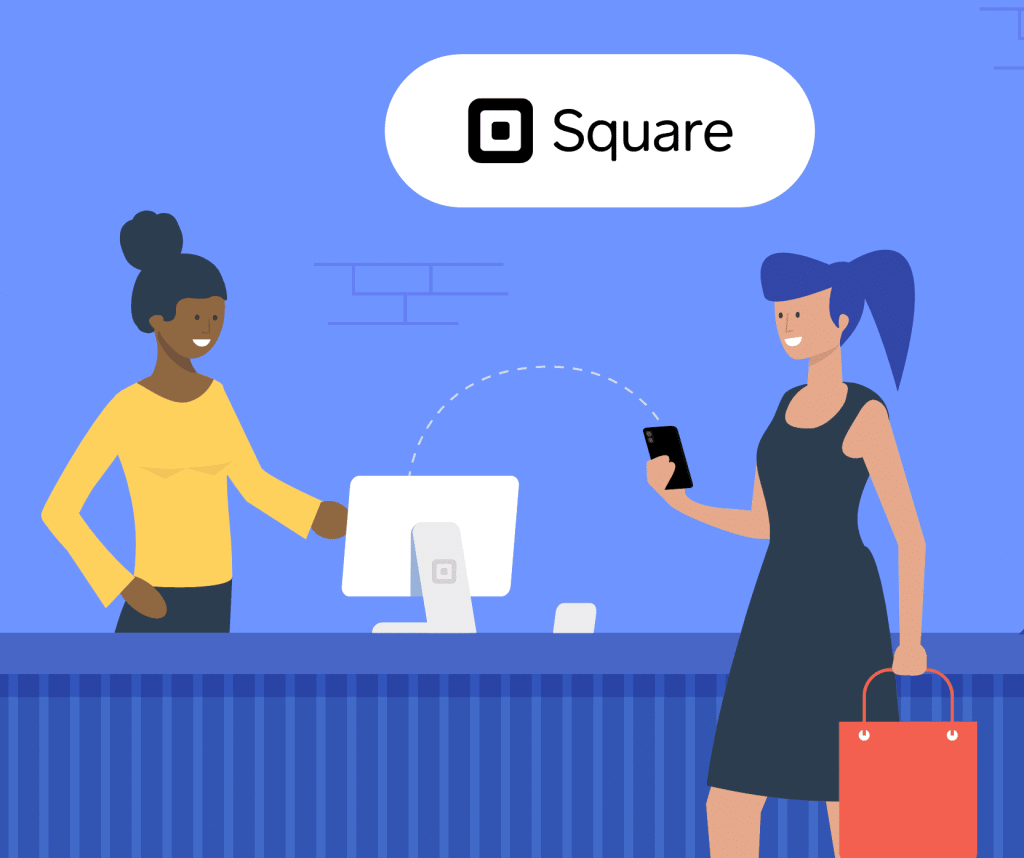 Deliver a fast and seamless experience from the counter to the kitchen and back to the table. Square for Restaurants helps a fast casual establishment quickly serve a sit-down meal or pack things up for pickup. Route kitchen orders more efficiently, manage deliveries and take out, and keep customers engaged with loyalty programs.
Bars and Breweries
Run your bar or brewery as smoothly as a craft cocktail with the Square POS solution. The platform has everything a business needs to manage operations in front of and behind the bar. Take payments, input orders, and engage customers, all within a single dashboard.
Multi-Concept
If you run a winery or multi-concept restaurant, then chances are you need a POS that supports both a restaurant and retail infrastructure. This platform is built to handle all aspects of your business from BOH and FOH management to ringing up sales and tracking stock levels. It can be customized based on how you run your business.
Square POS Top Features and System Capabilities
Square gives you all the features needed to run a restaurant, fully integrated into the point of sale system. It's simple to set up and work with tools that require little to no training.
Keep an eye out for key features like:
Intelligent and Flexible Payments to Facilitate Sales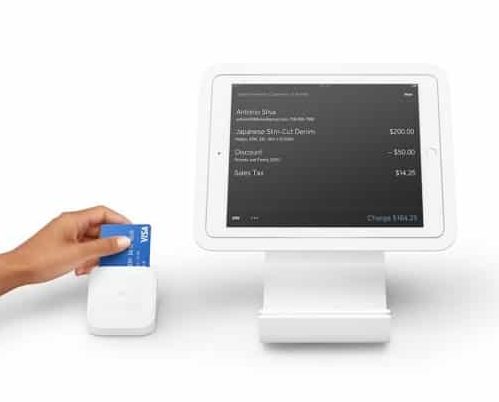 The Square system allows a business to accept payments in every way that people want to pay. Customer details include payment information, so checkout is just a tap of a button.
The software will accept these credit cards:
Visa
Mastercard
Discover
American Express
Rewards cards
Swipe, dip, or tap at the same rate. This makes Square unique in the grand scheme of payment systems.
Other Types of Payment
When it comes to chip cards, accept all forms, including Apple Pay and Google Pay. Additionally, custom invoices can be sent straight from the Square POS on a mobile device or laptop.
Gift cards are fully integrated into the POS and the dashboard. They're easy to sell, track, redeem, and reload. The cards are as simple to process as any other form of payment.
After a business sale, funds can be accessed on a free Square business debit card or transferred instantly for a fee. Otherwise, transfers take one to two business days. All payment pricing is transparent. There are no long-term commitments, complicated bills, or different rates from month-to-month.
Itemized or custom refunds are processed directly from the POS or your online Square Dashboard.
Payment Security and Protection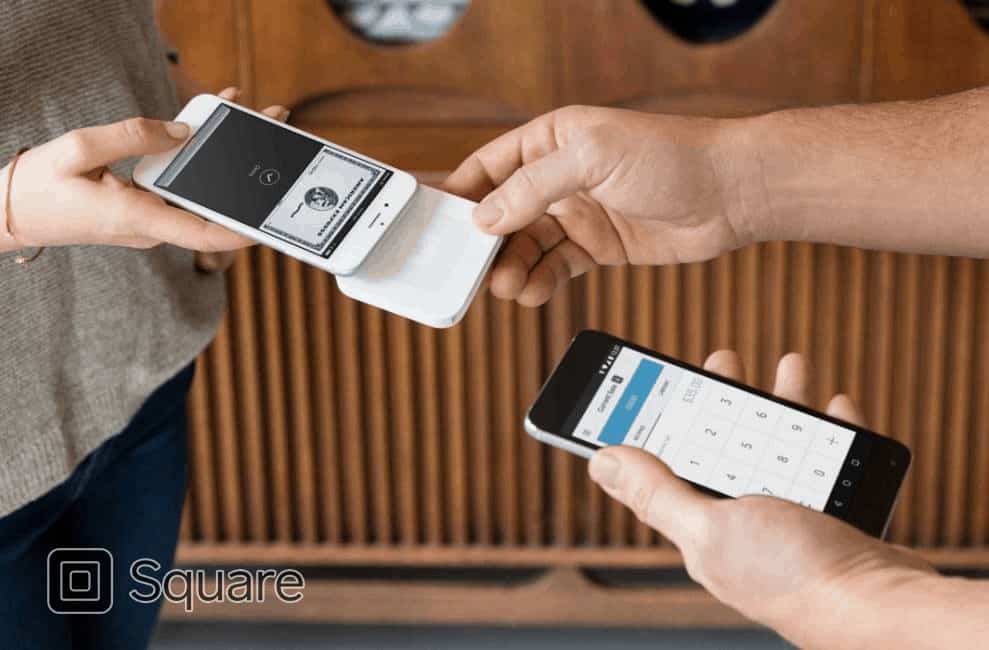 Square tracks active disputes via the Disputes dashboard. The platform deals with the bank so you don't have to spend hours on the phone. All payments are monitored for suspicious transactions.
Square for Restaurants uses machine learning and human expertise to offer your business extensive fraud protection and compliance capabilities. It's technology that adapts to the shifting fraud landscape. It encrypts all customer data and then submits it to the servers in a secure fashion.
Square meets Level 1 PCI Data Security Standards. You can exercise high-level account protection tools with 2-step verification that adds another layer of security. Always control who has access to what in the system by setting specific role-based permissions. If your passwords are not strong enough, Square will let you know.
Kitchen Display System to Improve Order Efficiency and Communication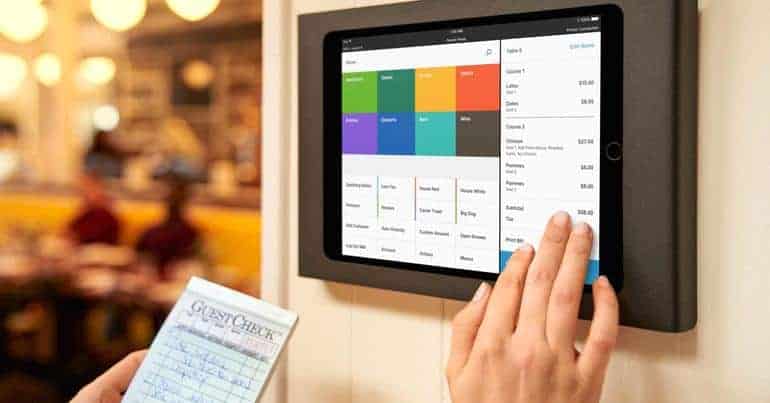 The Square POS is tailored to how your kitchen works and is designed for flexibility. Whatever setup and processes you have, this solution will help get the job done. Run the back of house more efficiently with all orders displayed on a single screen, no matter where they are placed.
The KDS improves communication by creating a direct line between what's going on in the front of the restaurant and what's happening behind the scenes. Food gets served exactly right, the first time, with reliable tickets and timers.
A restaurant can also gain insight into kitchen performance via KDS reporting. Improve bottlenecks and analyze how each station is doing. This helps to optimize staffing decisions based on ticket completion times. It enables you to compare fulfillment speeds between services.
Setting up the Kitchen Display System
Designed for flexibility, the KDS will work with whatever setup and processes your kitchen has to get the job done. If you have a single station in the back, the equipment can be easily connected to the POS.
When the back of house has multiple stations (i.e. prep, hot, cold, etc.), Square will streamline the kitchen workflow by routing dishes to the appropriate stations. Increase efficiency by sending online orders straight to the kitchen.
Customized Checkout Experience to Boost Satisfaction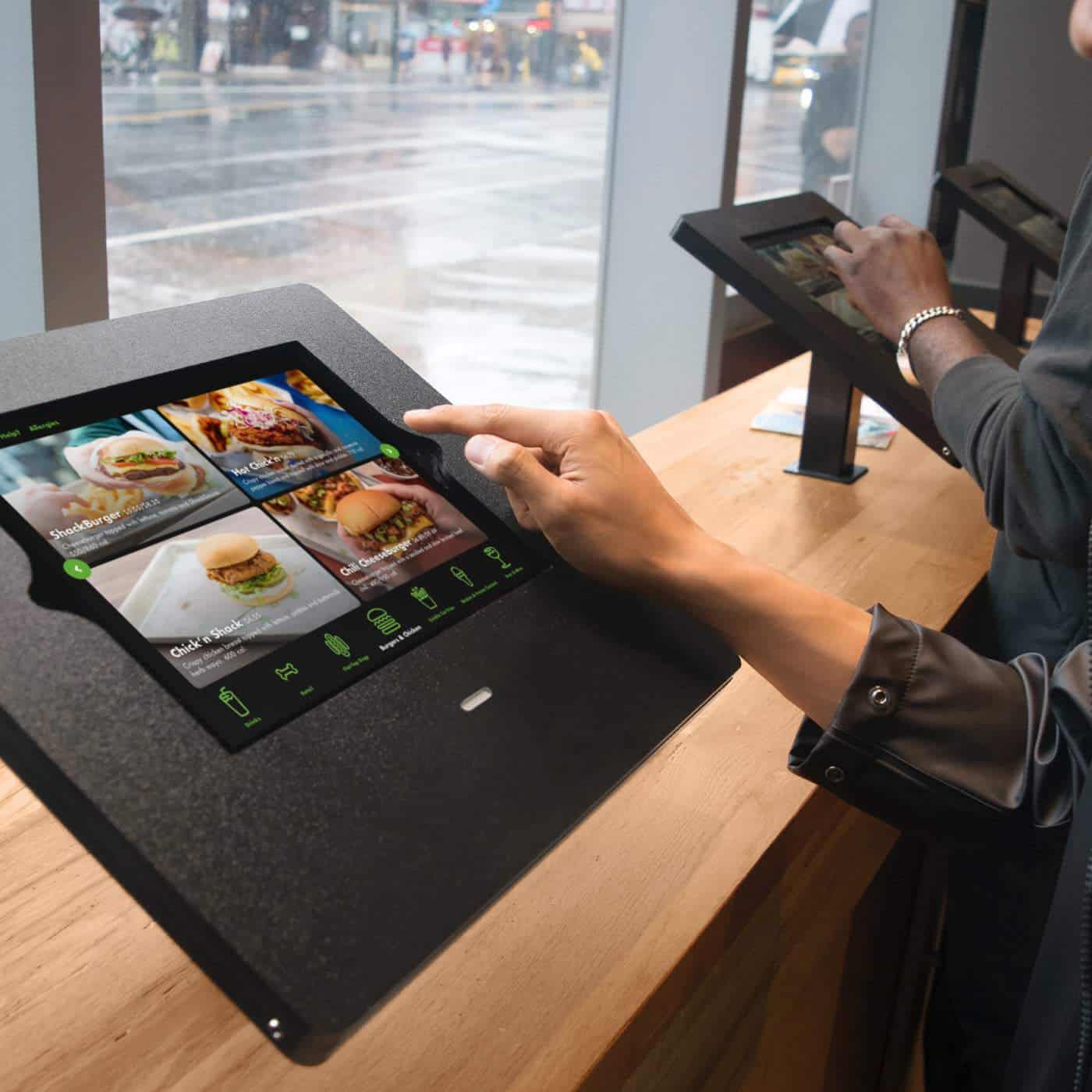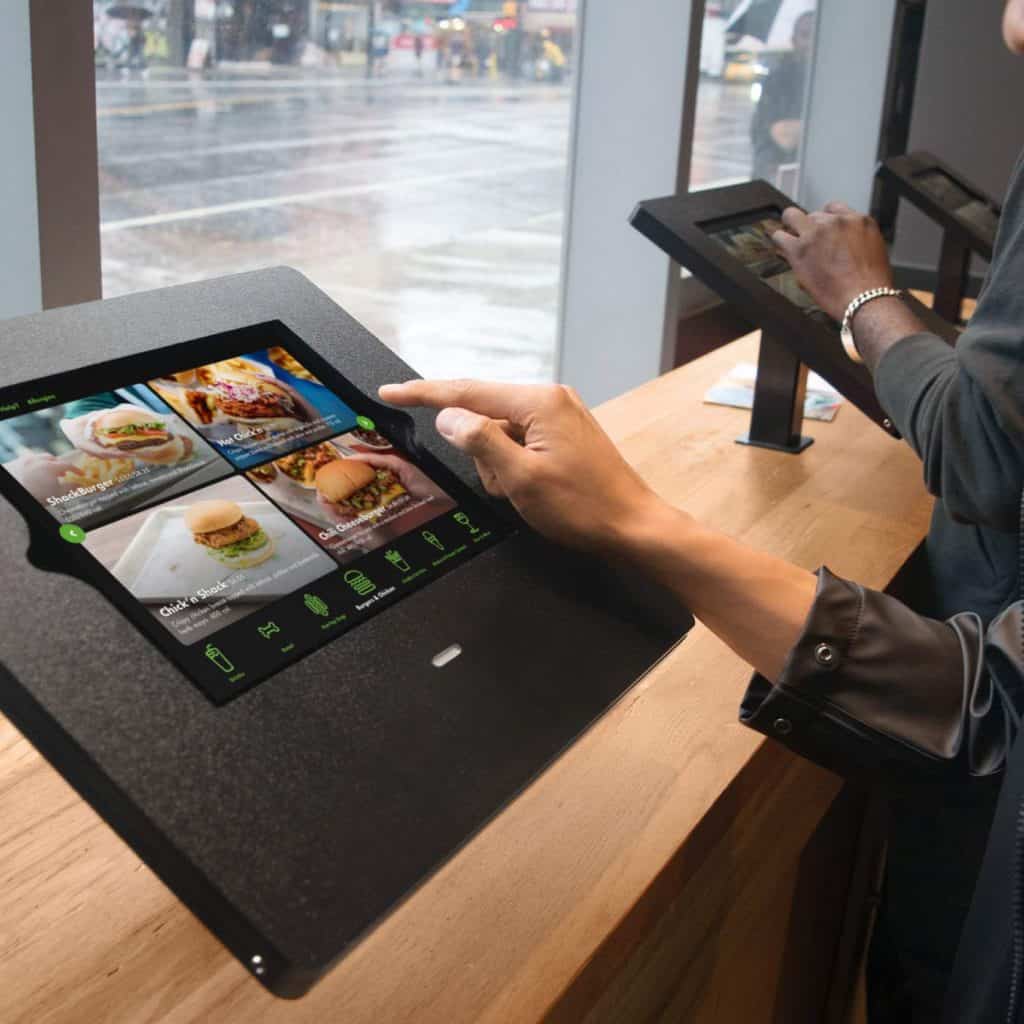 If you are running a quick serve or fast casual restaurant, a speedy checkout is critical to success. Square allows a business to customize the checkout experience for both employees and guests.
Item modifiers adjust a menu with toppings, add-ons, and special requests. All modifiers that are applied to items are displayed on the screen and printed on the receipt at checkout. So, there's never a question of what was added to a dish (or charged).
Group items together to help organize your library and fine-tune all in-app reporting. Customize the checkout screen to better fit your business by toggling and reordering what payment types are available at checkout.
Save time by uploading and managing multiple items at once using the bulk import tool in the Square Dashboard online. Then you don't have to manually enter products, one-by-one.
A restaurant can also refund certain products on a single transaction with any applicable taxes or discounts.
Faster Transactions to Bust Lines and Speed up Service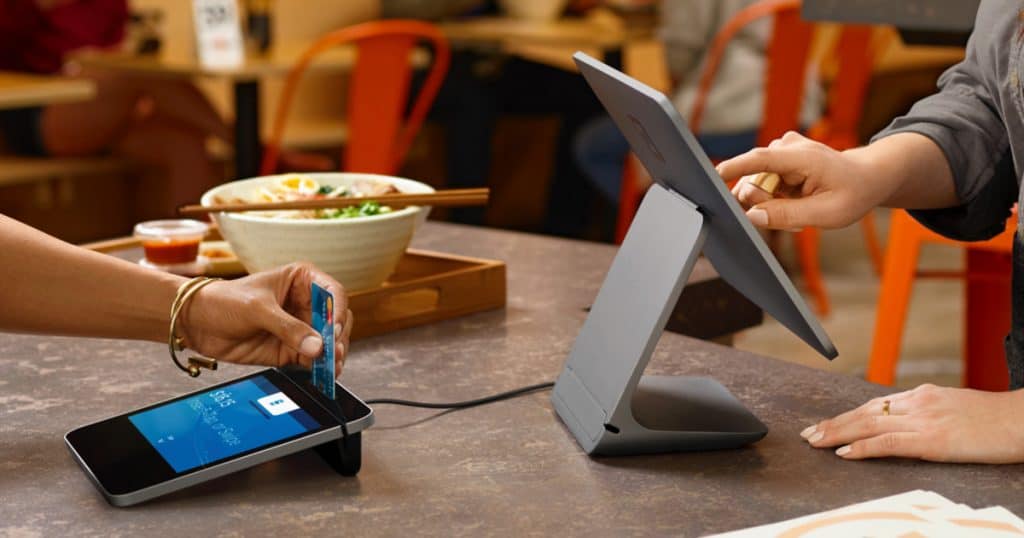 Quickly access items that are frequently used so servers are not clogging stations. Add specific categories to keep the lines moving and customers happy. Automatic discounts can be created in the system and applied to:
Categories
Quantities
Daily specials
Specific items
Limited time offers
Split a bill or accept multiple forms of tender to complete payments fast. For each type accepted, a separate detailed receipt will be issued. Customers can opt for a printed or digital receipt which is then sent via text or email.
The system works offline. That means, card payments are accepted even when the internet is down. Offline payments will then be processed automatically when Square regains connectivity. They will not expire if you do not process them within 72 hours like some other POS platforms.
Square enables a business to customize how they sell items by weight, length, or any other unit of measure. If your employees earn tips, customers can choose from preset tip amounts onscreen or printed on a receipt. This creates convenience for guests and ensures staff is rewarded for a job well done.
Customer Tools to Manage Contacts and Increase Engagement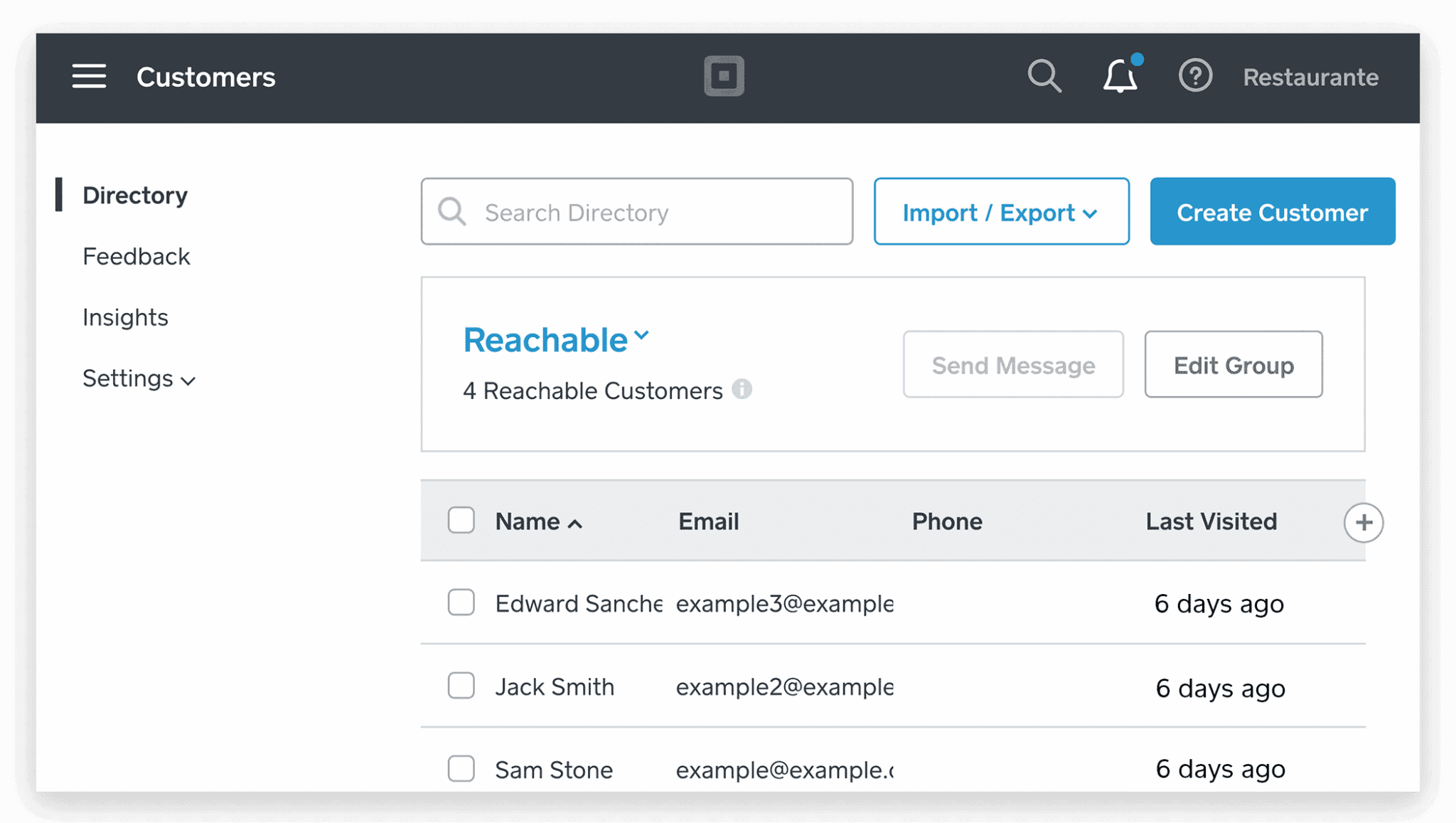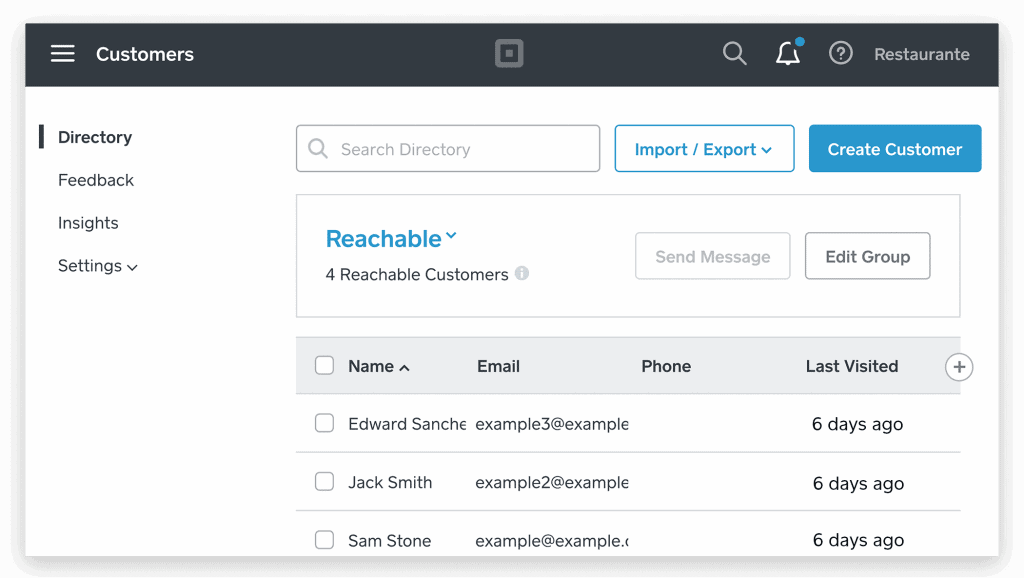 Square's Customer Directory feature is a smart tool used for storing customer information. It allows a restaurant to see how people are engaging and interacting in one single spot. You can adjust the appearance of receipts from the Square Dashboard and create custom branding for each location.
Offers customer tools that help manage your contacts
A good client management tool will make a big difference to how efficiently you and your team work. Look for visual organization tools that make it easy to see each contact's details in one place and clearly show any upcoming events or meetings. Also, consider whether your business requires a mobile app for managing contact information on the go or a feature that helps you quickly and easily message customers via text or email.
The free Square Directory keeps your customers' contact information organized so you can quickly find and reach them, even when you're on the go. Customers are added to your Directory when they purchase items in person using your Point of Sale or online, book a service with you via Square Appointments, or participate in your loyalty program. They can then be easily messaged and rewarded with automated discounts or coupons from within their profile, which you can access from your online POS Dashboard or the Directory website.
Close offers a great daily call list tool that displays who you need to follow up with and the details of each interaction so you can make as many calls as possible in a day without wasting time on unqualified prospects. It integrates with VoIP services to allow you to record phone conversations and attach them to contact records, as well as provides basic built-in email marketing functionality. Other top CRM software options include Pipedrive, Copper and Zoho.
Guests provide feedback through digital receipts that are emailed. This helps a company better understand how people feel about their experience and address issues in a quicker manner. You don't have to wait to read bad comments online—where everyone else is reading them too.
Using Square POS, cashiers and servers can add custom notes, items, or amounts to an order before firing it. This helps to minimize future questions or disputes and keeps your customers satisfied.
Too busy to enter contact manually? No problem. Square allows you to import any existing customer list/s straight into the Customer Directory using a CSV file. Then, manage everyone directly from the dashboard.
Comprehensive Loyalty and Reward Program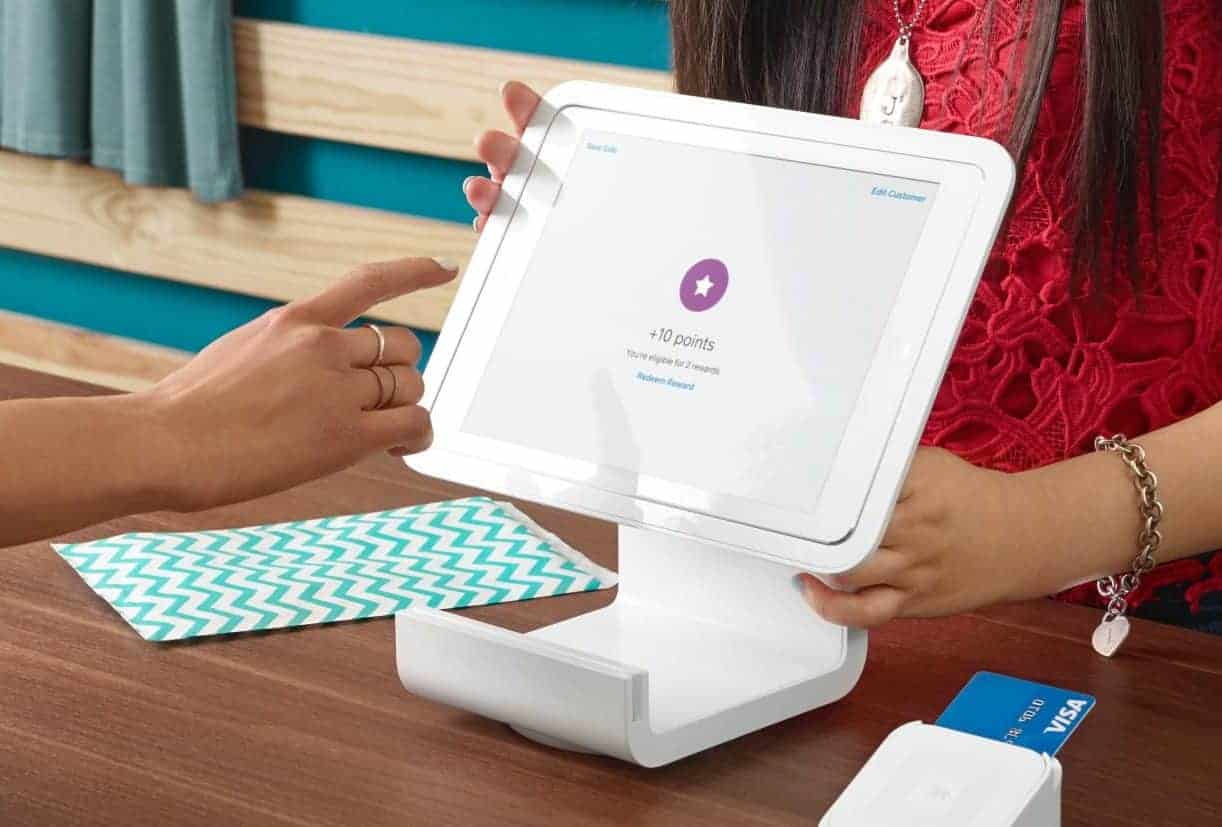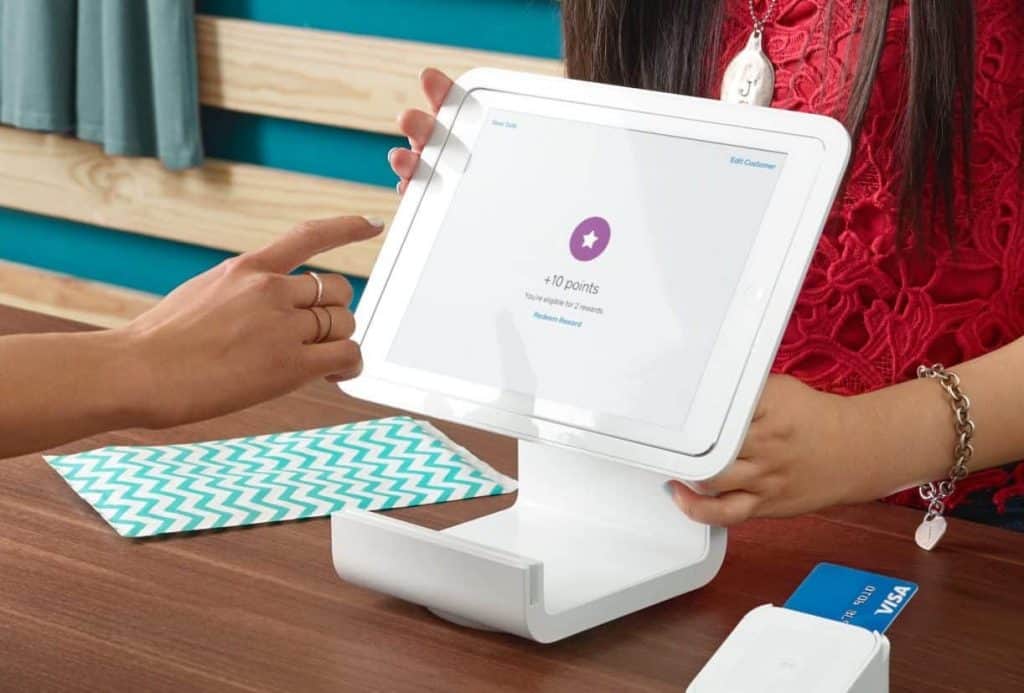 Treat more customers like regulars and turn walk-ins into repeat business. Replace old paper punch cards with a digital loyalty rewards program to drive better customer retention rates. Restaurants who use the Square Loyalty feature report a 40% increase in customer visit frequency.
Customers can be enrolled and rewarded directly from the POS station, at the table, or through the online store. There is no additional hardware or software necessary.
Once people sign up, the Square Dashboard will track loyalty-related metrics like total number of members, rewards programs, favorite dishes, and top customers. You can then compare things like average spend and visits from loyalty members vs. non-loyalty members and adjust accordingly.
The program works in three easy steps:
Customers sign up at checkout in a few minutes using their phone number
Customers receive an automated text message when they earn rewards or points
Customers are rewarded directly through the POS or via an online checkout
Restaurant Website for Online Ordering and Flexible Delivery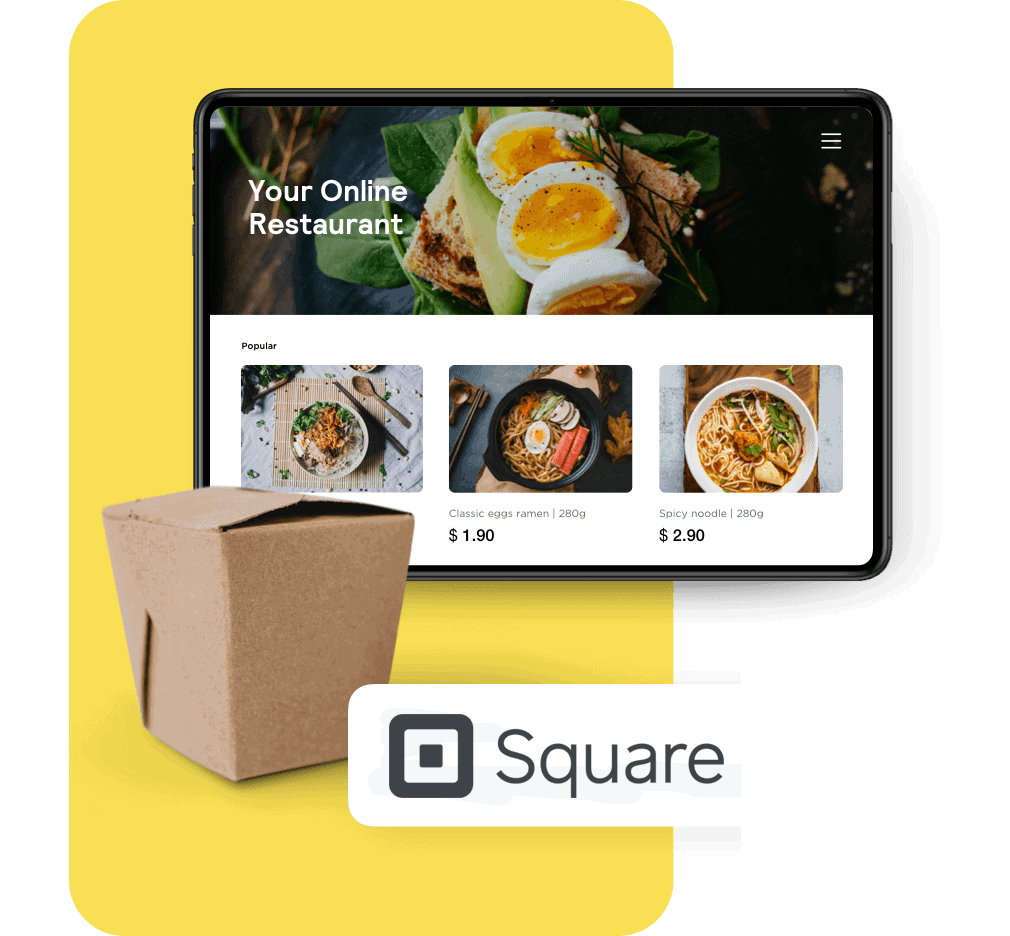 Square Online enables a restaurant to take orders online with no monthly fees or commissions. Create a website in minutes with the Square Online tool. You don't need to know how to code with the site builder tool. It's also a responsive design, which means the page will look good on any device. People can easily order from their phones.
The mobile-ready ordering page also allows a business to import menu items in bulk from the POS. You don't have to reinvent the wheel or spend hours creating pages for each item. It's a very simple process.
Additional online ordering features include:
Order scheduling and staggering for better time management
Automatic gratuity with tip lines added to receipts
Customizable page layout specifically for food ordering
Multi-location support from a single website
Customers can save payment data
Acceptable forms of payment for the system include Apple Pay and Google Pay.
Extensive Takeout and Delivery Options
Online orders will instantly display on your restaurant POS and fire to the kitchen display system in the back. The information instantly relays to kitchen printers so there's no disruption to your standard order procedure. Customers are then offered a variety of pickup and delivery options including in-person, curbside pickup, in-house delivery, or a third-party option.
Square partners with third-party delivery services like:
Postmates
Chowly
Cuboh
Ritual
Deliverect
Choose from an on-demand delivery platform or your own staff.
On-demand Third-Party Delivery Services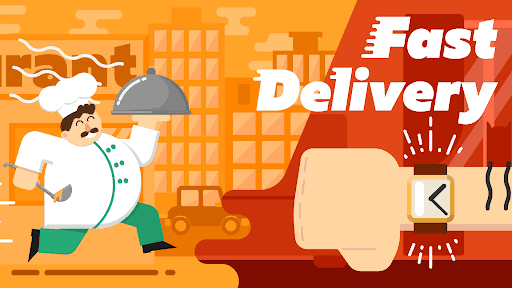 The on-demand option does not require you to pay commissions to a third party. When a customer places an order, a courier from a partner brand (like Postmates) will be immediately dispatched to handle the order. The cost to fulfill the delivery will always be a flat fee of $1.50.
If you so choose, pass the delivery costs onto customers or cover it for orders over a certain amount (like "Free Delivery for Orders Over $50!"). It can be used as a promotional tool. Text alerts are then sent to customers from the Square system with a link to a live map. People can track their orders the entire time.
In-house Delivery Services
If your restaurant has a delivery service in place, Square will help to better manage it. Set an estimated food delivery time in the dashboard with a delivery fee and minimum delivery order value. Text alerts can be sent to customers to keep them up to date and notify them if any problems arise.
A business can also create a custom delivery radius. This gives you more control over your service area and keeps drivers from having to deliver off your map. The in-house delivery option costs 50 cents for every delivery.
Smart Digital Marketing and Advertising
The POS platform is also set up for social media marketing and advertising. If you don't have a domain, purchase a custom URL from Square. Prices start at $12. The POS integration makes it easy to automatically import your item catalog into the online website. Items, orders, and inventory always stay in sync.
Reach more customers with powerful marketing features that raise your search rankings and boost search engine optimization (SEO). Build your email list and advertise on top social platforms like Facebook and Pinterest. Square bridges the gap between your website, brick-and-mortar, and social presence.
Inventory Controls with Real-time Alerts for Remote Management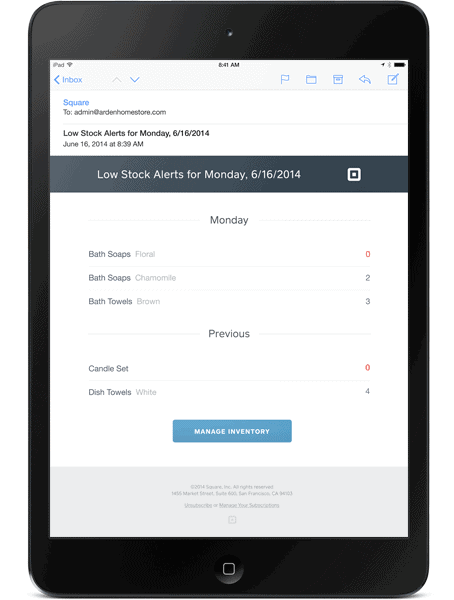 Square enables a business to manage its inventory from anywhere for free. There are no commitments and surprises. It's designed to help you spend less time in front of the screen and more time with customers.
Download reports on current inventory and update quantities in bulk. Receive a daily stock alert email that details which items are low (or out) so you always know exactly what's in stock. The Square Dashboard allows you to easily manage details like quantities, names, and prices quickly.
Additional inventory features include:
Bulk item transfer across locations
Print barcode labels
Create purchase orders
Add item modifiers and categories
Get instant low-stock notifications
Optimize Labor Costs with Scheduling and Performance Reports
Every day, over 300,000 employees log in to the Square platform. You can easily manage people and save on labor costs with the Square Team Management tools. Employees clock in and out at the register where paid and unpaid breaks are tracked. Overtime is automatically calculated, and timecards are exported to Square Payroll or other payroll providers.
Use real-time reports to optimize staffing and save on your labor costs. Studying these trends will show a restaurant who their top-performing team members are and who may need a little coaching. This data can also be used to create employee rewards programs to incentivize and engage staff.
Track team activities directly through the point of sale. Who is issuing refunds and comps? Monitoring sensitive actions that involve money will help to avoid unexpected losses.
Staff Permissions and Scheduling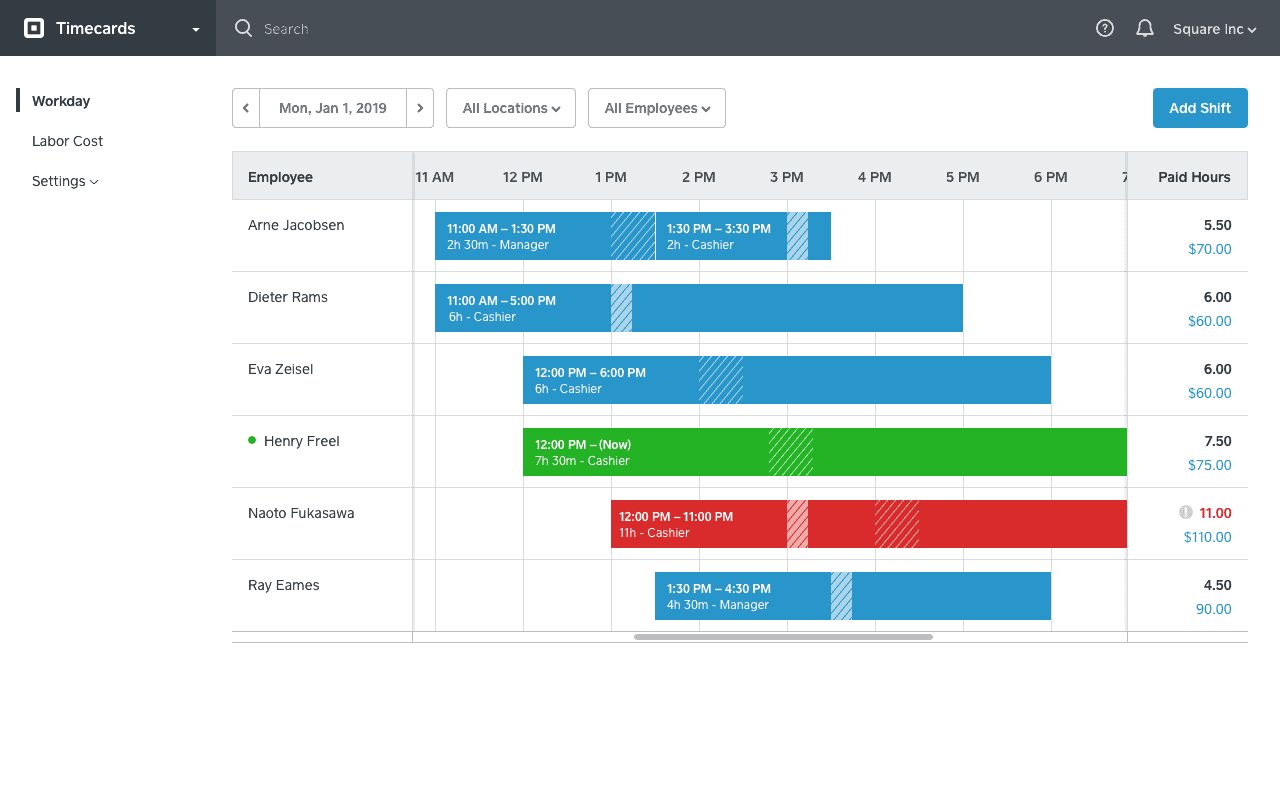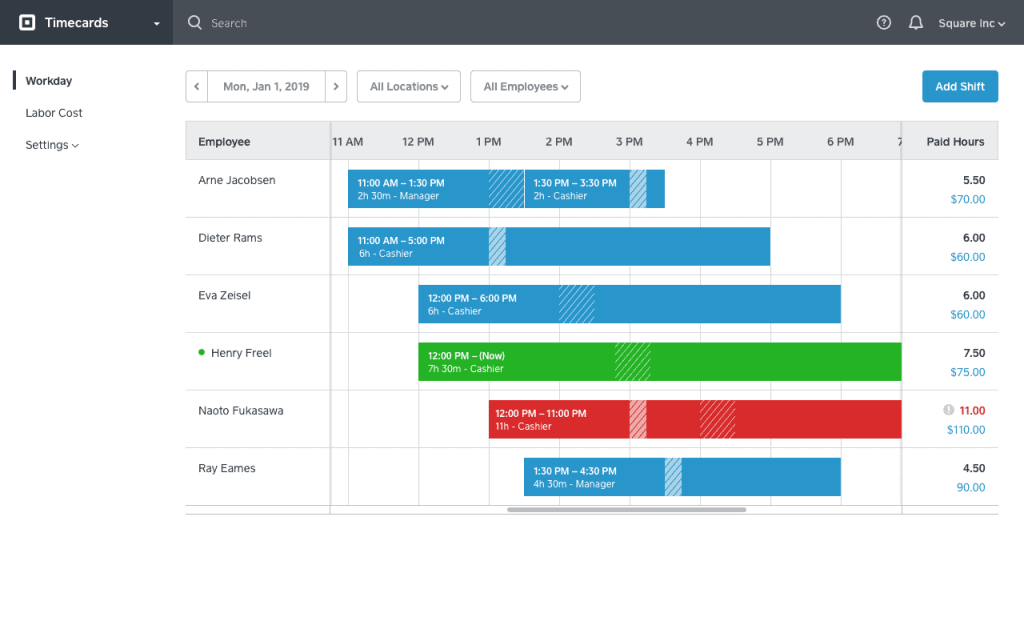 In the Square system, you can grant employees different levels of access to sensitive data in the POS and dashboard. This will also control entry to the cash drawer and customer financial data. You decide who will issue refunds, discounts, and voids.
The Square Team app enables employees to clock in and out of the system using their phones. They can also view hours worked, timecards, and estimated weekly pay. The solution is available as a free download in the App Store and Google Play.
Additional Team Management features include:
Built-in timecards that automatically export to payroll
Break violation reporting and early clock-in prevention
Multiple wage rates and payment types
Aggregate sales vs. labor reporting
Activity log by team member
Comprehensive Marketing Program to Drive Business Growth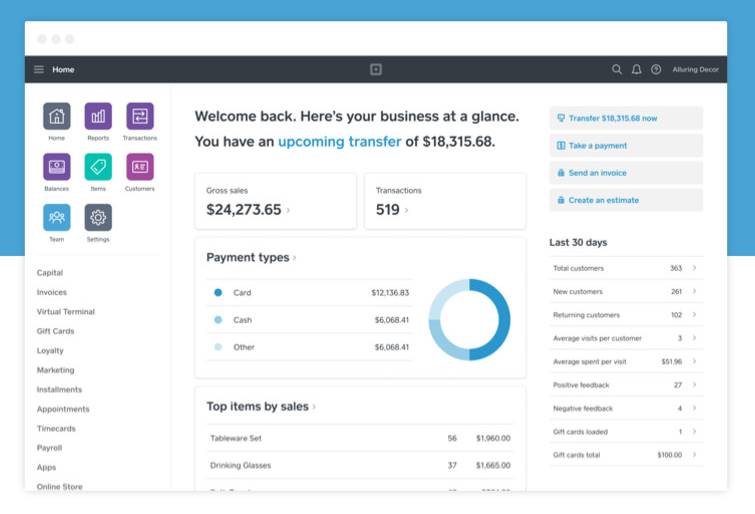 The Square point of sale system is designed to collect a lot of information from customers. It's only natural they offer extensive marketing tools to utilize the data. The Square Marketing feature allows you to create, send, and track effective email marketing campaigns in minutes.
The marketing program comes with a free, 30-day trial. The pricing starts at $15/month and is based on the number of contacts you collect. All plans include seamless integration with the Square Dashboard and:
Automated email collection and campaigns
Unlimited email sends
Instant coupon redemption
Sales and campaign performance data
There is no need for a clipboard signup sheet. Email collection is built right into the system. Customers add their email address at checkout or you can upload any pre-existing lists. Groups are automatically segmented into lists like "new vs. old customers" so you can easily tailor campaigns to a variety of audiences.
Marketing Campaigns and Promotions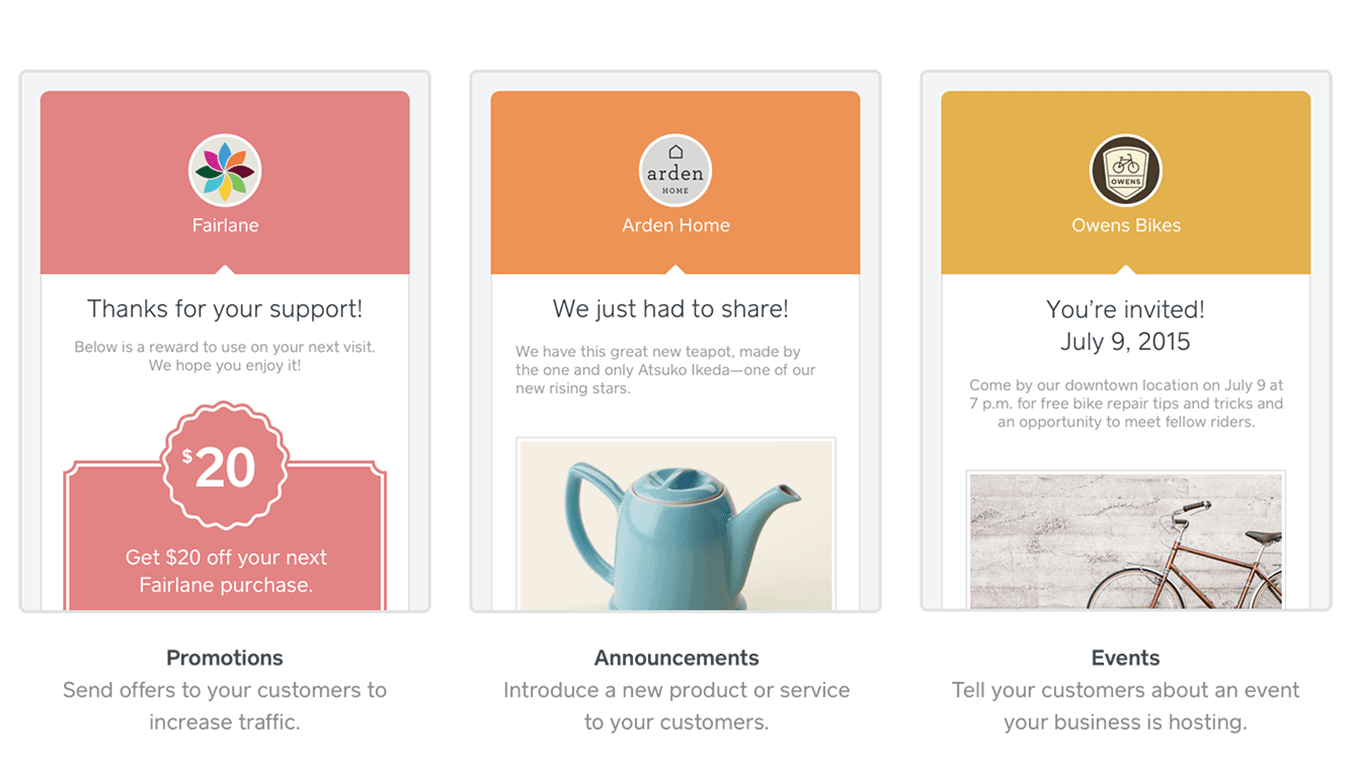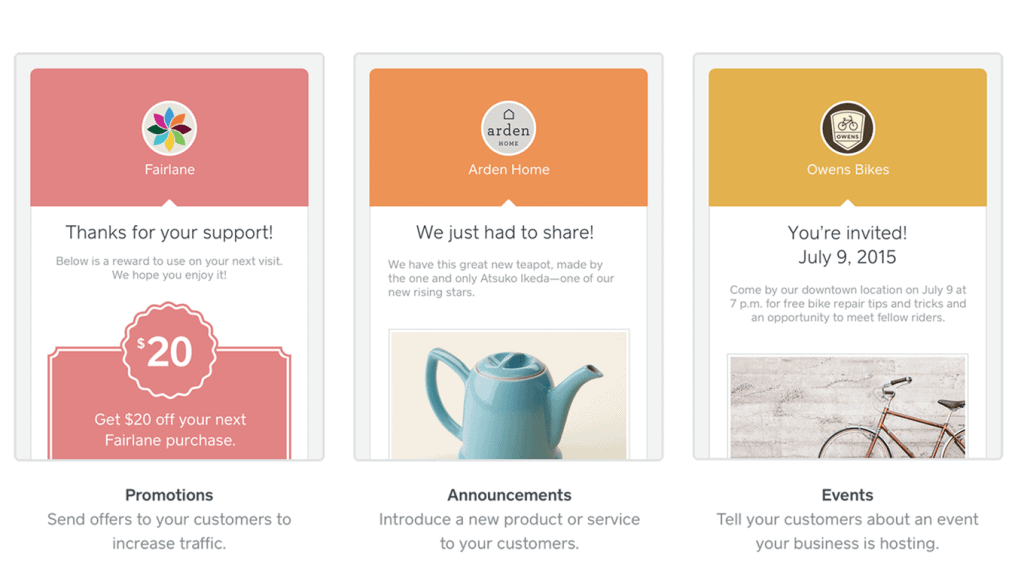 You don't need to be a marketing professional to run successful campaigns in Square. Send beautifully crafted and on-brand messages with a suite of email marketing tools that include simple templates and sample text. It takes a lot of the guesswork out of content management.
Campaigns are effortless. Set automated emails to go out based on personal demographics like birthdays, anniversaries, or specific sales. Recurring campaigns can be created in the system so all you have to do is sit back and watch.
The Square POS system allows you to send and apply promotions in a snap. Add discounts to email messages and share your campaigns across social media. Always see the impact of every marketing effort with detailed analytics right from the Square Dashboard.
Additional Square Marketing features include:
Track sales and redemptions in specific campaigns
Analytics for email open rates and click-throughs
On-demand reporting for remote management
Automated Square Marketing Assistant to build better campaigns
Recommended campaigns using smart email lists
Additional Square POS System Features
Third-party integrations for everything from clock software to kitchen management
Square Payroll with fair, flexible pricing and built-in taxes
Square Developer to build commerce apps that sync with the POS system
Custom pricing packages for businesses that process more than 250K in card sales
Sophisticated fraud monitoring with advanced machine learning
Square POS Customer Service and Support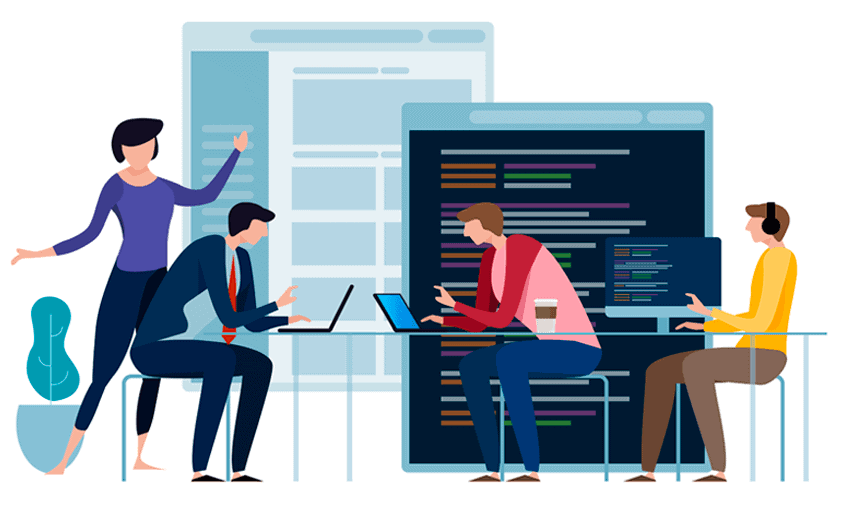 Square has a robust seller support community with a multitude of features. It's very apparent they care that their customers succeed, no matter what industry or type of business you run.
The highly-trained support team is available M-F from 6 a.m. to 6 p.m. PT for the free plan and 24/7 for the Plus and Premium plans.
About Square POS Support
Square's robust customer care support is one of the things that makes it stand out from many other point of sale options. They make it easy for customers to set up the hardware and software, and they offer a clear breakdown of software price plans, packages, and processing fees. They also make reporting simple, which is a big deal for small businesses who may not have a lot of experience with these kinds of systems.
It does not matter the type of business you run – whether it's retail, restaurant, salon, or online e-commerce – Square POS can handle all of your needs. The platform includes features that can help you manage sales and inventory, invoices and contracts, and even a loyalty program. They can work with multiple devices, and all your transactions are recorded in a single place.
They have a highly trained team who are dedicated to helping their clients with any issues that they might have. Their support center is available around the clock, and their FAQs section is well organized and helpful. They also have a forum where users can ask questions and get answers from other members of the community.
Lastly, they have hardware solutions that can work offline and are compatible with a wide range of third-party apps and solutions. These include accounting apps (such as Quickbooks) and eCommerce solutions. They can also connect with hardware such as a Square Register or a Square Terminal for contactless and chip payments.
The Square community forum is made up of hundreds of businesses just like your own. In this arena, people are posting questions and replying to others with their own expertise. It's a mutually beneficial space to collaborate and learn from your fellow sellers.
Popular forum topic categories include:
Product Updates
General Discussion
Questions and How To's
Seller Groups
The Square Support center is where all the articles and whitepapers are housed. You can find answers to a variety of questions along with useful tips and video tutorials. If you are a visual learner, this is the place to go.
Square is also a highly-social brand. They host a bunch of business meetups and events on an annual basis. Look for Square Sessions, conferences, and local panels throughout the year.

Manage Your Business Better with Square POS
Square for Restaurants is one of the top POS systems in the world because they have developed a product that every type of restaurant can use. It is designed to bust lines in a fast casual establishment while integrating detailed menu engineering in a fine dining restaurant.
A business can easily manage staff, get control of inventory, reward customers with a loyalty program, establish a digital footprint, and run reports on it all—from a single dashboard.
If you're looking to implement a point of sale system or upgrade what you have in place, start with Square. It's a popular solution that's designed to help your business grow.
Read more reviews of the Square system