One of the biggest obstacles to restaurants taking their businesses to the next level is technology. A surprising number of establishments are still handling restaurant management in the old-fashioned way.
Lightspeed POS somehow muddle through with paper-based order-pads, clunky old cash registers, and outdated back-office computers running a hodge-podge of old software programs for managing operations. This is downright embarrassing in the digital age of the 21st century.
What these old-school businesses fail to realize is how the right technology can utterly transform their workflows. The increases in efficiency alone from a robust cloud-based POS system make it worth the investment because you'll be able to serve so many more customers.
A centralized, all-in-one technology platform for restaurants and bars of all types is what Lightspeed set out to create, and by all accounts they appear to have succeeded.
This review will take a deep dive into everything the Lightspeed Restaurant POS offers to bars and restaurants that are ready to up their game around technology and more efficient operations.
Lightspeed Restaurant POS Review – Company Overview

Although it started in 2005, it wasn't until 2012 that Lightspeed landed a significant investment to the tune of $30 million from Accel Partners. It launched its first cloud-based POS for retail businesses in 2013.
This was followed by the launch of the Lightspeed Restaurant POS in 2014, along with another $35 million in venture capital. Since then the company has continued to launch additional innovative offerings. Lightspeed eCom was rolled out in 2015, when it also raised another $61 million in venture capital.
Lightspeed went public in March 2019 and set out to reach an important goal; increase its customer base. The company's mission has always been to empower SMBs – specifically small and medium-sized restaurants – with great technology. Since then, several upgrades have been made to its POS software.
In the words of founder and CEO Dax Dasilva, "It is our belief that SMBs don't have the time, resources, or in many cases, the capabilities to stitch together multiple point solutions to accomplish their goals. Our leading platform solves the many business complexities these business owners face." 
What Makes Lightspeed An Ideal Solution for Restaurants?
Lightspeed Restaurant POS was designed to work in wide variety of service settings. It can be used in quick-service restaurants, cafés and bakeries, full-service restaurants, fine dining establishments, bars, nightclubs, and even hotel restaurants.
For hotel restaurants, integration of Lightspeed Restaurant POS with 11 different hotel PMS (property management system) platforms is possible. This means guests can order food and drinks from anywhere in the hotel and their bill will be automatically charged to their room bill that they pay as they're checking out.
Lightspeed Restaurant POS is Jam-Packed with Features

The robust features of Lightspeed Restaurant POS can drive quicker service, increased profits and better workflows. You can run an entire restaurant, bar or café from an iPad and manage your business from anywhere, even if your internet connection goes on the fritz.
It's also very easy to use, which means your employees will be up and running after minimal training. Armed with iPads, all the features of this POS system go with each staff member throughout the restaurant.
A mere sampling of its features includes the following:
Create discounts for customer groups, promotional events or specific items.
Combine tables or move them around by tapping and dragging.
Tableside orders are sent directly to the kitchen or bar.
Splitting or combining bills is simple to do.
Offline mode means your business keeps running smoothly even when your internet is down.
Quickly look up customer information on how often they visit and what they tend to order.
View end-of-day reports to better plan for future peak periods.
See staff reports to identify your star performers.
Free onboarding and 24/7 support
Customizable user permissions for full control over who sees what in the system.
Adding in the Kitchen Display System optimizes communication with kitchen staff.
Lightspeed Restaurant POS Benefits

Try before you buy with a 14-day free trial, unlimited number of users, no credit card required
Self-order menus using iPads let customers make their order and send it to the kitchen themselves (and they tend to order more food that way as well). Now that's efficient! And this can be done either at tables or through kiosks.
A Cloud-based POS is simply the must-have technology in the 21st century, and also allows owners to not just keep an eye on their business from anywhere, but actively manage it as well.
Offline mode means the show goes on even when your internet connection is down. Everything will synch up seamlessly once you're back online.
Mobile service means the POS and everything it can do travels with you from customer to customer throughout the restaurant, including taking payments on the spot.
Improved communication without running back and forth to the kitchen or bar. All orders are sent directly to where they need to go.
Lightspeed Restaurant POS Drawbacks

The most common complaint is that reporting capability is not as detailed as some users want it to be
Lack of receipt customization makes reconciling accounts with customers difficult when questions arise
Some would like to use Android devices, but the system only works with iPads.
Item prices can't be rounded up or down for even numbers on the fly.
The issues mentioned above are all relatively minor, and Lightspeed is continually updating and improving its restaurant POS with new and enhanced features. When you read customer reviews of Lightspeed online, make sure they are for Lightspeed Restaurant.
Lightspeed Restaurant POS Pricing

Lightspeed positions its restaurant POS offering as "Your all-in-one restaurant technology solution," which sounds promising. But finding out what that comprehensive solution will cost you is difficult. The Lightspeed Restaurant POS website is slim on pricing details.
It only mentions that the most popular plan is one starting at $69/month based on an annual plan per store. But all it includes is 1 register, personalized onboarding, 24/7 support, free updates, secure cloud backup, and basic reporting.
However, everyone knows you can't run a restaurant of any kind with a single register for a POS. And what does the word "register" even mean? Do they mean a cash drawer? Hard to say.
Hardware Options from Lightspeed Restaurant
If you go their hardware page, you'll see that they offer an iPad hardware bundle that includes a LAN receipt printer, Cash drawer, Lite Server, Lightspeed iPad stand, and Kitchen printer. That's beginning to sound more like what a restaurant POS hardware bundle should include, but then there's not a word about pricing for any of that.
And you have to supply your own iPads. There is also no mention of a payment terminal of any type. The company does offer a dozen different pieces of POS-related equipment, each of which can be purchased separately as needed (although once again there is no information on pricing).
Loyalty Program
Restaurants also have the option to sign up for Lightspeed Loyalty to have their own branded loyalty plan. If you have a Lightspeed Restaurant POS plan, then the cost of adding in Lightspeed Loyalty is $49/month based on an annual plan. This gives you a branded loyalty program, email and SMS notifications, and preset smart customer groups.
Because detailed pricing information is not made available on the company website, you would definitely want to get a firm quote on what Lightspeed Restaurant will cost you based on your needs.
According to customer reviews online, it appears to fall into the highest end of the spectrum in terms of cost. Then again, don't forget to try before you buy with their 14-day free trial.
Lightspeed Restaurant OS and Hardware Requirements

Similar to its pricing information, Lightspeed offers very little information on OS or hardware requirements. They clearly want you to use their hardware, in which case you don't really have to worry about requirements.
On their hardware page there is a FAQ section with a key question that's worth noting how they answer: "Can I use my existing hardware with Lightspeed Restaurant POS?"
The answer starts out with the word "Yes" but then goes on to qualify that answer in a number of ways. It's basically saying you're better off using their hardware.
Lightspeed Restaurant Features and Capabilities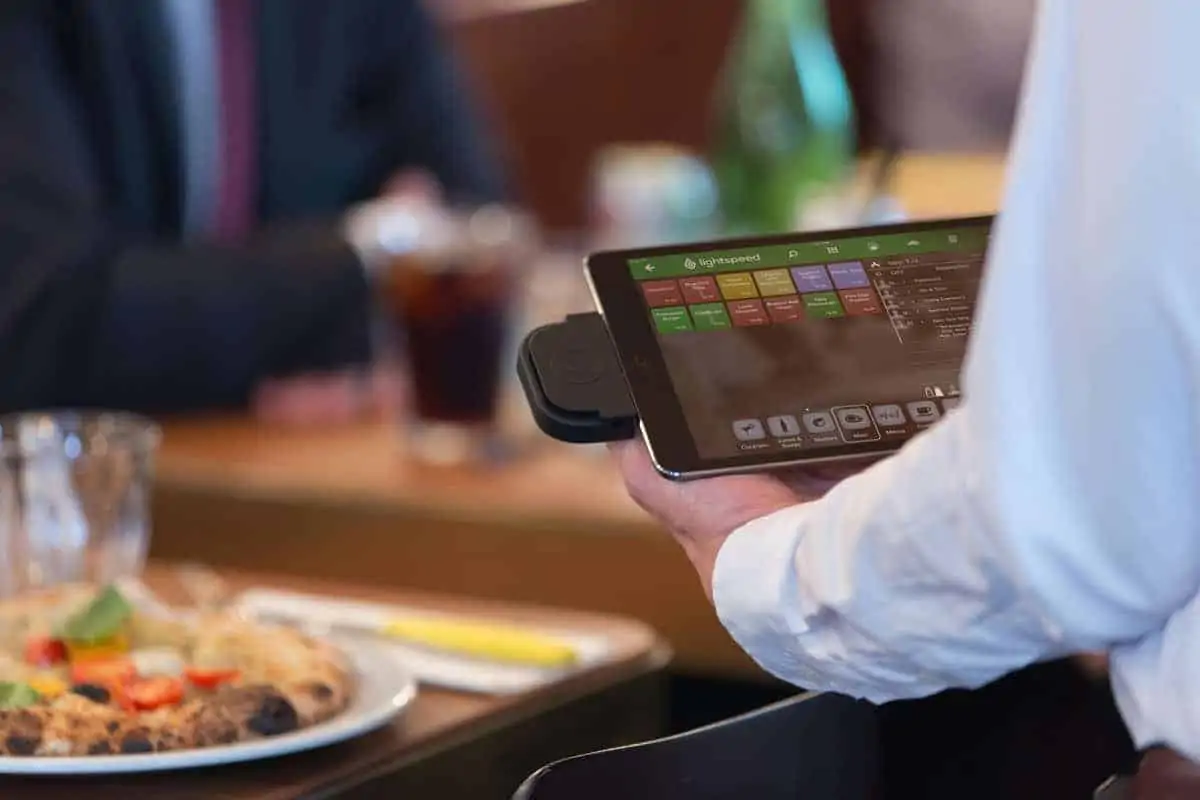 Lightspeed Restaurant POS positions its offering around eight main categories, including Management, Tableside Ordering, Mobility & Cloud, Staff, Multi-Store, Reporting, Customer Management, and Training & Support. This section will take a deeper dive into each of these categories.
Lightspeed Restaurant POS for Management

Inventory management: Know exactly what you have on hand to avoid customer let-downs.
Customizable menu: Create menus in minutes, make changes on the fly.
Adjustable floorplan: Make changes as needed to keep staff up-to-date on where to go next.
Kitchen display: Shows the kitchen team each incoming order to prepare.
Staff profile: You can control each staff person's access so they see only what they need.
Hardware: You can get all the hardware you need from Lightspeed (except for iPads).
Lightspeed Tableside Ordering

Mobile service: With iPads, your whole POS goes with you wherever you need it throughout your entire restaurant.

Self-Order Menu: Whether it's an iPad put on the table like a menu or placed in a self-serve kiosk, you'll love letting your customers take on some of the work – and so will they.
Flexible billing: Slicing-and-dicing bills however you need to is easy to do.
Upsell reminders: Your staff won't need to remember everything for great upsell offers.
Payments: Visa, Mastercard, Apple Pay and more allow customers to use what they prefer.
Lightspeed Mobility & Cloud

Remote access: A cloud-based POS system means you can actively manage your restaurant from wherever you may be, as long as you have an internet connection.
Mobile reporting: Real-time reporting means you can make instant adjustments to have a more successful day.
PMS integration: Lightspeed POS integrates with a dozen different hotel property management systems.
Safe data storage: No worries about backing up data from your hardware because it's all stored securely in the cloud.
Lightspeed Staff

Clock in and out: Calculating hours is easy when your staff clock in and out with Lightspeed.
Employee reports: Show hours worked and tips earned so you can see how they're doing.
End of day reports: Show overall sales, sales per employee and more for the day.
Individual accounts: Set up each employee with an account tailored to their needs.
Scheduling integrations: See scheduling at a glance for better peak period planning.
Lightspeed Multi-Location

Saved accounts on devices: All accounts can be saved on all your devices, so you never lose information regardless of which of your devices you're using.
Centralized gift cards: Valid across all locations.
Location reporting: Reports can be run for each location.
Customer data: Per location.
Lightspeed Reporting

Product reports: Easily identify top-selling items for more accurate inventory ordering.
User report: See all transactions processed by each employee, including receipts and tips.
Accounting: Data posts automatically each day – no need to do calculations by hand.
Cash drawers: Detailed transaction data to square with cash drawers.
Lightspeed Customer Management

Customer data: Frequency of visits and what they buy for more personalized service.
Timed promotions: Setup discounted prices for promotions and happy hours ahead of time so they take effect automatically.
Customer-facing display: Customers will see everything, resulting in fewer questions.
Gift cards: When customers buy these for others, they're extending your reach.
Loyalty integrations: Add in Lightspeed Loyalty for your own branded loyalty program.
Lightspeed Training & Support

Webinars
Onboarding session
24/7 phone support
Email and chat support
Customer forum
The Final Verdict

Lightspeed Restaurant POS offers a powerful and user-friendly POS system with integrated systems to address all areas of operating a restaurant, café, bakery, bar, nightclub or hotel restaurant.
Some say it is also quite expensive relative to the competition, but you can't get a sense of the cost from their website. In general, however, this restaurant POS system gets high marks from customer reviews online.
Lightspeed's Restaurant POS is definitely a contender for small and medium-sized operations with the means to pay for a top-shelf offering.
The following two tabs change content below.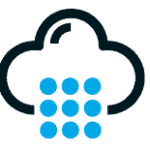 POS Quote Team
The staff at POSQuote.com is composed of industry professionals, experts, and current business owners. Through extensive research, we compile buyer's guides and review the best POS systems in the industry.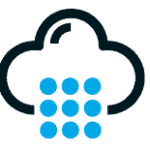 Latest posts by POS Quote Team (see all)