(Last Updated On: June 29, 2023)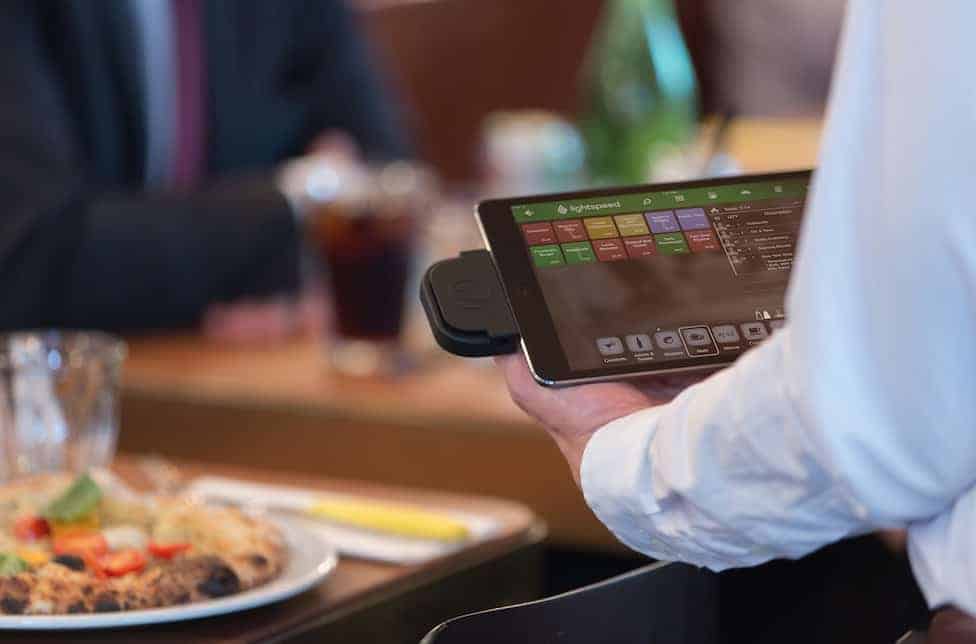 In an industry that is constantly reinventing itself, the pieces that support it must do the same. Restaurants adapt quickly to new demands for delivery, curbside pickup, pay at tables, mobile menus, and more. And Lightspeed Restaurant makes this seamless.
Whether you have a full-service operation, a food truck, or something in between, Lightspeed brings its users a truly innovative solution. And in an industry packed with great restaurant POS solutions, like TouchBistro and Toast POS, Lightspeed Restaurant stacks up.
The restaurant industry is constantly reinventing itself and Lightspeed Restaurant POS makes running your restaurant seemless. Users appreciate how easy the software is to learn and how well it fits their unique service types and layouts. The POS system also offers plenty of customization and personalization options to suit specific needs and procedures.
Lightspeed's POS system can fit into whatever type of restaurant you run, with features like bar code scanning, table management and even online ordering. The POS can help you make better decisions by allowing you to analyze sales data and identify patterns that will improve your business. For instance, a restaurant owner in San Francisco used Lightspeed data to discover that vegetarian dishes were outperforming meat-based meals. This allowed him to adjust the menu, increase revenue and improve customer satisfaction.
Another feature that customers love about Lightspeed is the omnichannel integrations. The system syncs with eCommerce sites and mobile apps for online orders, enabling you to expand your reach and boost sales. In addition, it also allows restaurants to offer a variety of retail items such as apparel and gifts at their physical locations.
Other features that make this POS stand out include the ability to track inventory and customer data across multiple locations. Moreover, this system is cloud-based, which means that you can access reports and insights from anywhere you have Internet. The Lightspeed POS also comes with hardware that allows it to operate offline, in the event of an outage.
Describing itself as "future-proof" Lightspeed Restaurant allows users to sync their point of sale with all major food delivery apps. Restaurants can fully customize the online ordering experience, and orders through Uber Eats, and DoorDash are sent directly to the POS.
More impressive is Lightspeed's adaptability. They've created "tap and slide" table features so businesses can accommodate changing social distancing rules while still maximizing their space. The floor map can accurately reflect your actual floor map, making seating and serving even easier.
Pros and Cons of Lightspeed Restaurant
Lightspeed offers restaurants one of the top POS solutions on the market. There are no glaring deficiencies in the software, and it's built equally well for any type of restaurant operation – food trucks, fast-casual, and full-service. Like any point of sale solution, though, it's not the perfect fit for every business. Below are a handful of its biggest pros and cons.
PROs
Sleek front-end interface

Installation, training, and support included

Great back-end reporting and forecasting

Online ordering and pickup integrations

Customizable features

Kitchen management

Scheduling and employee management

Ease of use
CONs
High entry-level price

Additional subscription prices for certain integrations

Poor offline functionality

Expensive processing rates

Inventory features lacking for enterprise-level restaurants

Binding contracts

Pricing Plans
Lightspeed has worked hard to reach both as many merchant business types and as many merchant business sizes as possible.
Previously, the POS software was a higher-end option for most small restaurant businesses. They justified this with robust features and vast integrations. However, for many establishments, it was simply too expensive.
To better serve single-location small businesses, Lightspeed updated their pricing plans and introduced a basic plan starting at $59/month (or $69/month if billed monthly). This is a more cost-effective and realistic price point for a vast number of businesses.
It's worth noting that Lightspeed's pricing changes substantially if you opt to use a third-party credit card processor. For all plans, any additional terminals are $34/month with Lightspeed processing and $64/month without. We'll cover more specifics below.
Unlike the retail side of things where users must select a bundled deal, Lightspeed Restaurant offers an a la carte model that is wonderfully simple and straightforward.
Basic Add-Ons ($12/month)
For an additional $12/month each, restaurants can add the following features:
Customer Facing Display

Kitchen Display System

Advanced Reporting

Self-Order Table Menu

Native eCommerce Platform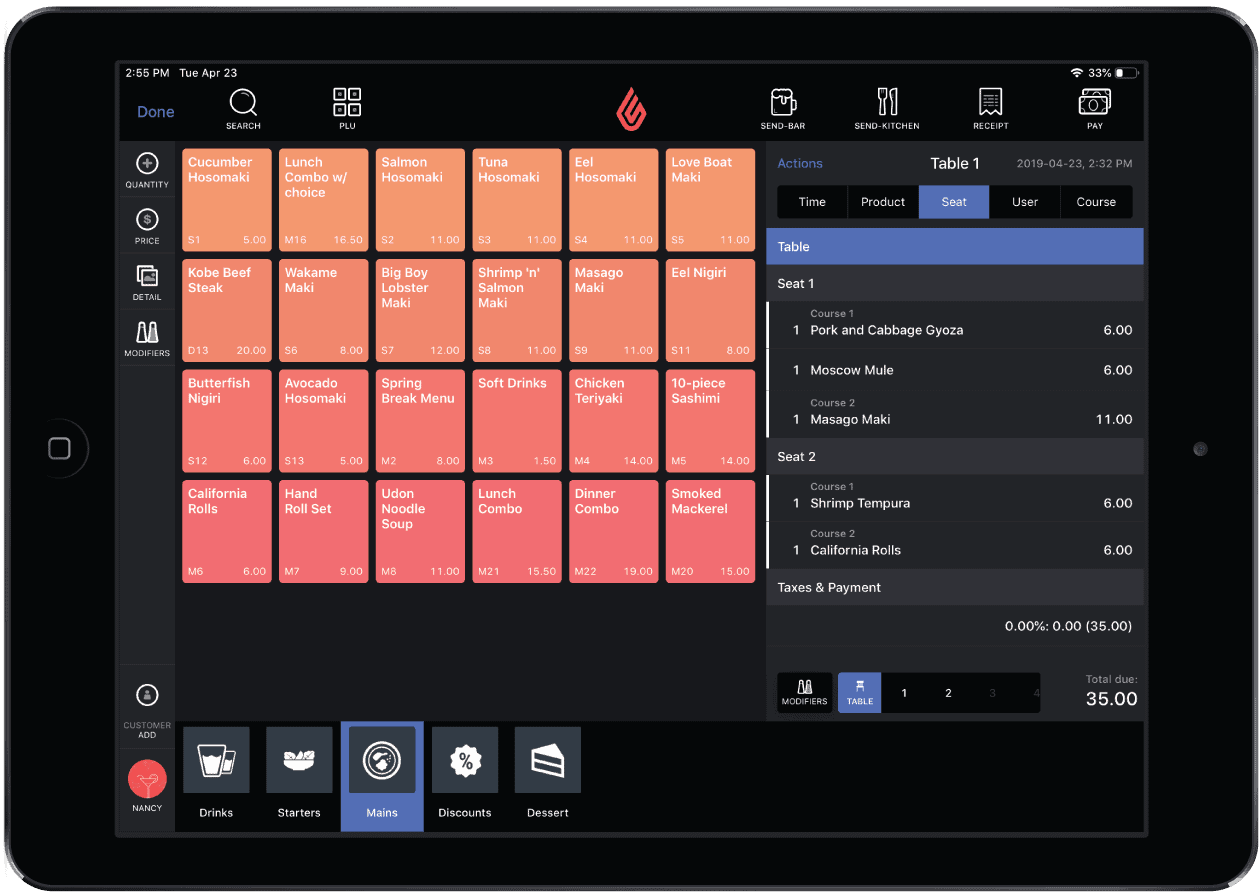 Premium Add-Ons ($39/month)
For several more robust features, restaurants can add them at $39/month:
Accounting

Loyalty

Loyalty App

Self-Order Kiosk

Delivery Integration
We love that the pricing is transparent and so easily customizable, but it does quickly rack up. Full-service restaurants are likely to benefit from each of the basic and premium add-ons. Getting the entire package will be over $300/month, much more costly than a lot of competitors.
Lightspeed Restaurant Enterprise (Get a Quote)
For restaurants that require more specialized features, Lightspeed asks that you schedule a call. They offer custom solutions for enterprise-level clients.
Demo Video
Key Lightspeed POS Features
Lightspeed has designed its software for restaurants of all types and sizes. That means they've developed an impressive array of features.
Some of these features do come at a premium cost. And Lightspeed is quick to encourage businesses that need several integrations or more advanced features to reach out for a quote.
Inventory Management
Lightspeed inventory management allows restaurants to improve their inventory tracking and optimize ordering:
Process work orders

Create product matrices

Bundle items

Special orders

Multi-location management

Track unit costs

Set reorder levels

Ingredient tracking
Ingredient tracking was our favorite, and one you don't stumble across too often. This helps track kitchen waste while minimizing product/menu stockouts.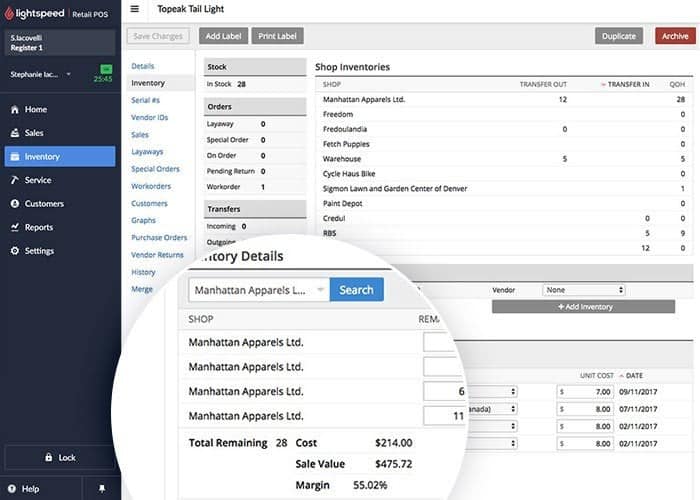 Employee Management
All staff can be assigned unique titles and access levels. Assign staff to specific floors or sections. For any group created, users can also add custom access levels. For instance, you might allow a bartender to add tips, but not to void checks. All staff can also clock in and out through the POS.
Lightspeed also integrates with Agendrix for employee scheduling and a time-off calendar.
eCommerce
Lightspeed eCommerce comes at an additional cost. The most basic eCommerce package comes with their Starter plan.
Users get a number of impressive features with the eCommerce feature:
Move stock from physical to online stores

Make bulk updates

Pre-configured custom themes

Create shopper wishlists

Organize shipments with tracking codes

Shipping integrations

SEO assistance

14 languages and multiple currencies
The seamless eCommerce syncing makes it one of Lightspeed's most valuable features for restaurants trying to grow in the online space. And for restaurants that sell retail items, like apparel or gifts, Lightspeed makes it easy to add these to your eCommerce store, too.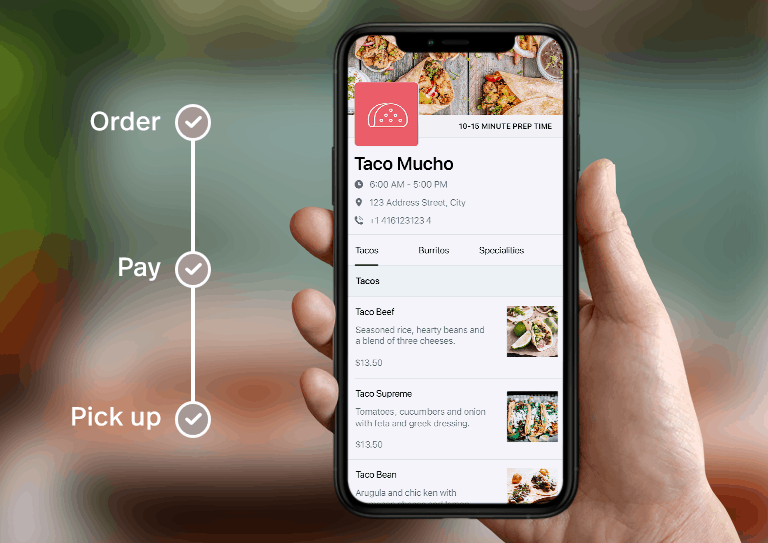 Mobile Ordering
An increasingly important functionality for restaurants, mobile ordering adds convenience for both your staff and your guests. Servers can send orders directly from the table which helps speed up ticket time. Additionally, customers can check out directly at the table.
Restaurants have the option of adding stationary iPad terminals at the tables themselves, too. This allows them to customize and place orders as well as settle up bills.
Loyalty
Lightspeed's loyalty system is one of its premium add-ons, but one of its best. It boasts an in-depth but simple CRM to reward guests and build new marketing channels.
Custom rewards program

SMS marketing

Customer history and insights

Birthday and VIP deals

Email templates and builder

Personalized messages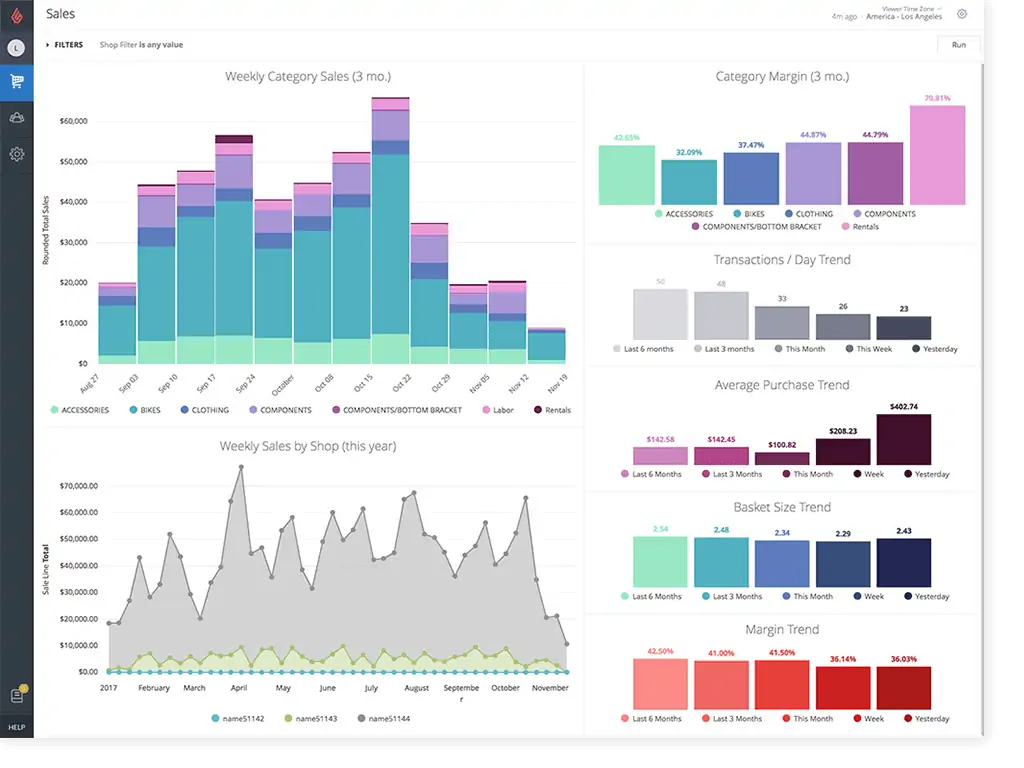 Reporting
Go beyond inventory management and get more in-depth with Lightspeed's reporting and analytics. They offer features to give restaurants better insight into their menu item, like identifying slow sellers and measuring customer demand.
Lightspeed also generates over 40 unique reports, including for multiple locations, time-based revenue, cash register history, staff shift breakdowns. Advanced reporting features are another premium add-on.
Floor Planning
Lightspeed makes floor mapping easy for restaurants. You can create a map, add tables and sections, and even manage the curbside pickup area. Table statuses are updated in real-time, and the map is shared across all POS terminals. Plus, the terminals communicate between all facets of a restaurant operation, including the hosts, servers, bartenders, and kitchen staff.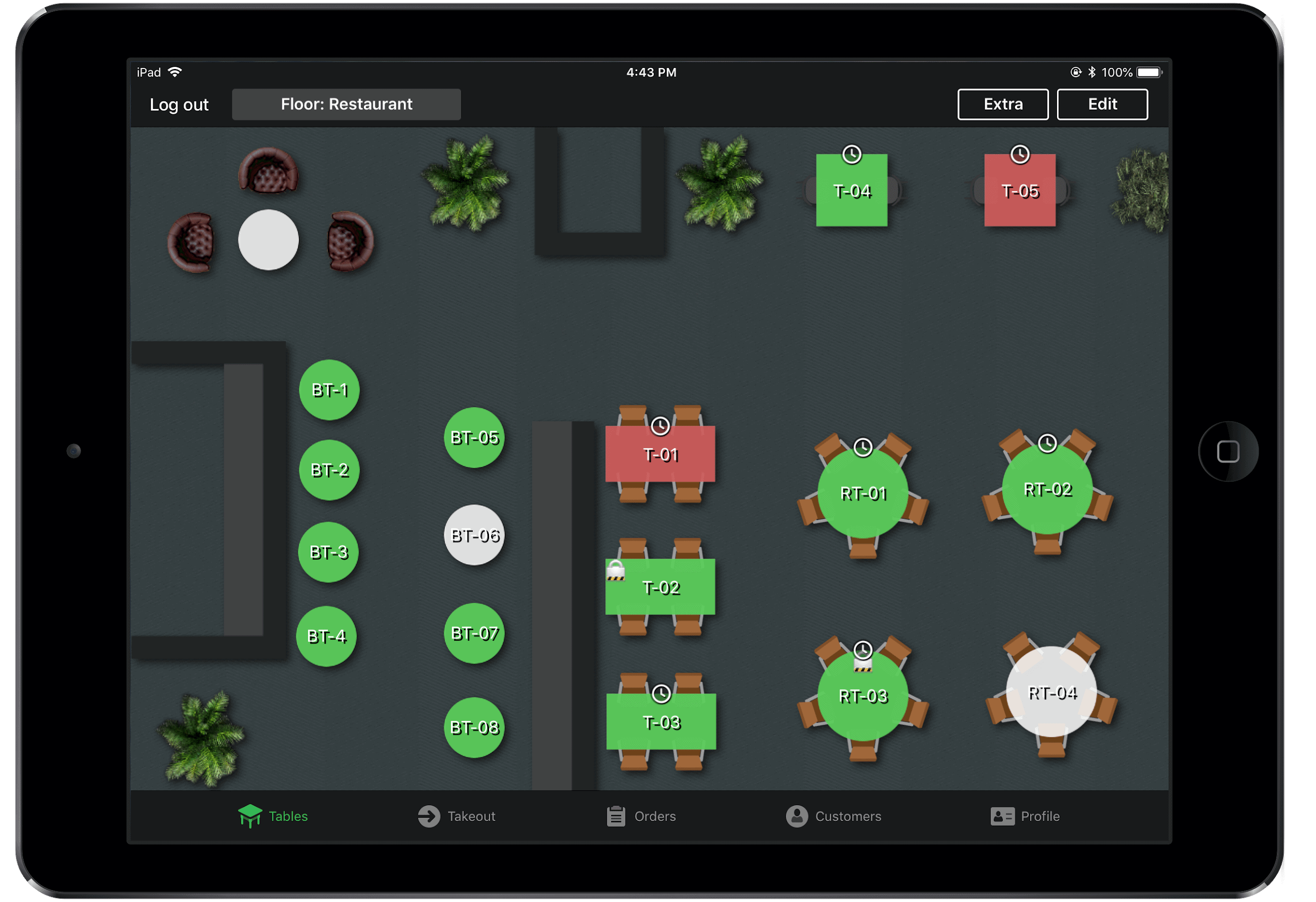 Delivery Integration
Another premium add-on, Lightspeed's delivery integration partners with several of the most popular delivery apps in the business. Use UberEats, Foodora, and DoorDash to expand your reach to a broader range of customers. Depending on the platform you decide to use, you create promotions, add delivery customizations, and manage curbside orders.
Industries Served
Lightspeed reaches a huge range of different industries. Through both native software development as well as major acquisitions, Lightspeed offers arguably the greatest breadth of features for any POS in the restaurant market:
Full-service restaurants

Multi-location international chains

Fast-casual

Delis

Food trucks

Cafes

Coffee shops

Kiosks

Pop-up shops
Additionally, Lightspeed caters to all business sizes. They've altered their entry-level pricing to serve small businesses, but haven't sacrificed any of the features that allow them to serve multi-location restaurants, bars, coffee shops, and QSRs.
Not only has Lightspeed adjusted pricing to serve smaller businesses, but they've also added features to provide more versatility to the ever-changing needs of restaurants. Delivery integrations, mobile ordering, menu creation, kitchen display systems, and loyalty tracking allow restaurants to run a whole lot more efficiently.
Lightspeed works for any type of restaurant, from the simplest QSRs to multi-location full-service establishments. The software comes with specialized features for managing the bar, kitchen, host stand, and tables.
They've recently developed more online capabilities. Restaurants can now run their online ordering operation as efficiently as their in-person dining.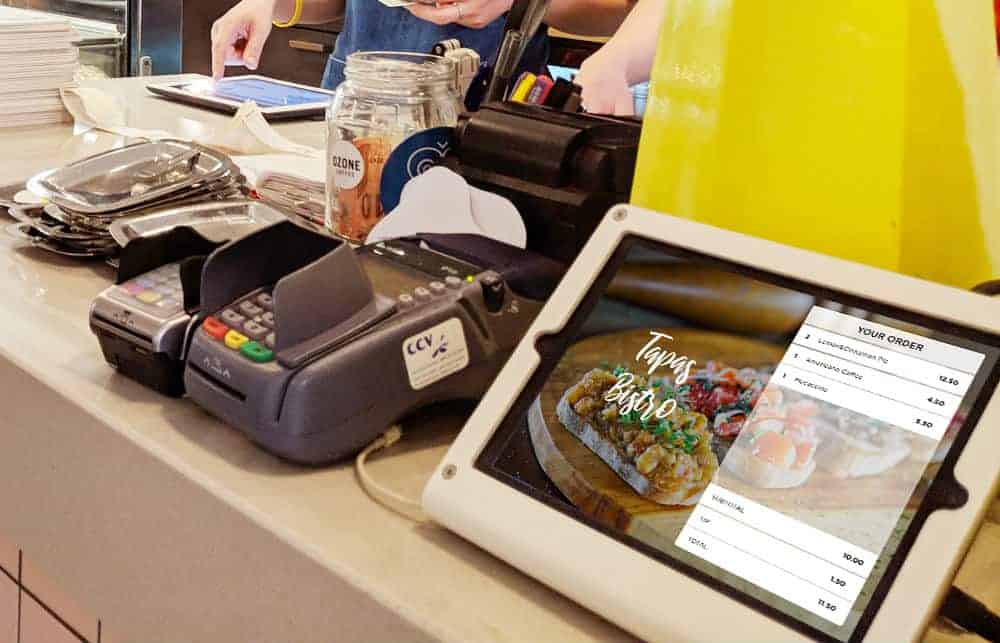 Deployment Type
Lightspeed, of course, is a cloud-based POS solution. All information in the system is kept in Lightspeed's remote servers. These automatically sync with each terminal and the back-end system. Users can access the back-end reporting and inventory features from any location through Lightspeed's website.
For the smaller operations, the software comes ready out of the box if you also order Lightspeed's hardware. If you have existing Apple hardware you can also install the software pretty easily on a tablet or desktop device.
For desktop use, businesses can access Lightspeed through the browser. With tablets and phones, however, the solution is app-based. The installation is still quite simple for smaller businesses.
Deployment becomes a bit more tedious if you require multiple add-ons and/or integrations. It's important to be sure that all parts are communicating. Lightspeed offers an in-depth online manual for assistance with this. Their support team is also available to help troubleshoot getting started.
Enterprise restaurants may be able to get onsite assistance with Lightspeed. They do have representatives and resellers around the world that can help. But, realistically, even large operations shouldn't require too much help. Its simple hardware and intuitive features make it a breeze to get up and running.
Ease of Use
In addition to its versatility, we were most impressed with Lightspeed's ease of use. From the first minute you spend on Lightspeed's website you can tell that they have ease of use in mind. They ask the right questions to narrow in on your needs and follow up quickly with one of their sales reps.
From there, onboarding and implementation are effective and straightforward. Lightspeed can run on a variety of hardware pieces, but the recommended set-up makes getting started quite easy. The software automatically walks users step-by-step through a browser or app.
And once up and running, Lightspeed is designed for the average user to pick up quickly. Cashiers, servers, and bartenders can learn the front-end within a day. The same goes for owners and managers on the back-end. The system is visually pleasing and intuitive. It also comes with helpful video guides and tutorials to help you navigate the software.
Like any powerful point of sale, though, the more in-depth functions might take some practice. The features themselves are easy to use, but what will take some is organizing the back-end to fit your specific restaurant. Custom inventory settings, running various reports, and tracking employee behavior might take a bit more time.
Furthermore, any loyalty, eCommerce, accounting, or third-party integration will add a layer of difficulty. The native features are more seamless and fully supported by Lightspeed. Integrations may be more cumbersome and require additional support. Still, the average user could figure out the vast majority of the system.
The only real issue we had is with their browser-based solution. POS software run through a normal browser is prone to malfunctioning, missed updates, or user error. But, overall, they've brilliantly combined extensive functionality with a beautifully minimal design.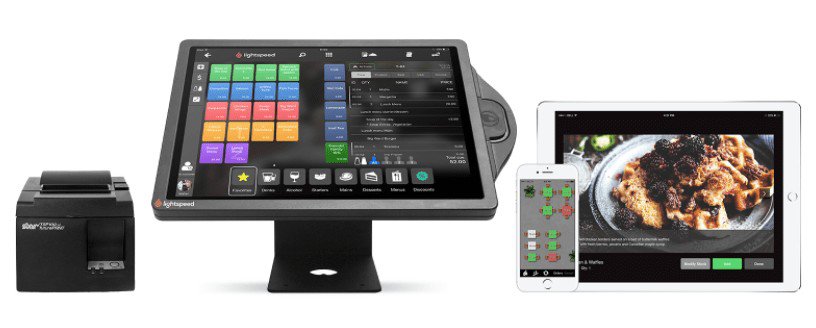 Hardware
Lightspeed is built to run on macOS and Windows operating systems. Desktops run through Chrome and Firefox browsers, while tablets and smartphones use the iOS mobile operating system.
Restaurants are able to use the software on any device that supports the operating systems listed above. However, Lightspeed recommends a select group of hardware options that are supported by their product specialists.
They offer two kits for businesses who would like a complete set-up. You could probably find the hardware a bit cheaper, but they make it convenient.
The iPad kit comes with a LAN receipt printer, cash drawer, Bluetooth scanner, iPad Stand, and receipt paper. This is the most popular solution for smaller cafes, coffee shops, and delis. 

The desktop kit comes with a USB receipt printer and scanner as well as a cash drawer. Some full-service restaurants may opt for this more powerful set-up.
These kits can be bought independently for about $500. Neither includes the iPad or the iMac.
Lightspeed offers several other peripheral options that can be bought individually:
Zebra label printer – $250

APG Cash drawer – $100

Zebra CS4070 Bluetooth scanner – $450

USB barcode scanner – $100

Epson TM-m30 receipt printer – $200

Mobile Tap terminal – $100

Vault Simplicity Base iPad stand – $100

Verifone P400 terminal – $200
Lightspeed sells hardware directly through their website, though they do require that shoppers request a quote. We found that their hardware prices are slightly higher than you could find independently. There are plenty of refurbished options out there, too, albeit slightly riskier.
Integrations
Integrations are a key aspect to look for with any restaurant POS system. It's more important than ever to have a well-integrated and omnichannel environment with your point of sale.
Lightspeed has an interesting model to make this step simple for their most popular integrations. Instead of requiring users to buy a third-party app and then sync it with the POS, Lightspeed cuts out the middleman. Users can simply purchase basic or premium add-ons to make this simple.
eCommerce

: This integration is actually developed by Lightspeed itself. It's made exclusively for online shopping and integrates into their restaurant POS platform. Like the brick and mortar software, it's designed with ease of use in mind.

Accounting

: With the Standard subscription, users get accounting integration to QuickBooks Online, Quickbooks Desktop, Sage, or Xero. The software automatically syncs with whichever accounting tool is being used.

Loyalty

: The Advanced plan brings a loyalty integration. To keep your regulars happy, Lightspeed has developed numerous integrations to CRM and loyalty systems that fit specific niches. Among others, these include Perkville, Tap Mango, Pepper, Loyal2, and AppCard. Reach out to Lightspeed if you already have a loyalty program you use.
On top of their built-in integrations, Lightspeed also offers a variety of other third-party software options.
Labor

– Push Operations help manage your labor and costs.

Online Ordering

– Lightspeed integrates with a variety of online ordering options, such as Menufy, Mobi2Go.

Hotels

– Lightspeed caters to hotels with integrations to Bookingplanner, Cloudbeds, Frontdesk Anywhere, MEWS, Oracle, and StayNTouch. This makes it a viable all-in-one solution for hotels with a full-service restaurant.

Delivery

– Restaurants can use the Overlord delivery integration for tracking orders and giving automatic updates. Plus, it integrates with UberEats, Foodora, and DoorDash for delivery ordering and fulfillment.

Scheduling

– Track employee schedules, overall hours, and vacation with Homebase, Deputy, Agendriz, Hubtiger, and more.

Reservations

– For restaurants and appointment-based businesses, Lightspeed integrates with CoverManager, Formitable, Hostme, Resengo, Libro, and more.

Email Marketing

– Each Lightspeed subscription comes with a MailChimp integration for email marketing.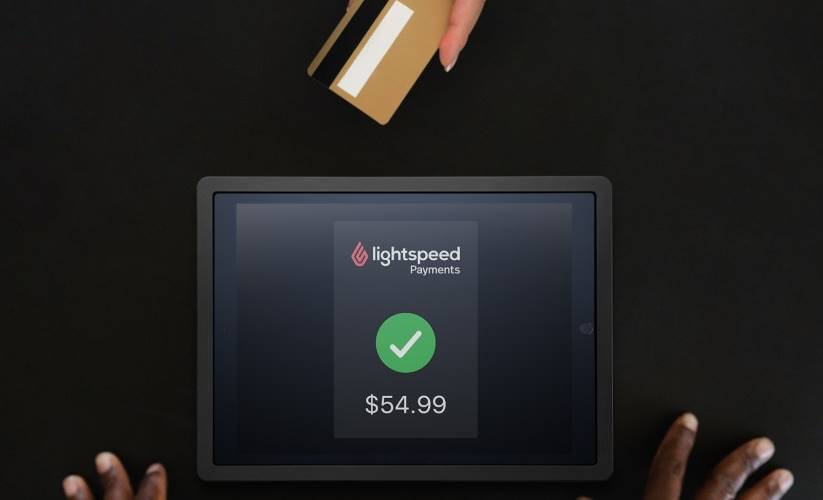 Credit Card and Payment Processing
Lightspeed credit card processing is one of the few points of contention we have with the solution. Following the path of many other POS systems, Lightspeed now offers built-in processing. While it doesn't require users to sign up for their processing service, it does significantly raise the rates for those who don't.
Lightspeed's processing comes at a simple bundled rate: 2.6% of each transaction plus a $0.10 fee. The additional fee is upped to $0.30 for any card-not-present or keyed transactions. This is actually the exact same rate that Square offers its users.
While the rate may be competitive with several other POS systems, it's actually quite high, particularly for high-volume, low-value food-service businesses, such as coffee shops, kiosks, and food trucks. And bundled processing deals are notoriously opaque. Users can't see what the true costs are and how much the processor is taking off the top.
For users that switch to Lightspeed and would like to keep their current processing option, or for users that just find a cheaper rate, Lightspeed does integrate with several additional popular processors:
2ACCEPT

Bounce

CHK PLZ

Ikeono

iZettle

Moneris

Stripe

TSYS

TYRO

Vantiv

WorldPay
Choosing an outside processor will raise your monthly fees by $30. And that applies to additional terminals. For locations with several POS stations, this could nearly double your monthly premium.
Customer Service and Support
As you'd expect, Lightspeed understands just how important great customer support is. And they do it really well. Each subscription includes unlimited access to their 24/7 phone line, live chat, email, Twitter, and manual. As a multinational operation, Lightspeed has offices and support lines across the world to better serve local time zones.
Support can easily be reached directly through the back-end of the POS software. There are even applicable training videos and manual pages attached to certain pages.
24/7 phone support

: All location-specific numbers are listed once you're logged into the back-end of the system. You can reach a live rep even if your restaurant or bar is open until 4 AM.

Email

: For non-emergencies, email support is the preferred option. They guarantee a response within 24 hours.

Live Chat

: Reach a representative through the Lightspeed website with their live chatbox. Someone is available from 10 AM – 8 PM Eastern Standard Time.

Twitter

: Customers can also reach out for troubleshooting through Lightspeed's Twitter handle, @AskLightspeed.

Blog and Manual

: Lightspeed regularly updates its website with new content. Their blog is filled with general business advice, while the manual contains more specific POS troubleshooting tips and guides.

YouTube

: Lightspeed has an active YouTube with hundreds of short training videos. Their videos are up-to-date and well-produced.
Overall, Lightspeed's support is pretty unrivaled. It's easy to reach who you need quickly and you'll receive knowledgeable and friendly service.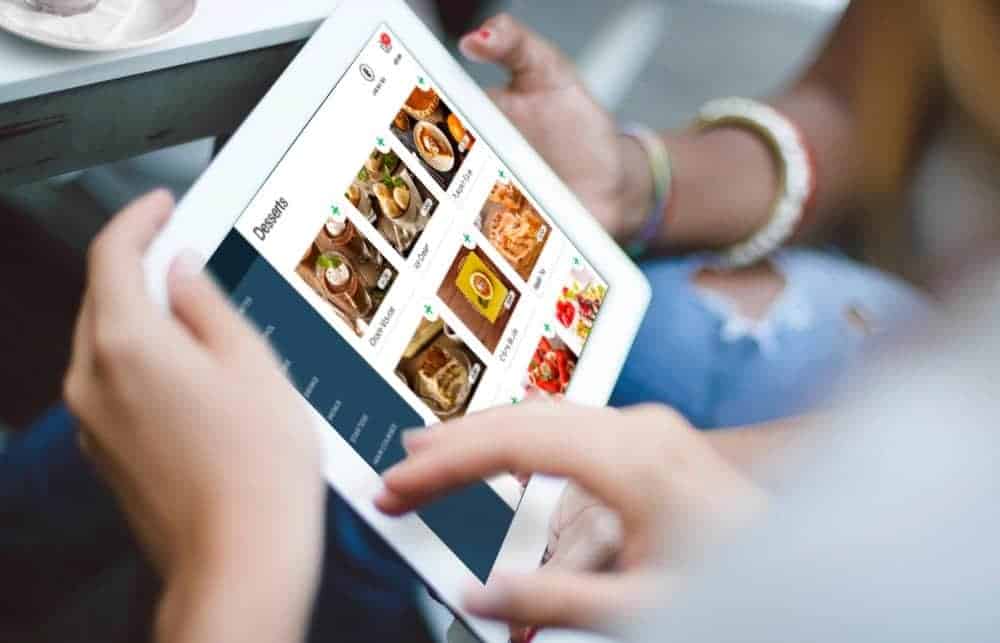 Negative Reviews and Complaints
Lightspeed has thousands of reviews across numerous major platforms. The sheer number really helps give shoppers a better idea of what they're getting with the system. And overall, they seem to be quite happy. Still, there were a few common threads in their negative complaints that we thought were worth addressing.
System Crashing
A lot of users seem to have issues with Lightspeed going down during business hours. This resulted in them being unable to accept payments. Lightspeed does have poor offline capabilities, so businesses that experience extended down-time can lose a lot of sales. This is particularly challenging for restaurants that need to turn tables and get guests in and out quickly.
Cost of Payment Processing
Several users have caught on to the fact that Lightspeed's payment processing is not a good deal. One user even did the math and realized that their annual costs with Lightspeed processing were $7,000 higher than if they had stuck with their previous merchant service provider. To avoid using Lightspeed's processing solution, users must pay an additional monthly premium of $30/terminal.
Lengthy Contracts
Lightspeed strongly pushes long term contracts at discounted monthly rates. This is not an unusual practice for any subscription-based software. Unfortunately, there are many complaints that Lightspeed rushed inking the contract. Instead of following through on specific promises, it seems that there were instances of them overselling the product. We saw too many instances of unhappy business owners being stuck with a solution that didn't quite work for their business. 
Lack of Inventory Management Depth
There aren't too many complaints on the feature end of things.. The only recurring negative complaint surrounded their inventory management. Lightspeed seems to struggle more with businesses that need more customized or robust inventory management. This was only an issue for multi-location restaurants that require more features. Smaller establishments had no complaints about Lightspeed's inventory features.
Positive Reviews and Testimonials
Lightspeed averages about 4 out of 5 stars across the major software review platforms, including G2, Software Advice, and Capterra. They also have one of the highest positions on the G2 grid for POS software.
Customer Support
Users seem to take advantage of Lightspeed's vast customer service options. Most can reach their 24/7 support line with ease. This is especially vital for restaurants. Long and late hours make flexible support options imperative for success. For more problematic issues, Lightspeed support also seems to follow-up quickly with answers.
Intuitive Usability
The front-end ease of use was certainly one of our favorite aspects of the system, and users seem to agree. There are plenty of testimonials from those claiming to be tech-illiterate that speak to its ease of use. While some reporting and inventory features are a bit more challenging to implement, it takes no time to get acclimated to its primary tools. Servers and bartenders consistently speak to its simplicity.
Custom Features and Integrations
Users love how simple Lightspeed makes all primary integrations. While some more uncommon integrations may be glitchy, it seems they've perfected their delivery, scheduling, online pre-ordering, loyalty, and accounting integrations. Every aspect communicates well and keeps data adequately synced. This is a vital aspect to consider when shopping for a new restaurant point of sale.
Simple Set-Up and Installation
For customers who bought Lightspeed's hardware, getting set up and ready to accept sales is remarkably easy. Most restaurants and cafes use iPads, making it even simpler. The software comes ready out of the box and has a step-by-step tutorial for each step of installation. Customers seem to like the built-in troubleshooting features during this process, too.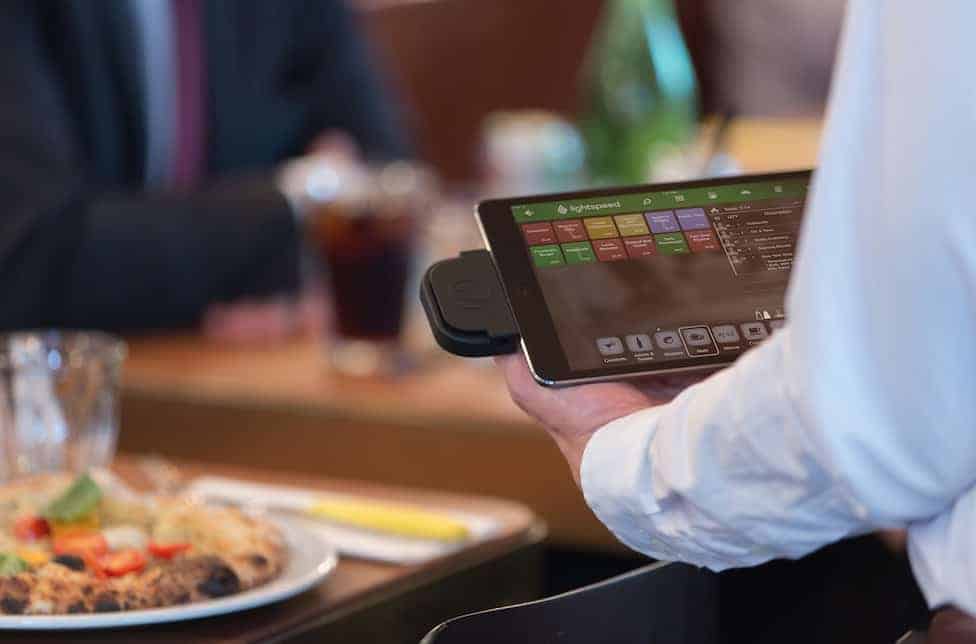 Lightspeed POS Alternatives
As a solution for so many different types of restaurant businesses, Lightspeed faces some steep competition. The restaurant sector, in particular, has a  significant number of great POS alternatives. We do feel that Lightspeed is a great product, but there are several other solutions that offer great options, too.
Square


Square offers the same type of processing bundle that Lightspeed does, including the same rates. While Lightspeed serves larger restaurant operations better, Square is a more viable option for small businesses with just a terminal or two. Square's rates are far more affordable. If your business doesn't need the features and integrations Lightspeed offers, Square is a good fit.
TouchBistro

TouchBistro is one of Lightspeed's best alternatives for full-service restaurants. The company has grown quickly and it's been at the forefront of several key POS trends. TouchBistro was one of the first to offer mobile checkouts, table-side ordering, and seamless delivery/to-go features. While Lightspeed has made similar forays into these features, TouchBistro does it really well.
Another Alternative to Lightspeed Restaurant POS
TouchBistro is a popular restaurant point of sale (POS) system with many customers around the world. It has a strong hospitality focus designed to simplify order taking and improve customer service. It also makes running a restaurant more transparent, showing the cost of inventory and profit margins for each menu item.
The software supports all types of restaurants including full-service, quick-service and food trucks. It can handle table management and seating, as well as kitchen ticketing, payment processing, daily sales reporting and transferring orders to the kitchen. TouchBistro is a cloud-based system so staff can login from anywhere with an internet connection and access all of their data. Users can set permissions so that only the appropriate managers and employees have access to the information they need.
In addition to its POS software, TouchBistro has a wide range of add-on products and services that help restaurateurs manage their business more effectively. These include a Kitchen Display System that shows orders on a customer-facing screen for the back of house staff; an iPad tableside ordering system that allows servers to add and send food or drink orders with a tap; a loyalty and CRM solution that lets restaurants build their brand with customers; and gift cards.
The software has been optimized to work on all mobile devices, and its user-friendly interface helps reduce training time for new employees. It is easy to configure and offers a variety of reports that can be used to monitor daily performance and identify areas where improvements might be needed. Employee management has been simplified through integration with partners like 7Shifts and accounting is made easier by integration with Xero or Shogo.
Toast


Toast has done an impressive job of navigating the sharply changing layout of the restaurant industry. It offers great delivery and online ordering features in addition to contactless payments and mobile in-restaurant ordering. It's also offering restaurants three free months of new takeout features so you can be sure it works well before signing up.
Talech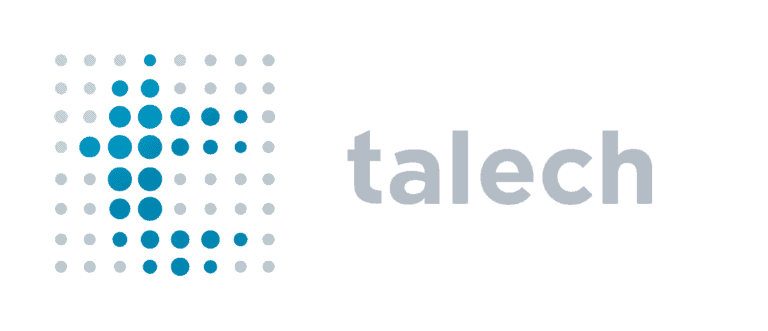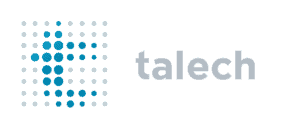 Talech brings the most cost-effective restaurant POS system to the market, starting at just $29/month. It doesn't have the more in-depth features that Lightspeed offers bigger operations, but it does come with enough for simple QSRs, food trucks, and cafes. Since it also integrates with third-party processors, it avoids the costly premium that users will pay with a starter plan from Lightspeed or Square.
Conclusion
Overall, we love Lightspeed as a solution for a whole lot of food-service businesses. The company has shown an eagerness to adapt to changing climates and develop innovative software quickly. It's also leveraged its capital and investments to make several key acquisitions. This has expanded both its industry reach and its feature/integration stack.
Beyond that, Lightspeed's ease of use and extensive functionality is most impressive. They really don't miss many details. From the moment you fill out their form to request a demo, they do a wonderful job of making it clear that they cater specifically to your business. Once signed up, onboarding and installing are simple and the software comes with sleek hardware that blends into any host stand, kitchen, bar, or server booth. Both staff and managers/owners alike can get up and running quickly with simple front and back-end use.
The other highlight for us is Lightspeed's vast integrations. They bring users remarkable customization with seamless integration options. Several of these are built directly into their pricing structure, which minimizes additional monthly costs.
All of that, of course, is not to say that the software is faultless. Lightspeed has two red flags that any restaurant business must be aware of before signing on. First, Lightspeed's credit card processing option is higher than most third-party options would charge. And users must pay a premium monthly subscription price should they opt out. Second, Lightspeed encourages users to sign lengthy contracts. Though it gives you a discounted price, it leaves you with no ability to leave if you're unhappy.
Still, we can confidently recommend Lightspeed to restaurants. Do your due diligence beforehand by asking the right questions and crunching the numbers. Once over those hurdles, the software itself will likely improve your operations and help you scale. They offer a free trial and personalized demo to get started.