(Last Updated On: June 29, 2023)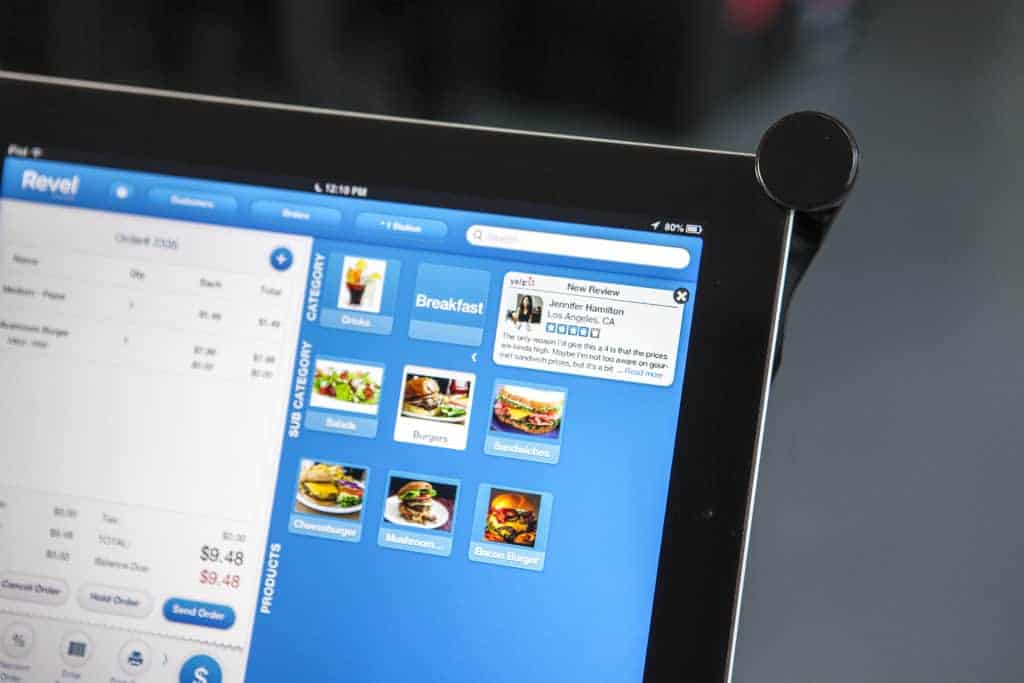 Revel Systems is undeniably one of the most popular cloud-based iPad POS systems on the market, competing with point-of-sale giants like Square, Lightspeed, and a few others.
Cloud based,
One of the most popular POS systems in the industry is Revel, an iOS-powered solution for small to midsize business and restaurants. Revel's platform unifies operations and customer channels with POS functionality in a single dashboard for omnichannel management. The software helps businesses maximize security, stability and service delivery. It works with companies of all sizes, from global enterprises to a small mom-and-pop shop.
Revel offers a suite of back-end analytics tools and a customizable dashboard, with data on hourly sales, payment summaries, product mix and more. Revel also allows you to track inventory, manage loyalty programs and gift cards, and connect in-store and e-commerce orders. It can even be integrated with video surveillance to monitor for any attempts at tampering or fraud.
The company's pricing structure is more streamlined than many other POS systems, with the upfront software license fee replaced by a monthly subscription. Revel does recommend that customers buy hardware, including iPads, stands and peripherals like credit card terminals and receipt printers, through the company's own retail program, but it's possible to use existing equipment. It also encourages customers to use its own processing system, Revel Advantage, though it does support integrations with third-party processors.
Revel has 24/7 telephone and online support as well as a self-service portal where users can view guides for its hardware, apps and iPad software. It also posts up-to-the-minute information about system problems on Twitter. It also provides online training via Revel University, a series of videos that walk users through setting up the system and using its various features.
Designed specifically for traditional restaurants, QSR's, pizza parlors, and coffee shops, this POS system has the optimal software to deliver fast and secure transactions. By using this robust management platform, you can streamline tasks like inventory management and online ordering, in an instant.
After conducting a detailed review of Revel POS, we found that while it caters greatly to food-based businesses, its software is also widely adopted by the retail industry.
Whether you own or manage a storefront or another type of complex retail business, Revel offers strong CRM capabilities and payment flexibility. As an EMV and PCI compliant provider, Revel's card readers can support swipes and dips for contactless payments.
Unlike some other restaurant POS systems or retail software, Revel offers the latest hardware, including attractive customer-facing displays or iPads for your servers (to cater to tableside ordering). What's more, according to user reviews, Revel's team has fantastic support and offers the quickest setup in the industry and relatively easy training.
Why Is Revel Systems Better Than Its Competitors?
Where Revel's POS really shines is its ability to produce detailed reports and analytics where you can view key data and pull reports for daily sales, inventory updates, employee scheduling, or critical data like best-selling products. Revel Systems is one of the only POS systems heavily focused on KPI's and tracking your ROI. 
For those managing a retail business, Revel's online ordering solution allows you to branch out beyond your physical location. With e-commerce sales rising 18% in 2020 and reaching $709.78 billion, your retail business can't afford to skip online sales. Revel's online ordering integration will help you grow your business to new heights.
Lastly, Revel's feature-rich POS system integrates seamlessly with various third-party vendors. This includes management tools for accounting, marketing, gift cards, payroll, payment processing, CRM, mobile payments, and more.
Let's dive into Revel System's plans, pricing, user reviews, and why its game-changing software is unlike others in the industry.
Who's Revel Systems?

Revel Systems was founded in 2010 by Lisa Falzone and Chris Ciabarra in San Francisco. Now headquartered in Atlanta, the company has seen three successful rounds of venture capital funding. The private company is currently majority-owned by private equity firm Welsh, Carson, Anderson & Stowe.
There are four different versions of the Revel Systems POS based on the business type. Three of them are for restaurants, including quick service, restaurants/bars, and pizza joints. The fourth version is for retail businesses. With Revel, you can handle multiple locations and many thousands of SKUs. Because of this, it's considered best for medium-sized and larger retail businesses.
Revel Systems won a few awards in its early years for what was then seen as a ground-breaking iPad POS. Its largest competitor is probably Lightspeed Retail.
Revel Systems POS Pricing
Revel Systems' software cost starts as low as $99 per terminal, but can easily add up with more stations. For larger operations with unique needs, you'll have to get a custom quote. To get the best rate and save money, opt for annual billing and sign up for Revel's flat-free processing plan.
Software: As low as $99/month per terminal (Billed annually).
Flat Fee Payment Processing: But the fees are not spelled out on the website. Be sure to ask! Processing is provided through Revel Advantage.
On-Boarding: Starting at $649 (help to get the system up and running).
Note that those are lower-end prices. The hardware is not included in the above pricing figures. Equipment is leased through Apple Financial Services, and no hardware pricing information is shared on the company website.
According to the website, all plans include the following:
24/7 Phone & Online Support
Free Automatic Product Updates
Secure Cloud Backup
Personalized Onboarding
Unlimited Users
Always On Mode
Not all the features mentioned earlier in this review are included in the above pricing information. You will pay extra for the following:
Gift Card and Loyalty programs.
Dedicated Account Management.
Mobile Order Takers.
Online Ordering.
Multilocation Management (Enterprise Management).
Inventory App (using phone as handheld barcode scanner and inventory management device).
Revel Systems Demo for Quick-Service Restaurants
Key Features from Revel's POS System
Below is just a quick summary of the main features. Later in this review, we'll take a deeper dive into the same list to provide greater detail.
The Customer Experience
The Revel Assistant feature is for support and troubleshooting.
The Discounts feature has options to create discounts to reward loyal customers or draw in new ones.
The Gift Cards feature lets you set up and process gift cards for customer retention and new customer acquisition.
Customer Display System option for increased transparency and a branding touchpoint.
The Online Ordering feature allows for more orders and increased revenue.
The Loyalty Programs feature is for creating the right program for your business and customers.
The Customer Relationship Management feature is for engagement strategies and customer information.
Management Solutions
The Revel Insights feature is for managing a single location or multiple locations with real-time reporting. The Product Management & Menu Building feature customizes menus via spreadsheet upload or manually through the Management Console.
The Kitchen Management feature has tools to streamline kitchen processes). The Employee Management feature manages labor operations and streamlines HR paperwork.
The Inventory Management feature includes real-time tracking from any device for retail. The Ingredient-Level Inventory is for real-time tracking of restaurant ingredients.
The Reporting & Analytics feature is a reporting suite that gathers data from all transactions, organizing it into reports for performance analysis. The Enterprise Management option standardizes operations across locations.

Point of Sale Processes
The Cash Management feature tracks cash flow.
The Table Management feature allows for better service from making a reservation all the way to paying the bill.
The Delivery Management feature can accept, manage, and track delivery orders.
Security features include PCI-compliant cloud technology, Point-to-Point Encrypted (P2PE) payments, and user access controls.
The Open API allows for customized integrations.
The Always On Mode means the POS continues to operate undisturbed offline or on a local network.
Hardware Features
Customer Display System
Mobile Order Takers for taking orders and processing sales from anywhere in your location
Self-Service Kiosks to increase the speed of service
Revel's Features and Capabilities: A Detailed Breakdown
Improving & Catering to Customer Experience
Discounts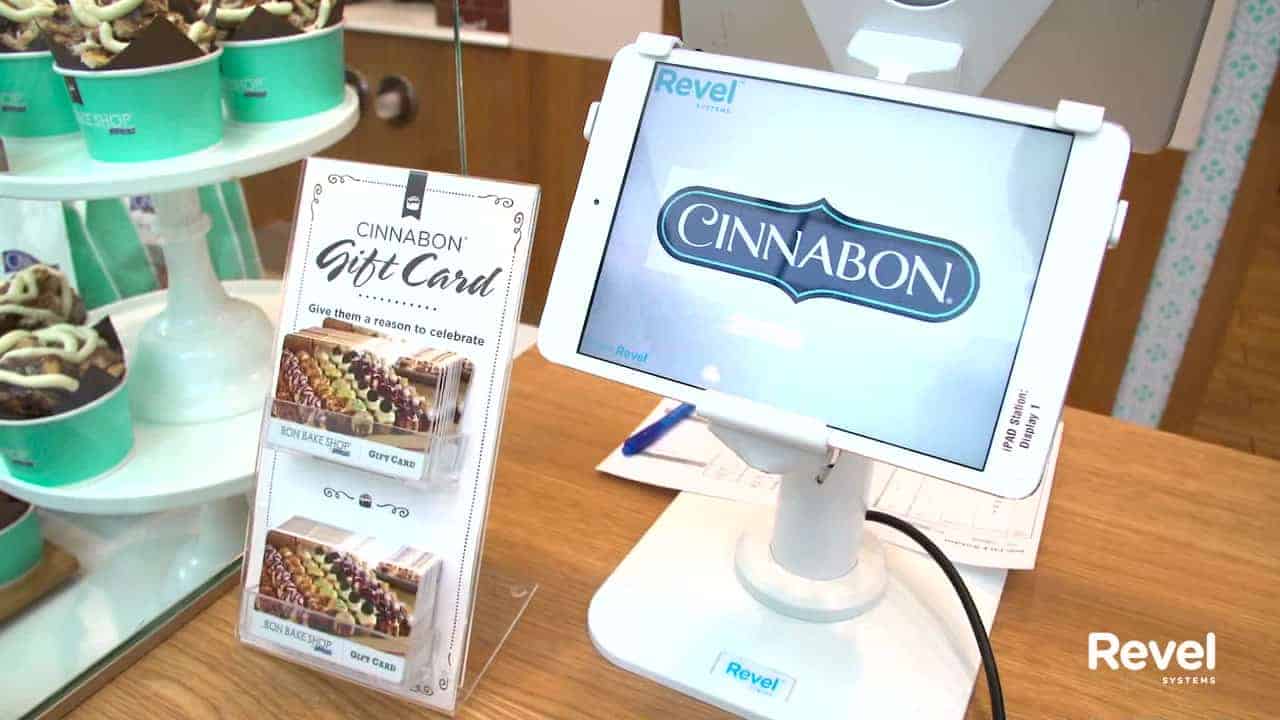 Create discounts that make sense for your business (happy hour discounts, percentage, special group, and dollar-off discounts), including creating and applying discounts during a transaction.
Gift Cards 
Studies have shown that 70% of shoppers spend more than the gift card amount. 
Customer Display System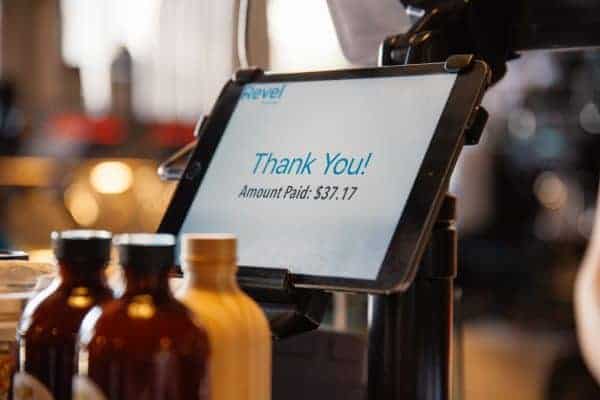 With this system, customers can choose paperless email receipts, make their tip, or check order accuracy. Also, engage with your loyalty program on the screen. Customize your display to show branded messaging between sales, such as advertising specials.
Online Ordering 
In the 21st century, customers expect to be able to place orders online. Yours can be branded for your business. Your online ordering platform can be integrated with the POS, as well as synched with your CRM, gift card and loyalty programs. Research has shown that customers who have placed orders online are also more likely to visit in-person.
Loyalty Programs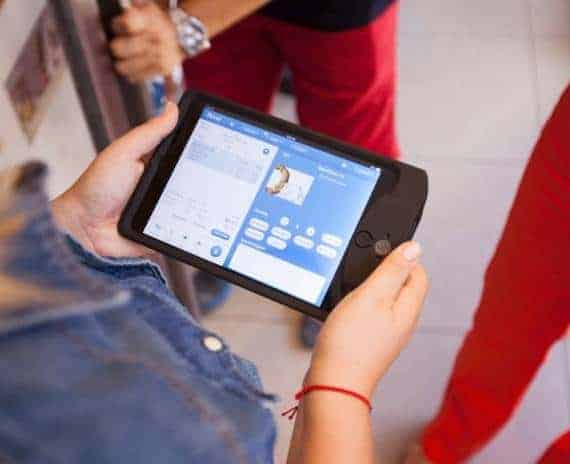 Customers love loyalty programs. Yours can be customized to give reward points for each transaction, based on purchase amount, and/or specific points per product. Use insights from the Management Console to create special offers and promotions. An integrated loyalty program increases revenues. 
Customer Relationship Management
Capture information from your POS and use it to enhance contact with customers. For example, customers that enter their email address for paperless receipts on a customer display system.
Add details to customer profiles over time, such as birthdays, loyalty program data, and even photos. Analyze customer buying habits to offer targeted promotions and discounts. Segment customers into groups that make sense to further target special messaging and offers.
Management Solutions
Revel Insights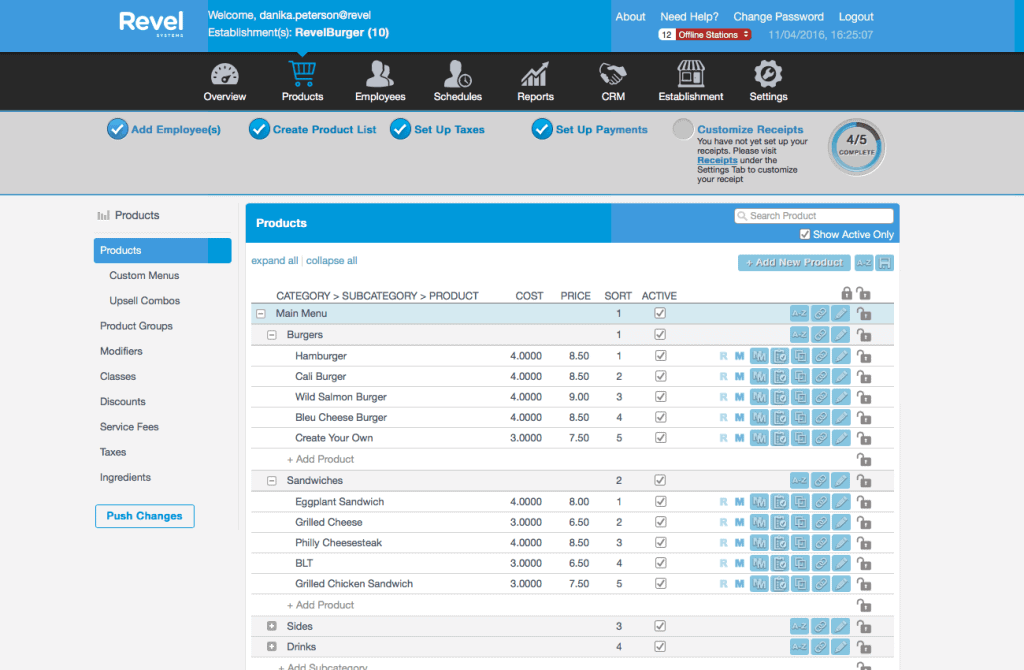 Manage your business on-the-go through your mobile device utilizing real-time data. Data can be visualized graphically or in tables. Actionable insights and informed decisions are the goals of this tool. Receive notifications about labor activity to control costs. See trends that allow you to forecast future demand.
Product Management & Menu Building 
Customize your menu as needed. Create menus manually through the POS Management Console or by importing a spreadsheet. Levels include categories, subcategories, and products. Allow customers to customize orders with easy-to-navigate modifiers. Allow discounts on specific combinations of items. Automatically push menu updates out where and when needed.
Kitchen Management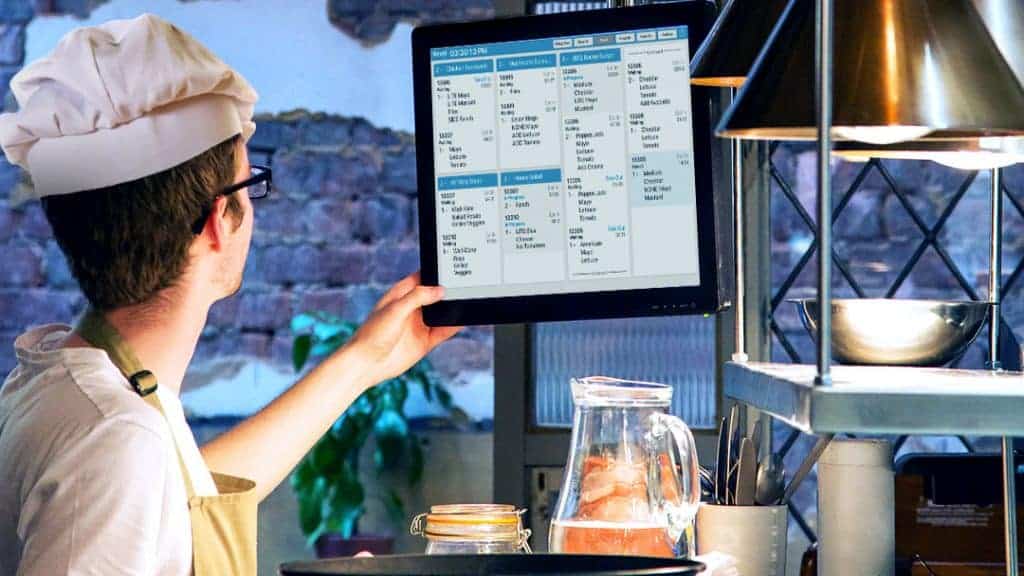 Use a Kitchen Display System to ditch paper orders automatically synched to the POS. Heat-tolerant kitchen printers may also be used. Utilize inventory and sales reports so the kitchen knows what can be served. The goal is seamless communication between front of house, kitchen, and back of house.
Employee Management 
Manage all labor operations from a single console. Onboarding, productivity tracking, and streamlined paperwork and administration are the result. Create and modify employee schedules, then email them directly to employees. Set up user controls so employees only access what they need. Export data to your accounting system. 
Inventory Management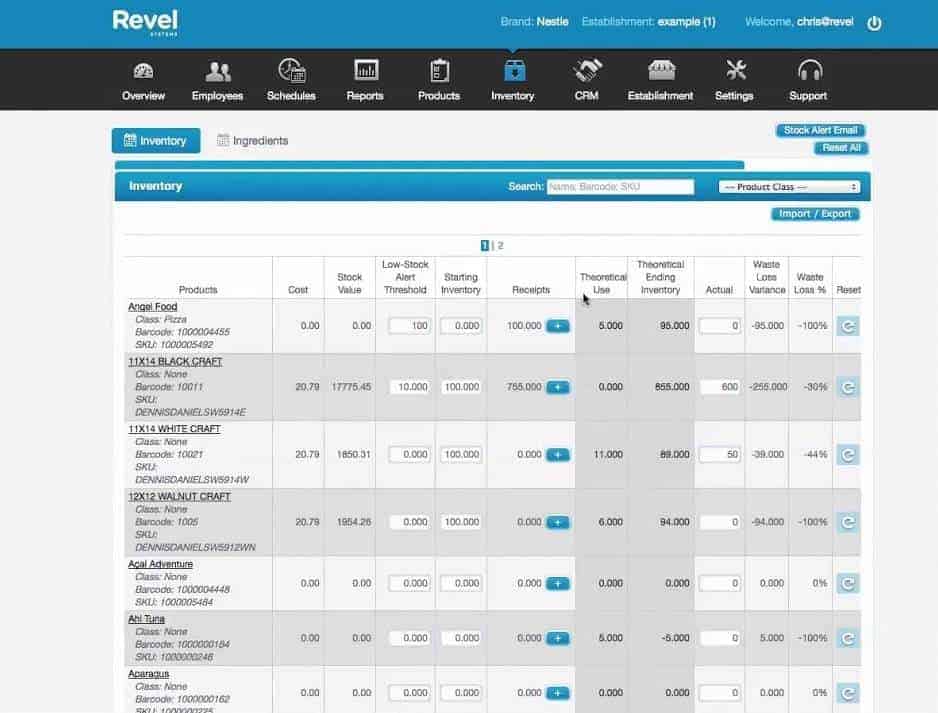 In a retail environment, the POS automatically synchs sales to inventory so you'll know what to order more of and when. Get automatic low-stock alerts and generate purchase orders to auto-send to vendors for restocking.
Track and display thousands of items by category, size, color, etc. With the Inventory App, use your phone as a barcode scanner to update inventory counts and synch with the Management Console.
Ingredient-Level Inventory 
In a restaurant environment, track inventory down to the ingredient level in real-time. Get low-stock alerts and automatically generate purchase orders to restock. Use reporting data to identify items that go to waste for more accurate ingredient ordering.
Reporting & Analytics 
Enhance your big-picture view of your business with real-time data for inventory, customer tracking, and sales data for better-informed business decisions. Manage overhead costs with COGS and labor reports. Use Product Mix Reports and Hourly Sales Reports to identify your winners and losers in terms of product sales.
Enterprise Management 
Manage any number of locations from one central Management Console for better employee management, consistent menus, and more.
Point of Sale Processes
Cash Management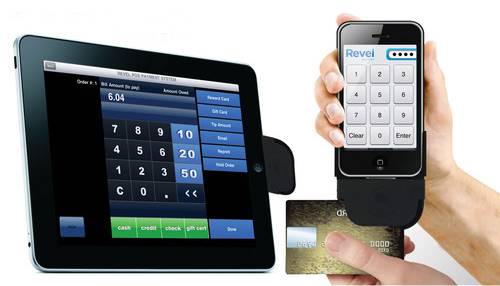 Make sure all your cash is exactly where it should be with rich permission settings and a log that tracks all activity. Set prompts so employees are reminded to set a starting till amount. Receive notifications when a till is getting low.
Instead of linking tills to cash drawers, link a virtual till to an employee. This allows for accurate attribution of daily totals to the correct employee. Track cash flows with real-time reporting on daily sources of cash.
Table Management 
In the restaurant setting, create a visual layout of your tables and seats. This facilitates easy assignment of orders to seats, increasing efficiency of meal distribution. Multiple payments per group is simple.
Split a bill evenly, by item, or manually input bill amounts for each card. Tableside mobile ordering is also possible, increasing order accuracy and customer satisfaction. Enjoy better waitlist and reservation management. Keep the flow of service just right with color-coded timers showing what stage of service each table is at.
Delivery Management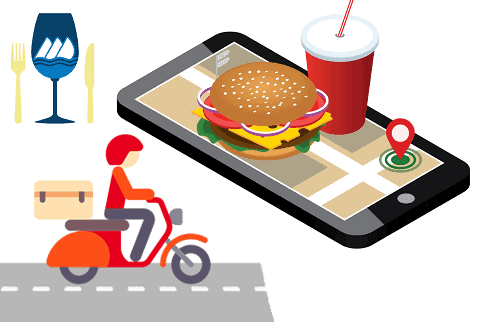 Delivery operations require special attention for accepting, managing, and tracking delivery orders through your POS, all of which happens in real-time. Customize delivery regions and auto-optimize delivery routes for realistic delivery time estimates.
Track drivers in real-time on a virtual map, monitor their check-ins and check-outs, cash on hand, and mapped delivery routes. Delivery is a booming area for restaurants.
Security 
Revel offers the highest level of PCI-compliant cloud technology and Point-to-Point Encrypted (P2PE) payments. It also has robust user access controls so each employee can only access what they need to access via PIN numbers and/or personal swipe cards.
Payment solutions are EMV-compliant. Several payment gateways are available for credit card authorizations. Revel Advantage accepts a wide range of payment types, including credit, debit, mobile, ApplePay, and gift cards.
Open API 
In addition to Revel's extensive list of integration partners, its Open REST API allows companies to create their own integrations.
Always On Mode 
Revel's hybrid architecture means your POS will run even when offline due to Internet connectivity issues. It can also run on a local network. Offline swiped payments are automatically processed in order when your connection is restored.
Hardware Features 
Customer Display System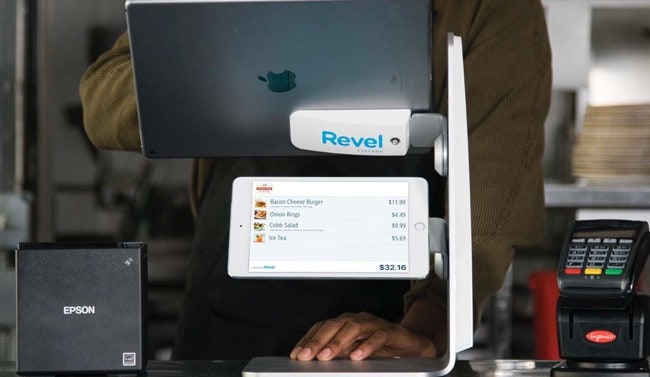 Boost customer engagement with a display system, where you can see the order as its created for better accuracy. They can also enter their email address for paperless receipts. They can also sign and tip on the screen. Branded messaging and offers are also possible. All of this boosts customer satisfaction.
Mobile Order Takers 
Retailers can engage with customers and sell from anywhere in the store or on the go. Check customers out and take payments on the spot to reduce "second thought" syndrome. Restaurants can opt for tableside ordering for faster and more accurate service.
Revel's menus are updated automatically and orders are sent directly to the kitchen. In the quick-service environment, use mobile order takers for line-busting when things are busy to reduce wait-times. 
Self-Service Kiosk 
Offer customers a self-service ordering kiosk for those who want it, allowing them to skip the line. Use kiosks to create a "grab-and-go" area in your restaurant. Integrate the kiosk with loyalty and CRM systems so customers see their own activity and rewards.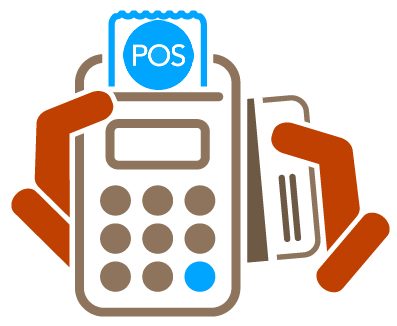 POS Benefits
Brands that currently use Revel Systems include Cinnabon, Fired Pie (pizza), Goodwill (retail, but only the 41 locations in northern Florida, other locations use consignment shop POS). Others include Edwin Mills (restaurant), the Lyric Opera of Chicago (arts venue), and many more.
Some of the main benefits these companies enjoy through the Revel Systems solution include the following:
Lots of integrations with other systems (a full listing is provided later in this review).
Kiosk capabilities (for more efficient customer-controlled self-service).
Diverse hardware offerings (although Apple iPads are the only tablets available).
Ease of use (post-installation; installation itself is not fast or easy).
The company continuously improves its POS features and functionalities.
POS Drawbacks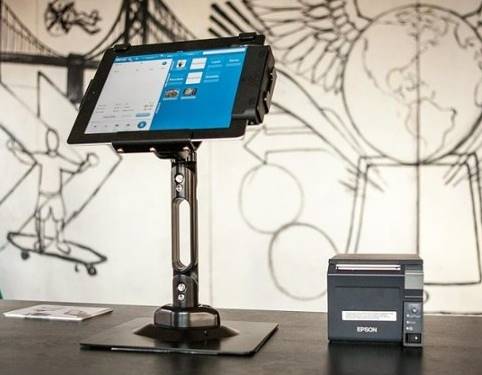 When Revel Systems POS works for a business, customers are generally quite satisfied and give the POS positive reviews. Below you'll find the drawbacks of Revel Systems POS from both satisfied and dissatisfied customers.
Among generally satisfied customers, the most common complaint is that reporting capabilities lack depth. Customers across the board (both satisfied and dissatisfied) note that the onboarding and training is simply not robust enough to get a business up-to-speed.
Also, many small businesses find the pricing is high for them. Some retail POS customers note that it feels like the POS geared more towards restaurants and not retail establishments.
More Potential Drawbacks to Revel's POS System
Revel updates tend to be glitch-heavy, as if the updates weren't adequately tested.
Even satisfied customers note that the scheduling function is too simplistic to be useful and lacks flexibility. Workers cannot change their own availability or put in time-off requests.
Some customers feel the salespeople made promises about various features that would be available after installation. Even though they aren't available in the demo, users found those features were still not available after installation.
Nearly every negative customer review has a common complaint: Post-installation customer service and technical support is not good.
Hardware Options from Revel Systems
Revel Systems makes a range of different hardware and devices available to customers, including the following:
Apple iPads: The Revel Systems POS is delivered via iPads. iPads that can be leased through Revel Systems include iPad 2018, iPad Pro and iPad Mini 4.
Barcode Scanners: Available models include Honeywell Orbit 7190g, Honeywell Xenon 1902, Honeywell Stratos 2753, Honeywell Voyager 1400, and the Zebra Symbol Bluetooth Scanner.
Caller ID Device: This allows of auto-creation of orders when customers call in, increasing efficiency. The model is Whozz Caller ID for Revel POS.
Cash Drawer and Till: The model available is the APG M-S 16" Drawer.
iPad Stands: Two different models are available, including the Revel L Stand (Night) and Revel C Stand.
Kiosks: To facilitate self-service, the company offers the Revel Stand Alone Kiosk.
Networking: For fast and secure WiFi, Revel offers the Meraki MR33 Access Point, the Meraki MR74 Access Point, and the Linksys E1200.
Payment Devices: For flexibility, available models include the Ingenico iSMP4, the ID Tech SecureMag (IDRE Series), the Infinea Tab M, the Ingenico iPP350, the Portable Ordering Device, and the iSMP4 Mobile iPad Case.
Printing Devices: Fast, reliable printing is provided through a range of models, including the Epson TM-m30, the Epson TM-T88VI, the Epson TM-P60II, the Epson TM-U220, the Dymo LabelWriter450, the Star TSP650II, and the Zebra ZD410.
Scales: For businesses that need to weigh things, three different scales are available, including the Brecknell 6702U Scale, the Honeywell Stratos 2753, and the Brecknell 6720U Scale.
Additional Peripherals: Other devices available include a Viewsonic Android Display (The ViewSonic® VSD242 24" smart display) and RevelGuard (a hardware device that monitors network health).
Financial Tools
Payment Flexibility means you can split bills any way you want, open bar tabs, apply store credit and more. EMV Compliance gives you peace of mind that data is secure.
The QuickBooks Integration facilitates your accounting needs. Here's a list of all financial tools:
Payment Flexibility: Split bills however needed. Open bar tabs without a held card via credit card preauthorization. Keep house accounts open for regulars. In retail, provide store credit for returns. Offer layaway and invoicing options.
EMV Compliance: All payment solutions are EMV-compliant, which is the global standard for secure processing of credit cards with chips.
QuickBooks Integration: Automatically transfer POS data into Intuit QuickBooks for accounting purposes. This includes inventory adjustments, payroll based on POS clock-ins and clock-outs, and purchase orders synched to vendor accounts for bill payment and budgeting.
Service and Support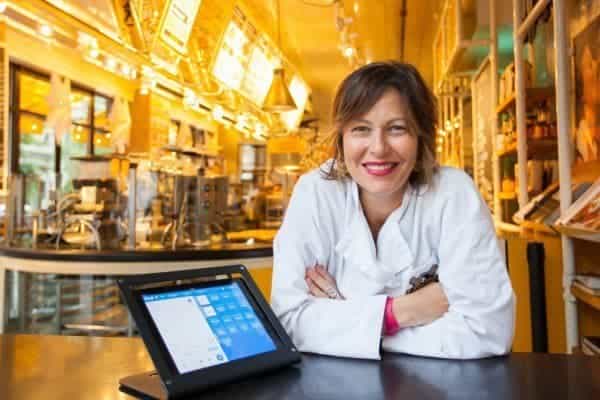 As previously mentioned, 24/7 support is offered to all customers. There is a wide range of ways to get support, including the following:
Revel Assistant: Accessed directly through the POS Management Console, it contains step-by-step setup guides, troubleshooting, feature set-up support, and helpful support videos.
Technician with remote access to your POS.
Submit a support ticket online through the Revel website.
Get onsite support (for an additional fee, and it has been described as slow to happen).
Revel University: A large collection of video tutorials on many topics.
Product Guides: An extensive, searchable online collection of documentation.
Revel Systems Integrations
Below you'll find all the different integrations offered in various categories. The company is always on the lookout to sign up more integration partners. For this reason, be sure to visit the Revel Systems website for up-to-date information on integrations.
Reporting: 9 (Como, MarketMan, Pepper, Avero, Ctuit, Davo, BeerSaver, DigitalPour, and QSR Online).
Accounting: 6 (55 Degrees, Amaka, Gratuity Solutions, Expensify, MarketMan, and Davo). Although QuickBooks is not listed in this section of their website, it has been one of their main selling points.
Delivery Management: 2 (Checkmate and Chowly).
Online Ordering: 10 (Checkmate, Loyaltyplant, Como, Revel Online Ordering, Mobi2Go, Chowly, Pepper, Open Dining Network, Bar Pass, and Zuppler).
Mobile Ordering: 10 (Redshift, Loyaltyplant, Como, Revel Online Ordering, Mobi2Go, LevelUp, Pepper, Open Dining Network, Bar Pass, and Zuppler).
eCommerce: 5 (Revel Online Ordering, Kosomos Central, Magento, BigCommerce, and Vines OS).
Marketing: 3 (Checkmate, Como, and Pepper).
Data Aggregators: 2 (Pepper and Como).
Additional Integrations
Restaurant Management: 2 (Yellow Dog and PeachWorks).
Loyalty Programs: 11 (Plastic Printers, Checkmate, Loyaltyplant, Como, Revel Systems, Spendgo, LevelUp, Pepper, Synergy Loyalty Solutions, LoyalTree, and Repeat Returns).
Gift Cards: 10 (Plastic Printers, Checkmate, Loyaltyplant, Como, Revel Systems, Vantiv, Givex, ValuTec, Synergy Loyalty Solutions, and Repeat Returns).
Employee Management and Payroll: 6 (HotSchedules, Deputy, Dolce, Gratuity Solutions, Zuus Workforce, and Homebase).
Customer Relationship Management: 4 (Como, MailSync, Vines OS, and Repeat Returns).
Payment Processors: 4 (Revel Advantage, Moneris Solutions, Adyen, and Tyro).
Mobile Payment Processors: 5 (Checkmate, LevelUp, Apple Pay, Pepper, and Zapper).
Payment Gateways: 2 (USAePay and FreedomPay).
Security Services: 2 (eConnect and DTT).
Ready to Use Revel System's POS In Your Business?
As mentioned throughout this review, Revel offers one of the most robust POS systems in the industry. However, its not ideal for every single type of business. For example, if you manage a small clothing store, you may not need the many reporting features and integrations this system offers. Instead, you can opt for a cheaper POS system that has offers a faster setup, like Square.
Ready to use Revel system
This is a robust system that serves a number of industries. It is able to track inventory down to the item level, has a wide range of integrations from accounting to security services and can also be integrated with loyalty programs. Innovative tools for restaurants include the ability to take orders tableside that can be sent directly to the kitchen and to create detailed menus. The software can also track and manage inventory, generate automatic stock alerts, and organize products or items into categories such as size, color or style.
In addition, Revel can help with a range of management functions such as employee time tracking and customer management which can be used to create a database of customer contact information, loyalty program details and ways for them to be communicated with through text or email. The system can handle a range of payment types including credit and debit cards, mobile wallets and gift certificates.
A unique feature of the Revel system is that it can be run in offline mode without the need to connect to the internet. This means that even if the power goes out or there is a major internet outage, customers can still be served and receipts printed.
The Revel system is highly customizable and can be tailored to specific needs. However, this does make it a little more difficult to learn and understand than some other POS systems on the market. This may be a problem for smaller businesses such as a single location restaurant or pop-up shop. For these businesses, it may be best to look for a simpler, more user-friendly system.
However, if you're managing an enterprise-level retail business or a thriving restaurant with several locations, you'll surely need Revel's scalable and easy to deploy solution. With Revel, you'll be able to take control of your menu and access critical business reports anytime, anywhere.
See more reviews of the Revel system
With dedicated installation, menu configuration, onboarding and training, you're in good hands with Revel Systems. To get a free quote from Revel Systems or view a demo, click the button below.