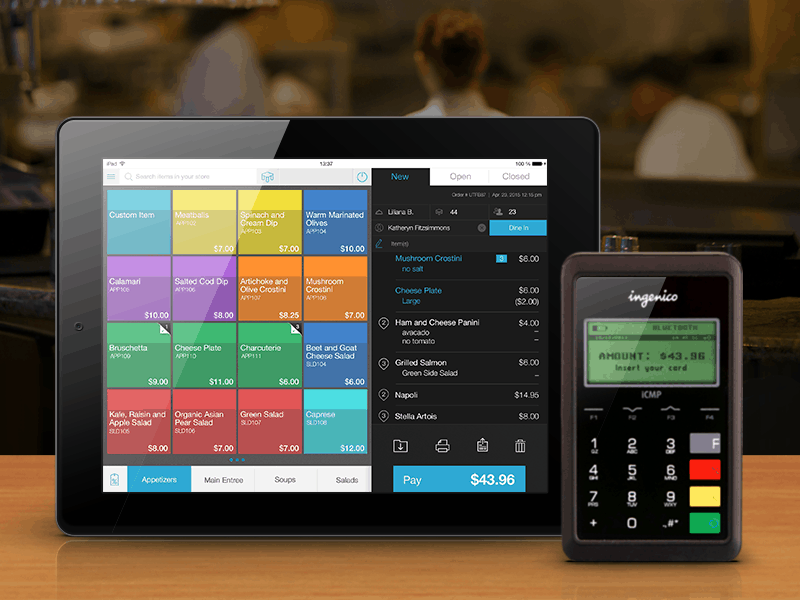 Retailers and restaurants exist in a high-paced environment in which inventory tracking, order processing, and customer management require a POS system that is both powerful and easy-to-use.
With just a few taps, Talech lets you create orders, apply discounts, view sales, manage inventory, and more – everything you need to stay on top of your business.
Talech is a POS system that was designed specifically with retail and restaurant businesses in mind. After our Talech POS review, we found that this provider sets itself apart from the competition by providing software that cuts employee training time in half. Also, the easy-to-use software makes even most complicated orders faster to process.
Courtesy of Talech's cloud capabilities, you are never too far away to manage your business in real-time. If you own a restaurant, Talech's simple and visual interface makes it to search for menu items. For retail businesses, scan through thousands of SKUs in seconds.  
Inventory adjustments, discounts, and other product changes are updated to all stations at once, ensuring that every employee is always using the most up-to-date version of your inventory or menu.
Talech makes it a breeze to create special sales, happy hour or BOGO discounts, and other offers that can be activated at specific times. Finally, run custom reports to see how your store or restaurant is doing, maximizing revenue and efficiency. 
To learn more about how the Talech POS can streamline your business, keep reading our review below.
Talech POS Review – Company Overview
Talech is an ancient Mayan word that means to listen to others.  That is what the development team did with this POS solution.  They listened to the needs of the industry and delivered.
WIth operations in Palo Alto, California. Talech is located in the heart of Silicon Valley and the epicenter of technological innovation in the world today.  The team is comprised of world-class developers and advisors. This team of smart and passionate employees is dedicated to customer success.
Committed to helping small businesses make big impacts in their communities, find out more about the feature-rich Talech POS platform.
Top Features from Talech POS
Table and Position Management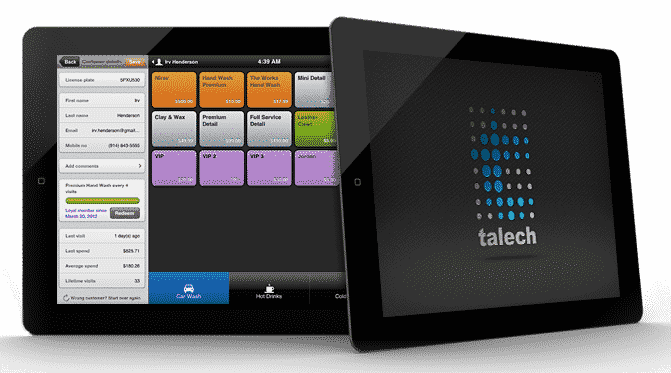 Create customized floor plans for as many rooms as needed.  Simply tap on a table to start an order.  Servers can easily set table and seating positions to streamline the order taking process.  Splitting items is a breeze also when it is time to present checks to patrons.
Order Management
Talech POS system automatically assigns courses and can send tickets to multiple printers for fulfillment by the proper department. This system also makes it simple to approve and track voids and other exceptions during a customer visit. Taxes, tips and other services charges can be customized and applied with rules you establish.
Discounts and Offers
This functionality of the system allows you to create and implement happy hour discounts, BOGO deals, and other discounts. Calendar functionality ensures that these deals are on the clock at the correct hour. This benefits your customers and makes it easy for employees.
Payments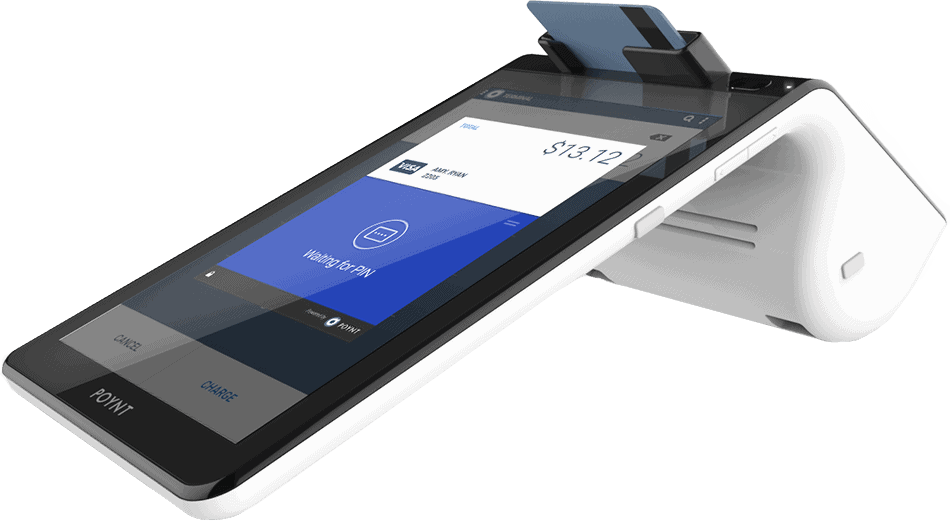 The Talech POS system is PCI-compliant and protects your customer credit card data. Talech uses the latest end-to end encryption and authentication technology. Their systems are EMV ready and accept chip, contactless, and swipe payment options.  Apple Pay, Android Pay, and other contactless options are fully integrated.
Suggested tip amounts make it easy for your customers to show their appreciation for your hard-working staff.  The system also allows you to skip signatures for small transaction amounts.
Integrated Gift Cards
The entire gift card process is built into the Talech POS system.  A simple swipe allows you to load beautiful, high-resolution, branded gift cards. There is also an option to make digital cards with your logo or emails with gift cards embedded. Loyalty point programs are also available to be utilized on this single, branded card.
Seamless Sync
All your orders are always available and can be managed across all your connected devices in real-time.  If your local internet connection goes down you still have the ability to login, accept cash and take orders.
Kiosk Mode
This unique feature of the Talech POS platform allows you to turn a terminal into a self-serve kiosk.  This reduces the need for manpower and can speed up your lines.
Customer Facing Display
This allows you to create a customized view of the transaction onscreen that your customer can follow along with your employee. This creates an opportunity to upsell and mention promotions that can be presented on screen at the point of purchase and payment.
Talech's Industry Solutions
Cafes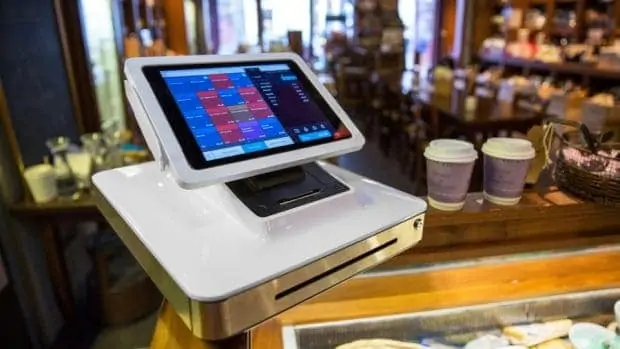 This version of Talech POS is great as Cafe POS system and/or restaurant pos software. Expanded drink modification options and drink label printing are all special features for this version. Beautiful customer facing displays make the check out process simple and keeps your queue of thirsty customers moving quickly.
Quick Serve
Speed and accuracy are the name of the game when it comes to quick service POS.  Ordering customizations allow you to build combination bundles, modifications, and variations. Tickets get printed automatically.  These special versions contain all the standard features of the Talech POS in addition to these-industry-specific extras.
Restaurant
Patrons in a sit-down restaurant are there for a different experience at a different pace.  This version allows tickets to be fired by course and split checks by table position.  Assign specific roles and responsibilities with employee roles and make closing out servers fast and easy. Accurately report revenue, payments, and tips.
Retail and Premium Retail
Stripped down of all the hospitality options, these variations of the Talech POS platform allow retailers to print barcodes and maintain real-time inventory levels. Returns, exchanges are all handled with ease for your employees and customers. Retail specific reporting keeps you on top of what items are turning the fastest.
Additional functionality allows you to set alerts to let you know when stock levels run low. Generate robust reports of sales, supplier activities, as well as product categories.
Hardware

The Talech POS platform works with a wide range of hardware. Businesses can choose the right mix of options to meet their specific needs.
iPads
Talech iPad POS can be used on any iPad model 2017 or newer. It also works on the iPad Mini 2, Mini 3, or Mini 4.  Big and Beautiful, the iPad Pro can also be used as well.  These can be purchased directly from Apple or any authorized reseller.
Payment Devices
Different processors and gateways support various payment devices. Depending on your configuration, Talech recommends the following peripherals:
Poynt Smart Terminal
Muir's M10 – EMVready
Ingenicio iPP 320 – EMV ready
Ingenicio iCMP -EMV ready
Matter iDynamo and uDynamo
SumUp Air
Receipt Printers
Epson TM-T20II
Epson TM-T88V‑i
Star Micronics TSP65011
Star Micronics TSP143
Epson M30
Kitchen Printers
Epson TM-U220B
Star Micronics SP700
Additional Hardware
MMF Val-u Line Cash Drawer
APG Vasario Series Cash Drawer
Epson TM-L90
Brecknell 6710U Weight Scale
Socket CHS 7ci Barcode Scanner
Talech POS Pricing
Talech is unique among many of the more advanced POS systems in that it provides detailed pricing on their website. Many POS systems require that you contact the company or an authorized reseller for a customized price quote.
Their pricing tiers are arranged in a simple, easy to understand manner with no hidden fees and no commitments.
Starter Plan
This plan is ideal for cafes of very basic retail operations.  It only allows for one connected device terminal, 5 employee logins, and 100 products.  The plan includes the following features:
Products w/ variations & modifiers
Inventory Tracking
Employee permissions
Basic order management
Full and partial refunds
Cash Drawer Management
Track customer history
Basic reporting
The cost is $49 per month or $44 per month if paid annually.
Standard Plan
This offering from Talech POS is well suited for QSR, Fast Casual and medium-sized retail businesses.  On this plan you can connect an unlimited number of devices with as many employees and product offerings as you need. The plan includes everything in the Starter Plan plus the following capabilities:
Bundles
Sell items by weight
Barcode label printing
Clock-in and timesheets
Kitchen printing
Automatic discounts
Exchanges
Store credit
House accounts
Insights
And more…
The cost is $69 per for the first connected device and an additional $39 per month for each additional device.
Premium Plan
Their flagship product with all the bells and whistles. The Premium level is best suited for full-service restaurants and multi-location businesses of all kinds. Like the Standard Plan, organizations can connect unlimited devices and create an unlimited number of employees and products.  Below are the additional functions that are included in this top-tier program:
Inventory alerts
Purchase orders
Inventory log
Stock take
Table management
Pay by position
Split and merge orders
Coursing
Automatic gratuity
BOGO discounts
And more…
The cost is $99 per for the first connected device and an additional $40 per month for each additional device.
Final Verdict
Talech POS offers an incredible amount of functionality at a very reasonable price.  Depending on your business, they have a pricing level that will fit any small business.
With a team of bright minds and a well-funded organization, an investment in a Talech POS solution will provide a solid return on your investment and improve your bottom line for many years to come.