(Last Updated On: June 29, 2023)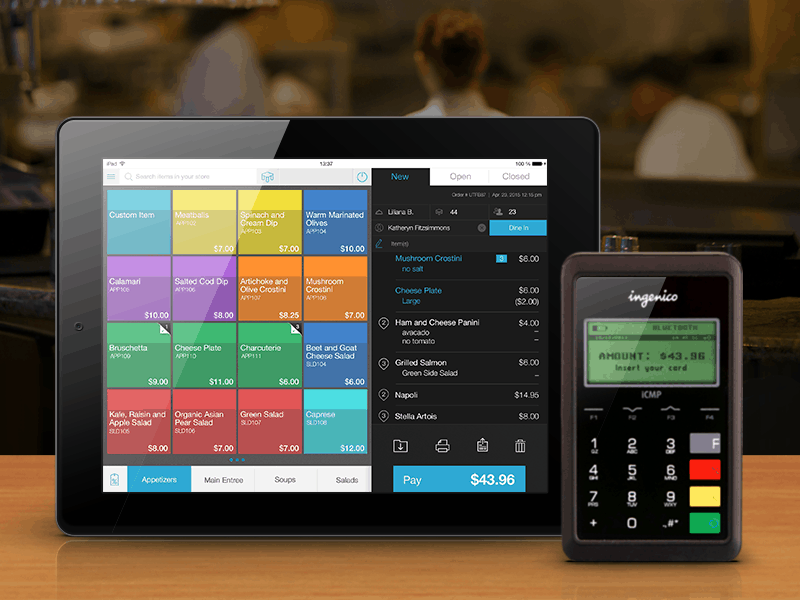 Retailers and restaurants exist in a high-paced environment in which inventory tracking, order processing, and customer management require a POS system that is both powerful and easy-to-use.
With just a few taps, Talech lets you create orders, apply discounts, view sales, manage inventory, and more – everything you need to stay on top of your business.
Unlike some other systems, Talech's customer support team is available by phone and email. A frequently updated online Help Center also offers answers to many common questions and issues.
The system is ideal for retailers and helps with inventory tracking and order management. It allows users to easily apply discounts and voids, manage employee clock-in/out times and track sales performance. It can also help manage the sale of gift cards and loyalty programs. Other features include the ability to print barcode labels, keep a record of all customer contact details and manage appointments.
While the software can help you better understand your business's daily operations and performance, there are a number of issues that some customers have experienced. One common complaint is that the software can freeze or crash during use. While this can be frustrating, Talech's support team is able to resolve the issue for most of these customers.
Other users have complained about the system's lack of a front-end. This can cause a delay at the checkout line, and it can be difficult to keep up with a fast-paced restaurant environment. This can be especially challenging for larger stores with more than a few cashiers. Lastly, some users have reported that the software is slow to process orders and can be inaccurate when it comes to counting tips. Despite these concerns, most users have found Talech to be a good choice for their business needs. If you're considering this system, we recommend checking out the latest version of its software to avoid any glitches and problems.
Talech is a POS system that was designed specifically with retail and restaurant businesses in mind. After our Talech POS review, we found that this provider sets itself apart from the competition by providing software that cuts employee training time in half. Also, the easy-to-use software makes even most complicated orders faster to process.
Courtesy of Talech's cloud capabilities, you are never too far away to manage your business in real-time. If you own a restaurant, Talech's simple and visual interface makes it to search for menu items. For retail businesses, scan through thousands of SKUs in seconds.  
Inventory adjustments, discounts, and other product changes are updated to all stations at once, ensuring that every employee is always using the most up-to-date version of your inventory or menu.
Talech makes it a breeze to create special sales, happy hour or BOGO discounts, and other offers that can be activated at specific times. Finally, run custom reports to see how your store or restaurant is doing, maximizing revenue and efficiency. 
To learn more about how the Talech POS can streamline your business, keep reading our review below.

Pros and Cons of Talech
Talech offers a versatile system as one of the few point of sale solutions on that market that manages to serve both the restaurant and retail sectors. Unlike some of its competitors it serves each of these industries quite well. Overall, though there are a few cons to the system, there are no red flags.

PROs
Tablet-based POS

Unique features for retail and restaurants

Free 24/7 support

Scalability

Built-in customer loyalty system

Powerful back-end reporting

Affordable entry-level price
CONs
Glitchy updates

Discounting is difficult

Limited hardware options, including peripherals

Lacks some common integrations

Inventory management isn't the most robust

Base price increases with numerous add-ons

Don't have time to read our full review?
Skip all the nitty-gritty details about this POS system. Easily customize a point-of-sale solution for your restaurant in just 60 seconds by
clicking here
. If you're not in a rush, read our comprehensive 5000+ word guide on the
top 20 restaurant POS systems
in the industry.
Pricing Plans
Talech offers one of the most affordable entry-level plans in the POS space. Aside from some of the free options (which always come with credit card processing contracts), Talech's Starter plan is one of the cheapest we've seen.
Starter ($29/month)
Talech's first tier of pricing is best suited for very small businesses with a low level of inventory. The ideal niches are coffee shops, food trucks, and boutique retail operations.
Each new terminal is an additional $29/month. The software is limited to 5 employees and 100 products. Still, the features that come with the Starter plan are substantial, albeit Talech's most basic versions:
Product variations and modifiers

Inventory tracking

Employee permissions

Order management

Refunds

Cash drawer management

Customer purchase history

Product reporting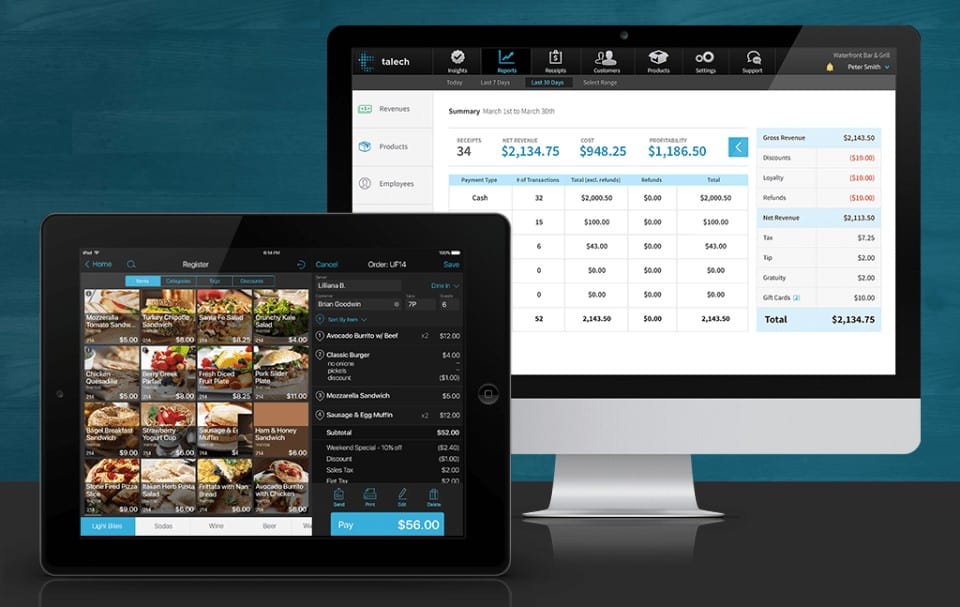 Standard ($69/month)
Making a jump to their Standard plan is best for mid-sized retailers and quick-service/fast casual restaurants. The plan supports unlimited users and inventory. Any additional terminals are just $29/month.
It includes each of the items listed in the Starter plan plus the following:
Product bundles

Time-based discounts

Products by weight

Label printing

Employee clock-ins

Kitchen printing

Discounts and promotions

Product exchanges

Store credit

In-depth reporting
Premium ($99/month)
For any multi-location businesses, bigger retail operations, full-service restaurants, or service-based operations, Talech Premium will be the best option.
It also supports unlimited users and products and adds just $29/month for all extra terminals. The additional features are mainly built for restaurants:
Reservations/appointments

Gift cards

Online orders

In-depth inventory management

Purchase orders

Table management

Split/merged checks

Coursing
Demo Video

Key Features
Talech offers a range of software features designed to fit numerous merchant niches. Talech's key features illustrate how they've developed their software for various business types.
Point of Sale
As a point of purchase, Talech offers unique interfaces and features for front-end use. Cashiers at salons have a customized reservations/scheduling screen. Restaurants get table management and customer ordering. Retailers are offered a product matrix for a speedy checkout.
Overall, the point of purchase fits each industry Talech serves, while also maximizing its ease of use and efficiency.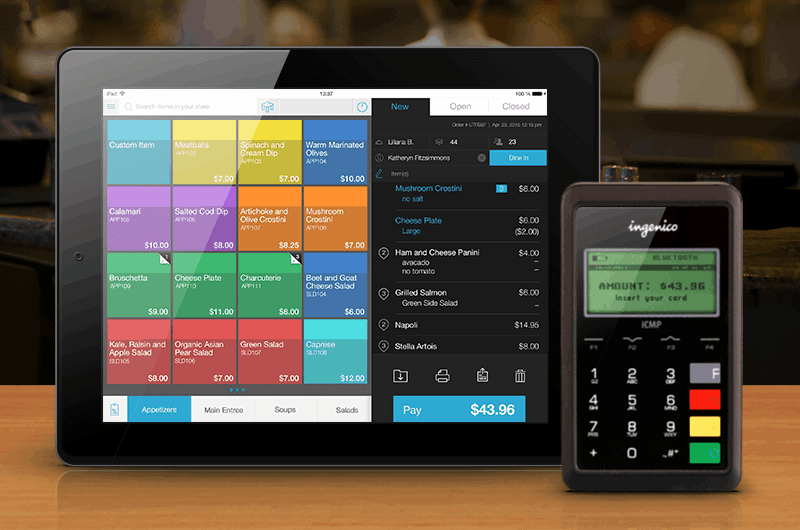 Mobile Payment
Talech offers its users a native mobile payment solution. It's free to sign up for and allows businesses to accept payments through their smartphone or tablet. This helps small businesses avoid hardware costs and increase their checkout efficiency.
eCommerce & Online Ordering
The online functionality provides full integration across all devices. Users don't need to have a native website but can instead set up a custom and mobile-friendly site directly through Talech. It's simple to add or edit products. The software will also alert fast-casual shops and restaurants when an online order is placed.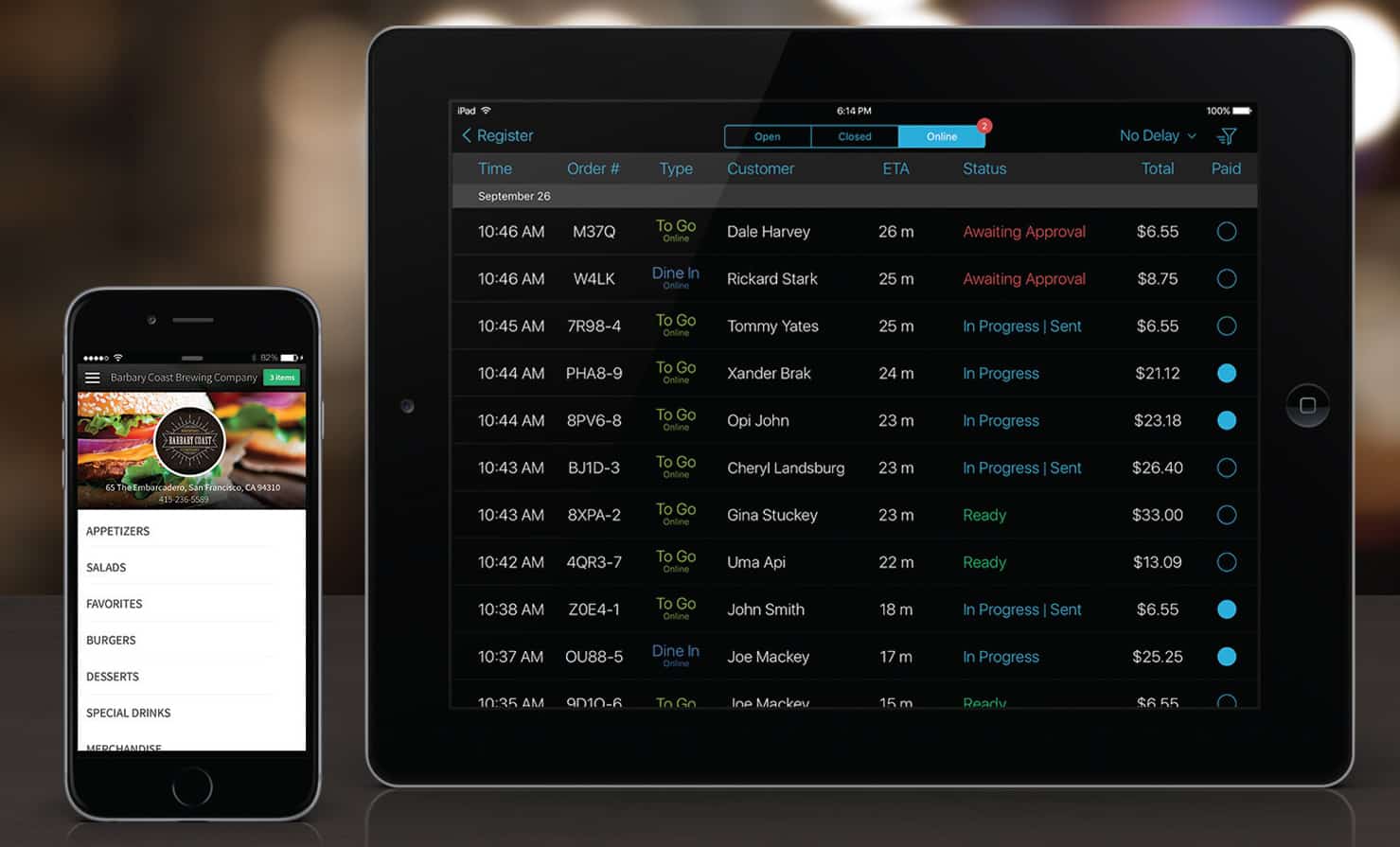 Email Marketing
In an effort to build their loyalty and CR, Talech has developed an email marketing platform. The software comes with pre-designed emails. Businesses can simply customize them however they'd like and start sending. It includes some additional analytics so businesses can measure the success of each campaign.
Calendar and Appointments
Talech provides service-based industries, like salons and spas, with an appointment system. It includes online booking, an employee appointment calendar, Google calendar integration, and reminders. Each calendar can be customized to fit the individual business.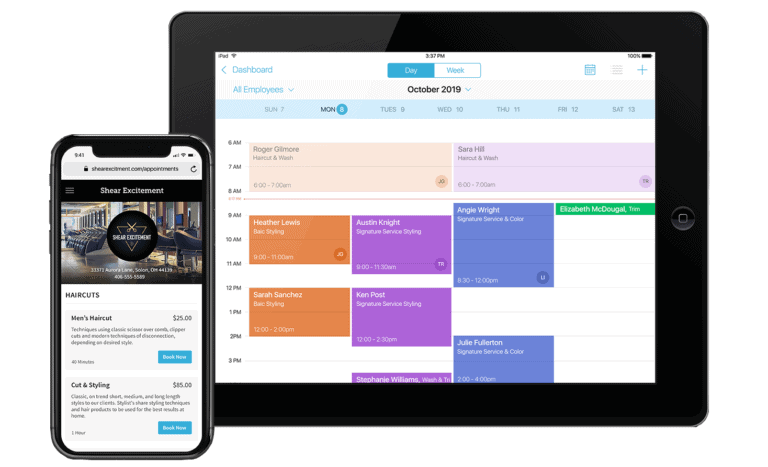 Industries Served
Talech has worked hard to provide a scalable POS solution for any type of business. This includes various industry types and sizes.
The solution is seamlessly scalable. At the price point of the Starter plan, small businesses can easily enter the ecosystem. Plus, Talech makes it simple to scale with a cloud-based system. And while it's not the best solution for nationwide chains or franchises, it can suit multi-location businesses.
Talech casts a broad net when it comes to its industries served, too. There are very few types of businesses that the software cannot serve. Below are a handful of merchant niches that Talech can work with:
Coffee shops

Bookstores

Quick-service restaurants

Gift shops

Food trucks

Salons

Full-service restaurants

Bars

Music stores

Apparel

Rentals

Bike shops

Smoke shops

Health and beauty retailers
Deployment Type
As a modern cloud-based solution, all deployment of their POS is done remotely. If you purchase hardware through Talech, the system is sent pre-configured to the merchant. In this scenario, the solution is truly ready out of the box.
For bigger, enterprise-level operations, Talech will send onsite set-up for an additional fee. But the vast majority of businesses can perform the installation on their own.
Talech does provide full customer support throughout implementation and throughout the duration of the subscription. This, of course, includes any instances that a business scales to a new location.
To help with installation and set-up, Talech has a manual guide and tutorial videos. The manual lays out the basics pretty well in case users have troubleshooting needs early on.
Any add-ons or third-party integrations may require additional assistance. These may be out of the scope of Talech support.

Ease of Use
Like most POS software that is geared towards small business owners, Talech has prioritized ease of use. Its design and features are geared for the owner or manager who has far more to worry about than a finicky point of sale system.
From the front-end, Talech makes its cashier and server screens fully customizable. Users can upload photos, add order modifications, and split checks. It provides a more seamless checkout experience, helping lines move efficiently and improving the customer experience.
Service businesses also seem to agree that its calendar and appointment features are easy to use. Users can accept tips, sync online bookings, set up customer accounts, and create/redeem gift cards. Additional integrations may add a layer of complexity, however.
The basics of the back-end are also pretty intuitive. Most users can figure out how to perform KPI reports and simple inventory management. It's also straightforward to set up an eCommerce shop directly through the POS.
For some advanced features, like email marketing, campaign analytics, or syncing with third-party apps, it might be necessary to troubleshoot. Users can always access Talech customer support or manual for assistance with the more complicated features. These will almost exclusively be for medium or large-scale operations.
Overall, customers seem to love the ease of use the Talech offers. There is next to no learning curve for getting the basics down for staff training and back-end use. More advanced features can be learned and implemented gradually.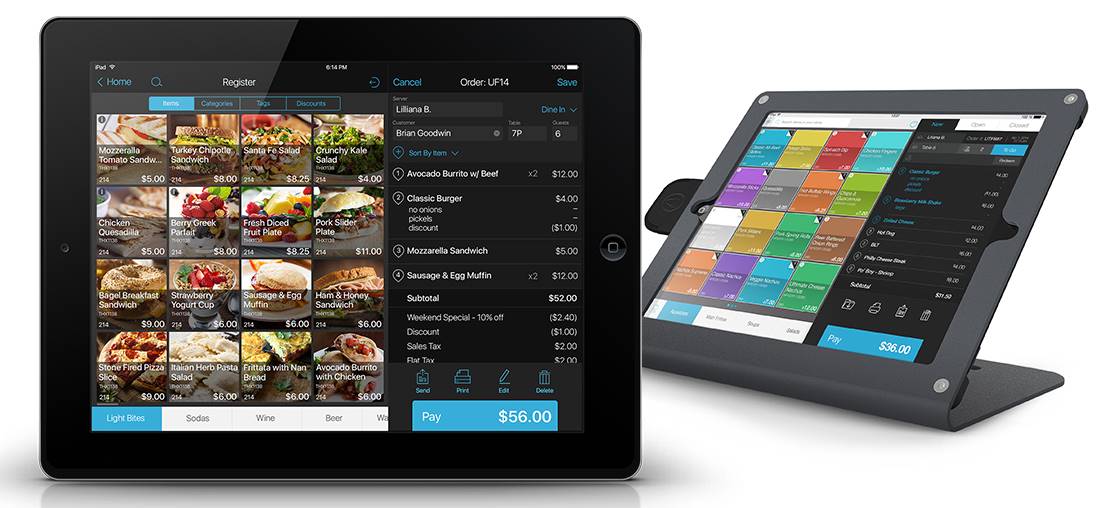 Hardware
Talech integrates with a wide variety of hardware options. For the point of purchase, most of their solutions are tablet-based. Many shoppers opt for their iPad solution. They do also offer desktop touch screens for a more powerful and faster solution.
Hardware can be purchased independently or directly through their website. Just confirm that Talech integrates with any hardware that is purchased independently.
iPad Pro

– $999

All-In-One Elo PayPoint

– $1,310

Ingenico MOBY C150

– $1,300
They also integrate with Ingenico payment terminals. Plus, for a modern payment system, Talech adds several smartphone add-ons and mobile solutions.
Poynt Smart Terminal

– $429

Ingenico Link 2500

– $299

Ingenico RPC 457c

(smartphone card reader) – $50

Ingenico iPP 320

– $175
Other peripherals for the POS system are also available directly through Talech. These include scanners, tablet stands, receipt printers, cash drawers, and scales. These are all simple to connect when configuring the point of sale set up.
Ingenico MOBY scanners

– $500-700

Heckler Windfall tablet stand

– $100

Epson TM-T20II

– $200

APG Vasario cash drawer

– $100

Brecknell 6710U scale

– $420
Talech customers can take advantage of an acceptable array of hardware options, though there are numerous complaints about their payment terminals. They do provide at least two options for all point of purchase needs. Most importantly, they offer solutions for mobile payments. This is a great option for single-store or mobile small businesses. They also offer bundled deals (ELO PayPoint) for businesses that need a complete hardware set-up.
Integrations
Talech doesn't offer the massive stack of integrations that a lot of its bigger competitors bring to the table. Some merchants might not have the exact integration that they are looking for.
Notably, it's lacking integrations for food delivery apps. They do offer an open API upon request for custom development. Still, Talech does cover most bases with either native features, existing integrations, or custom-built integrations.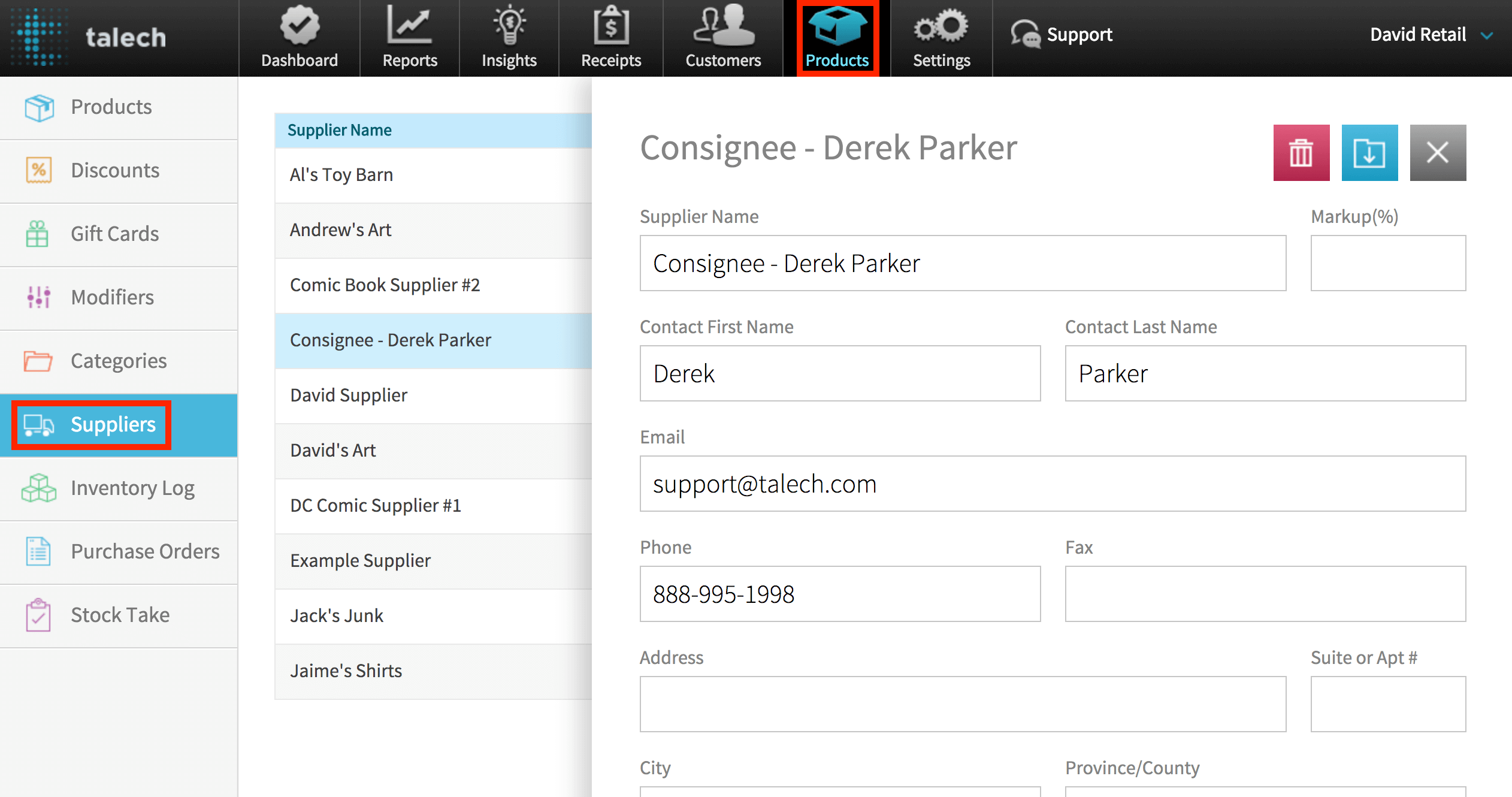 Employee Management
Homebase

– Talech integrates with Homebase for all scheduling, time clocks, and shift management. Homebase is a popular employee management app that helps owners and managers run a more efficient operation with their teams.
Accounting and Payroll
Talech has more options for accounting and payroll integrations:
Xero

– Best for small businesses

Sage

– Track expenses in addition to all payroll

Quickbooks

– Most popular solution for managing accounting no matter the size of the operation
Kitchen Display Systems (KDS)
Like all solid restaurant POS systems, Talech does integrate with a KDS solution:
Epson

– For all kitchen, bar, and cafe printers, Talech integrates with Epson hardware

FreshKDS

– A popular tablet-based KDS, FreshKDS is used by Talech's biggest competitors, including Square and Clover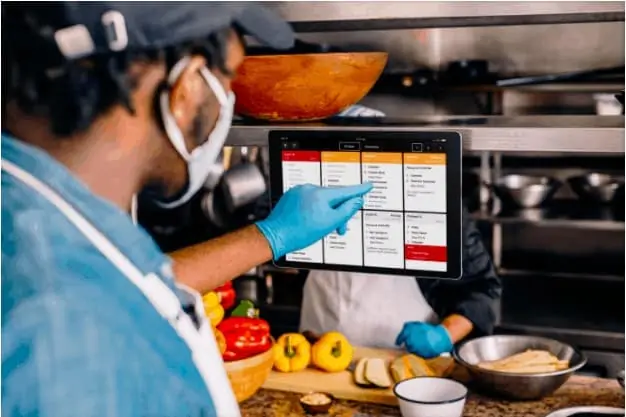 eCommerce
Talech does bring some powerful eCommerce features on its own. But in order to facilitate that, they integrate with several of the most popular eCommerce solutions:
Shopify

– Build your own online shop

BigCommerce

– Enterprise-level eCommerce

Magento

– Custom eCommerce solution

OpenCart

– Open source webstore

Pointy

– Google shopping integration

WooCommerce

– Simple WordPress plugin eCommerce option
Credit Card and Payment Processing
Talech checks the most important box when it comes to credit card processing: it's processing agnostic. Users can choose from an assortment of their processing partners instead of being locked into long-term contracts.
Additionally, Talech offers users assistance with their choice of merchant service provider. They even offer their customers assistance with switching processors at any point of the duration of their subscription.
They're processing solutions also are compatible with all modern payment regulations, including EMV chip readers and contactless solutions.
Talech point of sale partners with most of the industry's most popular solutions. This often allows businesses that switch to Talech the ability to keep their existing solution. It also means merchants can shop around to find the most competitive quote available. Below are its main payment processing partners:
Bank of America Merchant Service
BOI Payment Acceptance
Chase
Creditcall
Elavon
Global Payments
Vantiv
Verifone
Their partnership with USAePay also allows customers to connect to all major U.S.-based processors, giving merchants even more choice.
Lastly, Talech does offer credit card processing partners the option to become a reseller through their residual partner program.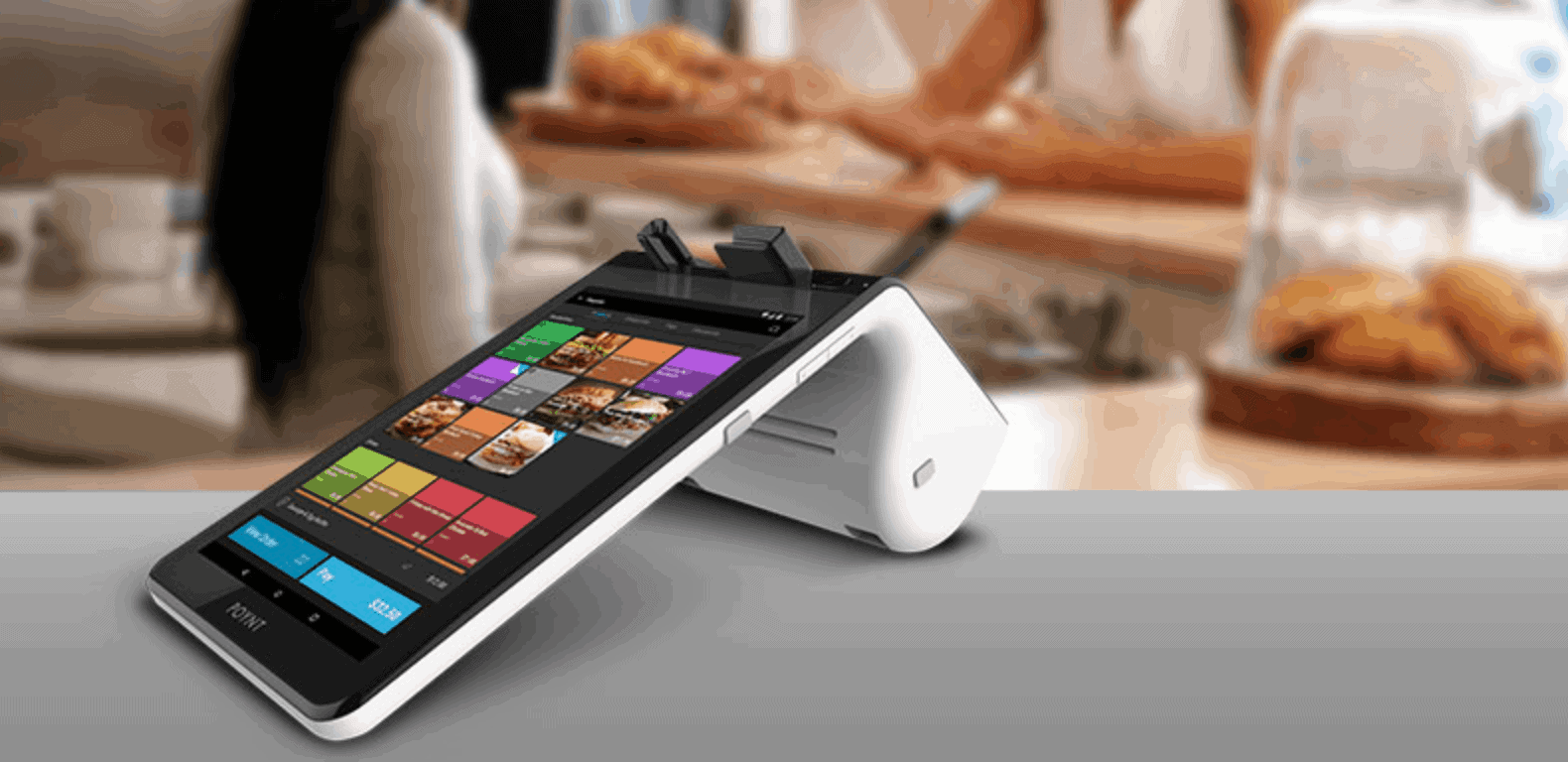 Customer Service and Support
Talech customer support offers several options for their clients. And they have great marks on their support across numerous review sites. Customers seem to love their support and always get the service and assistance they expect.
Live Chat
Users can reach them through live chat through their website during normal business hours. The chat is located in the lower right corner on any page of their site.
Email
They also offer U.S. and European email support. Emails are typically responded to within 24 hours of any inquiry.
Social Channels
A less common option but one that gets a response nonetheless is through their Twitter and Facebook pages. Use the chat feature through Facebook or @MyTalech on Twitter.
Phone
Additionally, Talech has 24/7 phone support with different lines for U.S., Spanish, and U.K. customers. Their phone support line seems to answer quickly, though they do encourage users to troubleshoot elsewhere before calling in.
Their phone support is highly regarded as being prompt, friendly, and helpful.
Independent Troubleshooting
For those inclined to figure out problems on their own, Talech does offer advanced guides and tutorials. Their website has several FAQ sections on their most commonly used hardware devices.
Additionally, the Talech YouTube channel also features dozens of tutorials on software features. These videos are a bit dated and dry but do an adequate job of explaining the various product features they offer.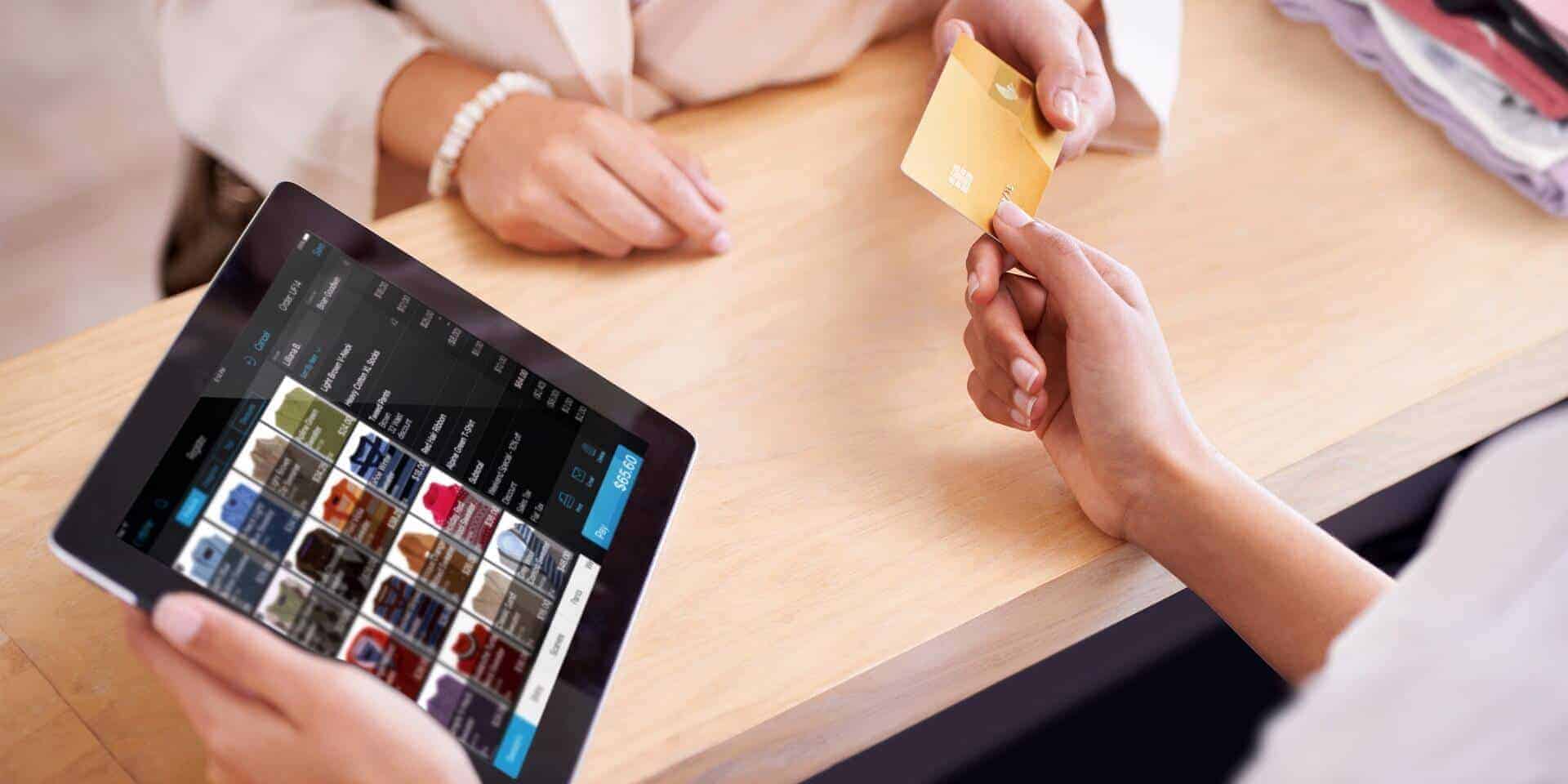 Negative Reviews and Complaints
Talech POS reviews are more positive than negative, but there have been some unhappy customers. Reviews on several review sites leave room for concern. The software has a 3.1 average over 89 reviews on Trustpilot and just 1.2 on 9 reviews in CardFellow.
It is worth noting, though, that Talech's team does a good job of staying active and addressing most negative reviews on each major platform.
Glitchy Features
There have been several complaints that the software keeps "breaking." This seems to usually occur during software updates when old features are removed or new features don't work the way they're intended to.
Payment Issues
Several customers have also raised issues with their payment systems and hardware devices. They claim that Talech's cash register and payment terminals regularly fail, resulting in lost sales. In a few of these cases, the issue seems to never have been property resolved.
Slow Checkout Speed
Checkout speed and front-end capabilities are other common issues. Users have complained that functionalities lag at the checkout resulting in slower lines. This issue may be the result of a slow internet connection on the merchants' premises, but it is a recurring theme in Talech's negative reviews.
Positive Reviews and Testimonials
The majority of Talech's reviews are positive. It has nearly 4 out of 5 stars on Software Advice with over 300 total reviews.
Talech also has no lawsuits or accusations of fraud. Though they only have a "C" rating by the Better Business Bureau, there is only one confirmed complaint.
Customer Service
A resounding theme throughout Talech reviews is its great customer service. Several users mention individual support team members by name and it's clear that they offer a highly responsive and personalized service.
Ease of Use
A lot of Talech customers praise its simplicity and ease of use, particularly from the front-end. The tablet system is simple to configure and customize. It also makes training simple for cashiers and keeps lines moving quickly.
Process Agnostic
As we mentioned above, Talech is processing agnostic. They do partner with certain processors, but users can integrate to just about any major merchant service provider. Users have remarked on the convenience of keeping an existing processor as well as the ability to switch to a new one.
Pricing
Talech does offer one of the most competitive entry-level prices in the POS market. Their $29/month plan is great for single-terminal shops that don't need all the features that some of Talech's competitors offer. This plan has been popular with new users. And the additional plans make scaling easy.
Talech POS Alternatives
Since Talech is a retail and restaurant POS solution it faces a lot of competition from both ends. Both verticals are extremely crowded spaces for software.
Clover


Clover is mentioned a lot by Talech users. They are very comparable tablet-based solutions and at similar price points. Clover still offers a free version for users (with a processing agreement), making them Talech's biggest competition for really small or mobile businesses. Clover's hardware solution is particularly convenient for this type of merchant.
Lightspeed

Lightspeed serves as a competitor on both the retail and restaurant fronts. Lightspeed has grown quickly and invested in expanding to as many new verticals as they can. Its price point is higher but it does bring great functionalities and features for both restaurants and retailers alike.
Toast

Toast POS is the most similar restaurant solution to Talech. They offer handheld devices for tableside and mobile checkouts at full-service restaurants. But they also offer a great solution for bars, cafes, and fast-casual restaurants. Toast pricing does start higher than Talech's, however.
TouchBistro

Another top competitor in the restaurant industry is TouchBistro. TouchBistro does an impressive job with their integration stack. This gives restaurants that need more specialization a better solution than Talech can offer. Again, the pricing is a bit higher, but does come with more functionality.
A strong competitor to Talech, TouchBistro offers a full range of restaurant management tools that include POS, online ordering, table and room reservation systems, gift card management, staff scheduling, customer loyalty and more. The system's tablet-based approach allows your staff to stay mobile and gives restaurants a more modern look without requiring additional hardware. TouchBistro also integrates with third-party software for accounting (with Avero) and business management insights. It also integrates with online and mobile payment processors like Chase Paymentech, Moneris, PayPal, Vantiv, Square, and iZettle.
The POS is incredibly intuitive, with a clear interface and straightforward design that's well-suited for use on the iPad. It also includes a separate training mode to help new employees get up and running quickly. TouchBistro also stores all data locally, which increases security and reduces the risk of downtime. However, this can limit functionality for businesses that rely on cloud-based applications and may require a physical server.
TouchBistro has an extensive online support portal, complete with set-up guides, written instructions and tutorial videos. It also offers 24/7 phone and app support for users of all four plans. All POS data is backed up daily, and hardware installation and troubleshooting are available for an additional fee.
The POS is a strong choice for small to medium-sized restaurants that are looking for a feature-rich solution with plenty of integrations and a clean, intuitive interface. The system also boasts plenty of add-on options that can make it more versatile, including the ability to allow customers to order food for takeout. Lastly, it has a number of tools to improve the guest experience, including a built-in time clock, scheduling integration and in-app messaging.
Conclusion
Overall, Talech offers a wide range of businesses a great solution. We're always cautious of POS systems that try to do it all. And Talech certainly does that. But it covers each of niche industries sufficiently and leaves merchants happy.
Moreover, it does so at an incredibly approachable starting point. Too often, new businesses are spending way too much on an enterprise system or getting nickel and dimed with long-term processing agreements. We love that Talech does none of this.
Its simple tablet-based system reduces the learning curve on front and back-end use so businesses can get up and running quickly. And it's easy to scale when the time comes.
Another aspect that we love about Talech is its customer service. They're prompt at answering the phone, always friendly, and seem to have rapport with each client. This is a critical component to look out for when shopping for any POS software. The importance of great support can't be overstated.
Talech does lack certain inventory and reporting features that we normally look for with enterprise-level solutions. Talech is a better solution for small and medium-sized businesses.
The most concerning thing to us was the running complaints about payment hardware issues. Faulty hardware and the inability to accept payments is a major issue.
Talech doesn't offer a free trial, unfortunately. But they do allow prospective merchants a free demo. It's simple to sign up and schedule a time through their website. It's certainly worth considering for most business owners.