(Last Updated On: March 29, 2023)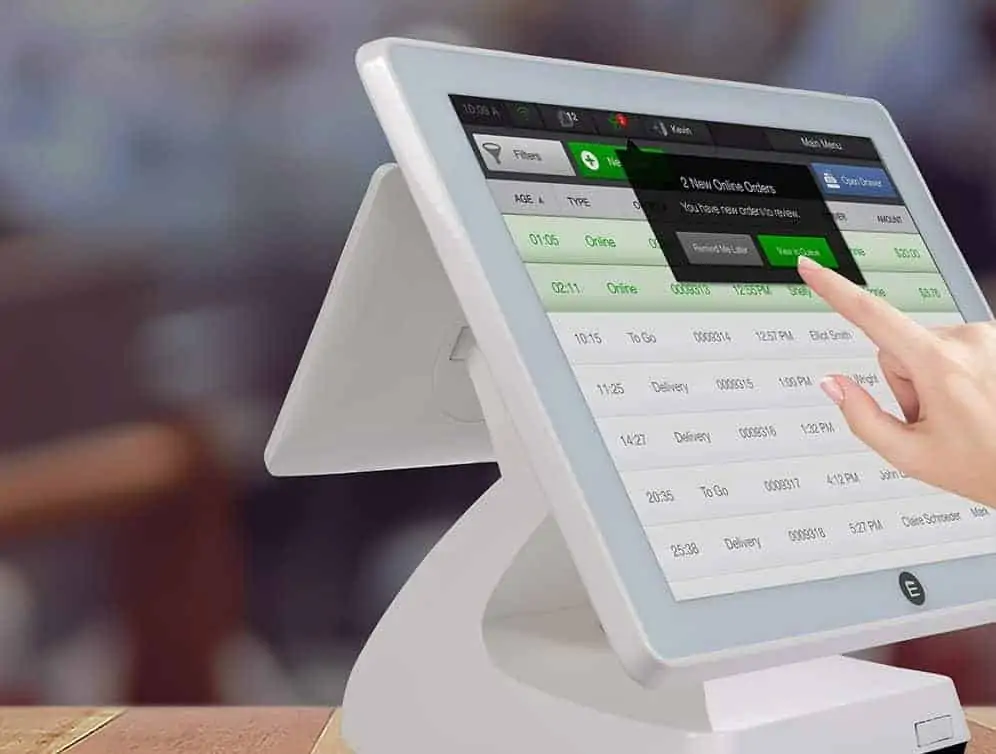 If you're looking for a simplified restaurant POS to engage guests, run fast transactions, and take orders from anywhere, CAKE is your perfect slice of technology. 
Built to meet the demands of both fast casual and full service establishments, the software was designed to help cut costs and keep tables turning.
CAKE POS is a simple restaurant focused POS designed for restaurants of all sizes, from full-service to quick service. It has a lot of unique features that will appeal to restaurants and bars that want to streamline their point of sale.
Runs Fast and Quickly Processes Payments: The POS runs fast and quickly processes payments with minimal fuss, helping you cut costs and operate seamlessly from front of house to back. The POS also makes it easy to manage and track inventory so you can stay on top of things.
Helps You Cut Costs and Operating Smoothly: In-depth reporting gives you key insights to your best performing staff, your busiest shifts, and more, so you can make more informed decisions about menu items, employee management, and overall profitability. The POS also gives you access to all of your sales data on the cloud, so you can crunch numbers at any time from anywhere in the world.
Takes Payment From Anywhere: You can also add on a number of customer engagement solutions like gift cards, reservations, and loyalty programs, all of which provide you with additional options to help your customers enjoy their experience at your restaurant.
24/7 Reliable Customer Support: Cake POS offers 24 hour phone and email support with a resource center that boasts a wealth of articles, blogs, and videos that can help you get the most out of your system. You can even train your staff on the POS system without disrupting service, thanks to an extensive online knowledge base called "Cake University."
The POS platform is very easy to set up, and you can customize it to fit your business needs, from adding or changing menu items to checking-in and tracking customers. It's also super easy to use and navigate, and customers in many Cake POS reviews praised it for its simplicity.
After an extensive CAKE POS review, we found that the system reduces margins with line-busting OrderPads, rich guest profiles, and automatic table updates. Customers can privately pay, tip, and sign with tableside equipment that facilitates mobile management and controls the flow of traffic. Real-time inventory and role-based employee permissions make this a well-rounded system for a restaurant of any size.
CAKE automates key processes that will eliminate the need for extra labor. In-depth reporting gives critical insight on item sales, top ingredients, and best-selling dishes. Take the guesswork out of inventory and stock replenishment and use that time to further engage guests and train staff.  
The guest management feature has been proven to increase table turns by 7% with automated status updates, predictive wait times, and detailed guest history. CAKE also offers an integrated online ordering program to leverage sales and promote contactless delivery.  
In this comprehensive CAKE review, we'll look at everything the POS system has to offer from hardware to software, integrations, key features, support, and pricing.

How Much Does CAKE POS Cost?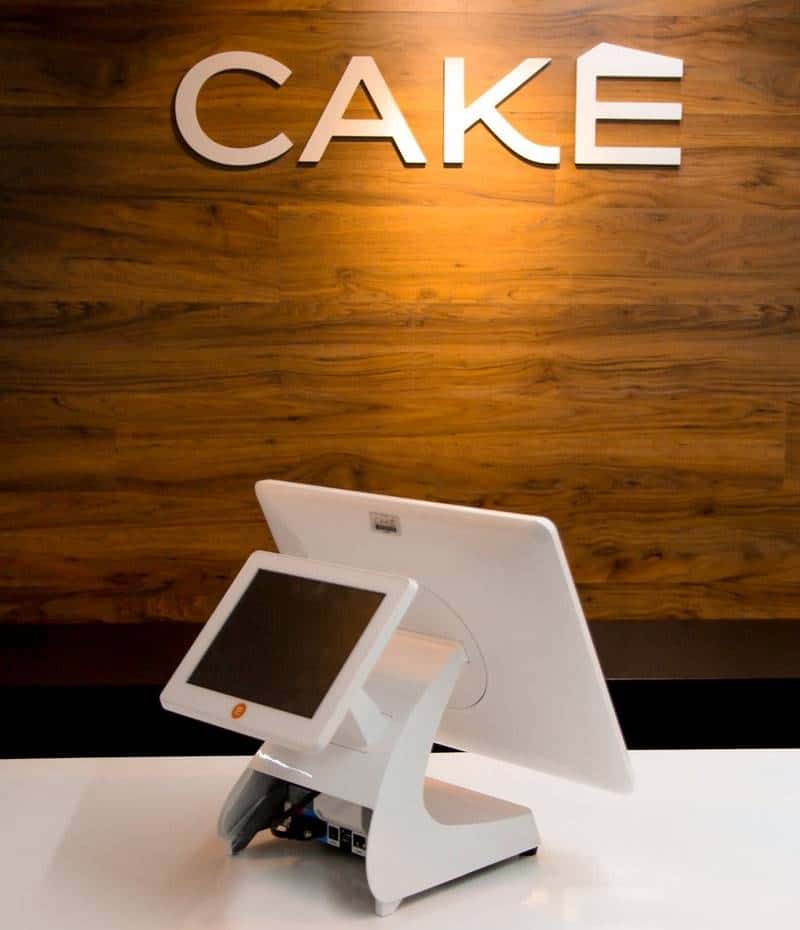 The cost for the CAKE POS system starts at $69/month and each additional terminal is $49/month. The brand offers affordable pricing for even the smallest types of restaurants. 
To consider the total cost of ownership for the CAKE system, look at these factors:
Monthly subscription fee

Credit card processing rates

Online ordering, reservations, and other add-ons

Hardware and accessories 

Maintenance and upgrades
Before committing to a plan, you can also book a free demo and speak to a CAKE professional. 
Pros/Cons 
The CAKE POS system generally has good reviews online, with a few cons.

PROs
Screens are well designed, intuitive, and easy to use

Integrated merchant reader and flat fee for processing

Itemized close cash report at the end of every day

Consistent updates and new features to stay on track

Customer support is always there and willing to help
CONs
The rewards program is very basic compared to other systems

The dashboard needs a changeable date range option

The system can be sluggish and run slow

Same-color buttons make navigation challenging

OrderPad app has been known to crash when overloaded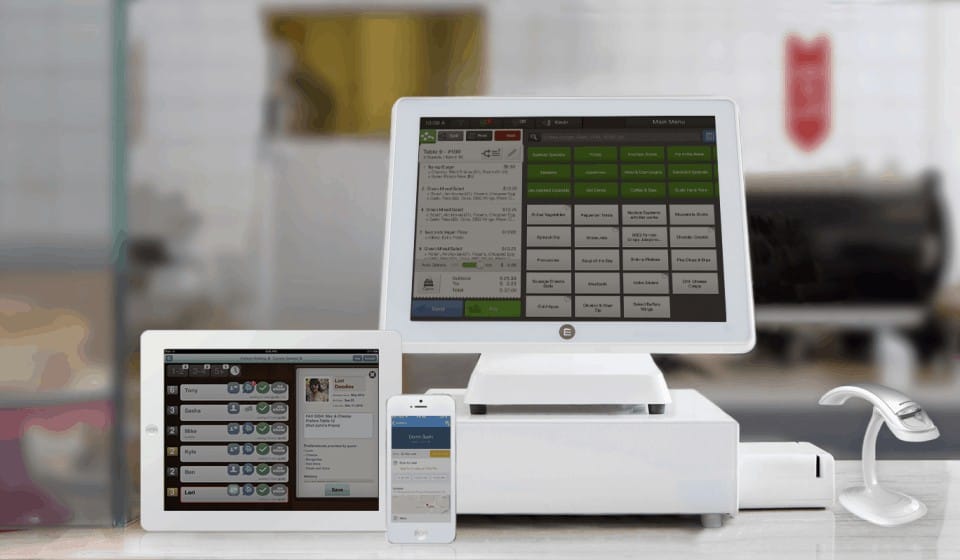 CAKE Pricing
The Cost of Service
The CAKE pricing is a subscription-based model that requires a two-year contract. The cost for a monthly subscription starts at $69/month and $49/month for each additional terminal. 
It comes with the following:
Point of sale dashboard

Cloud-based reporting with automatic updates

Secure monitoring 

24/7/365 professional support

CAKE University training portal
The CAKE OrderPad app is priced differently. For the mobile version of the POS software, it will cost a business $49/month which includes the CAKE OrderPad app and ongoing support. 
The Cost of Add-ons
CAKE also charges for extra services monthly.
Online Ordering – $49/month – 5% processing per order
No third-party fees

Added to website and social media

Contactless pickup and delivery
Guest Manager – $199 upfront or $79/month
CAKE University

Training courses

24/7/365 support

Software license
The Guest Manager monthly price is protected with your 24-month agreement.
The Cost of Hardware
Here are some price points for CAKE hardware:
15" Touchscreen Terminal – $200
Customer-facing display

Touchscreen terminal
iMag Pro II Payment Reader – $99
Comes with CAKE OrderPad app
If you want to fund your hardware over time, then a business pays a monthly recurring fee of $69/month and $49/month for each additional terminal.
Demo Video
Key Features
CAKE offers a core set of simplified operations for the POS and additional features at an extra price. 
Comprehensive Point of Sale Features that Automate Processes
CAKE's POS features will help your restaurant run like a well-oiled machine. Streamline workflow with quick menu edits that allow you to change the price or menu item on-the-fly. The system was designed to allow flexible order management no matter how complex the workflow.
The simple dashboard allows staff to fire menu items to multiple prep stations at once. It's an intuitive dashboard that's easy to use and train people on. Automatic stock counts can be set up for critical menu items so you never have to 86' something or tell a customer "no".
The system always works offline too. No internet? No problem. Every CAKE POS setup is designed to work when your wi-fi doesn't and will update later when back online.
Employee Controls with Scheduling and Seating Algorithms
CAKE takes the guesswork out of staff management with a system that's designed to work smarter, not harder. If you've ever been scratching your head on who to schedule and when, CAKE is the perfect tool. 
The system uses a "Next Up" seating algorithm that puts your best foot forward, aligning the top staff with the appropriate guests and tables. Hosts will never be overwhelmed about who to seat.
Multiple server sections means you can easily switch out floor plans between shifts and assign a variety of sections to your floor map. Basic timecard management allows employees to clock in and out, track breaks, and monitor overtime. 
Monitor Staff Performance
CAKE POS for restaurants also tracks parties seated to measure a server's overall performance. Get a detailed breakdown of staff activities over time in reports that are emailed automatically throughout the week. This helps to not only improve guest satisfaction, but praise staff for a job well done.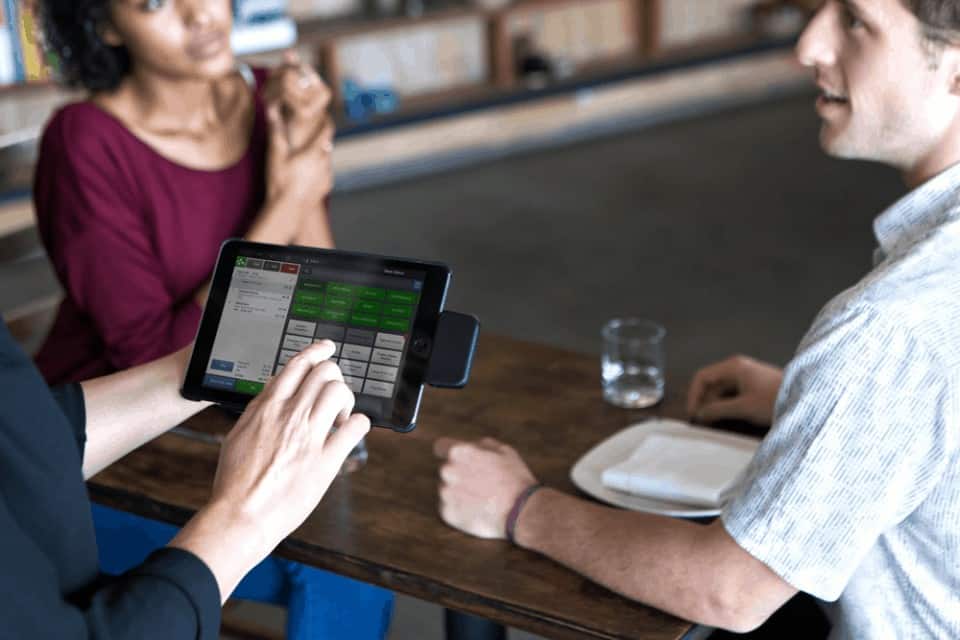 Integrated Guest Management with Detailed Profiles and a Virtual Waitlist
One of CAKE's top promoted features is their guest management tools. Instantly connect all visitors to the front and back of house in real-time to help turn tables faster and keep guests happy. 
Identify your best customers at the door and know their favorite meal before they sit down. Greet them by name and recommend favorites. Top ordered items, history, and food preferences are all available to servers in the palm of their hands. 
Guest management features also bring improved efficiency. Automatic table status updates give servers greater insight into tasks like:
When the table was seated

When the food was ordered

When the menu items were delivered

When the check was printed and dropped

When the payment was run
These details help the dining floor run smoother, increase guest satisfaction, and keep servers on top of everything. The Guest Management feature helps to create a smooth and efficient experience that turns casual customers, into habitual ones.
Further guest management features include:
Call ahead seating and virtual waitlist

Table management and predictive wait times

Real-time reporting with customer profiles

Free reservations widget for your website
Table Management with a Custom Floor Map and Status Updates
CAKE provides table management software that enables a restaurant to seat diners quickly and efficiently. Manage your floor plan accurately and intelligently to cut wait times and optimize space. 
Instant table status updates mean you always know what's going on in the front of the house. This allows a restaurant to give more accurate wait times to better meet customer expectations and increase sales from no-shows. You can even text patrons when their table is ready.
Optimize operations and pre-configure server sections to spread guests out evenly and keep staff happy. Use a custom table timer to share data across the FOH team and know exactly when the next table is ready.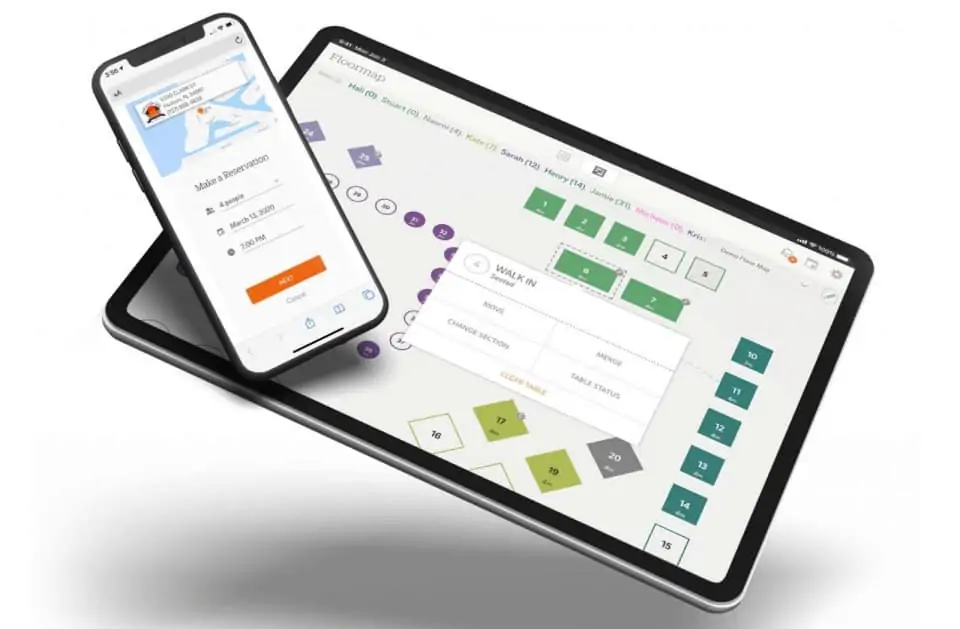 Additional CAKE system features include:
Custom floor map with multiple layouts and server sections

Dynamic reporting and analytics on sales, wages, employees, hours, items, etc.

Online ordering with pickup and contactless delivery

iPad-based OrderPad with orders sent directly to the kitchen

Loyalty program with guest check-in via phone or app
Industries Served 
The CAKE system was developed to work with small to medium-sized restaurants. However, the system can also handle enterprise-level ventures with a custom build.
CAKE has specific designs for the following types of restaurants:
Full Service Restaurant 

Fast casual

Bar and pubs
It is specifically tailored for a business with foodservice and would not work well for retail or other types of brick and mortar establishments.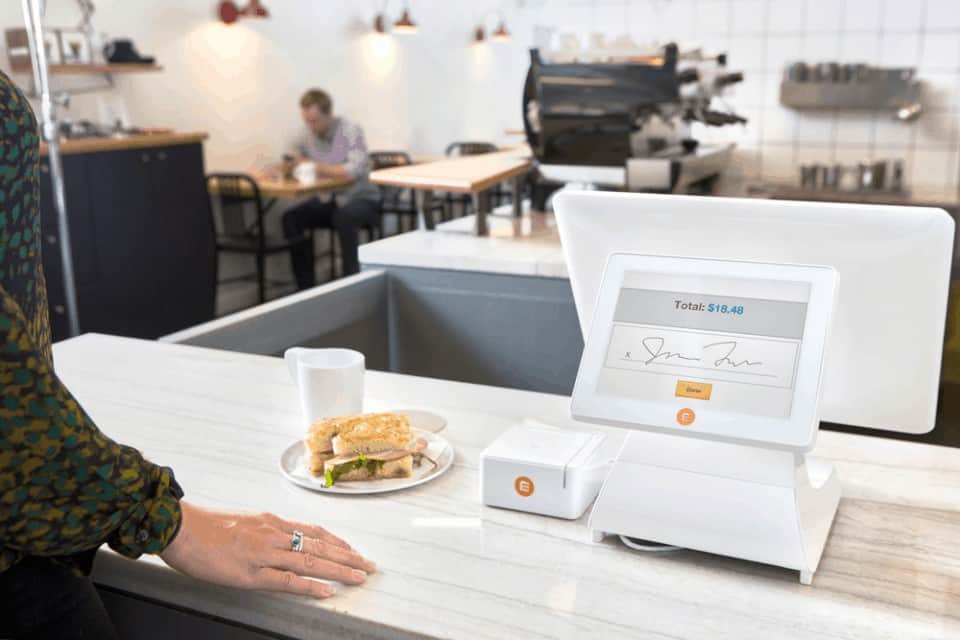 Deployment Type 
CAKE was designed to work in conjunction with its branded hardware. Although you have the option to run the system as an MPOS, even that tablet is designed by the company. This means, the CAKE offering is all-inclusive and if you want to use the platform, you will need to buy the hardware. 
The CAKE system leverages a cloud-based environment that doesn't require wi-fi to run transactions. The software functions without an internet connection and updates when back online. 
Ease of Use  
CAKE POS has a dashboard that's intuitive and easy to use. They put a lot of time into programs that help you train employees and resources to better understand the system. The hardware was built for the restaurant environment and the customer-facing display increases guest communications and brand trust.
The features for FOH management and menu engineering allow you to tailor your solution to custom needs. Automatic modifiers help staff upsell without the need to remember lengthy recipes or guest preferences. This simplifies the order-taking process for all parties involved.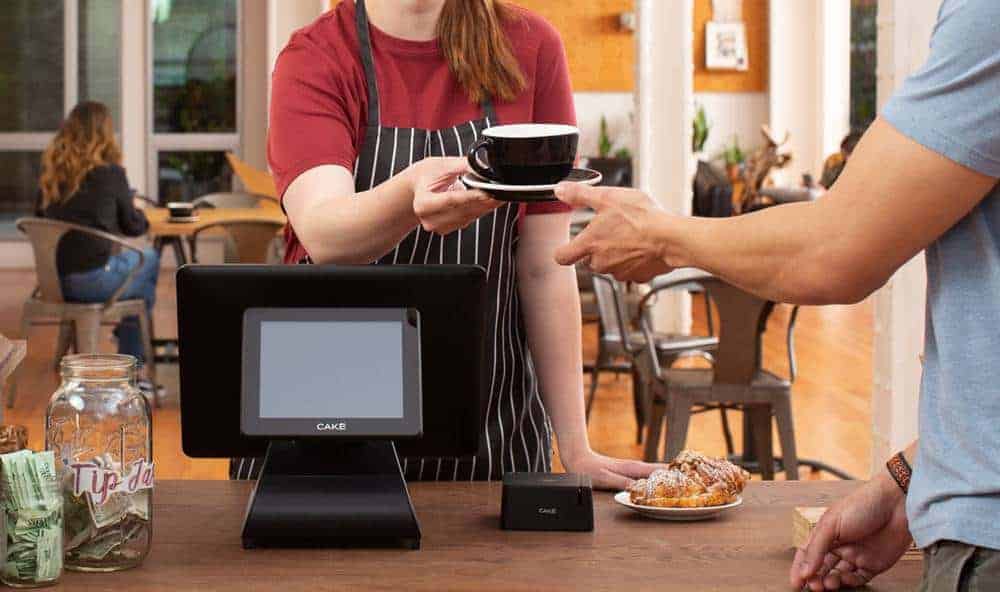 Hardware 
CAKE features restaurant proof hardware with durability that gives you peace of mind. The splash-resistant terminal gives you the option to add customer-facing equipment for easy checkout, convenient tipping, and digital signatures. 
If you don't have the money upfront, CAKE also offers easy-pay options that are added to your monthly subscription fee.
System hardware includes:
Terminals
The bevel-less screen terminals have a 15" (1024 x 768) touch display and come in black or white. It takes up 18" x 18" of countertop space, is 16(W) x 15(H) x 16(D), and weighs 16 lbs. The terminal has PA-DSS compliant payment cryptography and secure cloud storage. The current version also has a 32GB solid-state hard drive.
OrderPad
The CAKE OrderPad brings tableside ordering to your restaurant. Take orders, send directly to the kitchen, and accept payments using the handheld tablet that's made from restaurant-grade material.
Printers
The CAKE point of sale station includes a thermal printer. It takes a (3 1/8 x 230) receipt roll and handles an average of 400+ orders per roll. It can also function as a kitchen printer. If you must, CAKE allows you to upgrade to an Epson Impact Printer.
Additional CAKE Hardware:
Cash drawer with dimensions 13(W) x 13.2(H) x 4.1(D)

CradlePoint MBR 1200B router
Integrations  
CAKE offers a variety of integrations to supercharge your business through CAKE Market. This includes key partners for:
Accounting
Shogo for QuickBooks

Xero
Kitchen Management
Operations
Table Management
Customer Loyalty
Staff Scheduling
eCommerce/Online Ordering
Inventory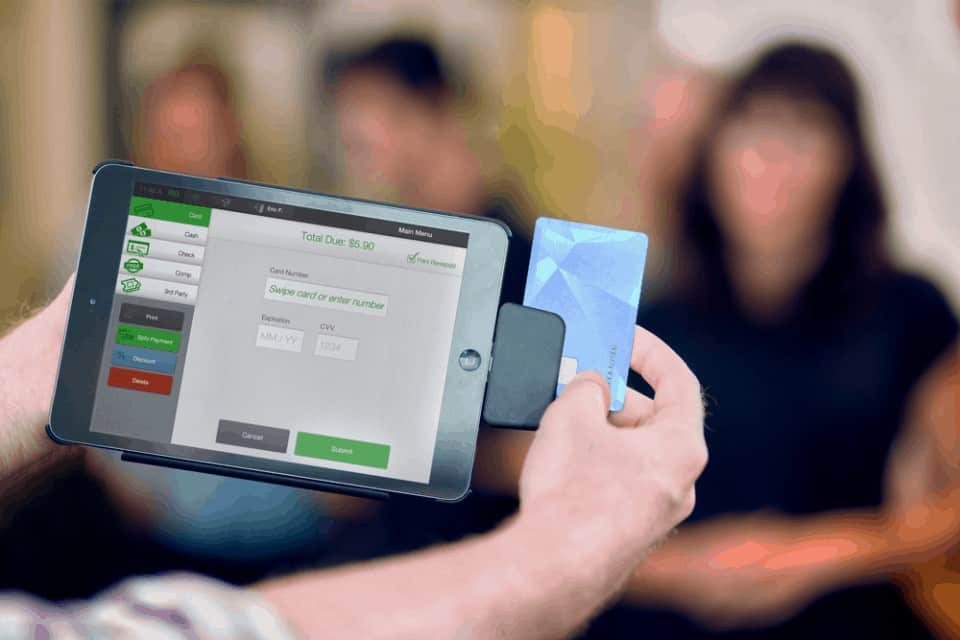 Credit Card and Payment Processing 
CAKE makes it easy to focus on running your business by simplifying the payment process. They offer transparent pricing with industry-low rates per swipe and no complicated paperwork. You can start accepting payments in just minutes. 
You only pay when you use CAKE payment processing. There are no hidden fees or monthly subscription costs. The system also comes with Smart Chargeback Assistance. This helps a business fight back against fraud and deters theft.
Save with every swipe and accept all credit card types, including:
Visa

MasterCard

Discover

American Express
The payments feature has safe and secure processing, even when the system is offline. The CAKE platform also processes PayPal and offers an average additional-net revenue of $2,980 annually.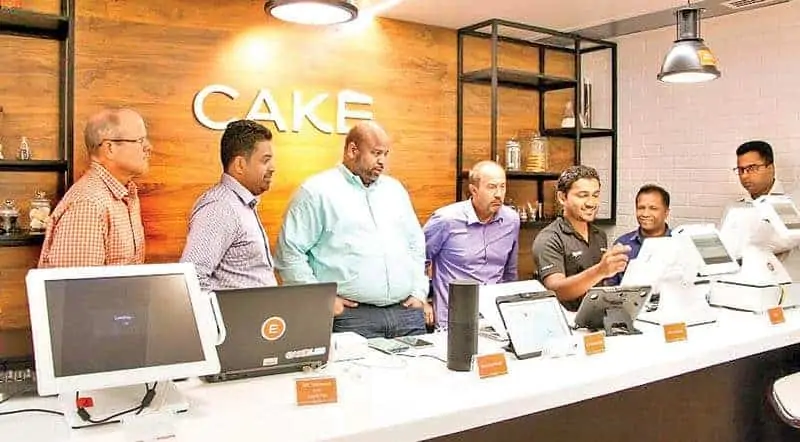 Customer Service and Support
The CAKE system is highly secure and every transaction, swipe, and payment is monitored for safety. The platform is known for instilling automatic updates and new features that always keep a business on the cutting edge.
The POS package comes with 24/7 reliable support and an employee training portal. The resource center boasts CAKE University where staff can train on the system without disrupting service. The page is full of tips and tricks, FAQs, blogs, videos, and other material to ensure you understand everything about the CAKE POS platform. 
The Best Alternatives to CAKE POS
If CAKE isn't a good fit, here are two other restaurant POS solutions to consider:
TouchBistro POS

TouchBistro is a restaurant POS solution that addresses many challenges in the industry with menu management and real-time inventory that cuts costs and saves time. In-depth reporting gives a business key insights to top-performing employees, best-selling dishes, and your busiest shifts.
Key features include:
Menu management with a custom floorplan and quick controls

Tableside ordering to speed up transactions, turn tables, and engage customers

Guest loyalty program to increase engagement and customer retention

Reporting and analytics to drive sales and improve performance

Staff controls to schedule, track, measure, and inform employees
The cost of TouchBistro is subscription-based and starts at $69/month. This makes it one of the more affordable POS systems on the market for the foodservice industry. 
Toast POS 


Toast is a popular POS brand for restaurants with good reason. The cloud-based system works offline and is suitable for a business of any size, whether it's fast casual, a bar, café, or fine dining. Fast payment processing and robust customer service make this a top choice for a restaurant point of sale system.
Key features include:
Extensive third-party integrations for everything from accounting to delivery

Inventory management with instant messaging and auto-replenishment

Tableside ordering with instant notifications and pop-up modifiers to upsell

Menu engineering with instant 86* updates and real-time item countdowns

Detailed analytics and metrics with sales summary and product mix reports
The Toast software is free to use. You only pay taxes for the Starter kit. The Essentials plan is $99/month and the enterprise Growth package starts at $189/month.
Toast Now digital ordering is $50/month. The hardware ranges from $450 for a mobile device and $1,350 for a POS bundle.

Should you Purchase the CAKE Restaurant POS System?
With CAKE, you're going to get a very straightforward system. The platform lacks a lot of features that other restaurant POS solutions will push on you. However, using CAKE makes you realize all those bells and whistles aren't necessary. In fact, they can complicate things. Especially if your restaurant workflow is already streamlined.
Why you should purchase CAKE POS
Its simplified system makes it easy to get your restaurant up and running. You can set up your hardware and connect it with the software in a few minutes, and you'll be ready to run orders, accept payments, and track inventory in no time.
Simple to use
Cake POS has a user-friendly interface, making it easy for even the most tech-challenged operators to get up and running. It also offers tutorials that explain how to use its menu, inventory, and reporting tools.
Lacks a lot of features others provide
Cake's POS software doesn't offer much in the way of customization options. But it does have a few features that most other systems don't, such as guest management.
The ability to manage reservations and connect all guests to the front and back of house in real time is a great feature for restaurants that want to make their customers feel welcome. This allows you to turn tables faster, reduce wait times, and improve overall customer satisfaction.
Works perfectly despite its stripped down nature
Cake has a unique setup that's designed to work offline too, so your POS system won't shut down when you're out of wi-fi. And when you're online again, your software will update automatically. This is a big advantage for businesses that don't have access to a good internet connection. This is especially helpful for quick-serve eateries and bars that want to stay connected with their customers.
The CAKE point of sale solution suits small and medium restaurants without a payment infrastructure in place. That's because the platform comes as a package deal with all hardware and equipment designed to specifically integrate with the software. The same goes for payment processing. It's all included.
This only poses an issue if you already have a POS platform in place. Especially if you have a lot of hardware. In this case, CAKE may not be a good fit.
If you are looking to modernize your payment system and need smoother transactions, increased sales, and improved customer engagement, then CAKE is a good start. The system offers everything you need in a nutshell from menu engineering to employee management, inventory controls, BOH/FOH communication tools, and mobile equipment. 
The CAKE solution helps to address foodservice challenges and is constantly innovating to meet new industry needs. Sign up for a free trial today to see if the system is right for you.