The Shopify point of sale system (POS) offers one of the best blends of affordability, advanced functionality, eCommerce tools, and an intuitive design.
By allowing for seamless integration with all parts of the business, the system makes it easier for retailers to sell and accept payments.
The solution will also automate the important processes in your business, such as the management of inventory across channels, customer data and orders. Not only does this software centralize inventory management, but also supports online sales and refunds.
With Shopify, you will be able to accept all payment methods, including credit card payments on-site as well as on the go. No wonder Shoplift is a preferred POS system for more than 800,000 business owners across the globe.
Discussed below are other aspects that make Shopify POS stand out.
Who's Shopify POS?
Since its establishment in 2005, Shoplift has been offering some of the best retail, restaurant, and eCommerce solutions. The provider is renowned for innovative POS and e-commerce solutions it develops for restaurant and retail businesses. However, much of its initial success came from online sales.
Shopify retail and restaurant POS systems are some of the greatest inventions by this provider. As you will come to learn, software solutions by Shopify are relatively easy to use and packed with a myriad of beneficial capabilities for your business. For instance, it allows for seamless workflow management and quick order processing.
Affordable, Yet Functional POS Hardware and Software Solutions
Hardware and software solutions by this company are relatively easy to set up and navigate. One of the things the provider is renowned for is its affordable pricing structure. Despite being an affordable solution, the system offers all the retail or restaurant tools you need to boost sales and grow the business.
Once installed in your business, the system will integrate all aspects of the business into a single platform. Additionally, the provider offers a mobile app to allow for simplified management in retail and restaurant businesses. Just as is the case with some of the leading POS providers Shoplift is constantly updating its solutions for improved speed and functionality.
For instance, the provider revamped its inventory functionality to include support for multi-location inventory management. Throughout this review, you will learn what exactly makes Shopify one of the best POS system for retail and restaurant businesses.
Shopify POS System Benefits
Offers an affordable pricing structure
Supports multi-location business management
Accepts all major forms of payment
Robust and industry-specific POS hardware
Reliable customer support 24/7
Robust CRM and reporting functionality
Syncs the Shoplift eCommerce platform to the POS in real-time
Possible Drawbacks
The system lacks some of the important capabilities Large and enterprise businesses may need. Again, you may find its offline mode a bit limiting.
Shopify POS Pricing
The provider offers a 14-day free trial, allowing you to set up the POS system in your store before choosing your pricing plan. As compared to some of the best retail POS providers, Shopify offers a unique pricing structure for its products.
Basically, the provider offers retail and restaurant businesses with different features, credit card rates and add-on for the various subscription plans. In this regard, you will have an opportunity to choose from its three main pricing options, including: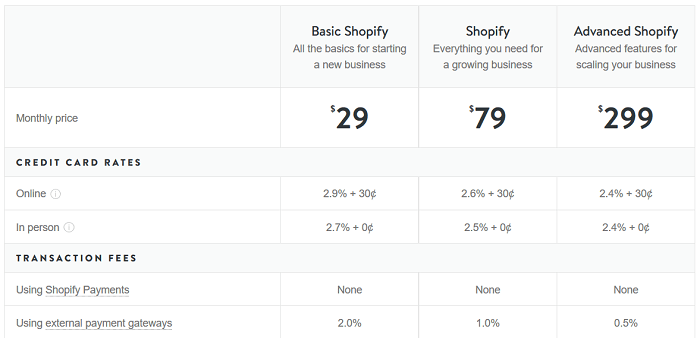 Basic Shopify ($29/month)
This is a plan that is meant to offers entrepreneurs the tools they need to start a new business. For this plan, you will b required to pay $29 a month. Just as you can imagine, the plan only offers basic POS features, such as eCommerce, and blog for your online store as well as unlimited support.
With the Basic Shopify plan, you will get two staff accounts and manual order capabilities. It will also come with a free SSL certificate, discount codes and abandoned cart recovery capabilities. Despite its affordability, this plan offers support for multiple sales channels, including social media and online marketplaces.
As for payment processing, the basic plan supports fraud analysis as well as online and in-person credit card payments. For online credit card payments, the provider will charge you 2.9% + 30¢ per transaction. For in-person credit card payments, you will be charged 2.7% + 0¢ per transaction.
Get the functionality and availability you need to support your growing business with the Shopify price plan. For $79 a month, this provider will offer you five staff accounts and all the capabilities offered by the basic Shopify plan discussed above.
Additionally, the provider will offer to gift cards and professional reporting capabilities with this plan. The plan will also allow you to get up to 72 percent in shipping discounts with such providers as DHL Express, USPS and UPS. In this case, you will also be able to print your own shipping labels.
This solution also supports fraud analysis and will charge you 2.6% + 30¢ for processing online credit card transactions. For in-person transactions, the provider with the charge you 2.5% + 0¢ per transaction. If you decide to use a third-party payments processor, you may incur additional fees of about 1.0 percent.
Advanced Shopify Plan ($299/month)
For $299 per month, Shopify will equip you with all the tools you need to scale your business up, including all the capabilities of the above-mentioned plans. With this plan, you can enjoy shipping discounts of up to 74 percent and the ability to calculate third-party shipping rates.
Additionally, the package offers advanced reports building and fraud analysis capabilities. With the Advanced Shopify plan, you will be charged 2.4% + 30¢ for online transactions. In-person credit card transactions, on the other hand, have a processing rate of 2.4% + 0¢ per transaction.
Should you decide to use a third-party payment processor, Shopify may charge you an additional fee of 0.5%.
Shopify Hardware and System Requirements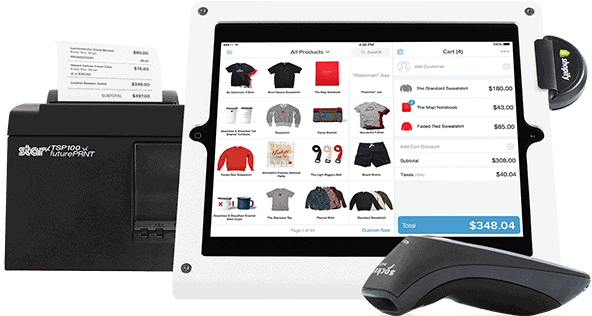 In addition to innovative POS software and e-commerce solutions, Shoplift offers rugged and robust hardware components. Although the system may be used with third-party hardware, proprietary hardware has been proven to deliver the best performance.
The provider offers some of the best hardware components for retailers to help you sell both in-store and on the go. For enhanced affordability, the provider offers hardware bundles, such as:
This is a complete POS hardware kit that is essentially designed to unite your offline and online business channels. For just $229, the provider will offer you such components as a Chip Card Reader and its dock, as well as a Retail Stand.
You will also get Shopify mounting kit and Shoplift mini dock cable. Although the solution does not come with an iPad, you will find it to be an affordable alternative to buying each component separately. Again, the provider also offers a range of other hardware components separately for enhancing your POS functionality and scaling its capabilities.
Shopify POS System Features and Capabilities
Regardless of which Shopify plan you opt for, rest assured you will get a unique and functional blend of capabilities that are tailored to your needs. Quick order processing, ability to process all types of payments and seamless workflow management are some of the best selling points of this software.
The Shopify mobile App will give you enhanced control and a complete overview of your business on the go. In addition to these, Shoplift has a horde of other impressive features and capabilities to offer your business, including:
Reporting Tools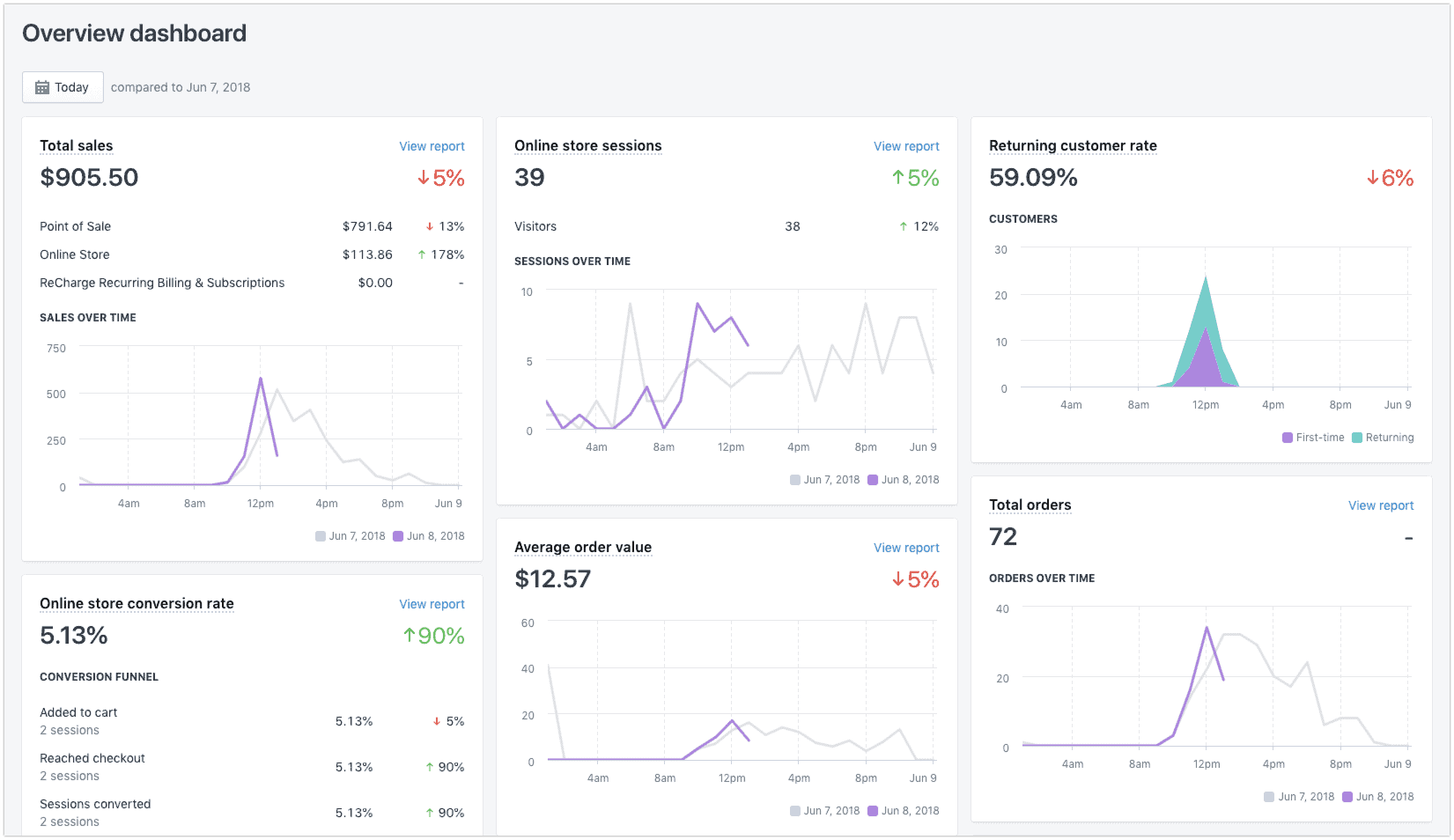 Regardless of the Shopify payment plan, you are subscribed to, you will get the reporting feature. However, the starter plan only offers basic reporting. As compared to other POS providers, Shopify offers a more comprehensive, real-time reporting to cover every aspect of your business.
With this POS system installed in your business, you do not need to be physically present to know how the business is faring. The cloud-based reporting feature allows you to track various aspects of the business from wherever you are.
As compared to the reporting capabilities offered by its competitors, you will find Shopify to be more comprehensive and easy to understand. In this regard, these are some of the main reporting capabilities offered by Shopify POS system:
Shopify will give you accurate and timely reports on several aspects of your employees. With this feature, you can view your sales staff performance by sales, use the discount and void report to audit employee activity in your business.
The system also helps you keep track of overtime as well as regular hours using Timesheet Reports. With this feature, you may also get a breakdown of gratuity, cash, and tips due for each of your employees. Employee reporting will give you an overall overview of labor costs and how they are affecting the business as well.
Do you own multiple locations? Well, Shopify will make management even easier for you. In this regard, the reporting feature will give you an overview of how the various businesses are faring in a single dashboard. This report includes such aspects as the sales, product and revenue reports of each of the locations.
Without the right set of tools, you will have a hard time tracking inventory changes in your business. With Shopify, you can use the Inventory Log Report feature to track such inventory changes as returns, sales, subtractions, and additions.
With such reports, it will be easy for you to identify the best selling products in your business. The supplier reports, on the other hand, help you ascertain the performance of your suppliers. All in all, the inventory tracking capability allows you to monitor more than 25 metrics in your store.
Inventory Management Capabilities
This is another capability that makes the Shopify superior to its competitors. While all the three plans by this provider offer inventory management, the capability of the feature will vary from one plan to another. The basic form of this feature—offered by the basic Shopify plan—allows you to set discounts, add exclusions and modifiers as well as create item variations.
The other plans offer even more powerful inventory capabilities. In this case, the feature allows you to bundle products, add automatic discounts, manage supplies, offer store credits and sell items by weight. In the retail version of the software, this feature allows you to print barcode labels.
In the restaurant version of the POS software, inventory management offered by higher plans also allows you to add a kitchen printer. Things get even better with the Premium plan of the software. For this plan, you can do a lot more with the Inventory Management feature.
Seamless  Workflows
With this system, you will have an easy time adding items to your inventory as well as processing transactional on all your sales channels. To add products and services to the cart, you will only need to tap.
Similarly, the solution makes it easy and fast for you to accept multiple payment types and email receipts to your customers. Regardless of which channel a sale was made, the system will automatically sync the inventory and update stock counts in real-time.
Employee Management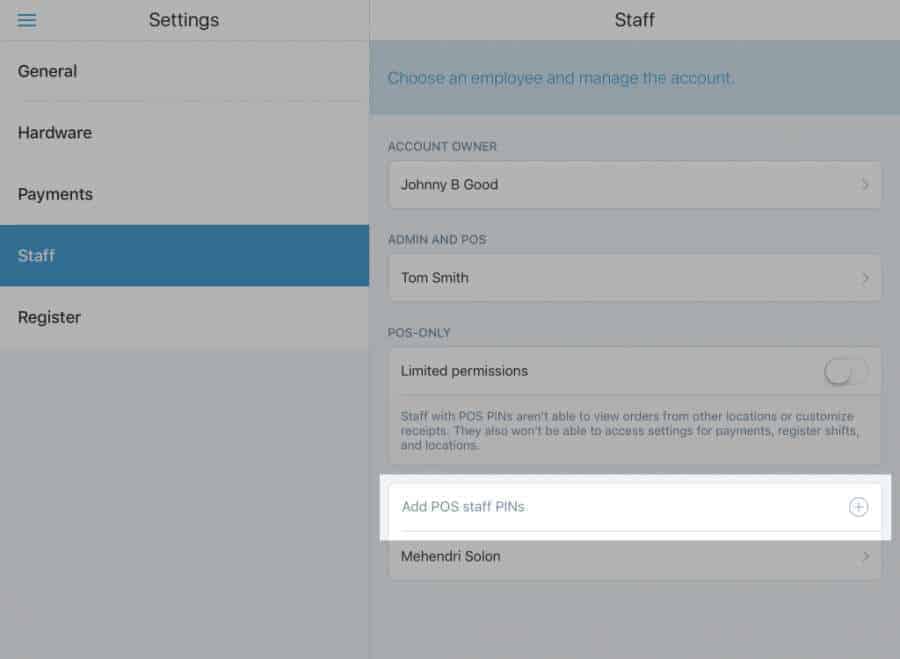 For enhanced efficiency in your business, you also need to ensure that all employees are working as they should. To help you achieve this, Shopify POS is packed with several tools and features to help you view employee performance and manage them more effectively.
With regards to employee management, these are some of the features and capabilities you will love about this provider:
To begin with, the POS software will allow you to create multiple staff accounts and assign a secure pin code to each account. Again, the system makes it relatively easy for you to switch between different staff member accounts at the register.
Thereafter, the system will be recording register activities as well as order details under the account of the staff member who was logged in at that time. Additionally, it will also make it easy for you to review account history and register activity. Such capabilities have been proven to boost accountability in retail and restaurant businesses.
Register Management Features
In addition to offering you an enhanced overview of the store, this system makes it relatively easier for you to manage the business. In this regard, the retail POS system by Shoplift features a range of capabilities to ease management tasks in-store and on the go, including:
Refunds – enables you to refund past orders to the payment method used for the transaction. It will also give your customers the opportunity to exchange their refunds for store credit.
Cash Float – with this capability, you can easily monitor staff changes and register adjustments throughout the day. However, the capability is only available with Shopify and Shoplift Advanced plans.
Order History – gives you an overview of all orders placed I. The store, both online and in-store. It also allows you to filter order data by product, date or customer.
Daily Totals – this capability is specifically designed to help retailers keep an accurate track of daily totals in their businesses. In this case, you will be able to monitor daily totals by payment type.
EMV Ready & Secure
Your customers will be happy to know that their card information is safe and secure when they use the cards to pay for their orders. In this regard, Shopify is designed to protect card information using end-to-end encryption. The system also features the latest authentication technology for enhanced protection.
The EMV Ready capability of the system allows it to accept contactless, chip as well as swipe card payments. Additionally, the system offers a choice of several payment processors and terminals.
Integrated Gift Cards and Loyalty Program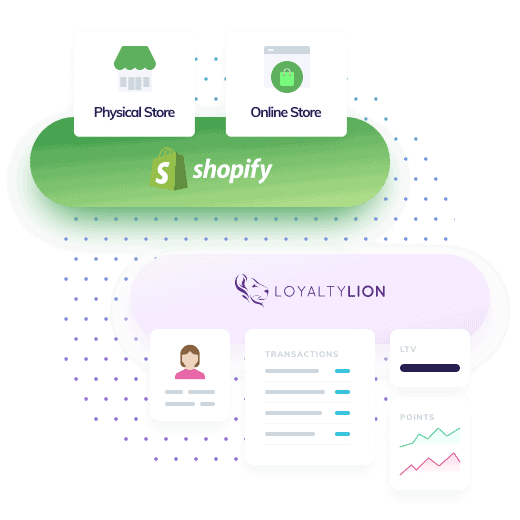 Looking for a POS system that allows you to offer gift cards or loyalty programs? This is precisely what the Shopify point of sale system will help you achieve. In this regard, the system is designed to print custom gift cards to reflect and market your brand theme.
Once you have created gift cards, you can then activate them directly from the POS payment screen. With this feature, you can easily add promotional value to the gift cards to serve as an incentive to your customers. Again, the feature allows you to implement stricter controls using employee permissions.
Over the years, loyalty programs have been proven to boost customer loyalty. To help you drive more repeat customers to your restaurant, Shopify allows you to integrate a loyalty program. With this feature, you can enroll your customers for the program and redeem their rewards. The feature allows you to create point pool or tired reward types of loyalty programs.
Online Ordering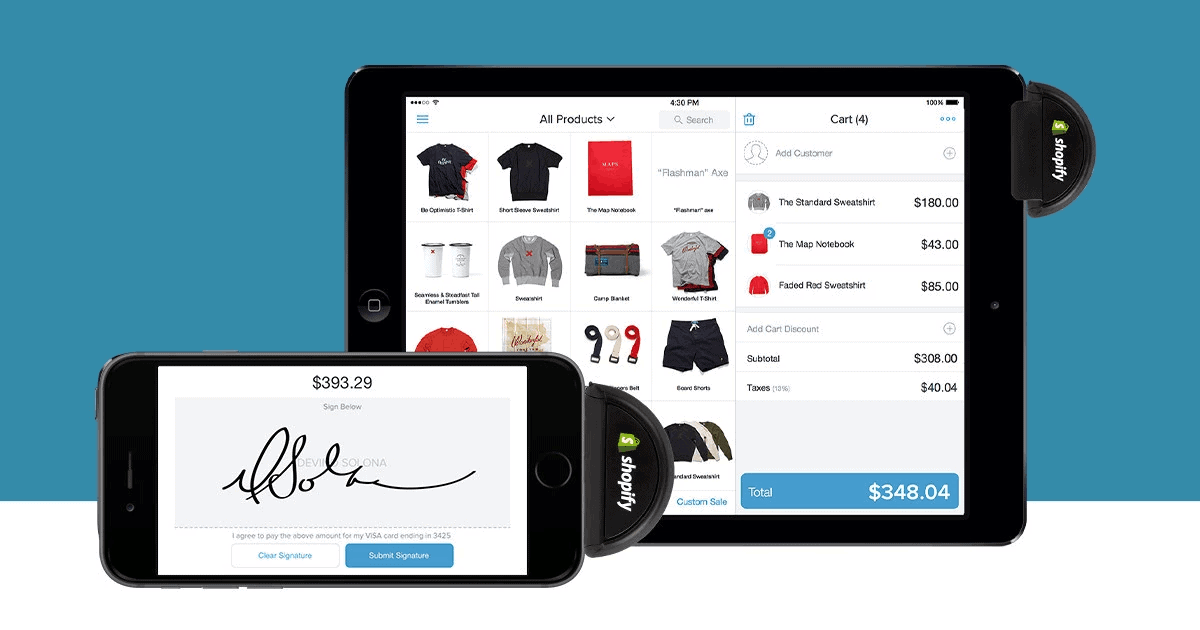 A unique online ordering experience will help capture a new revenue stream for the business. In this regard, the POS system may be connected to Shopify Online Ordering. With this feature, you can have customers pay online before they arrive or pay at the store while picking up their orders.
The online ordering system by this provider has been proven to reduce order errors, speed up ordering and offer an innovative way for customers to reach your business. With this solution, you will conveniently bring the register to your customers and be able to take notes on special orders.
It will also record customer's shipping addresses for delivery orders and allow you to print or email custom receipts. The solution is also known to support custom sales by allowing you to create custom line items as well as set prices. Again, it will work out tax rates automatically, based on location or custom tax guidelines for each order or product.
Customer Management and Analytics
This feature allows you to capture information on your customers at the point of sale. Over time you will be able to tell how often different customers visit the business, their preferred products as well as the much they spend in your establishment within any given period.
Understanding how your customers shop and their preferences will help you offer customized services to their satisfaction. This will, in turn, boost customer loyalty in your business.
Shopify Integrations and Add-Ons
While many people think of Shoplift as a proprietary POS system, the truth is that it actually supports integration with a myriad of Apps. To begin with, the provider offers hundreds of efficiency and productivity Apps on the Shoplift App store.
In order to enhance the functionality of your POS system, the App Store offers you a range of accounting, marketing, management, and reporting Apps. The software also features an open API, allowing you to create your own Apps and integrate them with Shopify POS system.
Additionally, the solution will also allow you to integrate with some of the leading third-party services. The system is particularly optimized for integration with some of the best accounting integrations, such as Zero, QuickBooks and others.
Customer Support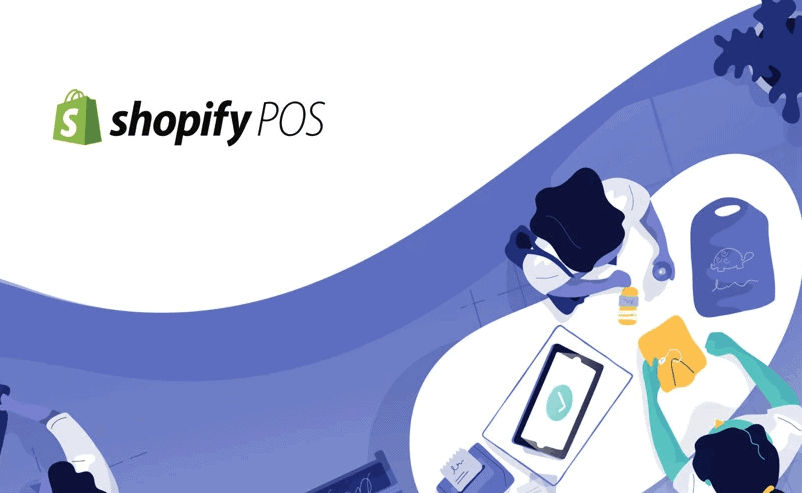 The other thing you will come to like about Shopify is its knowledgeable and responsive customer support team. The provider has a dedicated customer support team in place to address any POS problems and concerns you may be having 24/7.
You may contact the customer support team at Shopify by email, phone or live chat. Additionally, the provider offers other customers to support channels. For instance, the Shopify Help Center features multiple user guides, commonly asked questions in the system and an array of tutorials.
While setting up the system, you may seek assistance from Shopify-approved POS consultants. The provider also offers a discussion forum where you can engage with other users on such topics as marketing and accounting. In addition to these, you will also get access to E-commerce University by the provider.
Alternatives to Shopify POS
Our Final Verdict
Both small scale and enterprise business owners need to manage their stores effectively for enhanced profitability and streamlined operations. Just as is the case with the Shopify POS system, your preferred solution should allow for easy and efficient management and marketing.
In addition to helping the business grow, you will find this solution very scalable and adaptable to your changing business needs. Basically, it is the intuitive design, an assortment of beneficial features and affordability that make Shoplift one of the best POS systems for retailers.
The following two tabs change content below.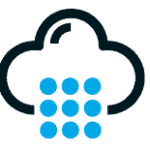 The staff at POSQuote.com is composed of industry professionals, experts, and current business owners. Through extensive research, we compile buyer's guides and review the best POS systems in the industry.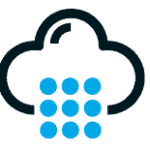 Latest posts by POS Quote Team (see all)
Reader Interactions