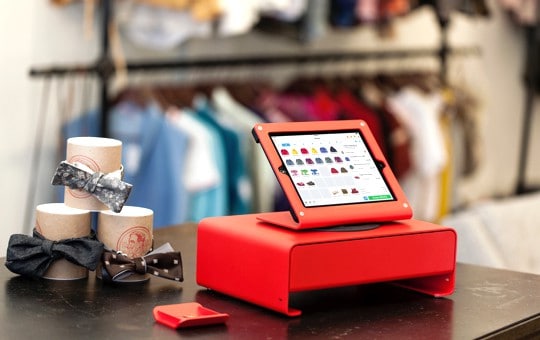 Clothing stores come in many shapes and sizes, from large chains to small boutiques and vintage clothing stores. Regardless, they all benefit from having a clothing store POS system to do the heavy lifting for them.
The best clothing store POS systems include specific features needed by these retail businesses. These include robust inventory management, eCommerce capabilities, marketing features, powerful reporting, and customer management features. Some clothing stores—especially boutiques and vintage clothing stores, need a POS system with a high level of customization.
There are many retail POS systems on the market but they won't all include the features required by clothing stores. It's important to keep this in mind while evaluating your options.
We've made the evaluation process easy on you by providing reviews of the top six clothing store POS systems available. Plus, we've created a helpful buyer's guide to assist you in your search.
Top 6 Boutique and Clothing store POS Solutions
1. Lightspeed Retail: Best Overall Clothing Store POS
2. RetailEdge: Best Value for the Money
3. Square Retail: Best System for Small Boutiques
4. PHP Point of Sale: Best System for Startups and First-Time POS Users
5. Vend: Best Multi-Store System
6. Clover: Best System for Vintage Clothing Stores
Side-by-Side System Comparisons
System
Starting Software Costs
Hardware Costs
Key Features

Our pick!

Starts at $59/month
Additional terminals are $34/month
Great back-end reporting and forecasting, a la carte pricing options available

$495 [One-time cost]
Quote based
Robust inventory management

Free for basic software
Starts at $50 for readers
Highly intuitive, easy-to-use interface

Starts at $28/month
Quote based
Extremely easy to use – great for first time users

Plans start at $99/month for 1 register
Plans start at $99/month for 1 register
Open platform
for easy multi-store management

Starts at $9.95/month
Pricing varies based on equipment
Customized hardware and software packages with tailored accessories
Get A Free Quote
POS System Reviews

Lightspeed Retail is an omnichannel retail POS system that integrates multiple purchasing and transaction channels into one central system.
It's a great choice for apparel retailers with customer loyalty and rewards programs, multiple location management capabilities, programs, advanced reporting, and one central database where items sold on all channels is stored for easy access and accurate reporting. However, two feature sets stand out from the rest.
Lightspeed Retail is a popular retail POS solution that has multilocation management capabilities, which make it an excellent choice for businesses that operate multiple brick-and-mortar stores. The company also offers a fully integrated ecommerce website platform for its Advanced plan customers and omnichannel loyalty modules for its Advanced and Standard plans. Its pre-integrated ecommerce and accounting integration helps retailers streamline sales data from both physical and online storefronts.
The POS system allows businesses to track inventory and submit purchase orders from a desktop computer or iPad, and it can automatically send notifications when it's time to reorder. Lightspeed's software also lets merchants categorize inventory using customized fields and set automatic reorder points for selected items, as well as import inventory from spreadsheets or other sources.
Lightspeed's POS system has several features that help merchants engage with shoppers and build loyalty, including the ability to create personalized offers for each customer, record shopper purchases and transactions, and add custom notes. Its checkout screen is easy to use and prompts users through each transaction, which helped it earn a 3.75 out of 5 in our evaluation. Customers can also view their customer profiles during a sale to see their purchasing history, loyalty status and points, and contact information.
The company provides 24/7 tech support with all plans and one-on-one onboarding and training, as well as a personal account manager. The hardware needed to run Lightspeed POS systems varies by the business, but includes register equipment like cash drawers and barcode scanners that work with both traditional desktop computers and iPads. Prices for the POS hardware aren't listed on the company's site, but customers can request a quote for items such as credit card terminals.
Powerful Inventory Management
Accurately tracking and maintaining sufficient inventory levels is incredibly important for boutique and clothing stores.
Automatic Tracking and Alerts
Lightspeed Retail comes through for them by automatically tracking and adjusting inventory counts anytime new items enter or a sale is made. Real-time alerts notify users when inventory levels on items drop below a set threshold.
Inventory Age Monitoring
The system identifies old inventory that's been sitting on the shelf for too long. This triggers the system to automatically discount items based on system rules you set.
Inventory Matrix
Its product matrix makes it easy to manage variations of inventory items such as sweaters in different sizes, cut, patterns, and colors.
Lightspeed Retail's inventory differentiator is that, unlike other systems, you can order from multiple vendors with the same purchase order. On top of that, you can order inventory for multiple store locations from the same order. Plus, you can assign custom tags and categories to different items, which is particularly helpful for clothing stores.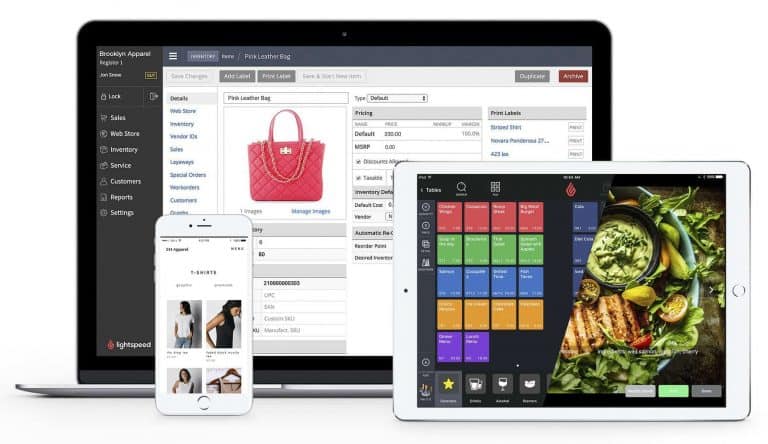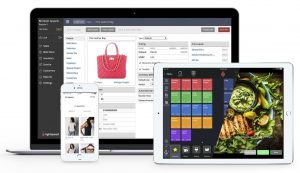 Lightspeed eCom
Built-in eCommerce functionality means you don't have to purchase a third-party eCommerce application and integrate it with Lightspeed Retail.
Your Own Website
You don't need your own website, Lightspeed provides it. You choose from numerous mobile-responsive, customizable templates, and easily build your own modern-looking, user-friendly website.
Your Own Branding
You can add your branding to the site and offer a seamless omnichannel shopping experience that will delight customs.
Inventory Sync
Once built, you can import all of the stock along with photos from your POS to your website with a few simple clicks.
Automated Payment Processing When a purchase is made, Lightspeed Retail automatically processes it for you and the money shows up on your balance sheet.
Built-in SEO Tools
If that weren't enough, you even receive built-in search engine optimization tools that help your site rank higher in Google search results. With Lightspeed Retail, your boutique or clothing store never closes, allowing you to sell more with less effort.
2. RetailEdge: Best Value for the Money


RetailEdge is a full-featured POS and inventory management. It offers a robust feature set with more capabilities than most retail POS systems on the market at a fraction of the price. It's easy to use and is updated often with new features. However, a few system characteristics make it stand out from the competition.
Get A Free Quote
Superior Inventory Management
While Lightspeed offers great inventory management features, we'd rank RetailEdge as having the best inventory management features available. The company has thought of every last minute detail and included it in the system. No other system comes close. Simply view the graphic below to understand what we mean. Boutique and clothing stores benefit immensely from these features.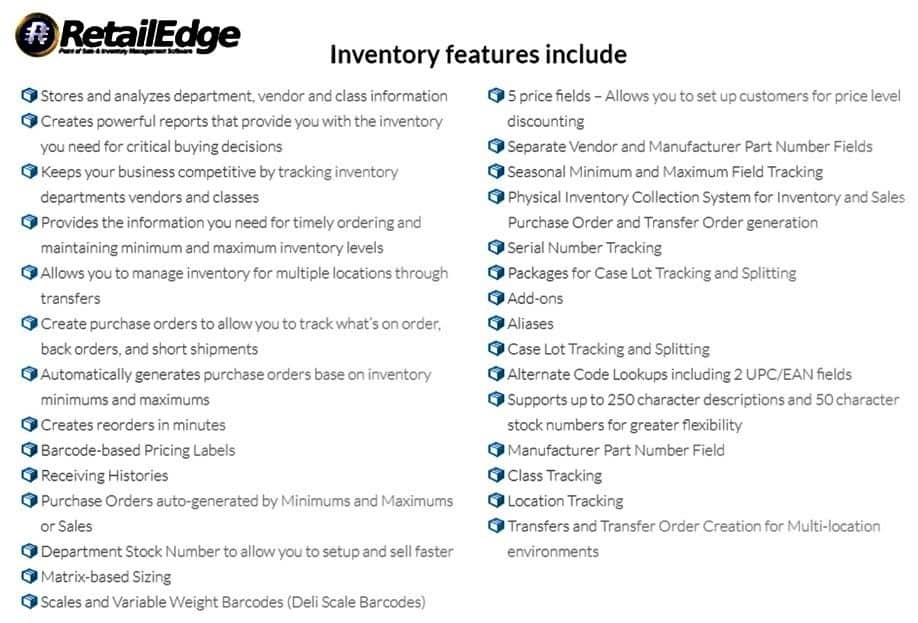 Data Freedom
RetailEdge is unique from other POS systems in that it can be used as a locally installed system or accessed through an internet connection. You have multiple options here, giving you absolute data storage freedom.
Locally Installed Access
When using the installed version, you don't need to purchase a local data server because RetailEdge's is stored on your store's computers rather than a remote server. This cuts costs dramatically, adding to the value you receive for the money you invest in the system and making It a great choice for small, boutiques with limited budgets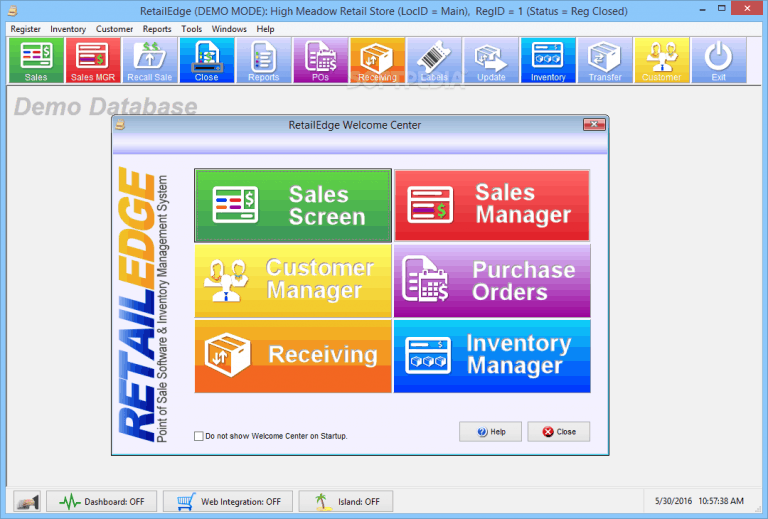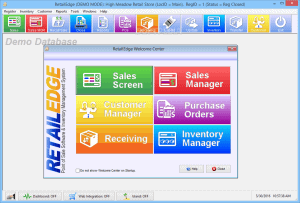 Remote Access
If you are away from the store, you can still log into and use the system from a mobile device. However, the data isn't sent to a remote server, it's synced back to your store's computers and stored there. This means no Big Data—your data is yours and no one else can view, manipulate, or touch it in any way.
RetailEdge's RECON Synchronization Engine
RetailEdge pioneered its own data sync technology called RECON Synchronization Engine (RSE). Every two minutes the system performs a data sync, sending the data you entered back to your store's computer. Data is sent via the internet, but never stored there. This is the preferred option for stores with a few locations as there is plenty of room for the data they need to store.
RetailEdge Cloud Services
The advantage of sync described above is that you own your data and are never at risk of data breaches. However, this isn't a concern for some boutique and clothing stores. For them, RetailEdge offers its own cloud-based servers which are highly secure. Users can opt to leverage RetailEdge as a cloud-based system if they want, making Retail Edge the most flexible system for data storage we've come across.
3. Square Retail: Most Intuitive System


Square Retail is a powerful system that on the surface appears to be overly simple. And that's the draw. It's feature-rich while being easy to navigate. Its inventory management features can compete with the rest of the pack, with the exception of RetailEdge.
Square is known for its payment processing capabilities and Square Retail's back office management features are robust as well. Where it truly stands out is in compactness and its ability t facilitate your web presence.
Compact System for Compact Spaces
This is why we named it the best system for small boutiques. Square Retail can be used on an iPad with a small iPad stand to prop it up, a cash register, and a card reader. That's all users need to leverage the system.
For boutiques and vintage clothing stores that occupy small spaces in expensive, hip parts of town, Square Retail is a great option. The entire system can fit into a nook or cranny and doesn't need to occupy valuable, limited space in small stores.
Plus, its free card reader attaches to the side of an iPad and connects through a USB port rather than being a hulky machine that takes up valuable counter space. Small boutiques love it.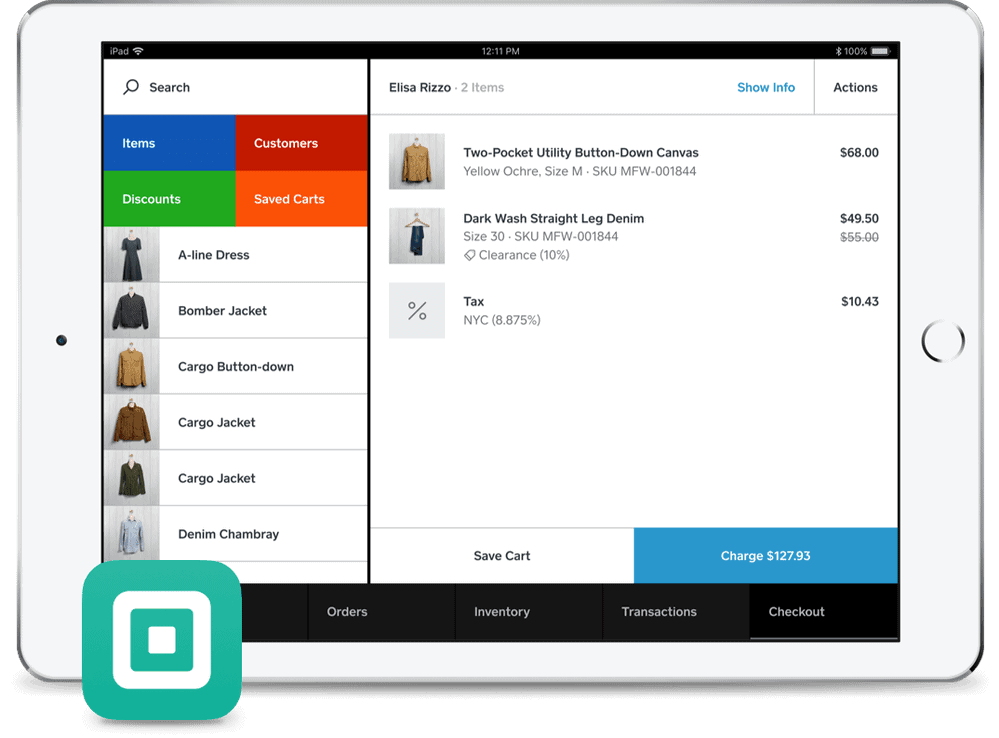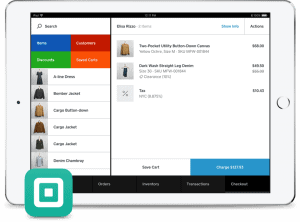 Boost Your Online Presence
Square Retail delivers big when it comes to expanding awareness of your boutique or clothing store. Not only does it include a free online eCommerce website that you can design with an intuitive, smart ween builder. But it also gives you the option to place your own branding on it for a small fee.
But that's not all. With Square Retail, you can further boost online sales by integrating your system with Instagram and selling from the social media platform. Moreover, Square Retail automatically syncs new items to your online store and that inventory is all connected.
If someone purchases something from your online store, it's automatically subtracted from your overall inventory. It automates so many processes that a single employee could run an entire boutique alone with Square Retail.
4. PHP Point of Sale: Best System for Startups and First-Time POS Users


PHP Point of Sale is an incredibly solid system packed with useful features like robust reporting, built-in marketing features and multiple store management capabilities. It's the best system for first-time POS users, not because it's a simple system, but because it's so intuitive and easy to use, with a best-in-class customer support presence.
Ease of Use
PHP Point of Sale is among the most intuitive, user-friendly retail POS systems on the market. The user interface is intuitive with helpful prompts that lead users through system processes quickly and seamlessly. It also offers highly-effective, quick customer onboarding to ensure users are set to maximize their ROI from day one. For boutique and clothing store owners who've never used a POS system, this is the system that will drive their success.
World-Class Customer Support
The system consistently receives raving user reviews around the company's customer support team. It is very knowledgeable, quick to respond, and is known to solve customer issues on the first attempt.
Boutique and clothing store owns who have never used a POS system will run into issues as they learn the ns ad outs f the system. When they do encounter an issue, PHP's customer support team is there to resolve it in a flash.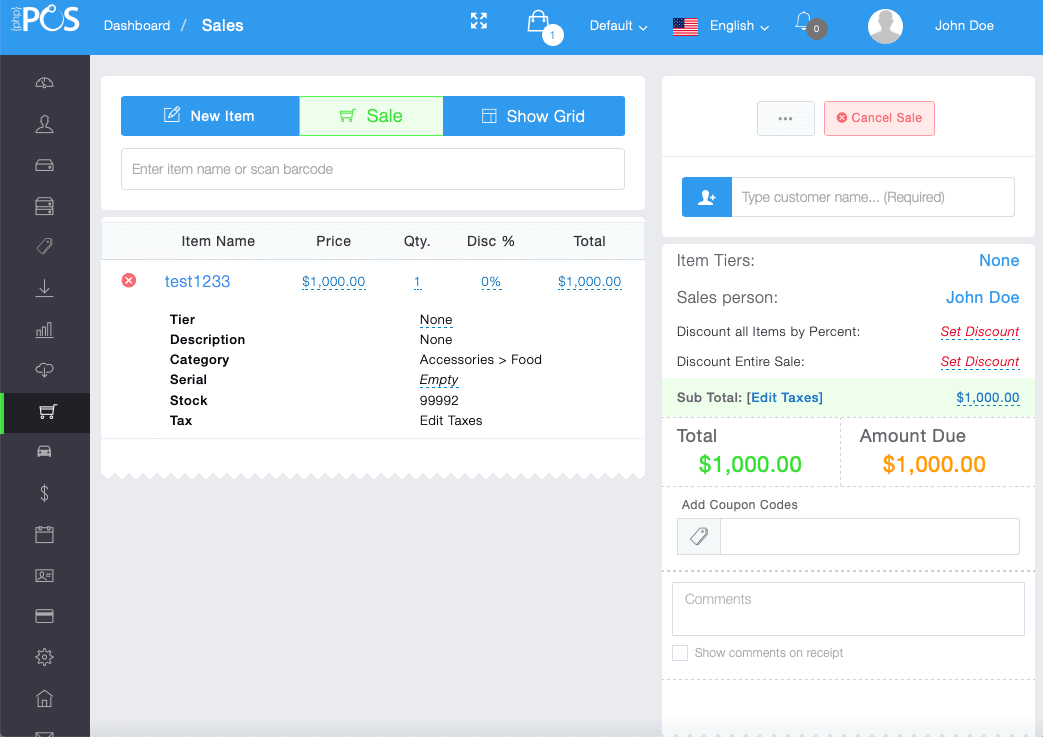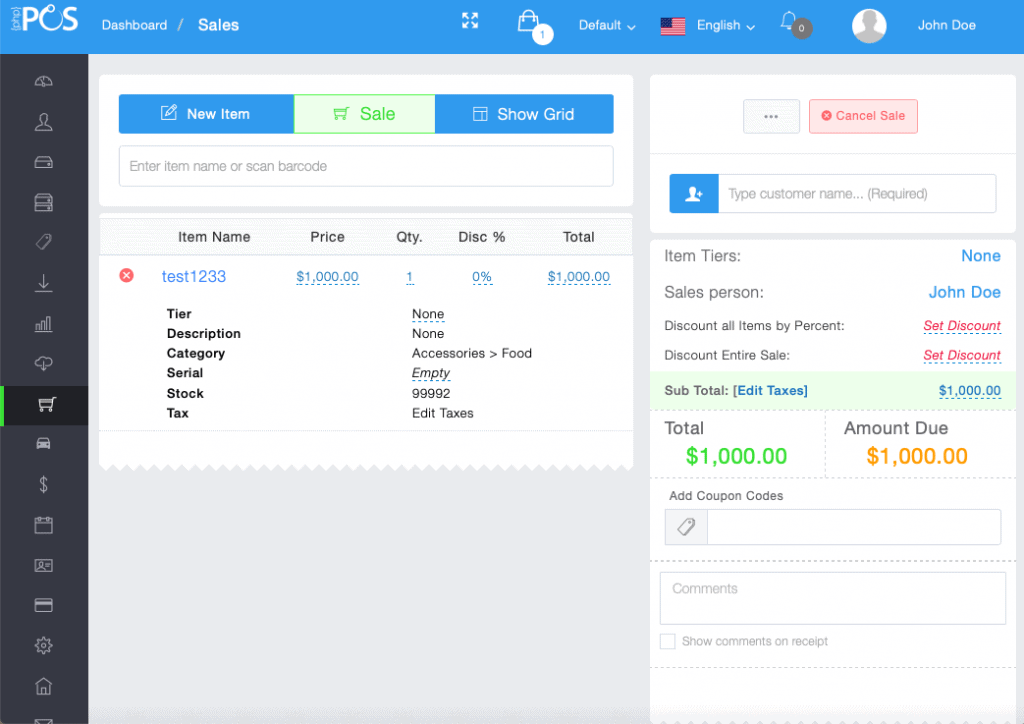 Customer Loyalty Programs
Customer loyalty programs are key for boutiques and clothing stores because they help drive repeat business. When first opening a new clothing store, it's essential to allure new customers.
The system offers two types of customer loyalty programs: Simple and Advanced. This is also great for first time POS users as they can start out using the Basic program and as they learn their way around the system move to using the Advanced program.
Coupon, Discount, and Promotion Management
PHP lets you set a coupon code for each item you sell. Users also have the option to print coupons on customer receipts, which draws customers back—a great strategy for startups.
Discounts and promotions are managed through the system as well. Users have flexibility around which discounts or promotions they run. This further helps boutique and startup clothing stores draw in their first customers and drive customer loyalty and repeat business.
5. Vend: Best Multi-Store System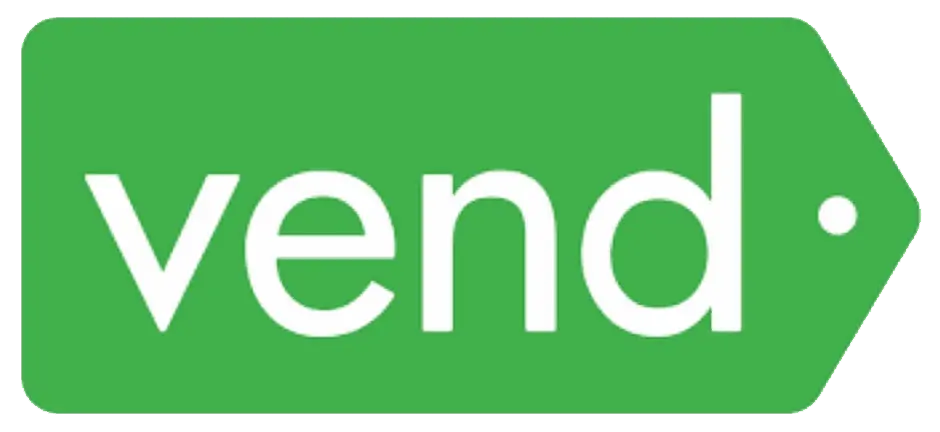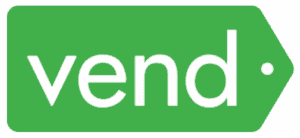 Vend offers loads of features that help boutiques and clothing stores grow faster and more sustainably. Customer relationship management (CRM) features let your business build better, more personal relationships with customers driving repeat business and loyalty.
Powerful reporting provides insights needed for apparel retail stores to remain profitable and continually grow. And that's just the beginning of the great features Vend offers boutiques and clothing stores looking to drive growth.
Sell Better with Less Effort
Vend makes it simple to move more merchandise through your store. The system allows you to easily add and remove objects from your system's available inventory. Its inventory management system is robust and reliable, and its reporting is world-class.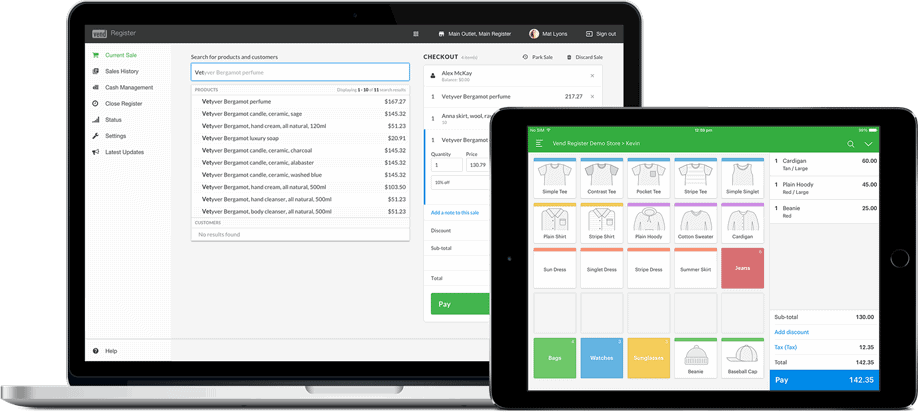 Multi-Location Capabilities
Manage your clothing store or boutique operations across all store locations. Manage, transfer, and reconcile any inventory discrepancies across all locations from a single interface. You can also manage your item catalog for all locations on that interface while you drive up customer satisfaction with loyalty programs managed across all your stores.
Sell from Anywhere
You can use Vend in a web-browser as a software-as-a-service (SaaS) application or as a native or iPad app, allowing you to check on sales trends from anywhere. Also, eCommerce integrations let you keep selling around the clock. Just sit back and watch your items sell, and monitor the status of new purchases from your mobile device.
6. Clover: Best System for Vintage Clothing Stores


Clover is a robust retail point of sale system with plenty of features to support boutiques and clothing stores. These include robust order management, payment processing capabilities, and staff management functionality.
One thing that sets the system apart is its level of customizability. Users can customize loads of system characteristics. This makes Clover a great choice for vintage clothing stores with many unique items on the rack.
Best for clothing stores selling vintage wears
Clover POS is an all-in-one solution that supports order management and payment processing. It offers a selection of hardware to accommodate different business sizes and needs. For instance, a deli might want stationary Clover terminals with customer-facing screens, while a full-service restaurant may need handheld devices for servers to take tableside orders and accept payments.
The solution also helps businesses keep track of inventory with automated and real-time tracking capabilities. It allows users to set up promotions, discounts and offers via email or text and display them on printed and digital receipts. Moreover, it lets business owners run robust rewards programs that help them increase customer loyalty and boost sales. Meanwhile, the POS system helps employees stay productive with employee management tools. These include the ability to assign commissions, set login permissions and limit access to sensitive data. It also allows managers to manage team shifts and monitor employee performance.
Another major plus for Clover POS is its ability to process credit card payments. The platform supports swipe, tap, EMV chip cards, mobile wallets such as Apple Pay and Google Pay, PayPal, Venmo and recurring payments. In addition, it offers Rapid Deposit that lets merchants receive their earnings within minutes rather than waiting one to three days for their bank to process their deposits.
However, some customers have complained of Clover's lackluster customer support. Some have reportedly experienced long wait times and unhelpful advice, which could be a turnoff for some small businesses. Other complaints have pointed out that the pricing plans for Clover POS are confusing as they vary by business type.
Highly Customizable
Clover offers many options for customization, which is perfect for vintage clothing stores because no two items are alike. Vintage stores need a POS with the ability to be molded to meet the specific needs of users and Clover is that system.
Built-in Clover Apps
Clover offers an array of apps that come included in every POS system it sells. These let you start customizing the system and include apps for promotions, customer feedback (e.g. requests for special vintage clothing items), and customer loyalty and rewards programs.
You can also use these apps to manage employees, offer discounts, and customer relationship management—all of which are helpful for vintage clothing stores.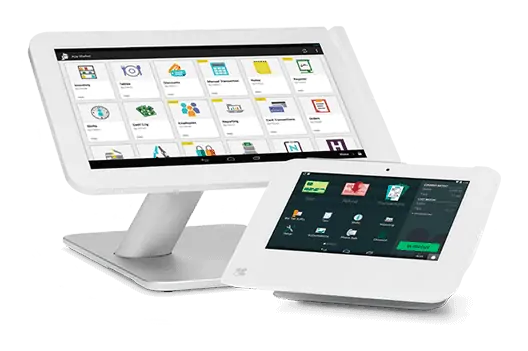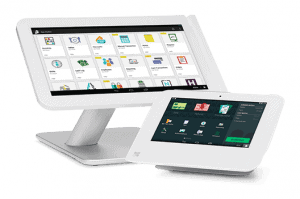 Clover Marketplace
Clover has its own app marketplace that lets you add the apps you need to streamline operations at your vintage clothing store. There loads of apps to choose from, letting vintage stores pick and choose the ones that meet their requirements and business model.
These apps perform all types of functions, including:
Payroll management
Gift card management
Accounting
Inventory management
eCommerce
invoicing
electronic signatures
Marketing
Customer relationship management
With so much customization possible, Clover is an ideal option worth considering if you own or operate a vintage clothing store.
Comprehensive Buyers Guide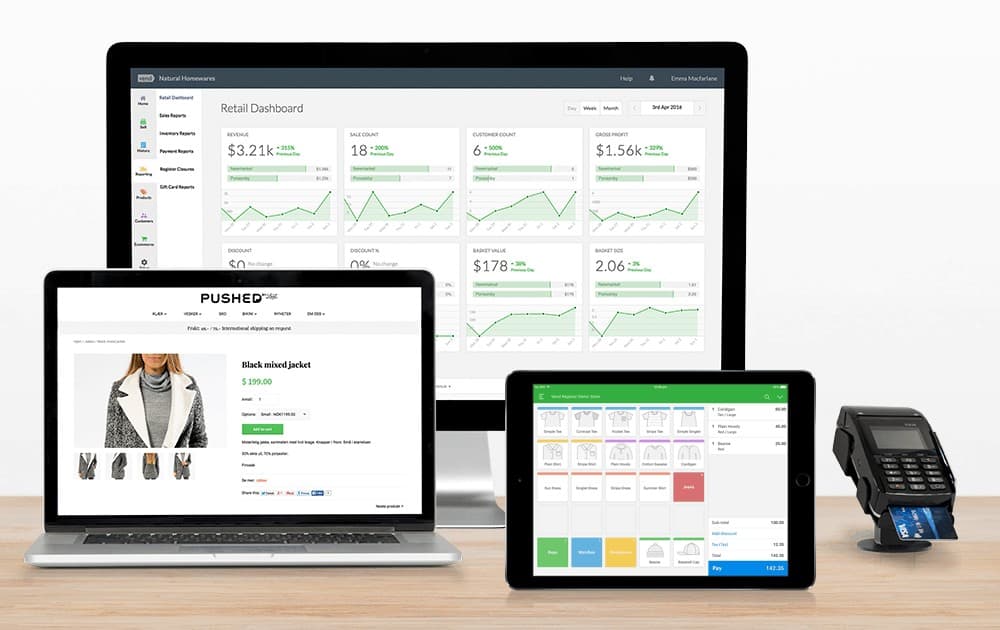 Top Benefits of Using a Boutique or Clothing Store POS Solution
There are numerous benefits involved in using a retail POS system for your boutique or clothing store. Below, we lay out the most important benefits that will drive efficiency, revenue generation, repeat business, and customer satisfaction.
Minimizing Human Error and Saving Time
Relying on your employees to manually check out customers and process their payments leaves your business open to human error. It's inevitable. A solid POS solution minimizes or completely eradicates that risk by automating many of the processes previously done manually.
This means no more lost pay stubs. No more miscalculations of cash in the register at the end of a shift. Plus, as a manager or owner, you'll no longer need to use your calculator to keep track of sales. If you invest in a powerful system, it will automatically complete all of the above and more
Accurate Inventory Tracking and Reduction of Revenue Loss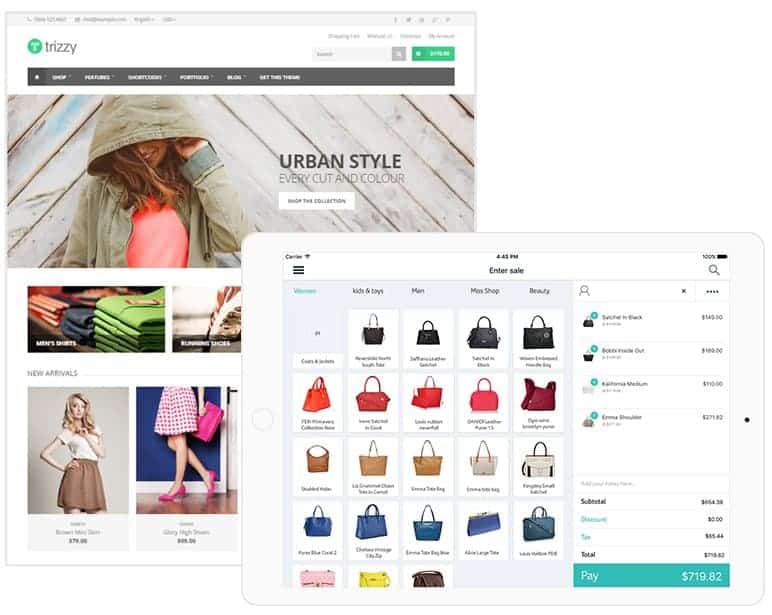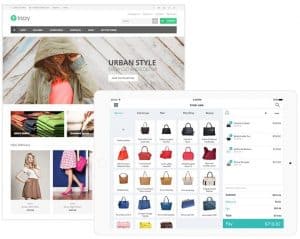 Because clothing stores and boutiques carry so much inventory, manually counting it can take ages. Plus, it's easy for an employee to slip up and lose track of their count and have to start over. If they miscount it, it can easily lead to revenue loss among other problems for your business.
However, again, a proper POS system automates these processes too. You can purchase a handheld inventory scanner to scan each piece and it's instantly entered into the main system and added to the inventory count. When you sell an item it's automatically subtracted from your inventory count. And the best systems monitor inventory levels and alert you when items are running low. They can also be programmed to auto-send purchase orders so your stick refills itself without you lifting a finger.
Loyal, Satisfied Customers
Because your employees can spend more time tending to customers' needs, they deliver a better customer experience. They won't be stuck manually completing time-consuming administrative tasks. A better customer experience increases satisfaction levels.
Plus, many POS systems include CRM capabilities that store personal information about each customer so your employees can speak to them like old friends rather than strangers. The system will tell employees items the customer has purchased in the past so employees can suggest similar items.
Finally, features like customer loyalty and rewards programs further increase satisfaction, loyalty, and repeat business.
Ultimately, they can deliver a more personalized experience which leads to satisfied, loyal customers who turn into repeat buyers. This provides reliable recurring revenue and business growth.
Employee Satisfaction and Reduced Turnover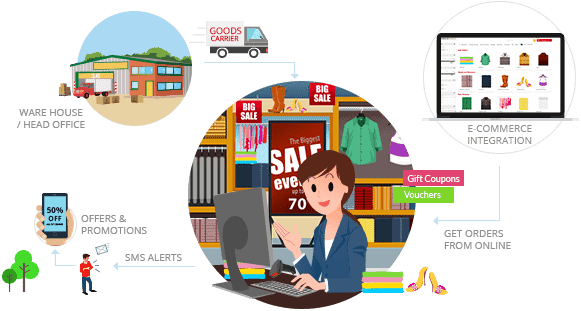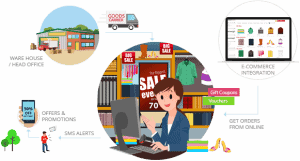 If your employees are disgruntled, they are more likely to be rude to customers, do a mediocre job, and care less about your store's success. Spending all day in the stock room—for example—won't generate employee satisfaction.
A powerful clothing store POS system that frees up time and frees them from monotonous tasks will generate satisfaction. Rudimentary, repetitive tasks aren't engaging for most people, and removing that element of employees' daily jobs boosts satisfaction. An easy to use system that lets them spend more time on the floor interacting with customers is engaging and they will enjoy their jobs much more.
Business success starts with employees. If they are satisfied, they'll enjoy their jobs more, be in a better mood, treat customers with more respect, go out of their way to help customers, and generally deliver a superior customer experience. That leads to customer satisfaction, which leads to loyalty and trust, which leads to repeat business, which leads to revenue growth. Simple, right?
Get A Free Quote
POS Software Features
Different types of retail stores require different POS features and boutiques and clothing stores are no exception. Certain features are a must and should be on your checklist as you evaluate systems. Below we'll run through the most important POS features to look for.
Robust Inventory Management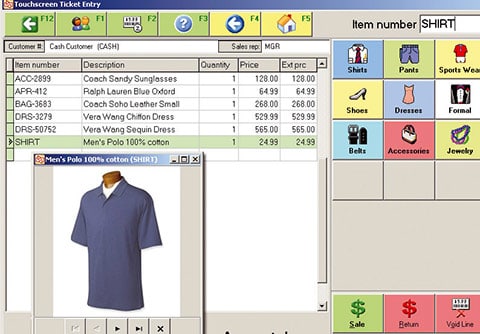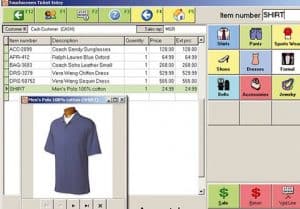 This is a must-have for boutiques and clothing stores. As mentioned above, inaccurate inventory counts can cost your store significant amounts of revenue. The best clothing store POS systems include advanced inventory management features such as automatic inventory level tracking and automated alerts when stock is running low.
They also include automatic purchase order routing that you set up to take place behind the scenes while you're focused on more important tasks. Finally, you'll benefit greatly from having an inventory matrix grid that can easily manage inventory items with multiple characteristics, like different sizes, colors, designs, etc.
eCommerce Capabilities
Even if you run a small, modest boutique clothing store, you'll still benefit from having eCommerce capabilities built into your POS system. People shop online these days, and consumers enjoy the ability to see what's available at your store.
Solid eCommerce capabilities make it easy to upload photos of individual items to your POS system. The system then matches the photo with the item's information already stored in the system such as price, sizes available, etc. That all gets automatically added to your eCommerce site without any manual work needed.
Built-in eCommerce capabilities increase sales, grow your customer base, and drive up revenue. Plus, they further enhance the customer experience.
Customer Relationship Management Features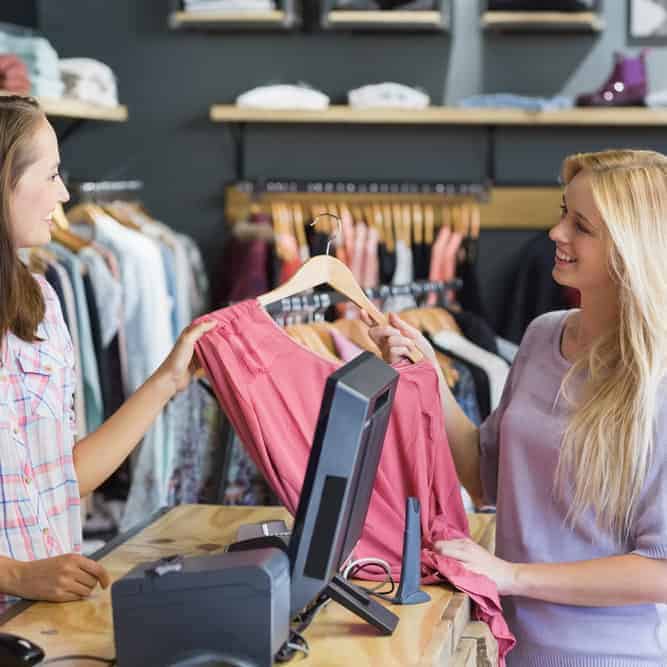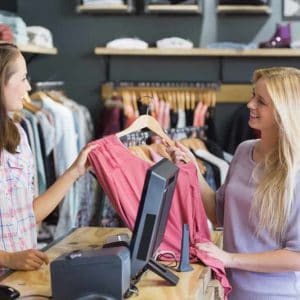 CRM capabilities save loads of customer information, slowly building profiles for each customer with the data they provide as well as data automatically collected from each sale.
This data allows you to see the purchasing patterns and histories of individual customers. CRM features also allow you to generate lists of customers who buy certain items so when you run discounts or special offers on the types of items a segment of customers likes to buy, you can run personalized marketing campaigns that target the customers with the highest propensity to buy.
Every customer touchpoint matters, including digital touchpoints. If a customer is a man who purchases work boots exclusively but receives promotional marketing emails about a limited time discount on dresses, that customer would likely unsubscribe from your email marketing list.
Marketing Features
Marketing and CRM go hand-in-hand. The CR collects customer data and feeds it to built-in marketing features. Then, when you decide to run a campaign around dresses, you can filter and target a segment of customers with a displayed interest in dresses.
Reporting and Analytics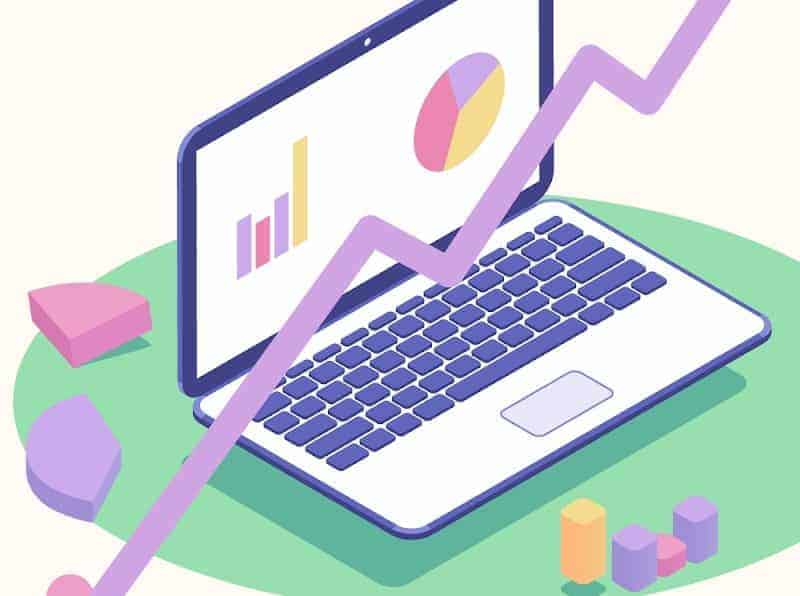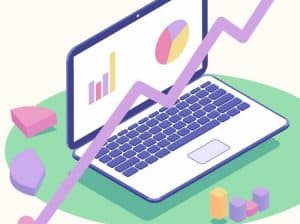 Any retail business needs powerful metrics, reporting, and analytics. Thee insights gained from reporting enables you to make the smartest business growth decisions possible. You should be able to see which items are selling the most and those that are simply collecting dust on the shelf.
With this insight, you'll continually make smarter, data-driven decisions around how to stock your inventory, keep track of sales trends, and scale your business.
Mobile vs. Installed POS Systems
Our advice is to go with a cloud-based mobile system over a locally-installed system. Here, we'll quickly break down the difference between the two.
Mobile POS Systems
Mobile, cloud-based POS systems are growing in popularity and overtaking legacy installed systems—just like in every other software industry. They track, collect, and store all your data in off-site servers that automatically back up that data for you.
Plus, they can be accessed from a laptop, tablet, smartphone, etc.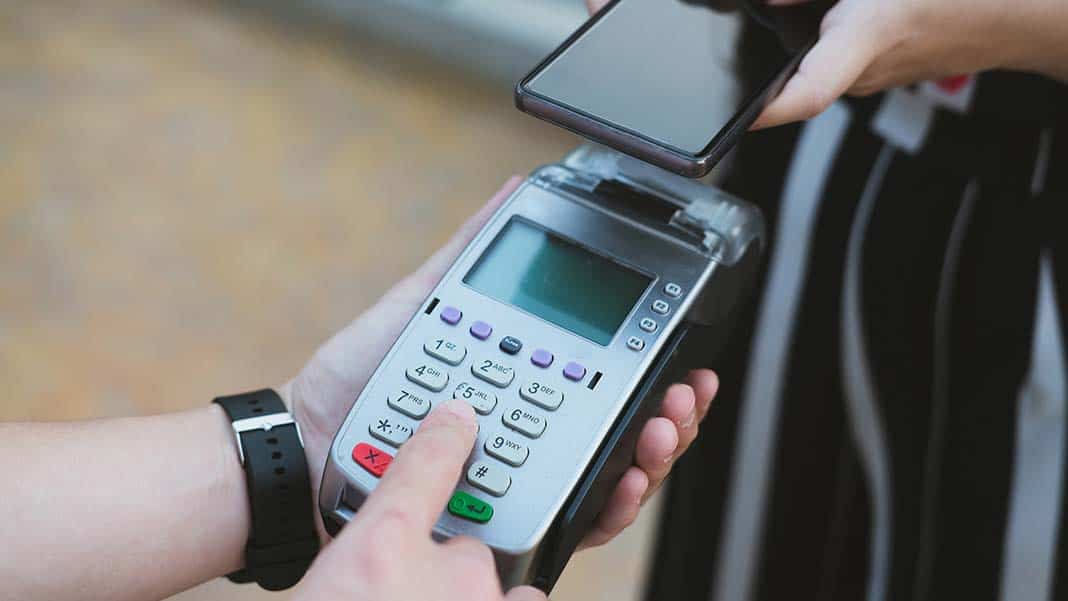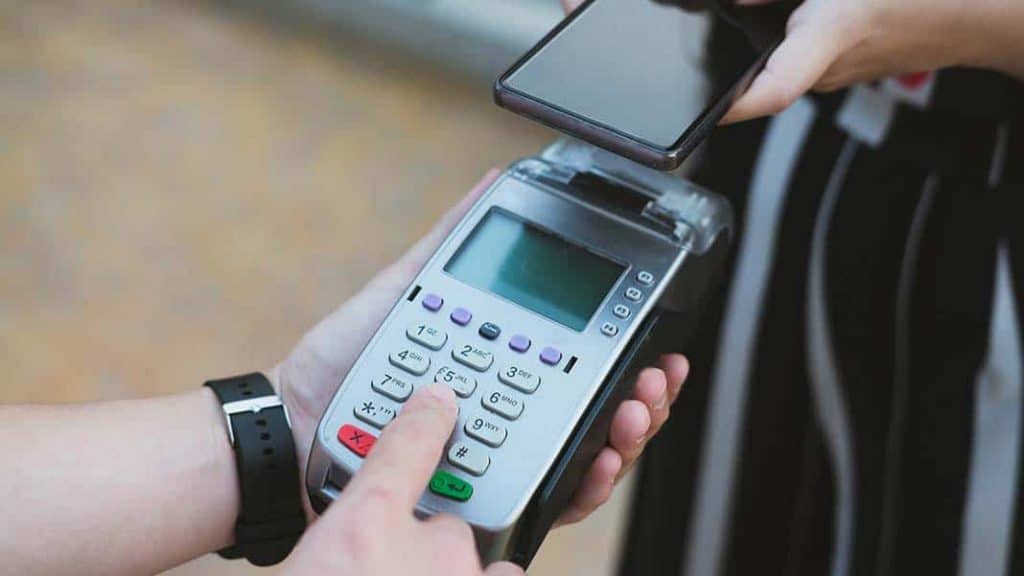 Locally-Installed POS Systems
Remember when you had to install software from compact discs. This type of software has largely been phased out but some POS systems are still locally installed.
They are sometimes preferred by large supermarkets and massive retail stores that process thousands of transactions every day. They give businesses the capacity to store large amounts of data on-site in a private data server database.
All POS hardware components link into that closed system and your data is stored onsite. This can be a benefit if your business has a slow or non-reliable internet connection that goes out from time to time. If the internet goes out, your system continues to operate.
We'd only recommend considering an installed system if you run a giant retail clothing store. Otherwise, close-based systems are the way to go. However, there are exceptions to this rule, one of which unique systems like  Retail Edge, which gives you the option to store data locally or in the cloud.
POS Hardware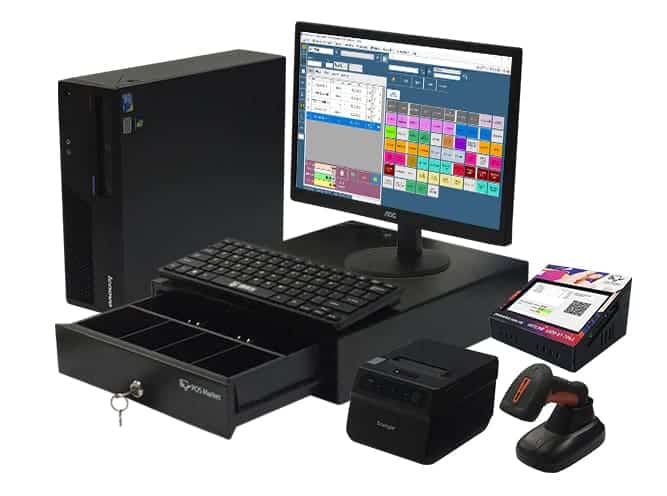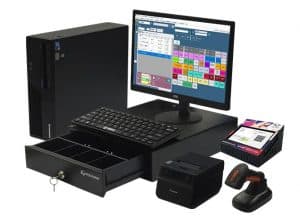 So far, we've focused mainly on POS software capabilities. However, your software is of little use to you without POS hardware to do the heavy lifting. There are loads of POS hardware components available and not all of them are relevant to boutiques and clothing stores. For example, there are many components that are only used in tandem with restaurant POS systems.
Below is a list of important POS hardware you should look for. Be sure to ask your vendor about these items in particular and ensure you purchase components that are compatible with your software.
Credit card readers
Touchscreen monitors
Tablets (assuming you opt for a mobile system)
Electronic signature pads
Which System Will Best Fit at Your Boutique or Clothing Store?
If you own and operate a large chain of clothing stores that mostly sell the same items at each location, you might look at Vend.
Vintage clothing stores with their array of different items need customization and would do well to give Clover a closer look.
If you've never used a POS system before, Square Retail is a nice selection due to its intuitive interface and ease of use. If you're looking for tons of features and the best inventory system around, it's hard to go wrong with RetailEdge as its inventory management features are endless.
Finally, if you're an established clothing store and want the most powerful system around, it's hard to go wrong with Lightspeed Retail. Ultimately the right system for you will defend your unique needs and the type of store you run. Follow the advice above and you'll find the right system that's a perfect fit for your needs.