SalesVu point of sale system (POS) is essentially a module-based solution that is affordable and reliable.
As such, you will find it relatively easy to configure the iPad-based POS software to your specific needs with a range of industry-specific Apps by the provider.
The system has been proven to be suited for a vast array of business types, including health clubs, retail businesses, and restaurants.
The thousands of business owners already using this POS solution have expressed their satisfaction with the broad flexibility it offers, with regards to features and capabilities.
Implementing the solution in your business will help you generate tailored and detailed reports and maintain an active customer database.
Again, the system is specifically designed to streamline inventory and employee management. With this solution, all you need is an iPad and a credit card reader to get started.
In addition to these, the SalesVu POS software has a horde of benefits to offer your business, most of which are discussed throughout this guide.
SalesVu POS Review – Quick Overview
SalesVu is a cloud-based POS provider based in Austin, Texas. The SalesVu POS system is one of the innovative products by this provider. The cloud-based iPad POS software serves as an all-in-one management solution for different types of businesses. The basic POS package by the provider only offers basic POS capabilities.
However, the modular software allows you to add unlimited apps to your POS system for enhanced functionality. In this regard, the provider offers a wide range of Apps to meet your specific business needs. As you will learn below, the software may be configured to suit wineries, professional service providers, restaurants, retail stores, health clubs and many more.
SalesVu POS Benefits
Highly scalable
Relatively easy to set up and use
Features Kiosk functionality
Has a customizable appearance
Equipped with exceptional marketing tools
Features service appointment capabilities
Possible Drawbacks
The pricing structure by SalesVu is somewhat complicated. Again, the offline functionality of the POS software is also limited. For a better retail POS alternative, take a look at NCR Radiant or Revel Systems.
SalesVu POS Pricing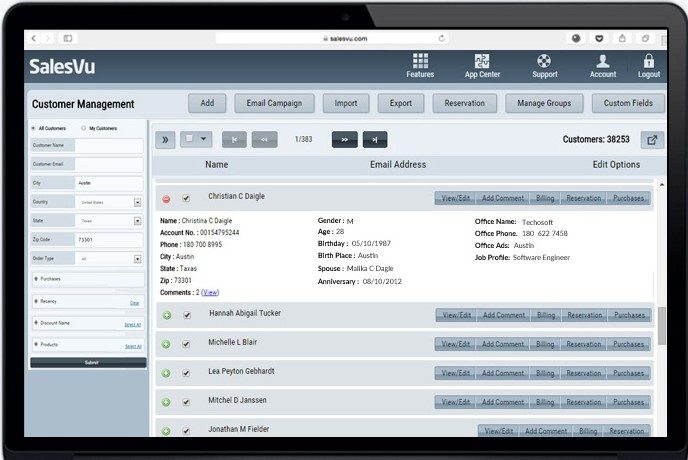 However good a POS system may be, you first need to check whether you can actually afford it before committing yourself. Although some users may think of the pricing structure by this provider as complicated, SalesVu actually features simple and clear month-by-month pricing.
As you may have noticed, the provider will never charge you any hidden fees or require you to sign any contract. With hundreds of business Apps to choose from, you will be able to subscribe to just the ones you need and can afford. Basically, the provider offers a selection of customizable modules as opposed to the pricing plans offered by most of the best POS systems.
Only Pay for the Apps You Add
For enhanced versatility, the provider allows you to customize the iPad POS system to your specific needs. Additionally, the provider also offers a range of bundles that may be customized using the modules. Most of SalesVu modules, such as the base retail, restaurant and mobile modules, will cost you about $25 a month.
SalesVu basic bundles, on the other hand, will cost you about $75 per month. The more advanced bundles by the provider cost upwards of $150/month. Unlike most of the leading providers in the industry, SalesVu allows you to move to a different POS solution without incurring any cancellation fees.
With regards to card payments, the provider allows you to integrate EVO, Worldpay or Vantiv as your preferred payment processor. If you are looking forward to using this POS system, here are some of the common App bundles offered by SalesVu:
SalesVu Website Builder Bundle (Free)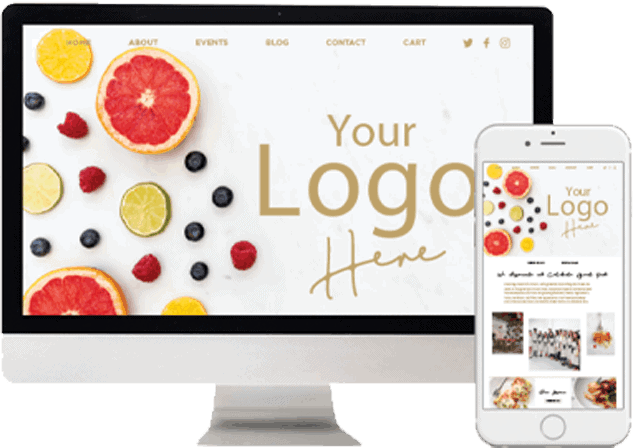 This package features basic apps you will need to modernize your online presence. With this bundle, you will get such capabilities as search engine optimization as well as mobile and desktop optimization. You will also be able to host Amazon AWS Servers as well as sync with your Facebook storefront.
The package will also offer you hundreds of templates to choose from and Native Android and iPhone Apps. With this package, the provider will offer you eCommerce website as well.
SalesVu Business Apps (Free)
This is another one of the great App bundles you can get from this provider free of charge. This package essentially offers you one terminal license per account. With this package, you will a Retail and Restaurant POS system. The provider will also offer you such capabilities as the Welcome Salon scheduling, Invoice, Here class scheduling, Regulars loyalty program management, and VIPz discount voucher management capabilities.
Other capabilities you will get with this bundle include the SalesVu Order Up self-ordering Kiosk, waiting and reservation manager, staff schedule manager and Kitchen Display System (KDS) functionalities.
SalesVu Cloud Basic ($75)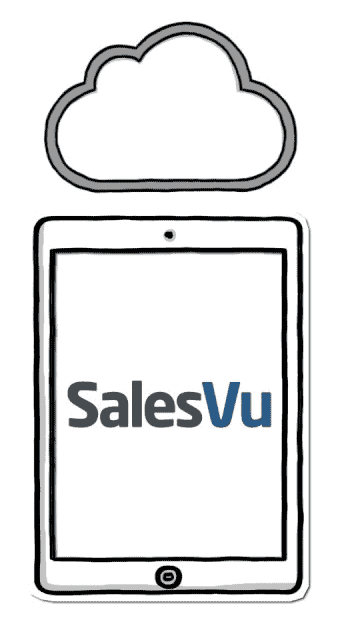 The basic cloud-based iPad POS system by this provider will allow you to manage the business from virtually anywhere. If this is your preferred pricing plan, you will be required to pay $75/month per location. The provider offers a 15-day free trial period to help you ascertain whether the system is ideal for your business.
This subscription plan will offer you a single account for all and a range of SalesVu apps. Some of the Apps you will get with this bundle include cloud-based remote reports and App management capabilities. The solution will also offer you basic Accounting tools.
SalesVu Cloud Advanced ($150)
For only $150 a month per location, SalesVu will offer you the capabilities you need to boost sales and reduce costs in your business. Just as is the case with the Cloud Basic plan discussed above, the provider offers a 15-day free trial period for the Cloud Advanced plan. The Cloud Advanced subscription plan by SalesVu will offer you all the capabilities of the Cloud Basic plan.
Additionally, this plan will also offer you CRM and marketing, inventory and Vendor management, automation and recurring billing capabilities.
If you would like to get advanced capabilities with any of these bundles, you should consider getting the right modules by this provider.  The provider will charge you about $10 per month for each of the basic modules like the basic accounting module. For the more complex capabilities, such as recurring billing and inventory management, the provider will charge you about $25/month per module.
SalesVu POS hardware and System Requirements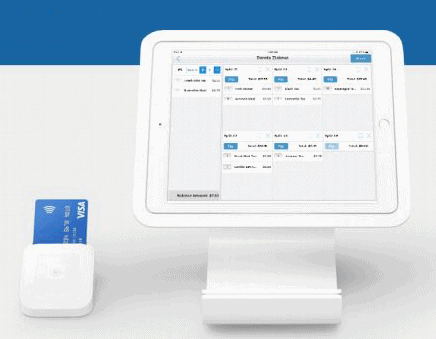 SalesVu does not offer any propriety hardware for its POS software and Apps. This being the case, the system is compatible with a range of third-party hardware components. In order to save time and money, the provider recommends that you buy your hardware through the mPOS Gear vendor.
As you will come to find out, the mPOS vendor offers a vast array of basic as well as optional POS hardware components. Again, the vendor also offers affordable hardware bundles that are meant for use with the SalesVu system. In this regard, these are the two main SalesVu hardware bundles offered by m POS:
Star mPOP Printer and Cash Drawer Combo
This bundles some of the important components you will need to implement the SalesVu POS system. For $400 you will get a cash drawer, basic iPad stand, printer, and 4 bill slots. This bundle offers Bluetooth connectivity for one iPad device.
As opposed to the bundle mentioned above, the SalesVu POS package is customizable. For just $450, this vendor will offer you such components as a cash drawer, Star Network printer, Windfall iPad Stand and the necessary connection cables for the cash drawer.
SalesVu POS Software Options
SalesVu offers one of the most customizable POS solutions in the industry. The software is designed for easy customization and enhanced scalability. The provider offers different software options that are tailored to different industries. In this regard, the company offers such POS software options as Food and Drink, Salons and Spa, Retail and eCommerce, Grocery Stores, Art, and Culture as well as Studios and Classes solutions.
SalesVu Features and Capabilities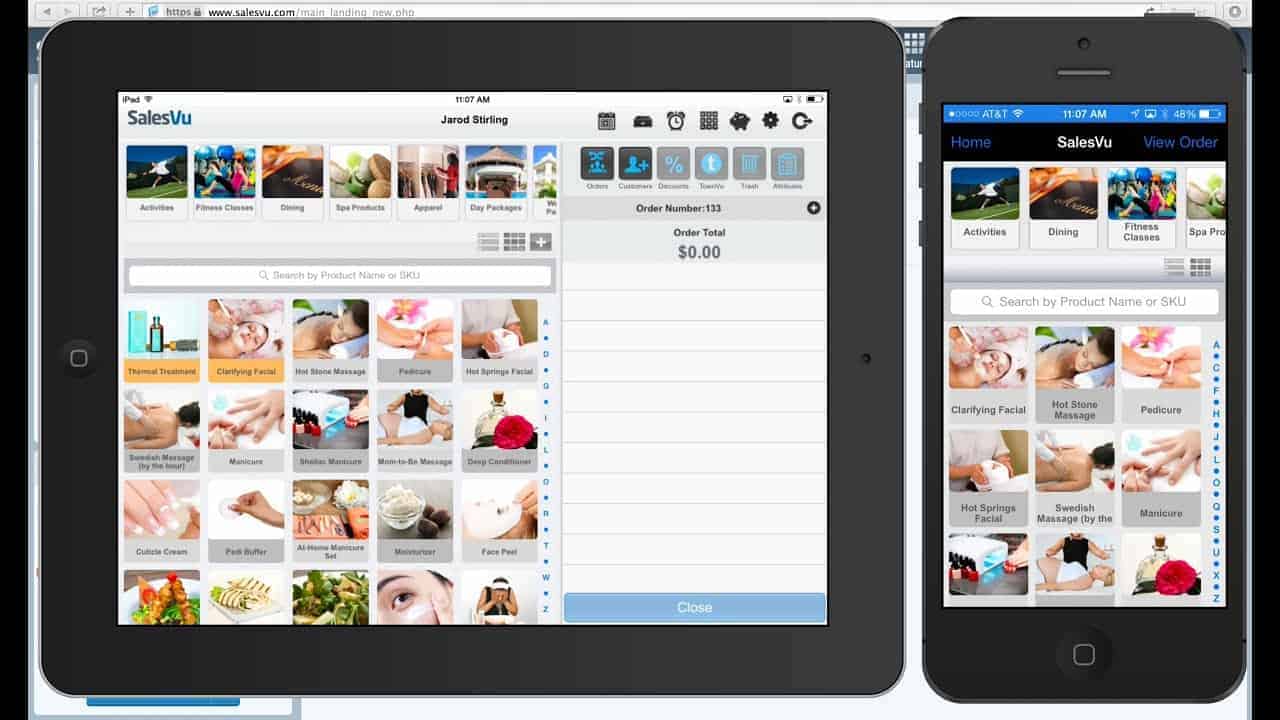 The basic POS software bundles by SalesVu offer almost all the capabilities a small or medium-sized business would need. While this is the case, you will be glad to learn that the software is highly scalable to accommodate your ever-changing needs.
The backend of this solution is rather extensive, customizable and versatile. From the top right-hand corner of the display, you will have access to six main tabs, including Features, Demo, Support, App Center, Logout, and Account. The Features tab of the software may be expanded to display about 19 categories.
With this system, you will have the option to forgo some of these capabilities based on your business requirements.  Regardless of your business type, here are some of the basic SalesVu features and capabilities you can get:
Employee Management
The Employee Management and Scheduling features offered by this system makes it easier for you to monitor your staff and control labor costs. The feature offers you an array of tools to optimize employee productivity and streamline operations for enhanced efficiency and organization.
Some of the important staff management tools offered by this feature include:
Automated Staff Scheduling

The human capital and staff management capability are meant to save you the time and hassle associated with employee management tasks. To begin with, it will automate employee scheduling and generation of performance reviews.
Again, you may as well configure the software to automate employee compensation. The system also establishes reliable communication procedures for full-time and part-time employees. With this software, you will be in a better position to detect schedule discrepancies.
The solution is also capable of tracking all labor costs in your business. This will, in turn, help you plan for scheduling. Such data will also influence your future hiring decisions.
Communication
The solution will equip you with all the tools you need to establish a reliable, organization-wide communication system. This feature makes it easier and faster for you to communicate changes to all the staff. For instance, it makes it easier for you to communicate changes in shift trade requests, time off requests and schedules in real-time.
Labor Costs Monitoring
SalesVu will also offer you a range of tools to help lower labor costs in your store. Starting with clearly stated goals, the system gives you the opportunity to reassess your module on a daily basis. As such, the system will ensure that you do not end up paying more than you had initially anticipated labor costs.
ECommerce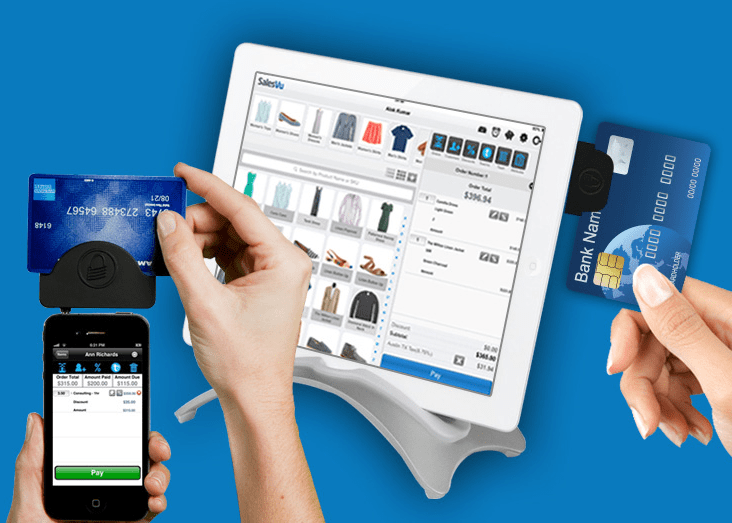 SalesVu allows you to set up a sophisticated eCommerce business in a matter of minutes. The fully integrated solution is relatively easy to navigate for your customers and is mobile optimized. As such, it offers you web hosting, secure credit card processing, product search and the ability to use your own business URL.
The eCommerce solution allows for seamless integration with SalesVu cloud and POS systems. With Smartphone optimized websites, your customers can easily view their purchase histories, pay for their purchases, reorder and choose purchase options. Other benefits offered by this intuitive platform include:
Easy Set Up
With SalesVu, you will be able to integrate the eCommerce platform to the POS or Cloud POS and start selling your products and services online in minutes. To boost profitability in your business, the solution offers you the opportunity to sell on other websites as well.
You will also find this platform relatively customizable, with a rich choice of fonts and colors. This is meant to help you customize the appearance of your online storefront. You will also be allowed to add images and banners to the platform for a unique brand appearance.
Facebook and Web Storefronts
Having an online storefront serves as an additional revenue generation stream in your business. The eCommerce software by SalesVu allows for easier and convenient management of such online stores. In this regard, the solution offers a choice of payment options, product search, and secure credit card processing capabilities.
Branded Websites
In addition to a comprehensive eCommerce Platform, SalesVu POS will also offer you a branded business website. This solution is aimed at helping small and medium-sized businesses reach more customers and meet their varying needs. In order to remain afloat in this competitive industry, you should consider offering your customers convenient online purchasing and ordering options.
To help you achieve this, the provider will offer you:
Omnichannel Business
You need to embrace Omnichannel presence in order to stay in line with your competitors who are running in-store and online sales. As such, the system features an intuitive website builder and comes packed with an assortment of business management apps. This will allow you to establish an online presence for your brand, hence reach more customers.
Customer Relationship Management (CRM)
In order to retain more customers in your store, you just have to meet their requirements. This is particularly the case for service-based businesses. As you can attest, this is almost impossible to accomplish without prior knowledge of the customers' needs. Well, the SalesVu CRM feature is meant to bridge this gap.
To begin with, this solution allows you to monitor individual customer fields or a group of customers. As such, you will have an easy time tracking customer's interaction history, including order notes and previous purchases. It will also allow you to retrieve customer information with ease and even filter the data by purchase frequency, amount and date.
These are the kind of tools you need to analyze purchase patterns and gain a deeper understanding of your customers. Not only will this allow you to meet their specific needs, but will also allow you to offer VIP treatment to your regular customers.
Online Scheduling
Allow your customers schedule appointments conveniently and easily through your website or social media platforms. The SalesVu POS system presents you with intuitive and affordable online appointment management and scheduling capabilities. These tools are particularly meant for studios, spa, and salon businesses.
From this platform, you will be able to view your overall schedule at a glance. Your customers will also be able to schedule appointments and edit them online with ease. This feature will go a long way in reducing no-shows in your store. In this regard, it features automated appointment reminders.
Invoice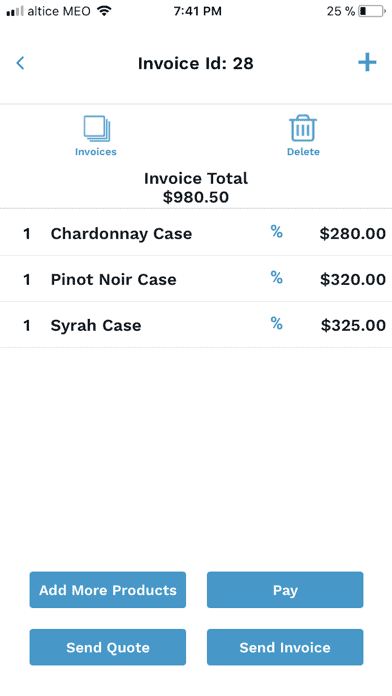 Among the innovative POS Apps by this provider is the Invoice self-employed application. This application is capable of sending invoices and estimates to your customers directly from your mobile device. The App also supports online through all the major credit cards.
The app is also capable of tracking all outstanding invoices and well as completed payments in your business. Such a solution will save your time as well as eliminate the redundancy commonly associated with workflow management.
Customer Service & Technical Support
With SalesVu, you will be able to access reliable and swift customer support whenever you need it. In this regard, the provider allows you to access support through different channels. For instance, you can get in touch with their customer support team by sending an email to support@salesvu.com.
SalesVu also offers 24/7 phone support through a direct phone line listed on its official website. You will also have access to a rich support database by the provider. You can access this database through your account and get to see the various questions the SalesVu customer support team has answered in the past.
For a swift response in times of need, SalesVu allows you to contact the support team through an intuitive chat feature on its website. The provider also offers a range of Demo videos that will help you learn how to use the system as well as address common POS malfunctions.
Inventory and Vendor Management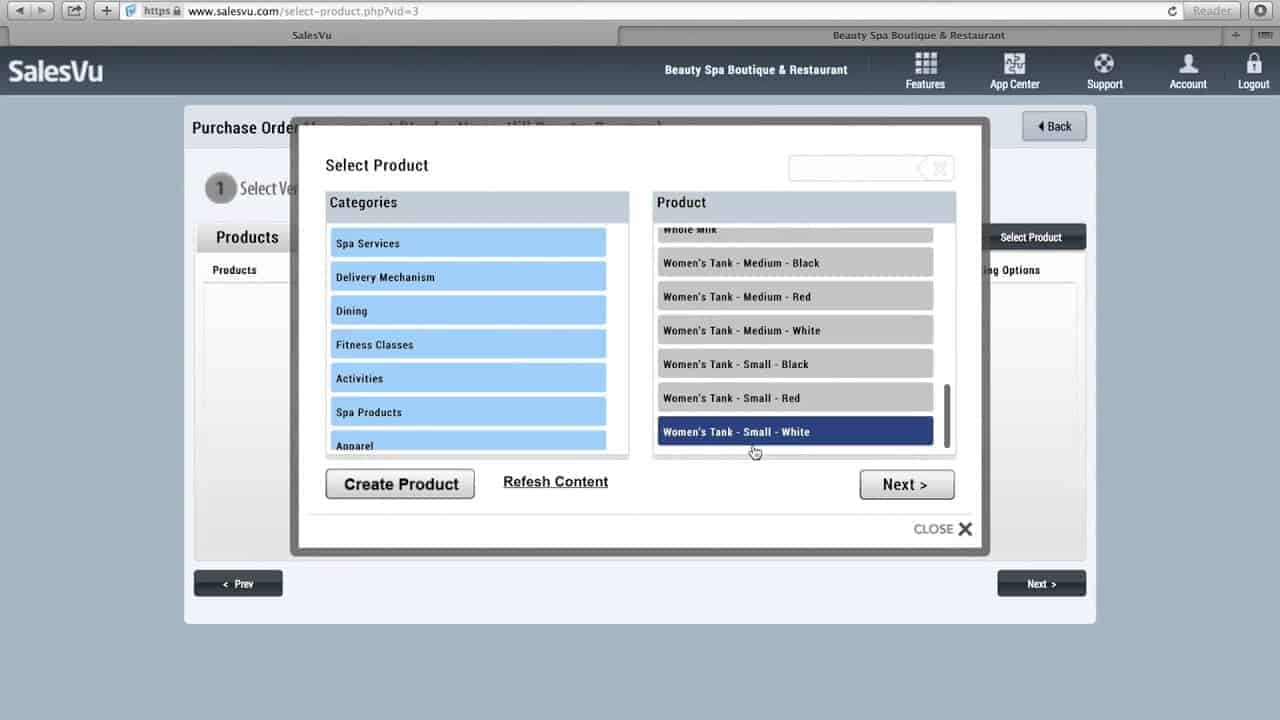 In order to keep your business profitable, SalesVu offers you a rich suite of inventory and vendor management tools. In addition to tracking inventory levels, this software will help you optimize the inventory and monitor profit margins in the business in real-time.
This feature will notify you whenever you need to order various inventory items and help you manage the cost of products and services. The solution is also capable of automatically emailing your suppliers and vendors. With this system implemented in your business, you will no longer have discrepancies between the reported and actual inventory.
Marketing Automation
This Marketing feature on SalesVu is meant to simplify targeted marketing, increase profits and boost customer loyalty in the business. To begin with, the system is equipped with sophisticated marketing automation and segmentation tools.
Such capabilities will make it easier for you to market daily specials in your store to your existing customer list. The system is capable of sending automated notifications on deals and discounts based on the customer's purchase history.  With this capability in your POS system, you will be in a better position to:
Generate Viral Promotions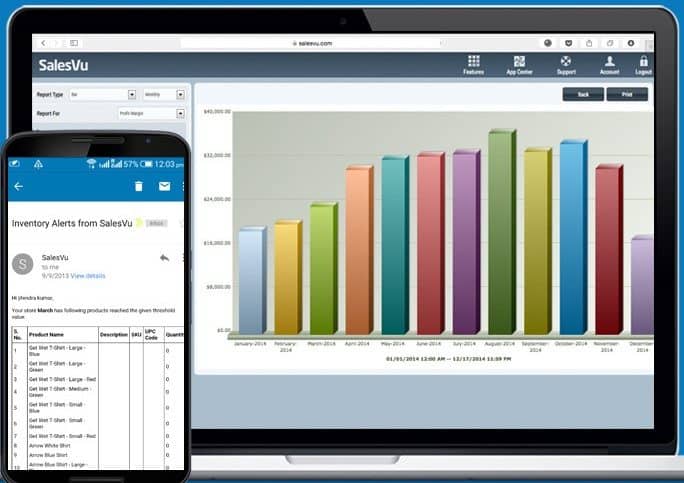 SalesVu capitalizes on the best email and social media marketing strategies for enhanced customer loyalty in your store. The system will automatically send out customized discounts and offers to the various customers in your business. This will, in turn, help you gain a better understanding of your customers as well as improve the effectiveness of your marketing campaigns.
Monitor Return on Investment (ROI)
Integrating the automated Marketing feature on your SalesVu POS system allows you to monitor the impact of your campaigns in real-time. From the POS system, you will be able to post-marketing campaigns to social media platforms like Facebook automatically.
Additionally, this capability makes it possible for you to email custom discount codes to different customers. Again, it enables you to track the ROI on your promotional campaigns. The Marketing Automation capability is currently available with all sales bundles by SalesVu.
Add-Ons and Integrations
While the provider offers a vast array of POS features and Apps, you may still want to integrate third-party services to your system. In this regard, SalesVu is capable of integrating with third-party programs. Some of the services you will be able to integrate to this POS include QuickBooks accounting, SalesVu Easy accounting, and Zapper.
Our Final Verdict
In addition to the basic POS Bundles, SalesVu offers you an App marketplace where you can choose your preferred POS capabilities. This has been helping thousands of business owners tailor their POS systems to their specific requirements.
As you have learned throughout this guide, this provider features a strong backend suite of features. As compared to some of the leading POS systems, SalesVu offers a more customizable and versatile solution. Again, the provider ensures that you only pay for the capabilities you are in need of.
This being the case, SalesVu is rated as one of the best POS systems for different types of businesses.
The following two tabs change content below.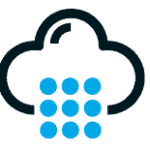 POS Quote Team
The staff at POSQuote.com is composed of industry professionals, experts, and current business owners. Through extensive research, we compile buyer's guides and review the best POS systems in the industry.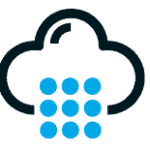 Latest posts by POS Quote Team (see all)
Reader Interactions