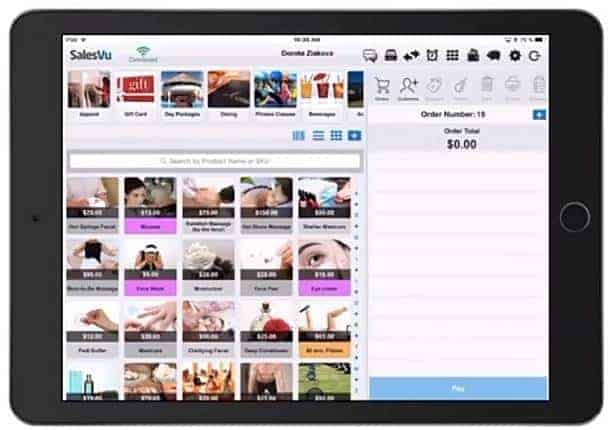 B2C businesses often struggle to find software solutions that are built specifically for their business niche. Different business operations, after all, call for different unique features. This is an even bigger difficulty for businesses with multiple verticals within one operation. SalesVu, however, can serve an incredible variety of business types.
From salons and studios, to festivals and food, SalesVu provides native and integrated solutions to fit nearly any business. It offers the retail and eCommerce features of a Vend, the restaurant tools of a Lightspeed, and the ticketing and reservations of a KORONA POS. And with eCommerce solutions, SalesVu makes it easy to move online, too.
Additionally, SalesVu brings enhanced customer experiences with its website and app builder. Automated customer engagement, custom delivery payment and delivery settings, and comprehensive eCommerce platforms make it easy to keep shoppers happy.
What we found particularly impressive about SalesVu, though, is its new AI technology. It comes with a built-in algorithm to make suggestions for your shoppers. Using an individual's purchase history and a knowledge of which items are frequently purchased together, the software automatically recommends additional products.
SalesVu also comes with a variety of hardware options. In another effort to fit all types of needs, businesses can take advantage of self-ordering kiosks, kitchen display systems, iPad tablets, and traditional counter terminals.
It also provides a fully modern solution with digital gift cards and loyalty management. Fill and redeem gift cards through an app, earn rewards with digital payment, get text activation for discounts and rewards, and set custom conditions for redemption. SalesVu makes running your CRM simple.
Overall, whether you're a retailer, restaurateur, winemaker, yoga teacher, or event planner, SalesVu has specific features and integrations to make it work well. And at an affordable price.
Pros and Cons of SalesVu
While there aren't a large number of SalesVu POS reviews online, what we did find was largely positive. Their average user seems to be overall happy with the product.

PROs
Users get a 15-day free trial

24/7/365 customer support

Serves a wide variety of business types

Builds websites and apps for clients

Robust eCommerce and AI capabilities

Overall ease of use

In-depth training and manual resources
CONs
The base price is more expensive than most competitors

Learning curve for some basic features

Many additional features cost extra

HIgh pricing for single terminal operations

Inventory features double the subscription cost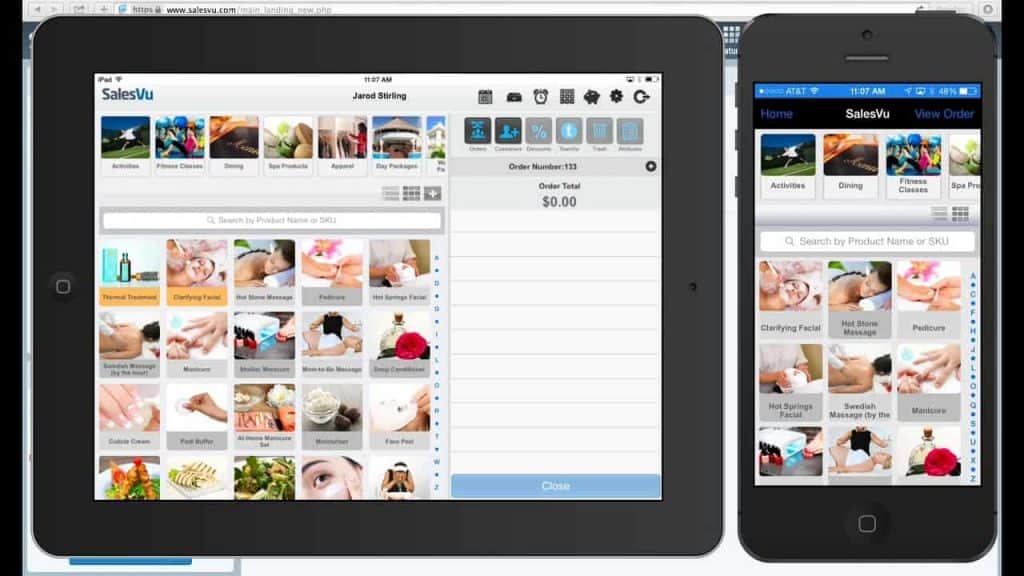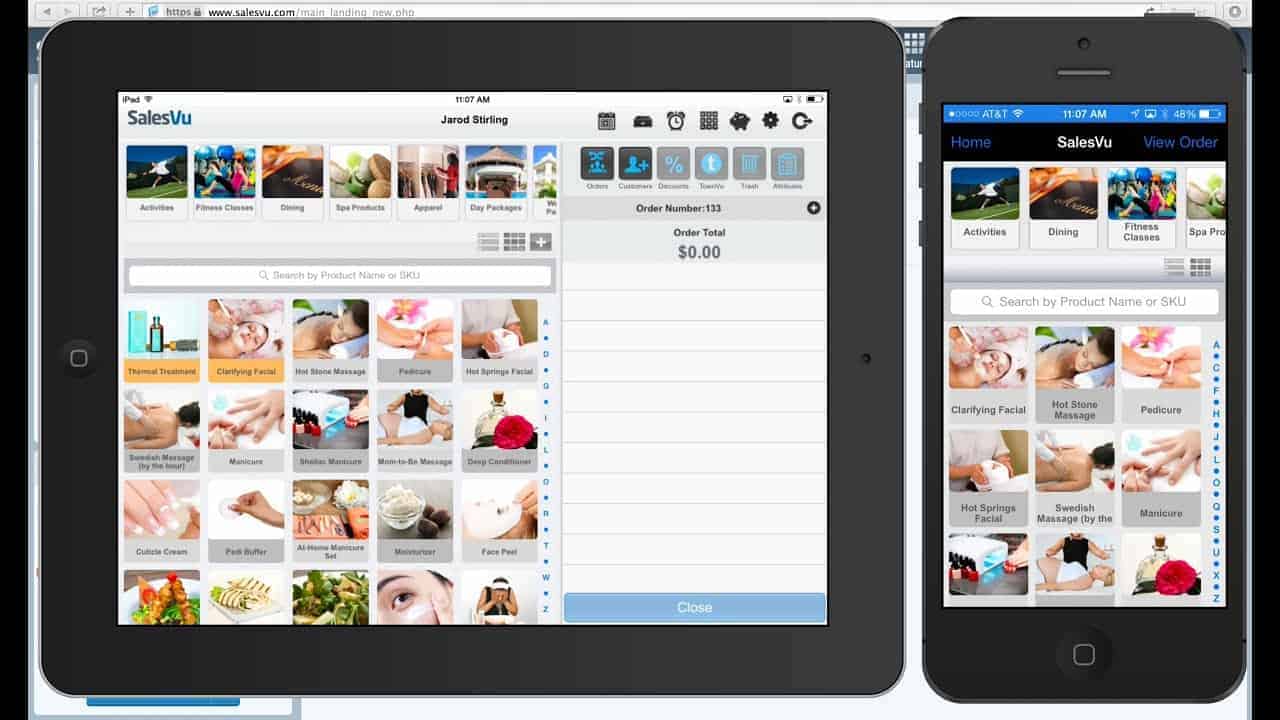 Don't have time to read our full review? Skip all the nitty-gritty details about this POS system. Easily customize a point-of-sale solution for your restaurant in just 60 seconds by clicking here. If you're not in a rush, read our comprehensive 5000+ word guide on the top 20
restaurant POS
systems in the industry.
Pricing Plans
SalesVu has a definite focus on multi-location operations. Their most basic plan is even coined as the "Multi-Location Solution."
For businesses with multiple terminals in each location, SalesVu pricing does come down a bit. Rather than charge the same amount for each terminal, any additional registers are just an additional $15/month.
Overall, though on the high end of POS SaaS pricing, SalesVu users seem to be happy with the product relative to its price point. And we believe they have certainly developed several unique features to justify it.
SalesVu Cloud Basic ($75/month)
Like most modern POS solutions, SalesVu offers subscription plans. Their starter plan is $75/month per location plus $15/month for each additional terminal at any given location.
This plan includes most rudimentary features and can include unlimited users and process unlimited sales:
Cloud-based reporting

Remote management

Quickbooks integration

Online ordering and reservations

Loyalty program

Labor management and scheduling

SalesVu Cloud Advanced ($150/month)
Their next pricing plan does come with a substantial jump. Unfortunately, this jump will be necessary for any business that needs anything beyond the most basic inventory management. Any multi-location operation or franchise will certainly require SalesVu Advanced.
In addition to all features listed in the Basic plan, their Advanced plan contains the following features:
CRM

Recurring billing

Purchase orders

Inventory tracking and updates

Label printing

Inventory scanning

Stock transfers

Par levels

Custom units

Advanced reporting
There may be some businesses that can get by with the Basic plan but we do feel that the SalesVu Advanced is the only option for businesses trying to streamline operations and scale.
SalesVu Enterprise
Finally, SalesVu offers an Enterprise solution for businesses with more than 10 locations. Due to custom integrations and development, they require businesses to request a quote on an individual basis.
Demo Video
Key SalesVu POS Features
SalesVu can serve an impressively diverse array of business types. In order to do so, they've developed an impressive array of features. In addition to more typical features that we see in nearly any POS solution, SalesVu has added several items that really separate them from their competition.
Website Customization
SalesVu is helping its users stay relevant with a truly comprehensive eCommerce platform. They allow users to choose from hundreds of templates that are each optimized for mobile and SEO best practices. All orders or reservations are immediately apparent on POS terminals.
eCommerce AI
One of the most advanced SalesVu POS features is its AI algorithm. These offer users shopping suggestions by taking their past purchases and preferences into account. The software also automatically breaks down new additions, best sellers, past purchases, trending items, and products frequently bought together. In addition to providing these on their website, SalesVu can implement their AI technology to branded apps.
Loyalty/CRM System
SalesVu offers a well-integrated loyalty system that crosses seamlessly between brick & mortar and eCommerce. The loyalty program also offers electronic gift cards, email marketing, SMS marketing, automated order updates, and abandoned cart emails.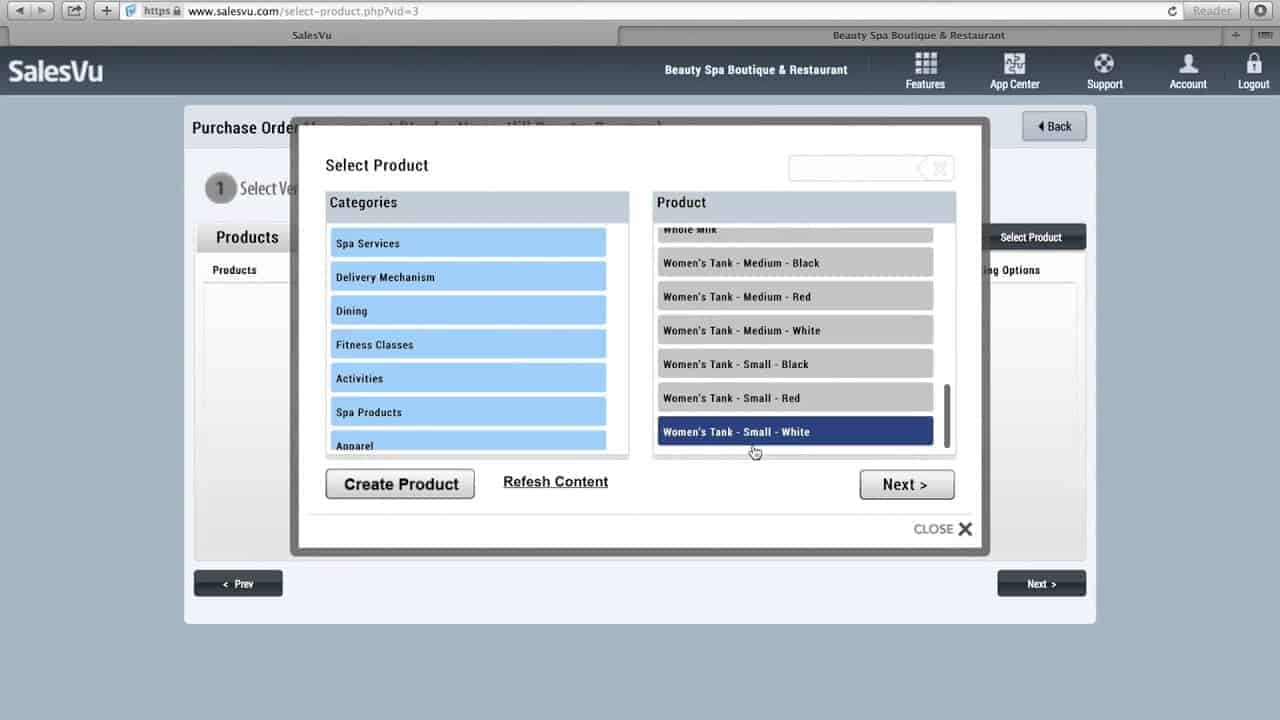 Inventory Management
With the Cloud Advanced subscription users get several key inventory management features. These help businesses automate several aspects of their operation and optimize their ordering and pricing.
The features included with SalesVu inventory management include purchase orders, low inventory alerts, detailed product reports, loss prevention tools, multi-location stock transfers, vendor management, and real-time updates.
Scheduling
SalesVu offers scheduling options for both the front-end and back-end of their POS system.
Owners and managers can create staff schedules with a well-integrated calendar. And for businesses that require customer scheduling, the software adds appointments, online bookings, check-ins, variable pricing, and time-clock management.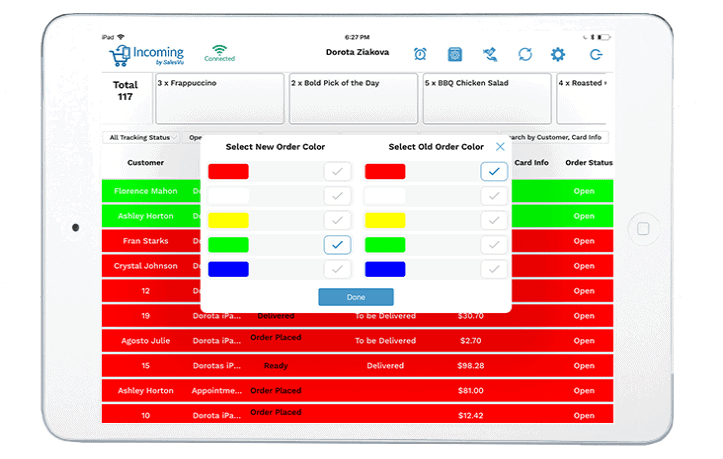 Kitchen Display System
To better facilitate the restaurant and bar industry, SalesVu has added an integrated KDS to their POS. This does cost an additional $15/month per terminal but brings key features to the industry. All settings are uniquely configurable by individual business and are updated across terminals in real-time.
Industries Served
As we mentioned above, SalesVu does serve a wide variety of industries. And though certain niche features based on industry do come with an additional cost, the solution does offer a robust solution for every vertical to which it advertises.
They break down their target businesses by broad category:
Food & Drink
The solution is best set up for medium-sized retailers and they're adding more robust reporting features to better serve enterprise-level operations. The price point for smaller businesses, like single-location cafes or retail shops, is too high. Plus, its feature stack is unnecessary for the vast majority of this type of operation.
Again, it's worth reiterating that their pricing structure makes the Advanced subscription the best fit for any multi-location business. And though this solution is a great option with some remarkable features, the price point for most niche industries will be higher than advertised.
SalesVu can provide a great POS option for each of the business types listed above but getting a truly complete software solution will involve extra costs. Integrations such as KDS, customer relationship management, voucher management, reservations, self-ordering, invoicing, and service scheduling all come with added monthly fees.
Deployment Type
SalesVu offers their clients a software as a subscription (SaaS) service for their POS solution. Both the Basic and Advanced options come ready out of the box. If you order hardware directly through SalesVu, they'll send you each item pre-configured with any of the software features that you've ordered.
For enterprise operations, SalesVu may be able to assist with in-person set-up and training. This, however, is unusual. In the vast majority of cases, the solution is a true cloud-based plug-and-play system.
To aid in their deployment and installation, SalesVu does offer a standard array of support content. Users can take advantage of their video tutorials and blog for POS-specific pointers. They also offer a 14-day free trial and allow guests to schedule a product demo through their website.
SalesVu also has a vast stack of apps and Square integrations. For these, they offer additional tutorials and assistance through the app store.

Ease of Use
At this point, any viable POS software option has been designed with ease of use in mind. The industry is demanding a more integrated and seamless user experience with features that specifically fit certain industries. SalesVu does all of this excellently.
Users have access to the front-end operations from various hardware options. These include all POS and payment functions as well as their array of app integrations. For owners and managers, the cloud-based back-end can be accessed remotely or on-site for reporting, inventory, employee management, and other features. Log-in to the back-office is done through SalesVu's website.
Though SalesVu offers users a wide set of features, feedback on its front-end use is largely positive. Layout options are customizable, and managers can set up image or icon-based buttons. There are also strict employee access settings, so users can limit any features by individual.
The back-end and website are also easy to use, if a bit dated. The reporting and inventory features are simple to navigate and users can produce custom reports intuitively. It would be nice if the website did offer more direction and resources for its users, however.
SalesVu's decision to partner with Square is one of its most interesting but also one that has helped with its ease of use. What Square's apps may lack in functionality, they make up for in usability. It's simple to integrate them with your POS and back-end reporting. And once you do, they're easy to use for both your customers and staff.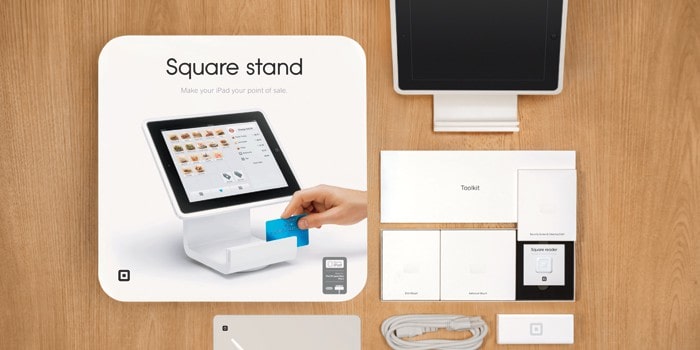 Hardware
SalesVu hardware isn't available for direct sale through the company. But they do integrate with a variety of options, all of which are mobile-compatible.
Their mobile-first focus has allowed users the flexibility of an mPOS system without sacrificing the features of a desktop solution. The only downside might be its processing and checkout speed.
All devices can be used as a handheld POS on the floor or mounted as a sort of "desktop" POS at the checkouts. The most popular hardware solution with SalesVu is the iPad, but users can also use an iPhone. Their support team has stopped supporting Android devices.
They offer the following integrated peripherals:
Unlike certain industries like big-box retailers or convenience stores, the tablet solution is perfectly feasible for all front-end operations. And since the back-end is synced to the SalesVu website, users can use any hardware device of their choosing to access reporting and inventory.
SalesVu doesn't have a plethora of hardware information on their website. Reach out to them for any more specific details. They do offer several combination options for all peripherals starting around $400. These do not include an iPad.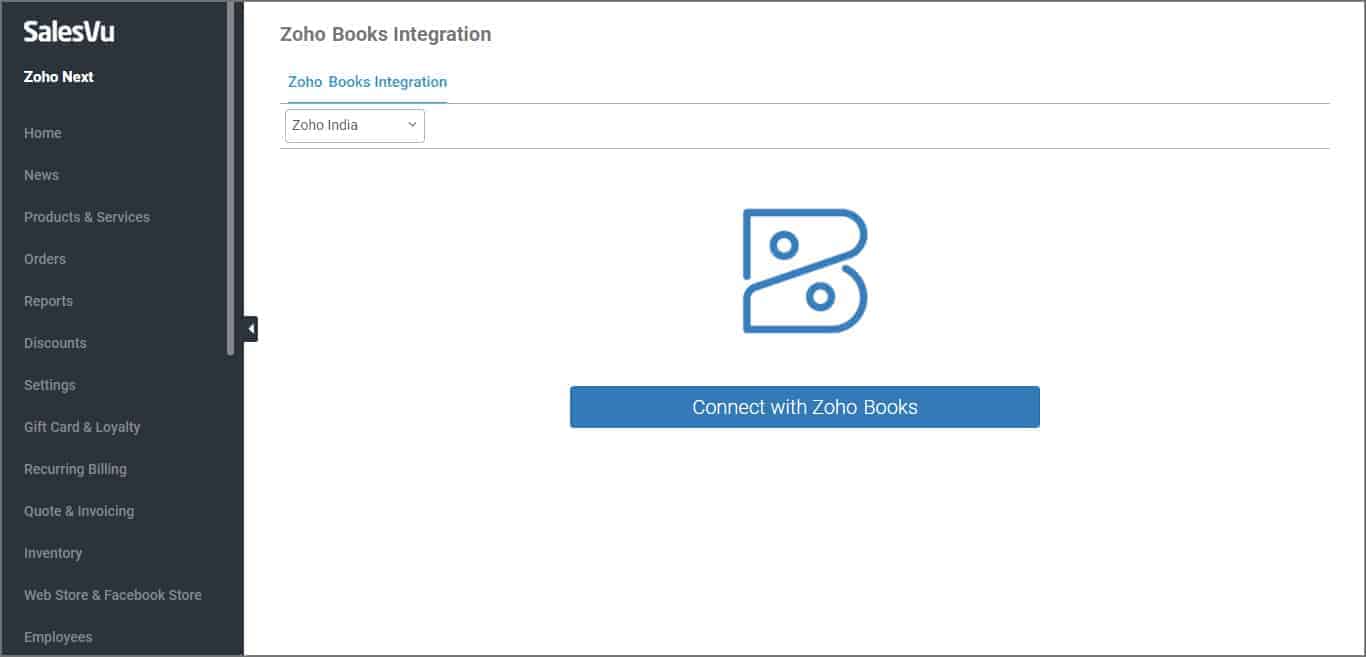 Integrations
SalesVu has managed to stay a competitive force in the POS industry through its vast integration options. Most notably is its integration to Square. As we mentioned above, SalesVu decided to team up with Square instead of continuing to compete.
Users can place orders through their online self-ordering kiosk or on a personalized app and each will automatically sync to the physical in-store terminals. For bars and restaurants, the Square integration provides KDS and payment portals for splitting and tipping. Service-based businesses can also use the Square integration for scheduling and loyalty.
While Square is by far their most integral integration, SaleVus does have several other partnerships:
Tessitura

– enterprise-level system for ticketing, memberships, and admissions

PayPal

– payment processing and fraud protection

Quickbooks

– send custom invoices and quotes, track expenses, and complete your year-end taxes

iZettle

– allows users to accept credit card payment from a mobile device, including contactless payments

Zoho Books

– automated accounting across multiple locations for any industry 

Plug'npay

– eCommerce integration to brick-and-mortar operations

VIPz

– for all loyalty and gift cards

Handheld POS

– allows servers to take orders and settle checks at the table

KDS

– kitchen and ticket communication with the bar and servers
Overall, SalesVu offers everything that their target industries would need. Of course, it's important to remember that these will all come with additional monthly costs.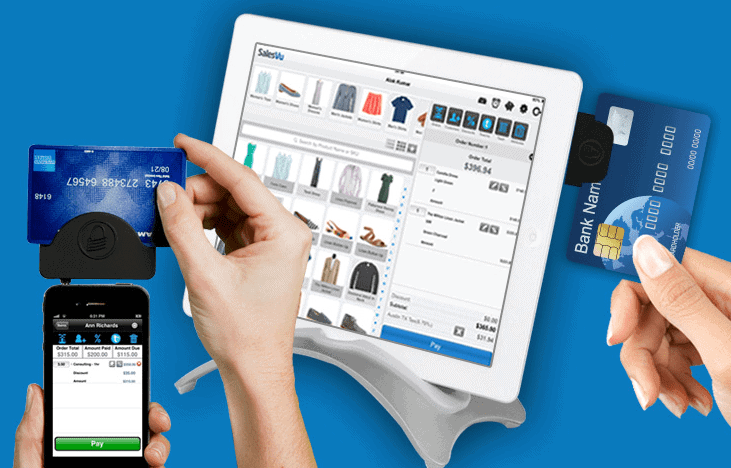 Credit Card and Payment Processing
Credit card processing is another critical area for POS shoppers to consider. It's a pain to change processors, and they sometimes come with lengthy contracts (a bit of red flag). So it's important to sign up with the right processor from the beginning.
While SalesVu doesn't offer the vast number of integrations that some of its competitors do, they do integrate directly with three merchant service providers. This is important to note since SalesVu doesn't force their own processing solution on any users.
Currently, SalesVu credit card processing integrates with Vantiv, WorldPay and Evo. Each of these processors may be willing to negotiate with processing rates and hardware costs. Oftentimes, they will incentivize their service with offers for free credit card machines or contactless mobile terminals.
SalesVu offers no information on credit card processing pricing. They will work to put merchants in touch with their partners, but all pricing is handled directly between the processor and the merchant.
The three processors that they do integrate with are acceptable solutions, albeit on the more expensive side. They do include additional PCI compliance monthly fees and early termination penalties.
Customer Service and Support
Overall, SalesVu gets great feedback on all support and customer service. There are a few rogue complaints about having trouble reaching their team, but these are few and far between. In order to assist their clients, SalesVu offers several different support channels.
Phone

– They do encourage users to schedule calls for troubleshooting or training, but they also advertise a 24/7/365 phone line.

Email

– For non-emergencies or simple questions SalesVu offers email support, too. These are typically answered promptly and effectively.

FAQ

– SalesVu publishes common user questions and their support responses. This feature isn't available on their site without having a free trial or live account.

Videos

– Like most modern POS systems, SalesVu has many demo videos. They're helpful enough though a bit antiquated.

Chat

– Another less immediate option, they feature a chat window on their website for prospective and actual customers to engage with their support team.

Blog

– It's updated infrequently and has a poor layout but the SalesVu blog has some good supplementary resources.
SalesVu customers seem to appreciate the different support resources that are available to them. They've had few issues reaching a knowledgeable party.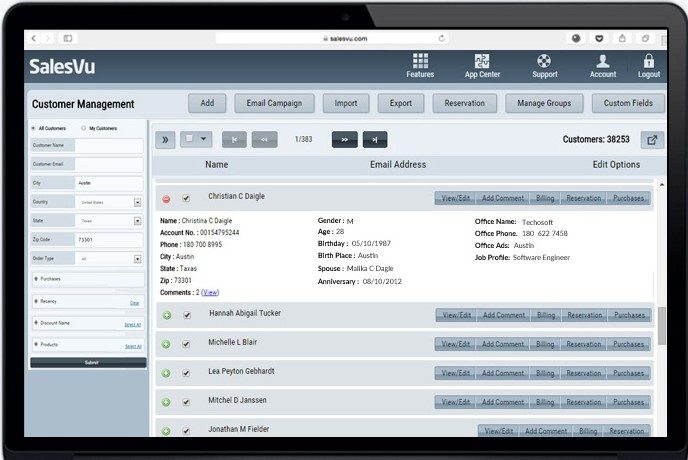 Negative Reviews and Complaints
As we've mentioned, SalesVu has predominantly positive remarks across numerous software review platforms. Still, there were a few concerning trends that we noticed. It doesn't make it a bad system by any means, but they're worth considering before making any purchases.
New Features and Interfaces
One thing we look for in a POS is its ability to adapt and innovate. That means that there will be software updates. SalesVu offers users automated features updates but apparently some users find them finicky and difficult to learn. To be fair, a sudden overhaul of the front or back-end layout can be a huge pain. Luckily, such changes are infrequent.
Additional Costs
SalesVu advertises a complete POS system with loyalty, accounting, eCommerce, custom apps, mobile checkouts, and AI product suggestions. It does provide each of these features – and it does it well – but they all come with additional costs. Most are an extra $15/month each. This makes the $75/150 monthly costs a bit deceiving to some.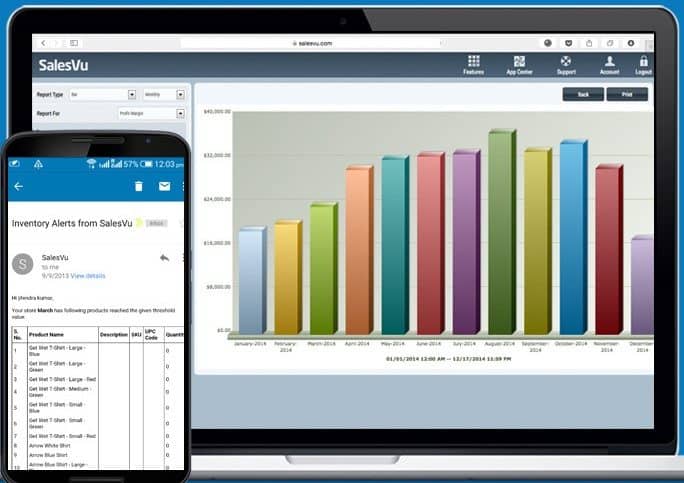 Lacking Inventory Features
The SalesVu Basic plan comes with no real inventory features. For multi-location businesses that have tried to get by with this, SalesVu has not been a great solution. There are exceptions, like yoga studios, salons, gyms, etc. that don't require robust inventory management, but most retailers and restaurants will. And the Basic plan won't cut it.
Offline Mode
A lot of POS systems advertise offline mode. While it doesn't do what you may think (process sales immediately), it does add some convenience during periods of a down internet. SalesVu does not come equipped with offline Store & Forward, meaning it doesn't capture credit card information that can be processed once the internet is functioning again. There are work-arounds, but this was a downside mentioned several times.
Positive Reviews and Testimonials
The positive reviews for SalesVu far outweigh their negative feedback. Still, the sample size is small with only a handful of reviews on any given site.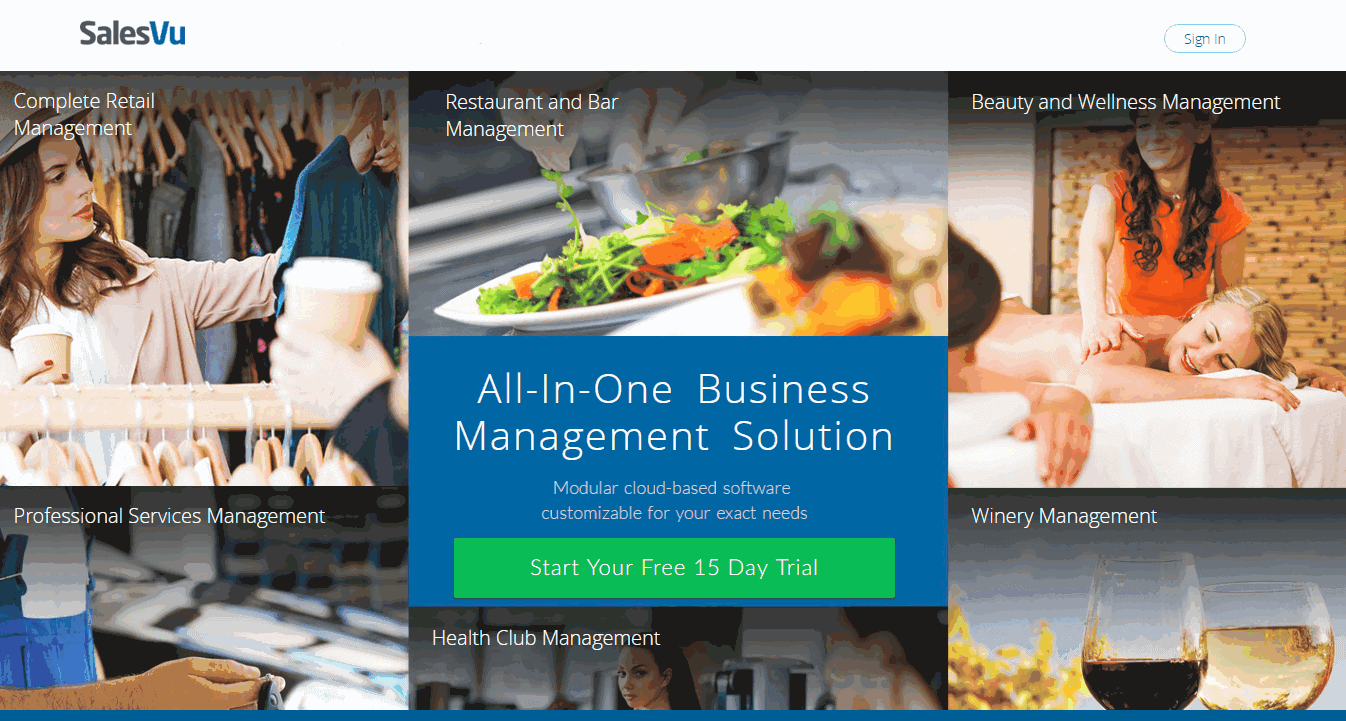 Customer Support
We love seeing solutions with great marks on their customer support. It shows their team cares and works hard to keep their customers happy. SalesVu has nearly universally good reviews across the board on their customer support. And for any negative reviews, their team is always quick to respond to try to remedy the situation. Their support is personalized, easy to reach, and available 24/7.
Usability
Though there were a handful of reviews about trouble with certain functionalities, most users praise the software for being intuitive on both the front-end and back-end. Though some of the more advanced features seem to have a bigger learning curve, the basic set-up and cashier functions are easy to pick up and operate smoothly.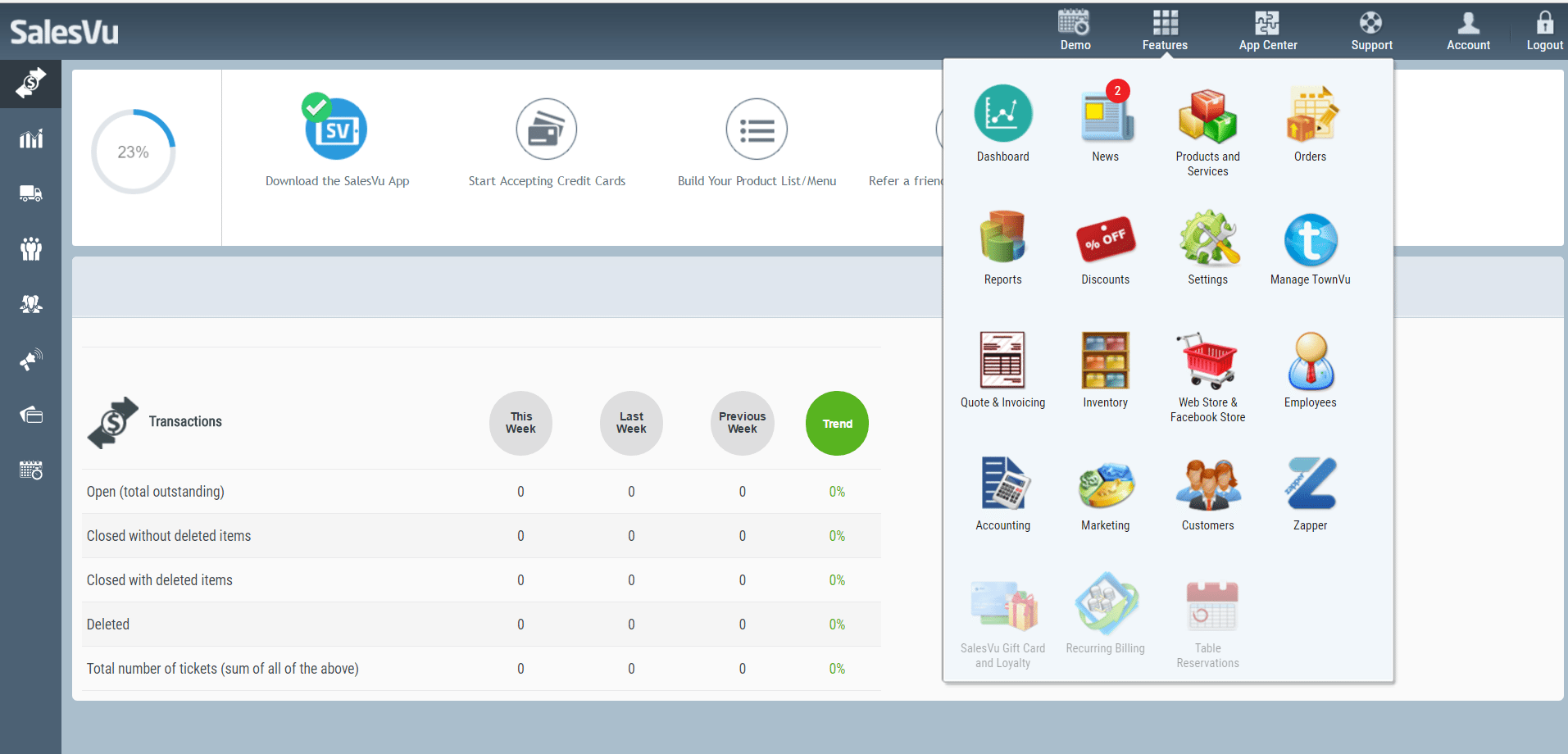 Vertical-Specific Features
The best aspect of SalesVu is its ability to provide features for various niche verticals. Customers have noticed. With its Square integration and other native features, customers love the ability to create a custom solution for their individual business.
Mobile Convenience
The software is integrated with mobile Apple products. While some users opt to mount iPads to create a sort of desktop terminal, most use tablets or smartphones to take advantage of its mobile capabilities. It gets particularly good grades from restaurants that use it for tableside orders and checkouts.
SalesVu POS Alternatives
SalesVu has decided to tackle a lot of different verticals and therefore faces a lot of competition from other POS software solutions that focus on a more limited set of verticals. Fortunately, the SalesVu integrations make it a formidable force in the point-of-sale industry.
Clover


For the smaller operations, particularly coffee shops and QSRs, Clover presents a cheaper option than SalesVu. It lacks many of the features that make SalesVu great, but most single store operations with a low inventory of products don't need advanced features.
TouchBistro

For full-scale restaurants SalesVu faces an array of stiff competition. None are bigger than TouchBistro. It was one of the first systems to offer mobile capabilities and it's continued to update and upgrade to provide a great alternative to SalesVu.
Vagaro

Vagaro offers a solid alternative for salons, spas, and other reservation-based services. Vagaro has booking, scheduling, and appointment setting in addition to in-depth reporting for more insight into your business. The software is built specifically for these types of businesses and they do it well.
KORONA POS

When it comes to museums and theme parks, KORONA brings a great alternative to SalesVu. SalesVu integrates with Tessitura CRM for their event management, but KORONA provides native features to cover all aspects needed for museums, zoos, parks, or other ticketed operations.
Our Final Take
We were really impressed by SalesVu and how they've innovated in ways that allow them to reach such a broad customer base. They're able to do so without sacrificing product quality or customer service.
It's SalesVu's integrations that have allowed them to do this. While they have an array of native features, their integrations bring the solution to the next level. Rather than try to compete directly with Square, they've partnered with the POS giant, a smart move in an era of software consolidation.
We also love the good marks SalesVu gets on the customer support end of things. It's always a critical aspect to consider when shopping for a new system. There will be a learning curve to any new software, even for the most user-friendly options, so it's critical to have the support to help you take advantage of all features.
SalesVu hardware is another positive. They have transitioned to a modern solution with mobile devices, contactless payment terminals, and wireless peripherals.
The biggest hangup we have is probably SalesVu's pricing. The structure is simple enough, but the add-ons are a bit deceptive. Businesses must pay extra monthly fees for mobile checkout, ticketing, CRM, invoicing, scheduling, KDS, pre-ordering, reservations, and eCommerce. We prefer systems that offer a bit more transparency to what the final solution will cost.
Use their 15-day free trial to learn more about it. You can also schedule a demo in minutes. Consider what integrations your business might need and discuss this with one of their sales representatives.
Reader Interactions