If you own a business in lumber, pharmacy, hardware or other retail business, you're probably familiar with how hard it is to find point-of-sale solutions tailored to your business. Not all retail is created equal.
Paladin Data Corporation positioned themselves as a leader in providing POS systems for these specific types of retail ventures.
They address your unique point-of-sale needs from top to bottom. And they help streamline retail processes using special integrations and features.
To date, Paladin POS has helped hundreds of businesses improve their inventory management, take better care of their customers, and streamline access to information they need to better run their businesses.
Paladin POS System Review – Company Overview
Founded in 1982 and based in Bend, Oregon, Paladin soon built a niche for themselves in providing point-of-sale software solutions for hardware stores and lumber yards.
Decades later, Paladin POS has expanded to also work with pharmacies, feed and seed stores, as well as general retail stores. If you own a pharmacy, check out our pharmacy POS guide.
The Windows-based, on-premise system is meant for small and medium-sized businesses. And while locally installed, its cloud server allows multiple stores to engage and exchange information through its Multi Site solution.
Paladin POS Benefits
Splits multiple forms of payment on a single transaction.
Lots of integrations enabling end-to-end automation, saving time and money.
Free help portal includes searchable how-to database of webinars, articles, and videos.
Detailed reports for accurate analysis in real-time.
Additional services, like marketing, to freshen up your brand and get you noticed.
Possible Drawbacks
Unlike competitors, Paladin POS pricing is far from transparent. Information online is hard to come by. It makes it difficult to know where to start. To get anywhere you'll first have to contact them directly and engage with a sales rep for quotes.
In addition, Paladin POS is not able to process equipment rentals or sales commissions.
Paladin POS Pricing
The Paladin POS pricing is a subscription-based model. They keep details about monthly fees confidential. This is a common practice for software vendors and service providers.
Contact Paladin directly to get an exact quote for their POS systems.
Processing Rates
Paladin POS works with a variety of payment processors. You'll receive quotes from one or all to help you choose the best one for your needs. You can even keep your current processor if you'd like.
Paladin POS Hardware Pricing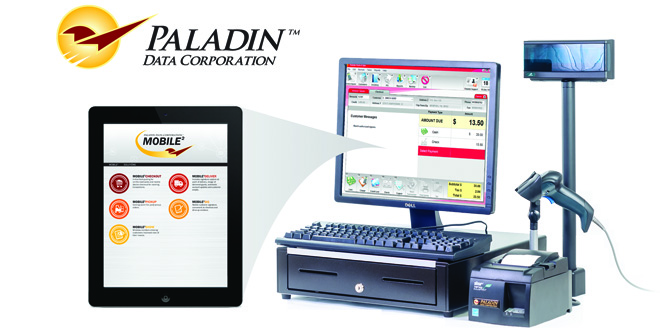 Hardware can be bought all at once or one component at a time. Their extensive list of hardware offerings can be found here.
System Add-ons
Increase efficiency and add an additional level of security to guard sensitive data.
Use these add-ons within the system to further tailor your setup:
ACH, Free – Electronic check processing eliminates labor costs involved in processing paper checks.
Payment Card Processing, Free – Issue discounts and add secure, end-to-end encryption of processing data.
Vendor EDI, $39/month after a $249 one-time setup fee – Order from vendors and electronically receive items into store's inventory.
Data Upload, $39/month – Sends customer rewards data and daily sales figures to vendors. Inventory totals make e-commerce possible through features like in-store pickup.
Catalog Load, $199 one-time fee – Load items into Paladin POS for quicker checkout.
Managed Database Replication, $39/month after a $1,499 one-time setup fee –
Backs up single store's entire POS data in real time as long as there are a minimum of 2 computers running Paladin POS.
Bulk Email Server, $25/month – Unlimited email sending and receiving and other CRM features.
Paladin POS System Requirements
Paladin POS runs optimally on equipment meeting these minimum requirements.
Operating System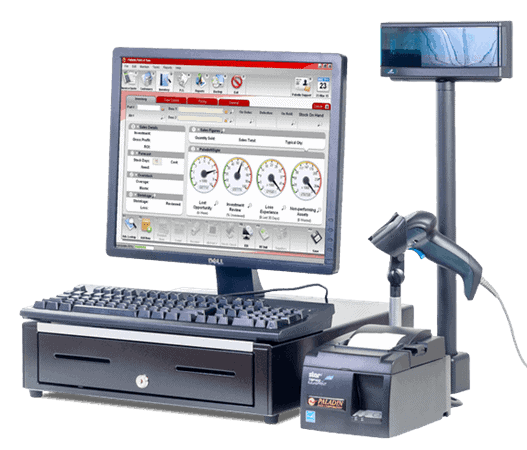 The software is optimized to run only on the following versions of Windows.
Windows 10 Pro
Windows 8.1 Pro
Windows 8 Pro
Windows 7 Ultimate
Windows 7 Enterprise
Windows 7 Pro Service Pack 1
Processor
1 GHz or faster x86-bit or x64-bit processor (Intel i5 or i7 is recommended) with SSE2 instructions set
Memory
4 GB RAM but 8 GB is recommended
Hard Drive
0 GB available disk space for program
250 GB available disk space for data storage
500GB available disk space for program storage on SSD drives
Data has no limit and may exceed the recommended storage capacity
USB Ports
8 ports or an ample amount of ports to directly connect peripherals (USB hubs not supported)
Network Ports
10/100/1000 MBPS Ethernet Adapter with a standard RJ45 connector
Display
17" or greater monitor 1024 x 768 with resolution
DirectX 10 graphics card for graphics hardware acceleration
Programs
Microsoft Excel for spreadsheet reporting
Microsoft Access for signs and labels
Antivirus software, current and patched
Other Equipment
Internet connection required
Newest version of Microsoft Edge or Internet Explorer
.NET version: NET 4.6 CLR required
Touch-enabled device or keyboard, mouse, or other input device
Battery backup or uninterrupted power supply with a runtime of at least 10 minutes
Should your current equipment not meet specifications, Paladin offers a selection of new equipment chosen to maximize your store's performance. Whether you use your own hardware or purchase new hardware from Paladin, the software runs the same.
Paladin POS Features and Capabilities
Hardware Stores
Monitors inventory in real time.
Identifies slow-moving items and eliminate them.
Uses PromoBuilder to automate sale prices, mark down an entire department, or just a few items.
General Retail Stores
Uncovers patterns in customer behavior from sales data.
Uses sales history to predict which products will move faster in upcoming days.
Designs a loyalty program in Rich Rewards to keep and entice new customers.
Pharmacies
Automatically calculates co-pay after running insurance authorizations.
Connects directly to NPLEx database during purchase to track pseudoephedrine purchases, track limits, and capture customer data.
Integrates with Compounder Rx to help compounding pharmacies run efficiently.
Lumber and Building Materials Businesses
Tracks purchases for individual projects.
Sets up special pricing and discounts for individual accounts.
Performs complicated conversions to streamline costs.
Feed and Seed Stores
Allows users to combine any number of items under a single SKU to make your own brand of feed.
Securely store customers' credit card data to speed through checkout.
Uses Mobile2Driver app to manage deliveries.
Multi-site Retail Stores
Centralizes inventory management across all your locations.
Syncs up loyalty rewards and charge accounts across locations.
Paladin Mobile Access app gives real-time connection to your stores via your smartphone.
Customer Service and Support
Start by signing up for a risk-free demo. Paladin POS reps will walk you through each step in the process. They build, setup, test, and retest your new system before it ever leaves the Paladin warehouse. It arrives functioning perfectly to your specifications.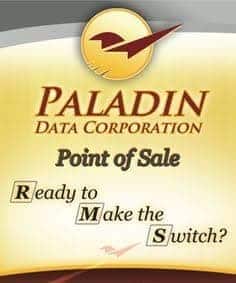 Rest easy knowing support is right at our fingertips. Create or review service cases any time. Tech support will promptly follow up and reply.
Alternatively, Paladin offers an active help portal with resources that include:
Detailed and searchable knowledge base
Tutorial videos
Helpful webinars
A yearly guide outlining the release of upcoming updates and upgrades
Chat with Paladin tech support
US-based customer support is available from 5:00 AM through 5:00 PM pacific time on weekdays. There's also a special like available 24/7/365 for emergencies.
Our Final Verdict
Paladin POS simplifies consumer-facing and back of the house operations for small and medium-sized businesses. It uses automation and integrations to perform end-to-end tasks, boosting your bottom line.
Paladin's short list of niche enterprises allows them to provide complete POS solutions to previously underserved businesses.
It's an inclusive platform capable of performing CRM functions, integrating seamlessly with WooCommerce, Microsoft Office, and with wholesale vendors through EDI.
If you're interested in a demo or to get more information, get in touch with them today.
The following two tabs change content below.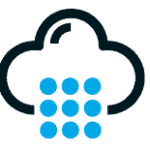 POS Quote Team
The staff at POSQuote.com is composed of industry professionals, experts, and current business owners. Through extensive research, we compile buyer's guides and review the best POS systems in the industry.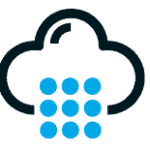 Latest posts by POS Quote Team (see all)
Reader Interactions